With early beginnings as a kombucha business named after chef Gerry Quintero's entrepreneurial grandparents in Mexico––Alma and Gilberto, that led to an outpour of other culinary endeavours pursued via temporary homes in various spaces across the city, ALMA+GIL has finally landed in an official location.
Unable to be defined by one label, ALMA+GIL truly does dabble in a bit of everything. Chef Quintero, along with Chef Mandy Sou, do everything from delivering local produce, to making kombucha, pies, ice cream, tamales and more––the various food concepts are motivated by their culinary backgrounds and desire to pursue their creativity.
"Throughout the pandemic we have grown into a home produce company focusing on Ontario goods, and because we're chefs, we couldn't help ourselves and started designing celebratory monthly meals," says Sou.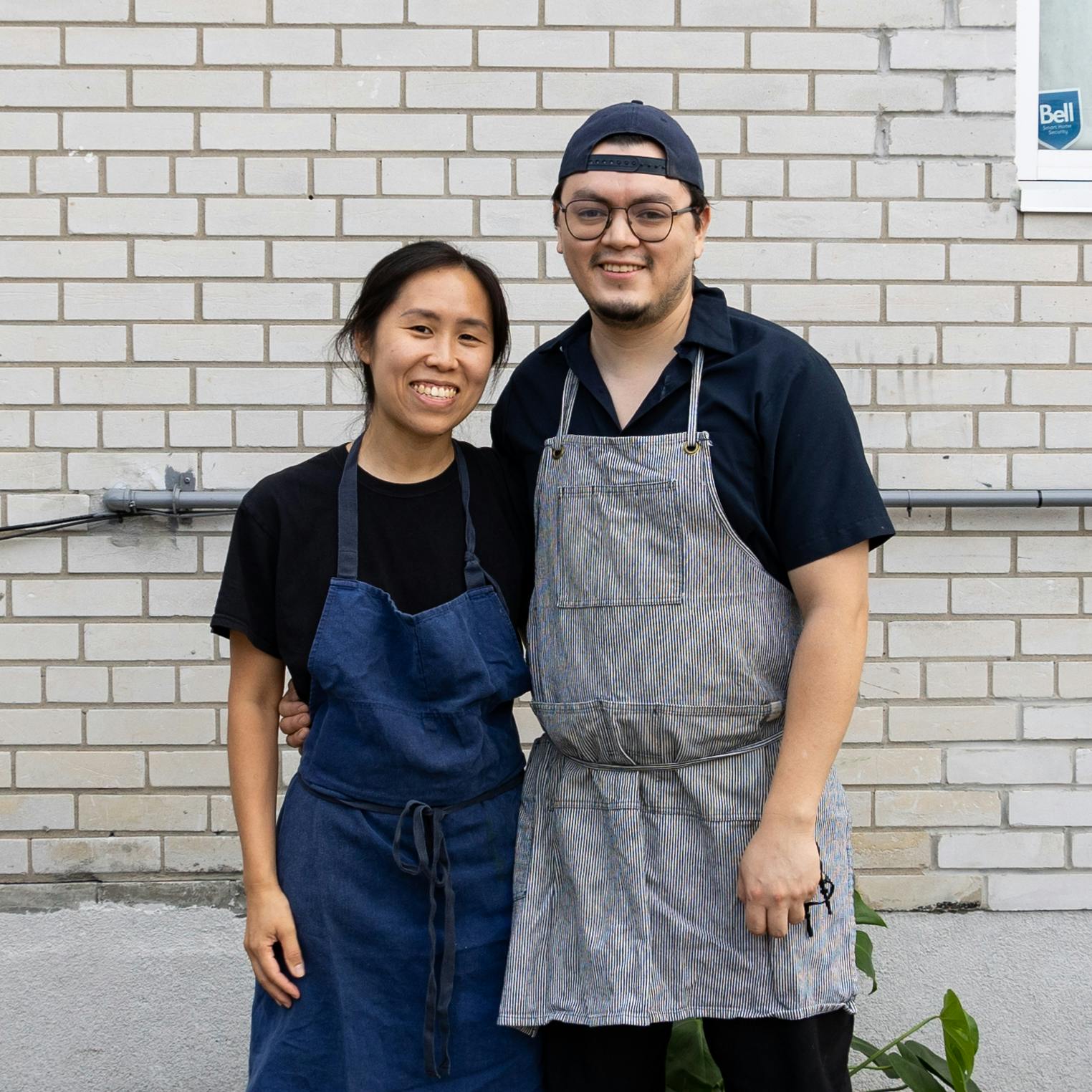 These meals have included menus designed for Mexican Independence Day and Mid-Autumn Festival, with others like Thanksgiving coming up. They're mostly inspired by the duo's heritage and their want to create something reflective of their own experiences with food in their upbringings.
Still working on renovating their interior, the team wanted to engage with their new neighbourhood over the summer and spent the warmer months operating a barbecue pop-up on their patio.
The last day to catch ALMA+GIL's current summer barbecue menu is today, Sept. 24, with the transition to a soft launch of their outdoor fall fair menu happening on Saturday, Oct.2.
Running in a more grab-and-go fashion, the patio is open Tuesday through Friday every week, with each day focusing on a different type of grilled food. Tuesday for tacos, Wednesday and Thursday for burgers and Friday for Vietnamese barbecue. On all those days, find yourself staring at all the fresh Ontario produce the group gathers at the Ontario Food Terminal on display.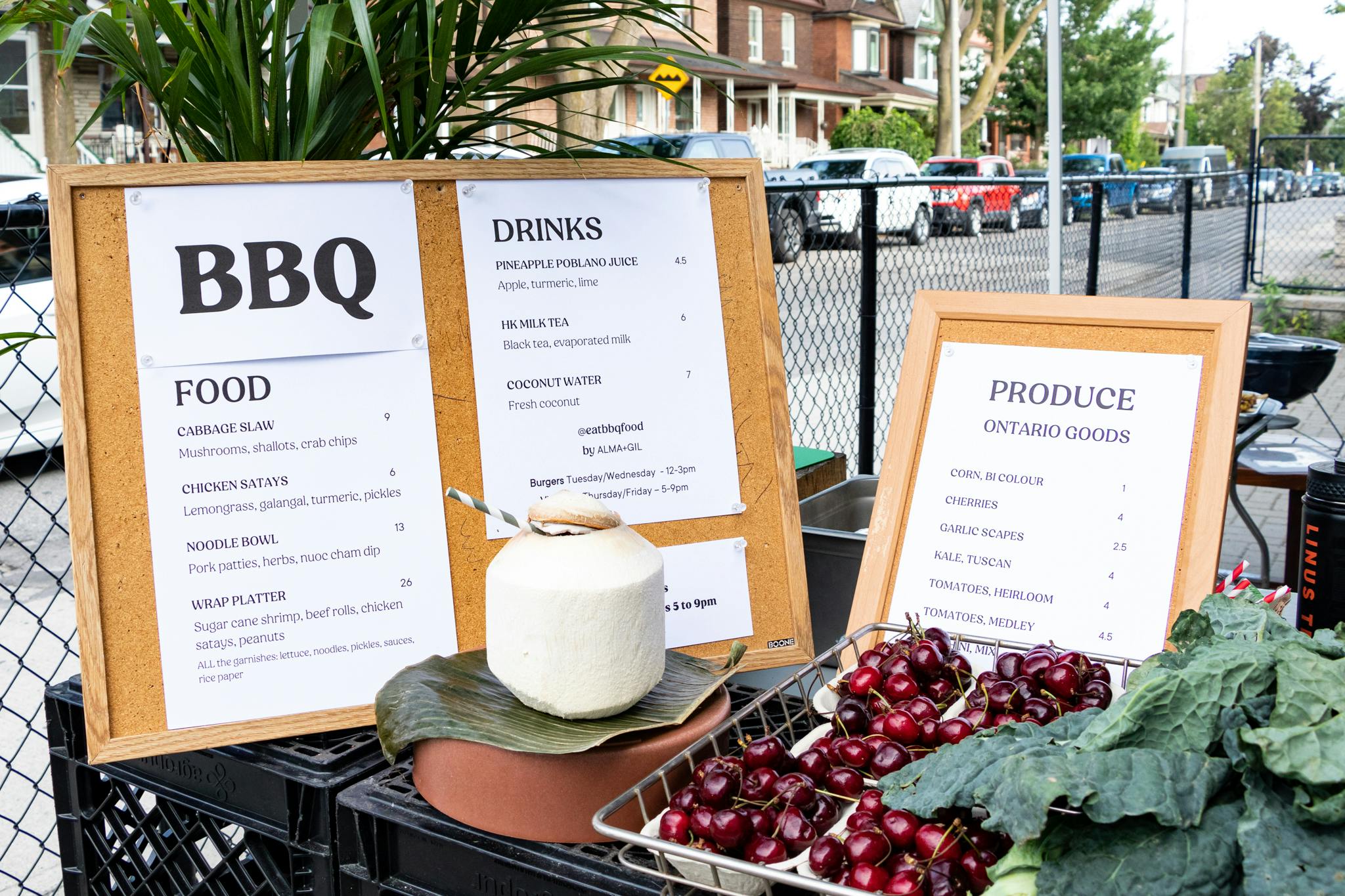 On top of patio operations, here's a run-down of everything the group does:
ALMA+GIL runs weekly weekend brunch pop-ups at HotBlack Coffee's Yonge Street location. Their menu is set to switch to fall and feature items like shakshuka, tres leche french toast and pork belly benedict. In the process, they'll be saying goodbye to their Hong Kong milk tea ice cream, a favourite from the summer.
Tamales Mineros is another venture by ALMA+GIL. Creating frozen tamale subscription boxes over the last few months, the goal is to offer hot tamales steamed fresh at their fall fair, but you'll still be able to order them frozen for delivery on their website.
Twice a month, ALMA+GIL does monthly pie drops, where they bake multiple flavours of pie which rotate. Fall flavours to look forward to include mulled wine pear frangipane pie, Thai tea custard tapioca, birria molotes and pumpkin meringue pie.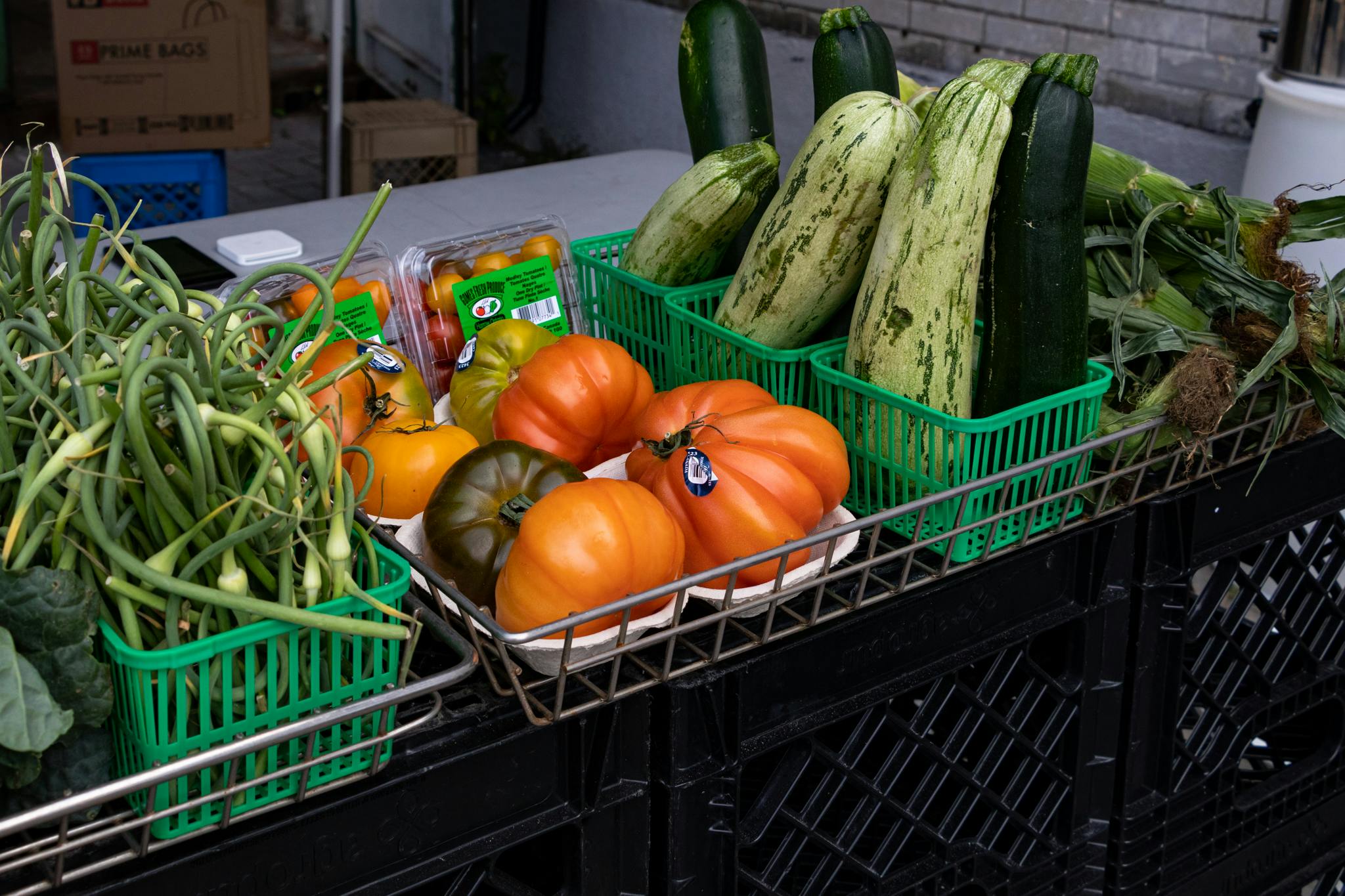 In the case of their produce business, that's still running strong with kitchen goods including pantry items and marinated proteins delivered Tuesday, Thursday and Saturday.
"We go to the Ontario food terminal every week to pick up goodies for groceries," says Sou. "As chefs we love seeing what Ontario has to offer."
ALMA+GIL also does catering for a variety of occasions, including bridal showers and company lunches, offering drop-off packages or on site catering. On top of all of that, the team still ensures that giving back is a priority and donate weekly nutritional meals to Community Fridges, with proceeds from their monthly feasts contributing to their ability to do so.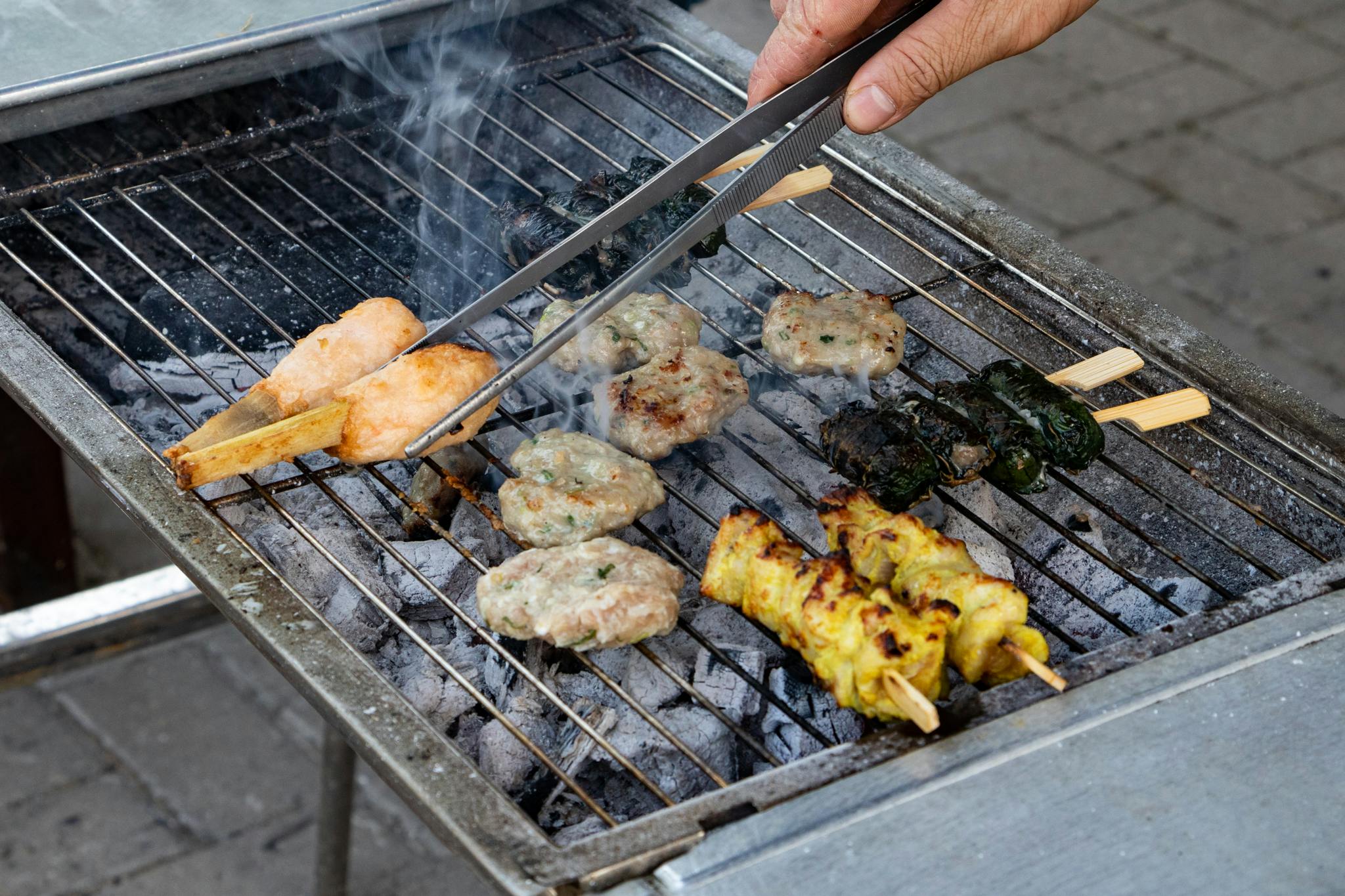 Since delivery was the main focus while operating as a pop-up, before they were able to establish a permanent space, the team longed to bring people into their environment for once. Even though barbecue season is dwindling down, you can look out for many other fall festivities and pop-ups run by the group, who would love to host a series of seasonal events.
"We love the Junction Triangle, everyone that walks by our patio bbq is friendly and curious," Sou says, already feeling welcomed in the neighbourhood.
Walking past the store, the smell of food fresh off the charcoal grill floats through the air. Always ensuring to keep vegetarian alternatives in mind, no matter the menu, there's definitely something for everyone.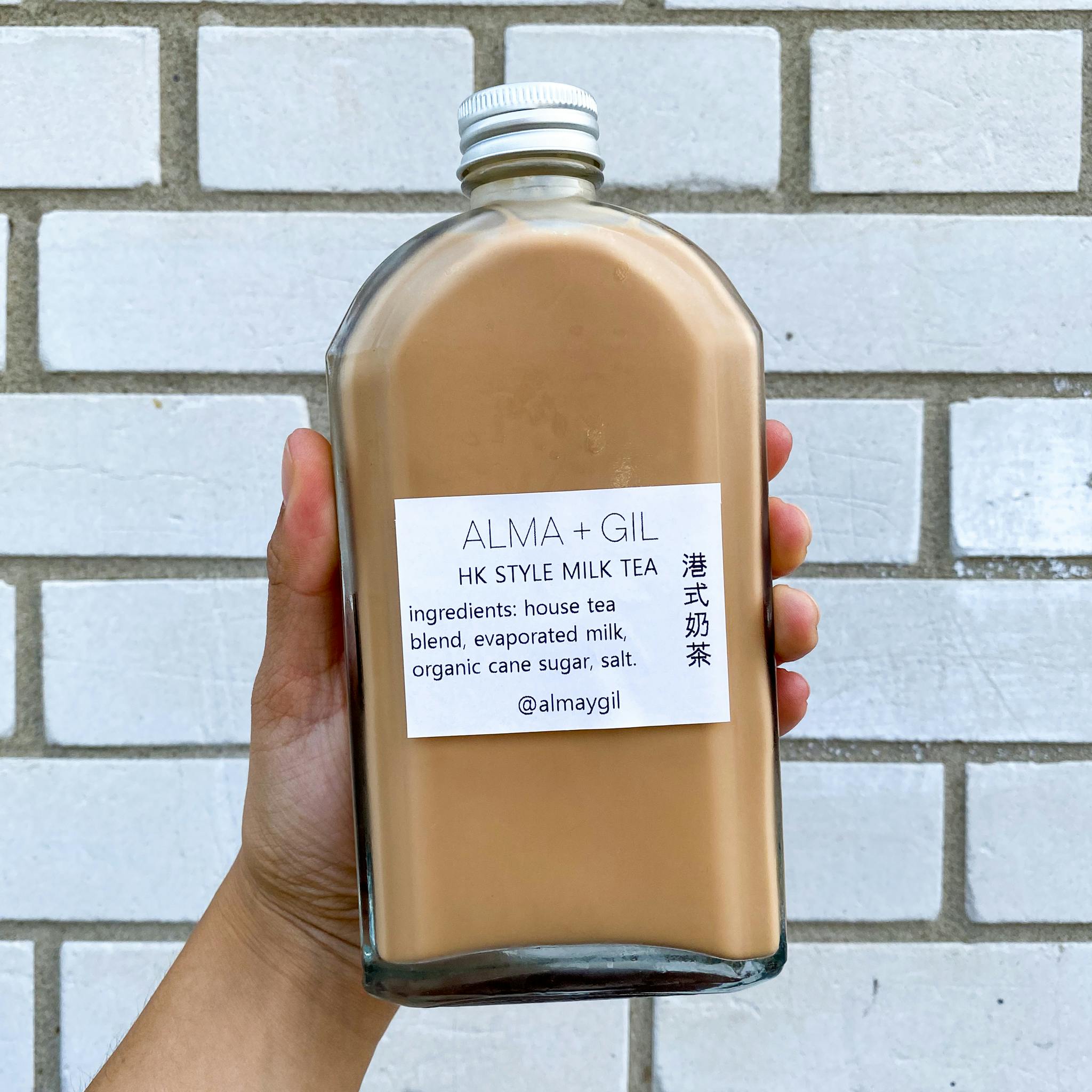 In addition to always having vegetarian-friendly options on the menu, you'll also consistently find their kombucha, fresh coconut water, pineapple poblano juice and Hong Kong Milk Tea flasks.
The patio is spacious, but not enough to have proper seating for customers, so they operate as takeout only.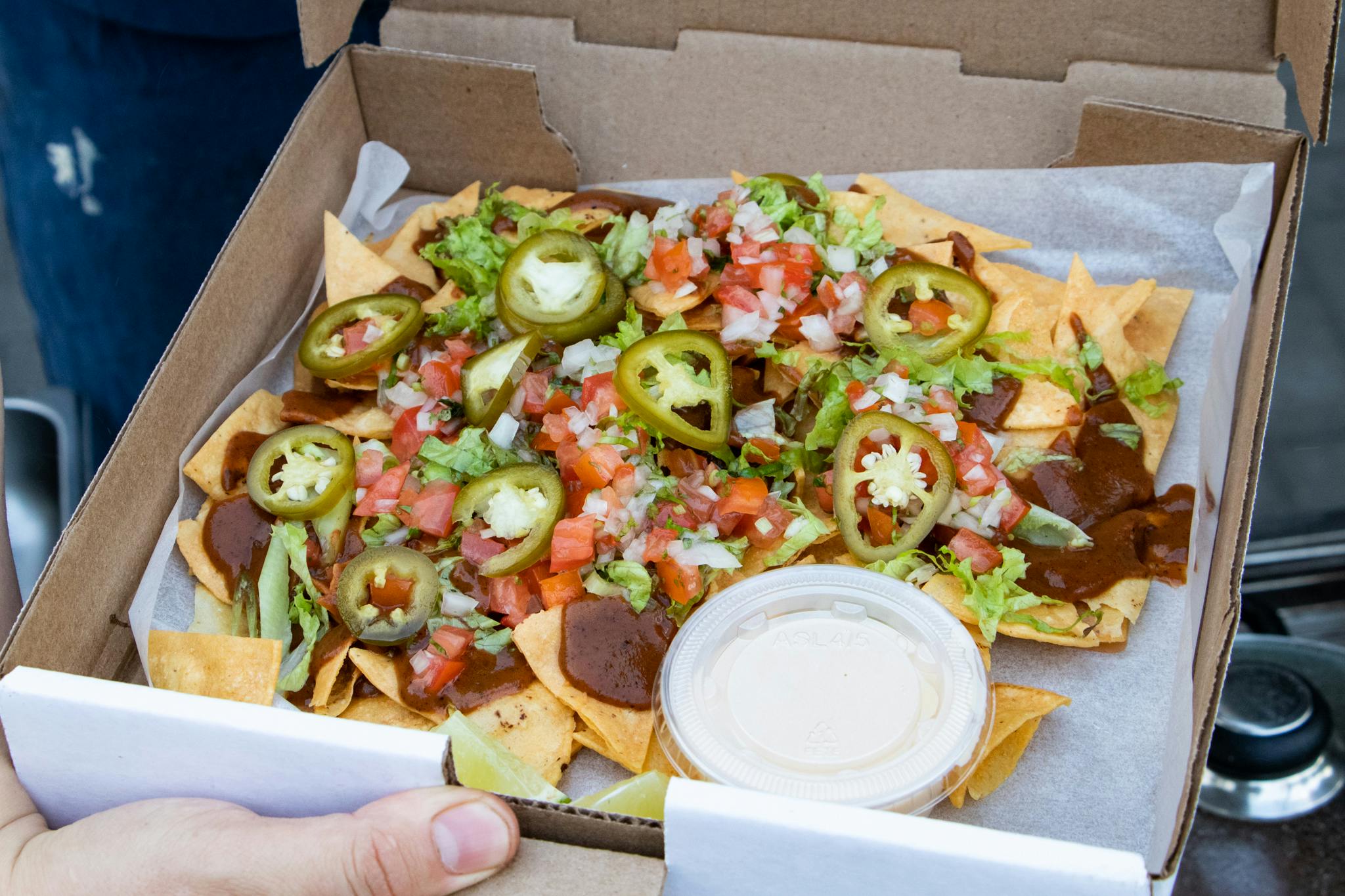 Tuesdays are for tacos, nachos, elotes and micheladas.
"With our backgrounds we wanted to cook something from our cultures, and foods we enjoy eating," Sou says, "Chef Gerry is Mexican and street food is so common where he grew up, he remembers walking home from school and being tempted with the street eats, and would save his lunch money to splurge every so often. On the patio we have taco Tuesday for those street food memories."
The nachos in particular are a dish that reflect Quintero's childhood. Runny refried beans, fresh garnishes and cheese sauce––everything, including the chips, are made in house.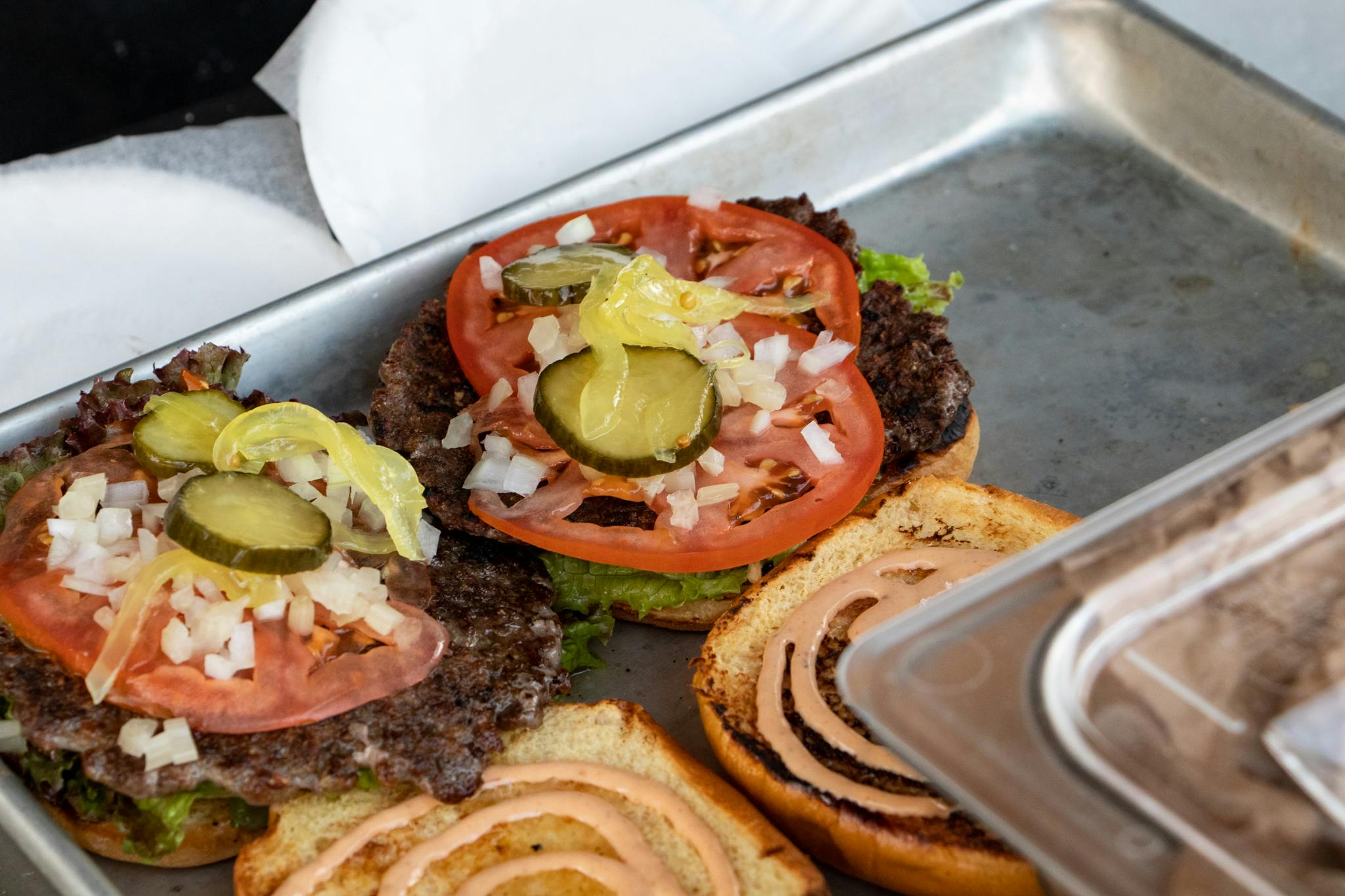 Wednesday and Thursday are for burgers. Smash patties over a charcoal grill made with local beef, they also offer a vegetarian patty made in house, comprised of chickpeas, braised mushrooms and a za'tar glaze.
Sides for burger days reflect that of taco day. Find nachos and elotes made with Ontario corn, right now of course.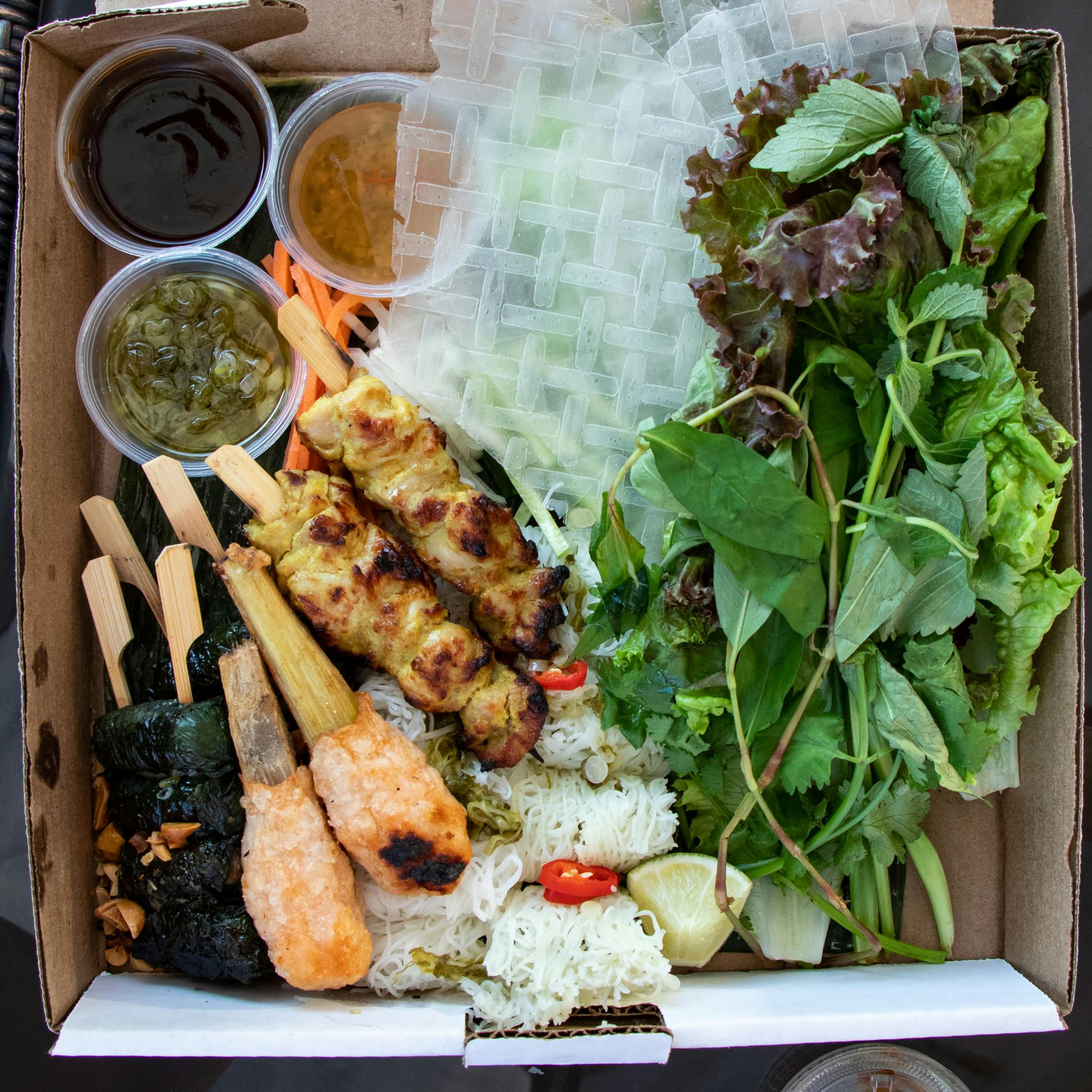 Friday is dedicated to Vietnamese barbecue. This one is inspired by Sou's grandmother who grew up in Vietnam.
"Our family would have weekly dinners where grandma Sou would make dinner for 16. She loved cooking for the family and said she would cook as long as she's capable," says Sou. "Due to the pandemic, family dinners had to be paused."
With family dinners starting in 1998, Sou reflects on this being the longest break and unfortunately, her grandmother passed away last summer.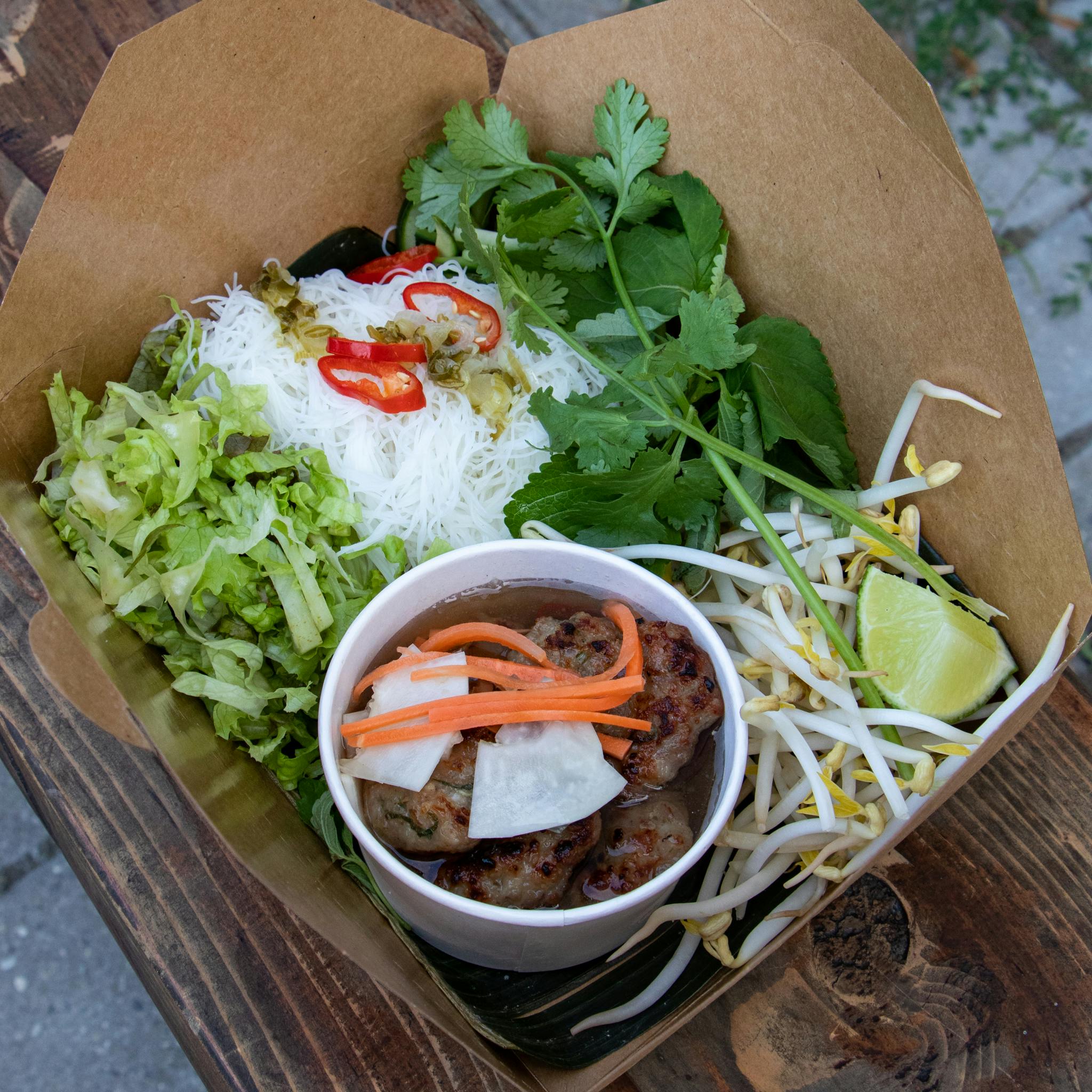 In honour of her grandmother, Sou says they wanted to continue to share her love of food by having this weekly Vietnamese barbecue day in her honour.
"We miss her everyday and wish she could've been able to see, she's the inspiration for starting the barbecue and we hope she's proud."
Sou says her grandparents even had a small store in Macau that sold food and goods, so Quintero and Sou, with their small shop selling food and goods, truly feel connected to them.
"This ironically feels like we're following in their steps," she says.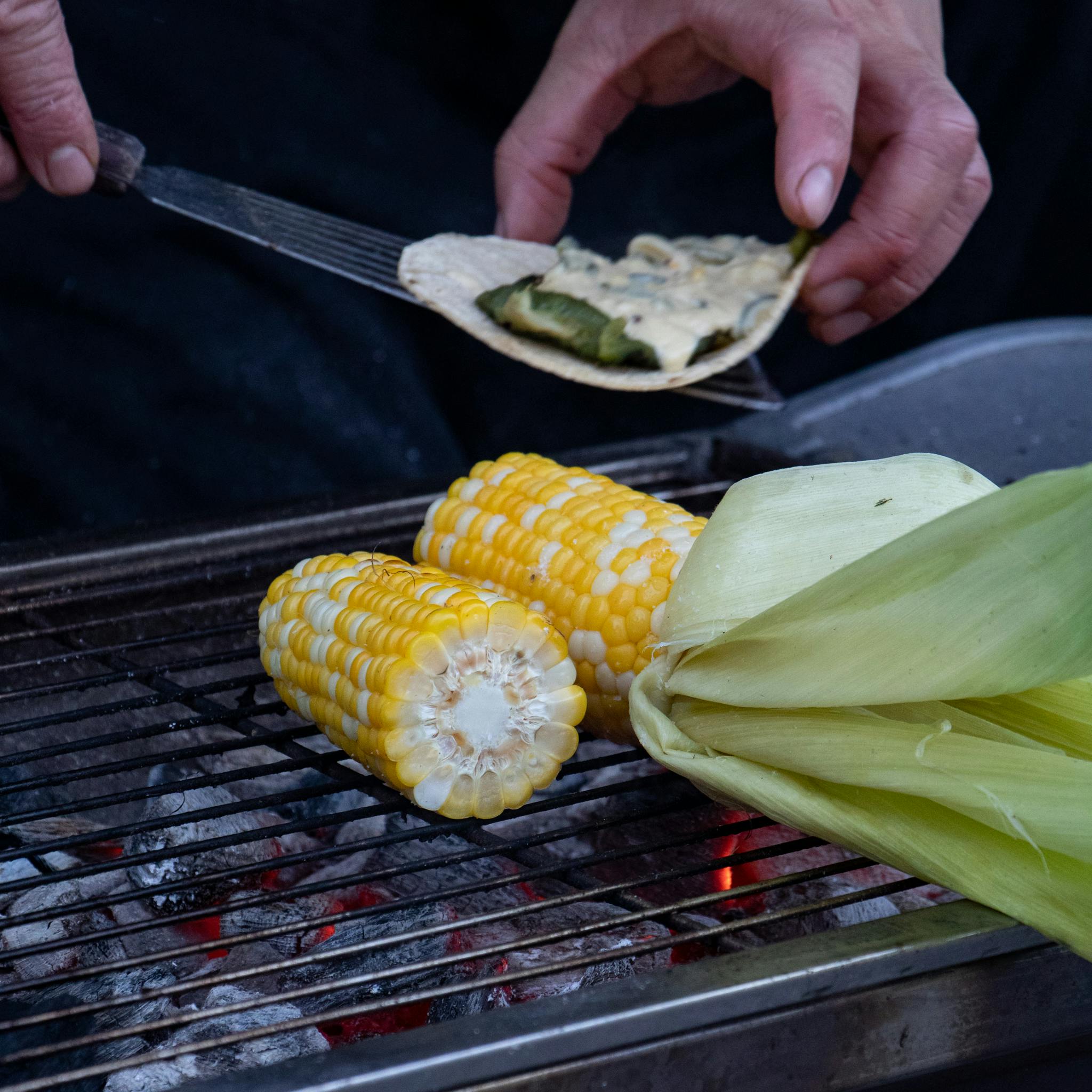 In terms of what's to come for their patio after todays last Vietnamese barbecue from 5 p.m. to 8 p.m., the transition to an outdoor fall fair menu is set to happen this Sunday, Sept. 26.
From 1 p.m. to 7 p.m. on Sunday you can drop by to enjoy their soft opening. The official fall fair date will be the following week on Saturday, Oct. 2 and it will be open Friday through Sunday after that.
"Hopefully the fair will be well-received by the neighbourhood, because we'd love to run a Christmas Market in November," says Sou.
Keep up with all ALMA+GIL's monthly feats, patio pop-ups and more on their main Instagram page.