Ever stopped to notice how Toronto bakery names invariably fluctuate between French elegance (Pompette, Fleur du Jour); rural rusticity (Golden Wheat, Stonemill); cute, catchy and a little cloying (Sweet Bliss, Sweetie Pie) and downright punny (Mad Batter, Whiskful Thinking)? 
Viewed this tendency, there's something scrumptiously subversive about a bakery called Bad Attitude. 
It's a provocative name. And if you're provoked into heading to Dundas West (just off Palmerston) to check it out, you'll have to contend with some serious baked good Bad-ness (in the vernacular sense). 
Bad Attitude Bakery inhabits a former bike shop, which despite painstaking renovations – including a fire engine red "A" spray painted over the "I" in the storefront's "BIKE SHOP" sign – exudes a pared-down, mildly gritty, garage-like vibe (in the best way possible).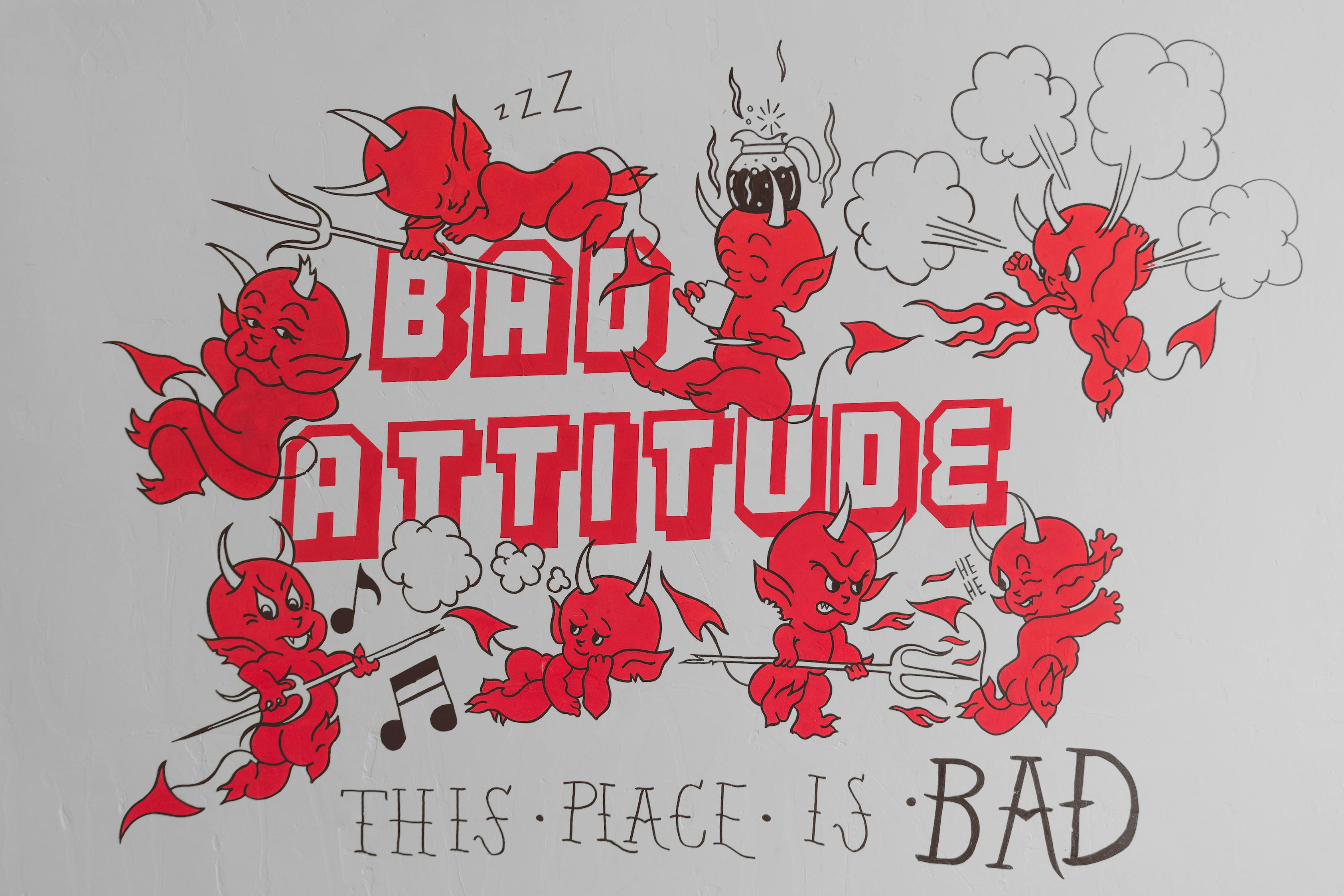 Fire engine red proves to be a decorative touchstone. At the bakery's front take-out section, against one wall, a bright red fridge contains milk for your coffee. Another wall is adorned with a hand-painted mural in rich tones of vermilion. Then there's Bad Attitude's diabolical mascot/logo. Crimson, horned and grinning satanically (or maybe just hungrily), this little devil is a ubiquitous presence, including on merch such as Bad Attitude stickers and Temptation tees ("Lead me not into Temptation; I can find it myself").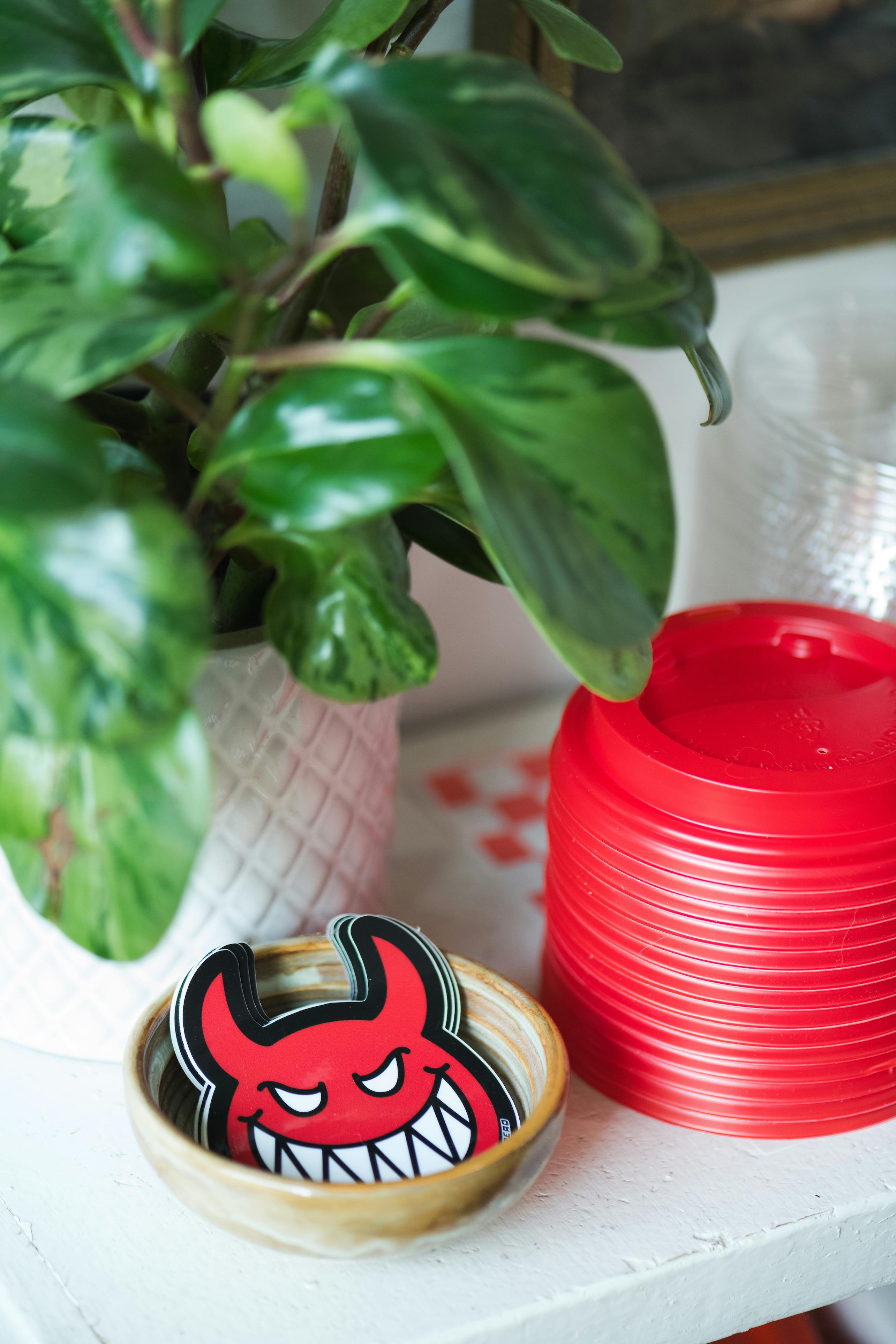 Amid these jolts of red is a beguiling mishmash of potted plants, coffee mugs, stray playing cards and Jesus and Mary icons. There's also a "Beware of the Dog sign" and framed photos of Courtney Cox inScreamand Pamela Anderson in herBaywatchglory days. If it all seems downright and idiosyncratically homey, it's because these artifacts were transported from the former living room of Bad Attitude's creator, owner, and master baker: Logan Dunn.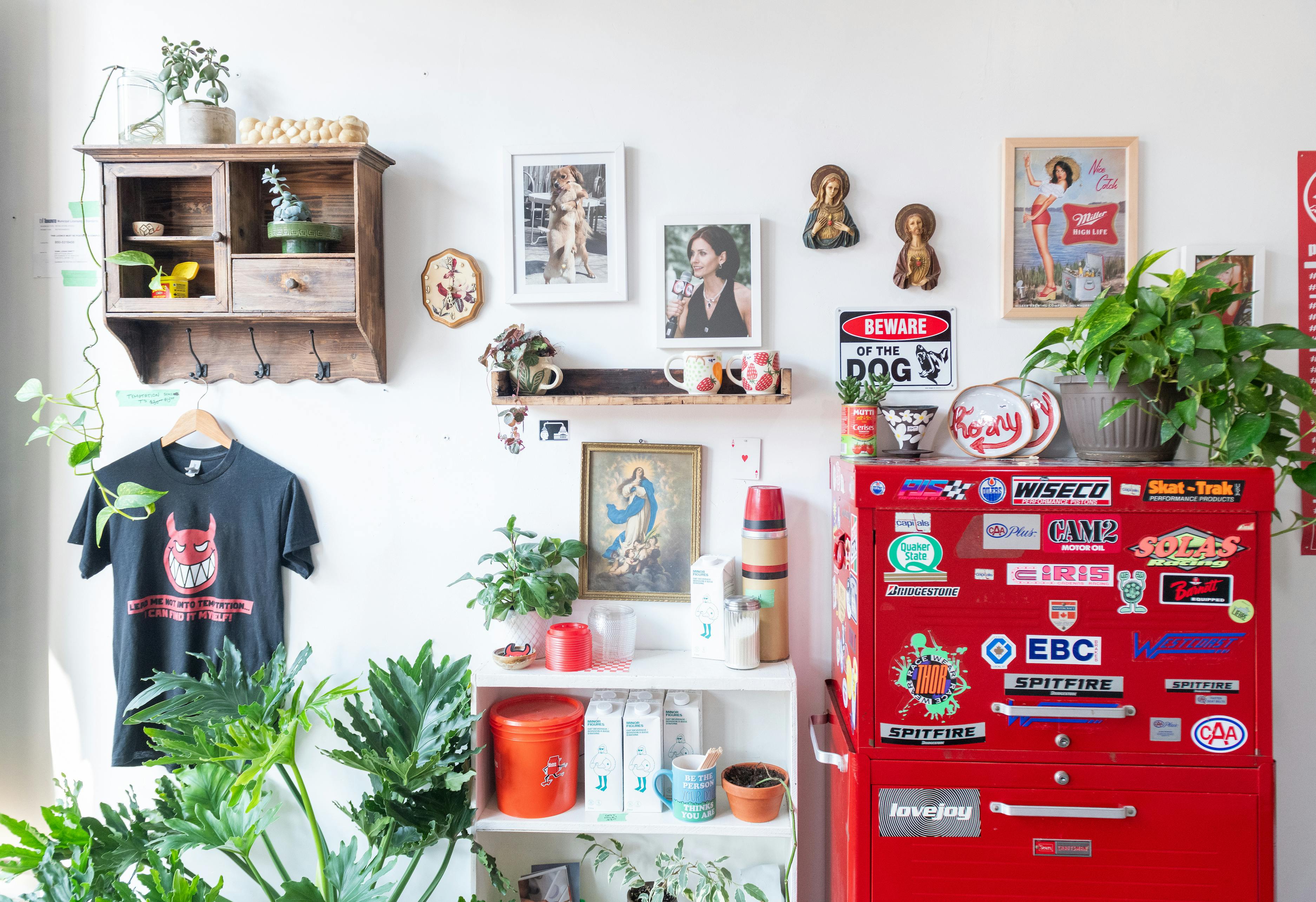 Born and raised in Sarnia, Dunn cops to have grown up with what his parents frequently reminded him was a "bad attitude." "Bad"ness is relative. But Dunn definitely nurtured an attitude, one that blossomed as he matured. 
The attitude caused him to embrace activism and veganism, his own queerness and creativity. It led him to Toronto Metropolitan University where he studied Food and Nutritional Science and began developing recipes and photographing food for the likes of Shangri-La, Parallel and Pusateri's. It then saw him turn his back on big bucks and stability (a full-time marketing position at Pusateri's) for the deep satisfaction (and profound uncertainty) of running his own bakery – a vegan one at that.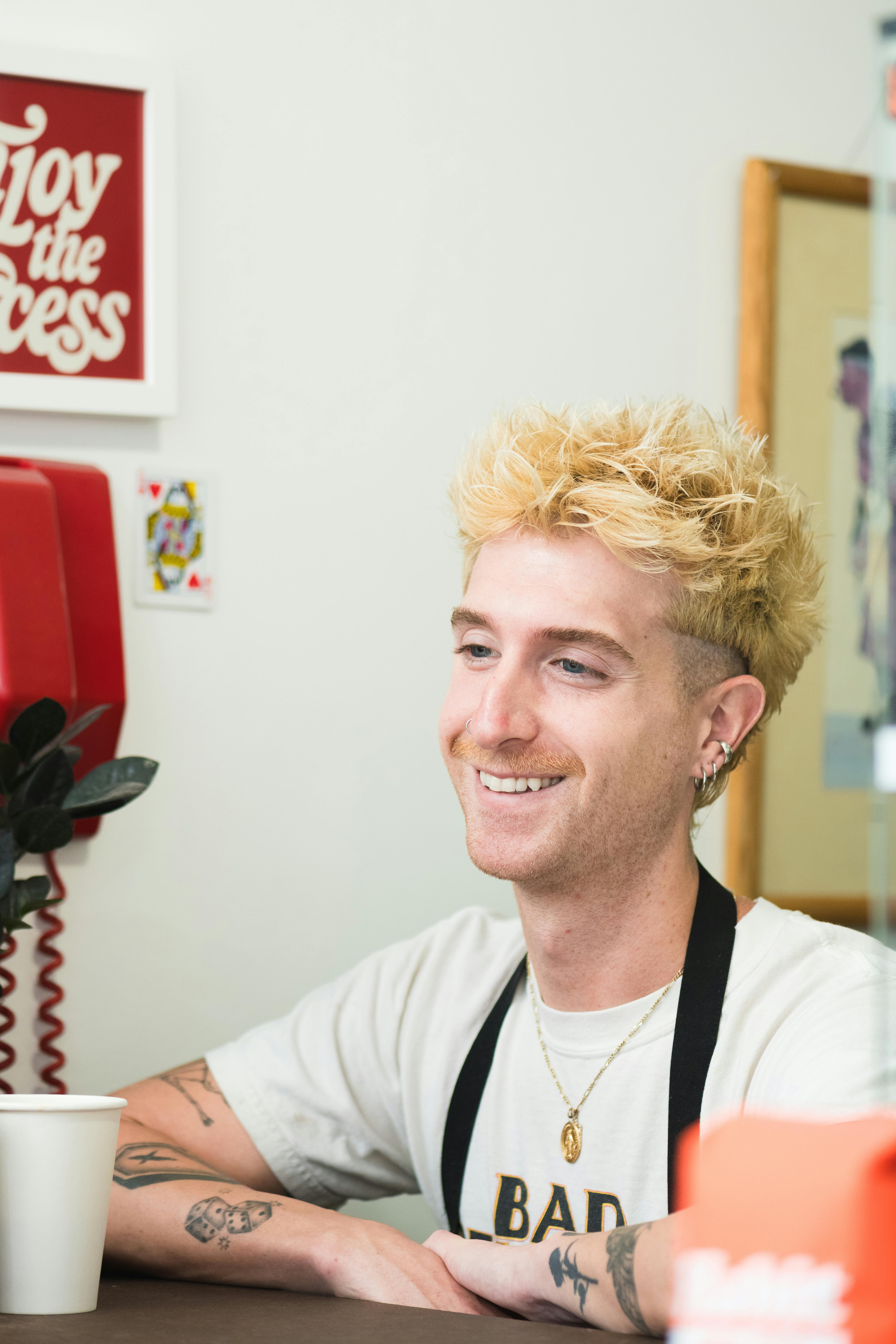 "I've always had a passion for creative fields and working with my hands," says Dunn. He fondly recalls six years spent doing home construction, and many more in the kitchens of Toronto bakeries, among them, groundbreakingly vegan and gluten-free Bunner's Bakeshop, where he was mentored by baker and co-owner Ashley Wittig. Coupled with his own veganism, Dunn's training at Bunner's influenced his decision to open his own vegan bakery. "The fact is I had never baked non-vegan items – I don't even know how." 
During occasional trips to New York, Dunn visited vegan cafes where he was struck by European-style pastries such as flaky biscuits and buttery brioches on the menus. "I felt those items were missing from the plant-based scene in Toronto, which was more about cookies and cakes, cupcakes and muffins. I didn't want to do that because I felt it was already being done, and done well. Instead I wanted to fill a gap, to make a space that I wanted to go to and I knew other people would too."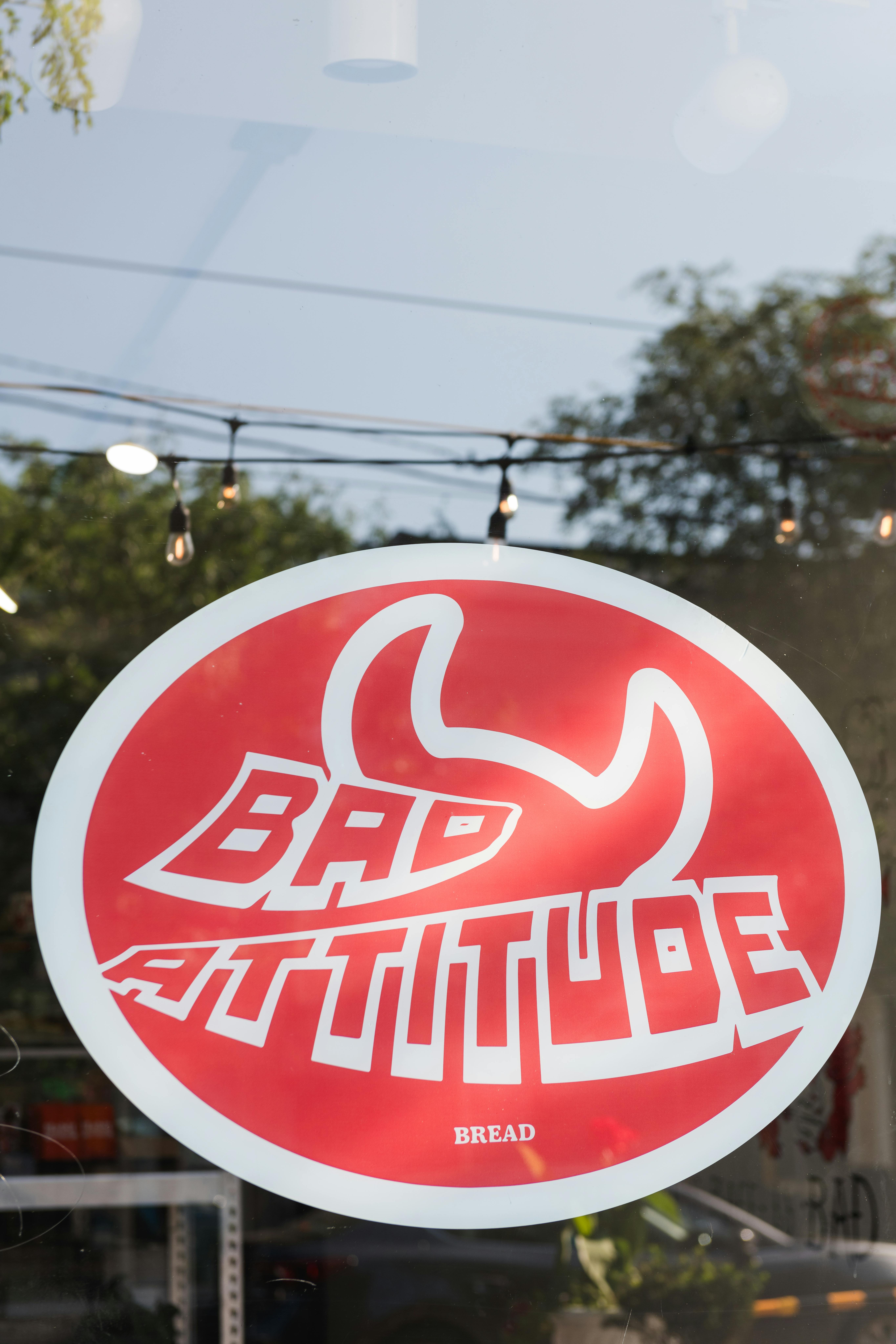 It took a couple of years of hard toil in the pop-up trenches before Dunn gained the recognition and resources to confidently open his own kitchen. By then, Wittig had inaugurated another groundbreaking plant-based business – Honey's Ice Cream – on Dundas West. She invited Dunn to set up temporary shop (for free), as did other generous businesses in the hood. Even so, Dunn also recalls tough times; schlepping unwieldy bins of baked goods to markets around town in Ubers, with drivers giving him grief for "stinking" up their cars. 
Revenge is sweet: Upon entering Bad Attitude, customers (and off-duty Uber drivers) can expect to be immediately enveloped in hunger-inducing, fresh-out-of-the-oven aromas, with notes that range from cheddary and peppery to citrusy and cardamommy.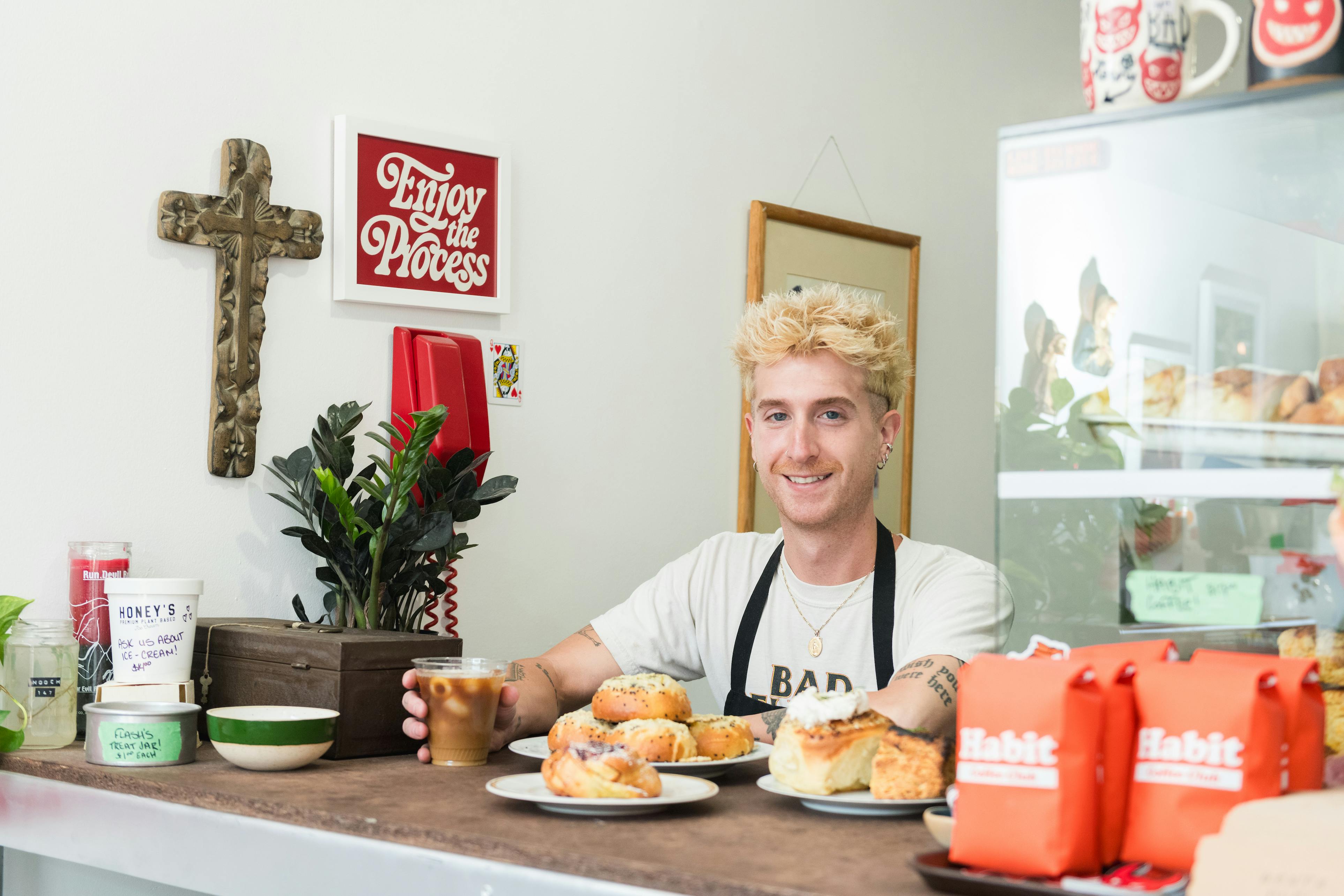 As Dunn eagerly confesses, he's a sucker for spice. When it comes to sweet items, he tends to draw heavily on local, seasonal fresh fruit. But it's rare that he settles for a "flat", one-note flavour. Instead, he goes deep and orchestral, using herbs and spices to add layers to the fruity base. 
The rhubarb marbled sweet rye cookie is a prime example. It starts with a simple rye cookie to which Dunn adds swirls of tart homemade rhubarb compote, made with rhubarb from his boyfriend's farm, along with orange zest, ground coriander and a sprinkling of black peppercorns. The result is harmonious, but surprisingly multifaceted, stretching the codes of cookiedom towards new horizons. 
Buns and brioches receive similar treatment. Inspired by a classic cinnamon bun, the blueberry basil bun's blueberryness pops all the more due to an infusion of basil and lemon that, as Dunn aptly puts it, "lends a little 'Mmmm, what's that in the background?'."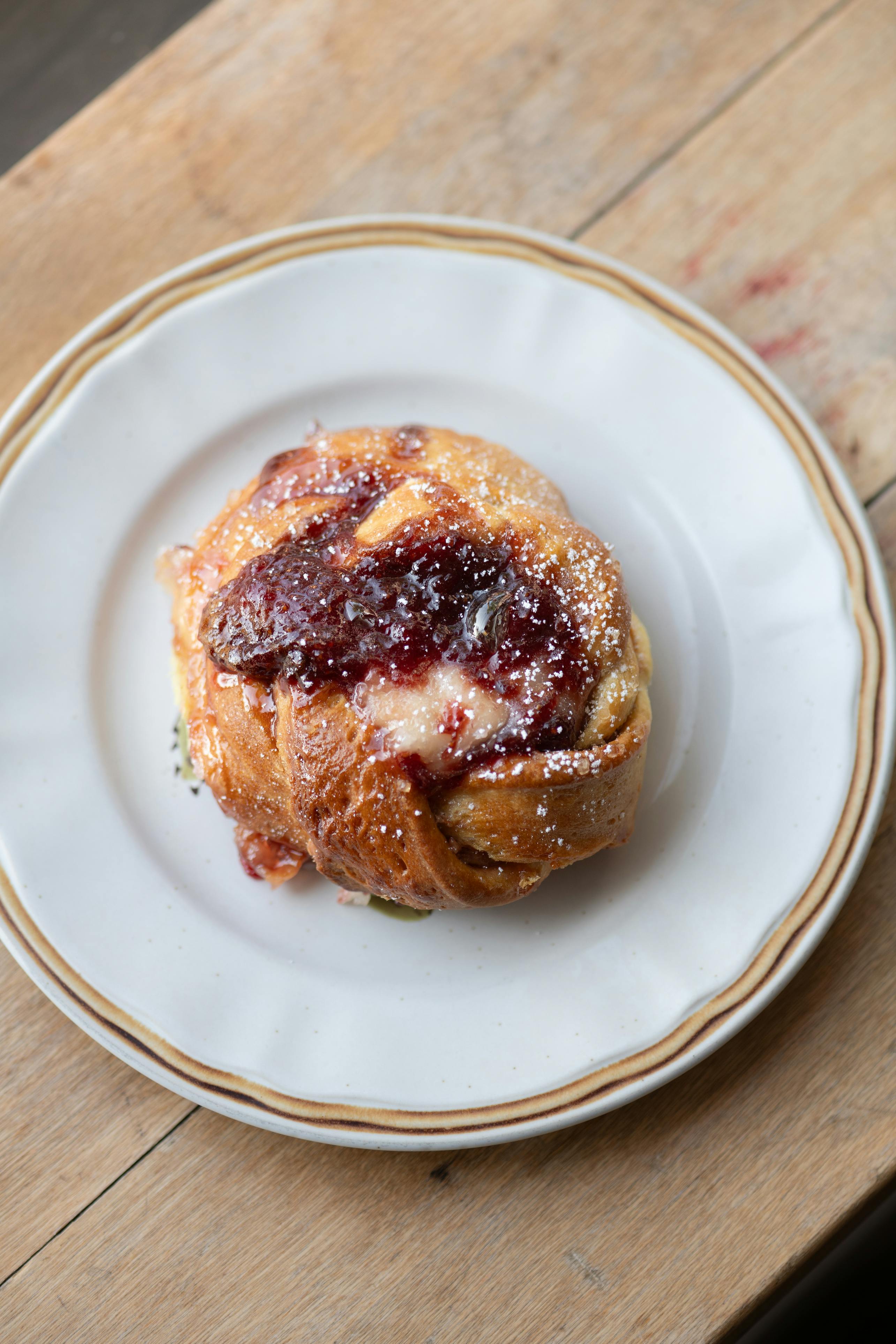 There's also the strawberry cheesecake braid. Similar to a danish, the crevices of this buttery braided brioche are oozing with cheesecake filling and topped with strawberry jam spiked with floral vanilla. 
While these and other sweet items – scones, bostocks, galettes – are permanent menu fixtures, the flavours change seasonally (the blueberry basil bun's predecessor was a raspberry cardamom bun). Less mutable are Bad Attitude's savoury items, many of which developed ardent cult followings during Dunn's early pop-up days. 
The pesto parm bun, for example, consists of brioche dough, brushed in garlic butter, encasing (just barely) a creamy core of mozzarella and house-made pesto. Topped with black sesame seeds and grated Parmesan, it's a big fluffy ball of cheesy, herbaceous, umami-packed satisfaction.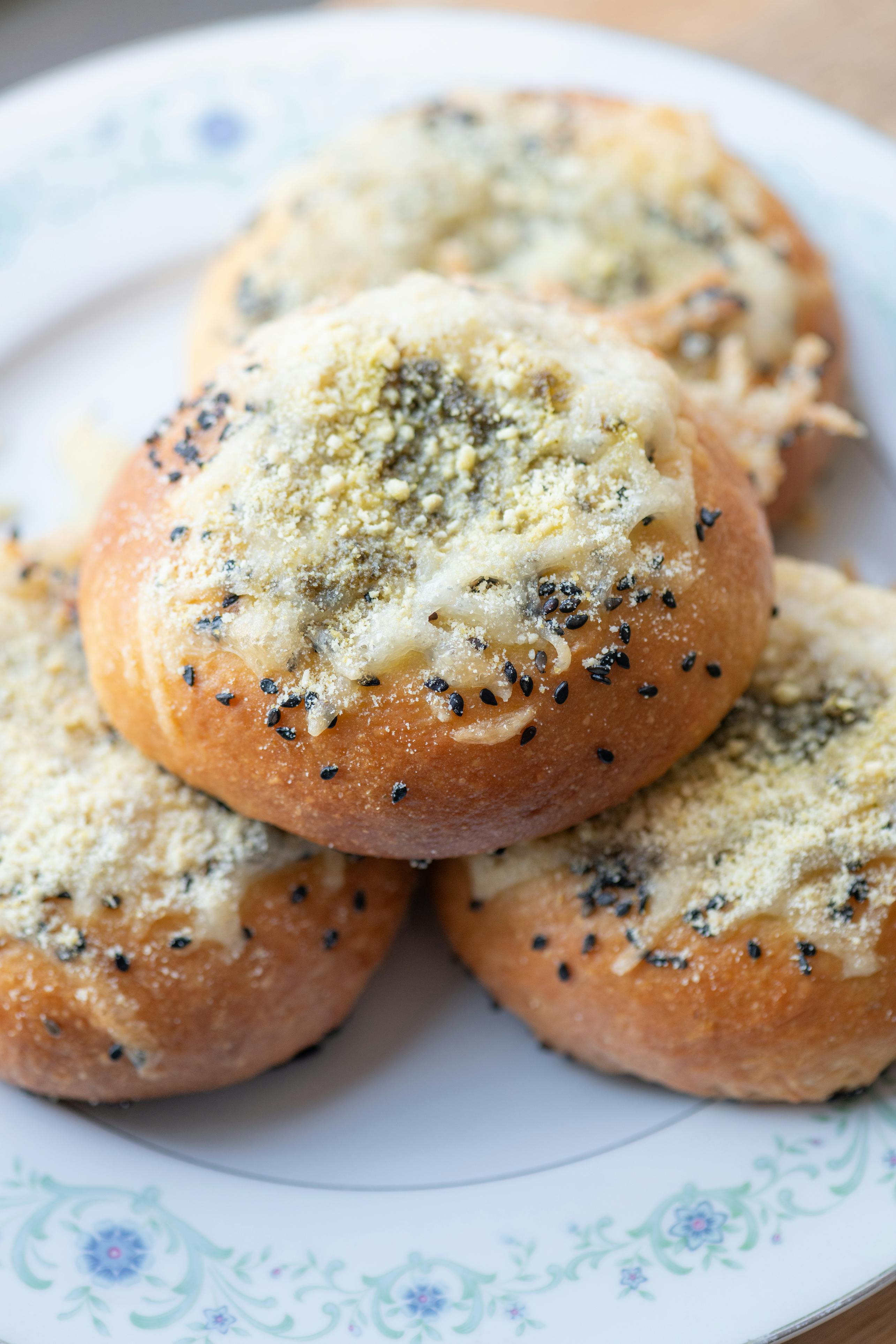 Equally sought after are the cheddar bay biscuits, which Dunn modeled after Red Lobster's. Back in the days when he was still working at Honey's, he rustled up a batch as a one-off for a staff lunch. When "everybody lost their minds," he realized he'd have to add the scone-like cheddar biscuits, shot through with garlic, onion and Old Bay seasoning, to Bad Attitude's repertoire. 
"Losing one's mind" is paramount to Dunn. He describes it as the visceral reaction you have upon biting into something so good that "it makes you go 'Mmmmm!' and do a little dance". 
With respect to Bad Attitude's Everything Bagel buns, customers really dance up a storm. When Dunn tallied up his sales for 2022, the stats revealed that a whopping 60 percent of the bakery's profits came from the Everything Bagel bun alone. Try one, and you'll understand the math. 
The bun itself is soft and squishy, with inner swirls of creamy mozzarella, cream cheese, chives and Everything Bagel seasoning. But Dunn generously goes one further, topping the bun with a big cloud of cream cheese, mixed with even more chives and Everything Bagel seasoning. This is done "mostly for looks, but also so you can rip it and dip it."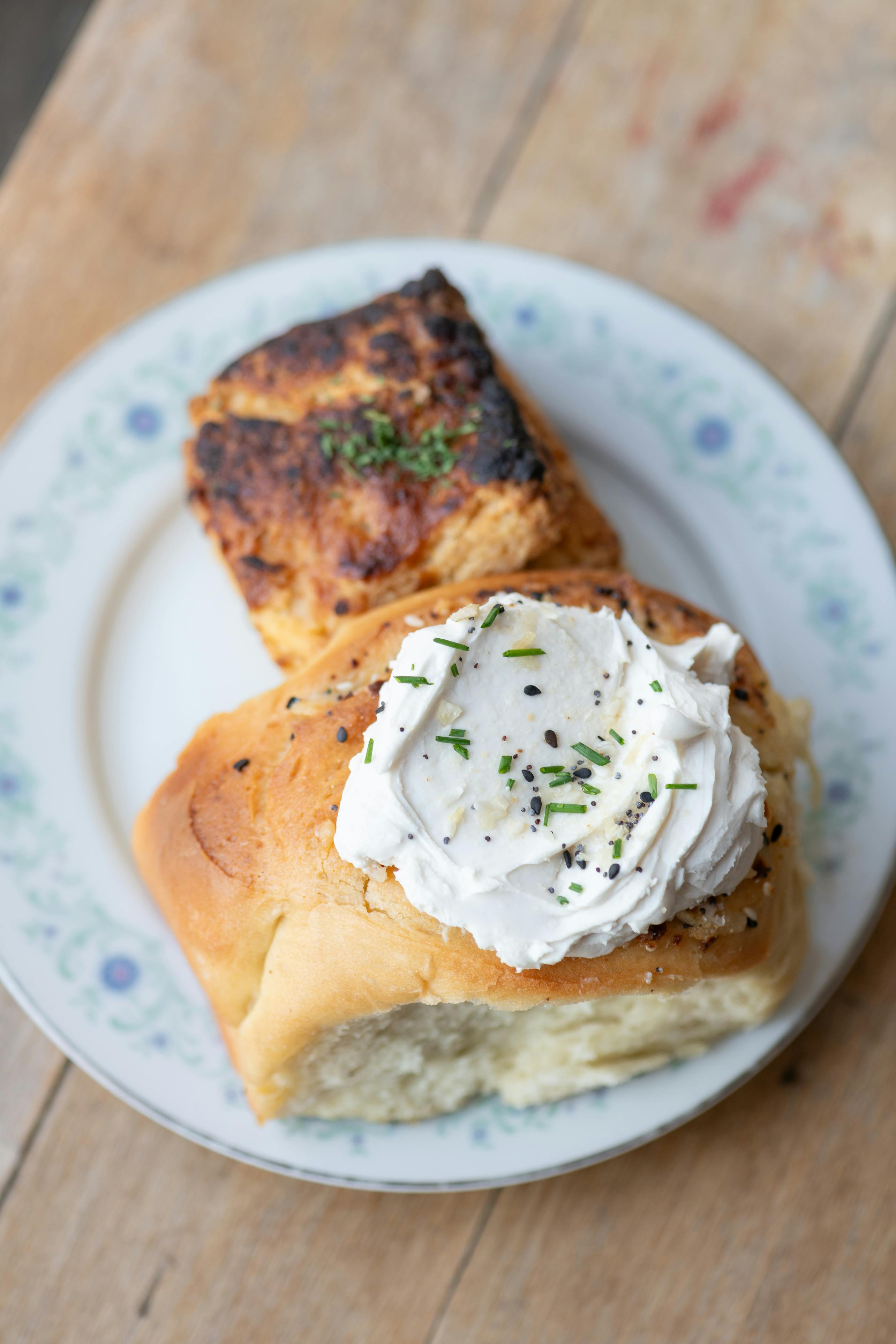 Equally rip-able and dip-able are Bad Attitude's herb and parm garlic knots, paired with chunky homemade marinara sauce. "People lose it over the marinara," Dunn admits, adding that he has plans to sell it by the jar. Aside from quality olive oil and tons of basil, he believes the sauce's success is due to his fearless use of salt(s), in this case, sea salt, onion salt and garlic salt. "Often, I don't feel people use enough salt," he observes, adding: "Even the sweet things here have a decent amount of salt to amplify their sweetness." 
Viewed his predilection for all things salty, Dunn isn't surprised that Bad Attitude is better known for its savoury than sweet items. To date, much of the bakery's grab 'n go traffic revolves around customers getting their morning/early afternoon baked-good-and-coffee fixes (Bad Attitude's brew of choice is Habit). However, new offerings in development are meant to function more as meals than snacks or desserts. Specifically, Dunn is thinking about sandwiches and foccaccia pizzas – (black olive foccaccia topped with sea salt and marinara sauce is currently available only on weekends) – items capable of luring, and satiating, a lunch and early dinner crowd. 
Dunn confesses that merely having time to think is a luxury after Bad Attitude's initial two months, when he was consumed with non-stop baking and "chasing the business down the hill."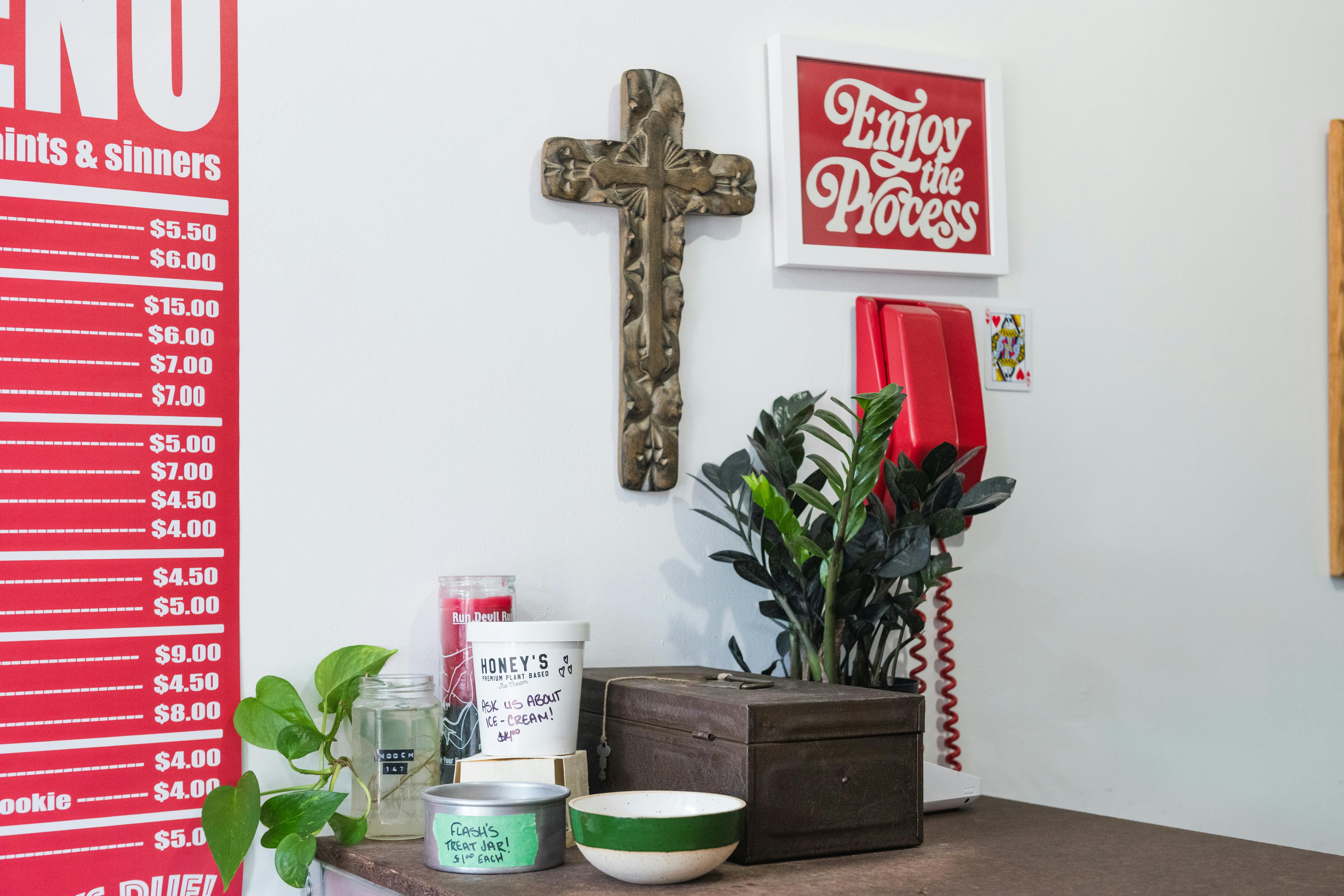 The space of Dunn's dreams goes far beyond a kitchen and display case full of fresh baked goodies. It's also very much a second-home space, a safe space, a community space. Although Bad Attitude isn't zoned to have tables, Dunn welcomes customers to sit on the sidewalk bench or on the front window ledge, to soak up the homey vibe and ask him (as many do), "Why is this on the wall?"
Aside from his own treats, he also encourages customers to purchase wares made by like-minded, indie creators. In addition to Habit coffee beans, there's Honey ice cream, and cool ceramics made by a friend. On Sunday afternoons, Dunn offers free space to an eclectic roster of small, usually plant-based, start-ups, where they can sell their products and market themselves. "That's how I started and that's how I came to have this space," he acknowledges, stressing the importance of paying it back while also moving it forward.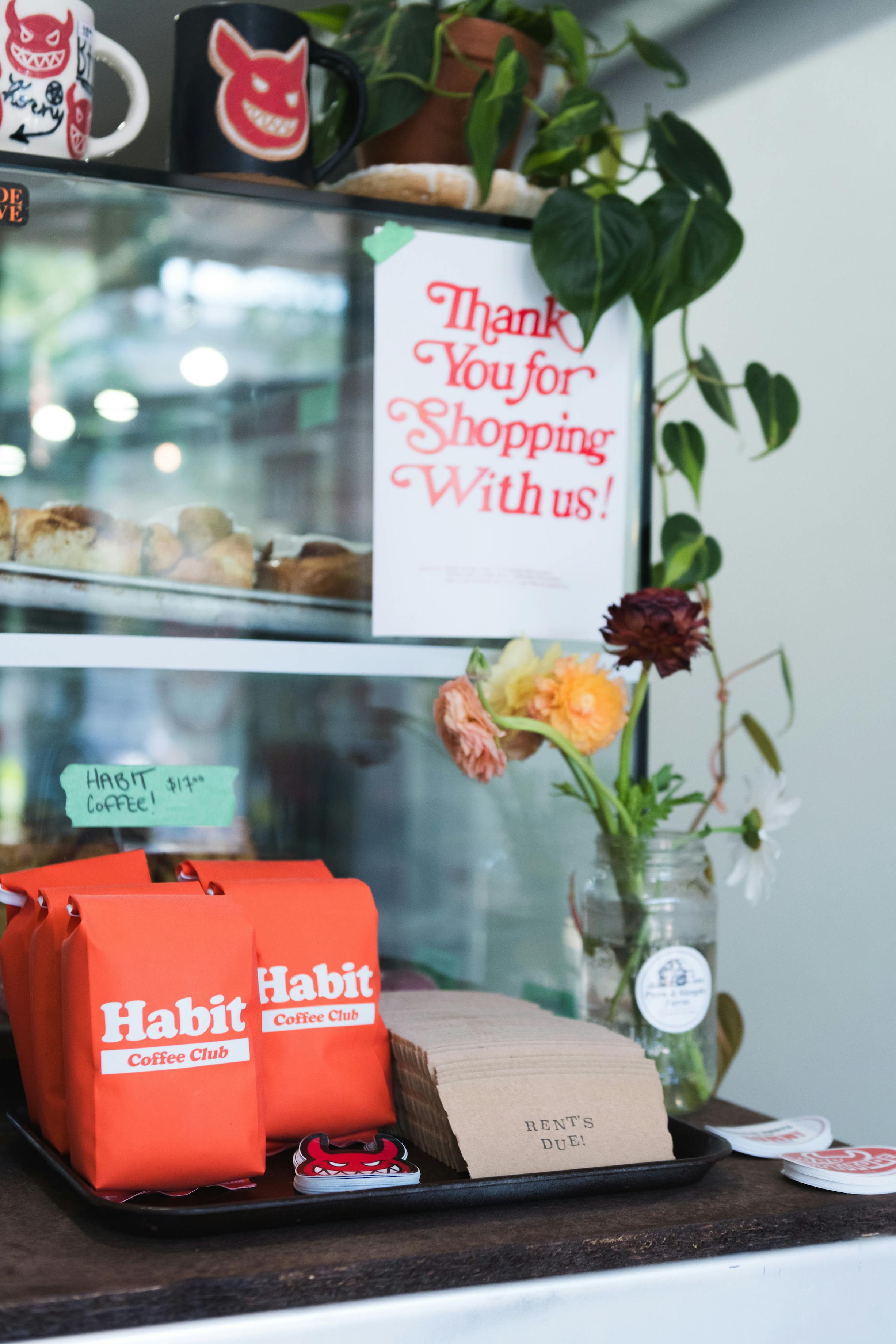 Such commitment to community is baked into Bad Attitude's ethos. It's expressed by Dunn's policy of charging Pay-What-You-Can for the bakery's golden crusted loaves of white milk bread because he firmly believes that "everybody should have access to plain white bread." Acknowledging that other items' prices are less accessible due to factors beyond his control (such as rent), he offers surprise bags via theToo Good to Goapp, which also prevents unsold items from going to waste. 
If these goodwill gestures seem incongruous with a "Bad Attitude," Dunn swears he's still given to constant eye rolls and cynicism. These days, however, he directs his ire towards systemic injustices and channels his attitude into being productive, so deliciously that one hopes he doesn't lose the attitude anytime soon.