Spot review was written prior to current restrictions. Due to a rapidly changing climate, please check with the restaurant on their current status of operation.
Photographs by Paolina Loseto
Having opened back in 2017, Bar Sybanne has become known as a hot spot for incredible Mediterranean and Middle Eastern small plates. Years later, however, with the new state of the world, co-owners Carlos Crespo, and chef Howard Dubrovsky, felt the need for change and thought the reopening of their space called for an almost entirely revamped food and beverage menu.
The name Bar Sybanne originates from the combination of Dubrovsky's grandmothers, Sybil, and Anne, who are both pictured on the walls in the main dining room. Dubrovsky always had an affinity for food, even when he was younger, but he says, "It was really through the enjoyment of cooking with my grandmothers and seeing them cook that really pushed me into making food my career."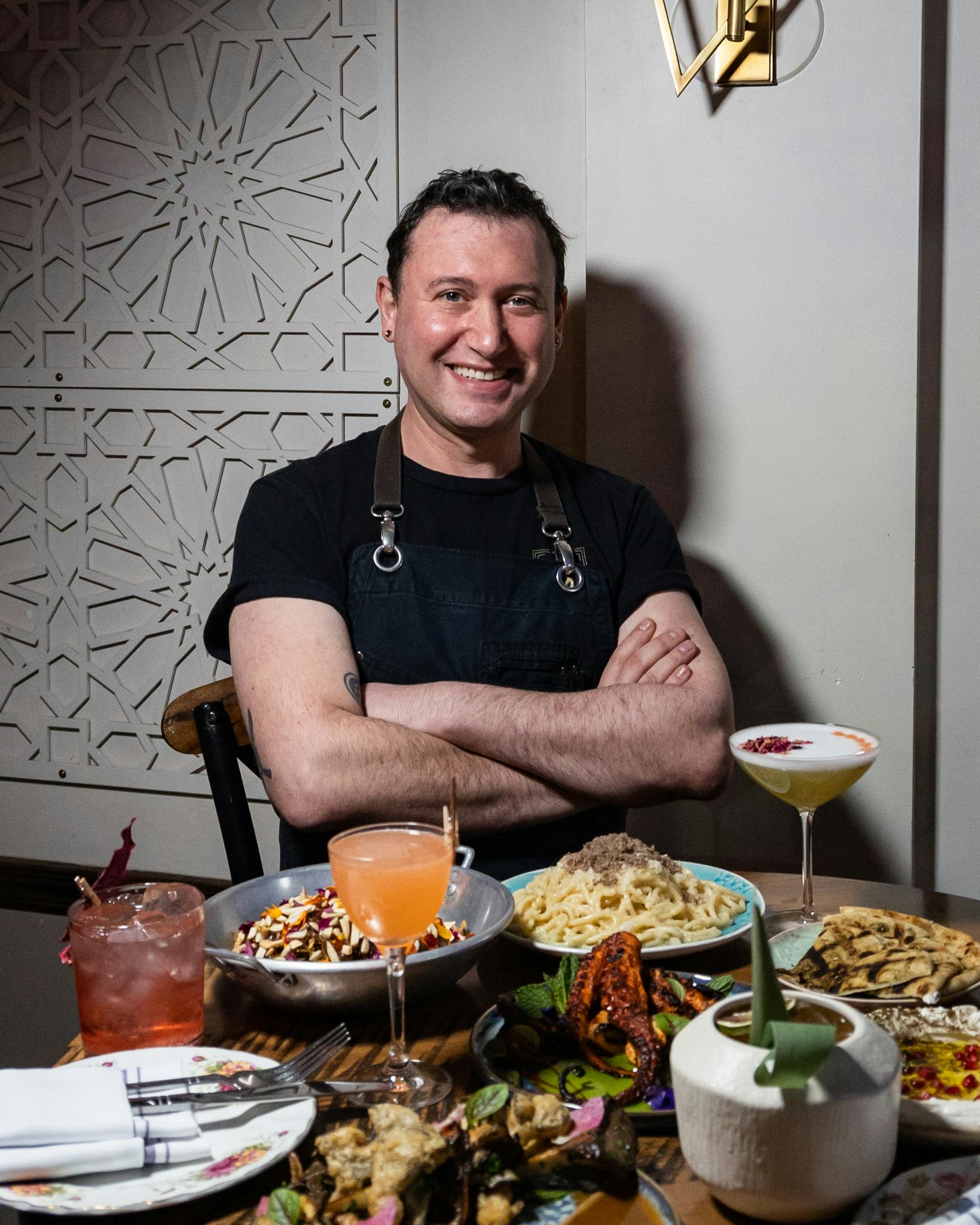 Though the food on the menu isn't necessarily a part of Dubrovsky's background, it is the kind of food his parents made when he was growing up and became a type of cuisine that he identified with. He says, "We don't do anything too traditional on the menu, but we take flavours from the Mediterranean, the Middle East and Morocco, and we mix them together to put our spin on normative or classical dishes.
"I like the cuisine for the general profile of the flavours. The spice palate and the produce that's available within that spectrum, but I really like that it's accommodating to people. The menu is largely vegetarian, but with some sustainable meats, poultry, and fish included. It's celiac, gluten-free, and vegan friendly, and becomes a kind of cuisine that you can go with a group of people, and everyone can find a number of things they'd enjoy."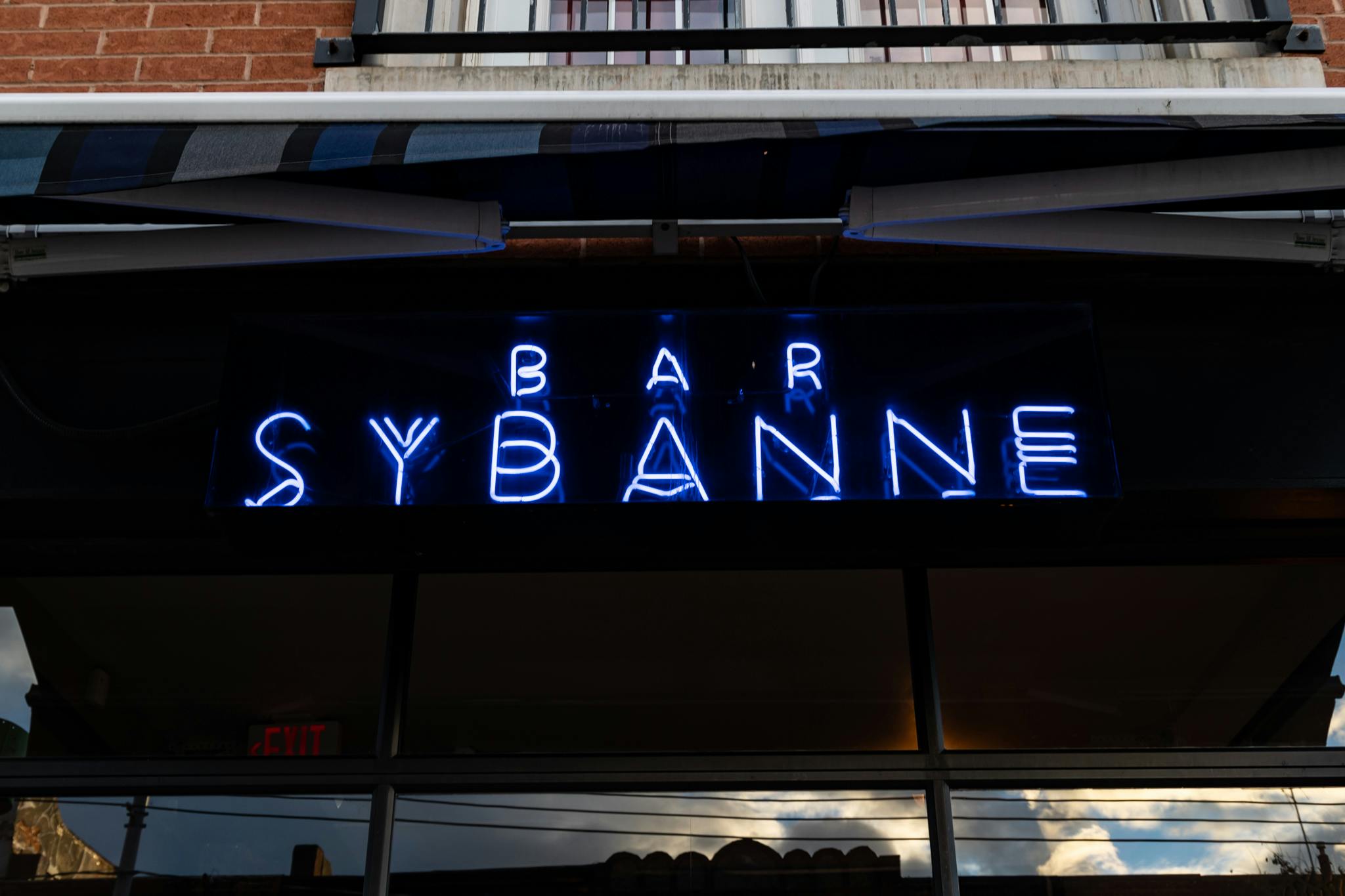 When Duborvsky opened L.A.B (Live and Breathe), his first restaurant in Toronto, it was more of a cheeky spin on molecular cuisine, featuring complicated dishes with lots of components and garnishes. Bar Sybanne, however, is more about aesthetically pleasing, approachable food that most patrons can relate to in some way or another.
He says, "The only silver lining of COVID, is that there is now this feeling of resurgence, and we have a lot of new customers coming in, most of which who were exposed to us through our various takeout efforts during the pandemic. With folks starting to venture back out for dinner, it gives us the opportunity to re-introduce ourselves to the city and show everyone what we're really all about."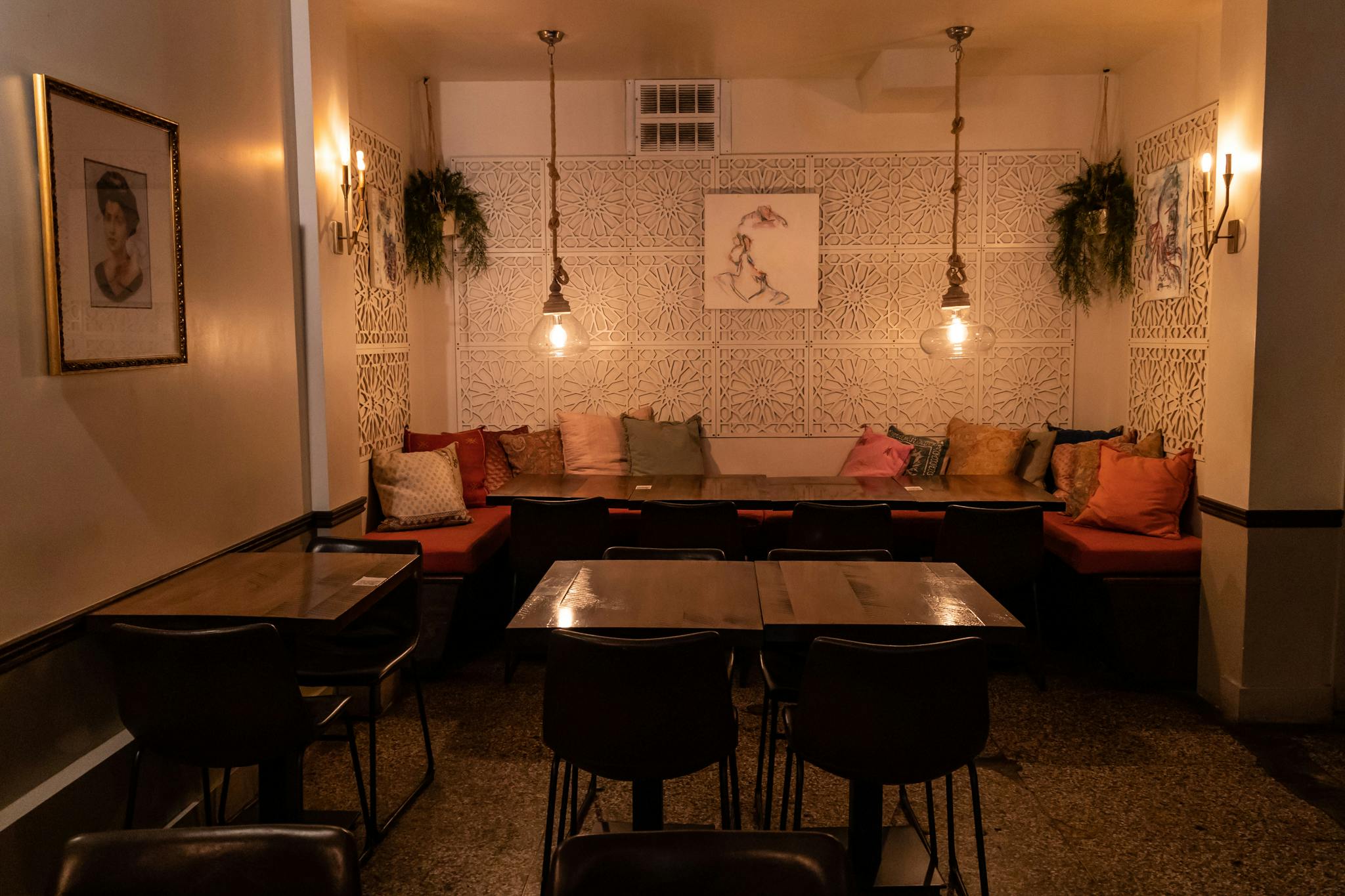 The space is warm and cozy and boasts an inviting atmosphere. The various pieces of art hung up on the walls were painted by Dubrovsky himself, who has found painting to be a cathartic way to destress in his, though sparing, downtime. The main dining room walls are adorned with intricate latticework that beautifully complements the Mediterranean vibe. A large plush banquette with colourful pillows lines the back wall, with low-hanging Moroccan lamps to round out the relaxing atmosphere.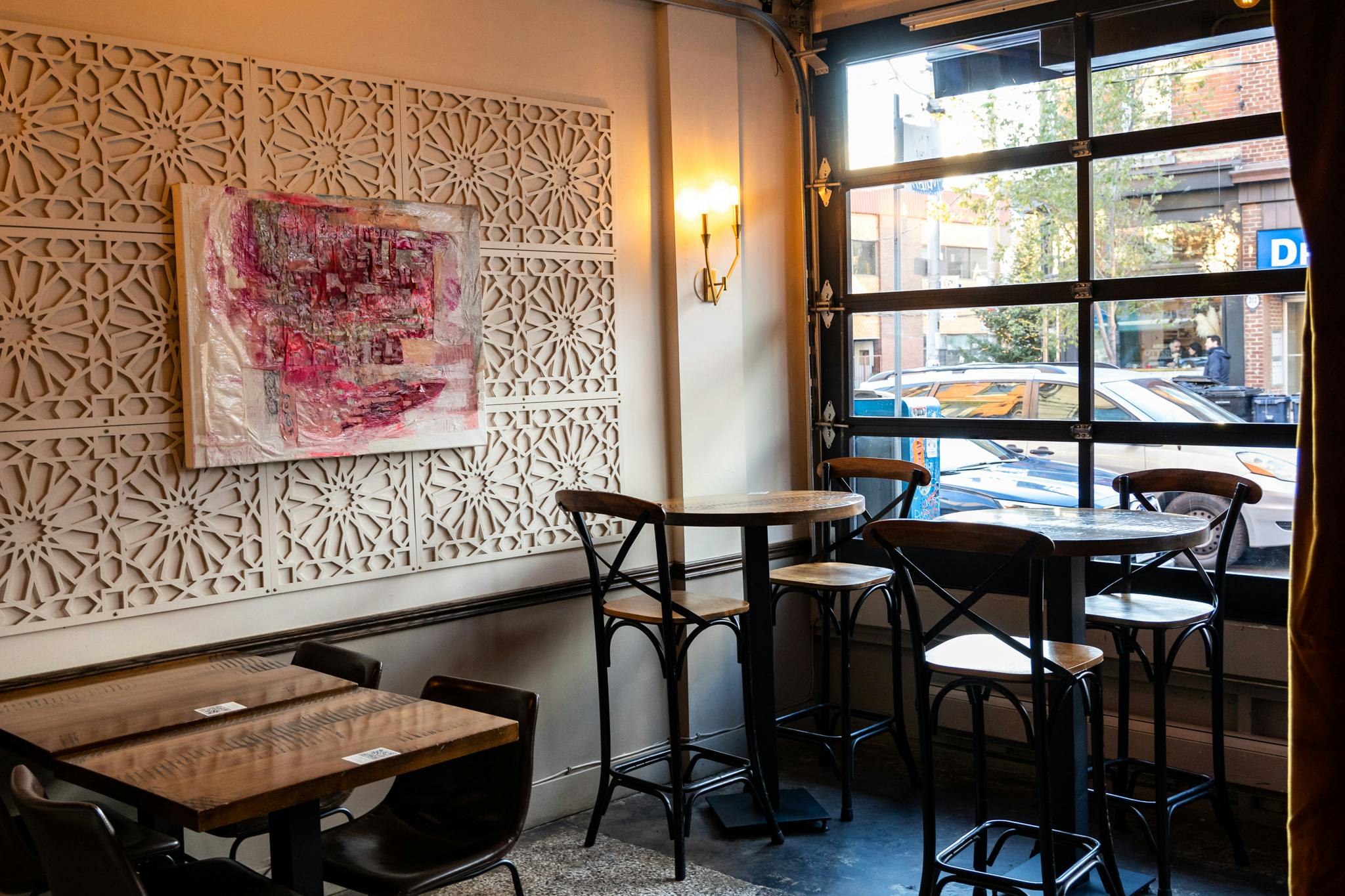 High tops line the front window, which opens up to create a sort of makeshift street-side patio in the summer. The large bar acts as the centrepiece for the space, with matching lattice-like accent patterns to match the rest of the walls, mirrors, and hints of greenery. With only 62 seats in house, every table makes you feel like you're in the centre of the action, and you'll be looked after carefully by the tight-knit front-of-house team.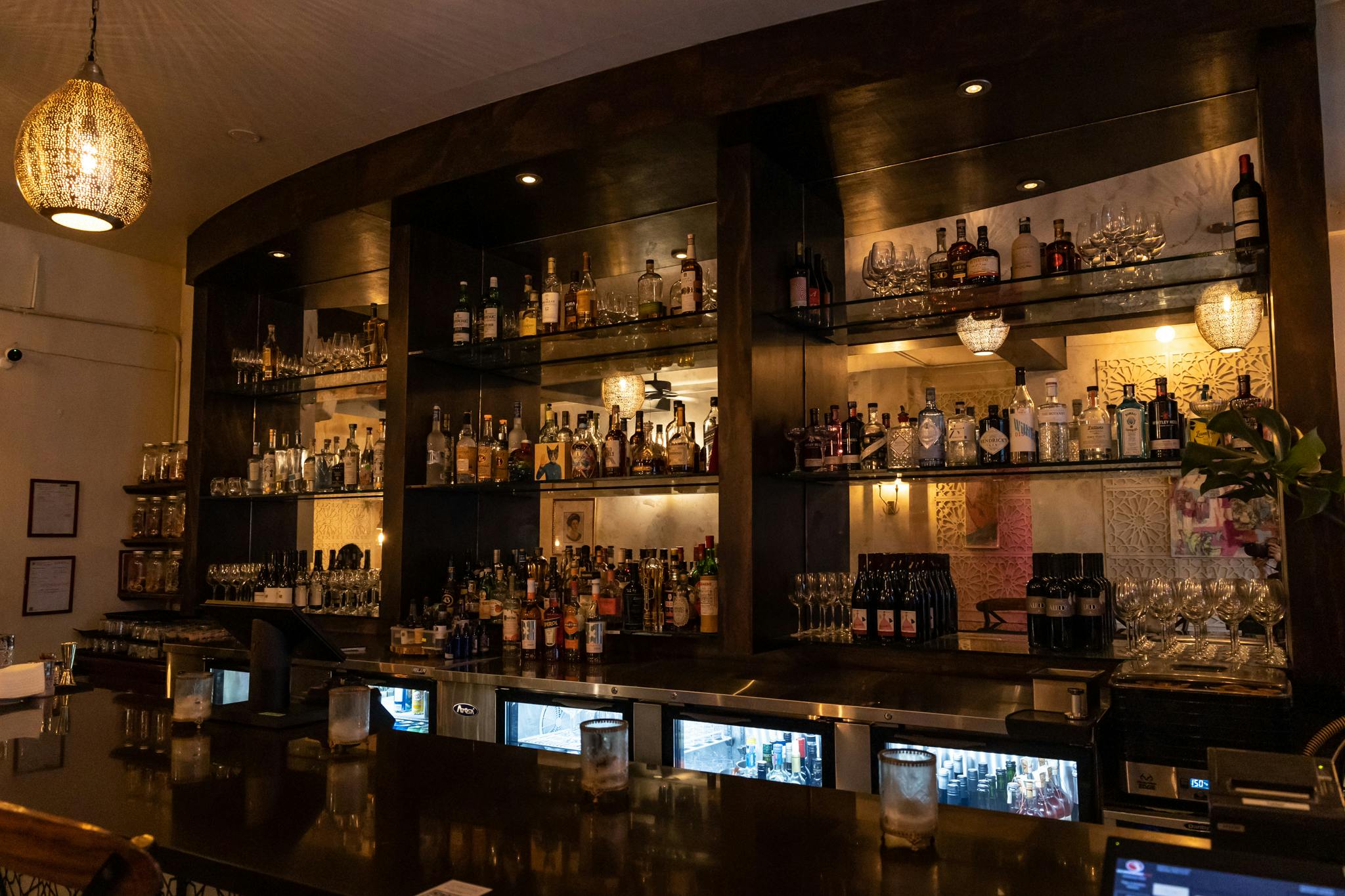 The menu is rather diverse and is made up of a variety of dips, as well as hot and cold plates, all excellent for sharing.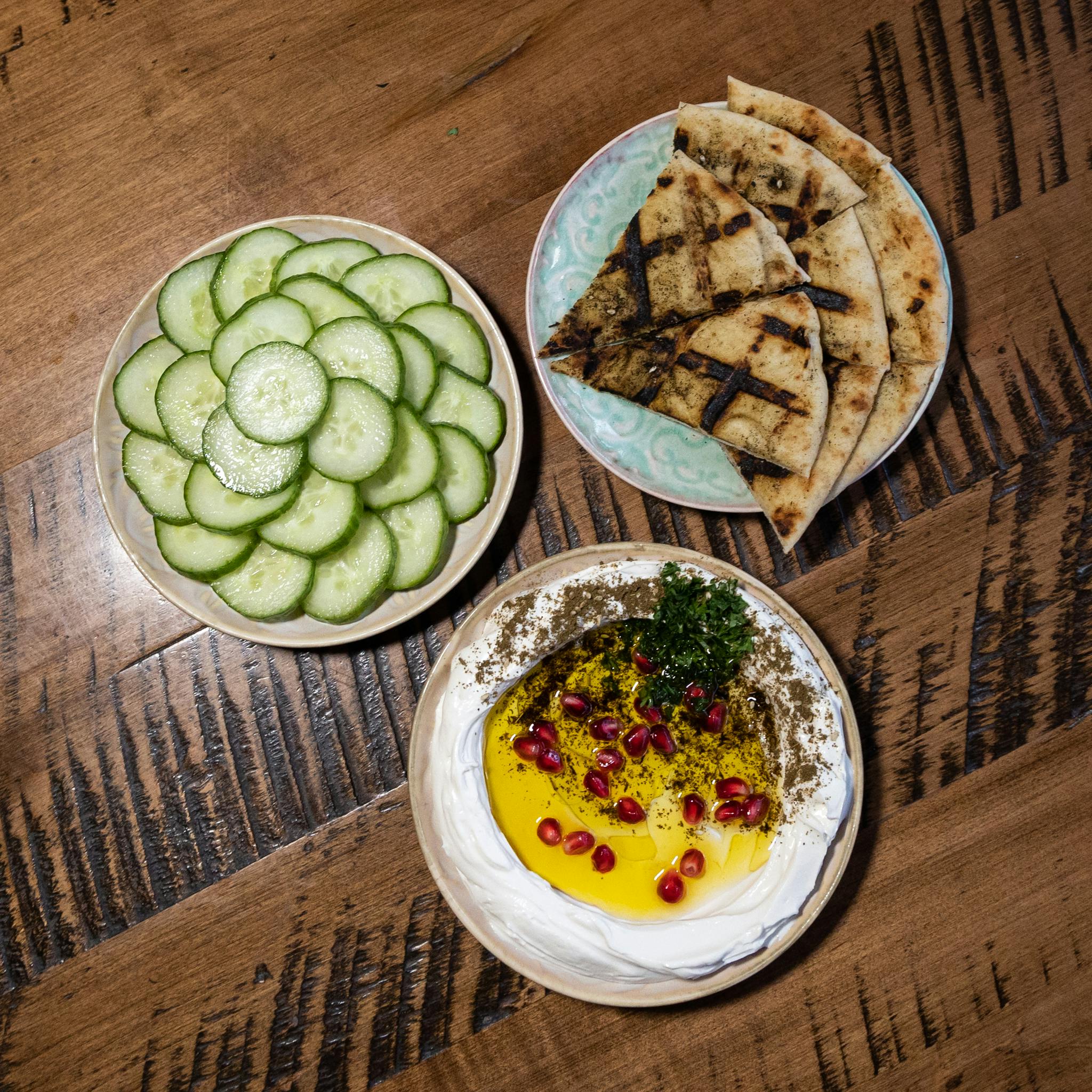 The Labneh, for example, is one of their most popular dips and is the closest item on the menu to a traditional dish. They start with a Balkan yogurt which is hung for two days for it to thicken, get rid of the excess liquid and help concentrate the flavour of the dairy. A hint of citrus and acidity are then added by way of pomegranate molasses before it's topped off with a house-made za'atar seasoning blend and fresh pomegranate. Served with house-spiced pita, cucumbers, or both, it makes for a light and wonderful way to kick off your meal.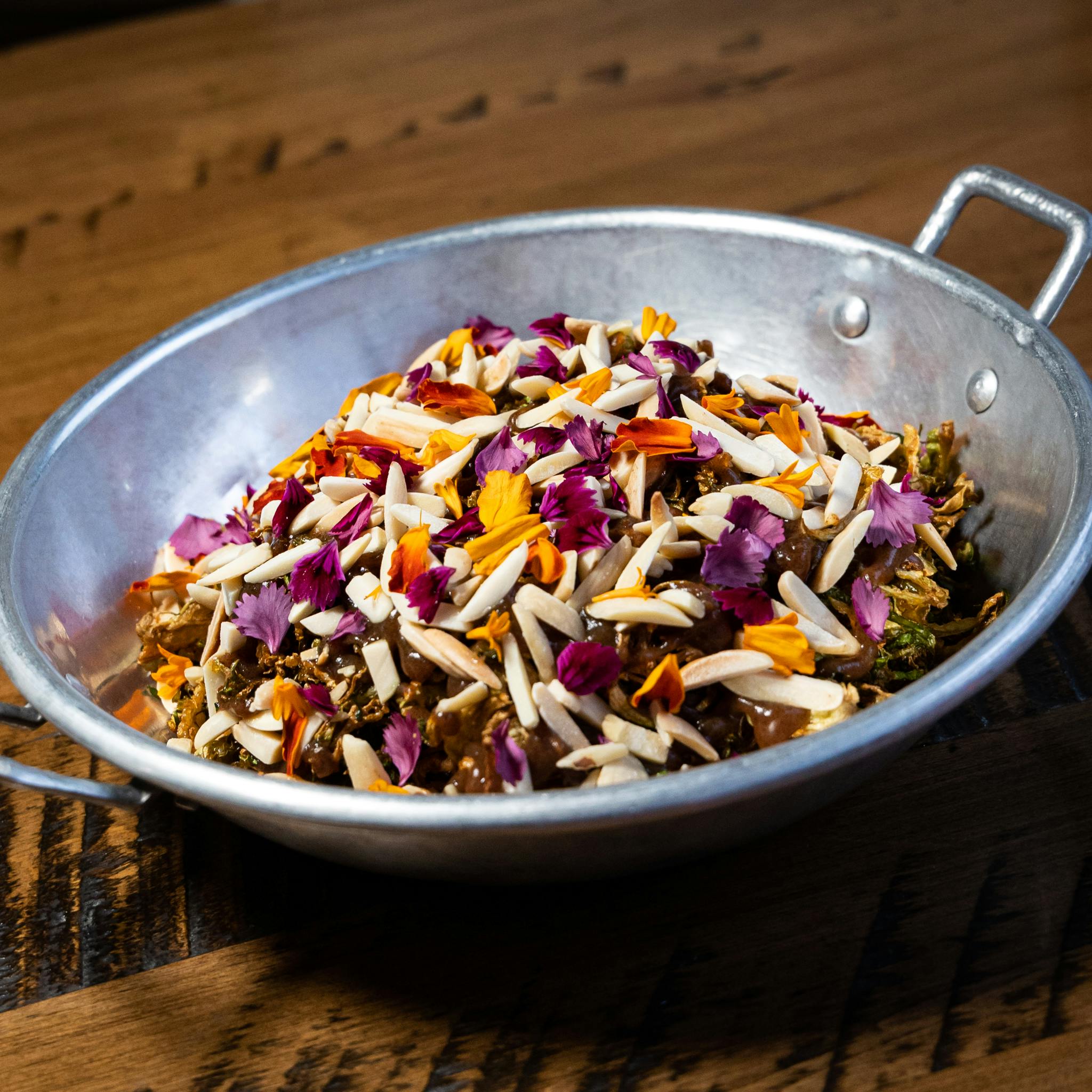 Dubrovsky says the signature dish on the menu is the Fried Brussel Leaves, as it is one of the only menu items that has remained the same since the beginning. He says, "When I first made the dish, it was really just a way to fill a vegetable spot. I love Brussels, but a lot of people don't, so the challenge was making this palatable for the masses."
By shredding the leaves and giving them a flash-fry, the team was able to create this crispy texture of the veg that is lightly salted and topped with a fig purée and toasted almonds. The dish boasts a delicate balance of sweet and salty flavours, and the crunch is oh-so-satisfying. Dubrovsky is also a big fan of edible flowers and finds it a great way to add an organic pop of colour to any dish.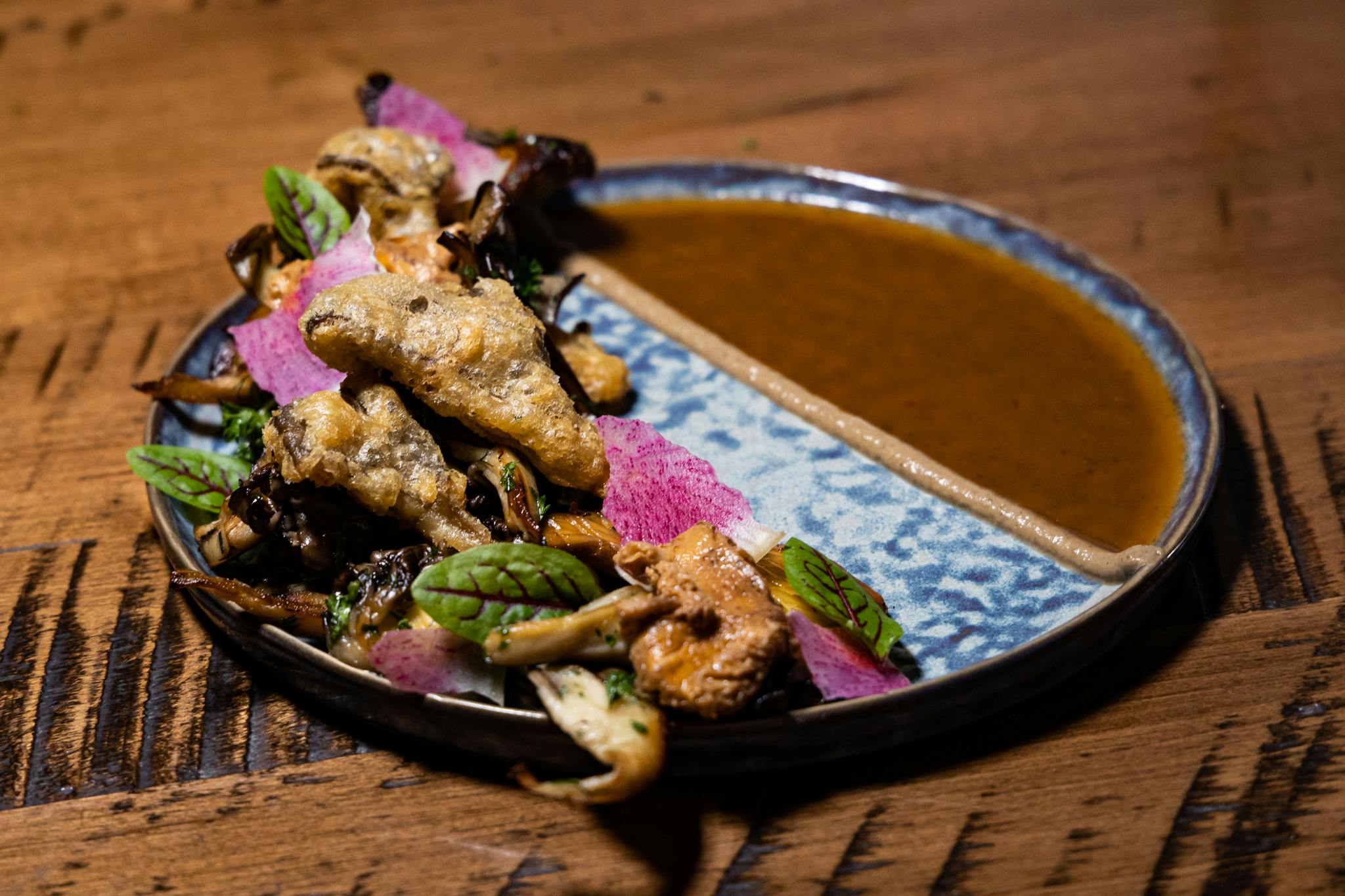 The Mushrooms Five Ways highlight the different flavour profiles and textures of a variety of mushrooms. They use seared maitake, king oyster, oyster, cremini and chanterelles, with a different application technique to each one. From pickling to frying, to sautéing, to puréeing, each mushroom has its own burst of unique flavour and is delicious when dipped into the mushroom jus, made up of a combination blend of all five. Each bite of this dish will provide a completely different mouth-feel and experience, which keeps it very interesting as you enjoy.
Being a huge pasta fan, Dubrovsky is thrilled to have a Truffle Cacio e Pepe on the menu. The noodles are sourced from a 'no nonsense' mom-and-pop Italian pasta shop 20 minutes north of the bar, but they make a light butter sauce in-house, with a hint of lemon, black pepper and Pecorino, reminiscent of a classic cacio. Finished with a generous portion of shaved black truffles, this pasta is decadent and mouthwatering and is sure to be a hit for everyone at the table.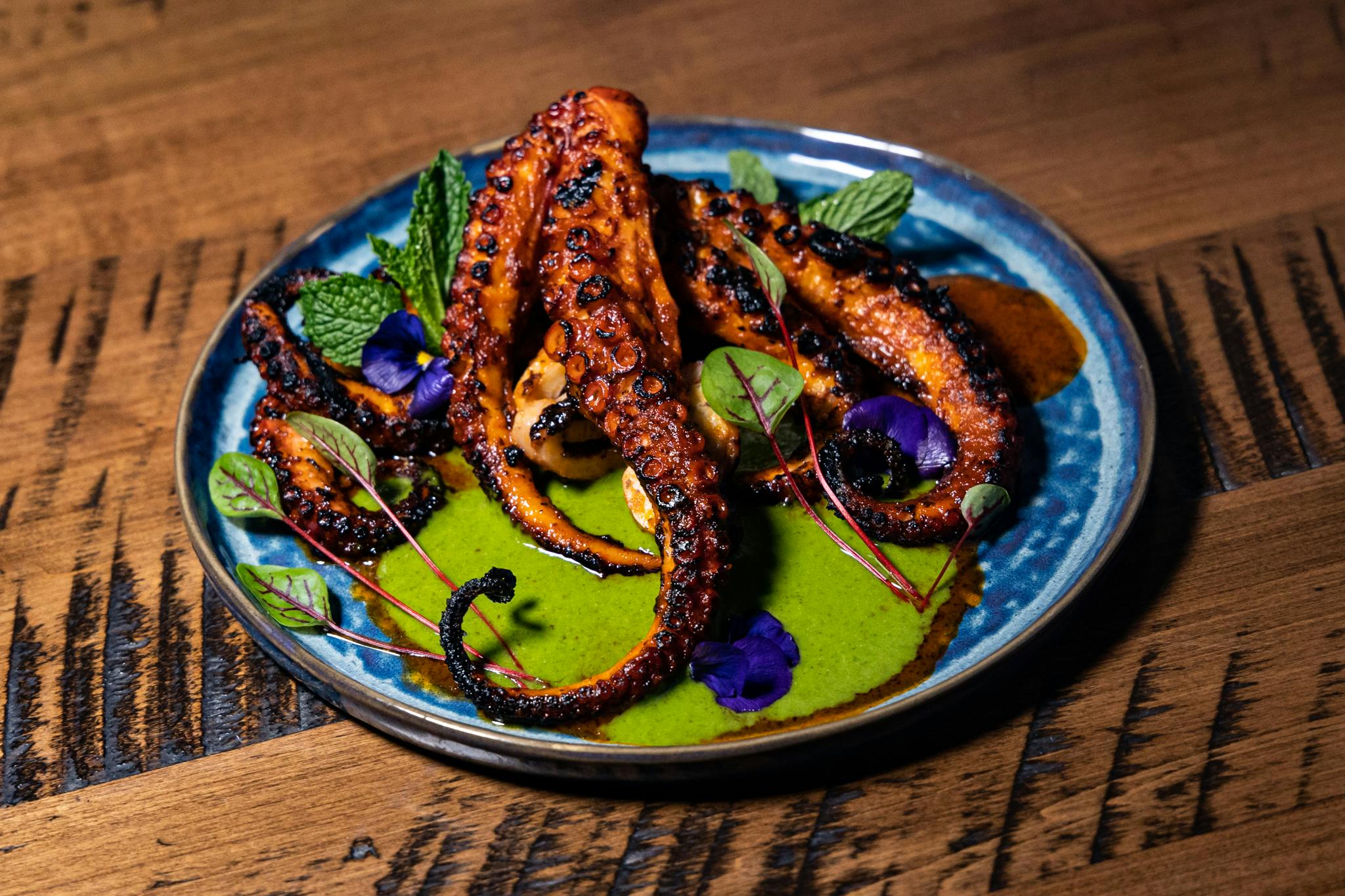 The Grilled Octopus is made using a traditional cooking method; it is boiled in an aromatic broth until tender before being kissed by a honey harissa sauce for a bit of spice, and a little sweetness, with some twang from a touch of lemon juice. Finished on the grill, the octopus is wonderfully charred and is plated with an emulsion made of parsley and confit garlic. This dish is a masterpiece to look at and is hands down one of the most photogenic items on the menu.
In terms of wine, the bar offers a selection of red, white, rosé, orange, and sparkling wines by the glass or by the bottle. There is also a small variety of beer available, but the cocktail menu is expansive, with a number of concoctions that will be sure to catch your eye.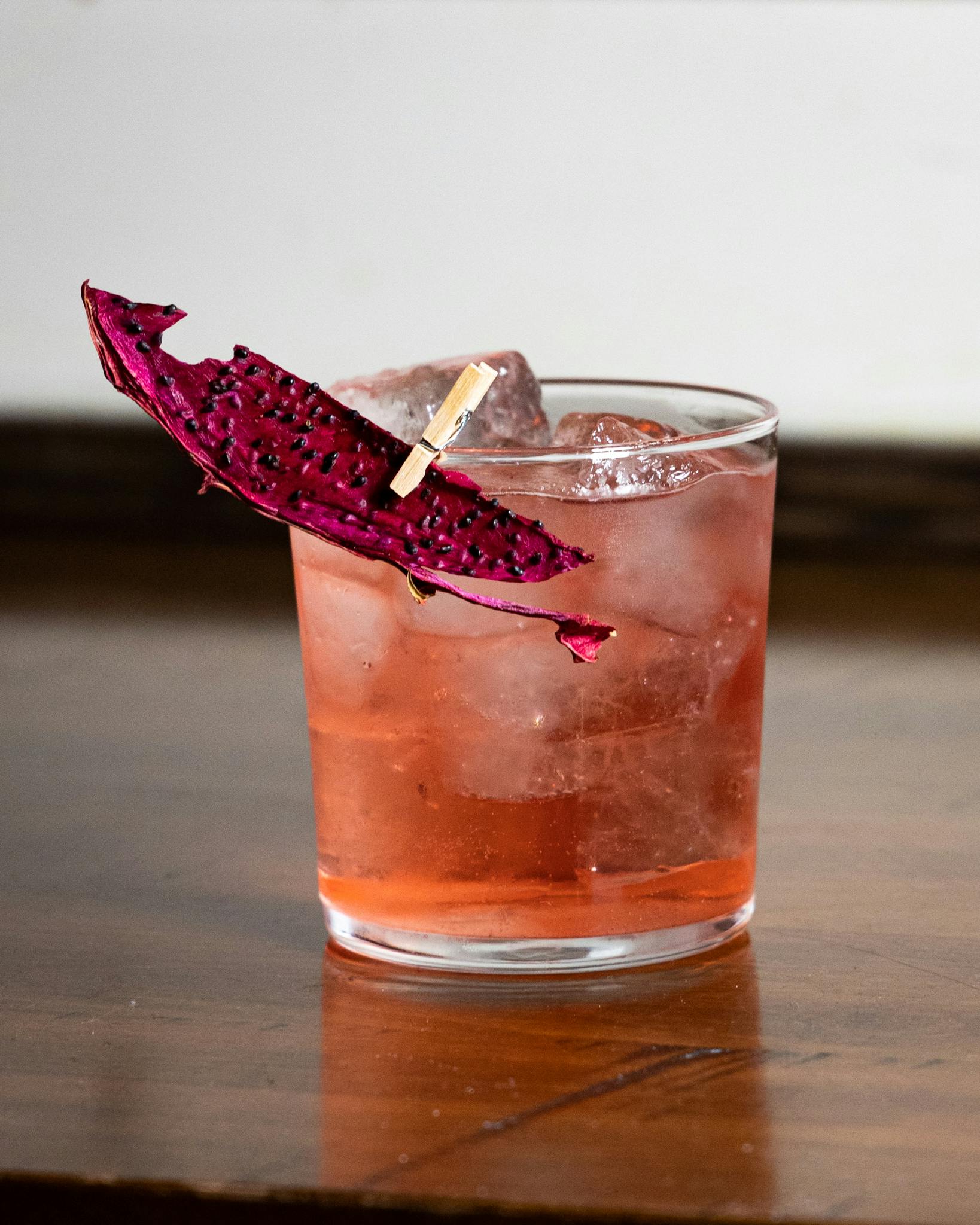 The Amore for Little Portugal is their aperitif cocktail and calls for purple shiso leaf-infused Ketel One Vodka, Strega Alberti and Lillet Blanc. Balanced with citrus and lengthened with tonic water, this beverage is floral, herbal and is a great first option to try.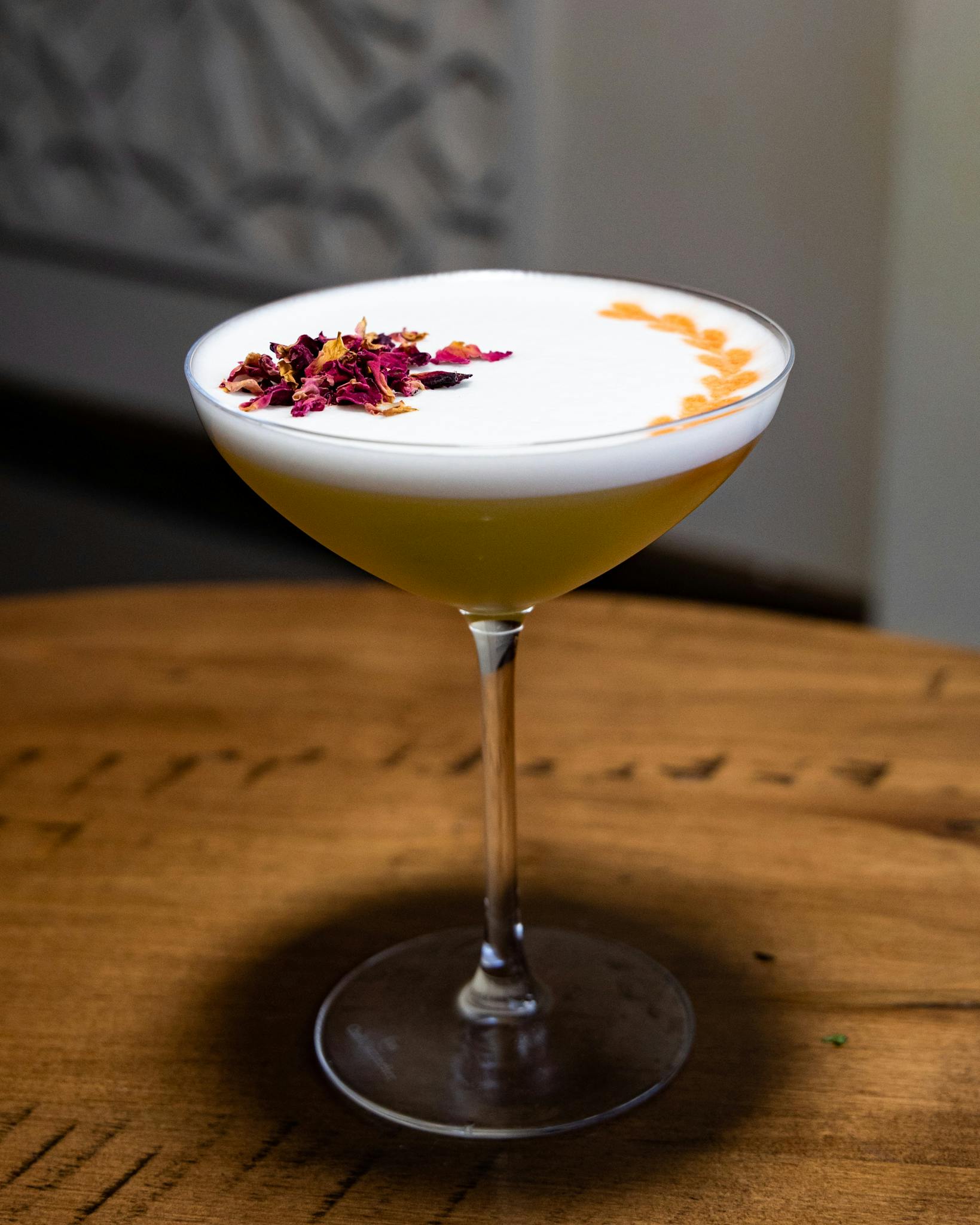 The Kiss of Perfume is a cocktail made with Peach Schnapps, Tromba Blanco, cucumber juice, cardamom syrup, citrus, orange bitters and finished with an orange blossom mist. It's clear why this cocktail was named after perfume; the aromatics are out of this world, and consuming this drink is a multi-sensory experience on the palate.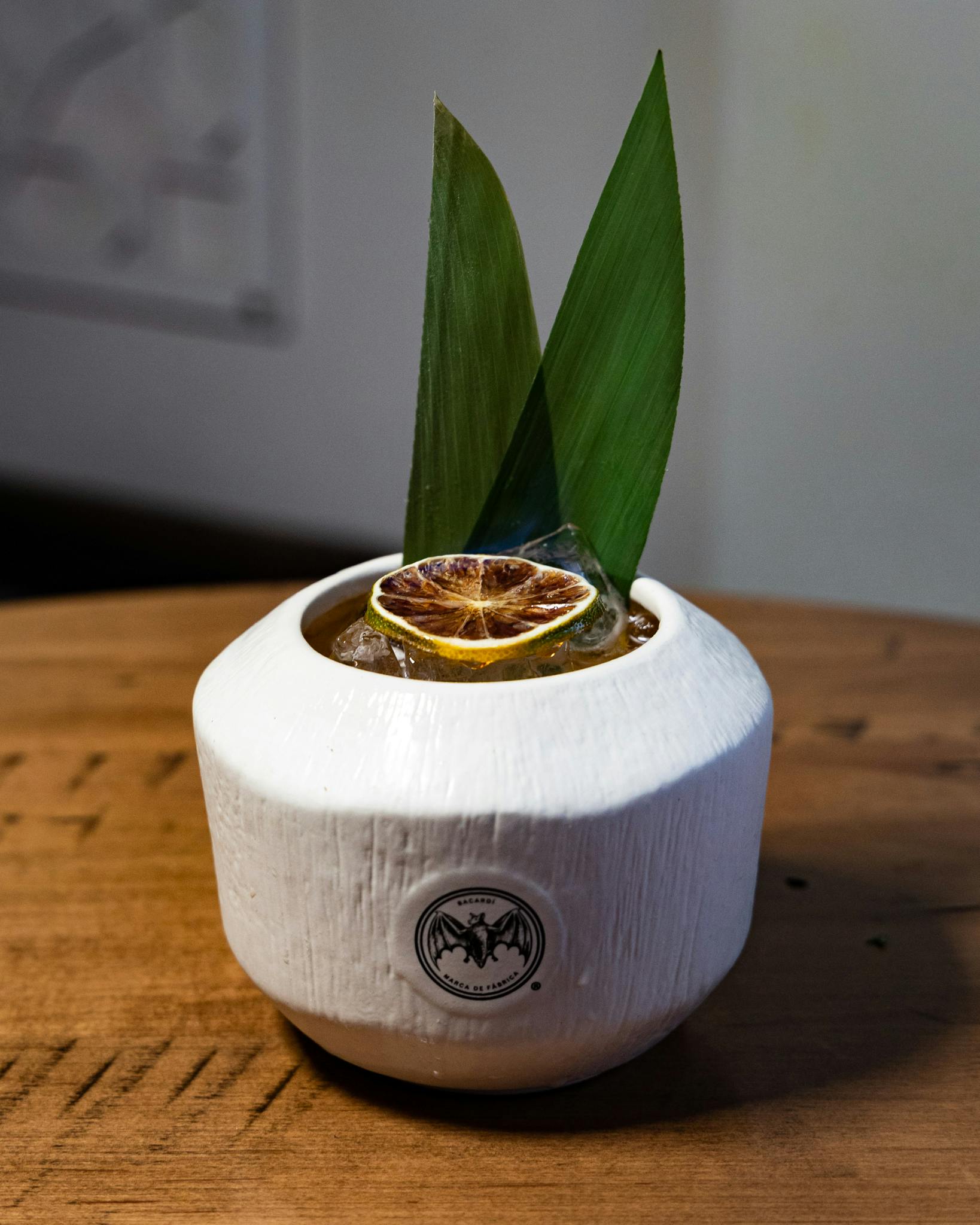 Sip on The Sybanne, another noteworthy drink, with Bacardi White, Aperol, coconut, lime juice, and yuzu syrup for a quick escape to the tropics. Next up is the Bizzarro Bunda, a light and easy-going tiki-like drink that calls for a blend of Bacardi Carta Blanca, Dussée VSOP, pumpkin puré, pineapple juice, and orange bitters.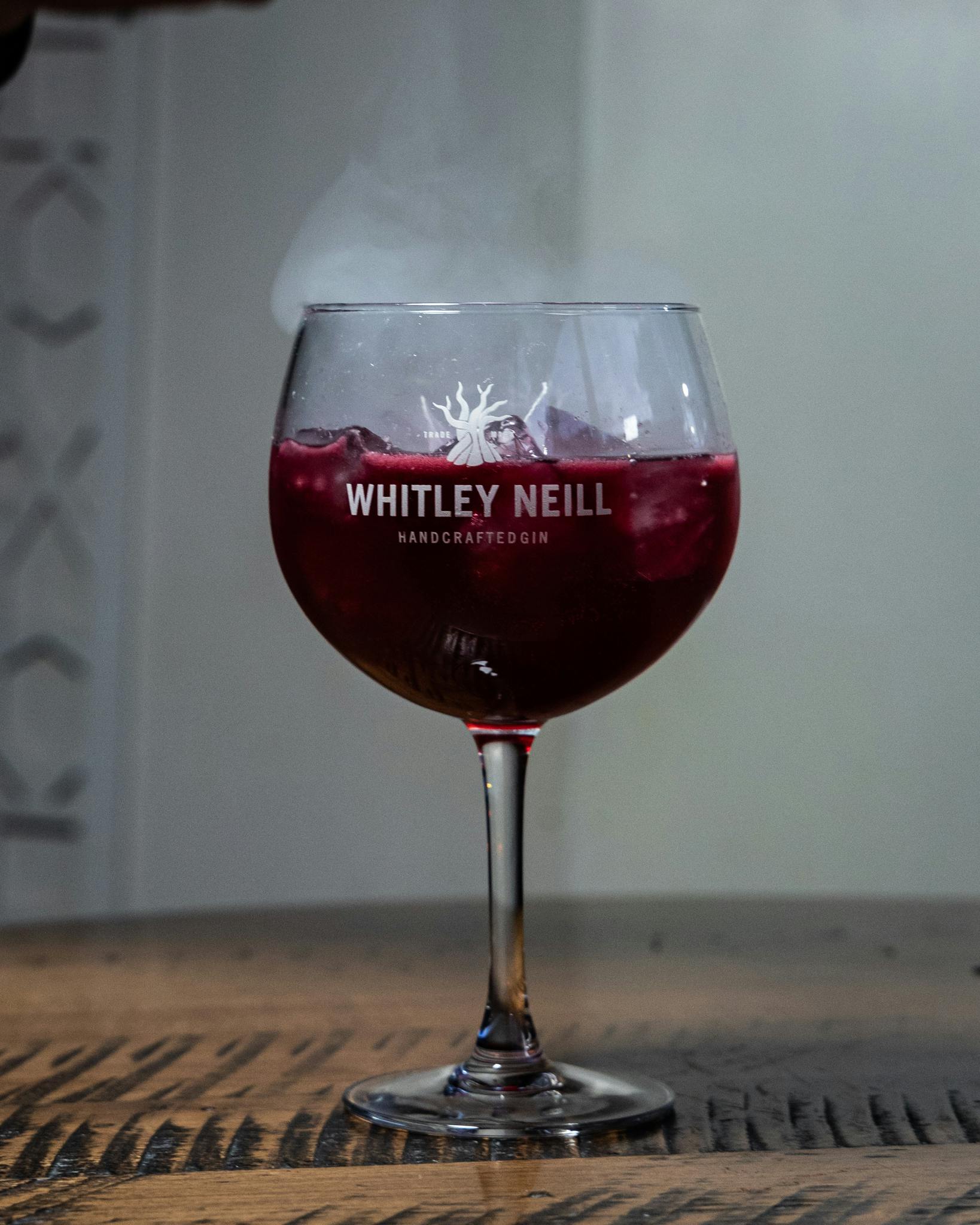 The Floating Linda is served in a Whitley Neill branded glass and comes with a paper boat garnish; they call 'The Linda.' Linda is a Spanish name meaning pretty, and so the story goes that any man whose love for her is strong enough will be able to see her through the fog. The drink is prepared with smoke, and when released from the glass, you'll be able to see the Linda sailing the seas of the Mediterranean if you are lucky. Made with Whitley Neill rhubarb & ginger, Prosecco, Mulberry tea syrup, lemon juice and Angostura bitters, this cocktail is light and refreshing, with a hint of effervescence from the bubbly.
Bar Sybanne is located at 229 Ossington Avenue and is open from 5 p.m. to 10 p.m. Wednesday and Sunday, and 5 p.m. to late Thursday through Saturday. Walk-ins and reservations are accepted, and takeout/delivery remains available via DoorDash and Uber Eats. To make a reservation, visit them online, and be sure to follow them on Instagram to keep up to date with the release of new menu items, features, and promotions.