Photographs by Amanda Biffis
If you've had a slice from one of North of Brooklyn's pizzerias, you know that these pies are the real deal. Even Dave Portnoy rated them at 8.4, the highest rating given to any of the pizzas on his Toronto pizza brigade.
Well, the good news keeps on coming, as co-owners Josh Spatz and Alex Potter have officially opened Better Half Bar in the east end, where they are taking their pizza game to the next level.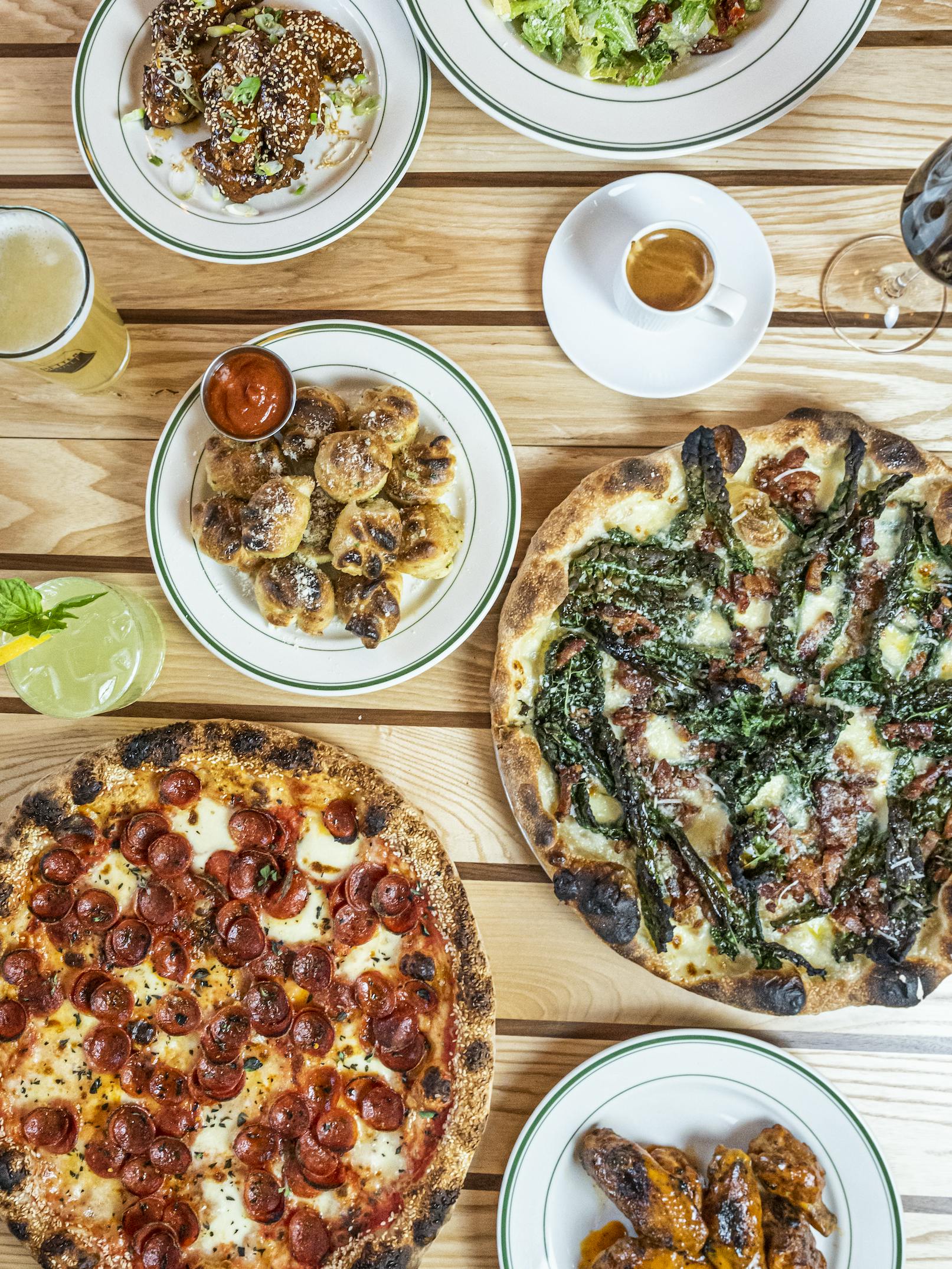 Known for slinging delicious pies for takeout and delivery, Better Half Bar offers a place where you can sit down and enjoy your favourite pizza, crush some local craft beers, and munch on oven-baked wings, in a comfortable and welcoming space.
Spatz says, "Since opening our first location in 2012, we've come to realize that our pizza was always at its best fresh out of the oven, and we didn't want our guests eating our food after sitting in a car for half an hour. That was really the impetuous for this. To have a space where our pizza can be enjoyed fresh, but also where people can have drinks and stay for a while."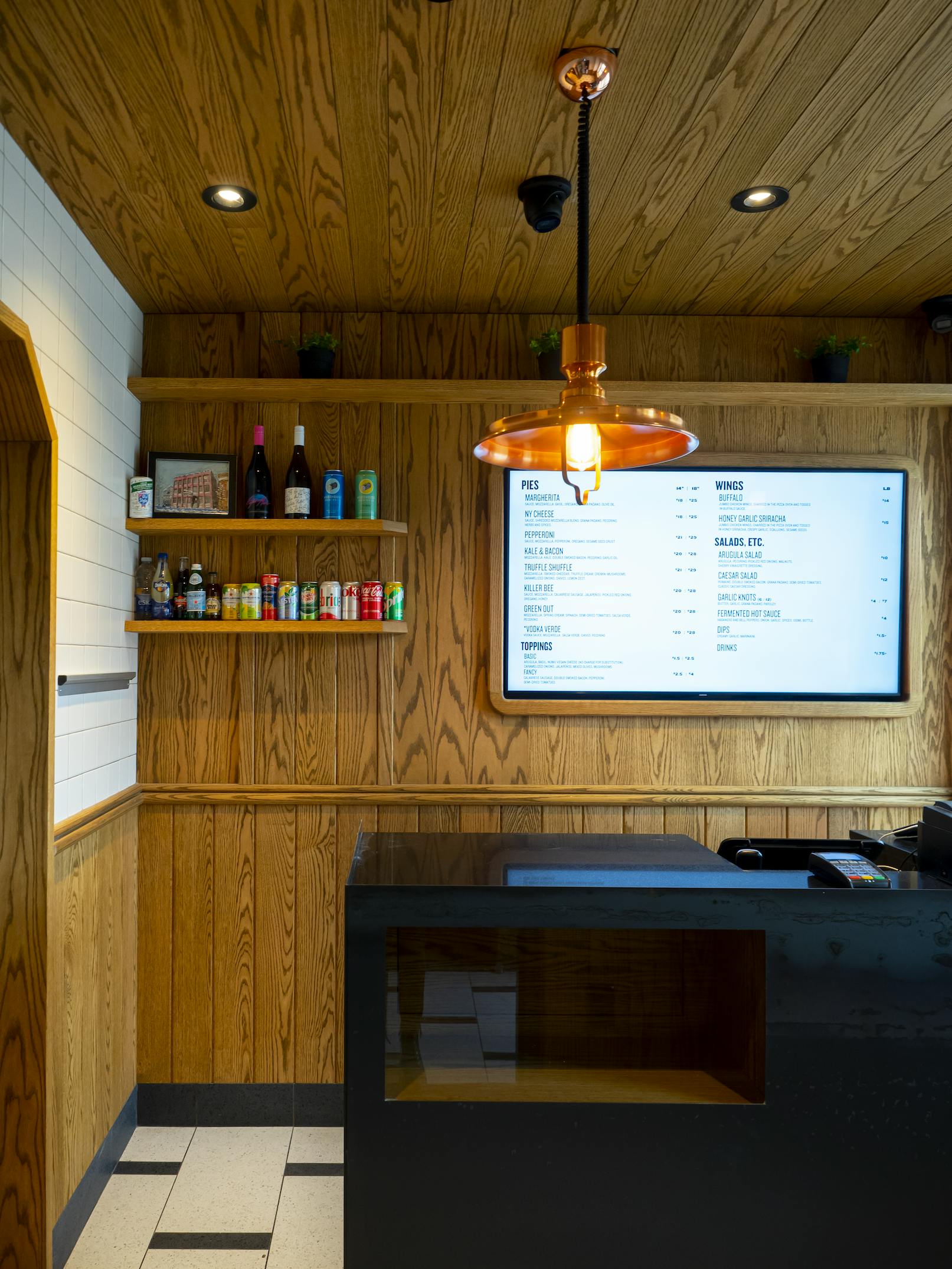 When searching for a location, they wanted to find a spot that had that classic neighbourhood feel. Located at Greenwood and Danforth, Better Half Bar emanates that feeling of being at home. With both the traditional North of Brooklyn takeout counter and the sit-down restaurant on the adjacent side, the second you walk into the space, you'll feel taken care of.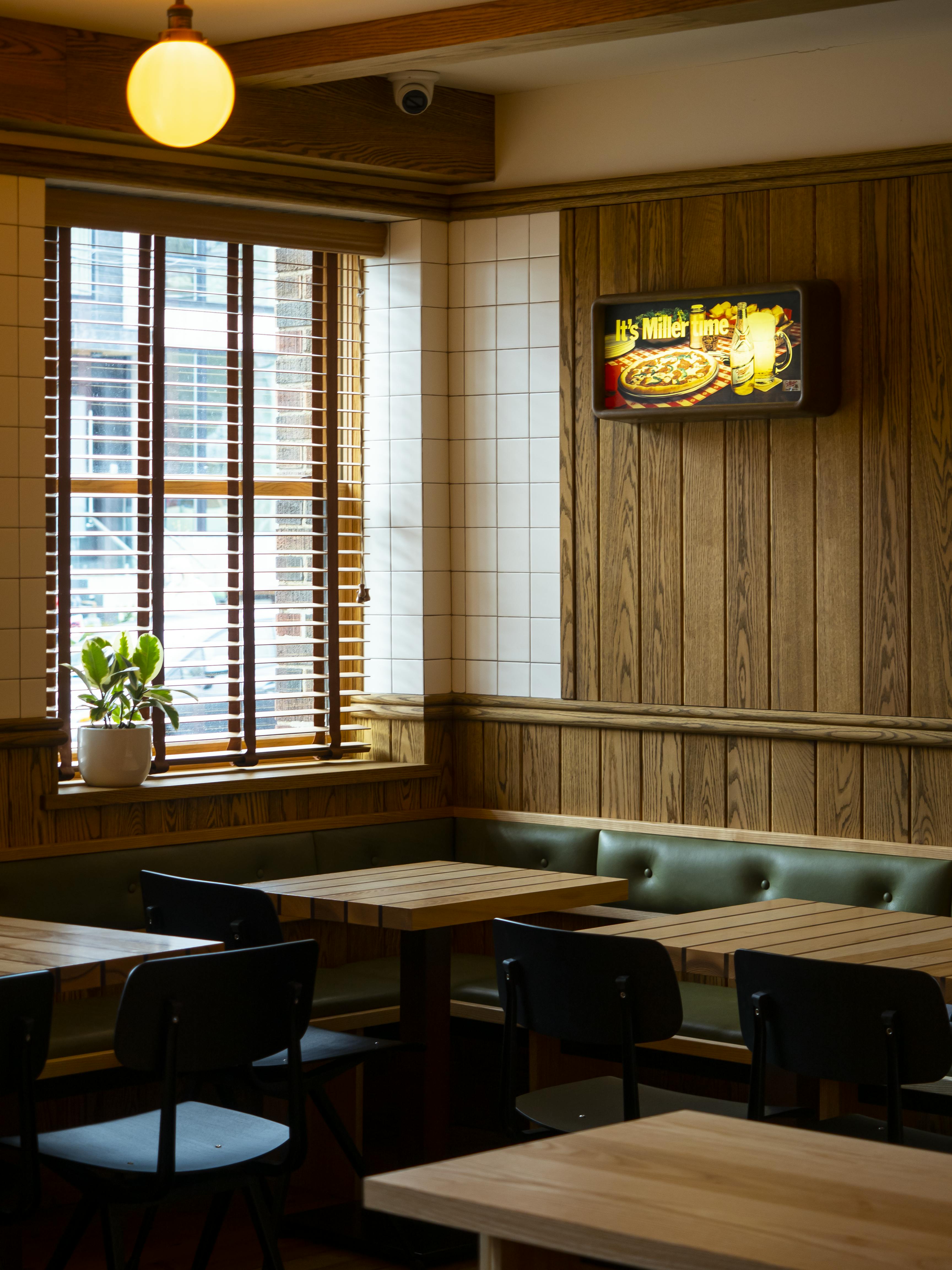 The interior was designed by Ali McQuaid, the creative director of Future Studio, who is a genius when it comes to working with wood, and creating spaces full of different textures, colours and intricate details. The Better Half Bar features sage green leather banquettes, gorgeous wood tables, and vintage beer signs carefully placed about.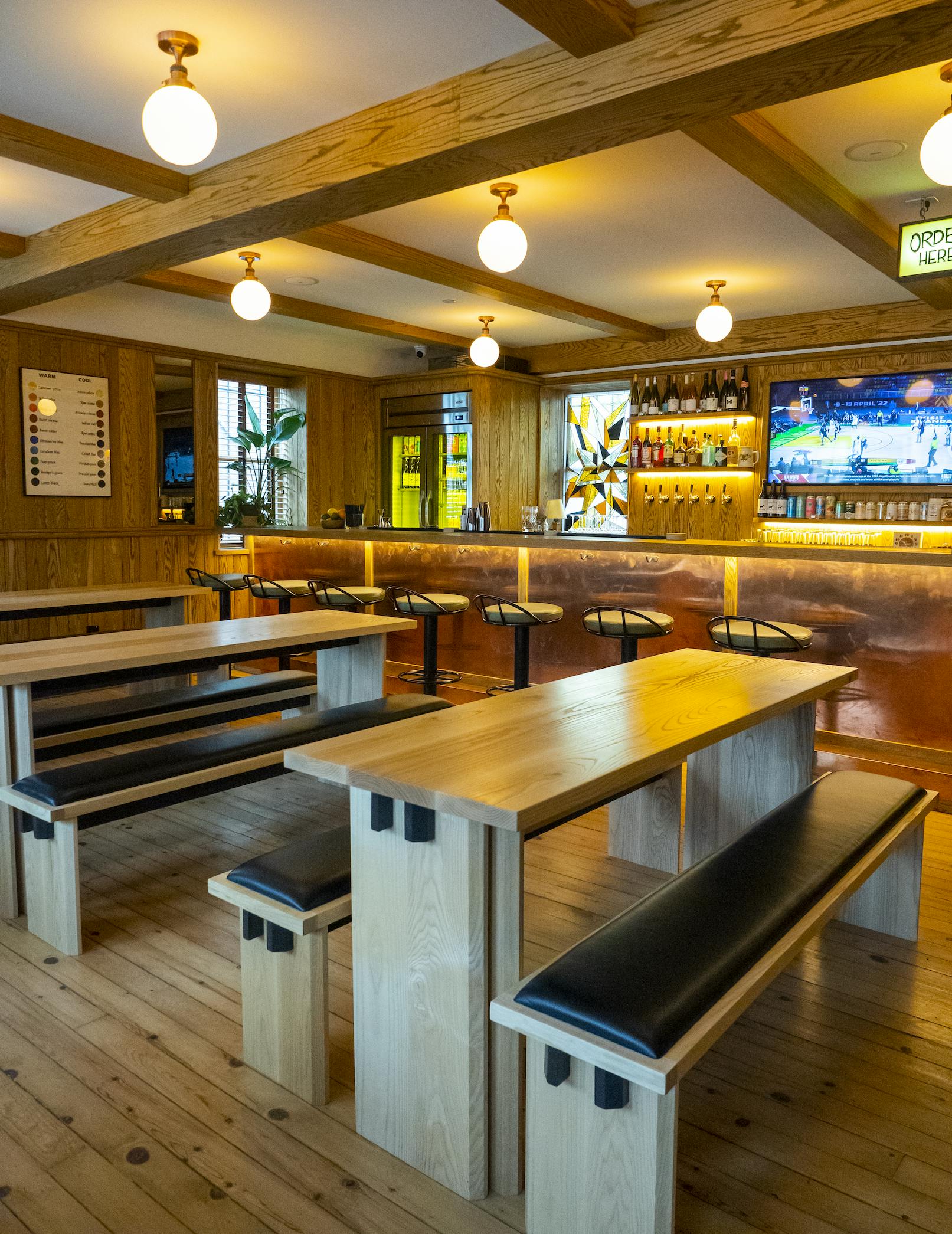 Longer communal tables and benches anchor the centre of the space, while a gorgeously lit-up bar with copper siding, stained glass windows, and red oak panelling brings the room to life. A large TV screen behind the bar will almost always be dedicated to playing the latest sports games, the perfect match for pizza, wings and beer.
Also noteworthy, is the lower level, a secondary and semi-private dining space, boasting a foosball table, shuffleboard, checkers, chess, and more large TVs to catch the game with friends.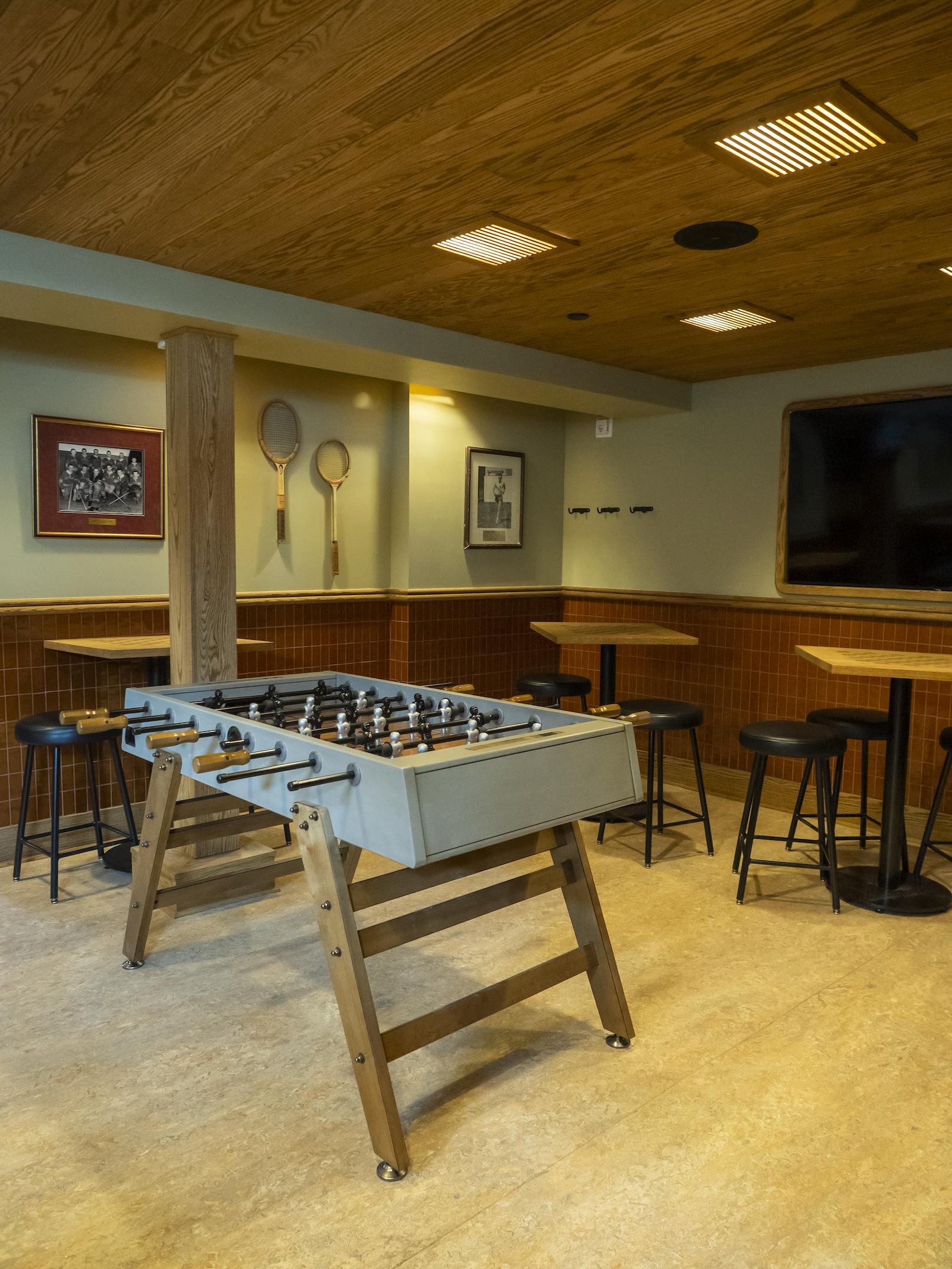 What sets the Better Half menu apart from North of Brooklyn's, is the addition of Potter's mouth-watering oven-baked wings. He says, "We needed to have wings on the menu, because you just gotta have them at a bar. We didn't really have the infrastructure for it, so we had to make the wings work in the only heat source we had, which was the pizza oven."
It took Potter a lot of trial and error and a lot of steps to make sure they would be crispy and cooked properly in a 600-degree oven. To achieve this texture, they are air-dried for 24 hours, seasoned, par-baked, and then baked with a special foil to crisp them up. The best part about these bad boys, are they are not fried, making it easy to crush a pound -- or two -- without feeling bloated.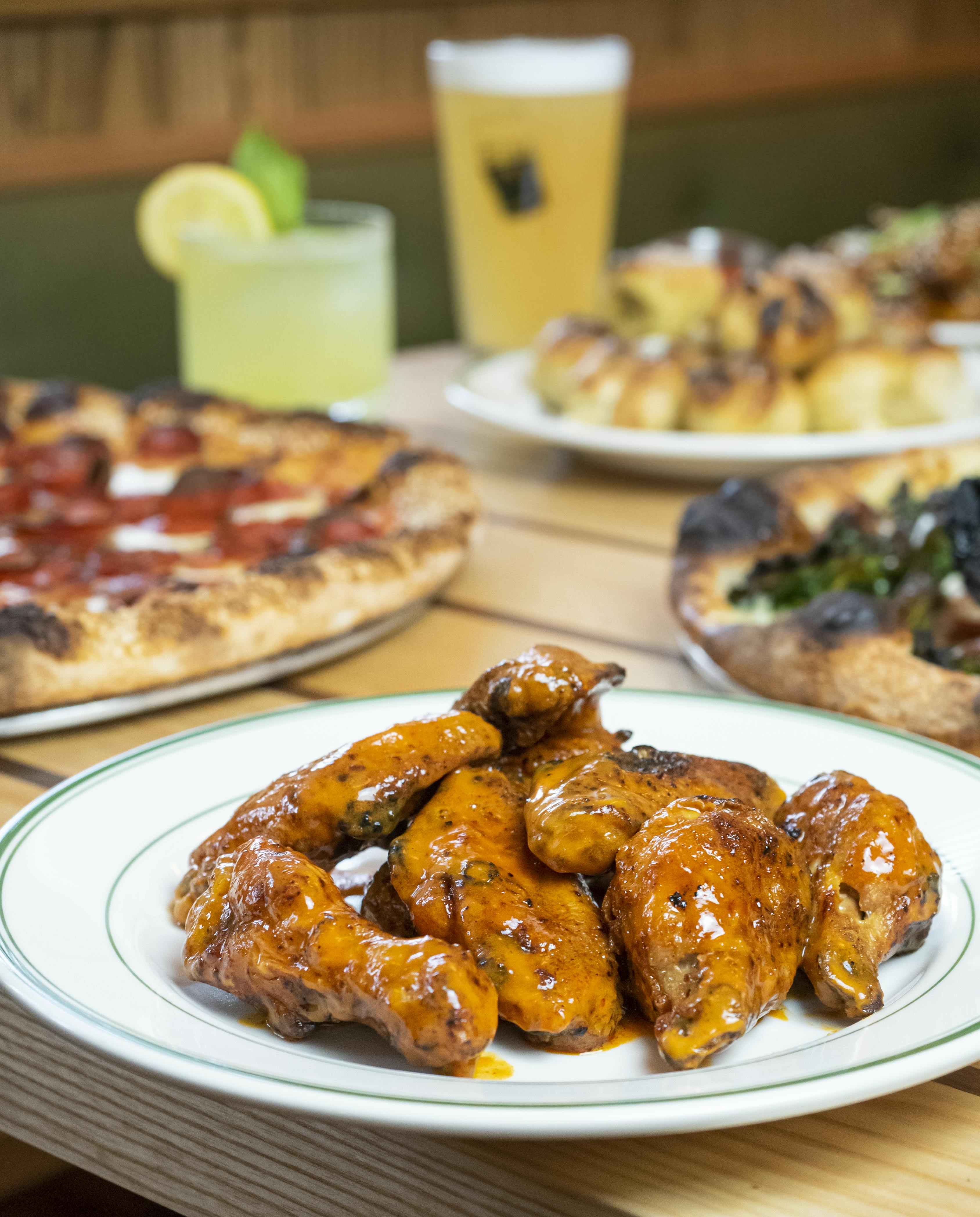 The Buffalo Wings are a classic bar staple and are doused in a delicious house-made buffalo sauce, with just the right amount of hot n' spicy kick.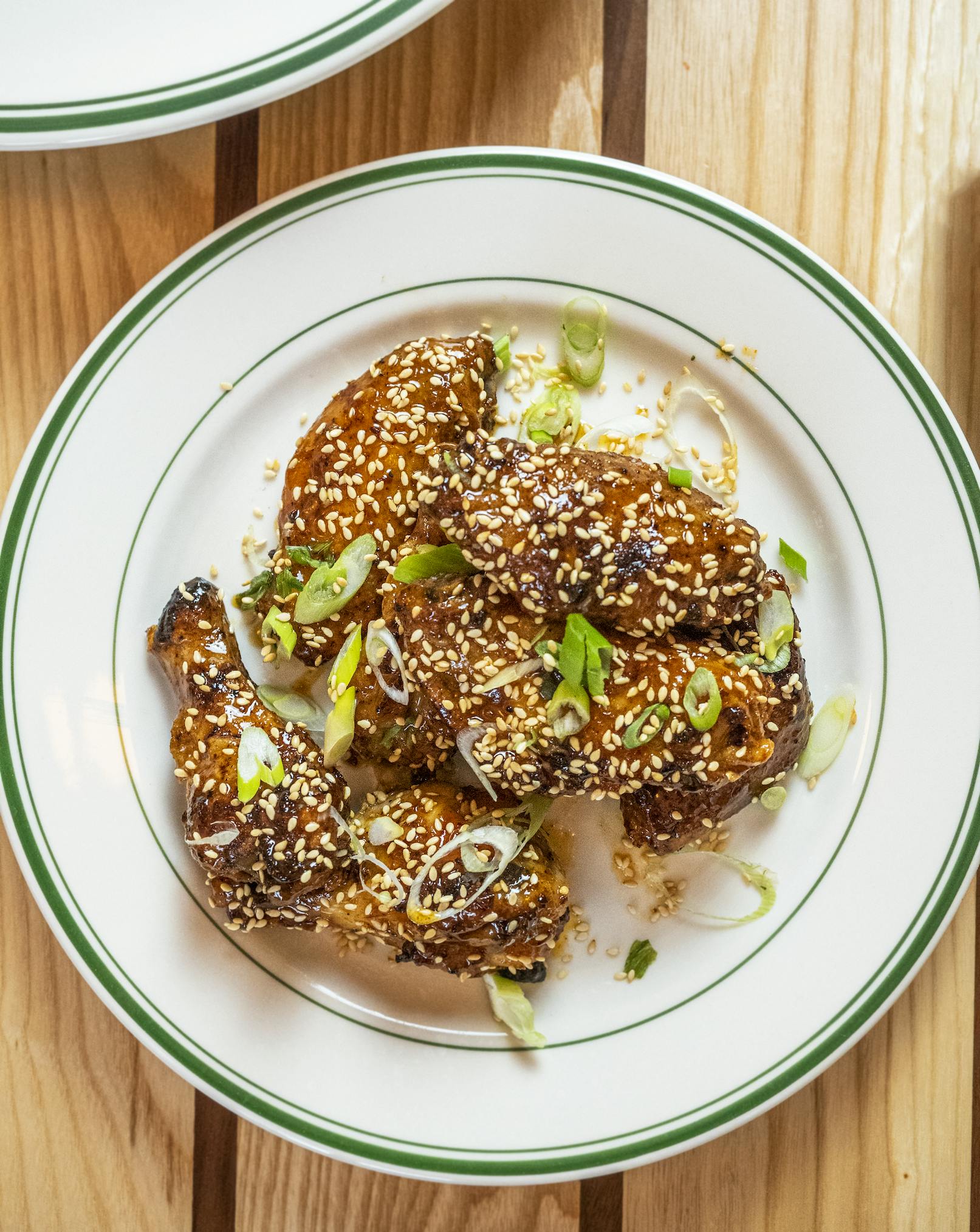 If you're looking to try something a little different, the Honey Garlic Sriracha Wings are a fantastic option. Tossed in a house-made honey sriracha sauce and topped with crispy garlic, scallions and sesame seeds, these wings are definitely addictive.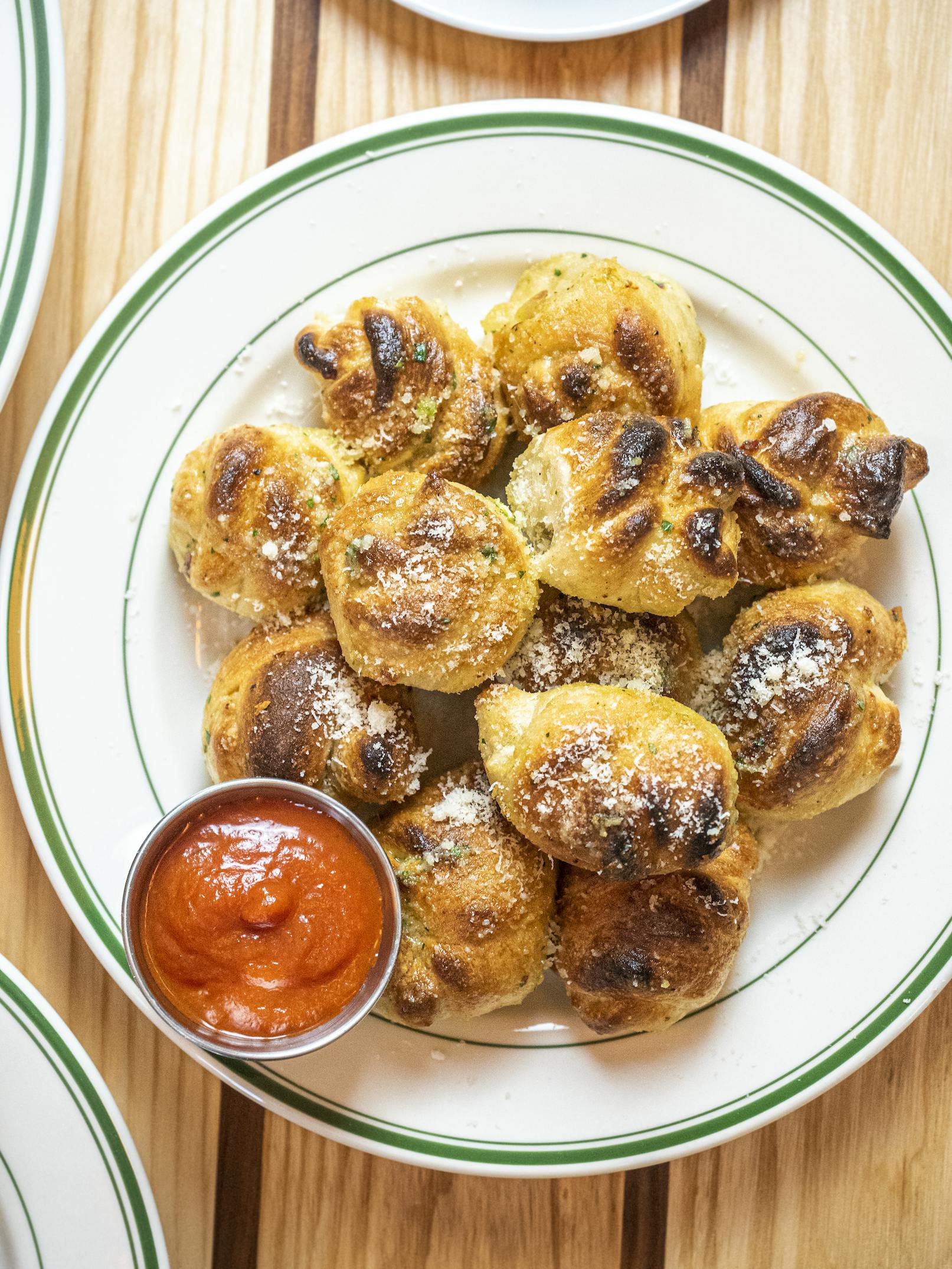 Also on the menu are Garlic Knots, an excellent sharing option that come in a bundle of 6 or 12. Dressed with butter, garlic, Grana Padano, parsley and marinara on the side, it'll be hard to order only one plate of these puffy, garlicky, bread bites.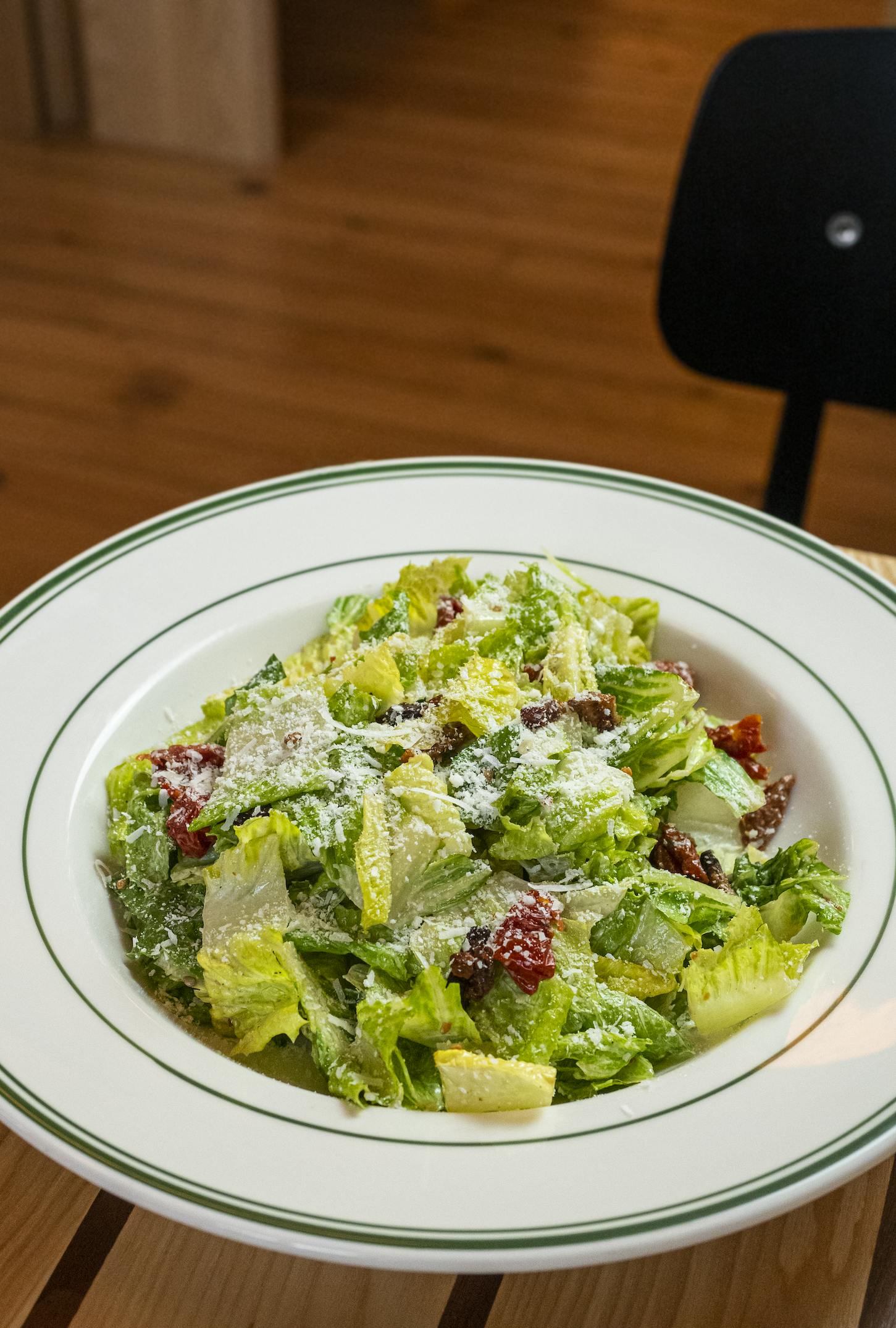 The Caesar Salad comes with romaine, double smoked bacon, Grana Padano, semi-dried tomatoes, and a classic Caesar dressing. Also on the menu is an Arugula Salad, with Pecorino, picked red onions, walnuts, and a sherry vinaigrette dressing.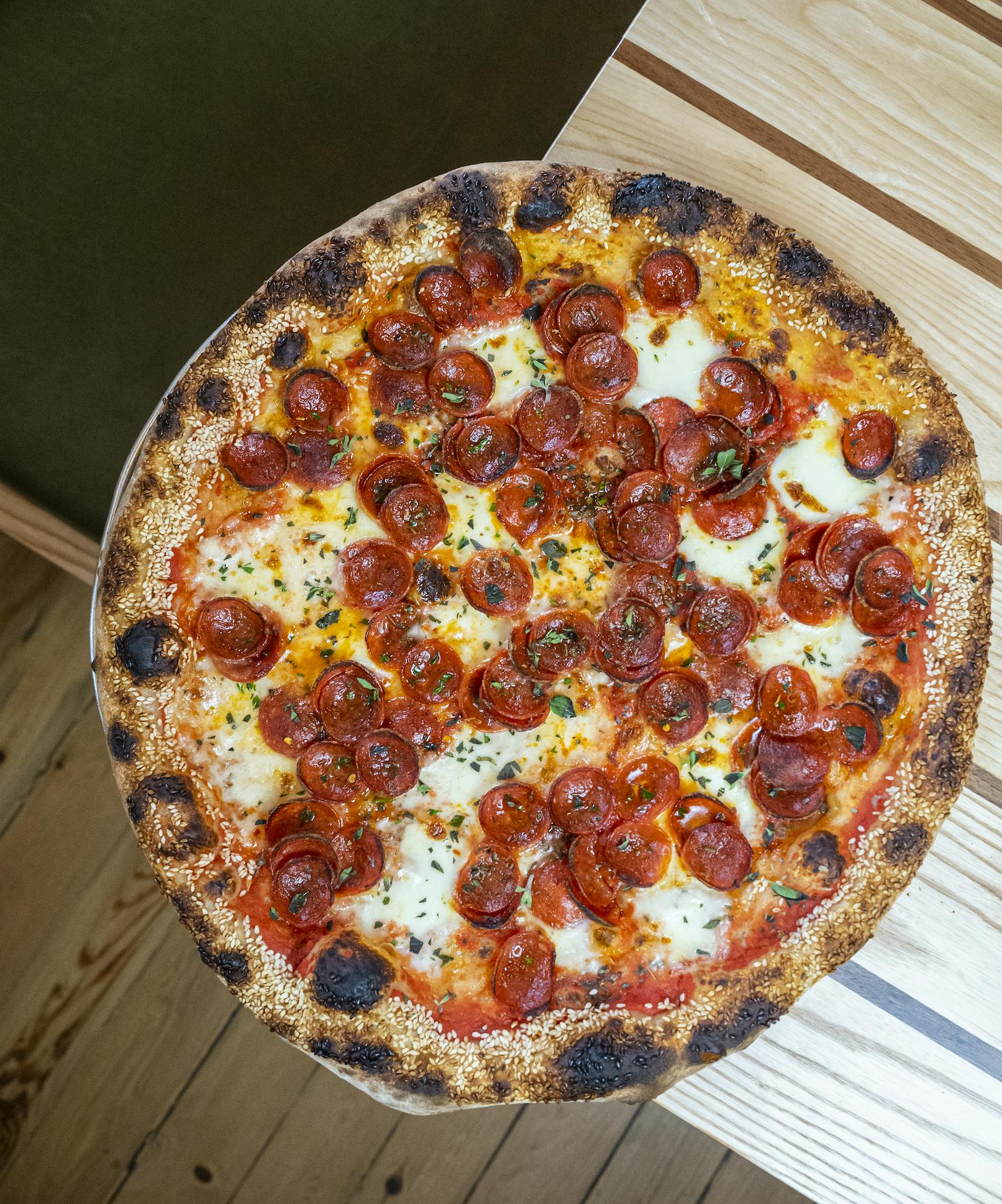 When chatting about the pizza, Potter says, "We do a classic New York-style thin-crust pizza that cooks in our oven for about five minutes. It's a recipe we worked on steadily for over ten years and involves more warm fermentation than normal pizza dough to give it that lightness."
The pizzas come in two sizes (14" and 18") with over eight varieties to choose from and a ton of topping add-ons. Favourites include the classic Pepperoni, which comes with tomato sauce, mozzarella, pepperoni, oregano and a sesame seed crust.
Another standout -- and a Potter favourite -- is the Kale & Bacon, a white base pizza with mozzarella, kale, double smoked bacon, Pecorino, and garlic oil.
As for the beverage program, Spatz and Potter have curated a menu with a hyper-focus on local craft beers and natural wines. Selections from LeftField, Woodhouse, Godspeed, Black Lab and Henderson are available in the can and on tap, just to name a few.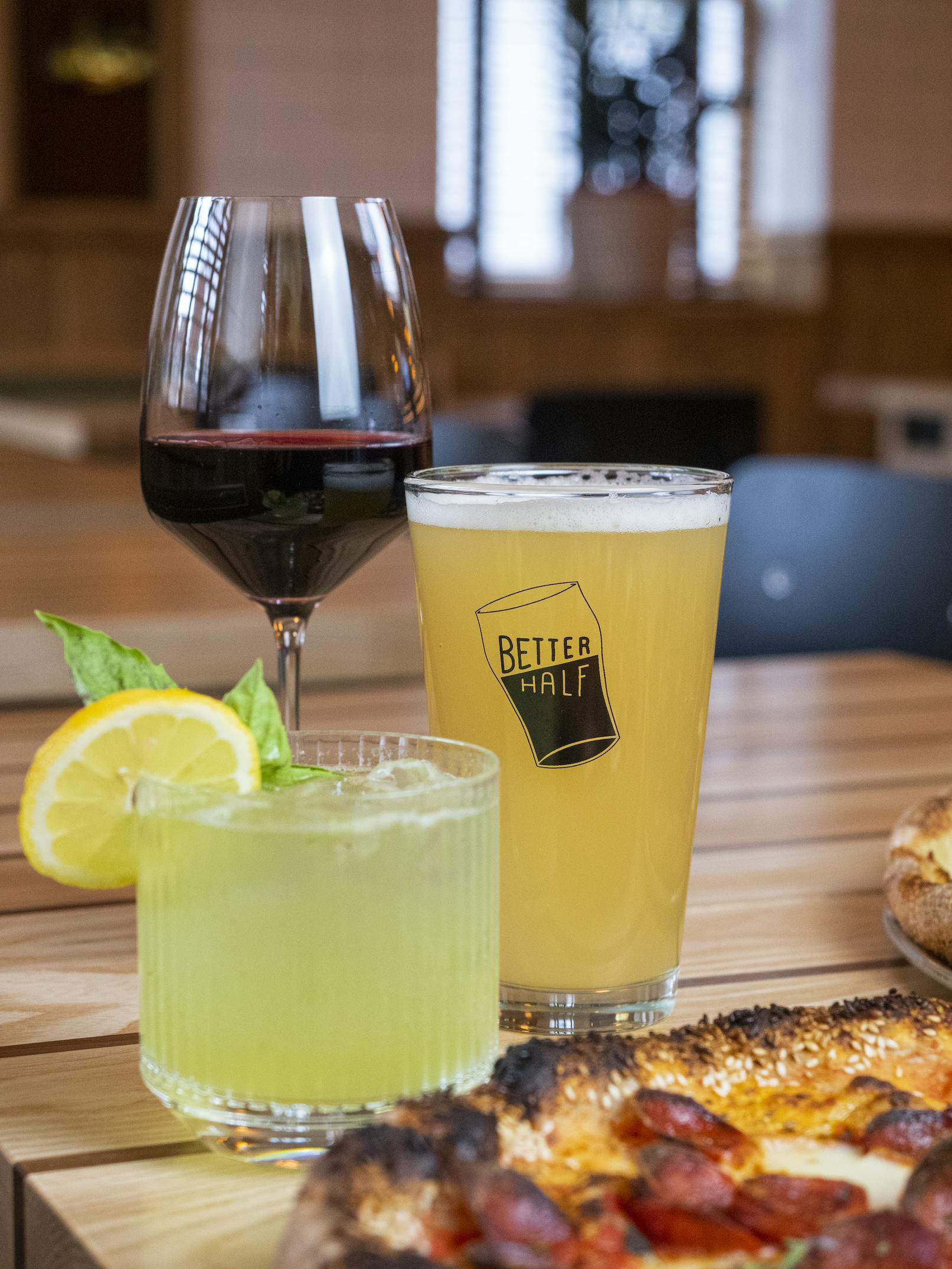 There's also a variety of low-intervention white, red, and skin contact wines on the menu, which have been chosen because they go well with pizza, and are easy drinking. For the cocktail lovers, though there's no specific cocktail menu, feel free to ask your server and they will happily whip up something delicious, like a bright and refreshing Basil Gin Smash, or an Aperol Spritz.
Better Half Bar is located at 663 Greenwood Avenue, and is open 5 p.m. to 10 p.m. Sunday through Wednesday, and 5 p.m. to 11 p.m. Thursday through Saturday. Be sure to check them out onInstagramand follow along for updates on their expanded hours, coming soon.