If you don't know exactly where you're going, you might accidentally walk past Bouffe by Adjey at first. Sporting an unassuming facade, complete with a worn-out-looking sign with tiny letters sourced from an Indonesian street vendor (more on that later), the restaurant is nestled between two local businesses in the bustling Toronto neighbourhood of Little Portugal.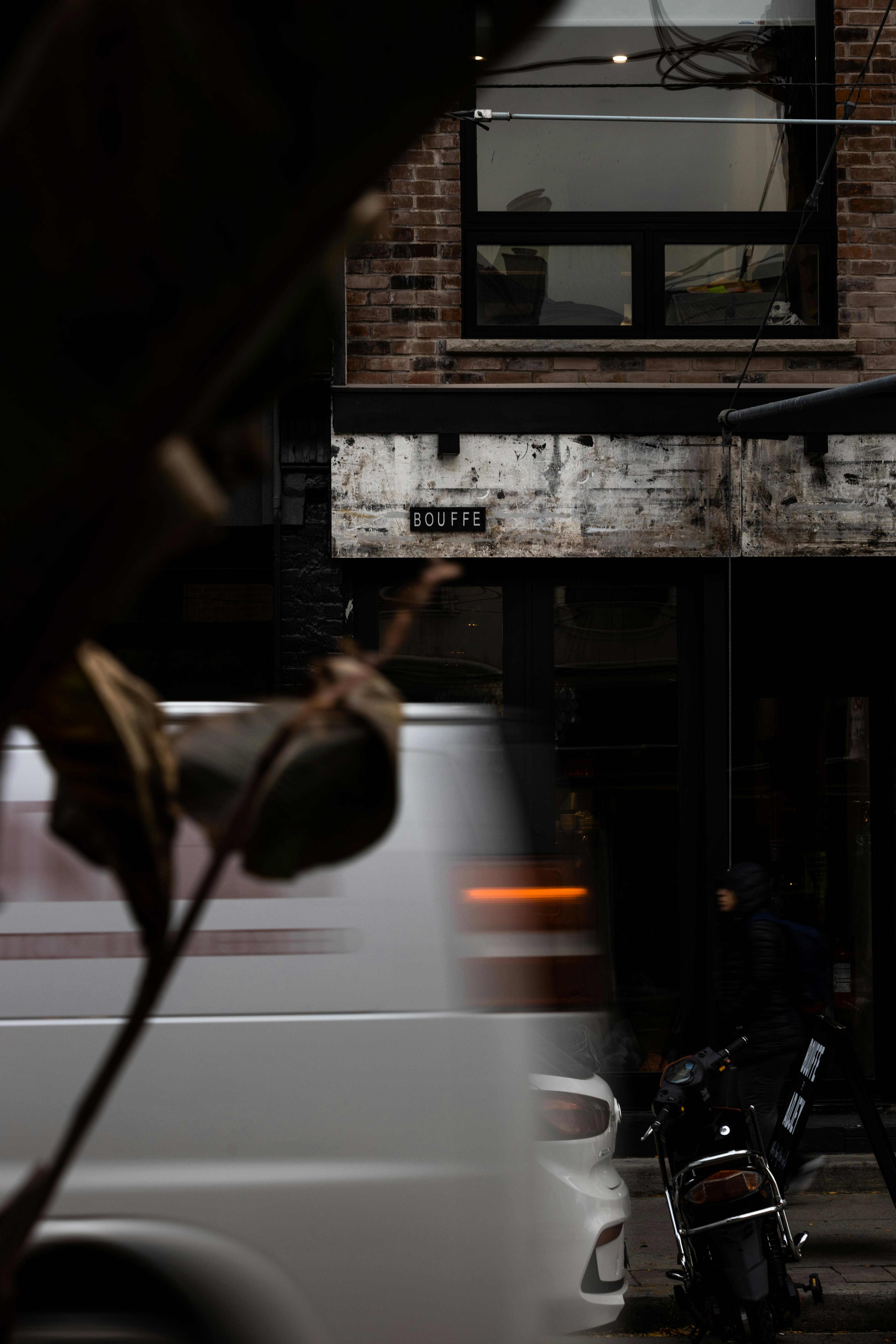 Although Bouffe's initial vibes might be reminiscent of a Parisian bistro one might find on a side street, housed inside is a different story altogether.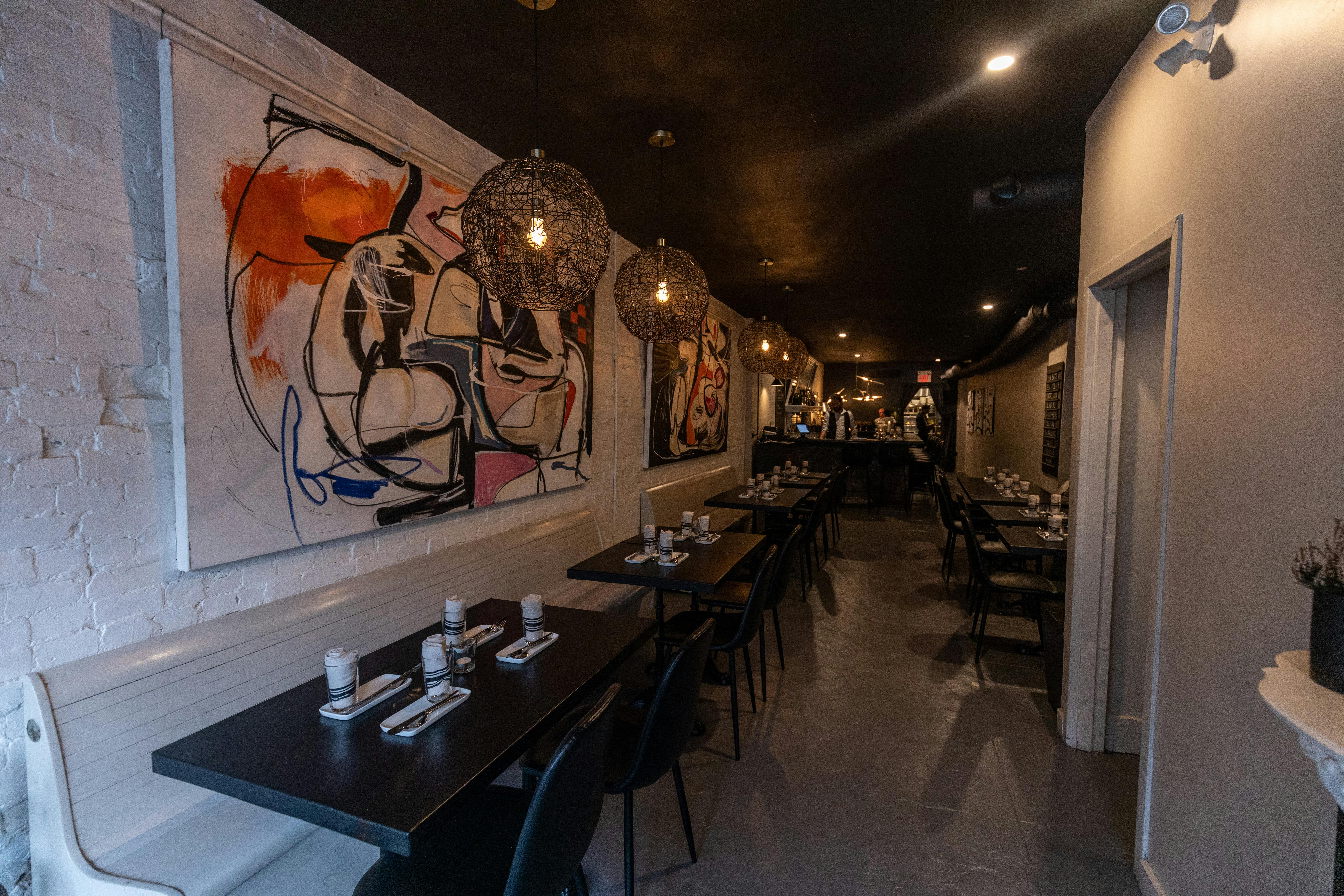 Supported by a background score of light jazz and French pop, the restaurant's interiors exude a vibe that is clean, fresh and lived-in at the same time. While most of the interiors match the toned-down facade, the restaurant's walls are adorned with bright and bold art that attracts the viewer's eyes within seconds.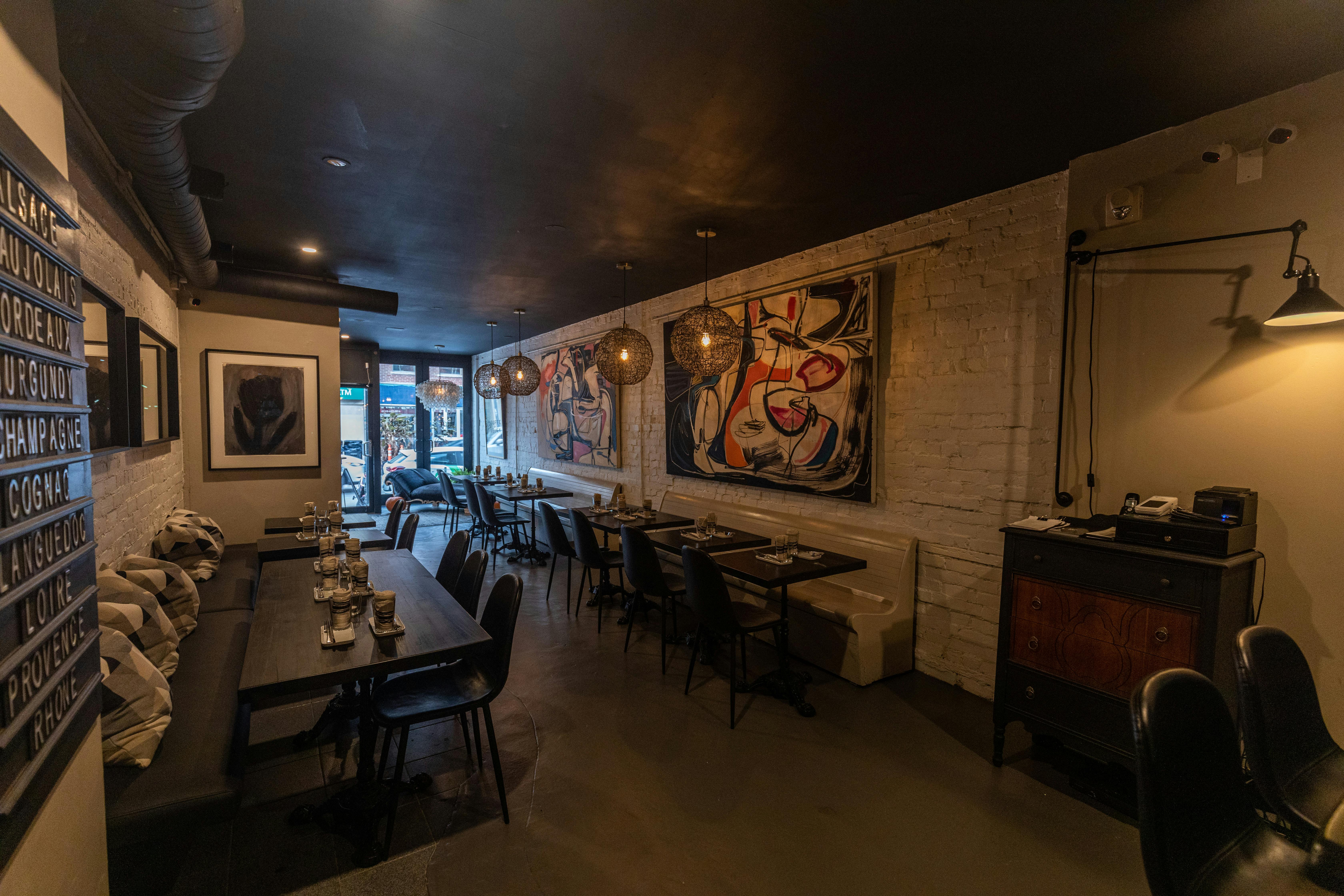 The dim lighting lends some sultriness to the setting, which elevates the whole experience and adds a level of mystique and coziness to the space.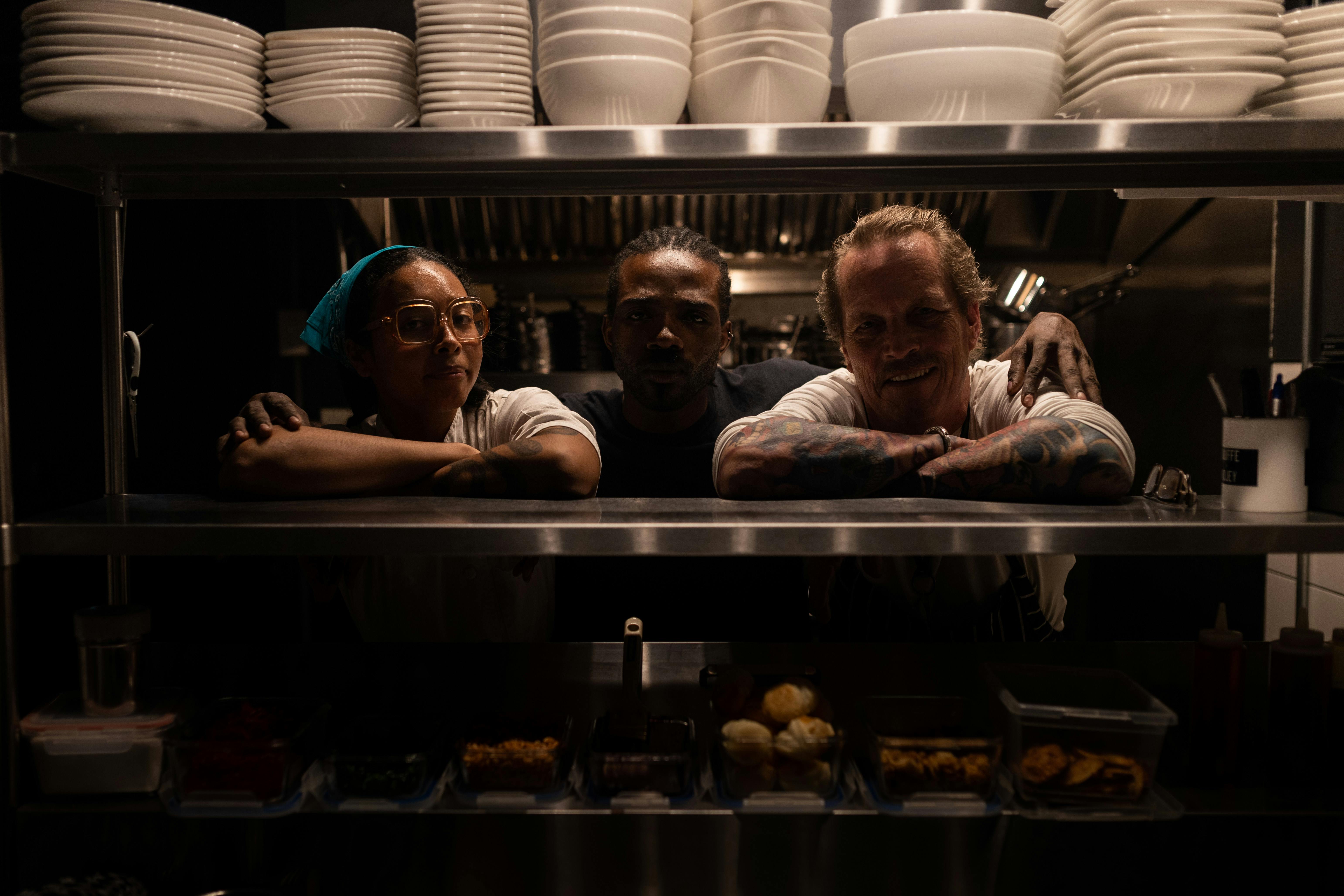 While all of that lends to a rather modern French dining experience, there is a certain homeliness and comfort in the space. Be it the friendly and highly-knowledgable waitstaff, the comfortable seating options, or even chef and owner David Adjey himself in the kitchen; one thing is for certain: it did not come by accident.
Adjey said that his partner, Nancy Lee Jobin was in charge of designing the space. They took the existing space as is and made minimal structural changes to it. It was painted, decorated and had light fixtures put in, but most of the space is basically how they received it.
"[We tried] to put life into it and make it feel like what a lot of times customers say 'Oh, feels like this restaurant's been here.' You know, it isn't sleek, modern," Adjey said. "I just wanted something that was lived in. And she did that and took care of that aspect."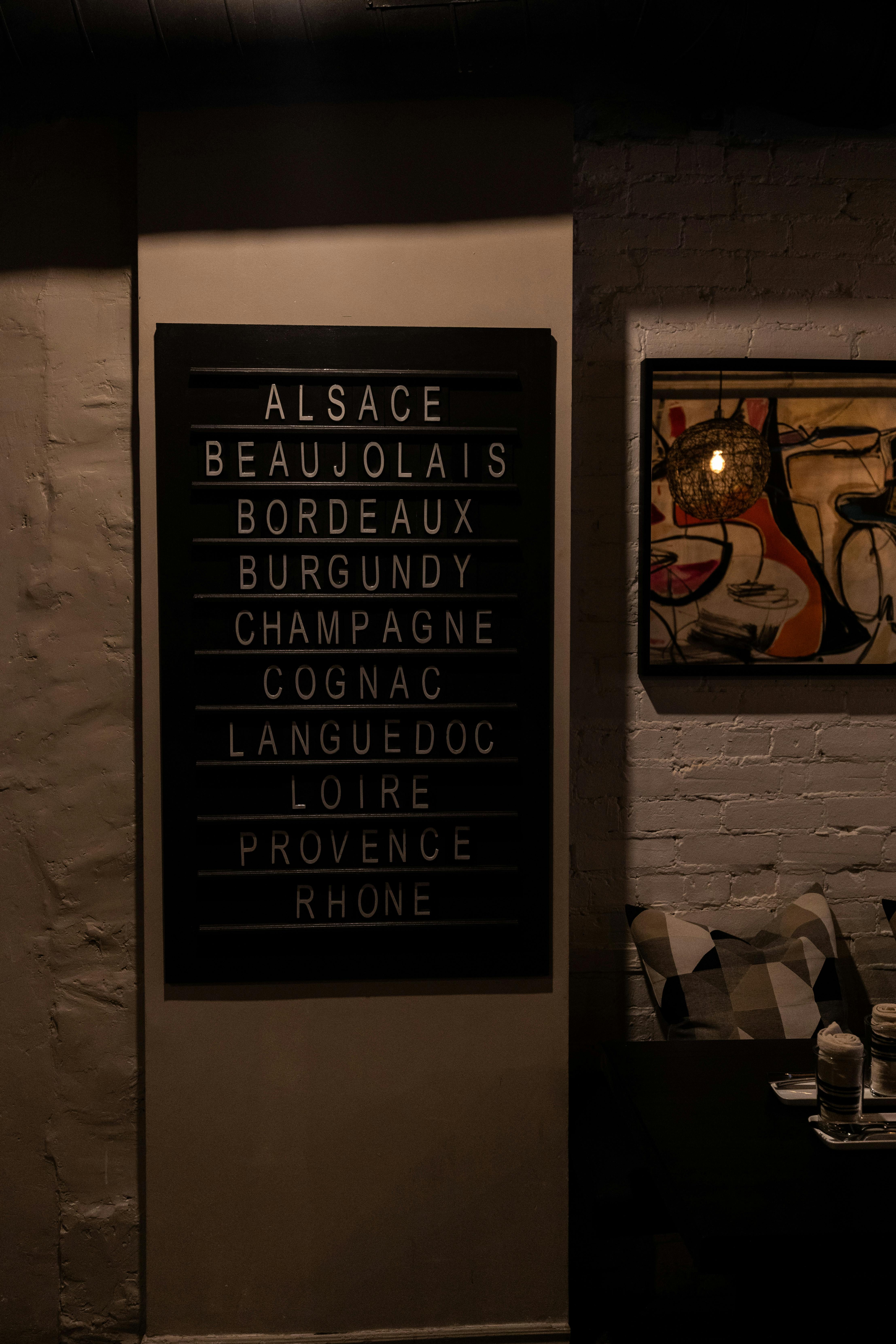 One of his most cherished pieces of decor is the wine board and the sign on the facade, as it reminds him of a pivotal time in his life when he spent a couple of years in Indonesia. The board is made up of Indonesian license plate letters that Adjey said he sourced from a lady selling them on the streets of Bali — a keepsake from essentially a past life.
"It's like, you know, that chapter in my life. [And I] remind myself, like, I was there, I did that for a couple years," Adjey said. "And that's a part of my story."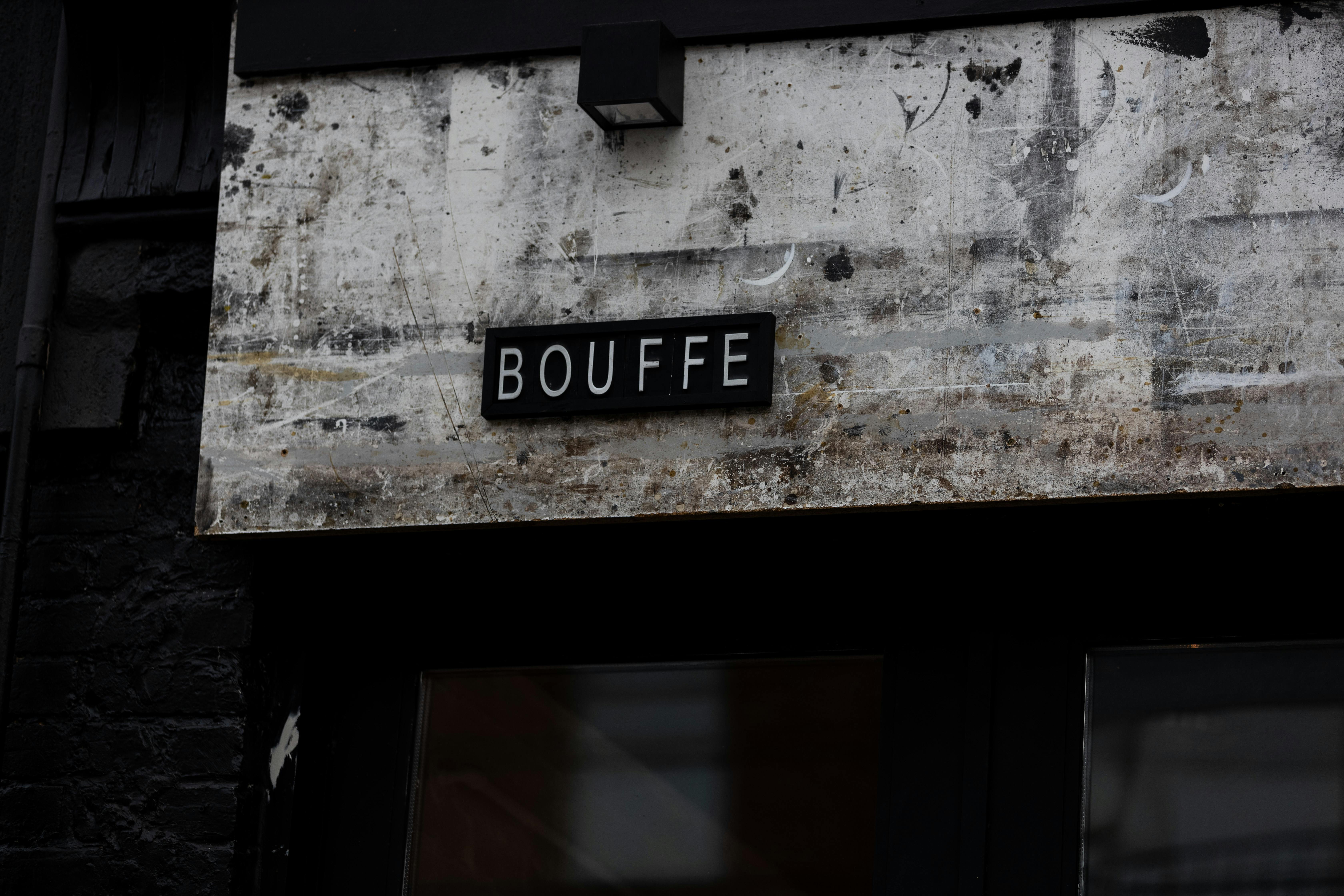 Even the name of the restaurant — Bouffe By Adjey — is a nod toward the personal touches that are prevalent throughout the space. Very few restaurants exist where you walk in and the chef is cooking for you. It feels like a home-cooked meal for anyone who enters, made personally by chef David Adjey.
"I've always been sort of a no-nonsense chef. I knew that by attaching my name, it was going to be a simple thing to say, it's in essence, food by Dave, like food by Adjey," he said. "And it just puts that personal touch."
"Personal touch" is a great way of expressing the refined-yet-relaxed food that Bouffe serves. It's not modern French food, but rather Adjey's interpretation of it.
He realized that one doesn't need to be French to cook French food — you just have to be good. Leaning into that heavily, he ensured that all the ingredients were getting the attention they deserved and that the foundation was solid.
"Confit is confit. A bisque is a bisque. Even a bouillabaisse is a bouillabaisse. Yeah, there might be a slight zhuzh or a variation you put on it, but the foundation is there," Adjey said. "And I like it because it is. If it wasn't technical, I might be a little bit more lackadaisical in the way I cook it."
Technique, hard work and quality of ingredients are the tenets on which Bouffe thrives. From the first dish to the last, you can taste and appreciate all the effort that has gone into producing the beautiful meal in front of you.
Between Wednesday and Saturday, Bouffe offers a chef's tasting menu, which allows patrons to experience a sizable amount of scaled-down dishes and get a feel of what Bouffe is all about.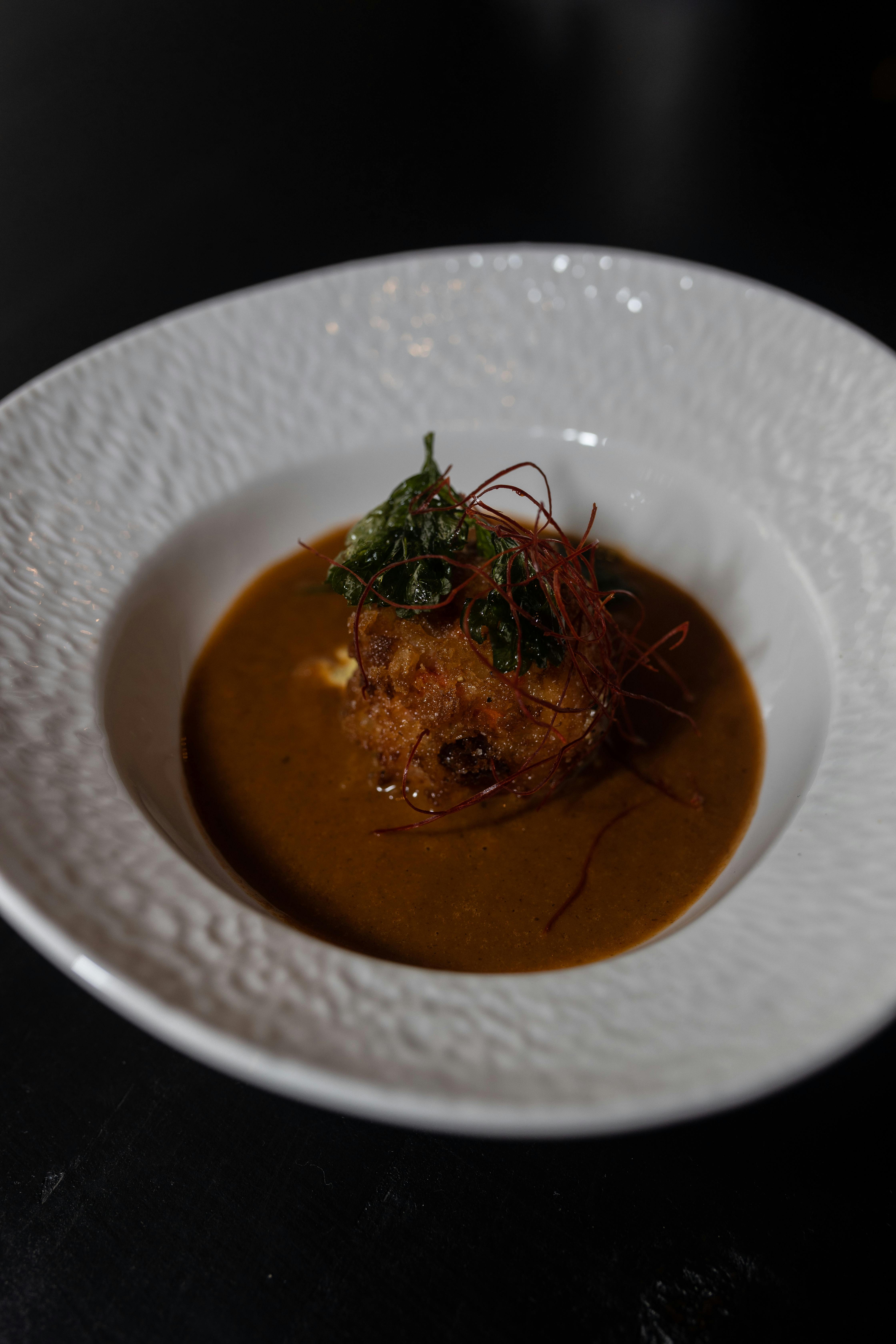 Lobster Croquettes are a great appetizer to begin your tasting, being one of the oldest dishes created by Adjey, who has sold it for over 20 years at this point. It is considered a signature creation of the chef, and for good reason. Sitting atop a remoulade with an etouffee, the lobster croquettes are a beautiful symphony of both textures and flavours.
There's a certain tang to the dish, and the beautifully rich, smooth and deeply-flavoured remoulade sauce complements the crunchy, fried croquettes beautifully.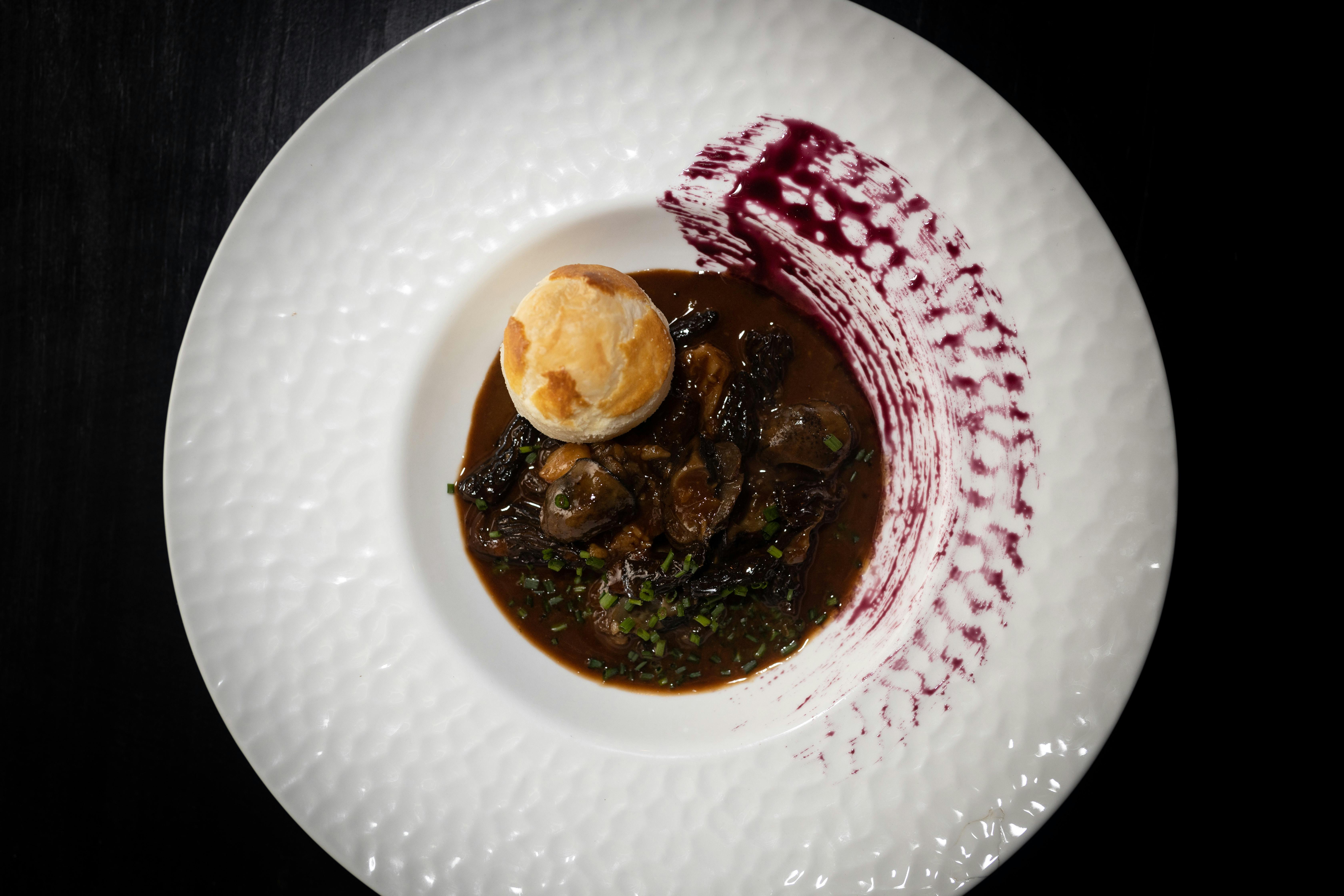 The Escargots, a classic French dish, is served with morel mushrooms, a demi-glace cooked for four days and an Armagnac reduction. The entire dish altogether is a beautiful symphony of flavours with Adjey at the helm in his conductor garb. The sauce is probably the undisputed star of the entire dish, having such a silky texture and a deeply-complex flavour that can only be achieved by being cooked for several days on the trot.
The morels shine through with an umami flavour that gives the entire dish a well-rounded finish and keeps the palate coming back for more. The supporting act in the form of the Armagnac reduction adds another dimension to the taste while adding more body to the flavour profile, making for a luxurious bite. Rounding up the dish is the flaky vol au vent pastry, which acts as a way of breaking up the textures and introducing something new to the palate while also working as the perfect tool to soak up all of that beautifully-rich demi-glace.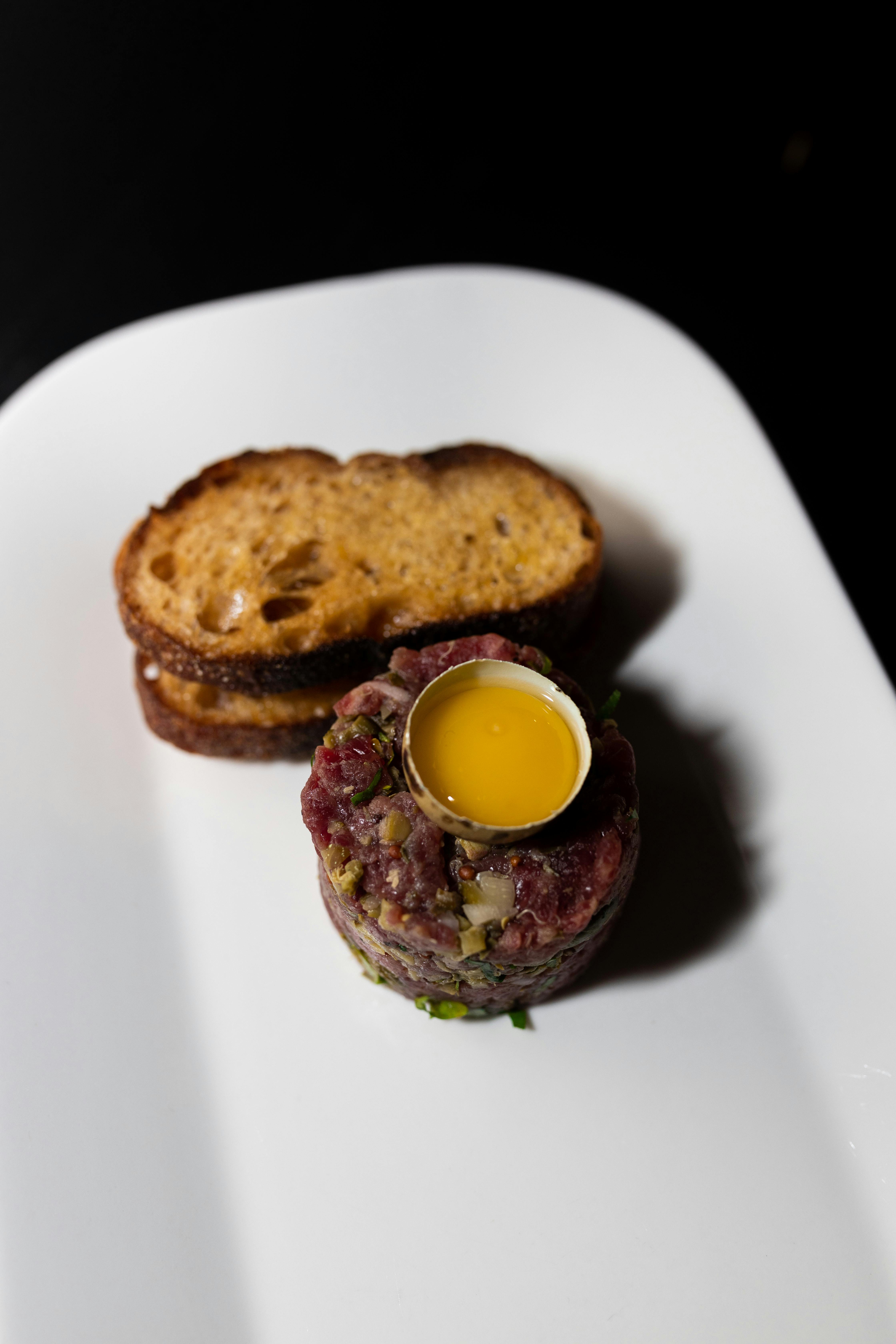 Another classic dish, the Steak Tartare at Bouffe is served with garlic crostinis on the side and a quail egg yolk on the top. While the full-sized dish also includes foie gras, the chef's tasting menu excludes that as it throws off the balance of the dish with its added fattiness. The quail egg was chosen over a regular chicken egg by Adjey as he wanted a delicate balance between the beef and the yolk.
As is the case with a lot of French preparations and the philosophy of Bouffe, the quality of the ingredients shines through in this dish. The thin garlic crostini acts as the perfect vessel to transport the beef from the plate to the mouth, without imparting too much flavour of its own. It also acts as a great textural contrast to the luxurious and unctuous steak and egg, counteracting the silkiness with its crunch. Flavour-wise, the dish is beautifully balanced with just the right amount of acidity to liven up the palate and the correct measure of fattiness to ensure it doesn't heavily coat the tongue.
In totality, the steak tartare is the epitome of using simple yet high-quality ingredients and letting them shine through by providing just the right balance of flavours and textures. Your tastebuds will always be ready for another bite, regardless of how much you've already had.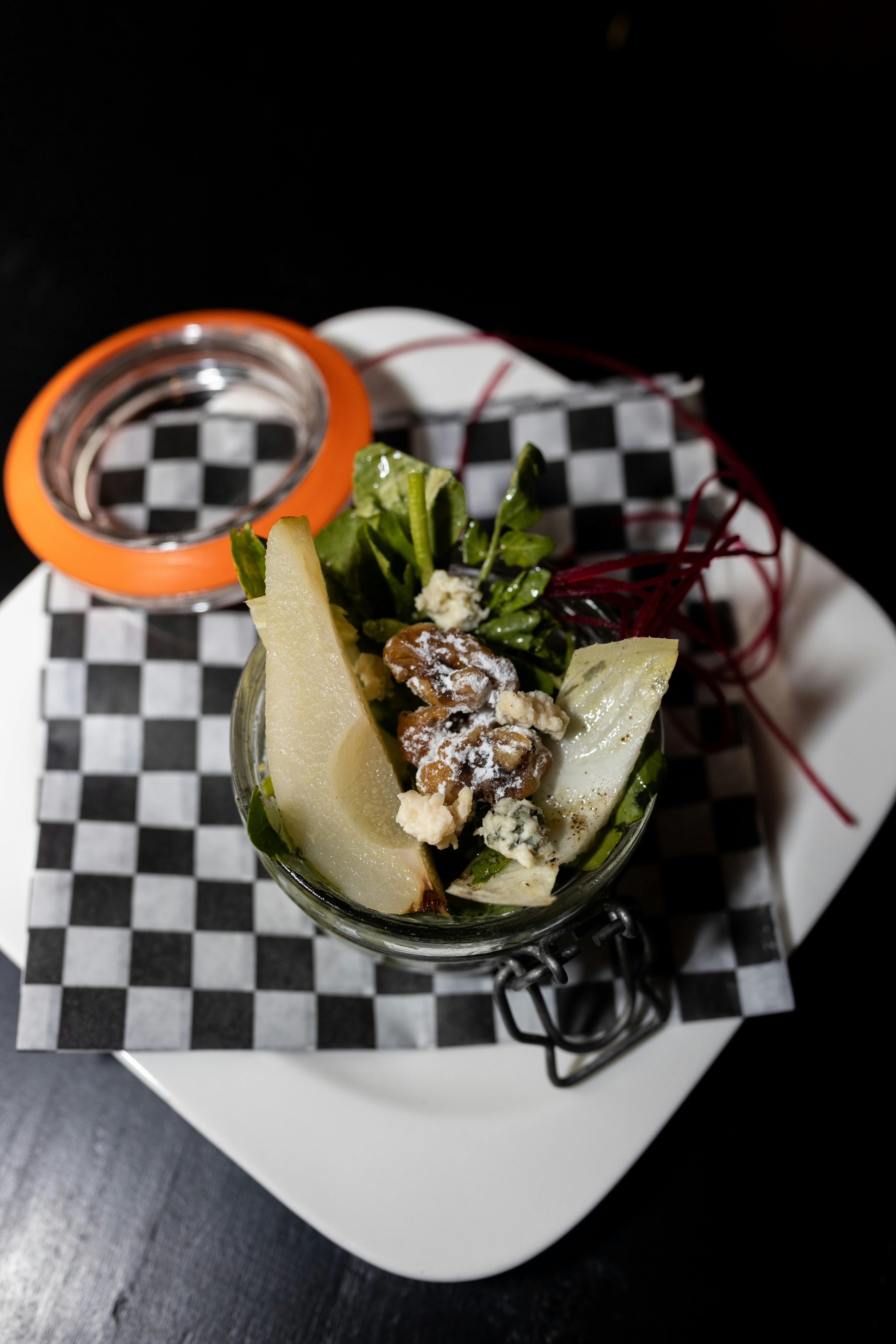 The Endive Watercress Salad acts as a refreshing pitstop during the course of the chef's tasting. Containing poached pears, blue cheese, candied walnuts, a lemon vinaigrette and garnished with beetroot threads, the dish is a masterpiece of balanced flavours and textures. Sweet and savoury, smooth and crunchy, refreshing and rich, this albeit simple-sounding dish is a veritable treasure trove of skills and understanding of how flavours work.
Even though it includes a sizable amount of ingredients, nothing is lost when you eat it. You can taste the sweetness of the poached pears as much as you can taste the pepperiness of the watercress or the mild bitterness of the endive. The funky saltiness of the blue cheese is as prominent as the nutty earthiness of the walnuts. No flavour or texture lords over the rest; they all just come together in a harmonious medley.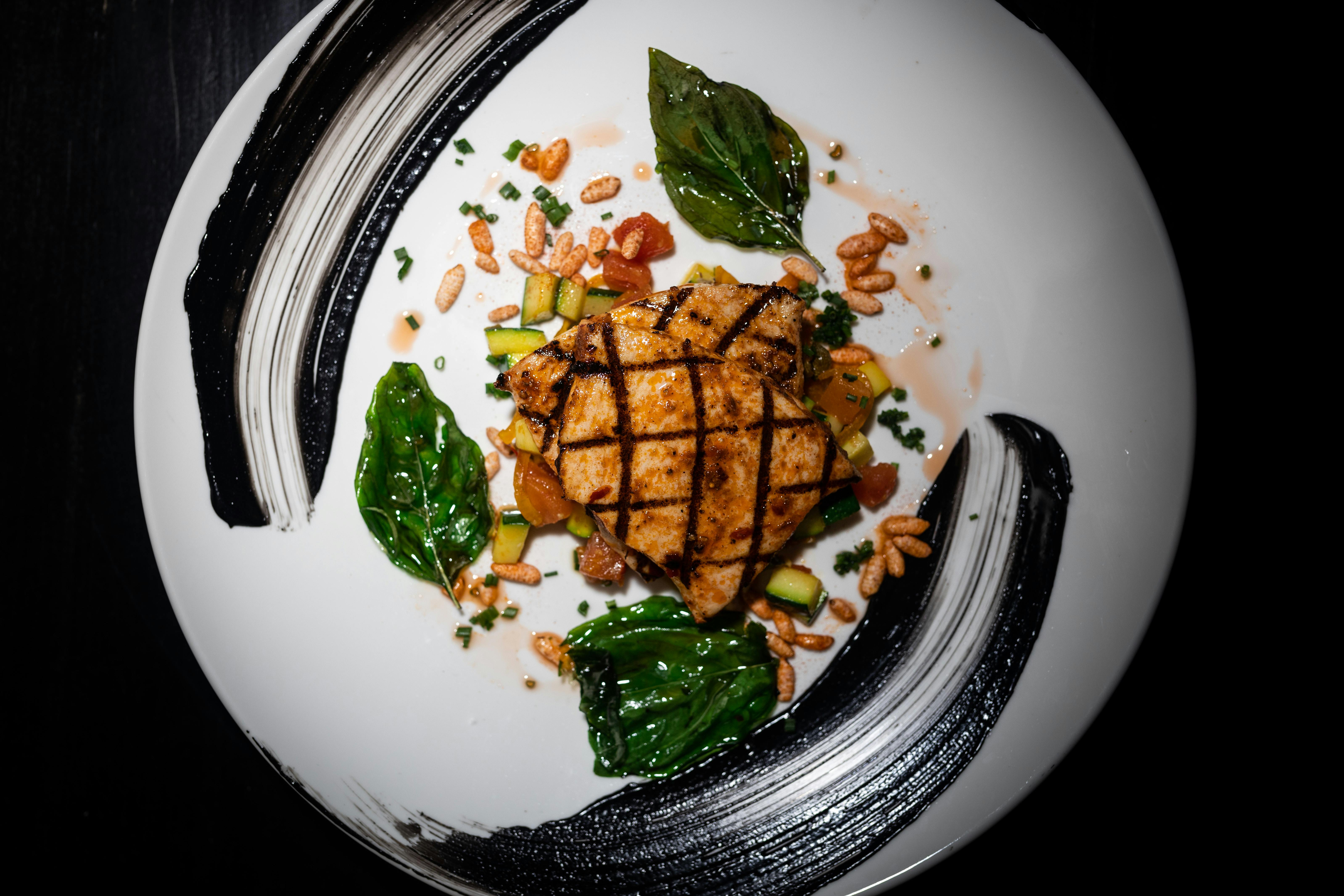 The Swordfish is a great lesson on the benefit of sourcing the right ingredients for a dish. While regular Hawaiian swordfish is "notoriously sawdust" according to Adjey, the Portuguese swordfish sourced by his fish supplier is a beautiful piece of meat. Sourced from the cold waters of Portugal, this version of the fish has evolved into a fattier version to combat the temperatures, making it highly tender.
The swordfish at Bouffe is grilled with a chili marinade and is served on a bed of saffron-spiced Provencal vegetables with paprika puffed rice. Finishing the dish are fried basil leaves and a — for the lack of a better word — sexy black aioli prepared with cuttlefish ink.
The fish itself is as far from sawdust as it possibly can be. Beautifully tender, properly spiced and sporting gorgeous grill marks, it's undoubtedly the star of the dish. The Provencal veggies and the puffed rice complement the textures well, which are quite toothsome. The basil provides a nice herbal flavour and the entire dish is rounded off with the bold cuttlefish aioli that cuts through all flavours with its briny and salty profile.
It's a dish that is proudly French. It's not doing too much with mixing flavours, but is rather allowing the ingredients to take centerstage.
"I've sold the swordfish from day one, that people literally go batshit crazy for," Adjey said.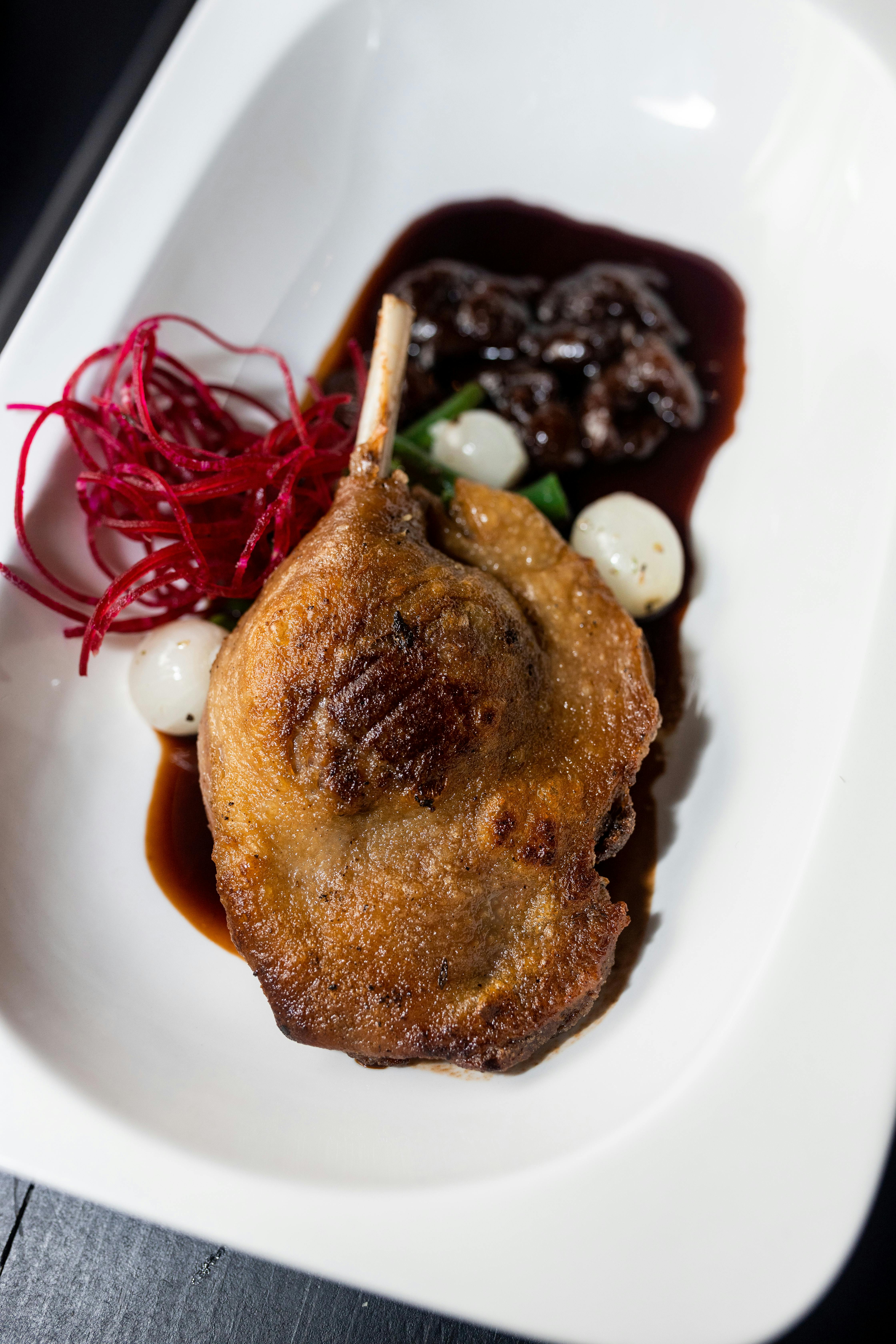 Another classic, the Duck Confit exhibits the lengths to which a chef goes to get the best product. While you might assume that the duck is sourced as a whole from a supplier, you'd be wrong in thinking so. Adjey said that his source, a verbatim "bespoke tailor for butchers," gets him the duck breast from a separate place and the duck leg from a different place altogether.
The confit duck rests on a bed of peas and beans and is served with a deeply-flavoured cherry sauce, pearl onions and beet threads. The duck is tender and falls off the bone without any hesitation. Its crispy skin works as a great textural contrast with the juicy and soft meat. Rounding it off is the cherry sauce, which still has mashed pieces of cherry in it for that textural addition. It is rich, tart and somewhat bitter, which helps it cut through the unctuous piece of duck with ease..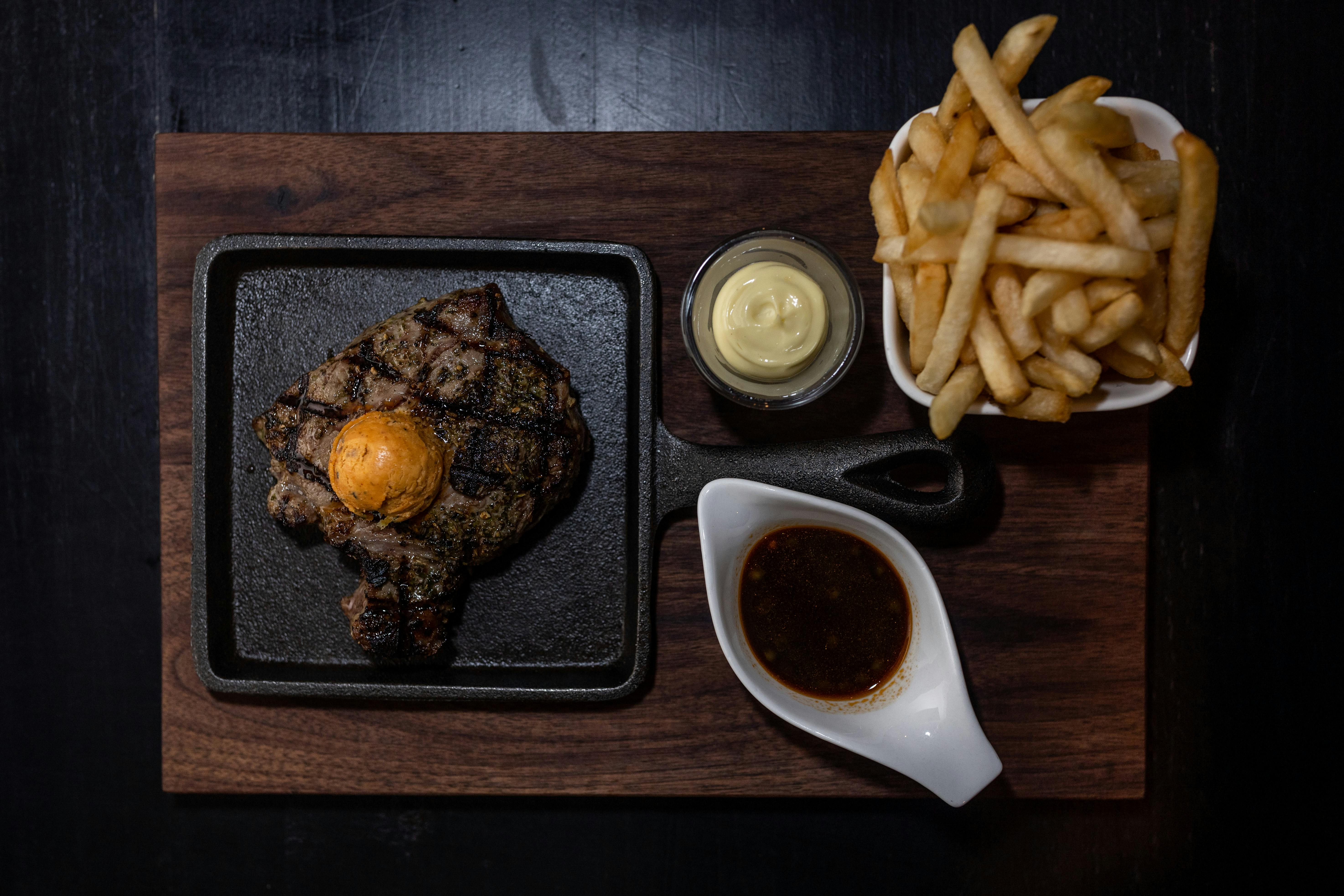 Steak Frites is a rudimentary dish at its core, essentially just steak and french fries. But the way Bouffe serves it takes it to a whole different level, incorporating a nuanced flavour profile.
While the foundation is fairly simple — perfectly-cooked Canadian prime beef and crispy fries with a pillowy interior — certain additives enhance the flavours multi-fold. The star of the show is the cafe de Paris butter — a compound butter with a tantalizing mix of herbs and spices. Its complexity takes the simple-yet-classic preparation to a whole other dimension. The other accoutrements include a steak sauce that cuts through all the richness with its acidity and a simple aioli to dip the fries in.
While it may just be steak and fries at its core, the way Adjey adds his own zhuzh to it takes it up a few notches into the memorable territory.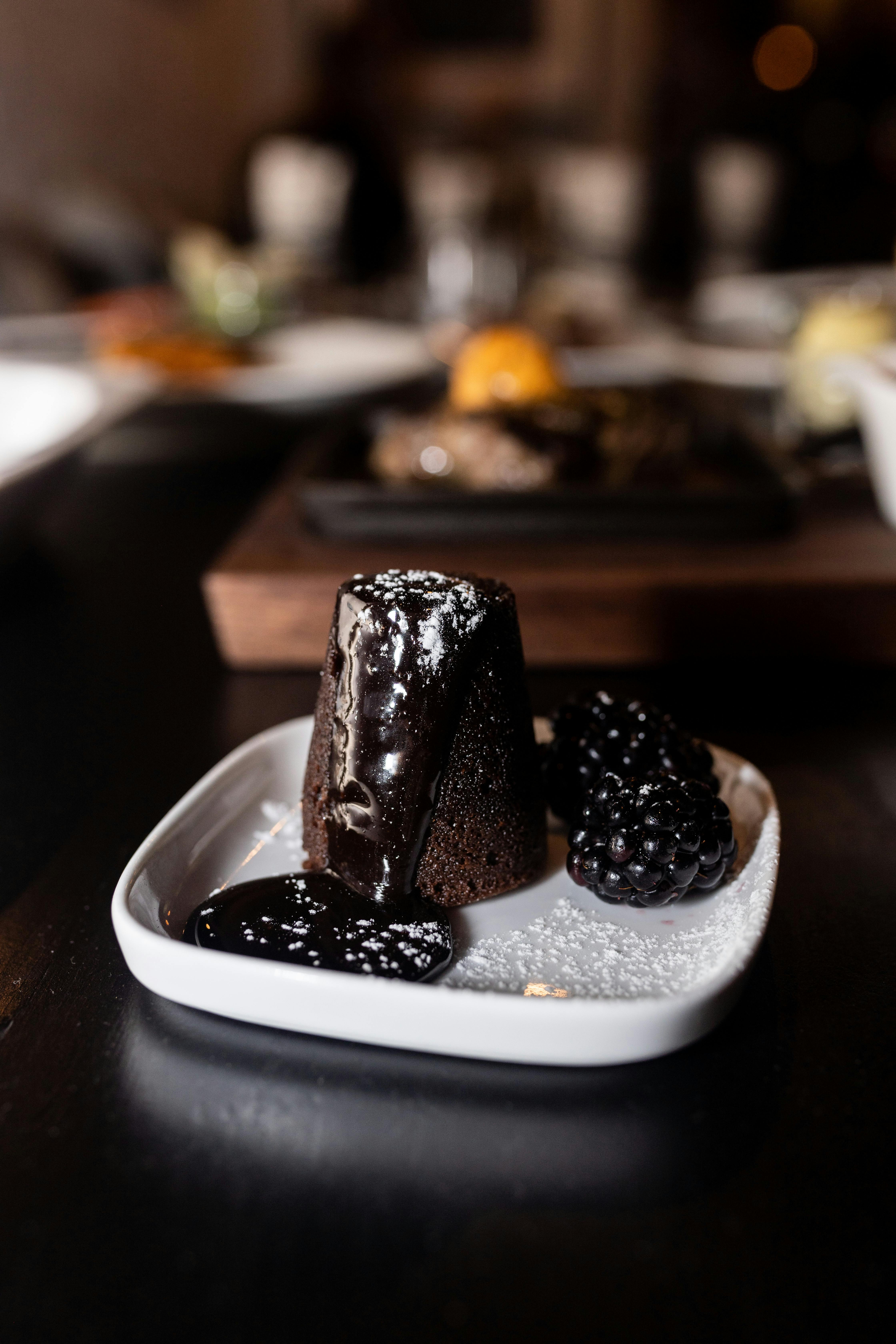 The Chocolate Bouchon is a great way to end the luxurious chef's tasting meal at Bouffe. Literally translating to "cork," the cake is shaped like its namesake and is decadent and dense in the best way possible. It is so rich that it coats your tongue like a well made demi-glace. The blackberries that it is served with come in handy as they help cut through the richness with their acidity.
Bouffe also has a commendable drinks program, with a whole slew of champagne-based cocktails and a sizable wine list to entice consumers.
According to Adjey, these libations were born after a survey of the neighbourhood. A lot of people were seen drinking sparkling wine, so he decided to create a menu of champagne-based cocktails.
While the sparkling cocktails sold like hotcakes in the beginning because of their novelty, the want has since simmered down a tad. With the onset of colder weather, people are pivoting from champagne to warmer alcohols like bourbon.
And while there are no set pairings of wines that go best with the food served, Bouffe has a stellar staff of servers who are educated in the art of providing patrons with wines that they are bound to like. Through this "tabletop romance," as Adjey puts it, the servers are able to suggest proper pairings.
"There's only two types of wine. There's wine you like and wine you don't, and that's it," Adjey said. "So we're trying to find the wine you like, that also works with food."
At 58, Adjey knew he had one more restaurant in him. Nothing large, but rather something small enough that he could cook everyone's food. Bouffe is the embodiment of that wish, where he does everything from prepping sauces to butchering meat.
"I just wanted to, you know, build it myself," he said. "Blood, sweat and tears."
As he came across the space where Bouffe currently resides, it felt like it had landed directly in his lap. It was exactly what he was looking for.
After all the hard work of setting up the place, Adjey had exactly what he wanted. A place that feels like home, where one can sit down and be served by him, for you are basically in his home.
With the front of the house full of grown-ups and experienced workers, Adjey took it upon himself to employ younger cooks who had the hunger to learn from him. He is thoroughly enjoying this mentorship role, helping mould the next generation of Canadian chefs.
Adjey's goal has been to create a space that oozes comfort and warmth for its patrons. Somewhere people can come in and feel right at home. The way things have started for Bouffe, it is evident that he is achieving what he set out to do, and how.
"We get words like, 'Oh so comfortable.' It's nice to have, 'We feel like this is our restaurant,'" Adjey said. "If we can continue to get these adjectives, those superlatives from people, it's like okay, I think we're doing the right thing."