Photographs by Larry Heng
Concealed behind decal windows yet meant to be discovered is Bar Chica, Patria's new scenester little sister. Much like Barcelona's hidden away tapas bars, Chica derives its inspiration from traditional Spanish dishes by taking an innovative approach and making them unique. Small bites with high-quality ingredients and big flavour profiles are meant to be shared at this late-night King West hangout. The intimate yet lively atmosphere with a moody interior pair well with the collection of cocktails and Spanish wines. More adventurous and fashion-forward than her older sister, Chica is all about being fun, playful and original.
Opened on April 8, Chica is brought to the Toronto food scene by visionaries Hanif Harji and Charles Khabouth. The pair have collaborated on many projects, with Chica being their newest addition. "Following the success of Patria we're excited to introduce a new Spanish culinary experience to Toronto's restaurant and bar scene with the launch of Chica," says Khabouth, CEO and founder of INK Entertainment Group.
After travelling throughout the different regions of Spain, CEO and Founder of Scale Hospitality Hanif Harji was inspired to take the classics a step further.
"I love what we've done at Patria. I still really wanted to keep some of that traditional tapas type food but wanted to push the boundaries on modern tapas, what's happening in Barcelona today," says Harji.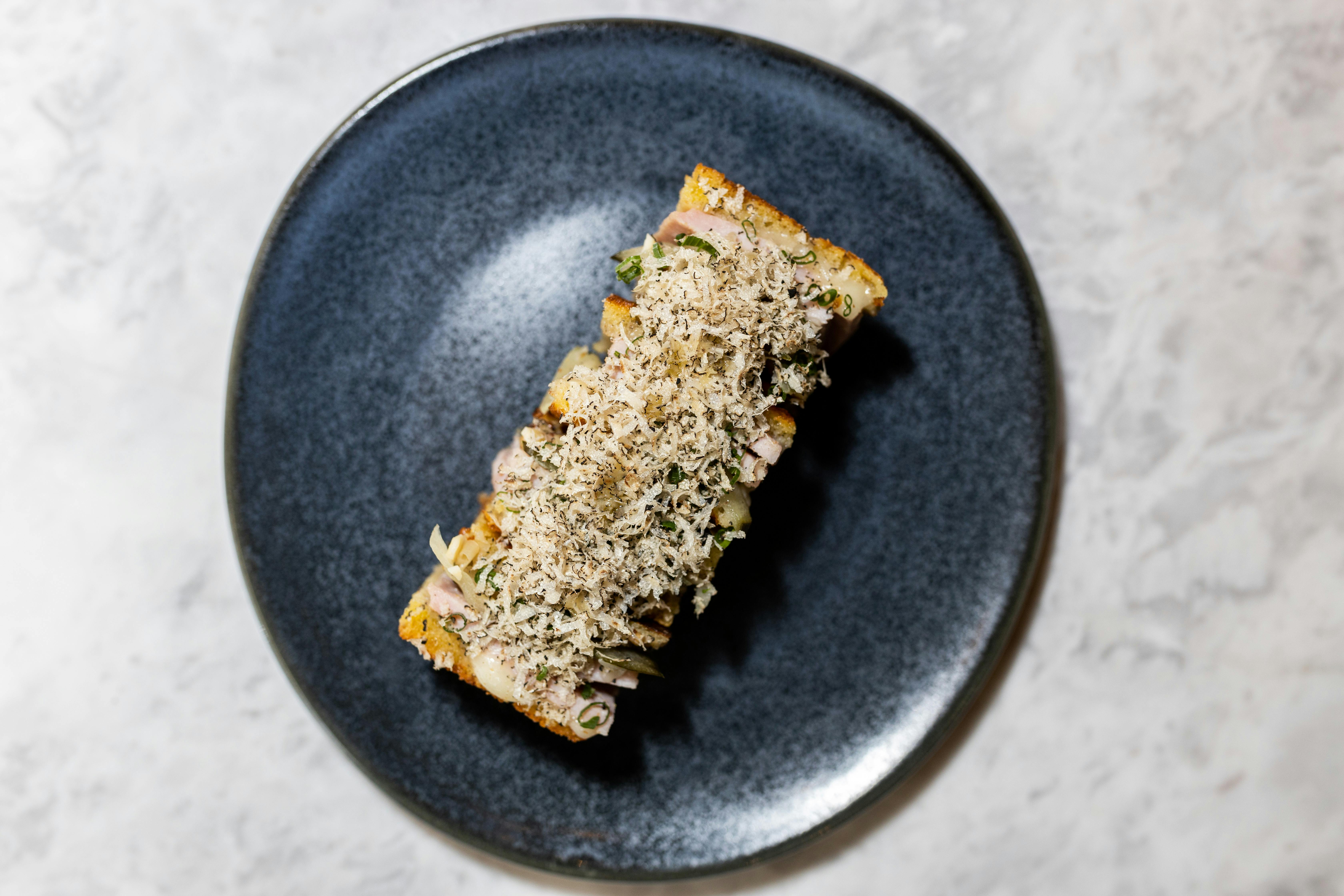 Chica's menu items are influenced by the different flavours that can be found throughout the Northern and Southern regions of Spain. Led by Executive Chef Ted Corrado, Developmental Chef Zachary Albertsen and in conjunction with Head Chef Kevin Le, Chica's dishes are "a balance between staples in every tapas restaurant and innovative spins on classic dishes," says Chef Corrado.
Of the elevated sharing plates is the Patatas Bravas, a traditional dish found in Spain created at Chica unlike any other. The Bravas is a duck fat potato pave pressed overnight, sliced into rectangles and topped with a quail egg, garlic aioli and an assortment of flavourful purées. As it arrives as a pair, its appearance is distinct with its colourful layered look, shape and texture.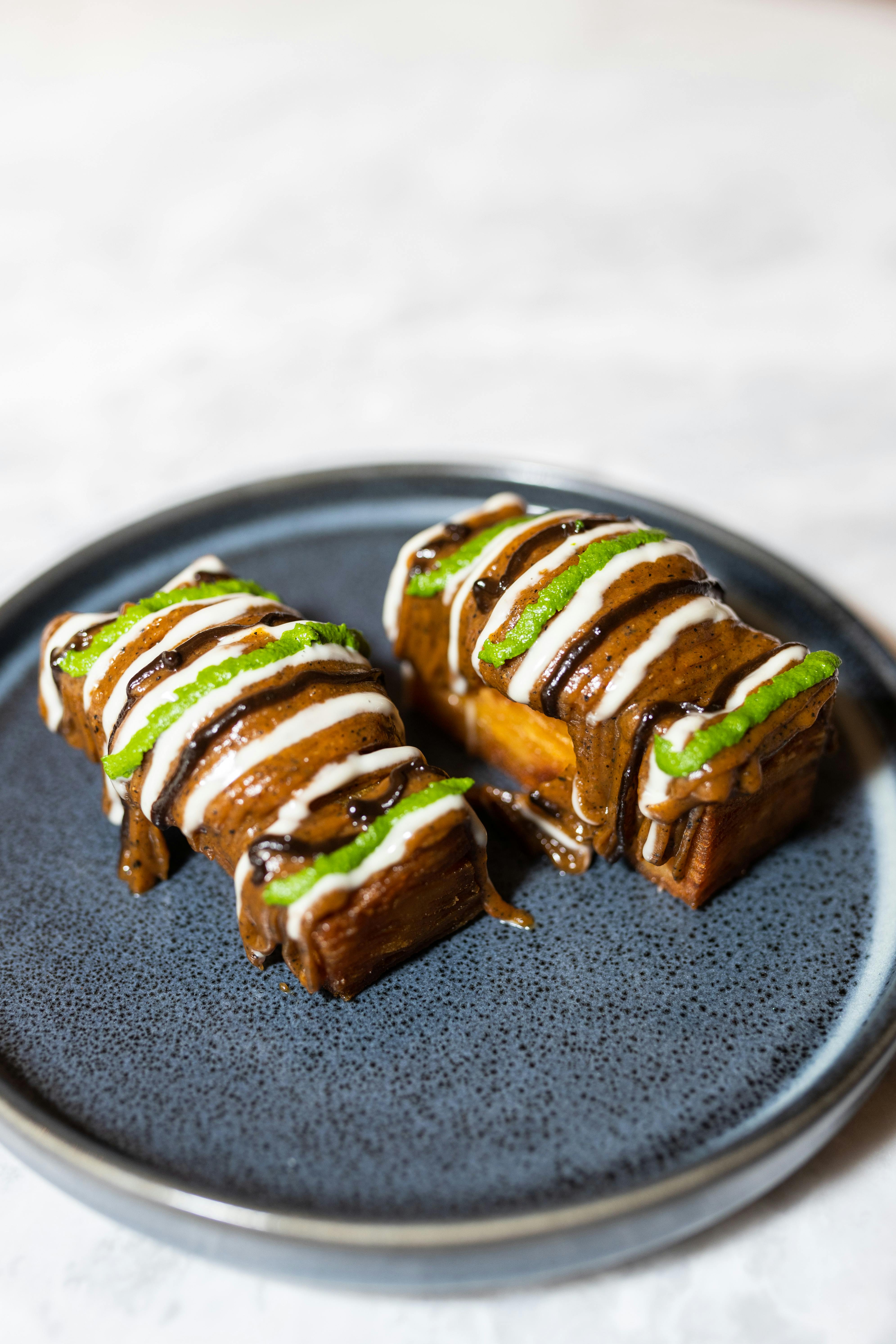 The Tarta de Paté de Higado is as beautiful as it is delectable. The dish appears as a shortbread tart sliced in half. The duck liver parfait is covered in a sherry gelée and delicately decorated with dianthus flowers. The notes of the sherry gelée come through as the parfait is soft in texture and rich in flavour.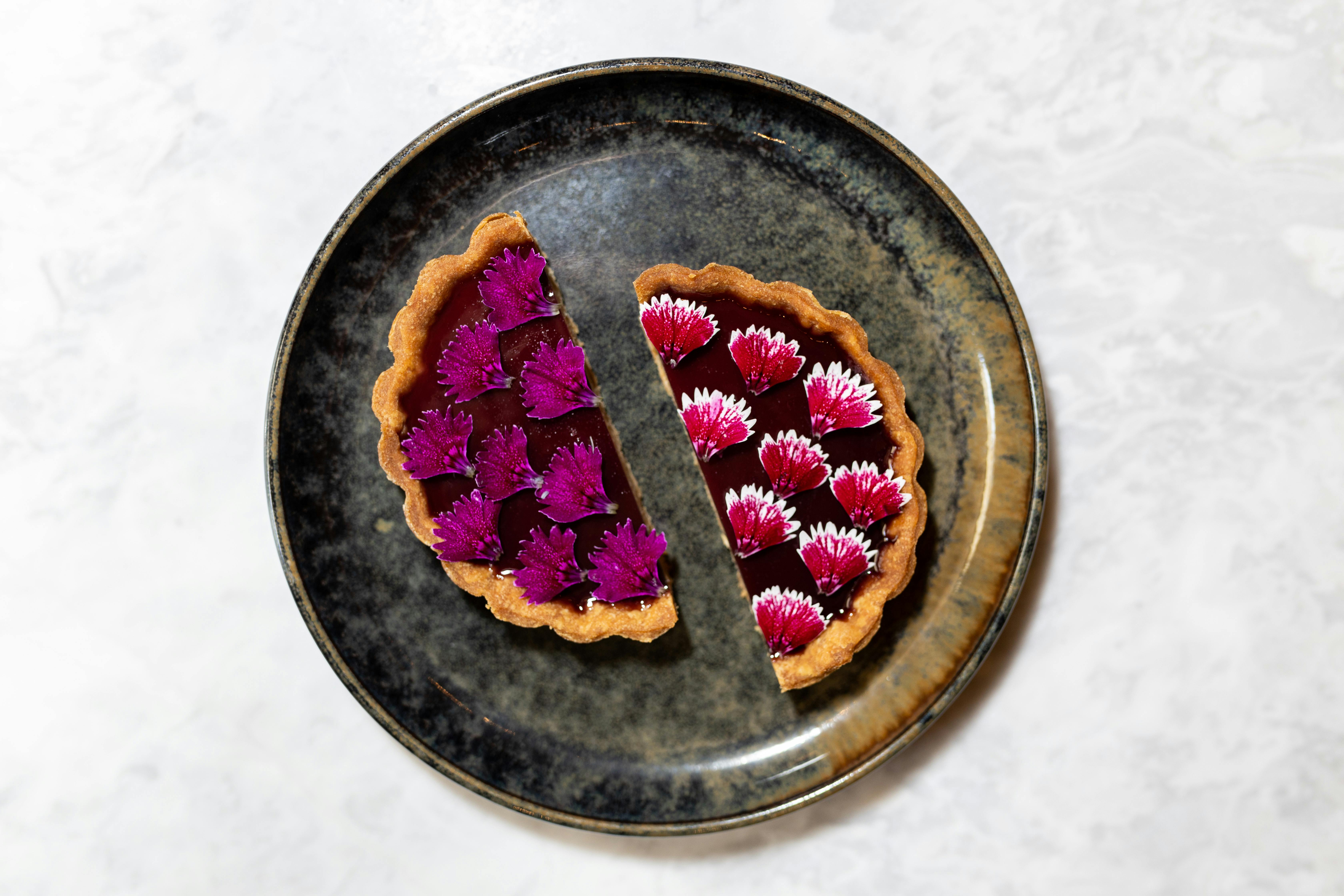 Another classic twist on Chica's menu is The Bikini de Jamón y Queso. A small bite packed full of flavour, all of the ingredients used in the dish are Ontario sourced products. The sandwich is comprised of four squares assembled as one. Using a house-made toasted brioche bun with shaved truffle on top, the impact of the Manchego, peameal bacon and truffle combine to make every bite a delectable one.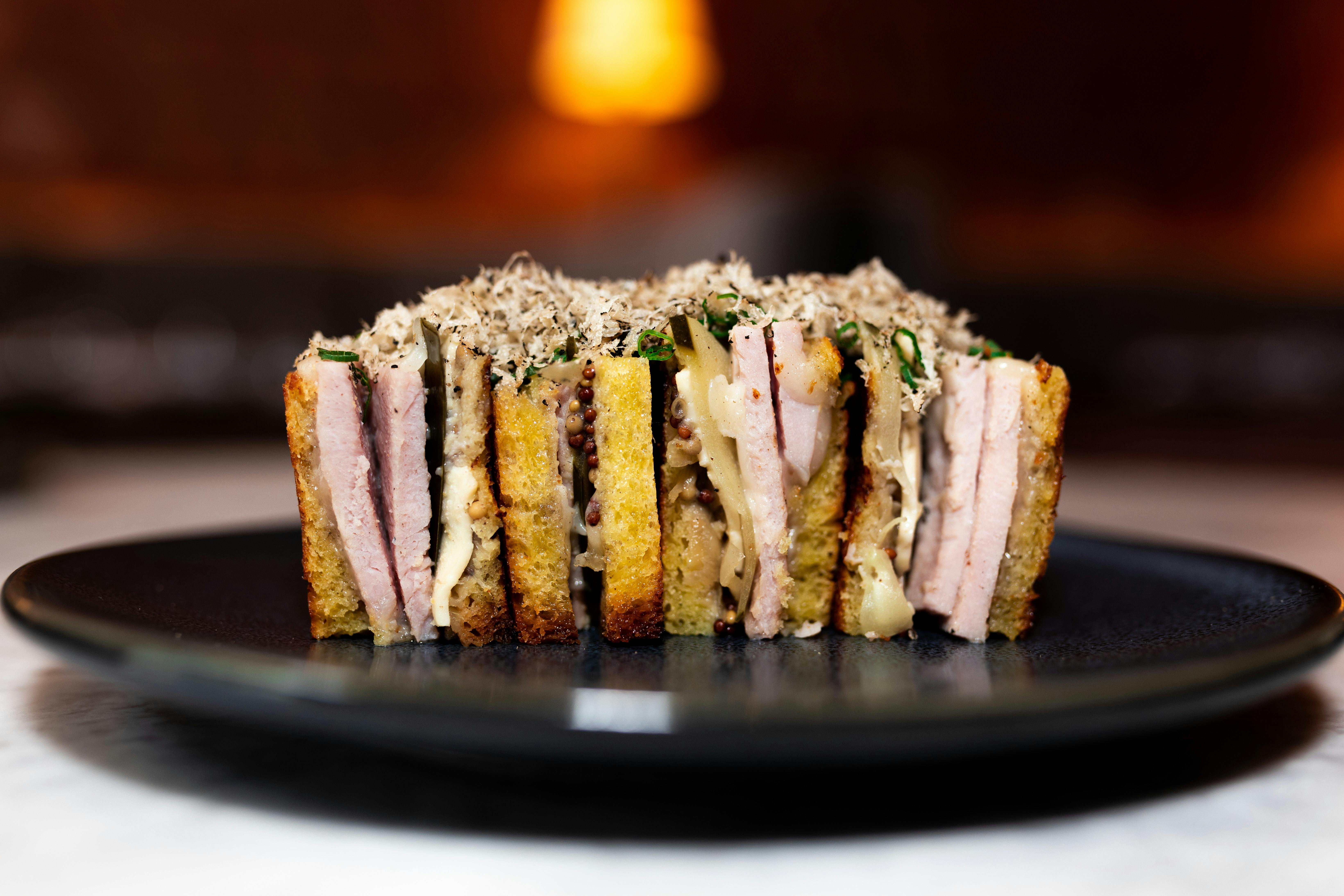 On the larger side of sharable plates is the Maíz y Sobrasada. In particular, the dish showcases the technique of Chef Le and his ability to take one ingredient and use it in a multitude of ways. The ingredient, in this case, is corn. A smoked corn kernel, corn foam, corn chip and a corn husk are all served with a hint of spicy Spanish soppressata and delicate borage flowers.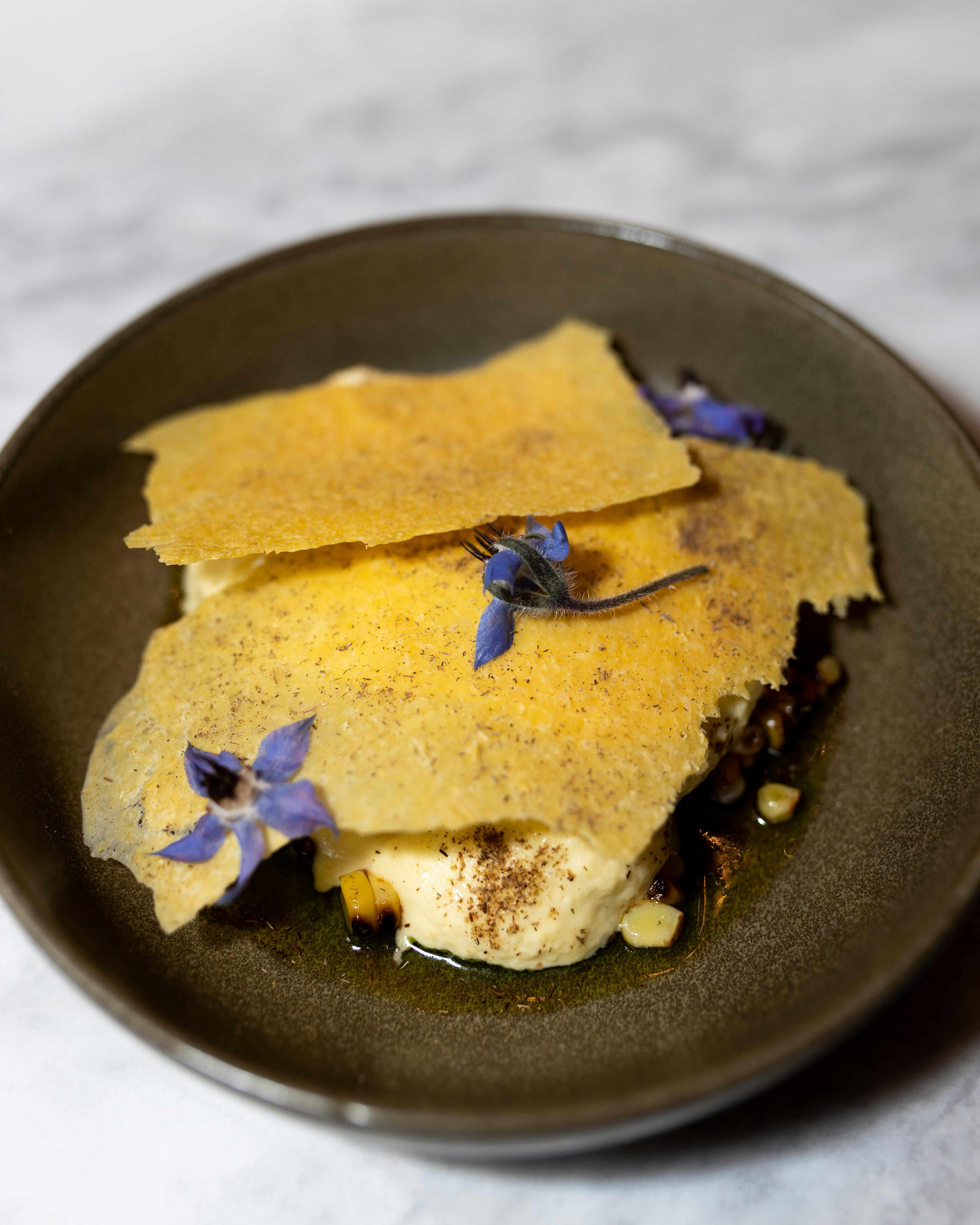 The intimate dining room evokes mystery as it welcomes you in. The space, designed by Danielle Adams, is influenced by a blend of modern styles with historical accents of Spanish detail. With an open kitchen concept and a bar that seats six, it is hard to miss the representation of Spanish design all around.
One wall, in particular, has been created with mosaic triangular terracotta tiles that can be found in homes all over Barcelona. The burgundy, grey and moss green colour palette has been selected to create a moody aura while simultaneously keeping with the playful atmosphere. A huge tiled mirror lies on the wall of the bar where a variety of drinks and liqueurs can be found.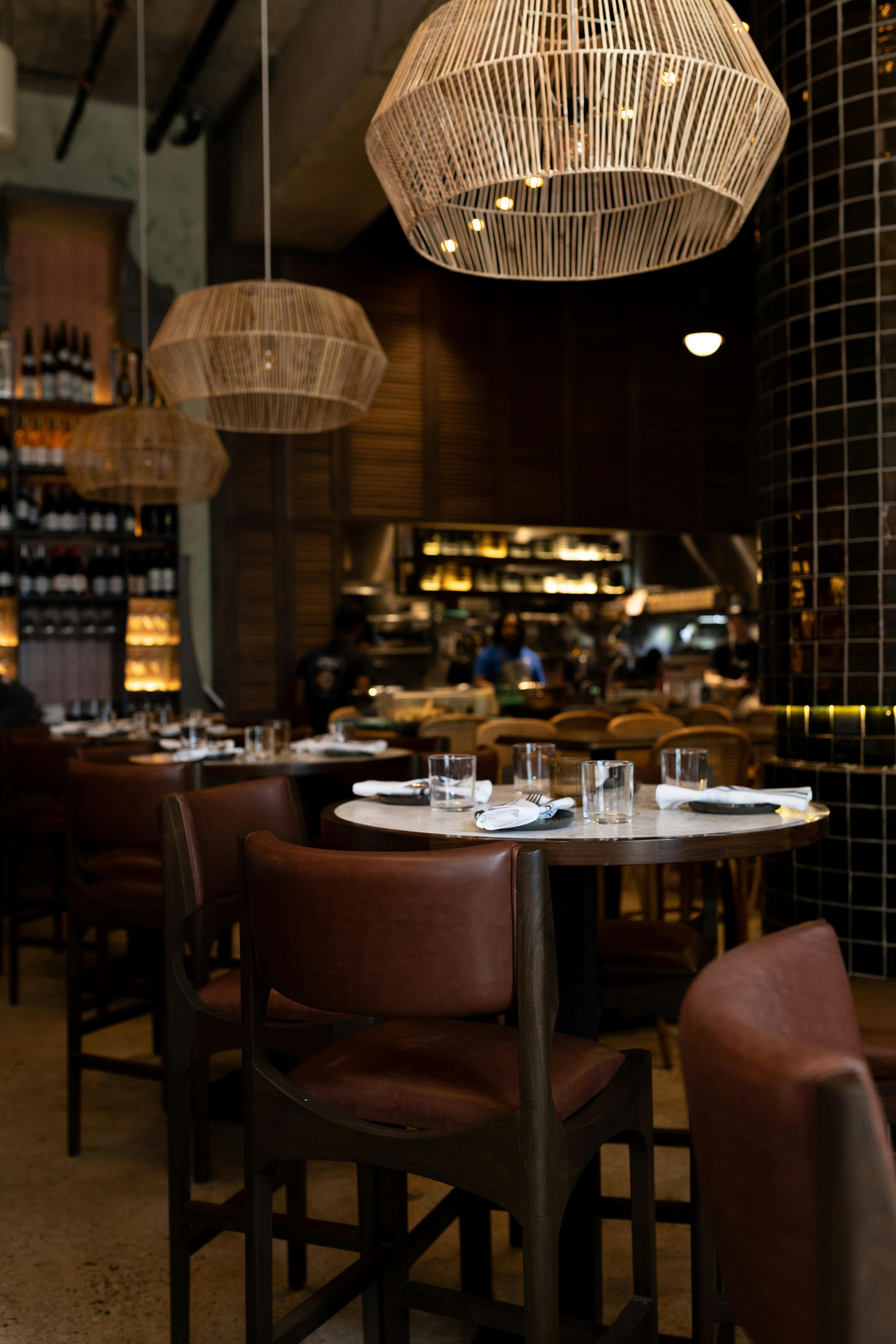 An assortment of Spanish wines has been carefully selected at Chica by Scale Hospitality corporate sommelier Lauren Hall. On the menu, one will find more traditional producers complemented by a fresher generation with distinct flavour profiles. Accompanying the extensive red and white list is Chica's sherry program. Pairing very nicely with the sharable plates and sometimes confused as a sweet wine, a variety of sherries are available.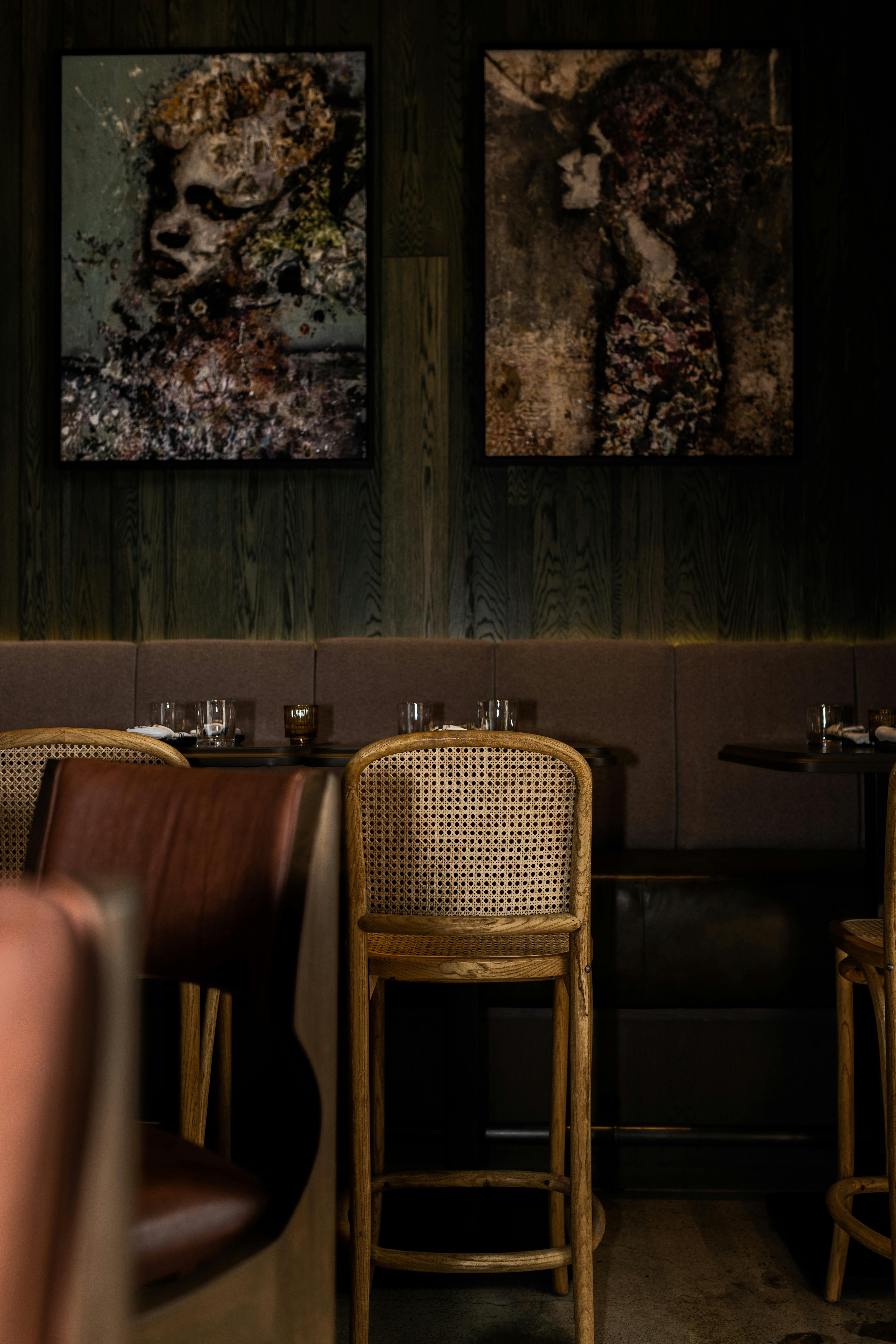 The cocktail program takes much of its inspiration from the classics, but not without adding a twist. The Benidorm, a favourite at the restaurant, is a cocktail full of Bacardi aged rum, infused with serrano ham, Dolin Sweet Vermouth and Luxardo Maraschino Liqueur. The drink is a variation on the classic cocktail Red Hook, which derives its name from a Borough in New York. Benidorm, which is known as Spain's version of Manhattan, is how the drink received its name. "I always like it when I get to work on the cocktail menus at new places. I get to do a deep history dive into the arts and cultural style of the venue, which is where I love to take my inspiration from," says Tony DaSilva, Bar Manager and AGM.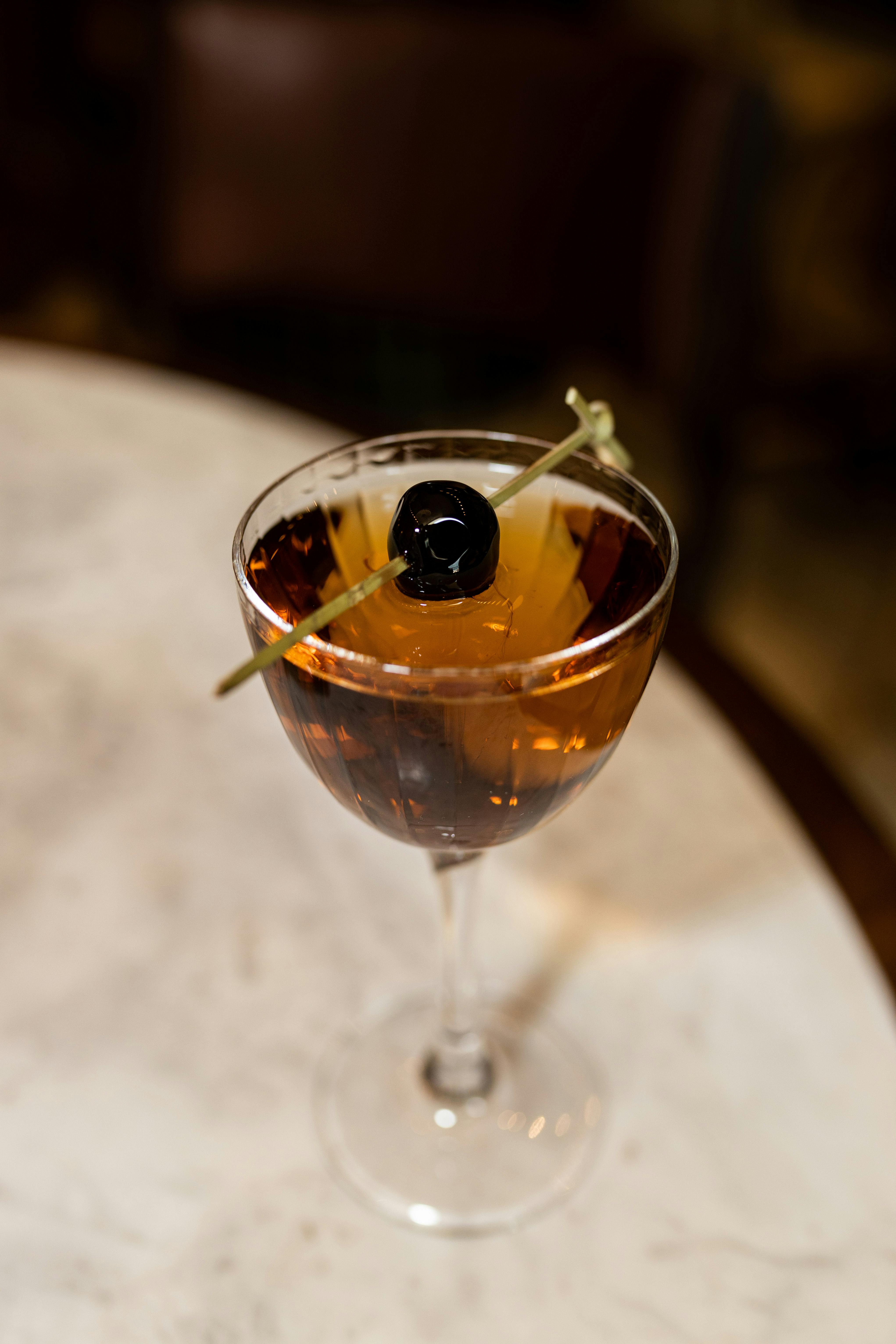 Inspired by Barcelona's hidden away tapas bars, Patria's playful little sister is here for some fun. Open Sunday through Wednesday from 5 p.m. to 1 a.m. (kitchen closes at 12 a.m.) and Thursday through Saturday from 5 p.m. to 2 a.m. (kitchen closes at 1:30 a.m.). Located at 75 Portland Street, right off the bustling King West strip. Whether it's for an early dinner or a late-night bite, Chica is the spot to be at.