Core Bubble Tea is the new spot in Leslieville for refreshing boba and tasty Korean food, just around the corner from Jimmie Simpson Park.
Core Bubble Tea may be a new concept, but the restaurant itself is not. Core has rebranded three times since the beginning of the pandemic, evolving from a restaurant focusing on a seasonal approach to fine dining to a chic spot for Korean fare and now to a lively bubble tea joint.
Chef Hyun Jung (H) Kim opened Core in 2018, serving contemporary Canadian cuisine. After acknowledging the restaurant's struggles in establishing itself as a high-end neighbourhood bistro and recognizing that changes had to be made once lockdowns began, the idea to abandon Western cuisine for Korean cuisine was born.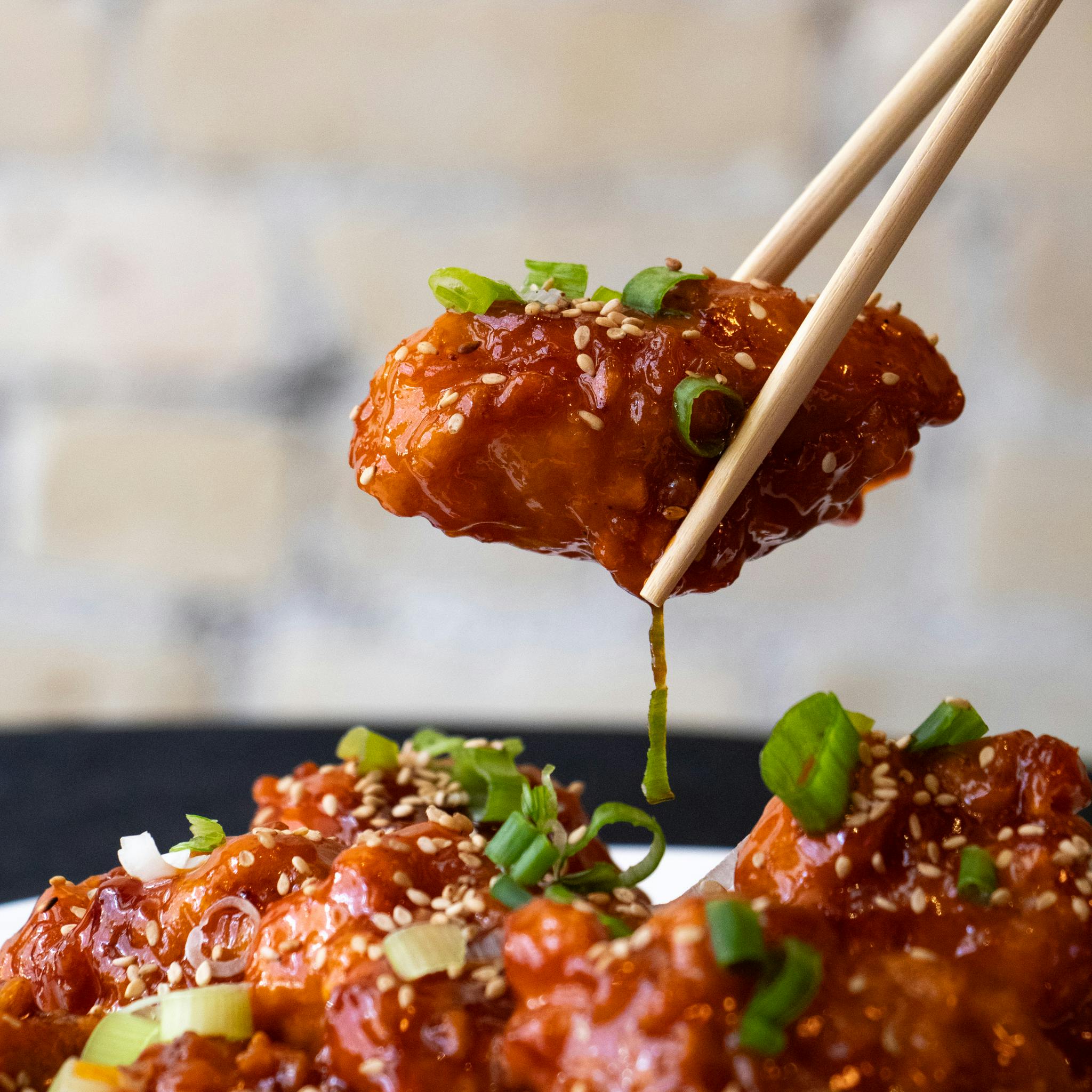 To maximize the space available to him, his culinary experience and his Korean heritage, chef H decided to take advantage of the absence of boba and Korean spots in the area to bring Core Bubble Tea to life.
After immigrating from South Korea and graduating from George Brown College's Culinary Management program in 2010, chef H found himself working at various fine dining establishments in the city, including George Restaurant, Globe Bistro and Scaramouche. He even spent time cooking through London, England, before landing at 896 Queen St. E. to open his own restaurant Core nearly a decade later.
"As a first-time restaurateur and with very limited experience in management, there were a lot of mistakes, and learning curves," says chef H.
"To be honest, we weren't doing so well financially pre-COVID. I knew there wasn't any Korean restaurants in the neighbourhood, and people were looking for good Korean food in the area. As a Korean immigrant myself, it was an easy decision to make," he adds.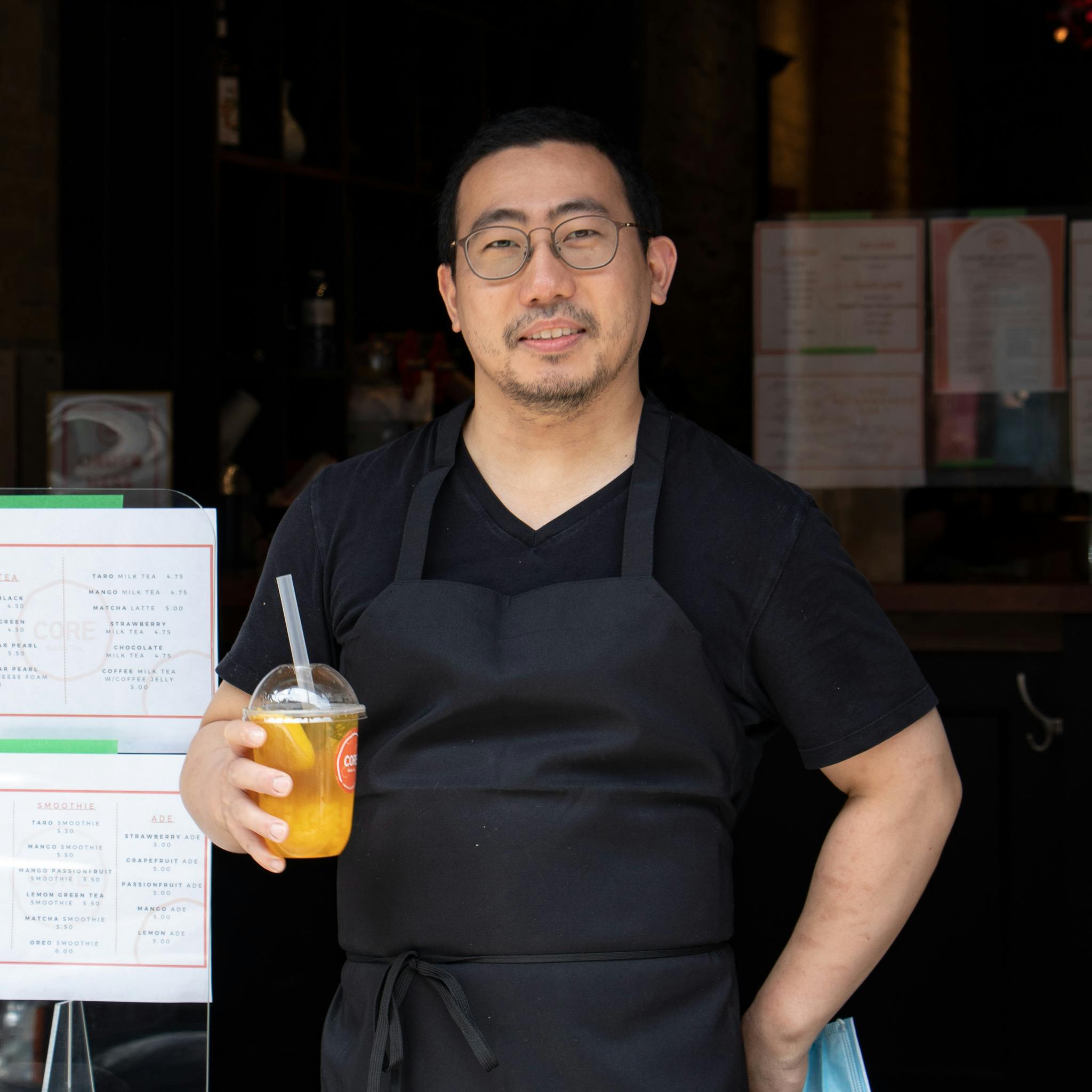 Despite receiving a warmer welcome the second time around from the community as Core Korean Kitchen, chef H still felt that he needed to do more.
"It was just not enough financially. With the wage and rent subsidies, we can maybe manage right now, but we have to think about the future and after the subsidies and government support end," he says, "I thought that Korean food alone isn't simply enough to be profitable and I needed something to complement our concept."
What better complement to Korean comfort food favourites than a sweet cup of bubble tea? And so came about Core Bubble Tea, a bubble tea-focused shop with a limited menu of takeout-friendly Korean fare.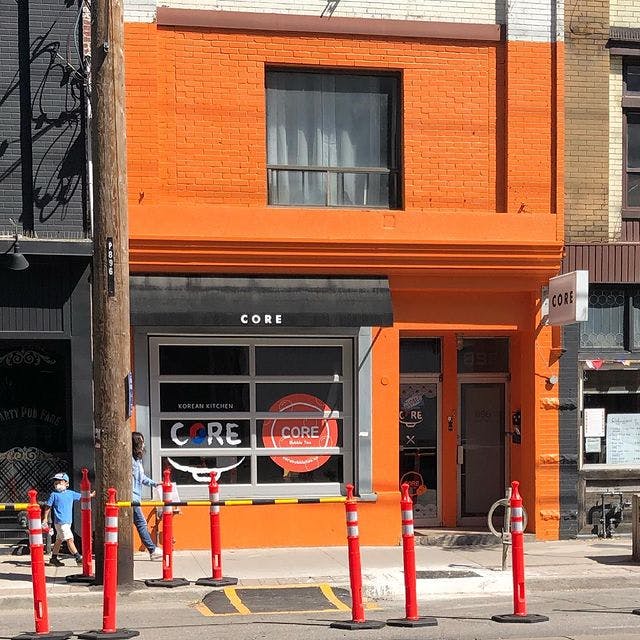 The newly painted bright orange building is met with a wide-open window facing the main street, attracting the attention of many passersby as the bubble tea station is in full view, as is the menu with a few drinks on display. This way, you can conveniently get a glimpse of what's offered before you take a step into the store to place your order.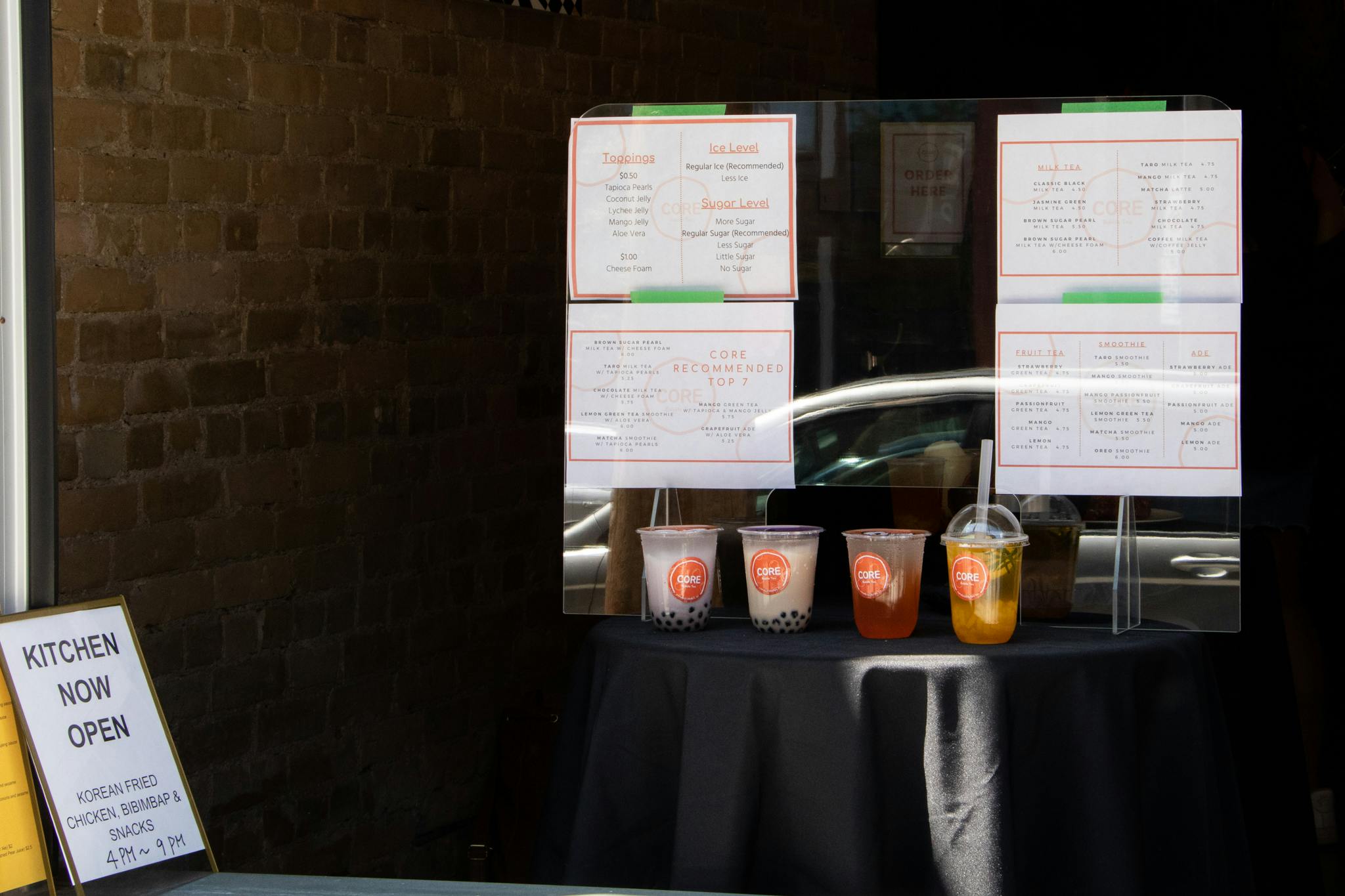 Though there's no indoor dining planned for the space at the moment, with the restaurant wanting to focus on takeout only, they still have outdoor curbside seating available.
A few steps into the space, you're met with a renovated bar area, which was chef H's primary focus when rebranding, as he was trying to figure out a way to utilize the space best.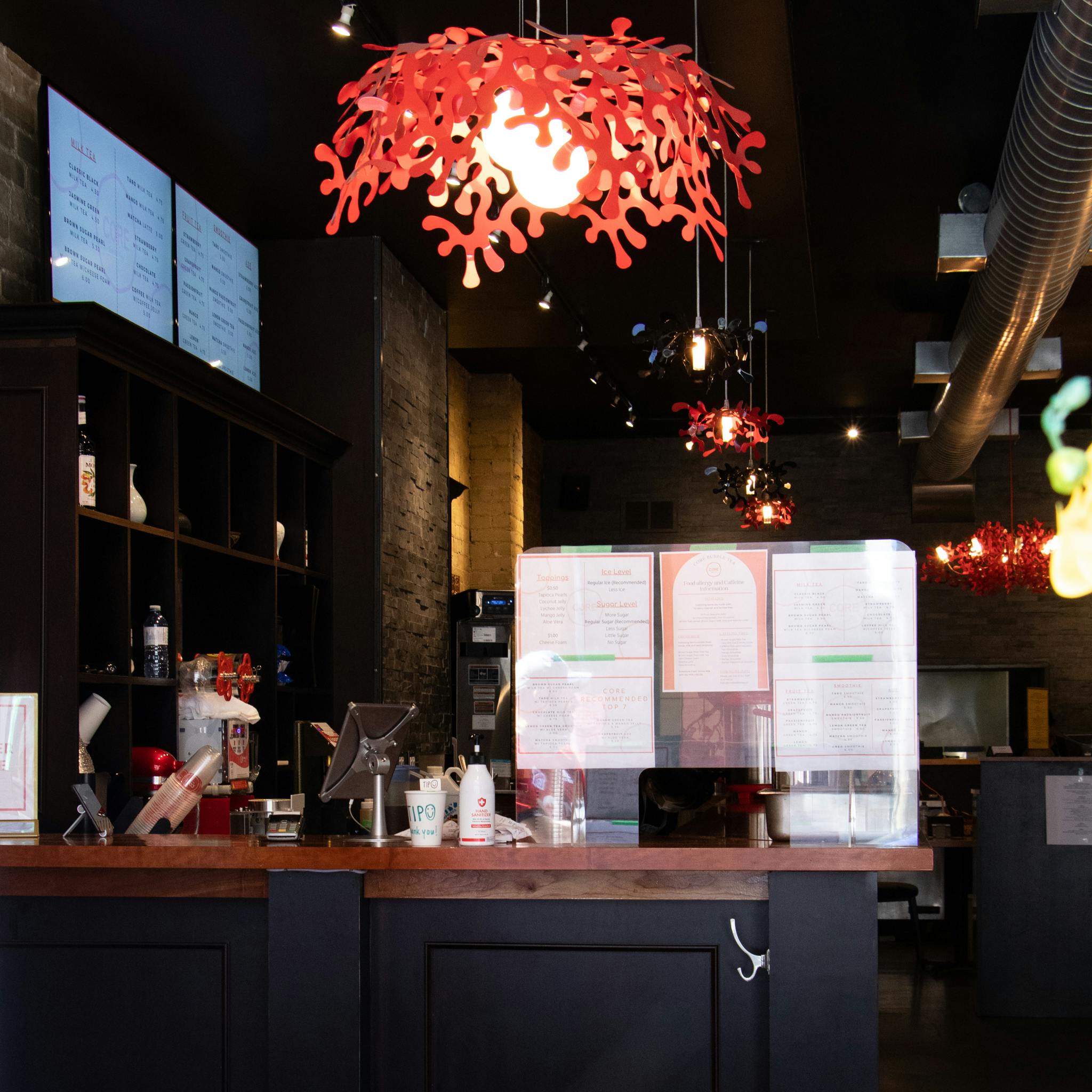 After debating between transforming the front into a sushi bar or a boba area, the decision to go with bubble tea was the clear choice, as it would best complement the Korean food chef H wanted to execute.
Catering to bubble tea production, the room is spacious and dimly lit, filled with modern paintings that lead to the back of the room where the kitchen is, separate from the bubble tea bar.
Hints of the previous restaurant concepts still remain in the space, but it's been altered to suit the rebranding for the most part.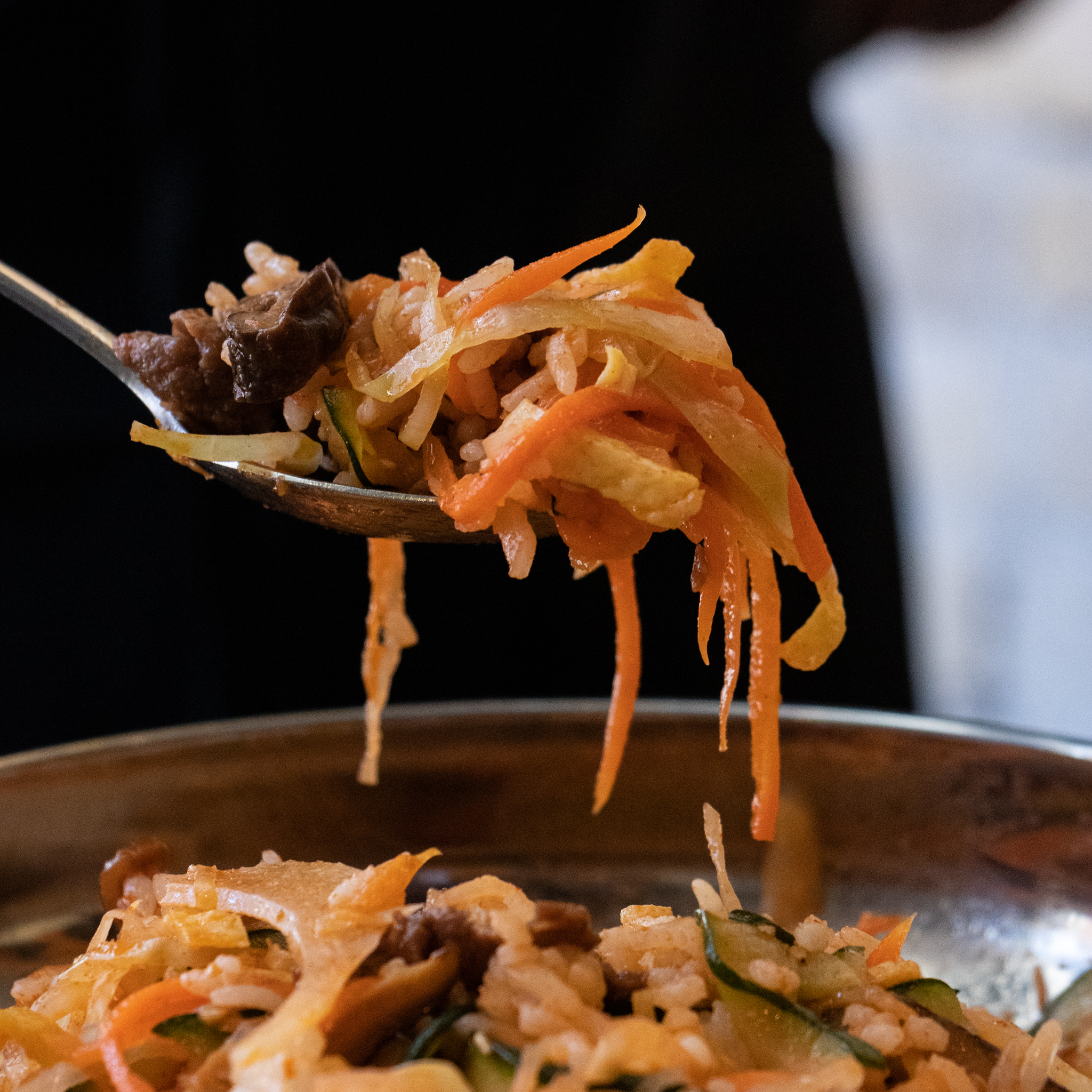 Though the main focus is on bubble tea, the Core kitchen is also open most nights, allowing you to get the best of both worlds. The limited menu of Korean food primarily focuses on fried chicken. The chef says he's aiming to eventually broaden the menu by offering other popular Korean food staples such as japchae. Even though the menu will expand, chef H still wants all offerings to suit the convenience of takeout like grab and go eats or meal kits.
The restaurant's expansive list of bubble tea covers everything from milk tea, fruit tea, smoothies and "Ades," dubbed so due to their similarity to lemonade.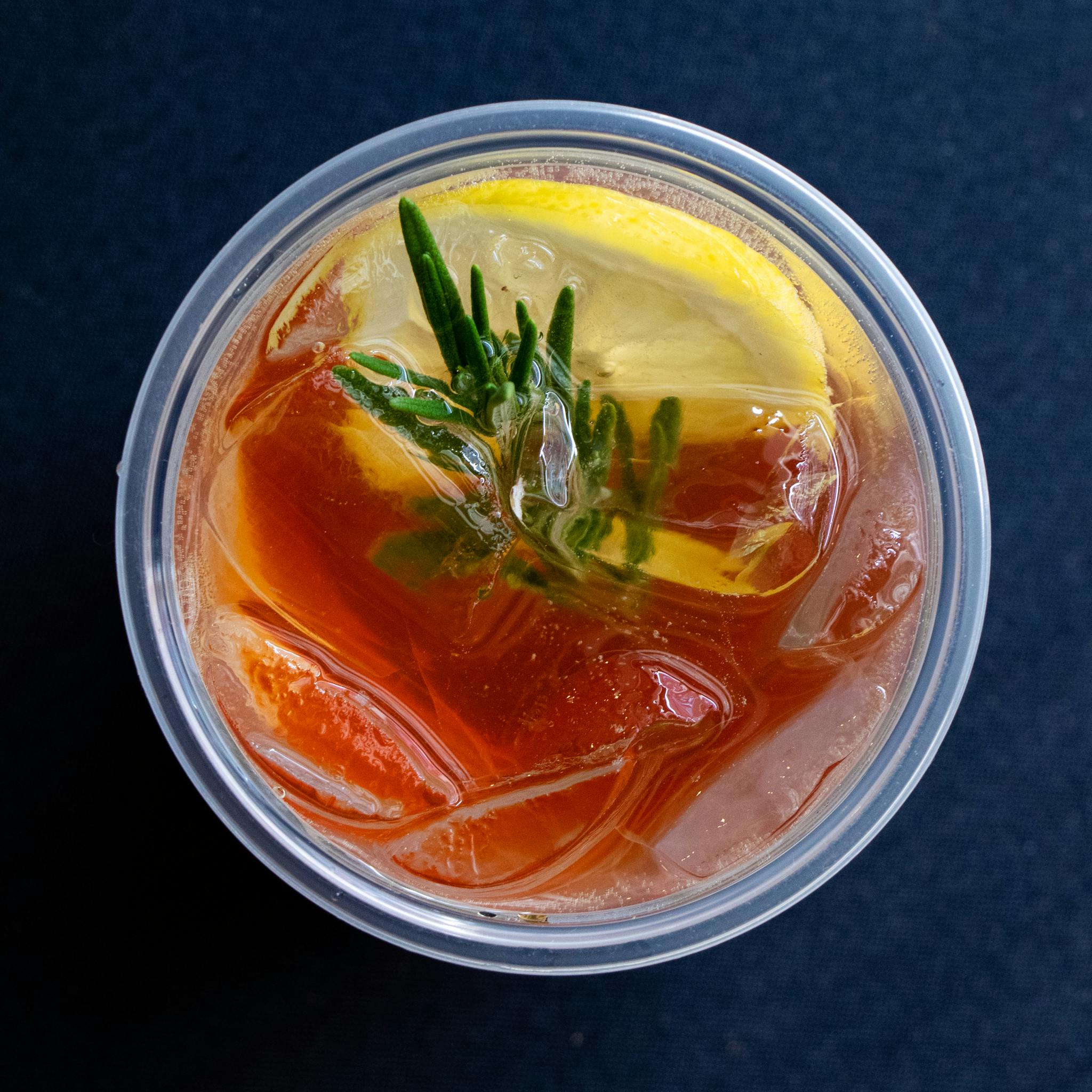 A signature Ade is the refreshing Grapefruit Ade, a tea base mixed with carbonated water, served with a slice of lemon and a stem of rosemary to impart additional flavour.
Most items on the menu are dairy-free or made with lactose-free milk, except their Brown Sugar Pearl Milk Tea, Matcha Latte and Oreo Smoothie, which are made with fresh whole milk that can be substituted with soy milk for only 25 cents more.
Additionally, all teas are made with a black tea or jasmine green tea base, with the eventual goal of experimenting with more teas.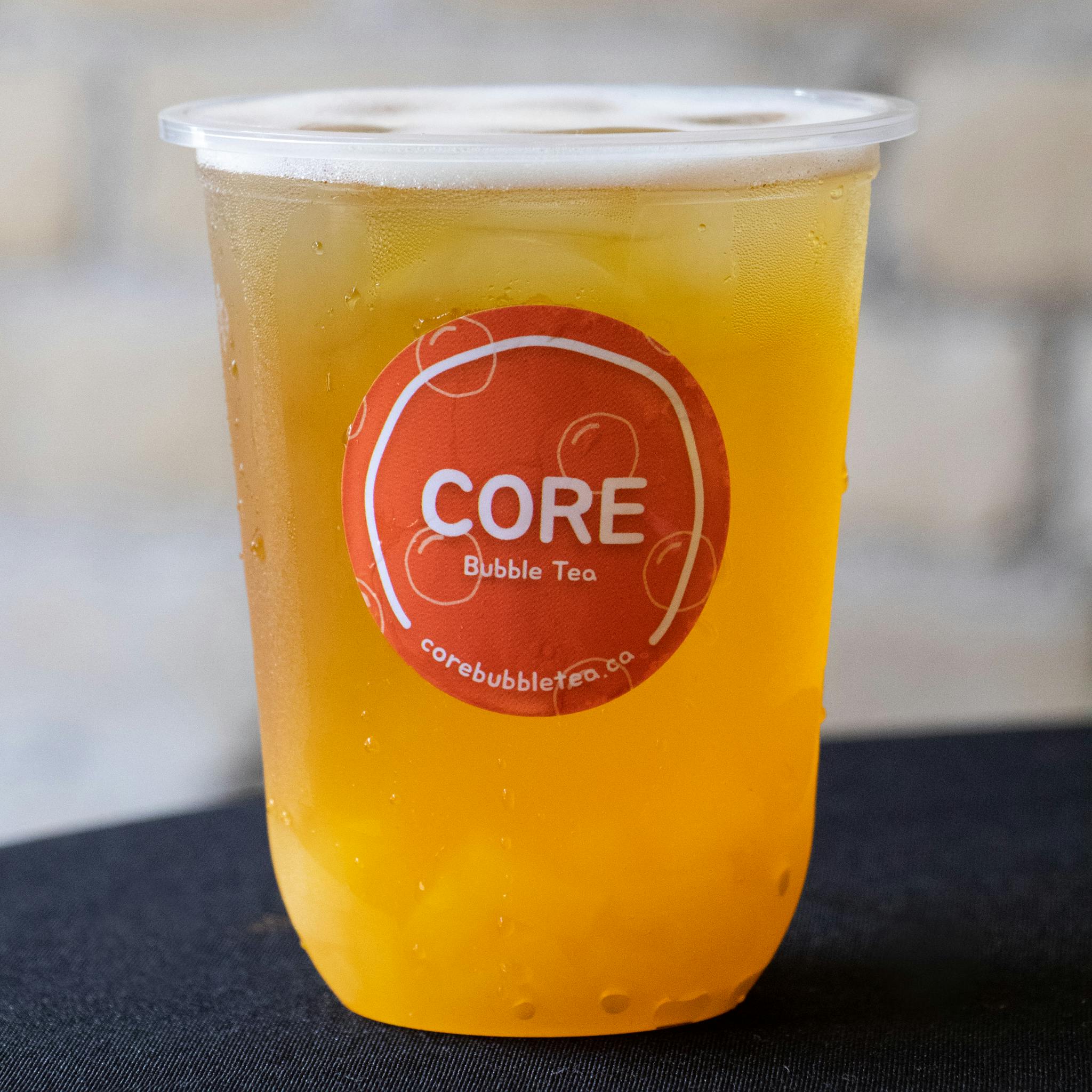 All fruit teas on the menu are made with a green tea base, like the Mango Green Tea, which is easily one of the more popular choices.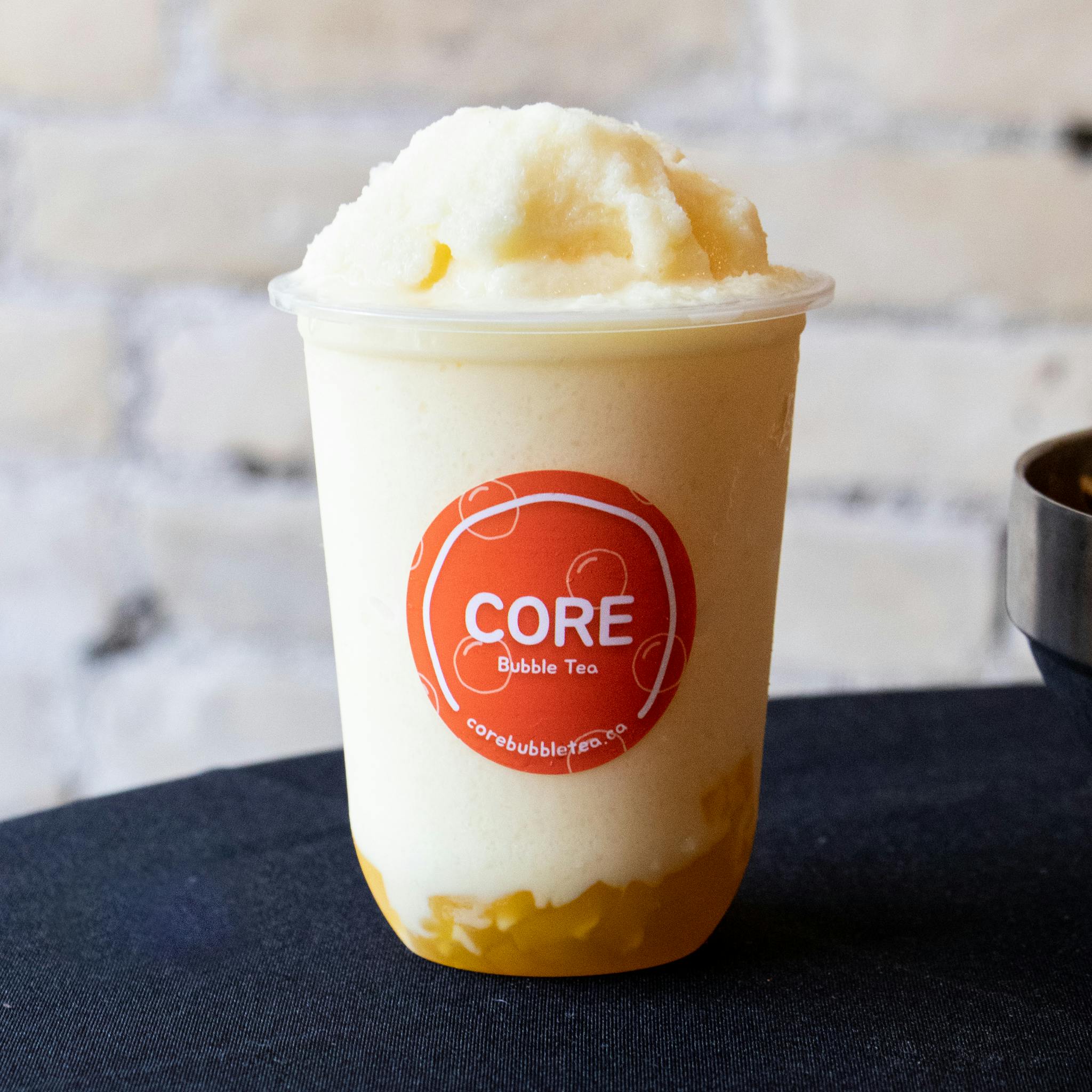 Out of all the options on the growing menu, chef H's current favourite is the sweet and tangy Mango Passionfruit Smoothie. Blended thick with fruit jams and syrups, this drink is also caffeine-free.
Even though the menu offered for Core Korean Kitchen has been reduced due to rebranding to focus on bubble tea, you can still find many favourites making a comeback.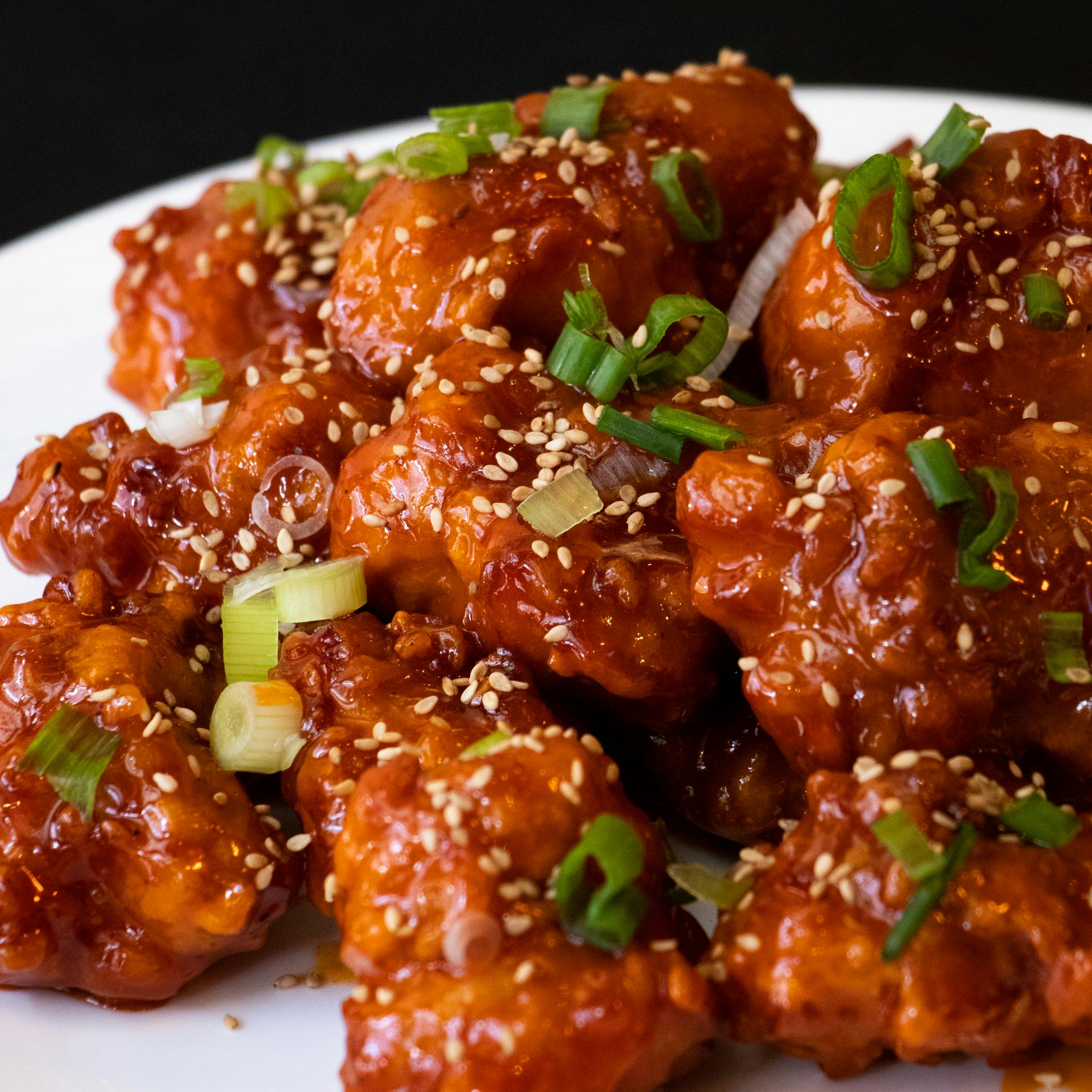 This includes various options in sizes and styles of boneless Korean fried chicken. Find juicy and tender pieces of chicken, with the most popular choice that happens to be the chef's favourite, being coated in a sticky sweet and spicy sauce made in-house, topped with scallions and a sprinkle of sesame seeds.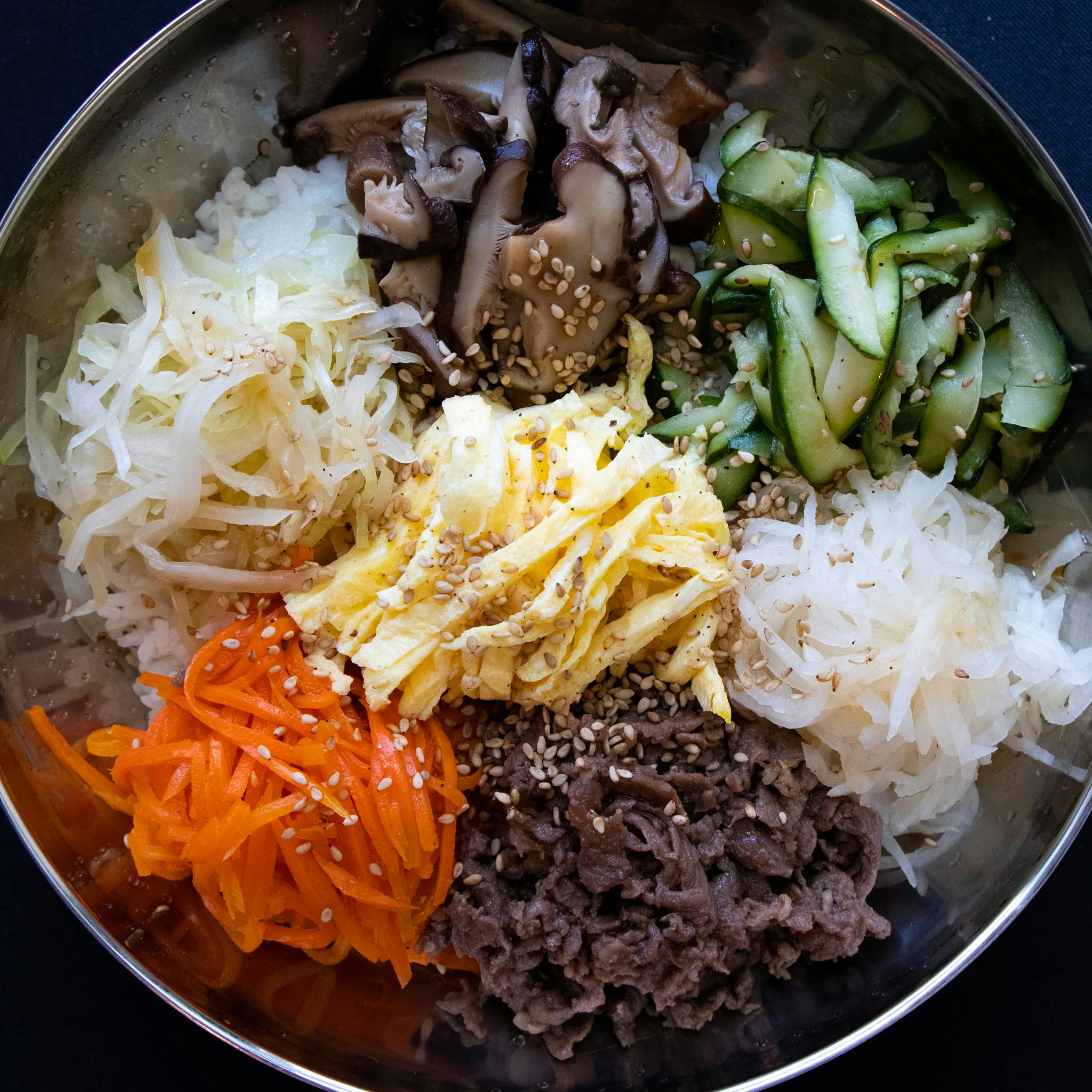 If you're looking for a fuller meal less heavy on protein, you can't go wrong with the bibimbap. Available in a vegetarian-friendly version as well, both come with a bed of rice covered in an assortment of thinly sliced vegetables, gochujang sauce on the side and egg, with the regular bibimbap having flavourful slices of thinly sliced bulgogi within.
Other must-try dishes include the Bulgogi Kimchi Fries that are generous in size and come with homemade fermented kimchi, thin slices of bulgogi, a thick drizzle of mayonnaise and sesame seeds atop a mountain of potato fries.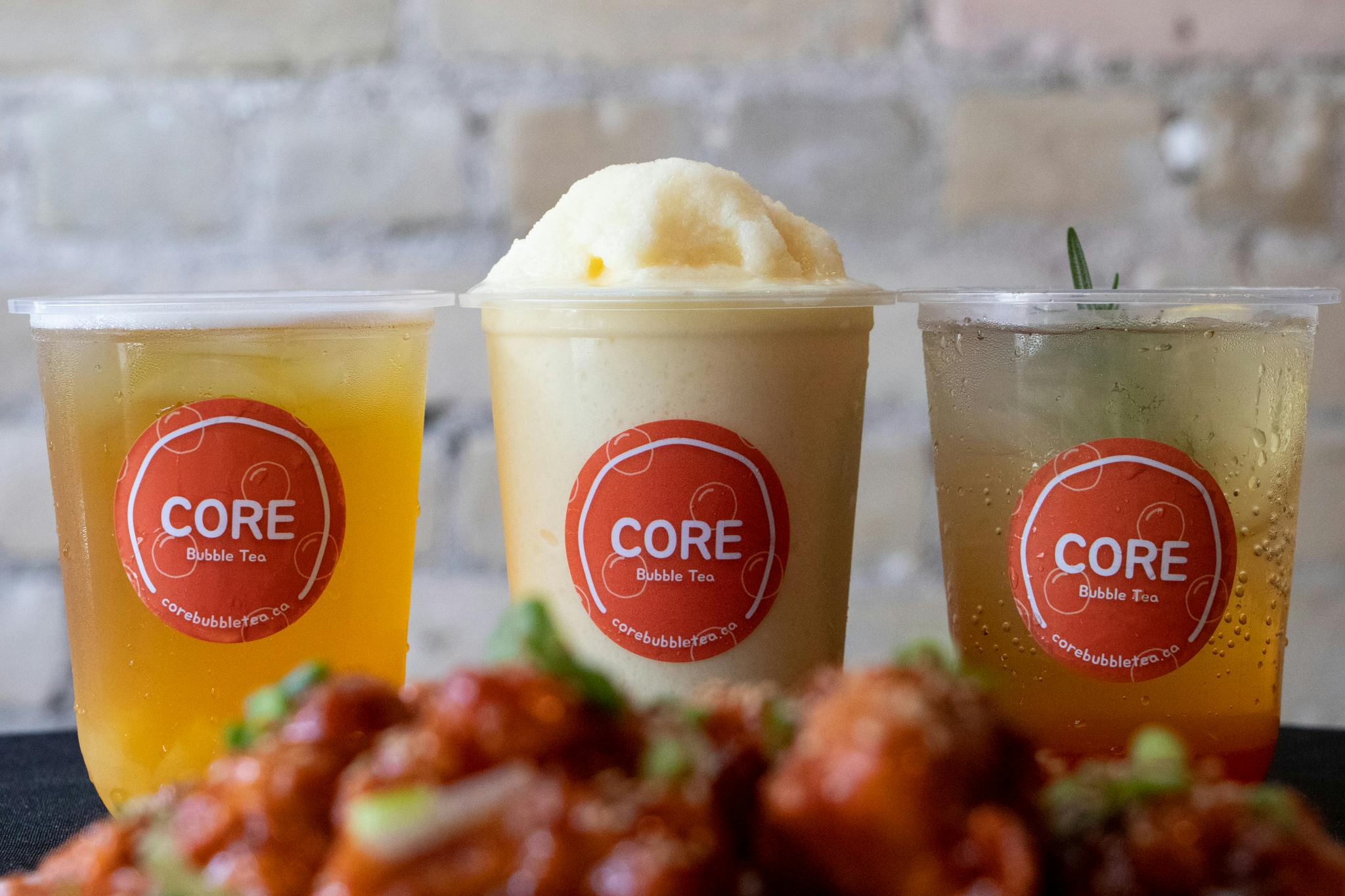 Although not a new opening, chef H is hoping this rebranded concept resonates with his customers.
"We are kind of new-'ish', but at the same time, we are three years old," chef H says, "I think people are sometimes a bit confused about us 'as what we are,' changing from a bistro to a Korean restaurant to now bubble tea and Korean fried chicken. We've been experimenting and trying to find what would best work for us now and for the long term," he says, "Our focus right now is to build our identity and the brand, as a delicious bubble tea and Korean fried chicken spot."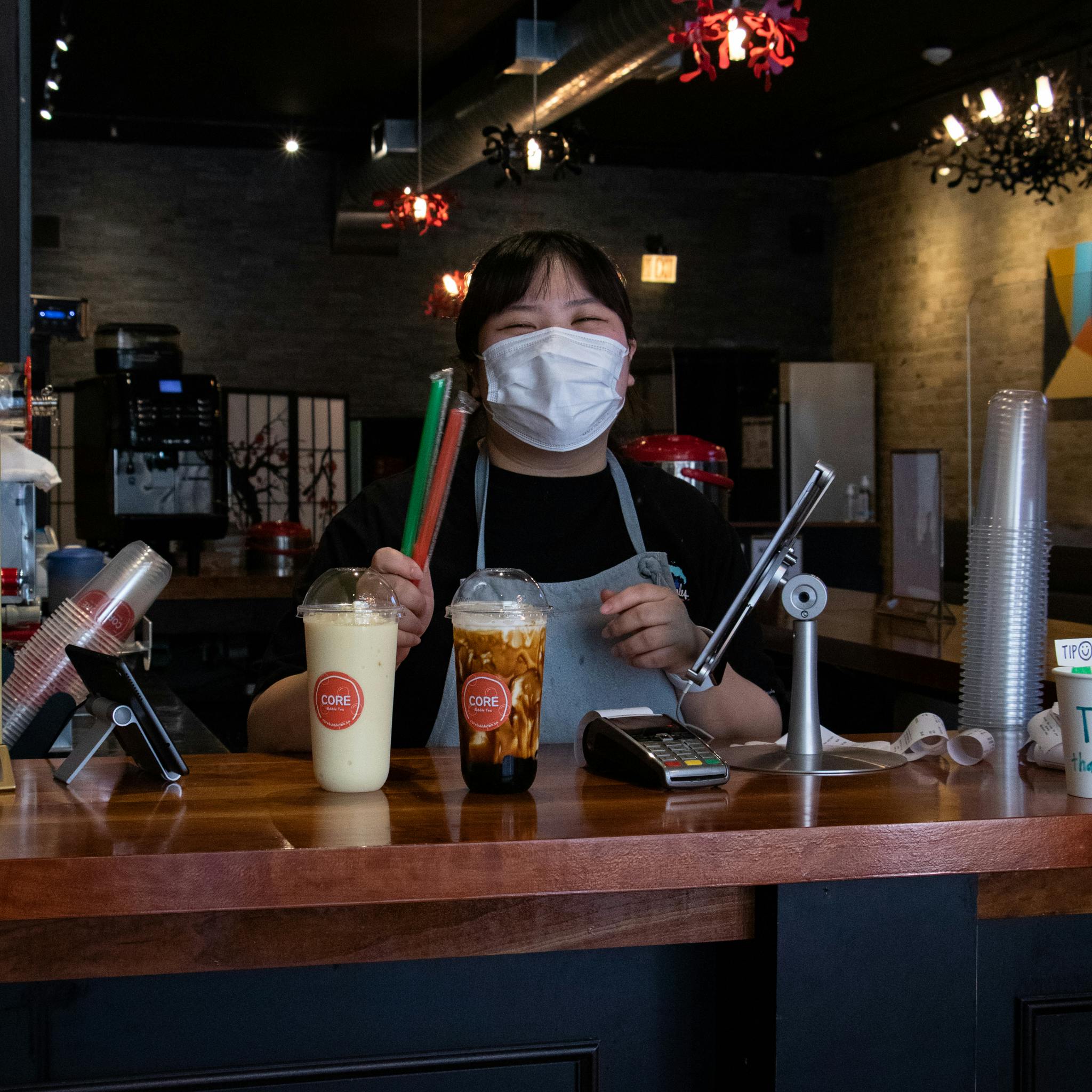 Core Bubble Tea is open Tuesday through Sunday from 1 p.m. to 9 p.m., with Core Korean Kitchen opening from 4 p.m. to 9 p.m. Wednesday through Sunday, complementing your bubble tea cravings with tasty Korean fried chicken and more. Be sure to follow Core Bubble Tea on Instagram to stay up to date on their offerings which will soon include some seasonal options in collaboration with local brands and keep in mind that you can also find both branches of Core on Uber Eats for pick-up and delivery.