As John Lennon famously sang, "Life is what happens to you while you're busy making other plans."
In the case of Toronto couple Danny Barna and Anna Hopkins, the pizza tavern is what happened.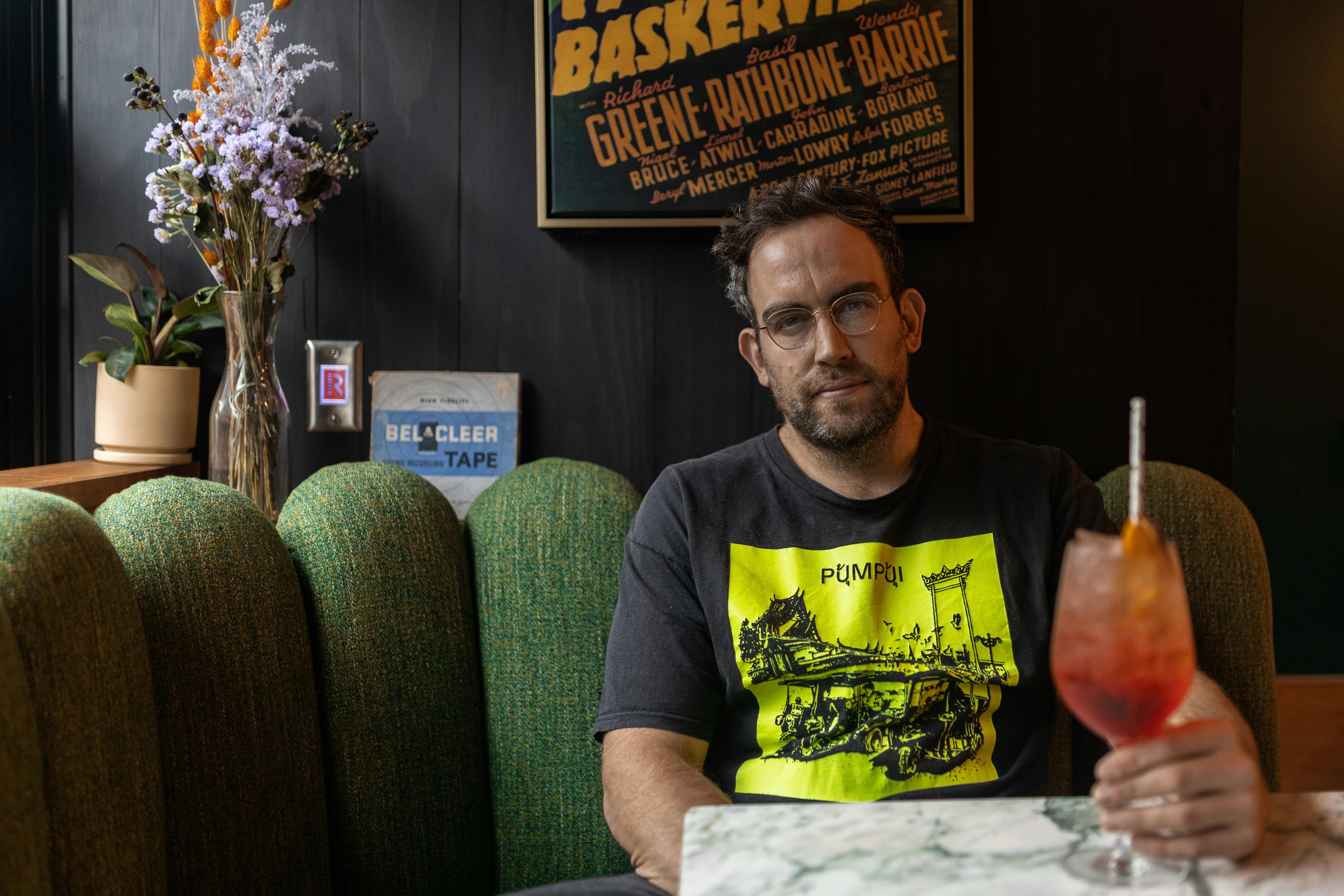 "This was never part of our plan," confesses Barna from the cushy comfort of a finger fluted banquette. As he gazes out onto College Street, the wet autumn sidewalk reflects the neon green of the sign above the door: "Danny's".
"Danny's" is Danny's Pizza Tavern, a classic American comfort food-cum-red sauce cocktail joint that recently opened in the heart of Toronto's Little Italy. Although neither had ever contemplated owning a restaurant, Barna, a full-time editor, and Hopkins, a full-time actor, had both worked in the industry.
Like many of us, from time to time, they casually tossed around ideas for their ideal neighbourhood eatery. Unlike many of us, when they offhandedly shared some of these ideas with a friend in the restaurant business, he not only urged them to transform their idle dreams into a marble-tabled, wood-panelled, Tiffany lamp-lit reality, but he also signed on as their silent partner.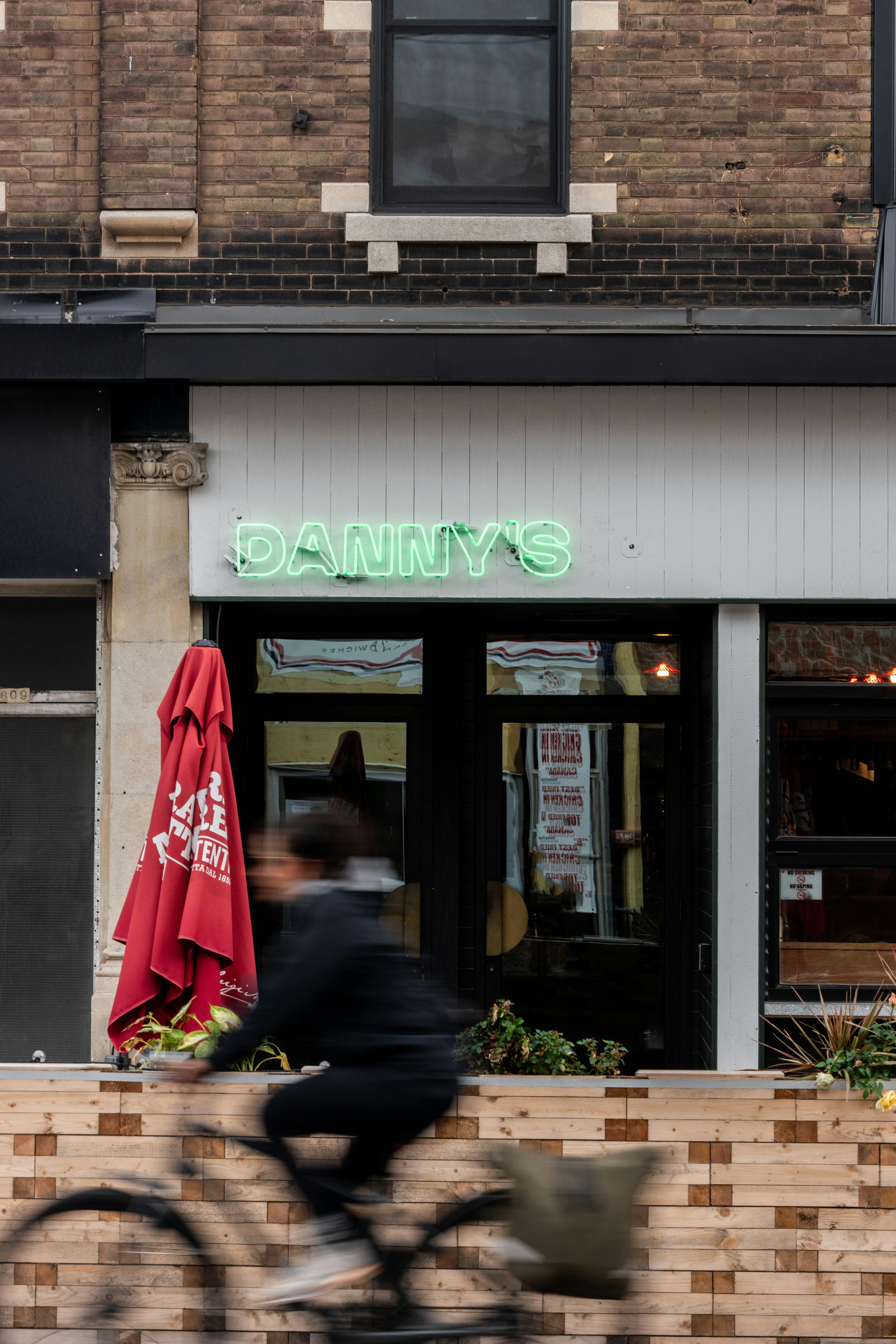 Two months after opening, the Tiffany lamps are aglow, but the reality is still sinking in. As Barna admits, "It's still surreal to me that I own a restaurant across the street from Café Diplomatico where I used to go to as a kid."
Other neighbourhood residents have seemingly wrapped their heads (and stomachs) around Danny's presence with greater ease. Barna notes that, since opening, the restaurant has garnered a large number of regulars – which definitely is part of the plan.
Barna himself adores being a regular, that carefree yet cared-for sensation of sitting down at your favourite table, being greeted by name, and being brought your favourite drink before you even ask for it. It's a vibe he and Hopkins have sought to instill at Danny's and, judging by the full tables, they've succeeded. As Barna jokingly complains: "I wanted it to be a hangout for me and my friends, but now the whole city knows about it."
That Danny's has caught on so fast, and in such a short time, also speaks to the ways in which it simultaneously manages to be so many things to so many people:
It's a sports bar where you can nurse a beer and watch the Raptors kick butt.
It's a family joint where kids can pig out on pizza while parents chill out with a martini.
It's a "sexy date" spot where couples can size each other up over margaritas while bathed in the glow of candles flickering in Venetian red glass holders.
It's a party place where groups can do shots and sing "Happy Birthday," while digging into slices of ridiculously decadent Ooey Gooey cake.
It's an intimate wine bar where you can sample some unusually fine sparkling, red, rosé, white, and even orange vintages, from as nearby as southern Ontario and as faraway as New Zealand.
It's also, as Barna confesses, not unlike a private dinner party in which he and Hopkins take on nightly hosting duties.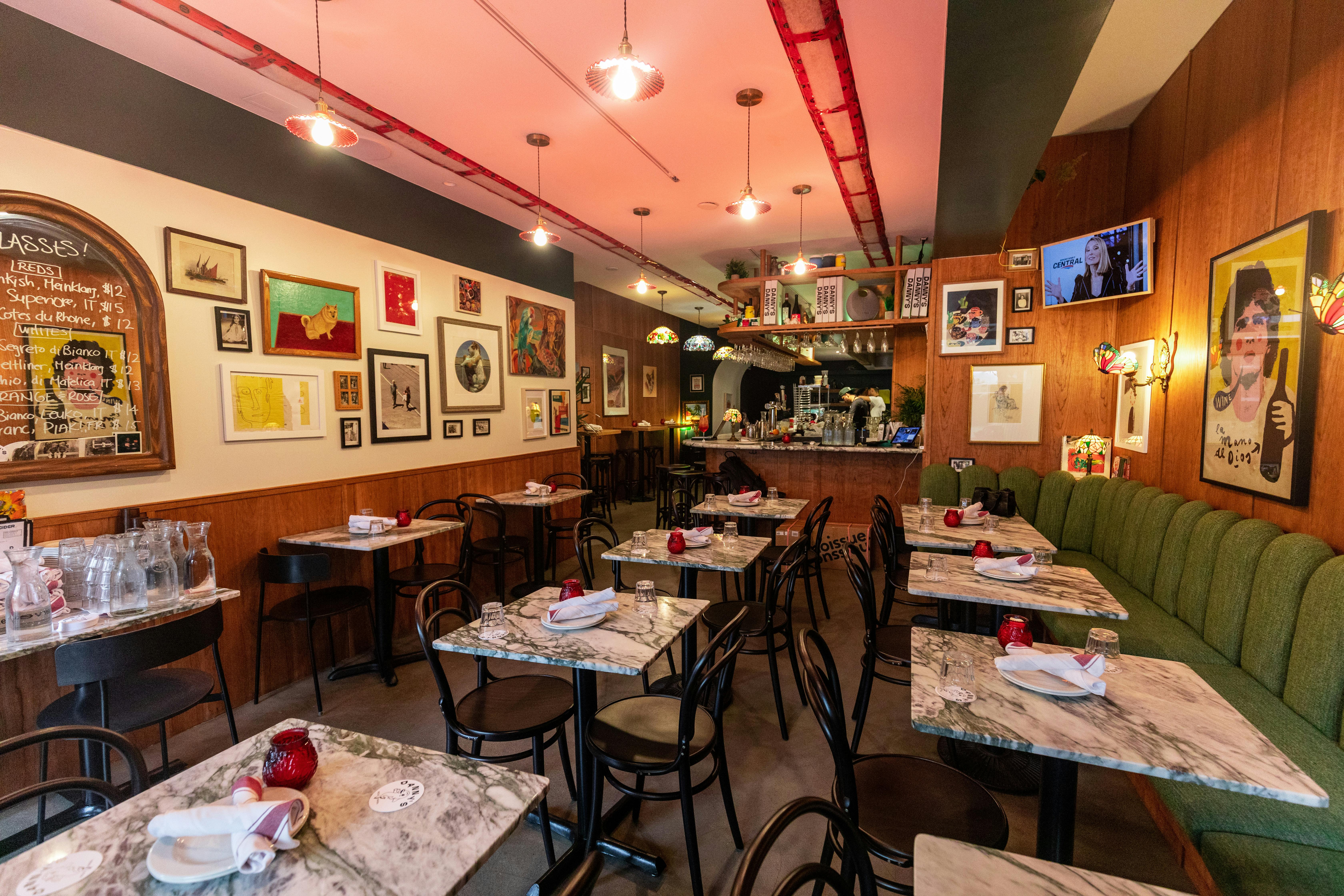 Danny's Pizza Tavern certainly feels more like a living room, or vintage rec room, than a restaurant. Decorated with unpretentious verve by both owner-hosts, the eclectic space is filled with garage-sale bric-à-brac and casual piles of paperbacks along with family heirlooms and photographs.
On one wall, a framed canvas by Hopkins' painter dad hangs beside another of Barna's beloved dog, Jasper, painted by Hopkins' mom. A vintage film poster of The Hound of the Baskervilles betrays Barna's boyhood penchant for Sherlock Holmes. There's also a weirdly compelling portrait of actor Danny DeVito confronting a giant ham, which Hopkins dug up from an online art auction.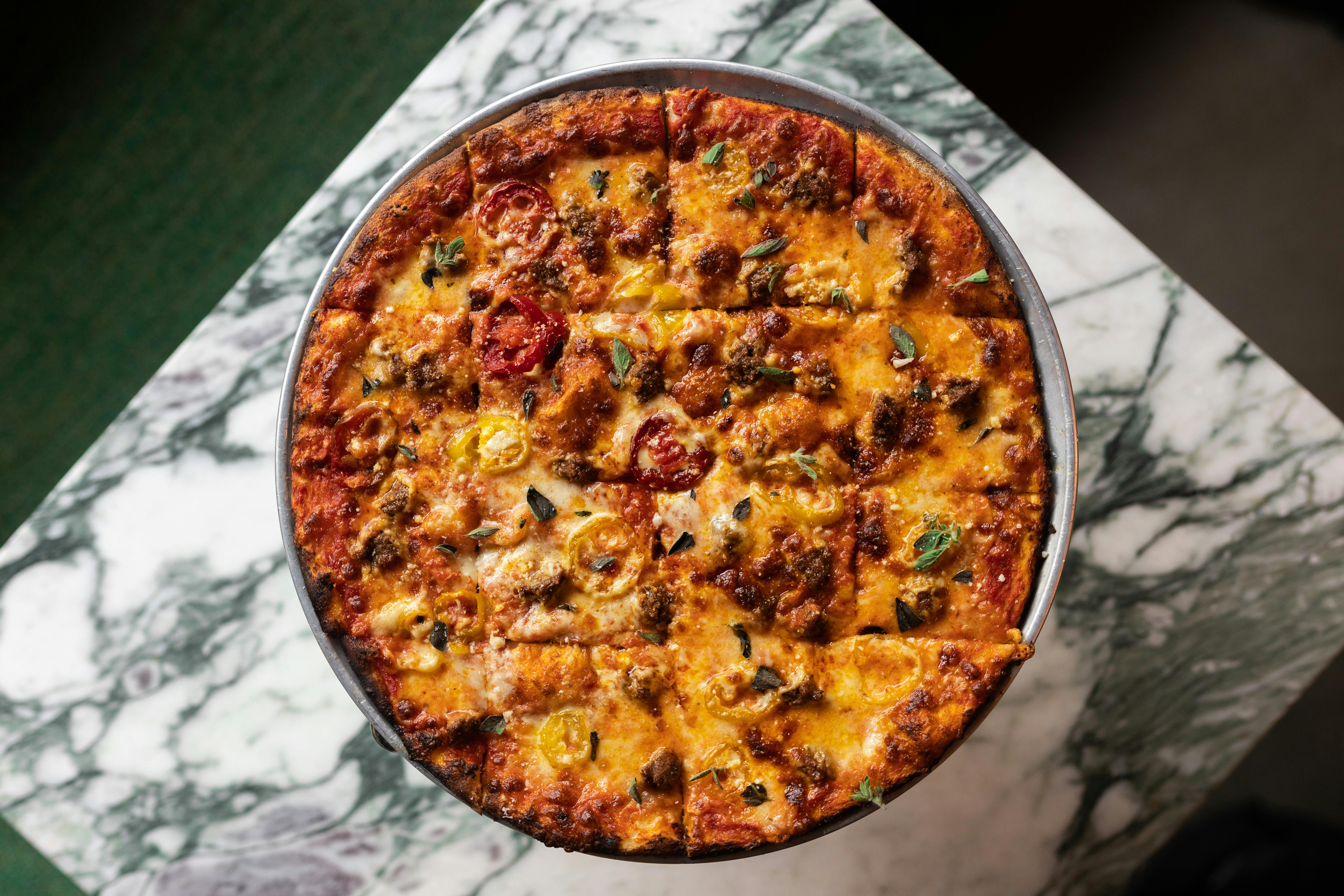 Of course, as its name declares, Danny's is also a pizza tavern where the namesake dish is an old-school, unfussy, but deeply satisfying tavern-style pie. True to its Midwest pedigree, the toppings are "super basic" – high-quality tomatoes, cheese, house-made sausage, mushrooms, banana peppers – while the crust is paper-thin and outrageously crispy. In addition to the pizza's hit-the-spot deliciousness, the fact that the toppings extend all the way to the pie's edges ensures that no crust is left behind – a pet peeve of Barna's.
"Pizza can be a bit of commitment," he acknowledges. "Often, slices tend to be huge and heavy with thick crusts and so much cheese." At Danny's, where the eight regular pie flavours (and weekly specials) come in red and white versions, post-meal plates are inevitably immaculate. Sliced into squares – the better for sharing – the pizzas are meant to complement, and be complemented by, other dishes on the menu.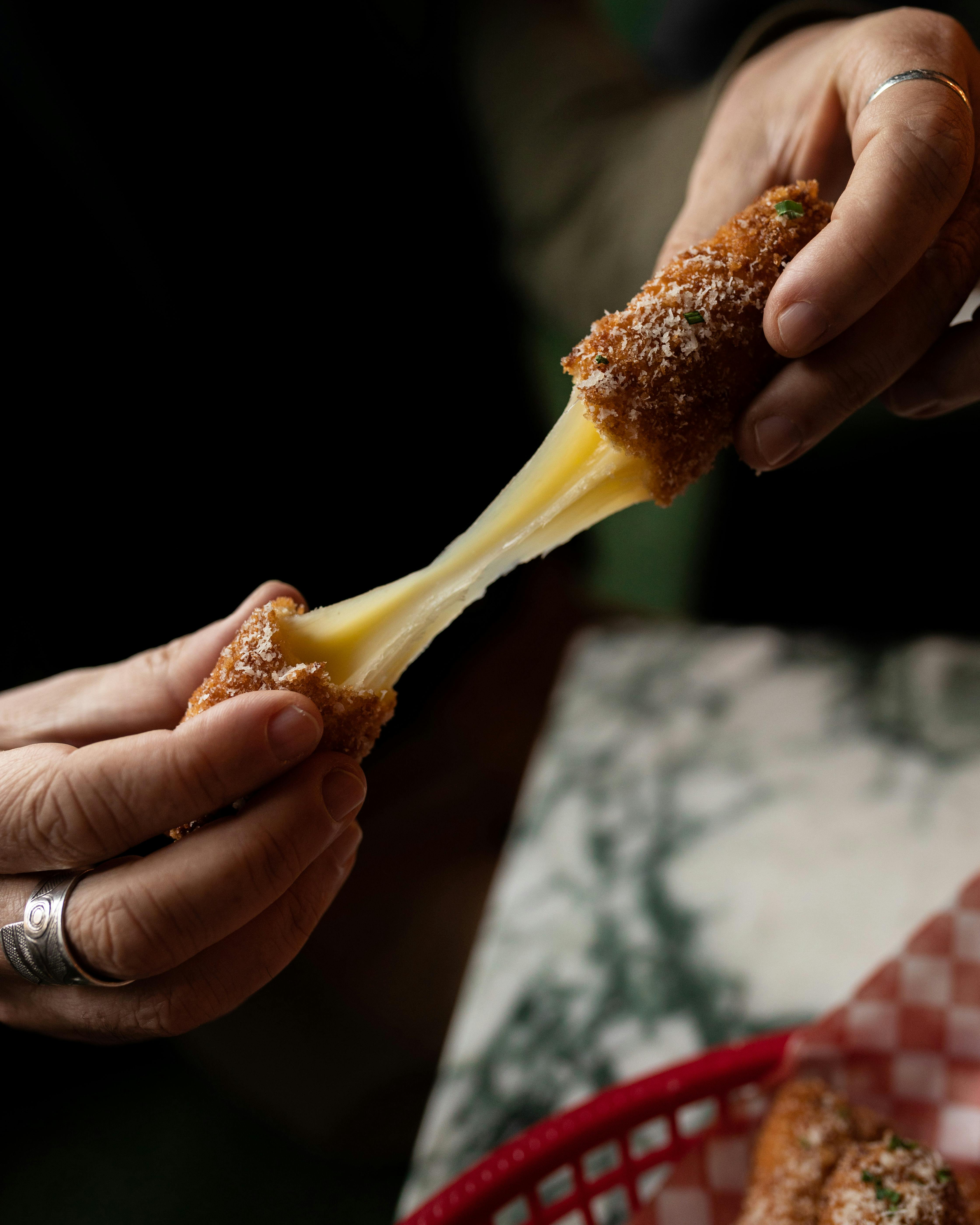 In the equally shareable starter category, these include no-nonsense, nibble-worthy Italian American standards such as warm olives, with fennel and orange, and garlic bread, sprinkled with shredded Parm. Impressively thick, the panko-encrusted mozzarella sticks are made in house with grass-fed Australian mozzarella, which no doubt explains the gravity-defying cheese pull on them. After stretching the gooey cheese to its limits, take an extra moment or two to dip them in the accompanying marinara sauce – a tangy dunking you won't regret.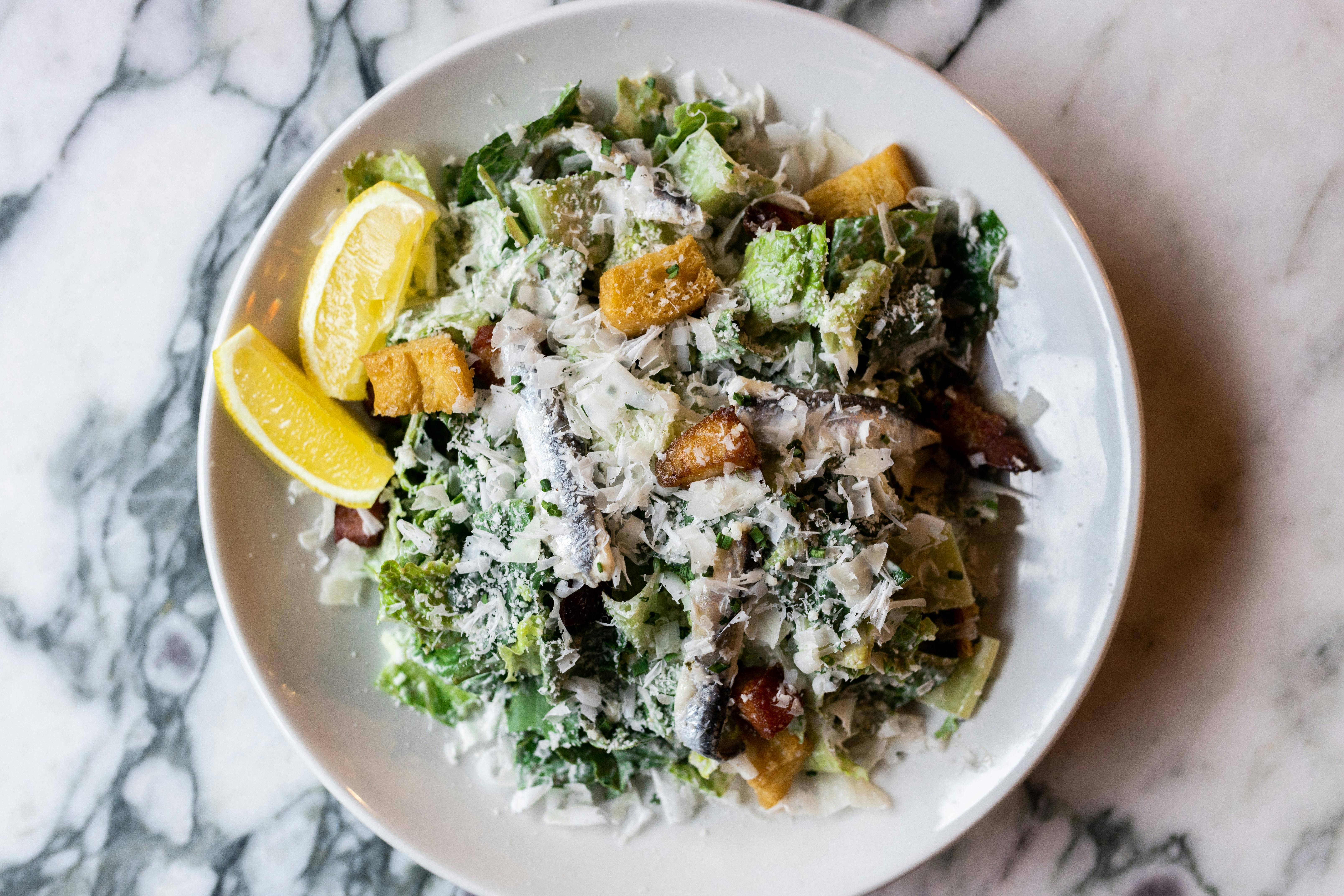 Caesar salads are a dime a dozen, but Danny's version is right on the money thanks to the crunchiness of the deep-fried croutons, the citrusy kick of the marinated anchovies and the smokiness of the extra thick bacon strips, not to mention the umami generated by a small tempest of shaved Pecorino. More unusual is an arugula salad with spiced chickpeas and pickled veg, showered with pomegranate and candied pecans. The pickled veg and chickpeas also show up in the chopped salad, along with briny artichokes, confit tomato, feta and sopressata.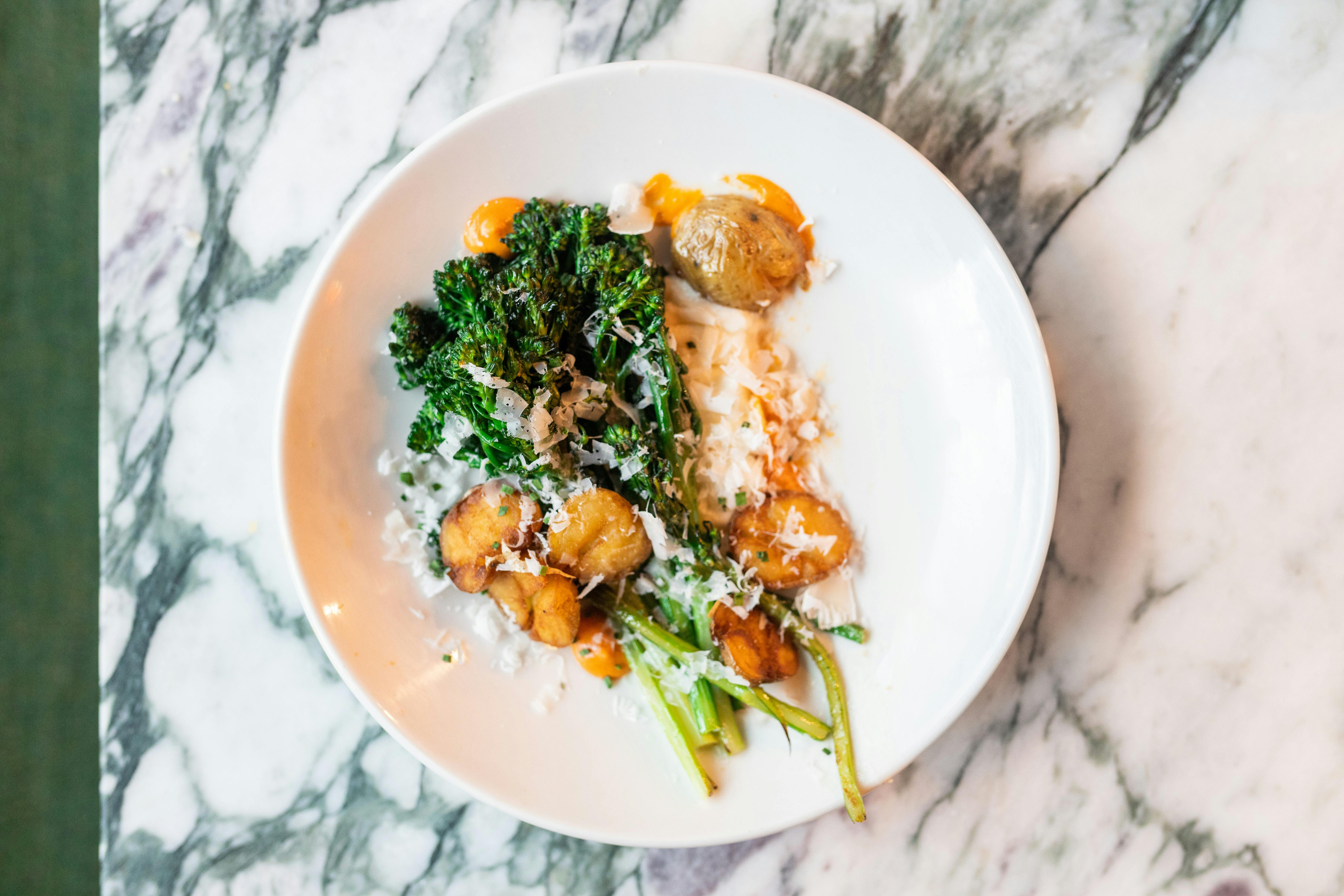 Similarly green, but warmer, an appetizer of crunchy emerald broccolini is accompanied by roasted patatas and bathed in creamy feta romesco sauce. It says a lot that Barna describes this dish as the most "chef-fy" item on the menu. It was dreamed up by Danny's chef, Jonathan Pde, who having worked at Piano Piano and North of Brooklyn Pizzeria, knows his way around pizza.
Pde also knows his way around burgers. Eschewing the recent smash burger rage, Danny's tavern-style burger is an intimidatingly thick 7-ouncer featuring a mixture of ground chuck and brisket. Seared to medium-rare succulence, it's topped with bare essentials such as sliced tomato, shredded lettuce and American cheese. Like the majority of items on the menu, it's unabashedly, and reassuringly, classic.
Barna cops to the fact that Danny's is "not trying to break the wheel in any way. The word 'classic' runs through this place. Everything we serve is super familiar."
He pauses. "Except for the vinegar chicken..."
The vinegar chicken is the dish Barna is proudest of – and he has reason to be.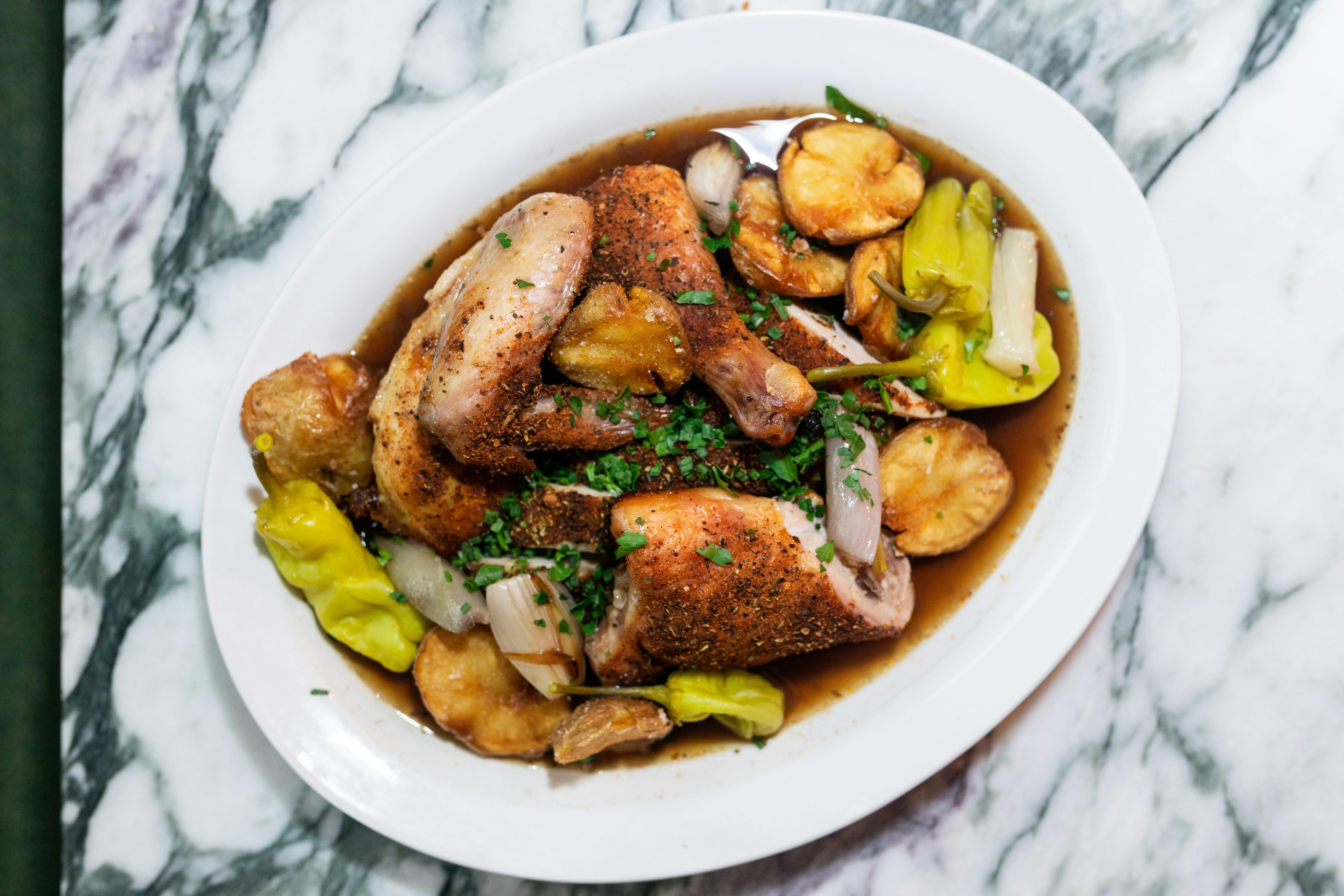 Like everything else on the menu, the vinegar chicken is really quite simple: an expertly roasted chicken, seared to a delicate crisp in the pizza oven, and flanked with tender shallots, confit potatoes and vibrant green pepperoncini. However, what elevates it to "Holy Shit, I've never had anything like this before!" levels of ecstasy (in Barna's words) is the spicy rub in which the bird is marinated, coupled with the signature sweet-and-sour sherry vinegar sauce that, prior to serving, is poured like a baptismal bath all over the proceedings. No wonder you'll feel a little blessed.
Barna first happened upon this dish at Bernie's, a beloved tavern-style eatery in Greenpoint, and fell hard for it. Subsequently, whenever he was in New York, he assiduously made pilgrimages to the restaurant, all the while wishing fervently that vinegar chicken existed in Toronto. That he made his own wish come true is a source of personal triumph.
While tavern grub traditionally hews more savoury than sweet, Danny's offers two desserts, both inspired by classic American treats. The frozen key lime pie on a stick is exactly what its name promises, albeit with the unexpectedly welcome addition of an external coating of dark chocolate. More decadent is the aptly named Ooey Gooey cake, whose major flavour profiles include vanilla and butter and whose purported origin is St. Louis, Missouri. Although many versions exist, Danny's includes a dulce de leche sauce, candied pecans and a necessary dollop of ice cream.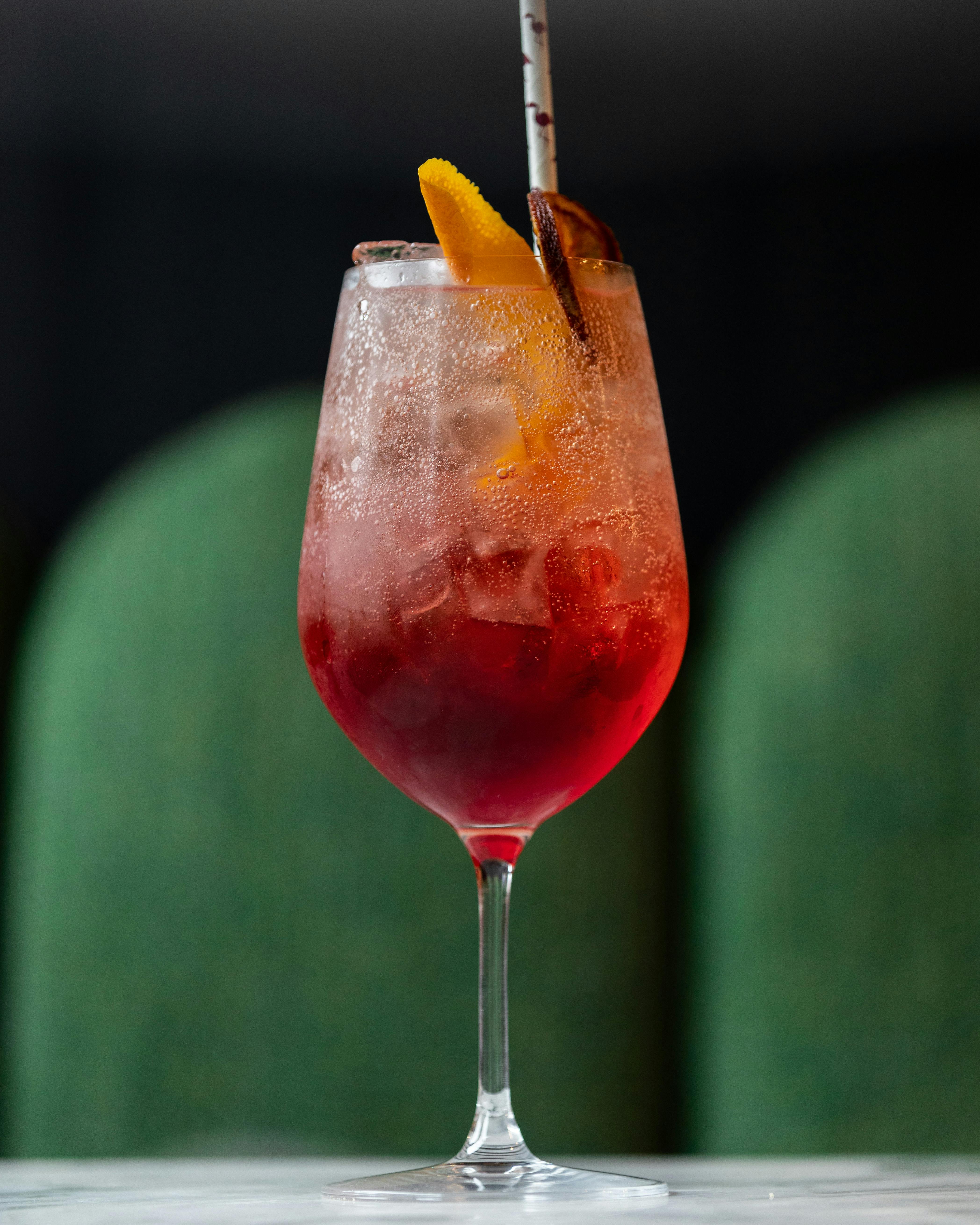 Drinks at Danny's skew as classic as the food. The cocktail list focuses on tried-and-true standards such as Negronis, Manhattans, and Old Fashioneds. There's also an Aperol Spritz rumoured to be the mightiest in the GTA. Its outsized proportions were fuelled by Barna's ongoing dismay at the skimpy versions being served at most Toronto bars. As a rebuke to such stinginess, Danny's version deliberately comes in a fish bowl glass the size of a small aquarium.
In addition to local craft beers and Moretti on tap, Danny's also has an impressively robust wine list curated by Hopkins. A connoisseur, she has unearthed some fine vintages you wouldn't necessarily expect to encounter at your average pizza tavern. Then again, it's all part of the free-and-easy mélange of high and low that permeates Danny's and encourages guests to surrender to seemingly incompatible, but powerfully deep cravings. As Barna notes, "You'd be surprised how many people want to eat a greasy slice of pizza while drinking a fine Austrian orange wine."
Including Barna himself.
It turns out that, in addition to being so many things to so many people, Danny's Pizza Tavern is also a happy synthesis of all the things Barna loves about going out.
"In that sense," reflects Barna, "It's perfect that it's called Danny's."
Although, of course, he never planned it that way.