Detroit-style pizzas are a burgeoning trend in Toronto, as the demand for comfort food becomes apparent. Since Descendant Detroit Style Pizza introduced Torontonians to the thick, crispy and rectangular pizzas, Detroit-style has only grown in popularity.
Enter Detroit Pizzeria, which has taken over the old Apollo Eleven Restaurant space near Bathurst and Dupont. The pizzeria opened its doors on December 20, 2020, and have been busy ever since.
The Space:
Taking over from an older diner, the space is still changing but has cleaned up well. They are a takeout-only restaurant, but once restrictions have eased, they plan on opening the restaurant to 30 seats and tables scattered alongside the wall adjacent to the open kitchen. Reminiscent of a cafe, they will also be planning to open up the front doors to a patio and hoping to turn it into a boutique pizzeria.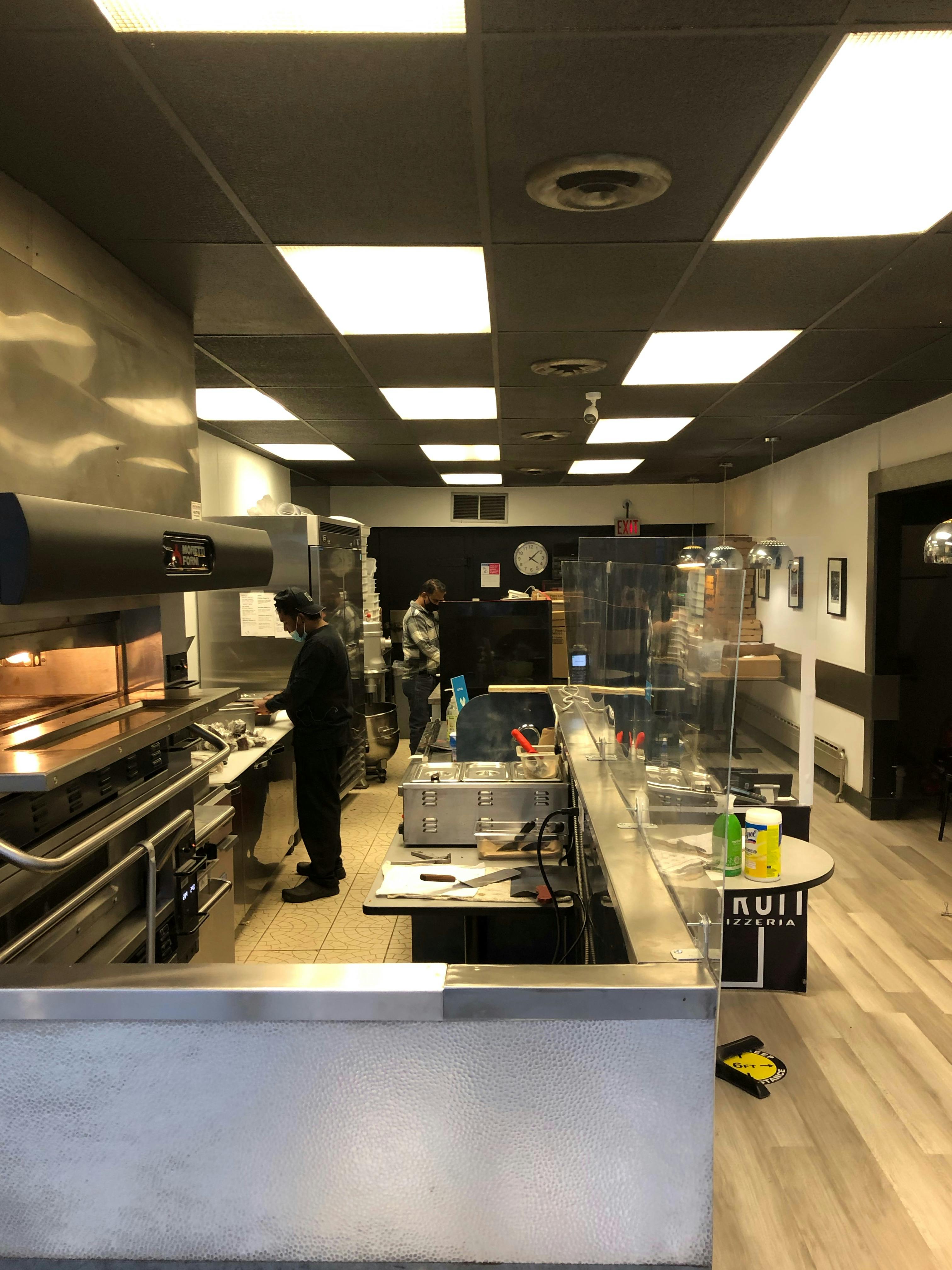 The Food: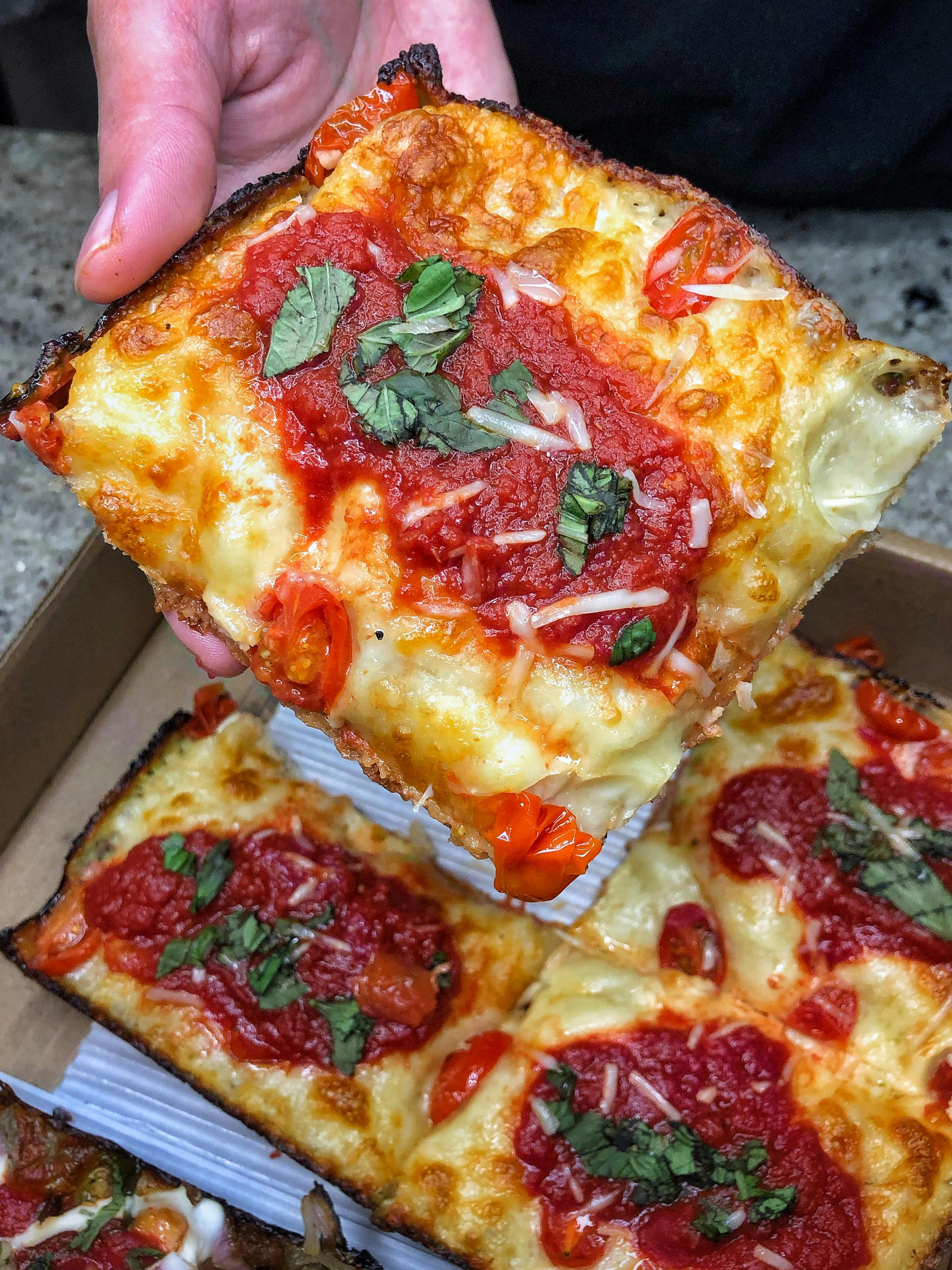 Detroit-style pizzas have a distinct rectangular shape with a thick and chewy crust. The cheese comes first before they ladle sauce on top and sprinkle with toppings. Pizzas here take around 20-25 minutes to make, with all pizzas being made fresh to order, so expect a bit of a wait, especially if visiting during busy weekend hours. Everything is made in-house, including the desserts, dressings, and popular dips. They make dips like Hot Honey, Butter Chicken Aioli and Black Truffle Sauce.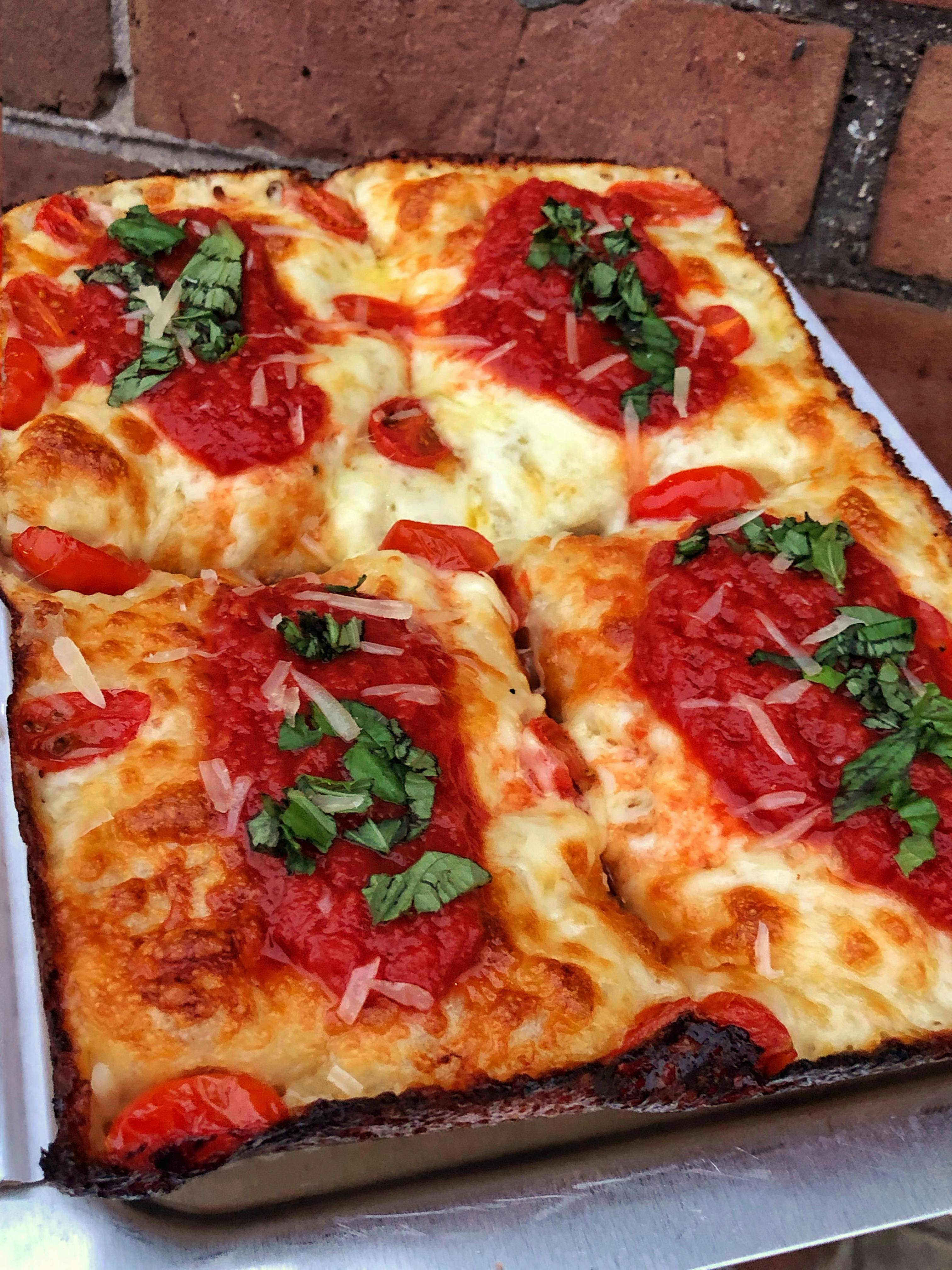 The Margherita, consists of oven-dried cherry tomatoes, mozzarella cheese, brick cheese, Grana Padano and basil. The crust has a crunchy exterior with a chewy pillowy soft dough that holds up the toppings very well.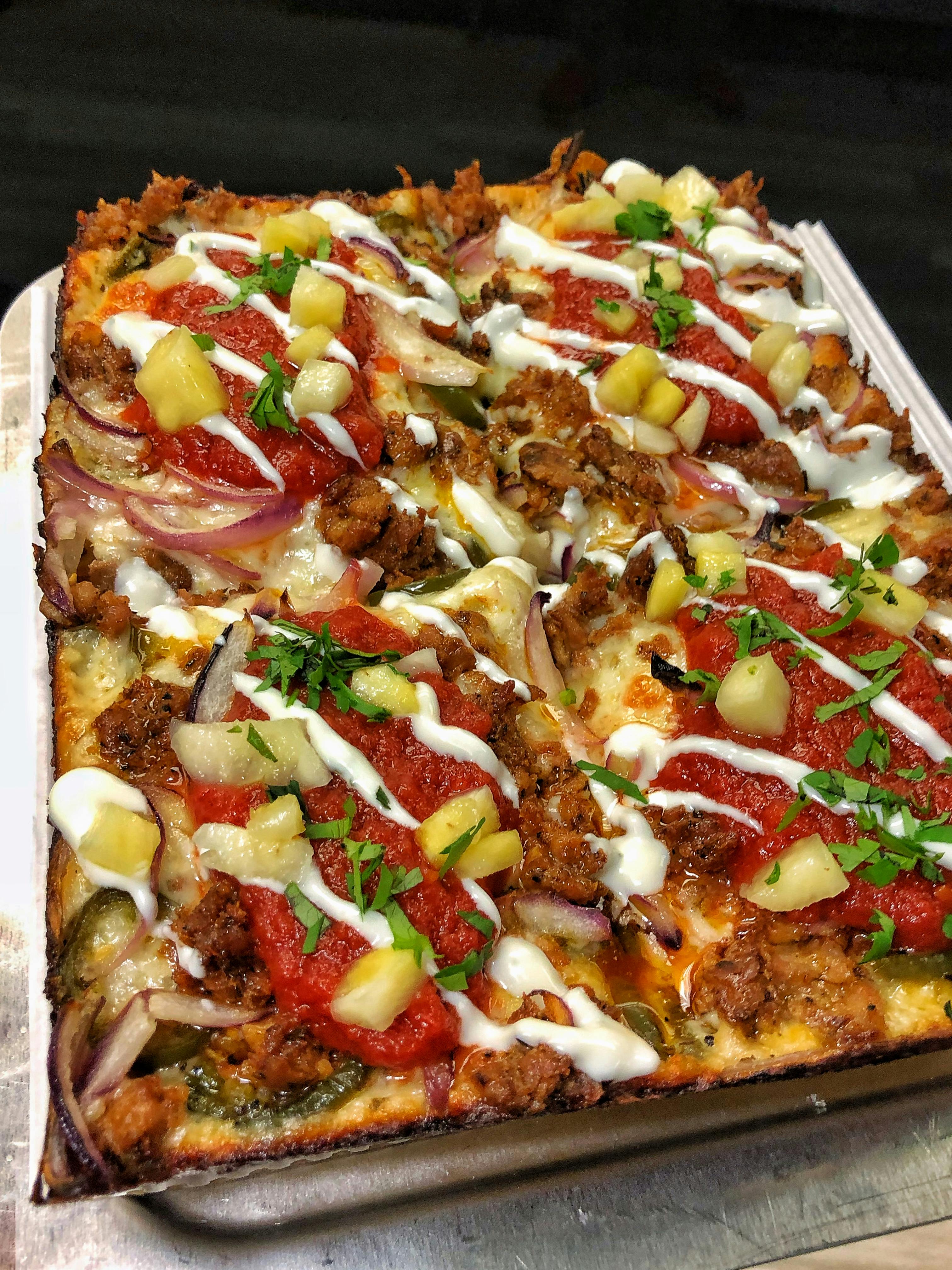 The Cancun is probably their most popular menu item. It consists of pecorino cheese, brick cheese, mozzarella, chorizo sausage, coriander lime sour cream, red onion, pineapple and jalapeños. It's got a great kick to it.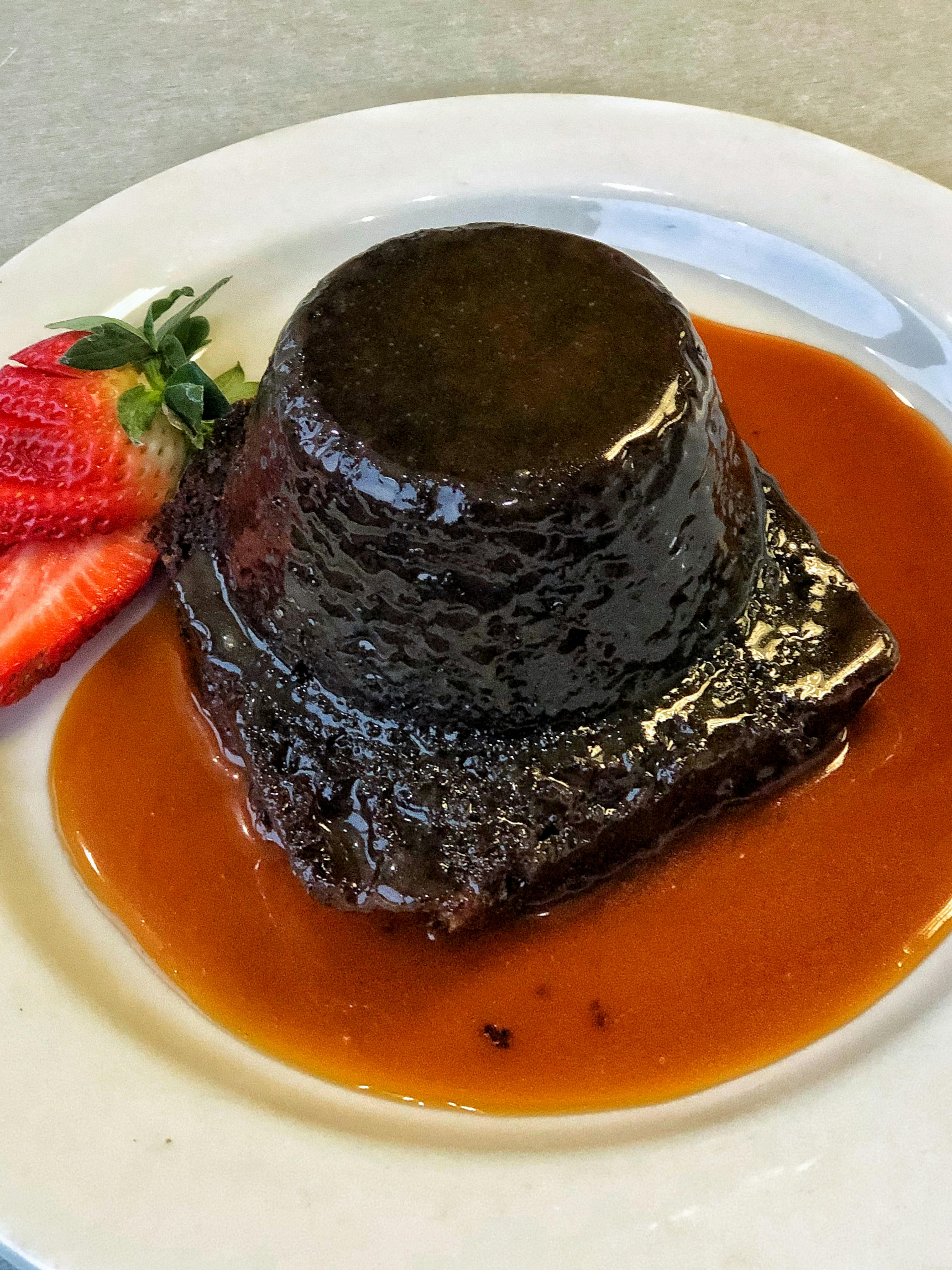 It might be surprising to see a well-executed sticky toffee pudding come out of a pizza shop, but the owners are proud of their desserts. A generous helping of toffee drizzle on a surprisingly dense cake makes for a good end to the meal.
Ever since opening, the team behind Detroit Pizzeria have faced many trials and tribulations but their popularity continues to grow. They've had several weekends where pizzas sell out within hours. Only open for dinner right now they also plan on expanding their hours for lunch. Be sure to grab a Detroit-style pie from this new spot.