Emmer is a bakery along Harbord Street whose long-awaited opening resulted in a catapult of interest from Torontonians, so eager to try these artisanal goods that constant line-ups around the block were a common sight all day long.
Unlike many other Toronto spots, which get built up by a lot of excitement and tend to dwindle, Emmer's hype has not died down since, with frequent line-ups throughout the day still being common and empty display cases by the end of their workday at 4 p.m. being frequent. Emmer is easily one of Toronto's best bakeries.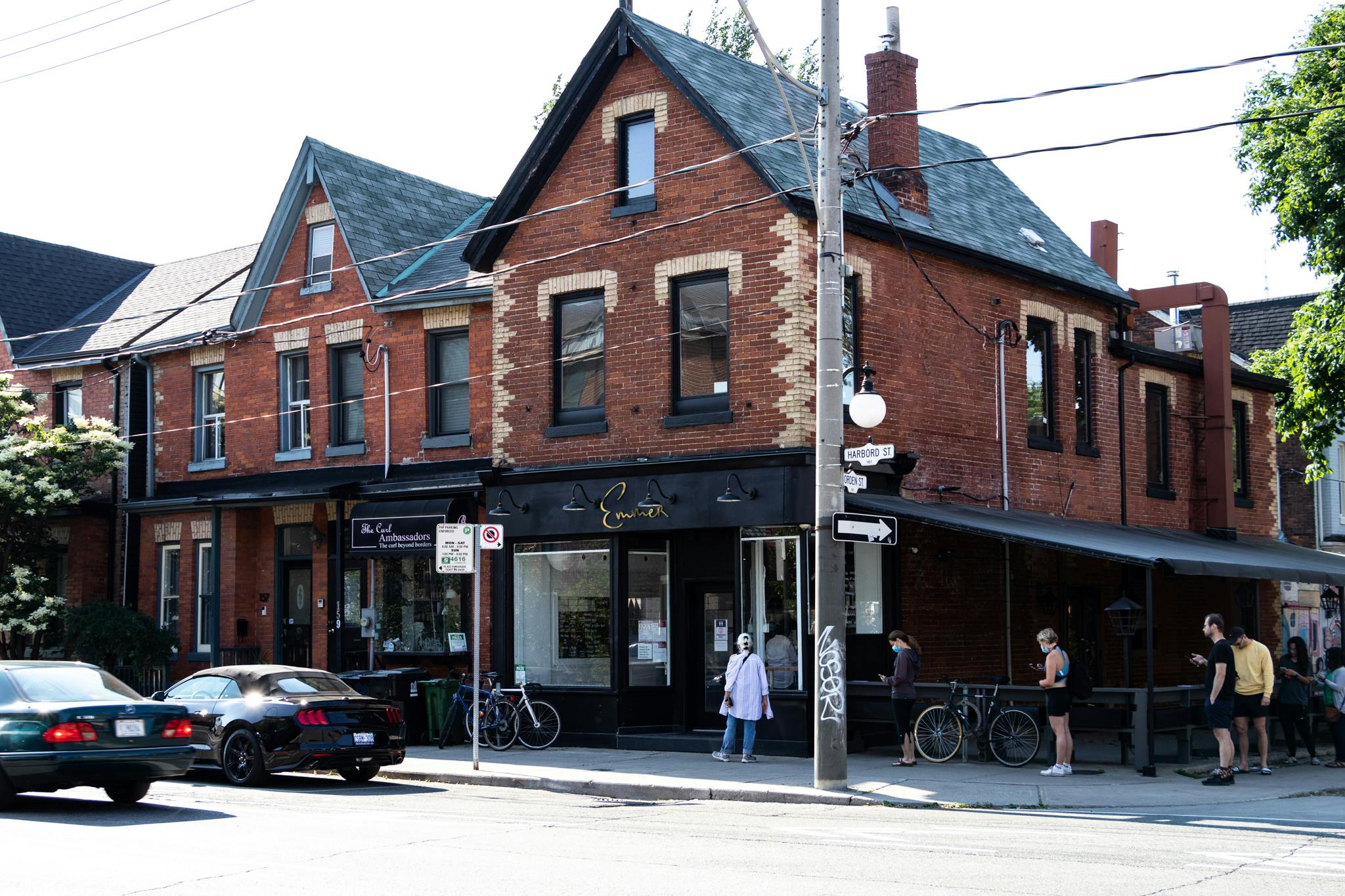 Opening in May after three years of preparing to officially launch, the pastries and bread by head baker and owner Philip Haddad had garnered quite the fanbase online over time. With a successful career in dentistry, Haddad's passion for baking led him to open Emmer, with intentions to also open a restaurant -- Ash, right above the bakery when the time is right.
"It's still a work in progress," says Haddad. "We don't have an opening date yet as the covid situation is so fluid, we don't want to rush a space just to possibly close it."
In the meantime, due to having to rapidly increase production to keep up with the demand, the pastry team at Emmer has partially taken over some real estate just up the stairs.
Prior to officially opening their doors, you could find products by Haddad exclusively at Donna's.
As Haddad had said when Emmer first opened, "The Donna's team are dear friends of mine. We did work together when they opened on some pastries for Donna's. I also tested a lot of products out of their kitchen over the years. Jed, Peter and Ann of Donna's are by far the nicest restaurant industry people I have ever met and I am thrilled and grateful that they have helped me with the opening of Emmer."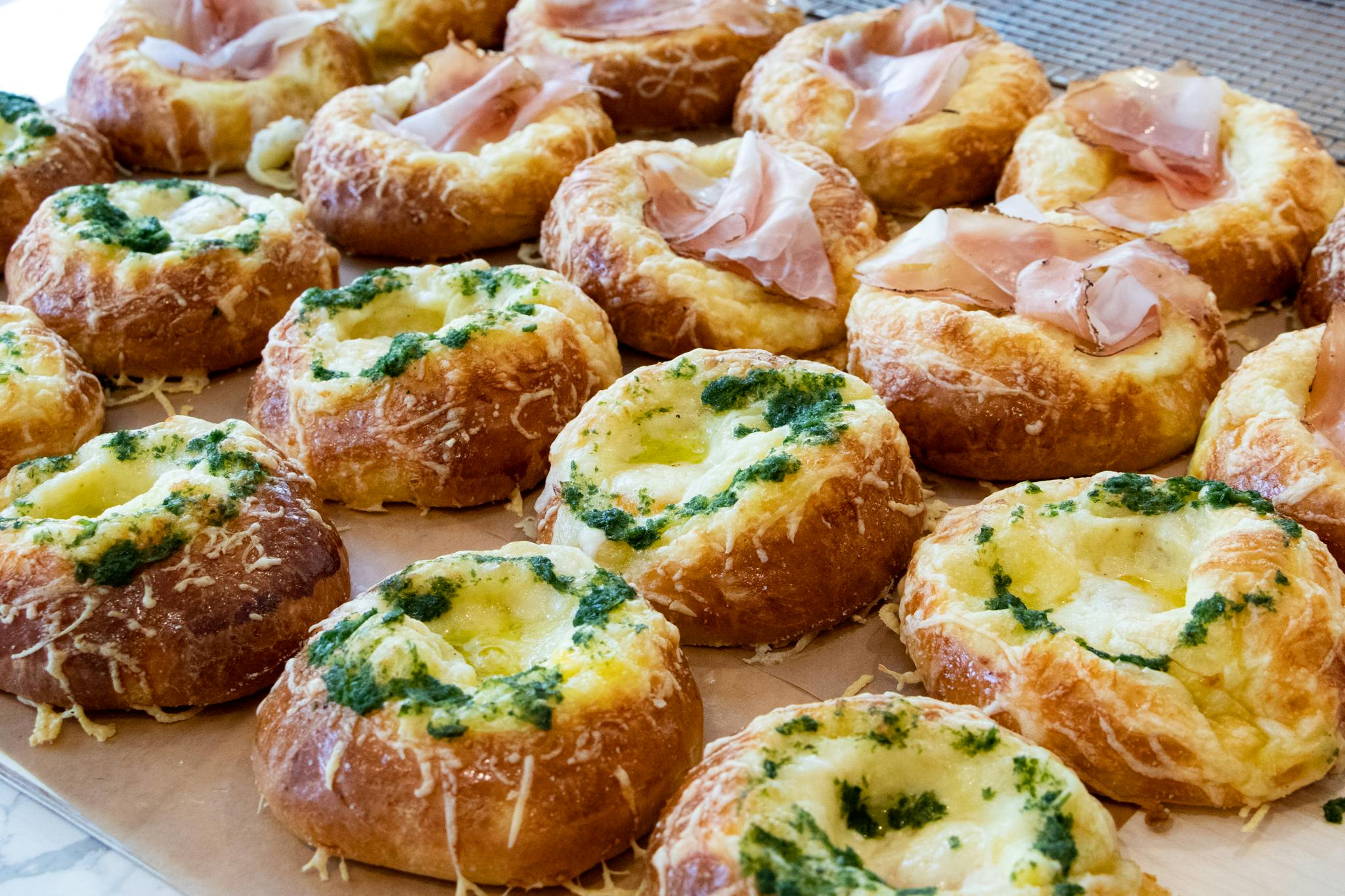 Known most for their sourdough and croissants, Emmer also places a big focus on seasonality in their products, incorporating local Ontario produce and collaborating with local independent businesses to bring their pastries to life.
Despite officially being open for three months now, Haddad says, "Our focus still remains the same, a safe and fun environment for our staff. Creating the best possible food with the best ingredients we can get our hands on."
Prioritizing employee well-being is apparent through Haddad's choices in eliminating night shifts so staff can spend time with their families and, alternatively, have the crew bake pastries throughout the day. This ultimately results in you receiving the freshest products possible, while those preparing it all are able to get adequate rest.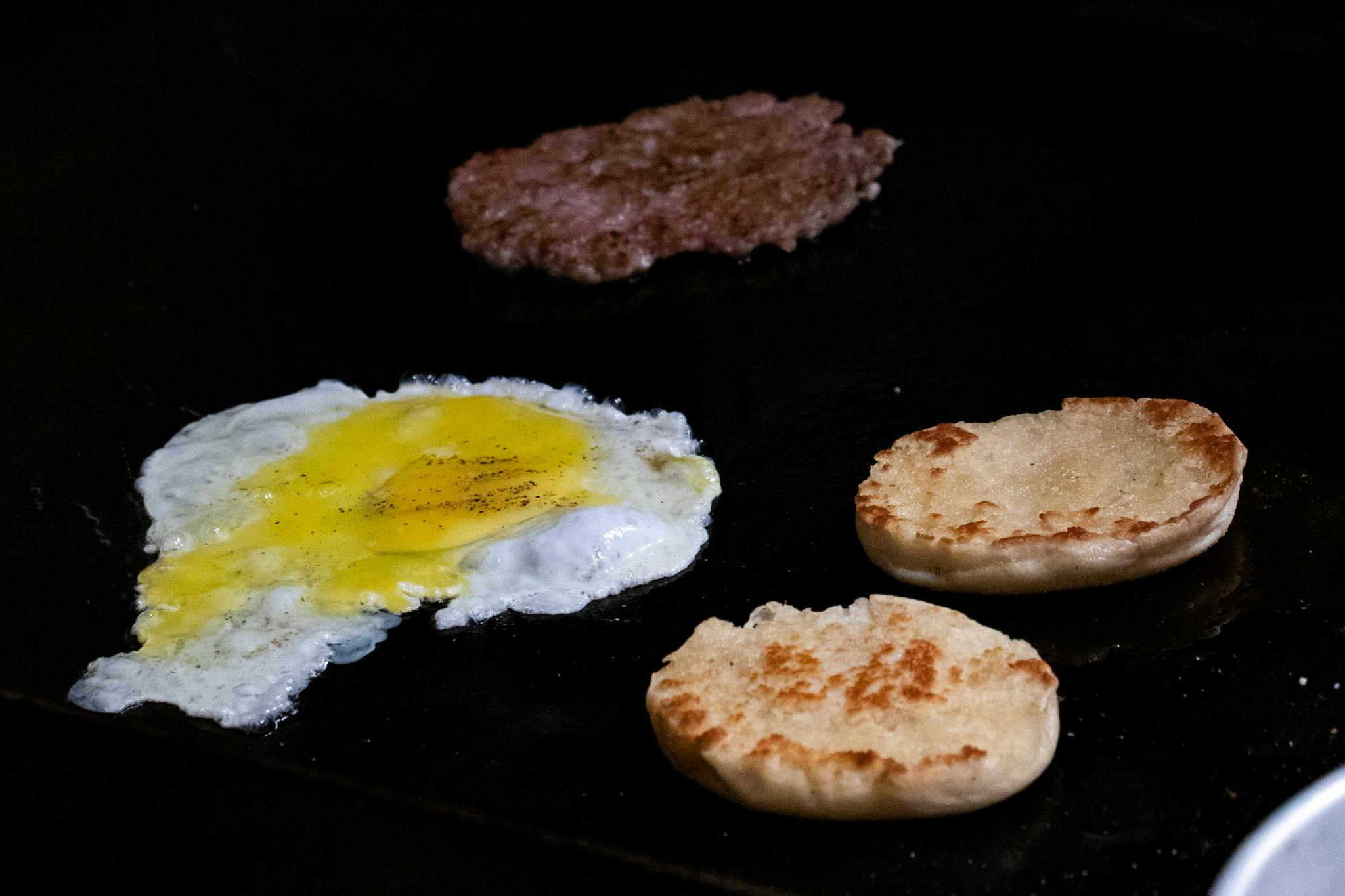 What's changed since first opening their doors? A few rotating pastry offerings, but mainly the addition of an open patio featuring a lunch menu that has a variety of sandwiches, toasts and salads made to order. Just like specific pastries, the lunch menu is also seasonal, so as the summer progresses, you'll frequently find new changes to it. To look at what else is on their current menu, you can visit their website, where it's frequently updated.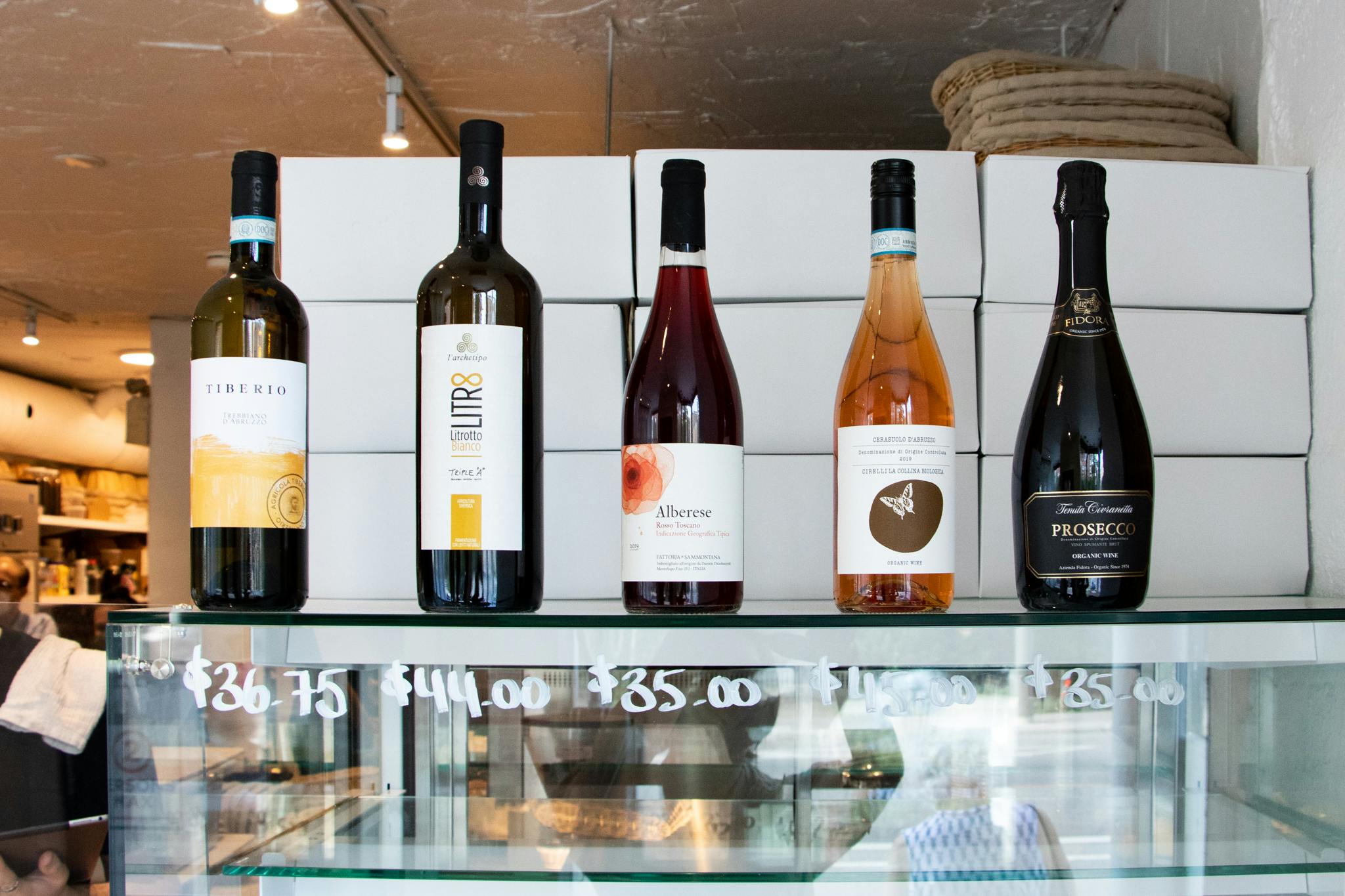 You'll also be able to take home a bottle of wine on sale near the register.
The Food: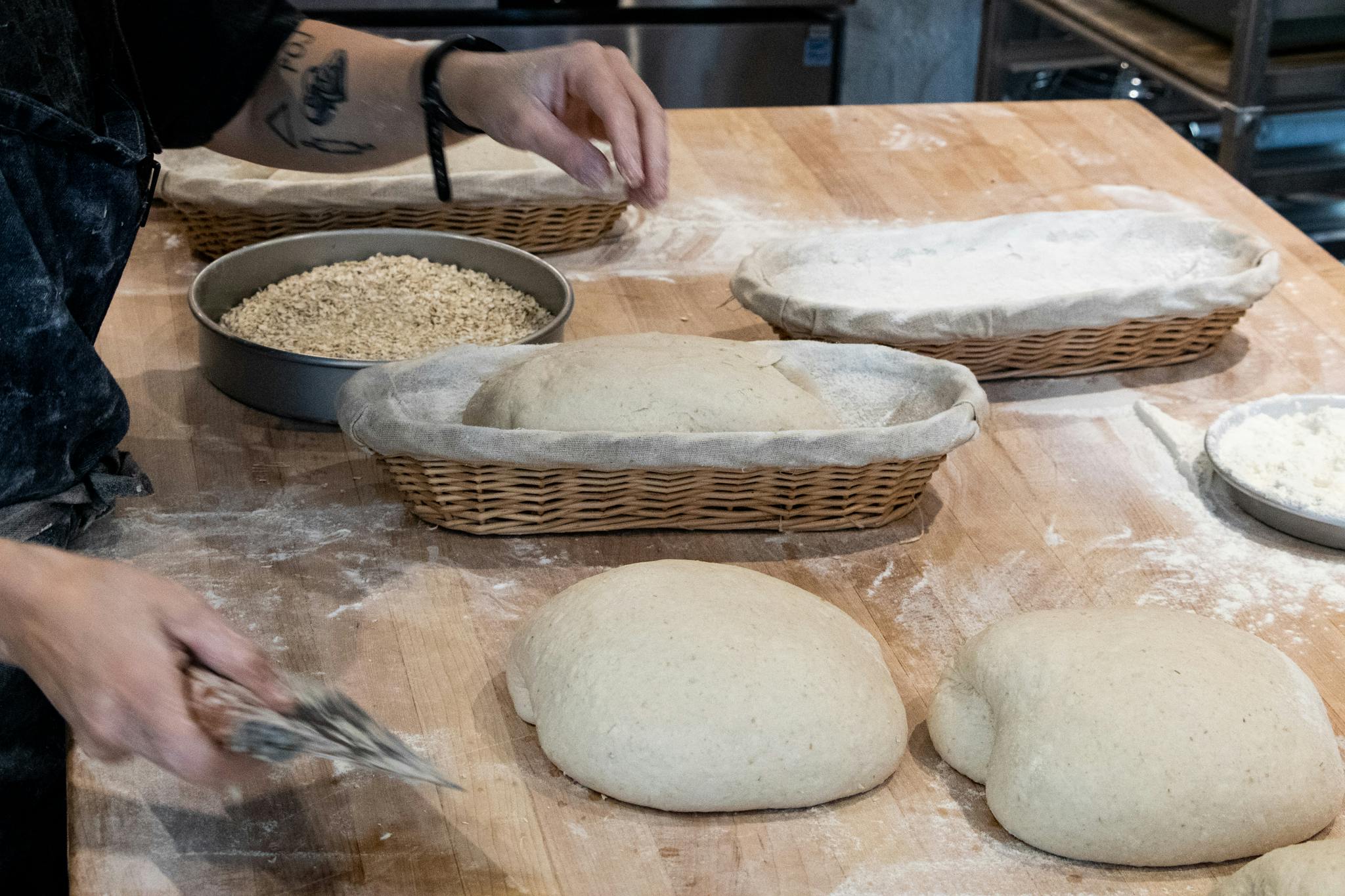 Sourdough bread is what started it all, and rightfully so. The loaf has a chewy crust and pillowy inside and is one of the most popular items available at Emmer. Often taking over 24 hours to craft, the bread options vary by day and include a porridge loaf, sesame loaves, and even ham and cheese baguettes on weekends, all rotating in availability. If one whole loaf is too much to take home, Emmer also offers half loaves.
Sourdough is normally available in the morning, with other bread making its way into the lineup through the day.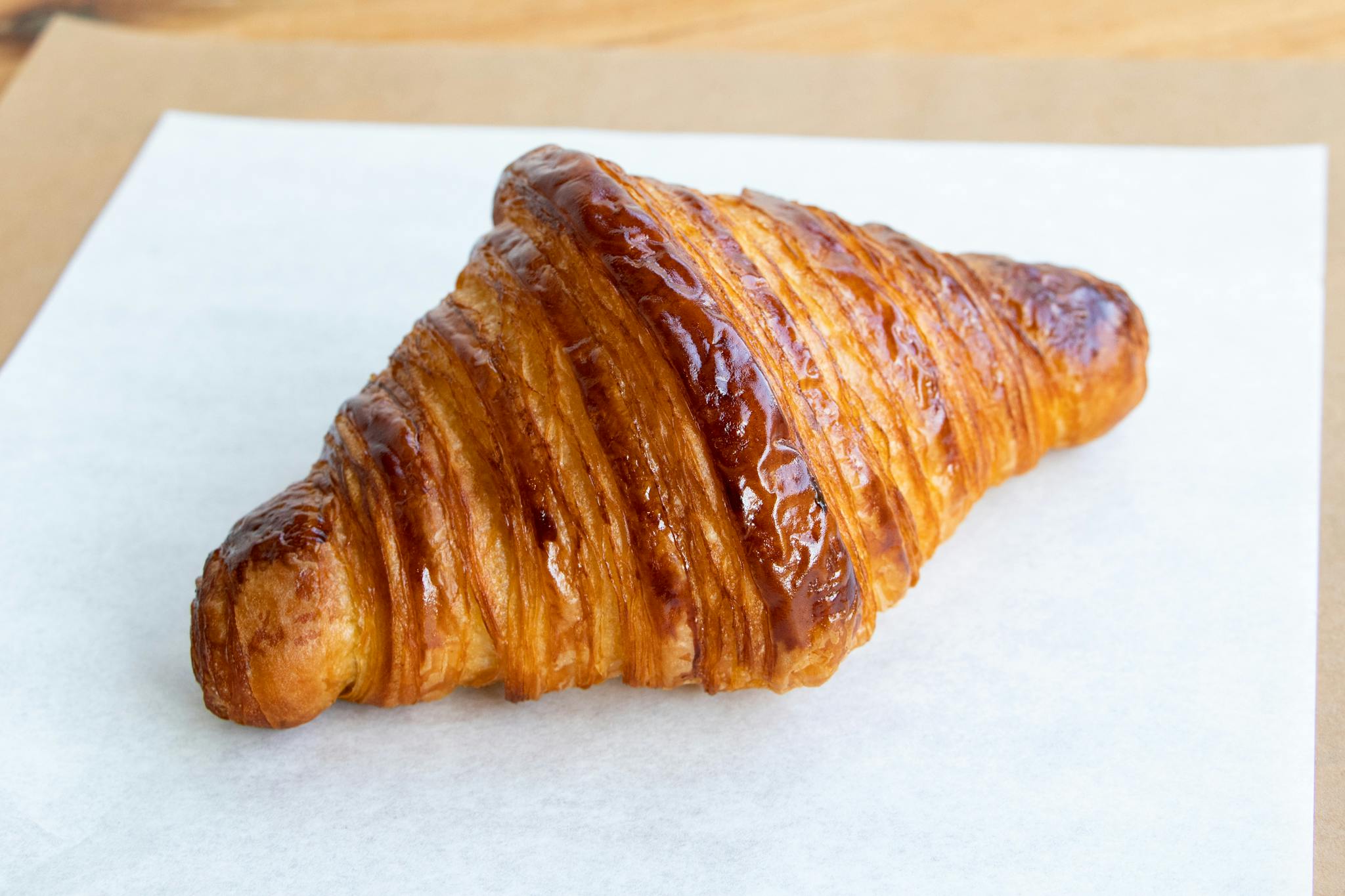 Simplicity can be incredibly tasty, especially with this Butter Croissant. It has got the flakiest outer layer with a very crunchy yet airy first bite; the focus on using the best quality of ingredients shows when something as deceivingly basic as a plain croissant tastes so spectacular.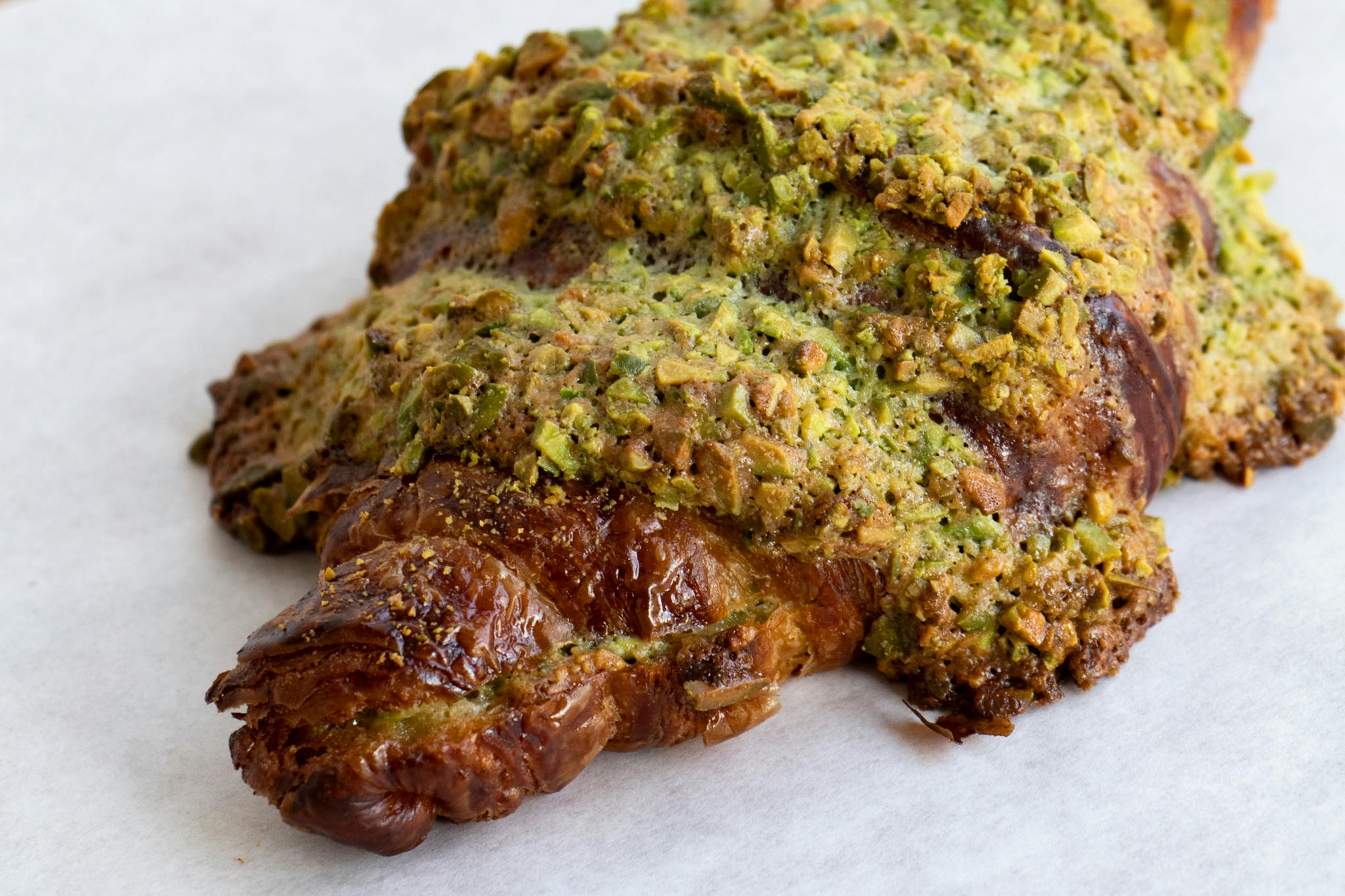 According to Haddad, easily the most popular croissant choice, as it's one of the first items to sell out every day, this Pistachio Croissant is twice-baked, creating the ultimate, crispy texture. Not only is it coated on top with Sicilian pistachios, but also find them generously filled within the pastry as well.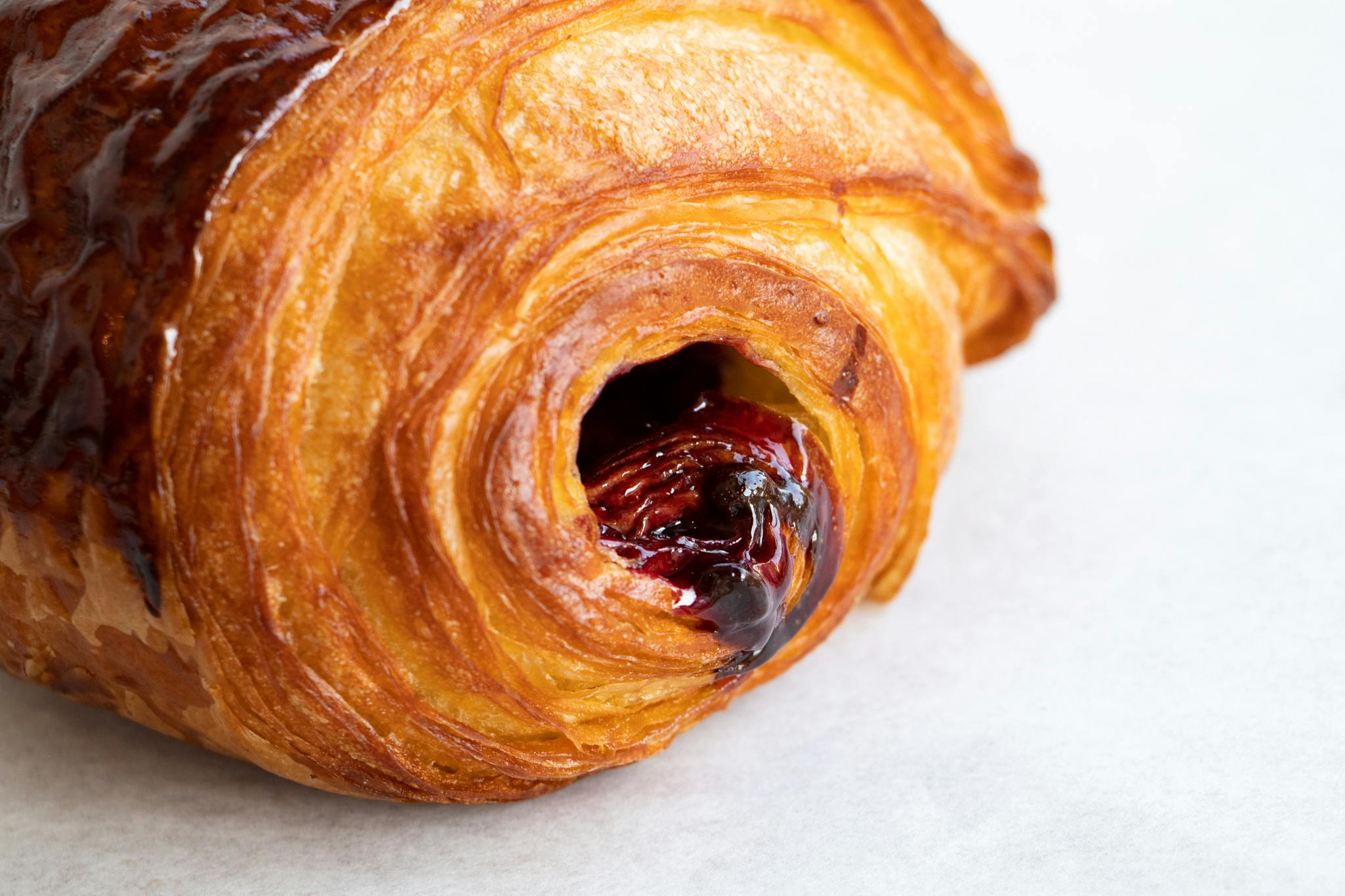 The strength of collaborating with fellow Toronto businesses shines through in this pastry, as it is filled with a black currant chocolate from SOMA Chocolatemaker, made exclusively for Emmer. It's got the perfect balance of sweet and tangy, paired with the croissant's airy nature, making for an irresistible treat that, although overshadowed by the pistachio croissant, should not be skipped.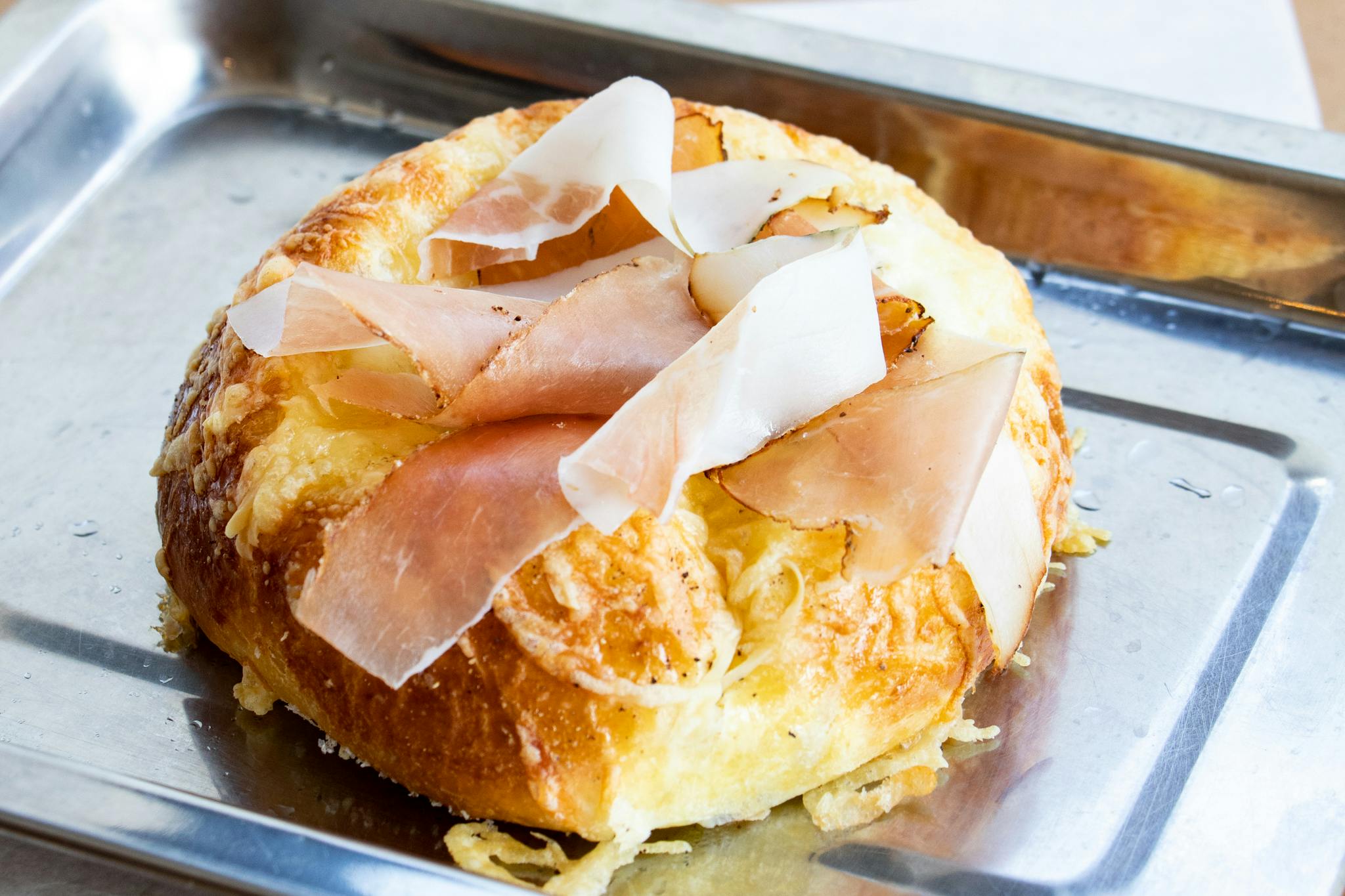 On the more savoury side, find a handful of Egg Brioche options, most of which are even topped with seasonal ingredients that alternate. Find options including this speck and Gruyère one.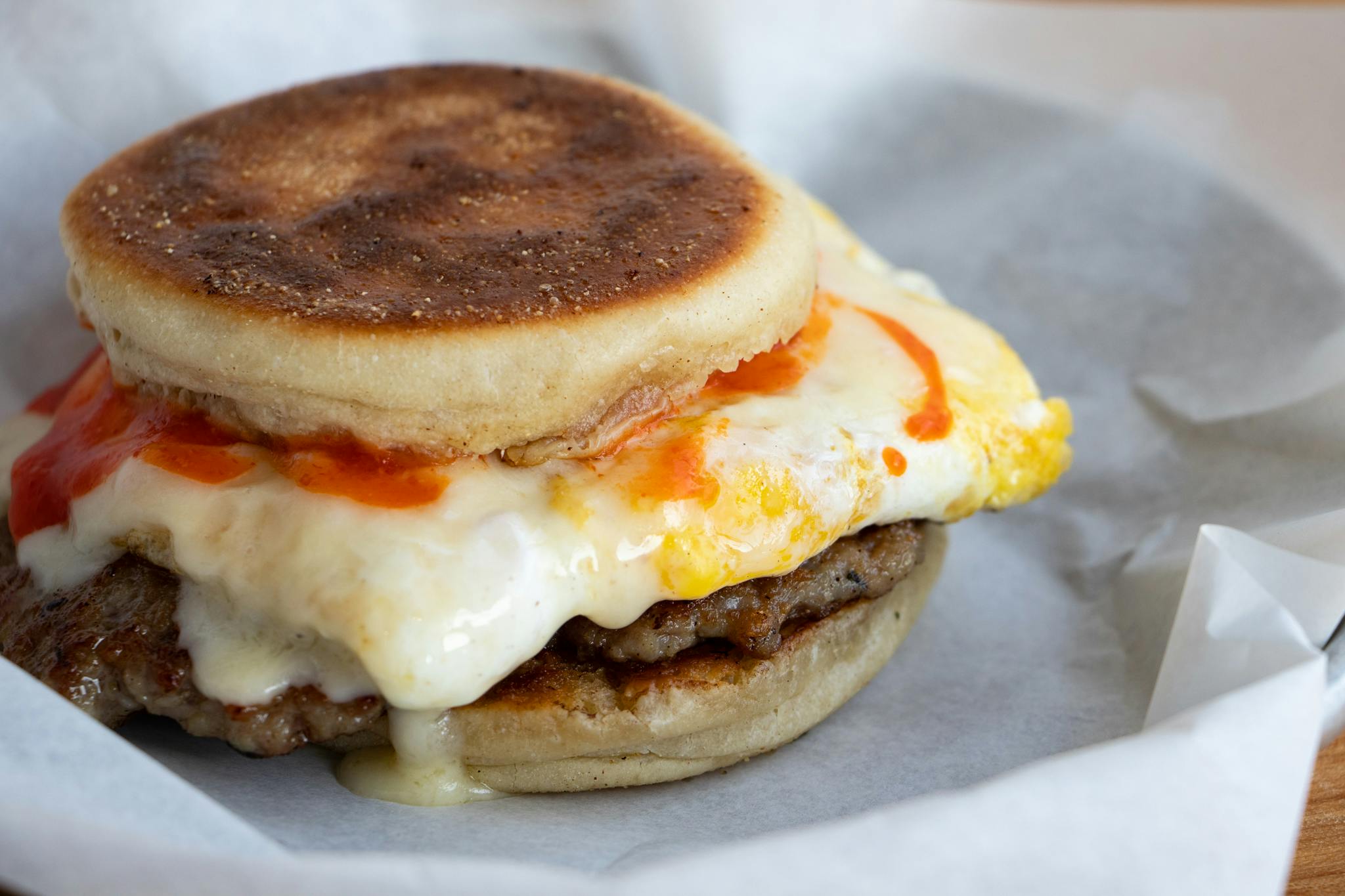 If you're looking for the ultimate breakfast sandwich, you'll want to give this one a try. This Sausage, Egg and Cheese Muffin is made fresh to order, with the sausage itself even being made in-house. Still warm off the flat top, it's everyone's favourite breakfast sandwich combination, elevated through the quality of the ingredients used. You taste the difference in every bite.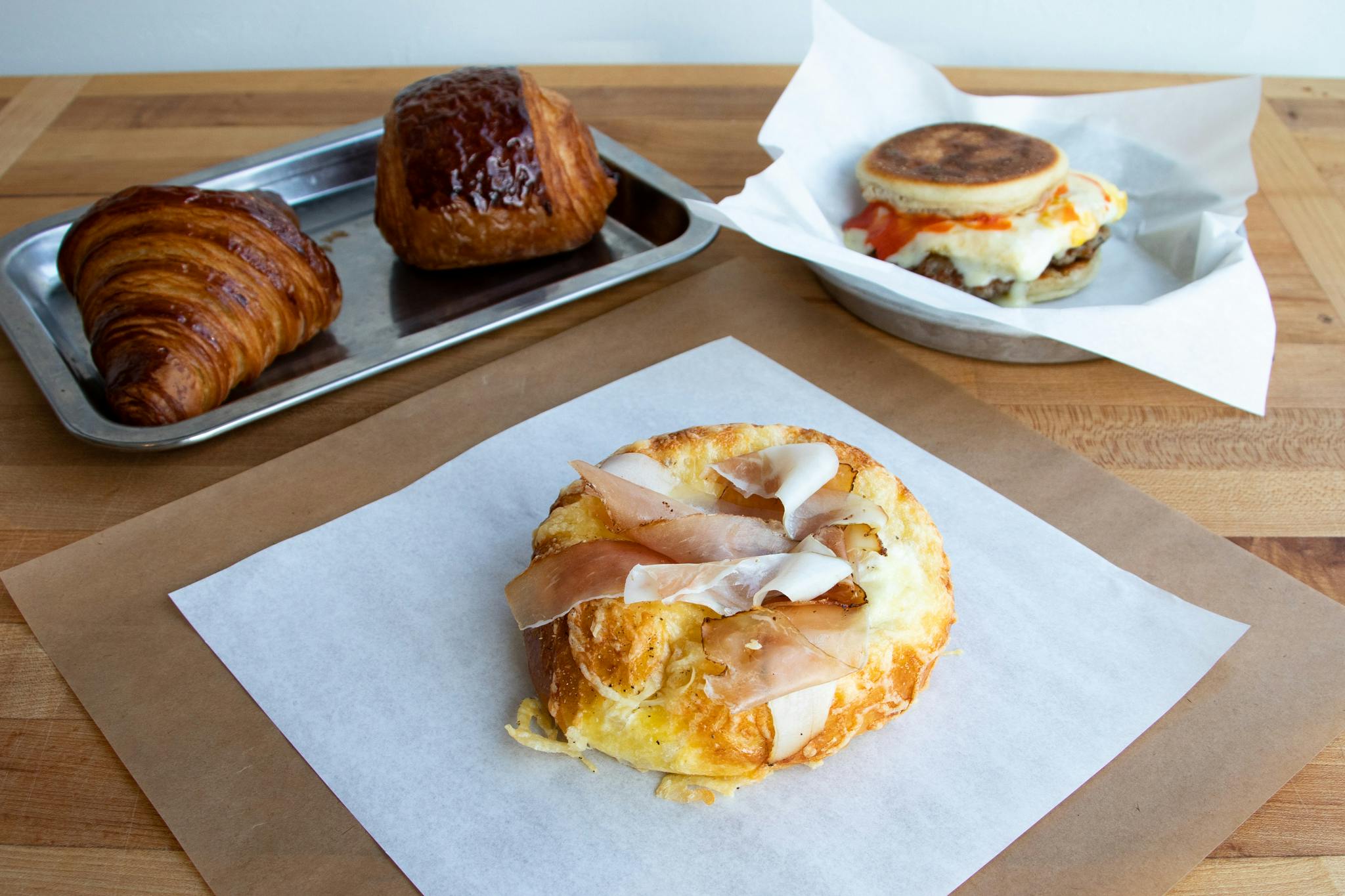 Emmer is open Thursday to Sunday from 9 a.m. until 4 p.m., with breakfast being served from 9 a.m. to 11:30 a.m. and the lunch menu beginning from 11:30 a.m. until 4 p.m. Be sure to stay tuned to Emmer's Instagram to discover when the restaurant portion of Emmer -- Ash, is set to open.