Hazukido, a world renowned croissant chain is opening its first North American location downtown Toronto on November 11, 2020.
From the baking traditions and ingredients used to the spirit of the brand itself, this Taiwanese croissant chain embodies the essence of East meets West. Hazukido encompasses the Shokunin Spirit of Japan in their croissant making. This concept of mastering one's craft, is evident in the art of croissant making that is perfected using the highest quality of ingredients and refined skills.
The Space: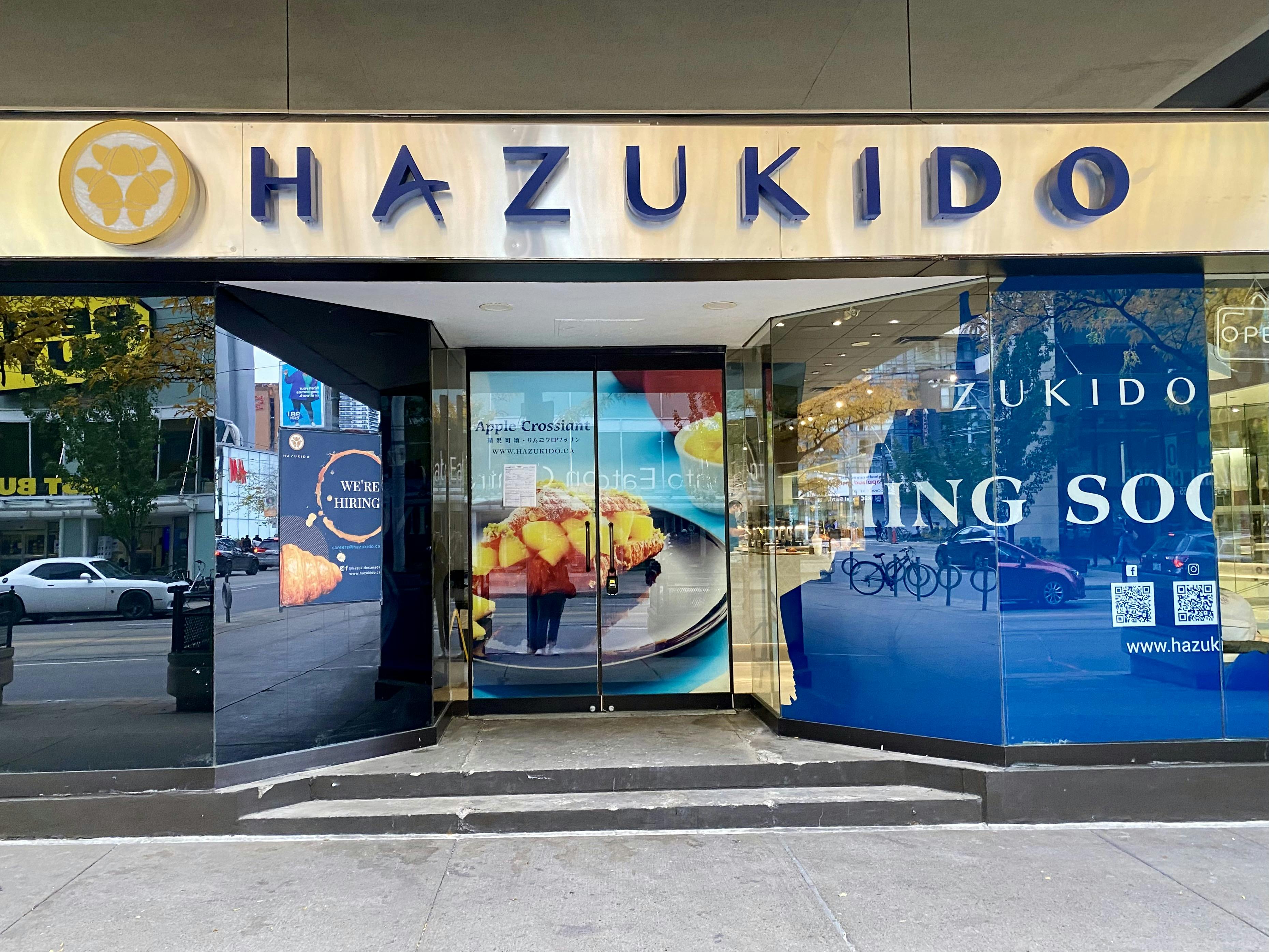 Located in the Atrium, a small shopping mall across from the Eaton Centre, Hazukido sits at the heart of downtown. The brightly lit shop features an open concept kitchen, where visitors can watch croissants being made fresh daily on-site from start to finish.
The light wood paneling and the marble accents are reminiscent of chic and minimalist Japanese cafes. A mural of Hazukido's signature croissants, hand drawn and painted with watercolours by local artist Reena, adorns the back wall of the bakery making for an extremely Instagrammable photo wall.
Hazukido is located at 595 Bay Street and will operate as takeout only for the time being until COVID restrictions in the city ease.
The Food: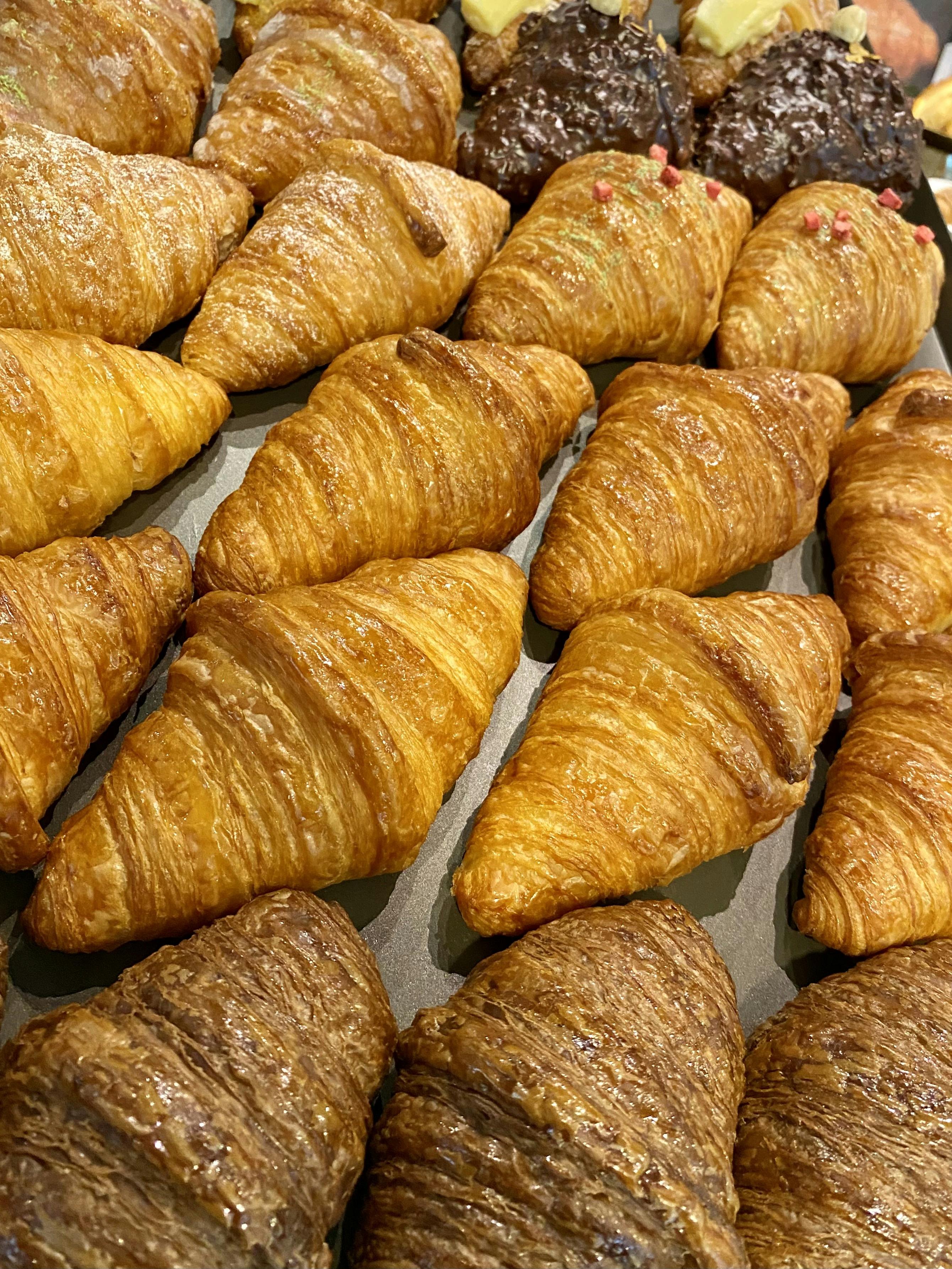 Hazukido's croissants take 72 hours to make from start to finish. Using the process of lamination -- where slabs of cool but pliable butter are folded into the dough and rolled creating thin layers of dough separated by layers of butter -- Hazukido's croissants consist of 64 layers, giving each flaky croissant its signature crispy outer layer and soft honeycomb centre that makes for an unforgettable mouth feel.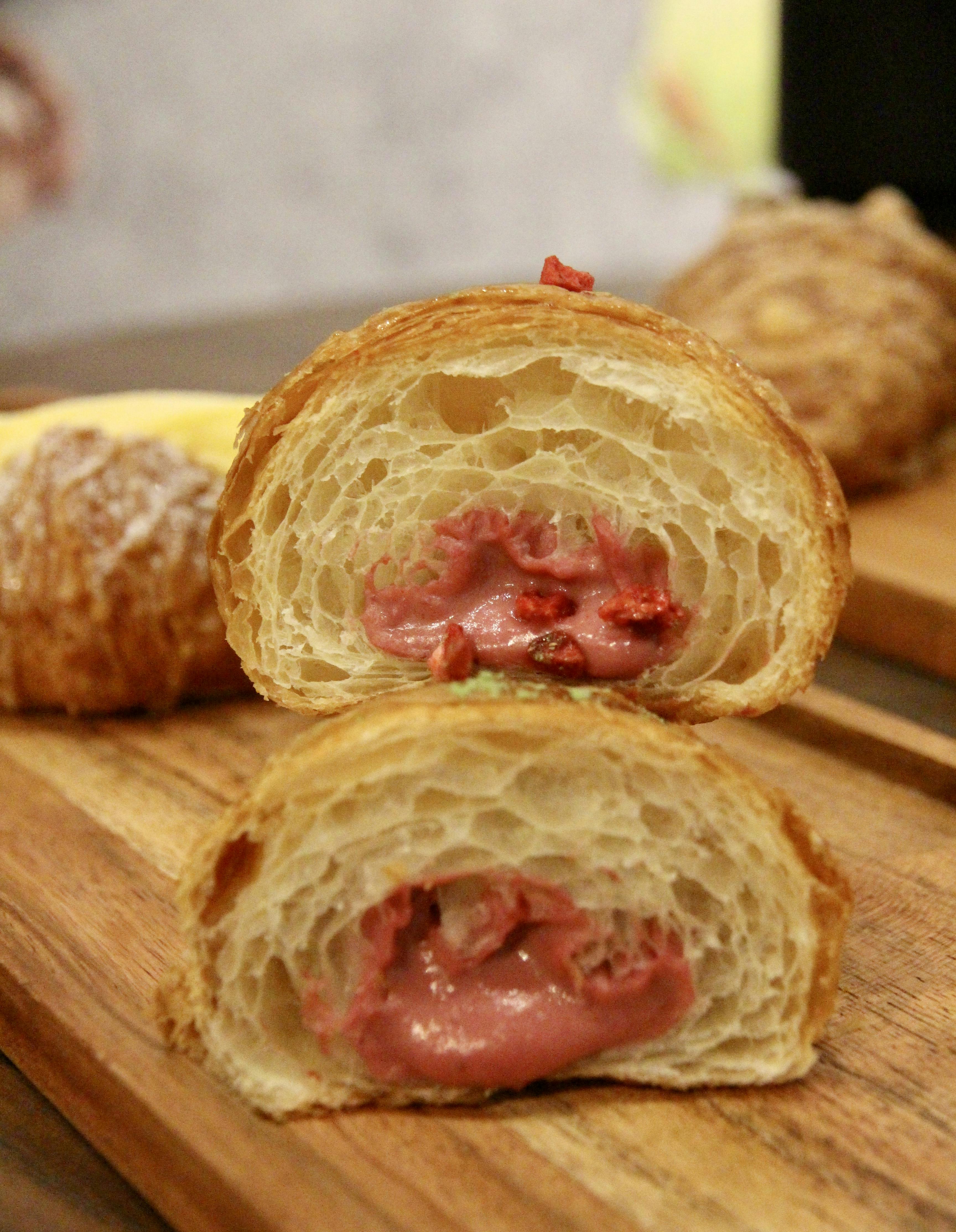 Raspberry Panna Cotta filled croissant showcasing Hazukido's signature honeycomb centre
Once meticulously rolled, they are proofed for 3 to 4 hours and baked precisely for 18 minutes. From rolling and baking to filling and decorating, each croissant is weighed and measured between steps to ensure uniformity across the board throughout the process. Hazukido is all about transparency and pushing the boundaries of croissants. Bakers spend months of training to perfect the complexity of croissant making.
Hazukido's most popular flavour, the Hazelnut Chocolate croissant -- a honeycomb croissant coated in rich chocolate ganache and hazelnut crunch
Hazukido's pastries are the perfect balance between salty, sweet, buttery and crispiness in every bite. With over 100 different flavours, you can expect both sweet and savoury croissants that caters to every palate as well as seasonally rotating offerings. This location will feature its top 14 signature flavours including Hazelnut Chocolate, Raspberry Panna Cotta, Salted Egg Yolk, Caramel Pudding, Golden Cheese, Cod Roe, Butter Garlic, Caramel Almond Custard and more.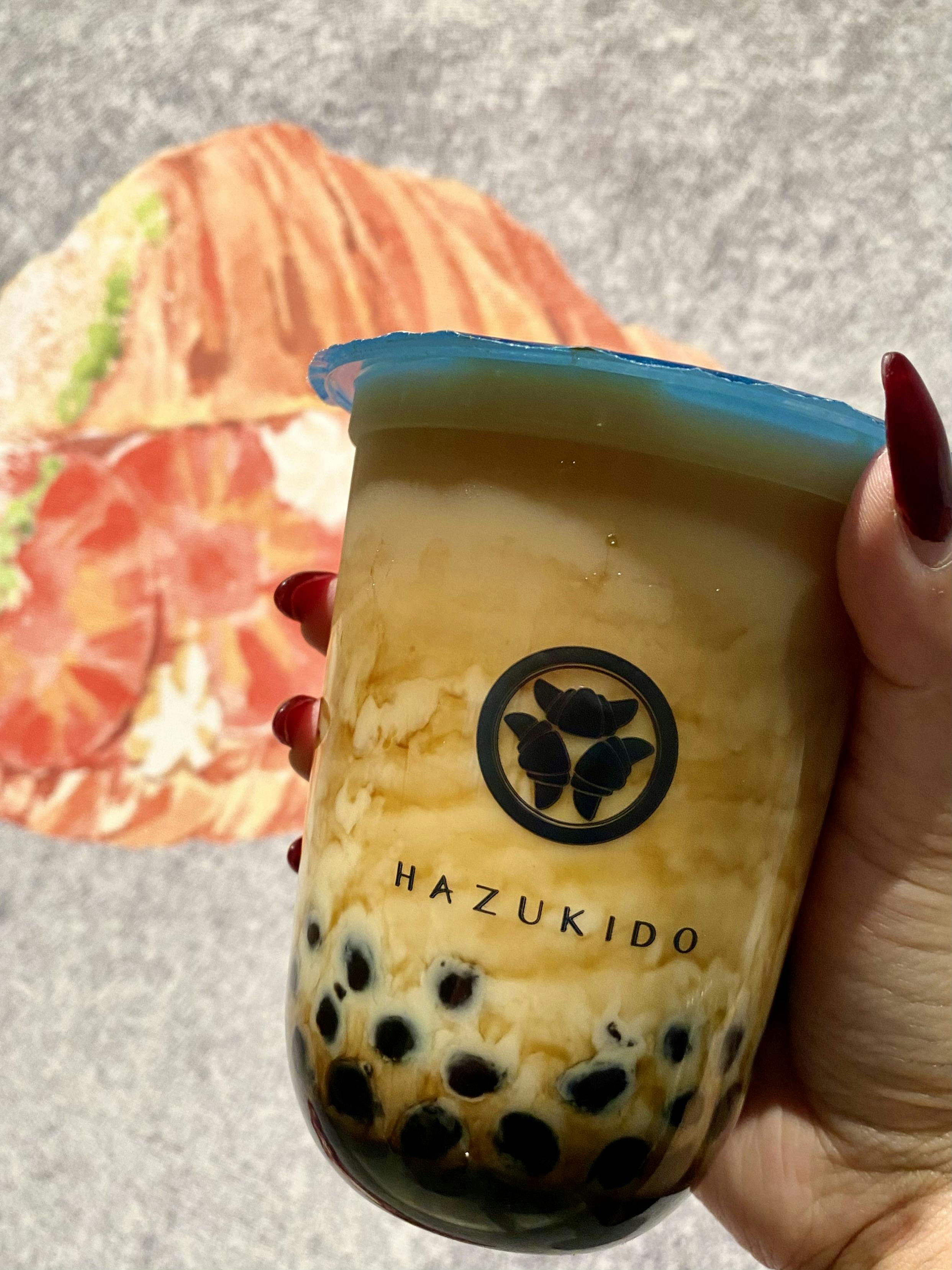 Yashima Brown Sugar Bubble Milk Tea
Hazukido will have a line of unique drinks, including a Canadian exclusive cold brew coffee made with organic Sumatran beans and a variety of gourmet bubble teas made with tea leaves from Taiwan.
The viennoiserie uses French baking techniques and premium Japanese and European ingredients including Elle and Vire butter, a first grade European natural butter without additives or preservatives, as well as Century flour, a renowned Japanese brand which gives way to the delicate texture and natural fragrance of the croissants. Only International Standards Organization (ISO) certified eggs are used to ensure health and safety in Hazukido's products.
Hazukido's official grand opening is this Wednesday, November 11 and they will be giving away a free signature box with 6 different croissants to the first 30 customers and buy one get one free croissants for the next 60. The promo is valid exclusively for orders placed on the Hazukido app and will be going on from November 11 to November 15.