Music aficionados and foodies unite—Kissa is Toronto's new cocktail bar and lounge that opened on July 12, 2023, boasting elevated dining, intricate and thoughtful cocktails, and vinyls only.
Kissa is the latest venture from hospitality veterans Dan Gunam (Soluna, Love Child Social House, Cali Love) and Vito Tomasicchio (Nodo, Soluna, Nest, Hush Hush). The Japanese-inspired, vinyl-only listening lounge is nestled among the vibrant nightlife at 619 King St. W.
Pronounced "key-sa", Kissa is derived from kissaten, or Japanese-style speakeasy teahouses that were popular in the 1920s. Much of the concept and inspiration behind Kissa is indeed from these teahouses—typically dark, cozy, cavernous places focused on tea-drinking. A twist on kissaten, Kissa mixes Japanese, Izakaya-style cuisine with upscale cocktails, in a soundscape of old school music on vinyl.
Gunam and Tomasicchio are long time friends in the Toronto hospitality scene who had been waiting for the opportunity to collaborate.  For Gunam—who was born in Sri Lanka and lived in the UK before moving to Toronto some two decades ago—the inspiration for Kissa came from a trip to Miami where he visited a vinyl listening bar, Dante's HiFi. Plus, Gunam says he has always loved music, stemming from when he was growing up and his parents were in a band, to when he would DJ with vinyls in high school.
"I love music, all genres of music," expresses Gunam. "It's the nostalgia of growing up and my parents playing me everything from Boney M., to ABBA, to Fleetwood Mac. We wanted to tap into people who would actually appreciate it. Music, smells, foods—they all take you back to memories."
Gunam's love for music and nostalgia shines at Kissa. The impressive vinyl display at the DJ booth consists of more than 2,500 records, all from before 2015, and the restaurant welcomes a range of DJs to play at its vinyl-powered vintage sound system, custom built by Sounds Better (jojoflores & Mike Oliver) using custom vintage JBL speakers powered by Bryston Amps, and combined with a D&B Sound System that is connected to a Master Sounds Radius 4V Analogue Rotary Mixer.
This elaborate setup results in sound that is warm and rich throughout the space, enhanced by the velvet interiors which are great for acoustics. 
Notably, the sizeable and growing vinyl collection comes from a few places. To name a few: some of the records are Gunam's, some were donated by DJs, some are newly bought, and some are from a collection that Tomasicchio's sister sold when she was moving to Florida, but that Tomasicchio tracked down and bought back recently for Kissa.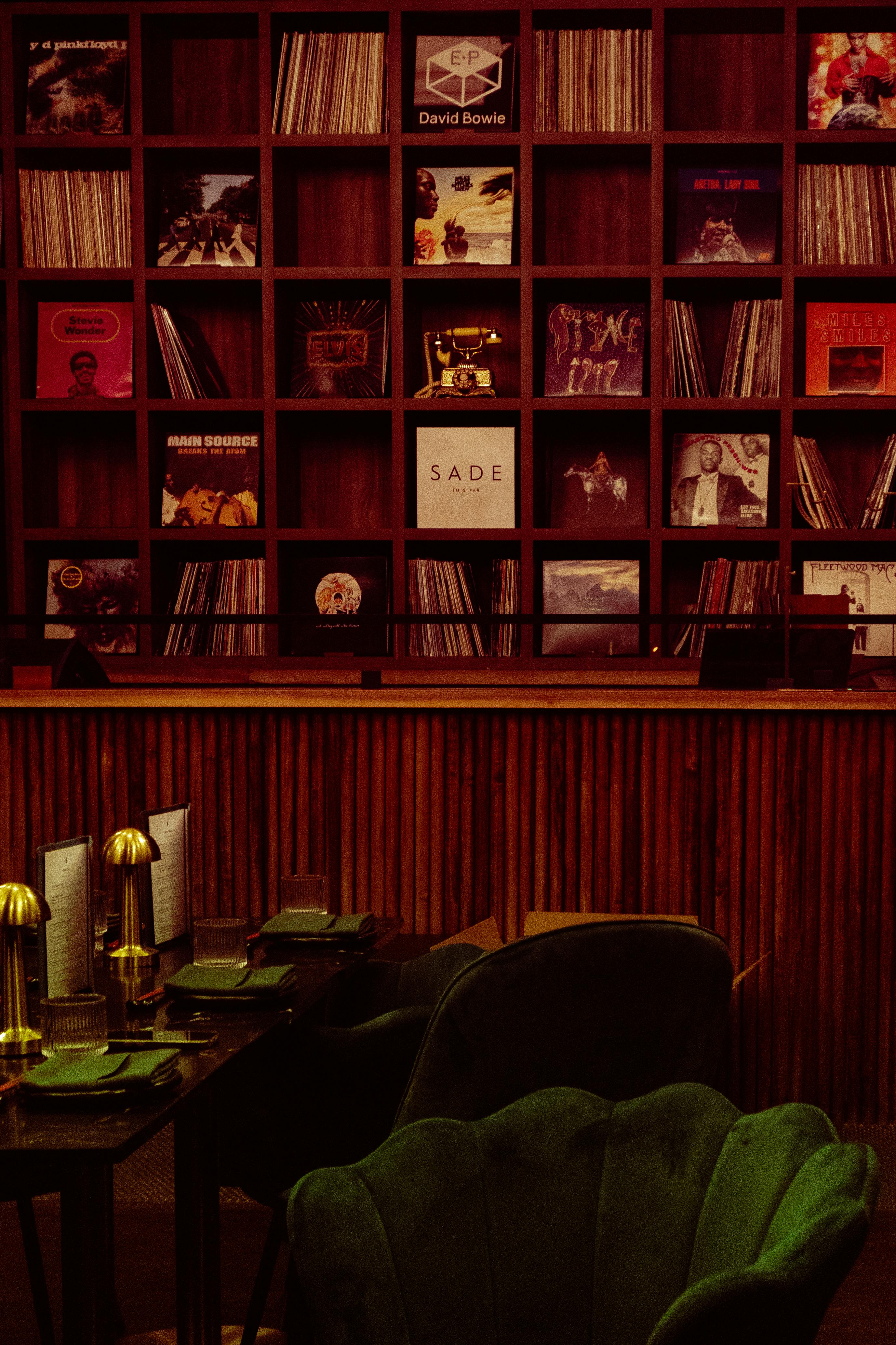 Equal parts sultry, swanky, and fun, Kissa shakes up the classic King West bar and club vibe with a focus on offering guests an elevated dining, drinking, and listening experience. Perfect for grabbing a drink before dinner, enjoying a night cap, having a leisurely and indulgent dinner, or even booking a karaoke party in a private room upstairs, Kissa is for the King West party-goer seeking a new, more sophisticated vibe.
On the outside, Kissa seems unassuming, though a large red door marks the entryway. The mysterious and heavy red door evokes the ambience of importance and exclusivity that Kissa promises inside.
Designed by Victoria Opacak from All In Design and Damon Snider from Type D Living, with Gunam and Tomasicchio's guidance, Kissa is an intimate space inspired by glamour, opulence, and vintage from the 1920s and 1950s. Inside, guests will find lush, velvet couches, chairs, and wall upholstery; extensive infinity-style mirrors; dark wood panels; neon orange-lit arches; a disco ball; and crystals galore. Two long booths run the length of the restaurant along the walls from the vinyl-laden DJ booth to the swanky bar, with an array of chairs and black, marble-like tables in the aisle. The massive disco ball hanging from the ceiling is surrounded by several spherical, crystalline lights that reflect like sparkles in the mirrors along the walls and on the ceiling. Colours of red, teal, gold, and black adorn the speakeasy-like interior of this place. 
And that's just the first floor—a trippy, entirely mirrored stairwell leads upstairs to the second floor, which is an open-concept lounge with a similar ambience to the downstairs dining area, with a private room available for booking that overlooks King West through narrow windows. Gunam notes that the upstairs lounge will have its own DJ booth and bar, and is inspired by Studio 54. 
Gunam and Tomasicchio also plan to launch the Goodnight Club, a private members concierge club that will begin at the end of summer, where membership will include VIP access to Kissa and Soluna, in addition to exclusive perks, private parties, international festivals, and experiences. 
Keeping the cool vinyl theme going, Kissa's experienced and creative Mixology Director, Blake Canning (Casa Madera, The Butcher Chef), has created an inventive beverage program featuring around 16 cocktails, where each cocktail is named after a famous album. The cocktail menu is divided into three sections: Albums (Signatures), Compilations (Shareables), and Singles (Highballs). Soon, guests will also be able to access an illustrated cocktail menu via a QR code, playing in to the storytelling and artistic undertones of Kissa.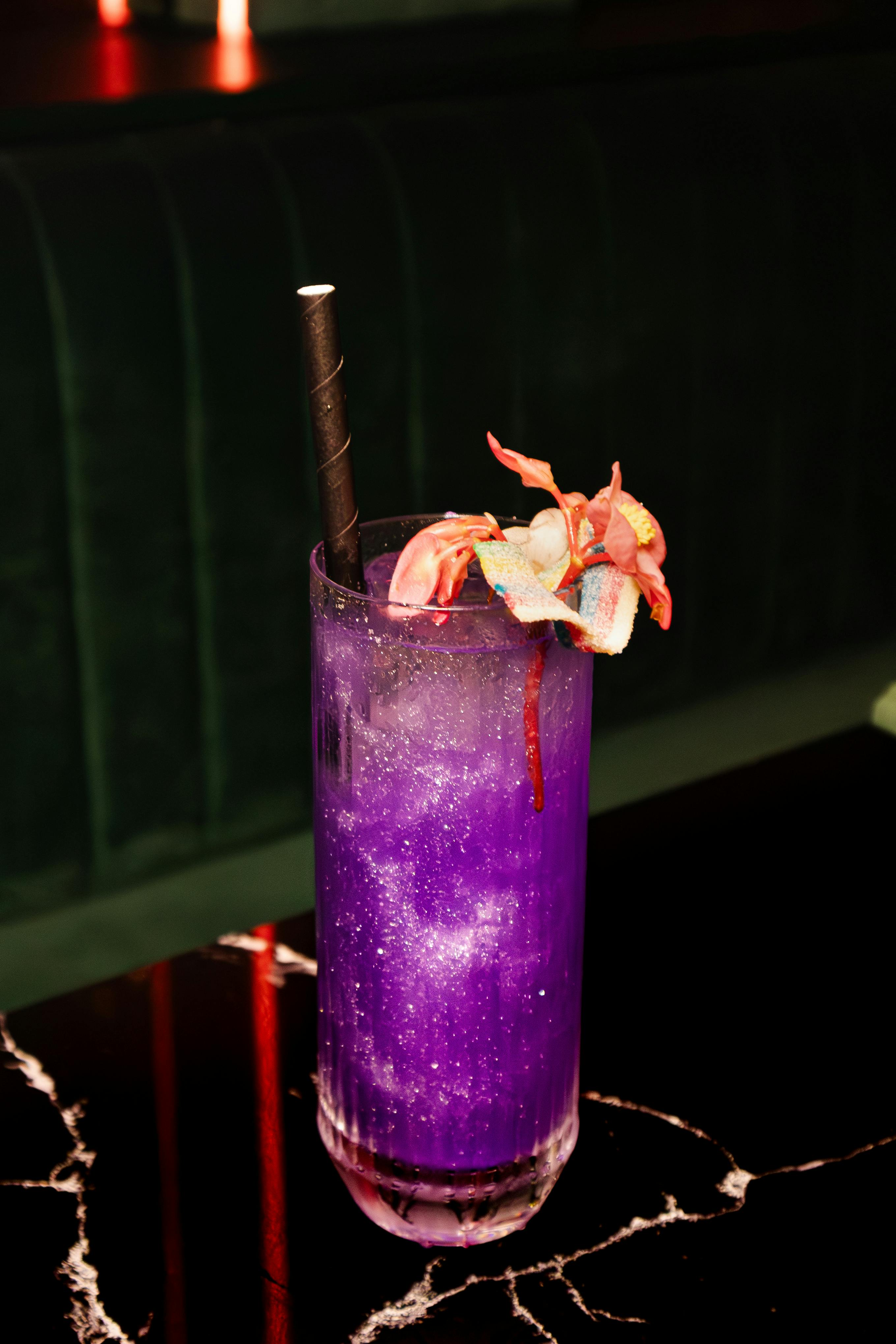 The striking, sparkly, and vibrant Prince & The Revolution (1984) highball combines butterfly pea flower gin, St. Germain Elderflower Liqueur, shiso (perilla/mint), lime, tonic, and edible glitter. This extravagant and fun drink is topped with a rainbow gummy candy, and follows the exuberance of Prince. Of course, Prince & The Revolution was also the album where Purple Rain was released, hence the drink's pretty purple tone.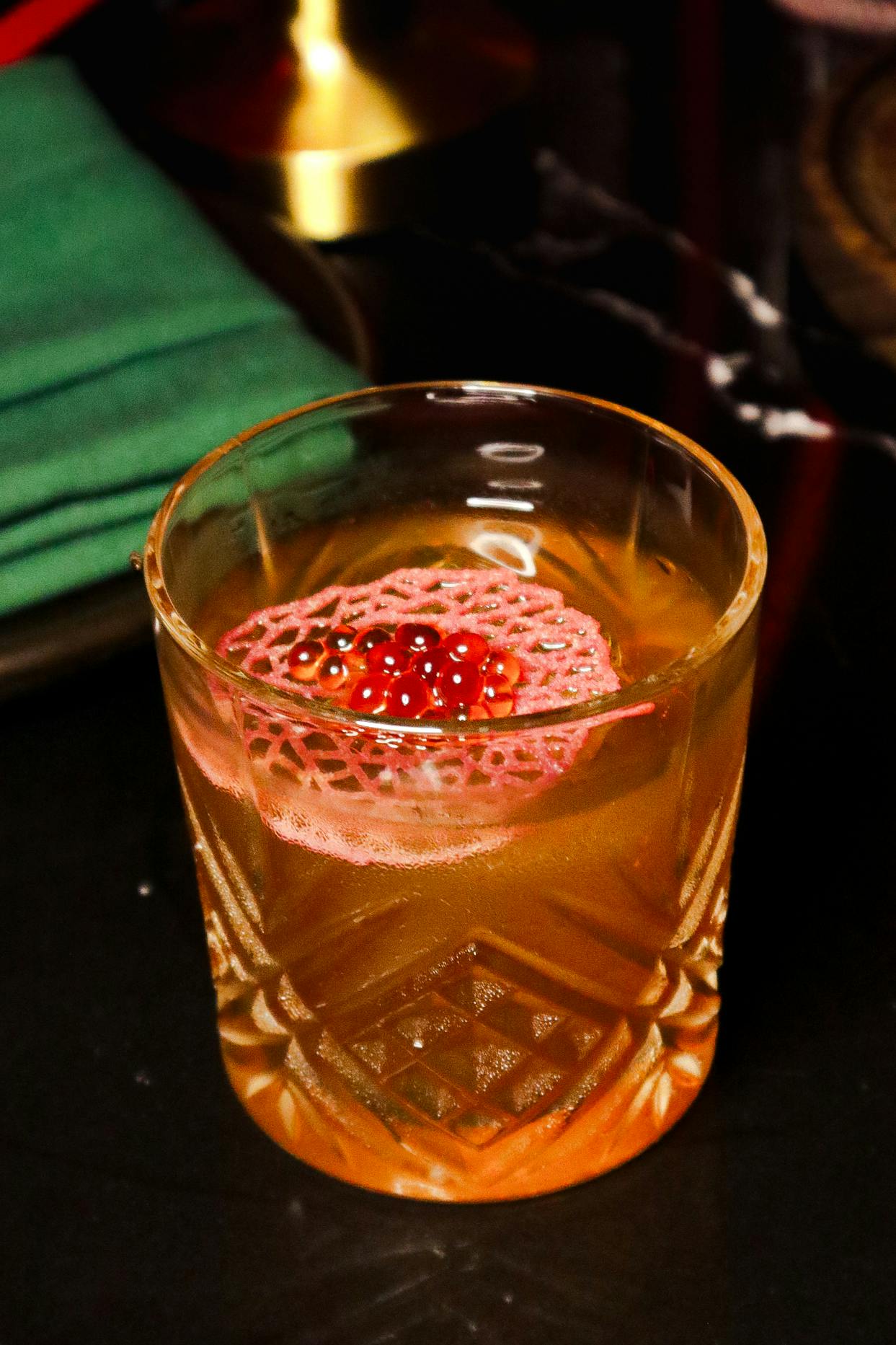 Beggars Banquet (1968), inspired by The Rolling Stones album, features Woodford Reserve Bourbon, Ume Japanese Plum Liqueur, kokuto (black sugar), ponzu (a type of citrus sauce) for some salinity and structure, Hinoki (Japanese cypress) bitters, and toasted sesame oil. This old fashioned-style cocktail with an eastern twist is garnished with ponzu pearls atop a tuile, and three dots of toasted sesame oil for a toasty aroma. Gunam notes that Kissa is brown-liquor focused, aligned with the vintage and vinyl vibes of the concept.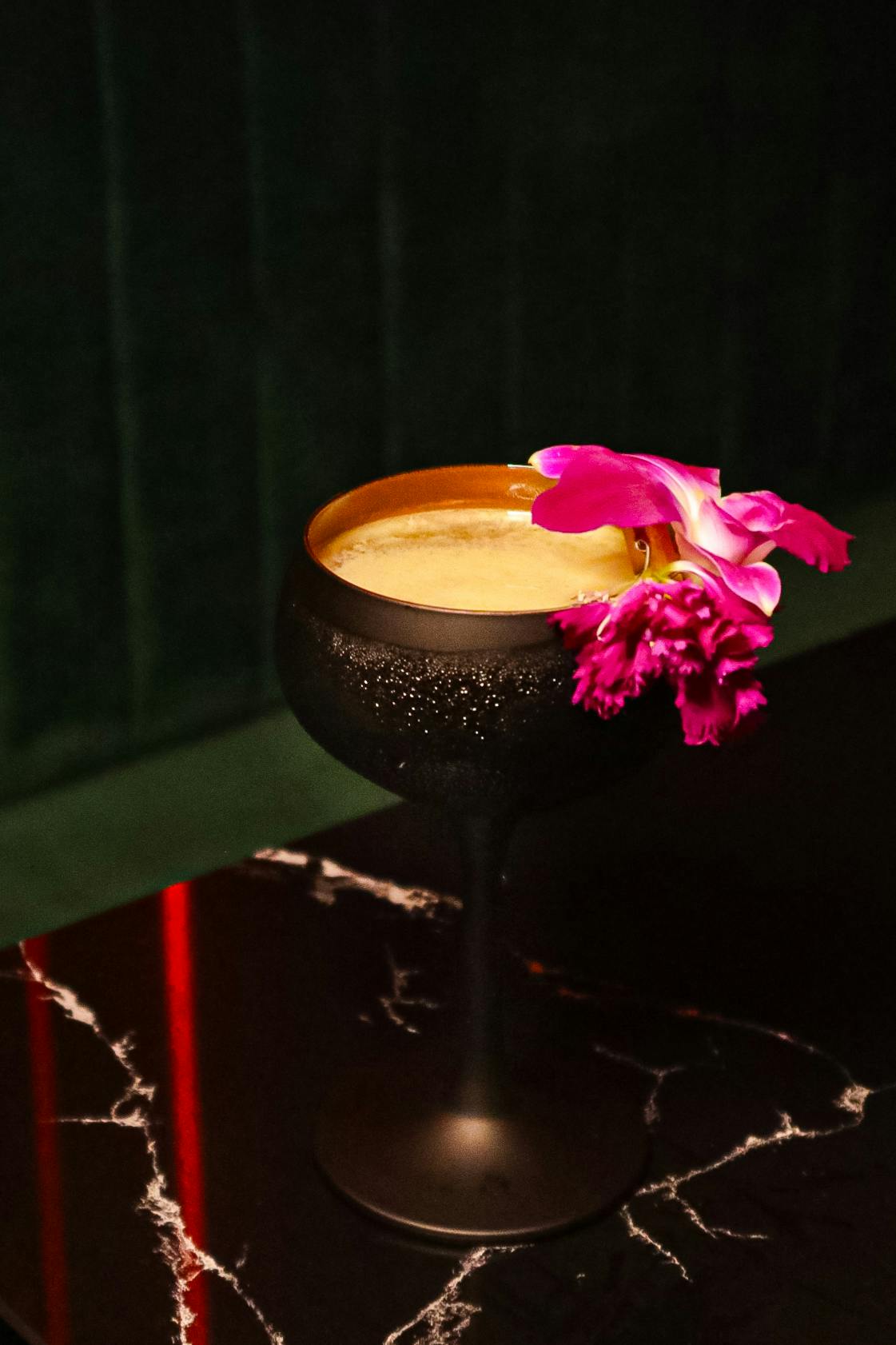 This gorgeous, dark and floral cocktail is called Wildflowers (1994), like the Tom Petty album. Wildflowers (1994) incorporates bright, fruity, and lively flavours for a pleasant drinking experience, combining peach-infused Shochu, Pisco, Cointreau, yuzu, green strawberry, salted sakura blossom syrup, orange blossom, and thyme.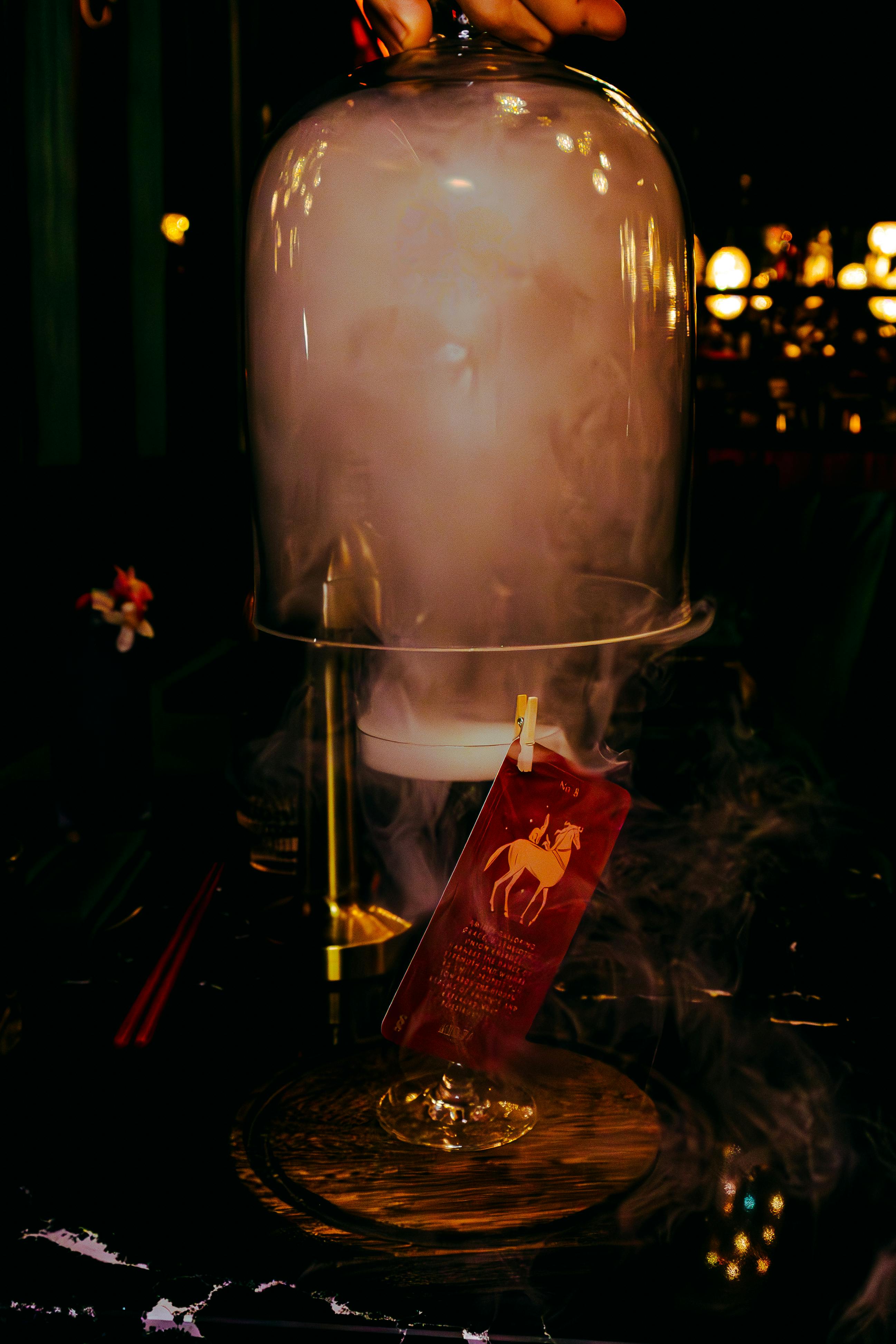 One of Kissa's best-selling cocktails, the Back In Black (1980), is a shadowy, smoky ode to ACDC, infusing all black everything: Johnnie Walker Black Label, black sesame orgeat syrup, Madeira wine, fig, cinnamon, and, yes—smoke. To boot, this cocktail comes with a Kissa branded tarot fortune card as a keepsake.
Now, for the food.
Chef Michael Parubocki (Momofuku, Kasa Moto) is Kissa's Director of Culinary, alongside Dylan Sampson (Kiu, Kasa Moto) as Head Chef. The duo has developed a curated menu of Japanese-inspired, Izakaya-style dishes that are elevated, chic, and playful, with incredible attention to detail.
"The chefs created a menu where everything is made in-house: the bread for the sandos, the cheesecake, every sauce, everything," says Gunam. "Everything is made in-house in our small kitchen, so it's a long process, but we wanted to elevate the dining experience."
Gunam is passionate about creating unique and valuable experiences for his guests, and aims for fine dining to meet a more casual setting at Kissa.
"We wanted to provide some shock value—you come here not knowing what you're going to get. You might think, okay, it's not a bar, it's not a typical club, and when you come to actually see the plating, and the food, it's all going to surprise you."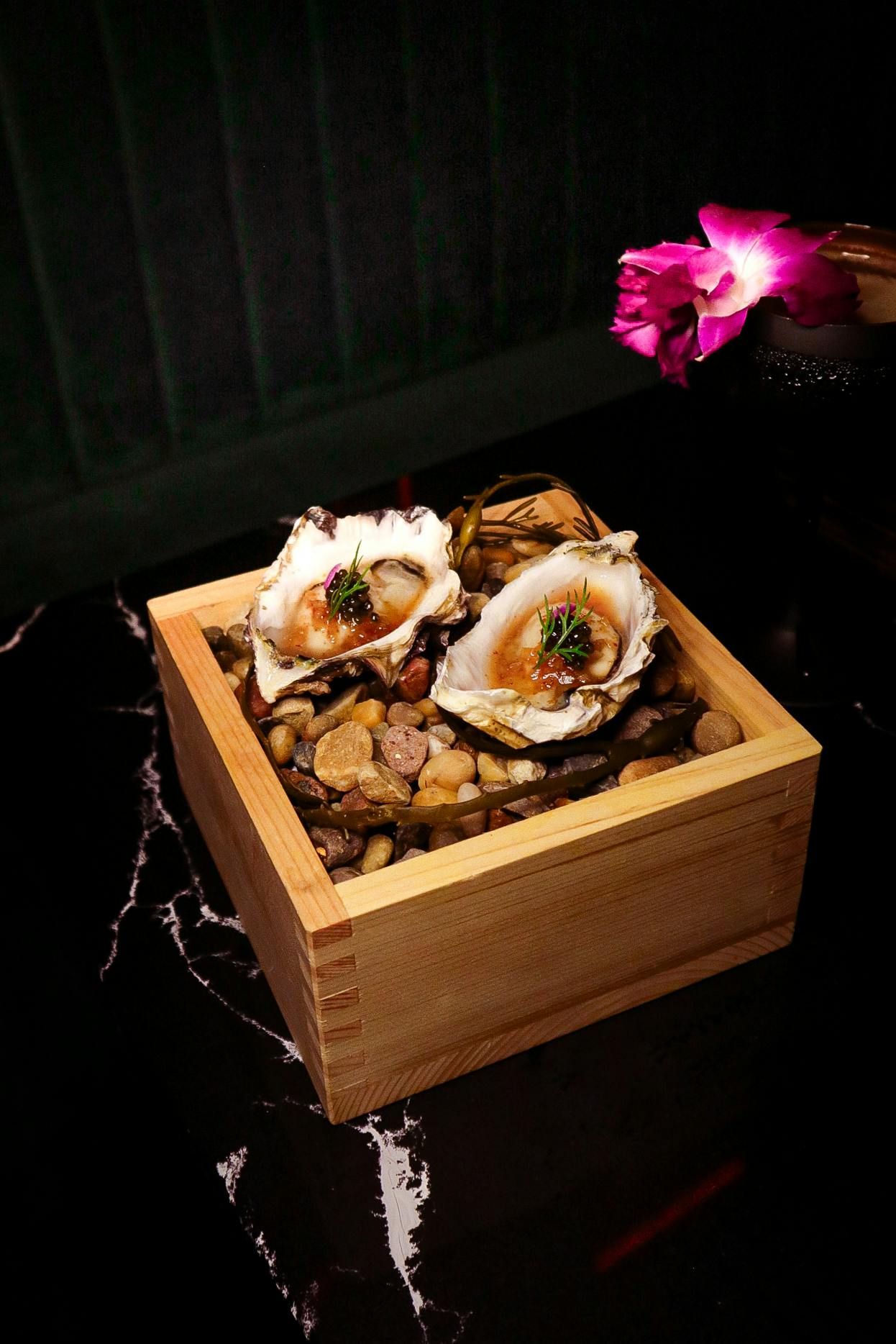 The Royal Miyagi oysters from B.C. are served with yuzu mignonette, topped with dill and beautiful caviar from Italy, laid on a bed of river rocks with some seaweed, and arranged in a custom Hinoki box made in New York, for a truly unique oyster experience. The large, tender and soft oysters are complimented by the fresh accents and intentional, permeating flavours of this dish.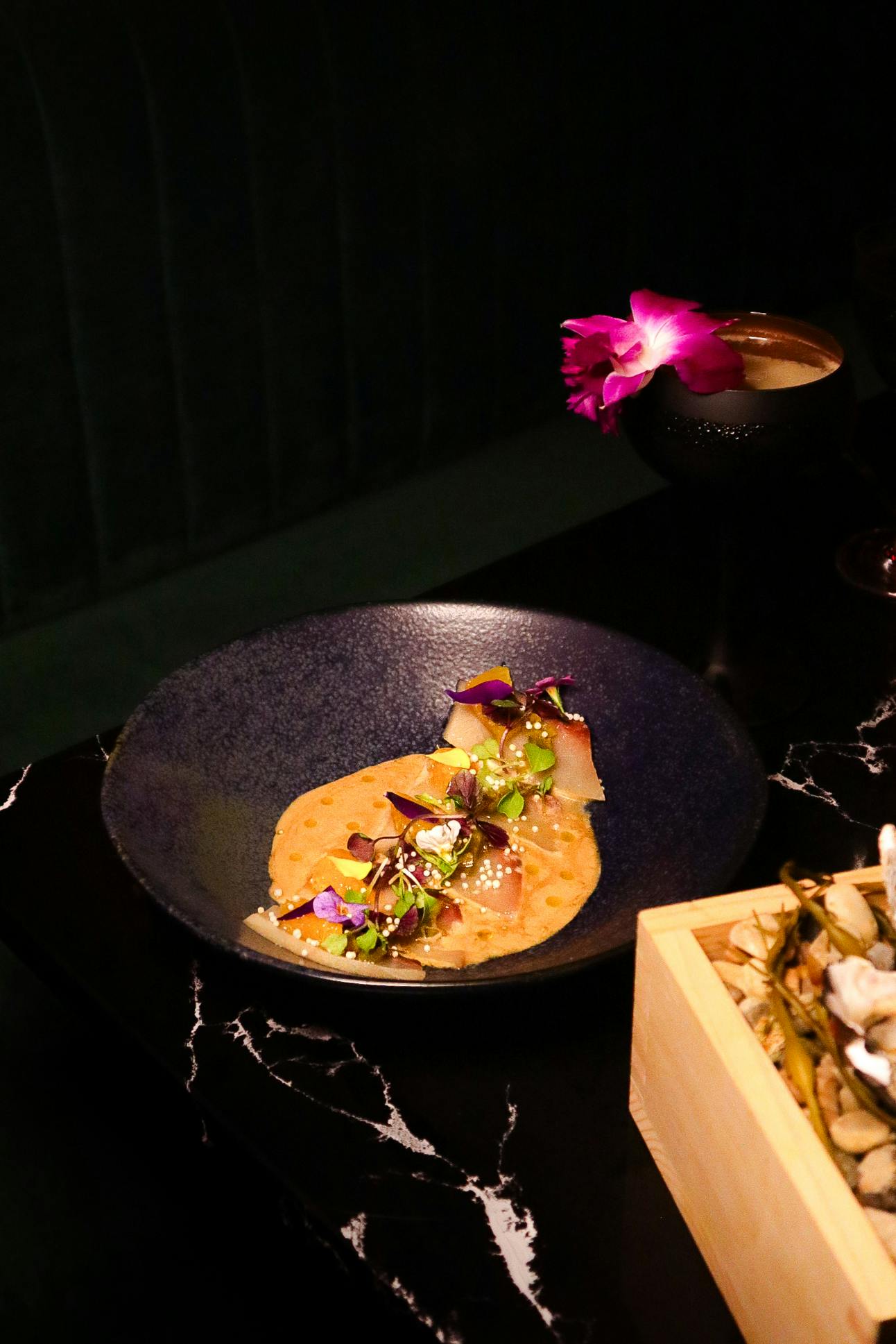 Guests will find a refreshing hamachi on the menu, made with raw, yellowtail amberjack sliced loin from Japan. The hamachi incorporates orange segments, pickled jalapeño, and ponzu with soy and coconut cream to give it some body. In addition, the puffed rice pearls, flowers, and homemade orange oil cut with grape seed truly elevate the plate. The puffed rice pearls offer a textured crisp, and the citrus flavours from the orange segments and oil are complex and noticeable, for a layered and delicious take on this dish.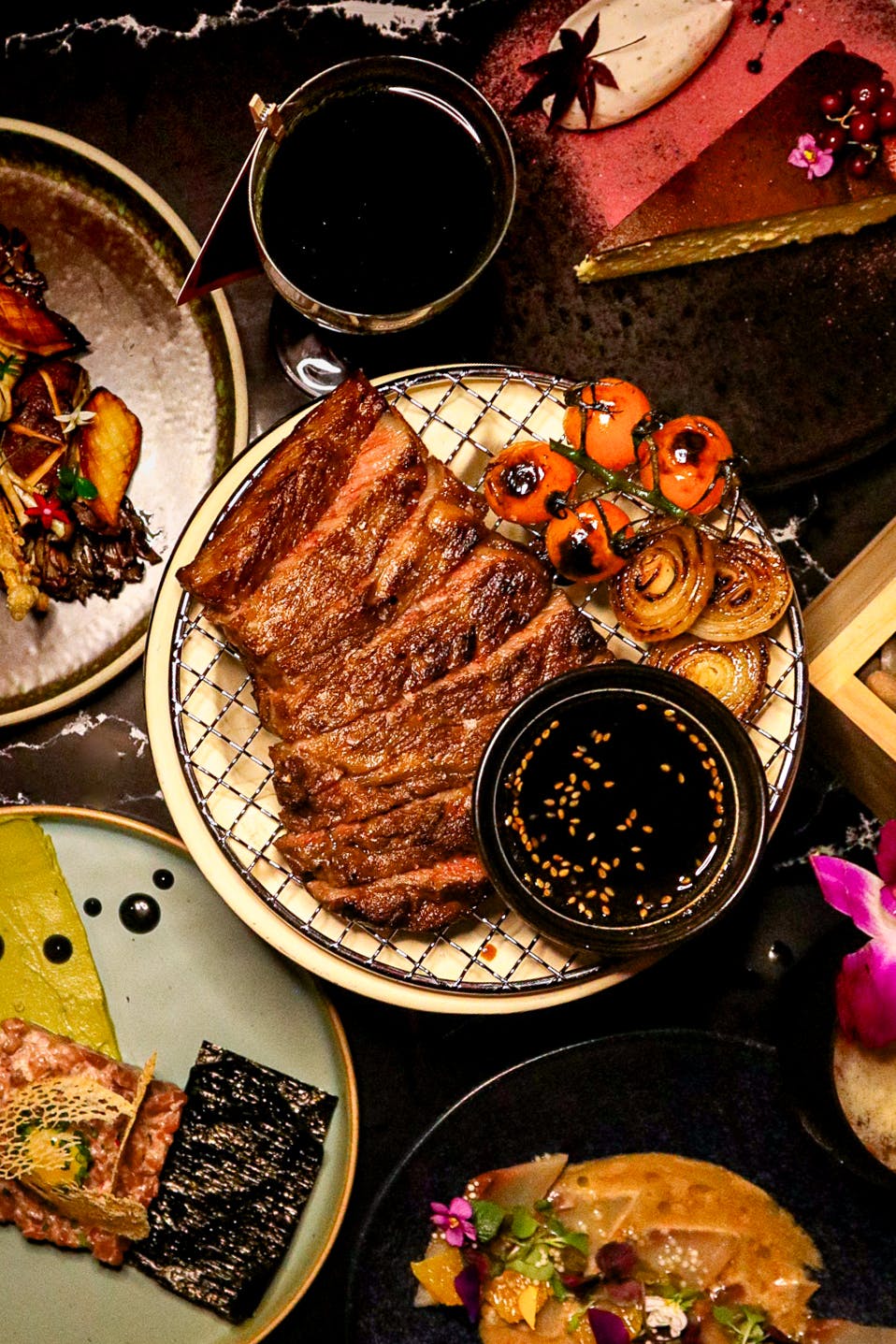 Another star on the menu is the 6oz Japanese A5 Wagyu striploin with house yakiniku sauce. The meat is cooked in a cast iron pan, seared off and finished with sea salt, and served over binchotan charcoal. The yakiniku sauce is based around soy and sesame, and the dish comes with vine-ripened tomatoes and Japanese-style sweet and sour cipollini onions, made with rice vinegar and cane sugar. Kissa's juicy, buttery, and tasteful Wagyu is full of complimentary flavours, and will leave you wanting more.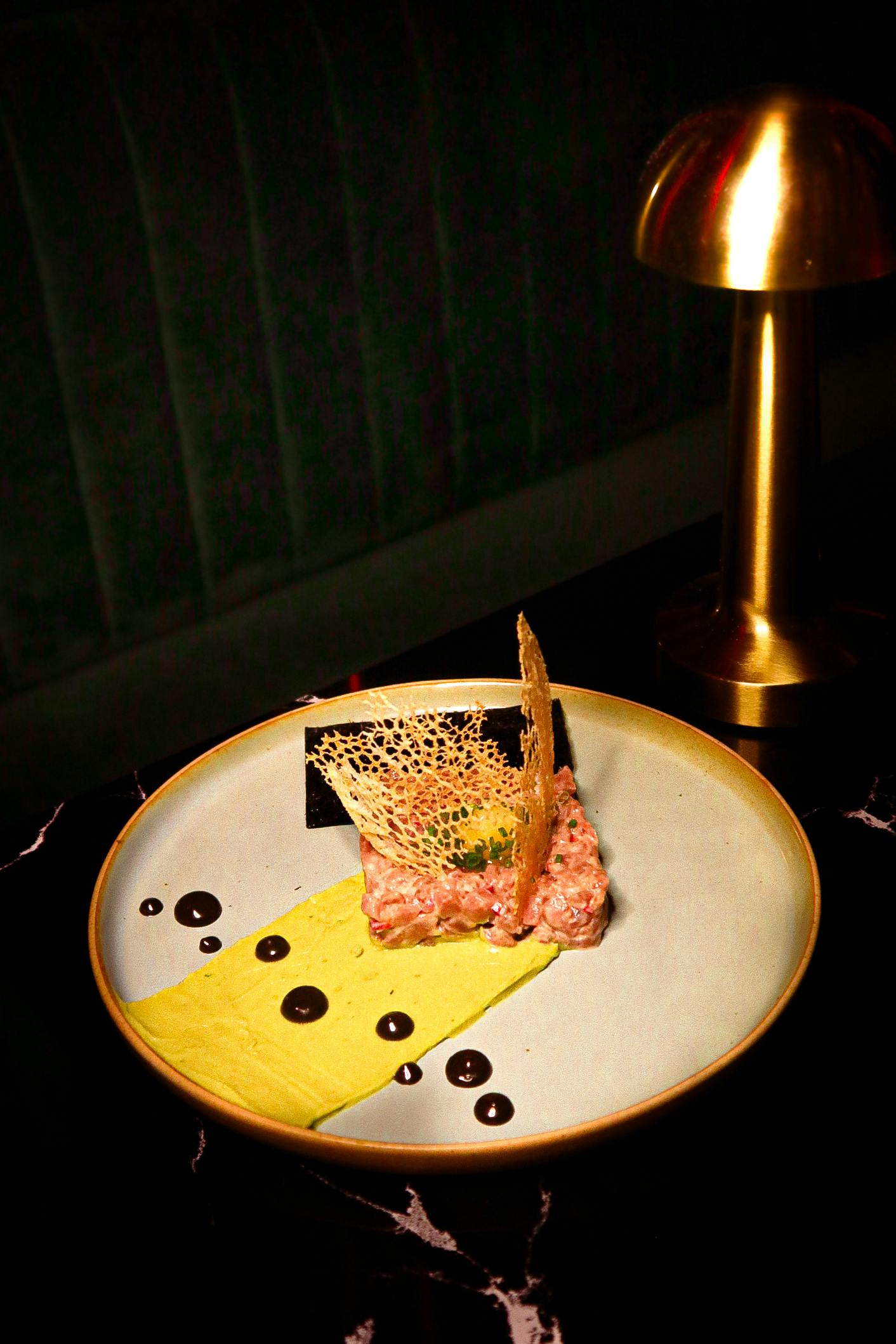 The Chu-Toro Tartare comes with the yolk from a quail egg in the middle, avocado mousse underneath with some cream cheese for richness, black garlic aioli dotting the plate, and nori sheets, so you can make your own hand roll-style snack using all of the ingredients. The tuna itself is, of course, Chu-Toro, or the centre of the tuna belly, which the chefs note is both fatty and lean. This creamy, elegant, snackable Chu-Toro is mixed with shallots, chilis, kewpie mayo, and yuzu juice, garnished with a dainty coral tuile.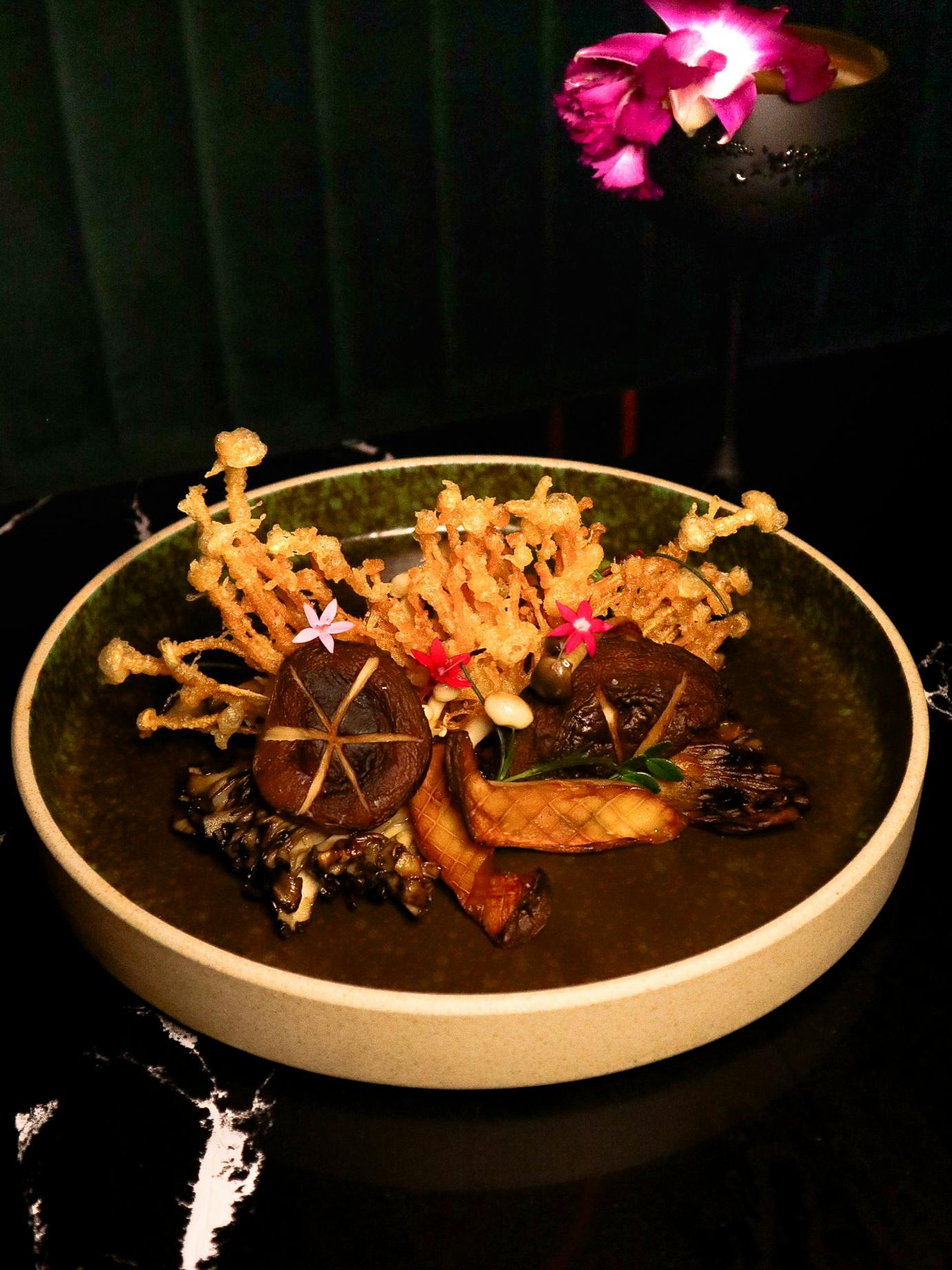 The chef's signature dish is the wild, earthy, and entirely vegan Mushroom Forest, which presents a variety of Japanese mushrooms—maitake, baby king oysters, shiitakes, pickled shimeji, and tempura enoki—on a base sauce made from red miso, red vinegar, mushroom trim and stems, Kishibori soy sauce, and garnished with sea greens and star flowers. The surprisingly meaty and uniquely woodsy dish is like a forest foraging adventure on a plate—minus the part where you have to get your hands dirty.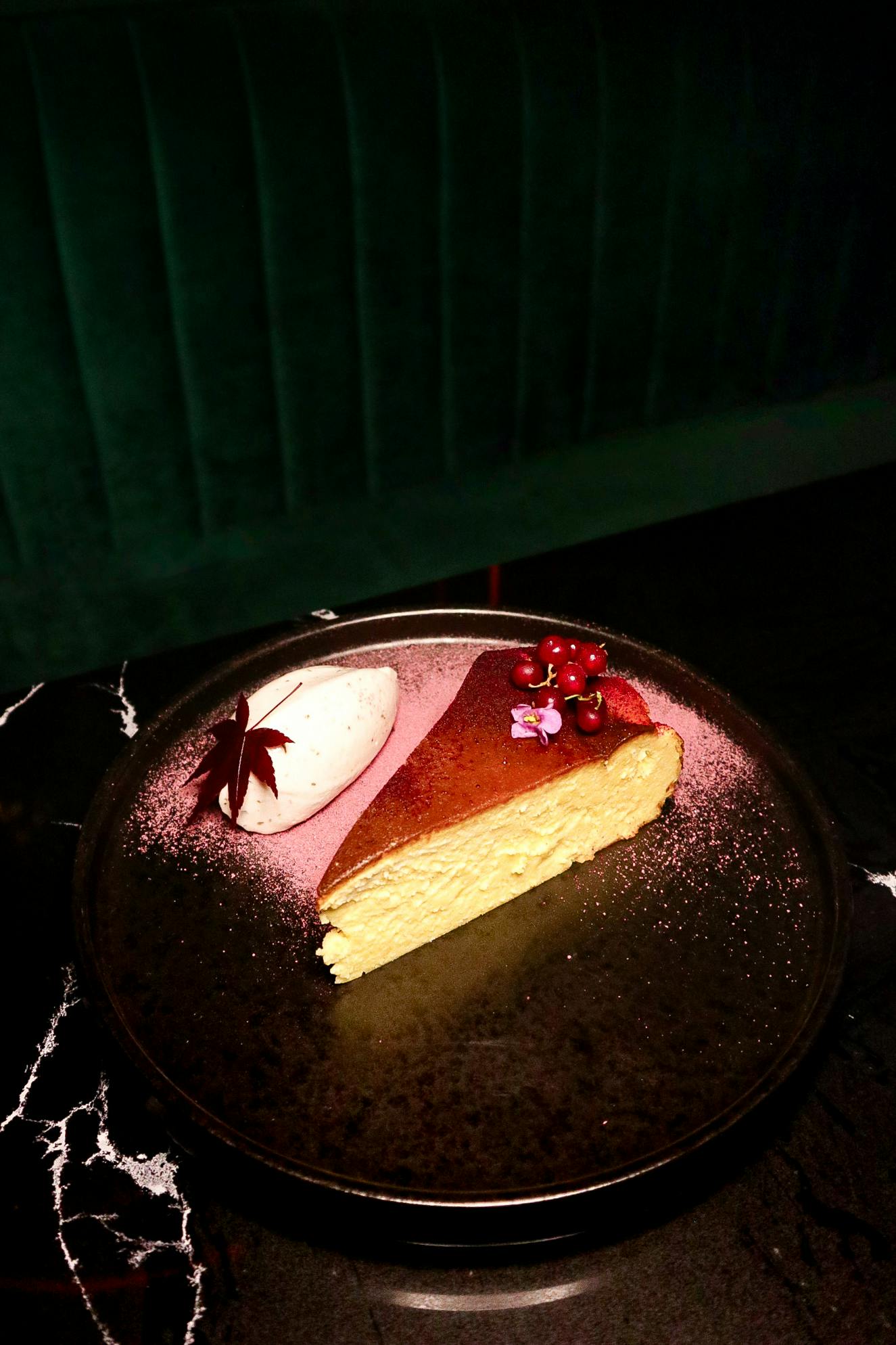 One of two desserts on Kissa's menu is the adorable and show-stealing Yuzu Cheesecake with Umeboshi (Japanese plum) cream and sakura. The Basque-style cheesecake is slightly caramelized on top, and crafted using yuzu and cream cheese. The cake is accompanied by  Umeboshi Chantilly cream with a momiji (Japanese maple) leaf for garnish, a dusting of sakura powder, and red currants from the Chef's own gardens on his balcony in Scarborough—a real chef's touch. With whipped, light, soft, and creamy textures, and delicate, sweet, and sour (from the currants) flavours, this cheesecake is a must-order.
Kissa is open for dinner Wednesday through Sunday from 6 p.m. to 11 p.m., with cocktails and the listening lounge open until 2 a.m. Keep up with Kissa on Instagram.