Stretching a single block, from King East north to Adelaide, Toronto Street was once considered "the finest street in Toronto." 
That was back in its late 19th-century heyday when the micro-thoroughfare was lined with elegant European-style buildings. Sadly, in the dubious name of progress, much of this stately architecture was subsequently razed to the ground. 
One of the sole survivors is the imposing Trust and Loan Building at 25 Toronto Street. Constructed in 1871 out of grey-bluff sandstone, the Renaissance-Revival style building has been described by architectural historian Patricia McHugh as one of Toronto'ss most refined buildings, albeit one that rarely gets the attention it deserves. 
That might change now that Laylak has moved into the august premises. 
In a bid to bring refinement back to Toronto Street, Laylak's co-owners, Youssef Harb and Hashem Almasri, are taking an inspired Middle Eastern route, dishing up banquet-worthy, pistachio-and-pomegranate-laden, traditional Lebanese fare in a plush contemporary setting that pulls off the delicate feat of feeling simultaneously minimalist and palatial.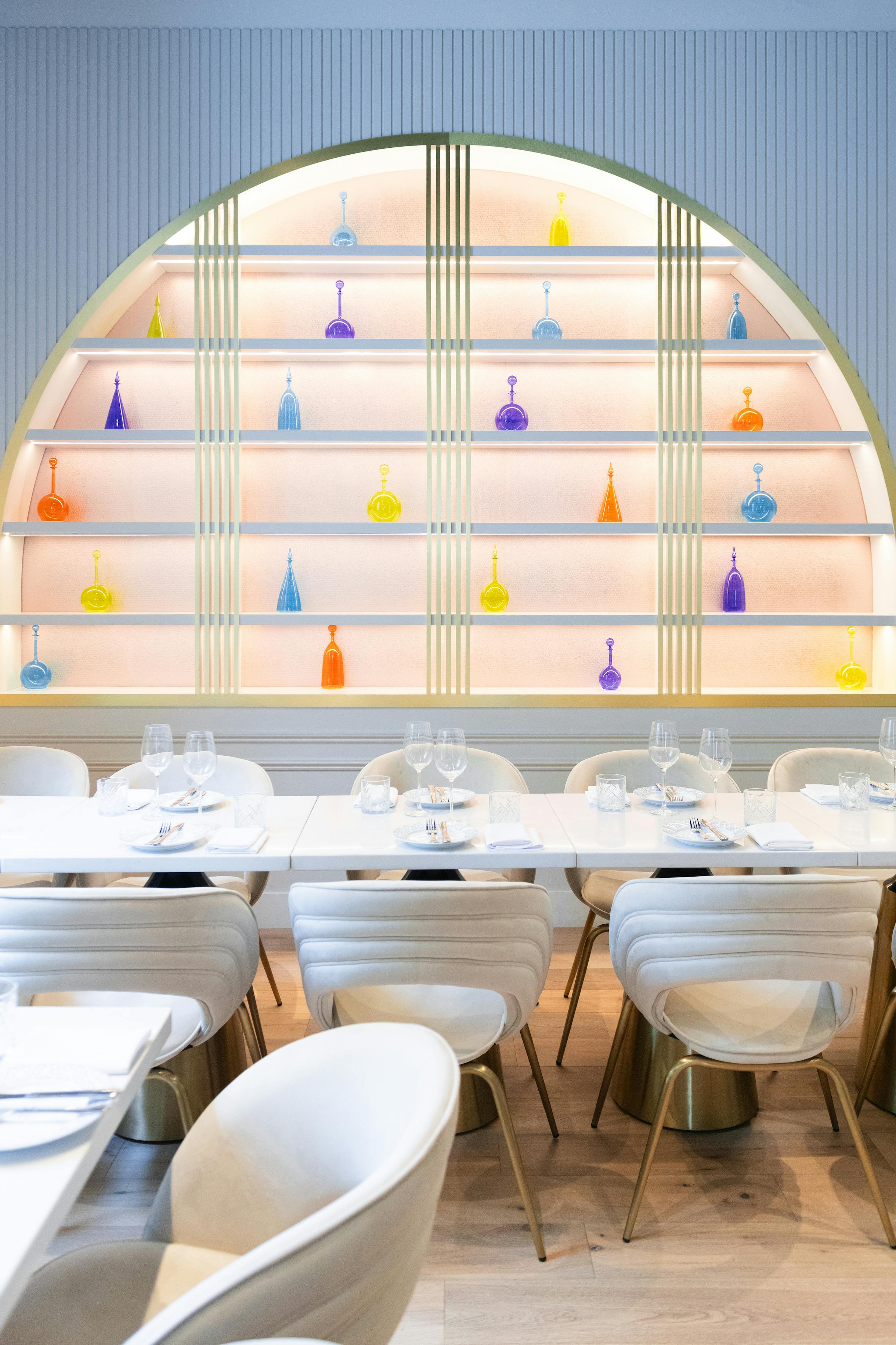 Both sensations vie for your attention as you ascend stone steps and pass through a column-flanked portico, leaving Toronto Street – and Toronto, for that matter – far behind. Immediately, the vast, high-ceilinged dining room impresses. The lofty dimensions inspire awe, but the gigantic celestial centerpiece – 36 gold and white chandeliers, ingeniously, extravagantly (and laboriously) fused together into a glorious tangle that descends from the ceiling – is truly Wow-worthy.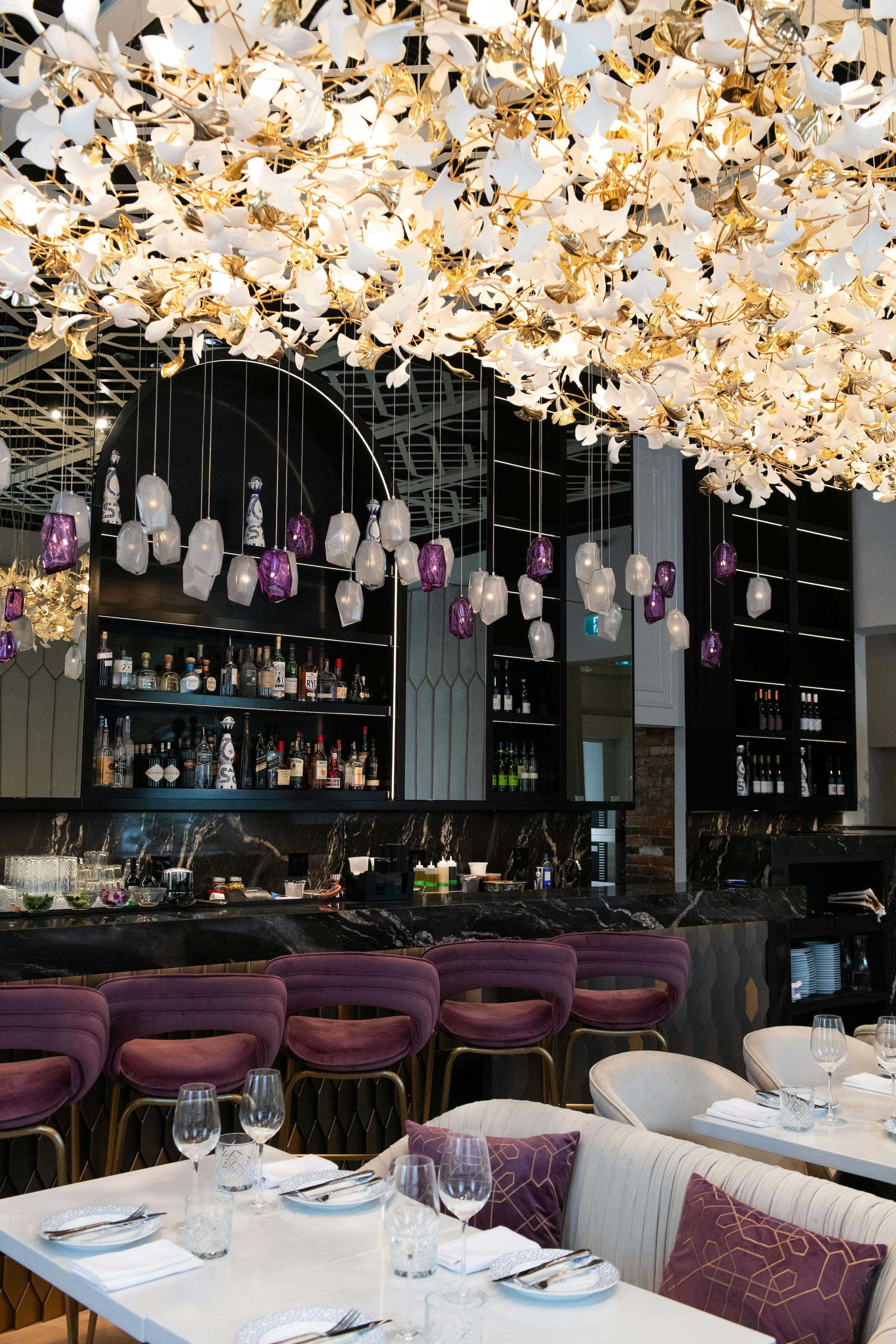 Swoon away, knowing that if you pass out, you'll fall into the pillowy embrace of ivory ultrasuede banquettes that line the plush white walls, patterned, like the ceiling, with the subtle geometry of traditional Middle Eastern designs. Adding warmth to the clean, white proceedings are recurring splashes of lilac, evoking one of Lebanon's most popular flowers. The regal purplish hue is present in the throw pillows scattered around the banquettes, in the velvety stork-legged chairs that line the marble bar, and light fixtures that glow like amethysts. There's also the restaurant's name itself, Laylak, from whose Arab origins comes the English "lilac."
The main trio behind Laylak are no strangers to rarefied milieus. For the past 10 years, Harb, a Lebanese entrepreneur who emigrated to Toronto in 1985, has run Stars on Board, a Mediterranean cruise company featuring high seas performances by mega Middle Eastern musical stars. Before moving to Canada three years ago, Syrian-born Almasri spent over a decade in Dubai, where he operated no fewer than 40 high-end restaurants and nightclubs. Then there's head chef, Hazem Al Hamwi. He grew up in Syria, the son of an accomplished home cook, and later cut his culinary teeth in the exacting role as chef to American ambassadors in both Damascus and Beirut.
Such pedigree explains why Laylak's food, if often recognizable, is extremely far from run-on-the-mill.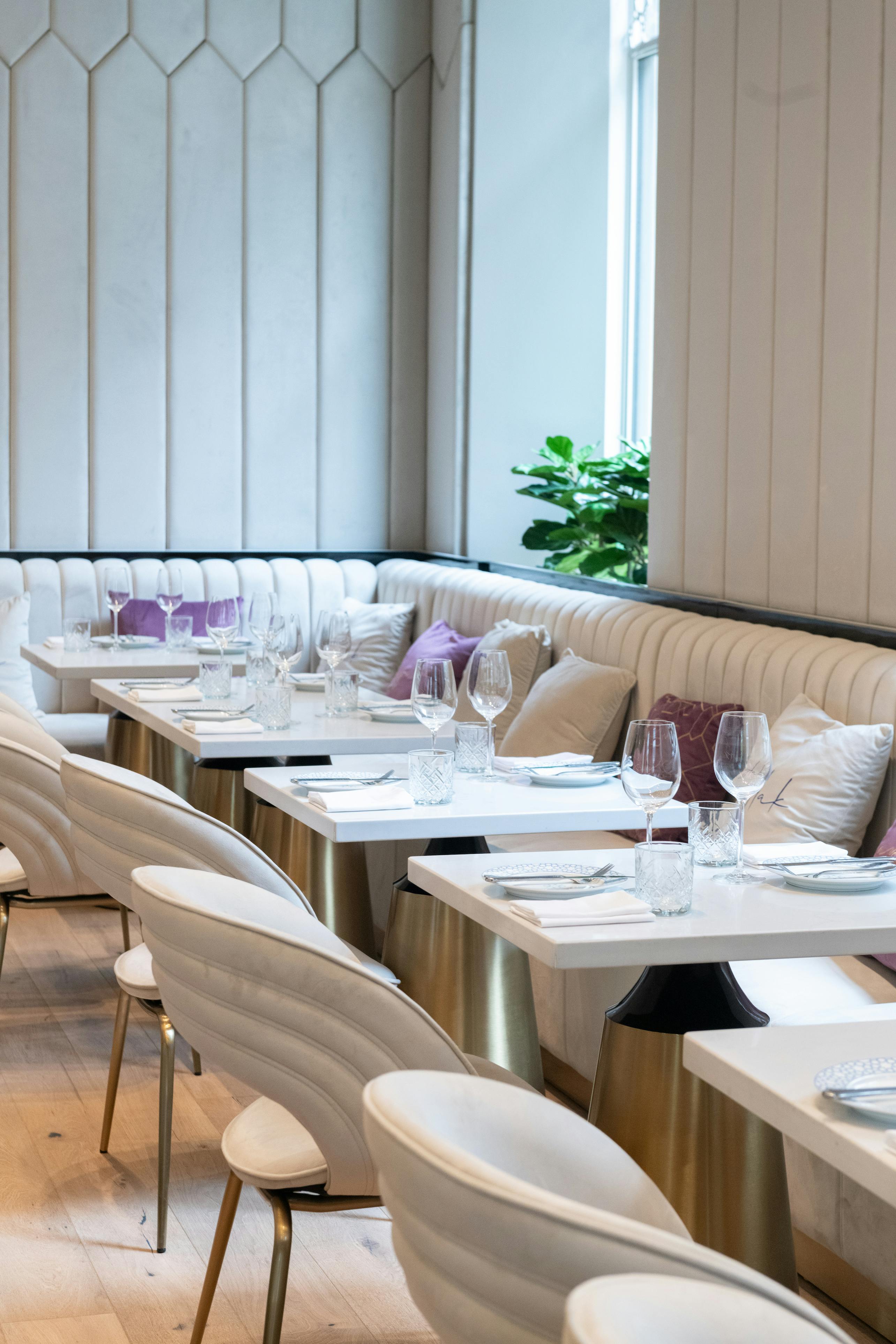 While most of the cold dips served as starters are doubtlessly familiar, Laylak's versions of hummus, baba ghanoug and labneh bel toum (a close relative of tzatziki made with strained yogurt and mint) will make you swear off the ubiquitous store-bought brands for good. The hummus, for example, is made with dried chick peas that, instead of mere water, are boiled in olive oil, which contributes to the impossibly satiny texture. 
For all-out luxury, however, it's hard to beat the mohamarah. This rich crimson paste of fire roasted red peppers and pulverized walnuts is spiked with aleppo peppers, then showered with whole walnuts, tahini, pomegranate molasses and olive oil. You'll be hard-pressed not to immediately spoon great quantities into your mouth. Yet it's worth the extra effort to scoop it onto a piece of fluffy, home-baked pita (at the risk, once again, of forever abandoning the ubiquitous store-bought versions). 
It's easy to see that Harb, Almasri and Al Hamwi have got the refinement down pat; Laylak's food is exquisitely arranged and beautifully plated and the ingredients are of the highest quality. However, presentation aside, what really motivates this trio is to bring simple but beloved fare found on Beirut's streets, beaches and in its bars, eaten casually on the sly or served at raucous Sunday lunches en famille, to unsuspecting diners in Toronto's downtown core. 
The starters that appear on both lunch and dinner menus are a case in point. Among the most subtle and original of the hot appetizers are the generically named "cheese rolls." Not even the wildest, stretchiest imagination could prepare you for the arrival of slender cigarettes of crispy phyllo, filled with a cool, creamy mixture of house-made halloumi and akawi cheeses and encircled by mysterious globes of deep pink that turn out to be compressed watermelon spiked with mint.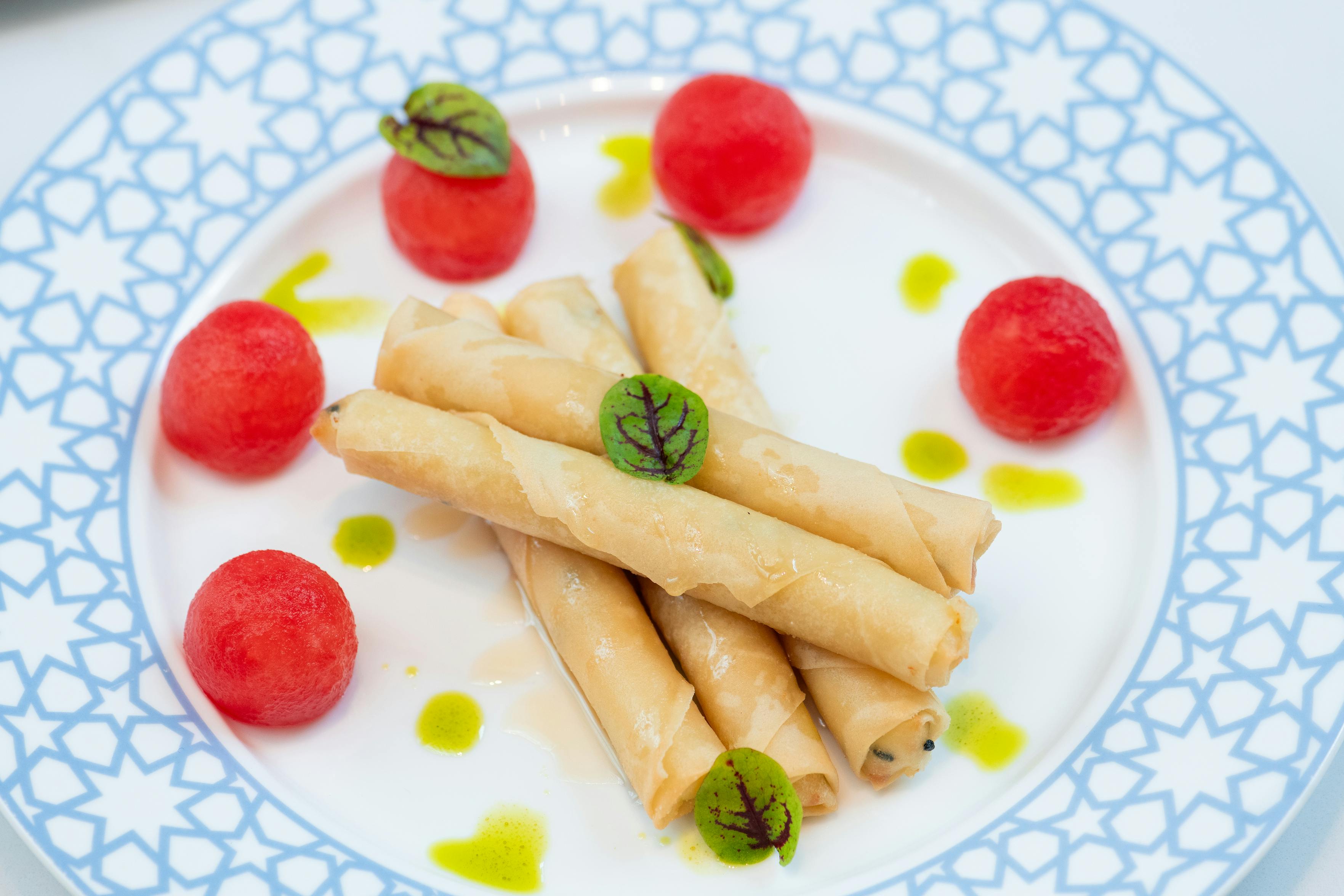 Sure, you'll derive pleasure from savouring the cheese sticks and watermelon balls on their own. But if you place them in your mouth together, expect to let out a yelp of joy as the unexpected mash-up of wet-and-creamy, fruity-and-cheesy, tangy-and-minty, summery-and-crunchy hits your palate all at once.
"When we were young, we were always playing and our mom was always busy," recalls Al Hamwi. "'We're hungry!' we'd shout, and our mum would tell us to take a piece of cheese and a piece of watermelon and eat them. It was very delicious, very fresh and everyone grew up eating that. So I created a dish that allows you to live that experience, that small moment in time." 
A similar nostalgia also infuses Al Hamwi's kibbehs, which he remembers his mother preparing, along with other women, as they sat outdoors, on mats, "talking, talking, talking" while they rolled, stuffed and fried the tear-drop-shaped delicacies.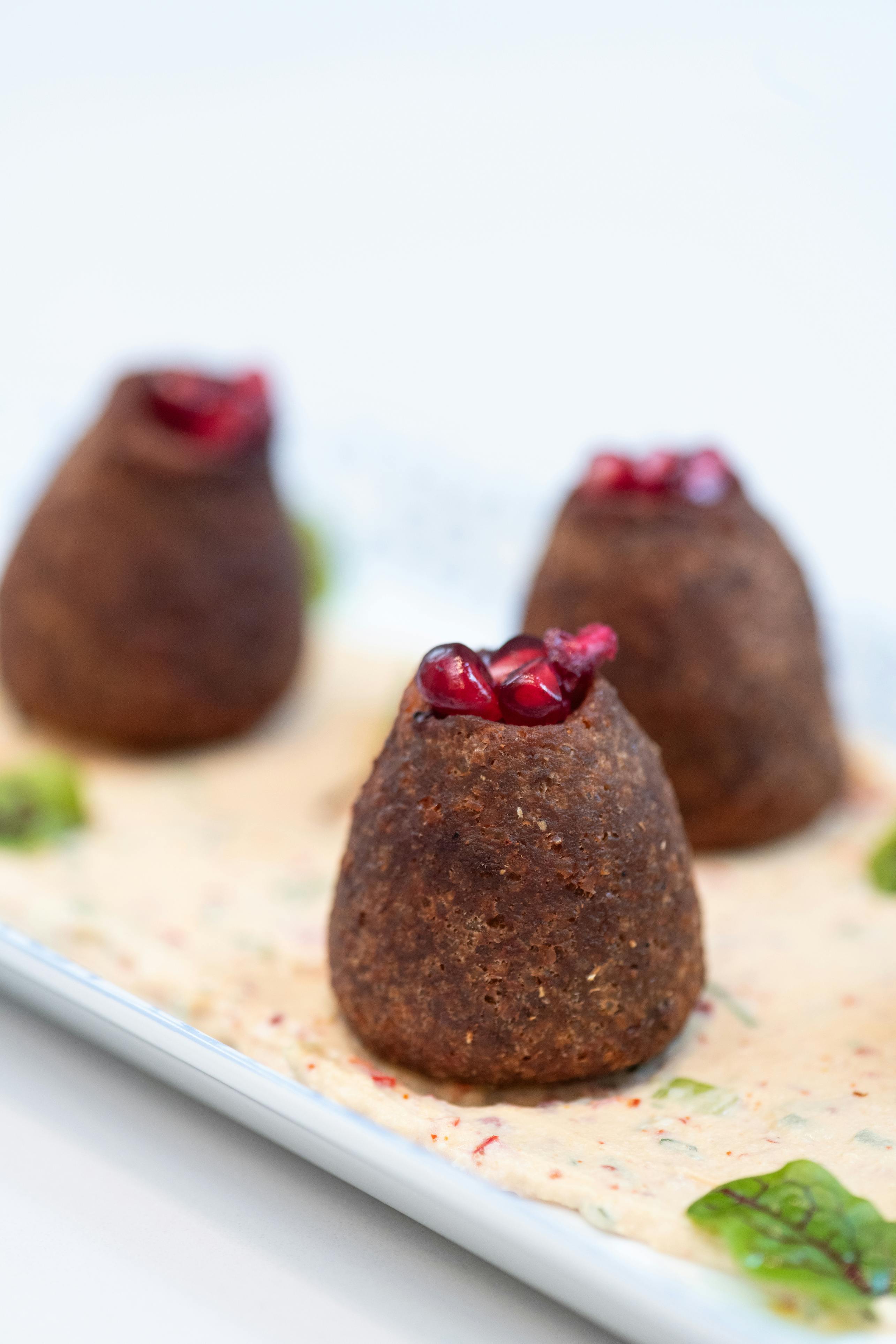 At Laylak, kibbeh appears in various guises, and can be enjoyed both as a starter and a main. The crunchy outer shell of lean ground beef and bulgur seasoned with the ground likes of cinnamon, nutmeg and allspice is filled with a mixture of ground brisket cooked with onions and pine nuts. As an appetizer, it's served on a creamy bed of hummus beiruty, a colorful, Beirut-style version of classic hummus, enlivened by flecks of mint, parsley and green and red pepper. 
Another ubiquitous Lebanese specialty, redolent of long, lazy Sunday barbecues, are kebabs. Laylak offers various individual and mixed-grill options, featuring chicken, lamb and tenderloin beef, all fragrantly spiced and cooked to outrageously tender succulence. Popular with lunching business people is the Build your own-BBQ option, in which the kebab, along with a dip and hot appetizer of your choice, is accompanied by a skewer of charred veg and served on flatbread dusted with biwaz, a mixture of sumac, onion, and parsley. Having absorbed the meat's drippings, the bread is so highly coveted that, in Lebanon, diners often fight over it.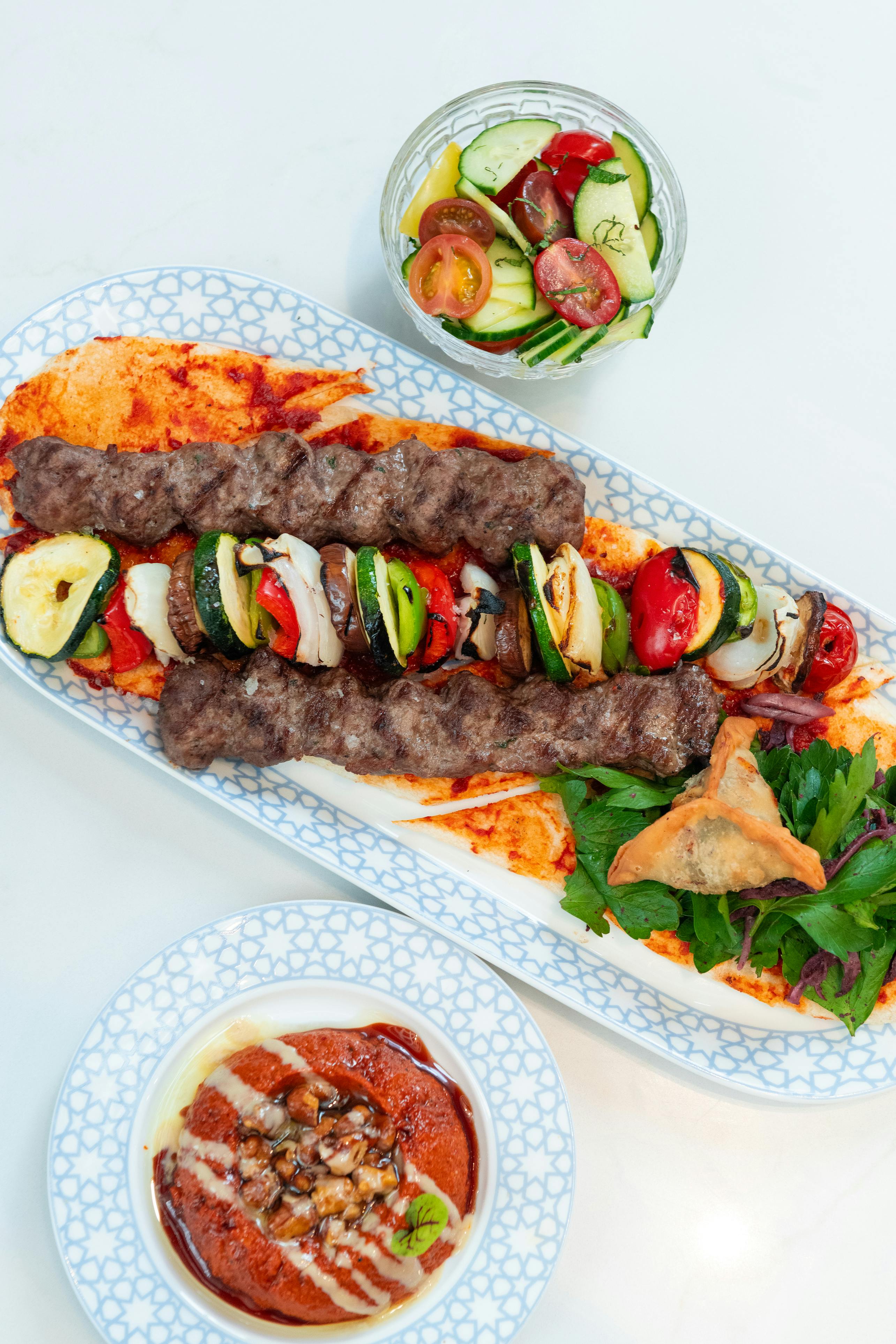 Al Hamwi takes his meat, both lean and fatty, seriously. But he's equally fervent about that other Mediterranean diet essential: vegetables. Indeed, Laylak's menu is teeming with vegetarian and vegan offerings.
An example of the former is the cauliflower tajin. The simplicity of the dish reflects the no-nonsense practicality of a cuisine where cheap, abundant, backyard vegetables can – with some strategic chopping, a dousing in hot oil, and a dusting of spices – become a delicious, nourishing meal (not to mention an excellent pita sandwich). 
Al Hamwi fries his cauliflower to a lacy crispness, then layers it onto a creamy tarator sauce of lemon, salt, and cold-pressed tahini. Before serving, as a fresh and zingy counterpoint to the fried-ness, it's doused with a bracing mixture of torn mint leaves, serrano pepper and fresh lemon zest.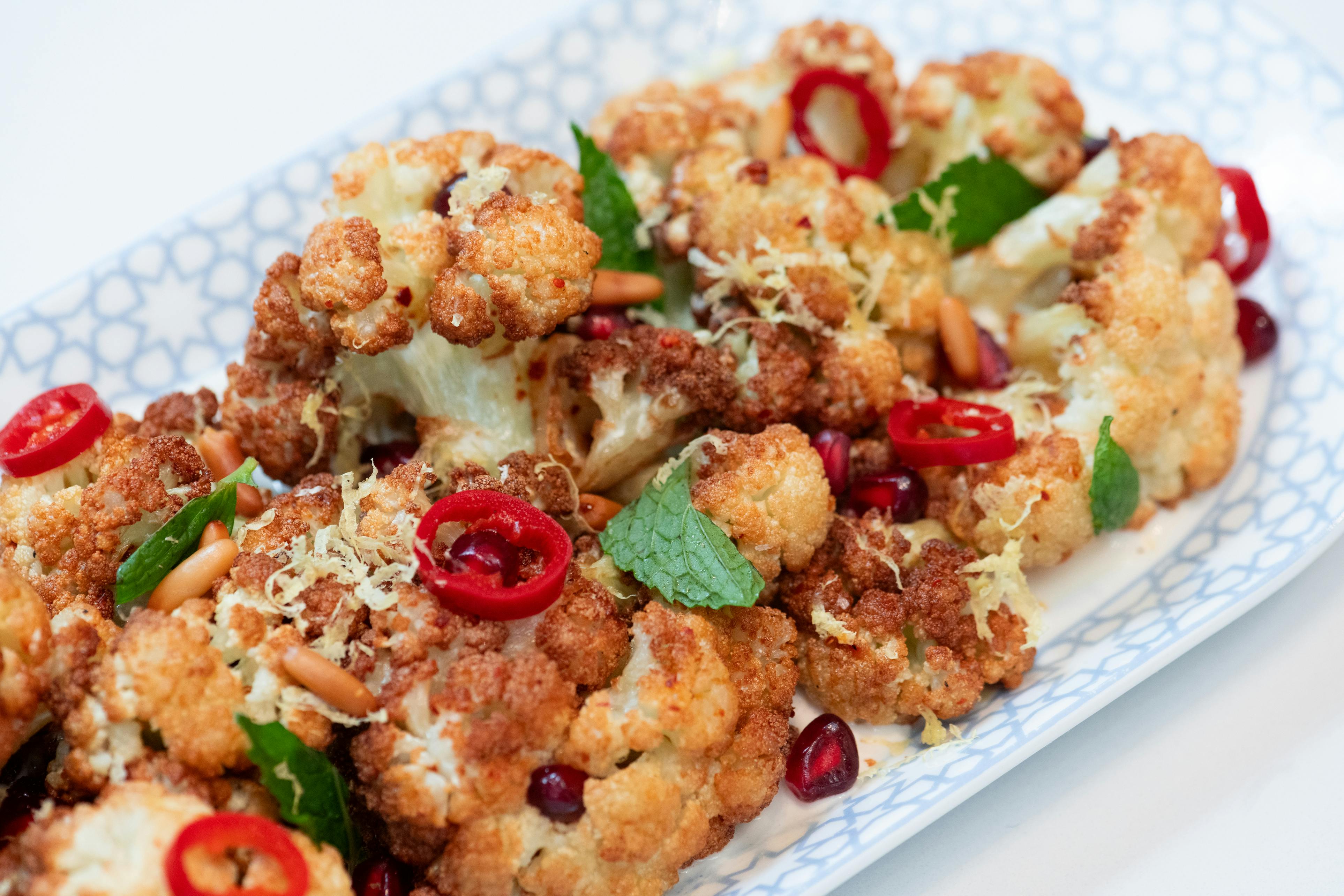 Served on their own or as accompaniments, Laylak's salads fulfill a similar cleansing and refreshing role. Of course, the classic contender is tabouli, a basic mixture of bulgur, tomatoes and parsley that nonetheless generates a great deal of ongoing conversation between Al Hamwi and Harb. It was Harb who taught Al Hamwi the secret of crushing one of the painstakingly ripened tomatoes and adding it to the lemon-olive oil vinaigrette. Aside from tempering the acidity, this secret ingredient adds an extra vegetal tang that creates a balance lacking in many other taboulis.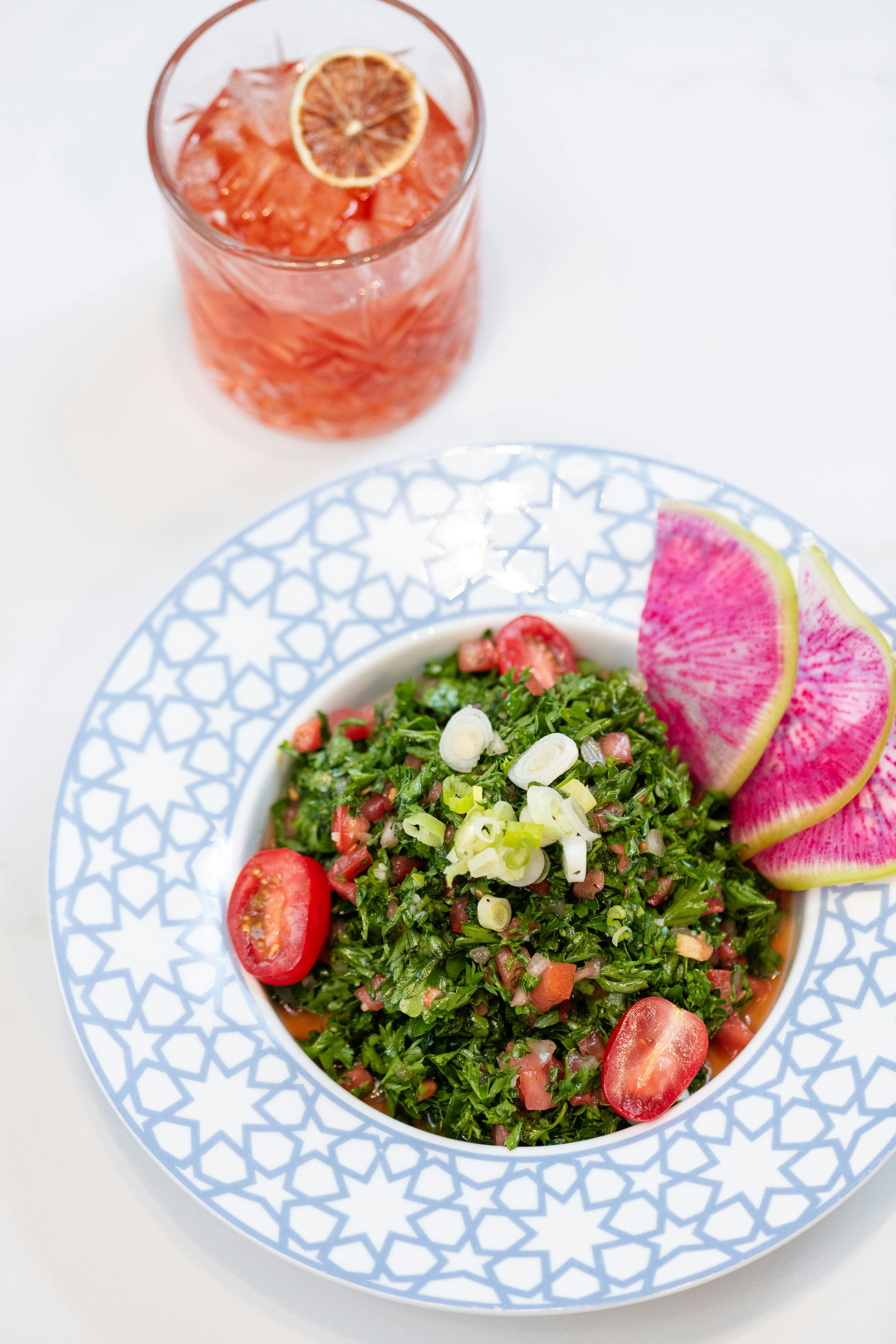 "The conversations between me and Youssef on the telephone, it's all about tabouli," laughs Al Hamwi. "Unlike some restaurant owners, he's very passionate about the food." 
A similar passion extends to Laylak's drinks. Sommelier Lorie O'Sullivan has amassed a thoughtful selection of wines that skew Mediterranean – including fine Lebanese whites and rosés – and that pair impeccably with the menu offerings.
Then there are the cocktails. Bar manager Wei Zhou channels Middle Eastern spirits and flavours while following a thematic Asian thread in which each drink pays homage to a natural element. Meant to be talked – as well as Tik Tokked – about, the drinks are as visually arresting as they are tasty, featuring vivacious colours, surprising garnishes and a subtle balance of sour, sweet and floral.
The aquamarine Mistique, for example, is a water-themed libation featuring tequila, blue curacao, Triple Sec and elderflower syrup, its turquoise brilliance crowned by a dehydrated orange slice.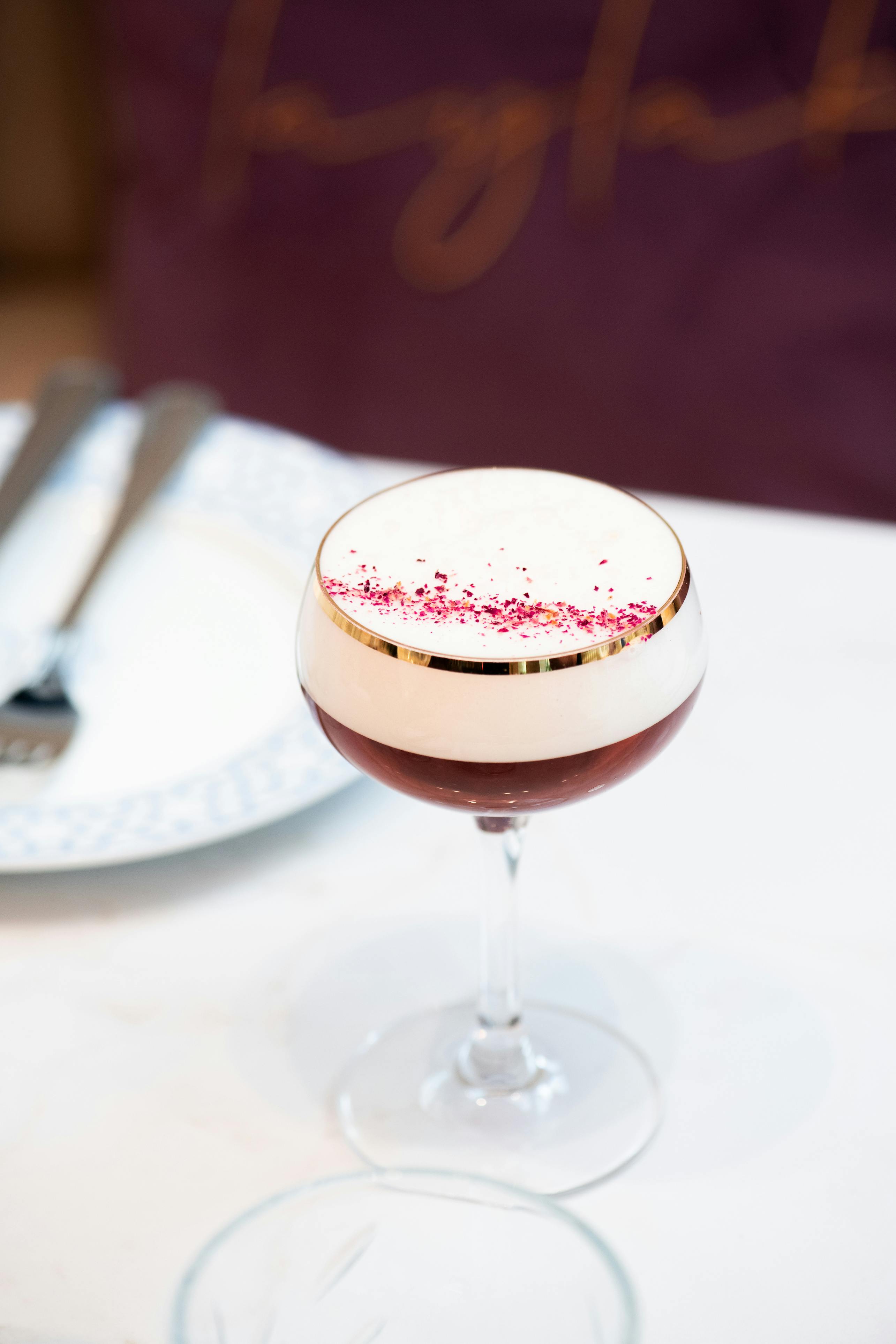 Inspired by, and featuring, rose water, the Beirut Rose is a shaken rum-based drink mixed with a bracing trio of Chartreuse, Cynar and apple juice, and crowned with a cloud of foam sprinkled with freeze-dried rose petals.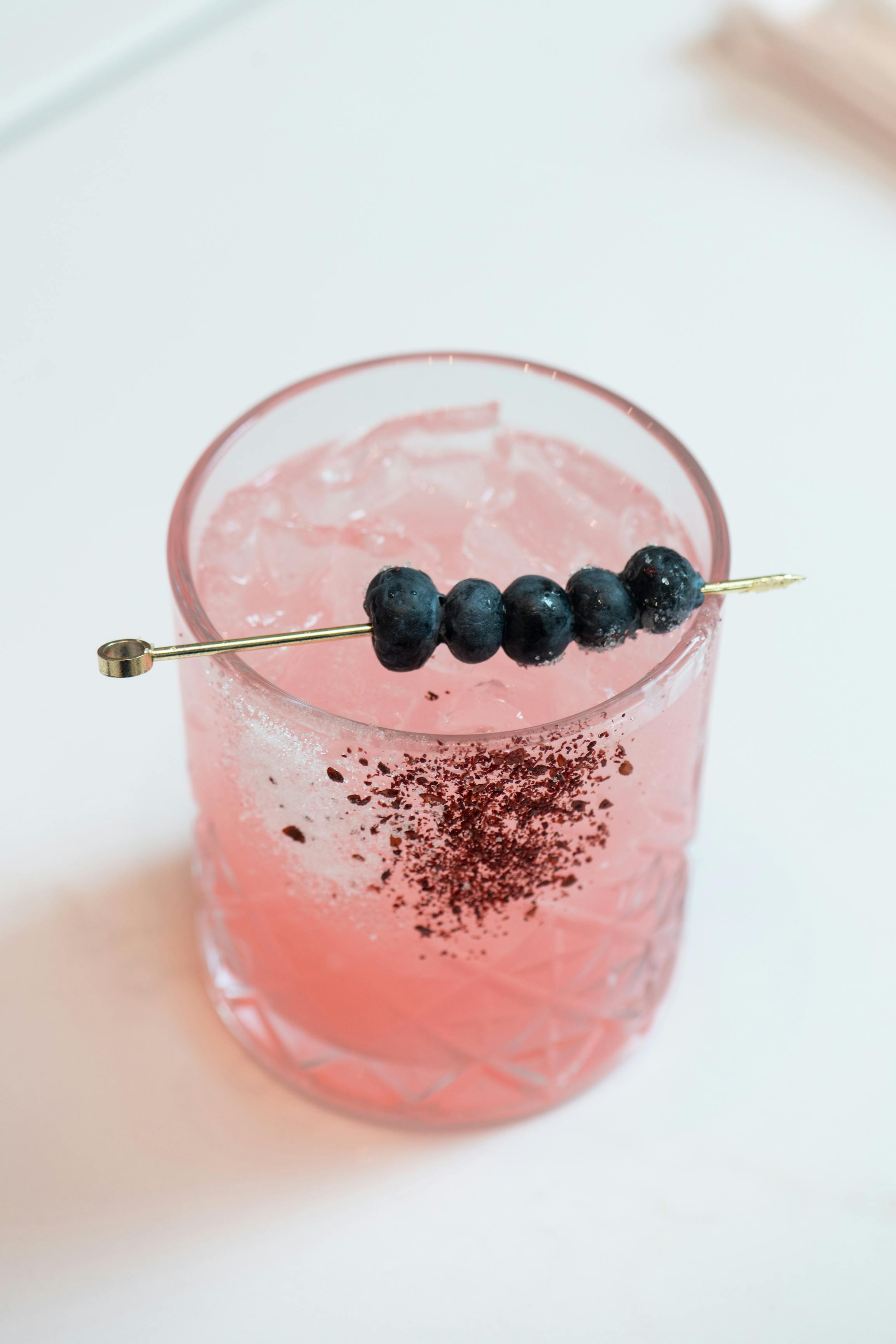 To beat the desert heat, Beirut barflies swear by the refreshing combo of gin and watermelon. Both find their way into YALLA!, along with citrusy yuzu syrup, lime, Triple Sec. Tart sumac joins sugar to line the rim of this pretty pink drink. 
Then there's Laylak's namesake cocktail. It possesses a fittingly lilac hue, courtesy of lavender-infused gin and a blue syrup extracted from butterfly pea blossoms that, when mixed with lemon juice, elderflower liqueur and mint, alchemically morphs into a majestic shade of purple. The striking drink exists in a virgin version, along with other mocktail options, many of which incorporate tamarind and jallab (date syrup), two signature flavours in the Middle East beverage cosmos.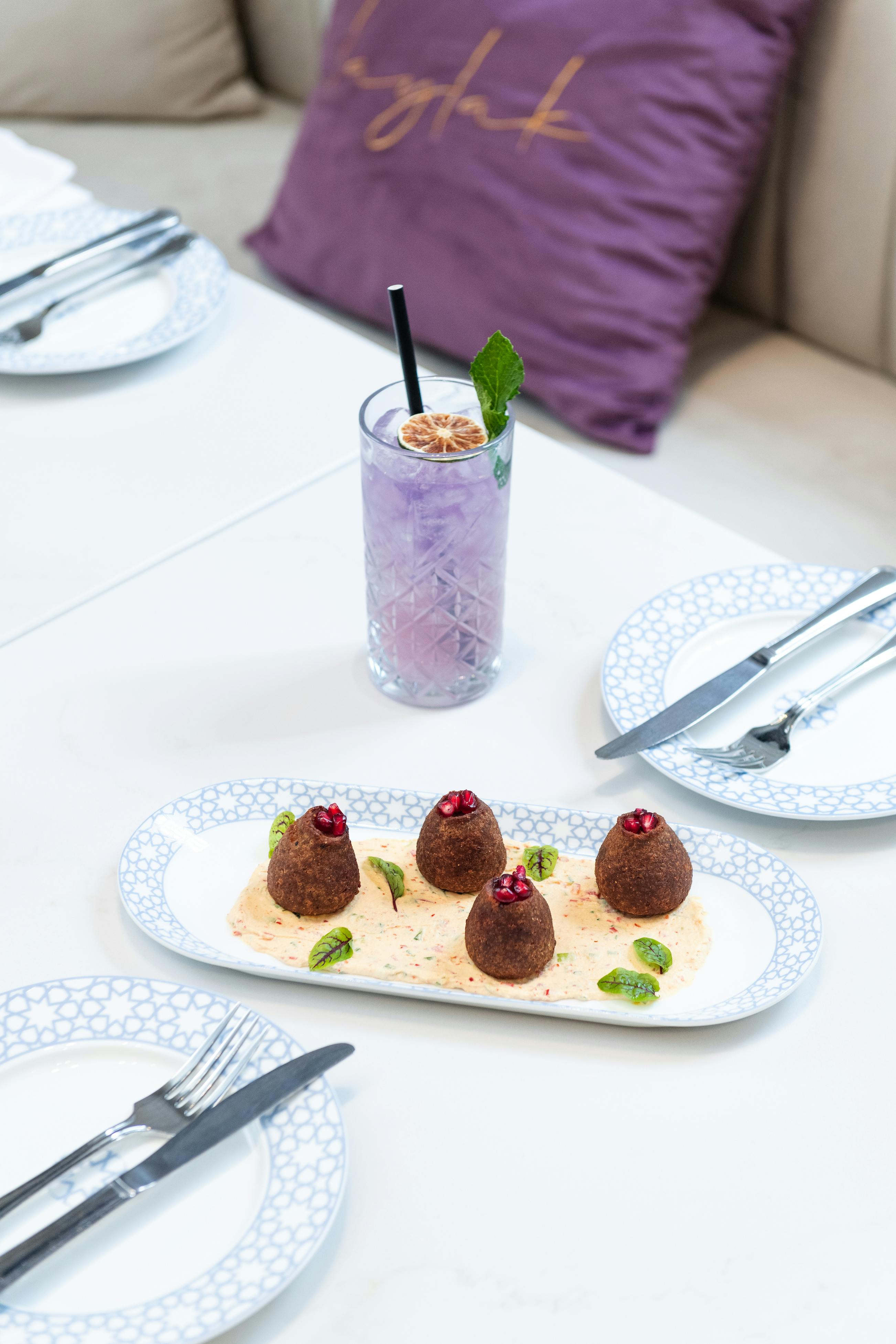 Wei has plans to seasonally switch up both mocktails and cocktails as well as to create original cocktails by partnering up with local producers of specialty spirits. And these aren't the only changes on Laylak's horizon. 
On the food front, there are plans to introduce new, incrementally more adventurous dishes to Torontonian palates. In addition to beef cheeks (presently on the menu), Al Hamwi is flirting with the flavorful possibilities of tongue and lamb's brain. Meanwhile, in an attempt to push vegan boundaries, he's sought out a local forager and has begun experimenting with the likes of mushroom hummus. There's also a soon-to-be-inaugurated weekend Lebanese brunch menu. Expect plenty of toasted flatbread, halloumi, and zaatar as well as less obvious fixings such as house-made bastirma (prosciutto-like cured beef brisket infused with fenugreek) and awarma, a traditional beef confit spiked with cloves and cinnamon.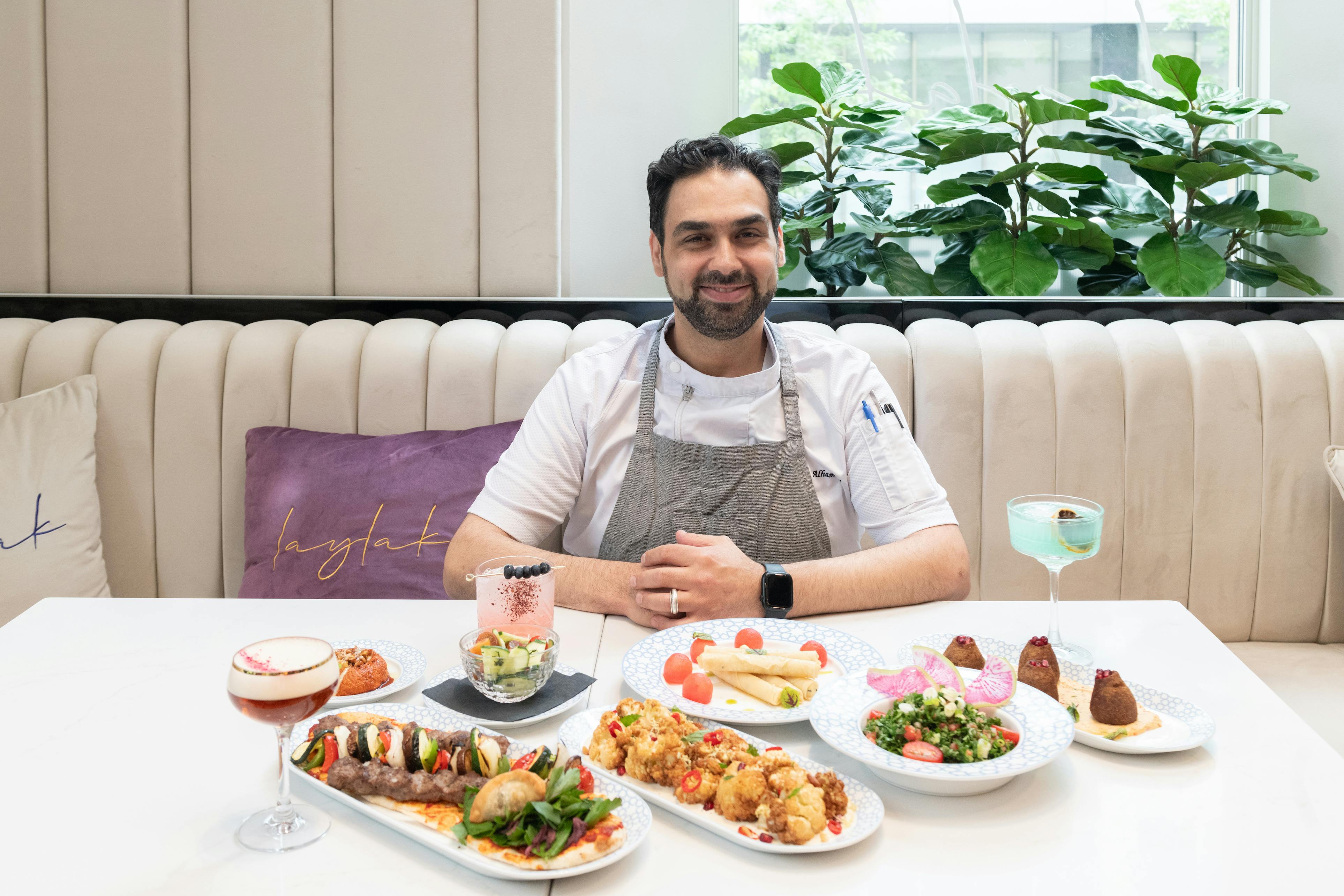 Perhaps the biggest change to come, however, is that in September, there will be not just one Laylak, but two. Construction is already well underway for a second, even more palatial restaurant in Oakville, with seating for 200, compared to Toronto Street's intimate 70. 
Almasri confesses that, from the start, he and Harb envisioned Laylak as not just a restaurant, but a brand. "This is the beginning of a nice journey," he promises, extending his arms outwards towards the windows overlooking Toronto Street, and beyond.