During the throes of the pandemic, Toronto, and by extension, the world, saw a massive influx of homegrown businesses rising through the ranks and becoming full-fledged sources of income for entrepreneurs all over. Mac's Pizza has a similar story as well.
Josh McIlwaine's, the eponymous owner of Mac's, tryst with food began many years before the inception of his restaurant. From Montreal, McIlwaine began his journey by bartending at various pubs in the city. Realizing that he always had an interest in cooking, he worked in a bunch of different spots around Montreal that spanned the whole gamut — from fancy, fine-dining joints to slinging pub grub, he did it all.
McIlwaine soon realized that his kitchen jobs weren't paying him as much as he liked, so he made the switch to the corporate world and got into sales, a job he held for over three years.
All of that kind of worked out for him, as the sales job allowed him to move to Toronto in 2019, landing in the city just as the Toronto Raptors won the NBA Championship. So if you've been looking for someone to thank for that feat, head on over to 759 Dovercourt Road and extend your gratitude in person.
Soon after that, the pandemic hit. Since he was working from home, McIlwaine started dabbling with dough — something he had never done even after his years working in kitchens.
And thus began his tryst with pizzas. An autodidact, he started making pies at home and used his sales background to reach out to people he looked up to or sought inspiration from. Much to his surprise, and a nod toward the fraternal nature of Toronto's food industry, many people were open to talking to him about the craft and business.
To further hone his craft, McIlwaine worked about 10 shifts at North of Brooklyn, using it as an opportunity to learn more about the world of pizza and get some actual hours working in a pizza kitchen.
After that, he started hustling and selling pizzas out of his apartment every Saturday for about seven weeks, employing a second-hand thermal bag to keep the pies warm, courtesy of North of Brooklyn.
During late 2020 and early 2021, people were looking for fun, socially-distanced things to do and local businesses to support. Mac's swooped in at the right time and garnered a clientele through that. McIlwaine set up an Instagram page where he started getting messages from random people and suddenly saw the demand for his pizzas shoot up — nudging him toward looking for a proper space for his creations.
From there, it was a whirl for McIlwaine and his pies. He started working with the owners of Love Chix out of a secondary location that they had, using a "little dinky pizza oven" as he worked out of there every Saturday for three months.
"They were extremely friendly, extremely welcoming of me," McIlwaine said. "I worked with them, got to know their staff well, and kind of got a gist of, like, ordering and using the suppliers and things like that — which was awesome."
It was his drive and want for spreading the word about his pizzas that got him on the radar of other local business owners around Toronto. One day, he brought a leftover pizza to Pepper's — a local bodega of sorts owned by the team behind Seoul Shakers — and the owner really liked it.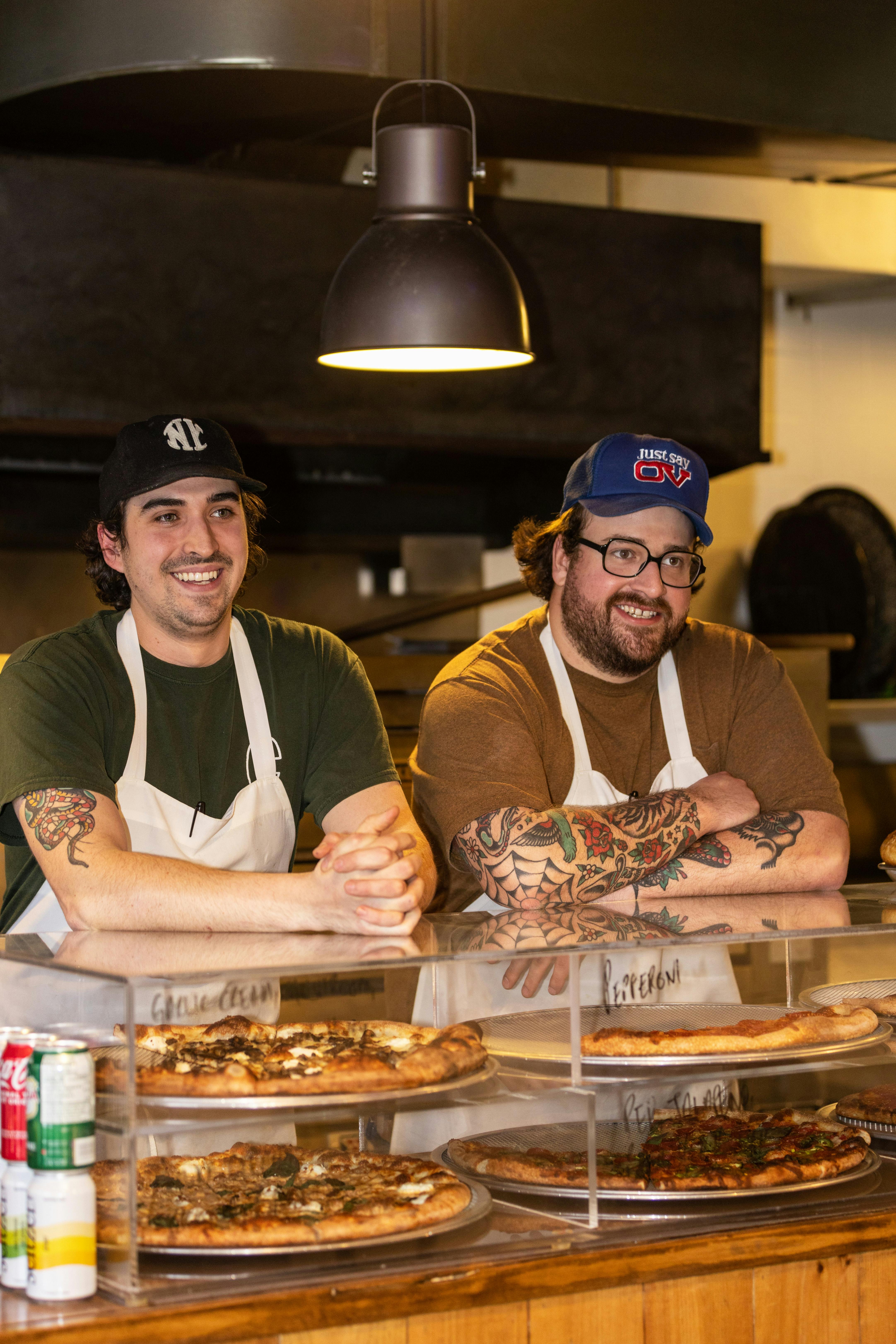 As it turns out, the owners were sitting on a property that is now the popular Shakers Club, just down the street from Seoul Shakers. For the longest time, they were figuring out what to do with it, having had the initial idea of doing pizza and hoagies. So they reached out to McIlwaine, and thus began his residency at Shakers Club, slinging out pizzas by himself for six months before hiring his now kitchen manager, Jordan Mason, and then his buddy who now runs the dough program at Mac's Pizza.
As was the case during the apartment era, the demand for McIlwaine's pizza swiftly outgrew the demand. And while that was a positive thing to see his pizzas being appreciated by the city, selling out by 8 p.m. on a Saturday wasn't really the best fiscal practice. It also went against what McIlwaine believed the tenets of serving pizza to be.
"As much as it was nice to get out early, it's not good business. A lot of it had to be like pre-orders and things like that and it kind of goes against what I see pizza to be," he said. "It should be about like, consistency and availability and reliability. It's like, 'Oh, I don't want to cook; let's just get a pie.' I just kind of wanted to make it work in a way where it was readily accessible to everybody."
After cutting their teeth as a team for about a year, McIlwaine signed the lease for Mac's Pizza in July 2022. Previously housing Village Pizza, the Dovercourt location opened to the public in October 2022. Wanting to move into serving alcohol and specifically focusing on wines, McIlwaine said that the biggest thing that drove him to sign this spot was that it already had a liquor license.
The space itself is cozy-yet-open, inviting and overall just exudes a fun vibe as a local pizza shop should. It encourages both stopping for a quick slice or sitting down for a proper pizza meal.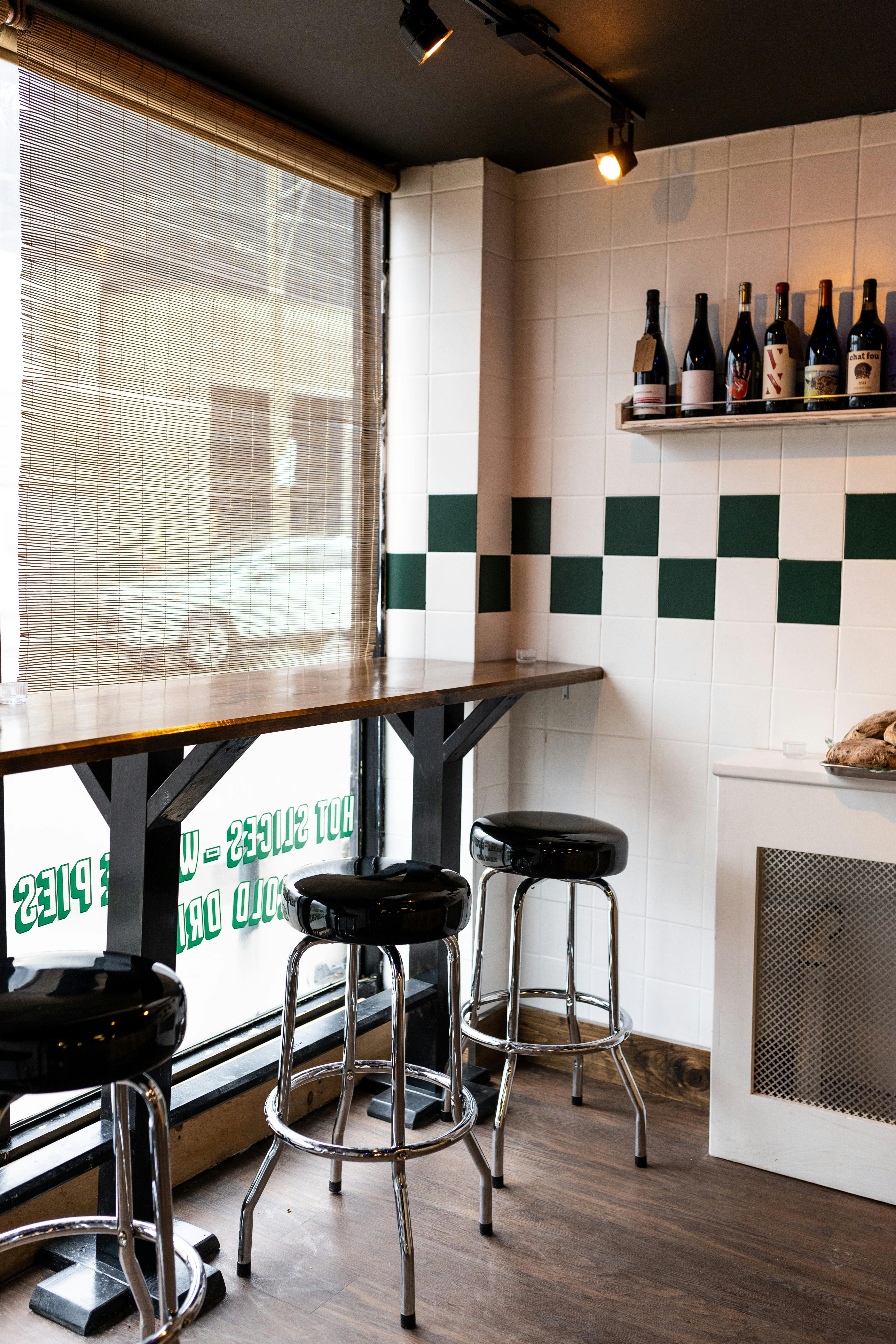 The restaurant houses an open kitchen, so you can see the magic happen right in front of your eyes. The large glass counter showcases all the available slices, luring the customers in. A deep green colour on the walls is complemented by the generous use of wood. The mirrors on the wall as well as the overhead light fixtures, add a fun dimension to the spot as well. Most of the furniture founding the place can be written off to McIlwaine being a "Facebook Marketplace pirate" for about six months, scouring the internet for used stuff as he preferred a more worn-in aesthetic rather than everything looking a bit out of the box.
Mac's Pizza can rightfully be called McIlwaine's home. A lot of the ornaments adorning the walls were just a result of him diving deep into his parents' basement. Even the interiors, like some wall paint and especially the wooden flooring, were put in with the help of his parents. In the truest sense of the word, Mac's Pizza was a proper family operation to put together.
Speaking of the pizzas he makes, McIlwaine said that his creations are very dough-forward. He likes to focus on the foundations of a pie rather than loading it up with ingredients that kind of take away from the essence of the slice.
"It's almost like you're hiding it in a way," he said. "I always say I wish I could just make cheese pies, because of how they say, 'There's nowhere to hide in a cheese pie.' It's either good or bad. And if the dough is really good, then it speaks for itself."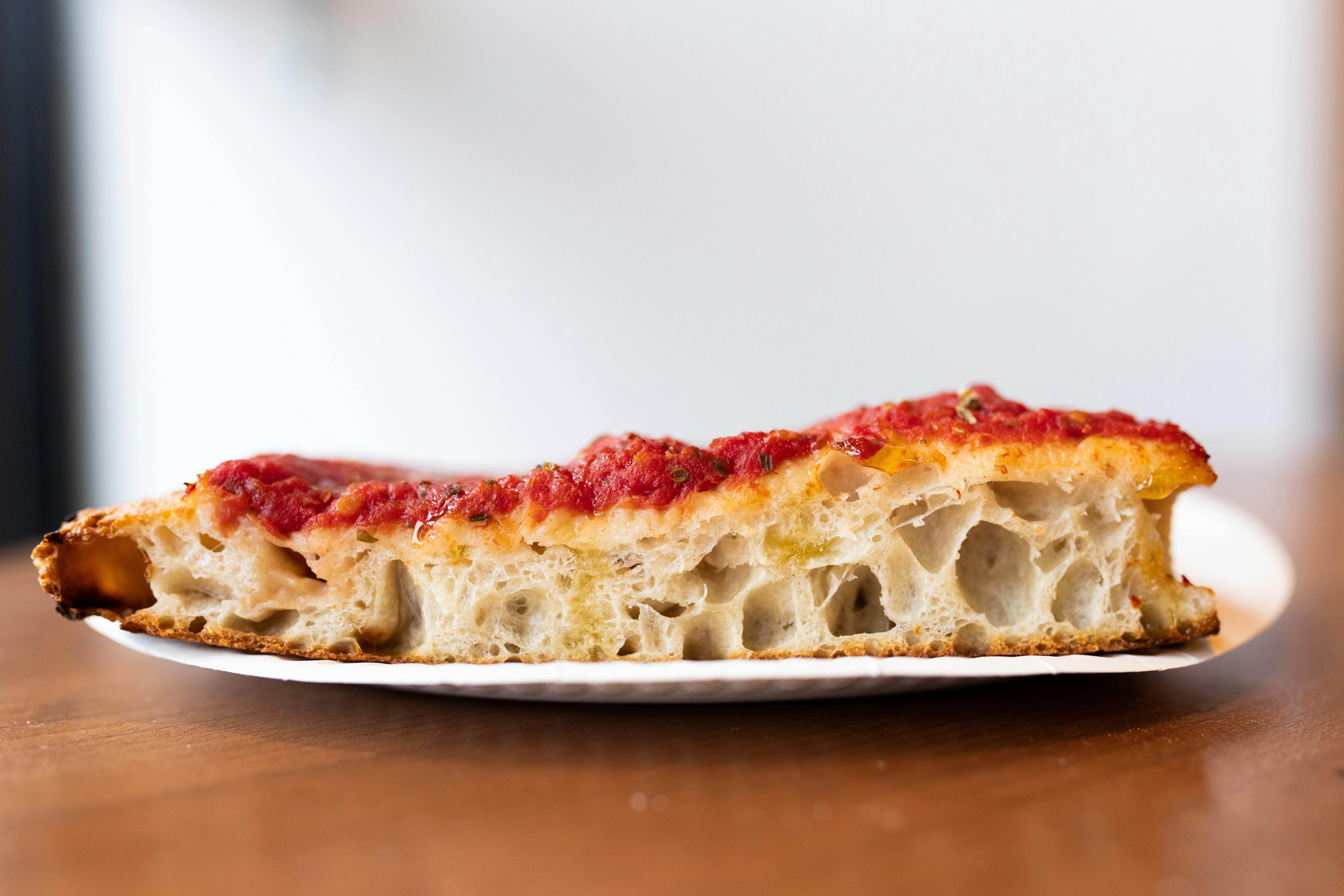 The most classic of the lot is the tomato pie. As plain as the name suggests, there's no place to hide any mistakes. But that in no way means that the pizza is any less delicious. It's a different dough used for this pizza, one of the "grandma" varieties at Mac's, which is close to being almost a focaccia-esque crust. It's light and airy and has big air bubbles that make for thick yet super fluffy dough. The olive oil dominates the palate on this one, giving it an unctuous mouthfeel with the acidic tomatoes in tow.
The grandma pies were created because McIlwaine wanted to do something on a larger scale and he loved the idea of a large, shareable, tray pizza. It's cut into squares instead of the usual slices and is essentially shallow-fried, making it super crunchy at the bottom.
He took inspiration from the Italian nonnas who make large pizzas for the family to share and ran with it, calling them grandma pies as an homage. Besides the shareability of it all, he enjoys the flexibility and creativity that the tray pizzas allow for. 
"It's just another way to challenge ourselves with different dough," McIlwaine said. "Because it's a whole thing — it's a whole different mix, different hydrations, all that stuff. And we're just kind of playing with it a little bit."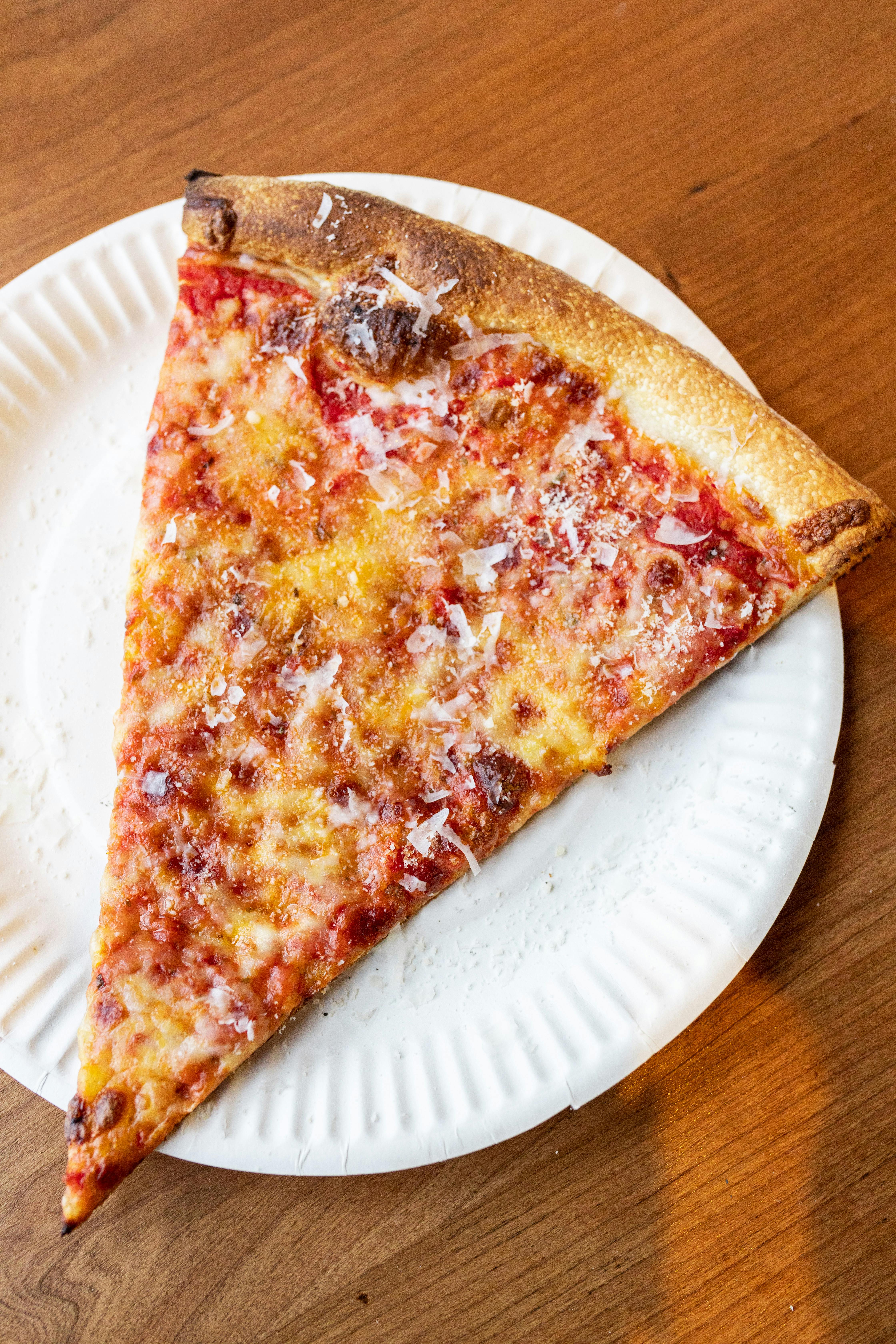 Another classic that Mac's serves up is its cheese slice. Using Saint Lucia mozzarella and topping it with pecorino and parmesan, the pizza has a wonderful flavour profile. One might think that there's not much complexity in flavours when it comes to a slice of plain cheese pizza, but it is one of the best ways to highlight the proper foundations of a pie. The perfectly-seasoned sauce and especially the light and airy crust shine through in this slice and highlight the fact that McIlwaine has his basics figured out. The addition of the pecorino and parmesan adds a nice saltiness to the slice, which complements the sauce beautifully.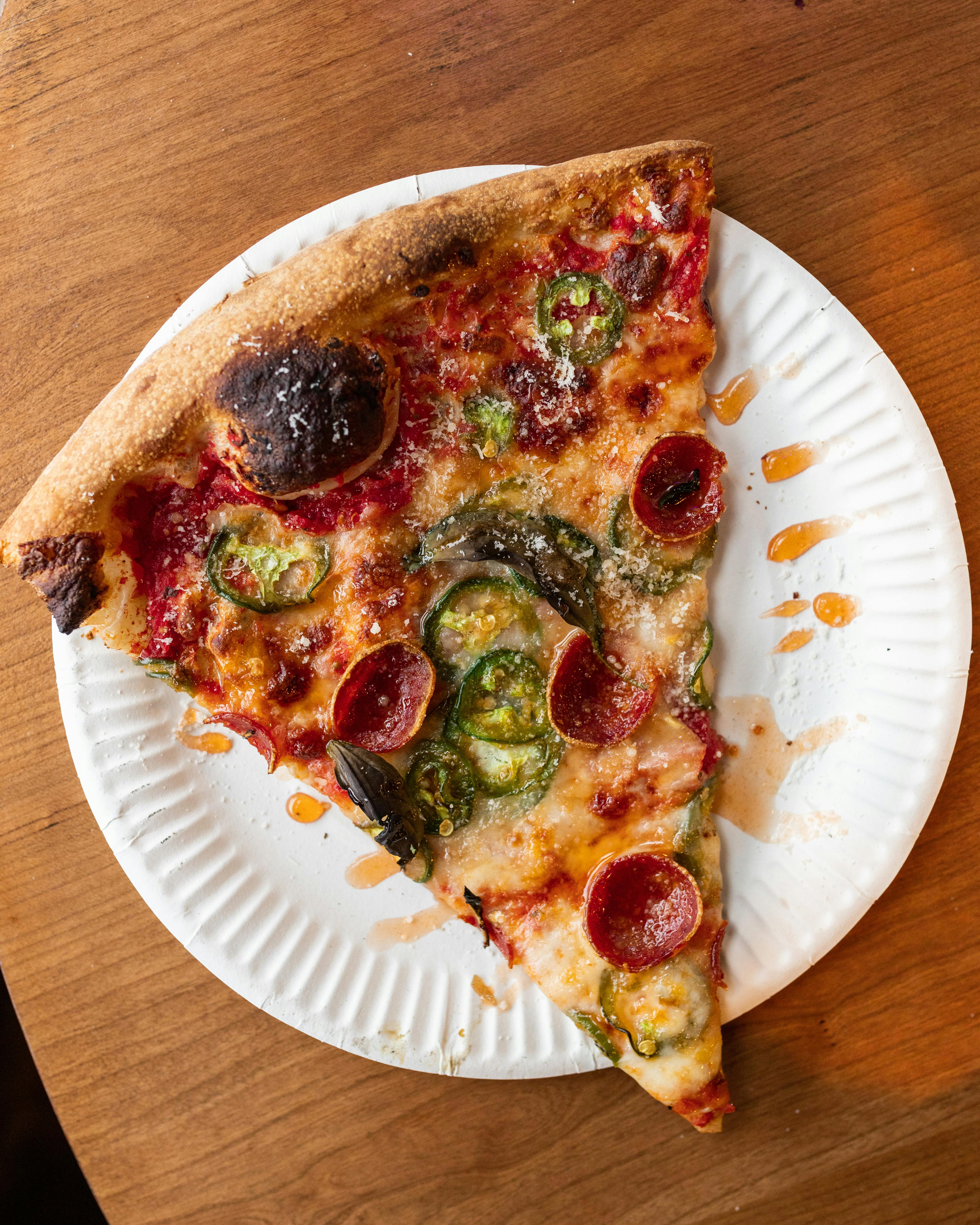 One of the more contemporary pies that Mac's serves is its Angry Pepperoni pizza. Topped with pepperoni, jalapeños, basil and hot honey, this creation is as delicious as it sounds. The pepperoni slices are just how they should be: curled up with a little pool of flavour. 
That fat acts as a makeshift flame retardant for people who don't handle spice well, coating the taste buds so that the jalapenos don't attack to their fullest potential. The basil adds a nice floral touch to the pizza as a whole, lending itself to the realms of both taste and smell. The drizzle of hot honey rounds out the entire dish, providing the kind of sweet heat that helps mellow out the spiciness.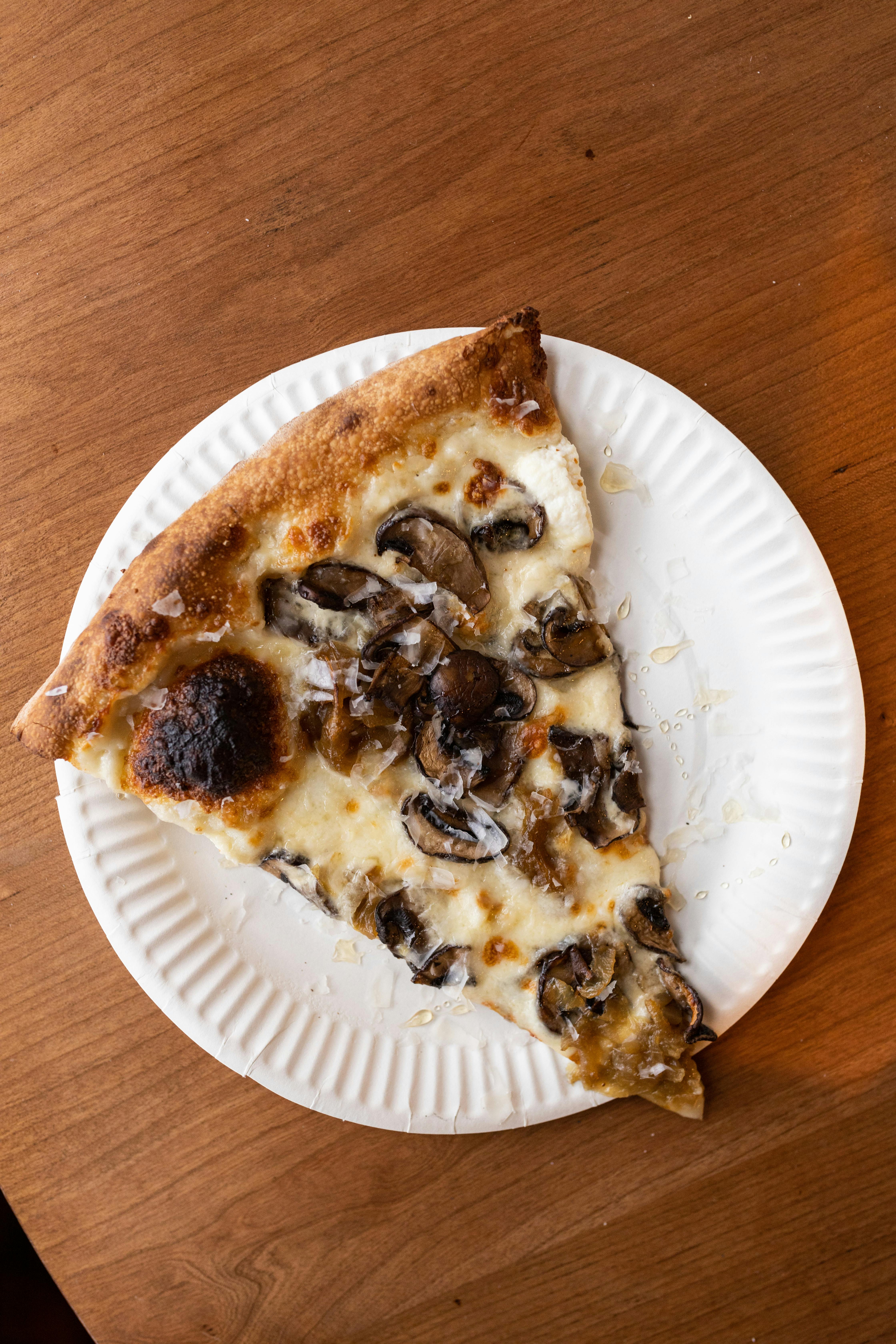 Coming to the crowning glory, the one that "pays the rent," according to McIlwaine, is the famous White Pizza. While it has seen some changes over the years, it still remains the crowd-pleaser that ensures recurring customers.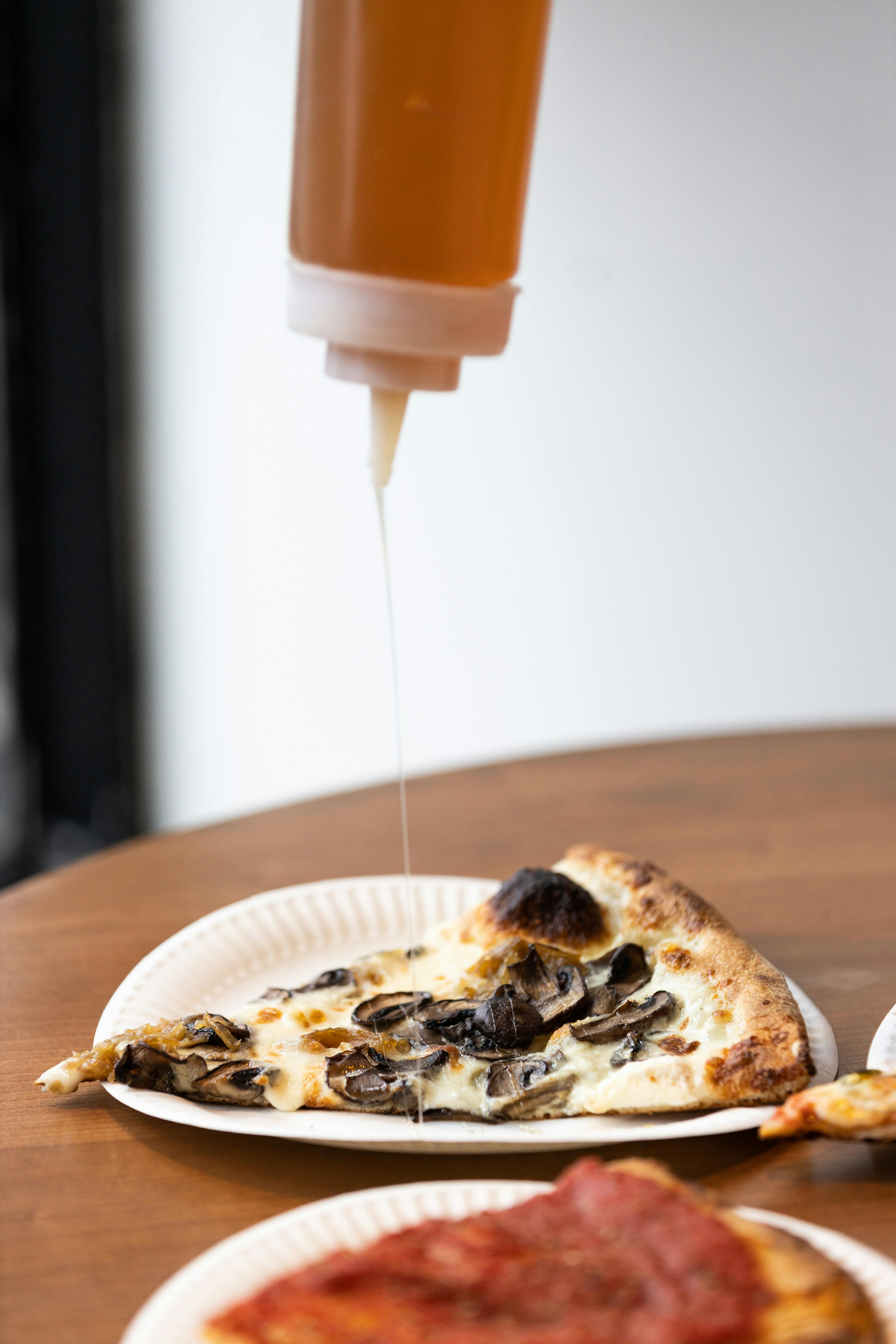 Its base layer is of a smooth and rich garlic cream sauce and is topped with mozzarella, ricotta, caramelized onions, mushrooms and honey. That list is enough to make anyone drool, but eating it is a different experience altogether. The sauce is luxurious, with the garlic not being too overbearing on the senses. On top of that, the mushrooms, onions and honey provide a great balance of flavours. There's umami savouriness and a complex sweetness from the jammy onions paired with the honey. 
Now, you may think that having both the caramelized onions and the honey may make for a sweet pie, but the mushrooms, cheeses and sauce all work together to balance out the pizza. The result? Just plain bliss.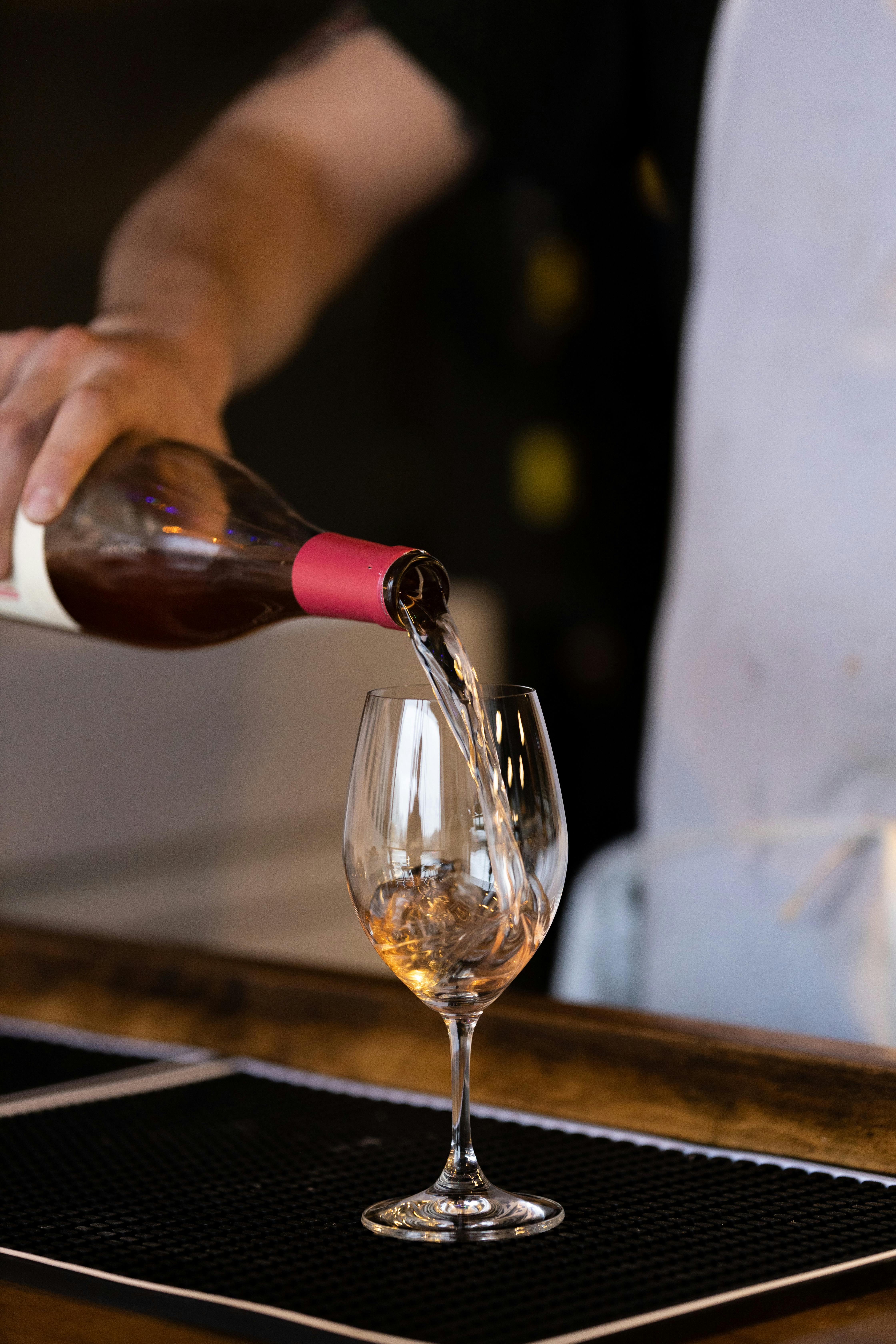 Outside of pizzas, McIlwaine prides himself on his selection of wines that Mac's serves. It is one aspect of owning the restaurant that gets him really excited. It is something that he believes makes the restaurant stand out from the crowd. 
During his travels, he came across all these spots that serve wine by the glass, pouring interested patrons sips of everything and letting them make educated choices so that they don't end up spending a lot of money on something they're not guaranteed to like. That is the same practice he applied to Mac's, helping educate the patrons and breaking down the barrier to purchase. 
When we first opened, it was just all by the glass. It was super loose, like, 'Hi have a sip of that,' and I think a big thing is just to like break down that barrier," McIlwaine said. "Let people feel a bit more comfortable about not knowing or feeling like they can ask questions and not feel like a dummy or whatever."
The wine list, which started with four bottles, has now grown to 15. The ones that Mac's sells rarely go above 13% alcohol, with most of them hovering around the 10% mark. This welcomes accessibility and also works as a great complement to the pizzas they serve. 
"They're very juicy, very light and crushable and fun," McIlwaine said. "Because if you start drinking these like heavy, stinky, oaky wines, it doesn't pair well with pizza."
As is with the rest of his story, his foray into the wine world also came through contacts and hustling. He knew somebody who knew somebody, and at one point got the chance to cater the Raw Wine Festival at Wychwood Barns, where he left a "fat stack" of business cards. From there, his one supplier turned into four or five and he started curating a proper collection. 
Due to the craft nature of the natural wines, there is only so much that can be produced per season. This leads to Mac's having a rotation of wines on its shelf. This allows McIlwaine to try a lot of different wines and really have fun with the entire process. 
"Sometimes it's literally only so much they can produce, you know, and then once those are gone, we've to wait till next year; that's what's kind of cool and special about it," he said. "Like some of the wines that we love, I've kept one bottle for us, so when the next one comes out, we can like, crack them open and compare and all that kind of stuff. So it's fun to kind of work with it."
Having come up in different types of restaurants, McIlwaine sees pizzas through a more craft-focused lens. That is the kind of philosophy he lends to his food and even the people he hires.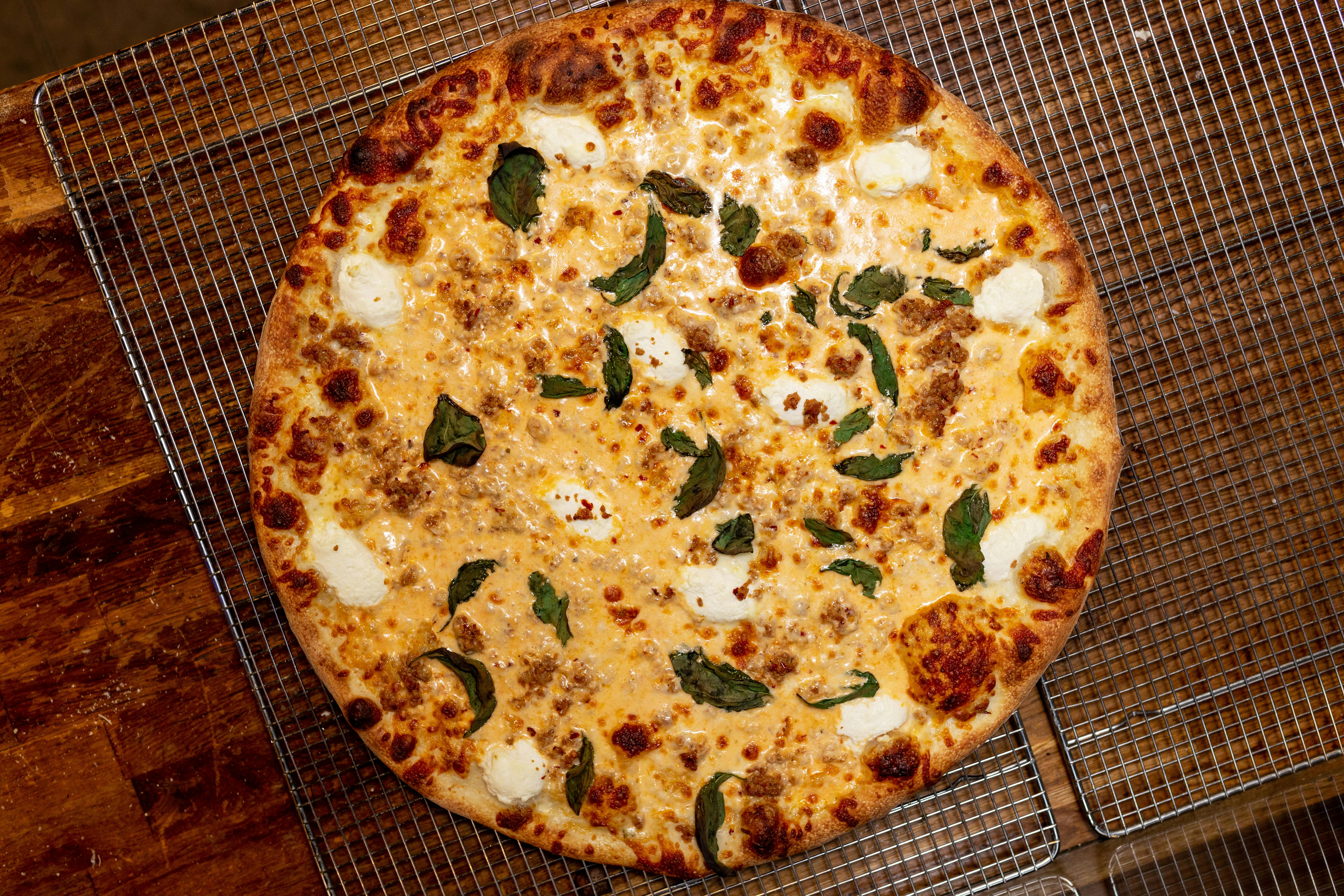 "If you have a good attitude and we enjoy hanging out with you, we're going to be happy to bring you on and train you. Because in the beginning, anybody can kind of talk pizza. It's relatively simple," he said. "But it's the intuition that comes with like working with dough and working with the oven. So I think it's more of a matter of just approaching it the right way."
When Mac's first started, McIlwaine purposefully didn't put too much effort into promoting the restaurant on social media because he wanted to keep it a laidback, neighbourhood pizza spot. He feared that if it popped off online, he'd have people from all over the place coming in, making it inaccessible to the ones who lived nearby. 
Having mentioned this before, Mac's laidback vibe helps put people at ease and garner a loyal clientele. It doesn't have table service, but the restaurant is small enough that the staff can "yell at you from far enough away, in a nice manner." Having a place where people can feel at ease is important to McIlwaine and is a characteristic that is synonymous with local pizza shops. 
"It doesn't need to be so black and white with table service and like, 'Yes, sir. No, sir. Yes, ma'am. No, ma'am.' Just making it easier for everybody to come here and feel at home," he said. "It can be challenging when you're busy. But like, it's really important that people feel like this is a place where anybody can come."
Having that neighbourhood-focused approach at the beginning is paying off for McIlwaine, as he now sees his regulars coming in multiple times a week for months. Whether it be the people living in the area or even the barbers that work down the street, he feels that Mac's Pizza has already made its impact on the Dovercourt neighbourhood. 
McIlwaine has had a long-winded journey to reach where he is. The inception of his restaurant is a testament to his hard work, determination and the helpful nature of Toronto's culinary industry. From using a second-hand thermal bag to keep his pizzas warm courtesy of North of Brooklyn, to working out of Shakers Club, to even curating a sizeable wine list thanks to his local contacts, McIlwaine's restaurant has truly been a sum of its parts. But every step along the way has been worth it, looking at the rave reviews it has garnered in the past few months. 
As for the future, the possibilities are endless for McIlwaine. He would love to have a few more businesses; whether they're restaurants or not is still up in the air. He might also end up packing his bags and flying to Europe to indulge in his passion and learn how to make wine — who knows? The sky is the limit, and the one thing that he has learned is to always roll with the punches. And that is the same mindset he has for his restaurant as well. 
"Dough's like a living, changing thing. Restaurants are the same way," McIlwaine said. "I like the idea of fluidity and change and flexibility. Trying new things and failing, fucking up, cutting myself, falling down the stairs and all that."
One thing's for certain: Mac's Pizza is here to stay. So be it noon or 11:30 p.m., you can find it serving delicious pies, exciting wines, ice-cold beer, and of course, Jordan Mason's banging Spotify playlists.
"I hope people kind of leave it thinking that this place was fun, food was banging, service was really nice, music was really good," McIlwaine said. "I like to think that we've had a really good impact on the neighbourhood."