Photographs by Larry Heng
MIMI Chinese can easily be regarded as one of Toronto's most anticipated restaurant openings of the year. This high-end Chinese restaurant focuses on Southern Chinese cuisine, dominantly from Guangdong Province, and incorporates other iconic plates from various regions. The menu notably credits the province from which each dish originates. Find familiar favourites from Sichuan Province, Hunan Province and Shaanxi Province present as well, all prepared with the intention of being shared. 
Sticking close to the traditional recipes to ensure they still encapsulate the characteristics that define these dishes, you can still expect to discover twists on each plate. Through their menu, MIMI Chinese aims to shine a light on the diversity within China's food culture, celebrating their flavours, cooking techniques and origins. Embark on an incredible culinary journey at MIMI Chinese, all while fully absorbed in the allure of the swanky old-school Chinese restaurant-inspired atmosphere around you.
Taking over in the location formerly home to Italian restaurant Mistura by chef Massimo Capra, MIMI Chinese borders the lavish Yorkville neighbourhood and was set to launch in April 2020. The pandemic may have halted their plans for a sophisticated dine-in space, but it also sanctioned the opportunity to create another concept, one that can be attributed to heightening the excitement surrounding the opening of MIMI Chinese -- Sunny's Chinese. Currently put on pause, this takeout pop-up, the "younger, causal, funkier cousin" to MIMI Chinese, was originally birthed by spontaneity and it garnered quite the cult following itself. Taking on a life of its own, this venture proved to be so successful that its brick-and-mortar location in Kensington Market can be expected to arrive by spring 2022.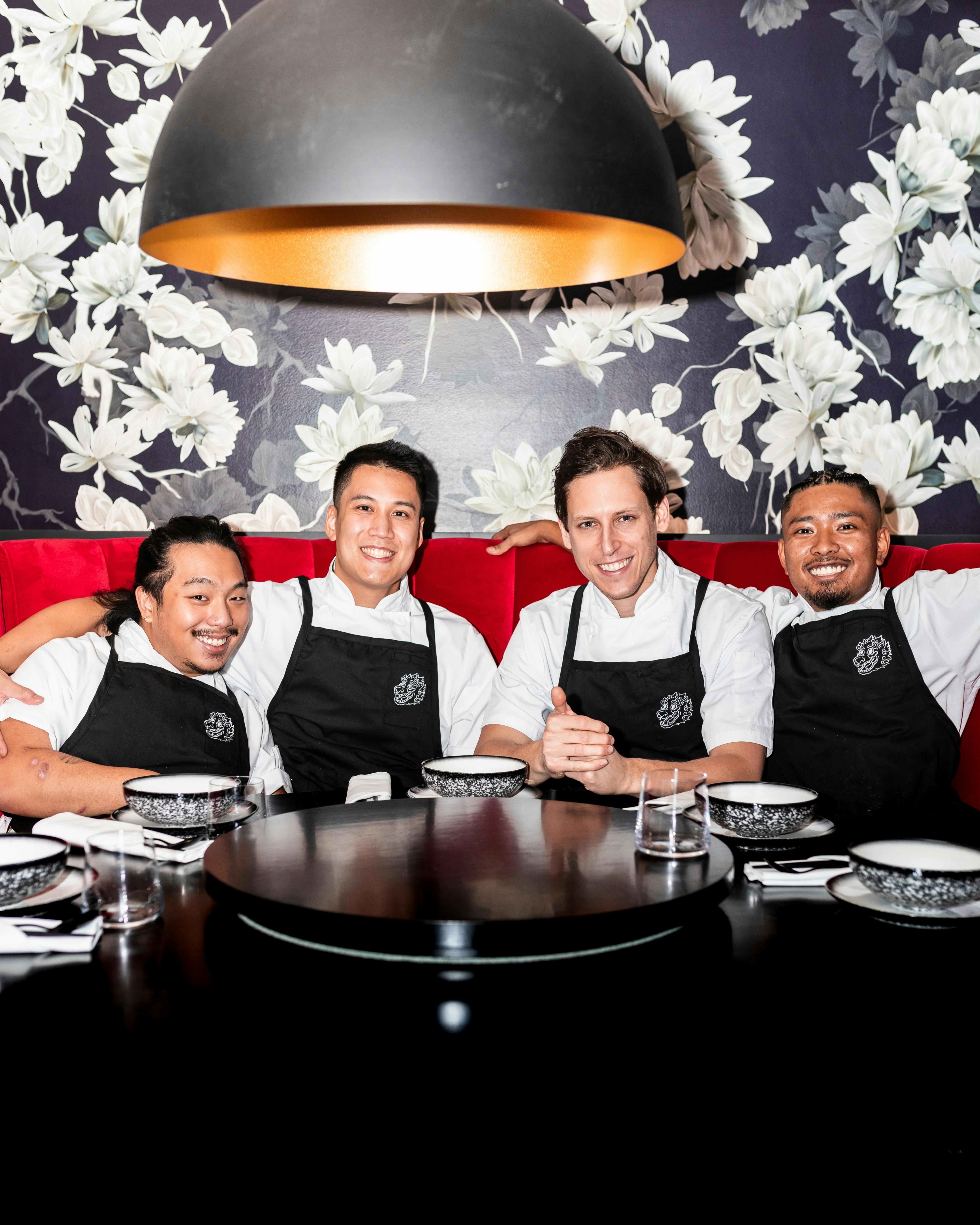 A concept nearly a decade in the making, brought to life by executive chef and owner David Schwartz, joining him in the kitchen is executive sous chef Braden Chong, senior sous chef Joesph Ysmael and junior sous chef Keith Siu.
"My girlfriend brought up to me the other day that she was looking through her Facebook messages and found a message where I was talking to her about the concept of MIMI Chinese, which didn't yet have a name and that was like seven years ago," reflects chef Schwartz.
The chef addresses how living in the city of Toronto, with its multicultural food landscape, gave him an early introduction to Chinese cuisine, sparking his interest. Weekly Sunday dim sum with family and days off, spent roaming around Markham to explore more Chinese restaurants still unfamiliar to him, the chef's passion for this cuisine bled into his travels as well.
"Growing up in a city as diverse as Toronto is, especially with the food landscape being as diverse as it is, it definitely gave me really really early insight into Chinese food culture in particular," says chef Schwartz. "There aren't many cities in the world where you can go to a Szechwan restaurant and you can go to a Cantonese restaurant and you can go to a Taiwanese restaurant and you can go to Shaanxi restaurant, all within a half an hour drive of each other."
A youthful admiration for various Asian cuisines and the bold flavours associated with them eventually blossomed into the chef's professional culinary career, helping him solidify his niche.
"When I first started cooking, I always was really really interested in Asian flavours," he says, "As I dove a bit deeper into Asian cooking techniques, I realized that my interest was actually more focused towards Chinese cuisine and then even more focused into the regionality behind Chinese cuisine. I kind of tuned into that and discovered; this is actually what I'm obsessed with and just super curious and interested in."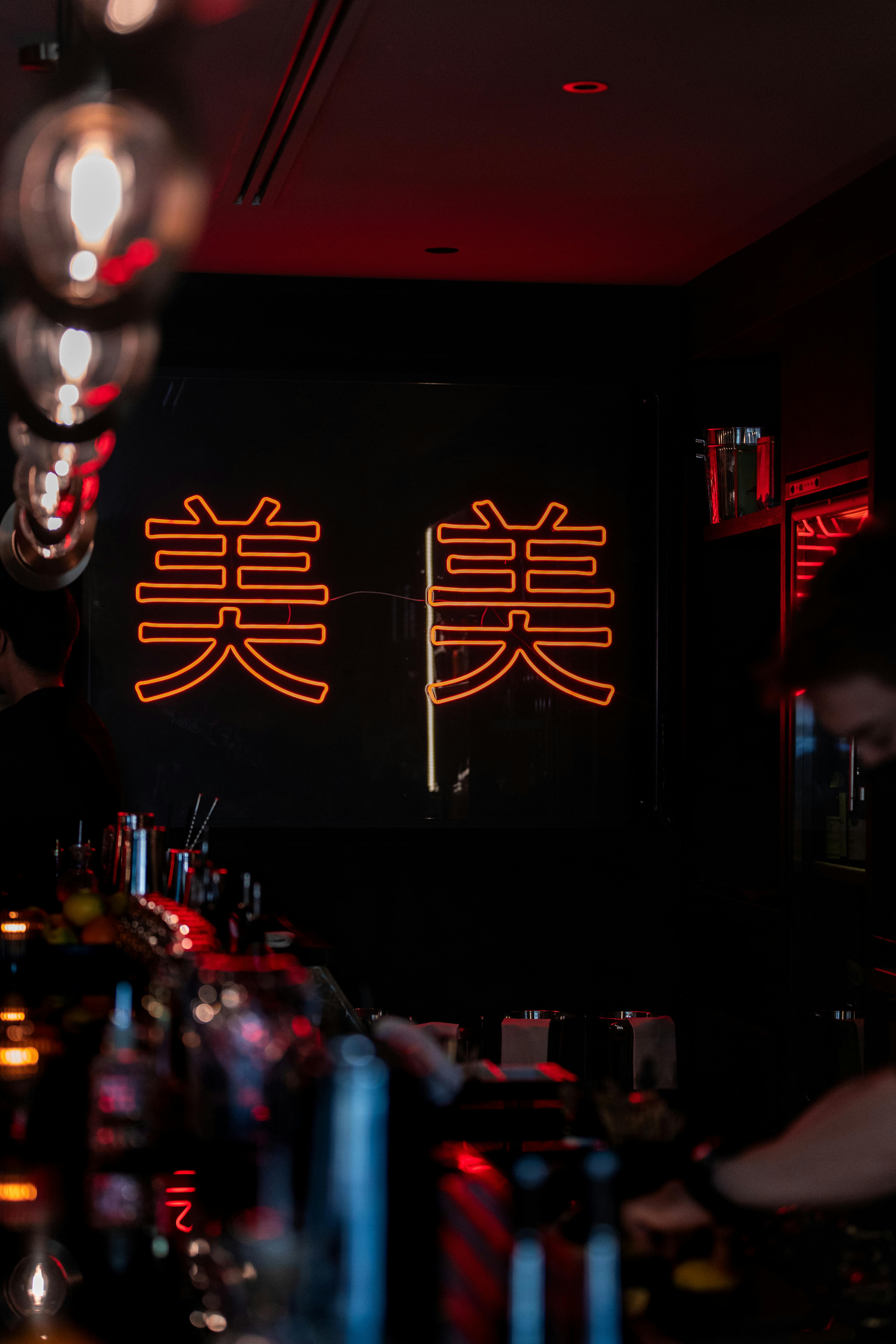 The Space:
"We wanted it to have an old-school classic feel when you walk in, a place where you really lose a sense of space and time," says chef Schwartz.
As you wait to be seated, take note of the refurbished host stand, once belonging to the long-standing Chinese restaurant Sea-Hi Famous Chinese Food in North York, before it shuttered in February last year. Immediately catching your eyes while walking to your table will be a red neon sign by the bar, with the Mandarin text for their name -- MIMI -- illuminated.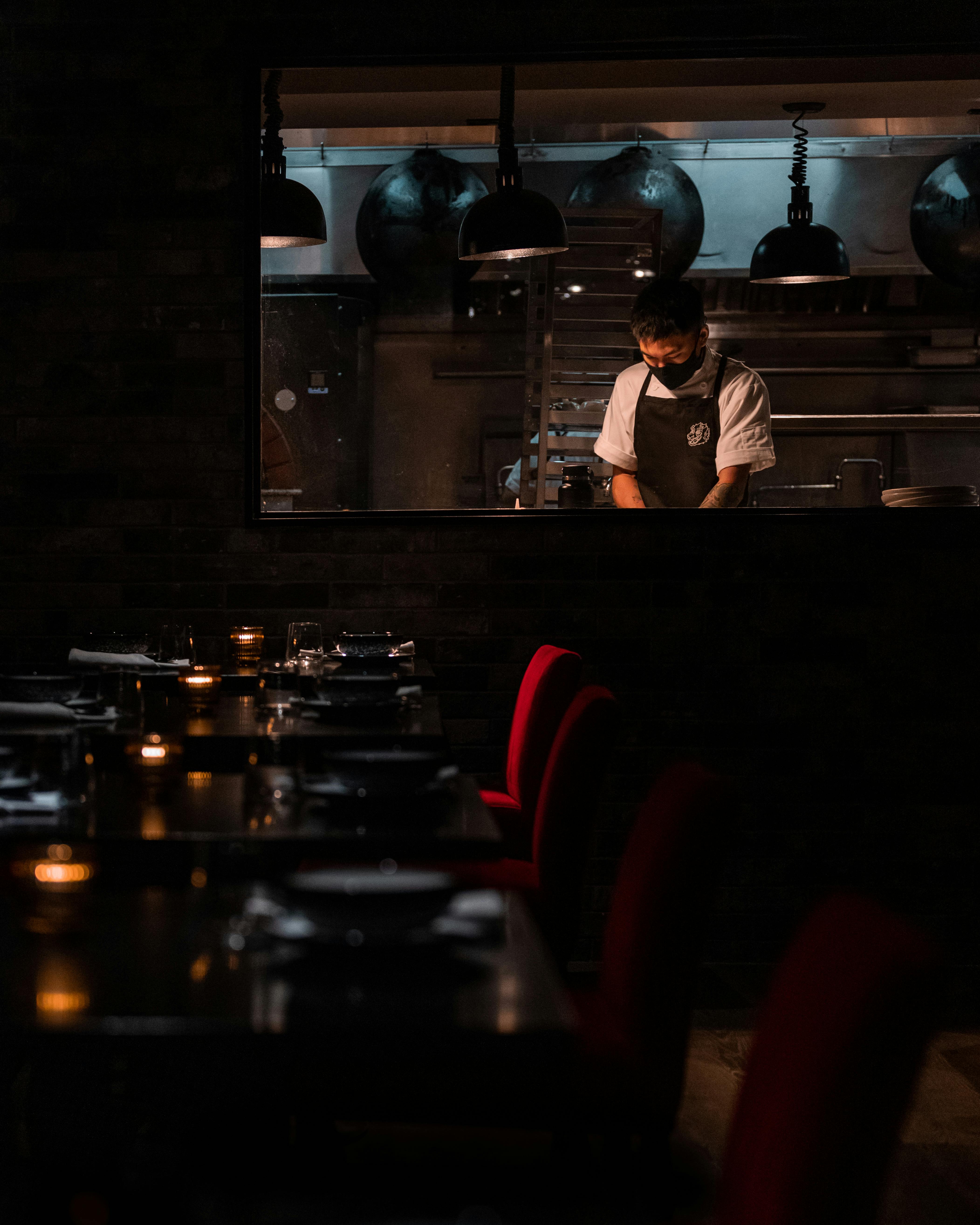 The best seats in the house are arguably the ones that have a clear view of the kitchen. Peer through velvet red seats and service staff dressed in white button-up shirts and bowties to get a glimpse inside. Watch as the cooks prepare portions of your meal through a glass window that you may be able to see into, but don't expect the cooks to catch your gaze through this one-way glass.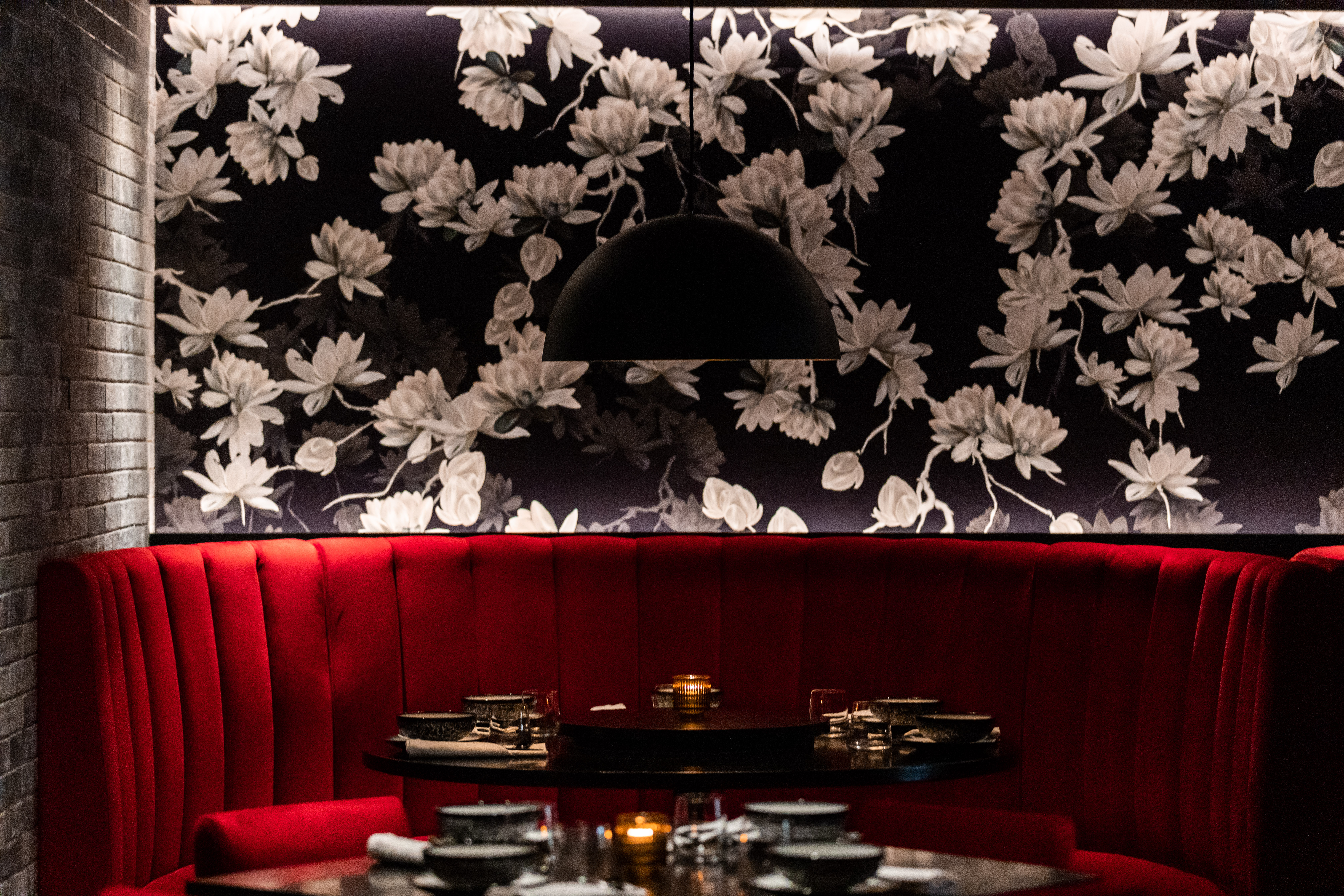 A dining room designed in a collaborative effort, the chef says their influences derive from the old school American-Cantonese restaurants he grew up frequenting -- China House, House of Chan and Wah Sing. Take note of the circular tables paired with velvet seating lit by cool-toned lighting, lotus flower wallpaper hand-painted then screen printed by local artist Candice Kay and the aesthetically dynamic colour combination of black and red, which dominates the space. Enormous thought went into every detail and helping them achieve their vision for the space, is award winning interior design firm Ariel Muller Designs.
"We spent a very long time choosing the specific tone of red velvet that we have on the booths," says chef Schwartz. "There are, so I've learned, hundreds of different shades of red and so it was important that we found the exact one that we felt was reflective of what would be considered old school Chinese design."
The Food: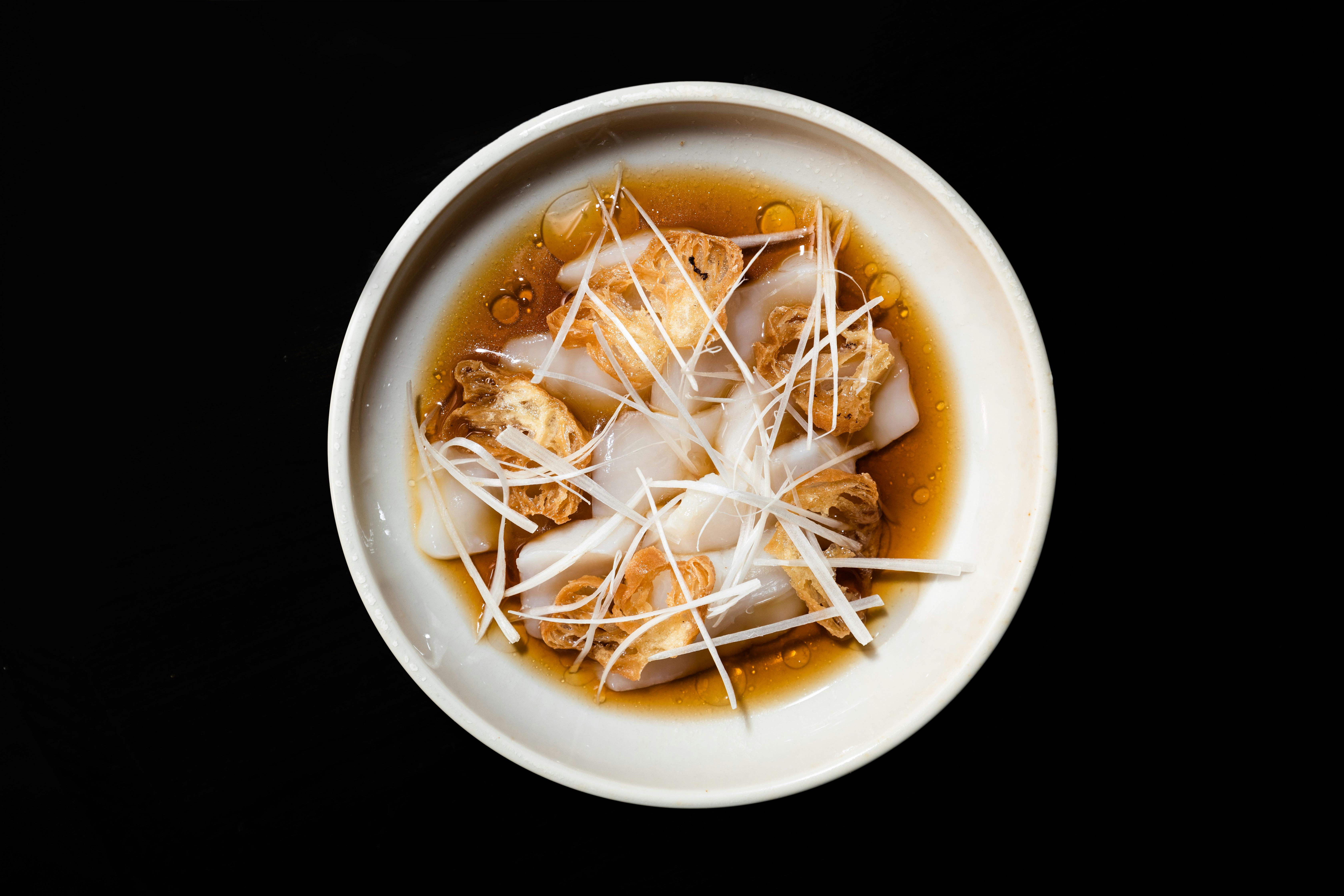 The menu is categorized into various sections, beginning with Raw and Cooling, followed by Savoury and Warming dishes. Under the first section, find the Scallion and Ginger Scallop influenced by Guangdong Province. Cured, then oil-blanched, smooth and thinly sliced scallops are accompanied by scallion oil, soy broth and youtiao, which are Chinese doughnut sticks, also thinly sliced on this dish.
A medley of all the right textures, this perfectly balanced plate is often overshadowed in comparison to some of the other selections on the menu, but it's truly not one to miss.
"Both chilled seafood dishes are really special and unique to this city," says the chef. "Chilled scallop and Japanese red sea bream, the fish itself is from Japan."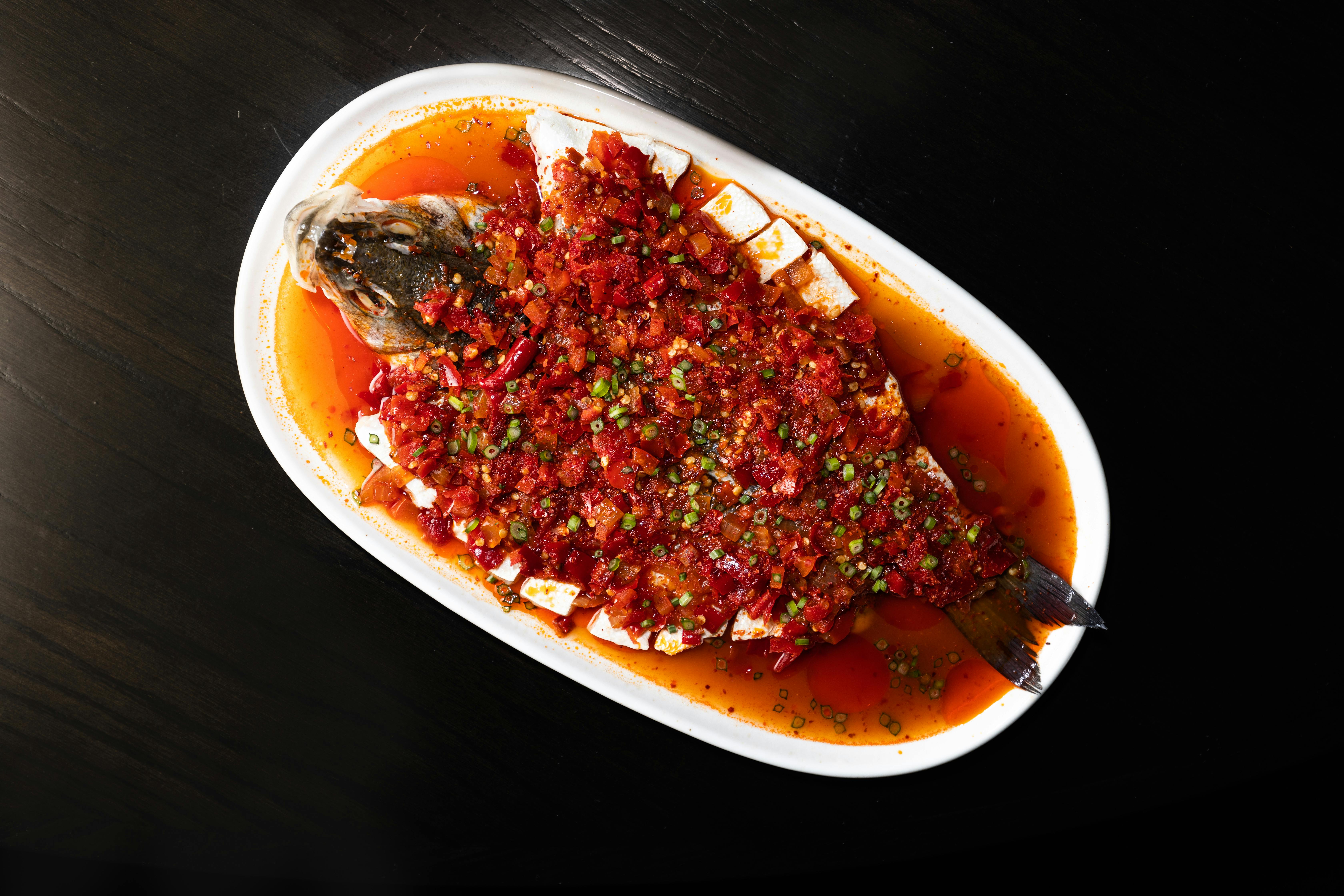 Moving on to the Chef Specials, inspired by Hunan Province is the Hunan Chili Sea Bass. An abundant mountain of house fermented red chilies steals the show on top of the sea bass with its heat and vibrancy. The dish is also made with Fujian wine and flowering chive.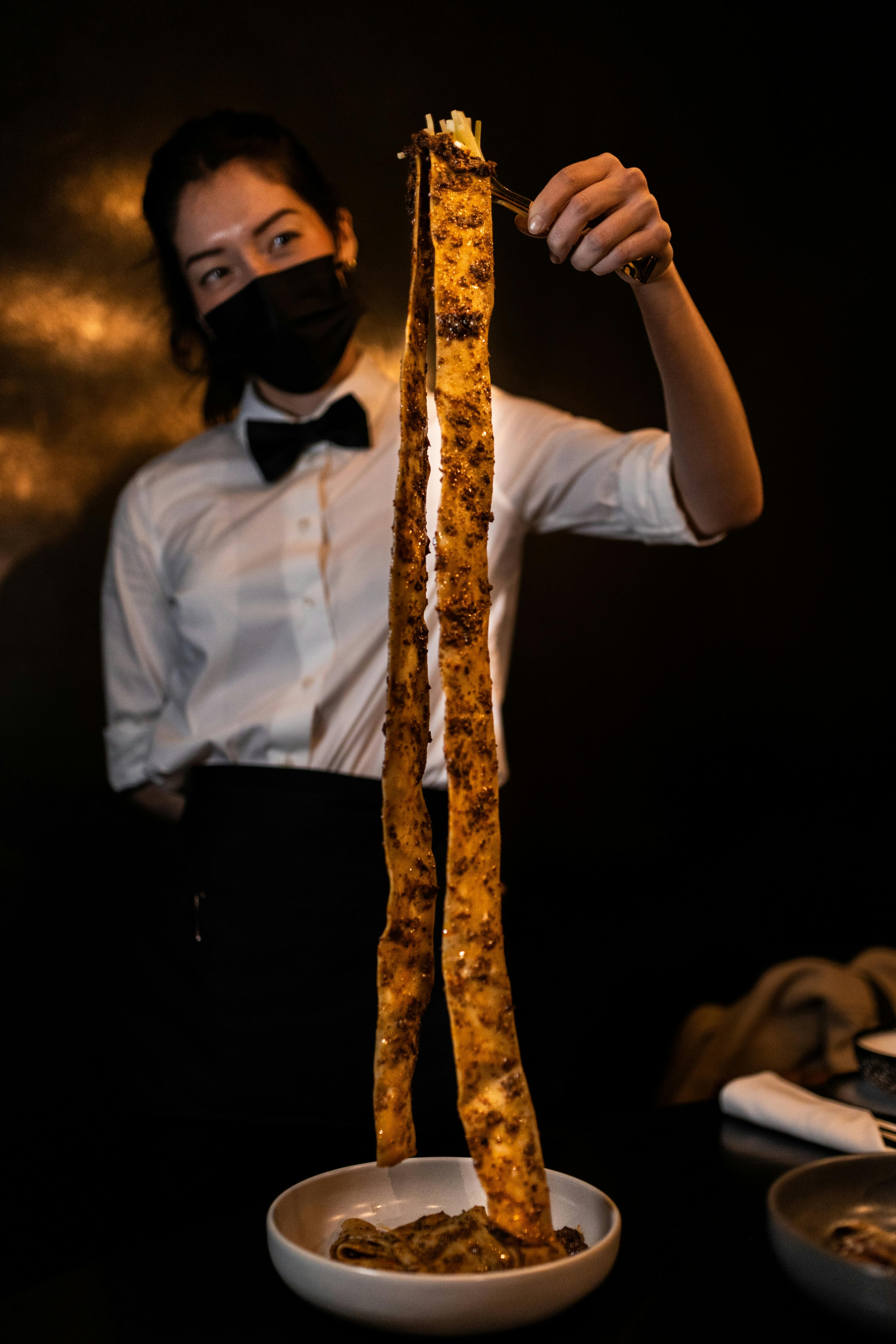 Branded by guests as one of the most Instagrammable dishes available at the restaurant, the Four Foot Belt Noodle derived from Shaanxi Province can be found under the Noodles and Rice section. Coated in their house-made chili oil, the dish is topped with mushrooms and cucumber. Displayed via the ultimate noodle pull, it's then cut tableside.
"People are really ordering the belt noodle a lot which I'm excited about because it's an awesome dish," says the chef. "But you always want evenness on the menu."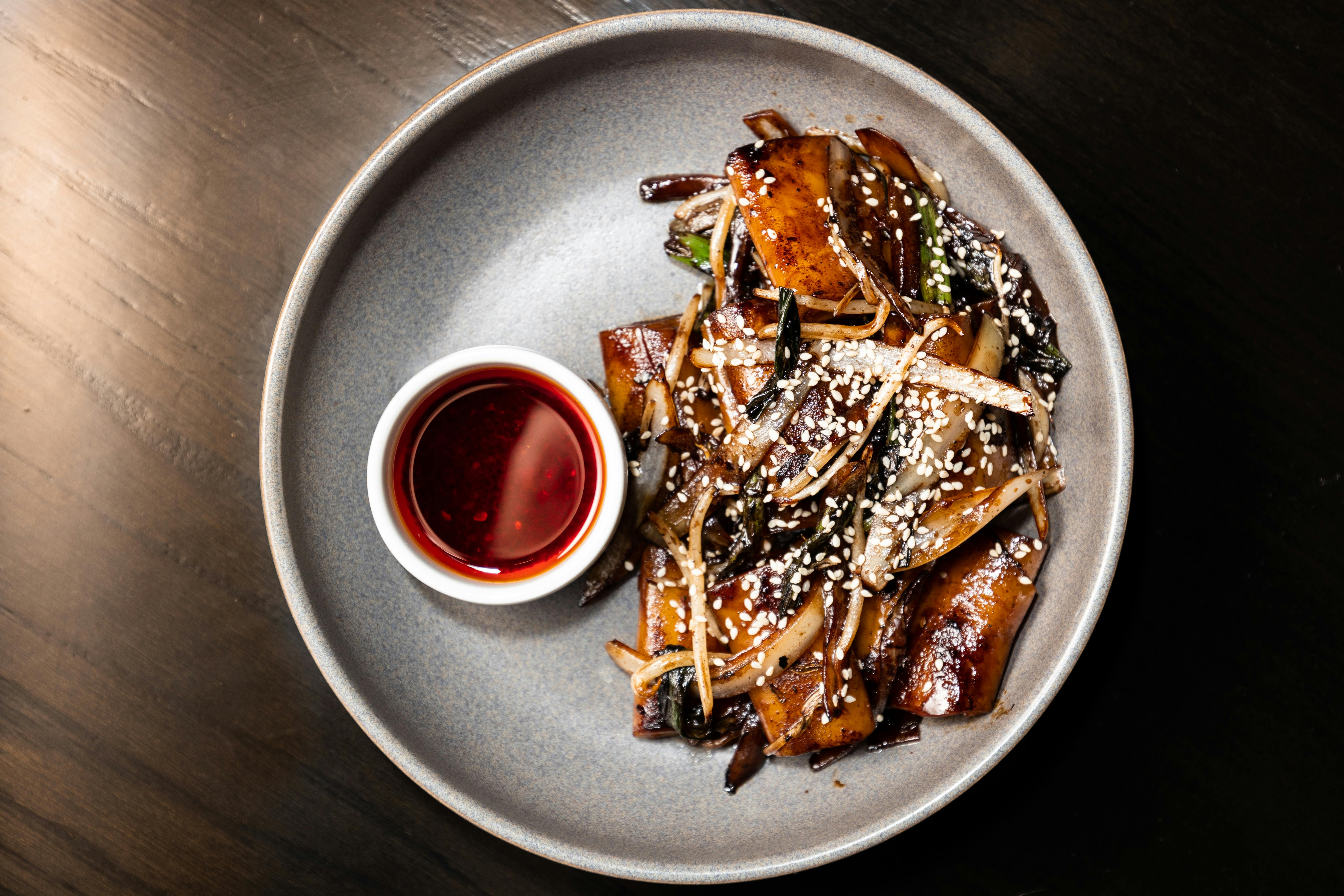 Not necessarily as photo-worthy as the four-foot belt noodle, resulting in it relatively being overlooked on the menu, the Stir-Fried Rice Rolls inspired by Guangdong Province are made with a blend of three different kinds of soy sauce, onions and bean sprout. Equally as delicious as its noodle counterpart, this dish is a fan-favourite from its run on the Sunny's Chinese menu. Silky smooth rice rolls maintain a light chew and are complemented by a side of house-made chili oil for an extra kick. White truffles can also be supplemented.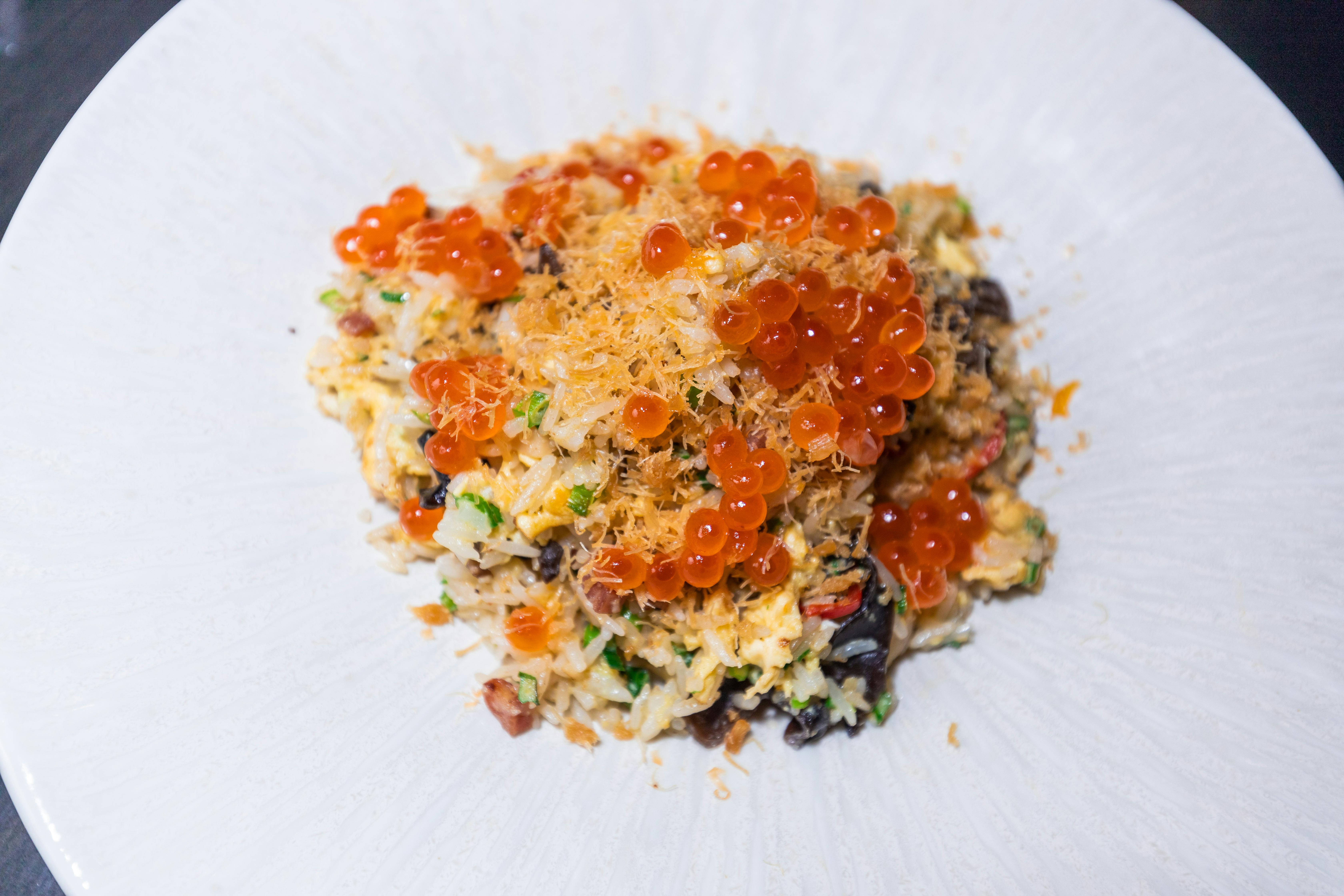 Heavily focusing on the wok for this one, the Supreme Fried Rice is a mix of a variety of bold flavours and ingredients. Shaped by Guangdong Province, this plate is strong on its own as it's made with dried scallop, salted duck egg and lap cheong -- a sweet and salty Chinese sausage; however, you can also choose to add salmon roe to the dish for an additional hint of fish flavour.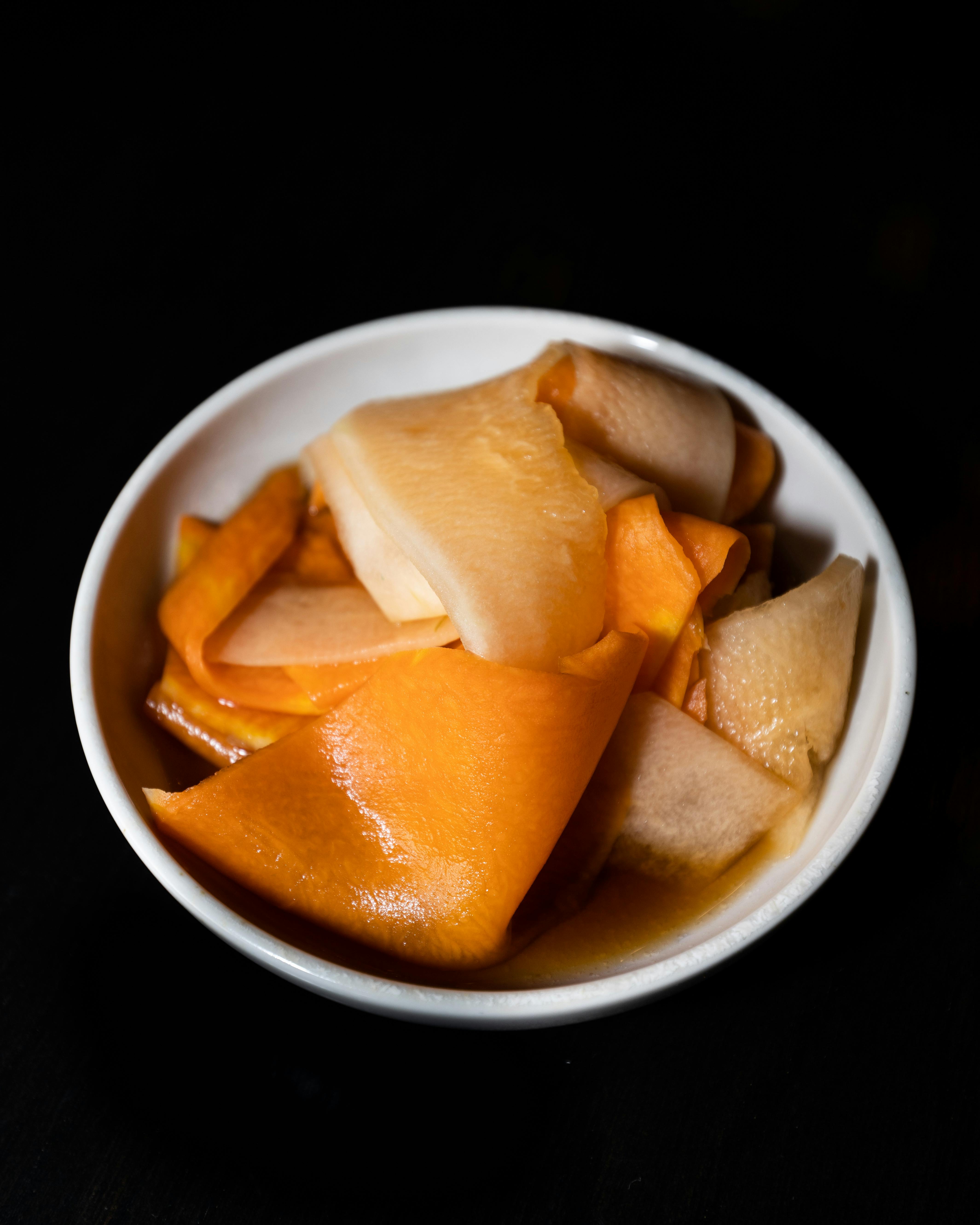 An ode to Chinese food culture and the frequent indulging of fruit during meals to balance out the intensity in savoury dishes, steamed Pumpkin and Snow Melon can be found on the menu. It is a dish served chill, accompanied with Shaoxing wine broth and ginger.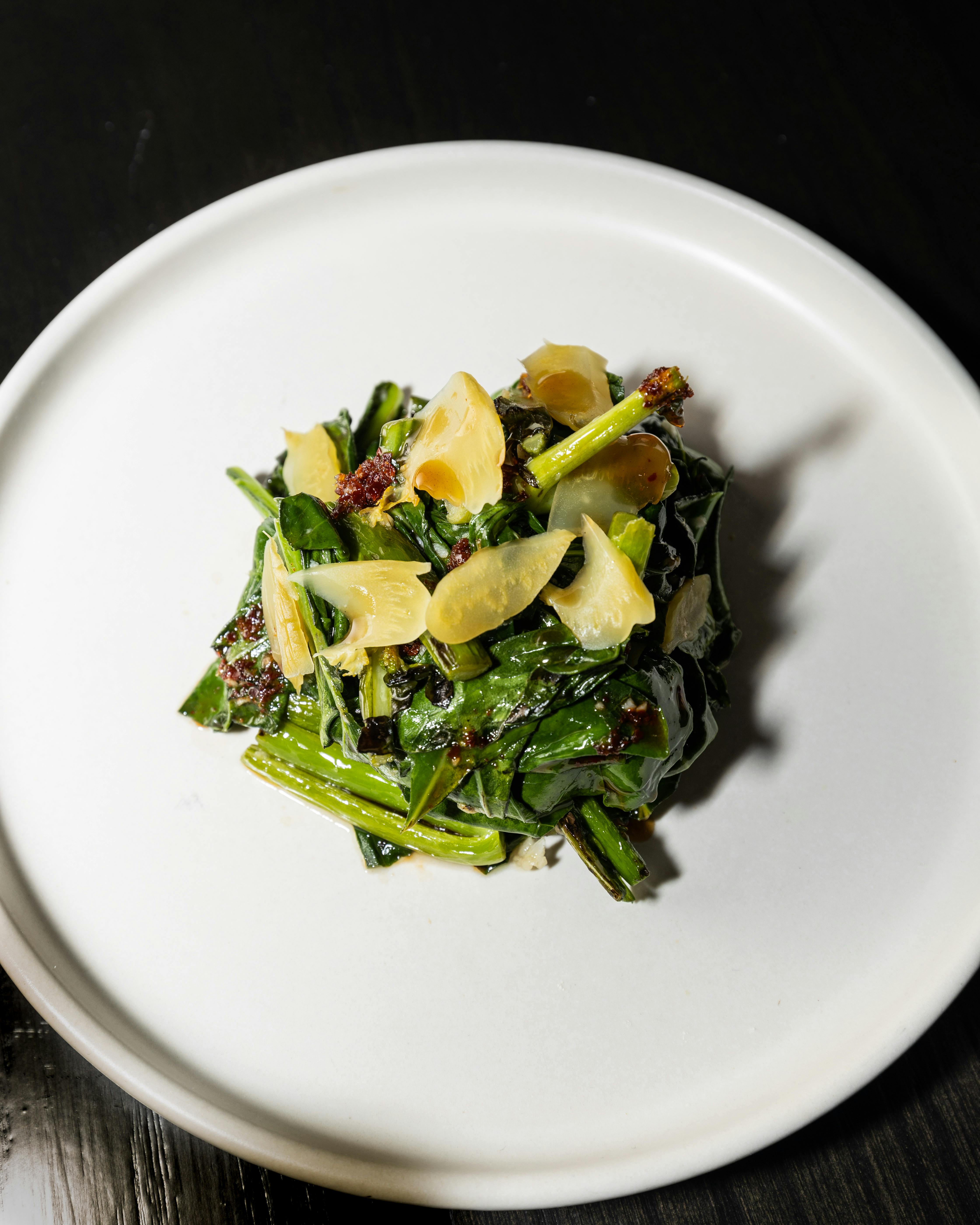 In regards to the Vegetable section, the Stir-Fried Gai Lan -- also known as Chinese broccoli, is a dish associated with Guangdong Province. Fried with house-made shrimp chili oil, these crunchy and leafy greens are chopped up and cooked with oyster sauce and fermented mustard greens, which they make in-house.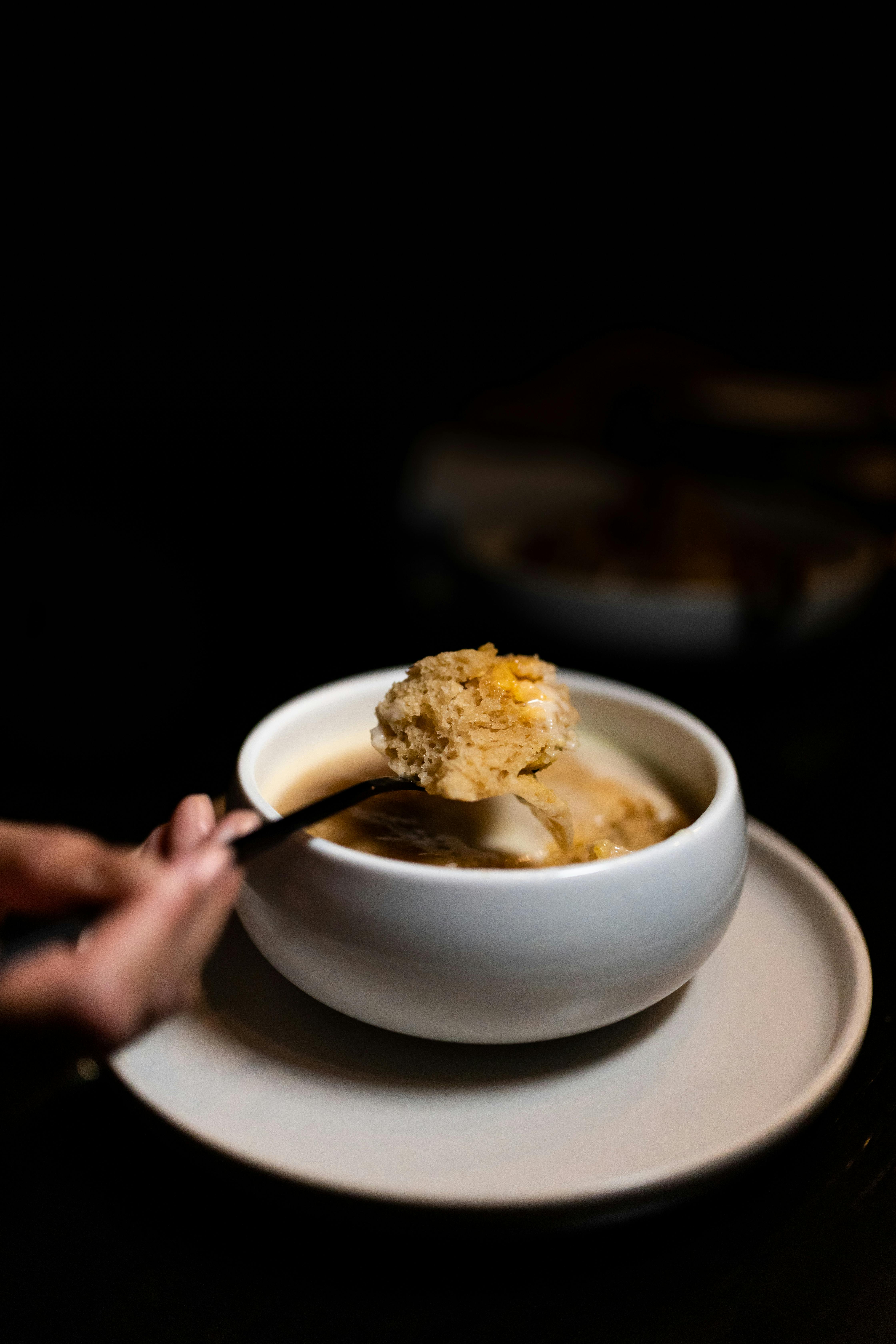 One of three tempting dessert options is the Ma Lai Go, reflective of Guangdong Province. This steamed spongey cake is fluffy and sweet, topped with a generous pour of sweet rice cream that's easily absorbed into the thick dessert. Reach the centre and grab a spoonful of sweet salted egg custard, creamy and leaving you wishing there was even more.
In regards to what the chef recommends most off the menu, he can't choose a favourite.
"Quite honestly, I'm really proud of the menu in its entirety right now because we really thought it through and there's not a single dish on the menu that I feel right now is a miss, or is any lesser than any other, or is there to fill a specific niche," says chef Schwartz. "I think everything is really strong and I'm super proud of everything the team and I have put together."
Guess you'll just have to order one of everything to try. This is where shared-style plates prove to be most beneficial, allowing you to get a taste of a range of dishes when dining in groups.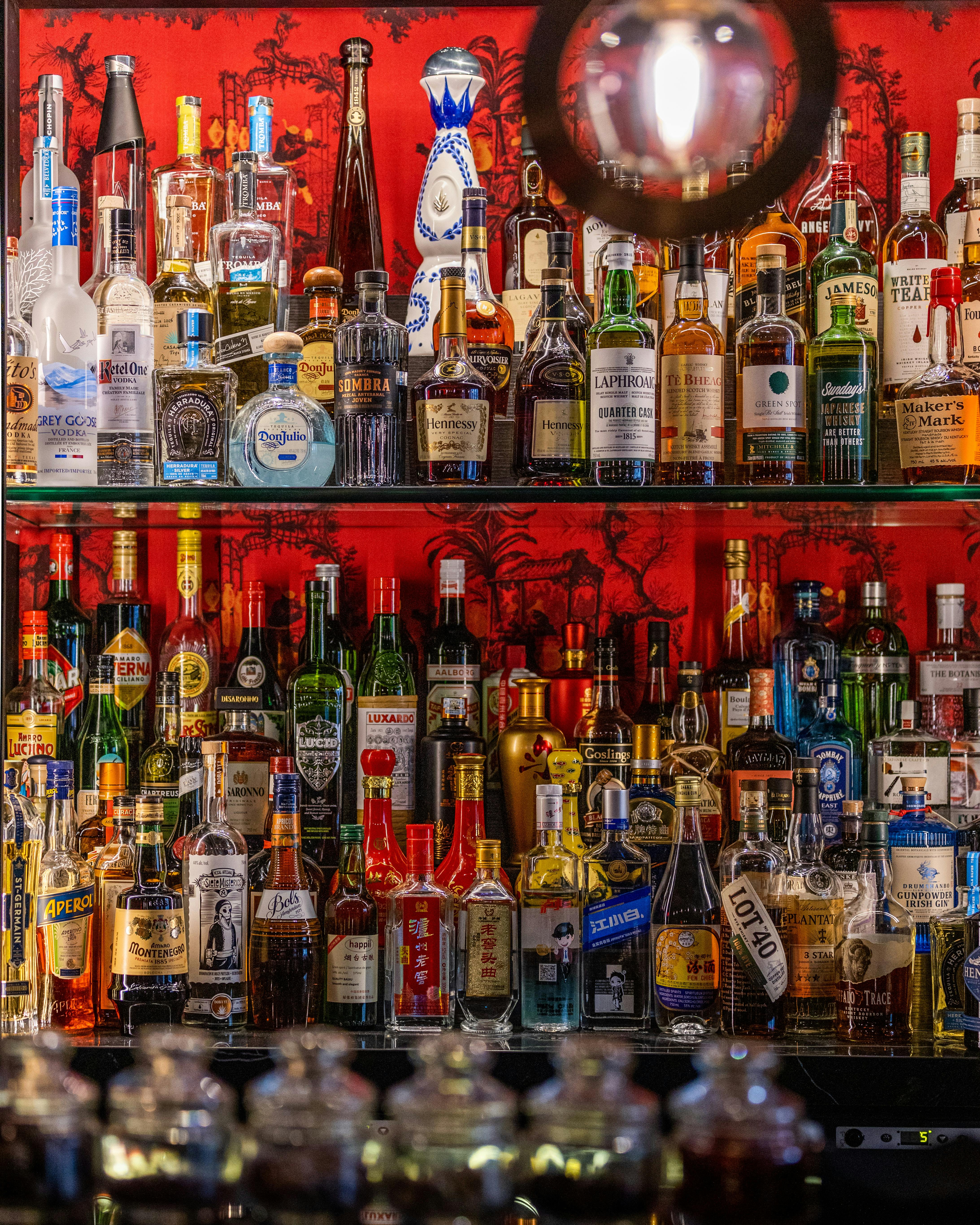 The Drinks:
A classic leaning wine list is in company with a high calibre sake list. Chef Schwartz says the reasoning behind the focus on sake stems from its popularity in China.
"We're probably the only place in the city where you'll find a sake list that's like the one we have, that's being paired with food other than high-end Japanese food," says the chef. "You'll find thorough sake lists all through China at Chinese restaurants, just because it pairs naturally with the food. It's your total experiential package."
With a cocktail menu derived by co-bar managers Aleks Russell and Nick Chong, find a variety of creative and well-thought-out drinks. This includes the Tea Ceremony. A stand-out order for groups to share, this cocktail served in an iron teapot is made with vodka, green tea, wildflower honey and citrus.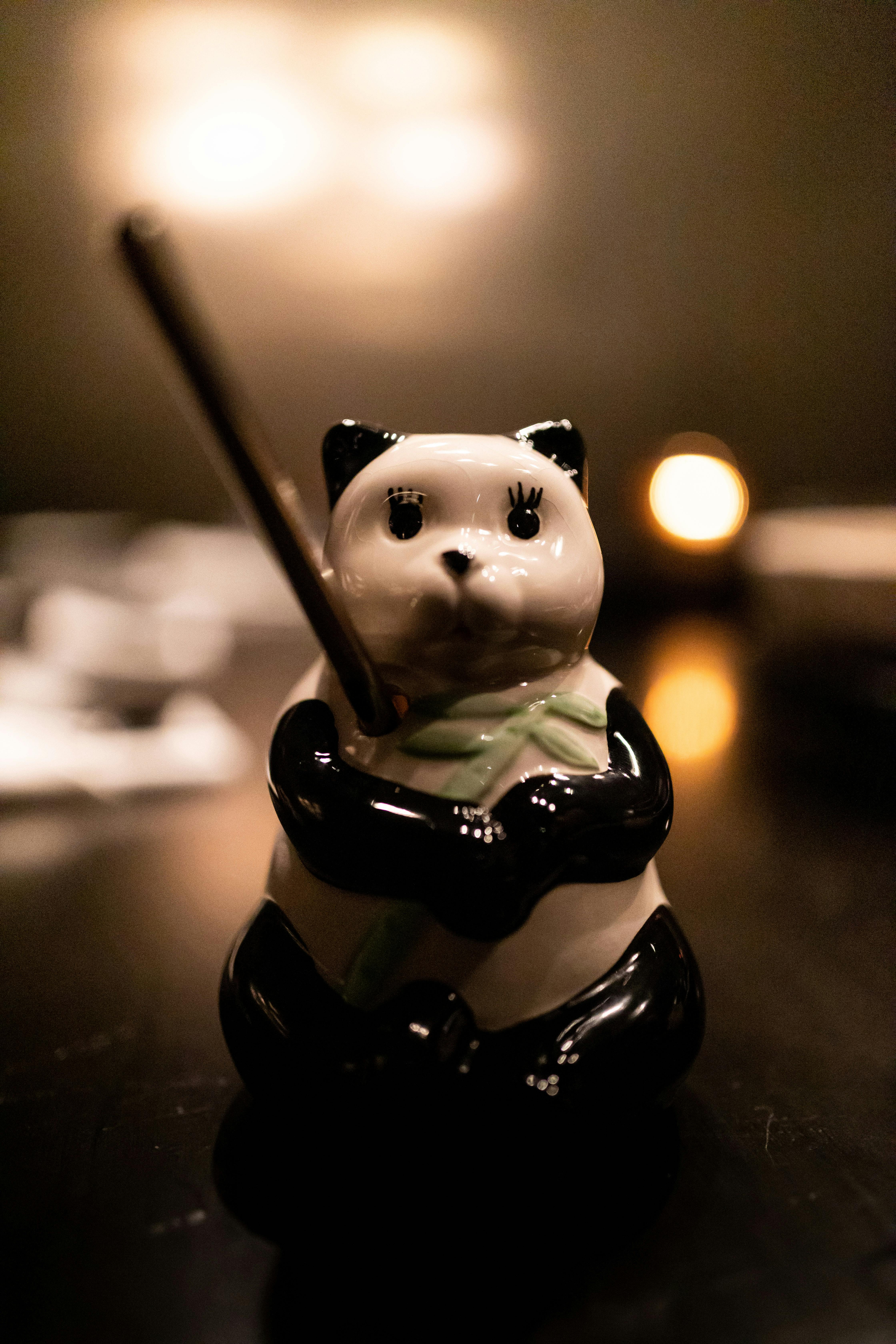 "Everything that we have done for these cocktails was inspired by traditional Chinese flavours and inspired by traditional Chinese ingredients," says Russell. "So every single thing on the menu, we tried to make sure has some sort of influence coming from something you might find in the food."
This includes the incorporation of baijiu, the most widely consumed spirit in the world, in two drinks. Find it in For Zhao and Jungle Panda. The latter is served in an adorable panda and is made with rum, baijiu, elderflower and Campari. It has notes of lychee, lime and mandarin.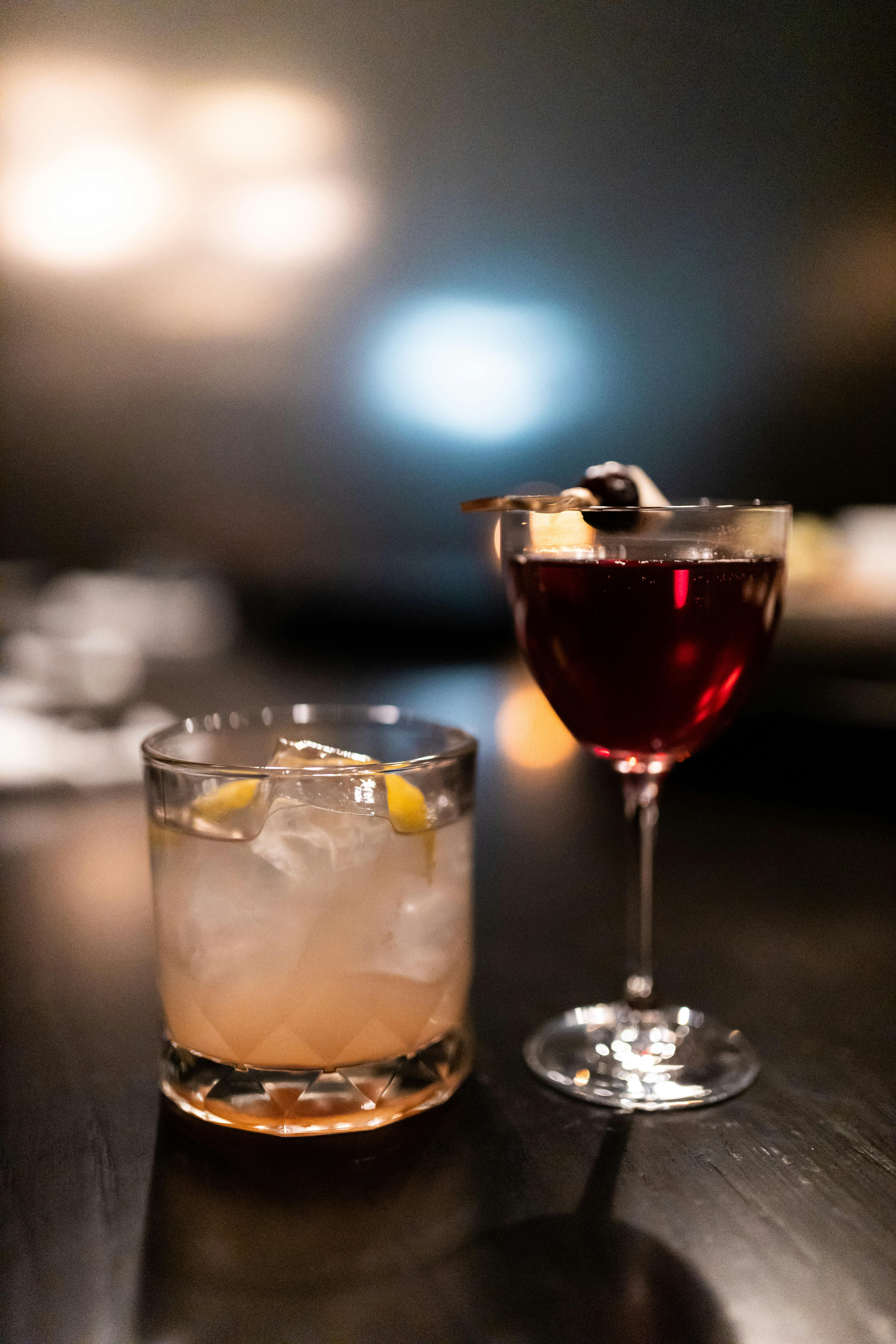 The MIMI Manhattan is a spin on your classic manhattan. Made with a Cantonese rice wine -- nuo mijiu, it's also got rye and Punt e Mes, Italian vermouth inside.
Created using ginseng bitters crafted in-house, Bet it All on Red is made with reposado tequila, red bean and ginger.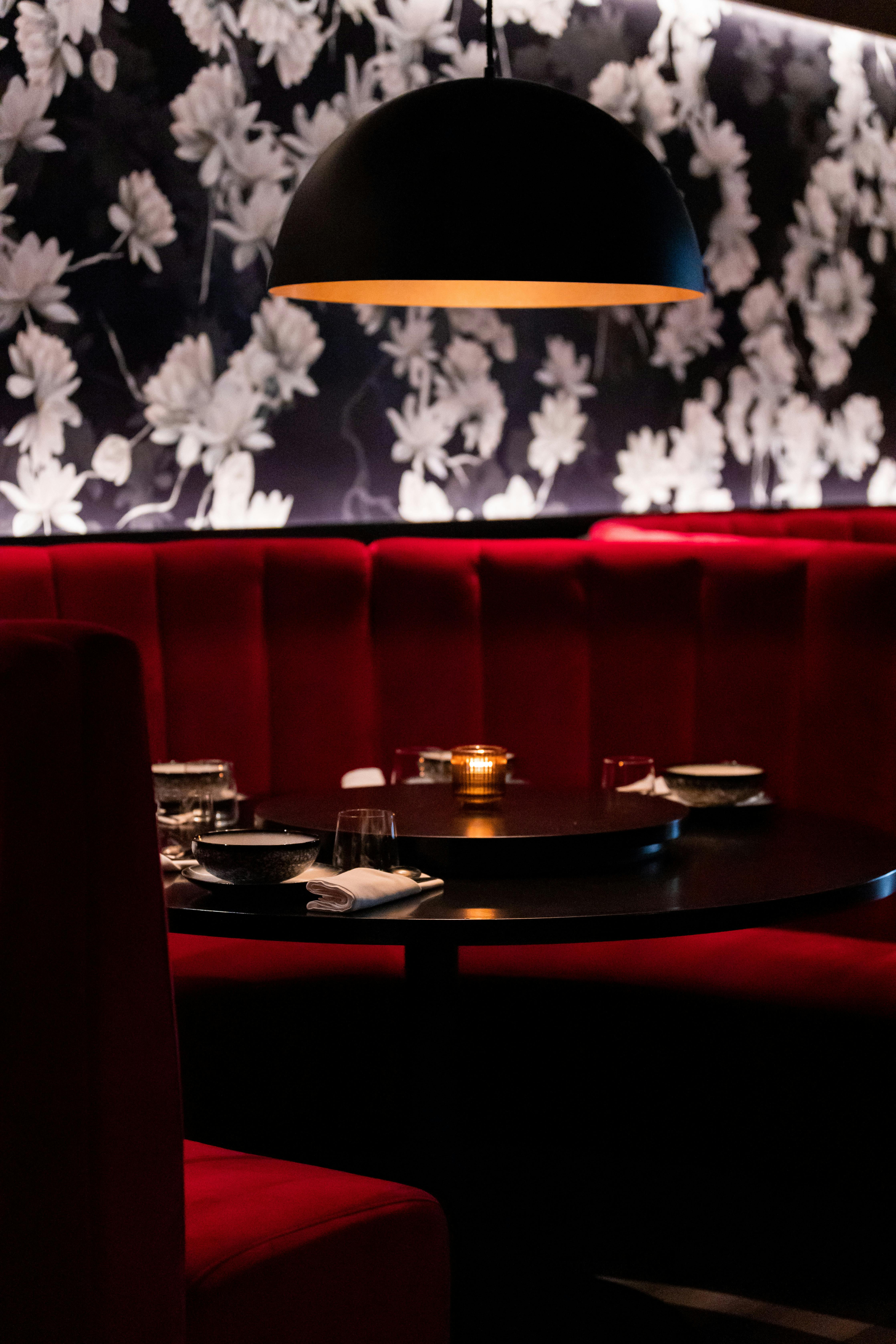 "I think that depending on where you are in the world, conceptually, our concept is not new," says Chef Schwartz. "You can find places like us in Hong Kong, in Shanghai, in New York even. I think it's something that Toronto has been missing for sure, for a long while and we're super excited about being able to bring this kind of experience."

MIMI Chinese is closed on Monday and Tuesday. They're open Wednesday and Thursday from 5 p.m. until 11 p.m., Friday and Saturday from 5 p.m. until midnight and Sunday from 5 p.m. until 11 p.m.
If you're looking to score a reservation, patience is key. MIMI Chinese is fully booked from now into December, but you can email them at reservations@mimichinese.com to get on the waitlist for a closer date. Be sure to stay attentive to their Instagram to find out when they'll be opening their books next.
In the meantime, if you're looking to explore more Chinese cuisine in the GTA, the team at MIMI Chinese have some recommendations for you.
"You can get a lot of these dishes at many other places in the city and we encourage people to do so actually," says chef Schwartz. "If you go to our website you'll see there's a page that talks about some of our favourite restaurants in the city that inspire us that we would love to link for people so they can go and check out this spot as well."