Photographs by Paolina Loseto
What started as a way to bring Turkish culinary traditions to Toronto has blossomed into an ever-growing institution by husband and wife duo Dee and John Ulgen, the same restaurateurs behind Simit & Chai.
Pasaj is their newest venture, a bright and open concept brunch-focused café in Leslieville serving up unique Turkish-inspired dishes, pastries and coffees to match. Having grown up in Istanbul, the two are incredibly passionate when it comes to sharing an authentic Turkish experience with Canadians, and not only with regard to the food they serve.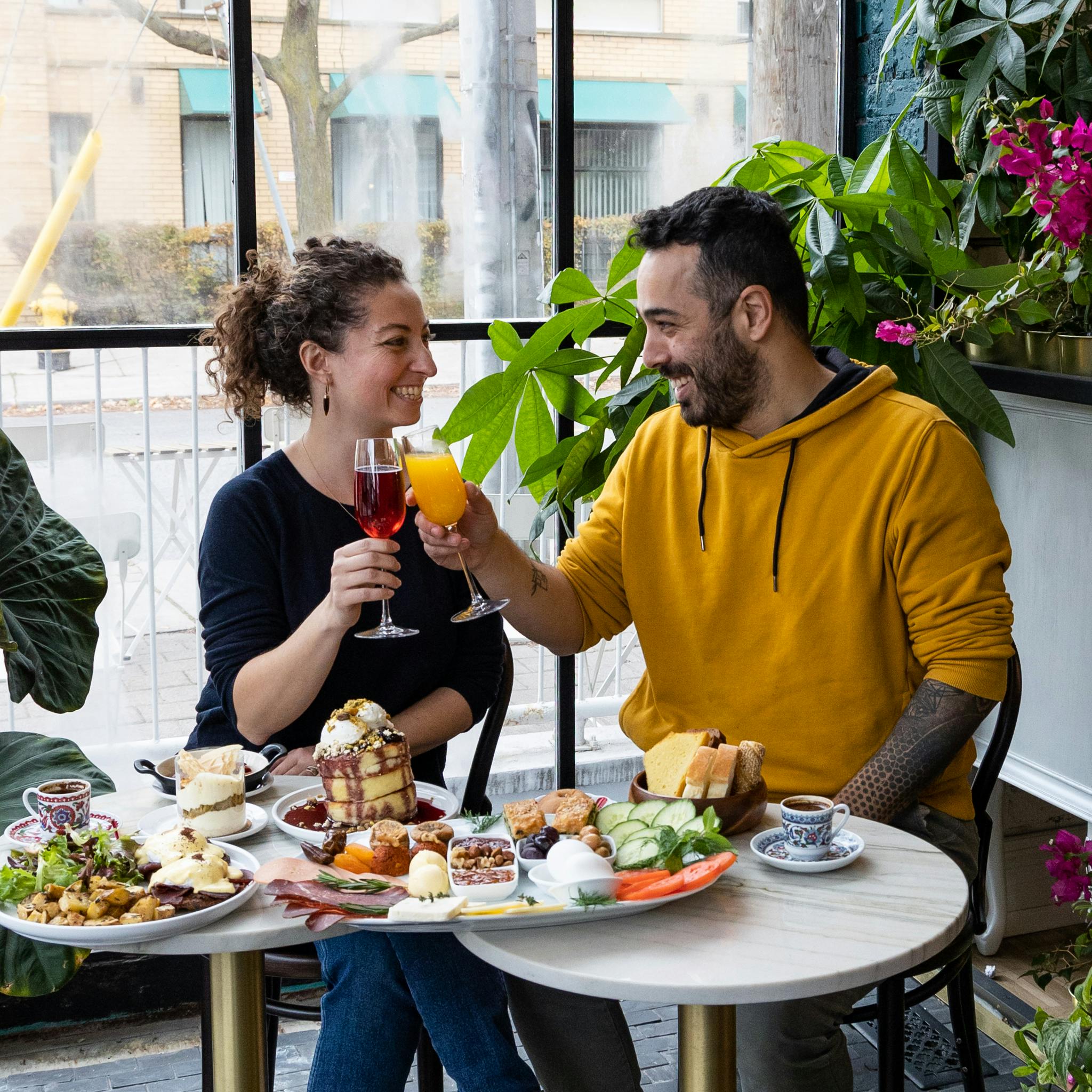 Co-owner Dee Ulgen says, "The original idea behind Simit & Chai, was to make high end sandwiches and serve them to our customers in the best environment possible, but we noticed that our guests were looking for a more sit down kind of place, where they could enjoy a relaxing meal and be served tableside."
The Turkish word 'pasaj,' which translates to 'passage,' is a common enclosed connector of streets in Istanbul, serving as a space for shopping or dining. John says, "These passageways connect hundreds of buildings, and they are filled with life. Even though they're covered, you still feel like you're walking outdoors on the sidewalk."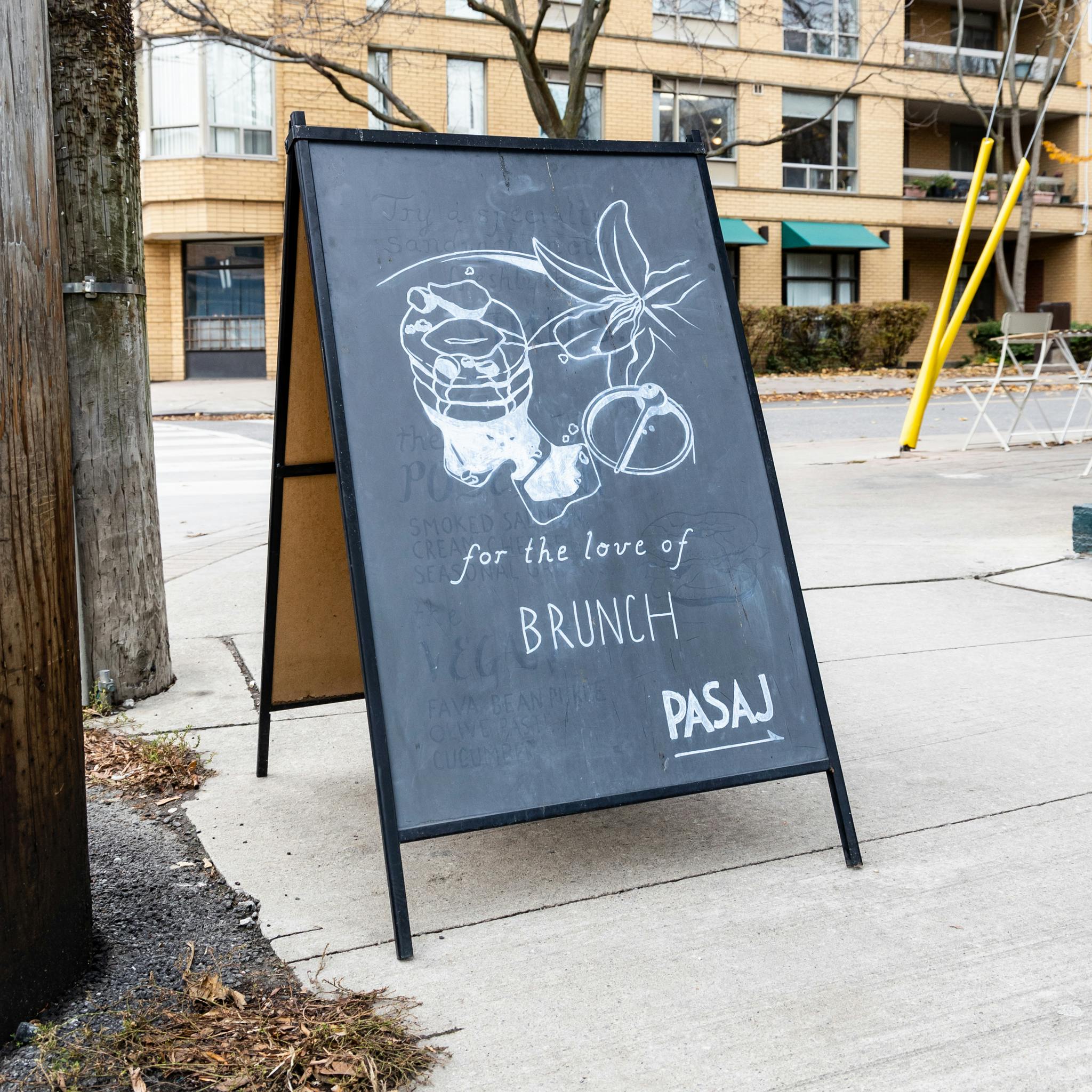 The Ulgen's had been on a three-year-long hunt for a space that reflected this kind of experience, and when they stumbled upon the large corner unit at Queen St. East and Brooklyn Ave. (where an old Turkish homeware and furniture store once stood), they knew that this would be the perfect spot for their next restaurant concept.
Dee says, "When we saw the space, we immediately thought: that's it, that's what we're looking for. We're not just trying to present people with good food; we want to create experiences for our guests like it's a destination and an escape to Turkey."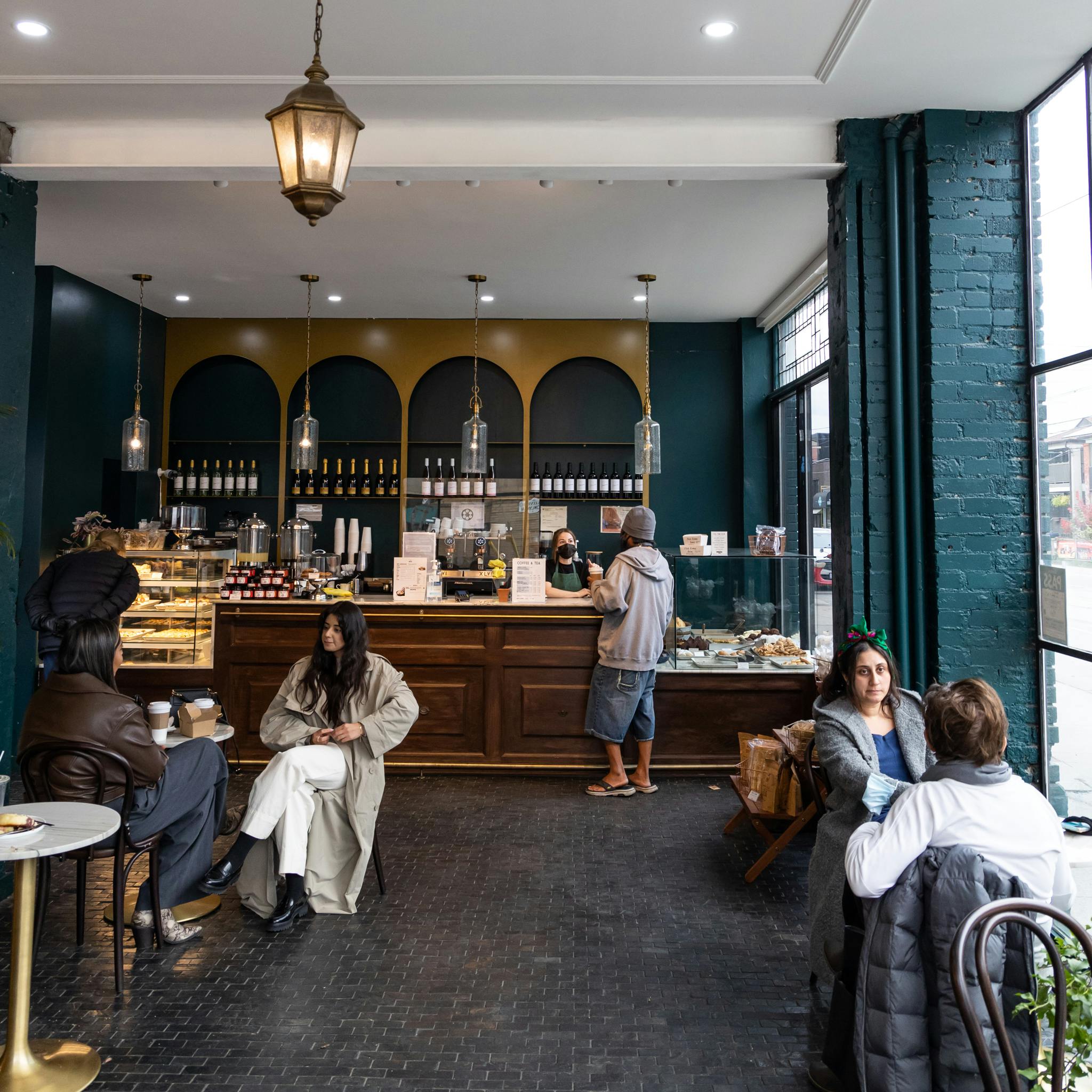 Inspired by the French quarters of Istanbul where the Ulgen's both grew up, they were drawn to the immense pools of light that stream into the space from the large paned windows lining the cornered storefront because it imitates the feeling of being outdoors.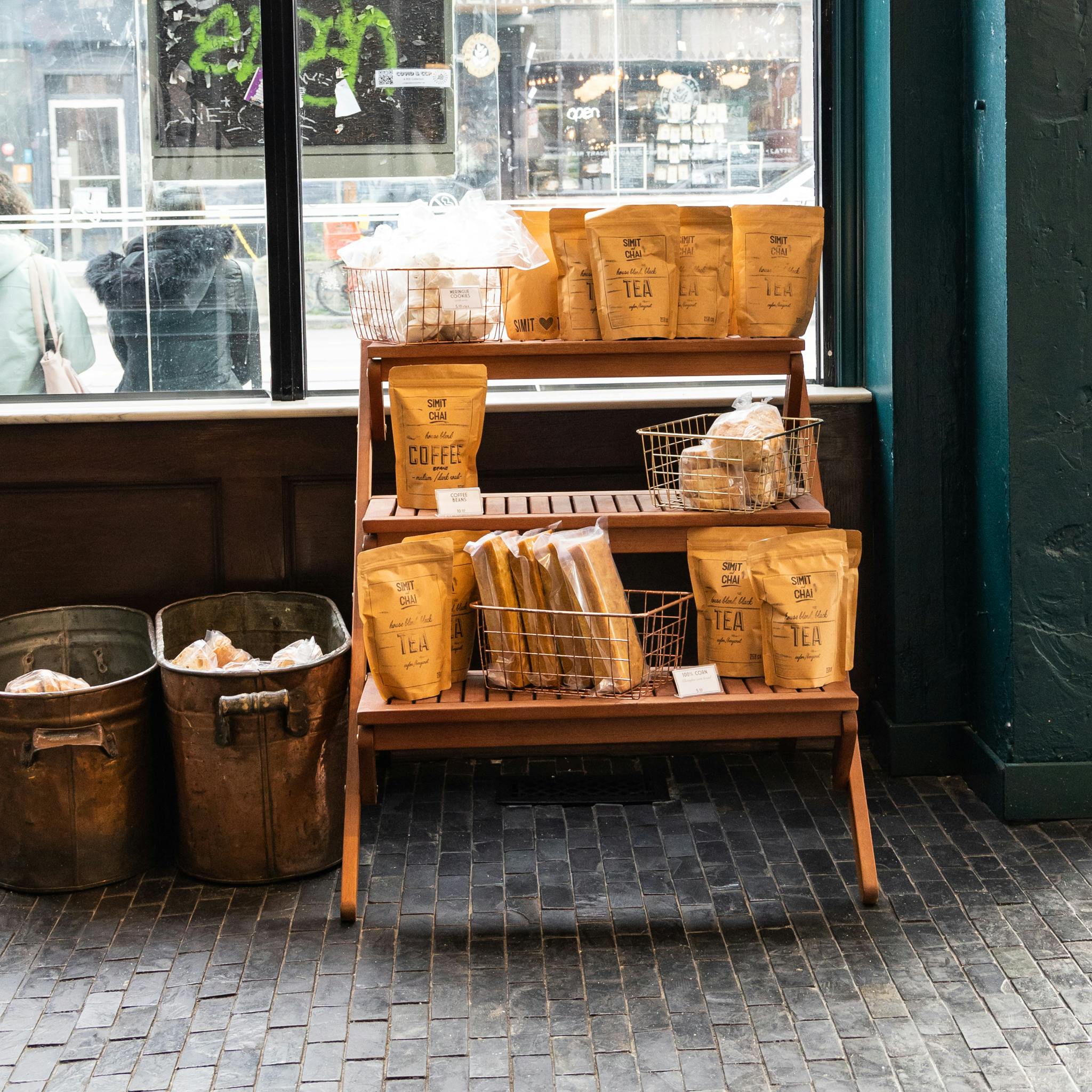 The front café area is filled with sophisticated decor like gold archways behind the coffee counter, unique glass light fixtures, marble tabletops, black cobblestone flooring and sleek dark wooden accents. The coffee counter is exquisite, with a glass pastry case and wholesale Simit & Chai products like tea and breads lining the nearby shelves.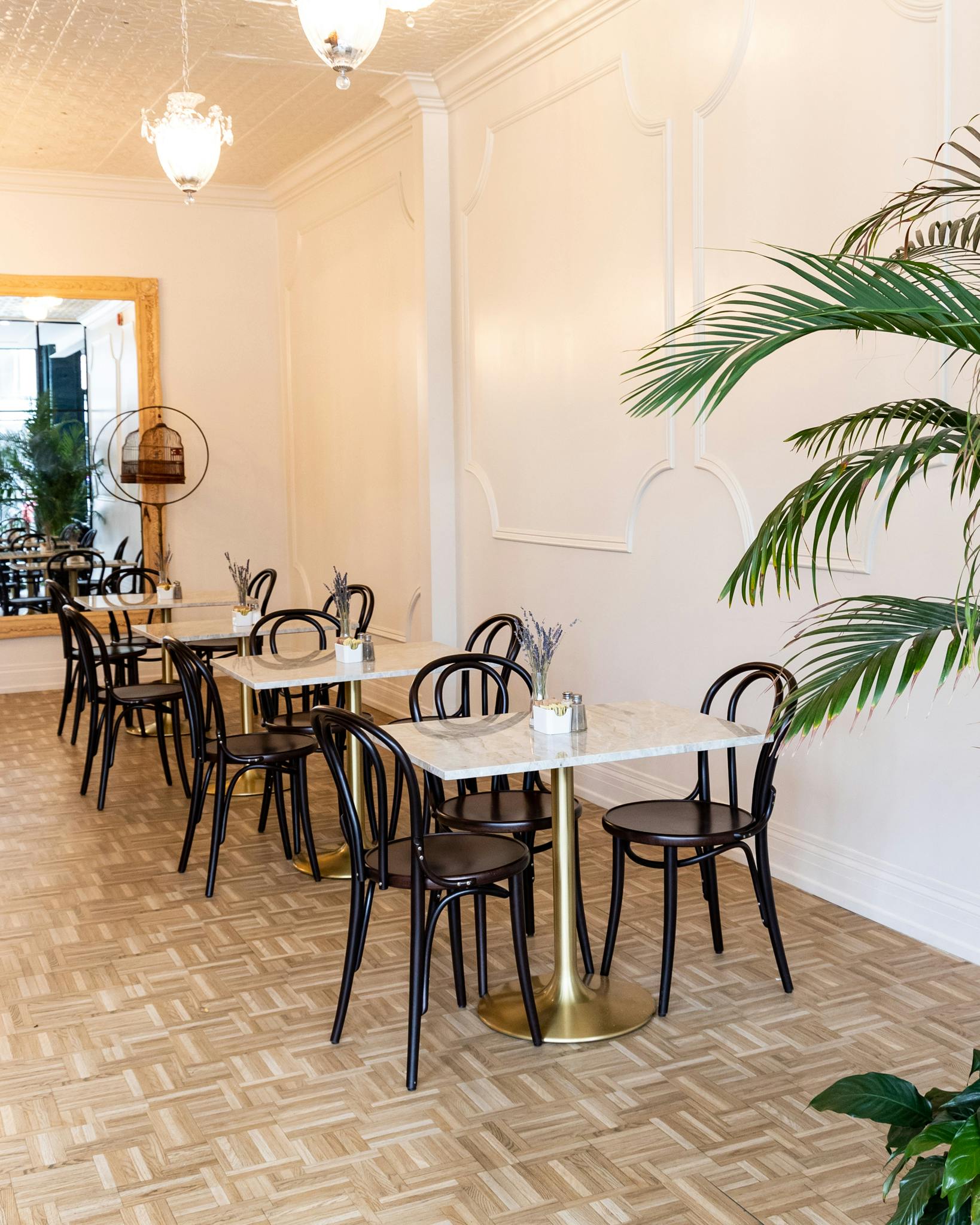 The back dining area beautifully contrasts the coffee shop and is separated by another sizeable paned window fixture with a unique stone emblem that centres the opening. The white walls, exposed white brick, and chandeliers open up the room and add a stunning elegance to the space. With only a few tables in the back, it is never too crowded, so you can sit and enjoy your intimate conversations over the full Turkish breakfast experience.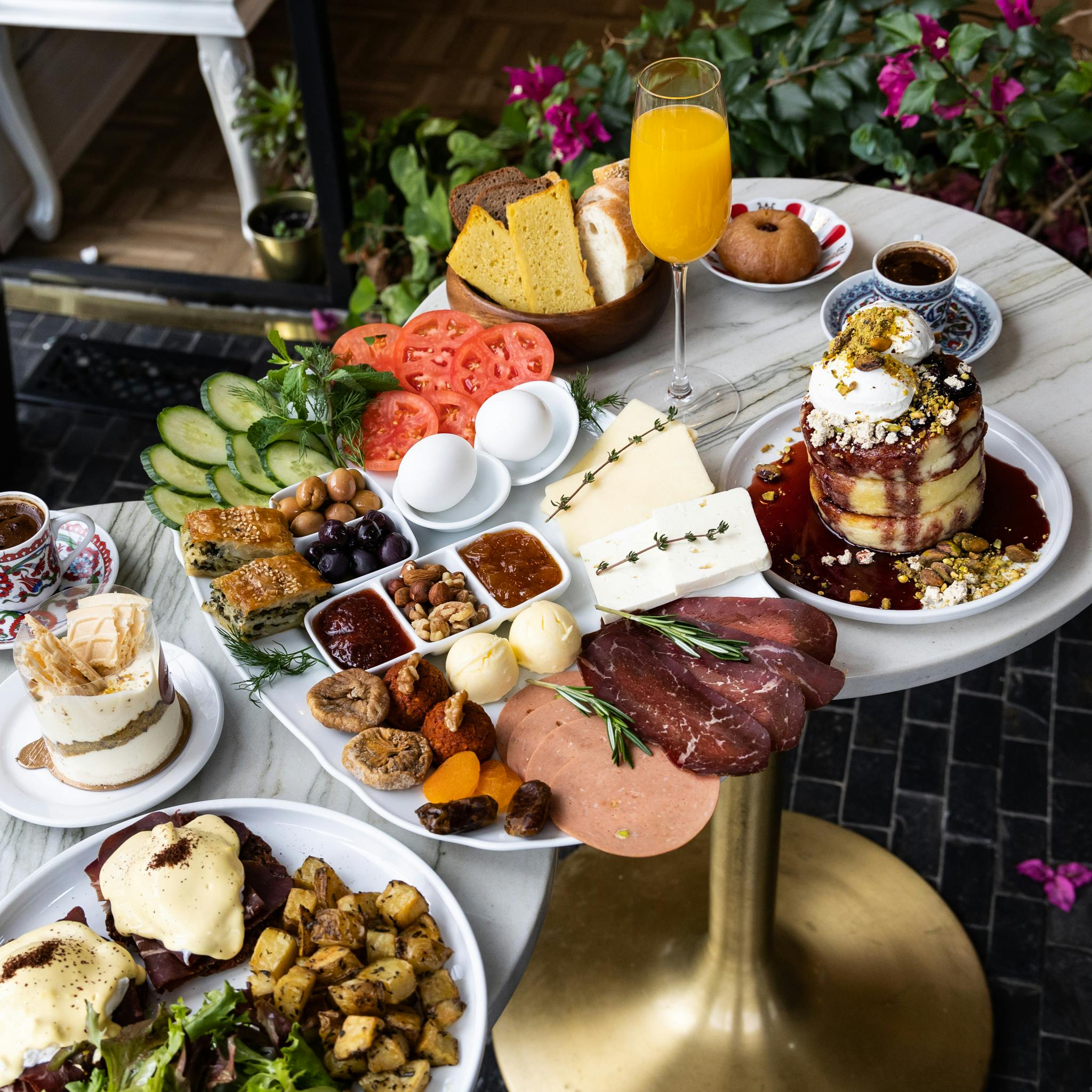 In the warmer months, guests will be able to enjoy the full Pasaj discovery experience, where they will have to travel through the interior space and head outdoors to the expansive covered and gated side patio, with seating for 150. John says, "That's the beauty of pasaj. You never know where it's going to lead, and you'll always end up discovering places that you never knew existed."
Having learned recipes and techniques as a kid in her grandmother's long-running bakery in central Istanbul, Dee Ulgen is no stranger to Turkish cooking. Though trained in other fields (Dee being an engineer, and John being an architect), they are both thrilled to go back to their roots with Pasaj and put a North American flair on top of what they already know and love.
Dee says, "Some of the recipes are really old and authentic, but some of the recipes we created together from scratch." Their goal was to provide a menu that was as versatile as possible for their customers, with almost everything being made in-house.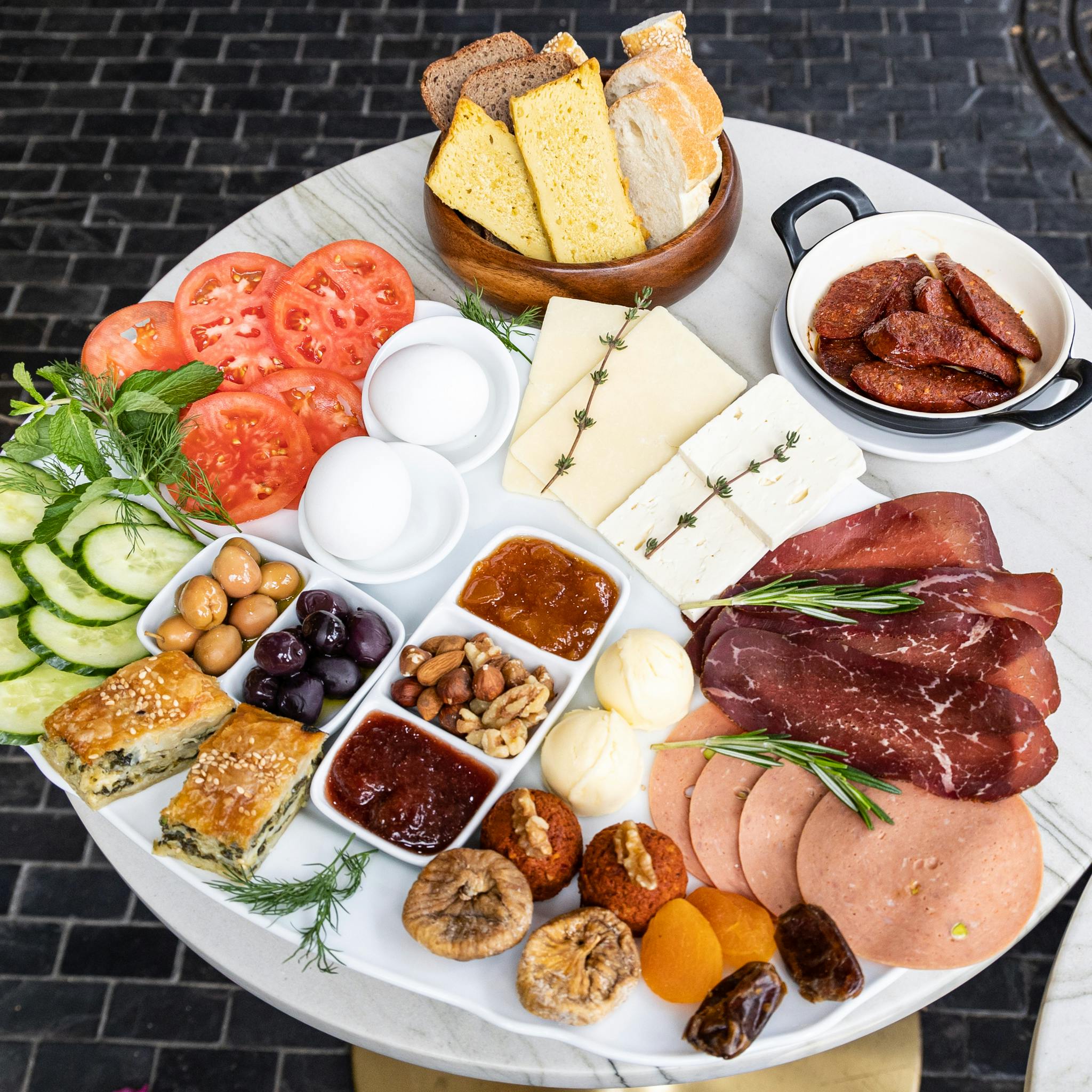 The Break-Feast is the most traditional form of Turkish breakfast; however, it's not necessarily the type of meal one would eat on the daily. Though staples like fresh tomatoes, olives, nuts, cucumbers and jams are commonly eaten every day, the entire platter is more of a sampling opportunity to try a little bit of everything. Served as either a single or double portion, the Break-Feast is perfect for sharing with the table.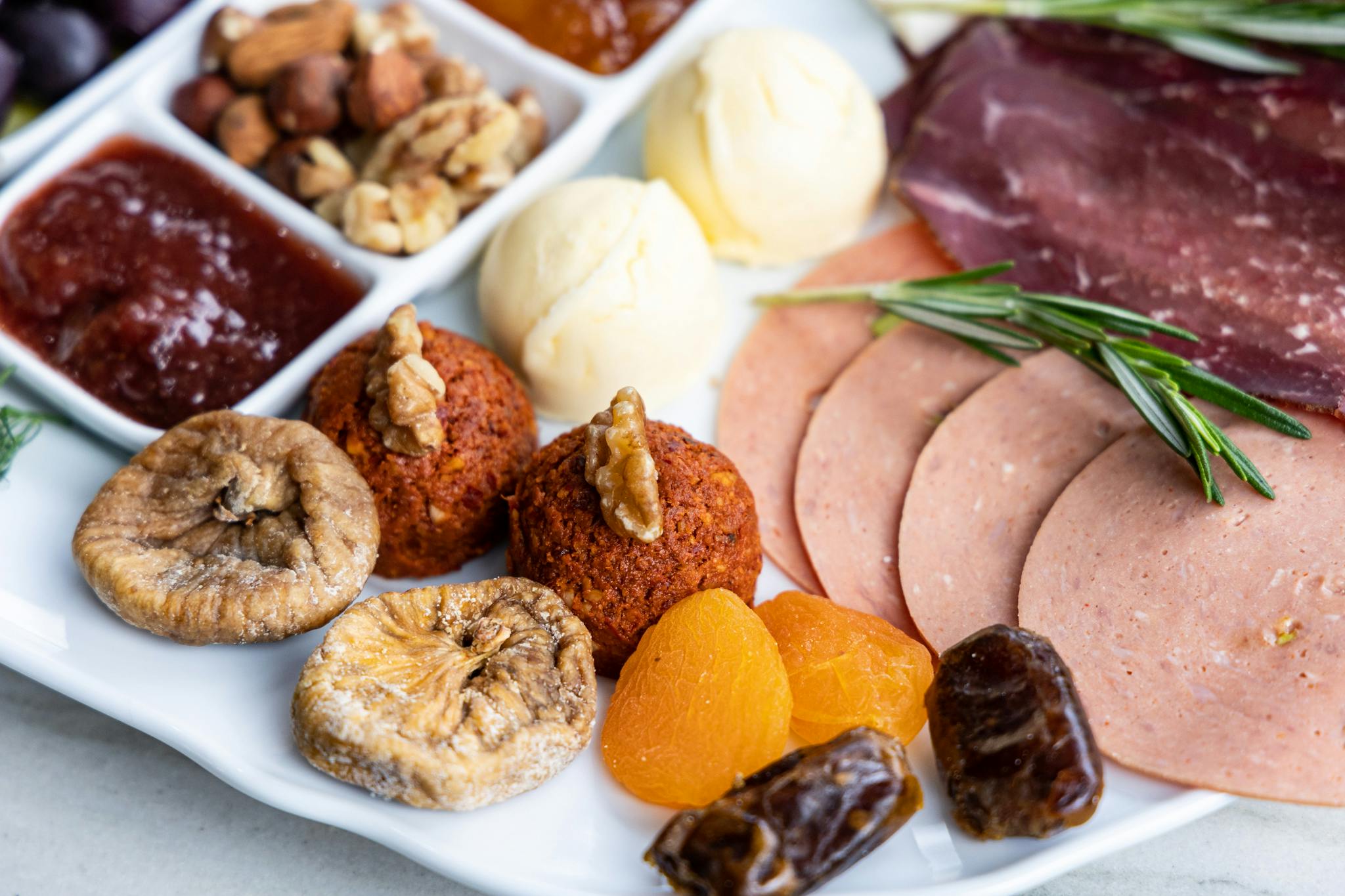 Beginning with the meat, the dish comes with warm grilled sucuk (traditional spiced Turkish beef patty), salam (cured sausage from ground dark turkey meat) and pastirma (lean Turkish beef) imported from a master Turkish butcher based in Montreal. As for the cheese, the platter comes with feta, old cheddar, as well as börek, a cheese and herb-filled pastry made of a thin flaky filo dough.
To round out the platter, it is served with a house-made bread basket containing traditional walnut rye bread, cornbread (with a recipe hailing from Northern Turkey), Turkish Somun sourdough bread, and of course, their famous simit, a Turkish bagel dipped in molasses and coated with sesame seeds.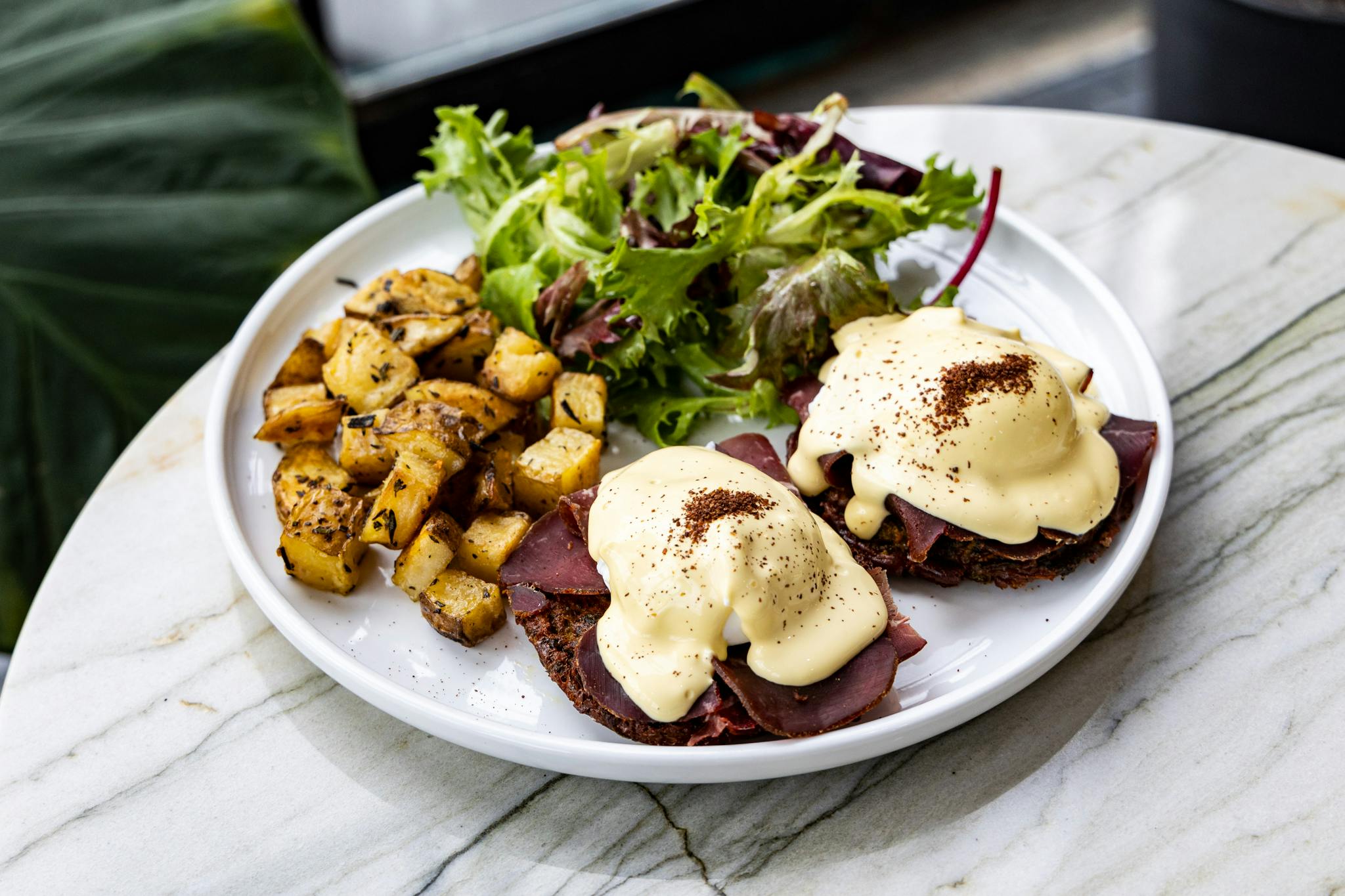 "The Mucver Benedict is as North American as it gets, but we've added our own twist to it," says Dee. On the bottom are zucchini fritters made to order, loaded with tons of fresh herbs and feta cheese. The protein choices are smoked salmon, or pastirma, and the bennies come topped with poached eggs and sumac hollandaise. On the side are oven roasted potatoes, and a light green salad to round it all out, for an excellent Turkish-North American hybrid meal.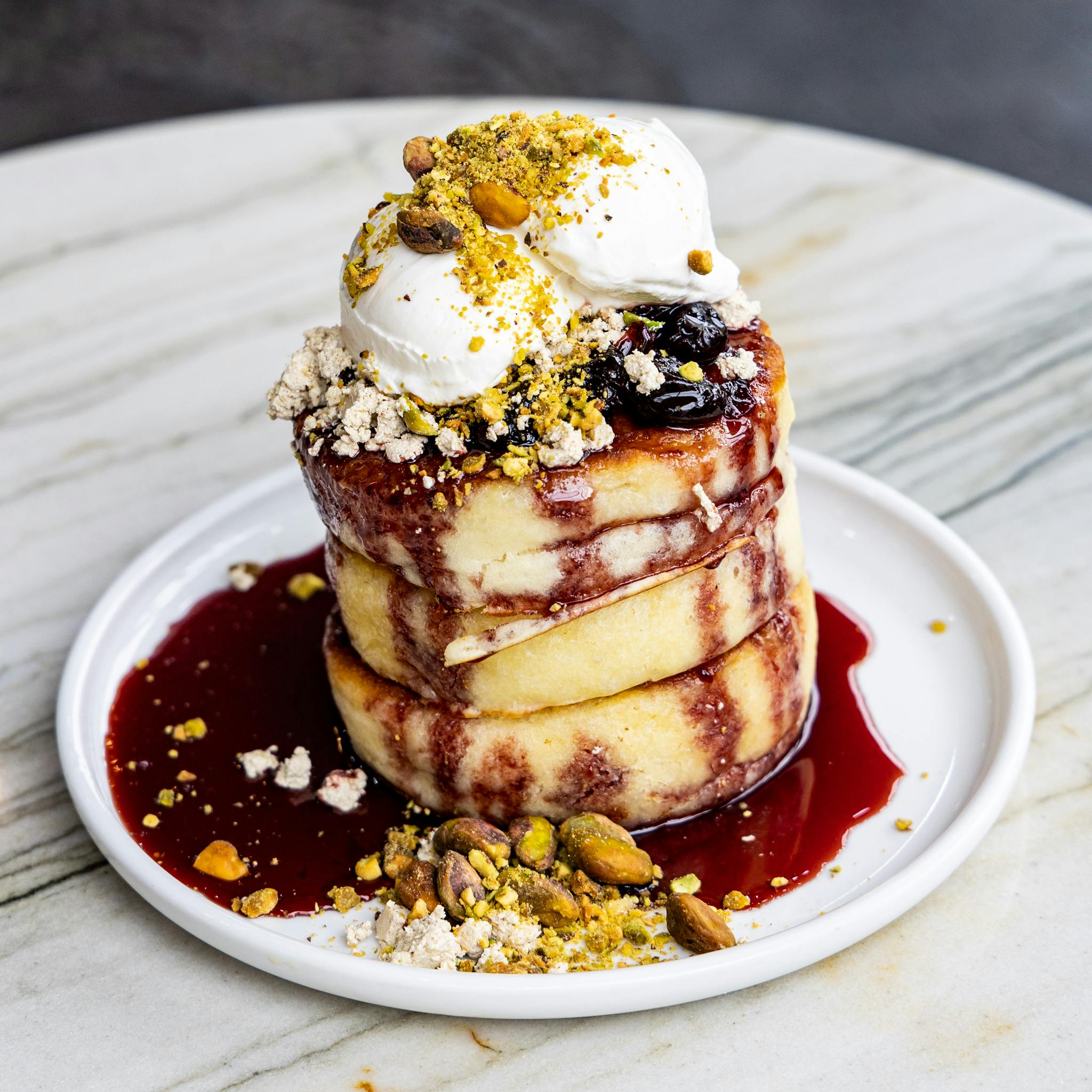 The Grandma's Pancakes aren't something one would necessarily find in a classic Turkish breakfast spot, but Dee and John are thrilled to put their spin on a North American brunch classic once again. Three soft, gorgeous milky pancakes are stacked on top of one another, with homemade sour cherry jam, labneh (a yogurt-based cream cheese), pistachio and crumbled tahini helva. Though normally eaten on its own as a dessert, the helva adds a crunchy texture and a little kick to finish off every bite.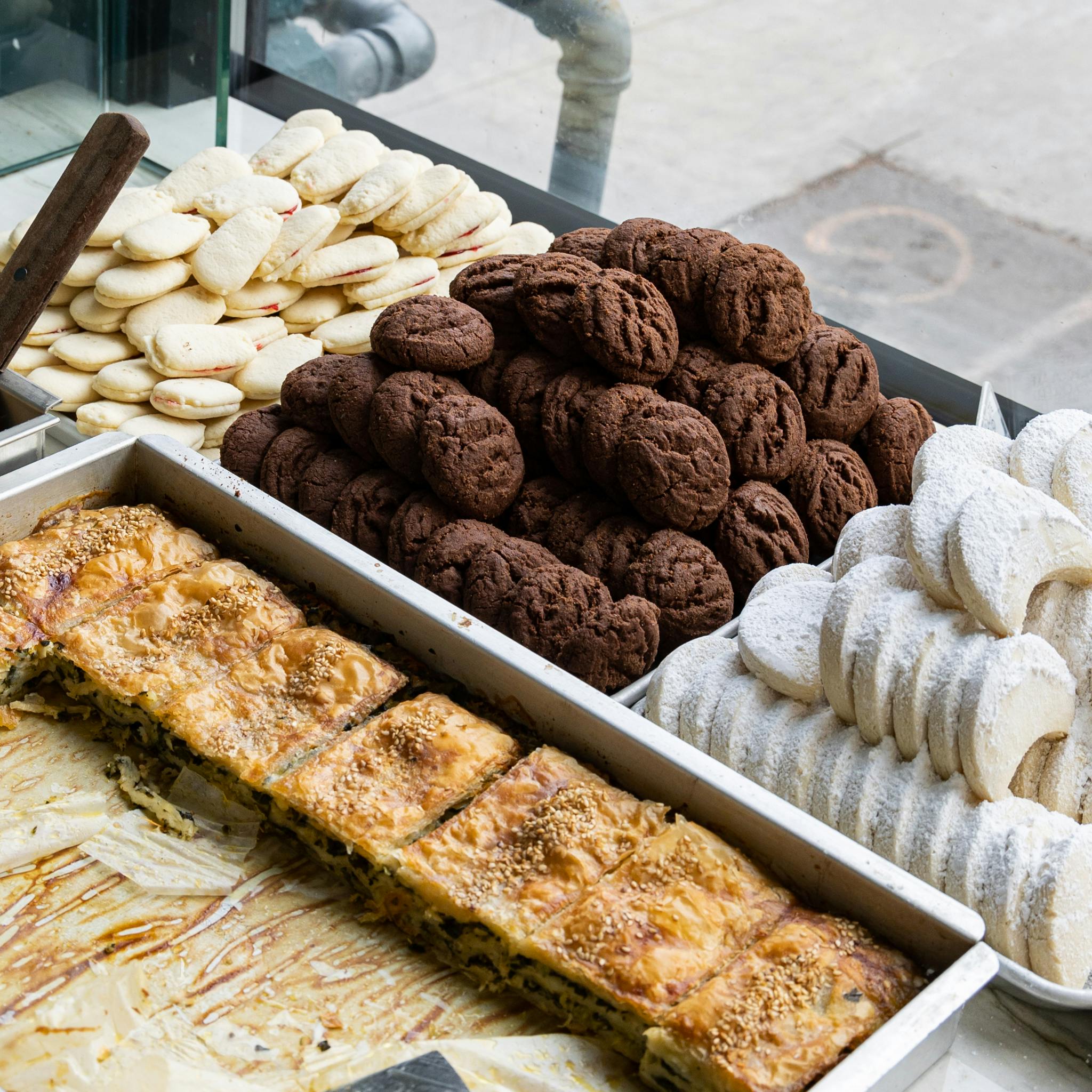 As if the menu options aren't enticing enough, their pastry counter is filled with delectable Turkish goods that are an absolute must-try. The Magnolia is a dessert with its origins hailing from New York, but Pasaj presents it in Turkish fashion. Baked with simple ingredients, it is made with pistachio pastry cream and Turkish wafers that sit on a bedding of shortbread cookies.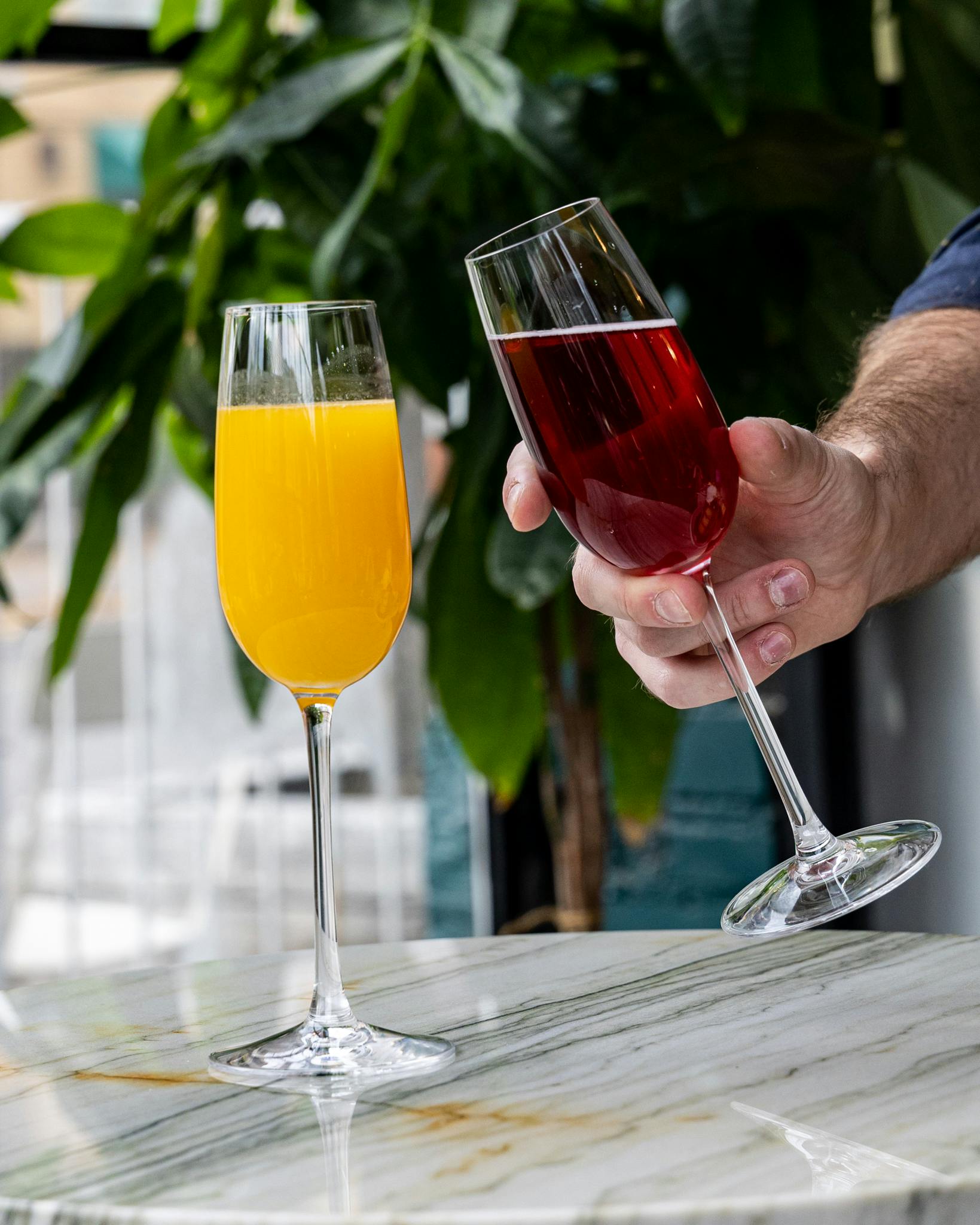 Another noteworthy pastry is the light and airy sekerpare, one of the most popular Turkish desserts made of syrup-soaked semolina cookies topped with hazelnut. To complement your brunch, sip on a refreshing orange or pomegranate mimosa, made in-house with freshly squeezed juice and bubbly.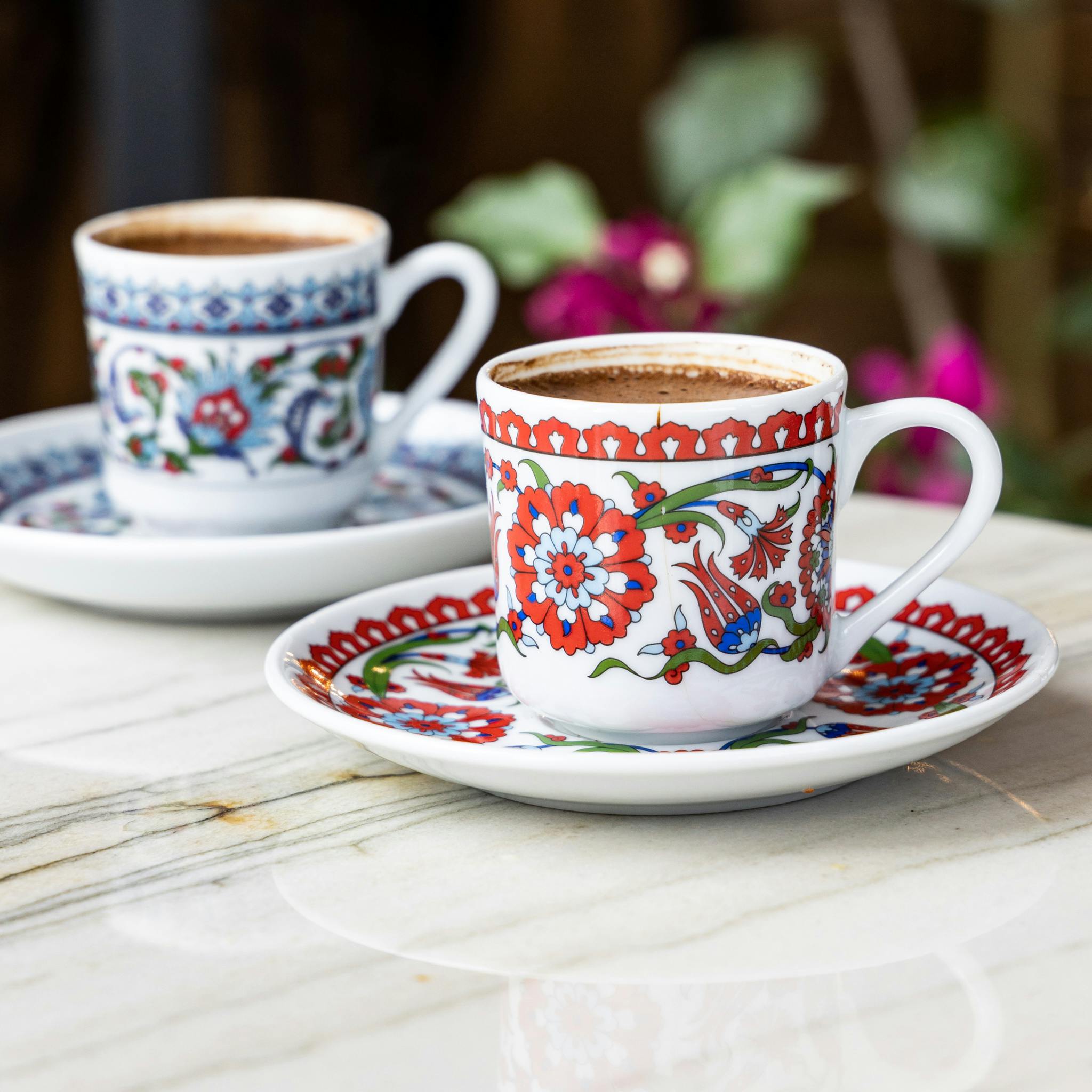 As for the coffee, though many espresso-based beverages are available for dine-in or takeout, the Turkish coffee is a must-try. Served in ornate Turkish mugs and saucers, the coffee is strong and very finely ground, with beans sourced from the original Turkish coffee-making company founded in the 1800s.
Dee and John Ulgen are happy to be embedded into the east-end culinary community; they recognize almost all the faces that pass by or come into Pasaj and they uphold their cultural values with utmost importance.
They have big plans for the future, with a renovation in store for Simit & Chai. They are elated to continue to welcome newcomers into the Pasaj space, where they will convert all their guests into regulars after their first visit.
Pasaj is located at 1100 Queen Street East, and like Simit & Chai, it is open seven days a week, 365 days a year. The bakery is open for dine-in and grab-and-go service from 8:30 a.m. to 4:00 p.m. Monday through Thursday, and 8:30 a.m. to 5:00 p. m. Friday through Sunday, whereas the full-service dining hall is open 9:30 a.m. to 3:00 p.m. every day of the week.