The summer months may be behind us, but that doesn't mean you can't have a magical getaway to escape the hustle and bustle of the big city. Just a 20 minute drive north of Collingwood, and only steps away from Georgian Bay, lies Penny's Motel and Après Snack Bar, Thornbury's newest vacation destination that will provide you with everything you need for an unforgettable and relaxing trip.
Having grown up going on family vacations and teaching skiing in the Collingwood area, John Bellknap, owner of John and Sons Oyster Bar in downtown Toronto, was always infatuated and very familiar with the area and its unmistakable charm.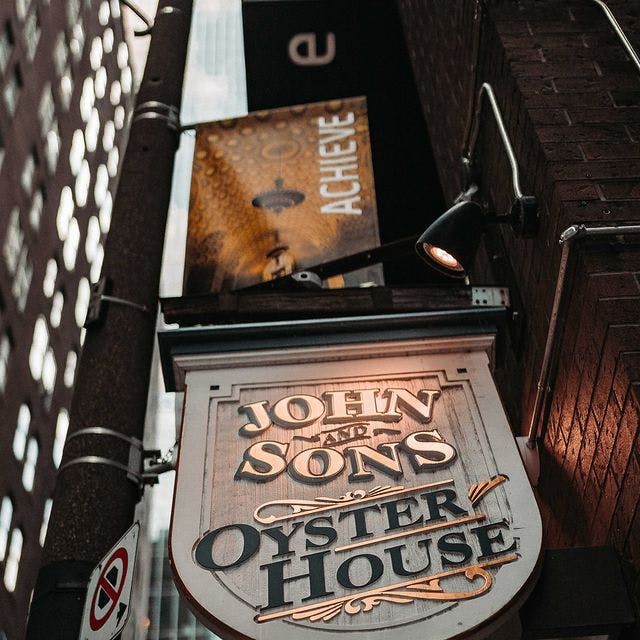 John and Sons Oyster Bar had been open for 10+ years, and living with his wife and three kids in a Yonge & Eglinton condo wasn't exactly the ideal situation for him and his family. After some lengthy consideration, he knew it was time to pack up and start a new chapter in the Georgian Bay triangle, where he could open up a new establishment and leave the very capable team at the Toronto restaurant to keep the business afloat.
Bellknap had caught on to the 'motel makeover' trend that was starting to take hold in Ontario, and he realized he could put his years of hospitality experience to use by opening his own.
"It's always been a goal of mine to open a spot where I don't have to rush people out. In the restaurant, we're always so focused on flipping tables, but a motel would give me the chance to offer guests an extended period of excellent hospitality," Bellknap says.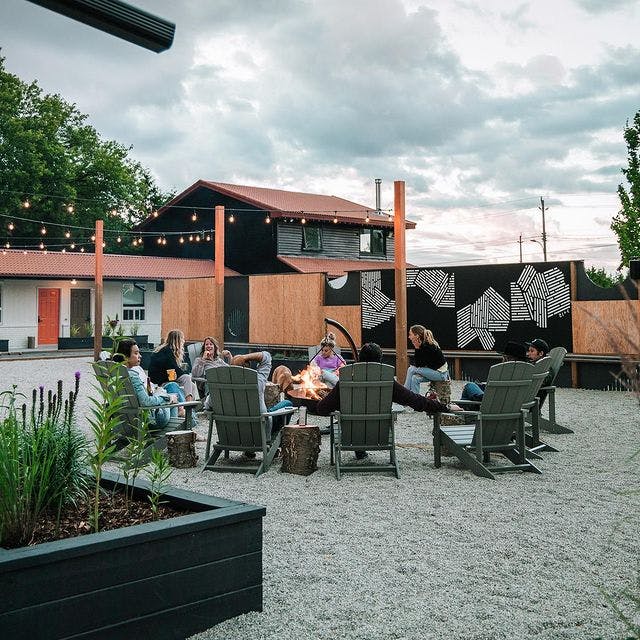 It was imperative to Bellknap that the property have a space for both a boutique motel and a restaurant. He had been eyeing Penny's Motel in Thornbury, a neglected roadside inn from the 70s with great bones, but in desperate need of some TLC and a complete renovation.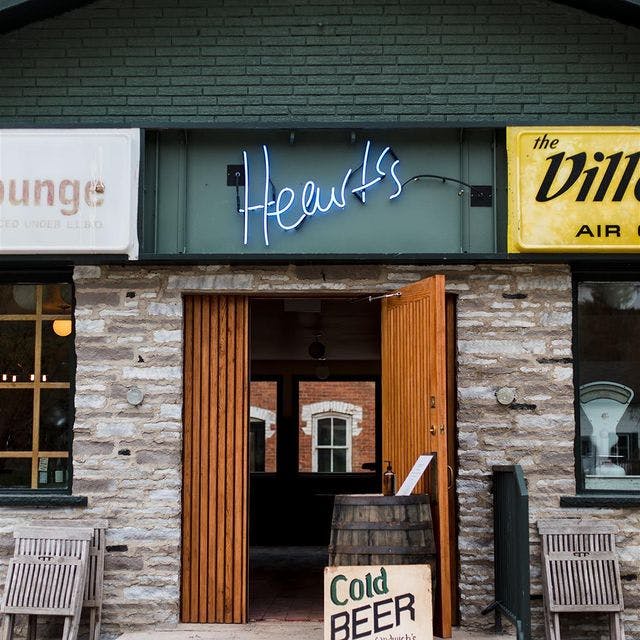 If you're unfamiliar with the Thornbury region, let us catch you up to speed. It's a quaint township just north of Blue Mountain and Collingwood in the Georgian Bay triangle. Over the past few years, a number of Toronto-based restaurant owners have set up shop in the area, including Mark McEwen' newest Fabricca location, Teo Paul (Union, Côté de Beouf) and Tyler Wilson's Heart's Tavern and Aki Sushi.
The area is also well known for its stunning trails, beaches, cideries (like SpyThornbury Village and Grey & Gold), and wineries (like the popular Roost Winery). With so many year-round activities nearby, like skiing in Blue Mountain, or a day trip to the Scandinave Spa, Penny's Motel is situated in a vacation goldmine, filled with lots to do, and even more to eat.
Bellknap was set on purchasing the motel in the early months of 2020 but when the pandemic hit, some obvious setbacks had the project on an indefinite hold. His eventual investors, however, saw the year-round investment possibilities that Penny's could offer, and by July 2020, Bellknap had secured enough financing from 13 private lenders who would assist in turning his dream into a reality.
Though gifted with excellent taste, Bellknap thought it would be best to partner with architect Drew Sinclair of SvN Architects, and designer Kristen Gregory of KMG Designs, both regulars at John and Sons who would become investors and key players in the re-modelling of the motel.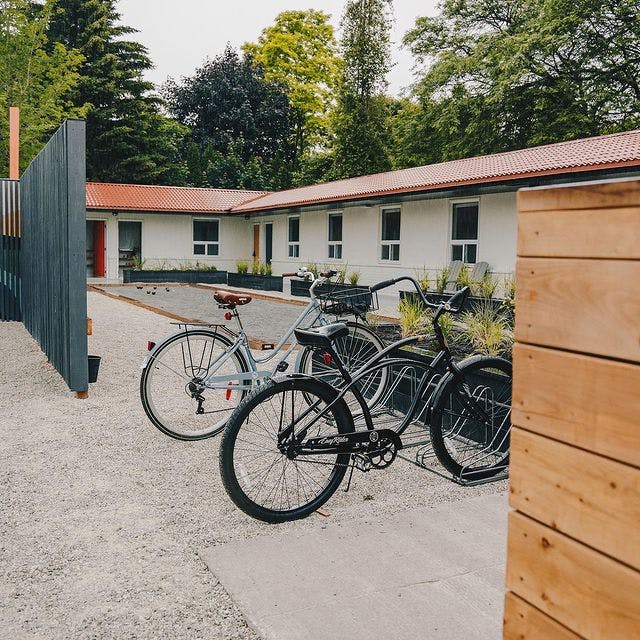 The first thing you'll notice when pulling in is the iconic vintage Penny's sign from the 70s, which Bellknap absolutely loves, and has insisted on keeping. He says, "It's the heart and soul of the motel; we just couldn't part with it."
His and Sinclair's vision was to keep the retro vibe of the motel but make it into a modern vacation destination. The main architecture of the structure has remained the same. Still, once you pass through the newly built and painted wall divider, you'll find yourself in a luxurious oasis that will immediately feel like you've escaped the city.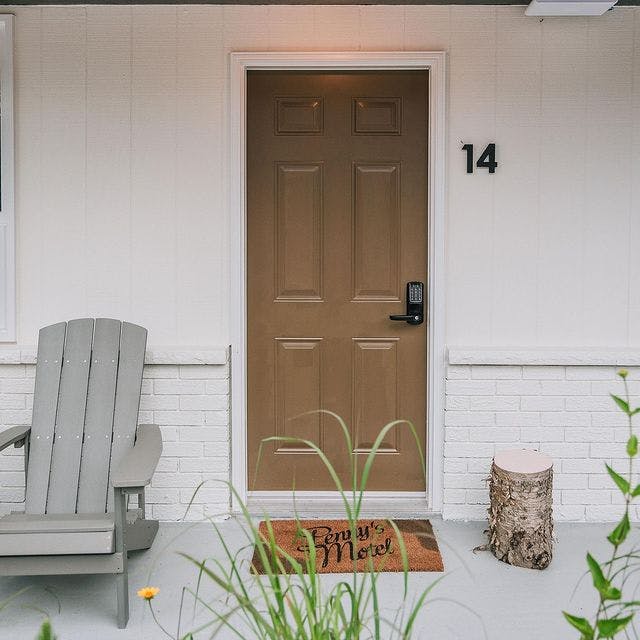 With only thirteen rooms, there was an opportunity for Bellknap and Sinclair to ensure that each suite would be uniquely decorated. When you walk in, the first thing you'll notice is that the back wall has been decked out with stunning wallpaper, hand-selected by Bellknap and the design team.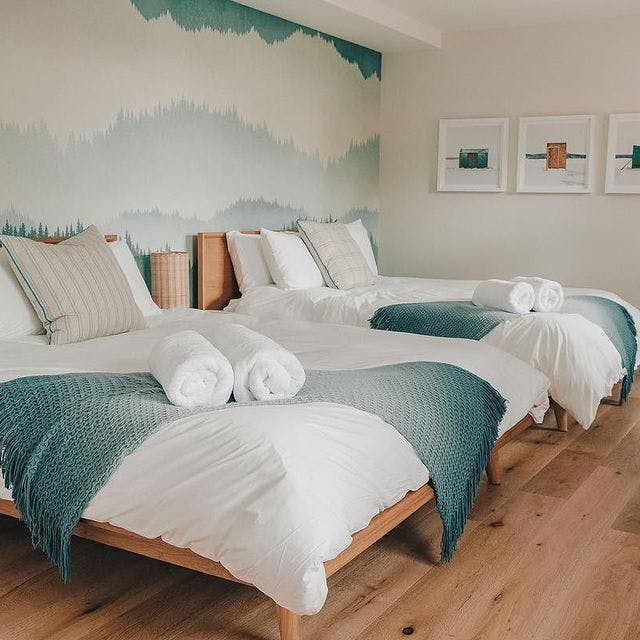 From florals to woodscapes to palms, each room has its own flare when it comes to the decor, but all are equipped with the same crisp white linens, modern shelving and hand-picked retro accent pieces. You'll also notice that a couple of bags of Hardbite chips and Flow waters are waiting for you on the exposed shelving units, alongside glasses and Swell ice buckets to keep your beverages nice and cold.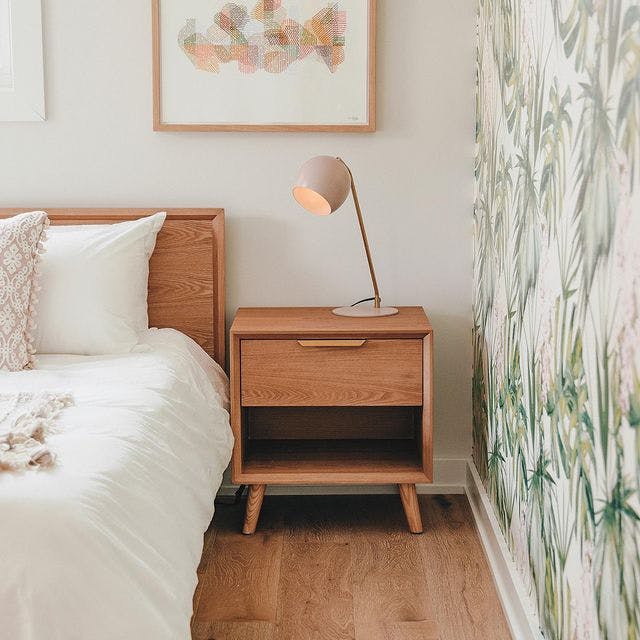 Even the bathrooms are luxurious; they are equipped with heated flooring, gushy Turkish towels and a gorgeous standing shower with tile in either blue, green or pink to match the wallpaper in the bedroom. They also provide bottles of high-end Malin & Goetz hair and skincare, which will be waiting for you upon arrival.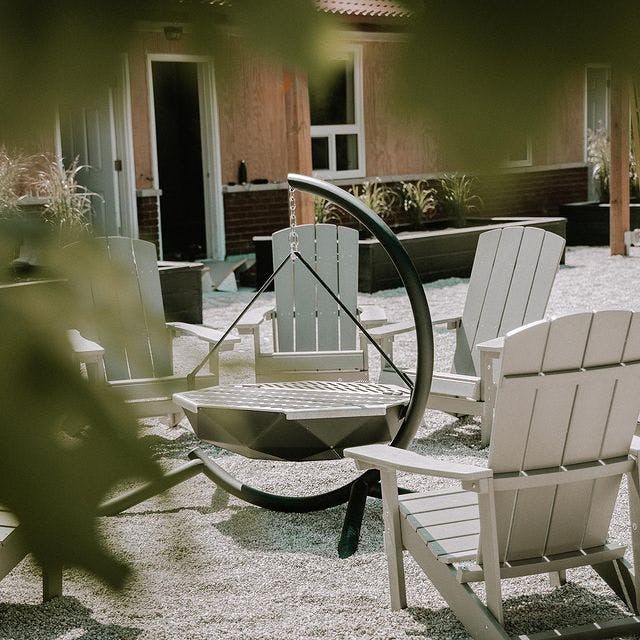 The motel grounds are absolutely immaculate and will make you feel more than at home throughout your stay. With some meticulously selected ambient music playing in the background, you'll love spending some time roasting one of their individually packed s'mores kits by the fire while cozied up on one of their many Muskoka chairs. If morning coffee is your thing, head on over to the refurbished reception area, where they will have complimentary coffee and freshly baked scones and pastries waiting for you.
Every little detail of the courtyard has been manicured and is an absolute paradise. In the warmer months, you can challenge your travel-mates to a few rounds of cornhole, bocce ball or ping pong to get into the competitive spirit.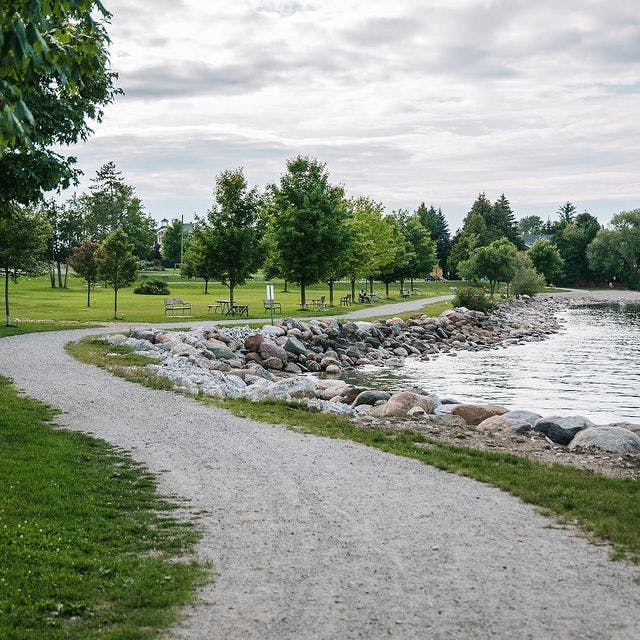 They also have bikes on hand so that you can explore the expansive Georgian Bay trails and downtown core at ease. In the cooler months, expect a total transformation of the courtyard space, as they plan on adding a curling rink and other winterized activities for you to enjoy.
However, the piece de resistance has to be the motel's innovative snack bar, Après, set to open this month. The menu has been curated by chef Amber Plourde, the former sous chef at The Drake Hotel in downtown Toronto.
Plourde is ecstatic to finally have the opportunity to put her culinary creativity to the test and has created a dynamic menu featuring an array of delicious seafood, meats, veg and anything else she can get her hands on.
With so many local farmers in the area, Plourde has been using her connections to outsource a big portion of the products she is using on the menu. She is also, of course featuring oysters due to Bellknap's expertise and background working with them. Plourde also has the privilege of working alongside John DeJong in the kitchen, one of Canada's top oyster shuckers and reigning oyster shucking champs, with years of experience in the hospitality industry.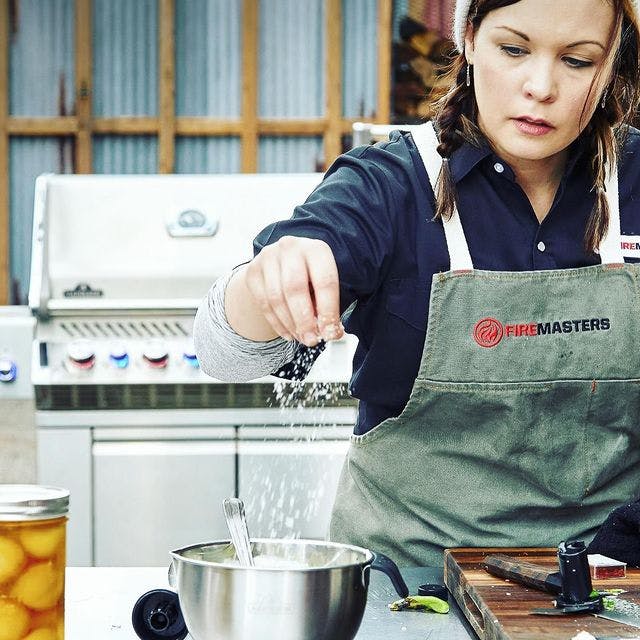 Après boasts a sprawling 50 seat patio as well as an intimate indoor space -- that doubles as the reception area -- decked out with marble, exposed wood, industrial style lighting and a chalkboard menu displaying what's on feature for the day. Due to the tight kitchen, Plourde will be utilizing one of the custom-made fire pits to grill seafood and meat, giving each featured meal an authentic fire-roasted boost of delicious charcoal flavour.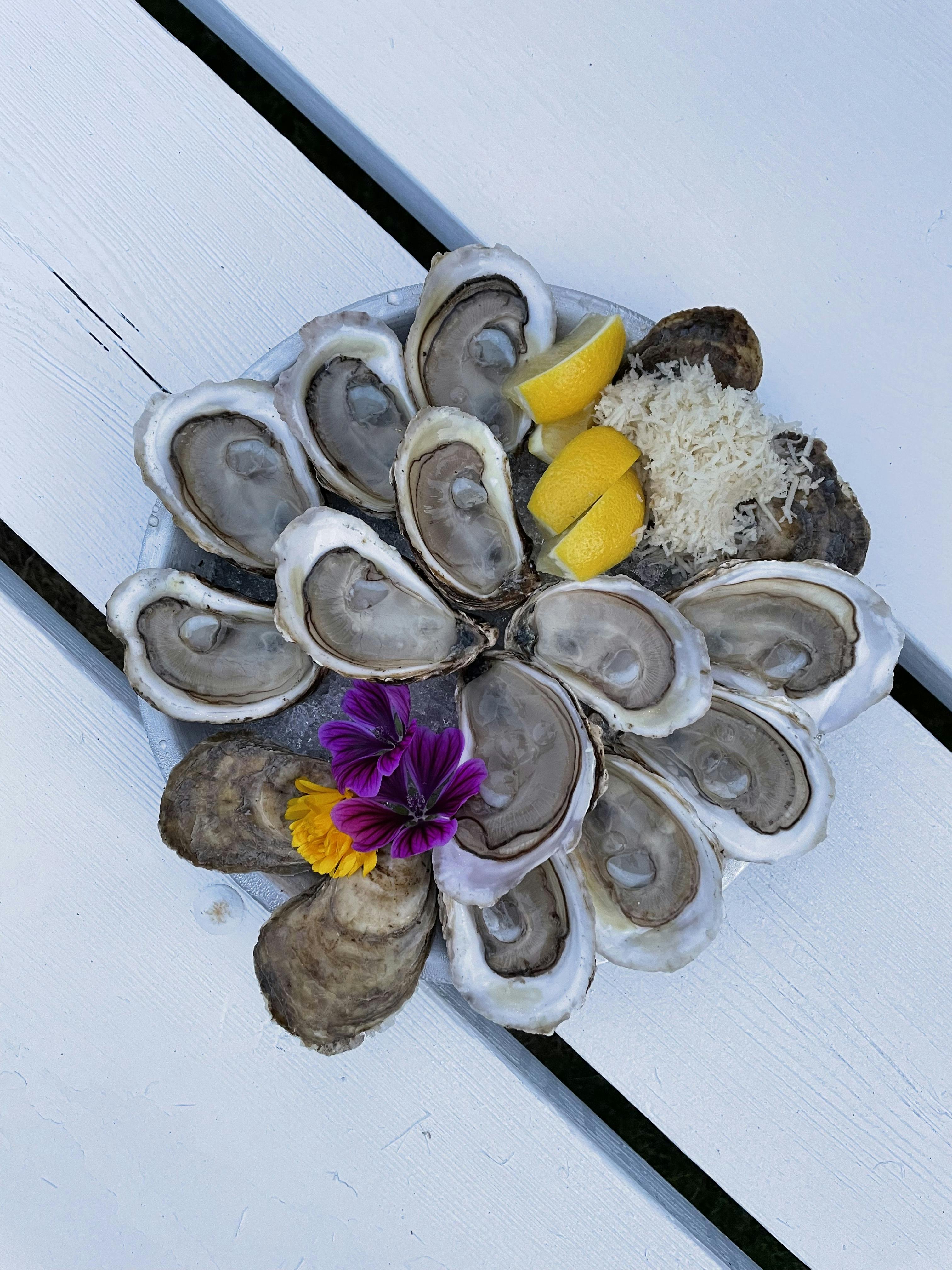 The oysters are hand-selected from different regions and plated gorgeously with edible flowers and necessary fixings. Served with lemon wedges, freshly grated horseradish, ace cider mignonette and house-made hot sauce, the oysters alone are worth the trip up to Thornbury.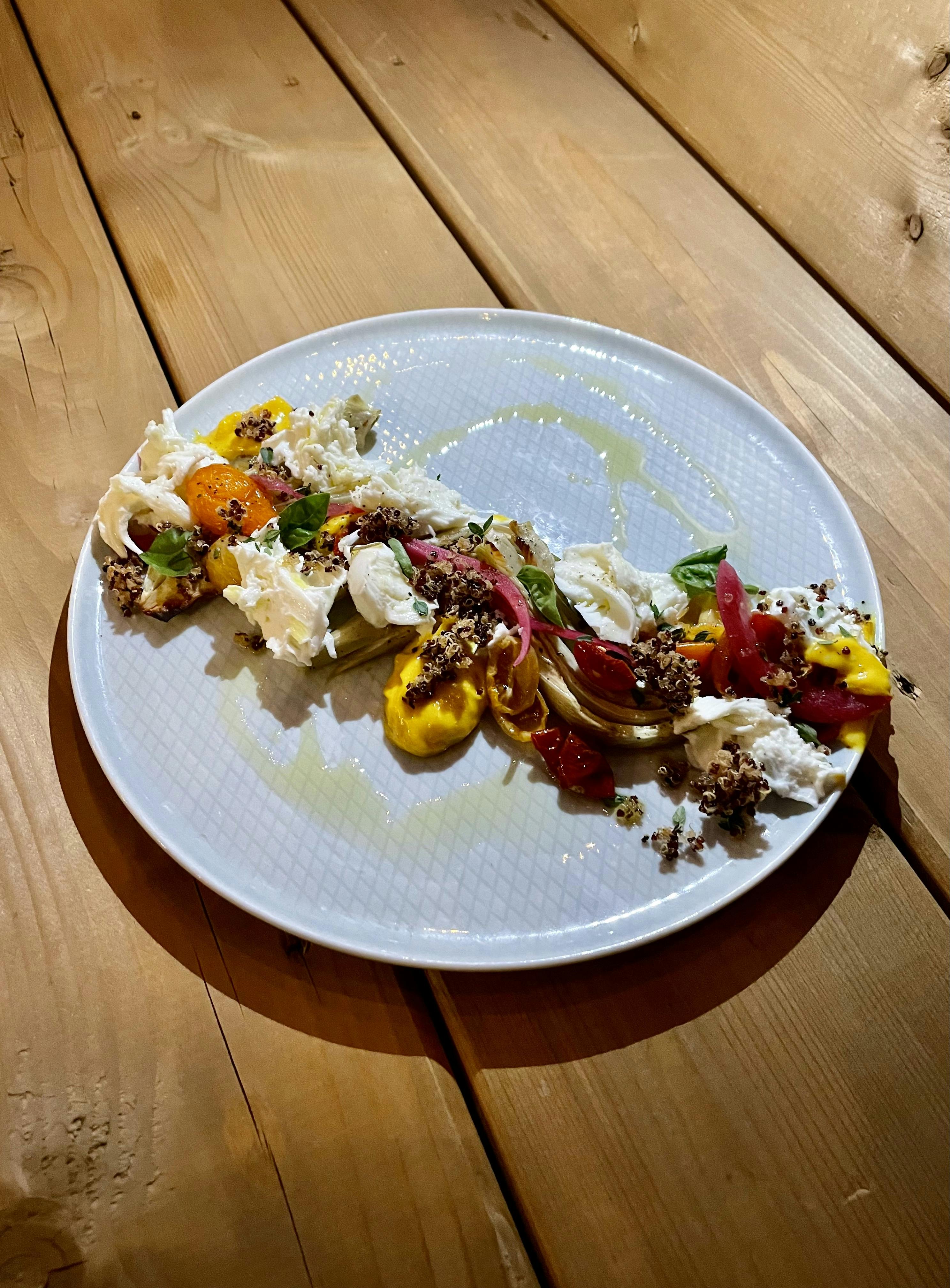 The Buffalo Mozzarella is so aesthetically pleasing; you'll be hesitant before digging in and messing up the absolute masterpiece. When you do, you'll be delighted by the seasonal accompaniments such as charred cherry tomatoes, grilled fennel, pickled onions, puffed quinoa and Amba aioli that pair perfectly with the creamy and oh-so indulgent fresh mozzarella.
The Black Ash Garden Greens is a bright and refreshing delight with hand-picked apples, pistachio, dried fig, pomegranate and orange tahini dressing.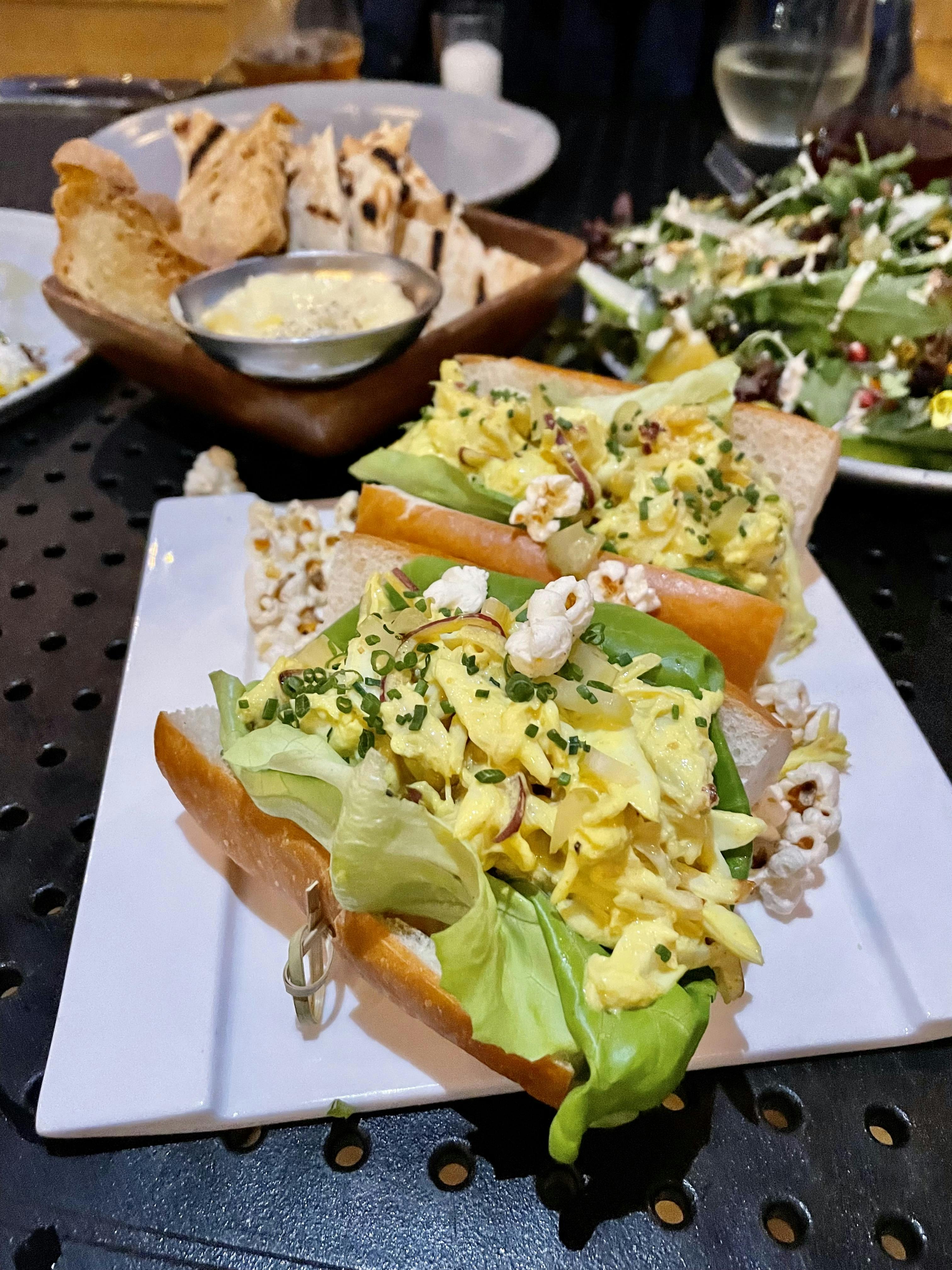 You'll also have to get your hands on their Lobster N Crab Rolls, packed to the brim with chunks of tender grilled lobster tail, lump crab, pickled celery, bibb lettuce and Amba aioli stuffed into a fresh bun and topped with their house-made popcorn infused with apple cider vinegar. Warning, the popcorn is addictive, and you'll be asking for a whole bowl to enjoy by the fire later.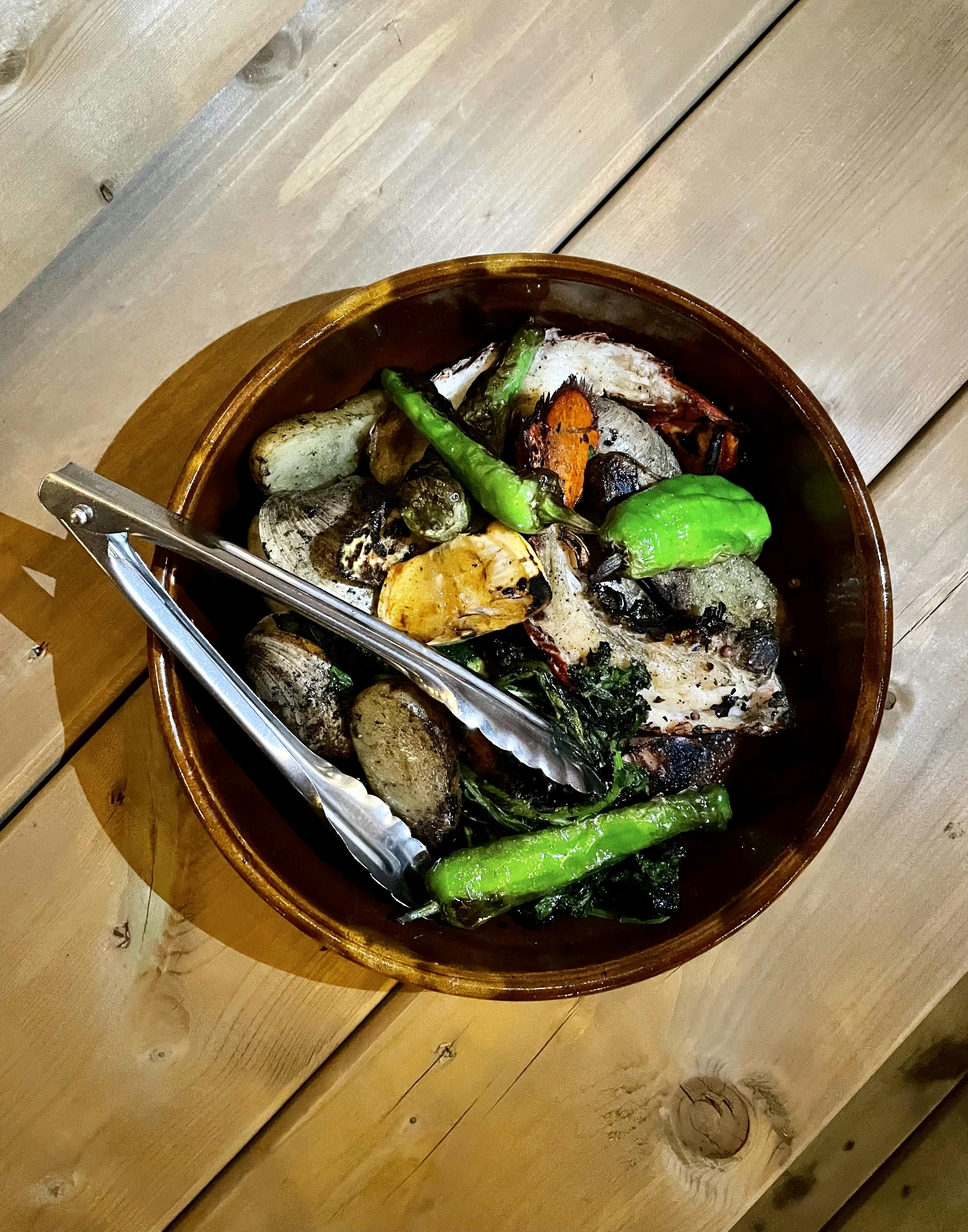 The Grilled Personal Seafood Broil is a showstopper and is prepared with confit potatoes, radish, zucchini, shrimp lime butter and an array of mouthwatering seafood like octopus, clams and lobster tail.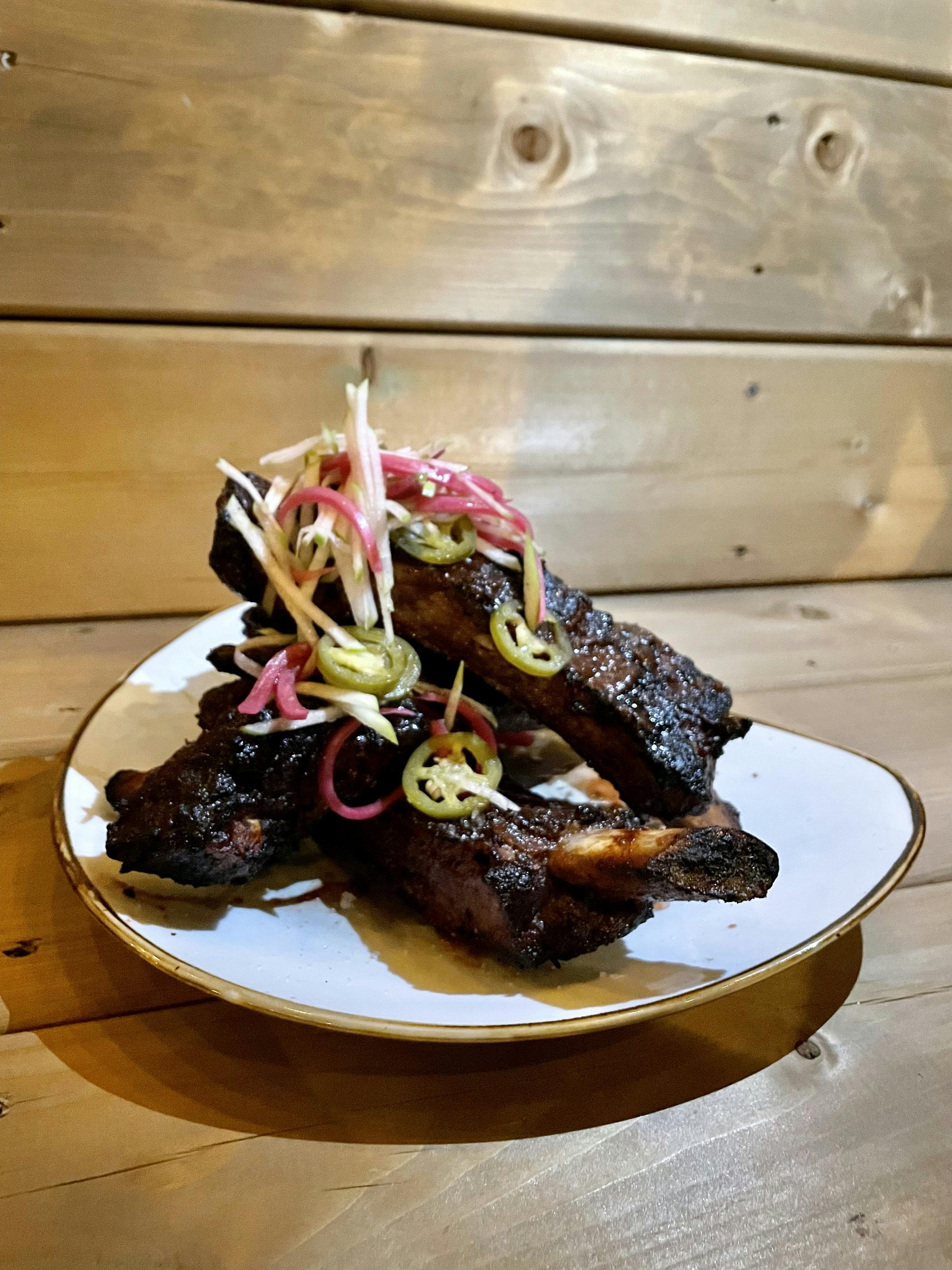 The Beef Ribs are also incredibly hearty, with meat brazed in a cherry cola BBQ sauce that pulls right off the bone.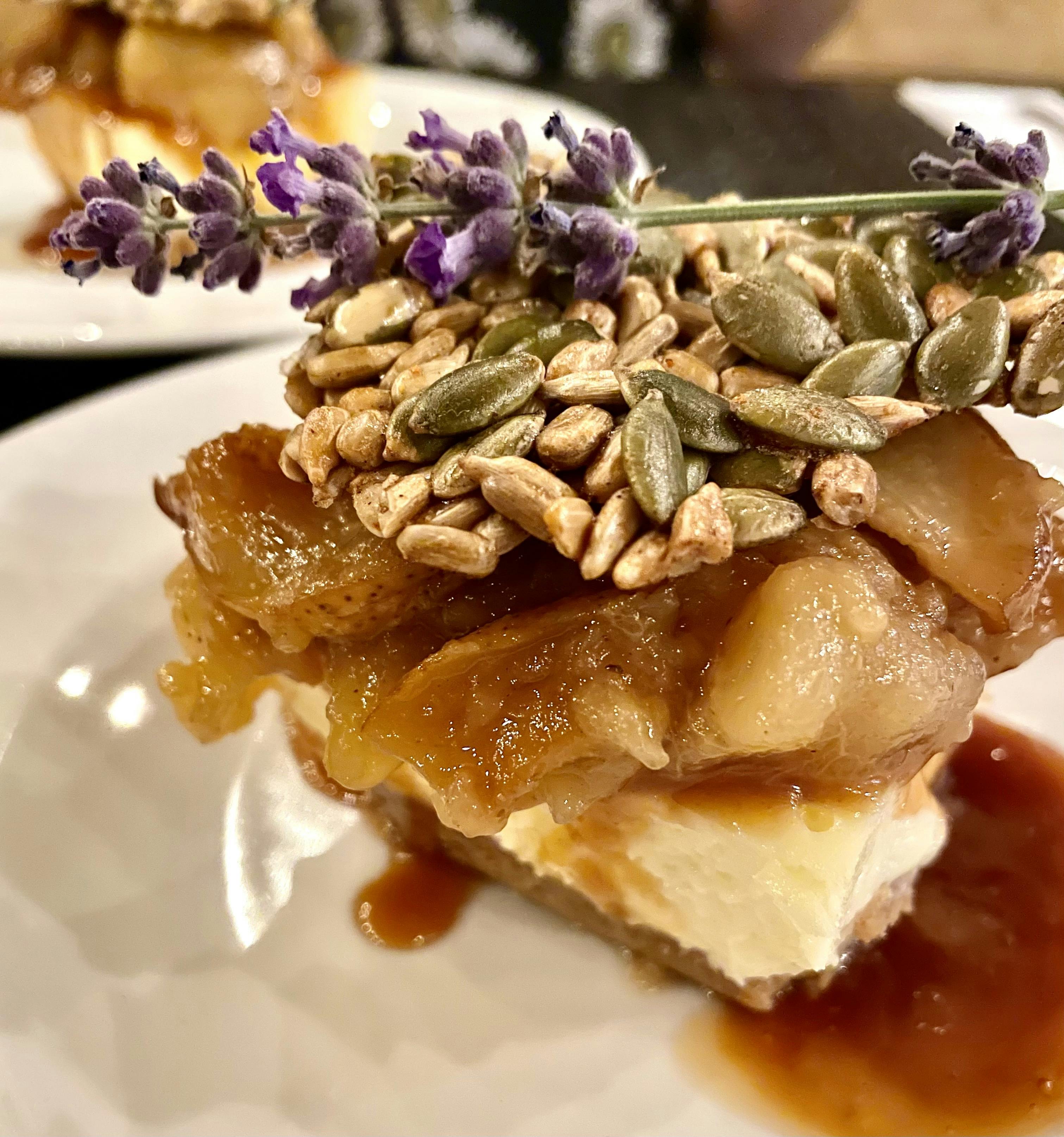 For dessert, finish off with one of Plourde's creations du jour, like the Pear and Caramel cheesecake. The pears have been soaked in tea using chamomile freshly plucked from one of their flower beds. The cake is topped with a sunflower and pumpkin seed bark, as well as lavender, also freshly picked from the courtyard.
Plourde will continue to develop the Après menu as the seasons change. Coming soon on the menu is a seafood tower, and other treats like Chocolate Waffle Tacos, and a colourful assortment of snow cones with outstanding flavour combos like orange vanilla jalapeño and raspberry sumac beet.
When staying at Penny's, you will be treated like family by the incredibly friendly and accommodating staff. They will be at your beck and call to answer any questions you may have about the area, provide day trip suggestions, make meal reservations and bring you blankets to warm up on those cool nights. It's not often that you stay at a motel and leave with new friends, but the welcoming atmosphere makes it so easy to meet new people, and you'll leave thinking about how soon you can come back.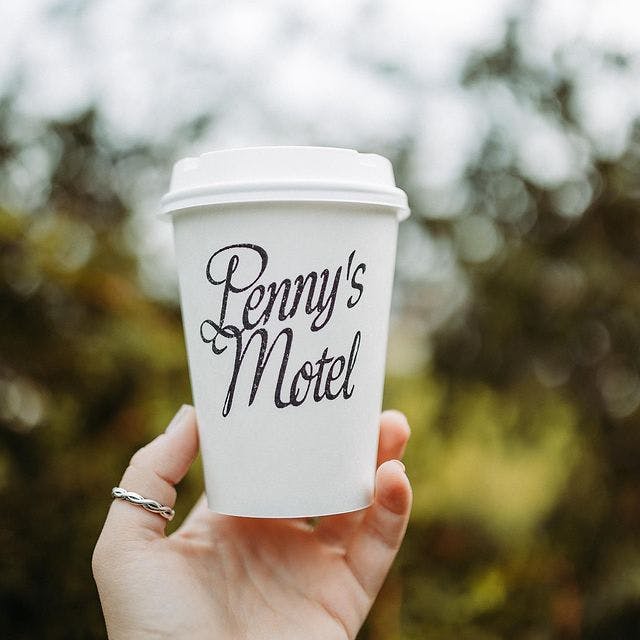 Penny's Motel and Après is open all year round and will be happy to host travellers looking for a range of different vacation styles. From bachelor and bachelorette weekends, honeymoons, family escapes with the kids, engagement parties or booking out the entire motel for a private function, they will be happy to discuss the range of possibilities with you.
To reserve your unforgettable getaway, head over to their website to book, give them a call, or feel free to shoot them an e-mail at info@pennysmotel.com, and one of their outstanding team members will get back to you in no time.