There's a new spot in Scarborough that is doing famous sandwiches with a Mediterranean twist. Having just opened in October 2020, Saltyz Grill brings the taste of Lebanese-style western classics to Toronto. Owner and chef Baker Zein was born and raised in Lebanon before making his way to California and then Toronto. He was working as a financial advisor with a Masters in Accounting but ditched the corporate world to pursue his passion in cooking. Zein wanted to bring some of his favourite food from back home.
Saltyz Grill is a fusion of Lebanese and western cuisine that was a popular find back home in Lebanon. He was disappointed that he couldn't find anything like it in the Toronto area, so he decided to open his own.
Zein initially landed the space back in January 2020 and was planning on opening last spring -- until the pandemic hit. Though it was a tough time, Zein persevered and launched amidst the ongoing lockdowns. Despite the initial struggles, he's built a loyal customer base and has been absolutely swamped during the weekends.
The Space:
The restaurant itself is deceivingly spacious inside. The dining area is 2,300 sq ft and is divided into two separate dining areas. The vision was to have a casual bar setting with hightops and tables in the back, with a family-style setting in the front with booths. The decor is industrial chic with industrial-style ceilings and lights.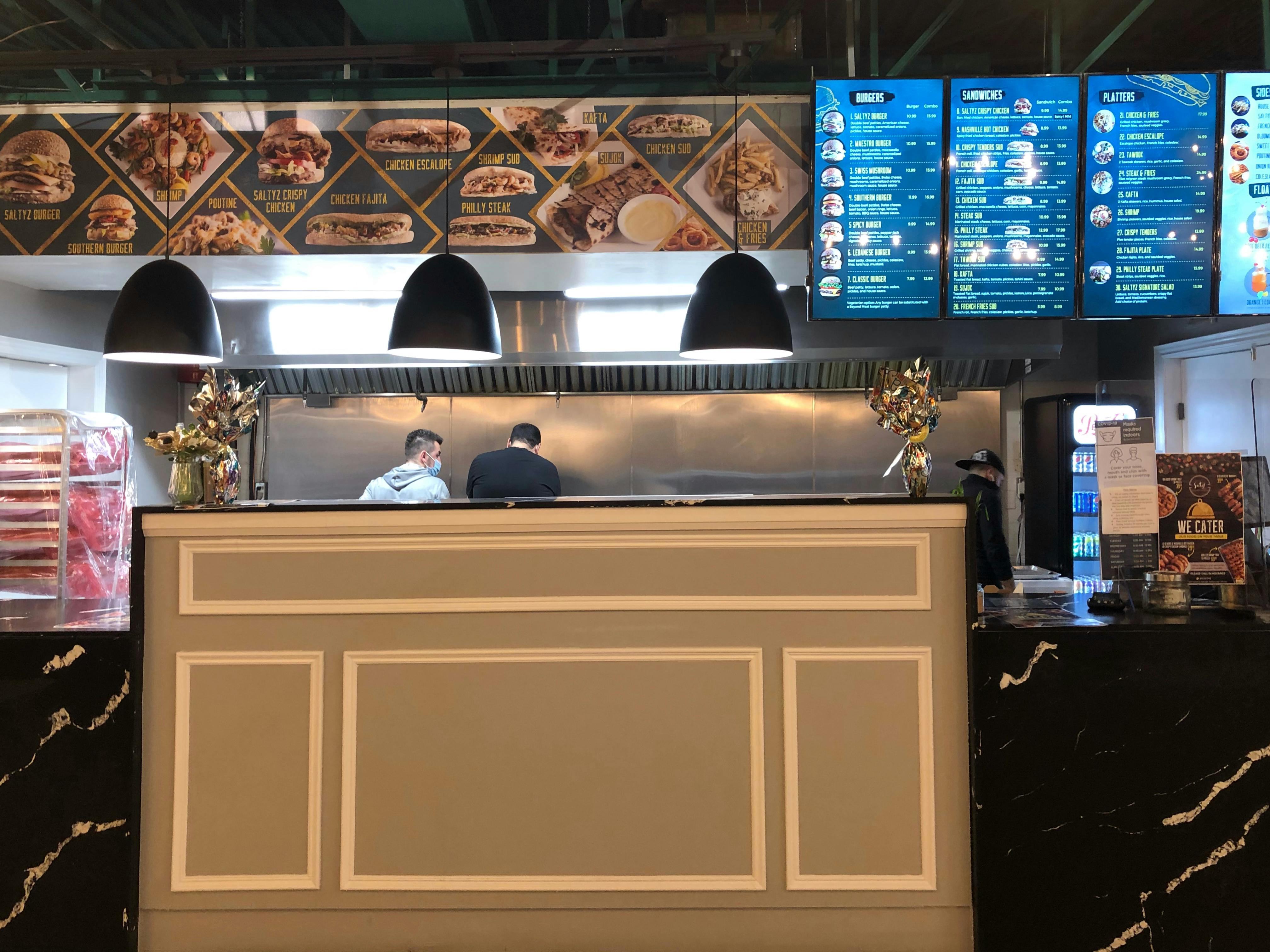 The Food:
The dishes here are a blend of western cuisine with a Lebanese twist. Their food is fully hand-slaughtered halal with a focus on burgers, sandwiches and sides.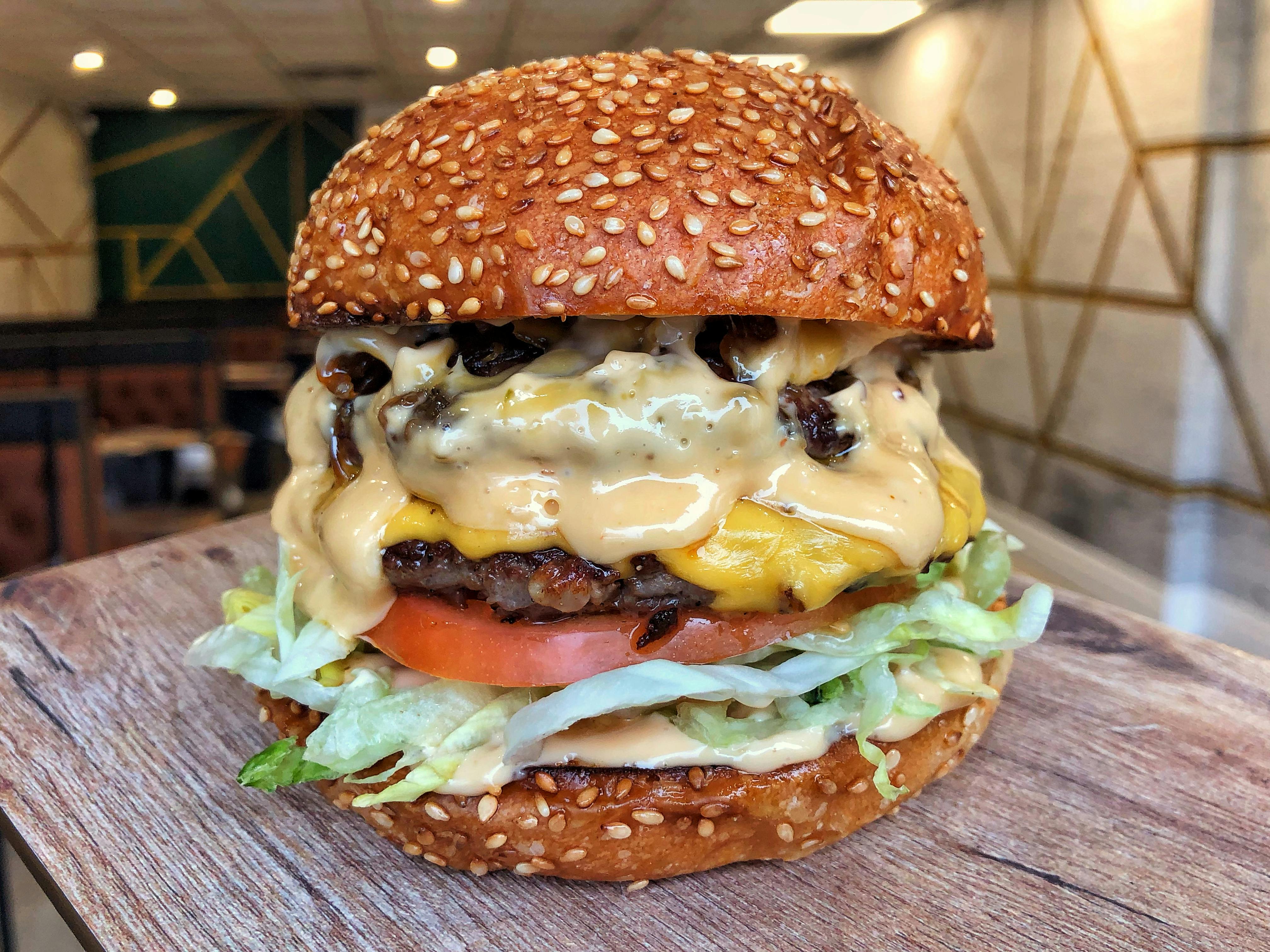 The burgers are made with a secret blend consisting primarily of ground chuck. The 100% halal meat is delivered every day from a local butcher. Burger buns are sourced locally and are butter-based, so they're light and airy inside with a golden crisp. They like using 6 oz patties split into two 3 oz patties with a slice of cheese in between.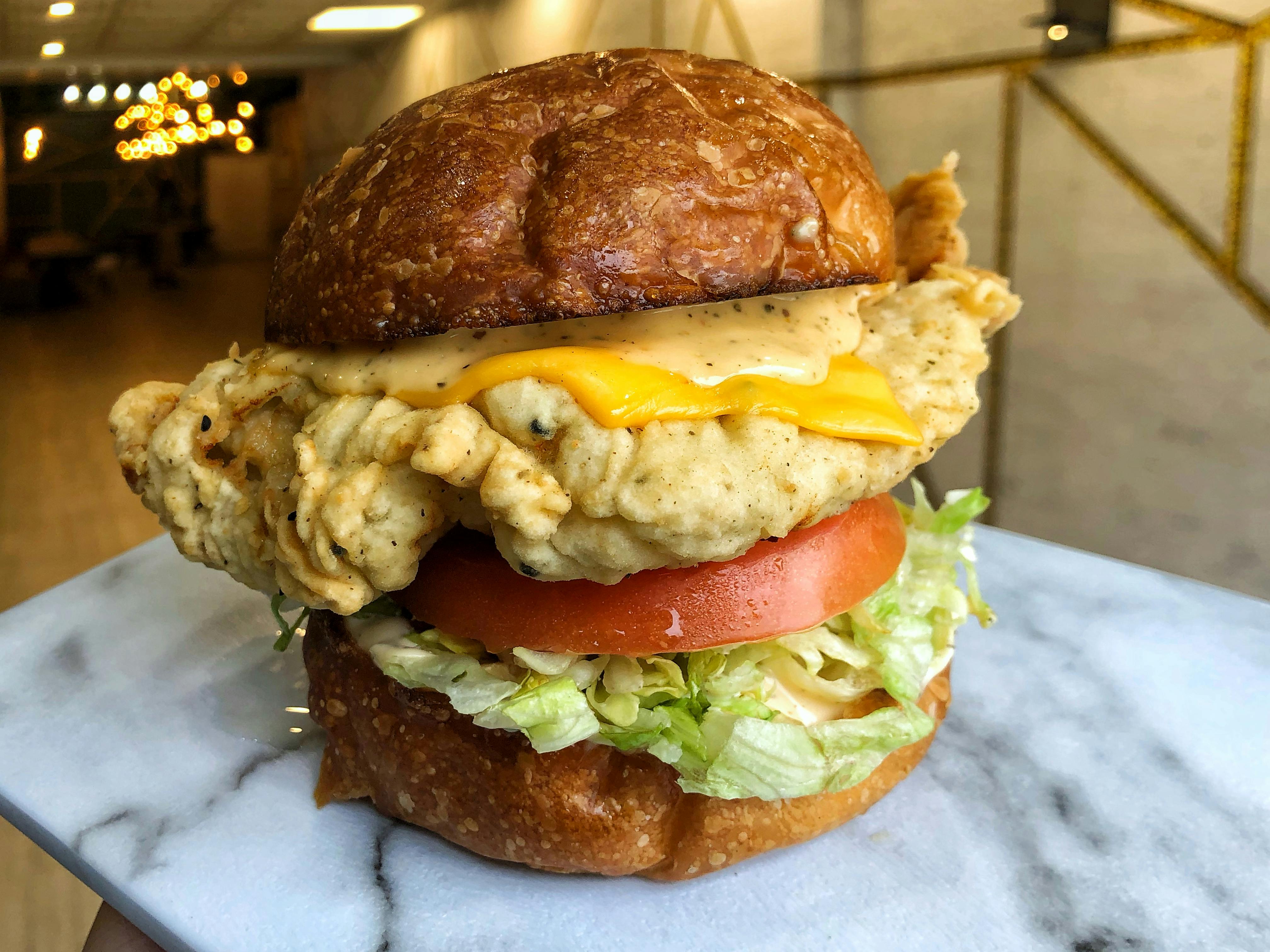 The fried chicken sandwiches use the same burger buns, so it makes for a perfect vessel. The chicken is a tender piece of chicken breast, so it's thick. The batter is surprisingly light and the chicken doesn't get hidden in the batter.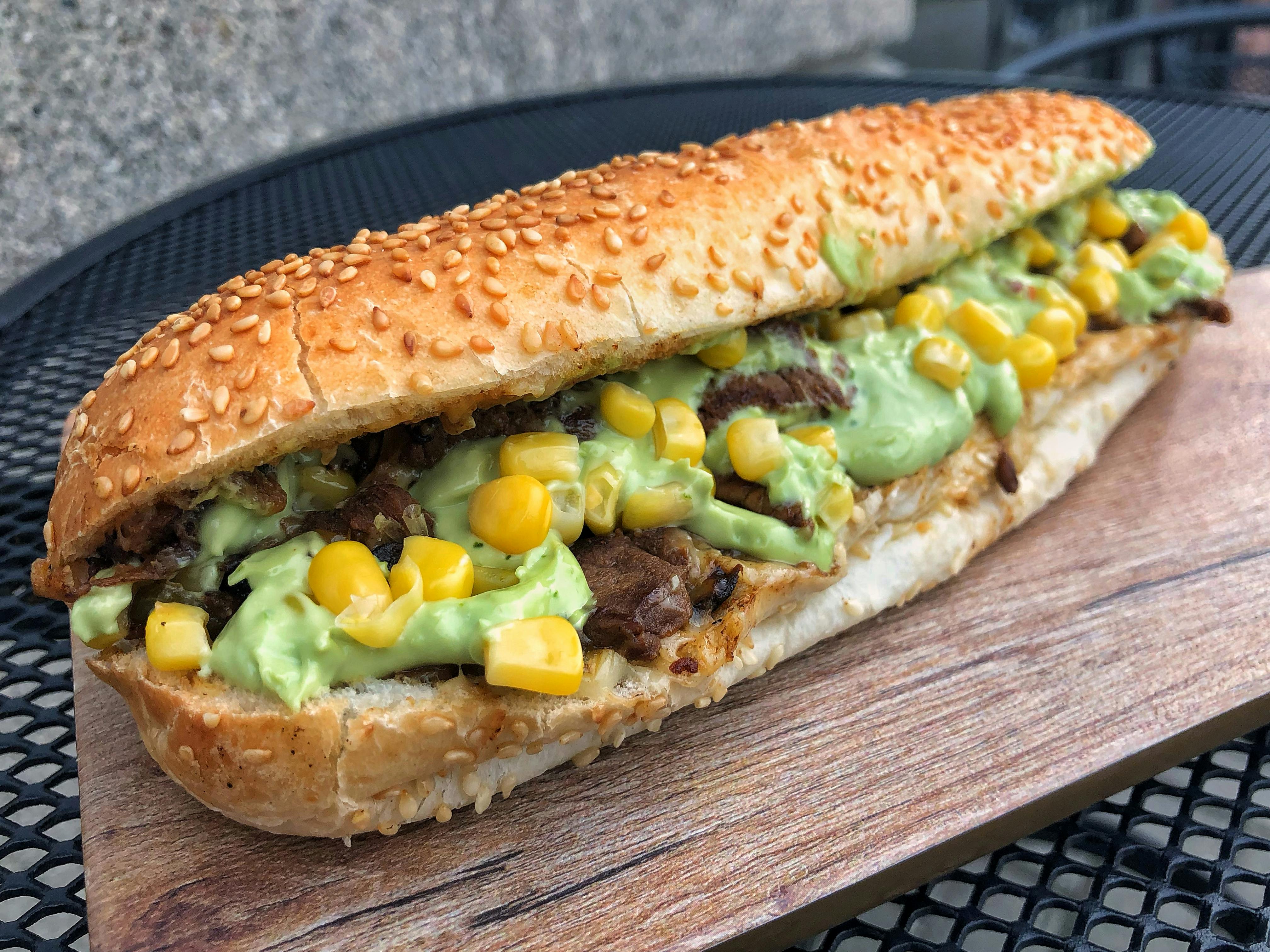 The sandwiches are a favourite of the owner because he grew up eating them in Lebanon. The bread is a french-style roll that are special made for the restaurant. They are light and fluffy despite being finished off on a panini press. They have a wide array of sandwiches, but the Philly cheesesteak is a popular one. The sandwich comes as you would expect from the classic but the addition of sweet corn and avocado sauce give the sandwich a signature twist. The avocado adds a smooth and creamy texture to the sandwich and is inspired by some dishes Zein has had back home.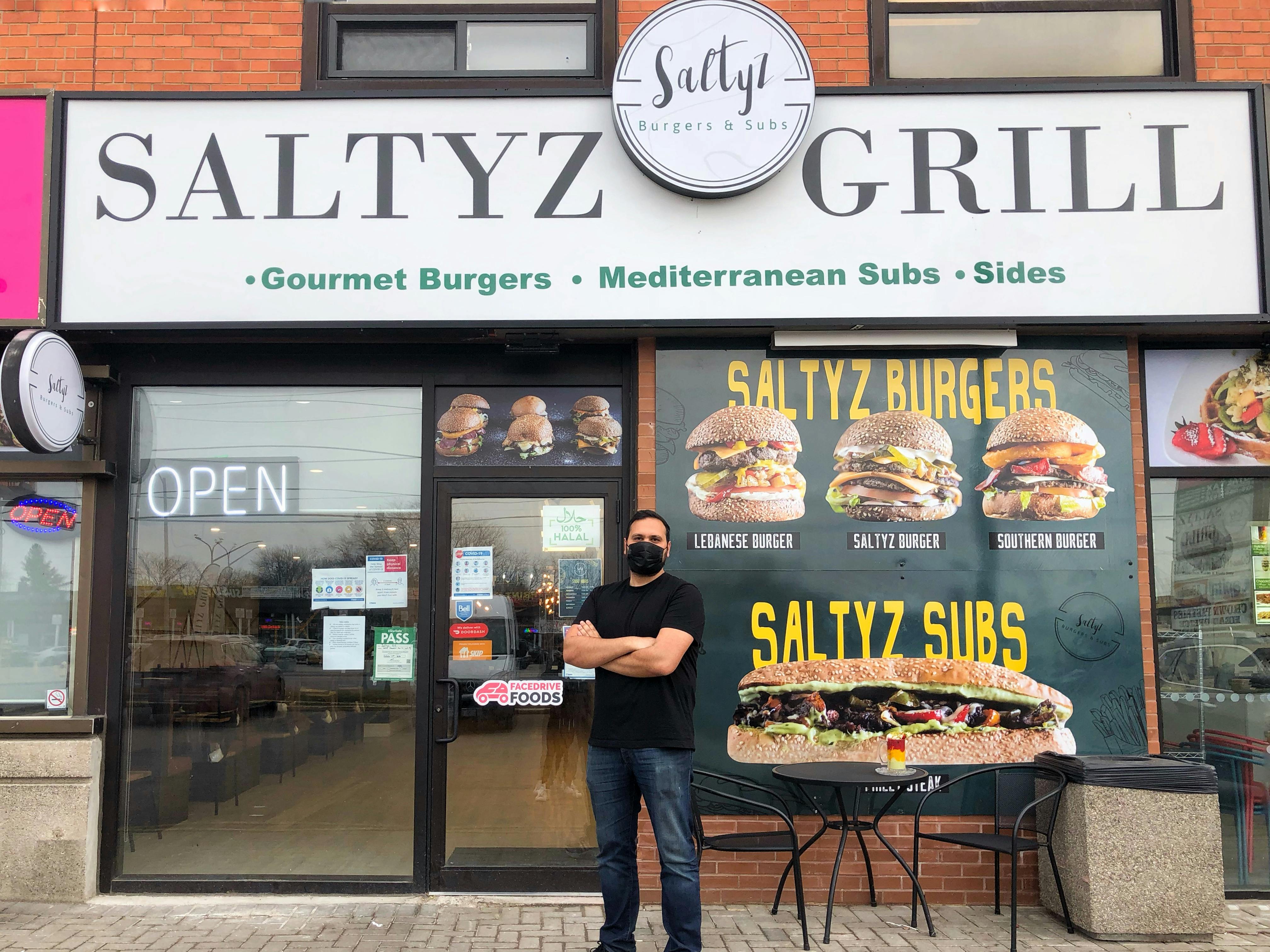 Owner of Saltyz Grill, Baker Zein.
Saltyz is open for takeout and delivery but hopes to be open for dine-in soon. They are located at 2075 Lawrence Ave E in Scarborough and are open until late on the weekends (hours subject to change). Be sure to visit them if you are interested in Mediterranean fusion.