Ask any Torontonian what dishes they expect to see on the menu of a local Mexican eatery, and more than likely, it's a toss up of three dishes: tacos, guacamole, and quesadillas. 
And for Gerardo Álvarez Saucedo, that's just not good enough. 
By all means, order your chips and salsa to start—after all, they're the segway to any good backyard family barbecue in Mexico. But for Saucedo, the Food Dealer (he prefers this term to 'chef') at King St. West's newest restaurant, Silent H, fine Mexican cuisine has been overlooked in this city for far too long.  
"I don't want people to try typical Mexican food," he says. "Everything here is inspired by street food because I want people to experience what we eat regularly in Mexico. We want people who have never been to Mexico, to know what Mexico actually tastes like."
A far cry from the casual fast fare most Torontonians know as Mexican food, the dishes on the menu reflect the meals Saucedo shared with his family—including his sister, Nora, who now lives in Toronto—back home in Monterrey, Mexico.  
Drawing inspiration from the tacos de cachetes he'd have for dinner most nights, Saucedo, who's been in Toronto for eight months now, has put just two tacos on the menu—one grilled shrimp and one braised beef. "I think we're taking a big risk and doing something that no one else wants to do," he acknowledges.  
Using local ingredients fused with Mexican techniques, almost everything on the menu is shareable, a nod to the way food is distributed and eaten in Mexico. A range of tapas-style plates also allow for more experimentation. All of the recipes are a carbon copy of his family's teachings; at the age of 14, Saucedo began his own culinary journey in the kitchen of his aunt's bar, prior to branching out and starting an official hospitality career in Mexico. 
Before moving to Toronto, Saucedo worked for the supermarket chain Soriana, where he was hired as a sous chef to create and test recipes for the company. During this time, he also started building menus. It's a culmination of this learned experience and the recollection of meals shared with family that have prepared him for his restaurant debut here in Toronto.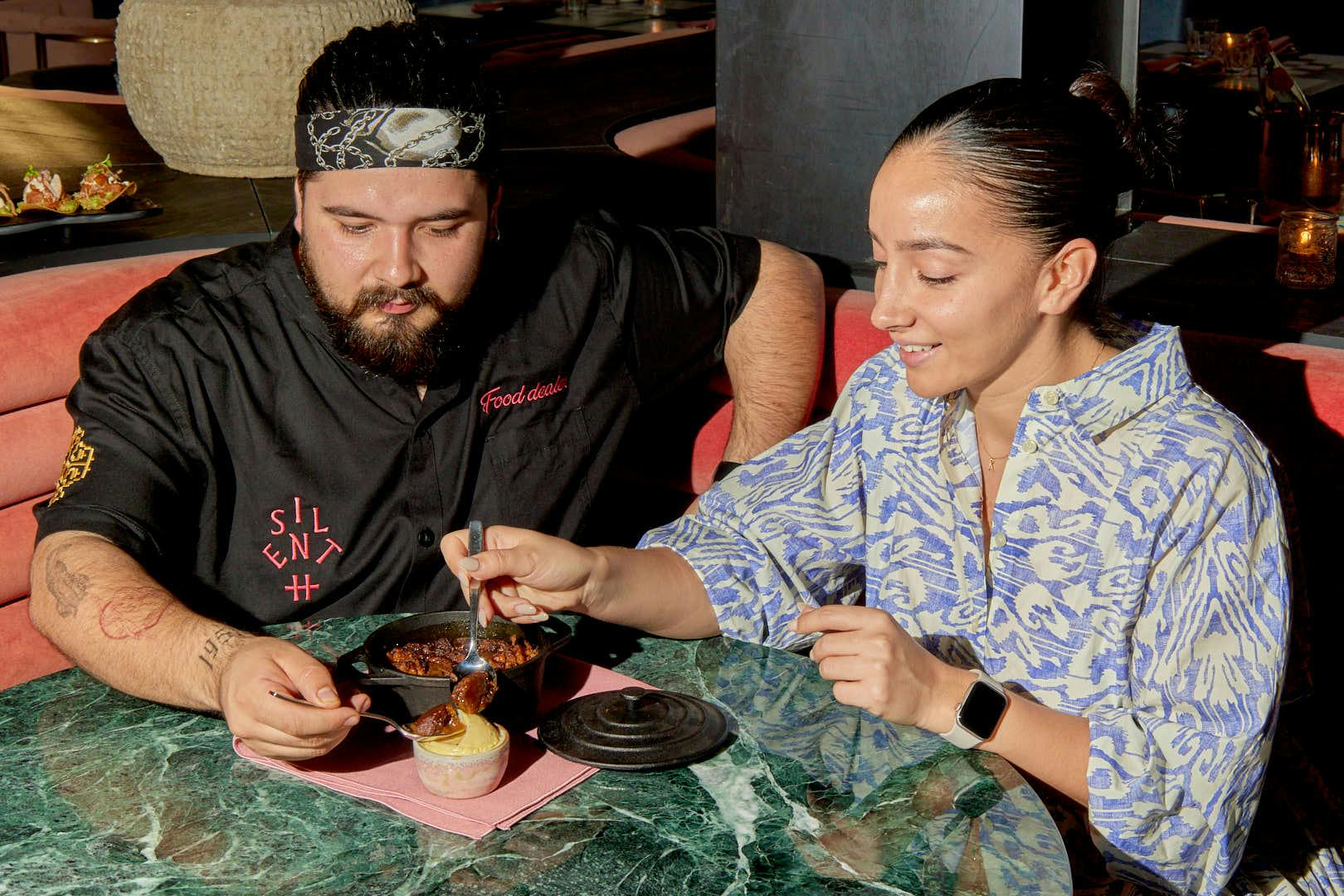 Silent H chef Gerardo Álvarez Saucedo and his sister, Nora.
"Love is the foundation of any kitchen; it's where you reunite with your family and speak about anything and everything," Saucedo says. "A chef once told me that 'the best ingredient is nostalgia', and I kept this in mind when making this menu."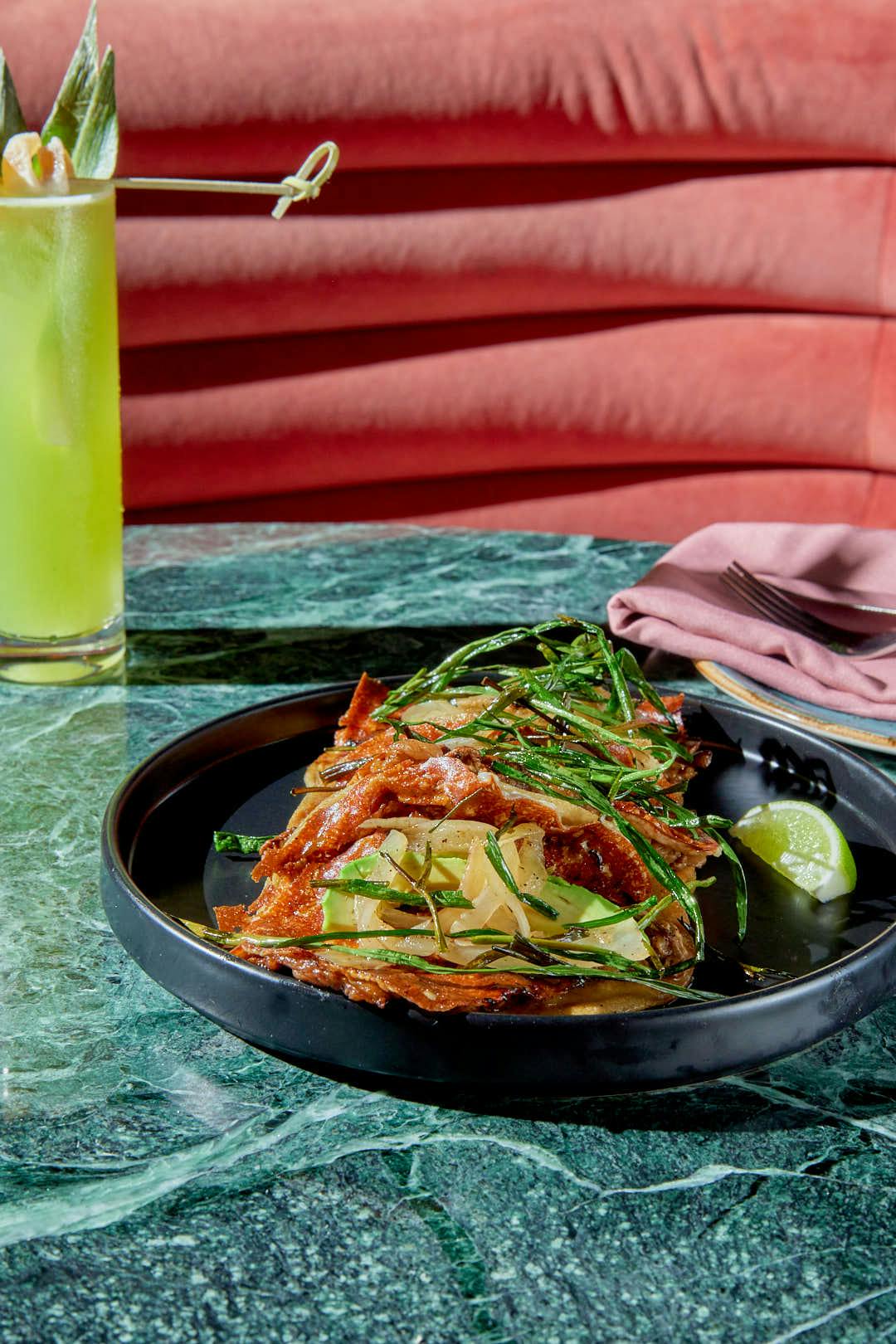 The first of two taco options, the cachetadas de rib eye ($37), are done on a flat top grill, similar to the way they're done on the streets of Mexico. Tortillas are dipped in water and fried in pork fat, then topped with tiny slices of rib eye soaked in black sauce. As a final touch, they're then seared and given a cheesy crust made from melted mozzarella. The result is a taco that's crispy on the outside but soft on the inside, topped with avocado and grilled onions.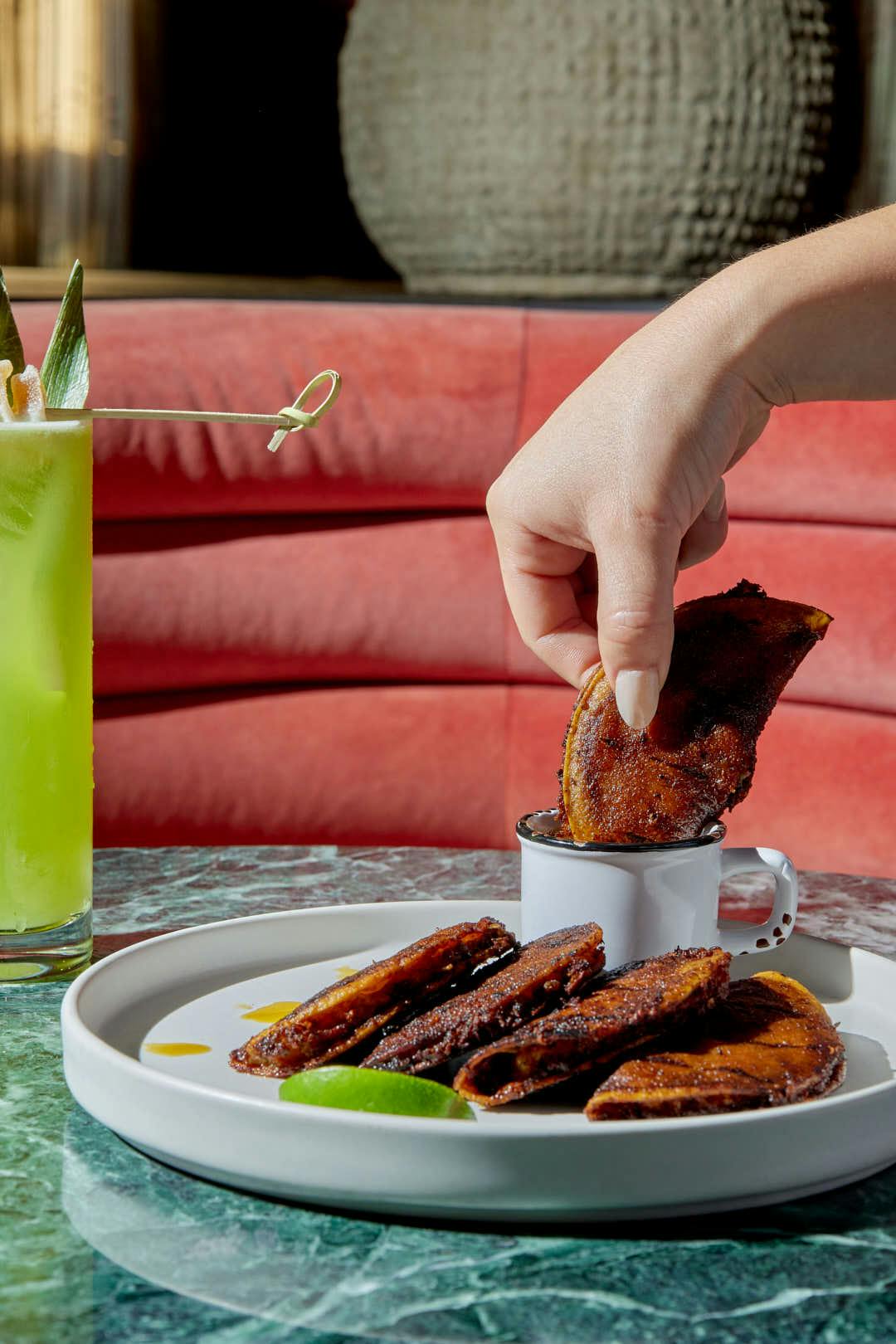 The tacos olivados de camarón($26), which are black tiger shrimp, bacon and mozzarella cheese, are a happy accident, discovered when Saucedo forgot the tacos on the grill and the result was a perfectly charred, crispy and cheesy masterpiece. "If you don't know the story of how we eat these tacos in Mexico, then when they come to your table, you might think they're burnt," he explains. "Again, it's a big risk, because this is something so new here in Toronto, but we're trying to tell everyone how it is back in Mexico, where we use a lot of fire and everything is charred."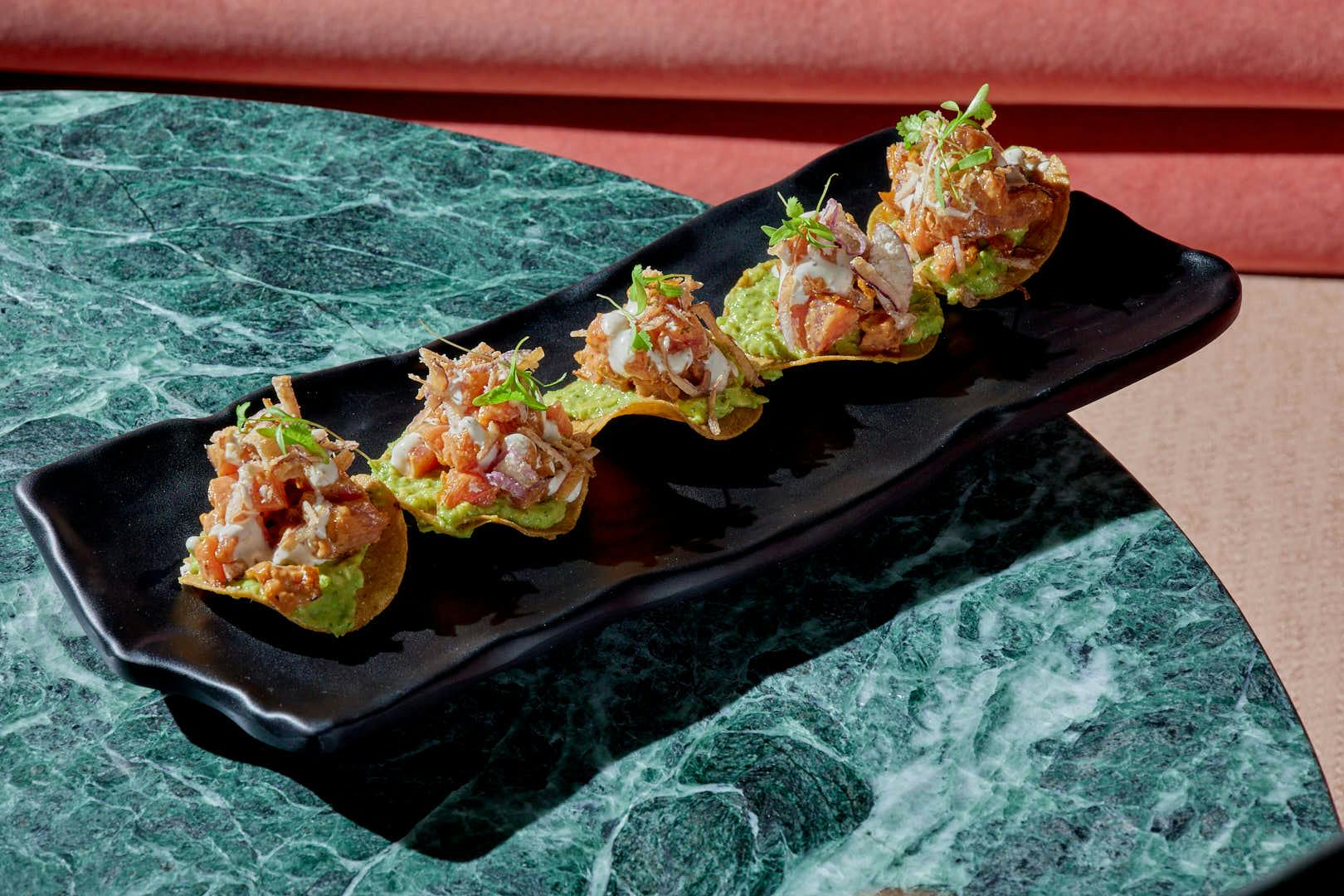 The tuna tostadas ($29) are a nod to beach town Playa del Carmen. Dressed in tajin mayo, the dish features confit garlic, black sauce, homemade guacamole, fried red onions and cilantro.

The aguachile verde($34), inspired by the streets of Sinaloa, a seafood-loving town, uses shrimp, tilapia and scallops, paired with avocado, cucumber, red onion, cilantro and a simple green sauce made from blended lime, salt, pepper, water and cilantro. "This dish is a beautiful way to recover from a hangover," Saucedo says with a laugh. "It's a little bit spicy and cold and refreshing all at the same time."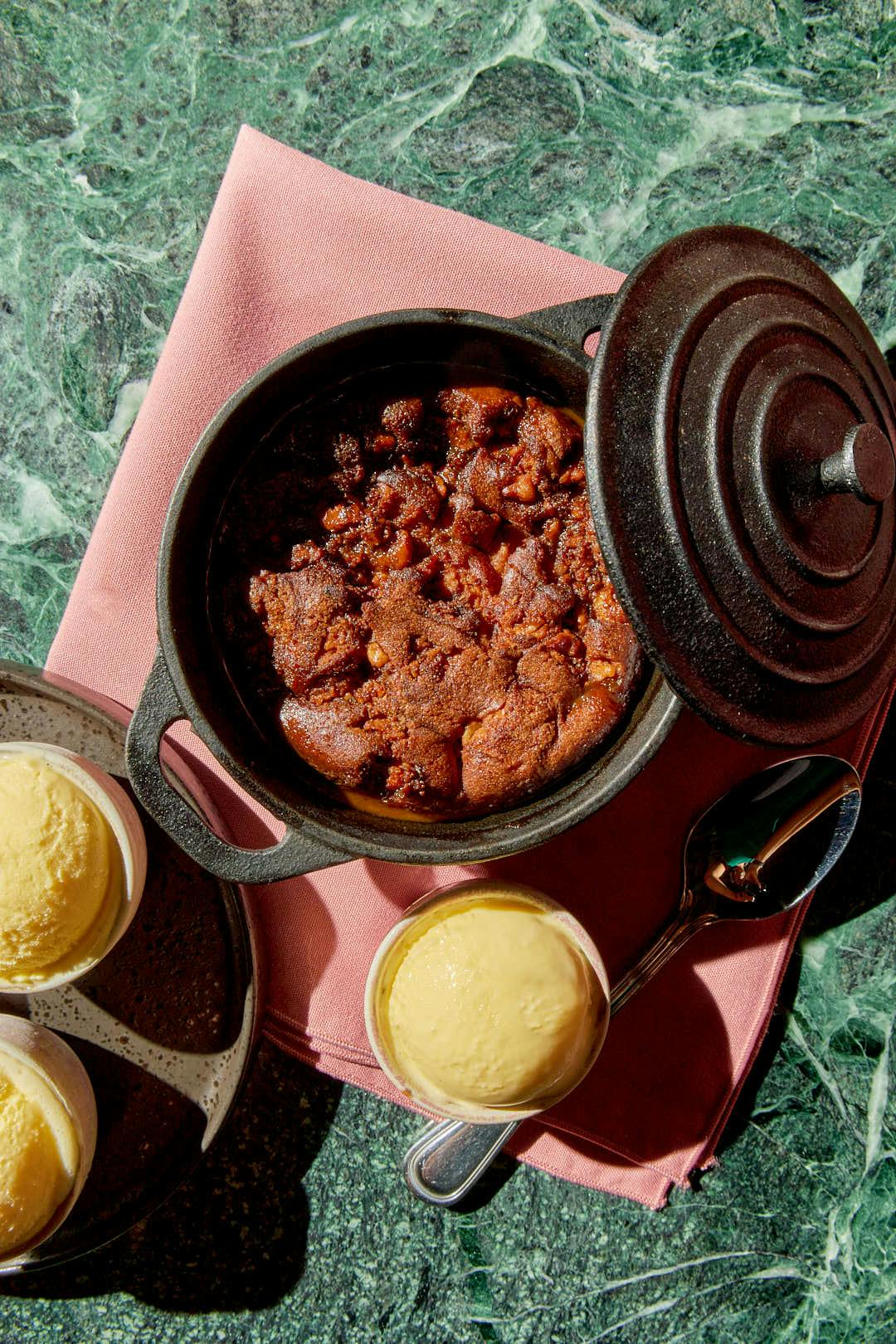 The dessert dish on the menu, the El Favorito de Papa($24) is an homage to Saucedo's father. Like the other dishes on the menu, this one was born from a memory that's deeply personal. Served warm, the dessert is made from pear bread and soaked in salted caramel, then served with a scoop of vanilla gelato.
"My dad had six sisters, and every year for his birthday, they each made him their signature dessert, which means he ate six cakes," Saucedo recalls. "He had cancer and on his last birthday, my aunt Rosie made a new dessert from pear bread, and he went crazy for it; he said he couldn't wait for his next birthday to try it again, but he didn't make it. I think that dish is the one that brings everything full circle for the restaurant: family, nostalgia, memories, food and mostly, love." 
Behind the bar, Beverage Manager Spencer Gooderham, who is also a seventh-generation descendant of Canadian distiller Gooderham & Worts, has designed a well-rounded cocktail menu that draws attention to the different regions of Mexico. 
Currently, there are more than 50 tequilas stocked behind the bar, including imported mezcals that can't be found anywhere else in Toronto.  
There are six Patrón-based Regional Cocktails ($32) that are a tribute to the ingredients and practices of some of Mexico's most popular areas.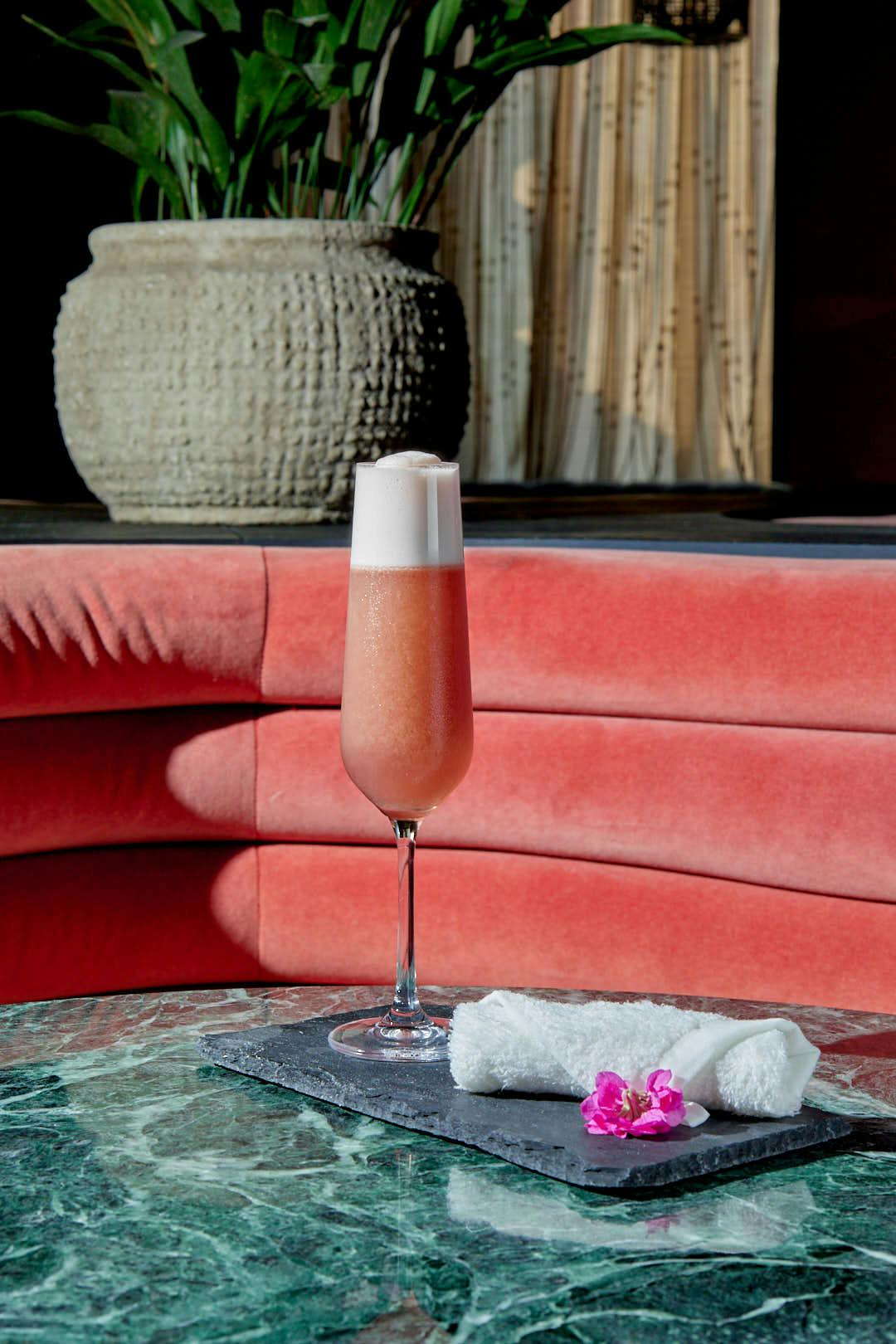 The Early Check In spotlights central Mexico, more specifically, Mexico City, home to some of the ritziest hotels and resorts in the world. A riff on the welcome cocktail awarded to travellers upon arrival at the resort, the Early Check In blends Patron Silver, Chambord, grapefruit juice, red berries, hibiscus syrup shaken with egg whites for a velvety foam finish. It's served alongside an aromatic, chilled towel soaked in lemon and lavender oils for a truly refreshing finish.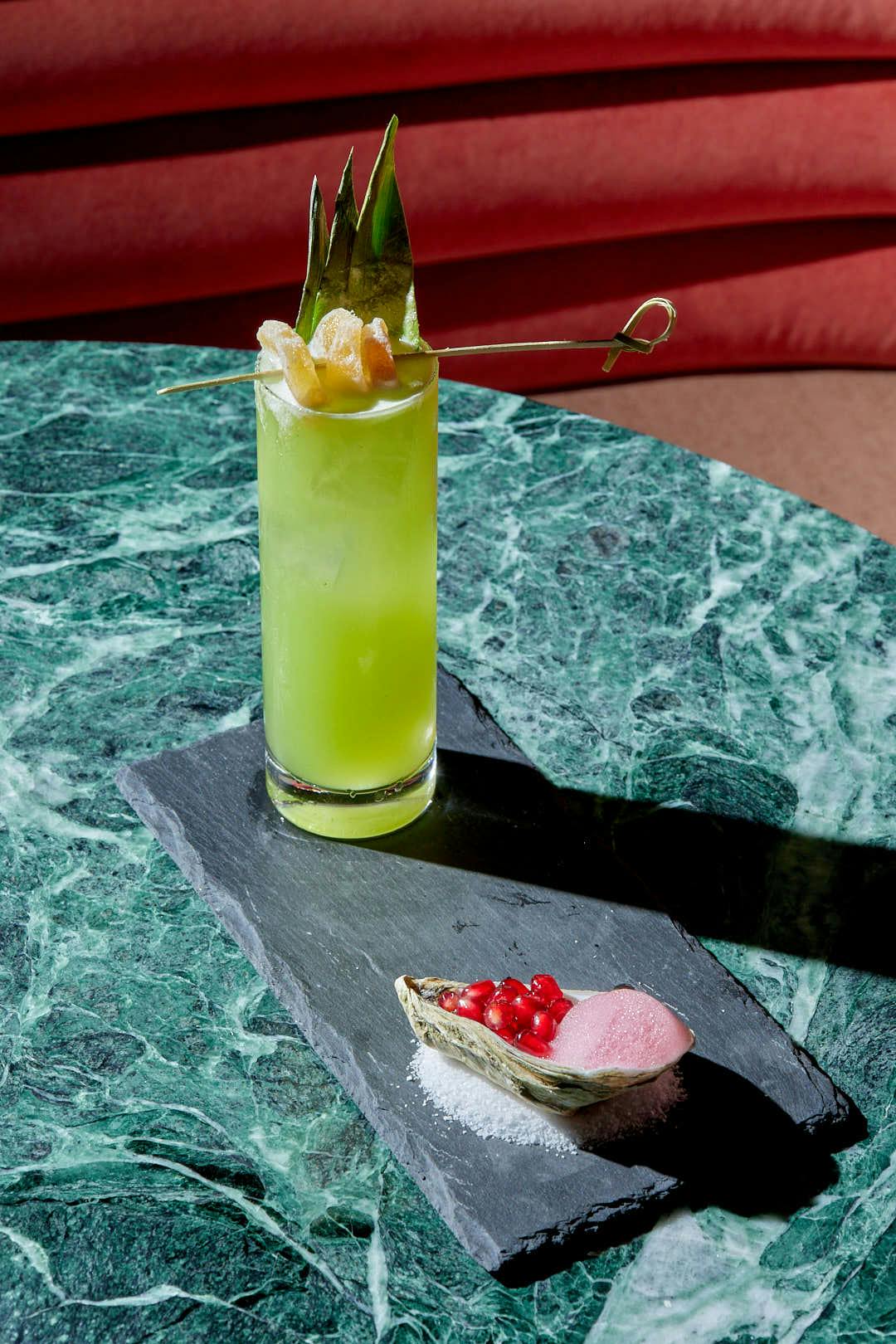 The Jungle Juice Cleanse takes guests on a journey to the Yucatan Peninsula. "The entire inspiration for this cocktail is where the jungle meets the ocean, in places like Tulum where the trees quite literally meet the coastline," says Gooderham, pointing out an accompanying oyster shell emulsified with ocean air (grape foam) ladled with a fresh scoop of dainty pomegranate seeds. The naturally neon green drink is made from a blend of pineapple, cucumber, ginger and cilantro juice balanced by green chartreuse and Patron Silver.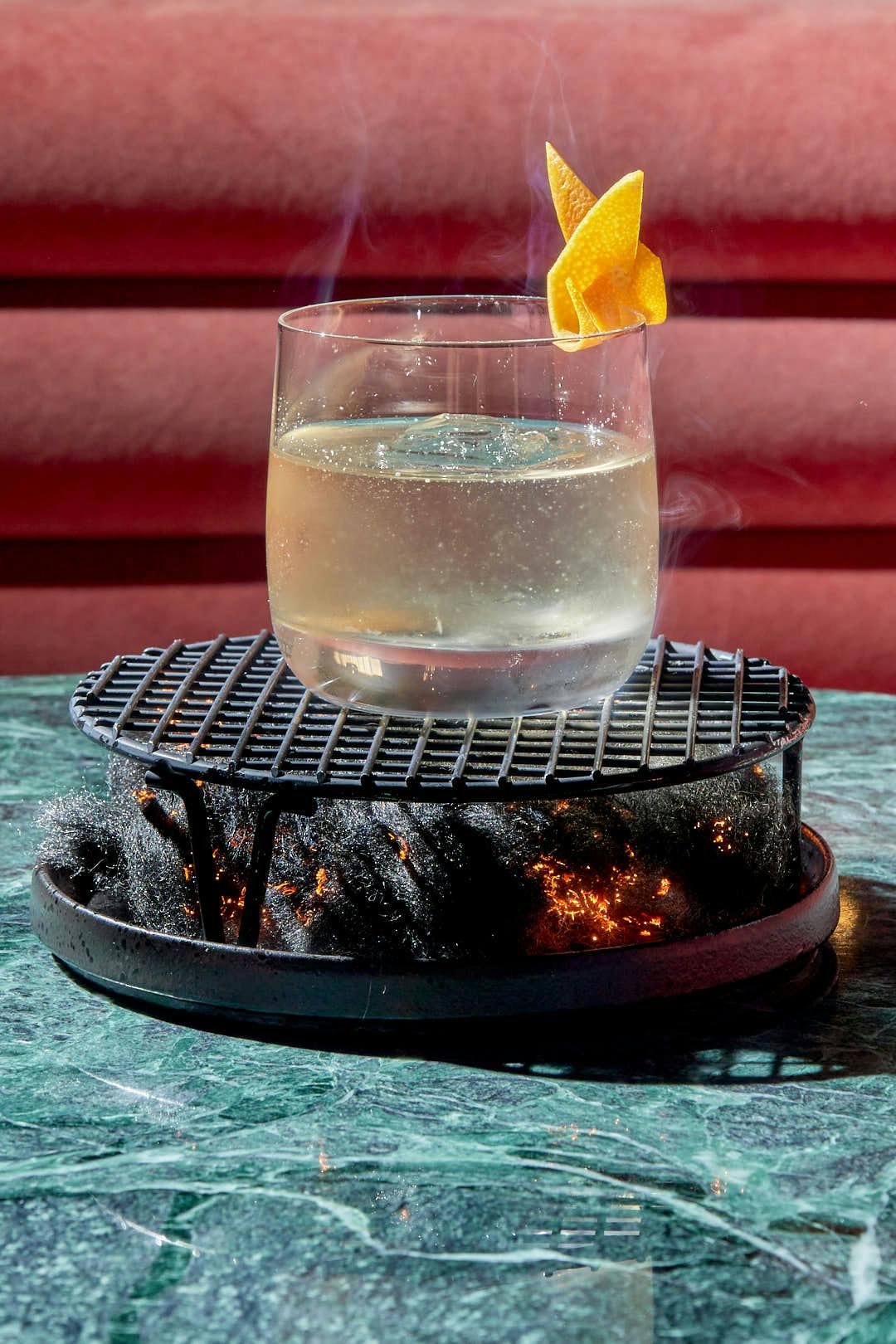 The Oaxaca's Order flaunts the Pacific Coast, specifically Oaxaca, which is the birthplace of all mezcal and tequila. A play on an Old Fashioned, the cocktail is equal parts mezcal split with a coconut-washed Patron Añejo, agave syrup and a dash of mole and orange bitters. A fiery display which acknowledges the way mezcal is cooked underground, the Oaxaca's Order is served on a grate rubbed with chai oil, which is lit and bursts with live sparks, in turn infusing the cocktail with the smoky aroma of chai bitters.
There are also six H Classicos cocktails ($22) that are a variation of classic cocktails and use vodka, rum, gin and other spirits and liqueurs as a base. 
With more than 50 tequilas stocked behind the bar, Silent H also offers spirit service, allowing guests to pair different hand-crafted, artisanal mezcal or private-order tequila with various accompaniments.
"It's a culinary approach to spirit service," says General Manager Sebastian Schwarz, noting that most other Mexican restaurants in the city only offer fruit juices with their bottle service. "You can have something different, while really enhancing the overall experience." From seasonal juices like mango and pear, to assorted ant salts, chocolates or moles, the offerings are ever-changing and thoughtfully designed to accentuate the flavour notes of each individual spirit.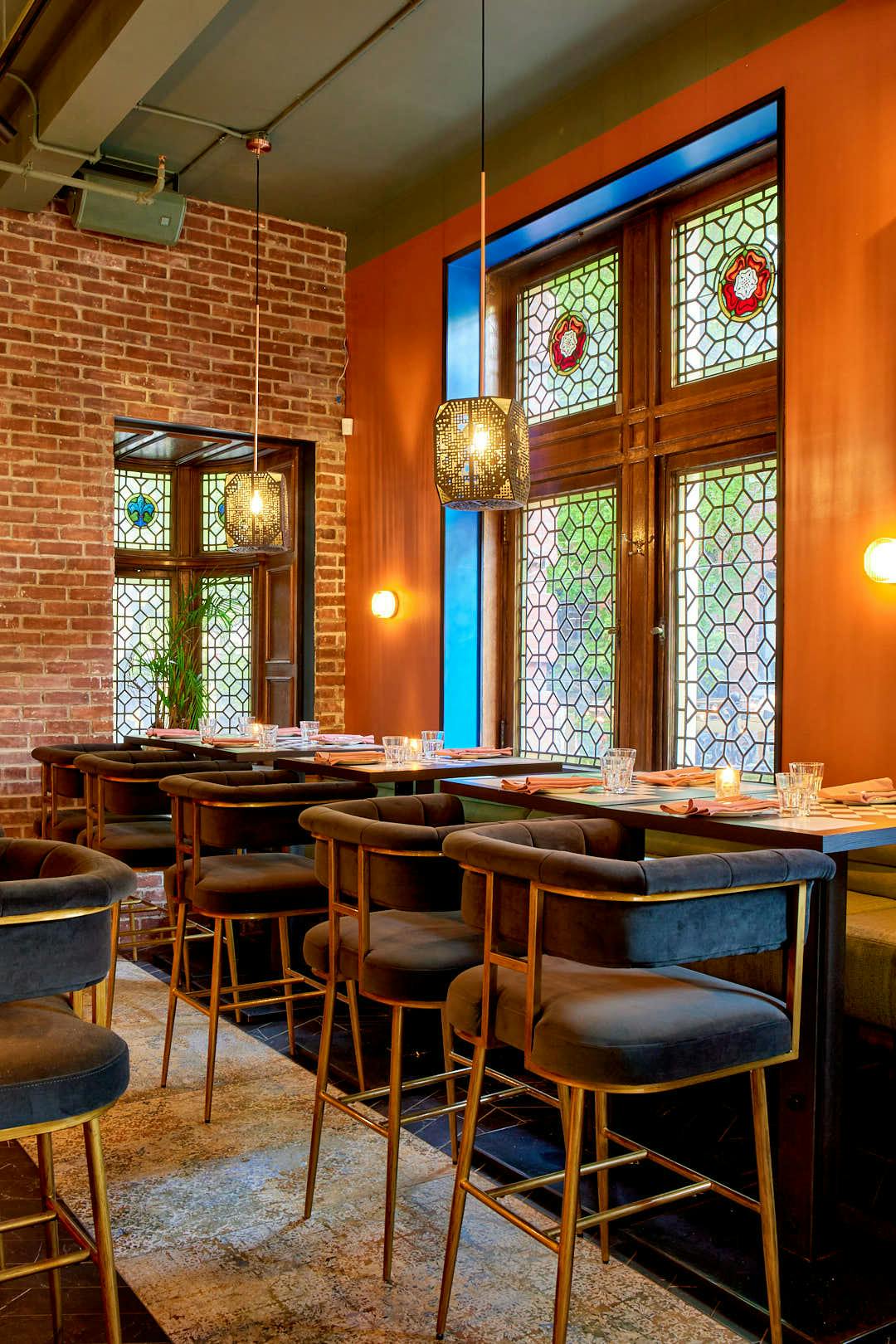 The former home of Rabbit! Rabbit! Rabbit!, 461 King St. W. has been fully transformed into something reminiscent of a true Mexican hacienda. Walking up the steps, the hustle and bustle of Toronto's downtown core disappears as you enter through an impressive archway, modelled after the silhouette of a famous church in Mexico. Existing stained glass windows from decades gone by add the finishing touch, and life-sized, white stone statues of Aztec angels are expected to be installed in the coming weeks.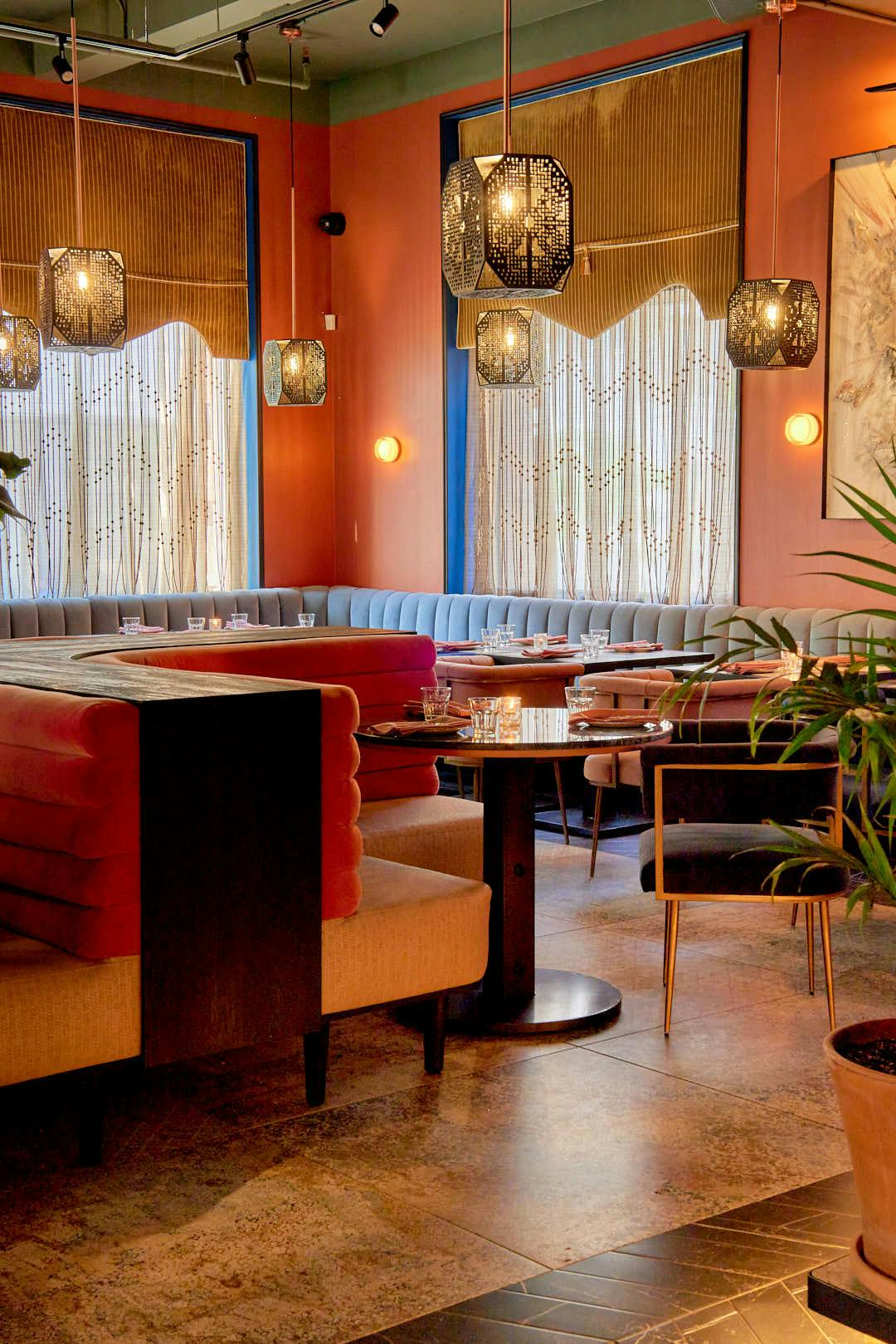 The bar is the focal point of this sprawling open-concept space, whose walls are done in a cheerful clay-coloured orange and royal blue, with plush pink and blue velvet armchairs to match. A dove grey velvet booth wraps around every corner of the space, offering additional cozy seating for large groups. At 5 p.m on a weekday, upbeat music is already trickling out of the establishment, turning heads on curious passerby. The right of the bar is home to a performance stage, where nightly entertainment will be provided to guests.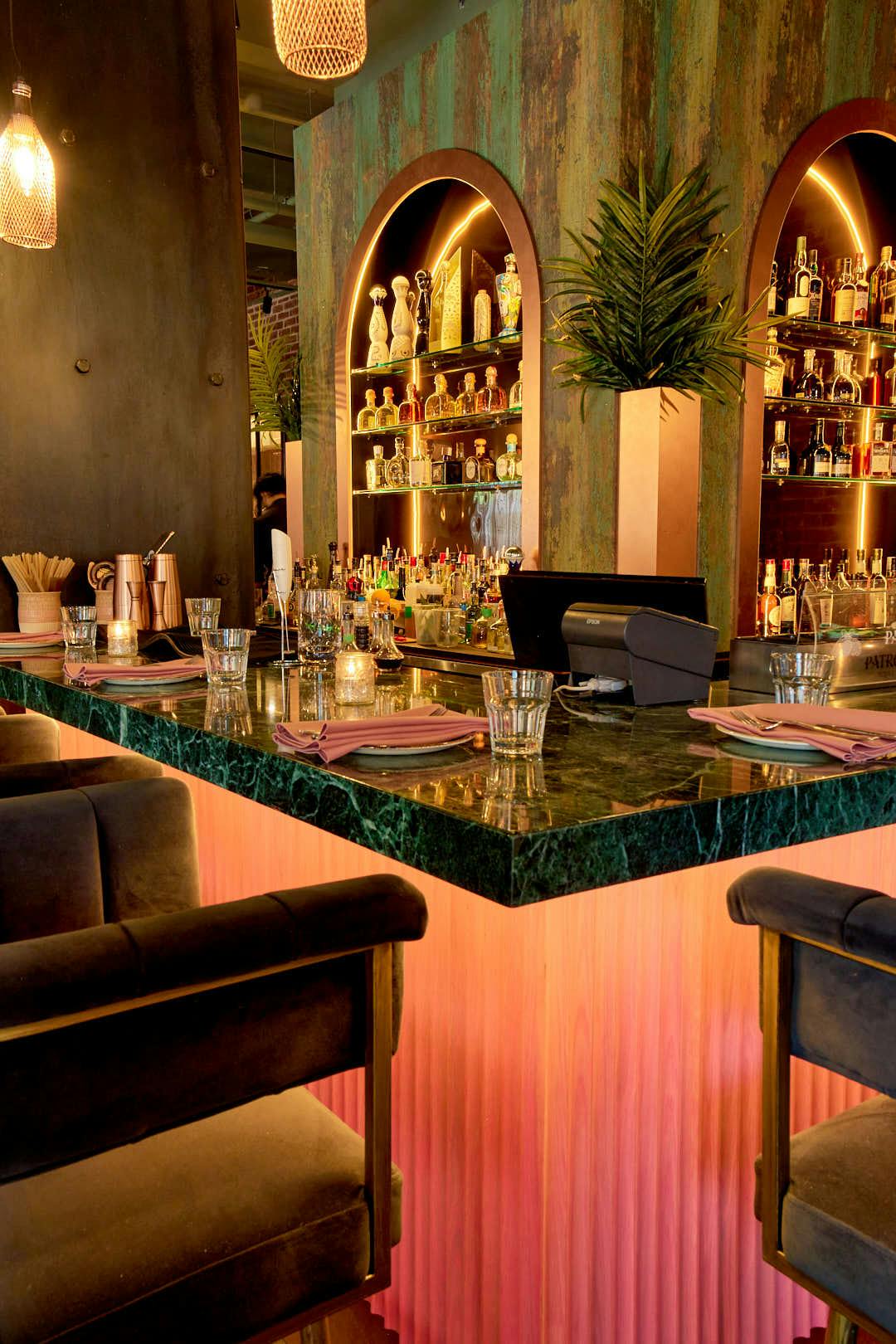 "We wanted to keep the cultural feel of Mexico, but take it to the next level," says one of Silent H's owners, Patrick Marzouk, who's also behind successful brands like Regulars Bar. 
The inside of Silent H seats roughly 120, not including the bar. The sprawling restaurant is also home to three patios: the side patio has space for 40; the front patio has space for 60, and the back patio, which will feature a taqueria concept, seats roughly 60.
The Silent H Taqueria will be open for lunch, dinner and late night service, and will serve up a selection of tacos and tequila-based cocktails. It's currently the only outdoor kitchen on King St. West.
Meanwhile, the lower level of Silent H will house a speakeasy, called Aitch (the English spelling of the letter 'H') which will open mid-June. Available for private bookings only, the space will be home to a separate mezcal and tequila bar.  The speakeasy will be open until 2 a.m.
Silent H is located at 461 King St. W. and is currently open Monday to Sunday from 5 p.m. until late.