Photographs by Keessa Lynch
In 2020, as a result of a deadly pandemic that led to multiple business shutdowns, two Toronto dads, laid-off from their respective jobs, meet at an east-end school. Their kids are friends, and while waiting to pick them up, they get to talking about dad-ly topics such as Covid, being jobless and pizza. One dad has a background in the restaurant industry and is a mean cook with two wood-burning ovens at home to prove it. The other dad had a career in the music industry but, as a teen, he spent summers stretching dough at local pizza places.
As weeks roll by, the dads' idle pizza talk takes a serious turn. Serious enough to start engaging in some in-depth pizza recon and some hardcore experimentation with dough. They start making pizza in the first dad's kitchen, and selling it at pop-ups at a local park. That goes over so well that a kindly local baker lets them use his ovens after hours. That goes over even better.
The truth is that people always crave pizza, but during the pandemic they crave it even more. Which leads our two heroes to finally close on their very own pizza space/place at the end of 2021.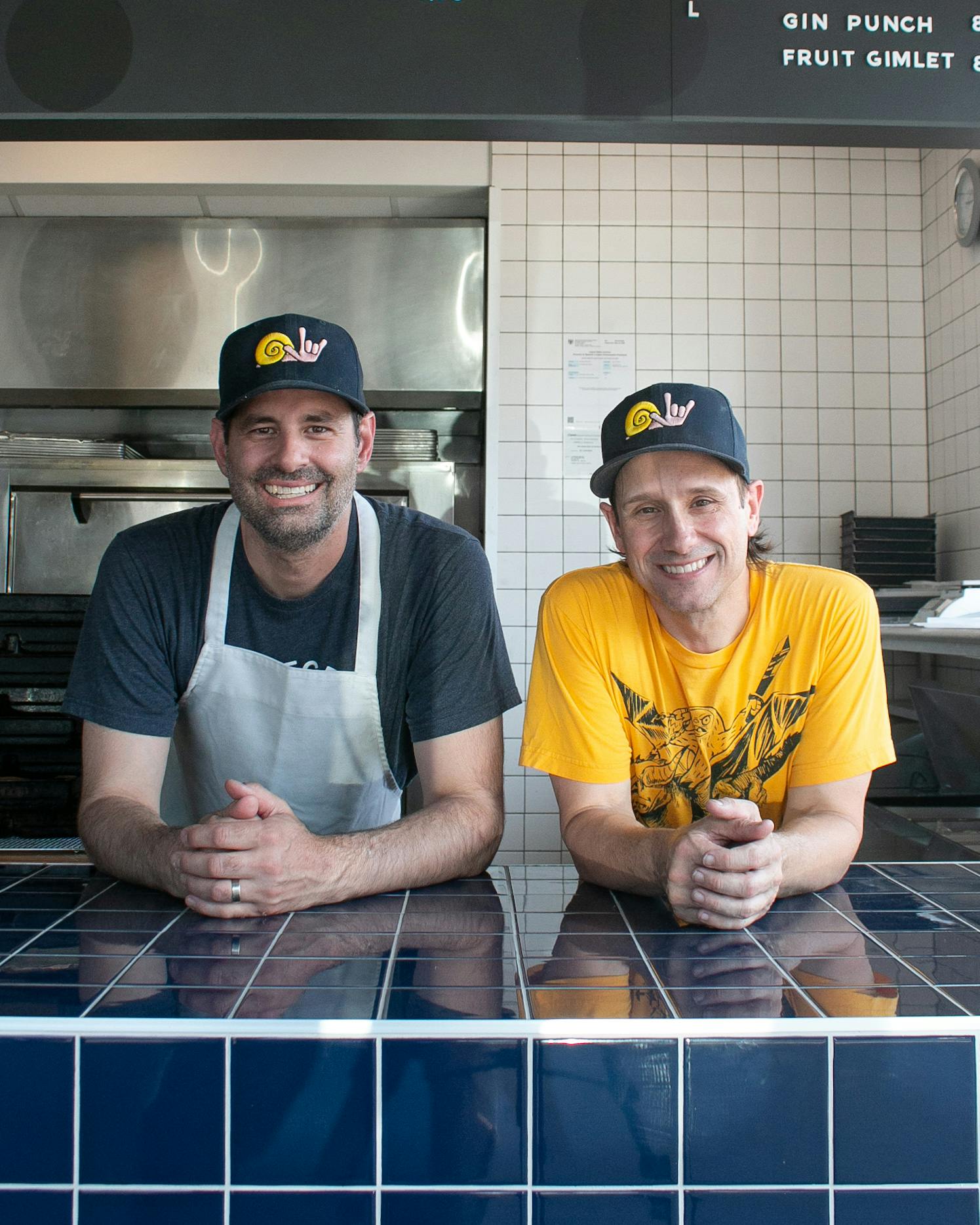 This plot synopsis could be the premise for a successful new Netflix series. But it's actually taken from the real lives of Brett Feeley and Daniel Ewing.
The two brave dads in question are recounting this story from the gleaming new kitchen of Slowhand Sourdough, their dream pizzeria, which recently became a concrete reality on the corner of Pape and Queen Street West.
As they fill in their backstory, both men are still clearly in the transitional throes of is-this-really-happening? Since opening in late April, things have been happening fast.
The liquor license recently arrived. The air-conditioner is supposedly on its way. "And we only just got our sign last week," confesses Ewing.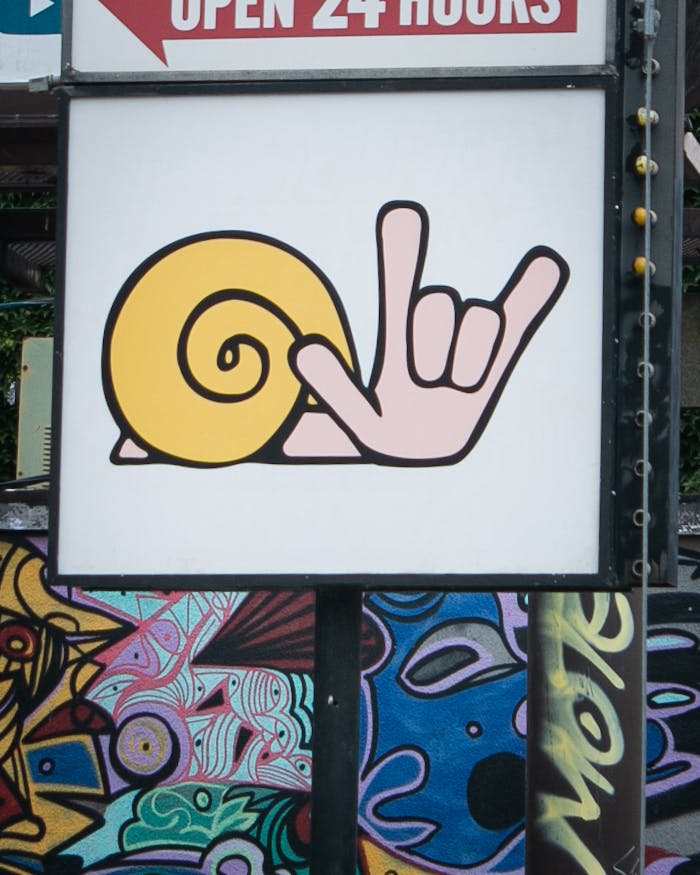 He gestures outside toward the Slowhand logo, a cleverly punny pictogram of a snail's shell from which a human hand emerges in lieu of a gastropod (slow + hand -- get it?). This is progress. Not only because the logo is striking and cool, but because it replaces a "Billy's Burgers" sign so big, red and etched in Leslieville's collective culinary consciousness that "people would come in and get miffed with us for not serving them burgers."
Such a reaction is highly unlikely now.
Ewing and Feeley embarked on their venture fully aware of, "and a little intimidated by," Toronto's status as a serious pizza city. While studying pizza trends and testing recipes, the pair looked hard for ways to carve out their own lane in a market that's highly saturated and fiercely competitive.
The unique solution they hit upon is an ingenious mutt of a pizza pie that's part Detroit, part Italy, and part San Francisco.
From the Motor City's legendary pies, Slowhand borrows the rectangular deep-dish crust, the better with which to spread a coating of cheese right to the edges. In true Detroit style, when baked, the dough shrinks back from the hot sides of the deep dish, allowing the cheese to spill over into the abyss. When it emerges from the oven, this charred cheesy run-off has morphed into frico: the crispiest, laciest, most outrageously delicious crust of cheese imaginable.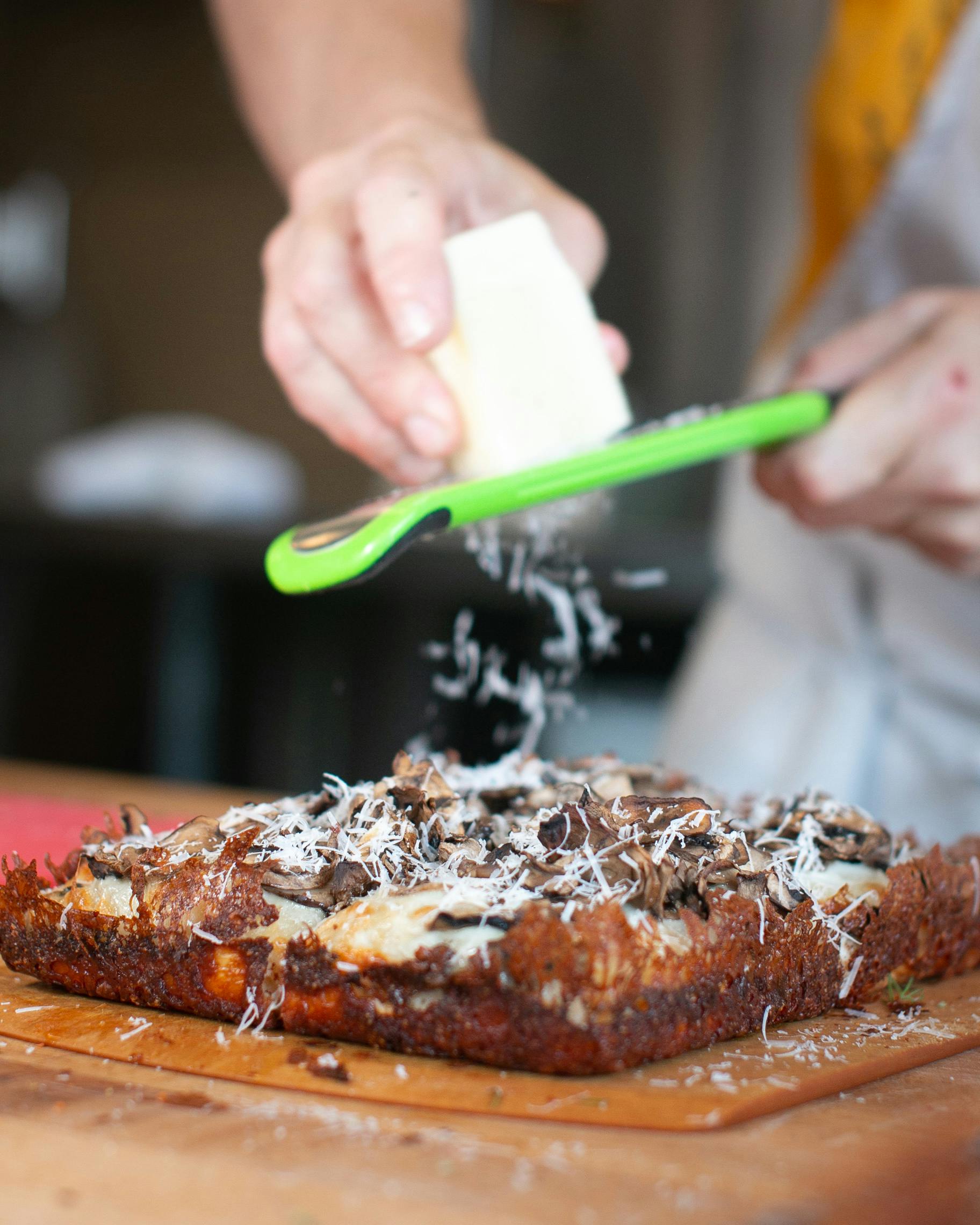 So far, so (very) good. But one drawback to deep-dish pizza can be all that heavy, dense dough. Feeley and Ewing get around this stumbling block by tapping into the Sicilian tradition of a lighter, airier, focaccia-like crust and by using a San Francisco sourdough starter. Aside from a springier texture, the sourdough starter adds a yeasty tang. If you ask, Feeley will proudly introduce you to the original sourdough starter, who goes by the name of "Trevor."
Like all good starters, Trevor can be "temperamental... He's a constantly changing, living thing who's on a schedule and needs regular feeding," admits Ewing, not without affection.
Trevor's essential presence explains the "Sourdough," but what about the "Slowhand"? Aside from conjuring a pizzaiolo's manual dexterity, "it's Eric Clapton's nickname," explains Ewing in the tone of an R&B fanboy.
It turns out that Ewing and Feeley are as much music geeks as they are pizza geeks. And their tastes are wildly eclectic. On any given day, Slowhand's soundtrack can shuffle from vintage soul and Motown into rock, rap, hip hop, and even country.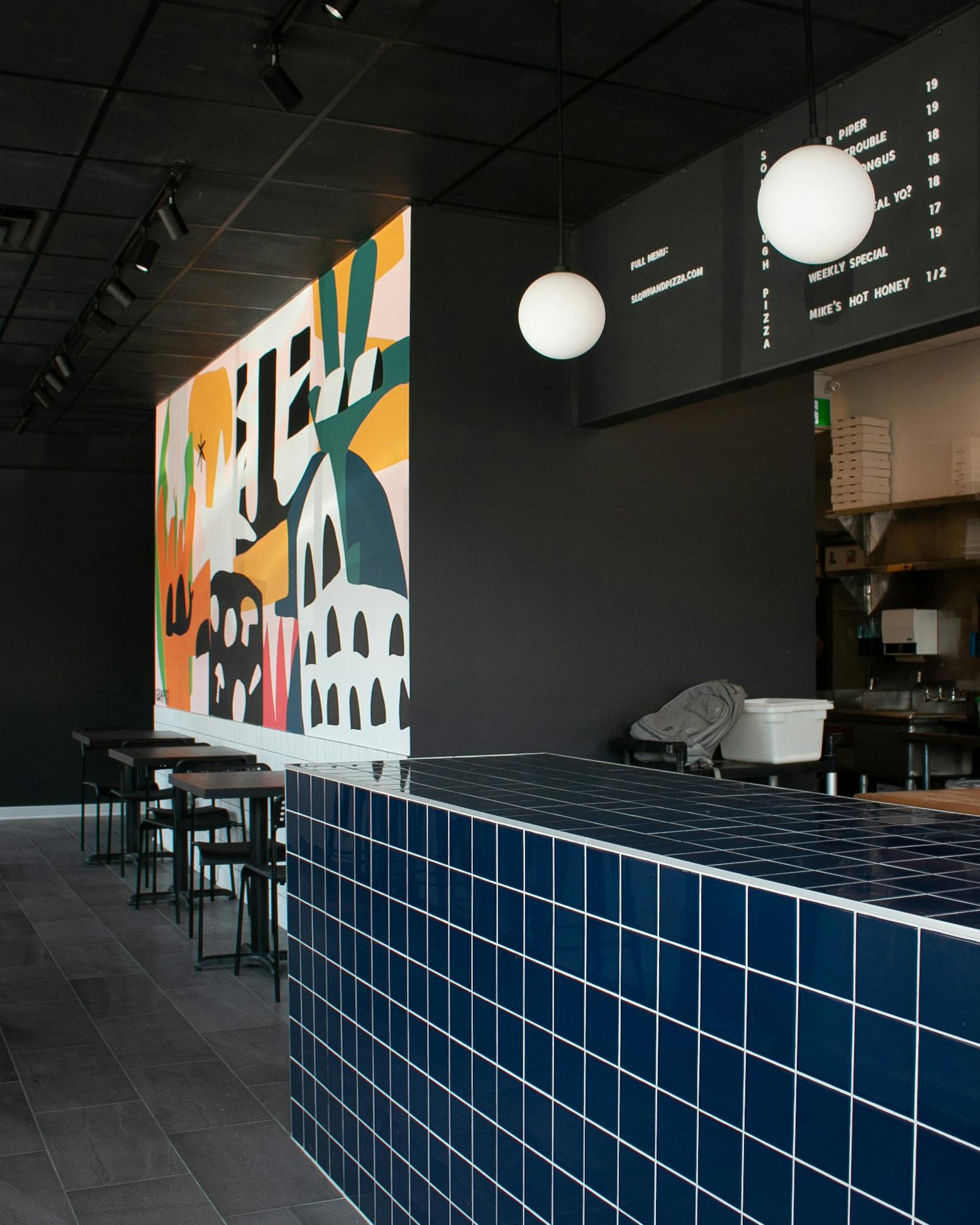 Musical motifs punctuate the minimal décor of the windowed dining area and pay homage to the pizza's geographic influencers. Photos of two disparate musical legends -- Diana Ross and Giorgio Moroder -- offer glam black-and-white shout-outs to Detroit and Italy. In a vibrant wall mural by local artist Justin Broadbent, a stylized Roman Colosseum and Motor City smoke stacks merge with giant mushrooms and flames from a hot burning oven.
The owners' musical predilections also seep into the pizzas themselves, all of which are named after favourite songs. At the moment, the menu is anchored by a sextet of permanent flavours. On each pizza, toppings are generously applied to a base of Stanislaus tomato sauce and a constantly changing house blend of cheeses that usually includes mozzarella, Parmesan, brick, Emmenthal, provolone and/or asiago. To avoid creating an unappetizing layer of "gummy" sog between the crust and the sauce, every pie is strategically parbaked before the toppings are added.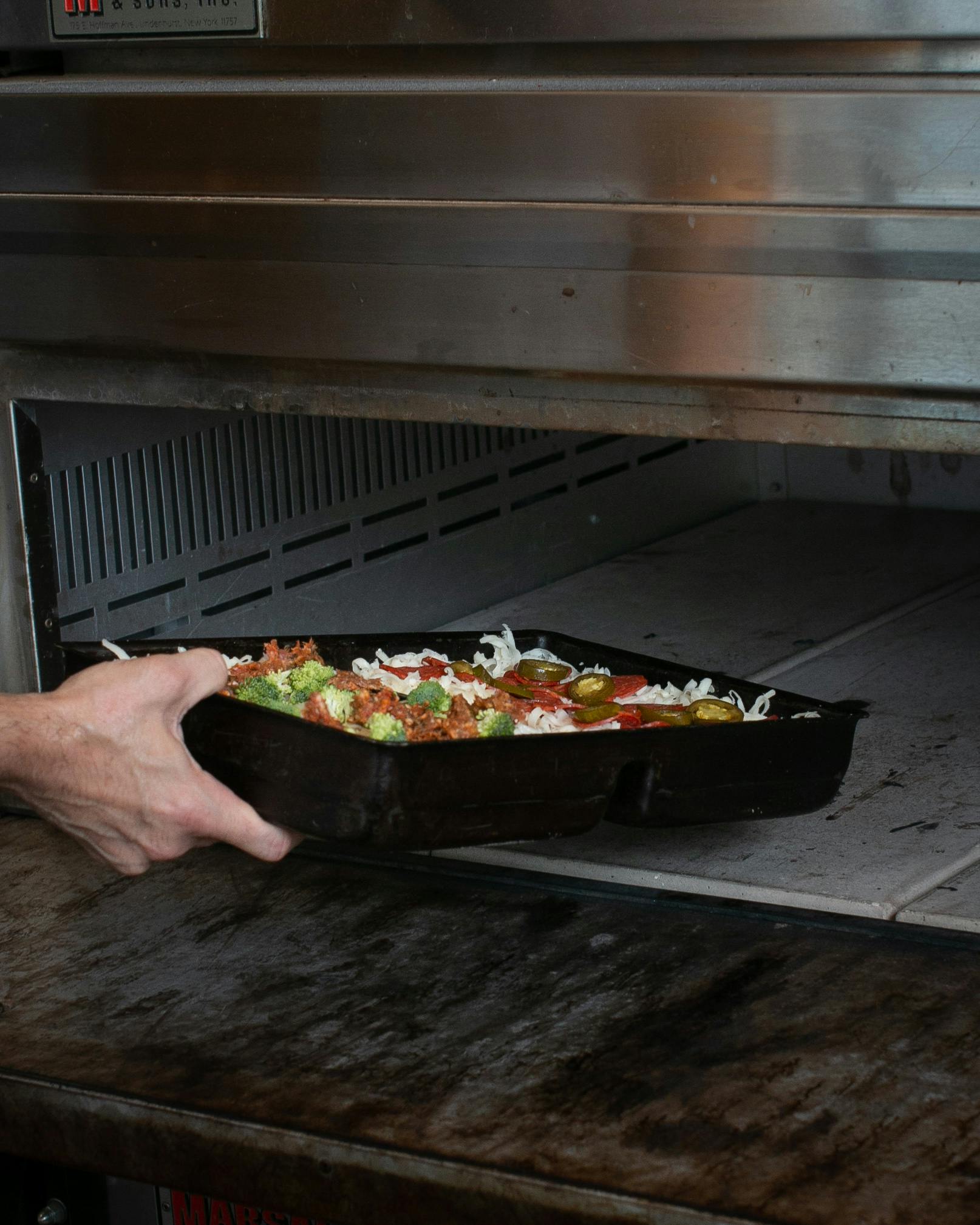 After the final bake, the pizzas are sliced into four squares and dolloped and drizzled, spiced and sprinkled with an array of seasonings and condiments. These range from herb-infused extra virgin olive oil and grated pecorino to fresh basil, parsley and Sicilian oregano. A lot of time was spent tracking down Mike's Hot Honey Drizzle, an extra special made-in-Brooklyn sauce that packs some seriously sweet heat.
To sample a Slowhand pizza in its purest state, opt for the Big Cheese (named for the Nirvana song). A little fresh basil and EVO are the only (welcome) distractions from the foundational combo of tomatoes and cheese. Double Trouble is another simple classic. The name not only references Stevie Ray Vaughan's backing band, but also alludes to the fact that this pizza contains more slices of Ezzo pepperoni than you could ever hope to encounter on a single pie.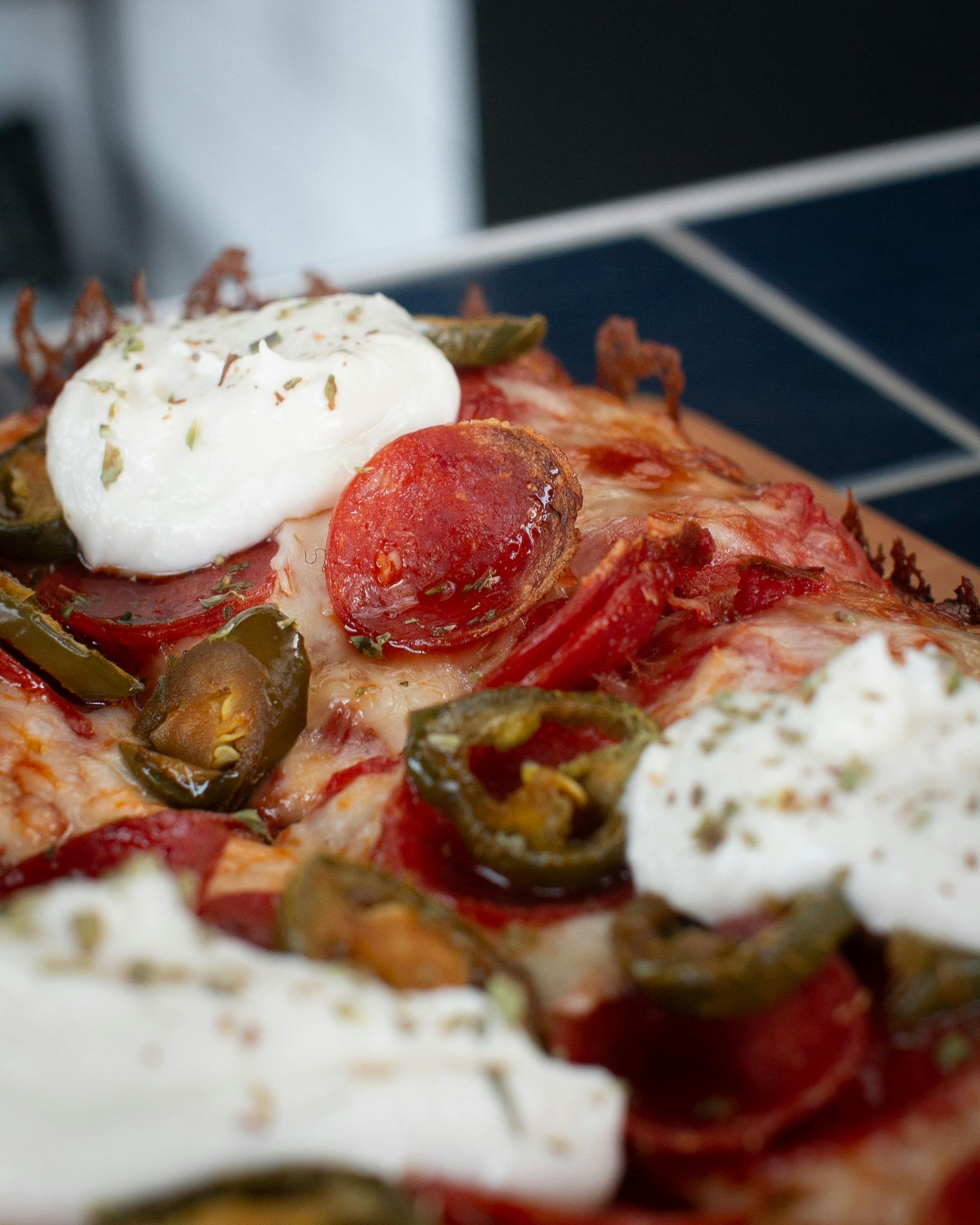 Named for the 1996 Run-D.M.C. hip hop classic, the Peter Piper features Ezzo pepperoni on a more modest scale, but cranks up the heat with pickled jalapeño peppers before ending on a chill note thanks to a creamy dollop of whipped ricotta. Mushaboom (an early hit for indie-pop artist Feist) also includes pepperoni, along with a scattering of juicy garlic roasted button mushrooms.
Although Slowhand isn't afraid of piling on the meat, vegetarians are as well served as carnivores. The super sonorous Fungus Amungus (the debut album title of alt-rock band Incubus) is covered with a small forest of garlic roasted shrooms, doused with garlic-thyme-infused olive oil and showered with pecorino and fresh parsley.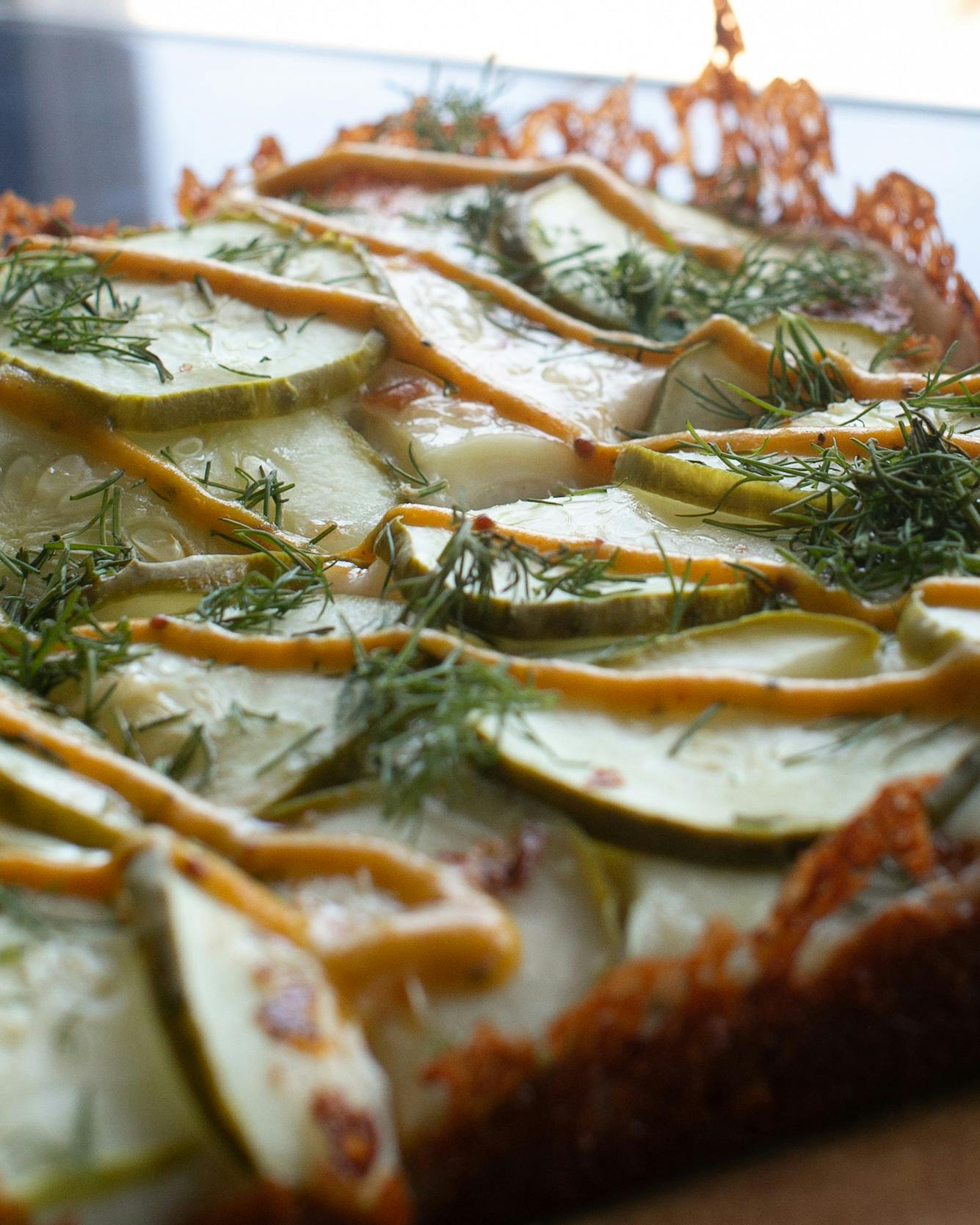 More risqué and controversial -- "people either love it or hate it, but they're very curious to try it," says Ewing -- is the What's the Dill Yo? (a riff on a Busta Rhymes lyric). Thinly sliced Kosher dill pickles go into the oven splayed on a creamy bed of garlic sauce. They emerge in a surprising state of crispness, only to be sprinkled with fresh dill and drizzled with Carolina gold mustard.
While these six standards have proved popular since Slowhand's early pop-up days, Feeley and Ewing like to be constantly adding novelty to the mix (not to mention challenging their song-inspired pizza-christening skills). The result is a rotating list of Pizzas of the Week, where Feeley -- inspired by seasonal local produce and pure whim -- plays around with more unorthodox combinations.
Runnin' with the Devil (Van Halen) features a diabolically spicy vodka sauce, house-made sausage, Peppadew peppers, Ezzo pepperoni and bacon. An ode to Parliament's "P-Funk," Pea Funk starts by laying chunks of roasted fennel upon a creamy garlic pea puree. The addition of fresh pea shoots, fennel fronds and pickled red onion definitely bring on the funk.
Then there's Suck My Kiss, which is everything you'd expect from a pizza inspired by a Red Hot Chili Peppers song. House-made fennel sausage and broccoli florets laze languidly in a garlic cream sauce before being treated to a vigorous dusting of lemon zest, Maldon salt and chili flakes.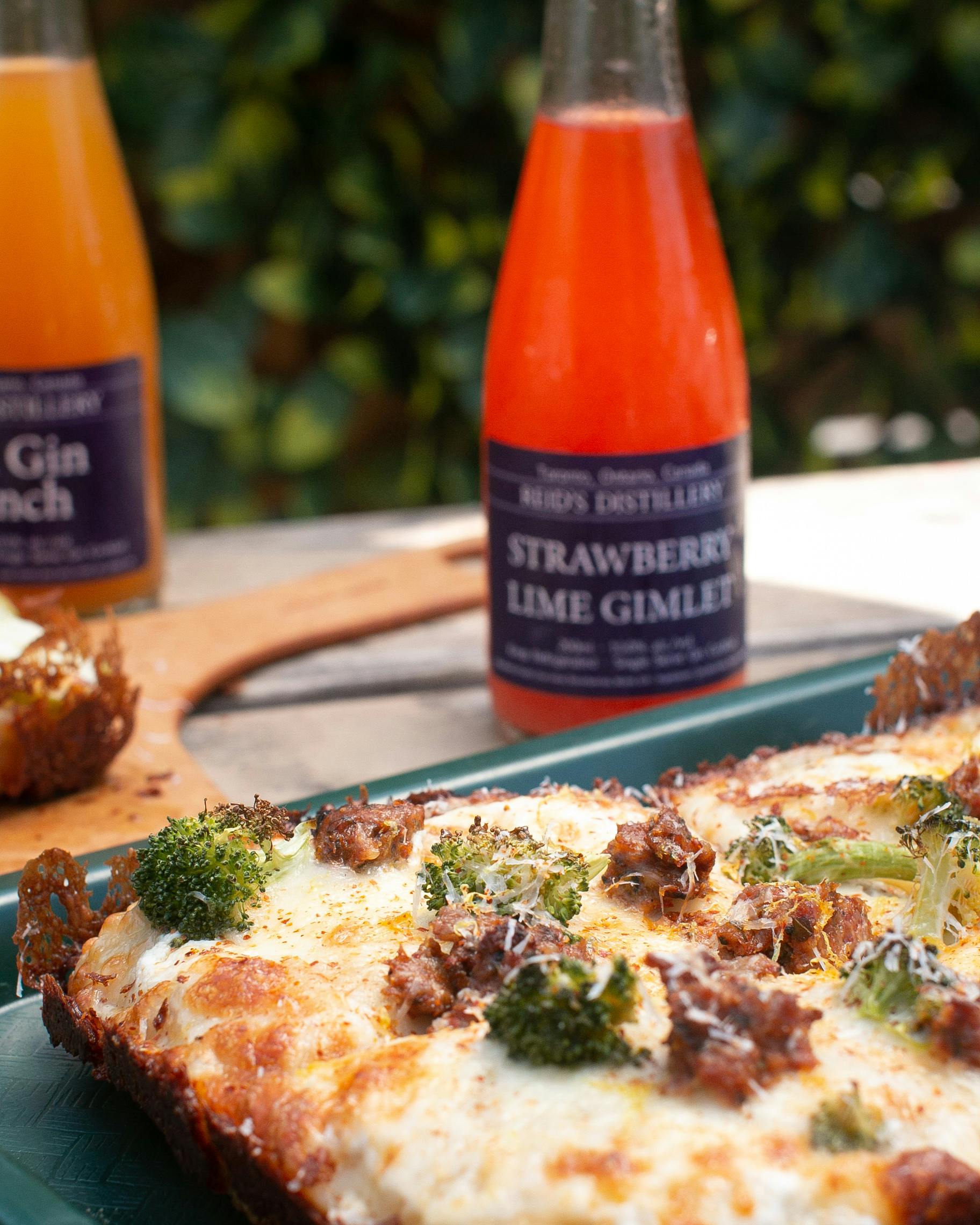 Gobbling pizzas can be a thirsty undertaking. Inspired by beloved vintage soda pops of their past, Feeley and Ewing have resurrected a bright selection of retro soft drinks. Sentimental favourites include Pop Shoppe root beer, orange and cream soda, not to mention the confoundedly hard-to-get-in-Canada favourite of Drake's, Tahiti Treat.
Thanks to the recently awarded liquor license, alcoholic options are also available. In keeping with their good neighbourhood policy, Feeley and Ewing have sought out partnerships with Leslieville producers. These currently include Avling Brewery, for its beers, and Reid's Distillery, which makes a line of all-natural fruit-based punches using its signature gin.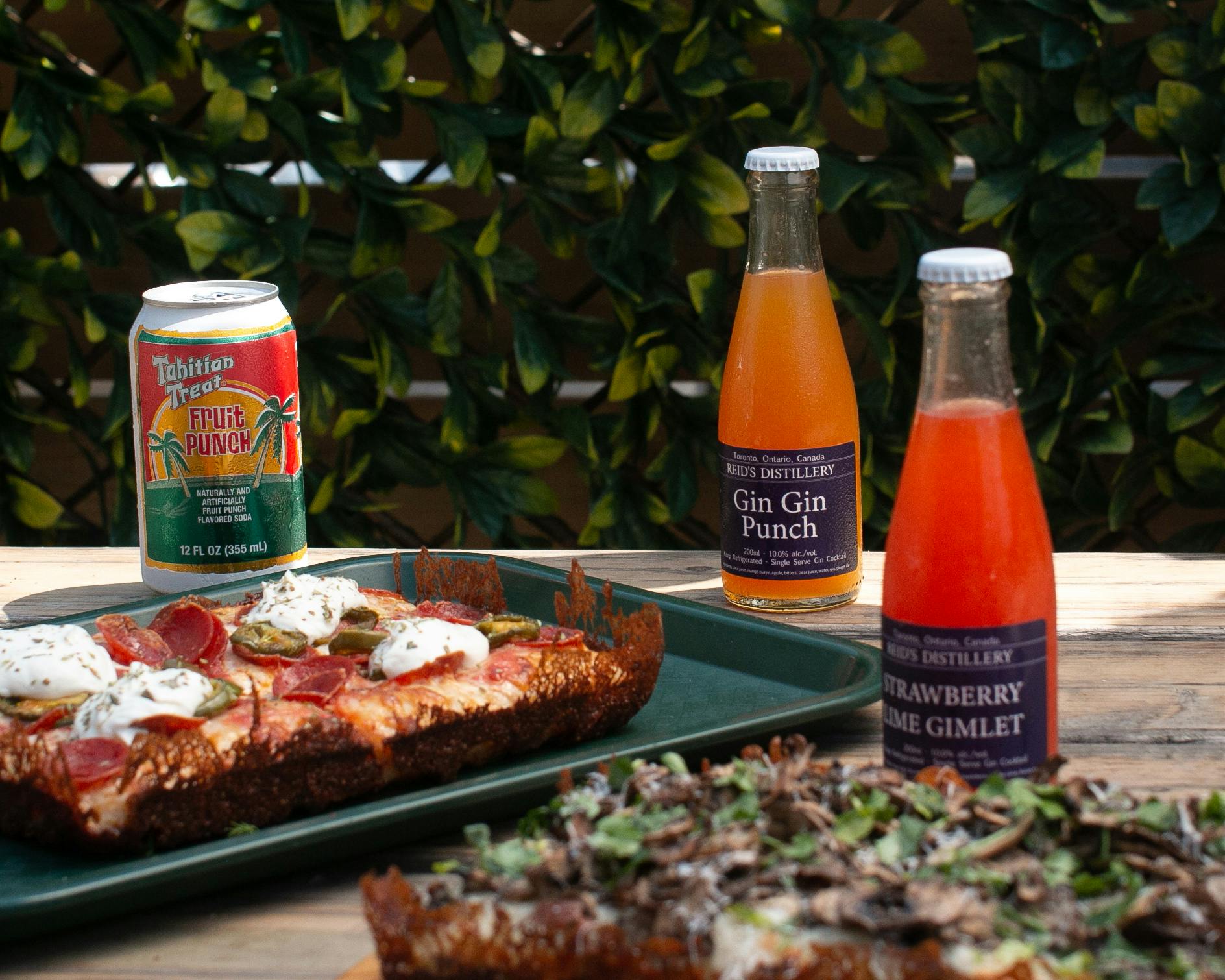 While much of Slowhand's business is takeout and delivery, the new beverages offer an added incentive to kick back with slices and drinks at the outdoor picnic tables, with seating for up to 50. Additional inside seating for 20 offers front-row views of the pizza-making process as well as front-row listening to Slowhand's playlist.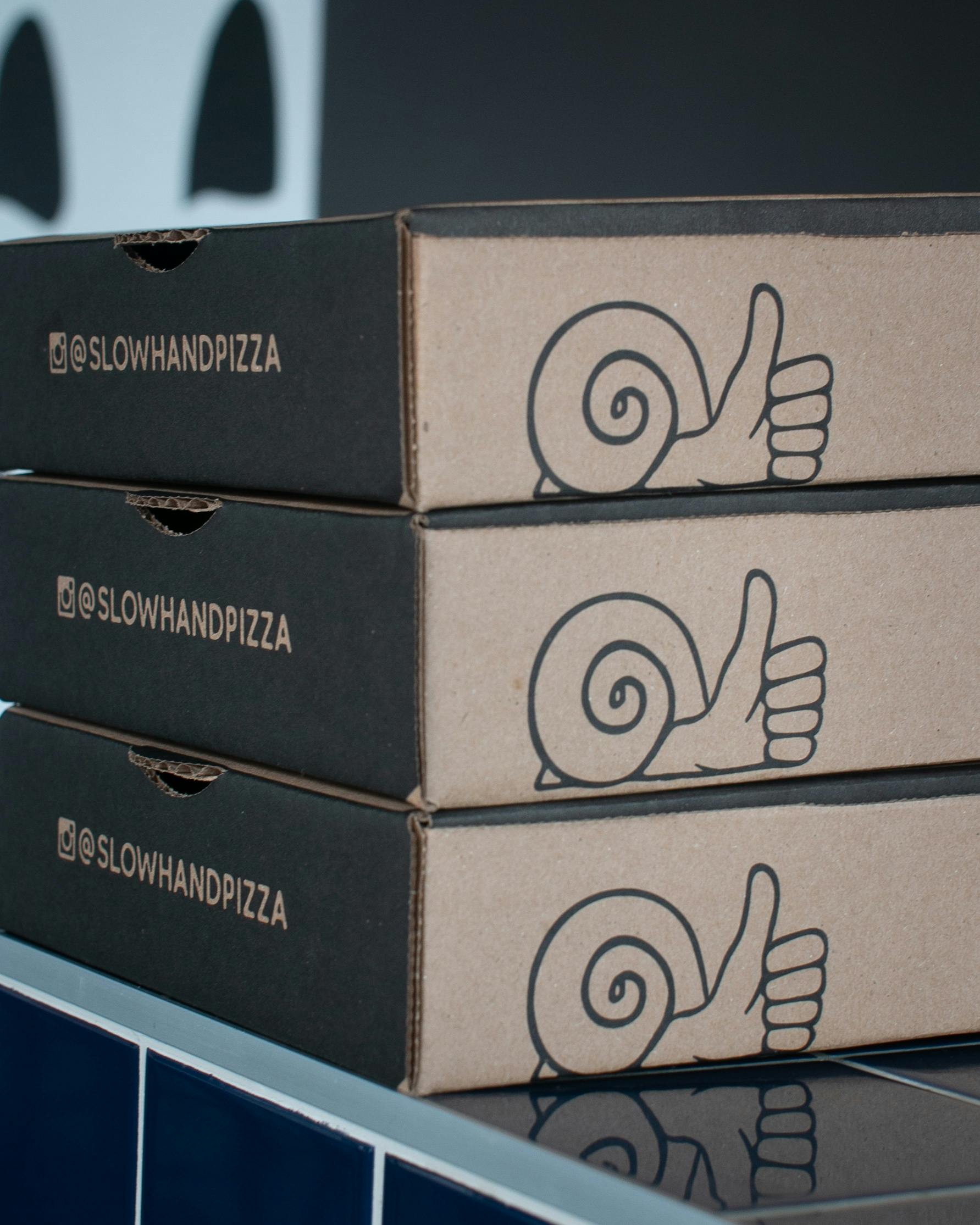 Despite the long hours and steep learning curve, both Feeley and Ewing are grateful to be living out their pandemic dream. In two years, they've gone from being idle dads loitering outside their kids' school to entrepreneurial dads whose kids now hang out -- and help out -- behind the Slowhand counter.
Says Ewing, "If nothing else, we've certainly gone up in our kids' estimation. When they tell their friends that their dads run a pizza place, they all think it's the coolest job ever."