Victor Ugeweke, the chef/owner behind Afrobeat Kitchen, arrived in Canada 12 years ago with a lifetime of restaurant experience and a serious passion for food. His mother was a successful restaurateur in his home city of Lagos, Nigeria, where he was entrusted with running a satellite outpost of his own on the other side of town, easily two hours away. It's here where he would learn the work ethic necessary to not only work a professional kitchen for rabid clientele but also manage staff and operate a proper establishment. He showed me a picture of a young twenty-something Victor and the desk he would sometimes sleep on between work hours, preferring to sleep at the restaurant instead of trekking home.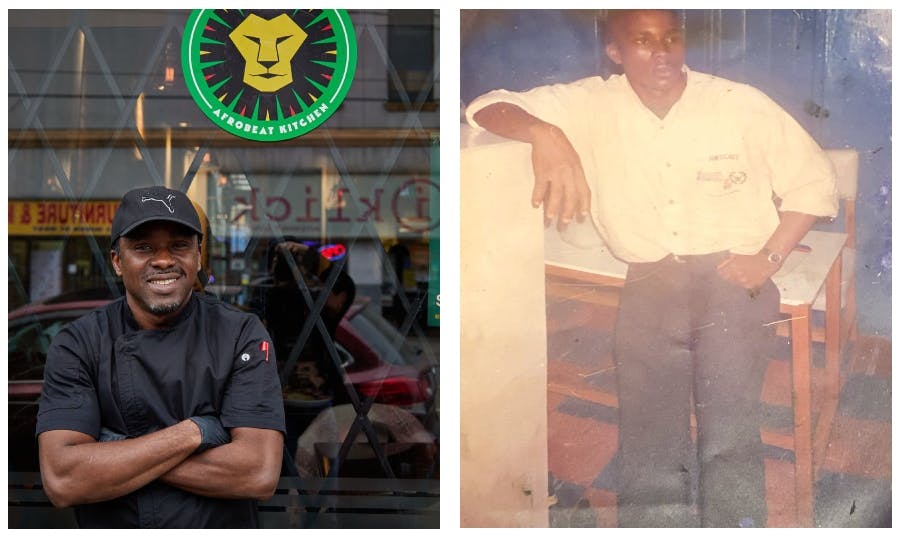 An infatuation with restaurant life led him to work in professional kitchens throughout London, UK, Vancouver, BC, and finally, his latest home in Toronto. Culinary experience at the one and only Wayne Gretzky's was followed by mastering the grill at steakhouses Wildfire and The Keg. This eventually landed him behind the scenes at lauded Middle Eastern restaurant Tabule Bayview before the dreaded spectre of COVID shuttered its doors and Ugeweke's job. However, as the saying goes, when life closes one door, another one opens.
Ugeweke always had dreams of launching his own restaurant, but the demands of long dedicated hours in the kitchens of other owner's restaurants didn't allow much time to strategize. One positive about COVID is that it forces the concept of "slow living" on everybody in and outside the restaurant and hospitality industry. While the resulting reflection caused many to leave the industry, the quiet time allowed Ugeweke time to really focus on doubling down on his restaurant dream. So when his brother-in-law needed kitchen help after launching Caravan Cafe & Tea House (now closed), Ugeweke took on the challenge of curating a menu that included native Nigerian flavours and textures. Afrobeat Kitchen was born as a regular pop-up situation but eventually blossomed into its own entity. Initially offering catering and delivery through food apps, the needs of the business quickly expanded beyond the capacity of the cafe as Afrobeat Kitchen's popularity grew.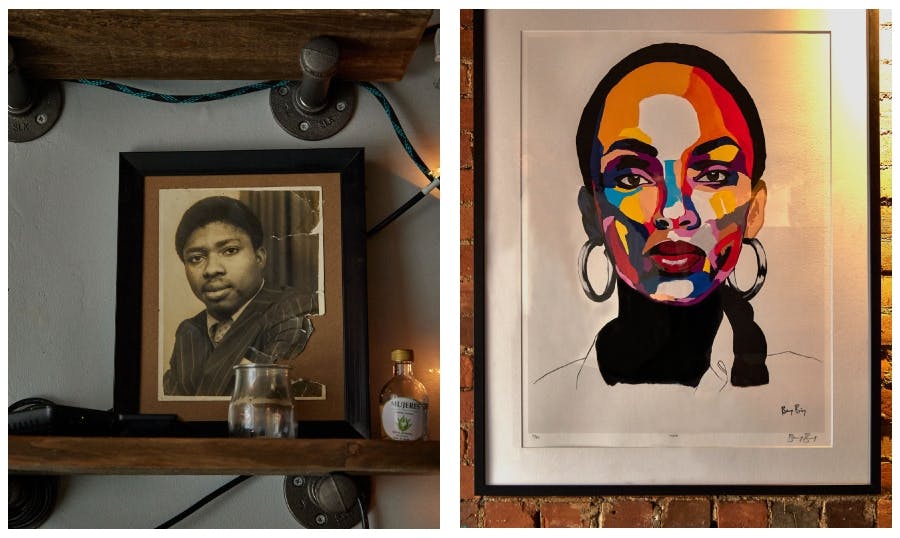 A search for a dedicated space where Ugeweke could create the sort of "faaji" vibe —"Faaji" being a Yoruba word meaning "party" or "celebration"— he was looking for showed up on Queen West where Parkdale pub Escape Goat poured craft beers before closing in November. The storefront remains mainly untouched, with loft-style exposed brick over wood accented flooring leading to a well-stocked L-shaped bar and a hidden kitchen. Although the cavernous space is what could be described as intimate, it leads out to a sizeable back patio that will be the place to be once we're into the Spring/Summer season and the bar already has the attention of a diverse community of patrons on a buzzing block. A makeshift altar elevated over the bar holds an old photo of his father, who was a successful businessman in Nigeria. When asked what his father would say if he could see his son with his own restaurant in Toronto, Canada, Ugeweke replies, "I'm sure both he and my mom would be proud."
And there's a lot to be proud of on this menu.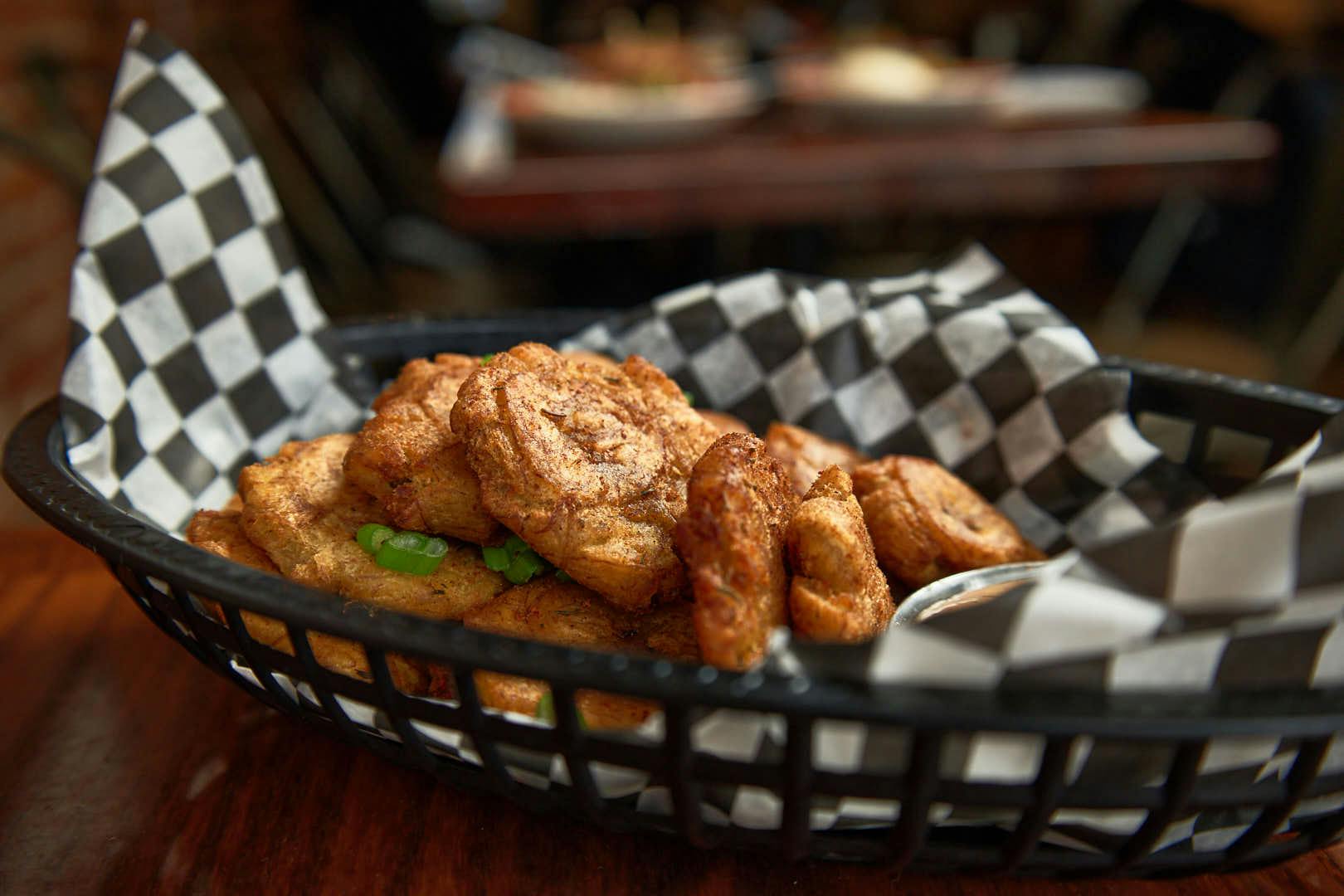 Moving through some starter options, the Kelewele Tostones with Spicy Money Mayo sets off the party with double-cooked and smashed plantains. The sweet crunch of the cooked carbs works well with the smoky tang of the money mayo, the "money" here referring to a Nigerian slang for chilli. Notes of ginger, cinnamon and garlic elevate this dip with the aforementioned smokiness coming from the addition of paprika and cayenne.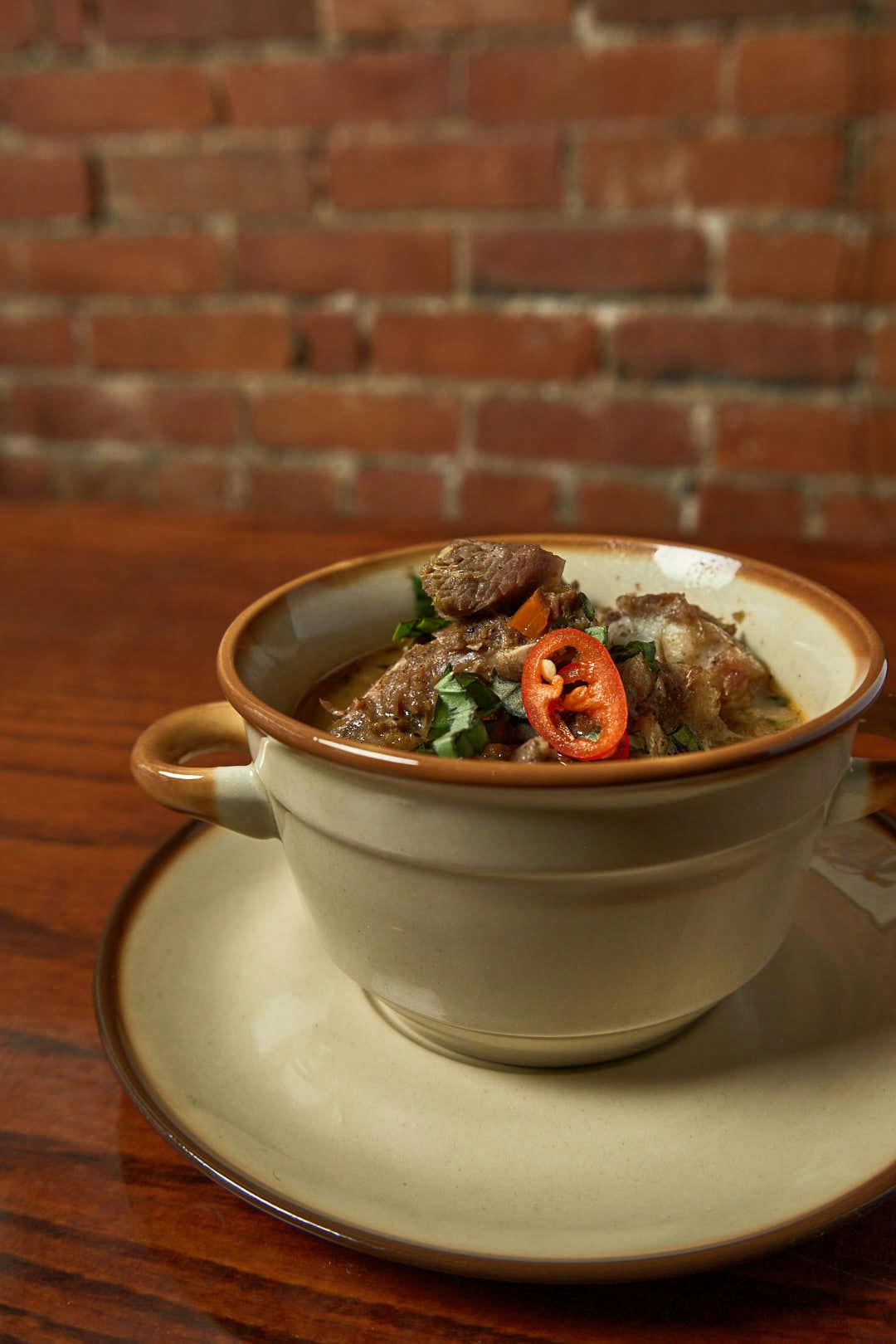 Described as "incendiary" by the menu, a bowl of Goat Pepper Soup is exactly what anybody with a high tolerance for spice, but a low tolerance for below-zero temperatures, needs to get through the winter. This bone broth, goat meat concoction decorated with sliced chilli garnish, scent leaf and Nigerian grains will kick your metabolism into high gear and melt the ice off your toque quickly.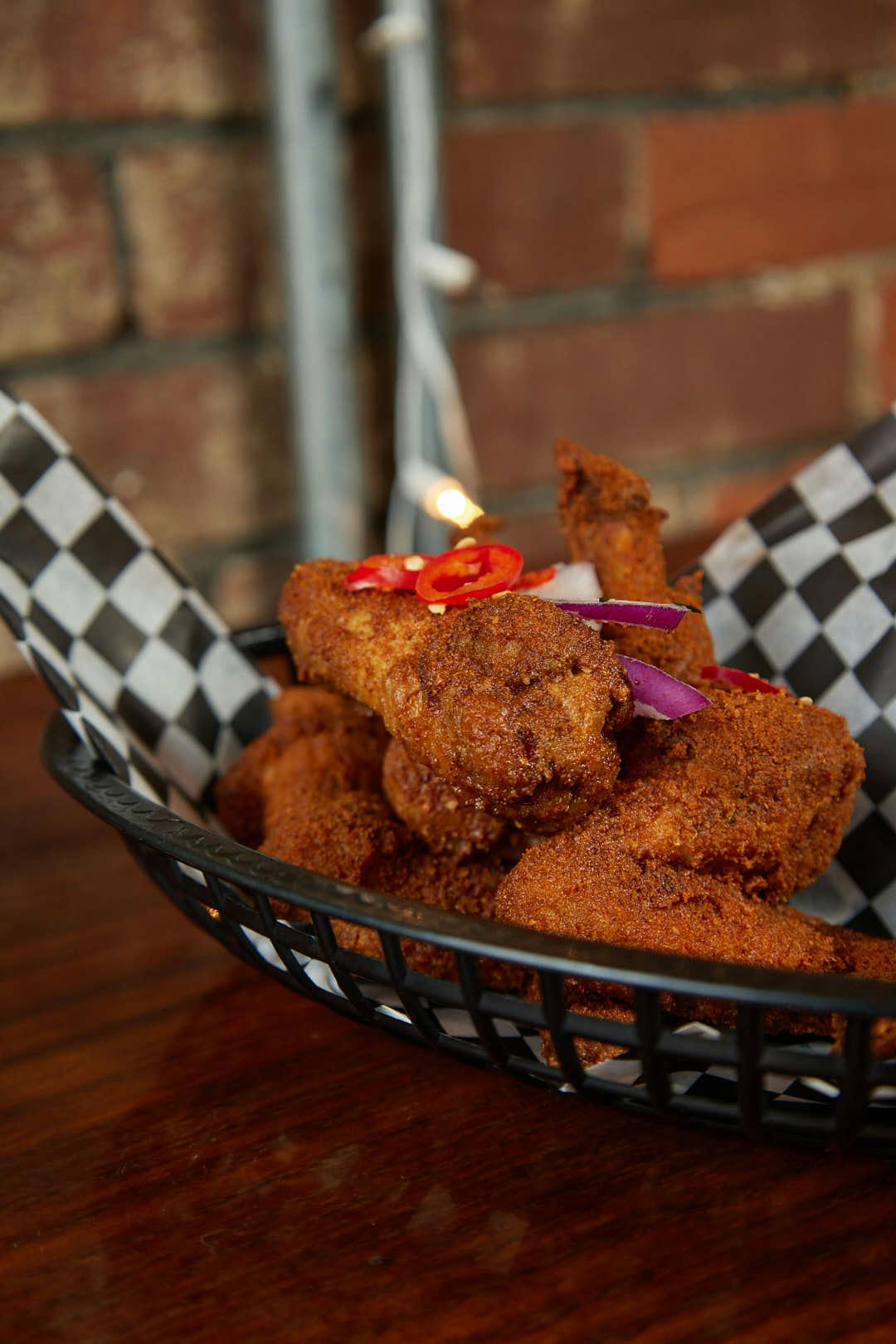 Fried chicken is massaged and marinated with a dry rub and accompanying ginger sauce dip that's a match made in heaven. As starters, both are pretty solid offerings, and it would be fair to just have these as a meal and call it a day. But we haven't even gotten into the mains yet.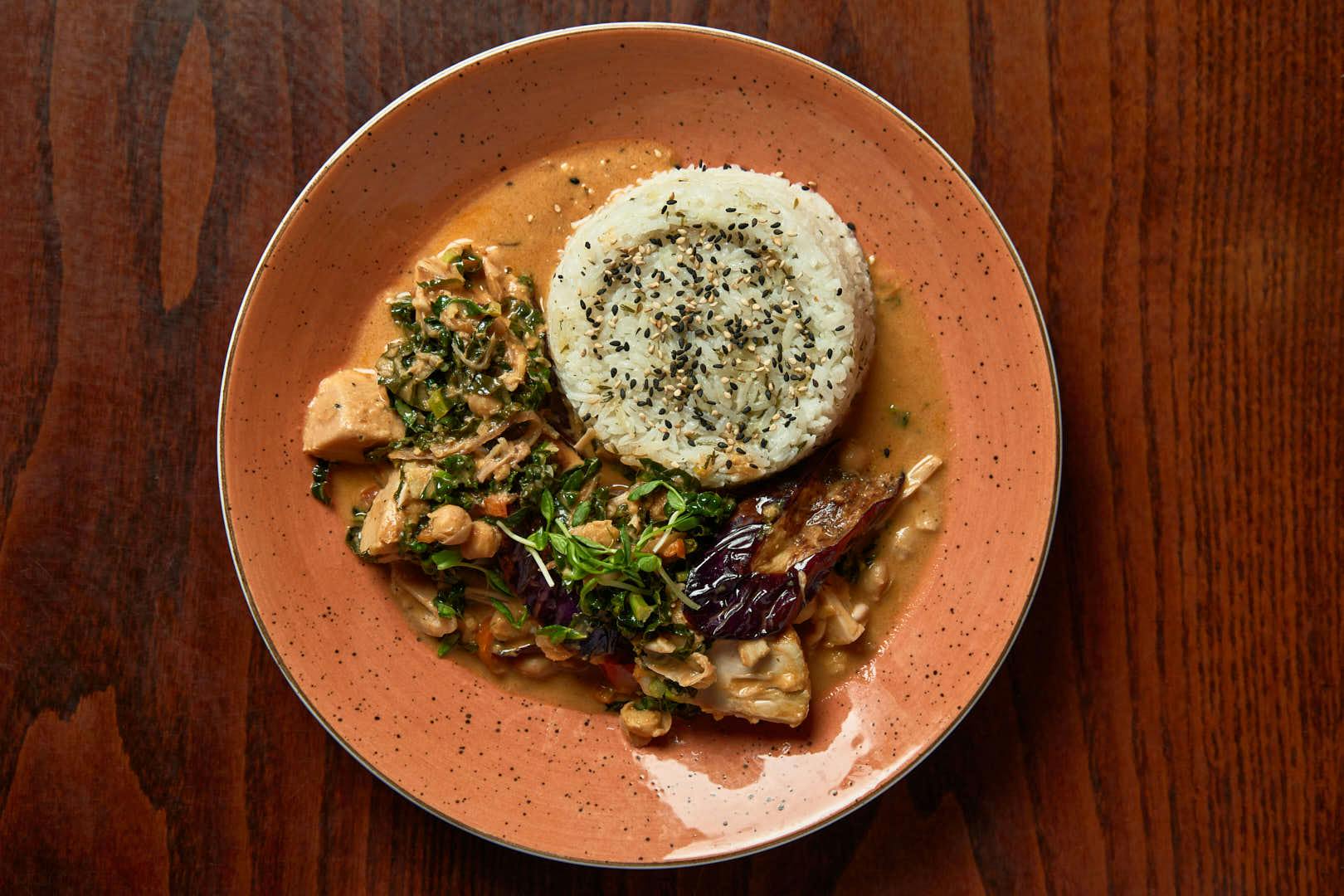 Miso Mafe with Ginger Coconut Rice is a traditional dish served with a vegan twist and shows the versatility of Afrobeat Kitchen's menu. Here chickpeas are served as the protein alongside the meaty texture of jackfruit and aubergine. A silken peanut sauce thickened with coconut milk makes this a plant-forward meal that lacks nothing without the presence of meat.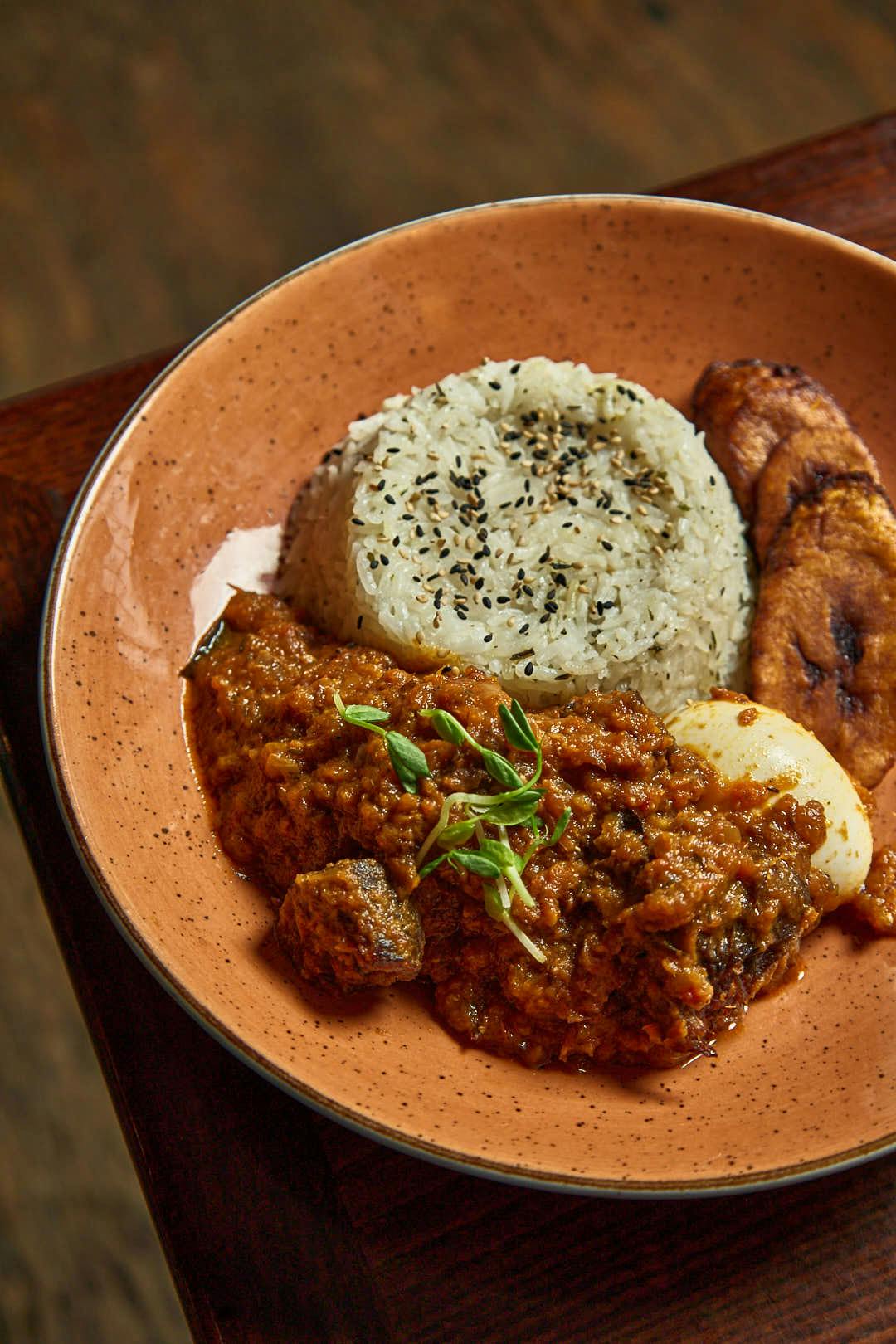 Don't worry carnivores, there's still more than enough on the menu to fill your desires. Buka Beef Stew plates slow braised cubes of beef in a tomato-based reduction of peppers and palm oil butter and the kitchen also offers a choice of boneless beef shank for marrow lovers. Served with coconut rice, plantains and a hardboiled egg, this is a hardy meal that will put some meat on your bones for the winter ahead.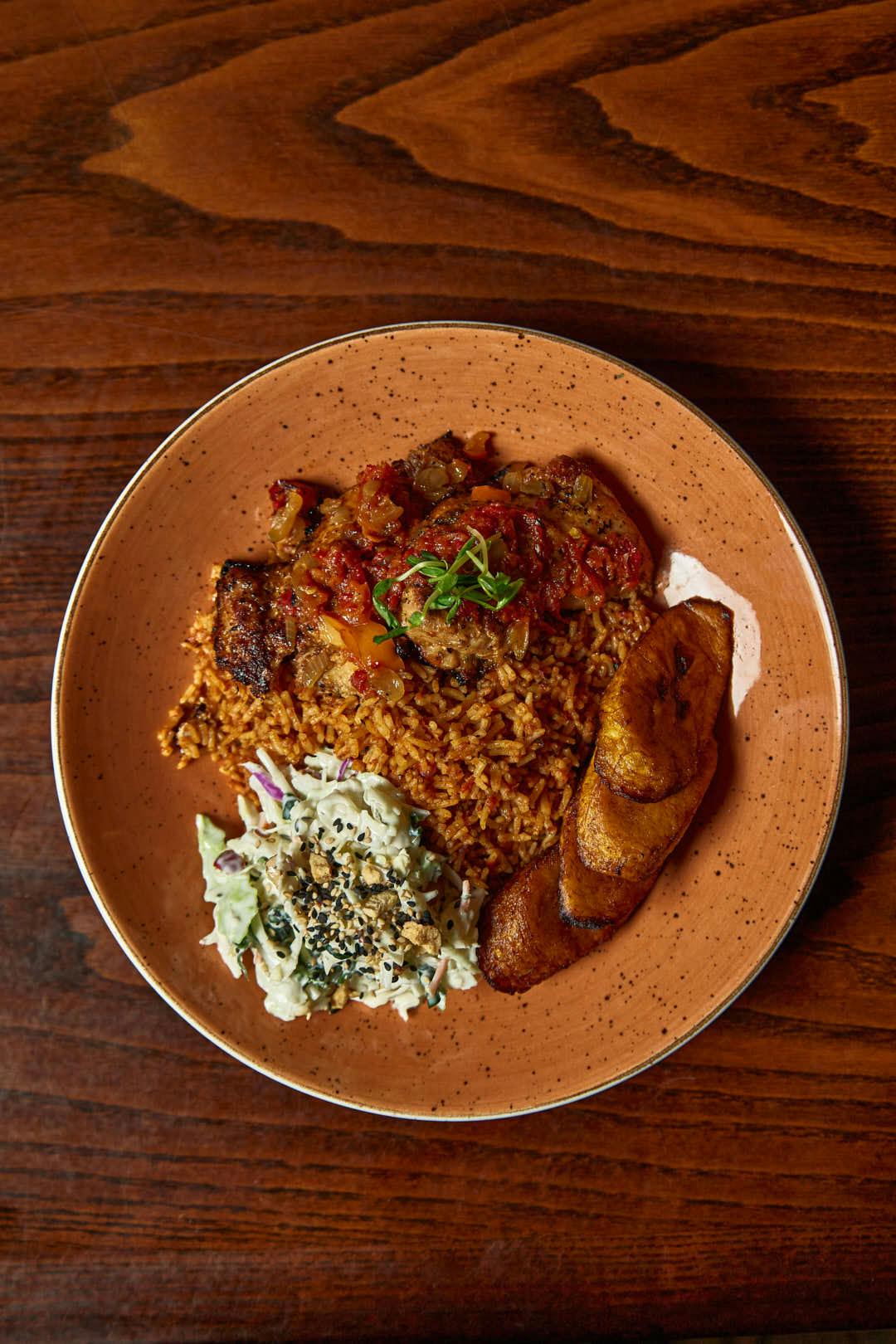 Party Jollof is a traditional party on a plate. There's no Nigerian party without jollof rice, and here it's lovingly served in a tomato sofrito with star anise and an invigorating hint of lemongrass like a West African paella. Plantains and creamy yet crunchy slaw are the icings on the cake.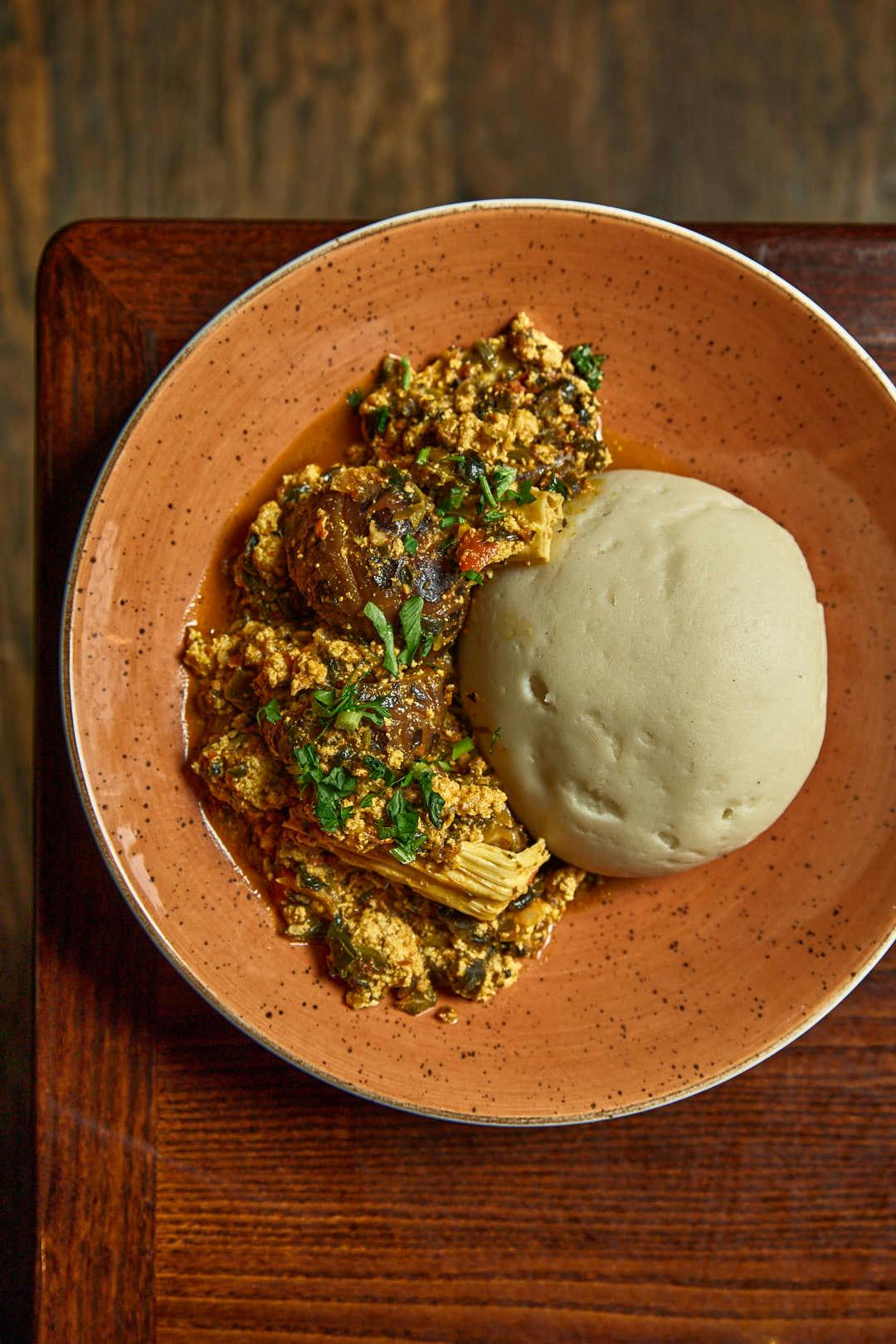 Assorted Vegan Egusi makes impressive use of King and shitake mushrooms along with kombu, a form of sea algae, in a rich veggie-based sauce. The kombu gives the dish a background taste of the ocean without the presence of fish. The accompaniment of pounded yam acts as a proper sponge for the assorted goodness, best scooped up between your fingers with bits of the food.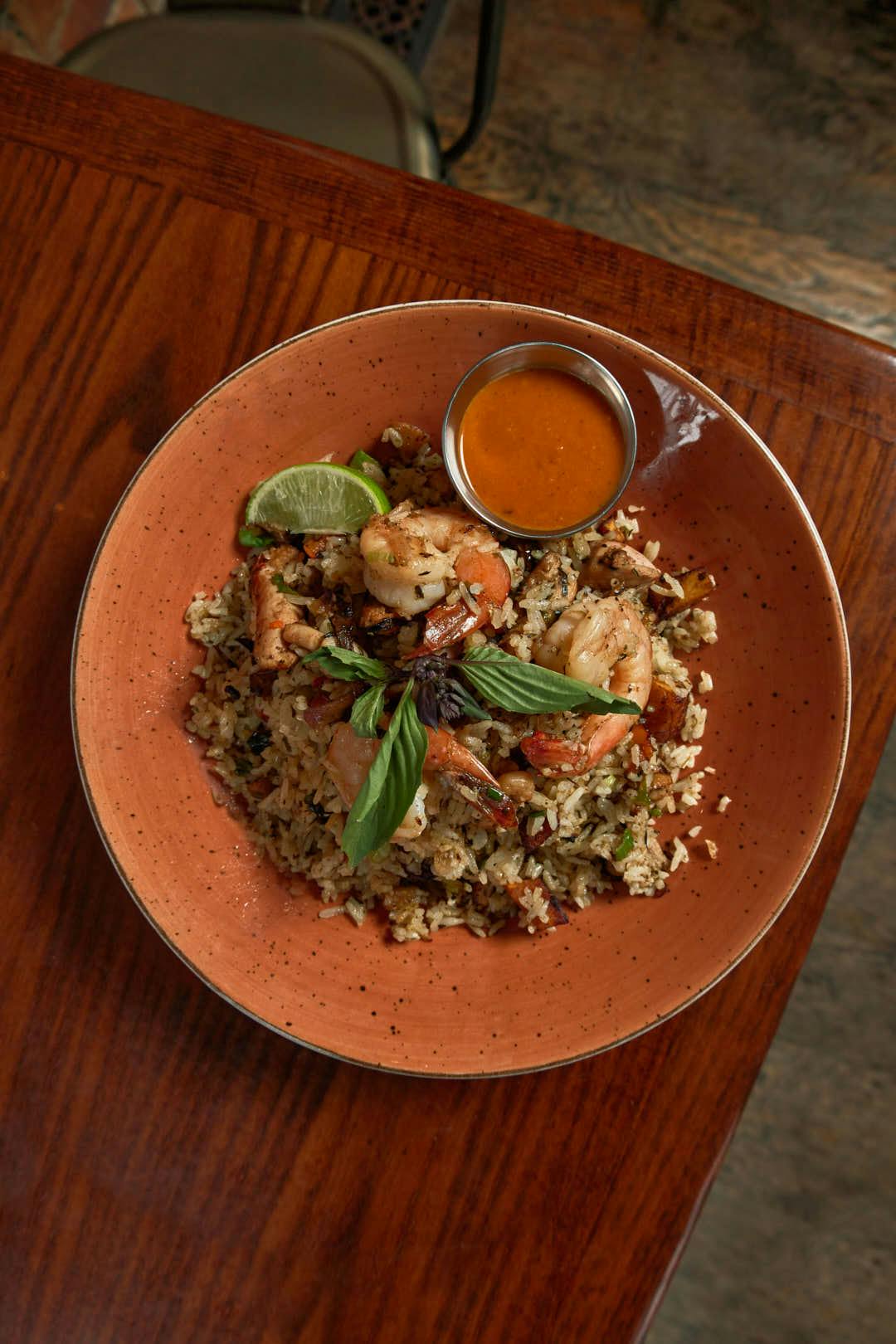 On the other side of the equation, stir-fried chicken, plantains and smoked crayfish are the stars of Fisherman Market Rice, a perfect balance of savoury proteins, carbs and vegetables on a plate.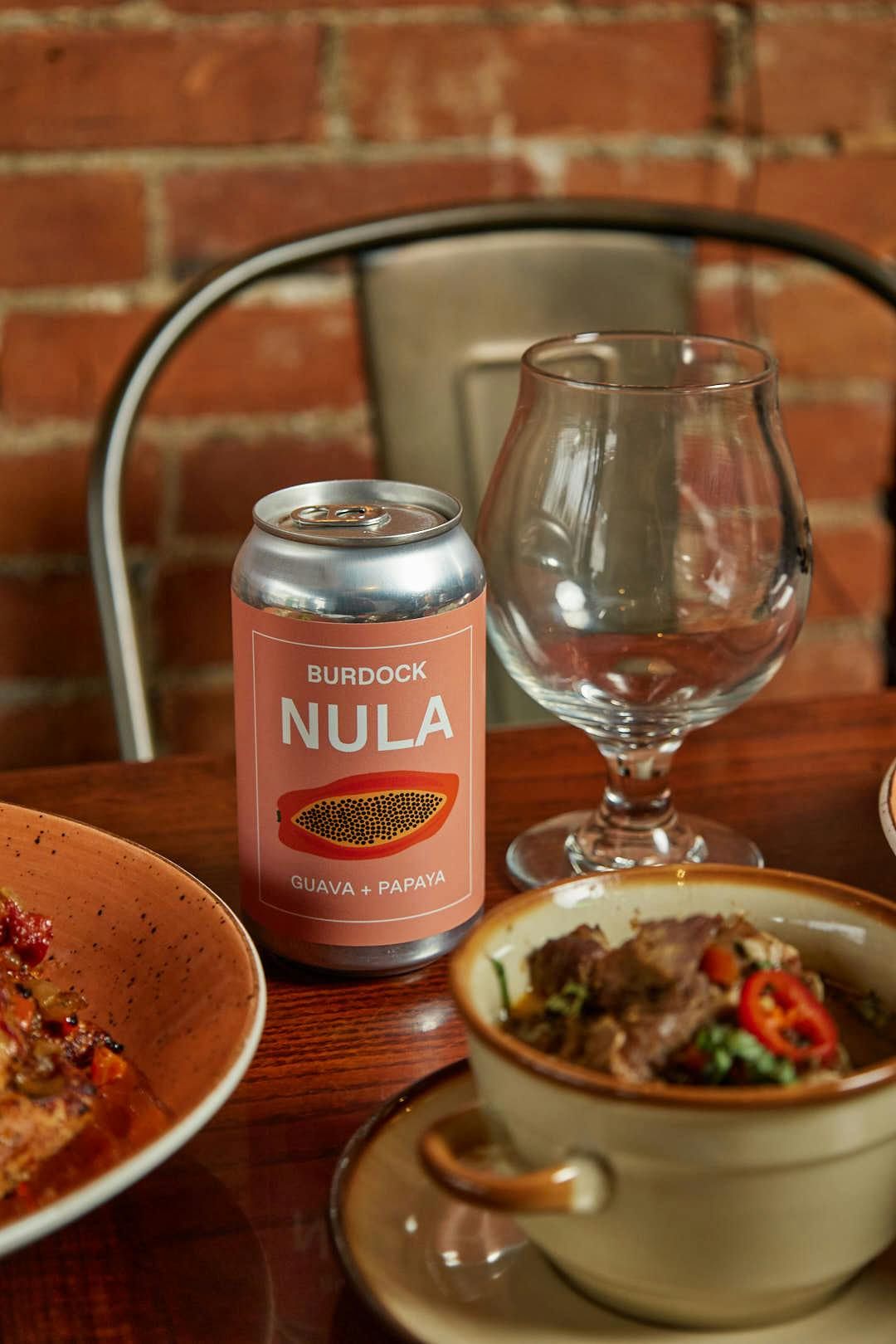 This is the sort of food that fuels celebration, but a great celebration also needs drinks. A fully stocked bar includes a short and sweet list of about six bottles—three white, three red—specialty craft beers, a few highball cocktails, and standard liquor offerings. A few top shelf items include Dusse VSOP and Taketsuru pure malt Japanese Whiskey. Speaking of Japanese liquor, imported palm drink is Nigerian alcohol reminiscent of sake but replaces fermented rice with the sap of various palm trees local to the area it's produced. If you like sake or soju, you will love this drink. Canadian brewer Burdock shows up in a can with dry-hopped sour ale that tastes like the tropics. Notes of guava and papaya take centre stage in an adult fruit drink where the fruit flavours aren't hindered by any cloying sweetness.
Afrobeat Kitchen is a great addition to the diversity of Parkdale's food scene and is sure to bring "faaji" to the Parkdale hood. Let the party begin.