Arriving at Sunnys Chinese isn't quite like arriving at other restaurants. There's little more to guide you toward the covert front door than a hand-written cardboard sign, hung haphazardly on a store window. Deep within Kensington Mall, this is an eatery that's stripped of the pomp most hot spots love to flaunt. And that, friends, is how you know the food is dynamite. Guided by passion verging on obsession, Sunnys regional dishes take diners on a culinary tour of China. If you crave food that excites, whose aromas intoxicate before dishes hit the table, food that draws you in with subtle spice and flavours that artfully unfold as you savour each bite, then you'll want to reserve your table at Sunnys tonight.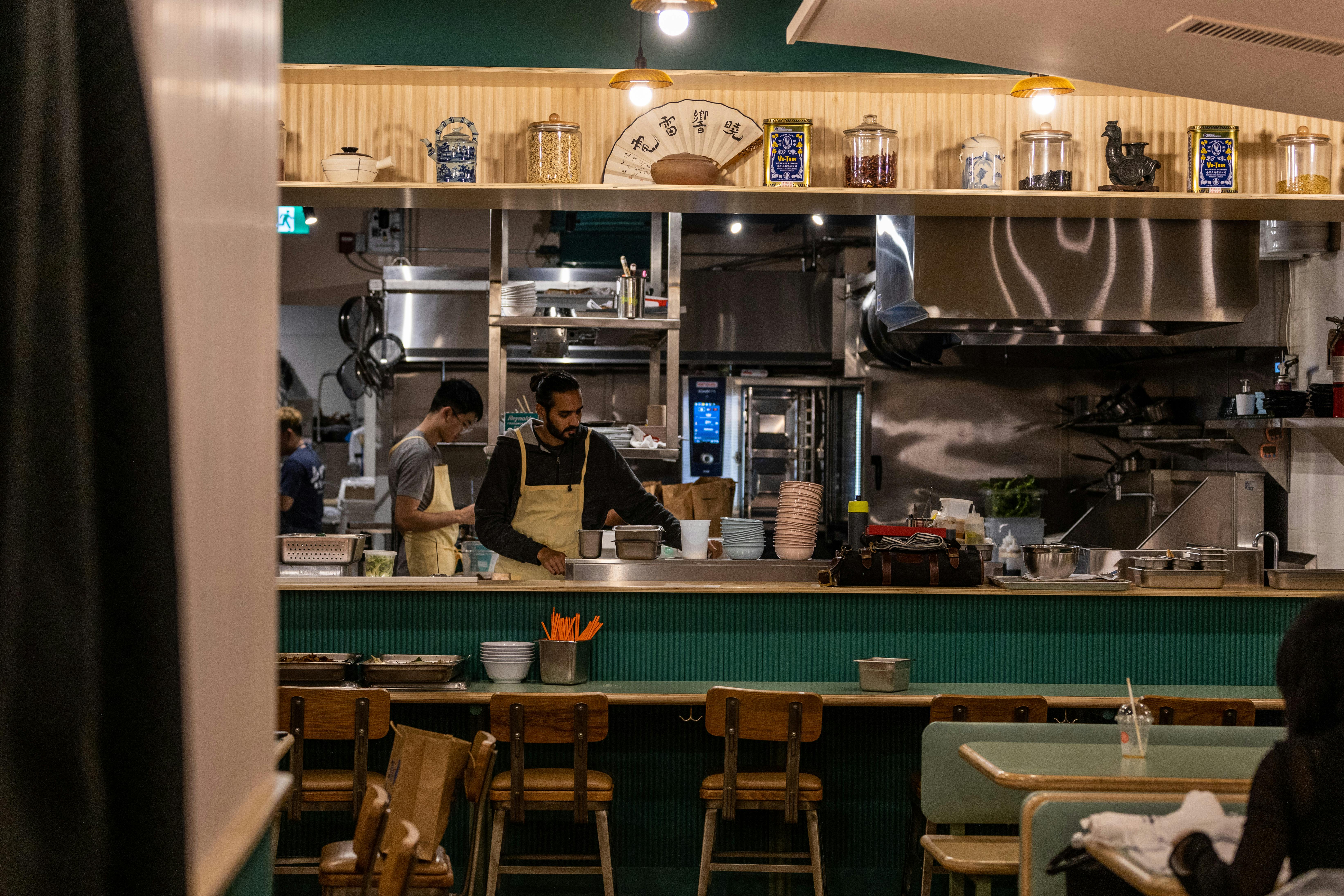 Despite the ho-hum hallway, stumble into Sunnys and you're rewarded with a high-energy, vibrant space, reminiscent of a Honk Kong diner. Formerly home to Cold Tea, the restaurant has been entirely revamped and redesigned to give the impression, says owner and executive chef David Schwartz, that it's always been there. Together with architects Jack Lipson and Gabriel Li (who also does all of Sunnys' photography), Schwartz designed a casual, convivial, pastel-hued room with a vintage feel. "All of the tones and colours in here are intentionally hyperbolized because it's really dark in here during service," says Schwartz. A linoleum floor, and mint-green seating work with bubble-gum pink tiles to drive home the cafeteria chic. Mirrors give the 75-seat space a roomier feel, whether you're sat at the bar, the open kitchen or in one of the restaurant's cozy booths. 
Often forgettable, Sunnys' bathrooms deserve a nod thanks to an ongoing collaboration with local artists. Originated by illustrator Justine Wong, of Patterns and Portraits, the project will see the restaurant's bathroom mirrors decorated on a rolling basis. After the public has had a few months to enjoy them, the mirrors will then be auctioned off in support of charity. 
Born from a persistently popular, COVID-era pop-up, Sunnys landed in Kensington Market with a fervent, built-in following. Its story begins in April, 2020, when its team was scheduled to open MIMI Chinese, in Yorkville. Delayed by the pandemic, Schwartz and his team, including MIMI head chef Braden Chong and Sunnys head chef Joseph Ysmael, decided to use the vacant kitchen at MIMI to test recipes and play with ingredients. What started with meals for friends and family blossomed to sold-out pop-ups that quickly demanded all of the team's attention. "Because of how successful Sunnys was and because of the life that it took on that was very different than MIMI, the restaurant we were about to open, we decided that maybe we could actually do this as its own concept," recalls Schwartz. Though, he "originally said it was completely insane," he admits.  
Once the idea had time to percolate, it wasn't long before Sunnys found a permanent home in Kensington. Schwartz's own family connection to the area — his grandfather owned a chicken shop on Baldwin Street after emigrating from Poland — and Kensington's historical identity and proximity to Chinatown, made it an ideal location. Named for a particularly notable manager from House of Gourmet, Sunnys Chinese is "casual and playful," according to the team. It's a place rooted firmly in tradition, buoyed by Schwartz's fascination with Chinese cuisine. "I've always been completely enthralled with Chinese food, specifically the regionality behind it" he admits. "As a cook it's endlessly inspiring. It's all that I want to eat and all I want to cook. I'm head over heels obsessed with it and I want people to feel the same way." Sure, you can get Chinese staples elsewhere in the city. The point of Sunnys, explains Schwartz, is to offer "the total experiential package," from the food and feel, to seamless service and bespoke cocktails boasting a wealth of Asian ingredients. 
The menu combines a few faves from the pop-up days with other dishes chosen for variety, for sheer deliciousness and to reflect the team's experience and interests. "Our kitchens are non-traditionally, not top-down," says Schwartz, explaining that everyone on the kitchen team had a say in Sunnys inaugural menu. "We collaborate on everything," he adds. "It makes perfect sense to me, if people have things that they're familiar with that are really tasty, why not crowdsource our menu?" Hopping from Sichuan to Guangdong, Shanxii, and Guangzou, the menu strays from mainland China only for quick stops in Hawaii and North America. The common thread? A desire to represent each place through food that's thoughtful and expertly made. "There's a right way to do things and a wrong way to do things," says Schwartz. "If you're not respectful, that's not right. …I put an extended amount of effort into making sure that we respect things properly and do things right. Our food here isn't about creativity, it's about representation." 
Among a number of cold dishes stands one that's notoriously "difficult to execute properly," according to Schwartz. A recipe said to have been created by a couple of shopkeepers in the early 20th century, Husband + Wife Beef combines three cuts into one peppery appetizer. "This is one of the dishes I'm most excited about," he adds. "It's one of my favourite Sichuan dishes, and it's a way to really get people who maybe aren't so thrilled about eating offal and offcuts into the idea of eating them." A combination of beef shank, beef tendon and beef tripe, each cut is cooked until tender, then chilled in the restaurant's master stock. The meat is then sliced thinly, finished in fragrant, house-made chili oil and topped with peanuts and scallions. Tender, bouncy and tongue-tingling, you won't really care if it's offal, or not — you'll energetically dive into the dish, bite after bite, until it disappears.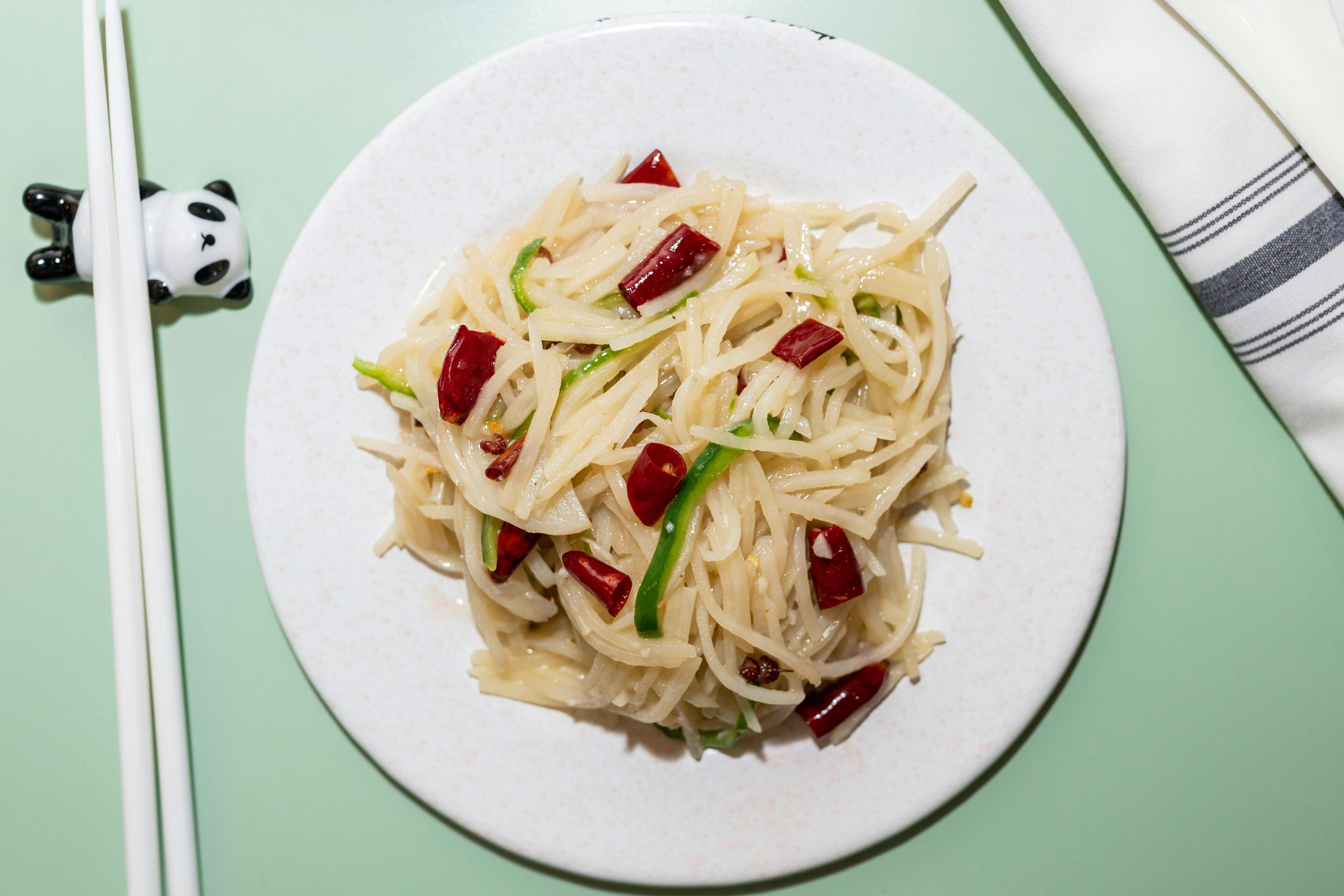 Also inspired by Sichuan province, Hot + Sour Potato is a staple on Sichuan and Shaanxi restaurant menus. Made from chili-spiked, shredded potatoes that are stir-fried with white vinegar and hot long pepper, the dish, says Schwartz, is polarizing. "A lot of people really love it and say it's their favourite thing. Other people say, 'I didn't get it, I didn't like it,'" he explains. "I like having dishes like that on the menu," he adds, unfazed.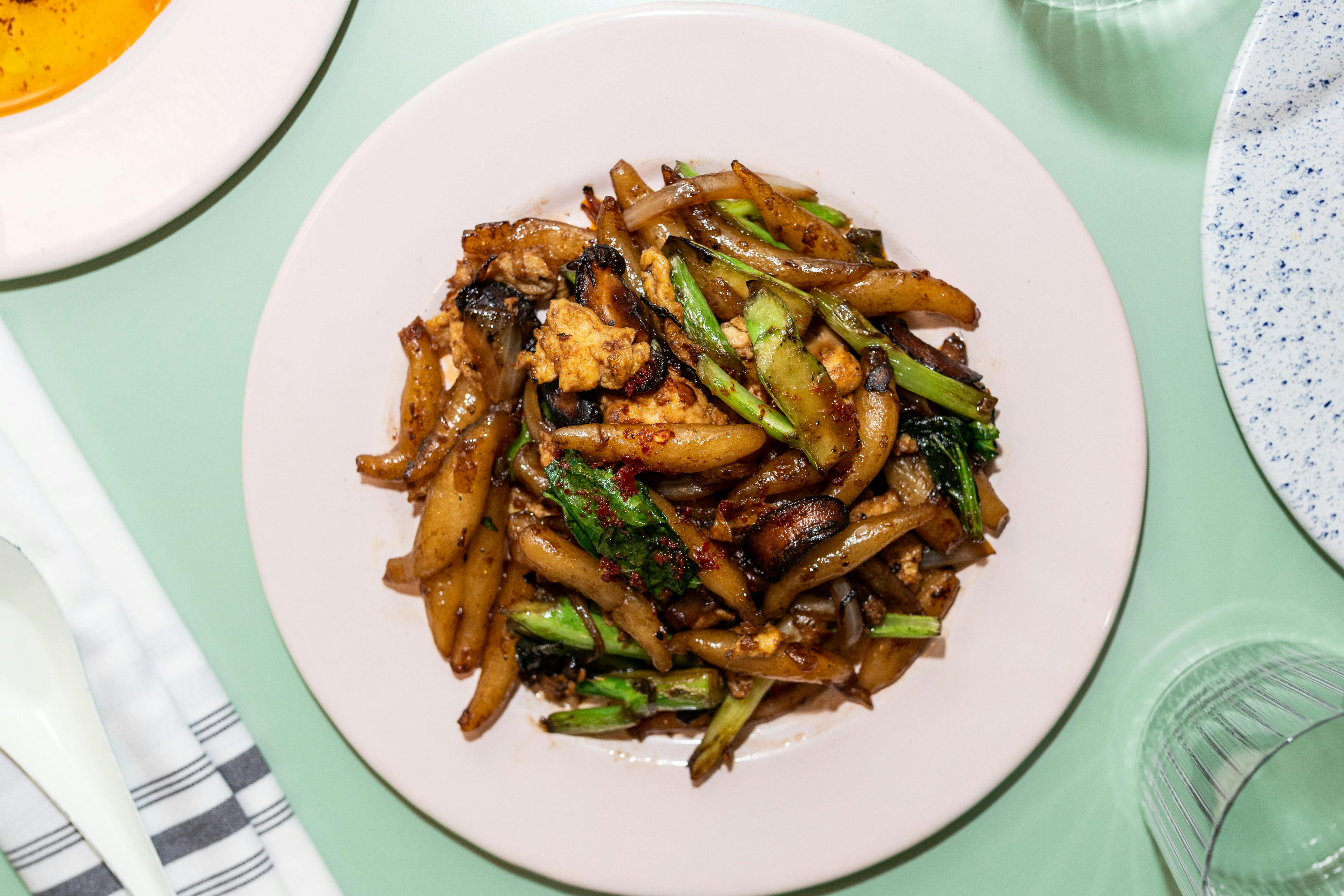 Individually hand-rolled noodles are one of the few items that the kitchen crew outsources. "It's a lot of work," says Schwartz. Tossed with black mushrooms, greens, scallion and a blend of soy sauces, each rolling-pin shaped morsel finds its way to the table in the team's rendition of Silver Needle Noodles. A "classic, homestyle dish that you don't see on a lot of restaurant menus," the noodles are a glossy, savoury, habit-forming surprise that you'll relish discovering. 
A holdover from pop-up days (along with Yibin Burning Noodle, named for its literal translation as "kindling noodle" not its spice level, and Lamb Ribs), Twice-Cooked Pork is a vibrant stunner of a dish. To make it, pork belly is first simmered until tender, then stir-fried with the briny, fermented bean paste known as doubanjiang, black bean paste, and big leek. The result is a punchy, fragrant ode to a signature Sichuan dish.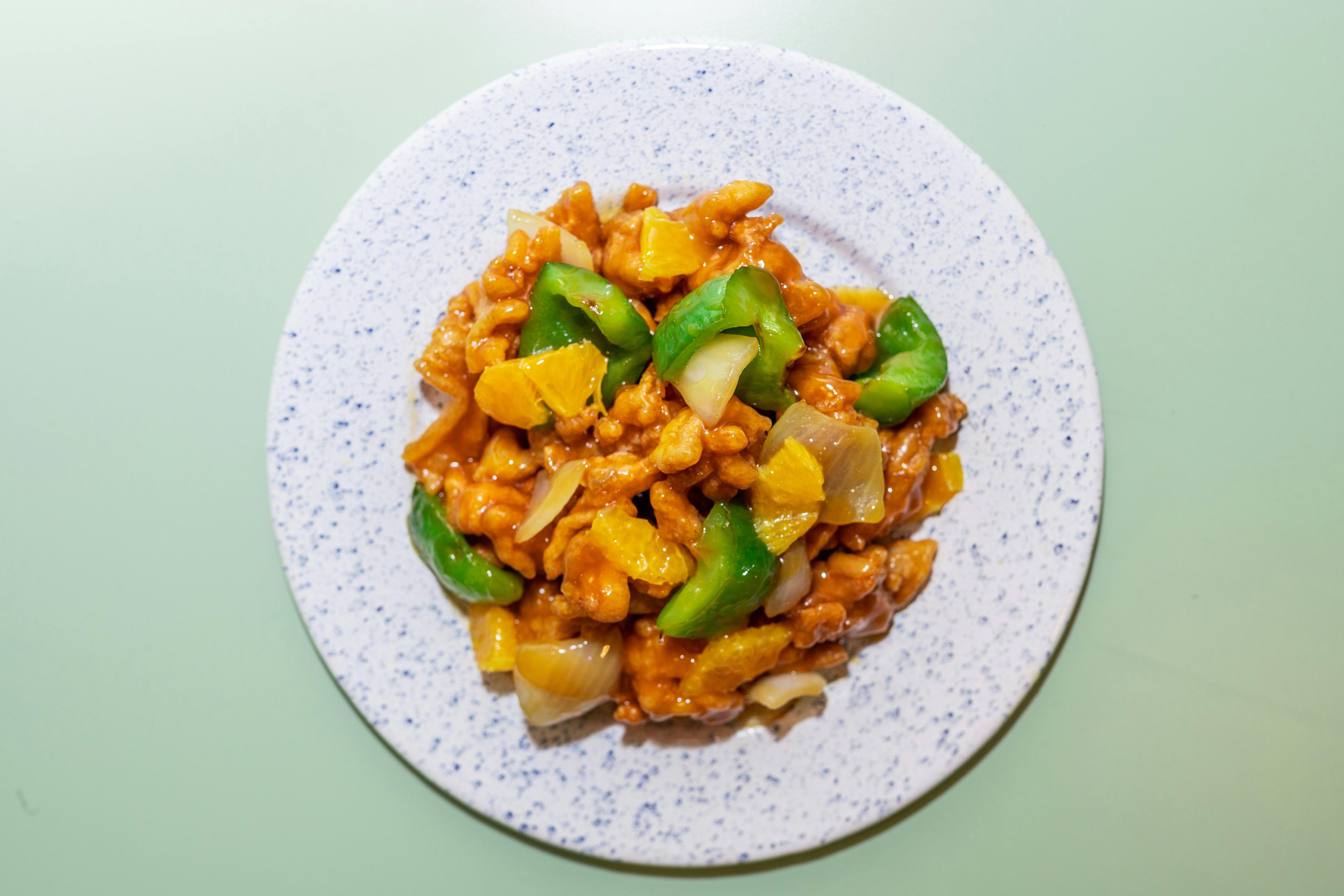 Given the Sunnys treatment, Orange Chicken is fresh and flavourful. "That's a very distinctly American/Chinese dish, which is its own food culture," says Schwartz. "People downplay it, but it has a lot of history to it. It may not be mainland Chinese but it is its own thing." Instead of trying to reinvent a classic, the team merely presents a best-case scenario of the popular plate that you won't want to miss.
Relying deeply on its Chinese origins, Barry's Beef + Broccoli combines hanger steak, wood ear mushrooms, broccoli and oyster sauce into a refined rendition of the American/Chinese restaurant staple. As with every dish the team puts out, this one is exceptionally well made and supremely satisfying.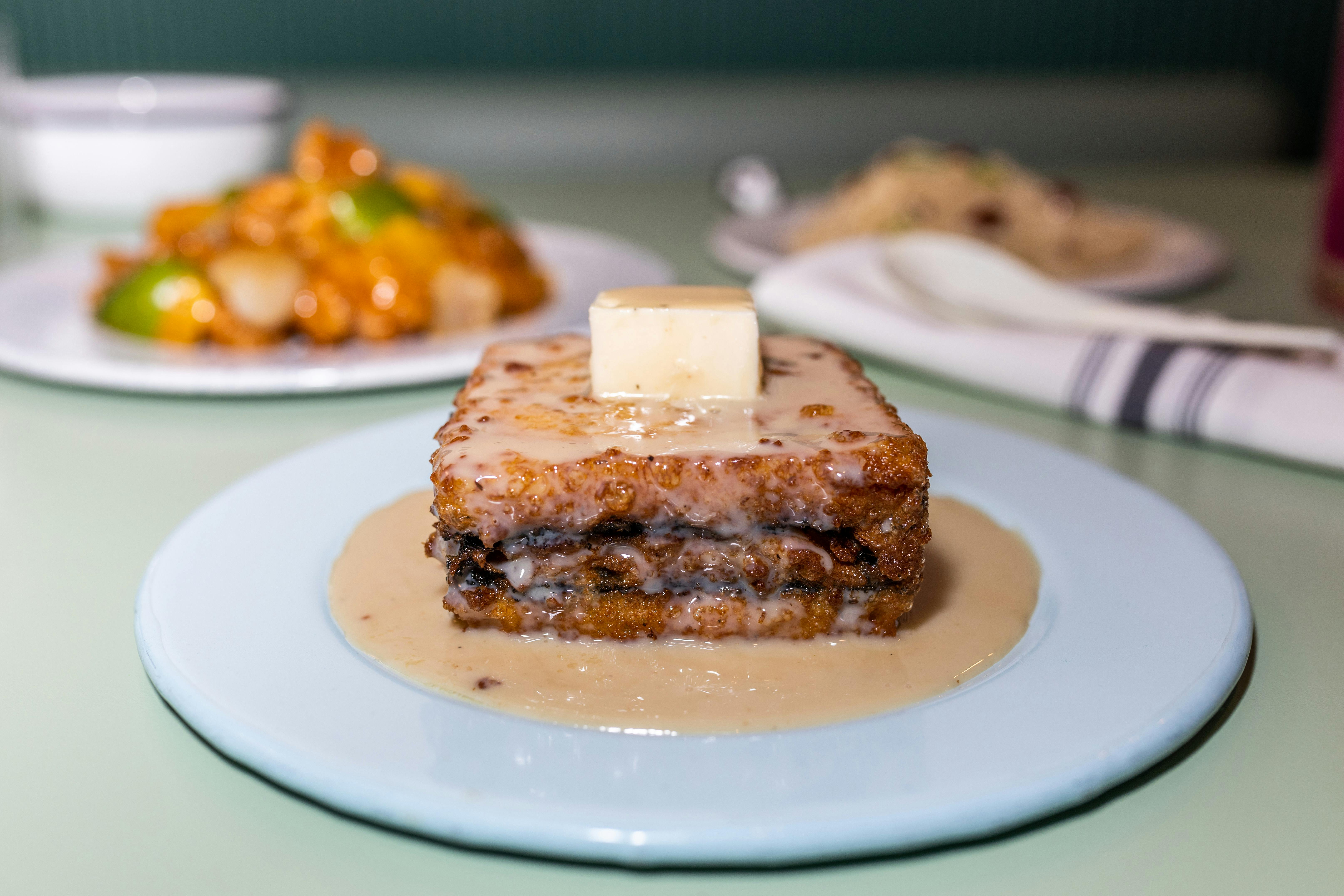 Rounding out the food menu are Sunnys' two desserts. Just sweet enough, these are creative spins on more traditional treats. Made with soy milk from nearby Fong On Foods Ltd., Soy Milk Soft Serve is topped with soy sauce caramel and cinder toffee. Smooth, crunchy, savoury and sweet, the dish marries complexity and simplicity into a tidy, swirly package. Built on bread from Blackbird Baking Company, Blackbird HK French Toast takes a cue from colonial-era Hong Kong. Subbing the usual peanut butter for black sesame jam, the crisp-tender cube appears drowned in oolong condensed milk, sporting a sizeable butter pat. Warm and delicate, deeply scented with sesame and tea, you'd happily welcome this French toast at any time of day, and as part of any meal.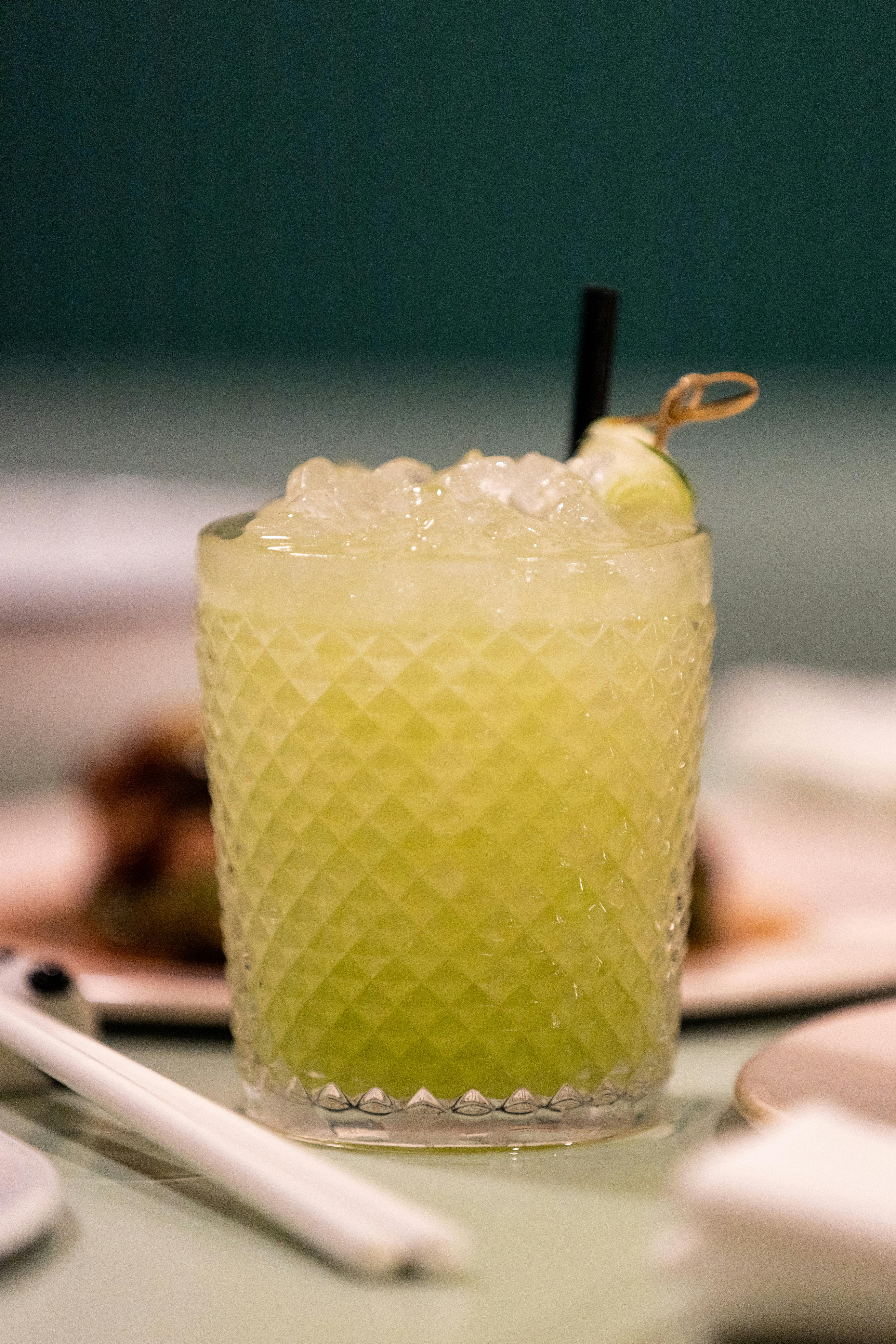 For Schwartz and bar manager Nick Chong, it was important to create a cocktail menu that's as distinctly Chinese as Sunnys' food. "We don't have access to a lot of Chinese spirits," says Schwartz, "so we counterbalance that by using a lot of Chinese ingredients." From Asian pear to wolfberry, Chinese vinegar, mandarin, and even MSG, drinks here take their cues from Chinese culinary building blocks. Refreshing and bright, Green Delirium finds cucumber-skin-infused tequila mixed with snap pea syrup, lime, absinthe and elderflower liqueur. Herbal and earthy, the bar's Hawthorn Highball features gin, gentian, and hawthorn syrup, with wolfberry added for its distinctive colour. An aromatic take on a traditional Vesper, the Pear Vesper is a striking combination of Lillet, vermouth, and gin heightened with pear eau de vie and Asian pear syrup. Colourful and intriguing, Sunnys cocktails are a lively counterpoint to the restaurant's deeply savoury fare.
David Schwartz may be an unexpected steward of Chinese cuisine in Toronto. Yet, through every meticulous dish and preparation, he and his team are paying homage to what they love. At Sunnys Chinese the flavours of China seduce both the well-informed guest and those who are new to the cuisine. If Schwartz's goal is to pass his passion for Chinese food on to his guests, then Sunnys' ever-filled tables, laden with an unending parade of exhilarating dishes, are a solid hint that his accomplishments have already outpaced his ambition.