At Alder, the signature restaurant at the newly opened Ace Hotel Toronto, some of Canada's most illustrious creatives are on full display. Whether you come for the design, the work of Shim-Sutcliffe Architects, or the food, presided over by chef Patrick Kriss and the Alo Food Group, you'll be awed. Anchored by a wood fire, Alder's effect smoulders, burning steadily yet languidly. A restaurant that eschews the pageantry made popular at some of the city's trendiest spots, Alder instead serves what the team calls, "fire, not fireworks." From your first glimpse of the space, to your first bite, you'll feel yourself surrender. A place where every detail is exquisitely curated, yet manages to feel unfussy, Alder is about style, substance and the art of hospitality. 
Opened on July 26, the Ace Hotel Toronto is breathtaking. A first foray into Canada for parent company, Ace Hotel, the property carries the same "boutique" feel as its sisters, enhanced by its markedly pedigreed design. For the project, award-winning architects Brigitte Shim and Howard Sutcliffe drew inspiration from nature, from the neighbourhood's brick-warehouse-filled past, and from the city's cultural soul. A place dominated by earth-tones and natural materials, the hotel is cohesive in its design; every curve and surface, each sculpted light fixture and staircase flows seamlessly from one room to the next. Modern and slightly rustic, it's enhanced by expansive windows that flood every surface with light, monumental concrete arches, and a mural by Sutcliffe called Horizon Line, meant to evoke Lake Ontario's whipping waves.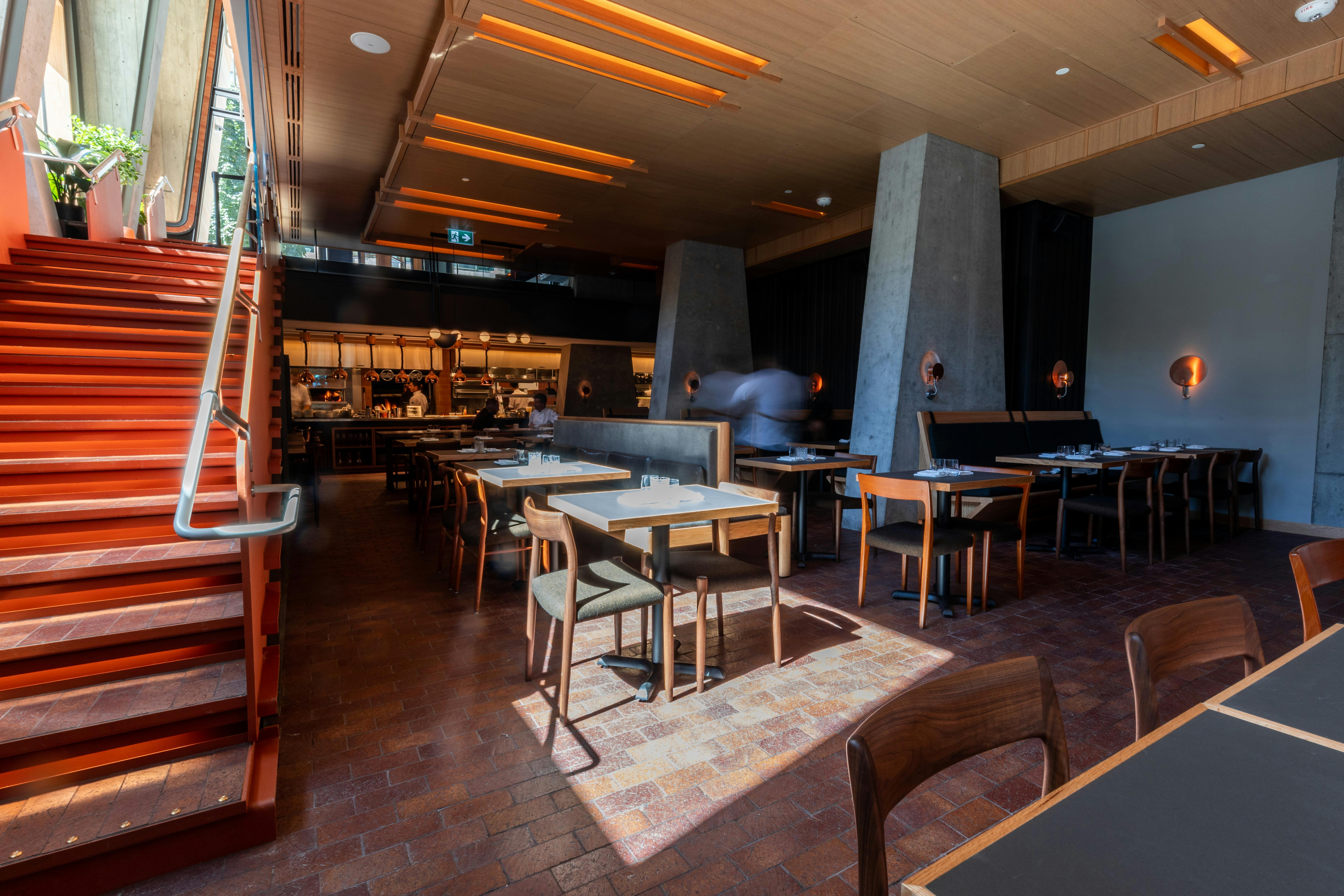 Descend a floor down from the lobby, and you step into Alder. Also accessible by elevator, the restaurant is large enough to seat 100 yet feels intimate. Bounded by cool concrete walls, a gleaming copper bar and an open kitchen, the room has plenty of gorgeous elements for design devotees to devour. Custom-made and vintage furniture fills the space, with works from artists — all of whom have ties to Toronto — lining the walls. Mirroring the building's façade, the terracotta-coloured brick floor drives home the earthy, elemental feel of the subterranean space. From custom copper wall sconces embedded into smooth concrete columns, to an elegant niche brimming with firewood, every inch of Alder bears the mark of a master.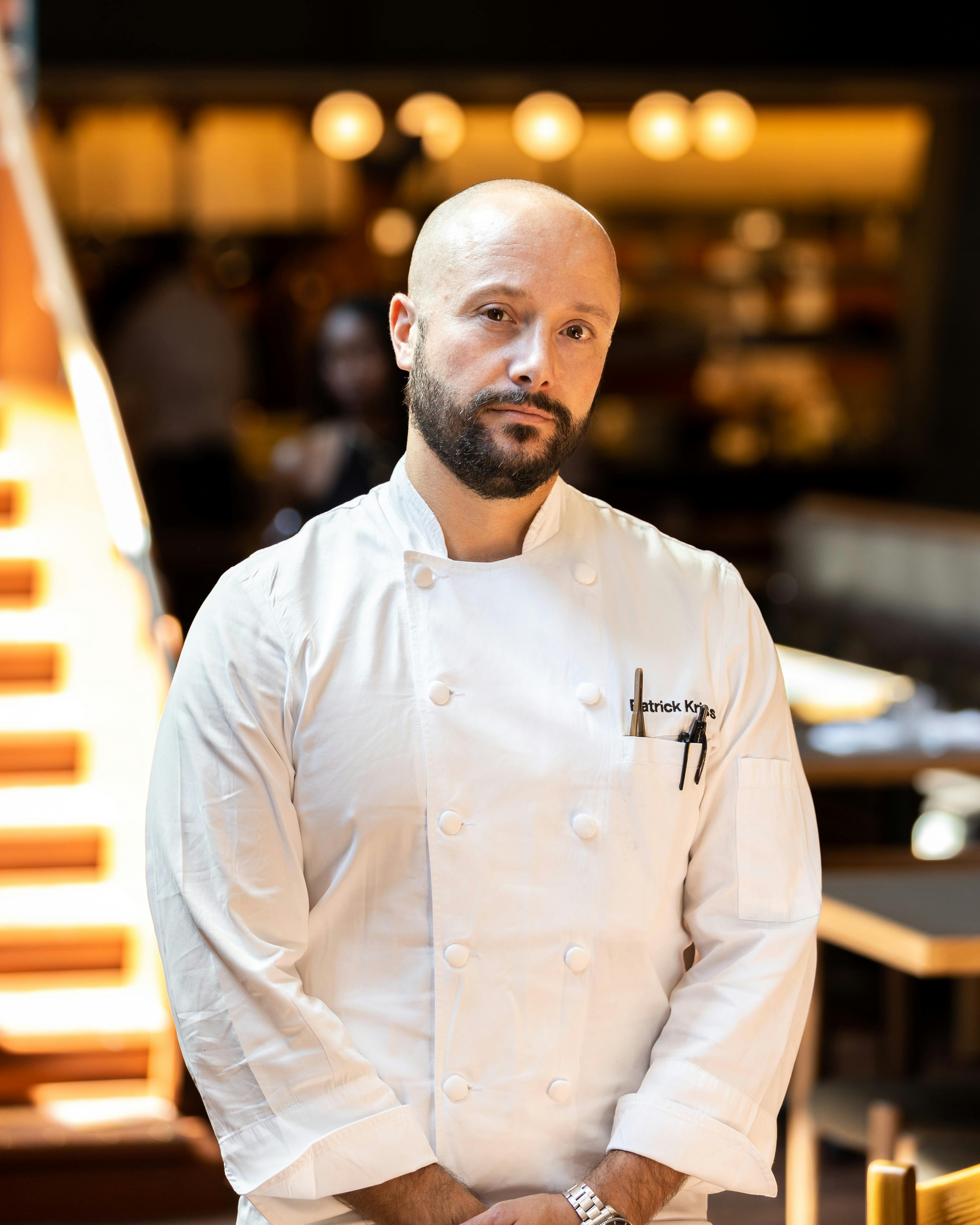 At the helm, is a man, and a team, who need little introduction. The chef and owner of Alo Food Group, Patrick Kriss, holds a resumé dappled with Michelin-starred spots, with a heavy focus on French cuisine and exacting standards. A first solo project for Kriss, Alo opened in 2015, offering tasting menus on Spadina Avenue. Immediately, the contemporary French spot garnered rave reviews from within the city and abroad. Since opening, Alo has earned a top ranking on Canada's 100 Best Restaurants list four times. It has also been included twice on the list of the world's top eateries by The World's 50 Best Restaurants. Today, the Alo Food Group also includes Aloette, Alobar Yorkville, and Salon, a private dining space. Now partners at Alder, along with The Lobby bar and soon-to-open rooftop space at the Ace Hotel Toronto, the company has grown once more.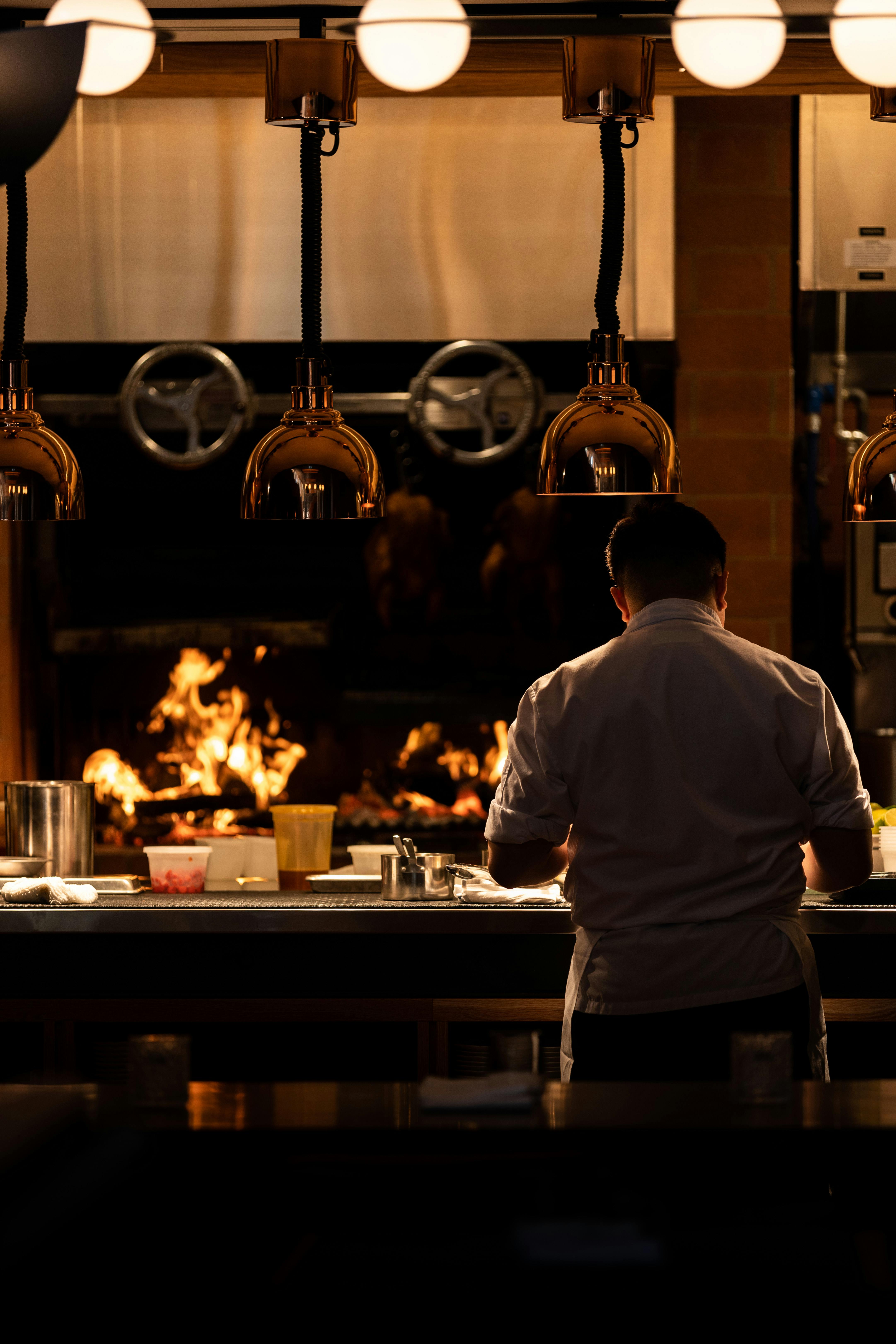 Chef Kriss is the rare type of person who can execute the loftiest of ideas, impeccably. Yet, at Alder, he holds back, with a menu of approachable dishes meant to sate the craving for comfort as well as for flavour. Along with Alo Food Group corporate chef Matthew Betsch, Ace Hotel Toronto executive chef Devin Murphy, and chef de cuisine J.J. Dingcong, Kriss says the team, "approached this a little bit differently than other projects because we were given the space that was already completed and designed, and the wood fire was already in place." Eager to use the live fire to full advantage, the team "took what was given and decided, let's go with Mediterranean-inspired, less butter, more olive oil. Less French," he adds. In terms of feel, Alder "falls between Alobar and Aloette," says Kriss. "It's still a neighbourhood restaurant. It's not super refined. … I don't want it to be formal. I want it to be fun and relaxed and for people to come in and have a good time and not worry about laughing too loud." Months of planning, along with weeks of working in the space, have resulted in a varied menu, with options for light bites and full dinners. Whether roasted, grilled, smoked or charred, nearly every plate features an ingredient kissed by the kitchen's coals.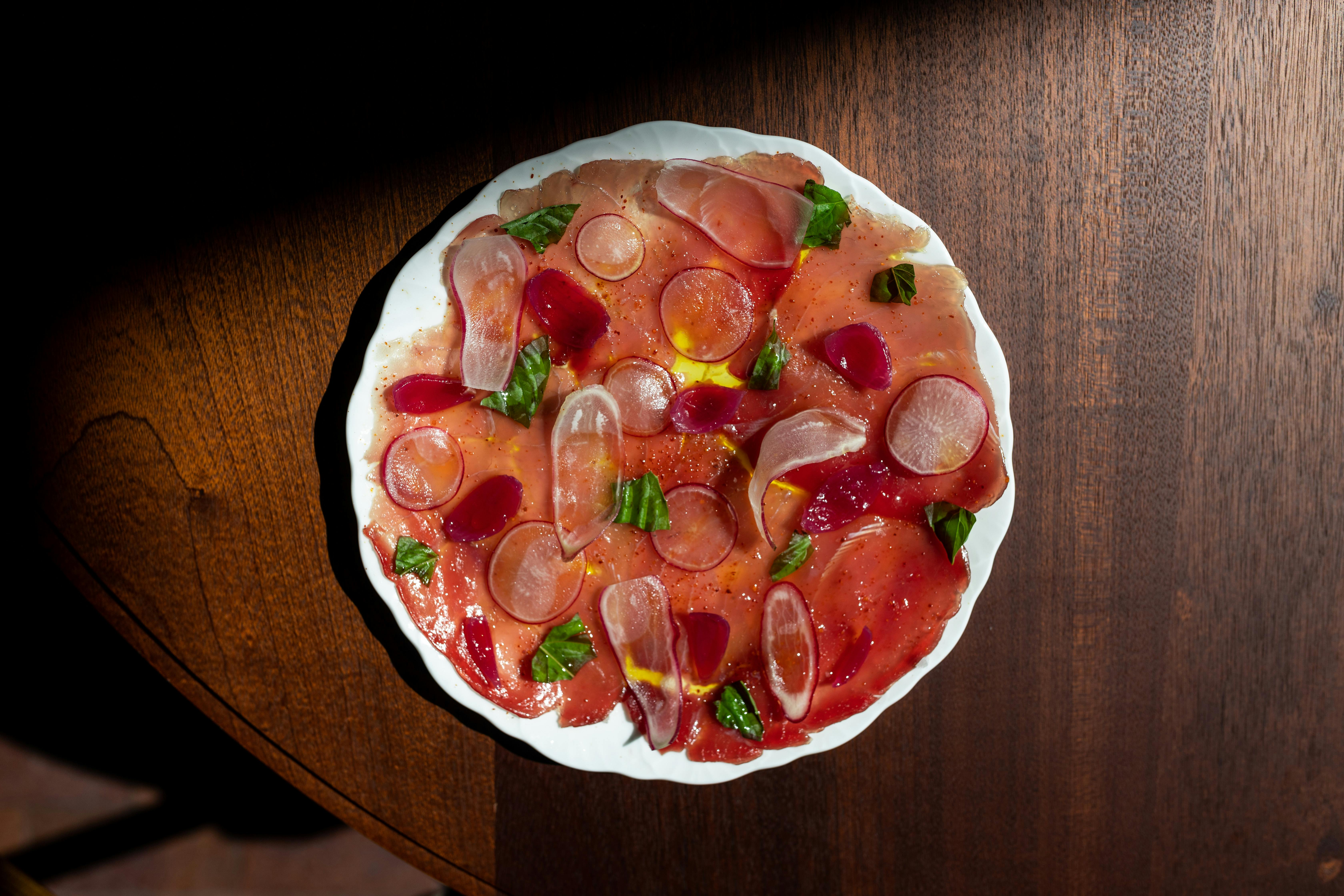 A number of starters, many featuring seafood, offer a bright, punchy way to kick off the meal. Set upon a bed of velvety charred poblano aioli, bigeye tuna is sliced thin, marinated in lemon, and olive oil, and gussied up with pickled pearl onions, translucent sliced radish and basil. Graceful and light, the dish offers perfectly balanced bites of subtle spice and delicate acidity.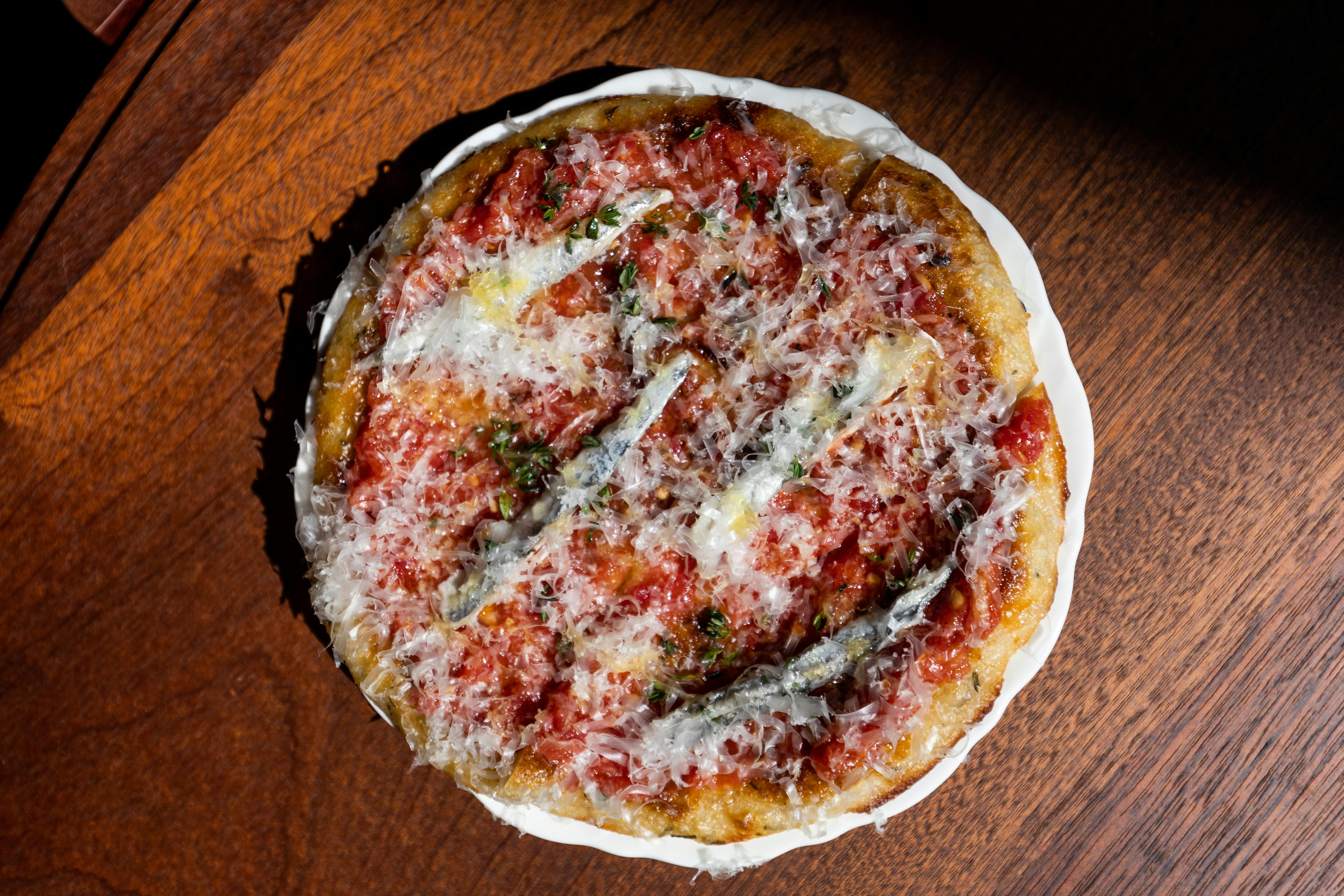 Meant "for the table," sides and bread are tempting enough to hoard. Made from all-purpose and potato flours, the kitchen's flatbread comes in two flavours. Inspired by Spain's pan con tomate, the first is topped with San Marzano tomatoes, grated Manchego, white anchovies, and thyme. The other, is decorated with lardo and rosemary. Order both. Delectably chewy, thanks to their unique prep, hinting of the grill, these are good enough to give the team's fabled pain au lait (happily, also on offer) some very serious competition.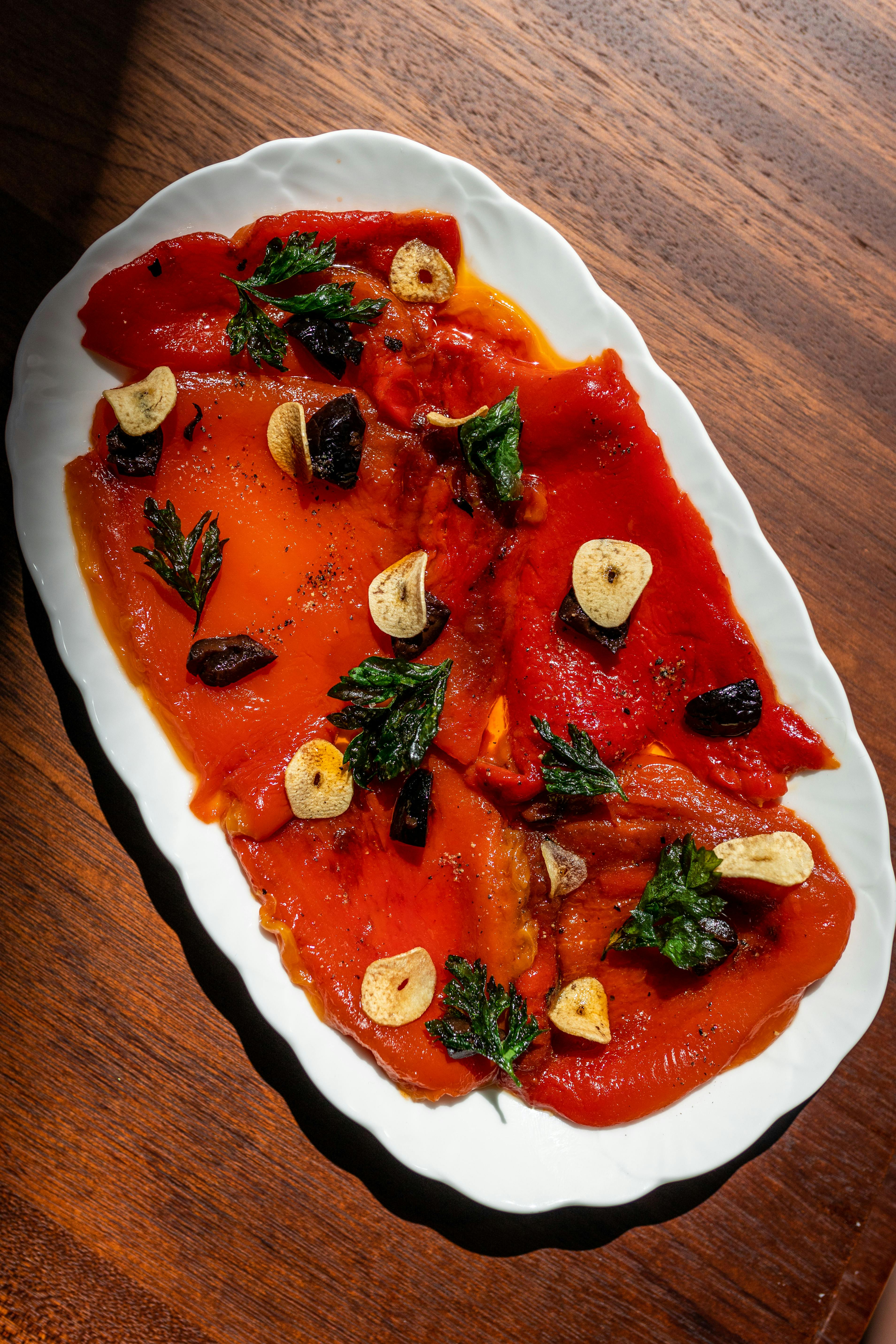 An ideal side to many of the menu's prime proteins, roasted red pepper carpaccio bears all the characteristics of classic Mediterranean cuisine. Built from summer's finest produce, the dish is simple and clean. Featuring an anchovy cream, it's then heightened artfully with seasoning, fine olive oil, marinated olives and garlic chips.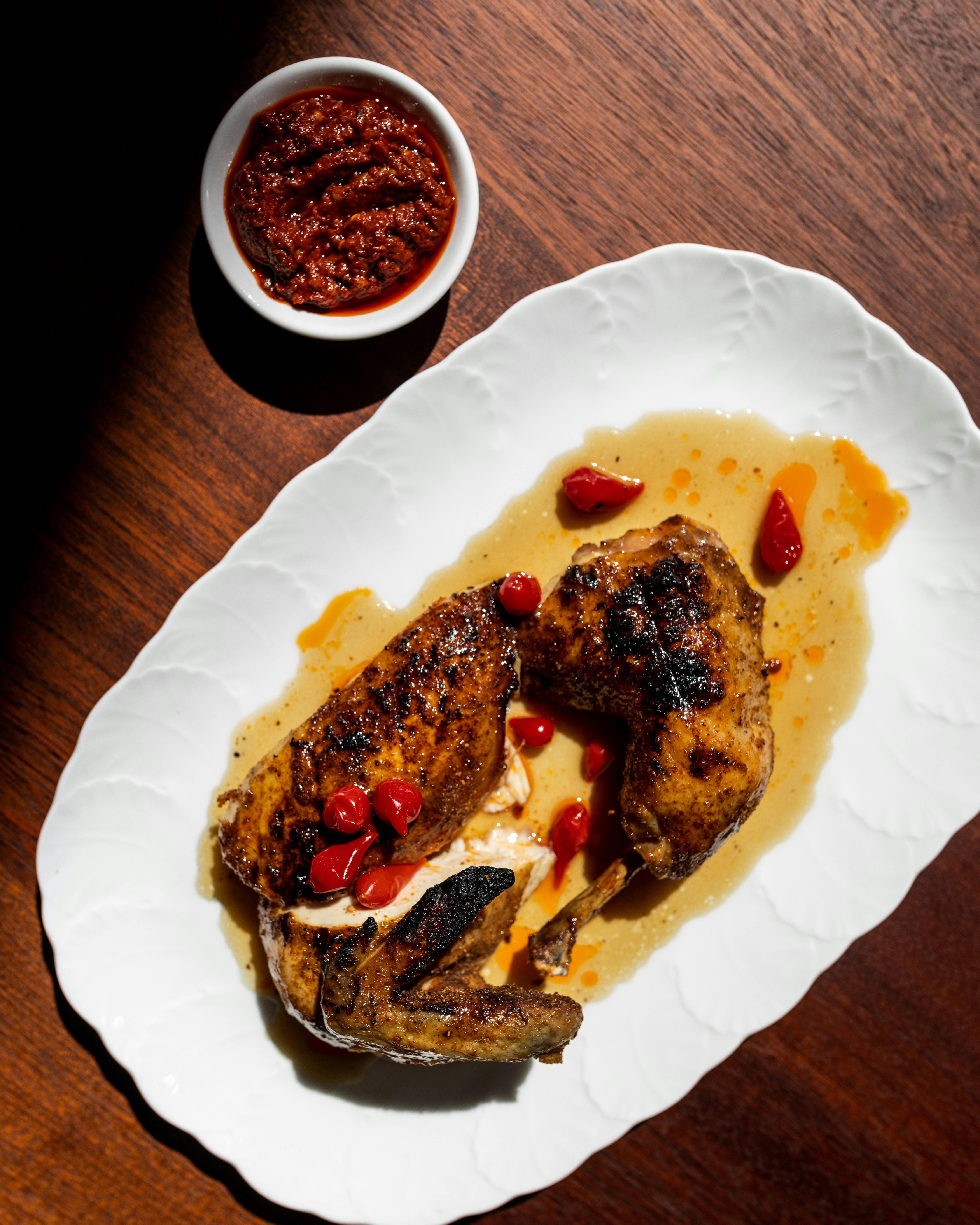 From grilled octopus to a 20-ounce bone-in, dry-aged striploin, mains boldly declare the team's finesse with its fiery new toy. Ordering chicken at a high-end restaurant can feel like a missed opportunity. Not at Alder. Here, the half grilled chicken's only flaw is that it doesn't come whole. After much trial and error, the team discovered the perfect method for the perfect bird. Suspended on hooks over open flame, the chickens are first stuffed with onion, then seasoned with paprika, mustard seed, and coriander. They then cook, slowly, for more than two hours, allowing the white meat to remain tender and juicy, while the legs reach an optimal temp. Each gorgeously golden, succulent order is garnished with mild sweety drop peppers, then served over chicken jus upgraded with brown butter and harissa oil. A twee pot of house-made harissa and seasonal veg also come along for the ride.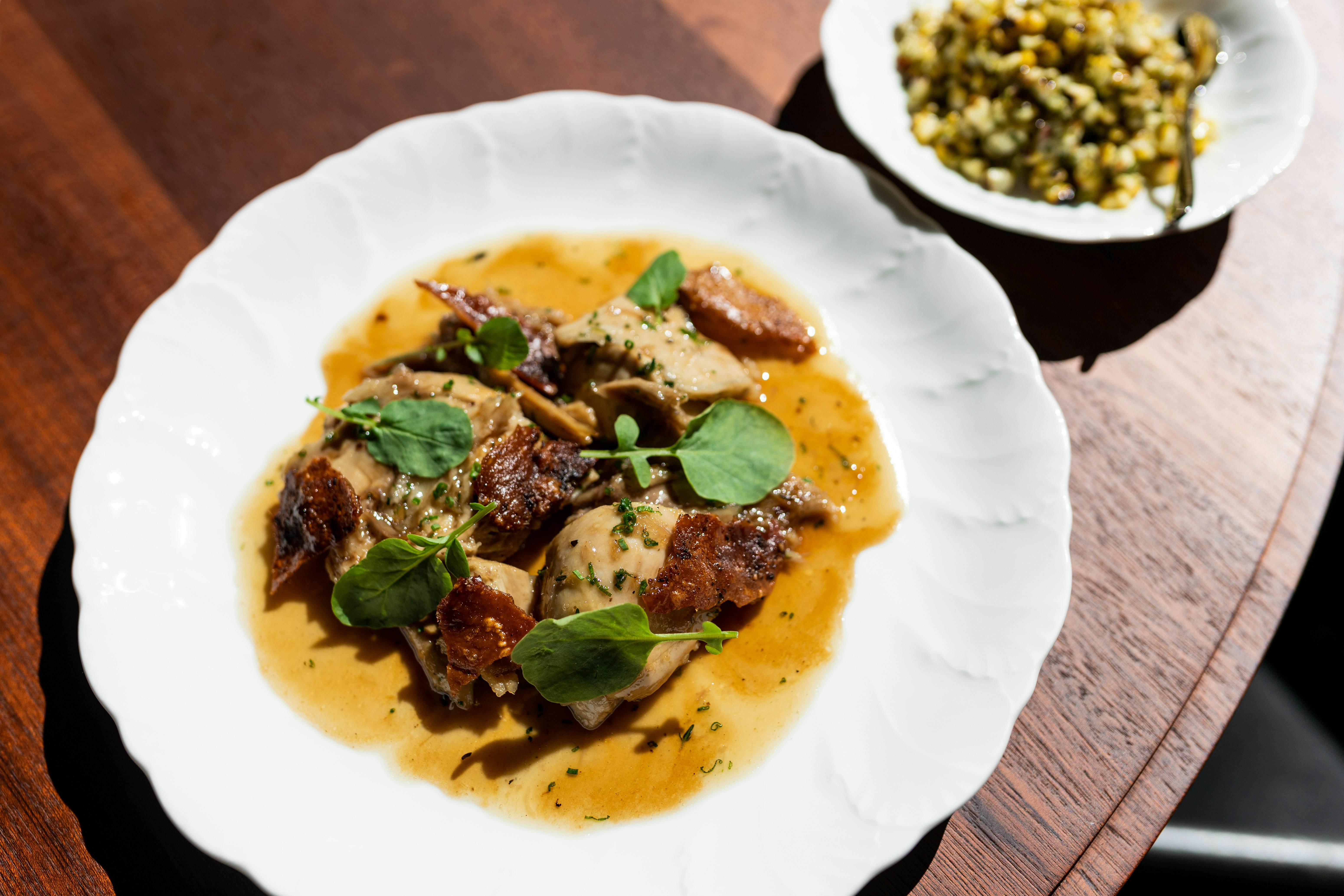 Another stand-out dish, and chef Kriss' favourite, is the suckling pig. "It's very simple," says Kriss. "It's just delicious." And, he's not wrong. Perfectly seasoned, each animal is cooked whole until it becomes buttery-soft. On the plate, diners receive a solid portion of pork, napped with thyme-scented pork stock, sporting a crown of crackling and watercress. Simple? In ways. But if you can't commit to roasting your own whole hog, this is a glorious way to reap the ridiculously delicious rewards.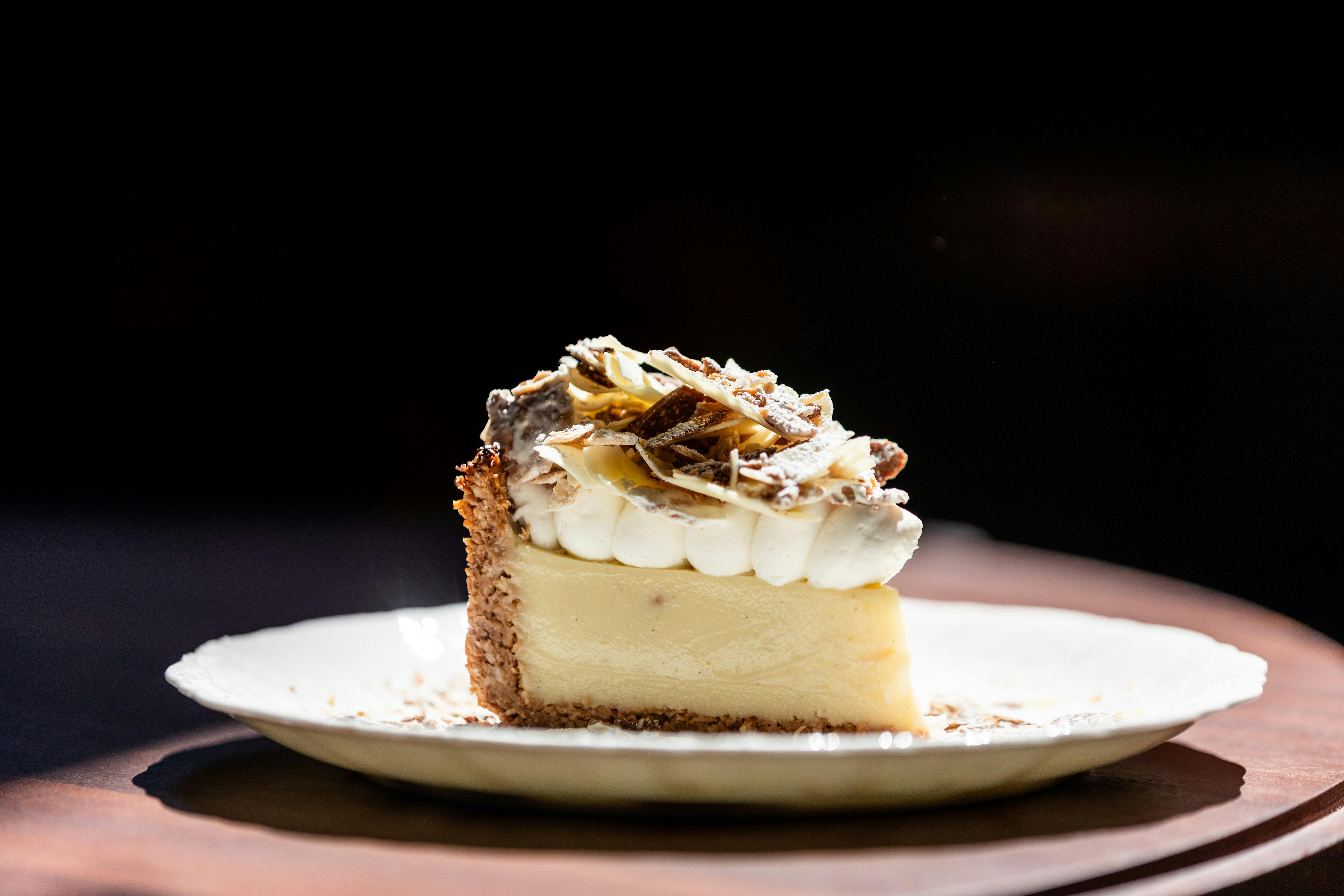 Arriving on the coattails of Aloette's lofty lemon meringue pie and Alobar's flawless raspberry mille feuille, desserts at Alder have been designed to garner a similar level of devotion from sweet-toothed diners. Envisioned by Kriss and pastry chef Victoria Ammendolia, the concise list of sweets is as classic, and as satisfying, as the Alo Food Group's other home runs. Coconut cream pie may not be Mediterranean but it is a logical next step, and is as comforting as food can be. Here, it's also refined, with a macaroon crust, rum-spiked coconut pastry cream, and a smattering of shaved white and milk chocolate, toasted coconut, and salted coconut meringue. If you think it's big enough to share, you'll soon be proven wrong. Also on offer, are a decadent, dark chocolate and peanut butter mille feuille and a seasonal ice cream sandwich constructed on a miso sesame cookie with sour cherry jam. 
Diners will easily fall in love with some of the bottles on Alder's intriguing wine list; they just shouldn't get too attached. Apart from the restaurant's signature Pearl Morissette Alder red and white (the former a Cabernet Franc, the latter an unfiltered Chardonnay), the list will be ever-evolving, according to wine manager Arashasp Shroff. Meant to be "eclectic, approachable and exciting," it features "a strong focus on VQA and Ontario" bottles and by-the-glass options. Lesser-known varietals from Europe, South and North America, as well as options from small wine-makers, are also on offer. The team also plans to keep a strong focus on bottles from BIPOC, female and indigenous winemakers, including California's Kitá Wines, says Shroff.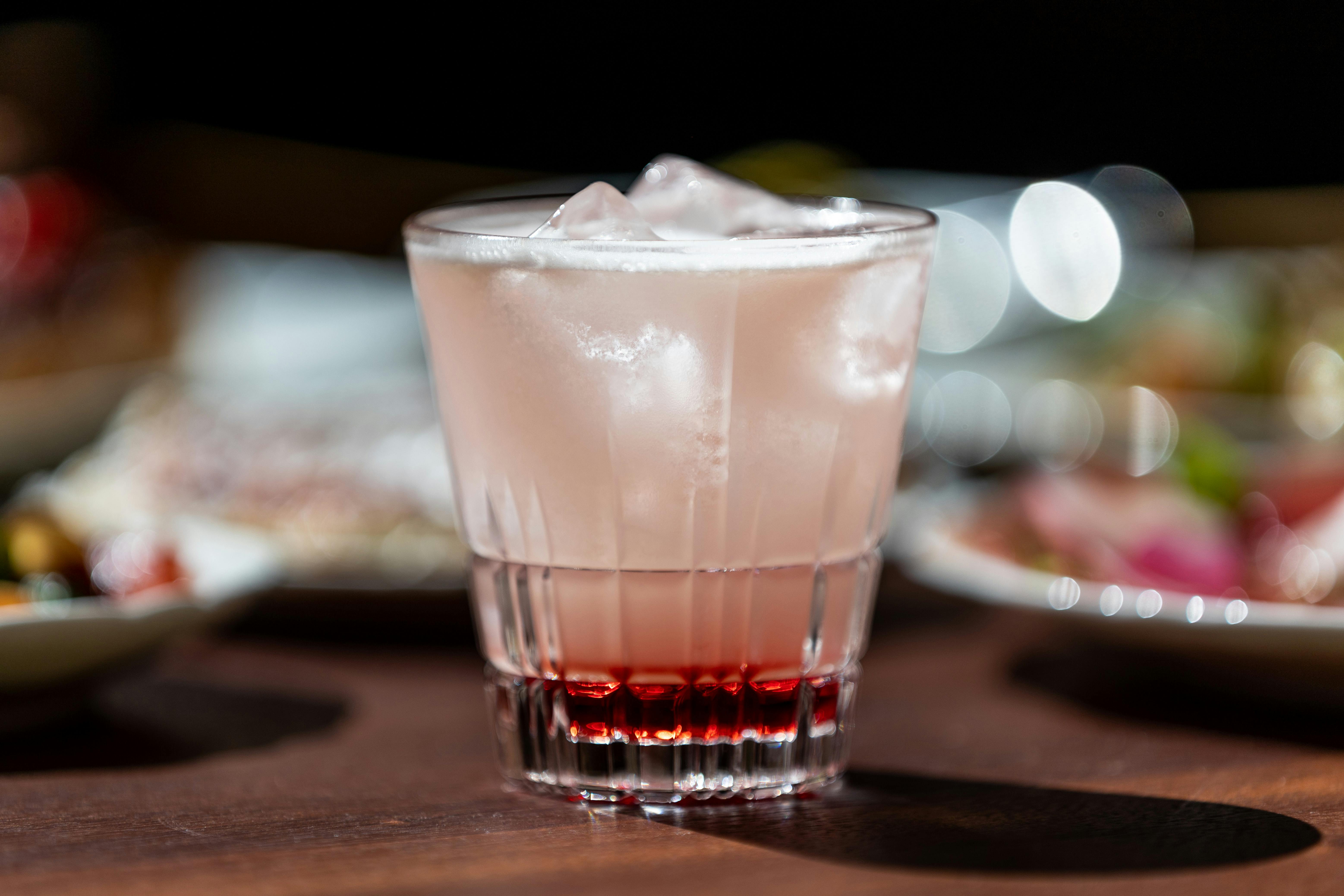 As with the food and wine, cocktails at Alder are likely to vary depending on when you visit. Regardless, "we always take classic cocktails and tweak them a little, so they're our own, but there's always a foundation of a classic," assures Kriss. Sporting names inspired by everything from local lore to literature, and cultural icons, Alder's cocktails are understated yet complex. Iceberg Fiction (a reference to Hemingway's writing theory) is a riff on a spicy margarita. A layered drink with a hint of jalapeño, the cocktail features a float of tequila and orgeat set above Select Aperitivo. Every sip reveals a little something new as the drink blends and blossoms.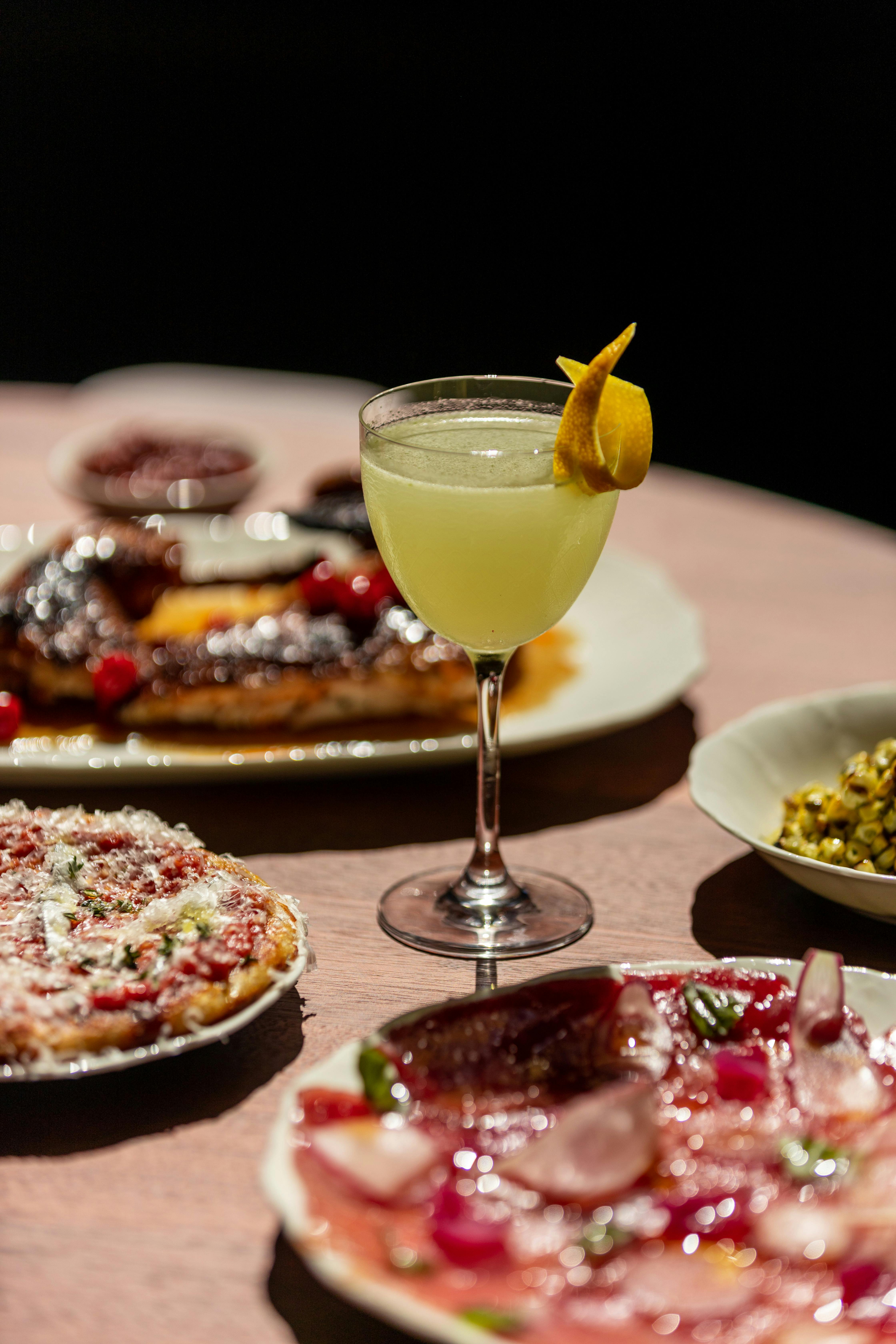 A "riff" on Aloette's popular Painted Water cocktail, according to Alo Food Group operations director John Bunner, the Be Like Water takes Bruce Lee's words into vodka sour territory. Gently peppery and refreshing, it finds pink-peppercorn-infused verjus simple syrup shaken with vodka and fresh basil. Clean, crisp, and tart, it's the season's iteration of a beloved cocktail.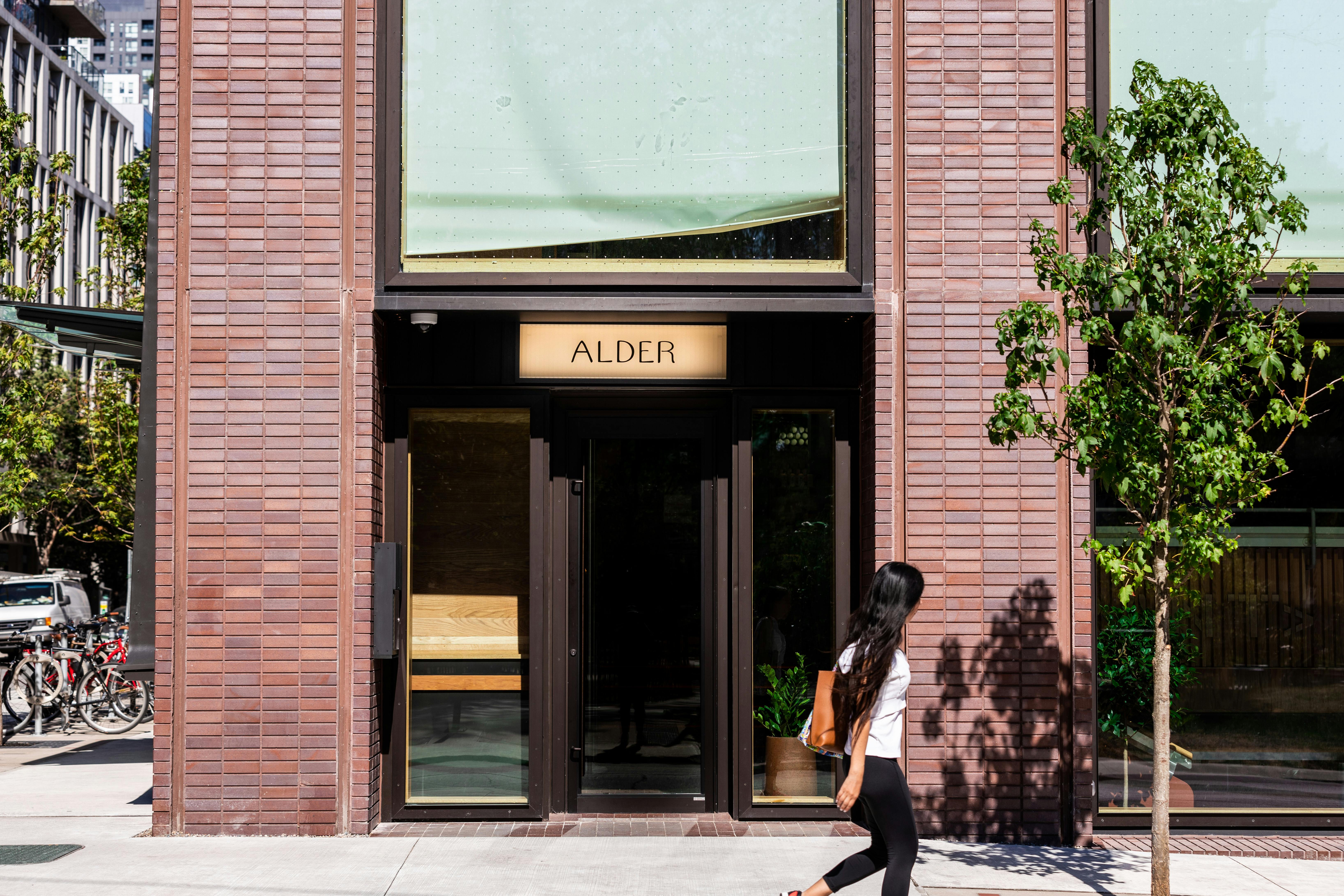 The beauty of Alder lies in the confidence of each detail, from each thoughtful garnish to the masterful design. With a menu that's meant to evolve, to adapt to diners' tastes, to the seasons and to the team's advancing know-how, Alder will develop as it grows. The constants? Dedication to quality ingredients, to precise cookery, and to the live-fire grill that informs so many of its offerings. "I'm very happy with where we're starting," says Kriss. "It's the best start we've had at any of our restaurants. We have a lot more experience doing it now, than we did years ago." Alder is a place where expertise in design is matched by virtuosity in the kitchen. Eager to be excited and inspired? You know where to go.