With the reputation of being one of Toronto's finest hospitality establishments, the Alo Food Group has taken a deep dive into the takeout industry with their Aloette Liberty Village location, a new concept born out of the pandemic that is setting the bar when it comes to convenient, high-quality food to-go.
For those unfamiliar, Alo is a French-inspired fine dining restaurant on Queen Street West offering a multi-course tasting menu. Located directly below is Aloette, a mid-range diner-style locale that has become famous for their delicious burgers, unique cocktails and signature desserts.
Thanks to owner Patrick Kriss and executive chef Solomon Mason, the Aloette Liberty Village location, though running under a takeout model, has many of the original Aloette best-sellers along with a selection of exclusive and seasonal items.
"When the pandemic hit, we knew we'd have to bring more of Aloette to the takeout scene. We figured this would be a way for people to have nicer food at home, and we could reach our guests in a more convenient way," says Mason.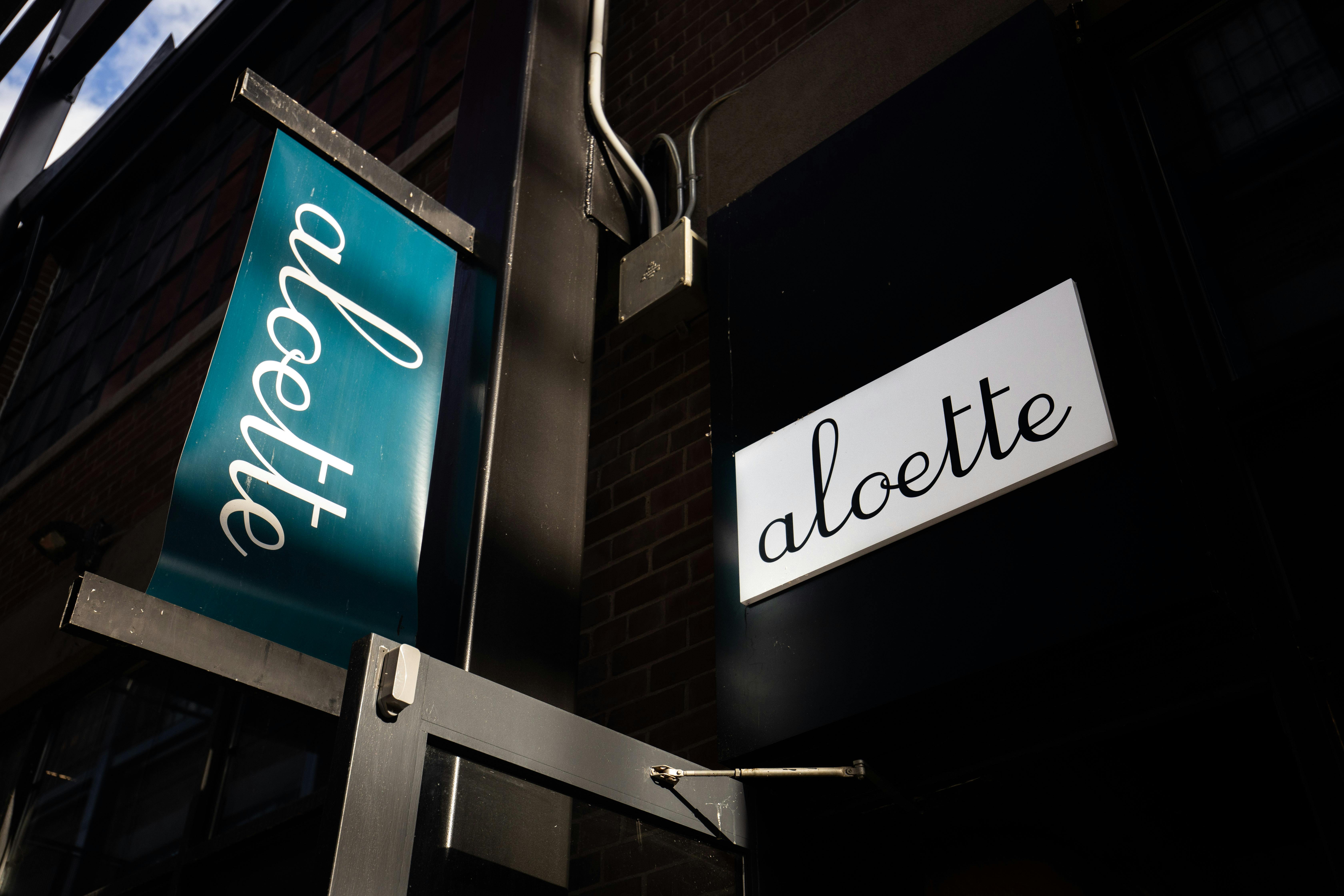 Located in the Liberty Market Building, there is an industrial charm that surrounds the space due to the cobblestone walkway, old-exposed rail car tracks and the steel structured roof offering some coverage over the available seating.
The interior is designed by Commute, the same company behind the impressive interiors of their other locations. The goal was to create a space that would be reminiscent of Aloette, but feel a little more casual to entice guests to come and hangout around the vicinity. Orders can be placed inside their sleek space at the counter, or from their convenient outdoor pick-up window.
"Being in the Liberty Market, there is such a great atmosphere, where you can enjoy your food and experience the same hospitality of the Alo food group, but enjoy the convenience of a grab and go model," says Mason.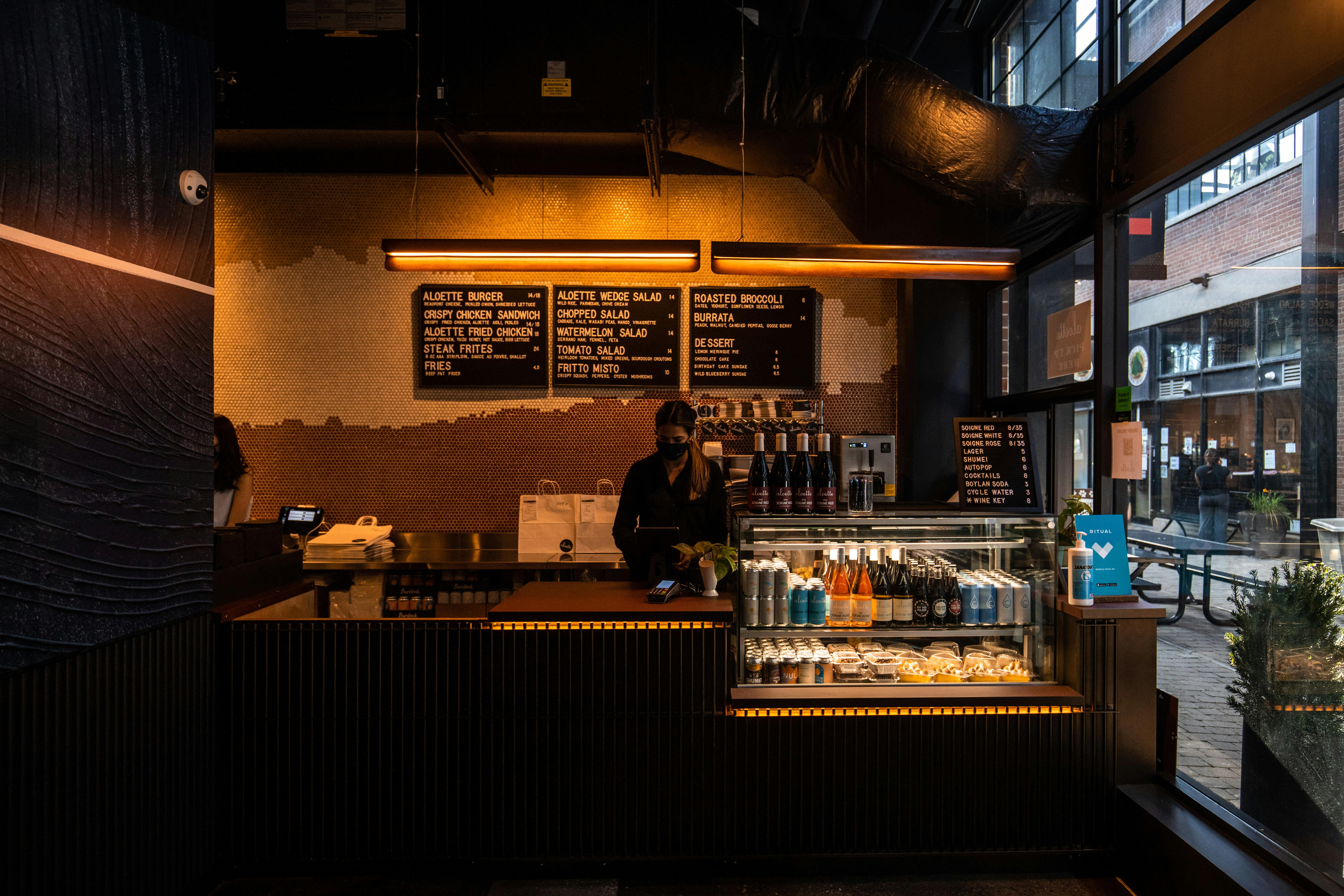 The menu has been optimized for takeout and is geared more towards the young professionals working and living in the area. Whether you are on a tight schedule and only have 30 minutes for lunch or need to eat at your desk, Aloette has takeout and delivery solutions for every guest. They also recently rolled out their own line of sustainable packaging, so the quality of food remains the same, even when travelling.
All salads run at $10 before 3 p.m. and they are offering canned cocktails, as well as takeout craft beer and wines by the glass for a mid-day treat that will help break up the work day.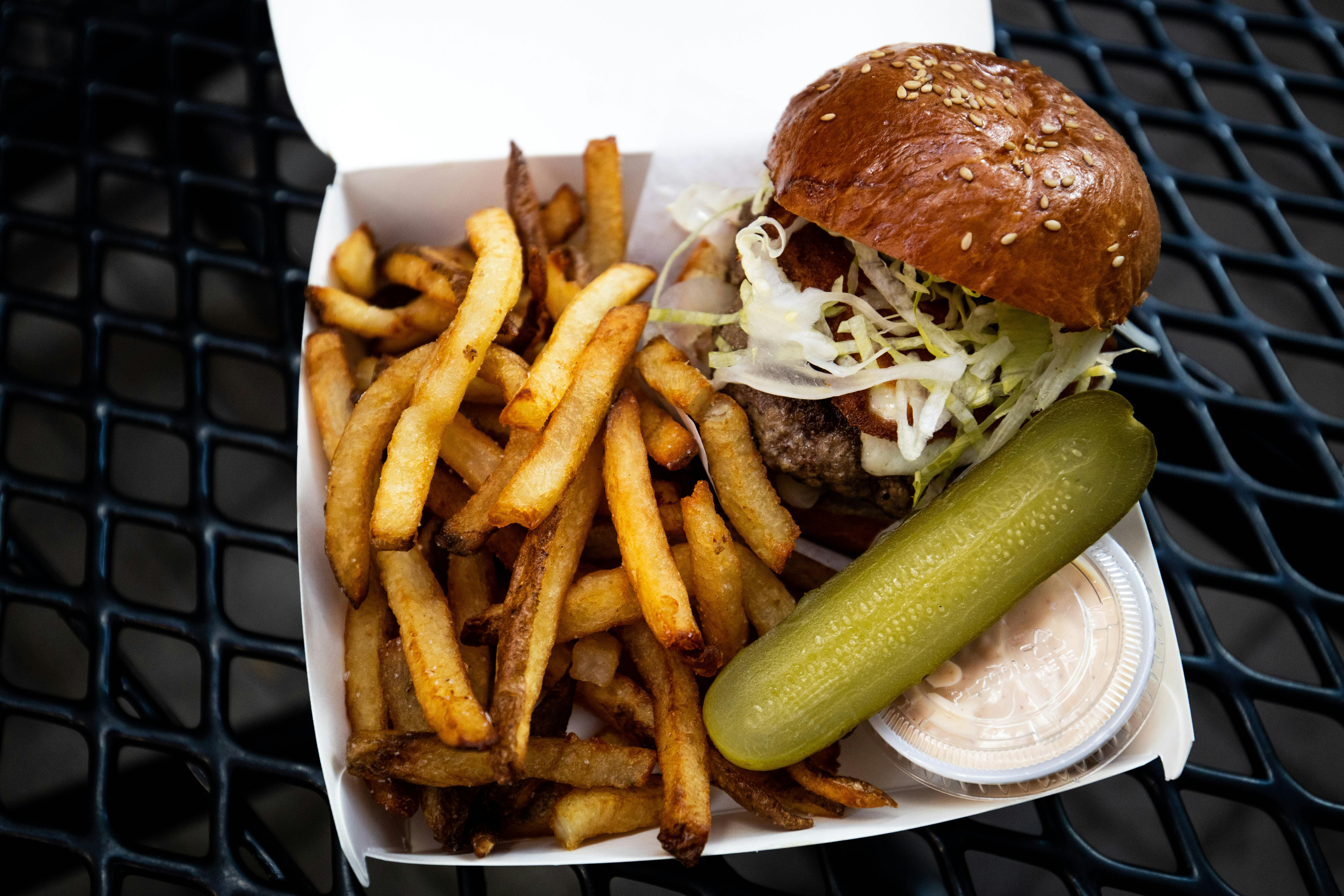 The Aloette burger is an absolute staple on the menu that might even be one of the best in the city. With a half-brisket half-chuck patty, fried Beaufort cheese, pickled onion, cheese mayo, shredded lettuce and served with a whopping portion of fries triple-fried in beef fat (exclusive to the Liberty location), this burger will forever be iconic on the menu.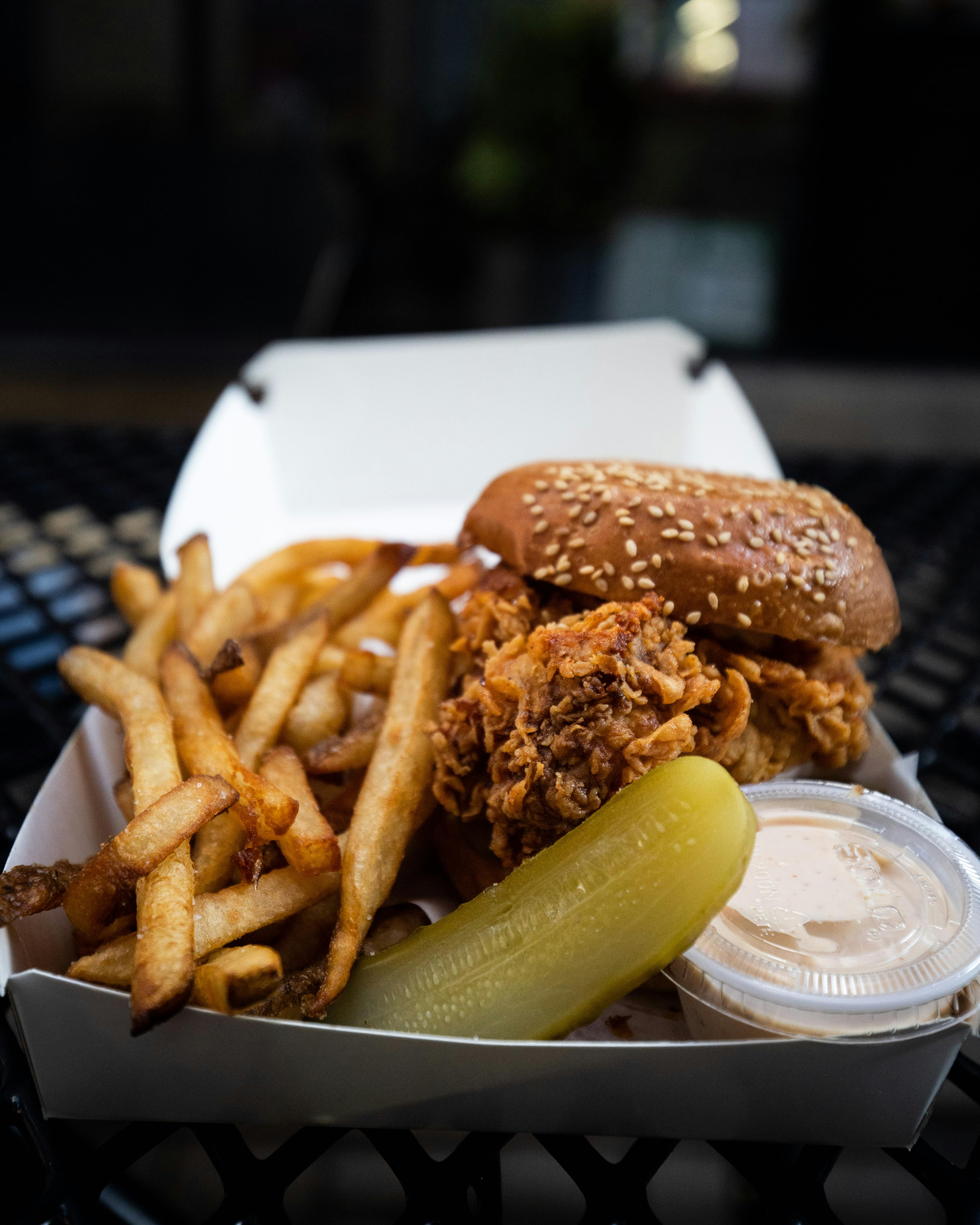 If chicken is more your thing, be sure to try the Crispy Chicken Sandwich, with Buttermilk fried chicken, Aloette aioli and pickles.
With a chef-driven kitchen team––most of whom have many years of experience working in high-end restaurants––they are elevating what takeout can do using many of the same ingredients as Alo and Aloette, with a rotating seasonal twist.
One seasonal standout is the Roasted Broccoli, made with dates, yoghurt, sunflower seeds and lemon, for a next level side dish that has never made broccoli look so exciting.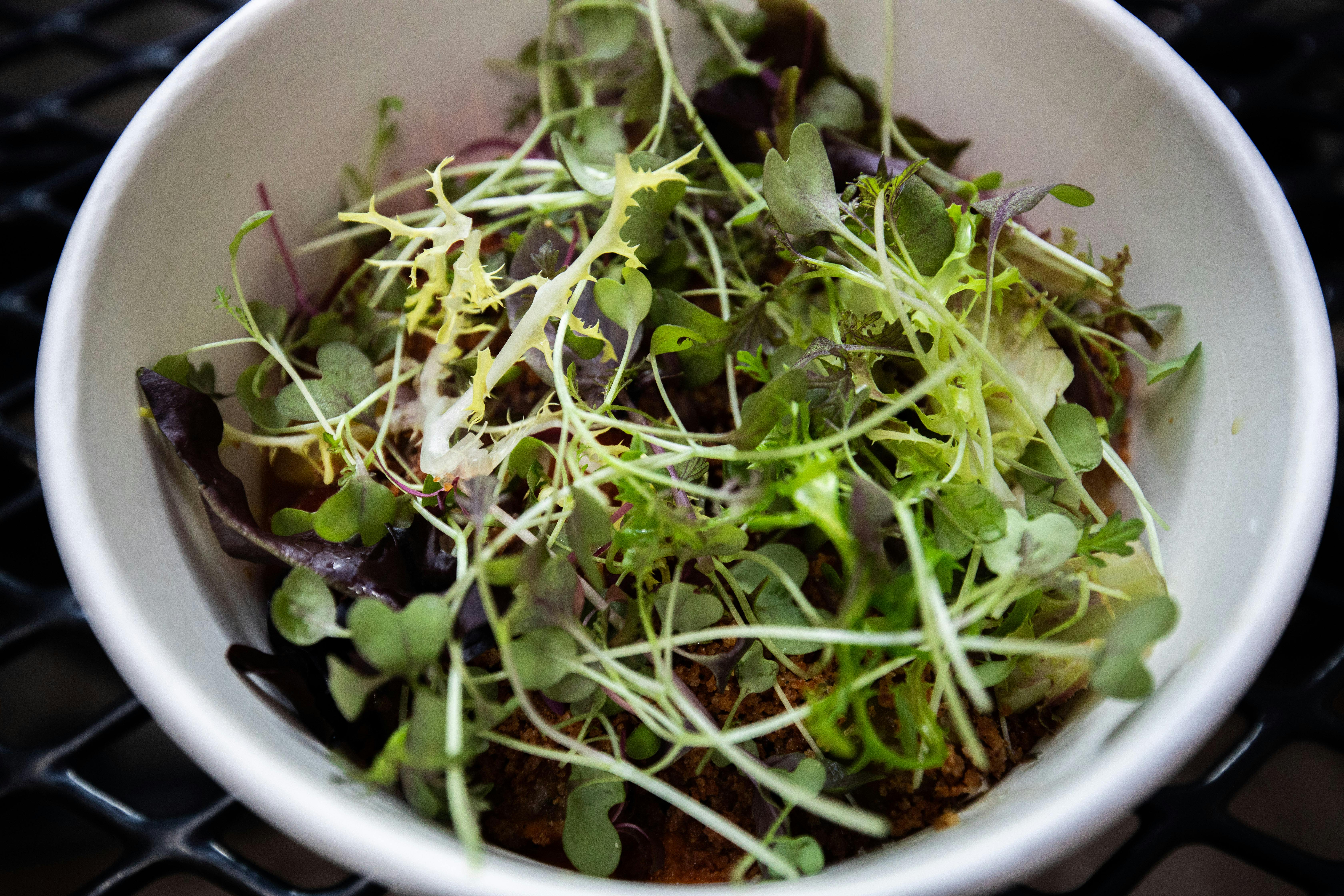 The Heirloom Tomato Salad is still around while tomatoes are in high season, and is prepared with Bosco Farm tomatoes, a delectable tomato vinaigrette, and sourdough croutons.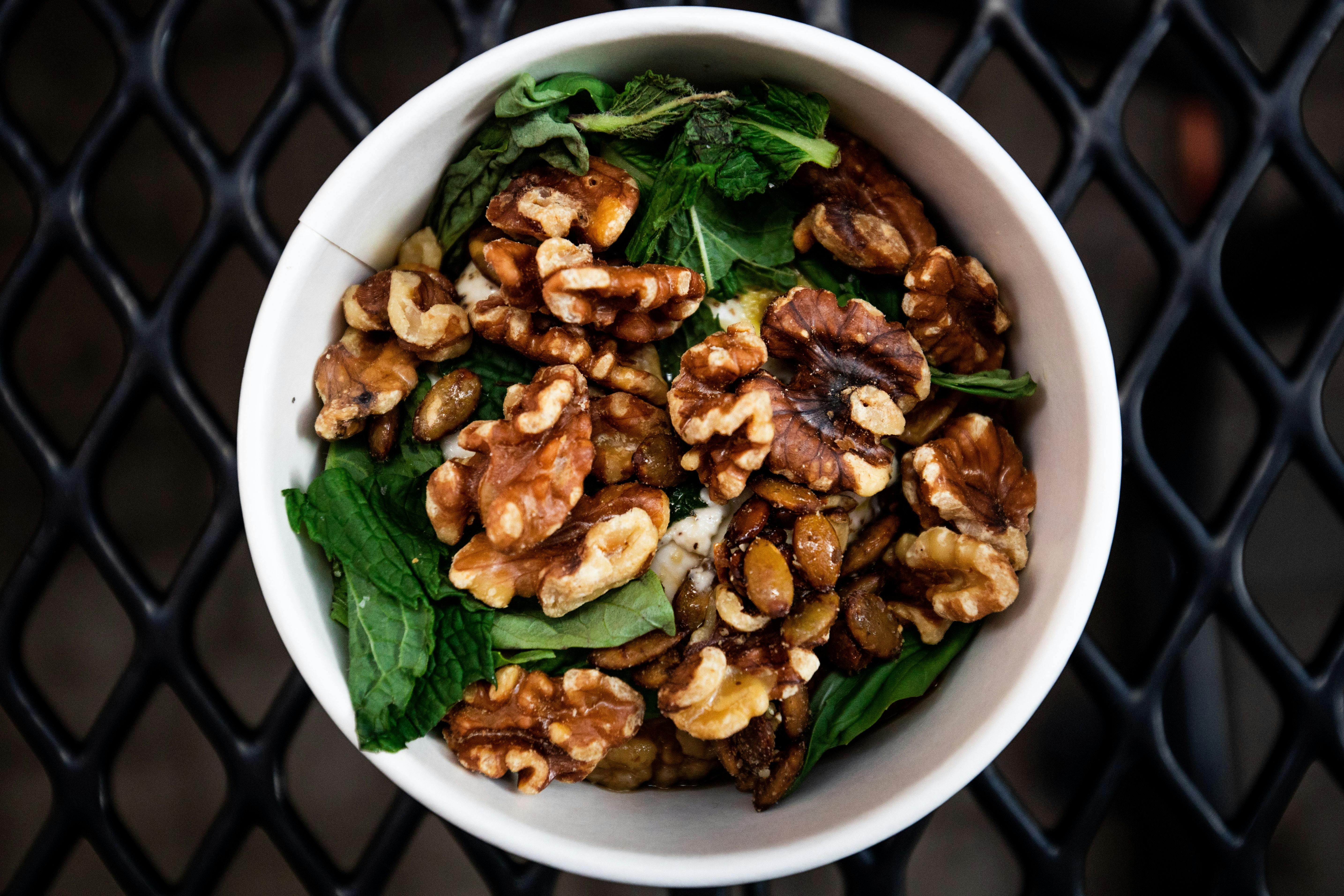 The Burrata is an excellent pairing option for one of their in-house wines, and is topped with seasonal accoutrement for an indulgent, cheesy treat.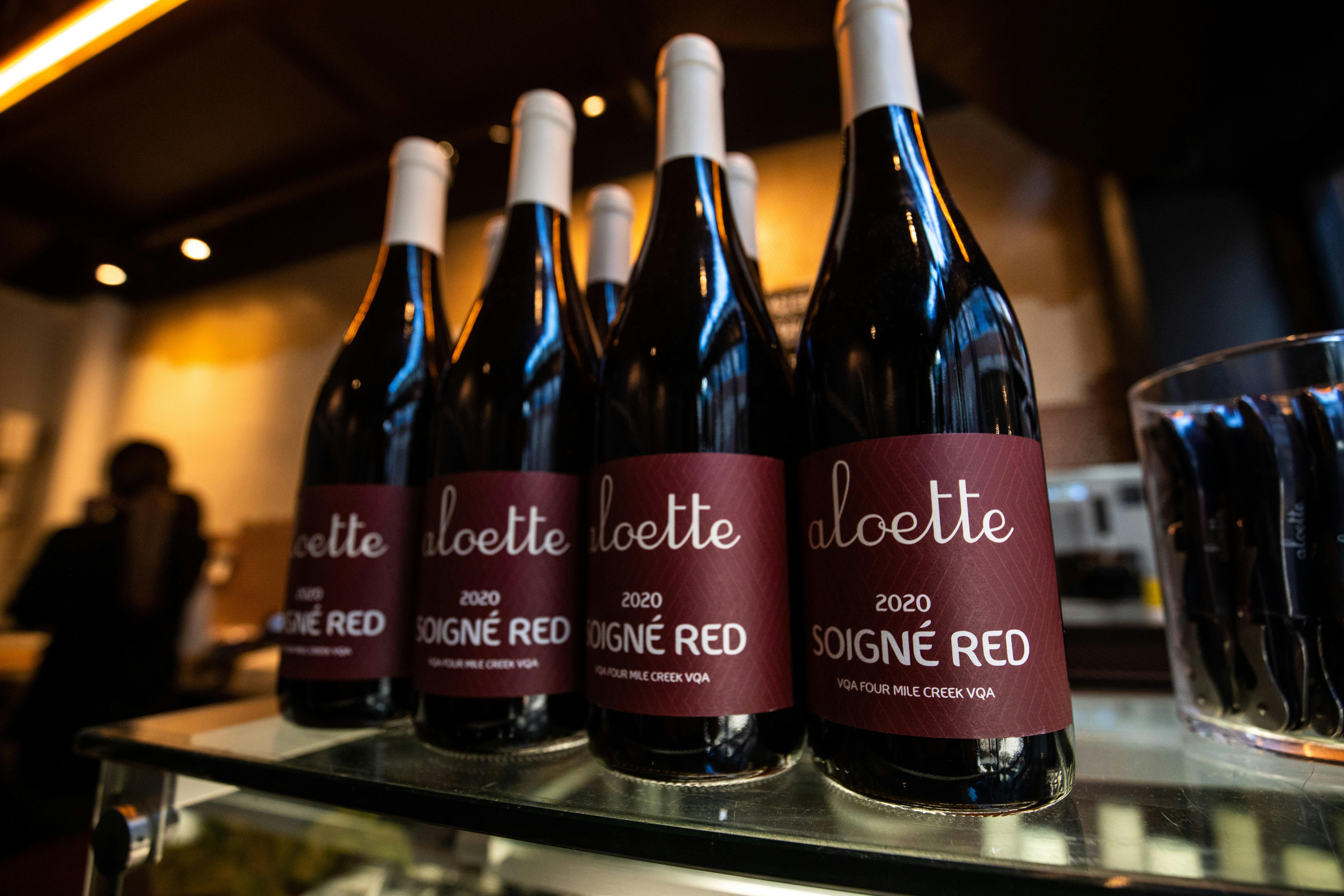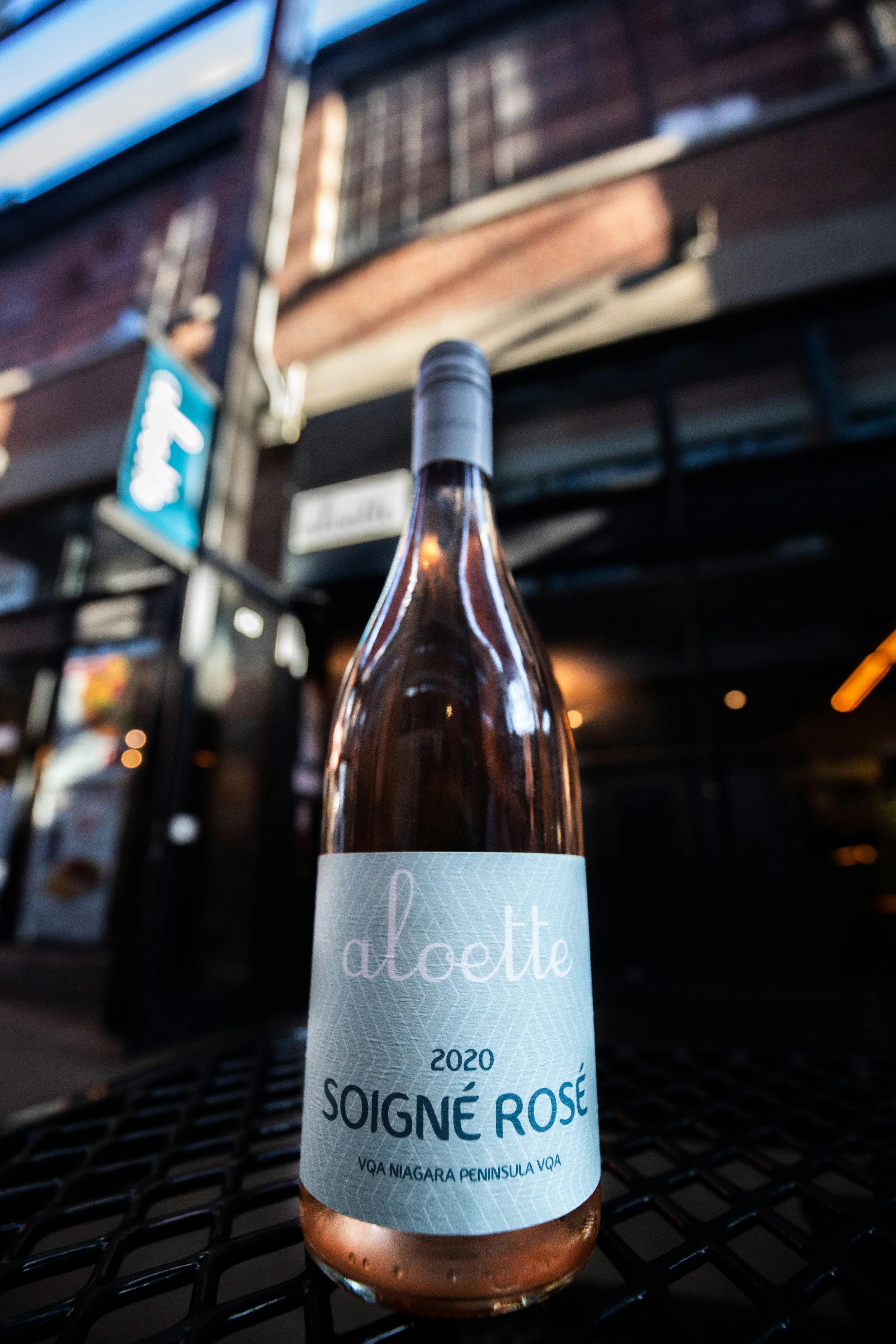 Speaking of wine, Aloette has collaborated with Pearl Morissette and Malivoire to create a selection of private label VQA wines, available in red, white and rosé, which you can get by the glass, or the bottle.
If cocktails are a little more up your alley, you can get your hands on one of their famous hand-crafted cocktails, in a can! Their canning machine has made it possible for them to serve their concoctions up for takeout, and encapsulates the same great taste you might enjoy while sipping at one of their other locations.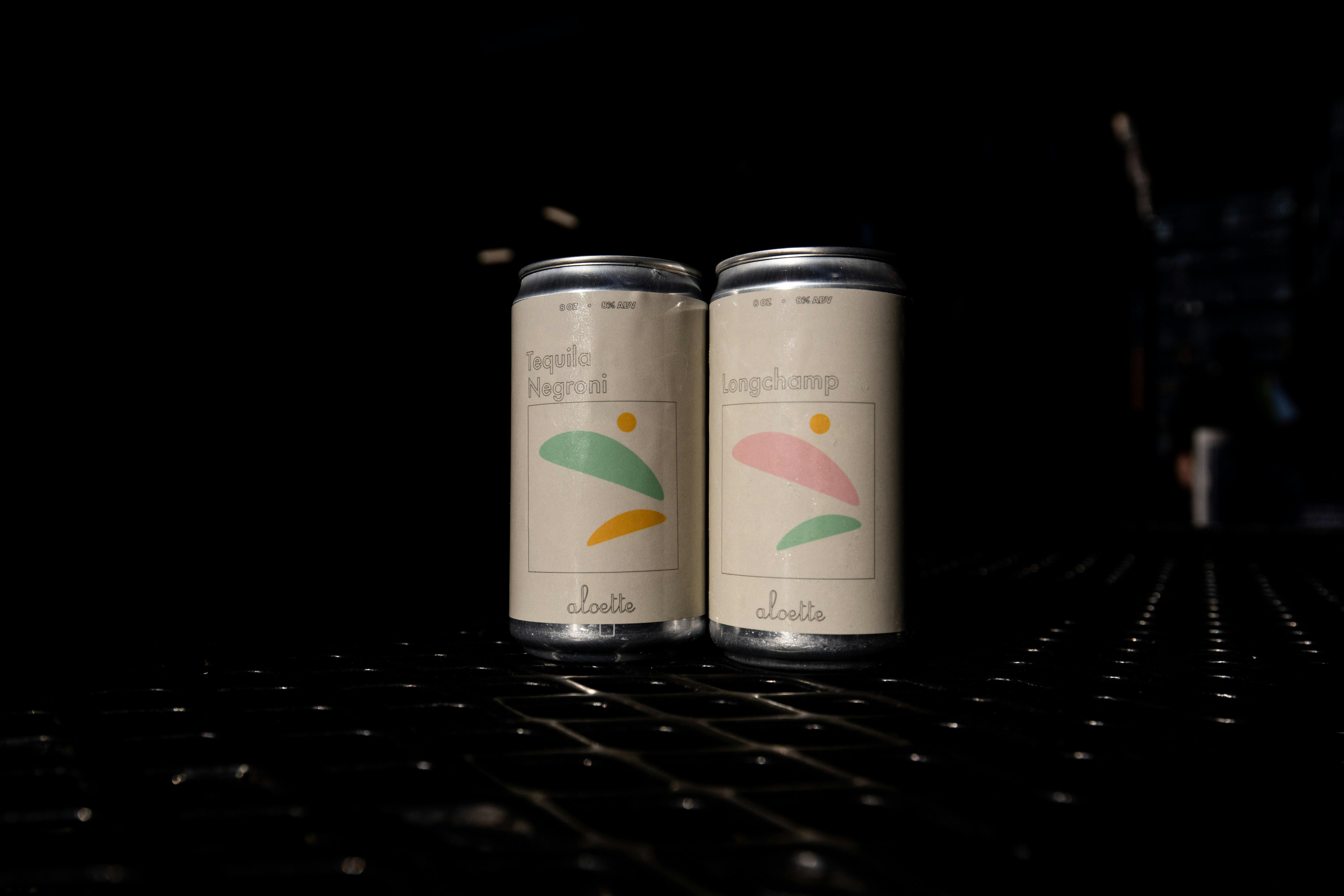 The Longchamp is a well-balanced cocktail with Bulleit Bourbon, Pineau des Charentes, honey, citrus, and bitters. If you're feeling adventurous, the Frizz-Presso Martini with Ketel One Vodka, cold brew, Kahlua, and soda, is a fantastic pick-me up, but so is the Tequila Negroni, with Atlos Blanco Tequila, Campari, and Sweet Vermouth.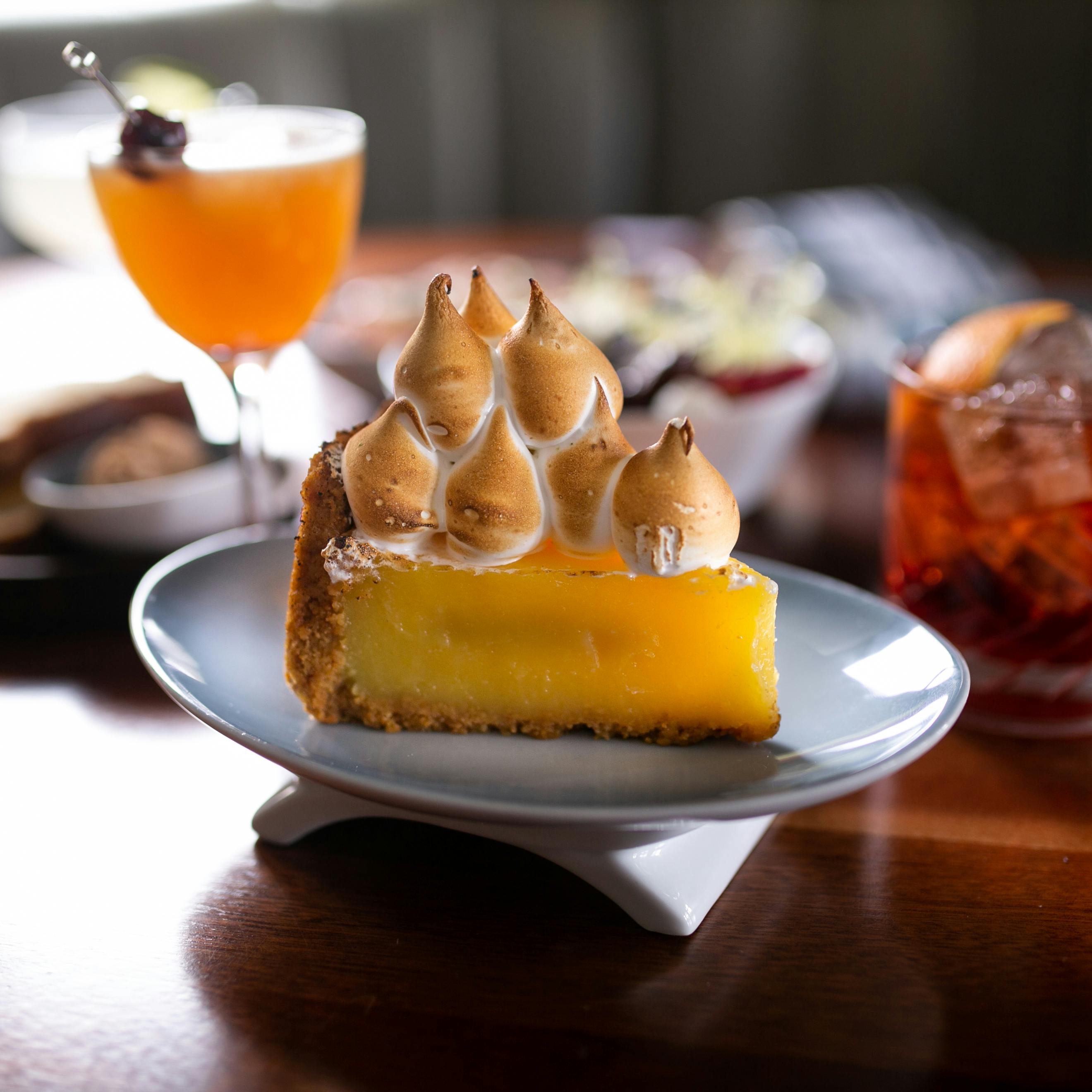 Make sure to save room for dessert, because their selection will make it hard to say no, even after indulging in one of their hearty mains. The signature Lemon Meringue Pie is on the menu, with slices individually packed, so the piled high meringue stays in tact on the graham cracker crust.
New to this location however is the deep and delicious Chocolate Cake, with Nutella and cream cheese frosting, but the Instagram-worthy ice cream sundaes with layers of toppings, are truly the piece de resistance.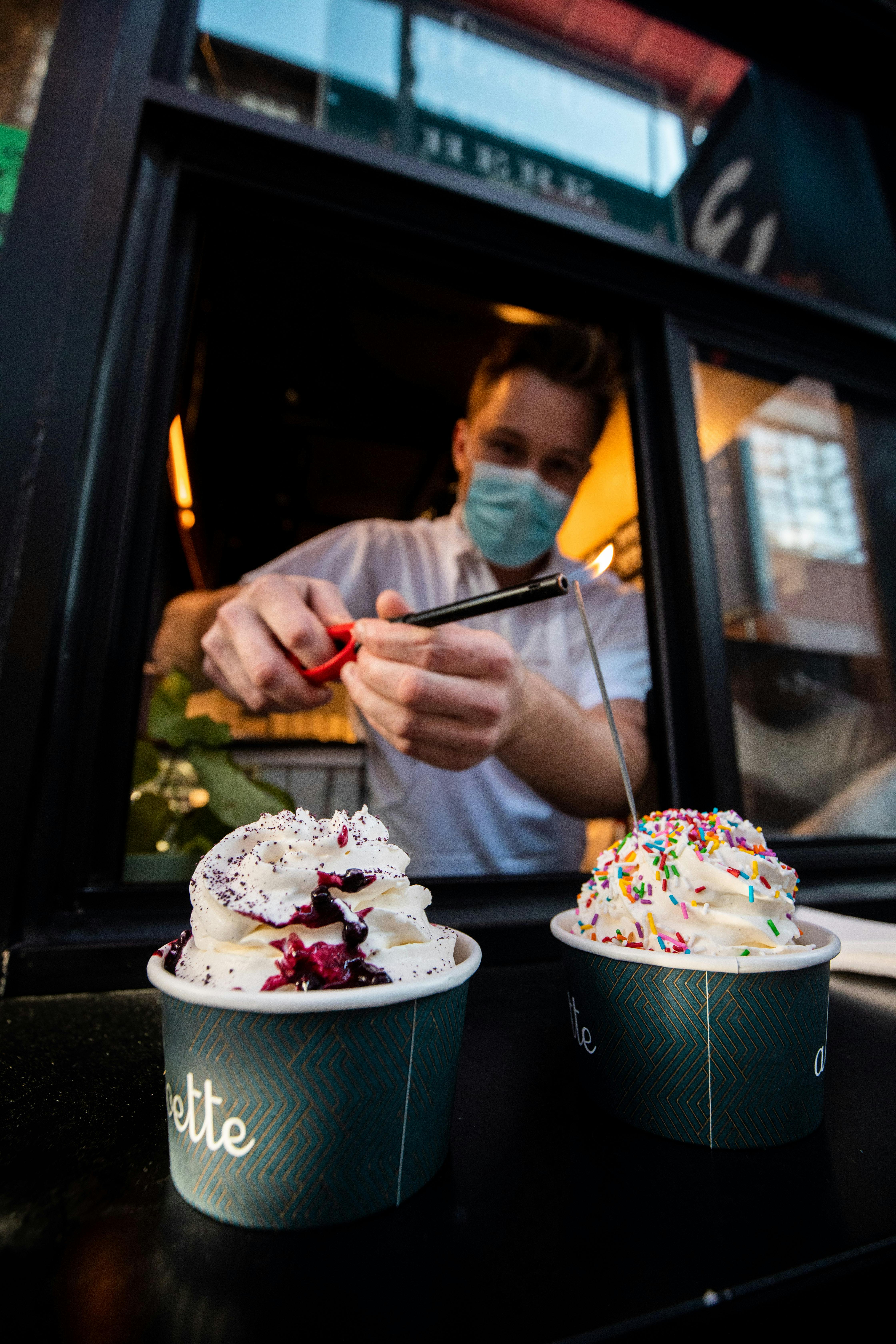 With an in-house soft serve ice cream machine, the team has crafted some incredible sundae recipes, perfect for dessert lovers of any age. The Birthday Cake Sundae comes with chunks of funfetti cake, white chocolate, feuilletine, rainbow sprinkles, and a sparkler, so everyday can be your birthday.
Being the chef masterminds that they are, they have also crafted a seasonal sundae, which right now is Wild Blueberry, with yuzu, brown butter cake, and deliciously fresh wild blueberry topping.
The future looks very exciting for the Aloette team, as they have already signed two more leases in the city for future takeout-style Aloette locations, one of which will be situated in the Scotiabank Arena.
"We really want to broaden our reach. In reality, it's hard to get a reso in the city for a great restaurant, so being able to provide that instant access to really great food, is something that is really exciting to us."
Aloette Liberty is open for lunch and dinner seven days a week from 11:30 a.m. to 9 p.m., and is located at 171 East Liberty Street in the Liberty Market. Pick-up orders can be placed on-site at the counter, or online, and orders for delivery can be placed on Uber Eats.