The much-anticipated Japanese coffee brand % Arabica has finally arrived in Toronto, with locations at Yorkdale Shopping Centre and Union Station. Its Yorkdale location opened in December, 2022, with its Union Station location following a few months later on July 26, 2023. A third Canadian location is also in the works for Whistler, B.C.
At Union Station, % Arabica is located at 65 Front St. W., unit 416, on Level B2 in the Bay Promenade, situated across from Sephora. The glass storefront and clean, bright, white aesthetic fit right in to recent renovations at Union Station; % Arabica is a beacon for coffee, perfect for commuters seeking a good cup. 
Founded in 2013 by Kenneth Shoji, % Arabica opened its global flagship store in Kyoto, Japan, in 2014, and has since gained a devoted following for its premium coffee and unique store design. Shoji was inspired to start the brand as someone who values an amazing cup of coffee every day. According to % Arabica, Shoji purchased a coffee farm in Hawaii, started a green bean trading company and exporting Japanese coffee roasting machines, and then became a distributor for Slayer Espresso machines, which are what the baristas use at % Arabica today. These machines are famed for the control they allow baristas to have in creating drinks.
"Every day we have to make sure the machines work as we want them to, as it depends on the humidity, temperature, and slightly different roasts and coffee beans," says supervisor Marcus Wong, who leads the Union Station operations. "We need to adjust to the ideal process of the coffee. It sounds like a lot of work, but it is part of our job."
The renowned coffee brand has more than 130 stores in 18 countries, but each location is a little different in interior design and menu offerings, and the Union Station storefront continues to bring high-quality coffee to % Arabica customers, with an overarching message to "See the World Through Coffee."
"We have a very simple and gorgeous store design to ensure that people don't just get a coffee and go, but have a full experience, from the architecture to the gorgeous machines and also our latte art," says Wong.
Wong notes that the logo for % Arabica can be confusing, but clarifies that it is meant to be read as "Arabica", not "Percent Arabica" or "Percentage Arabica"—the "%" actually symbolizes two coffee cherries hanging from a coffee branch, highlighting the simplicity of the brand. 
The demand is high at % Arabica, drawing busy Union Station travellers and working professionals alike to the coffee haven at all times of day. At 11 a.m. a week after opening, a long, winding lineup extends from the front counter to just outside of the impressive glass doors. Most people stand in line waiting for a famous cup to grab and go, though some choose to enjoy their sandwiches, pastries, ice cream, and drinks at the immaculate white tables, stools and chairs along the walls and looking out the front window.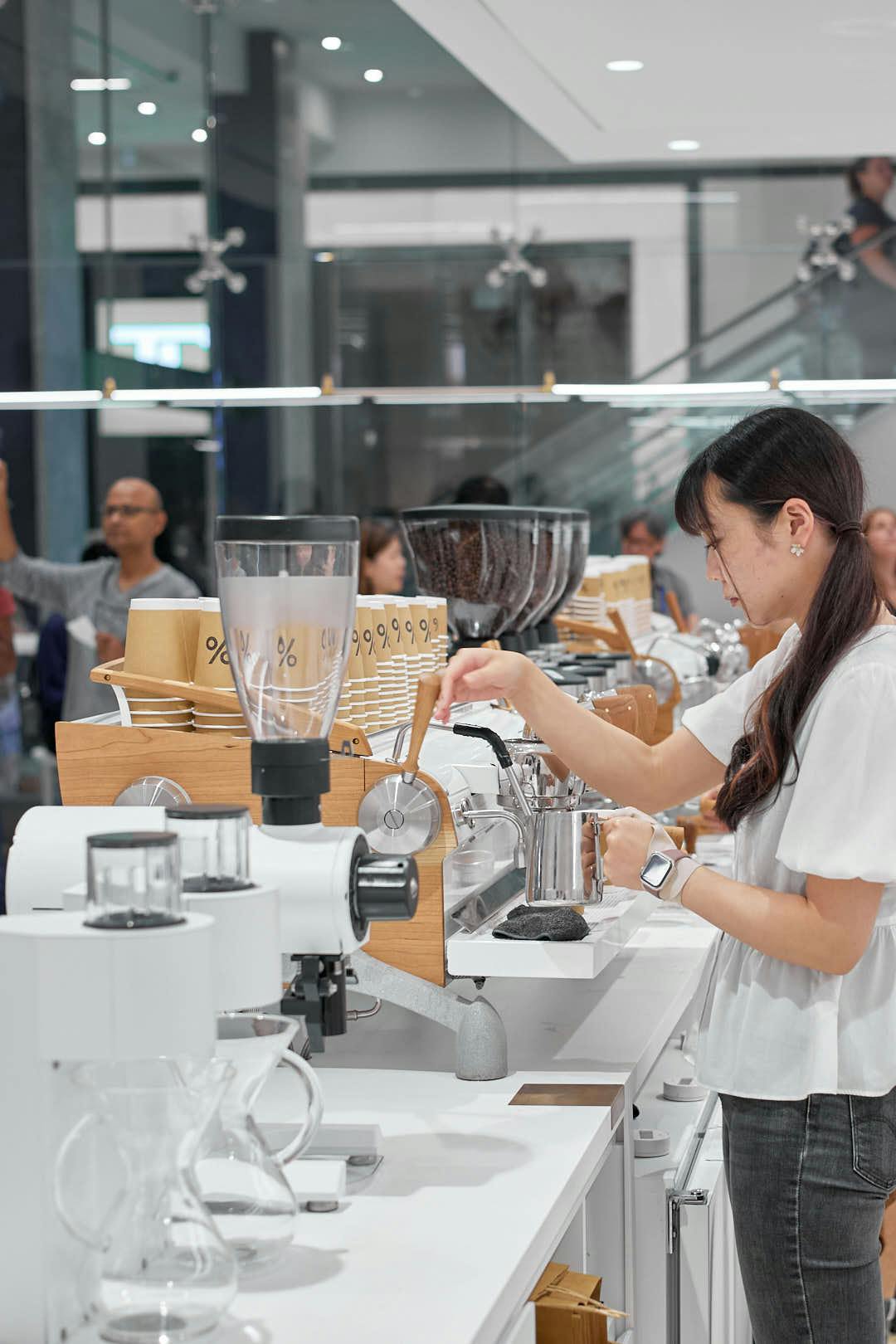 The no-nonsense coffee counter is a well-oiled machine. Wong says that on average, five or six team members are behind the counter, each with a specific role to keep things moving smoothly, from the prep bar to the latte art. Look above the hard-at-work baristas and you will see large, brown % Arabica bean bags overlooking the sleek counter. Look behind the baristas and you will see polished, clear carafes adorning the walls, hung in a straight line like test tubes in a science lab. An array of % Arabica branded backpacks, totes, and water bottles are also on display on the wall beside the counter.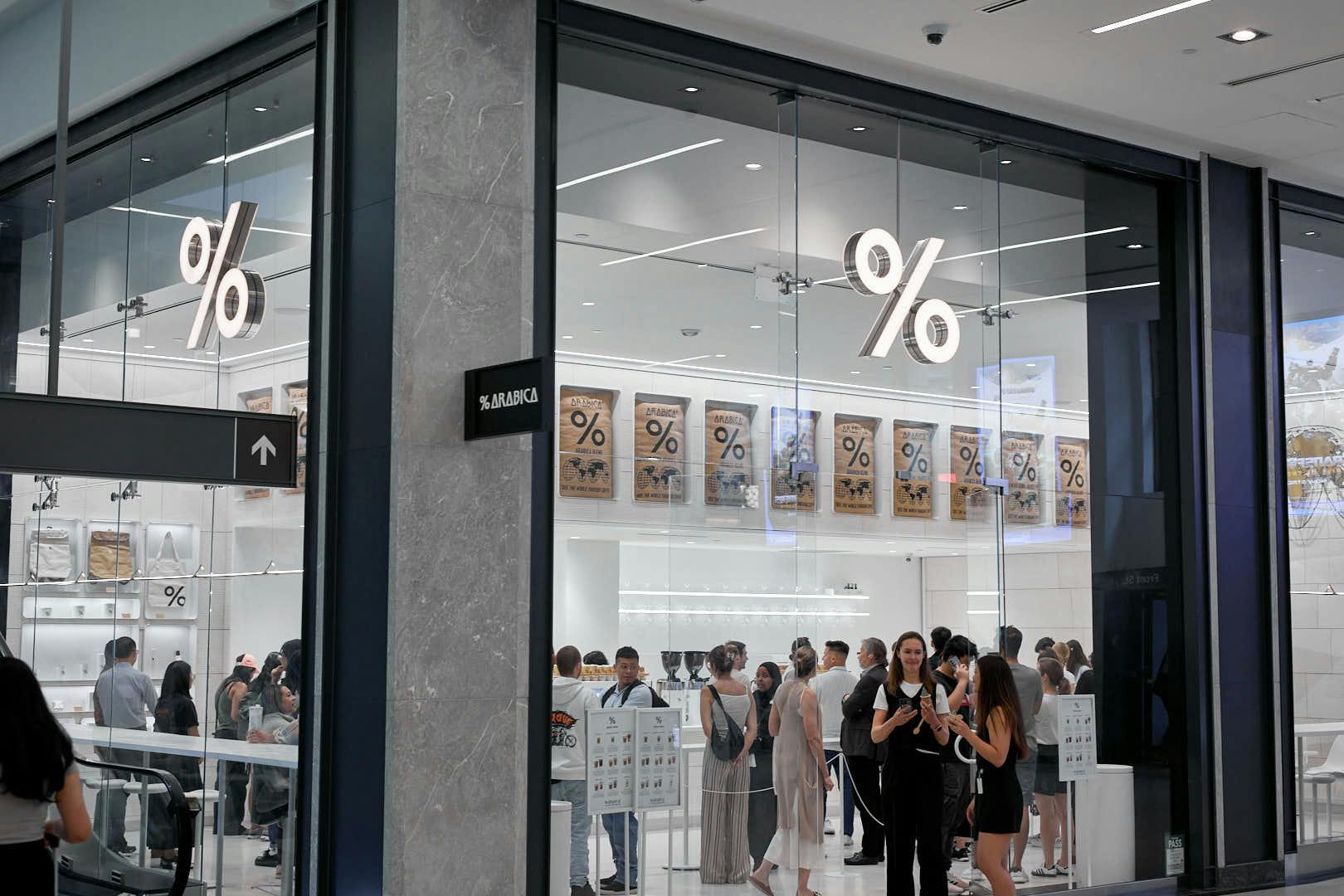 This stylish, minimalistic, boxy design is thanks to Tacklebox Architecture under the leadership of acclaimed architect Jeremy Barbour, who is known for his globally-recognized Aesop store designs. % Arabica at Union Station draws inspiration from the geological and glacial formations of Canada, with the space containing a floor-to-ceiling, carved, faceted wall terrain, including stacked layers of gypsum that can be found in eastern Canada, aiming to add a distinctive, Canadian feel to the cafe.
The speciality, medium dark roast, % Arabica blend espresso at Union Station is roasted at its Yorkdale location, then shipped to Union, to be served as part of a range of classic menu items, including classic hot and iced espressos and lattes, sparkling lemonade, sandwiches and pastries, and even matcha soft serve ice cream, or soft cream. Wong hints that a new coffee-flavoured soft  cream is also on its way to the Toronto locations.
Quality control is of utmost importance at % Arabica—all of the syrups used in the drinks are also made in-house.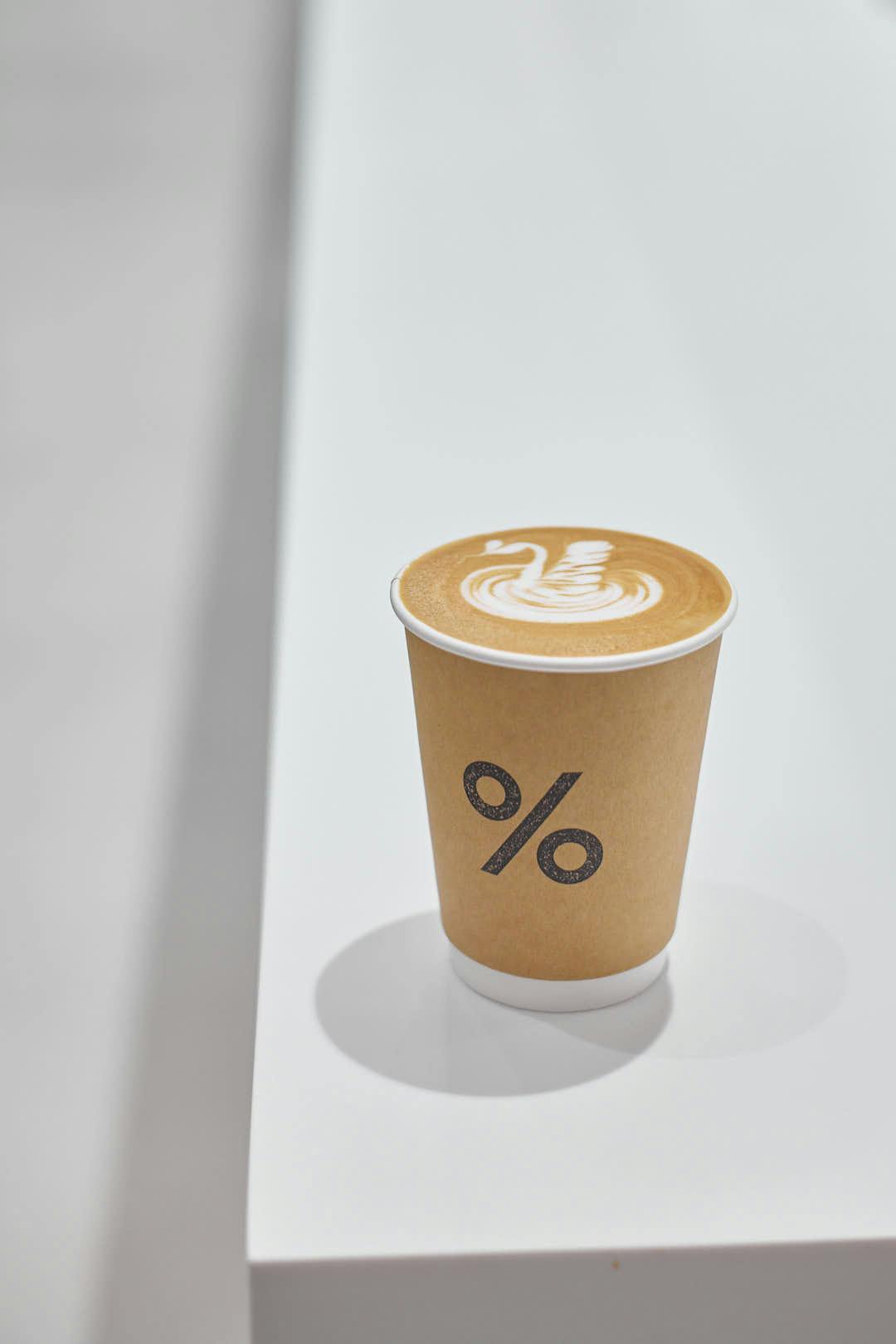 Be sure to stir the Hot Spanish Latte for full effect. This classic latte brewed with % Arabica's premium blend contains sweetened condensed milk at the bottom of the drink, and is topped with  cute latte art. This drink has a lightly toasted and nutty flavour, and becomes very creamy once you stir in the condensed milk, which also cools the drink down significantly, great for light or non-coffee drinkers.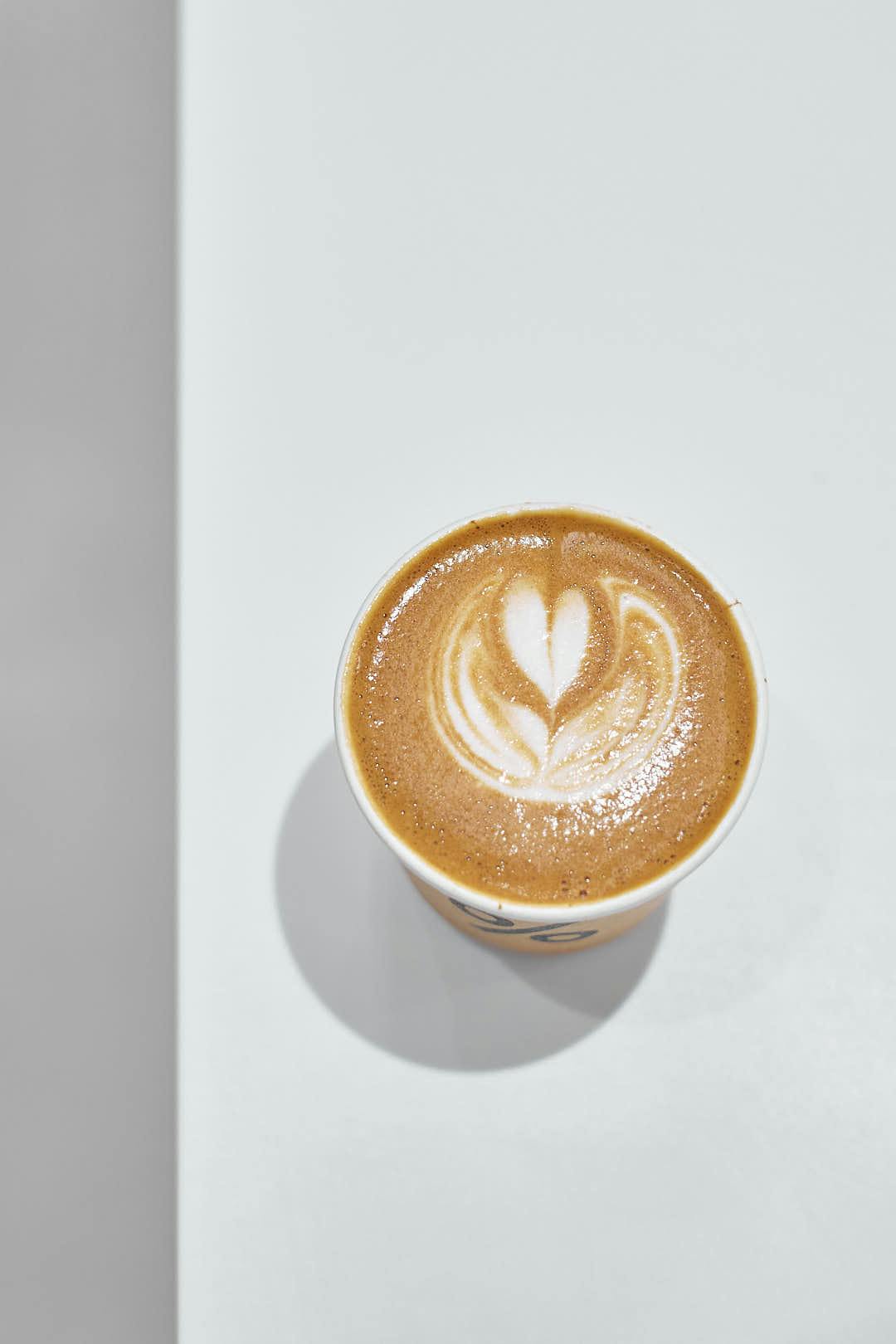 The Espresso Macchiato is a bold drink choice: the tiny cup contains a one to one ratio of espresso to milk. Notes of chocolate and nuts come through after the solid punch of caffeine, and though it is very strong, the caffeine high it offers is smooth and convenient for regular or extreme coffee drinkers.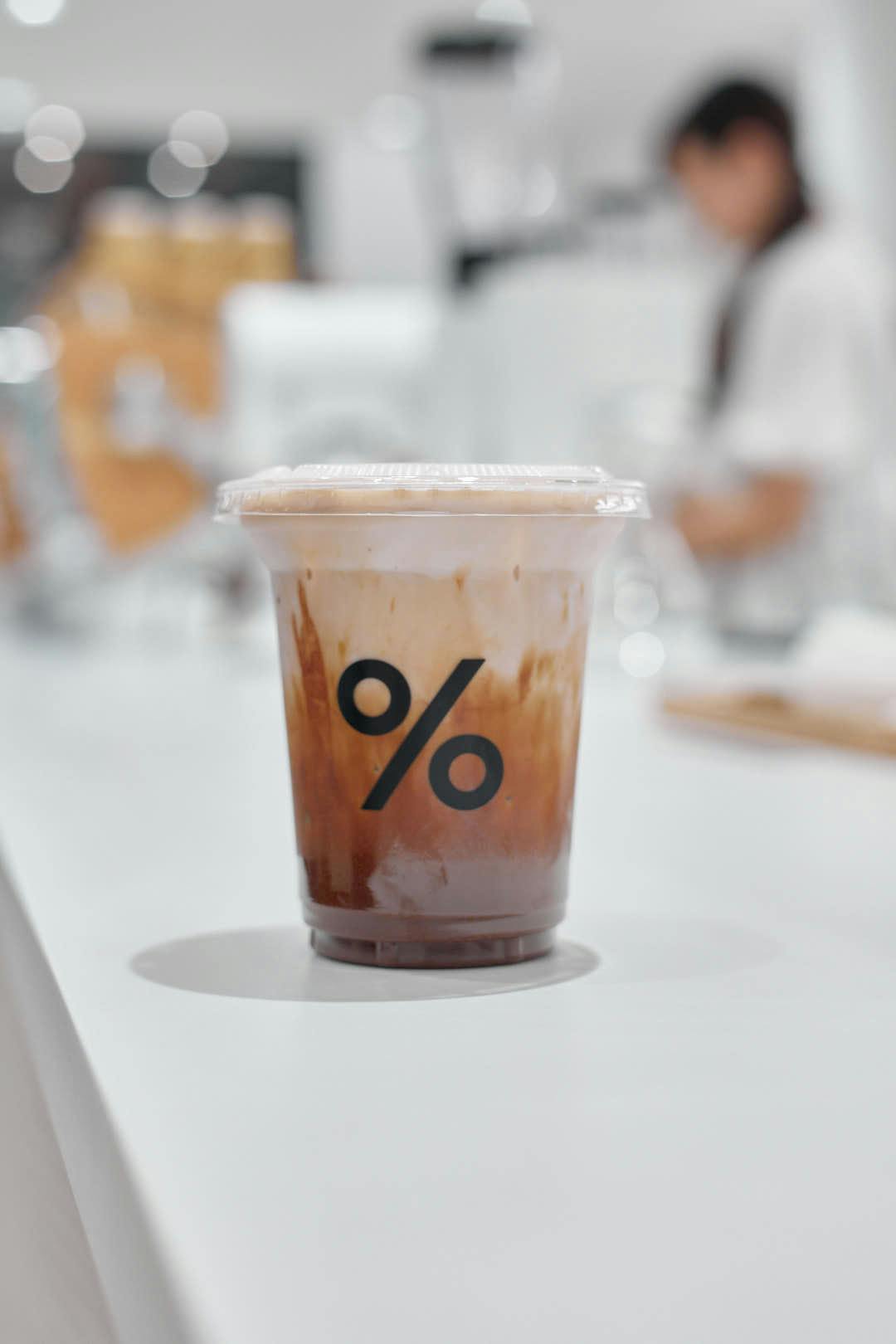 An excellent iced coffee choice is the Iced Dark Latte. This drink features beautiful presentation, and contains premium French cocoa to create a chocolatey taste, with creaminess to balance out the deep coffee flavours. Mix well for a rich and even coffee treat.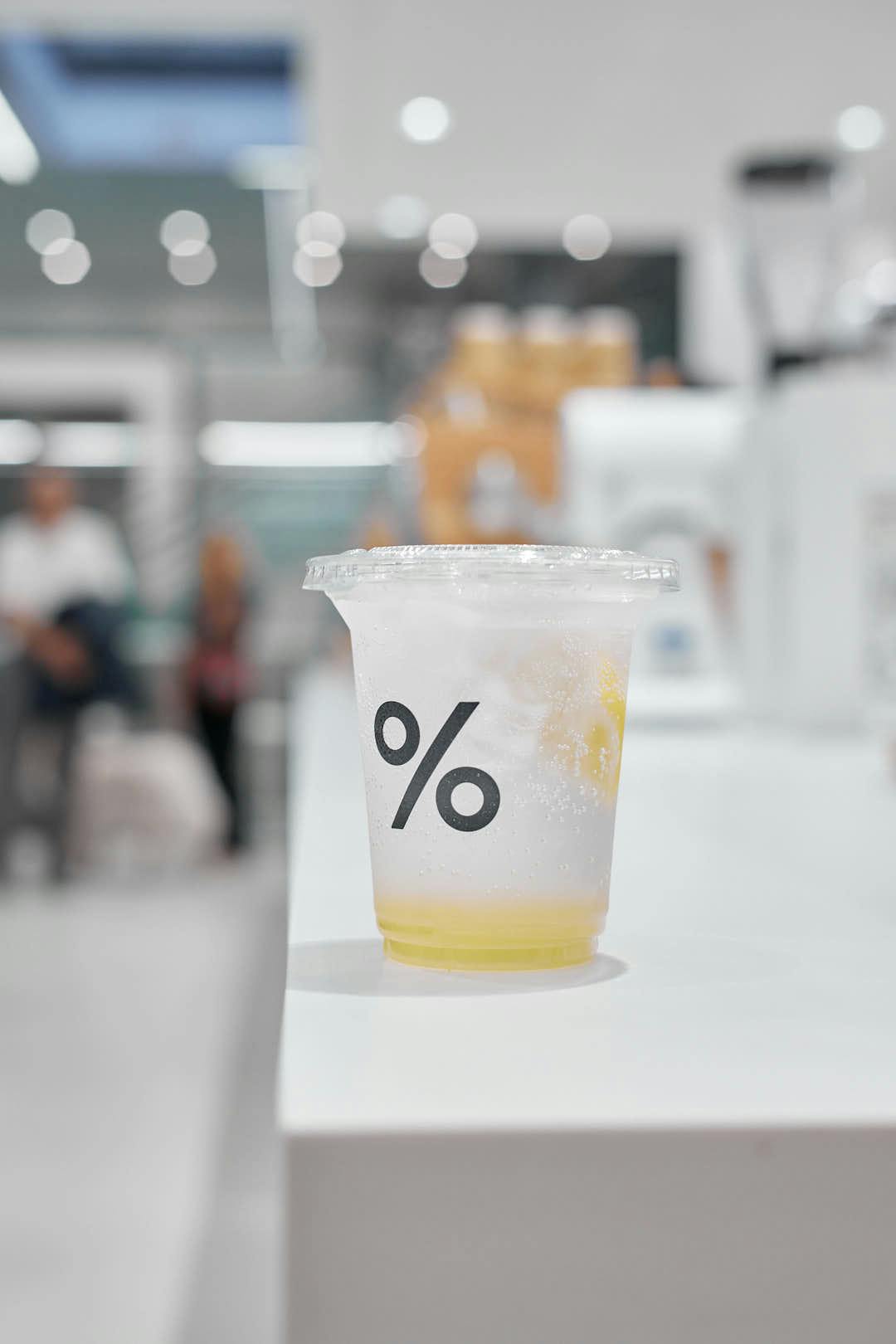 The Sparkling Lemonade is Wong's favourite, boasting a simple recipe of lemon, sugar, water, and a mysterious secret ingredient! The lemonade is made in house every day to ensure freshness, and it tastes exactly as promised: light, refreshing, and lemony, like summer in a cup.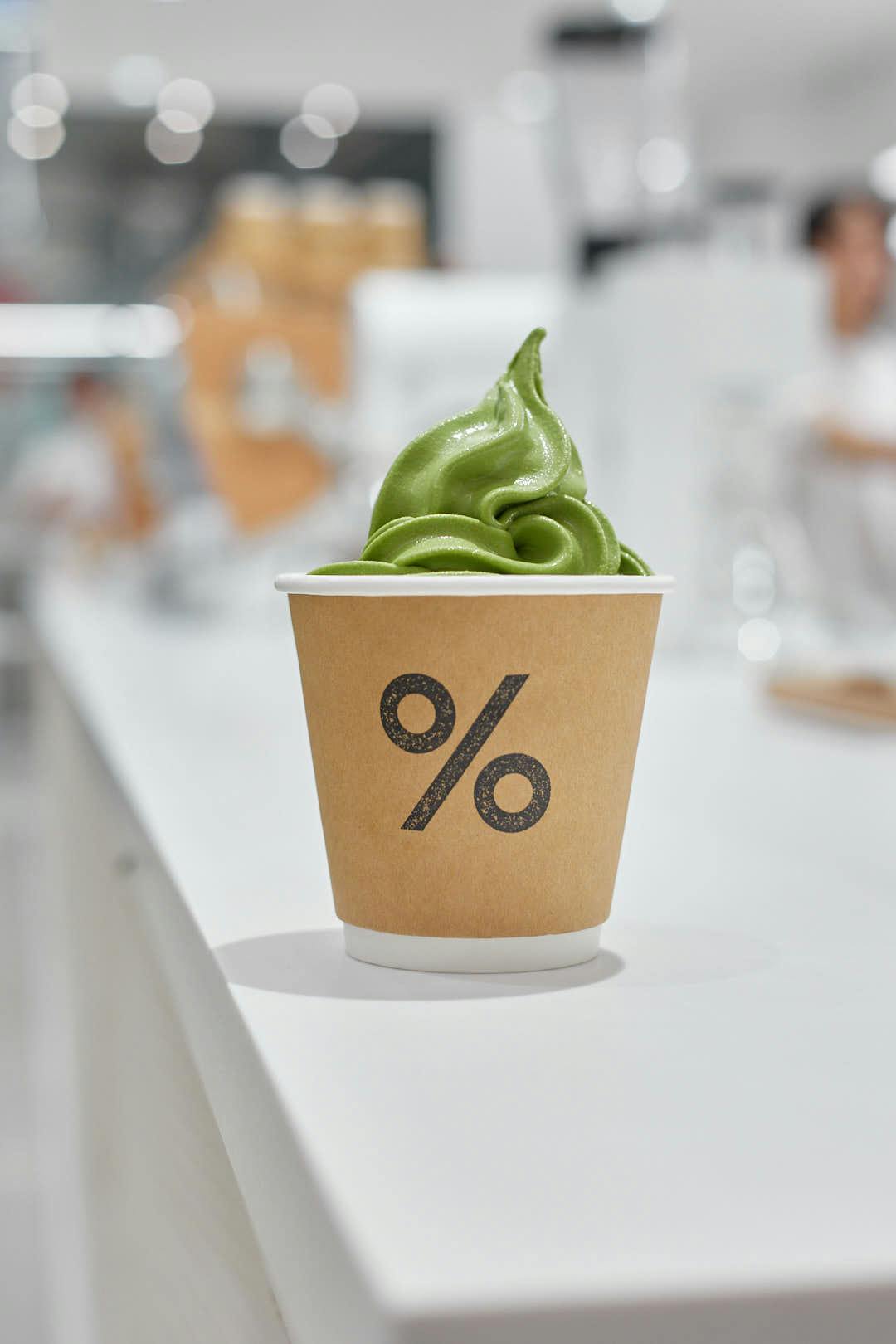 % Arabica carries high grade matcha from Kyoto, Japan. The creamy, light, smooth and sweet Matcha Soft Cream is a surprising and delicious menu item, adding ice cream to the cafe's many offerings. The soft serve comes in a large cup for those seeking a natural energy boost in a different form than traditional coffee drinks.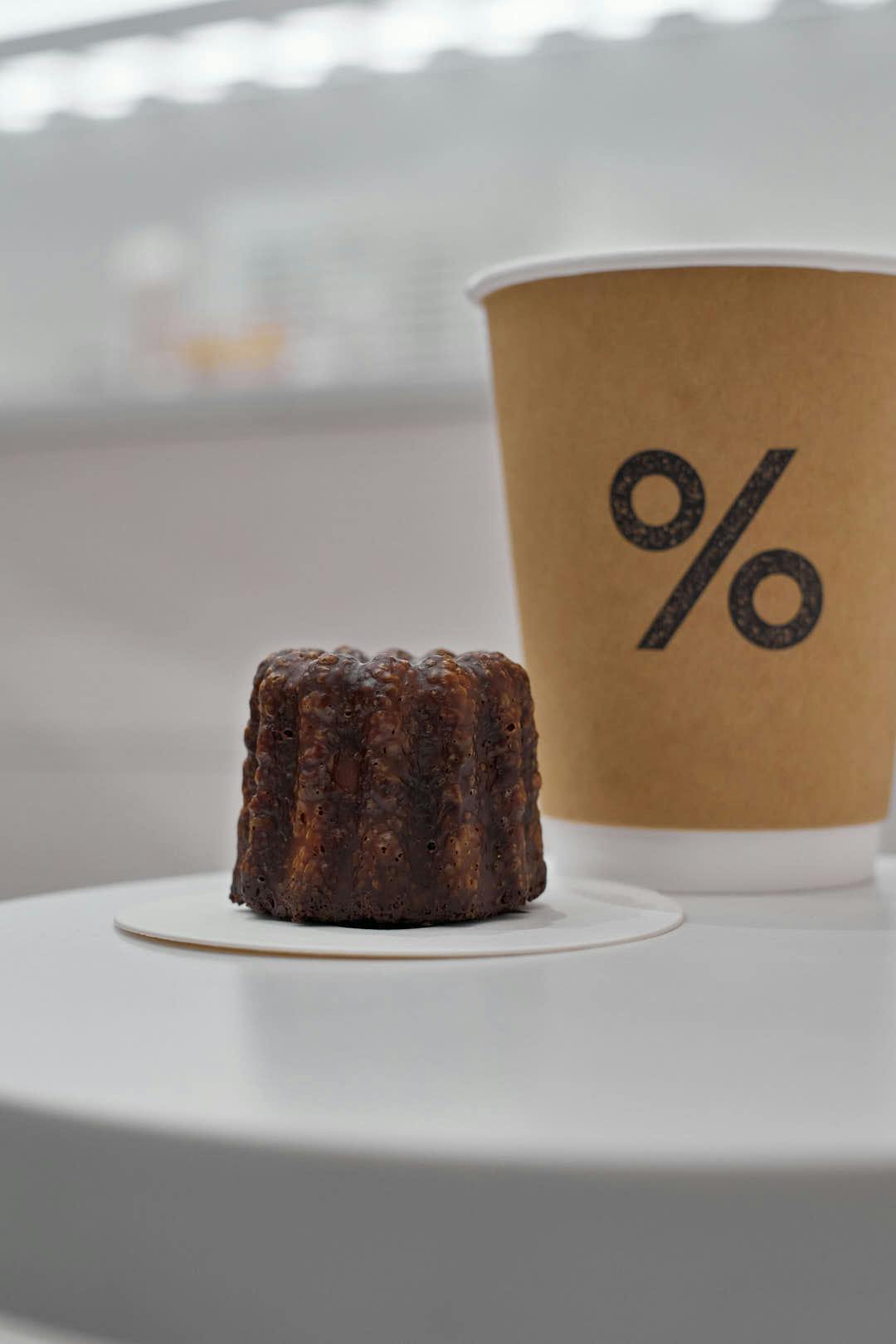 The small selection of sandwiches and pastries at % Arabica includes canelé, a small, French, rum-and-vanilla pastry crafted with a thick, dark, caramelized crust and a tender, more cake-like centre with a drop of custard. % Arabica also offers a matcha canelé, but the classic one is great for dipping in coffee.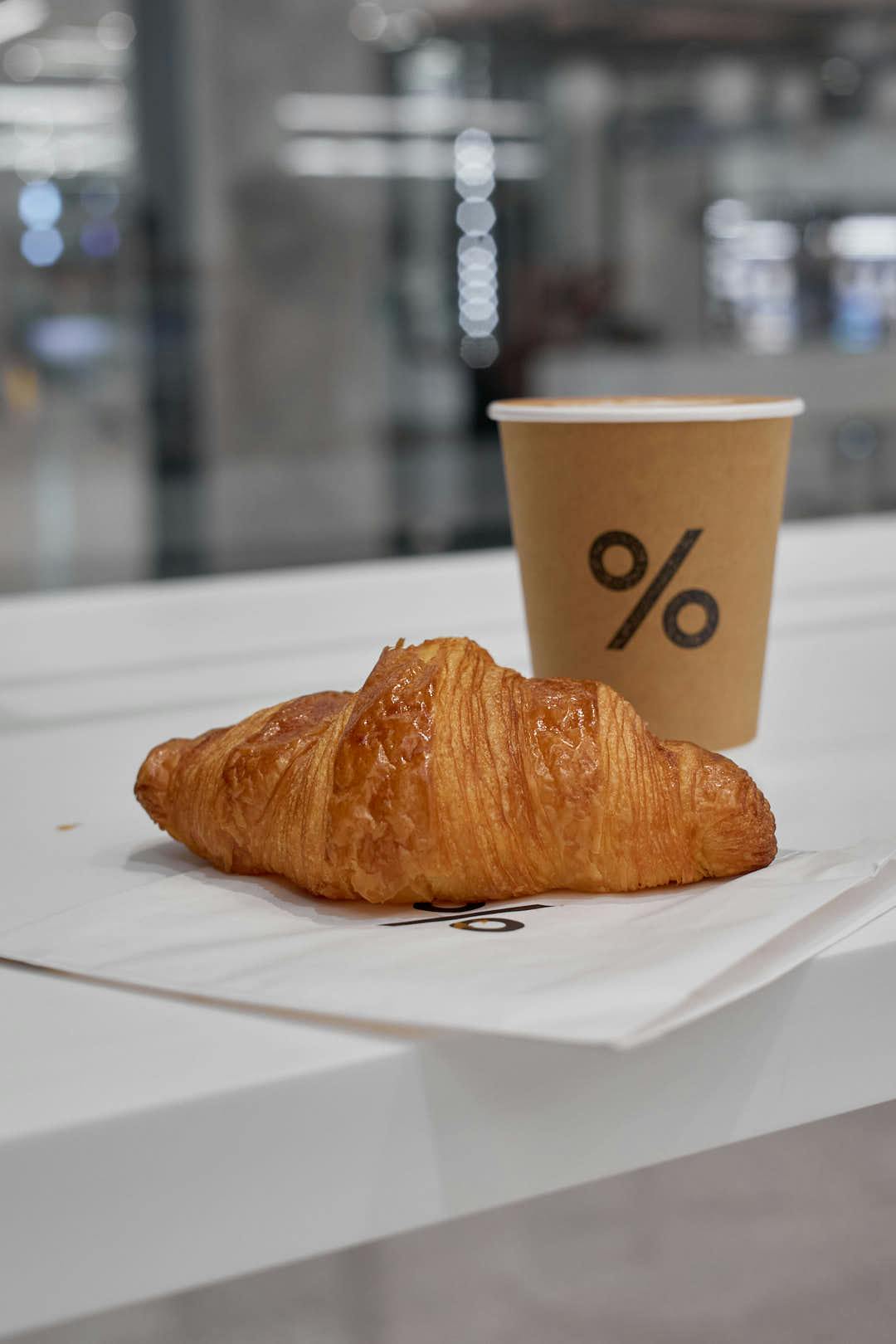 A buttery, flaky, plain croissant is a wonderful compliment to % Arabica's specialty coffee. This croissant is layered, with a light crisp on the outside, and soft pastry on the inside.
 % Arabica is open at Yorkdale from Monday to Saturday from 8:30 a.m. to 9 p.m., and Sundays from 9:30 a.m. to 7 p.m. The % Arabica location at Union Station is open from Monday to Friday from 7 a.m. to 7 p.m., and Saturday to Sunday from 9 a.m. to 4 p.m.