What's the first thing that likely pops into most Torontonians' heads when they hear the word, "Bellwoods"?
Probably "Trinity."
Most likely "Park."
And for those who have any fondness whatsoever for beer, definitely "Brewery."
Less likely to come to mind is "food."
But if Toronto's pioneering Bellwoods Brewery has any say in the matter – and it does – that's about to change.
This year marks Bellwoods' 10-year anniversary. In 2012, when co-owners Mike Clark and Luke Pestl purchased the auto shop at 124 Ossington, "the Strip" was in the early throes of hipness and the city's craft beer movement was still in its nascent stage. Back then, you could count the number of Toronto artisanal breweries on the fingers of the hand that wasn't wrapped around a can of Labatt's.
Passionate brewers, Clark and Pestl learned their trade working at the Amsterdam Brewery Company in the early 2010s. When they teamed up to open Bellwoods, they became part of a small but determined first wave of craft beer trailblazers. Not only did they brew their own wildly distinctive ales, lagers, blends and stouts on site, but they also bypassed the monopolistic behemoth that is the LCBO, selling beer out of their own bottle shop (at 126 Ossington) as well as at their cozy indoor brewpub and coveted outdoor patio.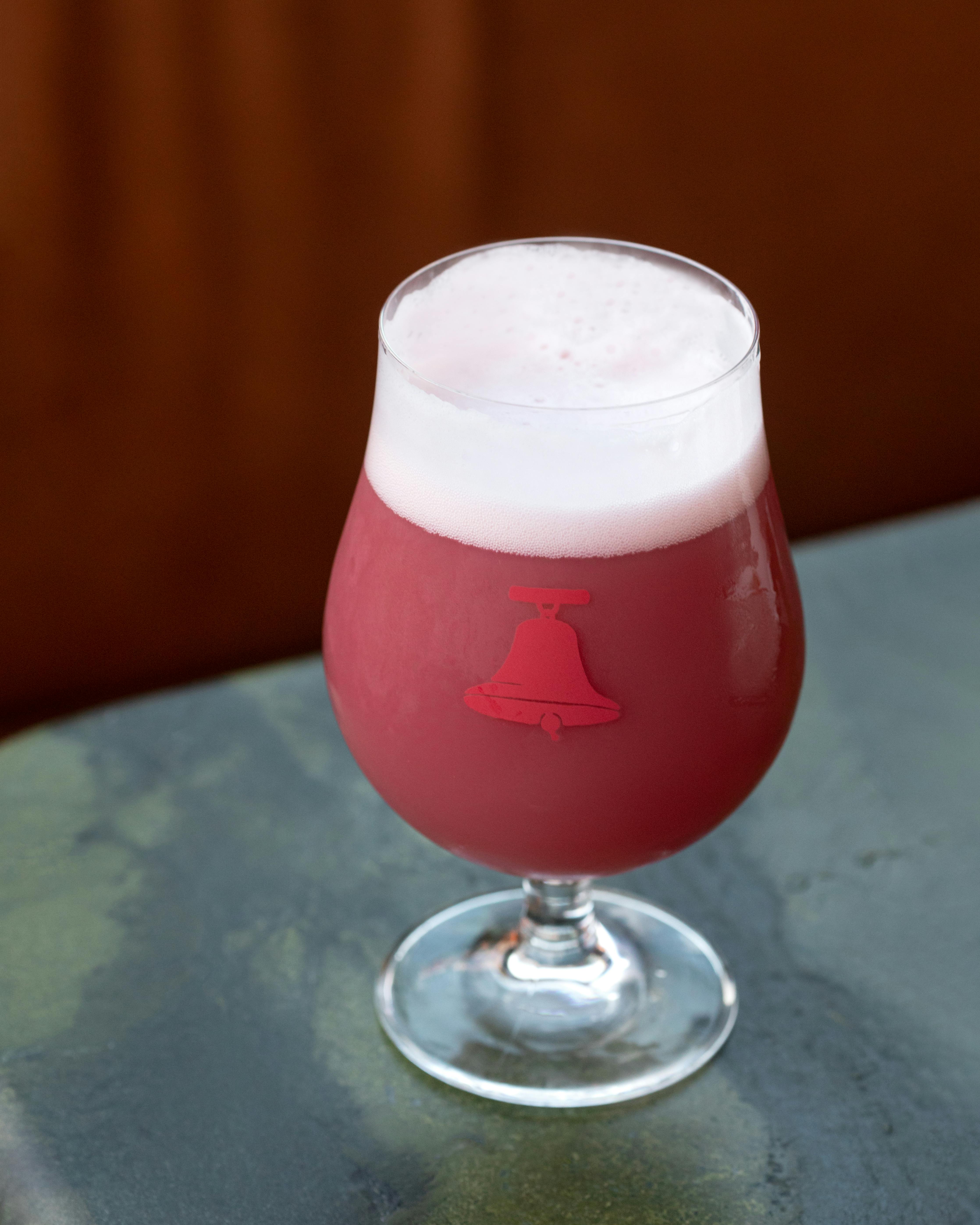 In a short time, Bellwoods grew into one of the most prolific and popular breweries in town. That around-the-block line-ups quickly became an Ossington fixture is a testament to beloved signature brews such as the light-bodied, hoppy and hazy Jutsu Pale Ale and Motley Cru, an oak-aged wild ale blend, distinctive versions of which are released every August 13 (on the Brewery's anniversary).
Crowds go particularly mad for Jelly King, an alchemically dry yet hoppy sour ale that, thanks to sought after limited editions including Montmorency cherry, raspberry & peach, and passion fruit, orange & guava (all on the current menu), accounts for 30 percent of Bellwoods' total production.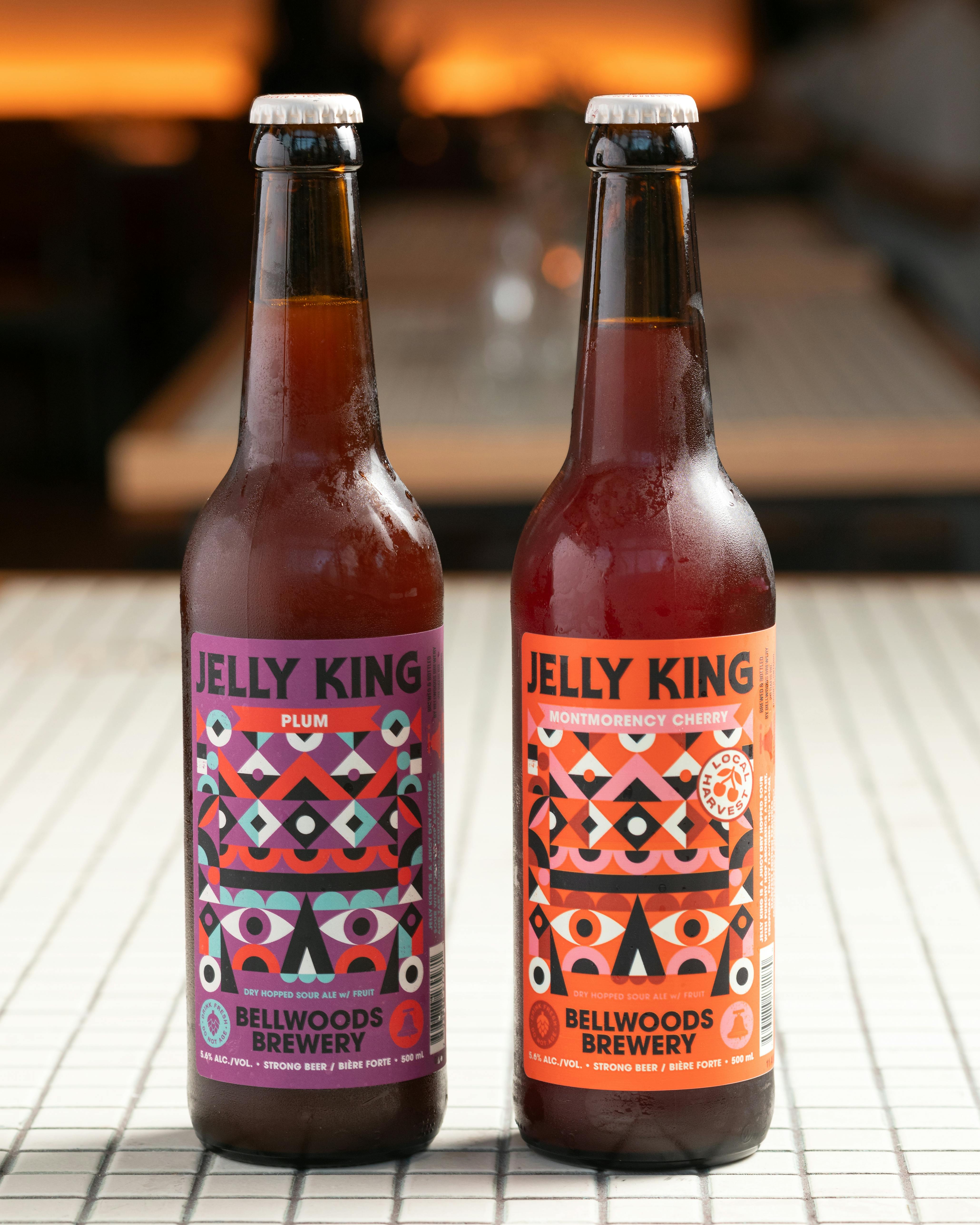 From Day One, Bellwoods offered grub along with the suds. However, there were some constraints, namely a kitchen understatedly described by head chef Jay Browne as "a shoebox." With barely enough room for a small oven, a minuscule grill, a deep fryer and two prep tables, let alone kitchen staff, Bellwoods' edibles always took a backseat to its imbibables.
Until now.
When its neighbour, the homewares boutique VdeV, made the decision to move to larger digs, Clark and Pestl jumped at the chance to expand into the space on the corner of Ossington and Argyle. Once the lease was signed, the duo found themselves with over 1,000 square feet, effectively doubling the size of Bellwoods overnight and leaving them with a sizeable area for a long yearned-for Brewpub dining room.
To carry out their vision, Clark and Pestl turned to Futurestudio, a cutting-edge Toronto-based design studio founded in 2019 by Ali McQuaid Mitchell. What the partners had in mind was an open, airy space that channeled the atmosphere of a European beer hall, fusing a little bit of elegance with a lot of down-to-earthiness.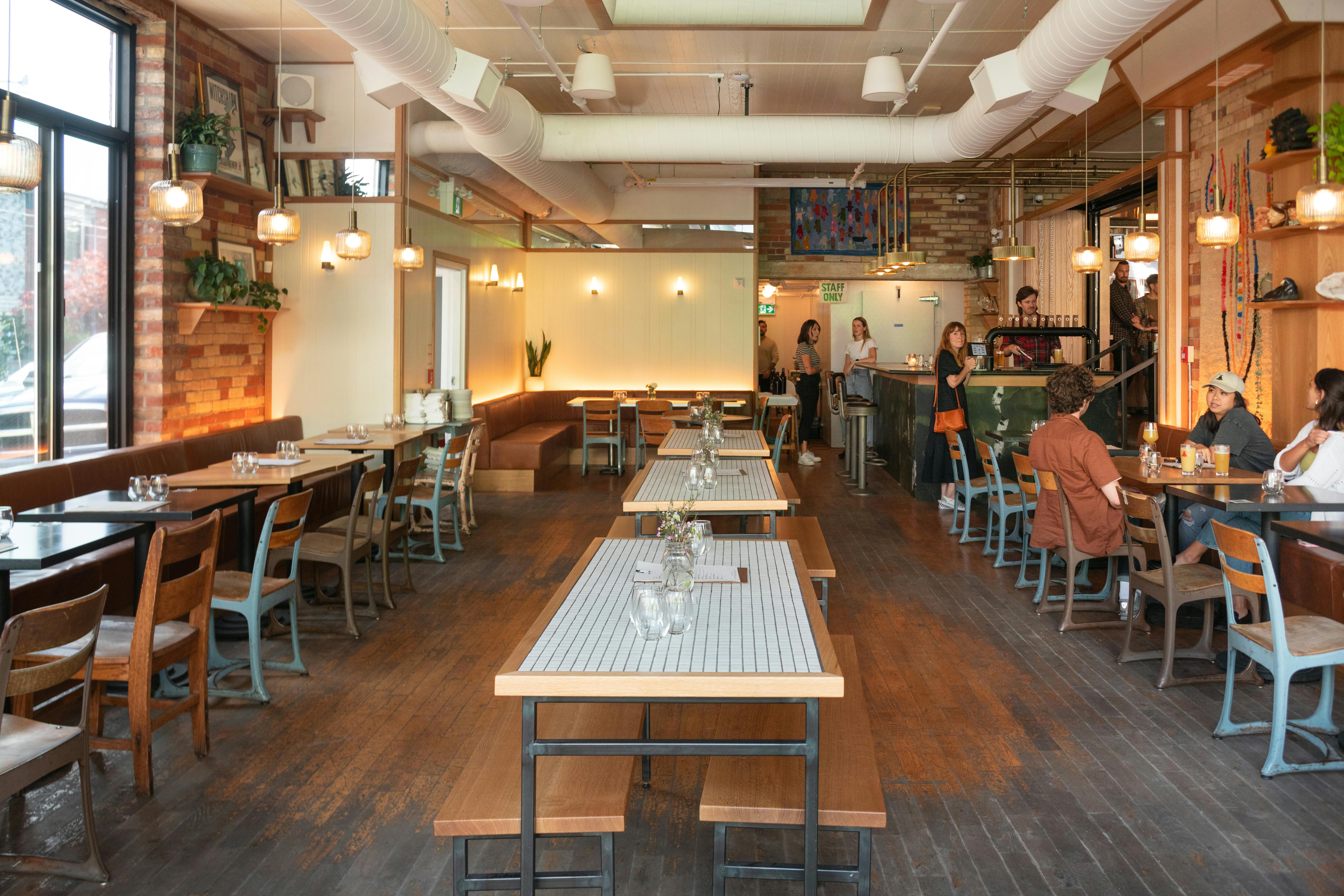 The resulting dining area, with its handsomely weathered plank floors and rusty brick walls, possesses warmth, allure and "Let's linger over our food and order another beer" vibes to spare. Lingering can be done at wooden farm tables, some topped with glistening white ceramic tiles, others au naturel.
Seating options are equally eclectic. They range from unadorned wooden benches and vintage public school-style chairs to luxurious caramel-coloured leather banquettes that invite you to slouch and gaze out the massive windows at the non-stop people parade going up and down the Strip.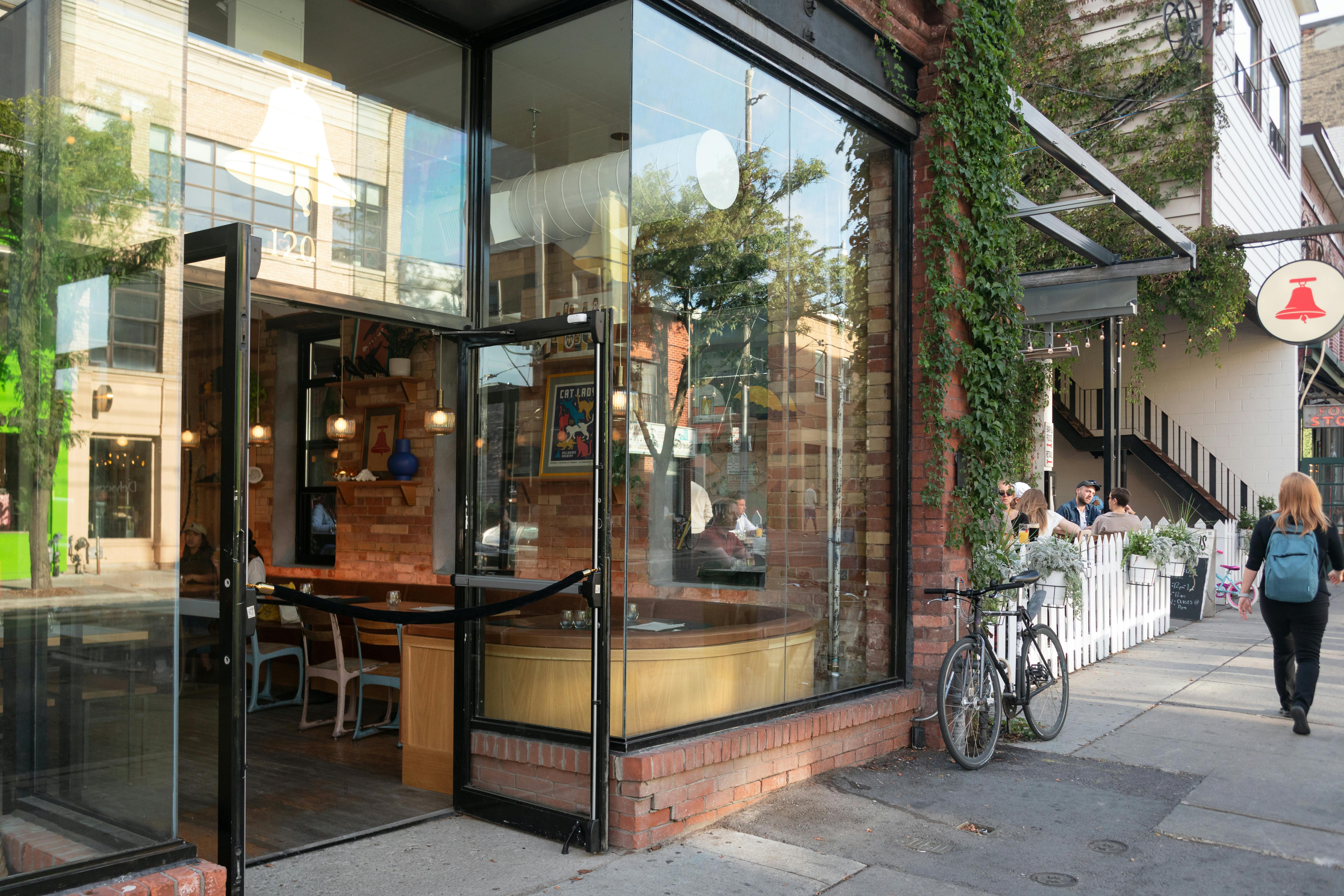 Adding colour and panache are several outrageously green tables and a sleek bar, all of them fashioned out of Avocatus Quartzite, which looks as beguiling as it sounds. More colour is splashed across the walls, in the form of shelves of eccentric bric-a-brac and boldly graphic, poster-sized labels some of Bellwoods' greatest beer hits – Cat Lady, Witchshark, Roman Candle – all of which were created by Doublenaut, the friendly neighbourhood design studio located at 134 Ossington.
"Our regulars love the new dining room. Some of them already have favourite seats that they always ask for," says Joe Kotze, assistant general manager. Such willing migration is no mean feat considering the popularity of Bellwoods' white-picket-fence enclosed patio.
"Last winter when we were renovating the bar, we didn't have draft beer or indoor seating for several months. Even so, in January, we had some die-hard loyal fans who would be out on the patio in -20 degrees, drinking beer from bottles," Kotze explains. "But when the big blue tarp that was covering everything for four months came down, it was very exciting for them."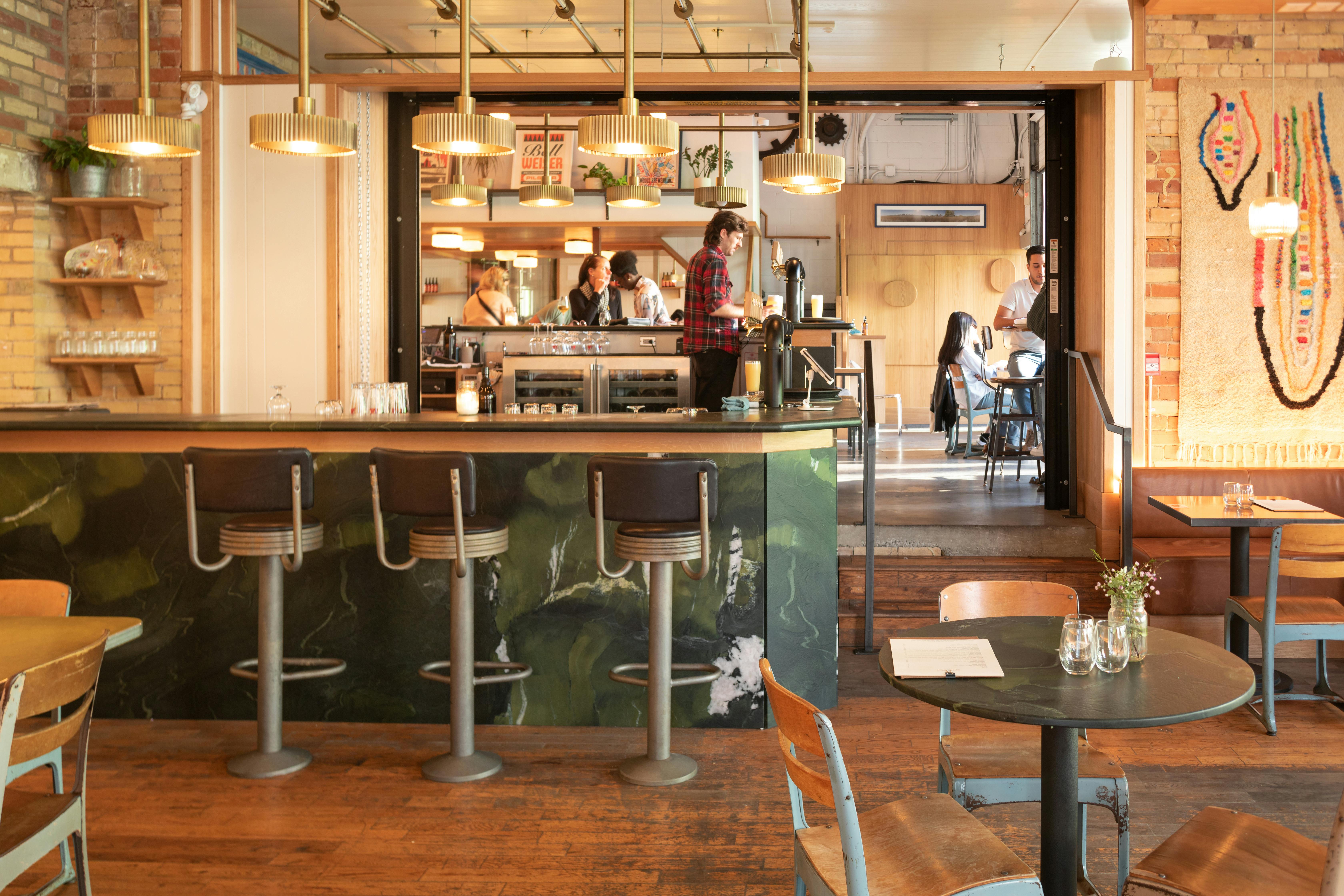 Also generating excitement is the Brewpub's new menu. During the renovation, priority was given to a new kitchen – almost six times the size of the "shoe box" – allowing for more equipment, staff and space. Says Kotze, "With the bigger kitchen, and double the amount of seating, we now have a larger menu that allows Jay to flex his culinary muscles – in terms of both volume and variety."
Like a number of Bellwoods' staff, Jay Browne, who joined the team in 2014, has been with the brewery for an impressively long time when measured in Toronto restaurant industry years. Although he's flown somewhat under the radar in terms of (social) media shout-outs, he's earned a loyal following among many of the city's chefs as well as Bellwoods regulars.
The latter, in particular, have long appreciated Browne's sharing plates: Skewered and smoky duck hearts with barbacoa sauce and smoked pumpkin seeds, robust country pâté served with rhubarb jam, not to mention the helplessly addictive herbed fries with homemade mayo.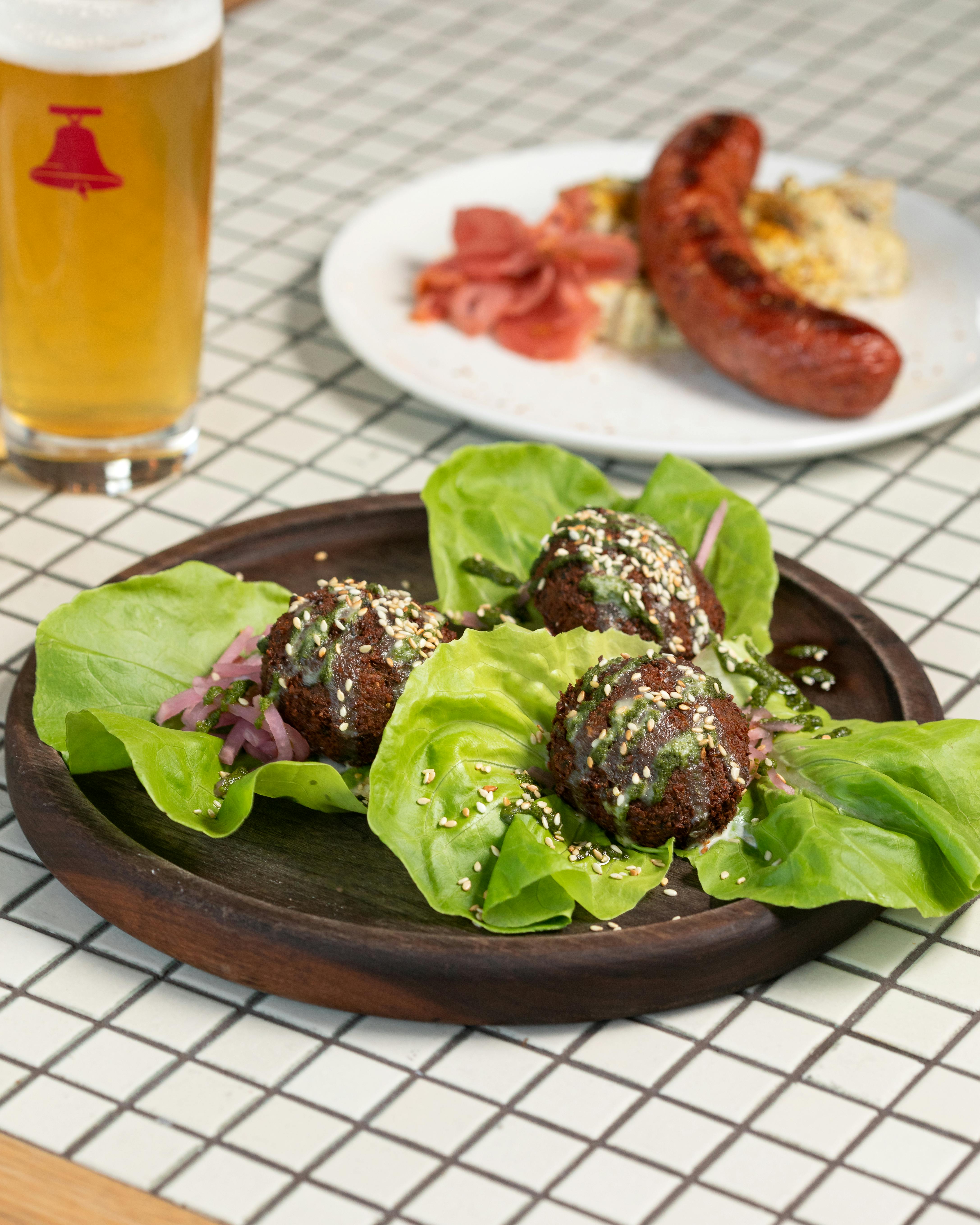 Then there are the crunchy chick pea falafels. Served on lush bibb lettuce beds with pale pink strands of fermented turnip, they are (very well) accompanied by a holy trinity of garlic parsley sauce, tahini and toasted sesame seeds.
Although the lunch and (slightly broader) dinner menus have padded out the number of mains, the majority of dishes still retain high shareability. Two or more can easily partake in the tender smoked half chicken in a white BBQ sauce, served with gleaming green garlic sauteed kale.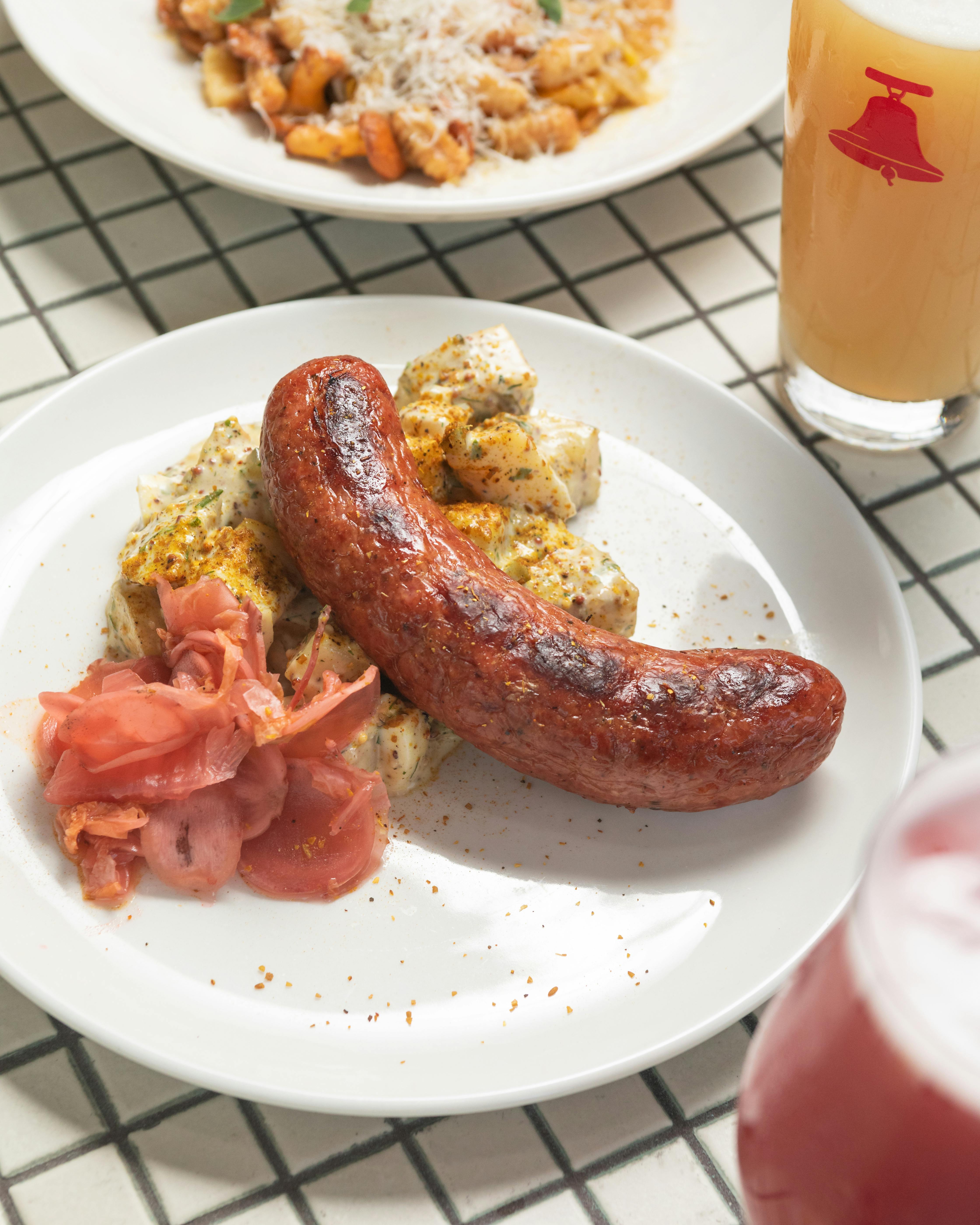 Also easy to divvy up is the smoked bratwurst. Made in-house from a mixture of pork and beef, the herb-infused grilled sausage comes with a subtly tweaked version of classic German accompaniments: new potato salad and a medley of fermented cabbage and radishes whose bracing tang marries nicely with the bratwurst's smoke and spice.
"Typically, everything that's on the plate we make in house," says Kotze. "We grind all the meat for our burgers and make all our sausages and pâtés as well as all of our sauces, our pickles, even our mustard."
"Sourcing quality ingredients is a huge priority," he continues. "We only work with farms and small suppliers. Although we don't necessarily refer to our food as farm-to-table, everything is very seasonally inspired."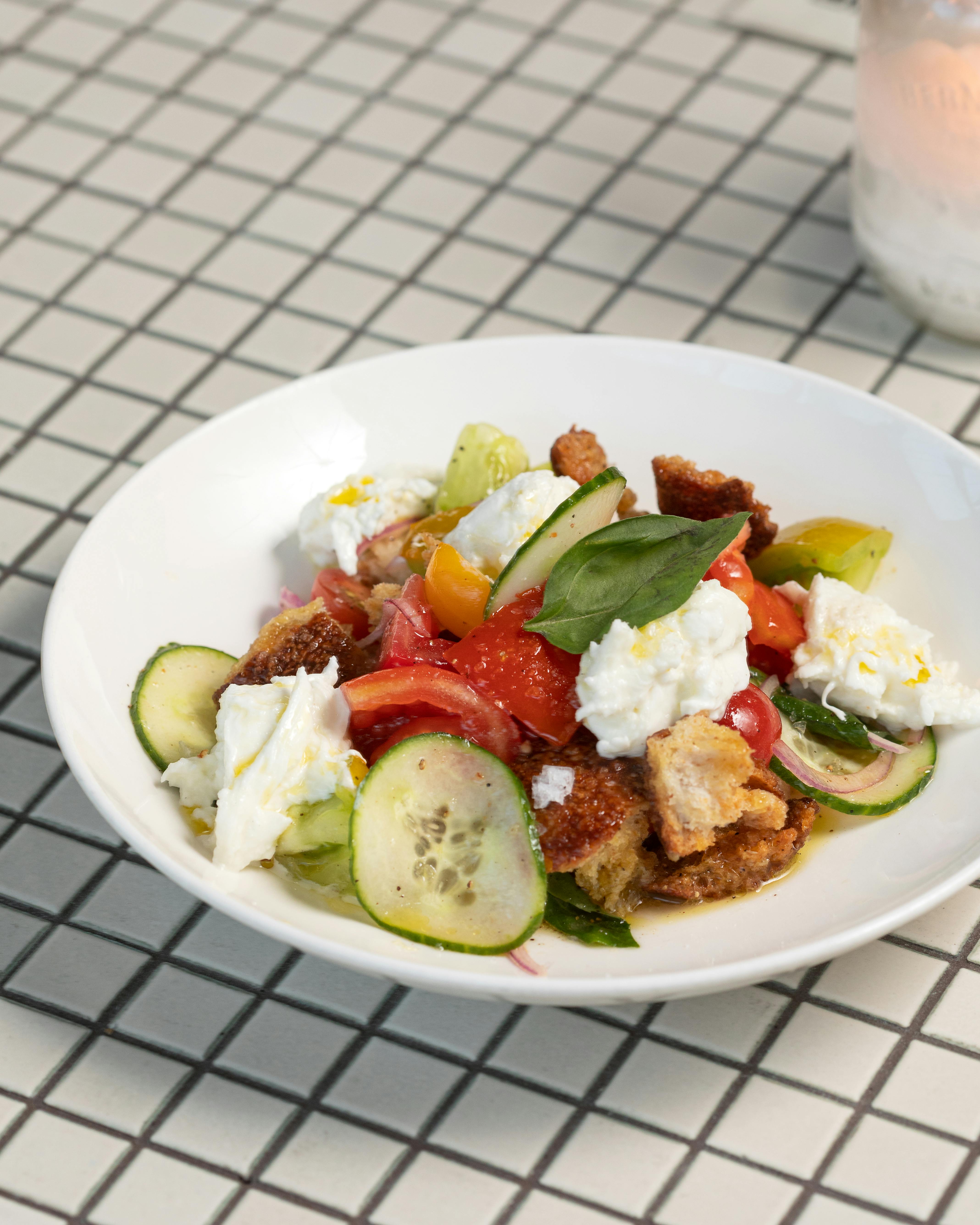 As Ontario summer seeps into fall, seasonality translates into offerings such as the panzanella salad. The earthy Tuscan dish is vibrant with heirloom tomatoes and crisp Japanese cucumbers to which small chunks of bread, toasted and garlicky, have been added along with creamy buffalo mozzarella. Doused in lemon juice and olive oil, and sprinkled with red onion and basil leaves, the flavours are as refreshingly bold and lusty as summer itself.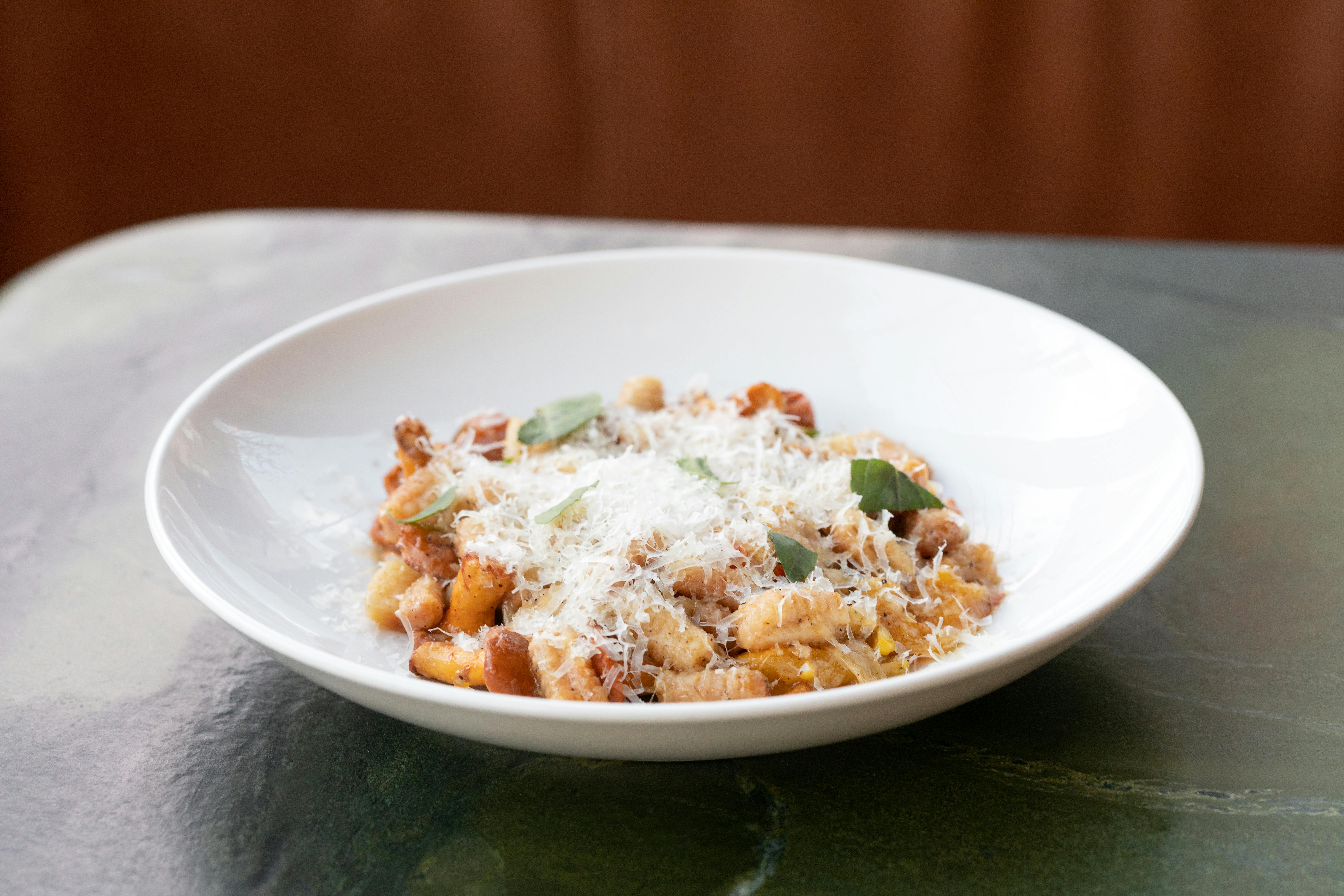 On the more autumnal side of the seasonal spectrum is the ricotta cavatelli. Homemade cavatelli pasta shells are cooked to an optimal state of al dente, then bathed in a buttery sauce that merges the unlikely but inspired trio of chanterelle mushrooms, pureed sweet charred corn and cherry tomatoes. The dish is finished with fresh basil leaves and a generous dusting of grated Saganash, northern Ontario's answer to Parmesan cheese.
"Jay has done such an amazing job with the food that, at times, I think it was a pleasant surprise for people who came in for a beer, to find such a nice menu," confesses Kotze. "People know our beer very well, and hopefully with the new space we'll also get more attention as a potential foodie destination."
In line with such aspirations, Bellwoods plans to eventually open seven days a week for both lunch and dinner. Egged on by popular demand, it's also seriously flirting with the idea of launching a weekend brunch menu. Also in the works is the creation of special pairing menus and events. As it is, whenever Bellwoods launches a new beer – there are currently 17 on tap – the staff get together to taste the new brew and discuss the dishes with which it pairs best.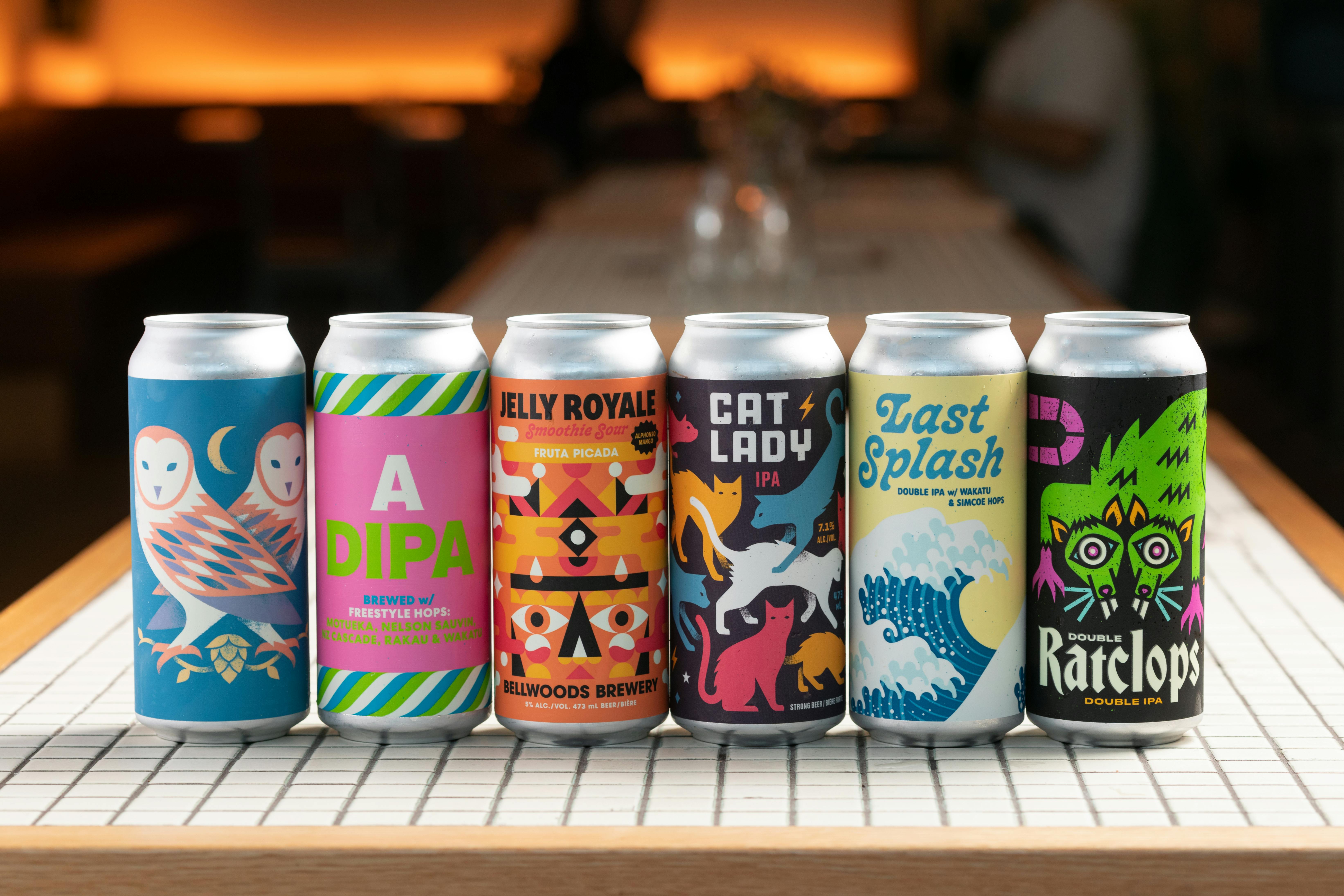 Recognizing that 10 years and 634 beers into its existence Bellwoods has become somewhat of a stable Ossington "institution," Kotze stresses that all the recent changes are more about style (and space) than substance. "At the core, we're still making the same great beer and offering the same great food we always have – only now we have an awesome new space in which to showcase it all."