Due to recent restrictions and a rapidly changing climate, please check with the restaurant on their current status of operation.
Photographs by Paolina Loseto
What used to be the space housing Schmaltz Appetizing, and later Gordy Smiles, is now The Haifa Room, a gorgeous snack bar at the north end of the Ossington Strip serving up creative lunch and dinner fare, with a side takeaway window to match.
The spot was founded by restaurateurs Waseem Dabdoub (The Costume House), Joseph Eastwood (Paris Paris) and Fadi Hakim (The Lakeview), who are thrilled to bring the essence of Haifa, to life in Toronto.
Haifa, located on the northern end of Israel, is the country's third-largest city and is populated by an almost even blend of Israelis and Palestinians. Boasting immaculate landscapes and gardens, Haifa is known for its peace and beauty, which is why Dabdoub wanted to name his newest venture after such an inspiring place.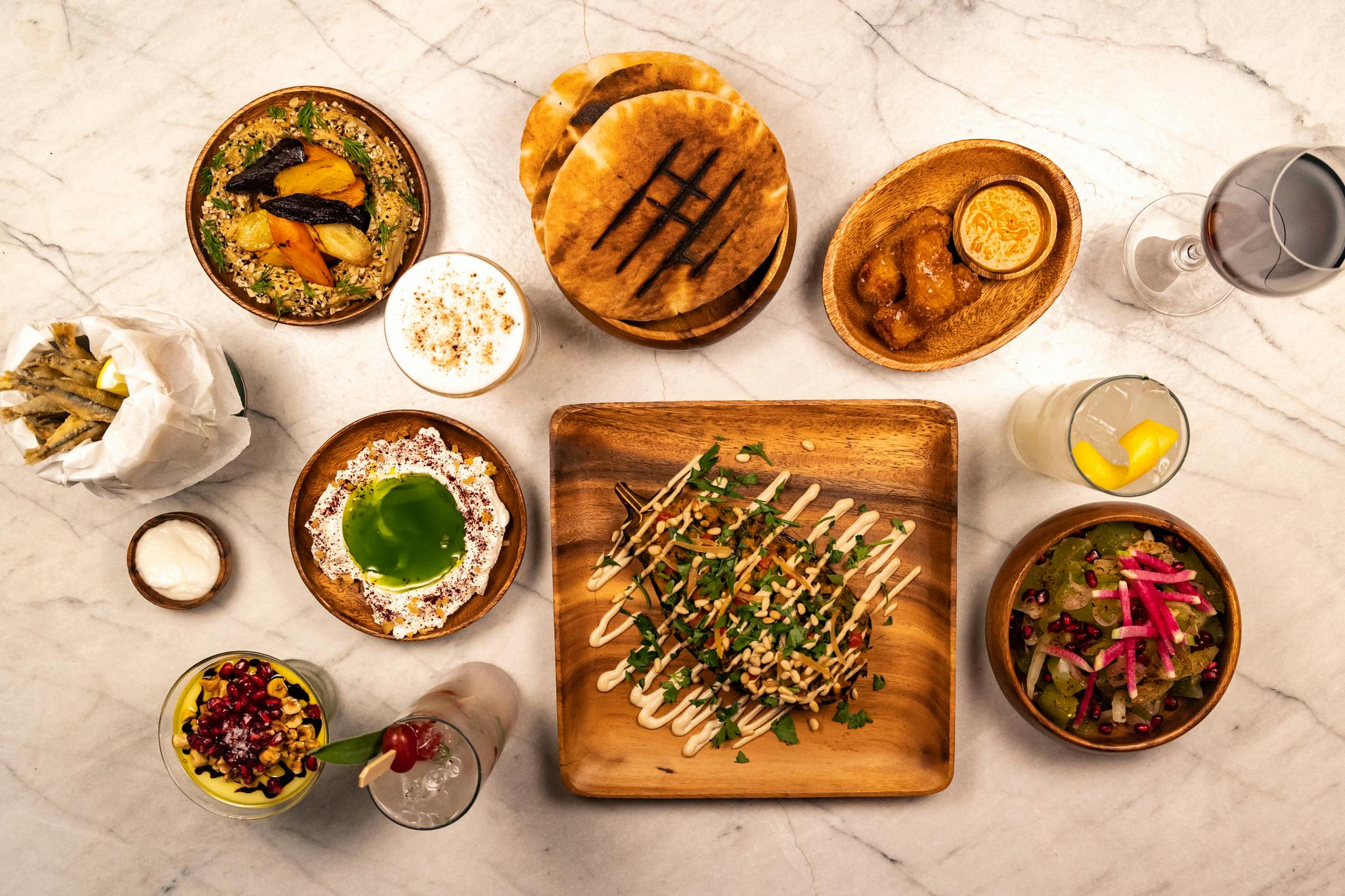 The street food in Haifa is unparalleled in that it reflects a wide variety of Middle Eastern cultures and carries a particularly rich history. This melting pot of the Israeli and Palestinian cultures has deeply resonated with the restaurant's owners; all three come from different backgrounds but share a common love and passion for the food served in Haifa.
Their chef, Jason Hemi, is an Israeli-Canadian who has worked his way up to become one of the city's top industry vets. Having worked at some of Tel Aviv's most acclaimed restaurants, as well as a number of chef Anthony Rose's Toronto establishments, Hemi is incredibly knowledgeable in the kitchen and is ecstatic to finally be a chef de cuisine, where he can curate his own menu, and lead a back of house team with grace.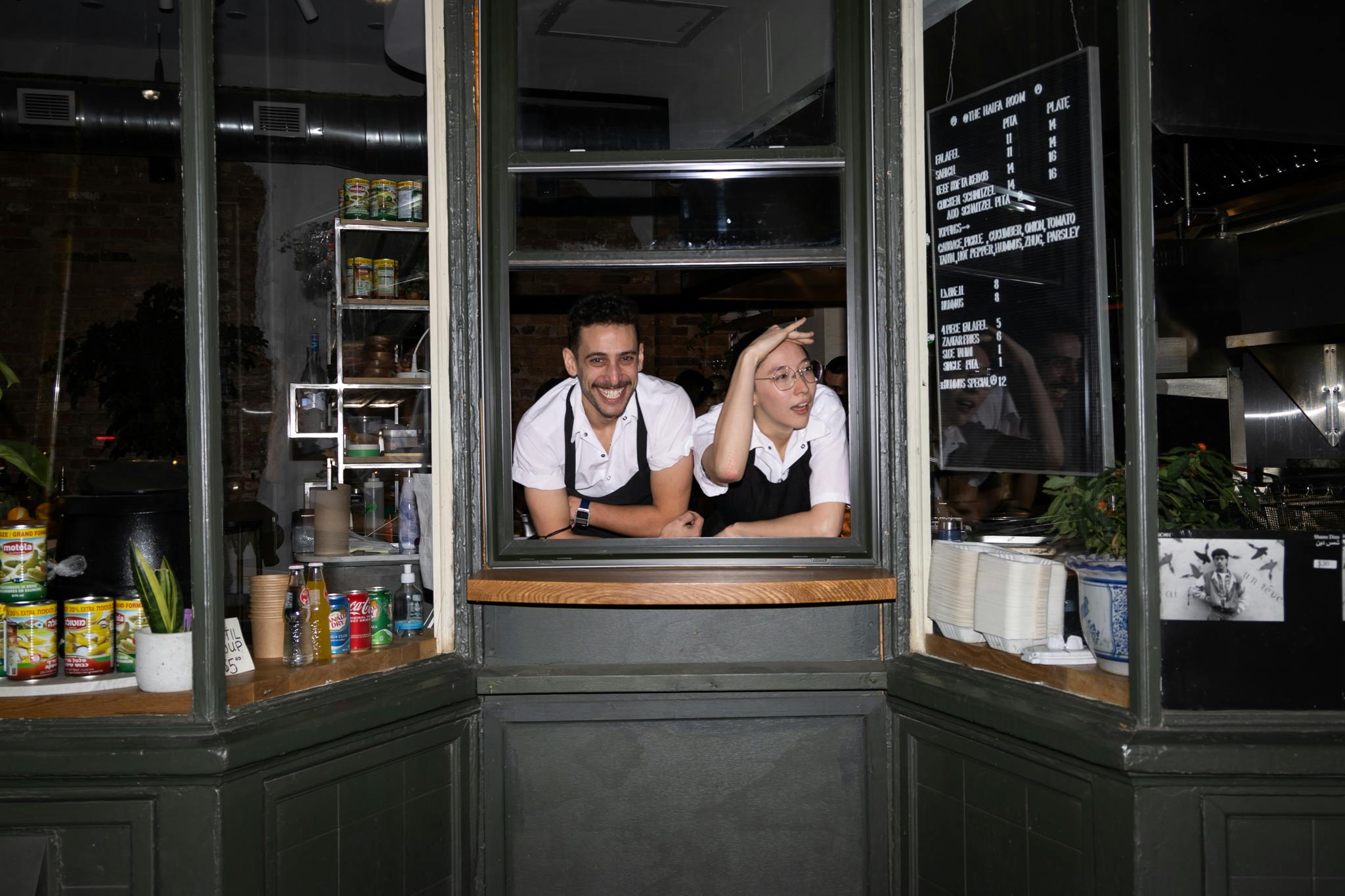 The takeout counter at The Haifa Room was where it all began when the spot first opened up last summer. Though serving falafel, schnitzel wraps and sabich has undoubtedly been successful in captivating that street food vibe, the team is excited for the space to now be open, so they can dive into their roots and provide guests with a truly unique dining experience.
Located on the ground floor of the historic Waltman heritage building, the captivating neon orange lights hanging near the large paned windows are the first thing onlookers will notice. Being located on the corner and in a space with such high ceilings allows the light to pour in from more than one direction, adding to that sense of calm when dining with them.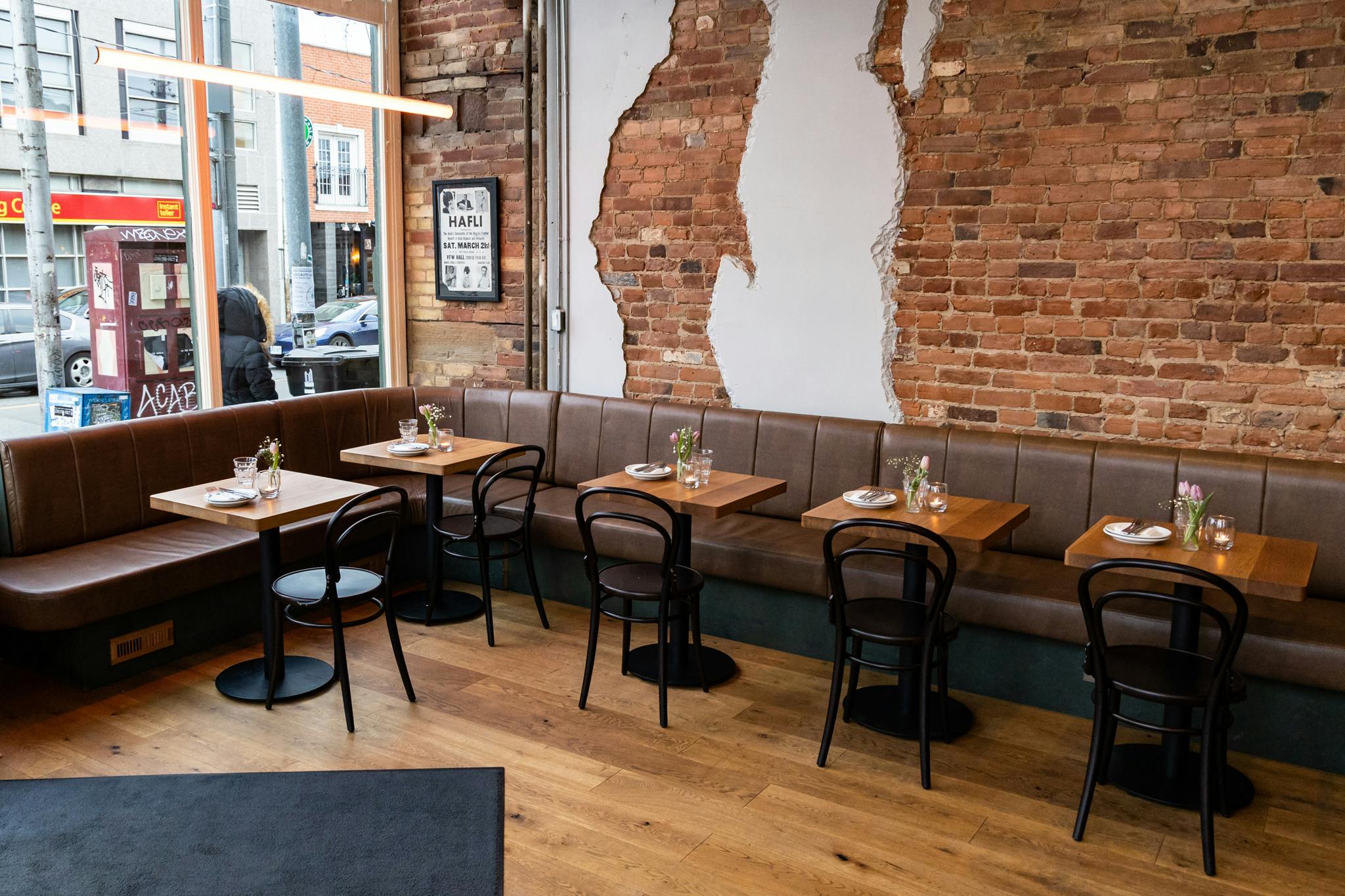 The interior is complete with an exposed brick wall, a rich leather wrap-around banquette, a small amount of cozy wooden tables, and an eye-catching marble-tasting bar with stools and low-hanging light fixtures. With nothing to hide, the open-style kitchen has the majority of its ingredients on display, so you can watch your meal and cocktails being prepared right in front of your eyes.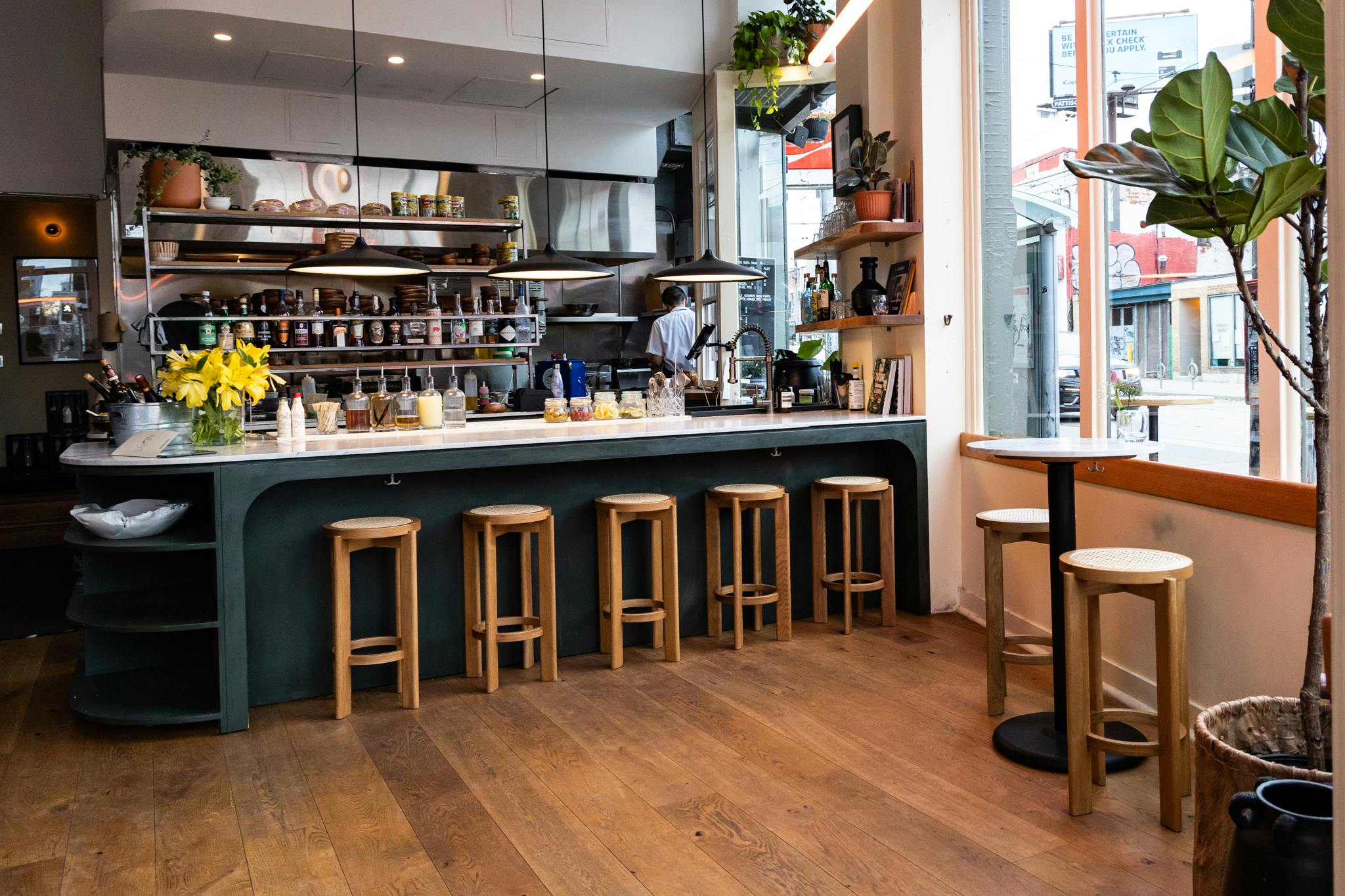 From the little floral centrepieces to the knick-knacks carefully placed about, it's clear that every little decorative detail has been carefully considered. There are hints of greenery throughout the space, and as the day turns to night, the room transforms from a casual eatery into a hip, non-pretentious modern snack bar, where you'll feel more than comfortable sipping on cocktails and munching on their delicious eats.
As a snack bar, all dishes at The Haifa Room are meant to be shared. Hemi has had an absolute field day building this menu, and says he couldn't have done it without the help of his talented team, but especially his sous chef, Julia Hancock-Song, who has played a vital role in carving out the execution of the dishes.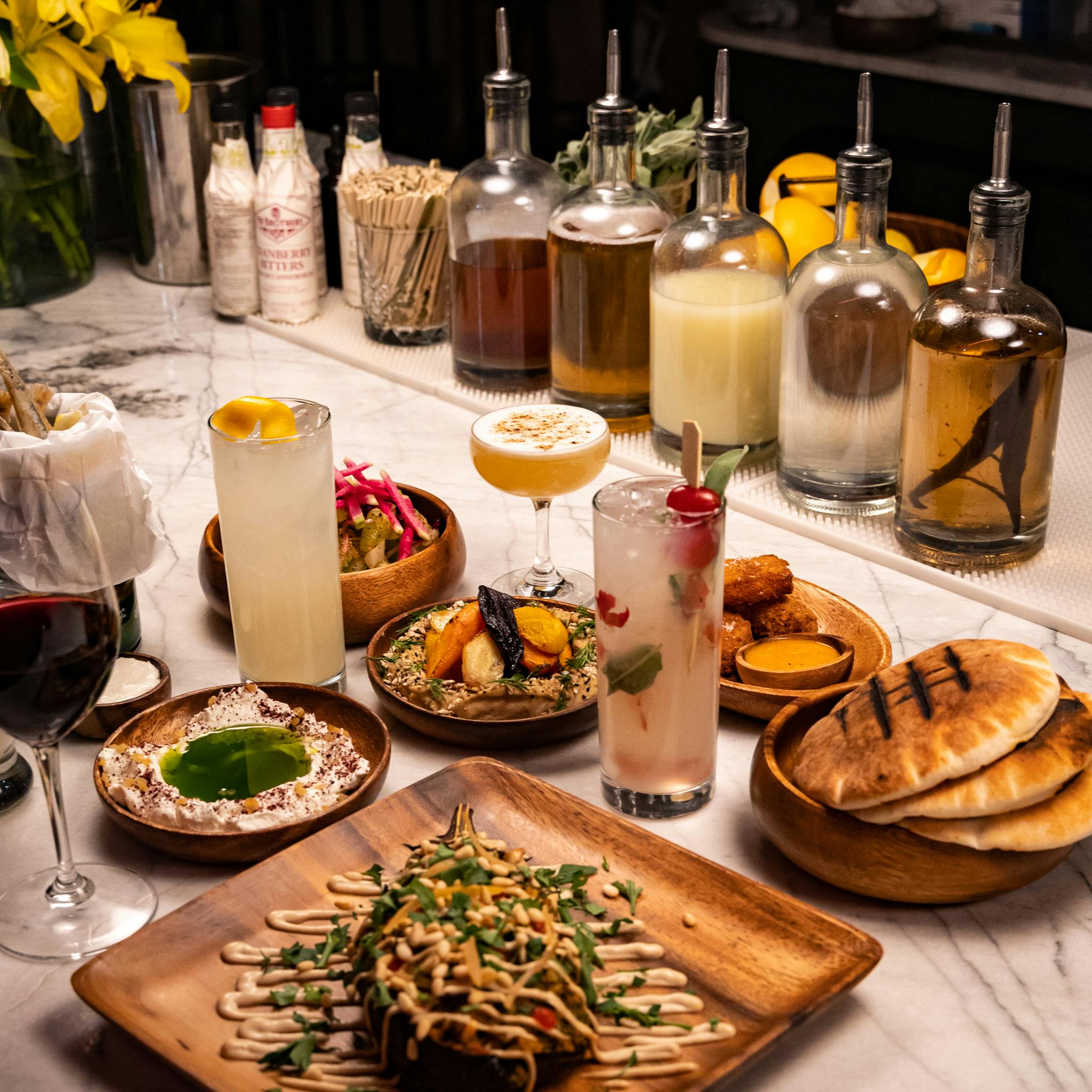 When working in Tel Aviv, Hemi was inspired by the simplicity of the food and appreciated how the chefs would let the flavours of the produce speak for themselves. He says, "I've been trying to play with the idea of stripping elements away from a dish to get to the raw necessities of the flavour. When putting this menu together, we decided to try and see how far we could go with that while still putting a creative spin on the food we already know and love."
Overall, the menu is diverse and includes a variety of dips, meats and plant-forward dishes, emphasizing fresh bursts of bright flavour. To start, Hemi highly recommends the Hummus, but not just the House Hummus, the Hemi Hummus. He says, "I wanted to create a hummus that could go with anything, and that had the consistency of a whipped butter."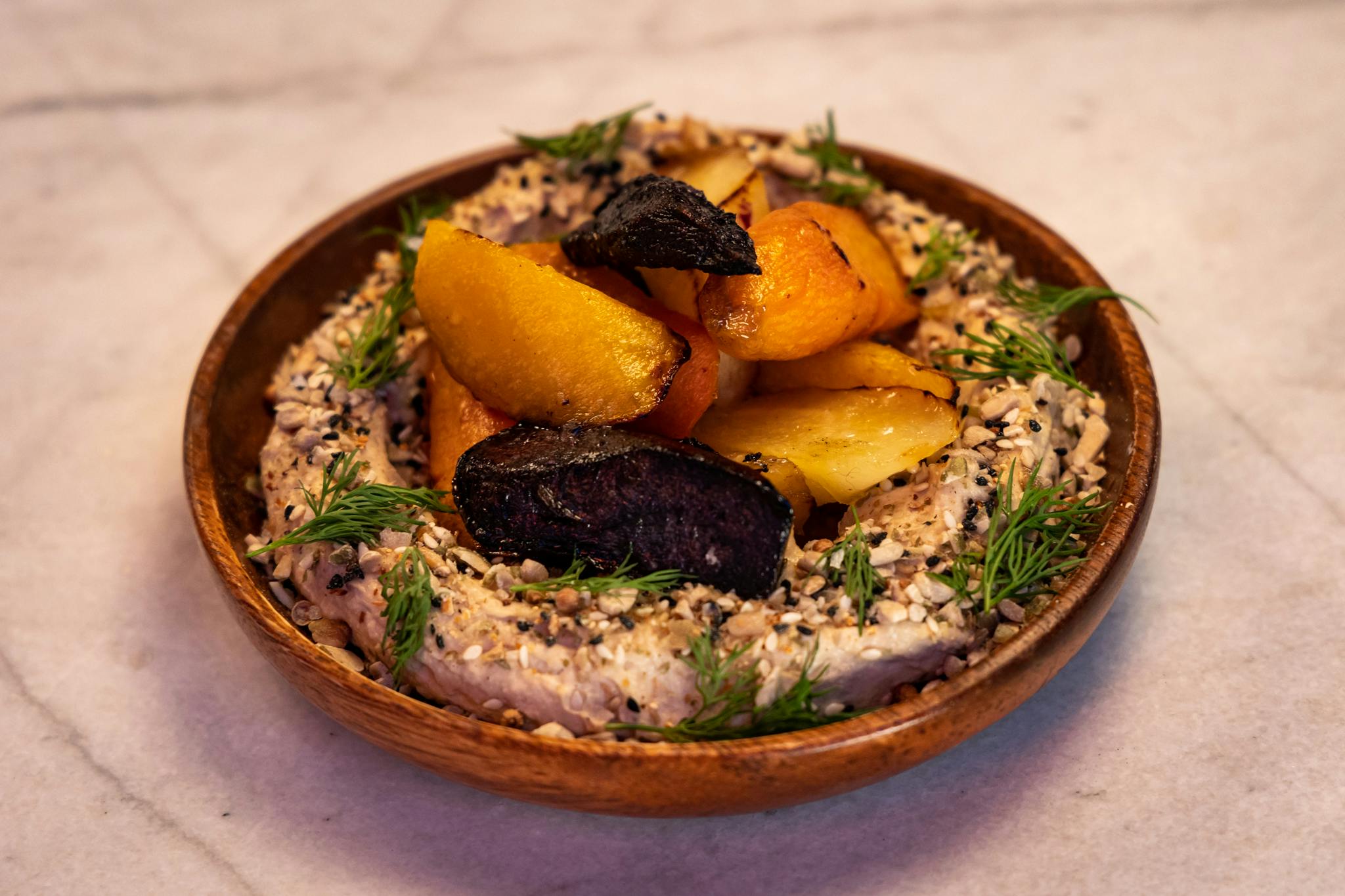 Soft and smooth, Hemi's Hummus is prepared with fresh heirloom carrots, seeded dukkah (with sunflower, pumpkin and nigella seeds), and dill; however, the accoutrement will continue to evolve as the seasons change. It's also mandatory to order a side (or two) of the Sababa Pita, baked fresh in-house and served warm to order.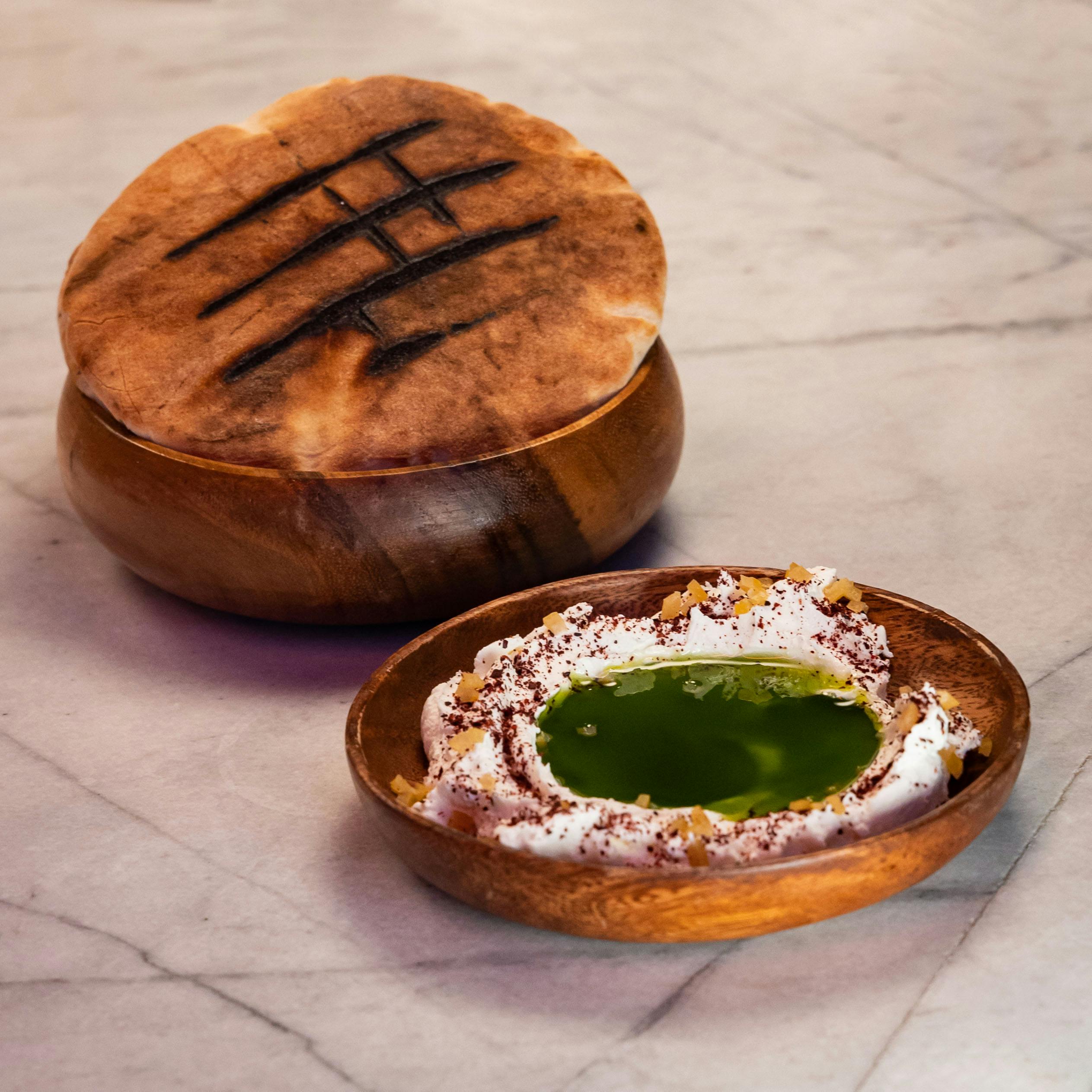 The dipping fun continues with Mona's Labneh, which is Dabdoubs mother's recipe. When served, it is made with a well in the middle, filled with house-made herb oil, containing parsley, cilantro, dill and any other herbs they happen to have lying around the kitchen. The oil is an eye-catching vibrant green and adds so much flavour depth compared to the richness from the labneh. Also prepared with preserved lemon and sumac, this is an unforgettable dip, sure to be devoured moments after hitting the table.
It's also imperative to munch on the Monforte Halloumi Sticks. Served with three pieces, these fried delights are stuffed to the brim with a hand-selected Monforte cheese from Stratford. Made with water buffalo milk, this varietal of cheese is less-salty, so the taste of the pink harissa, labneh, honey, lemon and tomato 'al ras' dipping sauce, comes through quite nicely.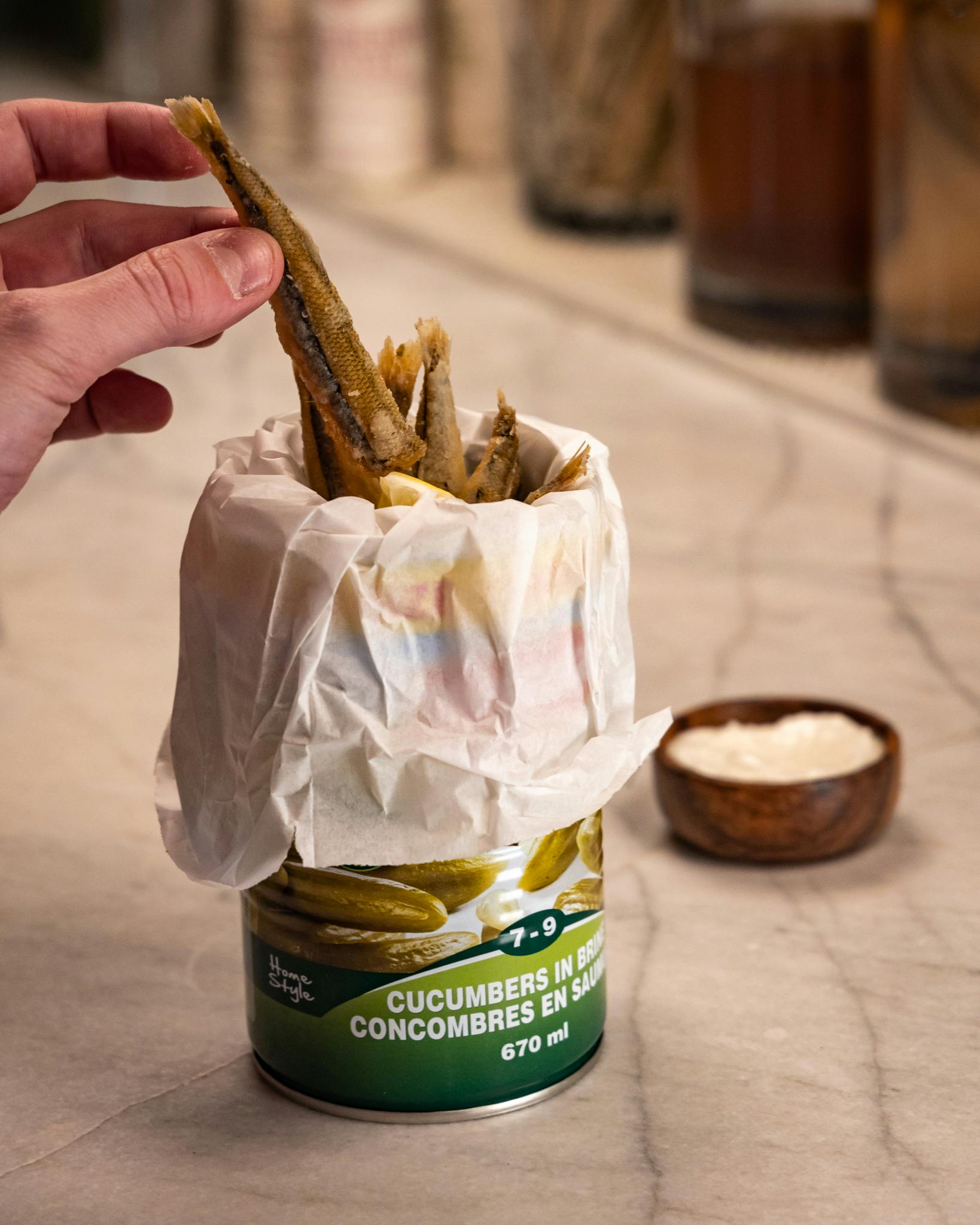 Moving onto the Fried Smelts, another unique menu item, served with seven pieces in an up-cycled pickled can and a side of toum: a whipped garlic emulsion dip with a smooth, clean flavour that pairs excellently with the already naturally salty smelts.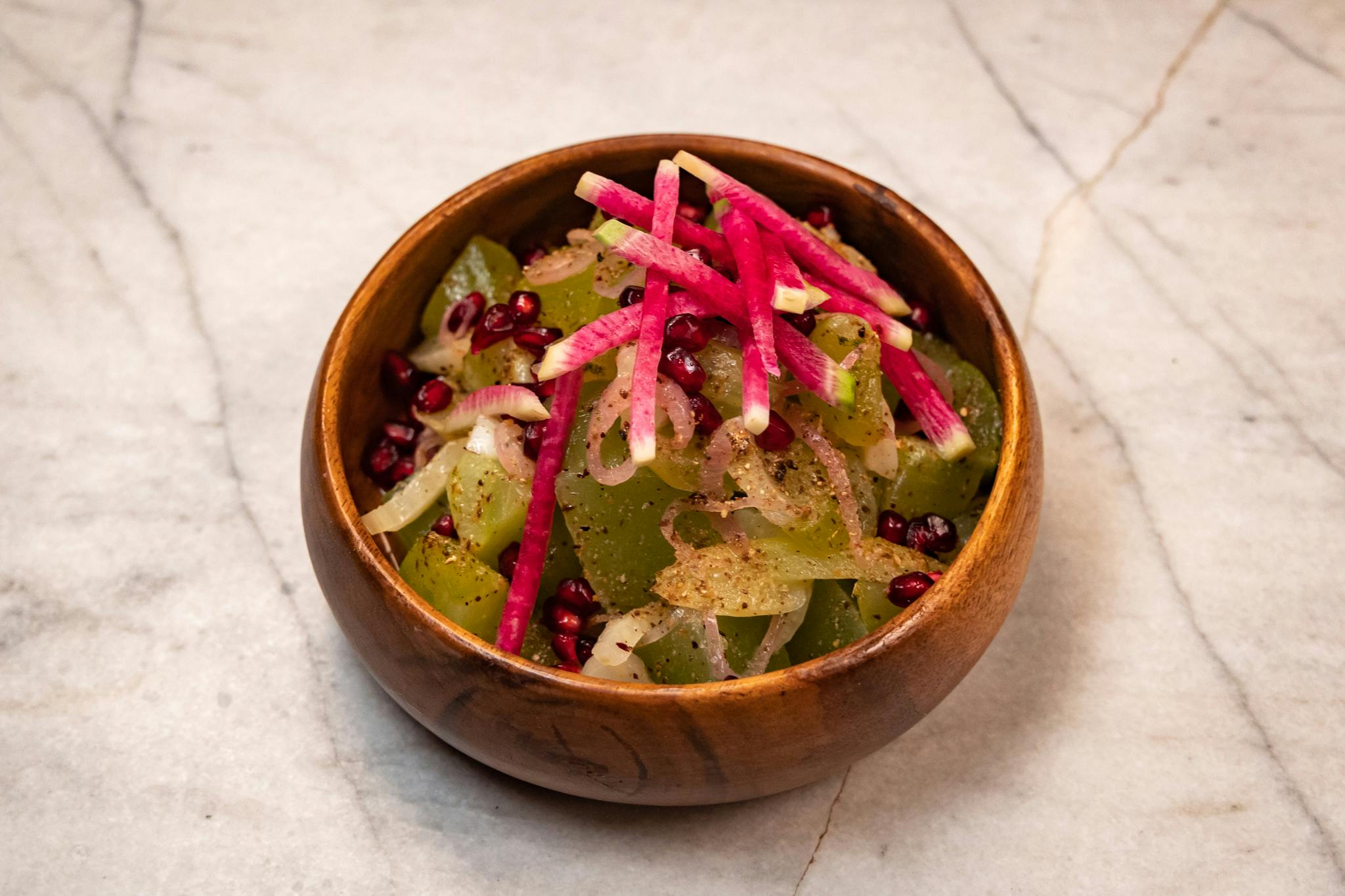 It was important for the team to have a couple of lighter, salad-based options to balance out the fried items. The Salad Shuk is a contemporary take on an Israeli salad with cucumber, fennel, honeydew, sumac shallots and Persian black lime for an extra kick of acidity. The honeydew is marinated and soaked in the compressed dressing in vacuum-sealed bags, so the melon soaks up all the rich flavours. Topped with pomegranate and watermelon radish, this dish certainly isn't one you'd find anywhere else in the city.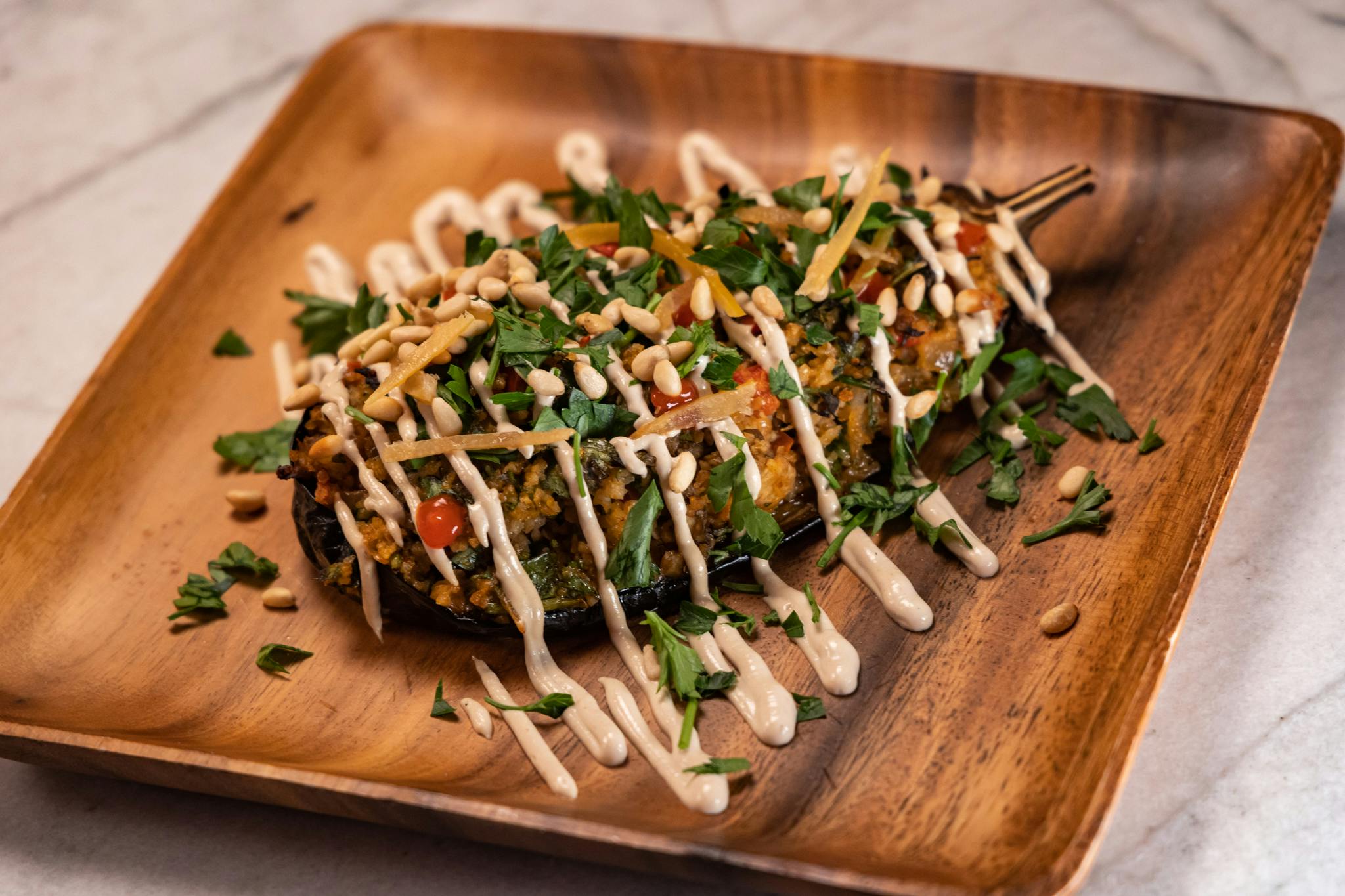 During their many tastings, the team went through several eggplants before landing on the perfect one for their vegan Loaded Eggplant dish. A halved eggplant is hollowed out and stuffed with roasted eggplant, bulgar wheat, smoked paprika, sherry vinegar, red pepper, pine nuts and preserved lemon. Topped with a fermented bell pepper paste, tahini sauce, slivers of preserved lemon and parsley, this hearty option is filled with Mediterranean-inspired flavours and is perfect for sharing.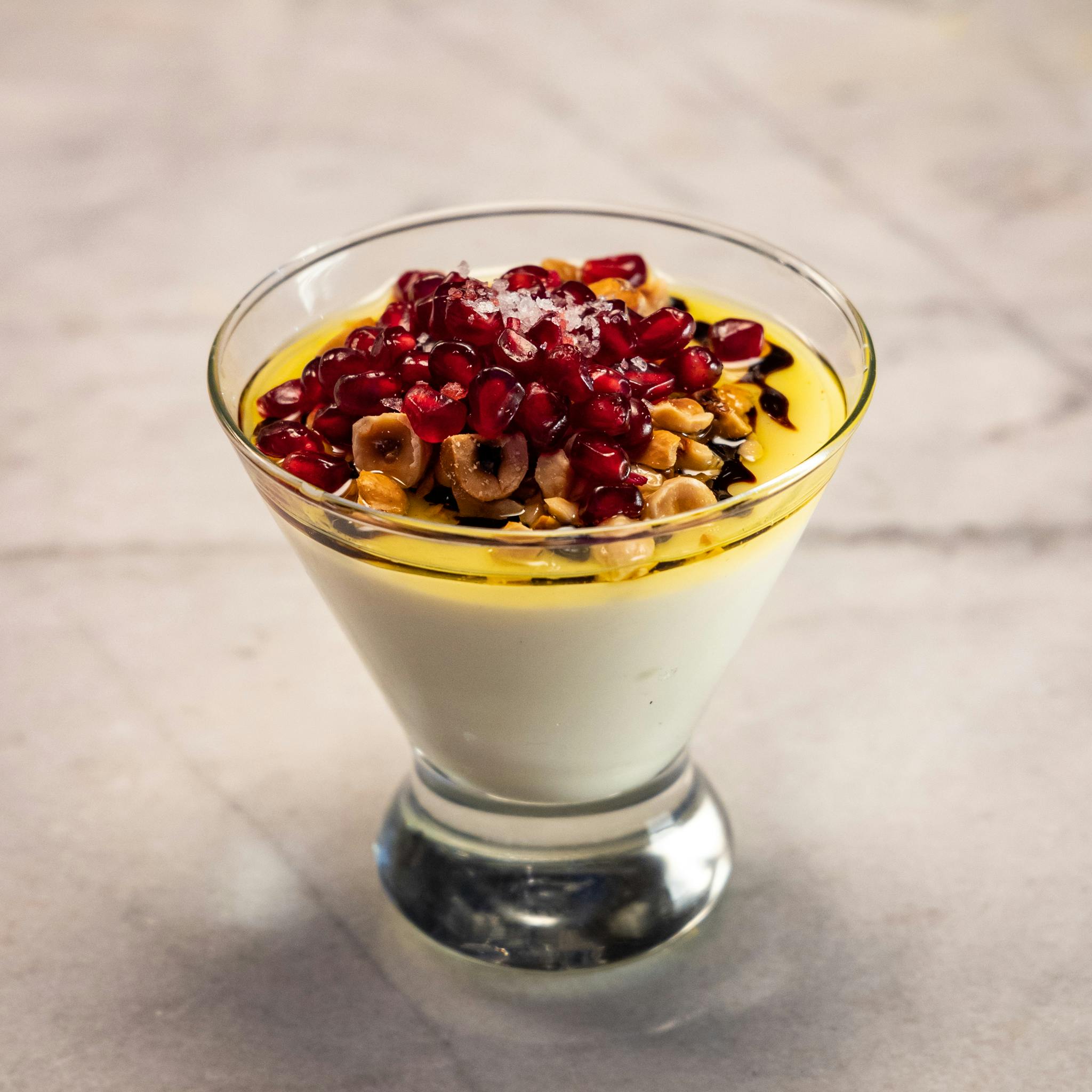 For dessert, Hemi recommends going with the Muhallabiyah, a traditional cold Lebanese dessert which the team has successfully made unique to The Haifa Room. Comprised of a simple custard and topped with orange blossom water, hazelnuts, pomegranate and Maldon salt, this dish is beautifully aromatic with just the right amount of sweetness and bright flavours to cleanse the palate after an invigorating meal.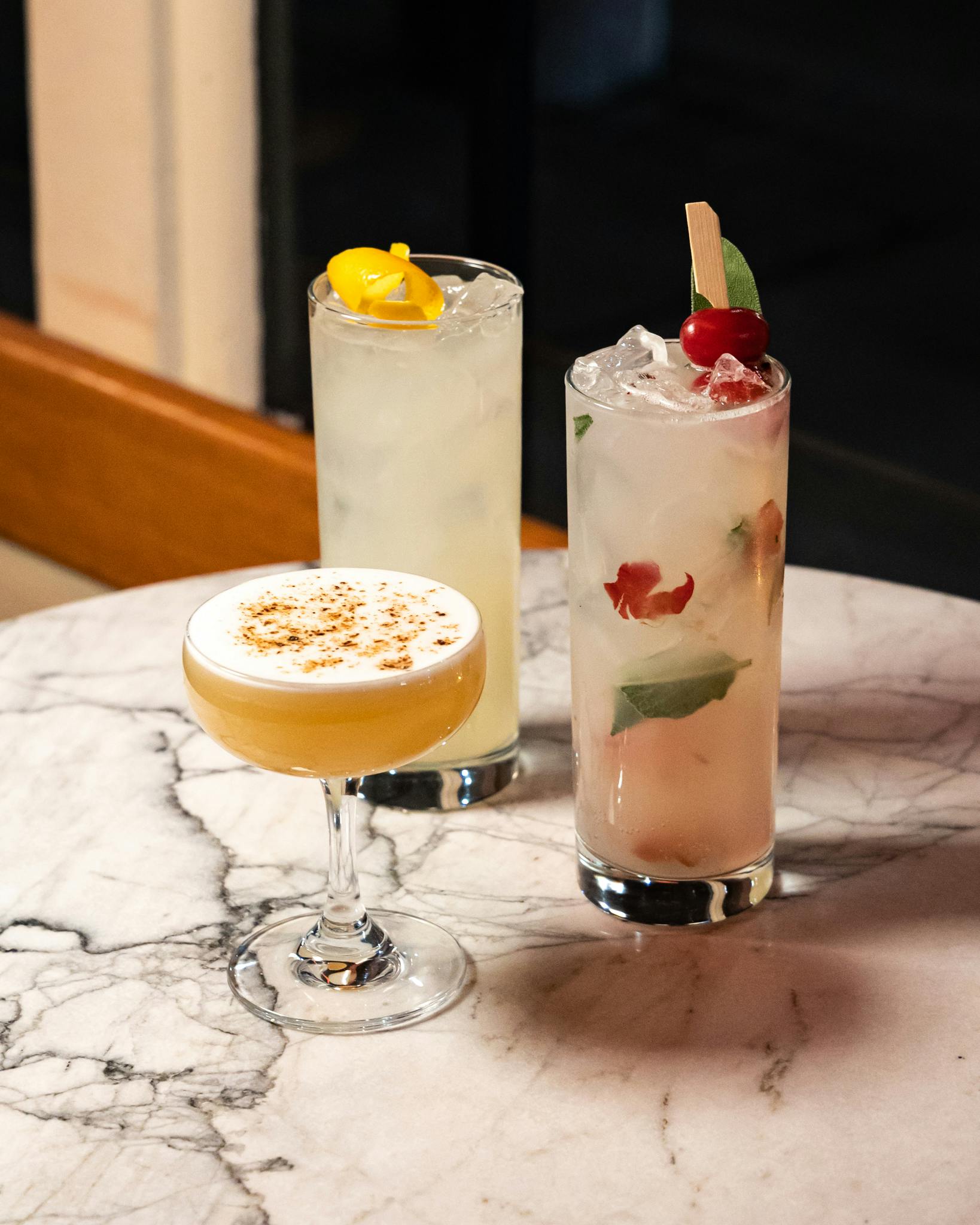 The cocktail program greatly complements the dishes on the menu; they are crushable and crafted with the utmost care. The Grapes of Bay is one of the most popular beverages on the menu. Made with gin, lime juice, simple syrup, grapes muddled with sage and lengthened with tonic for some effervescence, this cocktail is their elevated take on the classic G&T.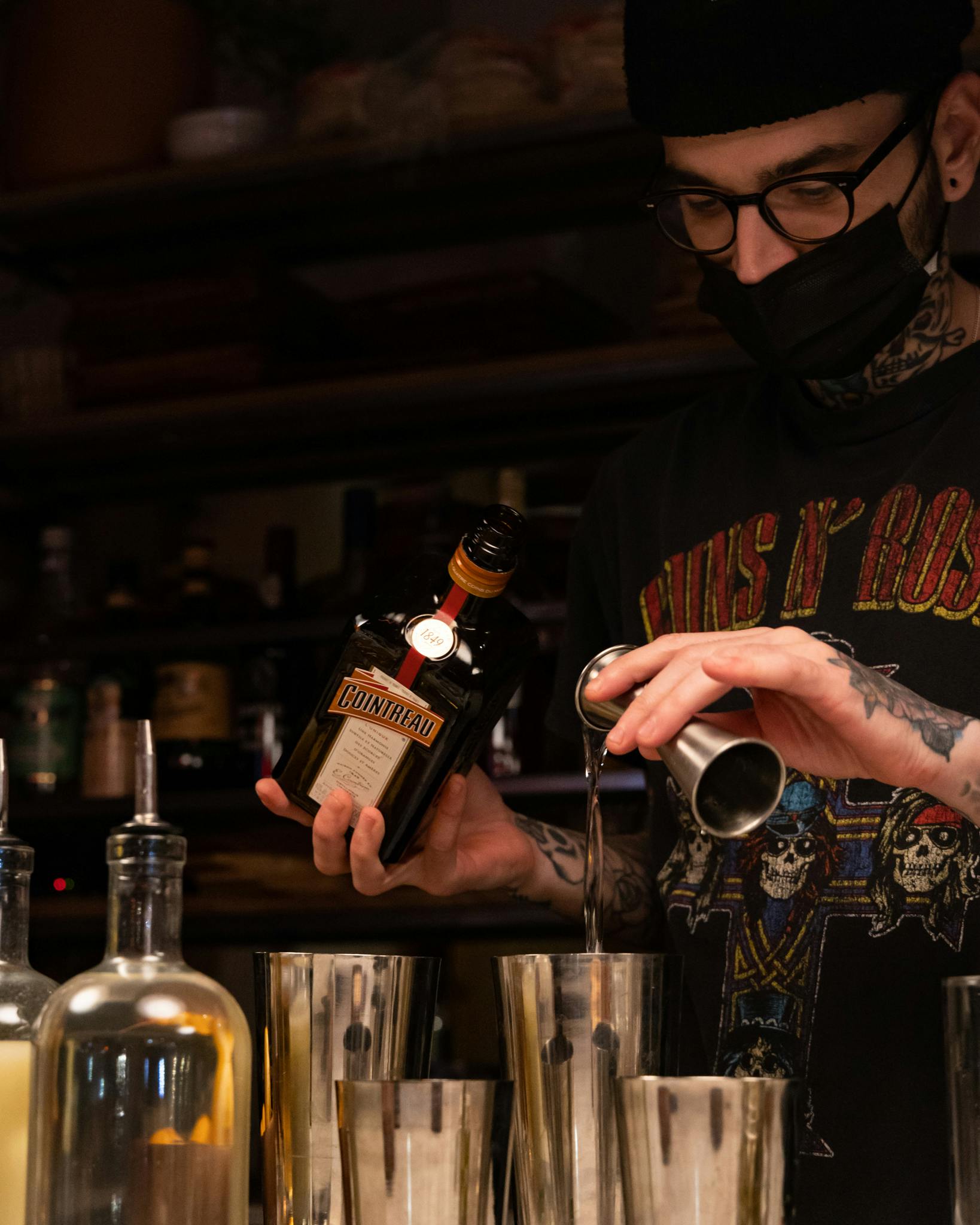 Next up is the Nice Driveway, a smokey margarita with a blend of Mezcal, Cointreau, citrus, Agave and topped off with a local ginger-beer like sparkling water from Lark.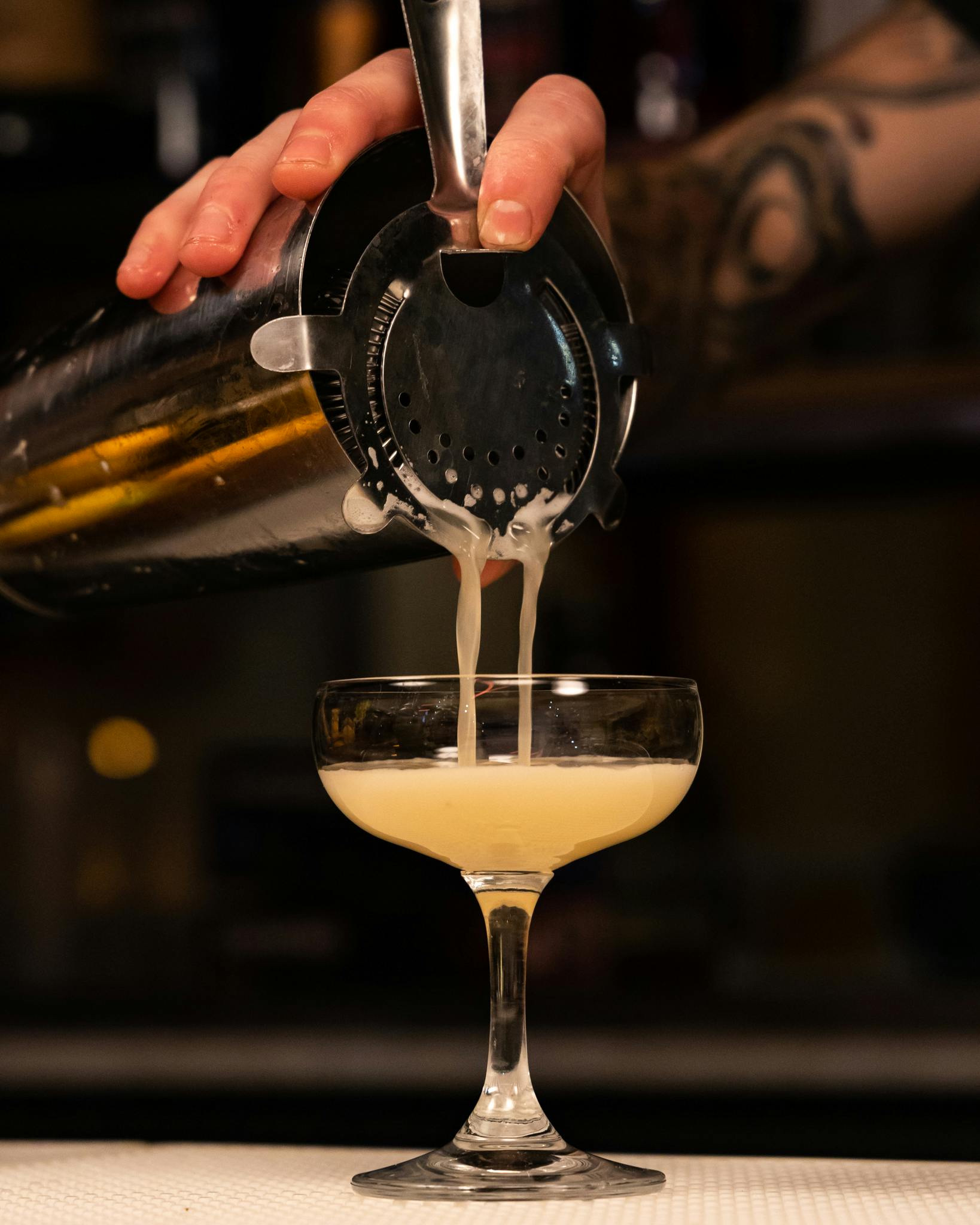 Another noteworthy cocktail is the Madagascar sour (which got its name from the house-made Madagascar Bourbon Vanilla bean syrup found in the recipe). Shaken dry and then on ice, this sophisticated beverage is also made with citrus, bourbon and egg white and is topped with finely grated black lime for a tangy finish that perfectly balances out the sweetness from the vanilla.
Aside from the cocktails, there is a small wine list with the majority of the varietals coming from Europe. The exception, however, is the Galil Mountain Sauvignon Blanc hailing from Galilee at the northern tip of Israel. In terms of beer, there are a couple of options from Blood Brothers, along with a Pilsner, brewed by the Urquell Brewery in the Czech Republic.
The Haifa Room is located at 224 Ossington Avenue, on the southwest corner of Dundas and Ossington. They are open Wednesday to Sunday from 11 a.m. to 11 p.m. for lunch, dinner and takeaway via their side takeout window.
Seating is walk-in only, so be sure to arrive on the earlier side if going in for dinner to ensure you can snag a table. The team will be launching a few new menu items in the coming winter months, so be sure to follow them on Instagram to stay up to date with their new releases.