At 6 p.m. on any given Wednesday night, you'd never guess that the Financial District's newest restaurant, the swanky Black + Blue, has only been open for five weeks.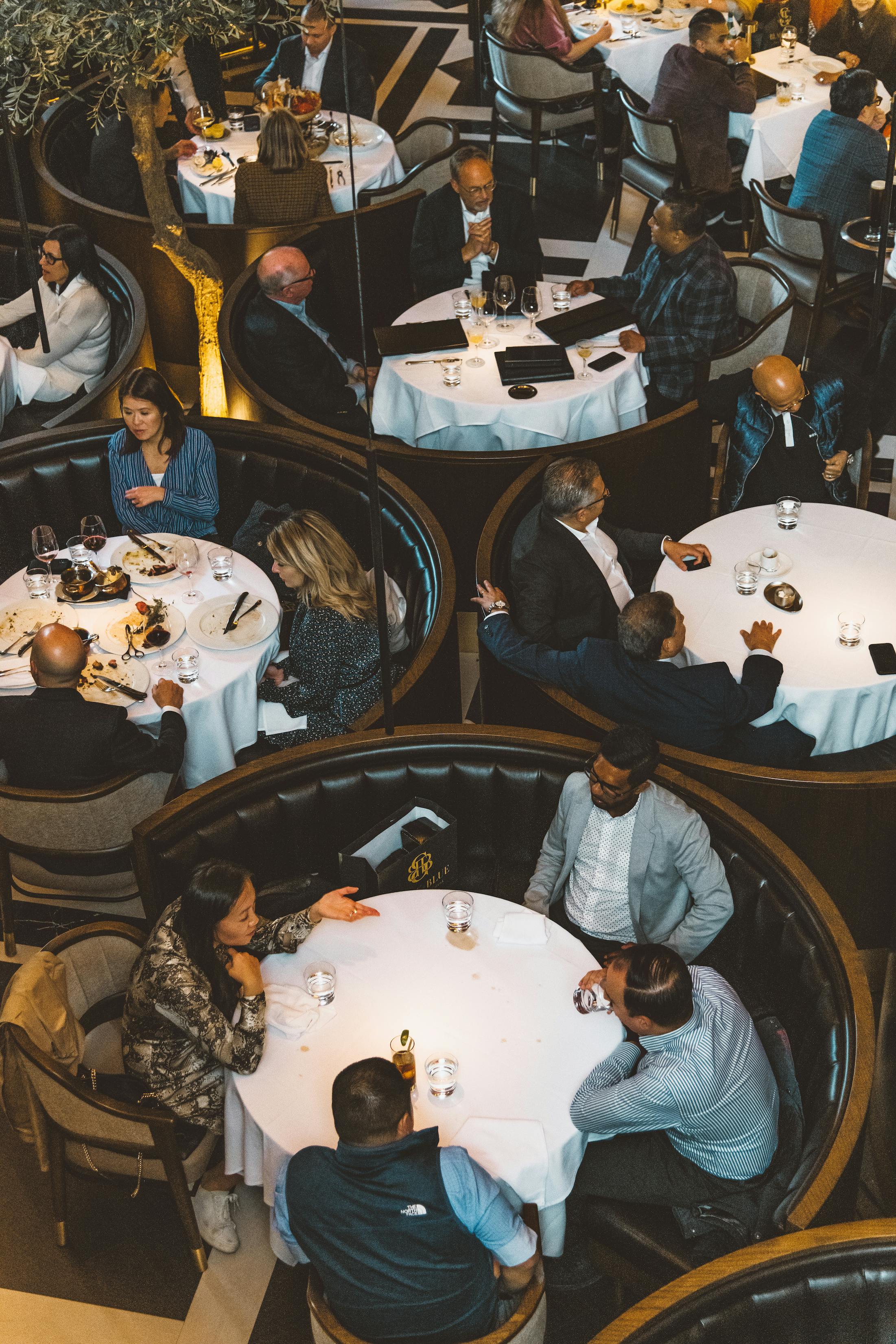 Located in the Exchange Tower in First Canadian Place, home of the Toronto Stock Exchange, Black + Blue is a modern take on a Canadian steakhouse with a 9,000 square-foot, two-storey interior, soaring ceilings reminiscent of the space's former time spent as a bank, ambient lighting, pale wooden accents and a multitude of private spaces. First opened in Vancouver, Black + Blue is owned by Emad Yacoub, founder and CEO of Glowbal Restaurant Group.
For such an impressive venue, it's hard to believe that the old TSX building was never scooped up as a restaurant venture prior to Glowbal's debut with Black + Blue. After a complete overhaul, it's almost unrecognizable, and in the best way possible.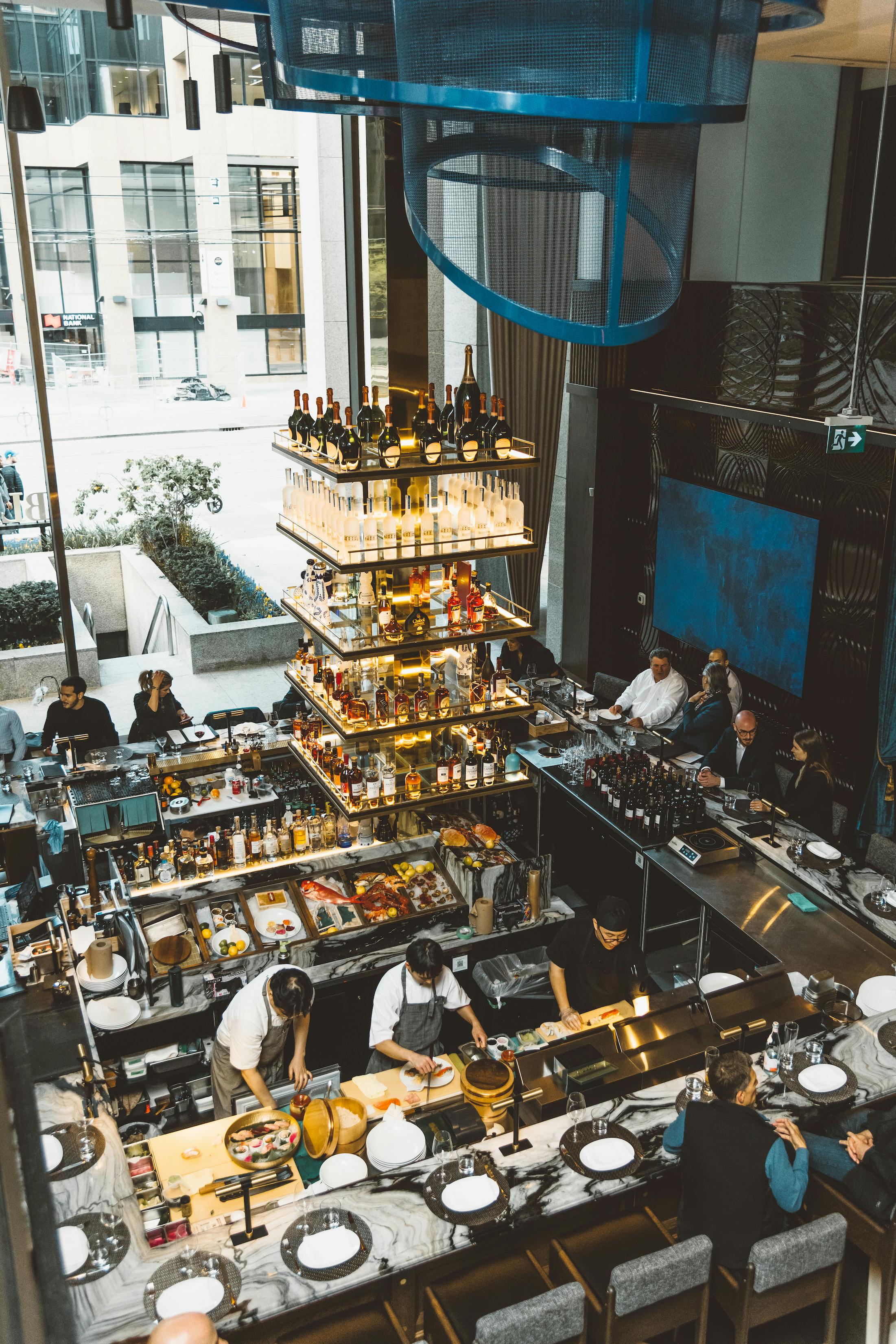 On the lower level, a wraparound bar that doubles as a prep station shows off large, Japanese golden snapper and New Zealand bluefin tuna suspended on hunks of ice, as the restaurant's sushi chefs expertly slice and dice a selection of made-to-order sashimi and nigiri.
While a business casual dress code is encouraged, here, you'll find a multitude of patrons, some dressed in corporate two-piece sets and others sporting Toronto Blue Jays jerseys and baseball caps, who chatter away over glasses of wine, cocktails and beer. Some are tucked into plush, leather three-quarter booths at round tables covered in stark white tablecloths, buried in energetic conversation and delicious entrees, while others sit cross-legged at the bar, where a five-level glass shelf positioned in the centre of it holds all kinds of premium spirits, from Grey Goose vodka to Johnnie Walker Black Label. Happy hour runs from 3:30 to 5 p.m. and just before the next dinner rush at 8:30 p.m. hits, around this time, Black + Blue is home to a diverse crowd.
In the midst of it all, scurrying waiters dressed in three-piece suits take turns escorting patrons to and from their tables and carrying plates, platters and drinks to and from the kitchen and bar.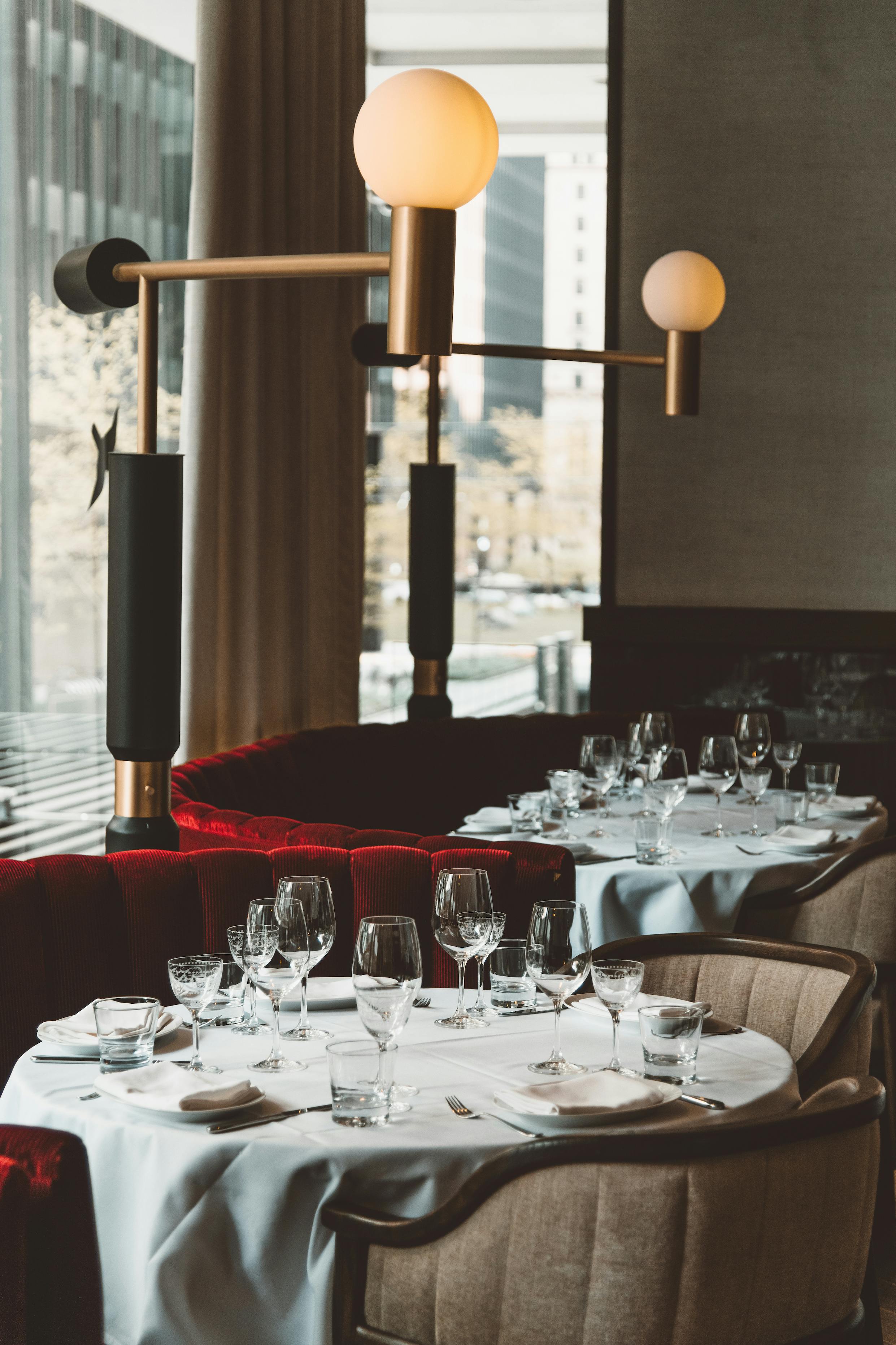 While the white tablecloths add a classic touch reminiscent of a classic steakhouse, more modern and subtle design elements that hint at the nature of the restaurant's past can be found in the details, including a wall-length glass mural of two fighting bulls, designed entirely of steak knives, or the gilded ceiling covered in 24-karat gold. Upstairs in the gallery, additional guests can be seated via red velvet booths and square tables and chairs. Here's where you'll also find one of two private event spaces, a wine room enclosed by floor-to-ceiling glass panels and decorated with countless bottles from all over the world.
Outside, Black + Blue has a spectacular, enclosed heated patio that has seating for 60. The electronic roof provides a solution for outdoor dining for roughly six months of the year.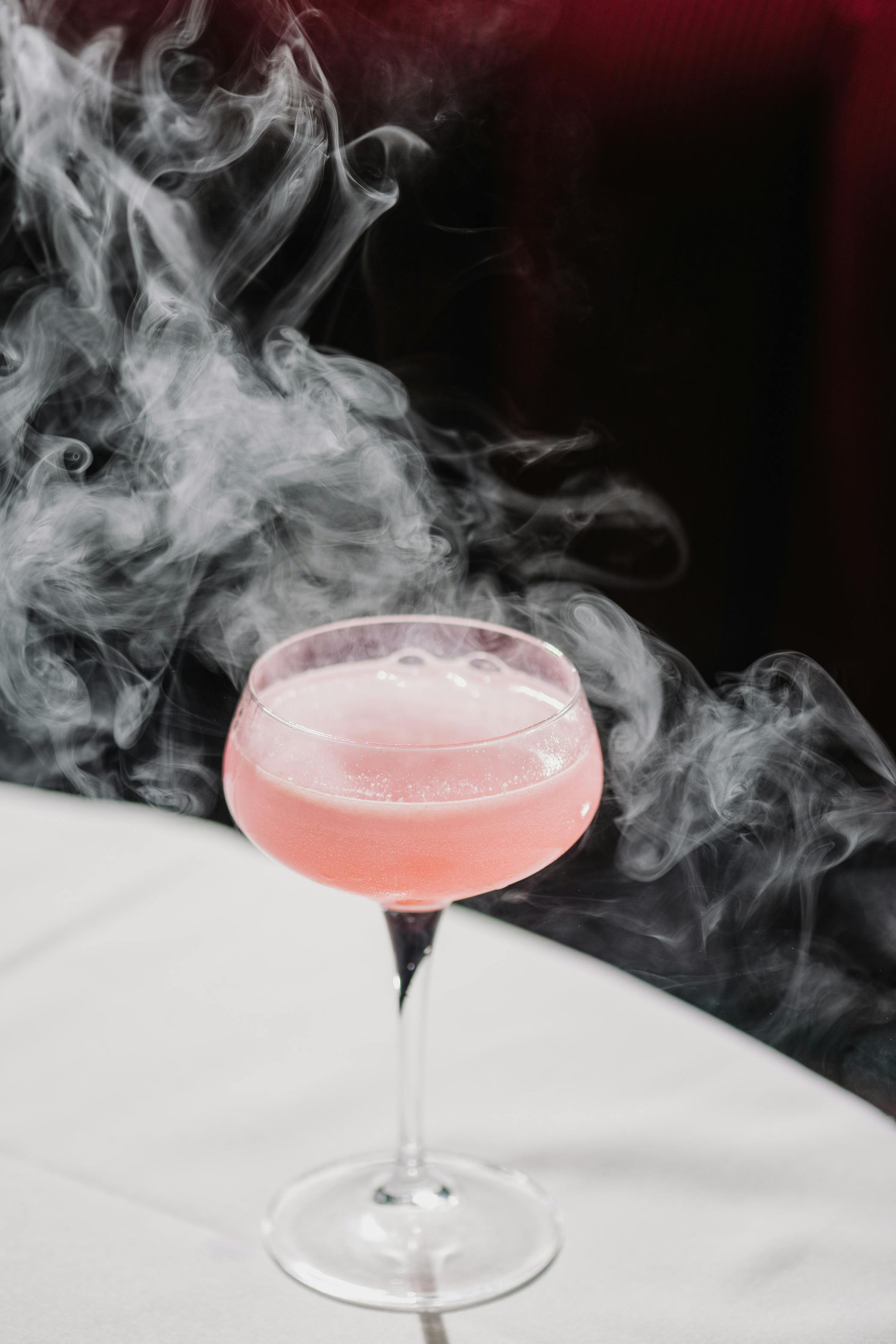 Playing on classics, the cocktail menu features a handful of signature drinks that put a riff on some old favourites. The B and B Cosmopolitan ($19), for example, is a fun bubblegum pink colour that's a blend of hibiscus-infused Ketel One vodka, St-Germain, Cointreau, fresh lime juice and white cranberry, finished off with a citrus smoke bubble.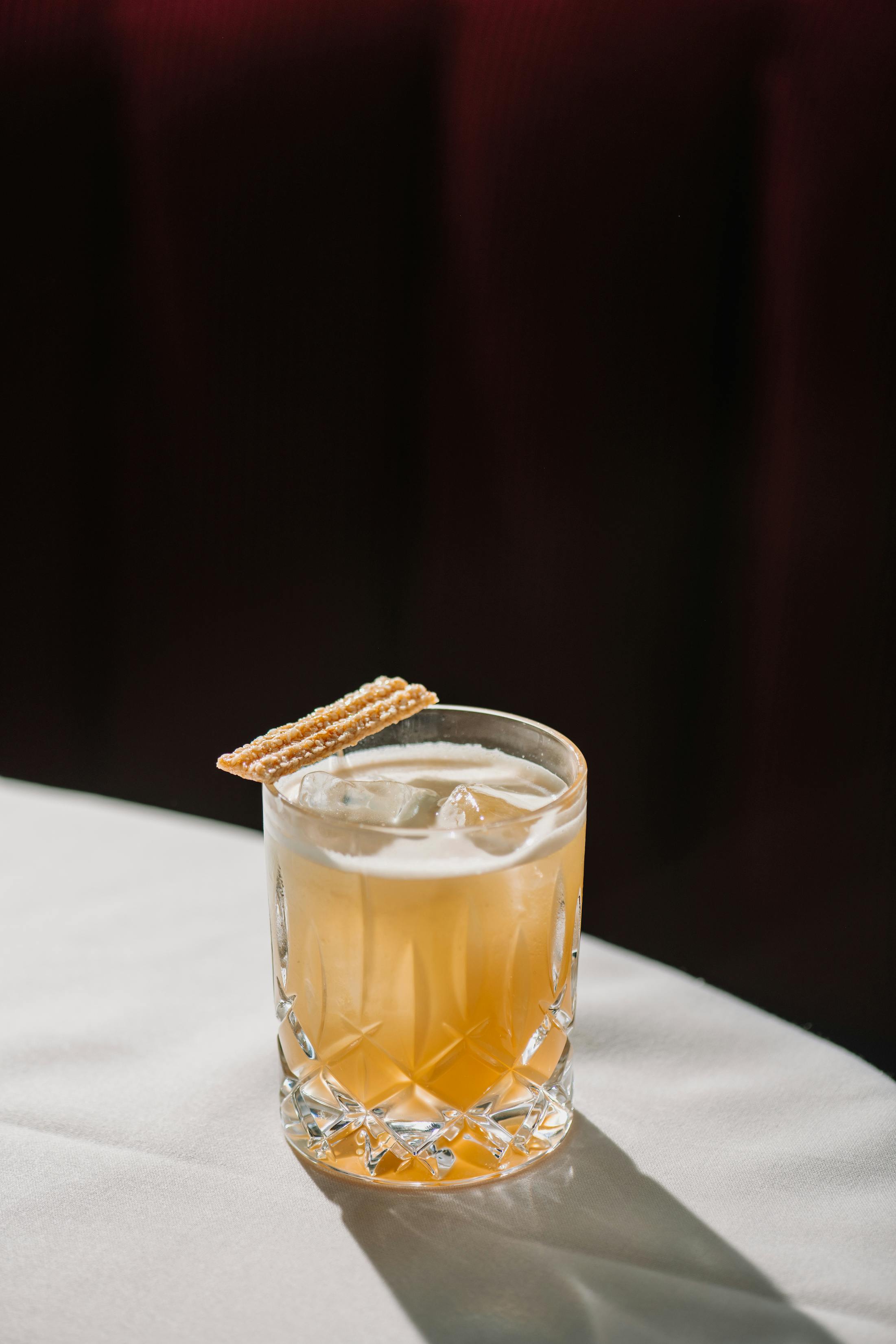 Meanwhile, the Old Fashioned ($22) kicks things up a notch with Michter's U.S. small-batch bourbon and a dash of oak-aged maple bourbon barrel bitters.
Spirited drink names like "Hush Money" and "Bay Street Boys" are a nod to the restaurant's roots in Toronto's Financial District. The "Black or Blue?" is the house signature cocktail, and named as such because, alongside a blend of lime juice, ginger, pandan kocha tea umeshu and toasted sesame mist, guests can take their pick between Johnnie Walker Black Label ($22) or Johnnie Walker Blue Label scotch ($75).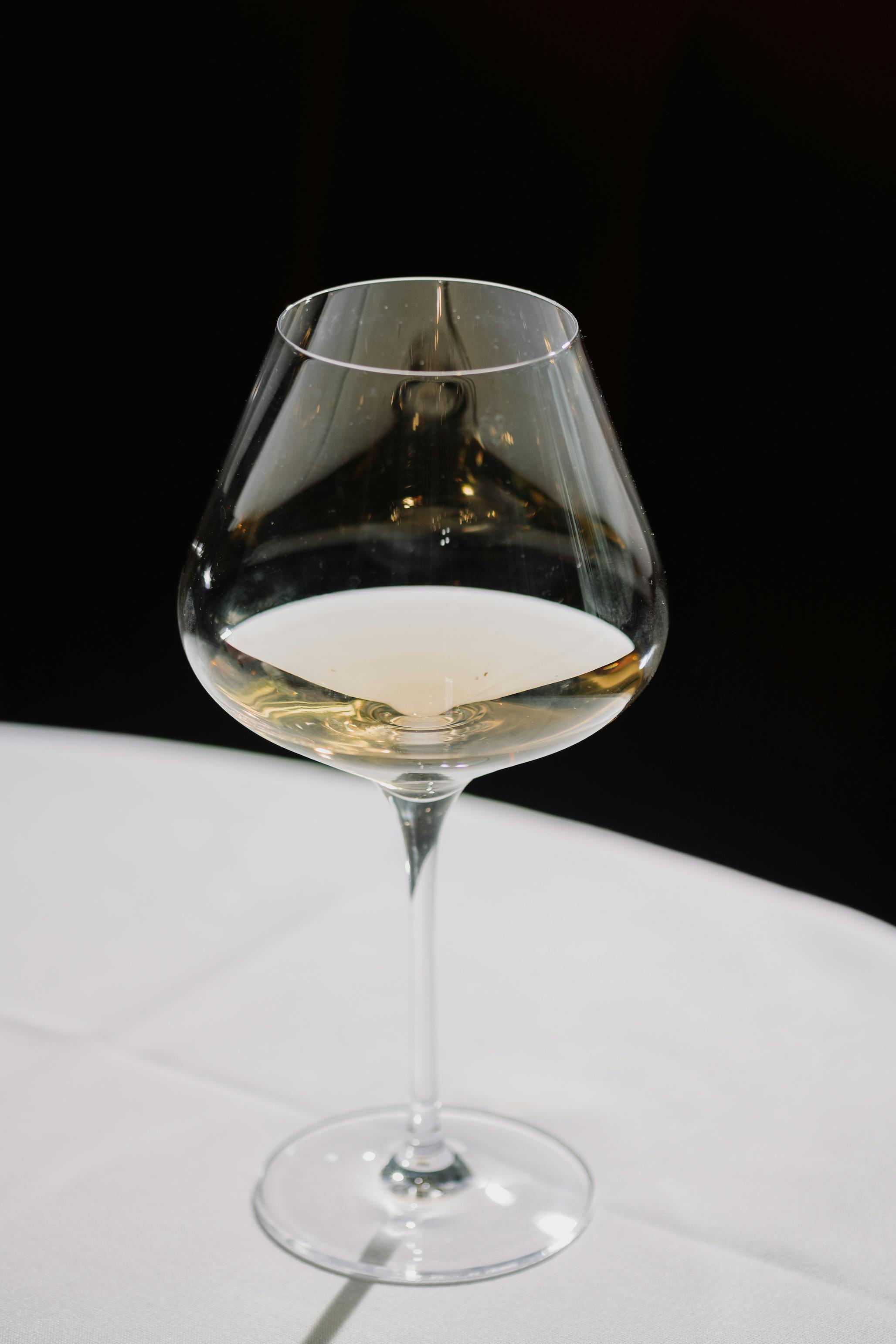 Cocktails aside, Black + Blue houses roughly 300 wines, with a strong slant towards Italian wines, specifically from the Tuscany and Piedmont regions, as well as a carefully-curated selection of Spanish and South American bottles.
"We're a classic steakhouse in a modern setting, and that's the approach we're taking with the wines, too," says Andrew McArthur, sommelier, Chase Hospitality Group, noting that Black + Blue carries tried-and-true favourites like Bordeaux from California, but also esoteric wines not necessarily found at other steakhouses in the city.
Black + Blue also has a program in partnership with Coravin, which allows the restaurant to open bottles of fine wine without having the bottle sit open for too long. Using a hollow needle inserted through the cork, the device displaces the wine with neutral argon gas, which permits wine to be let out of the bottle without risking oxidation.
As for that age-old saying of pairing beef with a glass of red?
"The majority are going to enjoy a glass of red with their beef, but for the finer cuts, like our kobe, people might want a wine that's a little bit more subdued so as not to overpower the flavours of their steak," McArthur says.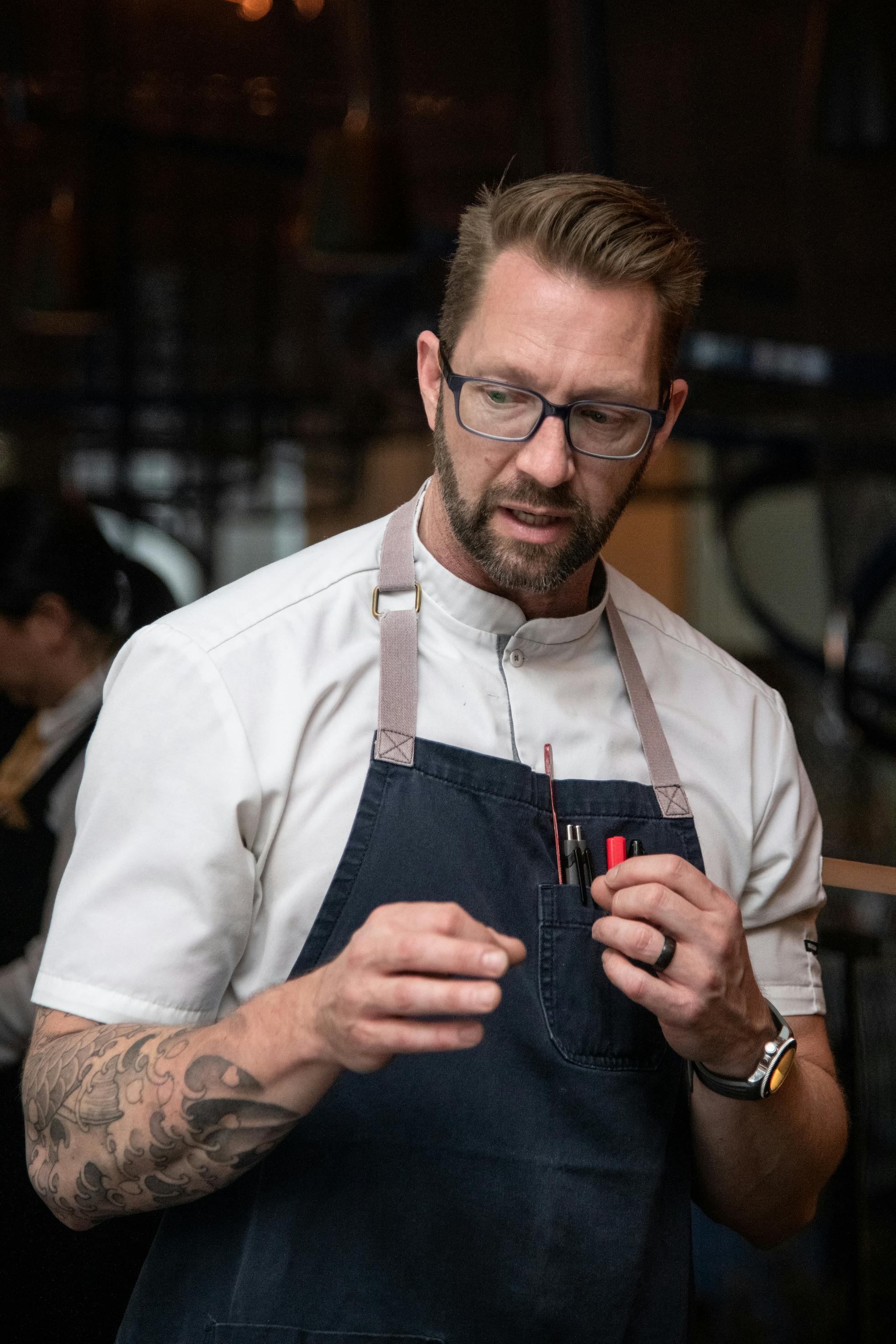 Helmed by Executive Chef Morgan Bellis, Black + Blue takes its menu back to the golden era of steaks, with a lively twist. The Kobe Beef Certified restaurant offers some of the rarest cuts of meat in the world.
The dry-aged beef, which takes anywhere from 28 to 45 days, is prepared in a meat locker lined with Himalayan salt. Other fine cuts include the Japanese Miyazaki wagyu beef, Kobe beef and Canadian and U.S. prime-grade beef. All of Black + Blue's Japanese wagyu have a quality score of A5 and a marble score between 8-10.
Beef aside, from Australian tomahawks to Canadian tenderloins, Black + Blue offers an abundance of seafood, including signature entrees like the Haida Gwaii halibut, the lobster carbonara, and scallops. A raw bar offers a beautiful selection of Canadian and Japanese seafood specialties. The deluxe seafood tower ($450) includes a selection of East Coast oysters, marinated mussels and clams, Dungeness and king crab, colossal shrimp, Atlantic lobster and king salmon roll, tuna nigiri, hamachi nigiri and scallop nigiri.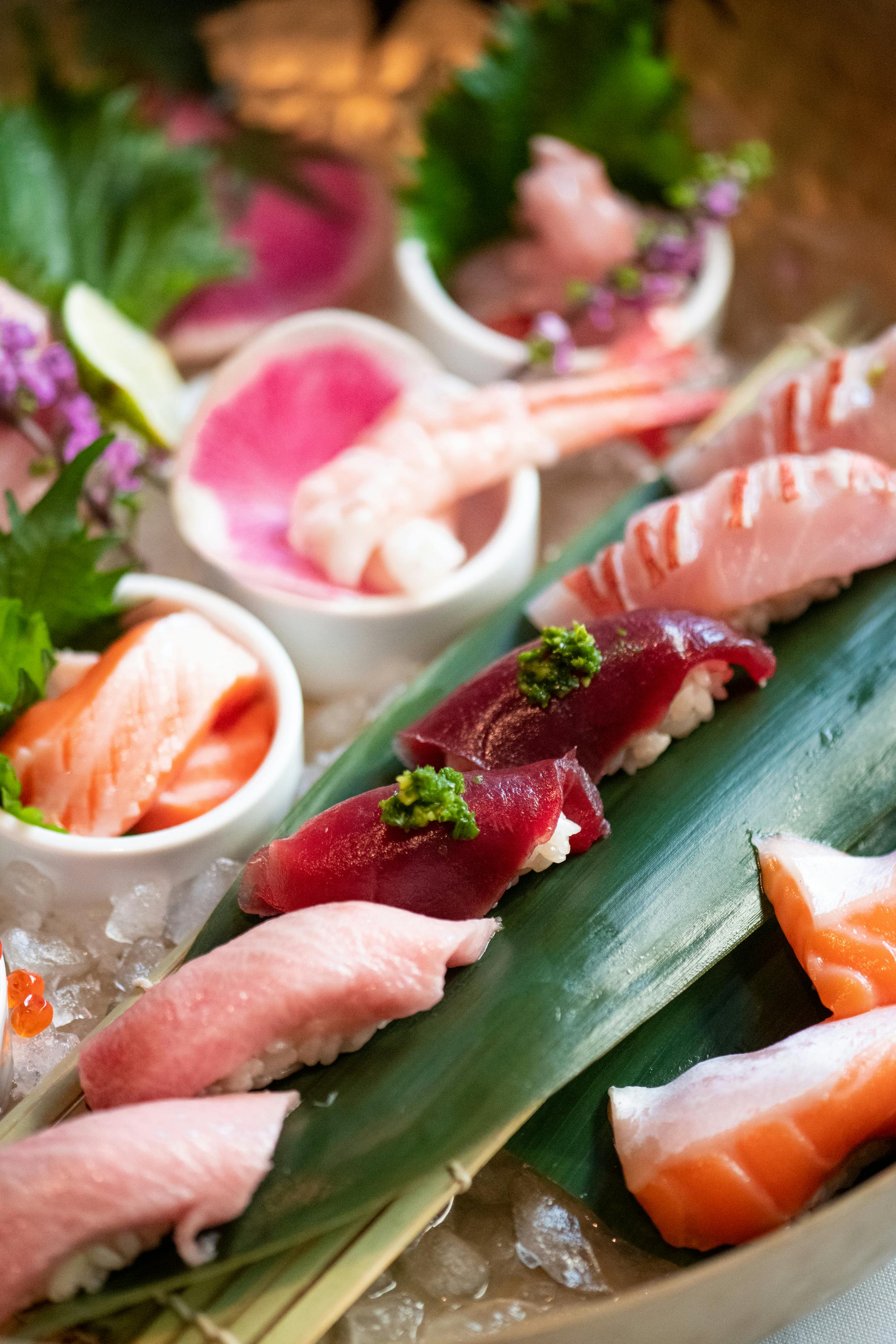 The nigiri and sashimi menu lets guests order by the piece, and also includes a platter option for both ($60 for the nigiri platter and $68 for the sashimi platter). Of course, guests can mix and match, too. Select pieces include hamachi (yellowtail snapper), sake (ora king salmon), maguro (bluefin tuna), hotate (Japanese sea scallop served with salmon roe) and amaebi (sweet shrimp).
"Why complicate something that in its essence is incredibly good?" says Bellis, whose two-decade-long career includes stints opening Constantine, Lavelle, Byblos, and Shook, to name a few. "Do we do a different take on a few dishes, do we have a slightly more modern interpretation, and have we added a bit of personal flair here and there? One hundred per cent! We don't normally have sushi in a classic steakhouse, but this is something that Emad wanted to do for a very long time, and he's always loved the idea of pairing steak and sushi together."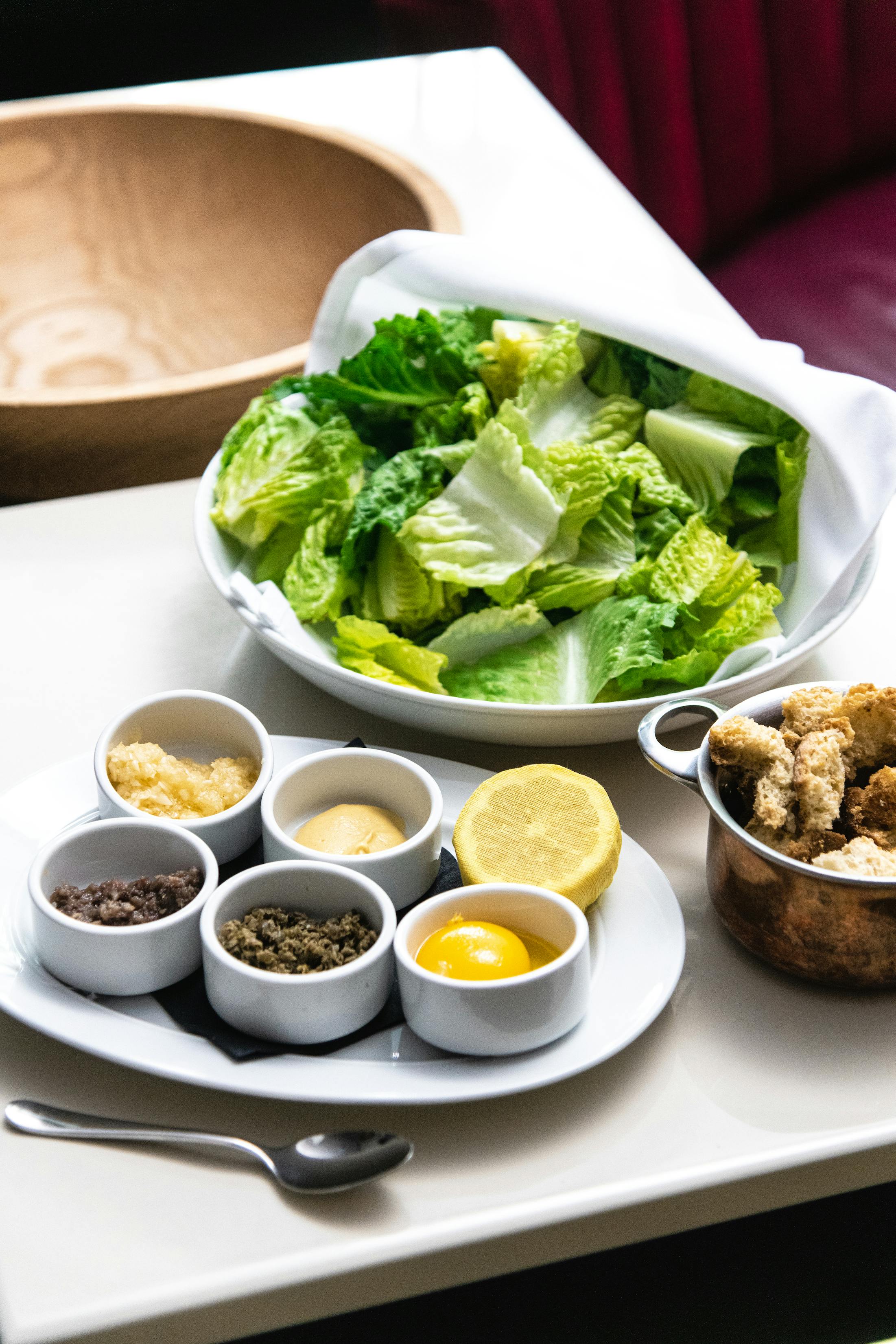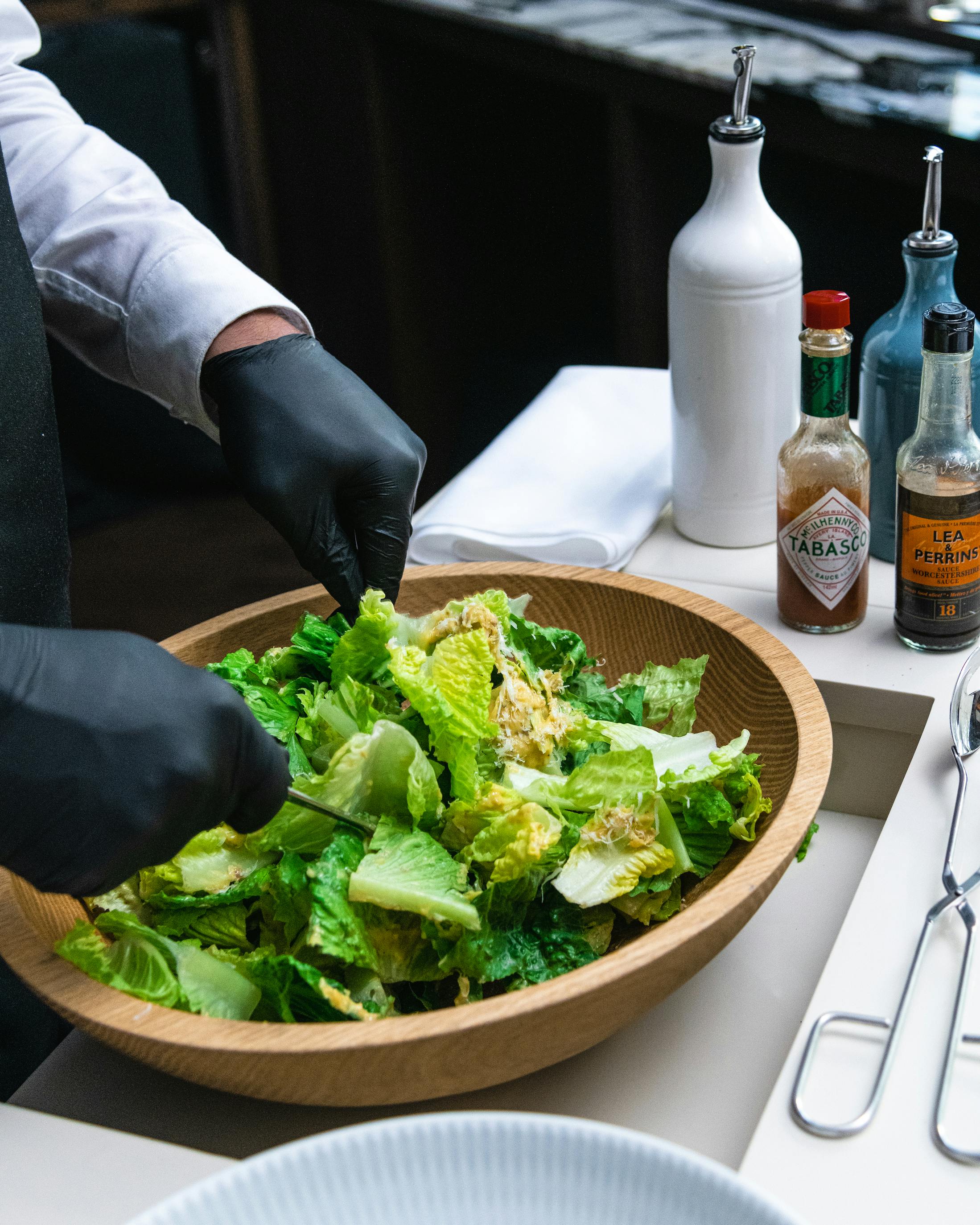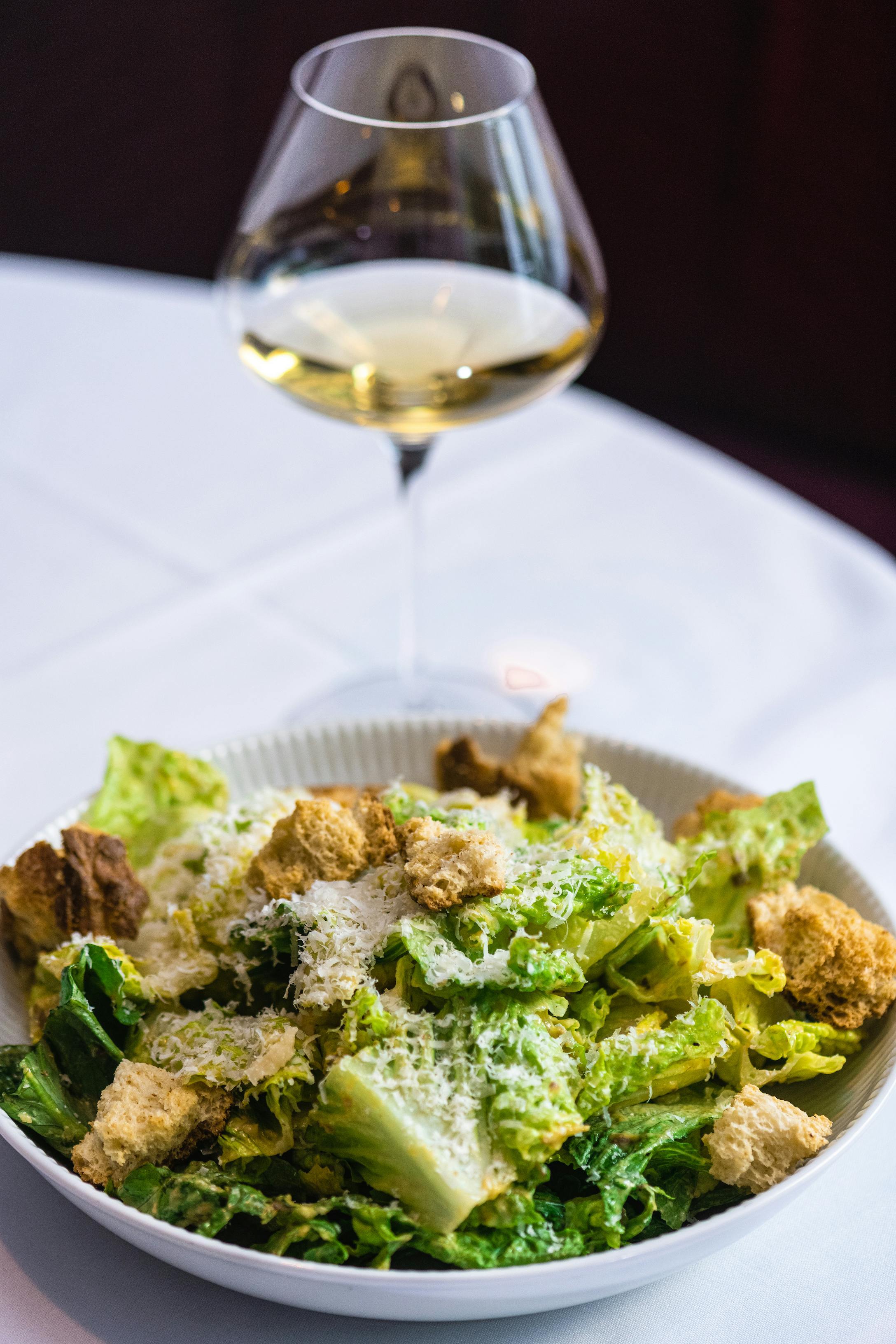 Another element of Black + Blue's menu is the focus on table-side service, which includes a Caesar salad for two ($48). Starting with the dressing, the salad is mixed by hand blending olive oil, lemon juice, anchovies, a dash of Worcestershire and Tobasco sauce and a sprinkle of Parmigiano-Reggiano before being tossed with crunchy Romaine lettuce and topped with crispy gruyère brioche croutons.
Sharing platters are also prominent on the menu, a trend Bellis says he's seen a lot of in Vancouver and more recently, Toronto. "More people are sitting down and sharing is easier than choosing one specific thing," he says. "They're wonderful dishes that take away a lot of unnecessary decisions."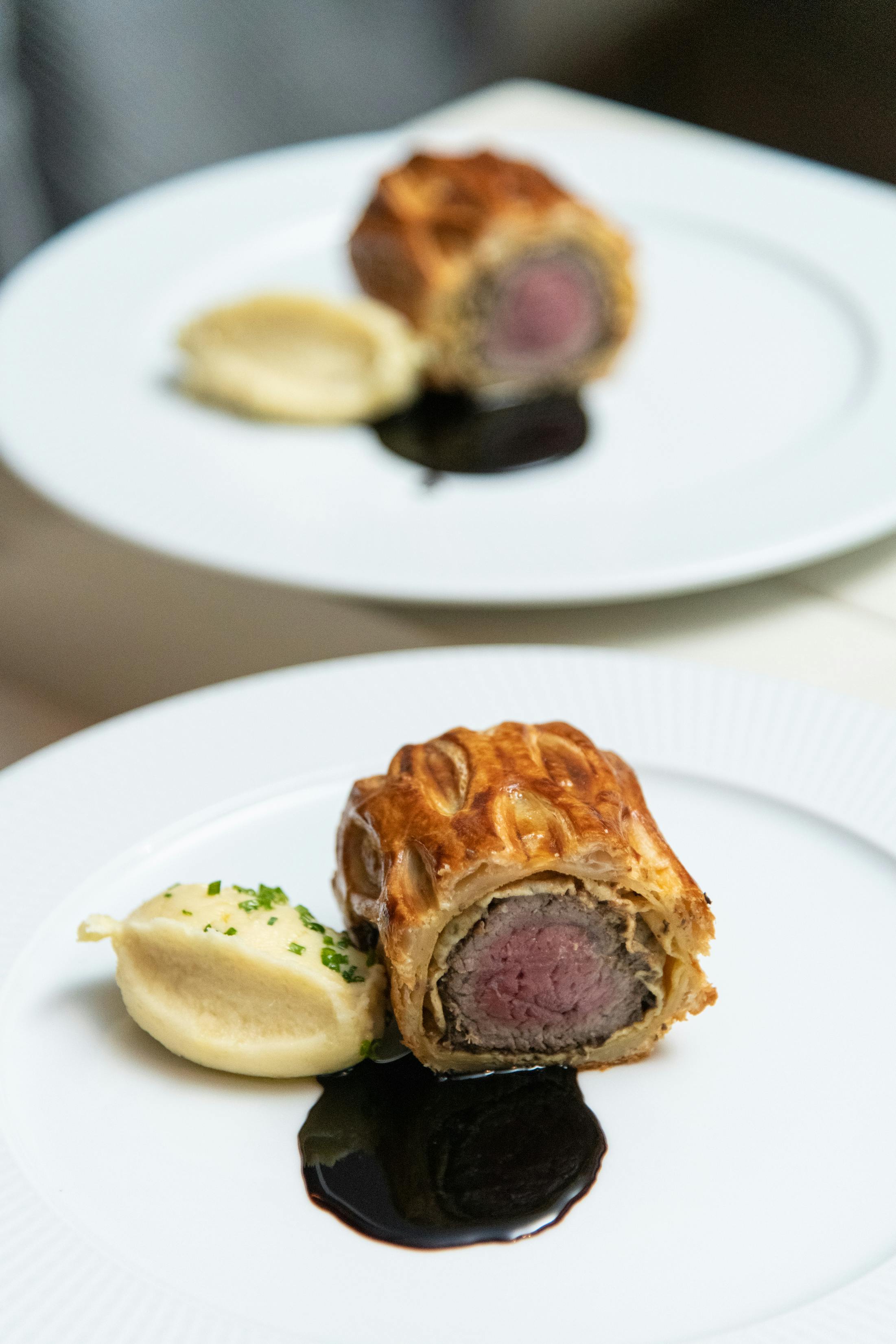 The beef Wellington for two ($145) is another example of this dining concept and a best-selling dish. From start to finish, the dish takes roughly four hours to make, and features a Canadian prime tenderloin wrapped in a mushroom duxelles puff pastry, then served with heirloom carrots and Robuchon mashed potatoes, which are a silky blend of a whole lot of rich butter and heavy cream. "It's quite a labour of love," Bellis says, adding that the vegetable side will be swapped out as the seasons change.
"Our atmosphere is a bit different and because of that, we offer something for everybody," Bellis says. "Expectations on going out to dinner have been raised, and giving the diner a little bit more of an experience makes it feel more valuable, rather than just having a steak dropped in front of them. It's about finding ways to entertain and improve the experience of our guests so that gives them a reason to come back to us."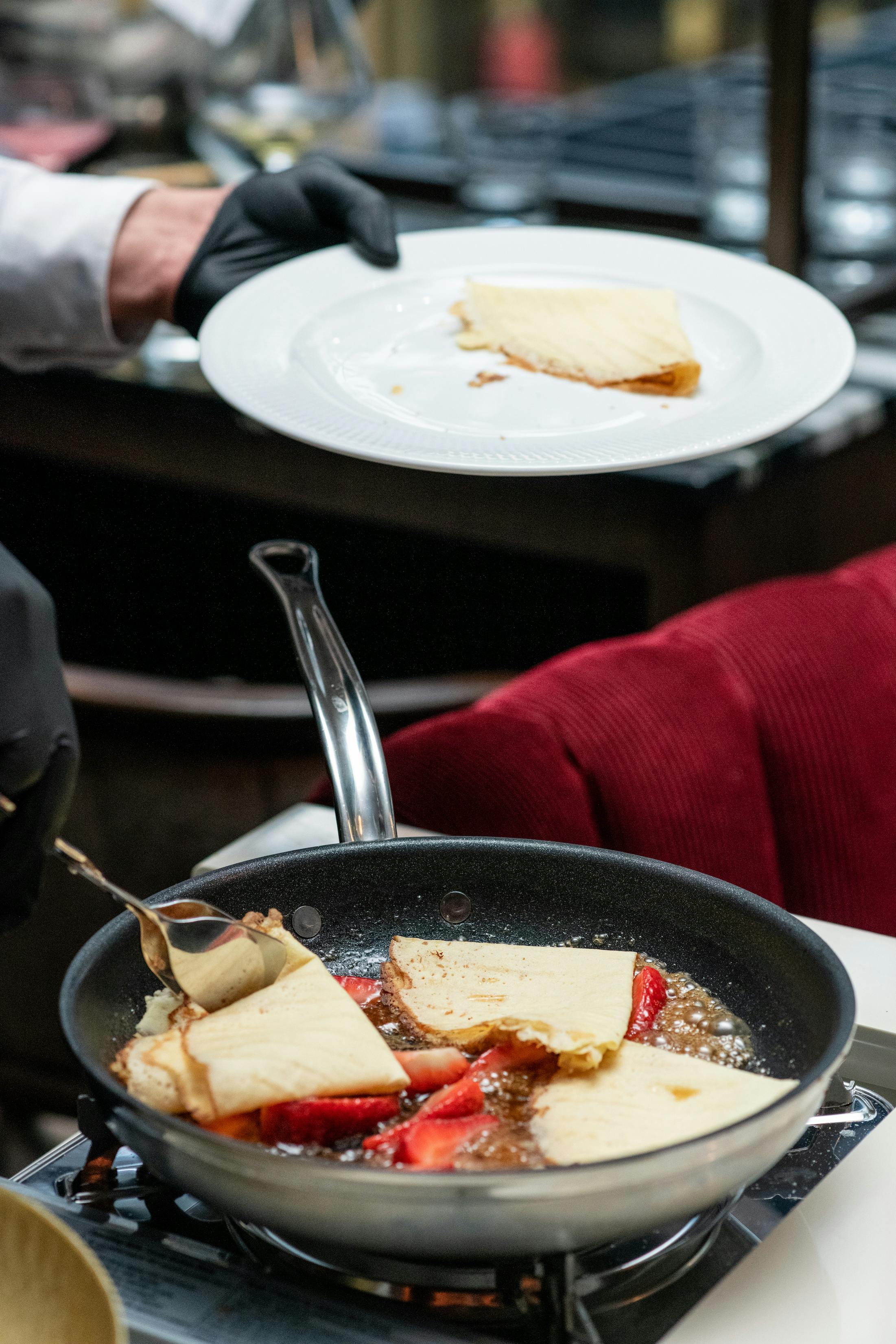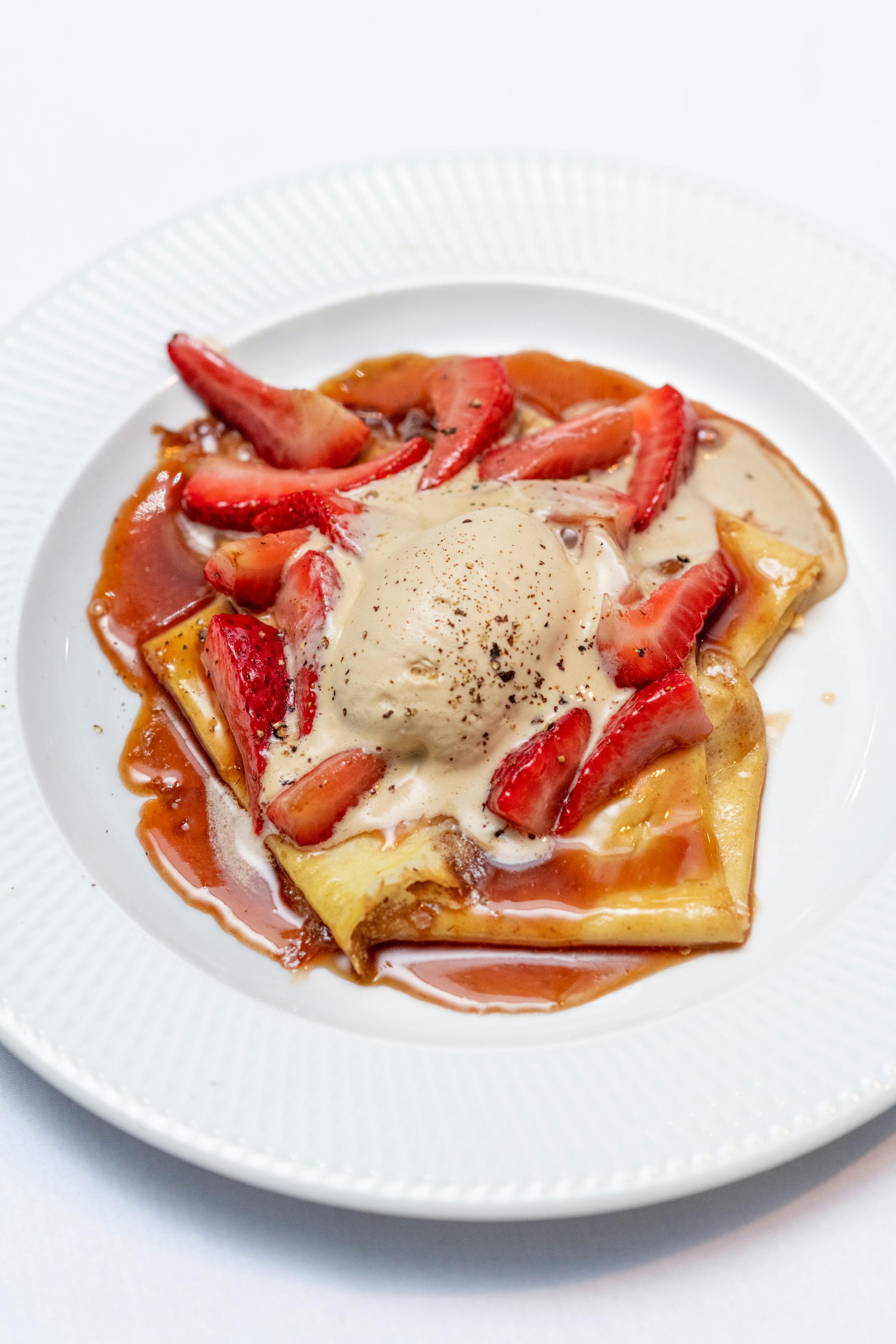 Crêpes Suzette made table side and served with fresh strawberries and ice cream.
Black + Blue is located at 130 King St. W. and is open Monday to Thursday from 11:30 a.m. to 11 p.m., Fridays from 11:30 a.m. to 12 a.m., Saturdays from 2:30 p.m. to 12 a.m., and Sundays from 2:30 to 11 p.m.