Among countless ingredients, a cascade of courses, a convivial script and sips galore, there's a single bite during dinner at The Pine that perfectly exemplifies the team's raison d'être. With a smoked mustard devilled egg filling, soaked in star anise, tsoaka and black tea, then topped with Acadian gold sturgeon caviar, each signature Tea Egg neatly symbolizes the team's dedication to sharing stories from afar through the medium of local fare. A place inspired by travel with deep Canadian roots, The Pine combines whimsy and wanderlust with high-calibre cooking to create a tasting menu that's as delightfully distinctive as it is delicious.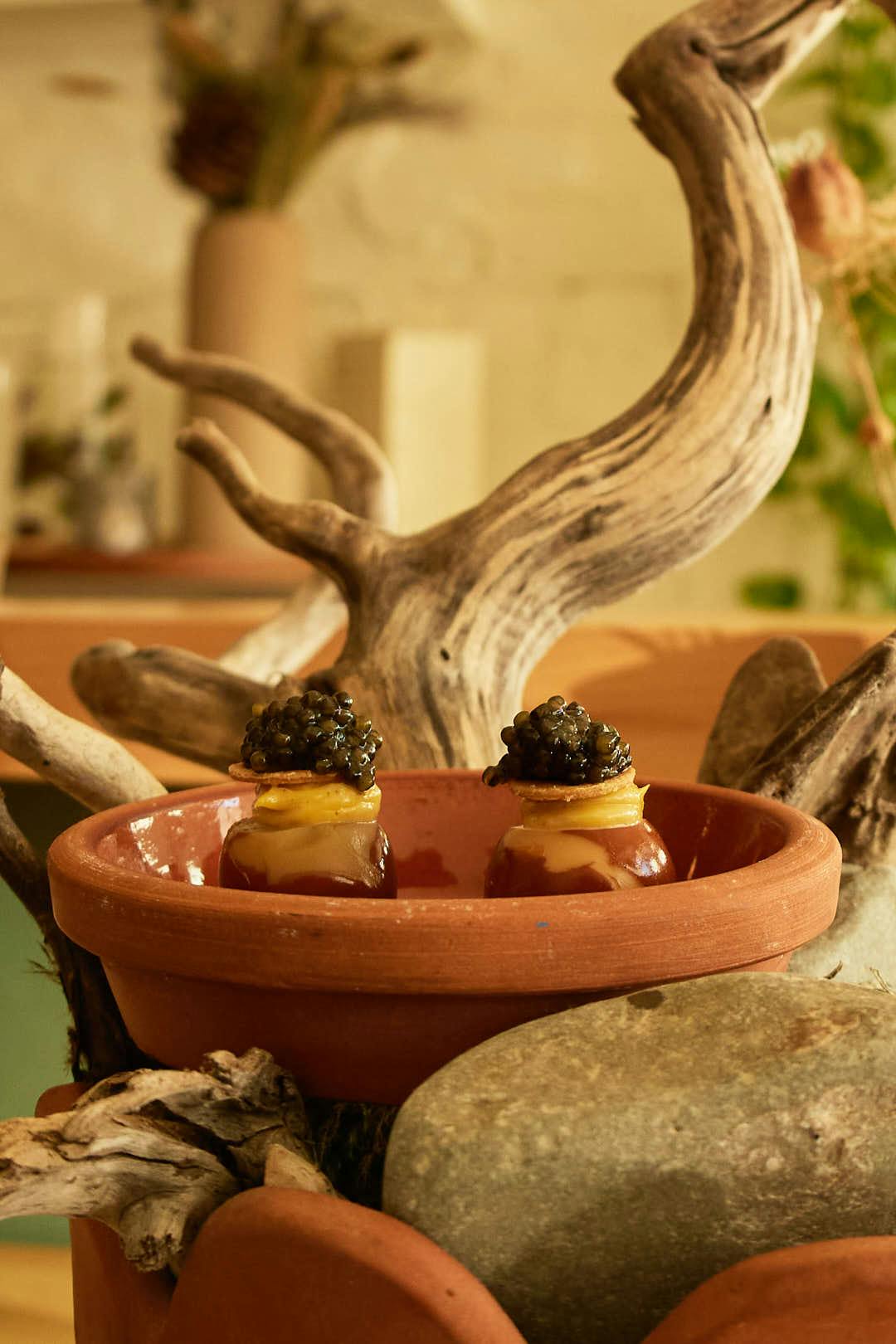 If you never thought you'd taste a dish meant to mimic chicken's testicles in downtown Collingwood, thank husband-and-wife team Jeremy and Cassie Austin for the novel experience. Whereas most of us create Instagram posts or share vacation snaps with friends and family after a getaway, the infinitely more ambitious duo opened The Pine as a way to share their travel exploits with others. A chef who started his career at various Ontario restaurants, Austin furthered his studies through George Brown College's postgraduate Italian program. From an immersive education in Polesine Parmense, in Emilia-Romagna, Austin moved to China, where he cooked Italian food while enjoying exposure to a wealth of fresh flavours. "We opened the restaurant right after we had been travelling the world," says co-owner and chef Jeremy Austin. "We wanted to bring that world knowledge to this area. People were curious as to what we had been doing, and we told the stories through our food." Relayed via a tasting menu format, food at The Pine changes often, with each parade of seasonal dishes immersing diners into the stories of the Austins' globe-trotting ways.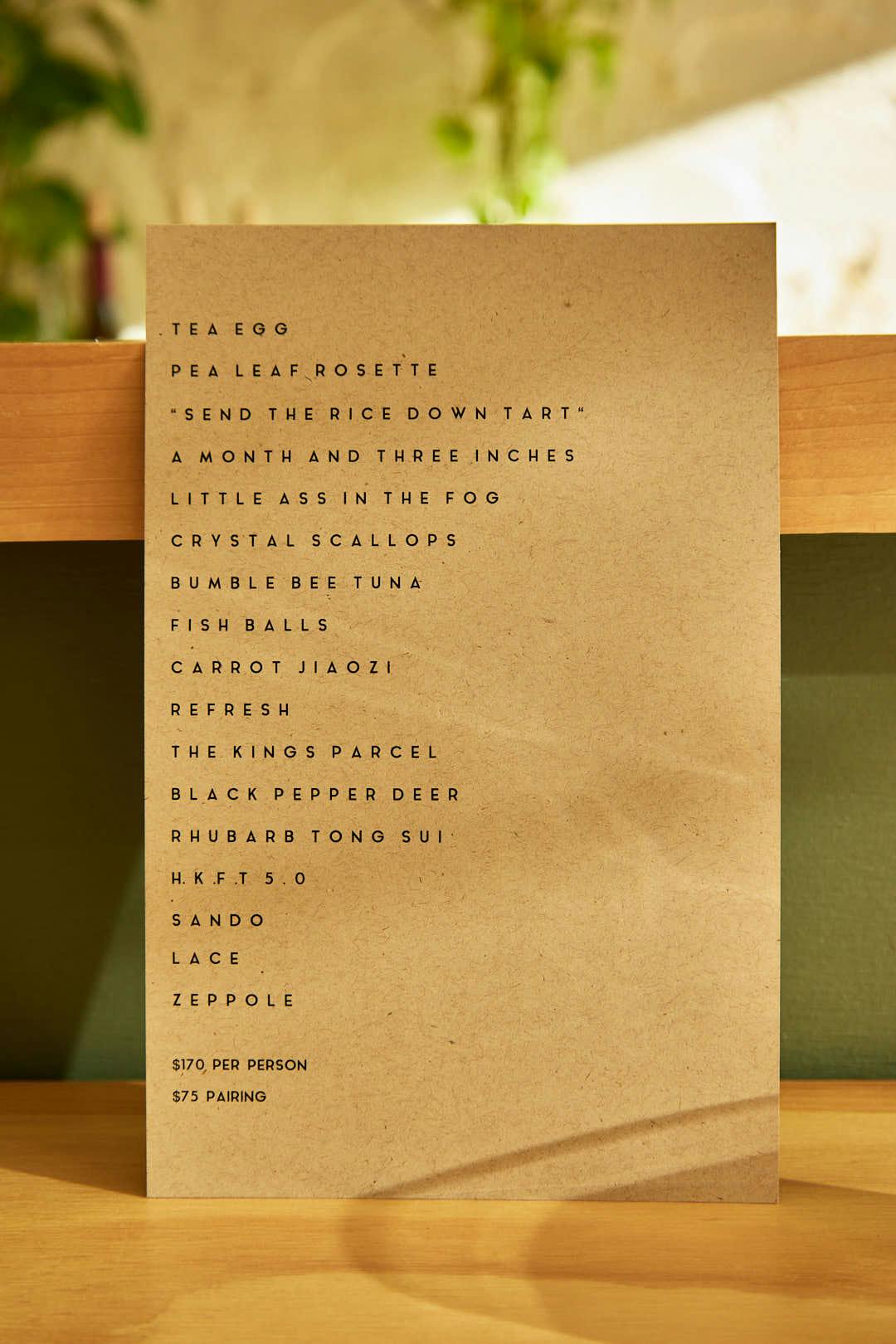 Beyond travel, each dish at The Pine is also shaped by local produce and the bounty found in Southern Georgian Bay. "Cassie and I were in Bali and we went to a restaurant there called Locavore," explains Austin. "I decided that it was time that we leave our lives in China to go back home to create what we were always dreaming about, which was coming back to the family farm and doing tasting menus on it." Lucky to count Royl Acres Farm, in the Grey Bruce Highlands, a part of the family, the Austins returned home with the idea to launch their Pine Dinner Series. "It was only a pop up for three months, and we had a little bit of success with it," says Austin. "We decided maybe everyone in this area would actually come to a restaurant like this. It gave us a little bit more confidence to actually open a restaurant."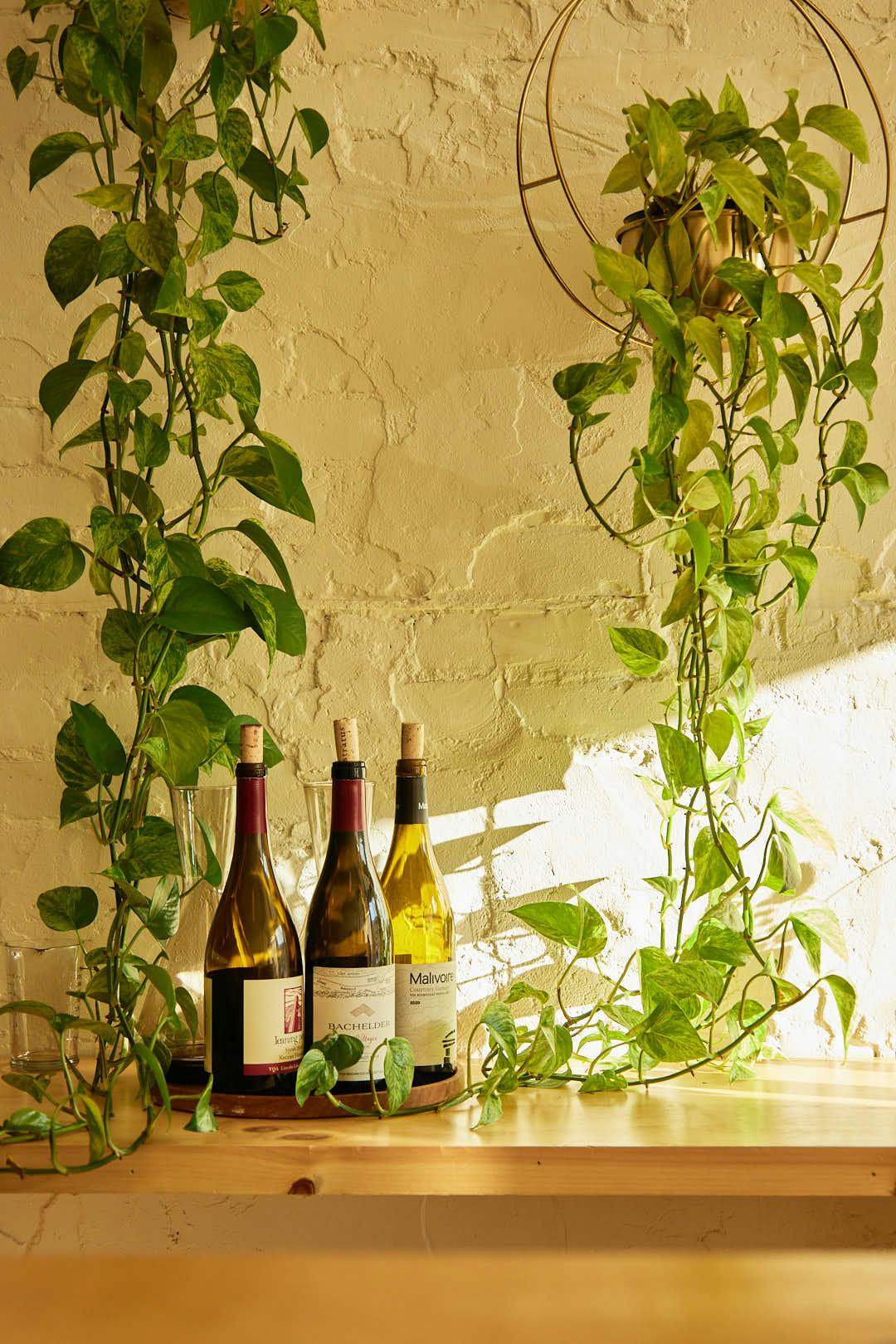 Opened in 2020, The Pine challenges most of what people expect of haute dining. Arrogance is replaced with a convivial attitude of welcome, with the small staff interacting with guests throughout the night. Housed in a slender heritage space on Hurontario Street, the restaurant reveals a Scandinavian approach to décor, with clean lines, white walls, and blond furniture that's as functional as it is elegant. With a prep area on full display, greenery, plates and glassware are the only accents in the efficient space. Here, theatrically displayed food — served on bricks, branches, and plates handcrafted by Spirit Wares — is a brilliant counterpoint to the minimalist room.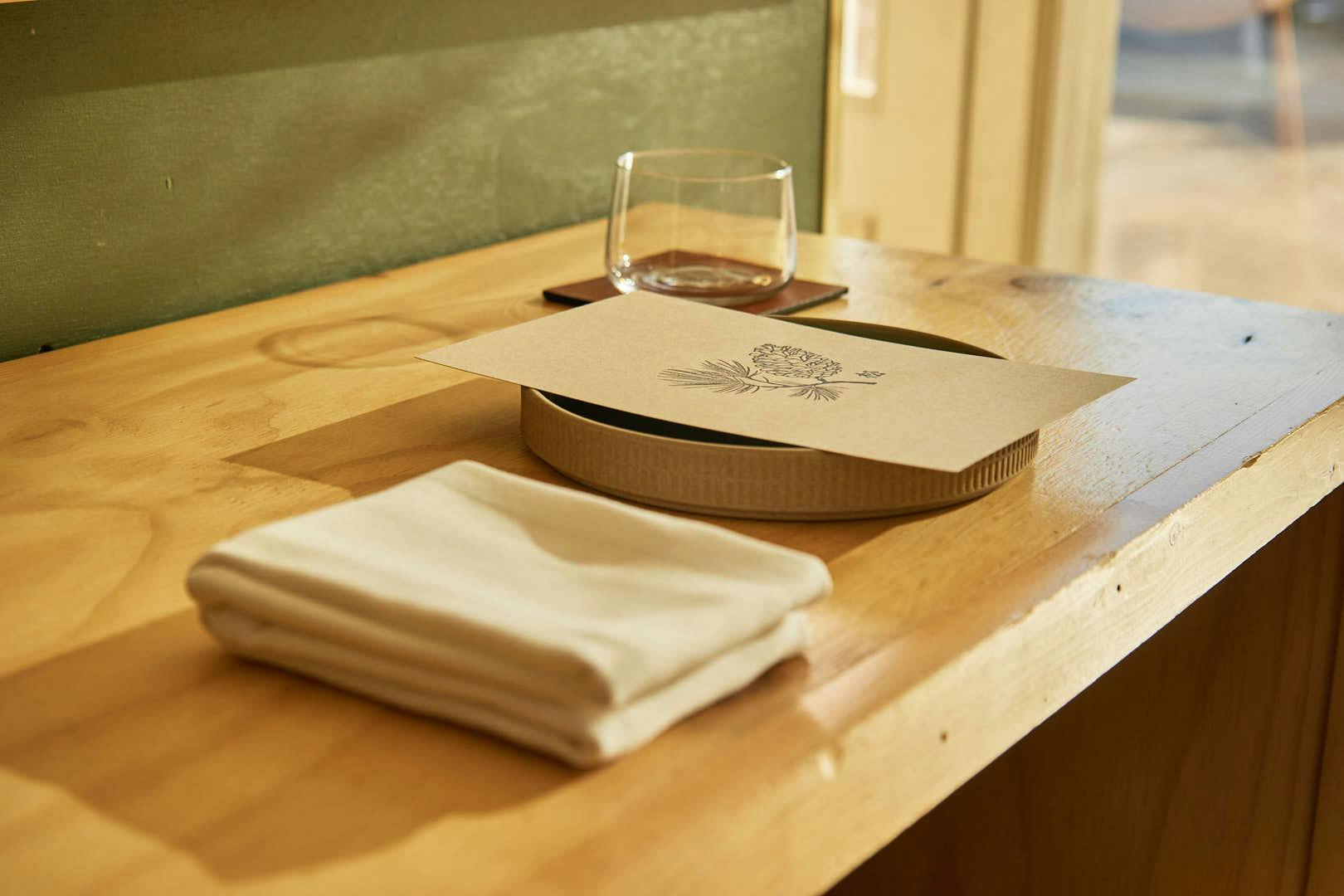 With only 12 seats, the feeling at The Pine is more intimate dinner party than grand feast, even though dishes are as beguiling as any you've likely encountered. Here, food isn't merely delicious — its also meant to engage its audience and elicit a reaction. Don't be surprised if, as you're let in on each morsel's singular backstory, you bond with the team and the other patrons. You know food served at The Pine is seasonal, local and inspired from afar but there's far more to the story. "That's one of the harder questions to answer," admits Austin, when asked what inspires him. "You know, I might get inspired by something that doesn't have to do with food. This week, we put on a dish called Hold Your Tongue. It's just inspired by a saying." The dish in question — crispy beef tongue rolls set in wooden hands — is meant to surprise, to delight, and ideally, to spark conversation. "When we're talking about inspiration and where we think of dishes we just don't put barriers on anything, so it can really come from anywhere. We find it makes things more unique that way."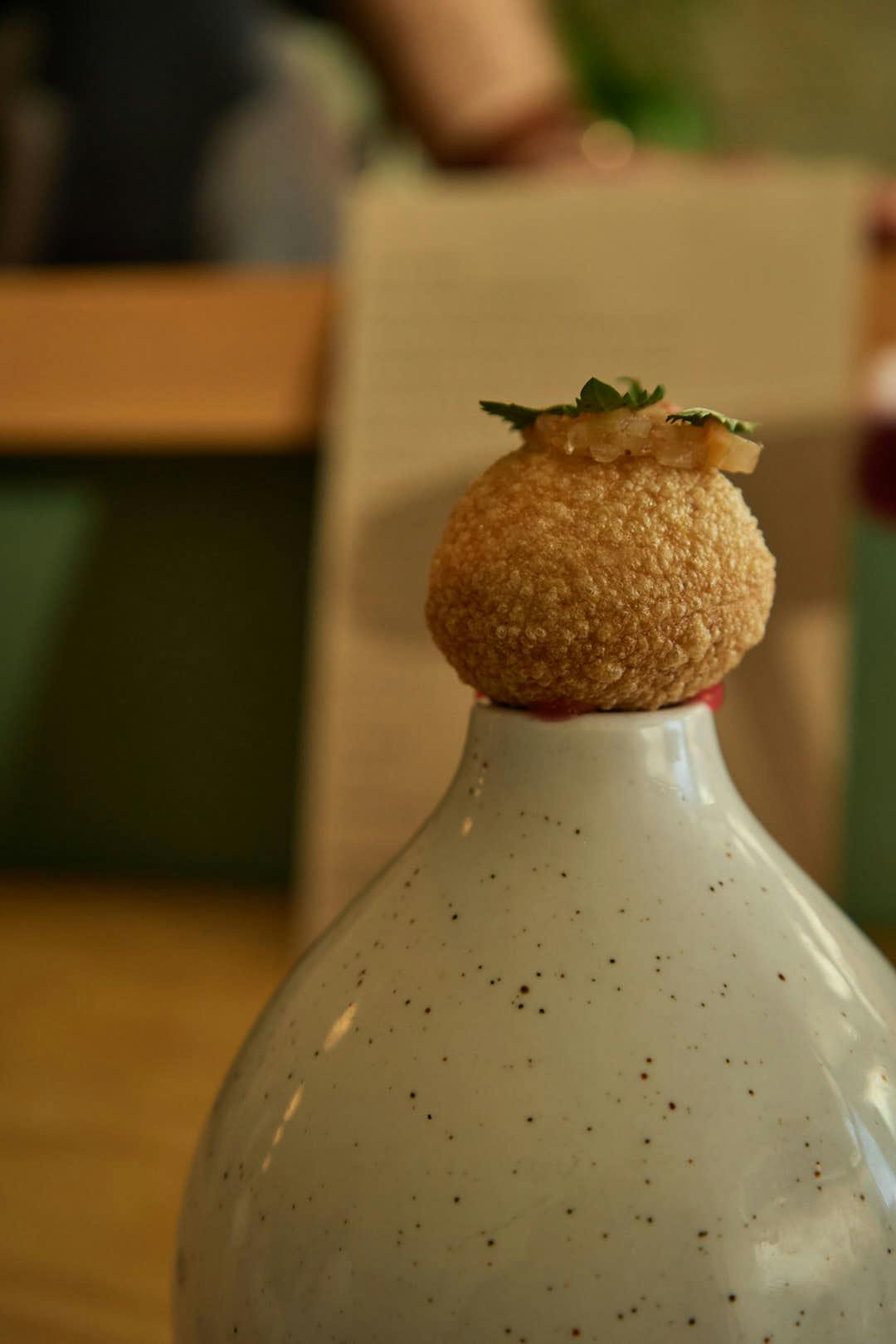 Featuring more than a dozen courses, chef Austin's menus expose his talent with dramatic plating, with blending flavours, and, refreshingly, his comedic bent. Here, you'll find the foams, the twee garnishes, the excruciatingly balanced flavours and the food-as-art ethos ubiquitous in fine-dining spots. What you'll also encounter is Little Ass in the Fog and Bumble Bee Tuna — a dish whose name sprung not from some grandiose source but from that '90s exemplar of cinematic achievement, Ace Ventura 2: When Nature Calls (For the unfamiliar, a quick Google search will reveal everything you need to know.). Despite his goofy side, Austin's food is serious stuff. Inspired by Italy's famed culatello ham (cut from, you guessed it, a choice area of the rear haunch of certain pigs) and Parma's characteristic atmospheric haze, Little Ass in the Fog is a dish of intense culatello consommé capped with pani puri filled with giardiniera and more ham. It's the type of interactive, shockingly delicious dish that inspires conversation and leaves you wanting more.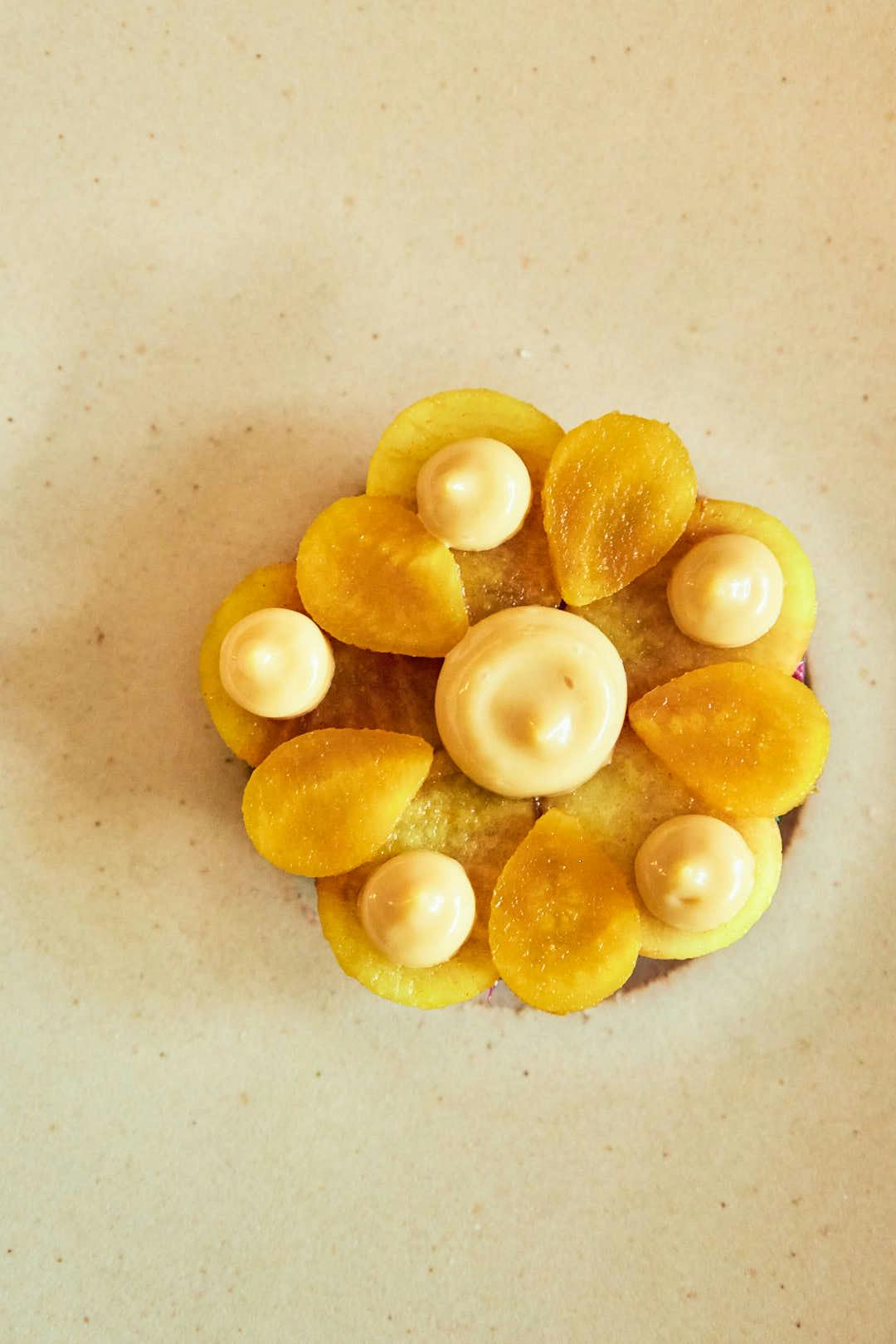 As for Bumble Bee Tuna? Oil-poached albacore tuna with beetroot and elderflower emulsion, elderberry capers, sawtooth coriander, pickled daikon and an egg yolk tare, it's a stunning example of balance and the glory of top-quality ingredients. As for the name? Well, says chef Austin with a smirk, it's yellow, just like a bumble bee.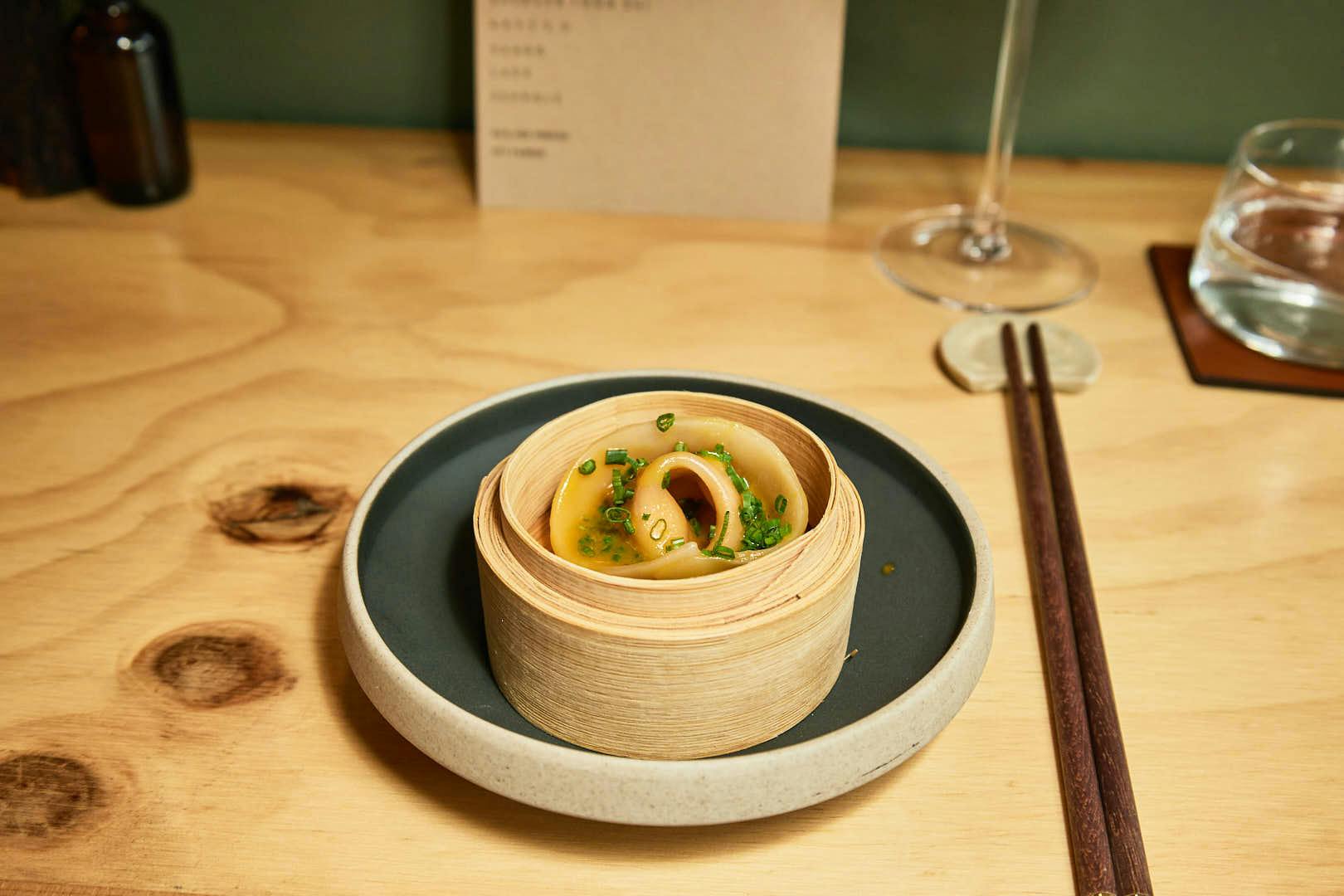 From vibrant and light to sensual and rich, a tasting at The Pine engages every taste receptor you have at your disposal. Carrot Jiaozi, another signature dish, is the team's take on a classic Chinese dumpling. Filled with carrot and brown butter, cradling a cheeky pool of kabayaki chive butter sauce, it's a sweet, savoury, creamy, toothsome bite you'll long to reencounter.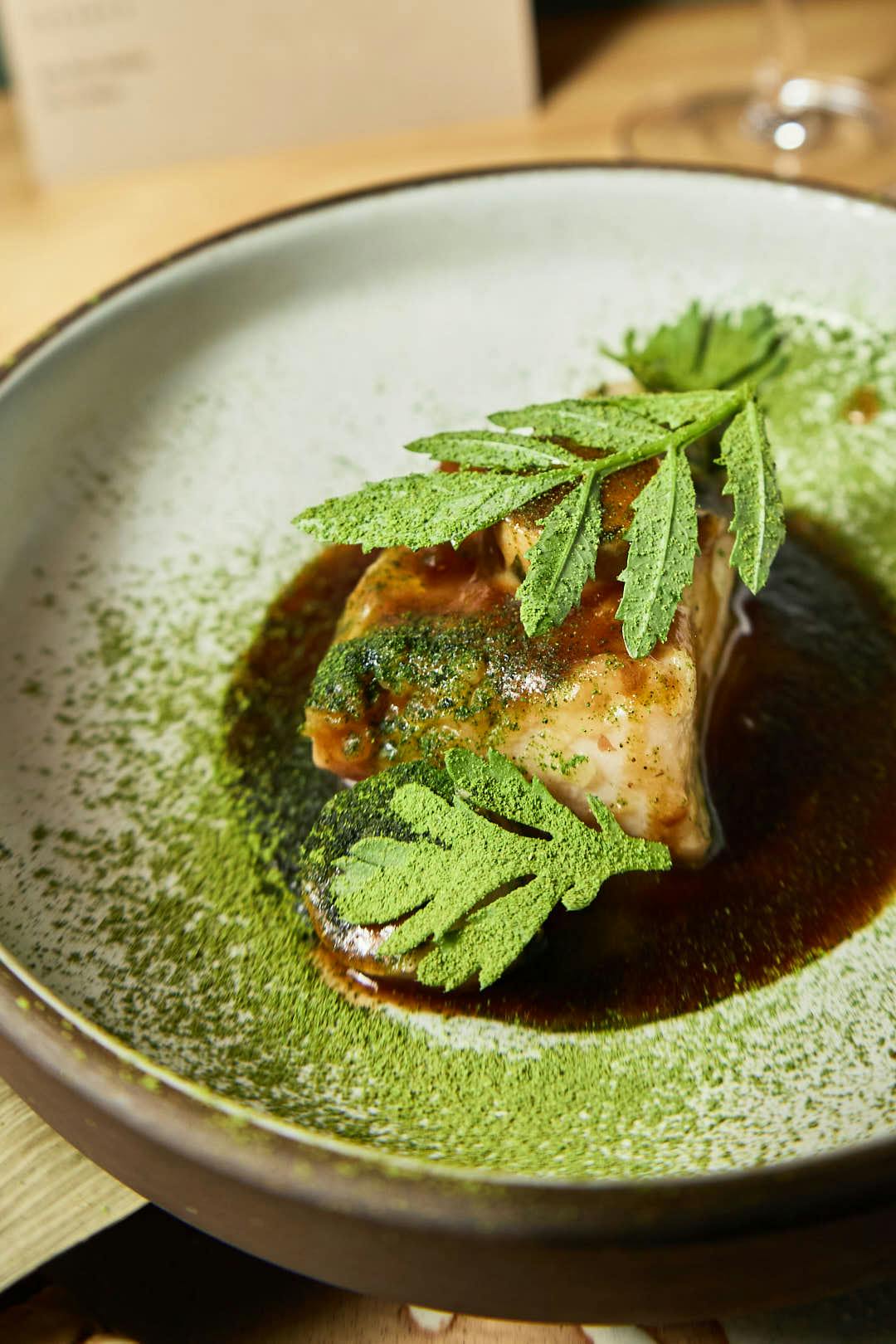 After a light refresh — currently in the form of a vermouth and sea buckthorn freezie — mains continue the party. Remember the chicken testicles? They're not to be found here, but The King's Parcel is a dish inspired by the time chef Austin was invited to enjoy them as the guest of honour at a feast in Sichuan province. Toned down for the local audience, each lotus leaf parcel reveals lightly pickled and steamed halibut with tender chicken meatballs, basil and pig feet jus. Needless to say, if the testicles tasted anything like this, you'd eat them greedily without a word of complaint.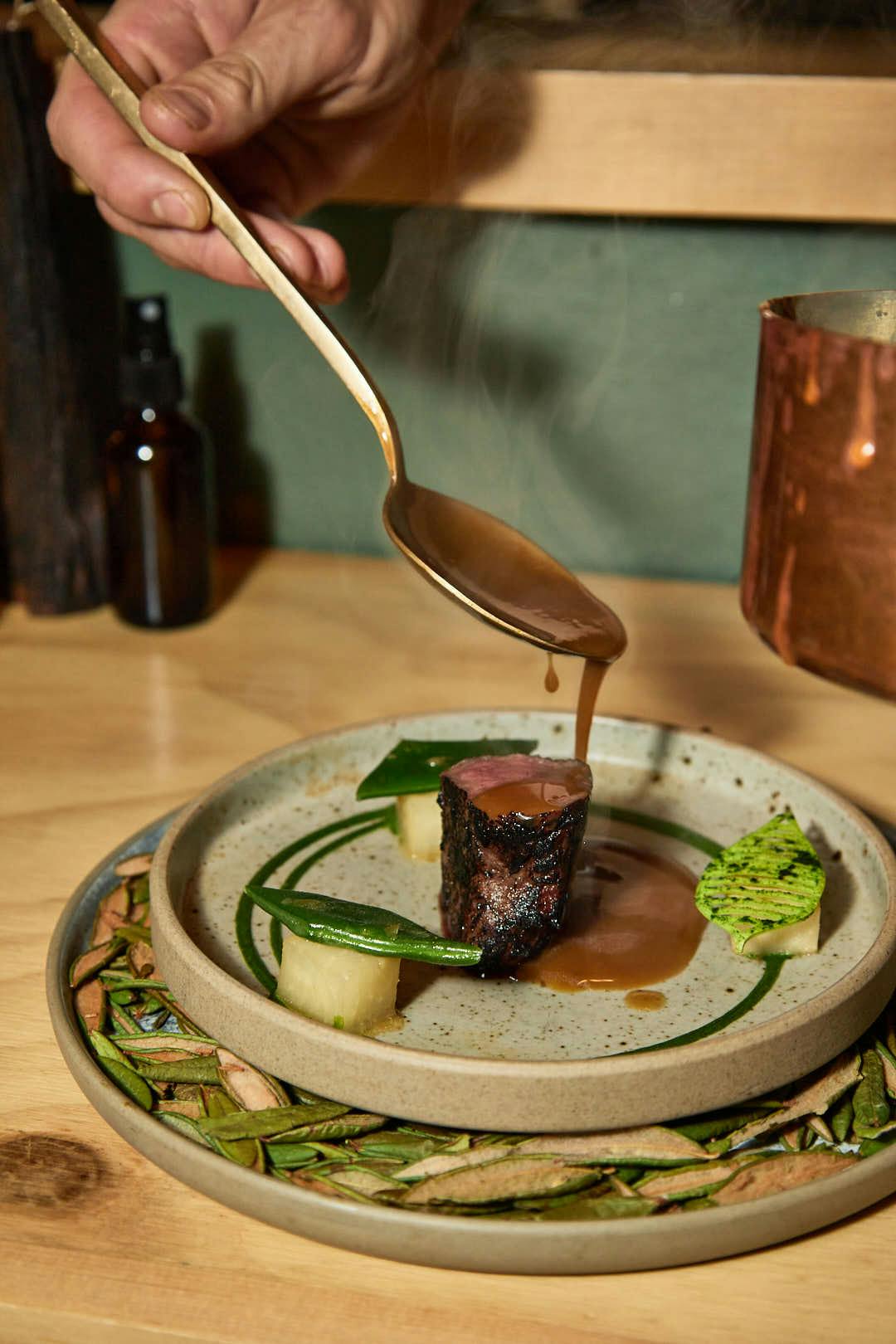 Black Pepper Deer, the final savoury course, consists of a tidy round of tenderloin napped with delicately piquant gravy, encircled by tiny structures of kohlrabi topped with flat bean. Named for its colour, not ingredients, there is no black pepper in the dish. Instead, the dish is seasoned with locally-grown dried green chilies, and is succulent and savoury enough to impel you to keep eating, 12 courses in.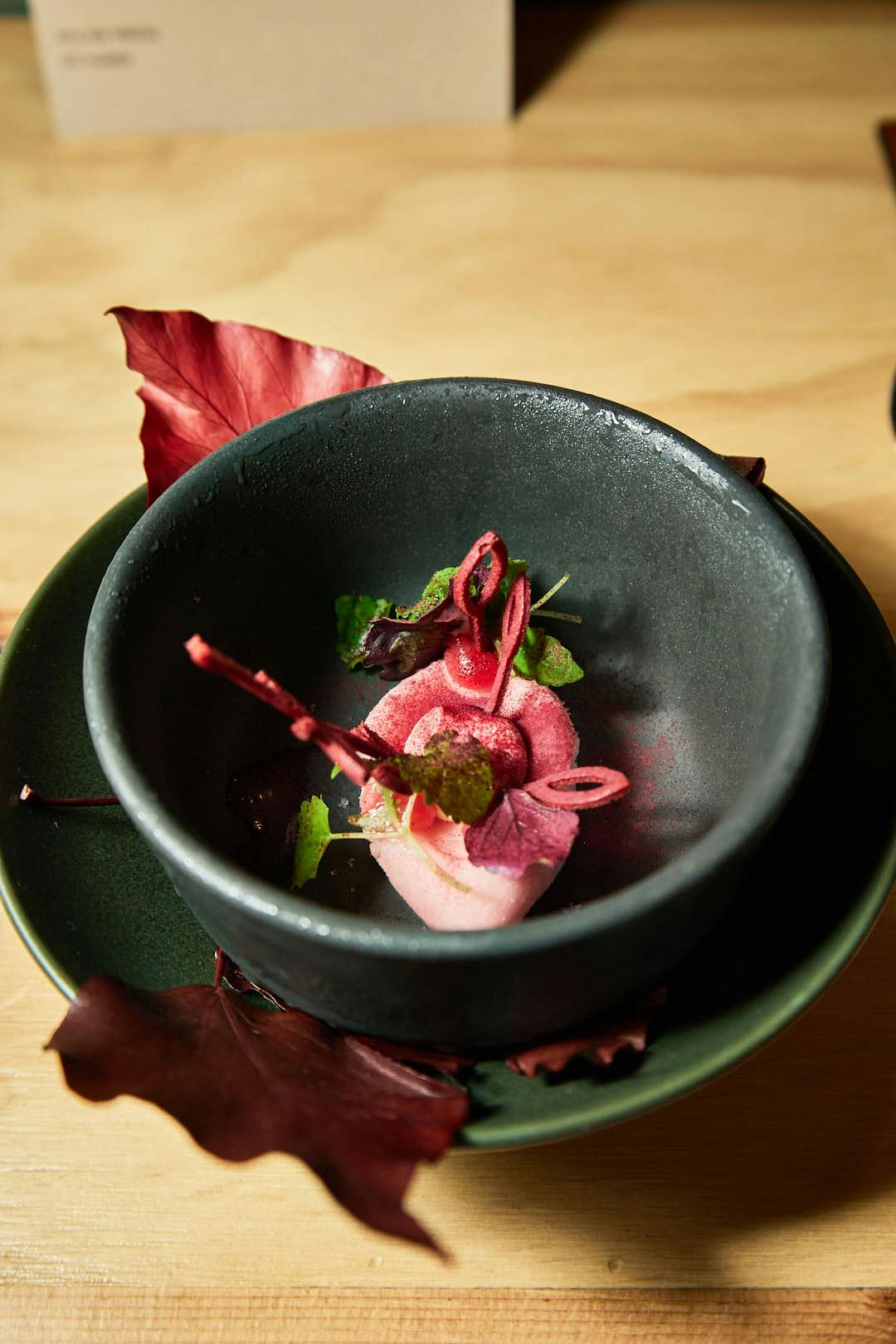 As adept with pastries as they are with the rest of the menu, the team produces a procession of sweet treats to end the meal. Currently, Rhubarb Tong Sui leads guests into the dessert section of the menu. A riff on a Chinese dessert soup, the dish makes use of spring's star vegetable, flaunting it in a broth, a rhubarb and rose sorbet, and rhubarb and rose jam. Whipped kefir adds heft while a red yeast tuile and oxalis add crisp texture and fragrant citrusy notes.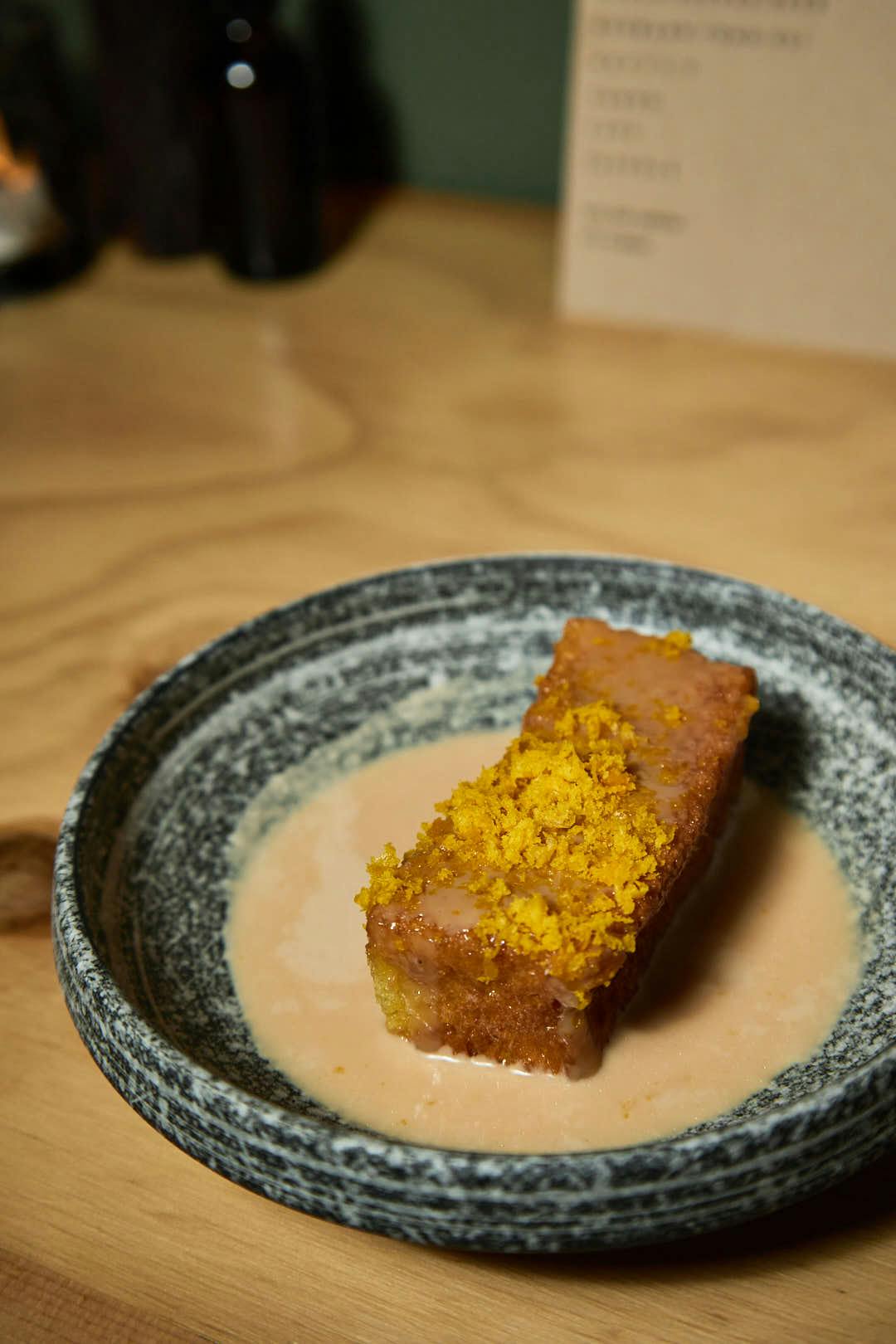 Now in its fifth iteration, the team's H.K.F.T. 5.0 is a menu staple you'll wish you had met in its previous lives. Hong Kong French toast, it now appears with caramelized condensed milk, salted egg yolk, and a burnt cream foam. Pillowy and perfect, it's two bites of pure bliss. Do you need more food by this point? Probably not. But this intensely sweet dish, kissed with a salty umami component, is one you won't want to leave behind.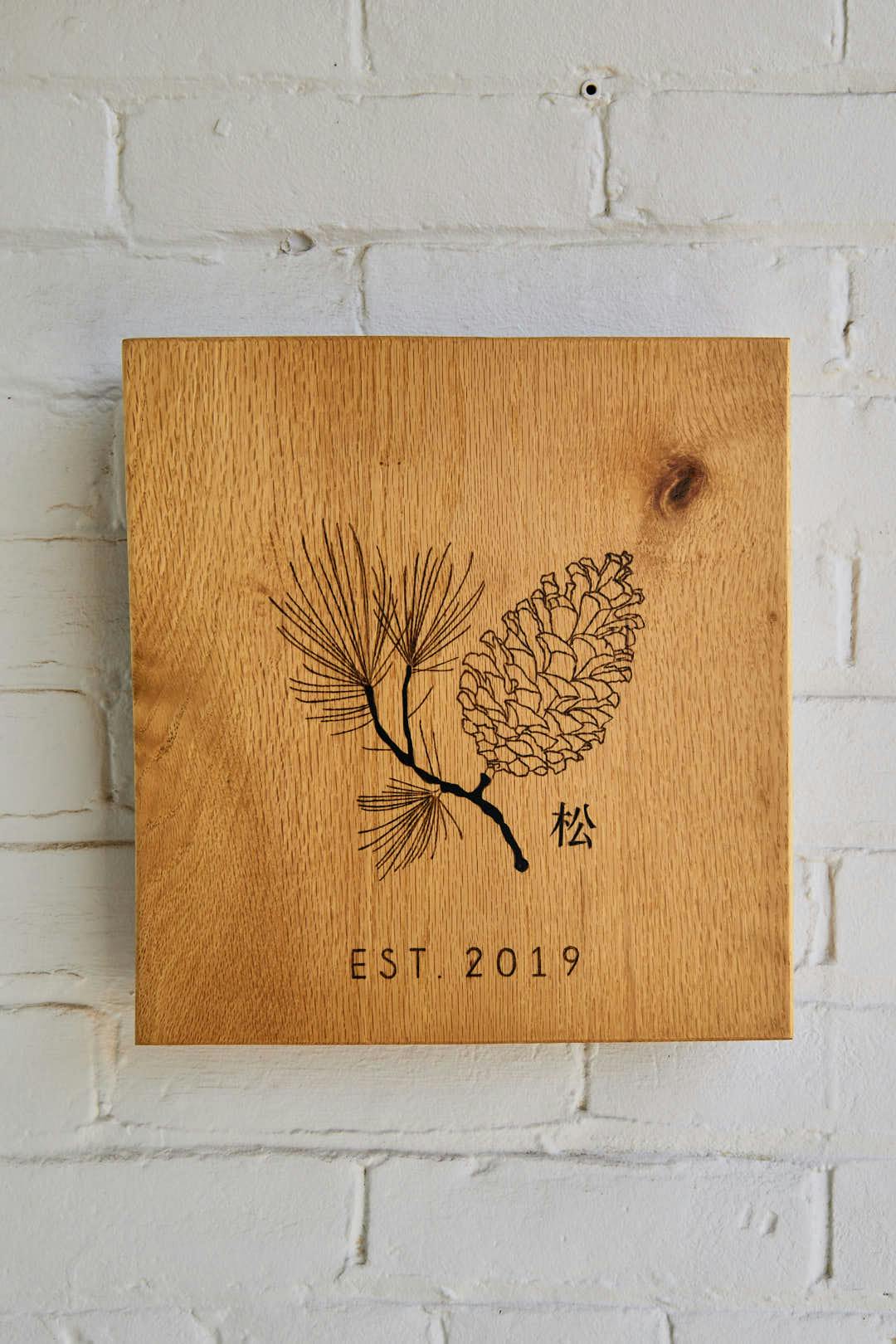 If there's a perfect way to fully embrace The Pine experience, it's with general manager Cassie Austin's thoughtful wine pairings — a perfect complement to chef Austin's complex plates. Sourced from vineyards from Prince Edward County to Niagara-On-The-Lake, each glass furthers the restaurant's goal of populating its menu with the finest products Ontario has to offer. An ample selection of by-the-glass options strays only as far as British Columbia while cocktails are mixed using purely Canadian spirits. A tight menu of craft beer and zero-proof options — from Silver Swallow kombucha, Sober Carpenter, The County Bounty, and more — round out the beverage selections.
More than a meal, an evening at The Pine is an adventure populated with plates that will make you simultaneously gasp and reach for your phone as they appear. The stories will make you laugh, the dishes will ask that you play along, and every mouthful will uncover the breadth of flavours that were, until that moment, still a mystery. Recently included on the list of Canada's 100 Best Restaurants, The Pine's days as a secluded, only-for-those-in-the-know spot are numbered. The restaurant is about to have people fretfully awaiting reservation releases, and planning months in advance for the opportunity to dine there. "In Europe, this type of place is really common," says chef Austin. "We kind of wanted to start that culture where it's normal to see a very good restaurant in a small town that people would drive to." Set your GPS folks, Collingwood is calling.