DAM Sandwiches is the newest specialty sandwich shop located in Oakwood Village at 363 Oakwood Avenue, brought to fruition by three friends who first crossed paths while working at some of the west end's most popular late-night snack bars. Searching around for a spot to house their idea since the summer, after operating a couple of pop-ups out of Laylow Brewery in November, the trio moved fast in securing a permanent location for their concept.
Already selling out on multiple days since opening on December 23, they're quickly becoming a neighbourhood favourite. Even before their shop officially opens for the day at 11 a.m., eager returning customers pop by early with their orders, the next sandwich they're ready to try, already in mind.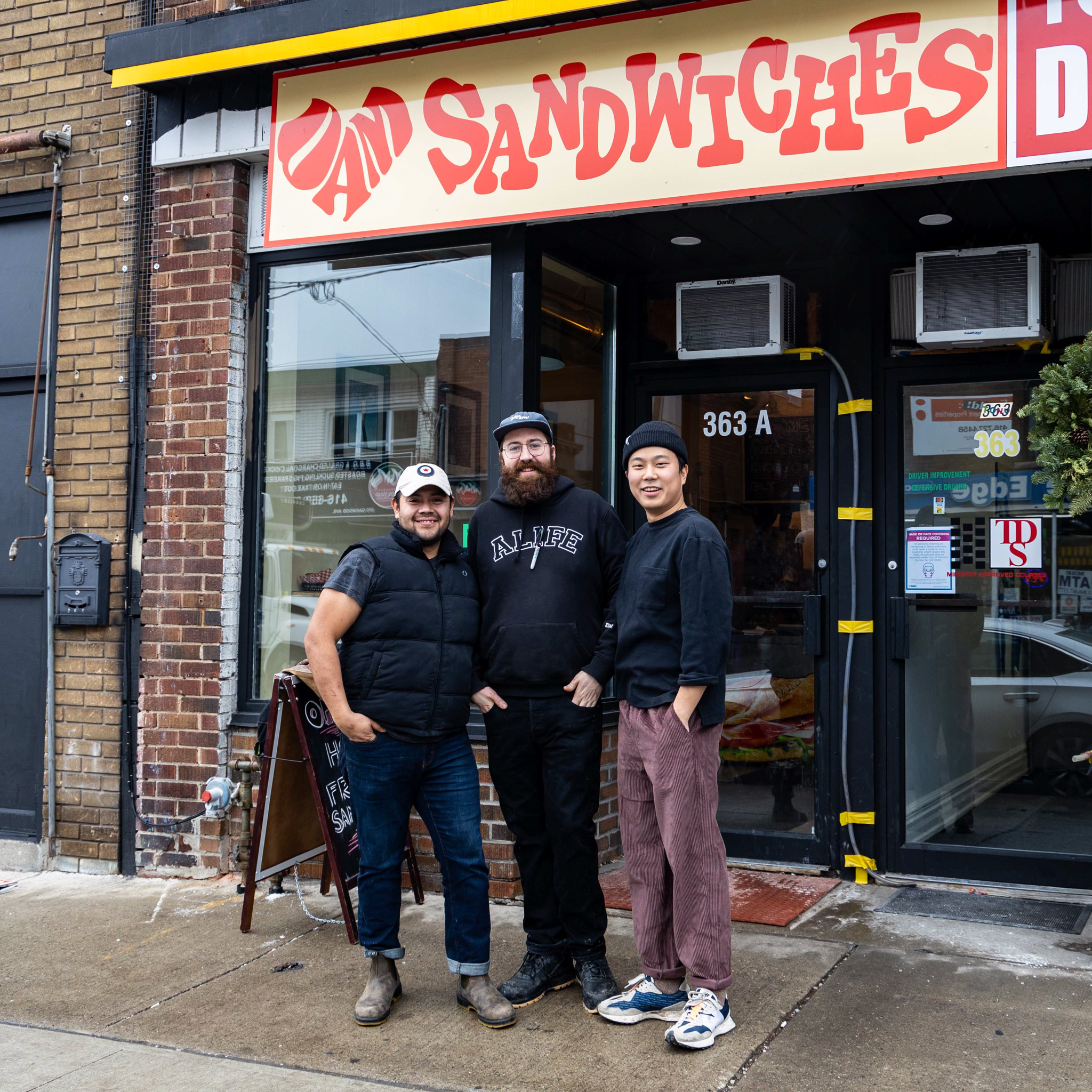 Chefs and Owners Miguel Arguello, Aidan MacDowall and Dong Soo Eum met while hopping between Leemo Han's popular restaurants Cold Tea in Kensington Market (now closed), Pinky's Ca Phe (temporarily closed), Hanmoto and Seoul Shakers, developing a tight-knit friendship over the years.
"We're friends from the get-go, so that was a big thing and we all had the same goal," says Eum. "We all want to operate a business doing our take on it, so I think it all just kind of came together naturally, especially during the covid time, we didn't really have much to do so we started exploring ideas, sitting down talking about it and then it materialized."
"We originally were looking to just do pop-ups and small things together for fun, cooking different stuff, and it's taken off very quickly," says MacDowall.
With their initial plan being to just operate some sort of takeout concept, they landed on the idea for a sandwich spot, where they would serve one signature item -- a rib sandwich. Serving that alongside a few other options during their pop-ups at Laylow Brewery, they decided to include three signature options instead, to give more choices to customers. The current menu at DAM Sandwiches actually omits the rib sandwich altogether, but there's a chance that it will return as a rotating special one day.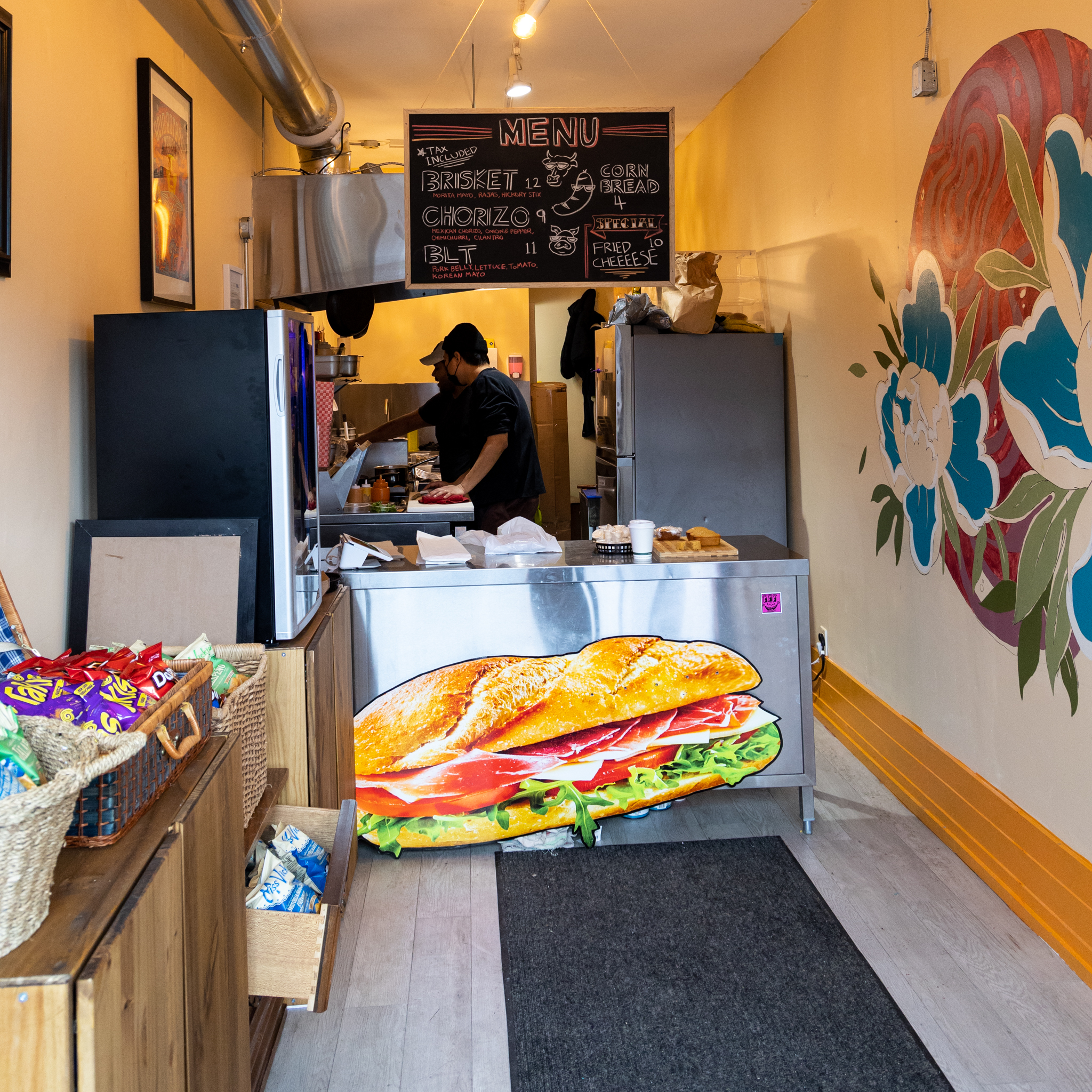 The space is small, so you may want to wait outside during busy times to allow others in line a chance to order, but it's really all the trio need. They are taking over in what was previously another sandwich shop, Giovanni Sandwiches Plus that only lasted for a couple months, by the former co-owner of Galo Do Sardinha Churrasqueira just up the street.
DAM sandwiches maintained part of the old signage, a giant sandwich, integrating it within their own store. Accompanying the sign on a nearby wall is a soon-to-be-completed floral mural painted by part-owner Aidan MacDowall's friend, artist Jillian Mundy.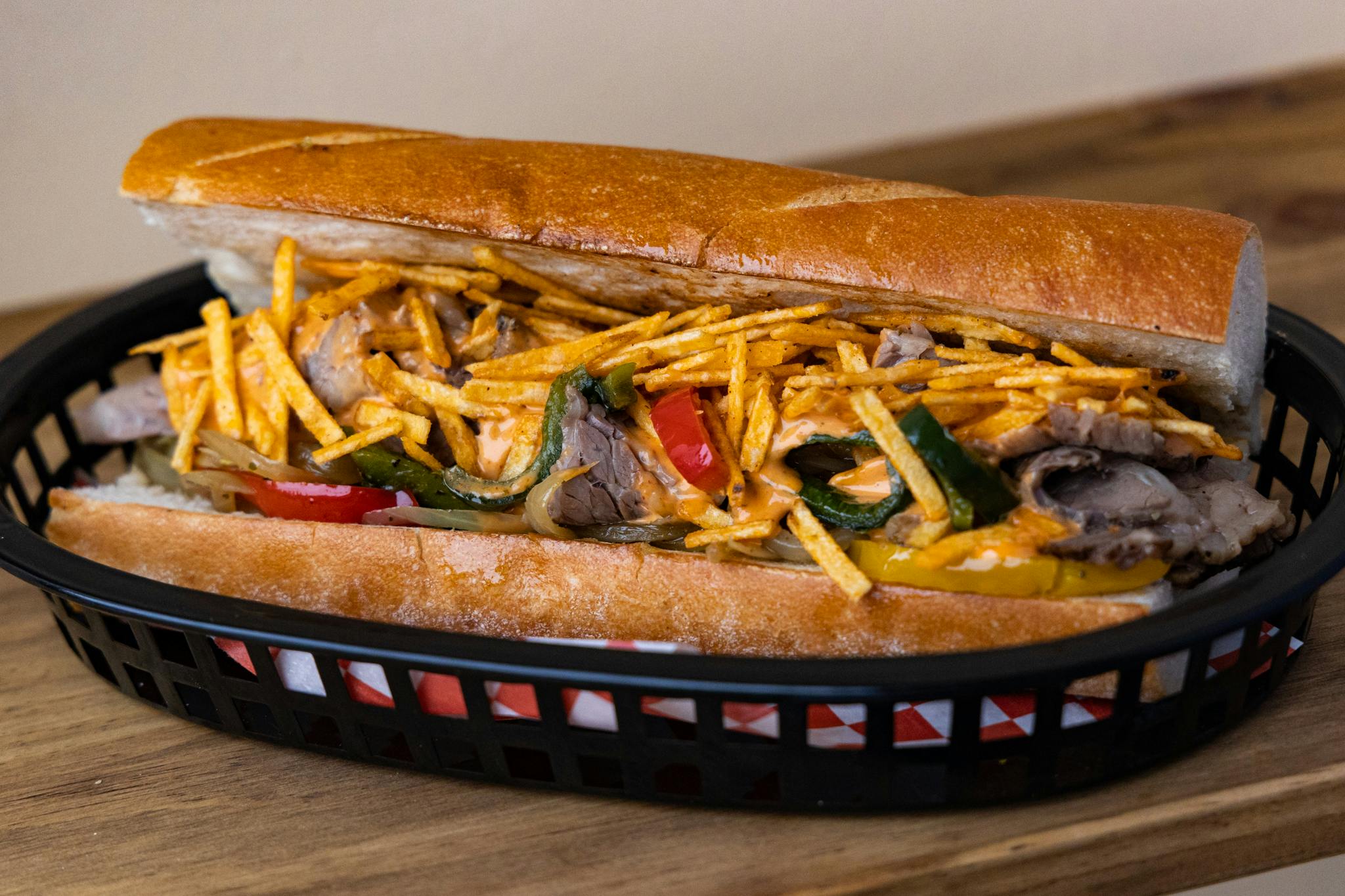 The Brisket Sandwich is the most popular at the moment. Made with sautéed onions, a variety of peppers, morita chili mayo and Hickory Stix, the brisket is slow-cooked for 36 hours, a personal recipe of MacDowall's.
"I was not a big fan of briskets at first, I'd never had a good brisket, but then he convinced me, he's like 'oh you have to have my brisket, my brisket is different,'" says Eum. "He cooked it for me and I loved it, so we were like okay, let's put it on."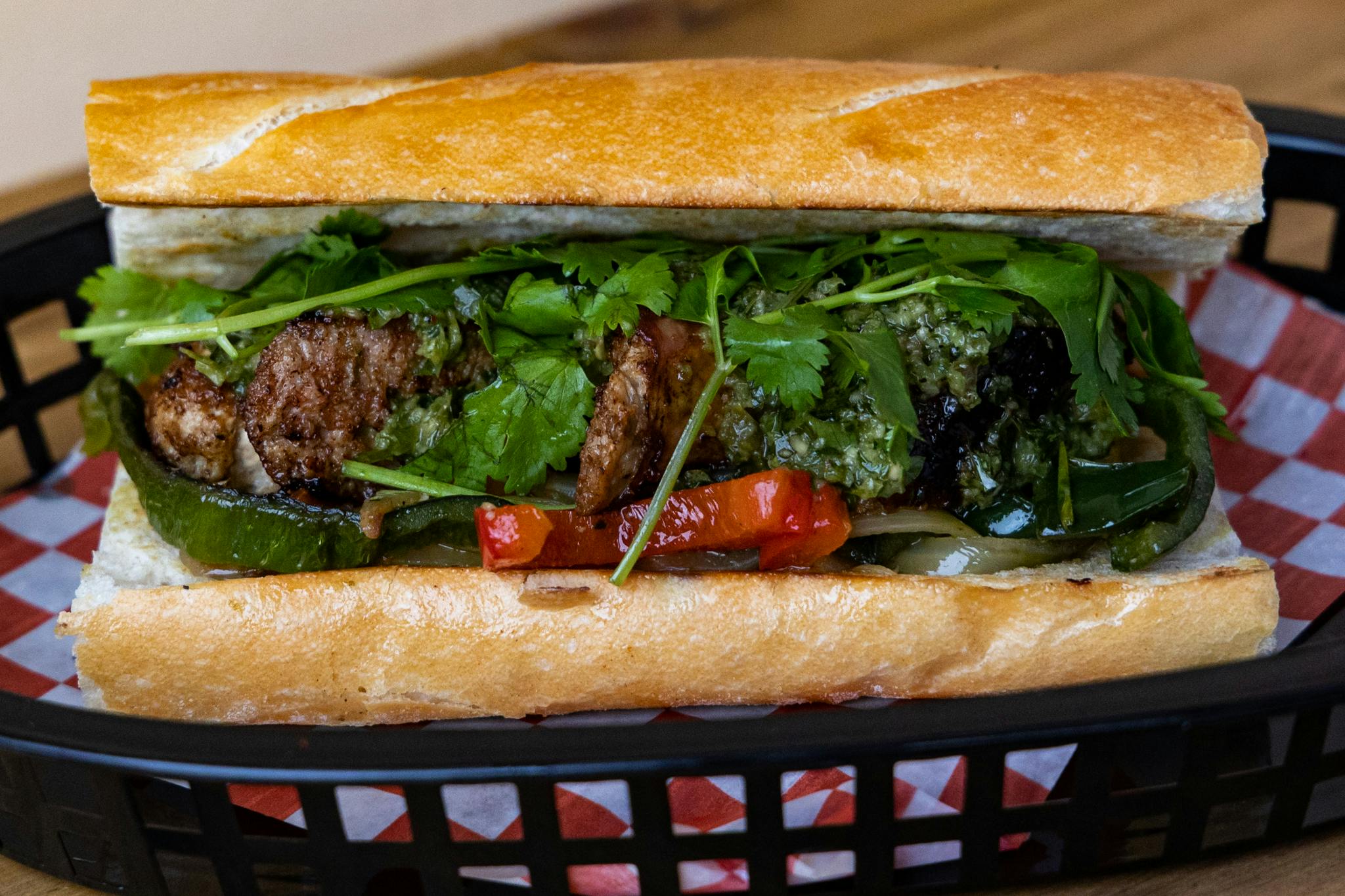 The Chorizo Sandwich is a take on choripan, a common street food found in Latin America. Here, Mexican chorizo sausage is cut up and accompanied by roasted onions and peppers, chimichurri and cilantro.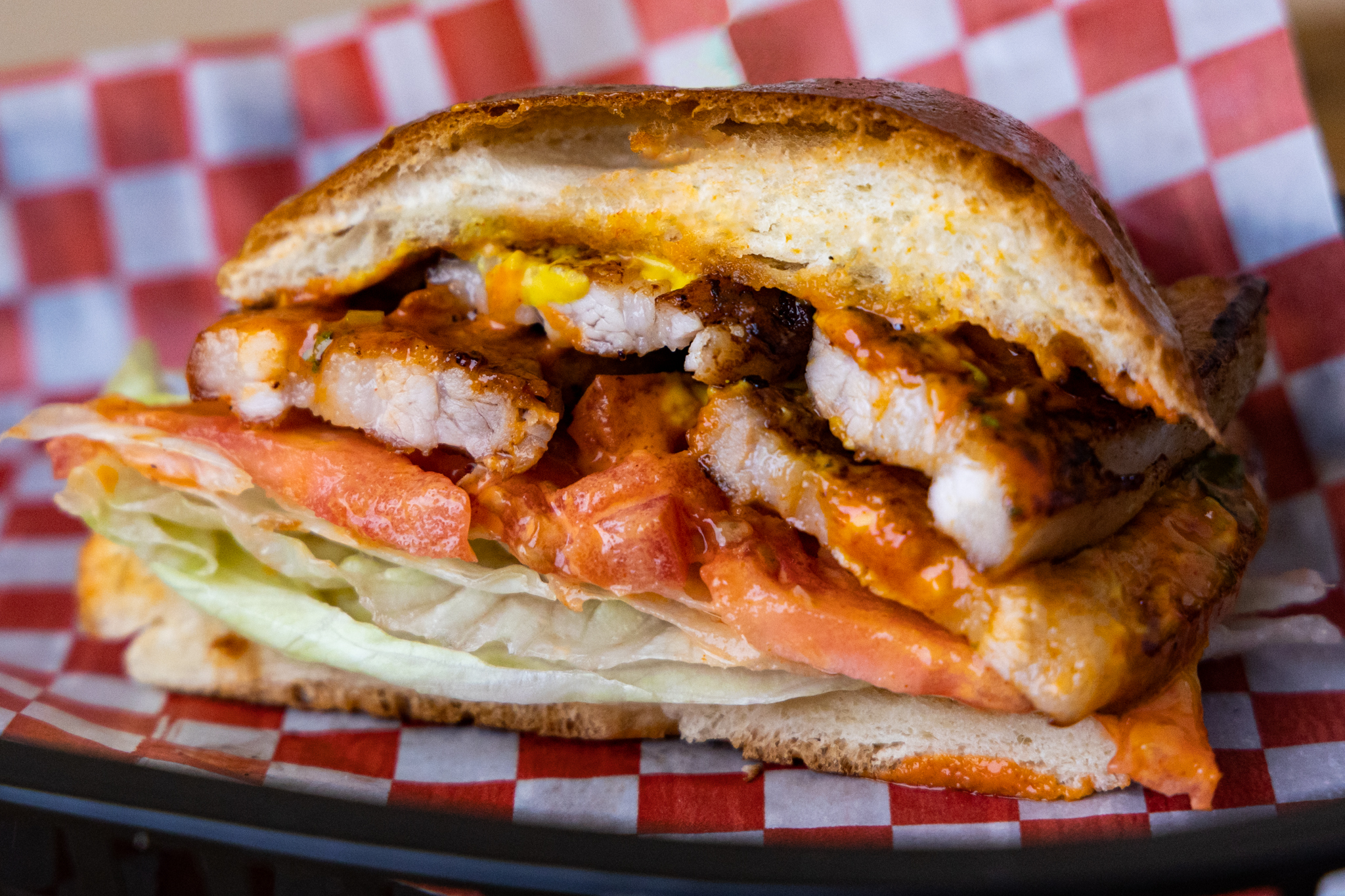 Their last static menu item is a BLT. Putting their own twist on a classic, they're substituting the "B" for bacon, for belly instead. The DAM Sandwich BLT is made with thick pieces of pork belly, lettuce, tomato, mustard and gochujang mayo.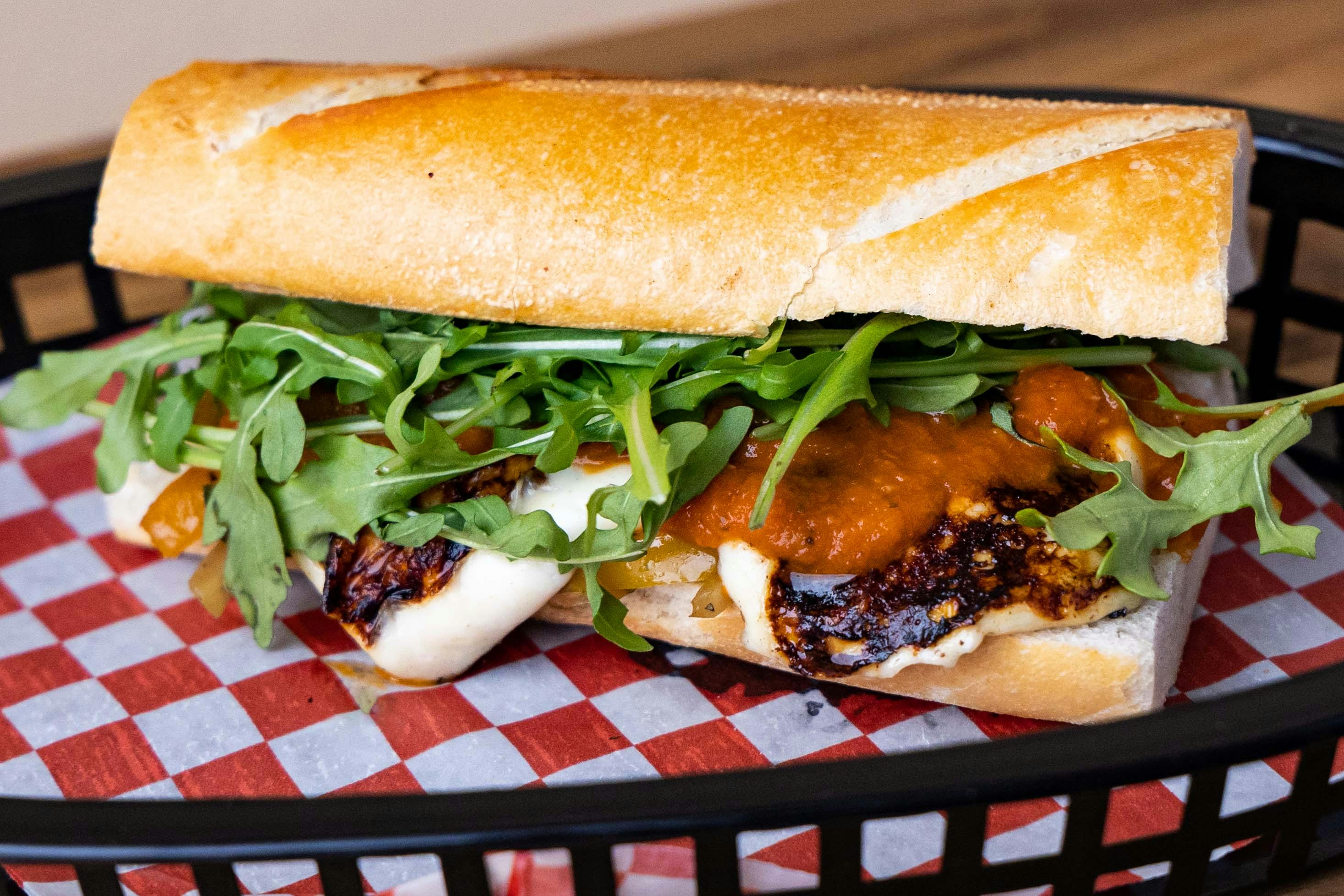 With the Brisket, Chorizo and BLT being their mainstays, DAM Sandwiches intends to introduce a new rotating sandwich special every few weeks. Right now, find a Fried Cheese sandwich made with marinara sauce, arugula and basil. If you're lucky, you'll be able to catch their Breakfast Sammie made with sausage, egg and provolone cheese.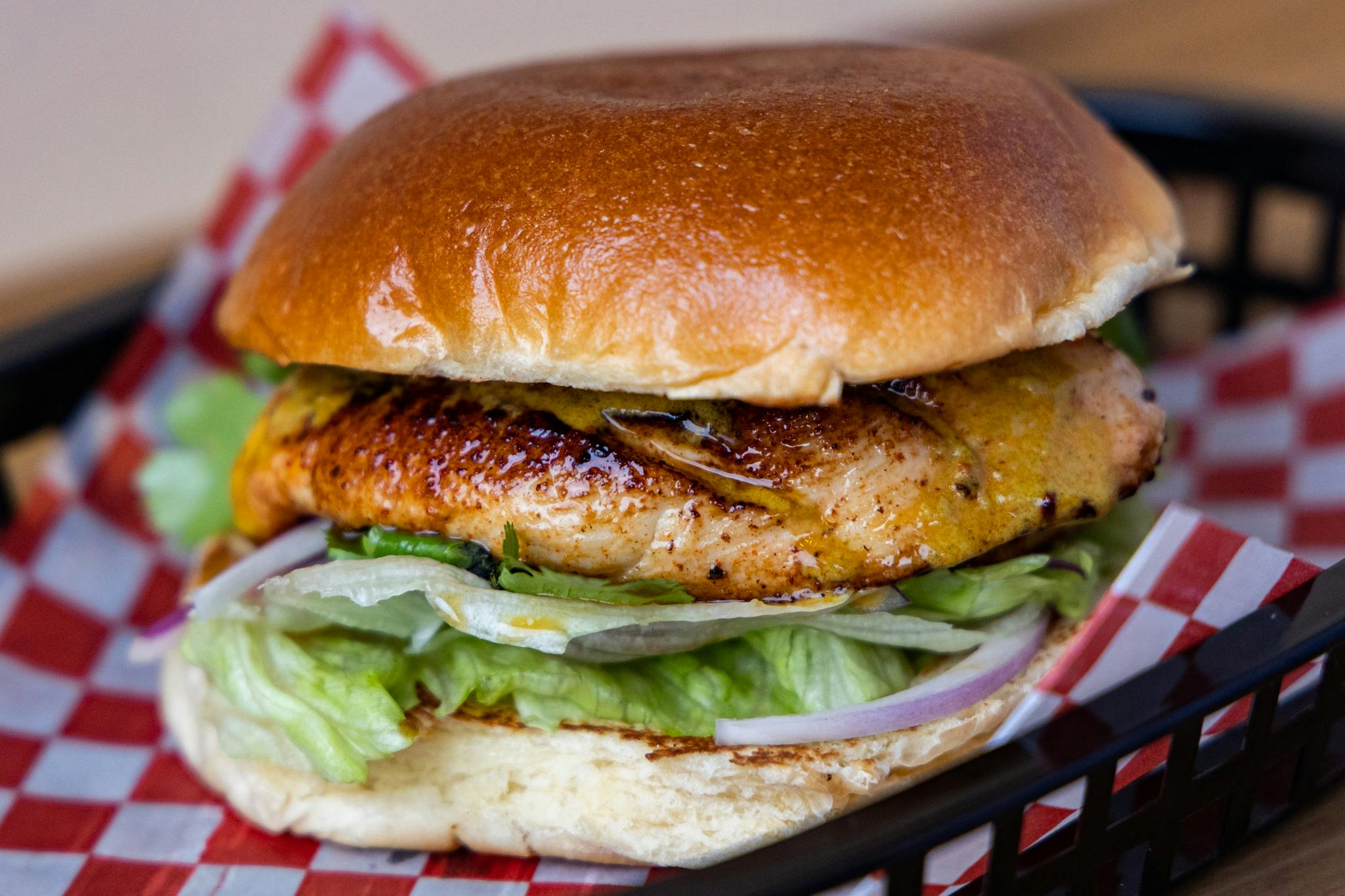 The first sandwich special they ran, the Spicy Chicken, made with pickles, onions, lettuce, cilantro and spicy mayo, was such a hit that Eum says they're considering keeping it permanently. Other future special ideas include a boneless wing sandwich and maybe even the reappearance of certain sandwiches from their pop-up days.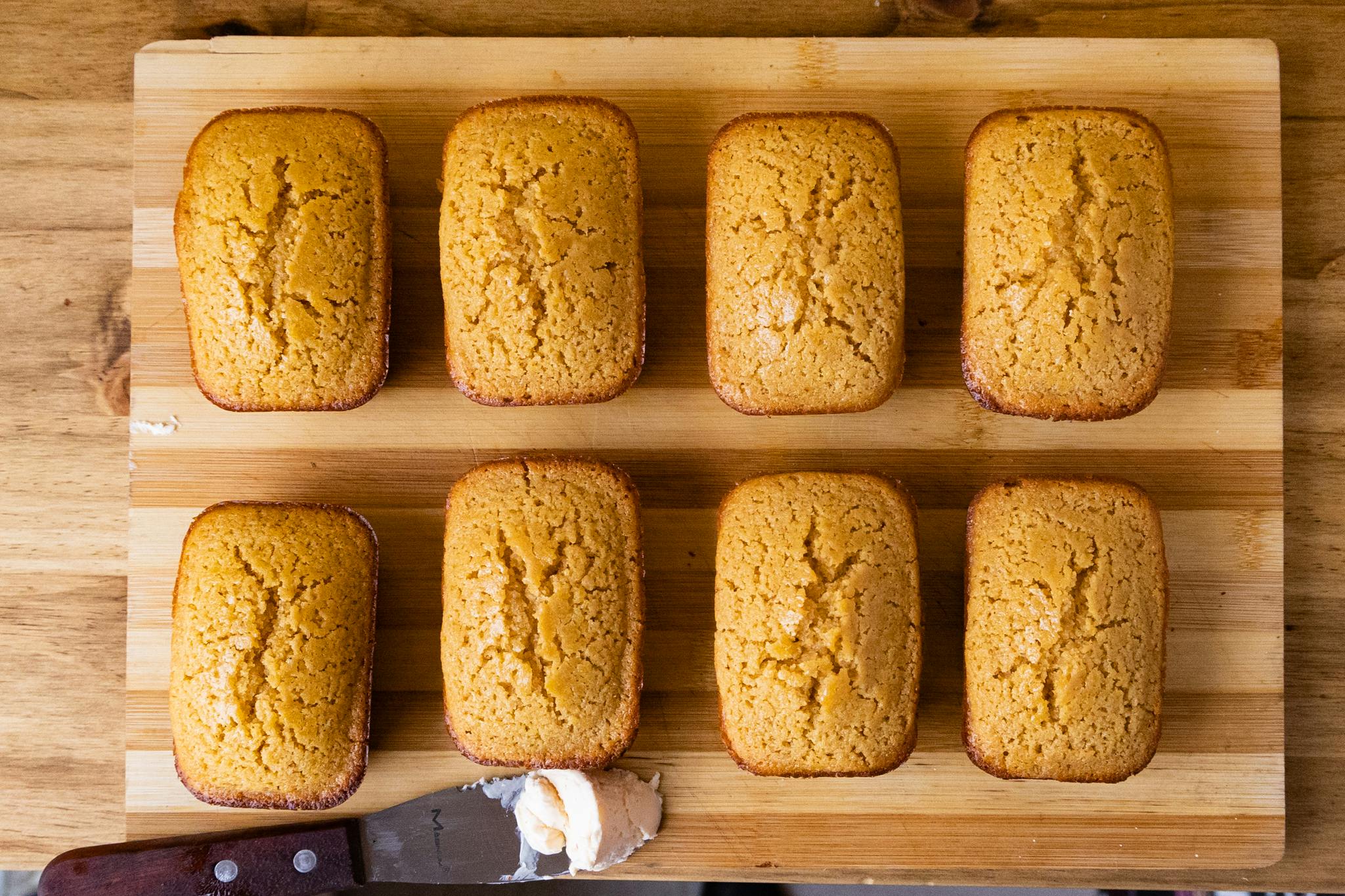 Where most sandwich shops would offer sides of fries to complement their main menu, DAM Sandwiches offers buttermilk cornbread. Made in-house with whipped chili butter to spread, you'll want to arrive early to get your hands on one, as they only make a small batch daily.
A menu addition coming soon is a side salad. Vegan and gluten-free, it's made with roasted beets, chickpeas, pickled red onion and spinach in a curry vinaigrette.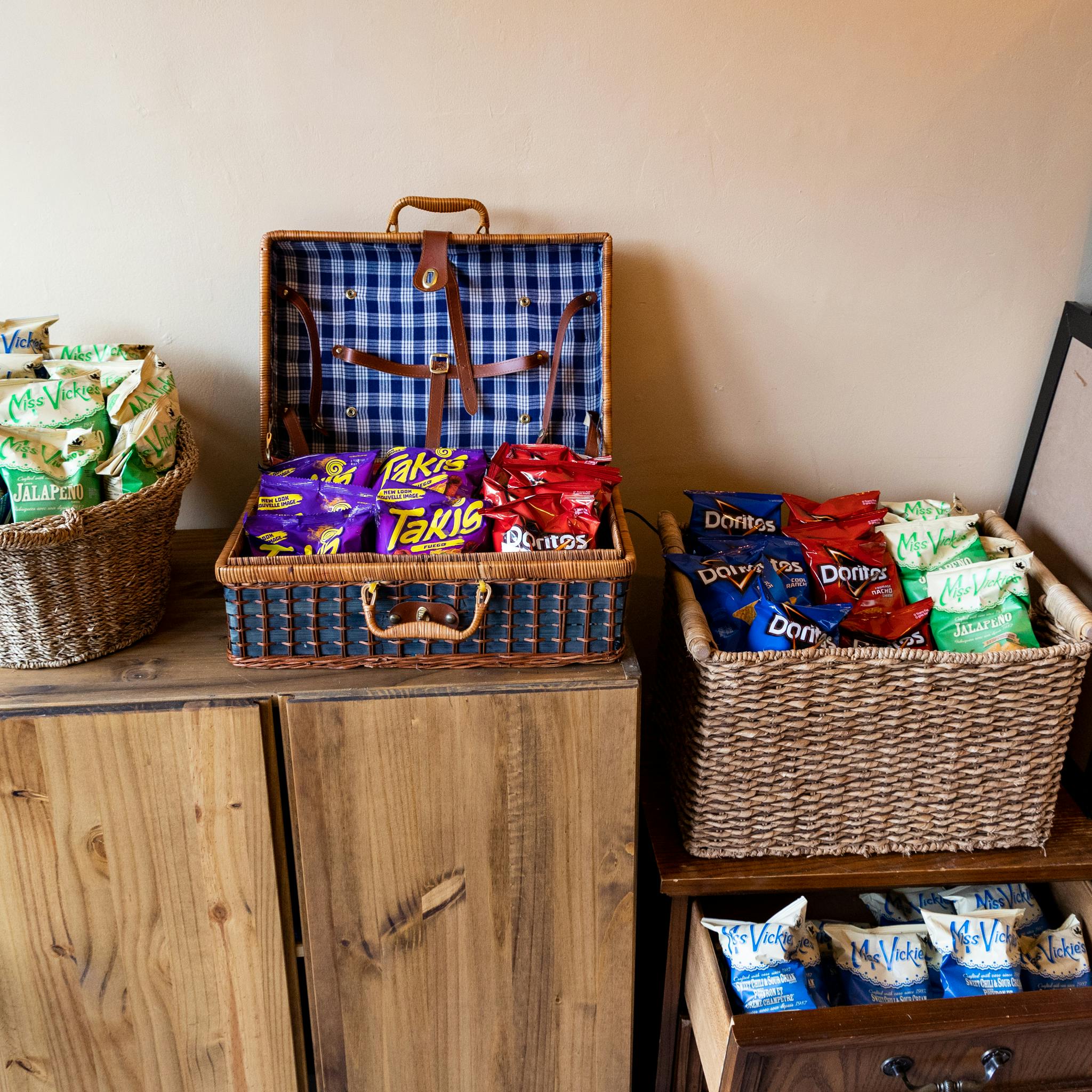 While you're waiting for your sandwich to be made, browse a selection of chips, including Takis to add to your order, stored in some homey baskets and table side drawers. To drink, find your typical selection of soft drinks like Coca-Cola and Ginger Ale, joined by Ting Sparkling Grapefruit Soda, Mountain Dew's Mystery Flavour and Monster energy drink's Mango Loco Punch.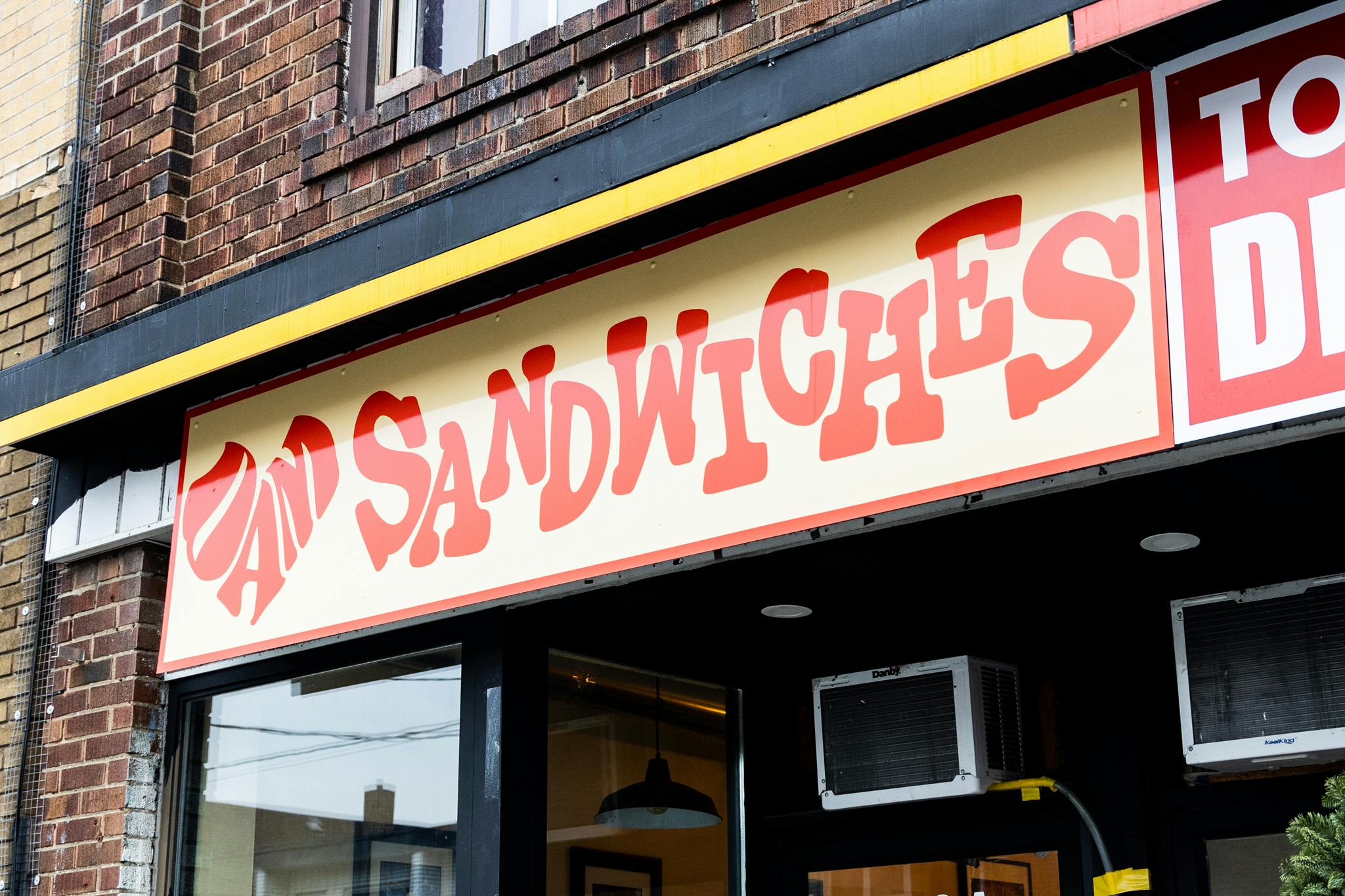 Find DAM Sandwiches at 363 Oakwood Avenue, seven days a week from 11 a.m. until 8 p.m. Follow them on Instagram to keep an eye on all their rotating specials and additions to the menu. Currently, you can find them on Uber Eats for delivery and for pick-up orders; you can call the store ahead of time to lessen your wait.
"The neighbourhood response has been awesome," says MacDowall. "Oakwood rocks."