Walking through Toronto's Financial District, it's hard to miss Daphne. She's the latest it-girl from INK Entertainment Group, who are behind successful spots like Margo, Akira Back, Sofia, and new supper club, Ultra. 
"We're proud to bring a fresh rendition of an American-style restaurant, positioned at the heart of the Financial District's revitalization," says CEO of Ink Entertainment, Charles Kabouth.
Officially opened on June 22, Daphne is composed of 8,000 square feet, nestled among Toronto's high-rises, with Bay St. to the east, Temperance St. to the south and Richmond St. to the north. Decked out in black and white zebra striped plush booths, soaring arched ceilings and tiled marble floors, Daphne's dining room is a modern take on an American diner.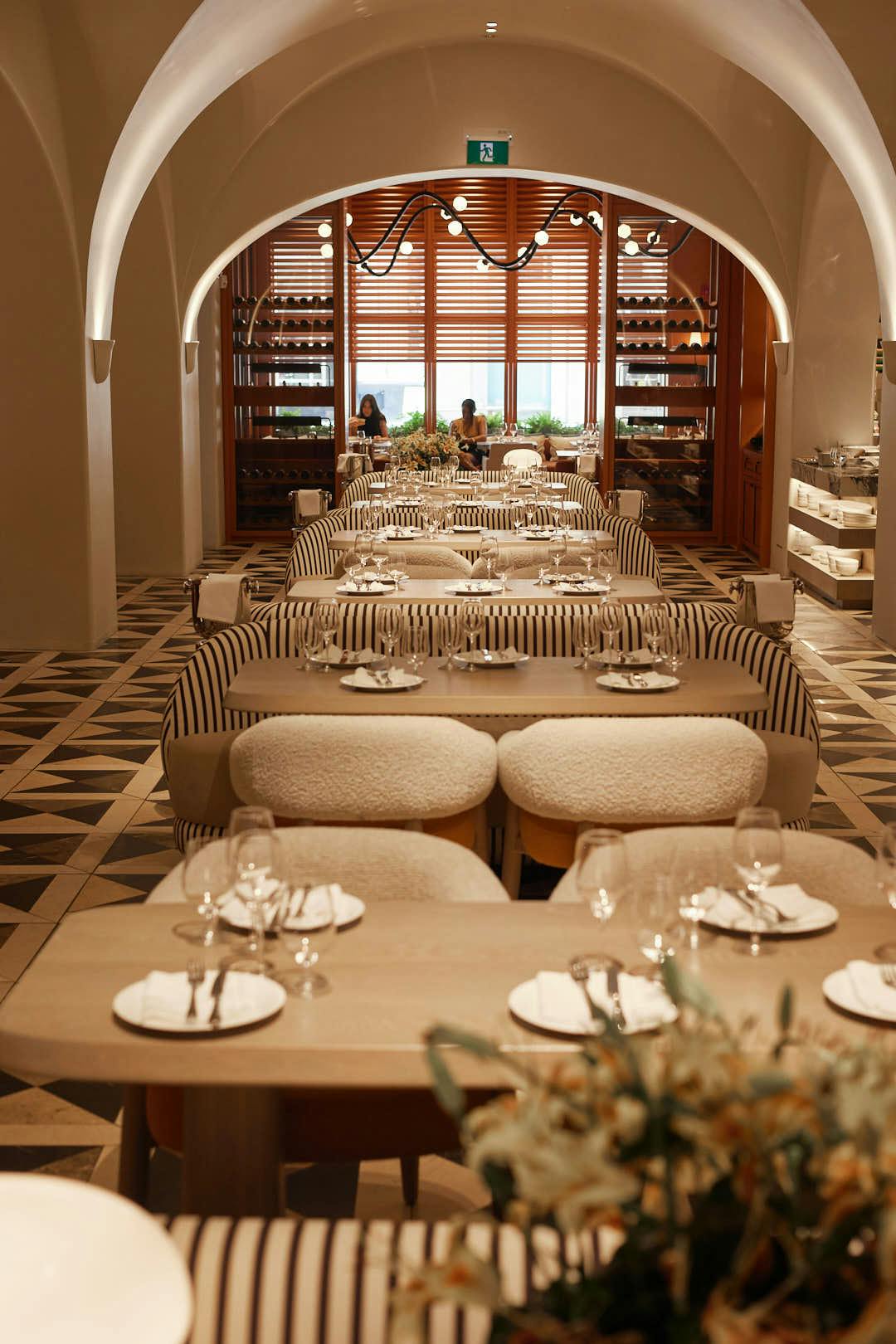 Three retail spaces were demolished to create a brand new design concept from the group up, resulting in a massive concept complete with an open kitchen, private dining spaces and a separate entrance patio, which carries over the zebra stripe aesthetic from the dining room with elongated, white and tangerine-coloured booths. A retractable awning and gas heaters provide protection from the cooler nights, while allowing guests to dine al fresco for the summer.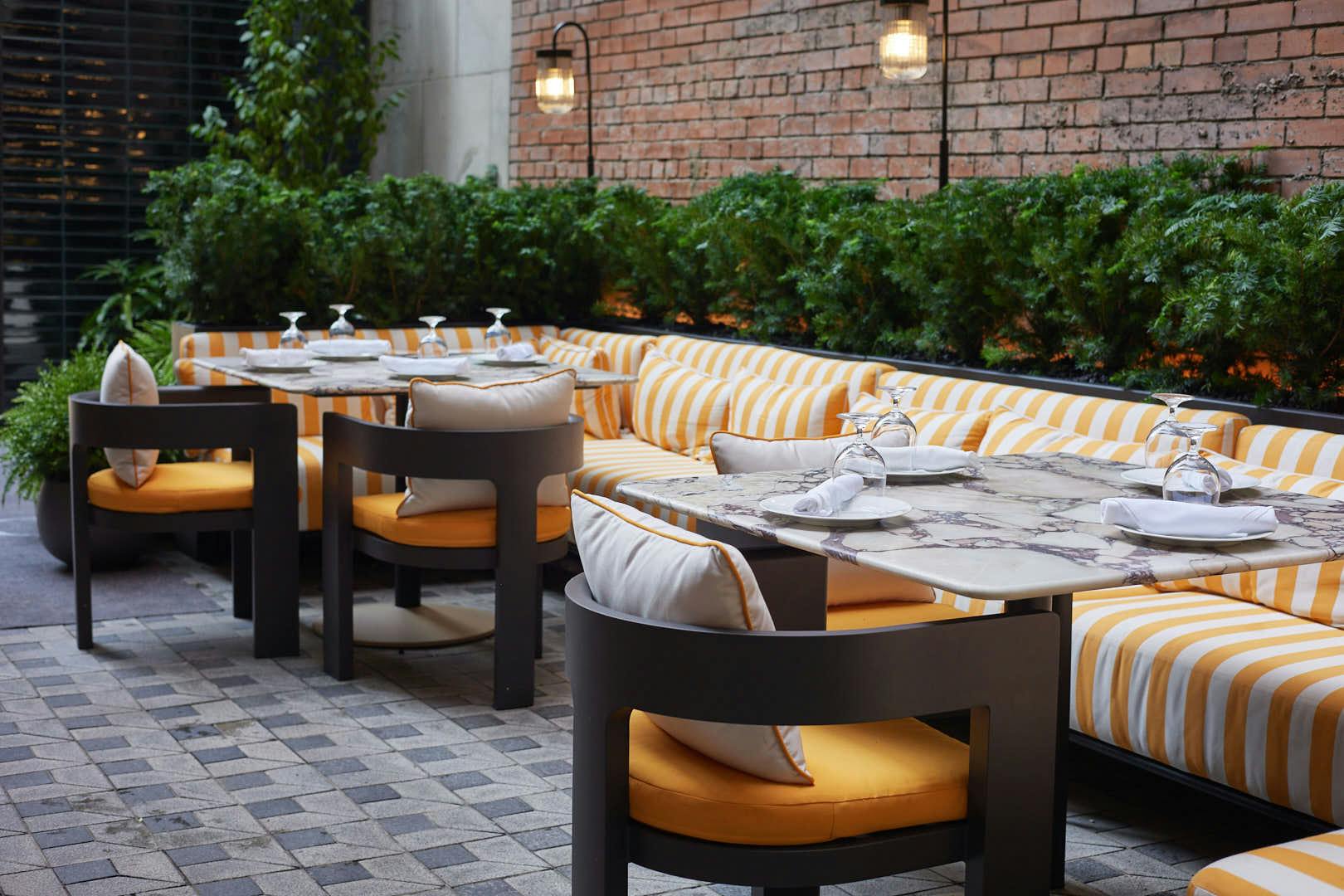 All of the spaces can be reserved for private events, like corporate parties or personal functions.
The cozy bar, branching off of the entrance and hidden by a long gold curtain, is like walking through an enchanted forest, with decor like wallpaper plastered with green shrubbery, ivy green velvet chairs and softly lit hanging lamps reminiscent of lanterns.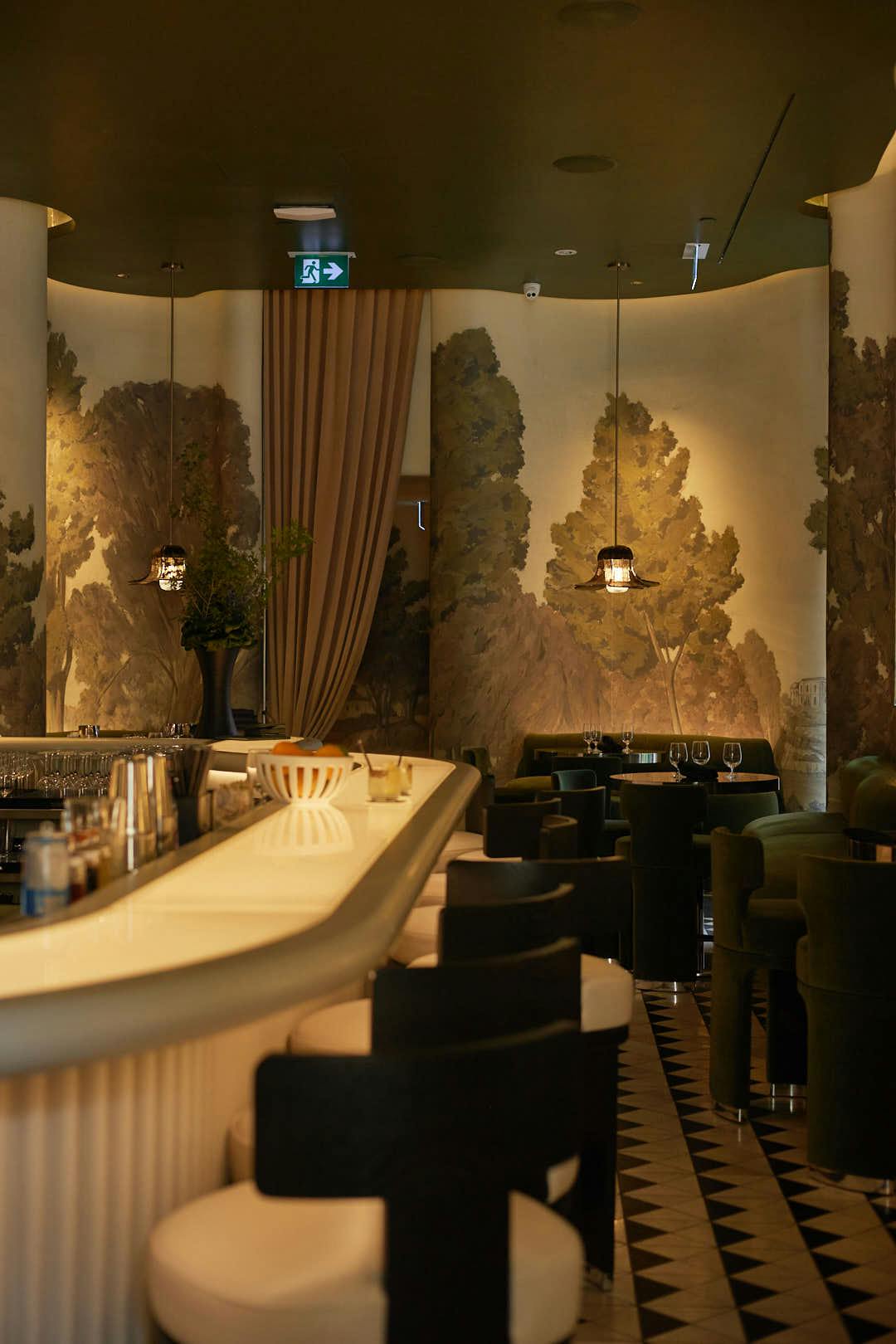 Daphne was designed led by interior design firm, Studio Paolo Ferrari with a contemporary and eclectic reimagining of the quintessential American bistro with a touch of New England prep.
Extending out from the interiors is a sprawling garden terrace, filled with plants and abundant soft seating that encourages lounging in a space that feels like home.
Corporate Mixologist for Ink Entertainment, Nishantha Nepulongoda, is front and centre behind the bar, serving up cocktails with a smile.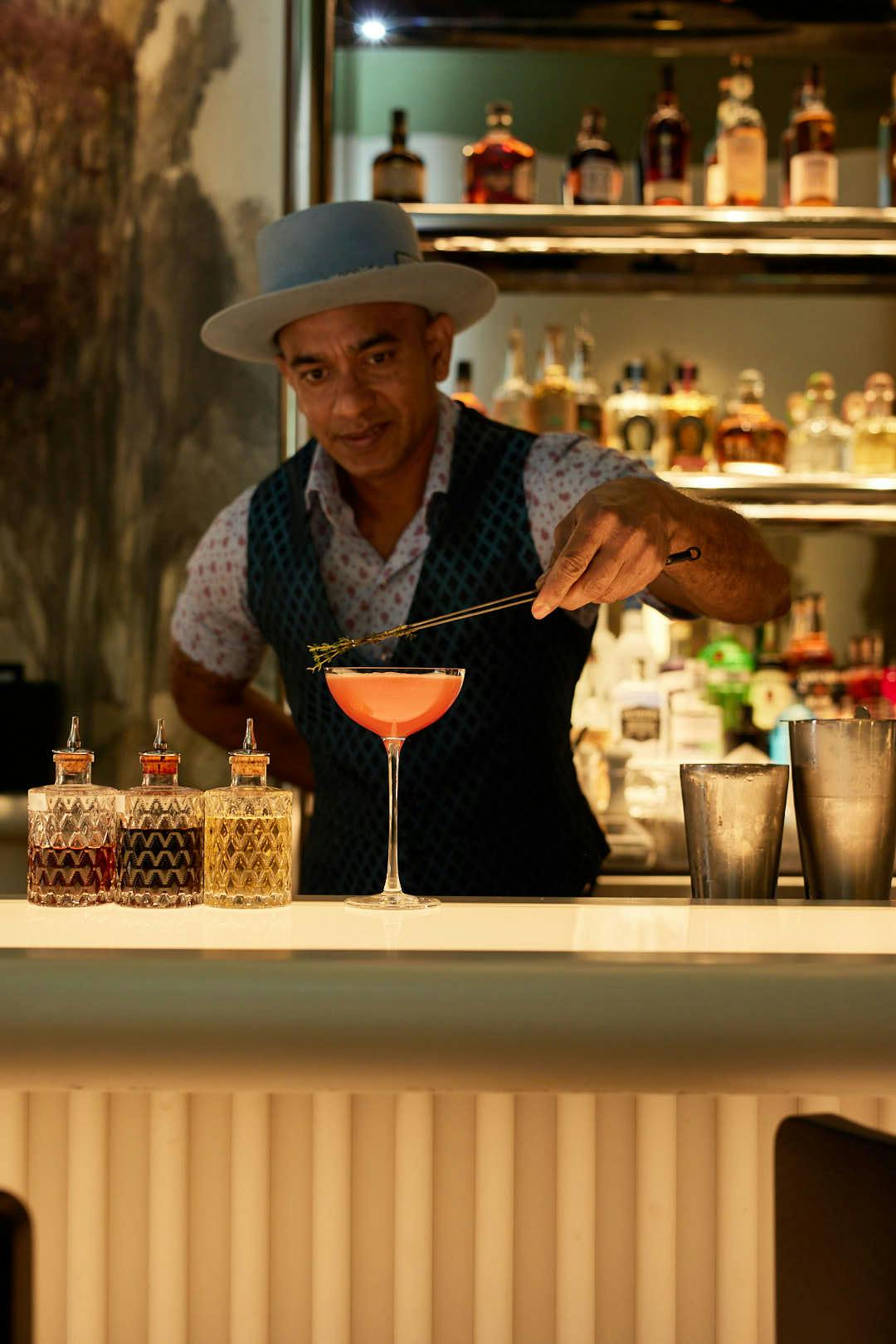 Nepulongoda got his start as a mixologist growing up in Sri Lanka, where he worked in five-star hotels including Cinnamon Lakeside Colombo, previously known as the Ramada Renaissance.
With 25 years of experience, he also completed stints in Dubai. "I met a lot of international chefs and mixologists here, who came from all over the world to learn their skills on the job," he says. In 2004, he relocated to Toronto and opened Miller Tavern at Yonge St. and York Mills Rd.; he then worked at the now-closed Blowfish Restaurant + Sake Bar on King St. W.
He's also designed cocktail programs for Italian restaurant Sophia and Lebanese tapas restaurant Amal. "I love tequila or vodka, so I always have something refreshing or spicy on the menu," he says, noting that his signature drink is a margarita.
There are currently 10 cocktails on the menu at Daphne, ranging in price from $20 to $24.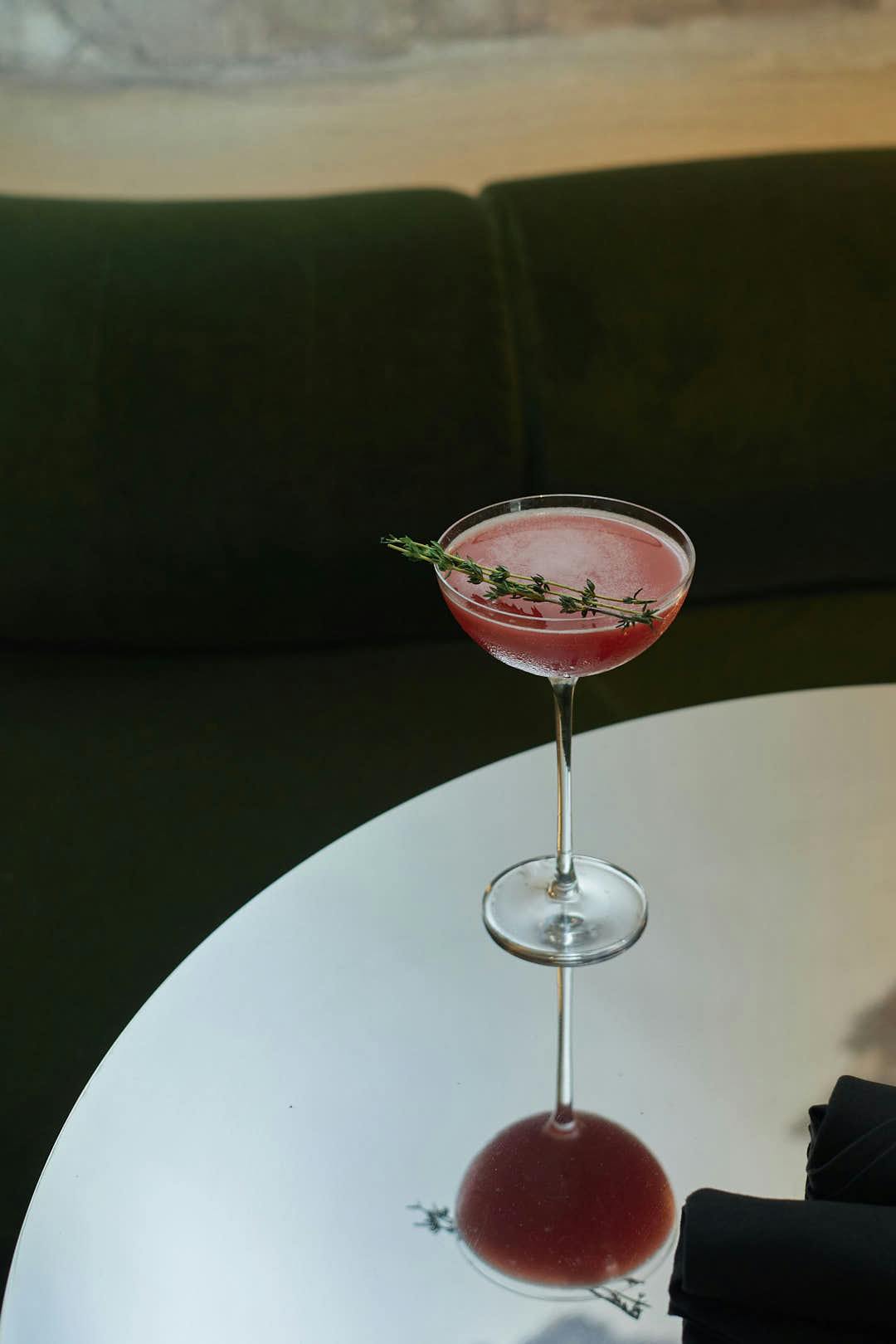 The Right On Time ($20) is a vodka-based cocktail that pays homage to Ontario's strawberry season. It features Ketel One vodka, a splash of Aperol, strawberry, sour cherry juice, lime and a thyme garnish. It's a well-balanced, shaken cocktail with notes of citrus and stonefruit.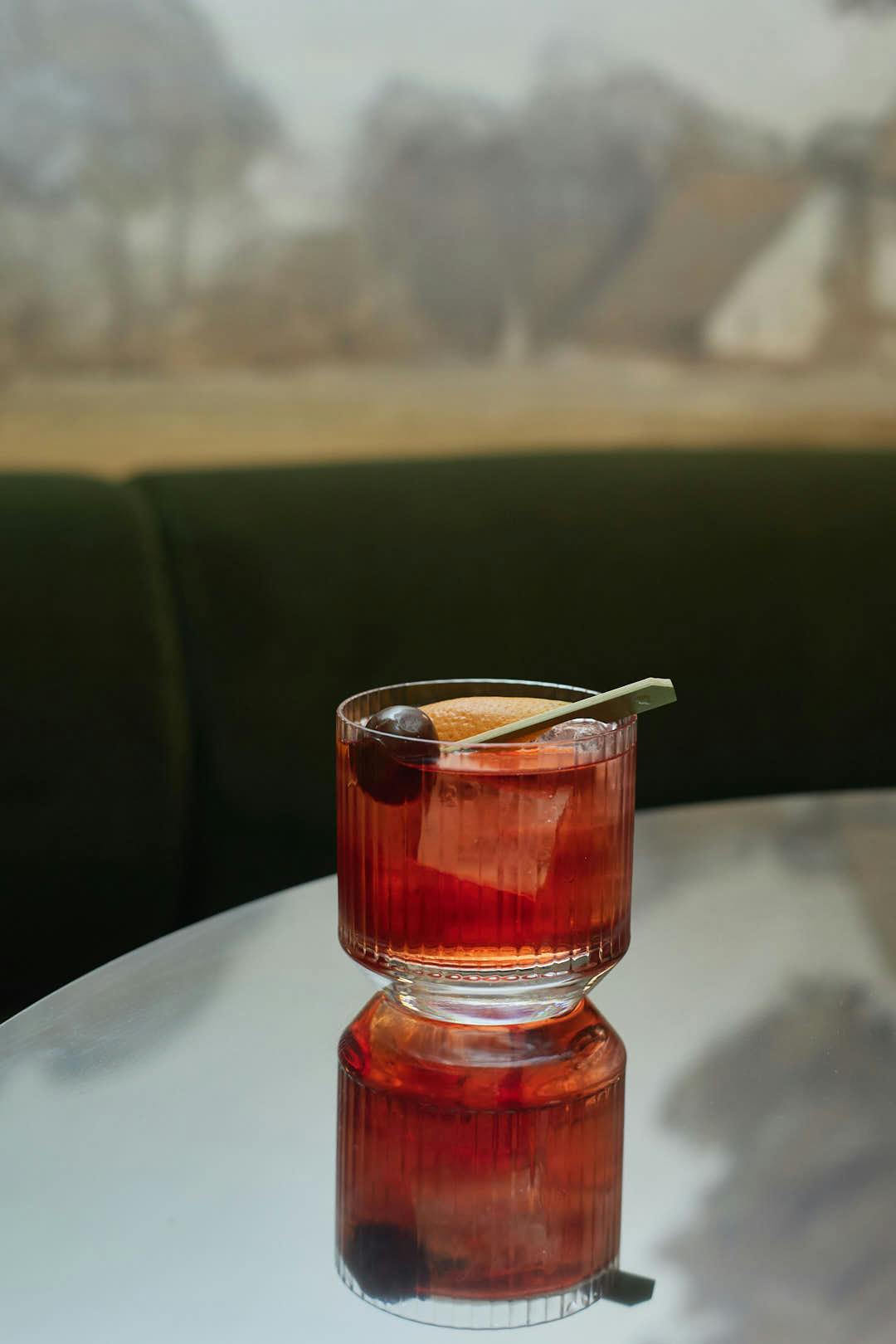 For Daphne's Negroni ($22), Nepulongoda infused a fresh batch of cherries into the liquor to draw out the flavour. It spotlights cherry and sweet gale infused Bombay sapphire gin, Campari, Carpano Antica and Fondillon Luis XIV.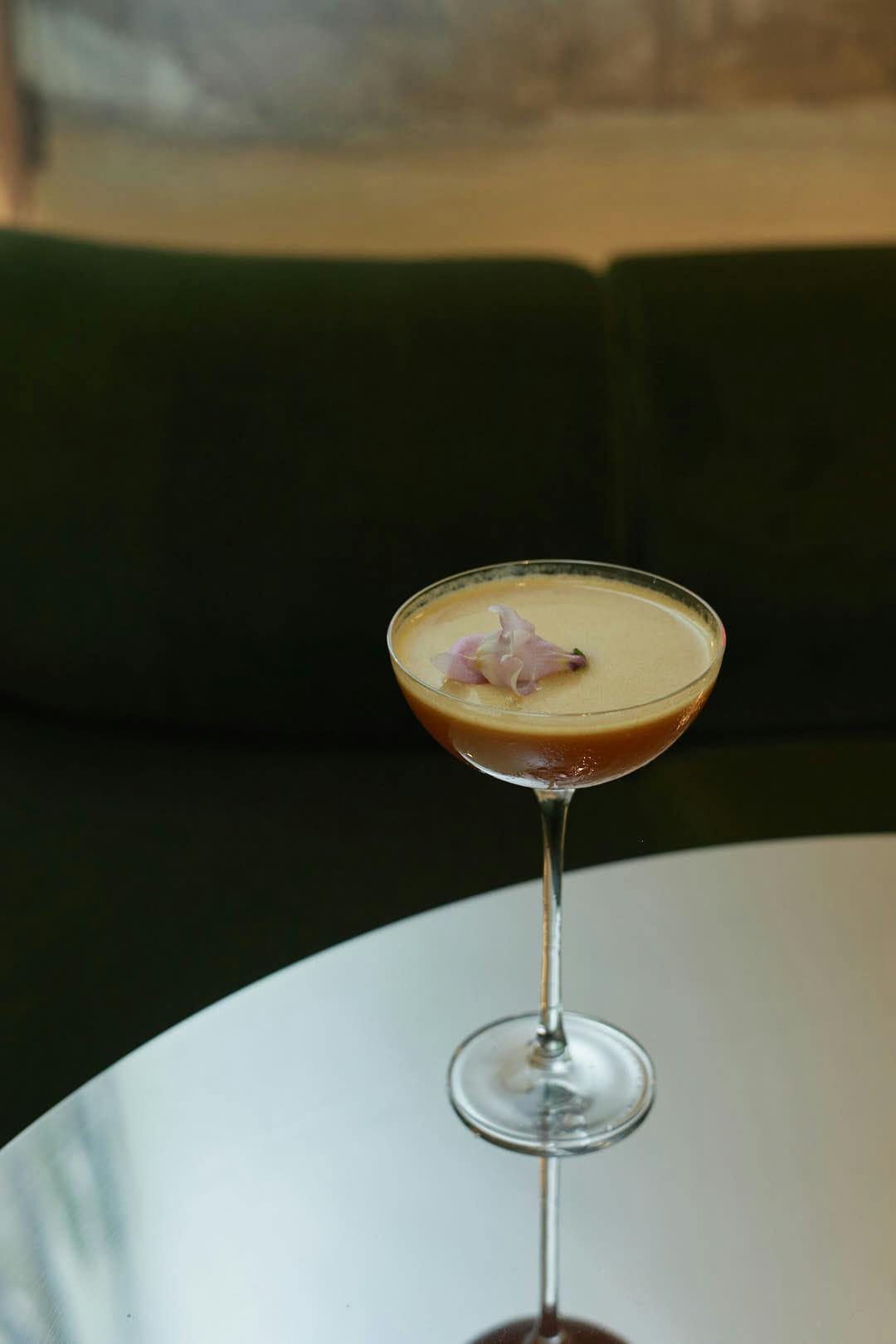 The 67 Shaken ($22) is a riff on the classic 67 cocktail. Nepulongoda uses a special homemade Harissa jallab syrup blended with passionfruit puree, Belvedere vodka and lime juice.
Alongside its cocktail program, Daphne has an extensive list of international wines available by the glass or bottle, as well as a selection of beers.
Daphne offers American cuisine with a contemporary twist, skillfully curated by Executive Chef John Chee (previously at Patois, Shook, Patria).
From an open-concept kitchen, Chee relies on two authentic wood-fired grills to masterfully sear a selection of steaks and other seasonal dishes. The menu gives guests a choice of classic American comfort foods with a twist, as well as an array of smaller plates that are perfect for sharing.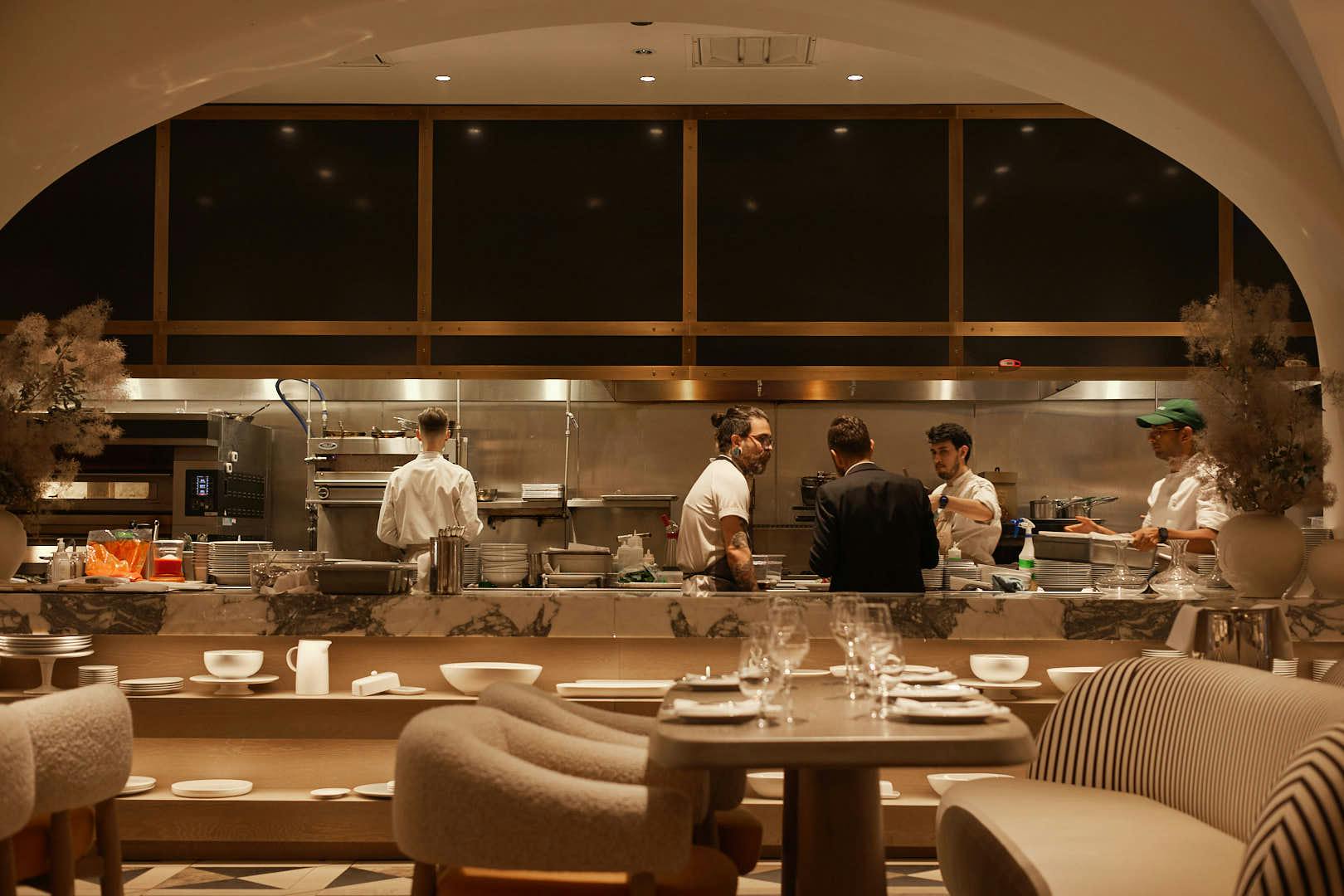 "We wanted to provide something that reads classic American, pushing seasonal and local food that is defined as new-age American cuisine," Chee says. "It will be things that you recognize, but with a twist."
Acknowledging the hustle and bustle that comes with being situated in the Financial District, Chee says the lunch menu is meant to offer quick, healthy options that don't take up an entire hour. "It's geared around bold flavours and rustic plating, whereas the dinner menu centres around elegance," he explains.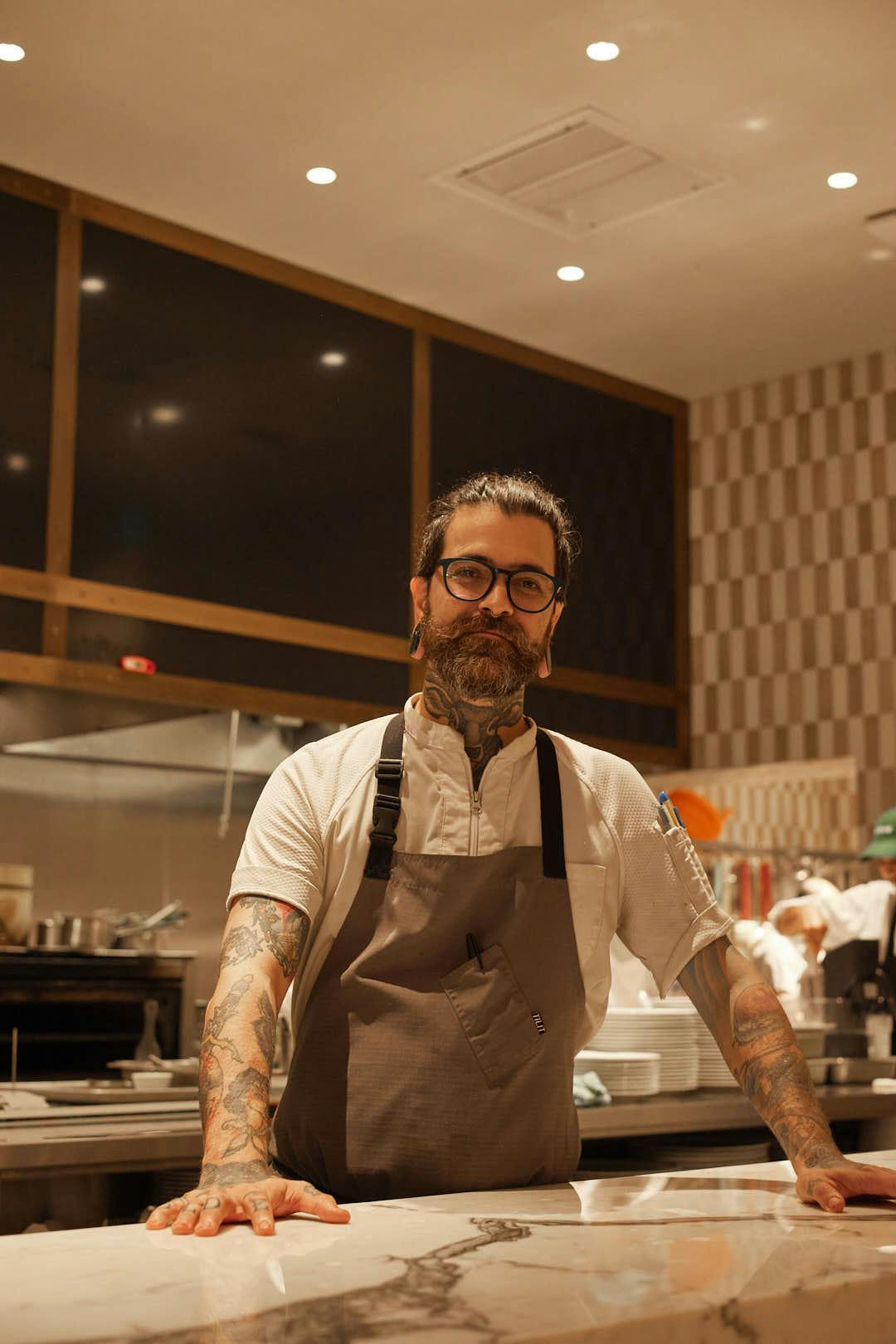 "The main thing we wanted to achieve was accessibility, and that's where my mind went with the menu," he adds. "I want someone who just finishes at the TSX to come have a beautiful dinner, but I also want a couple living in a two-bedroom in the Upper Beaches to take the Go Train down and enjoy a nice night out."
A mix between moderate and high-end meals, Daphne offers a little bit of everything, including local and imported seafood, which is grilled over live coals, ensuring a tasty and memorable dining experience.
The oyster program features a mix of east and west coast Canadian oysters on rotation, as well as a mix of house made hot sauces.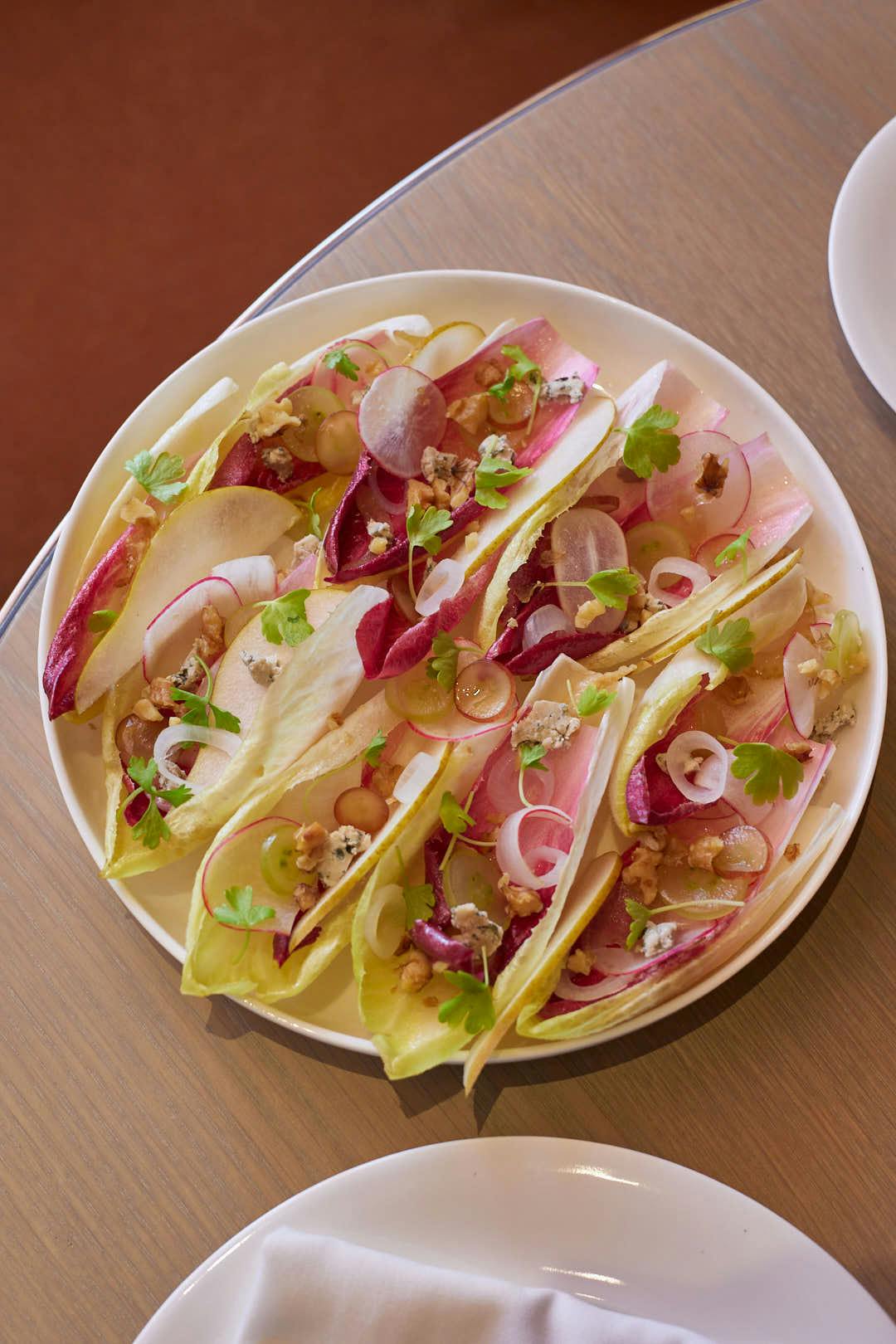 The Waldorf Salad ($23) features chopped endive, sliced pear and radish, crumbled blue cheese and walnuts and a buttermilk dressing.
The Maitake Steak ($40) is done with pine nut crema, charred watercress, chive and aleppo.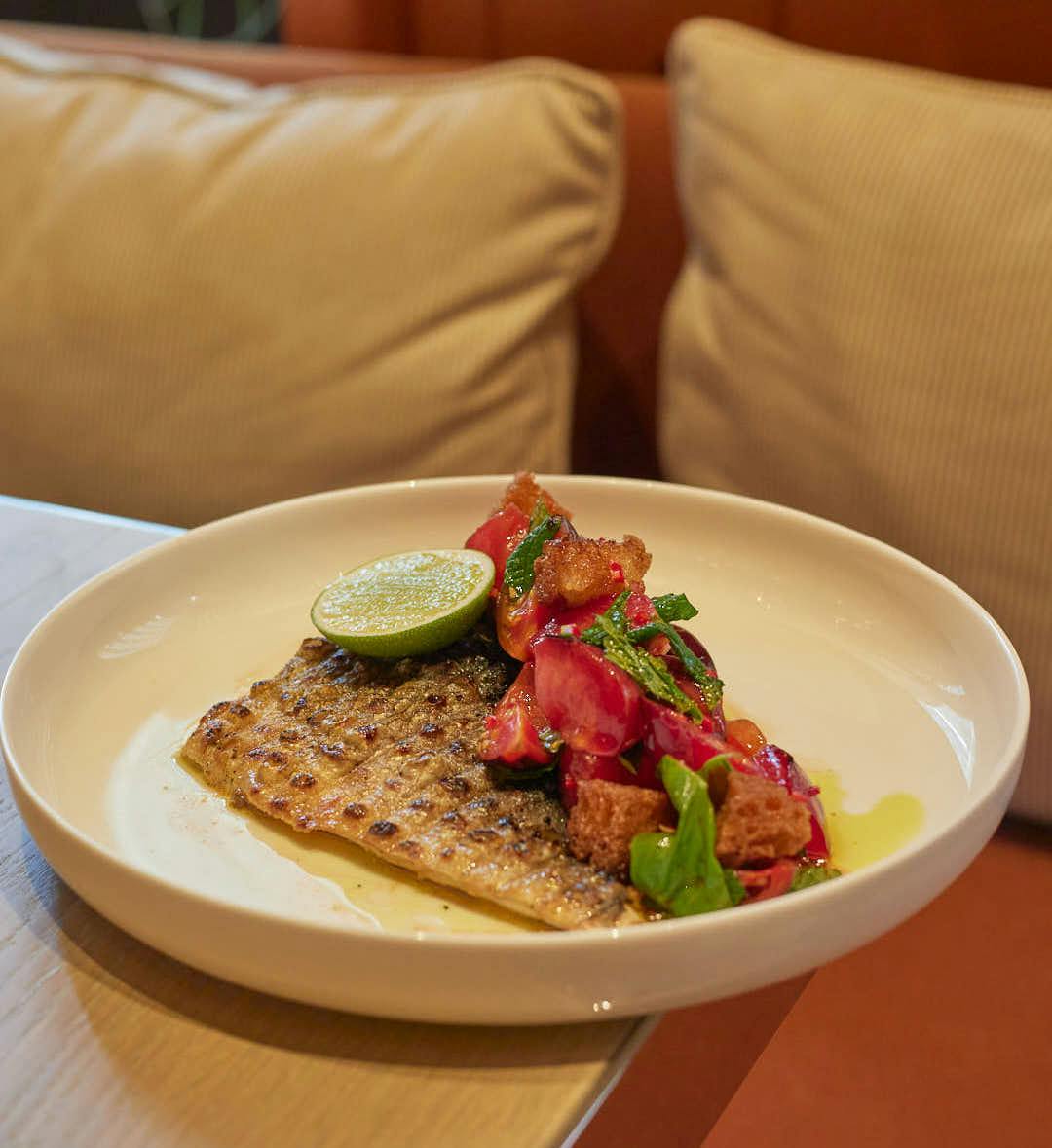 The Roasted Sea Bream ($32) is topped with juicy tomatoes and plums, sourdough croutons and a wild ginger vinaigrette with Middle Eastern flavours.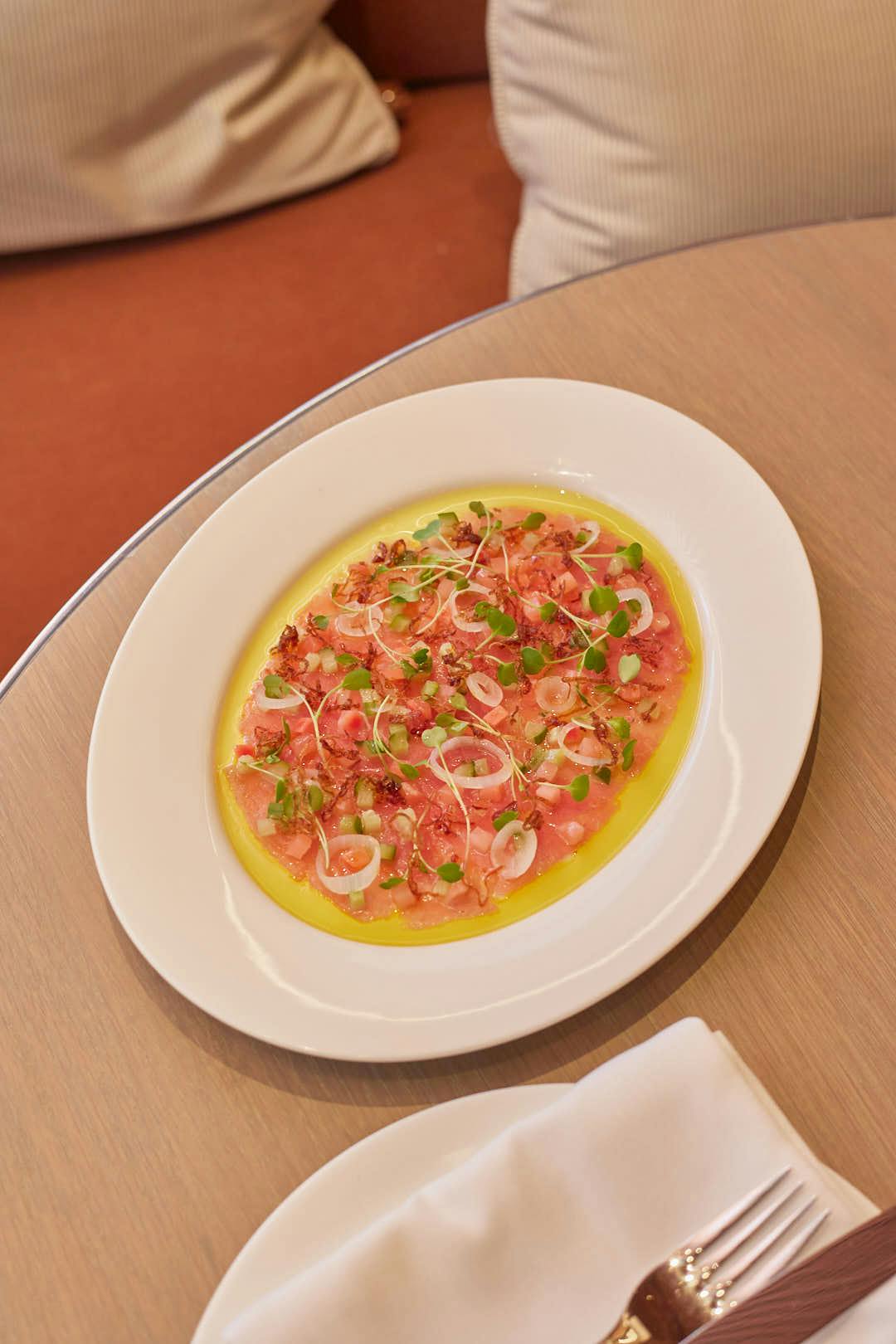 The Amberjack Crudo ($26) is a refreshing blend of passionfruit ponzu, fennel and serrano chili and amberjack tuna that's flown in from Japan.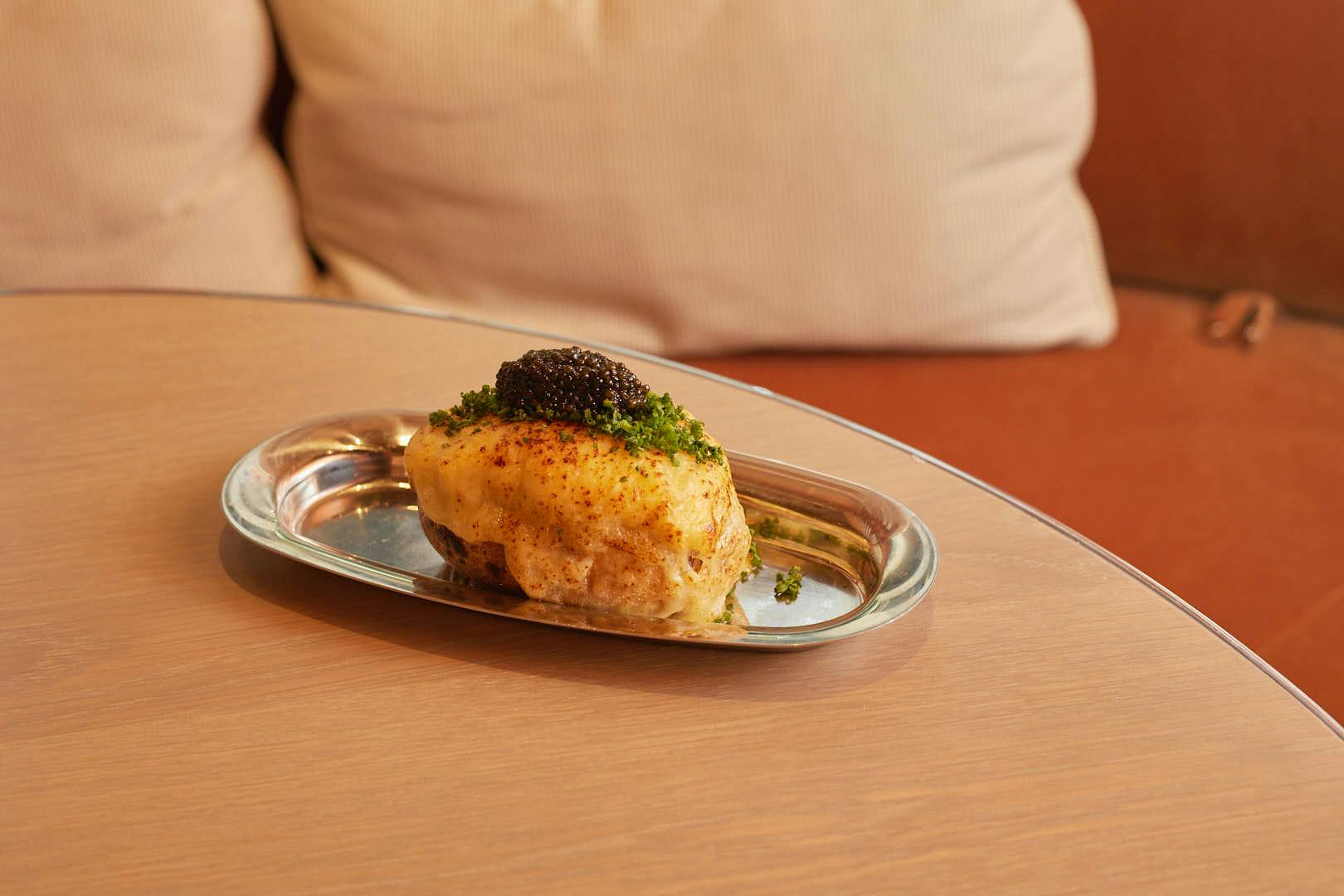 The Daphne Potato ($16) is a twice-baked russet potato loaded with crème fraiche, emmentaler and diced chives. You can add caviar for an extra $20.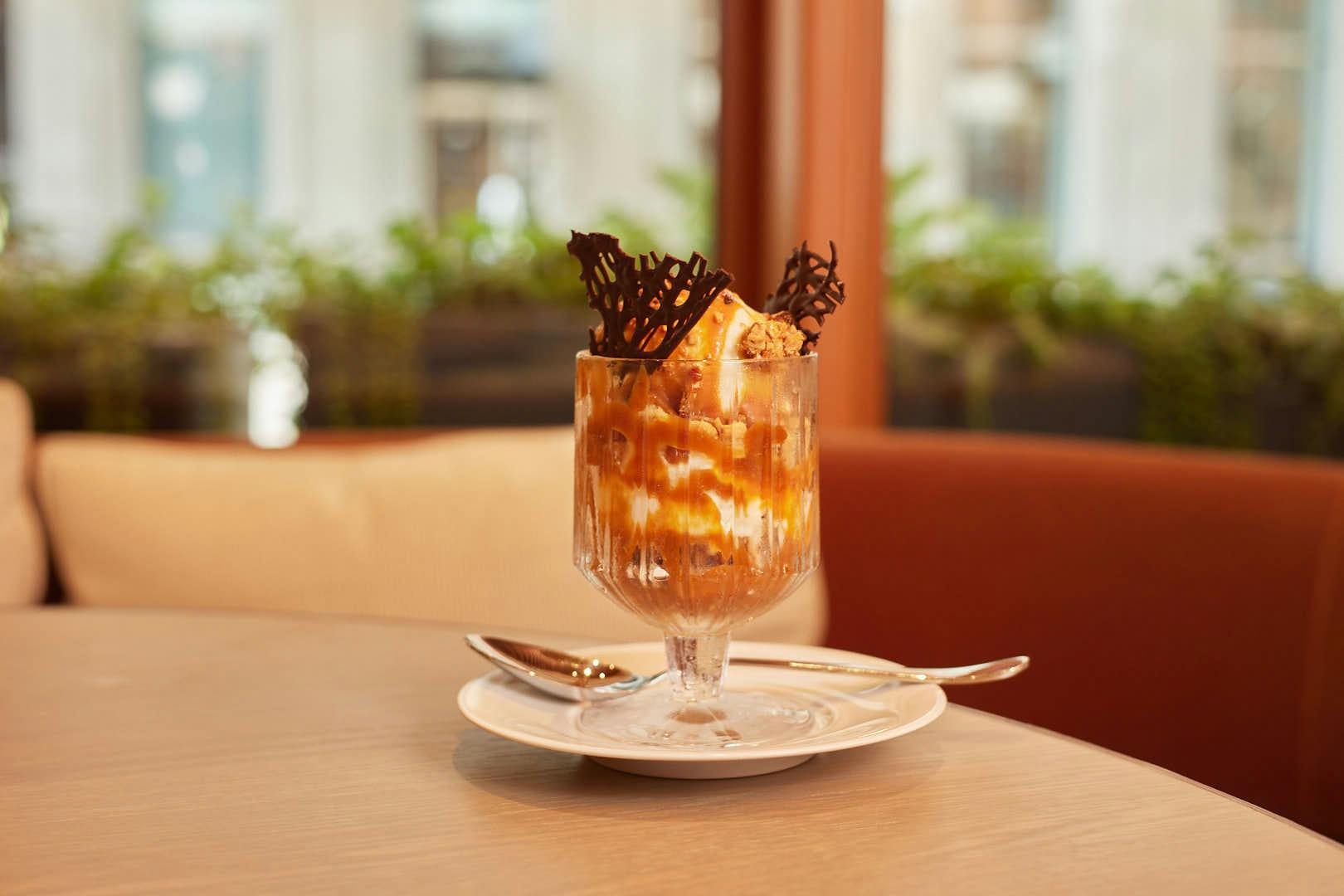 Daphne's take on a classic American sundae ($15) features embered vanilla ice cream, fire-smoked caramel, candied marcona almonds, hazelnut praline and almond crumble and a sprinkle of Maldon salt.
Daphne is located at 67 Richmond St. W. and is open for lunch and dinner Monday to Wednesday from 11:30 a.m. to 10 p.m.; Thursday and Friday from 11:30 a.m. to 11 p.m.; Saturday from 5 to 11 p.m. and Sunday from 5 to 10 p.m.