The newest restaurant in Little Italy is the brainchild of industry vet Tony Longo and global branding entrepreneur Joe Mimran. These two powerhouses are thrilled to be embarking on this new venture together, where they hope to bring Quadro to the forefront in Toronto's Italian food landscape.
Longo has been working in the restaurant industry for as long as he can remember. Having opened a number of his own restaurants (including Flow and Splendido), he was approached by Charles Khabouth who appointed him Chief Business Officer of INK Entertainment, where he helped grow their impressive roster of restaurants.
In November 2020, he was called by his pal Joe Mimran (founder of Joe Fresh and Club Monaco) to spearhead a new restaurant concept. With his extensive experience in hospitality, Longo warned Mimran of the challenges that come with opening a restaurant––especially during a global pandemic––but Mimran was confident that as a pair they would be able to play off each other's strengths and assure a successful future together in the restaurant business.
The two started a Pinterest account together where they would bounce ideas off one another to try and nail down the vibe they were going for.
"We wanted to build a restaurant brand that was growable and scalable. It's not necessarily about 'restronomic' food. I've done all the genres and levels of dining, but in these times, people are more drawn to quaint environments, with a focus on the basics."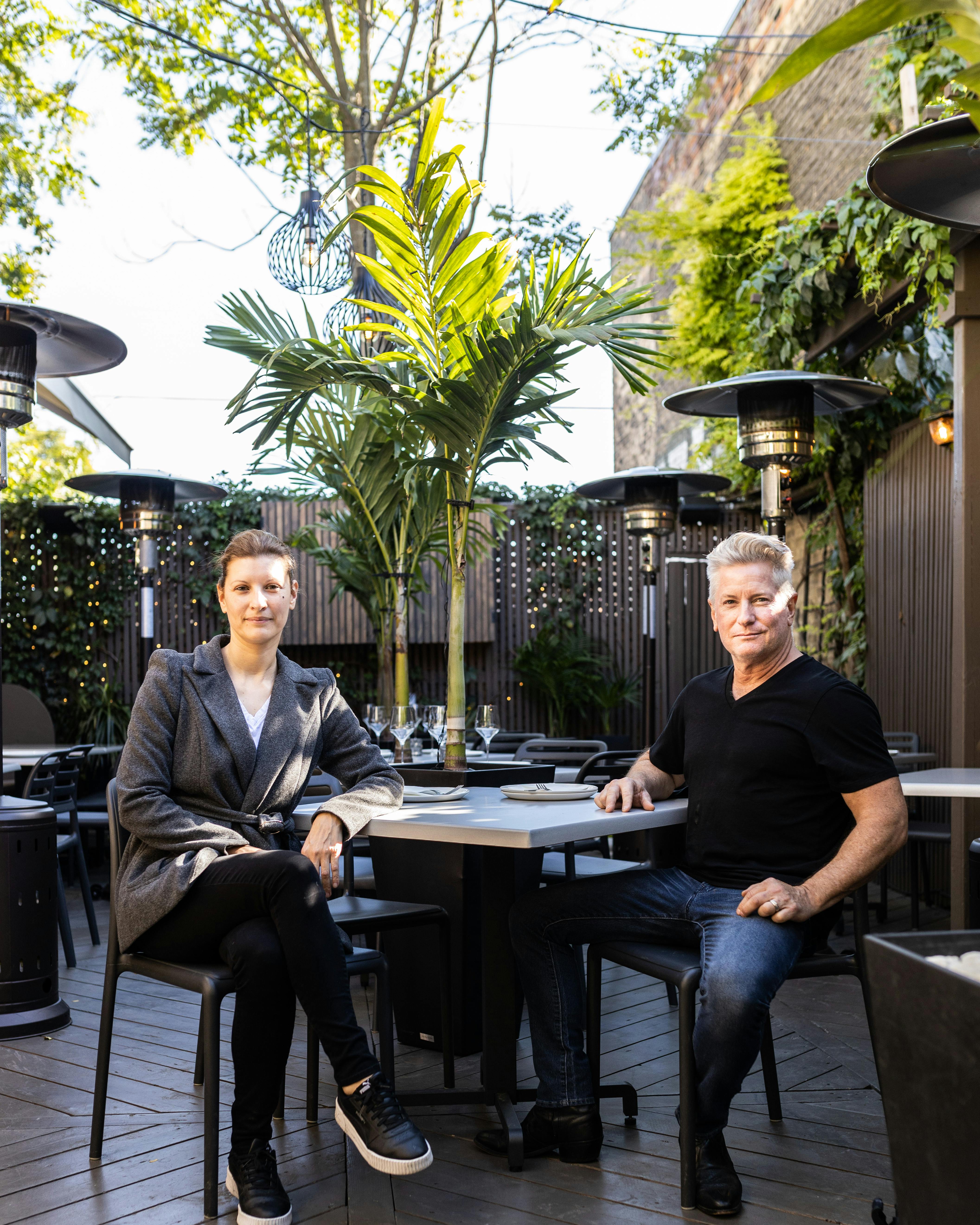 Tony Longo (right) with his wife Jay (left) on the Quadro patio.
Quadro is exactly that, a restaurant concept that is all about food that is simple and tasty. Mimran proposed the name saying, "It's a square, it's a table. It's a circle in a square, like a pizza in a pizza box!" With a name that has endless graphical possibilities, the two were confident they'd be able to establish the Quadro brand as a consistent neighbourhood-style locale, in local areas with lots of density and high foot traffic.
"We want to have smaller quaint locations, with small tight teams, rather than arena style pizzerias, so that we can maintain the high standards and expectations that are out there in the marketplace."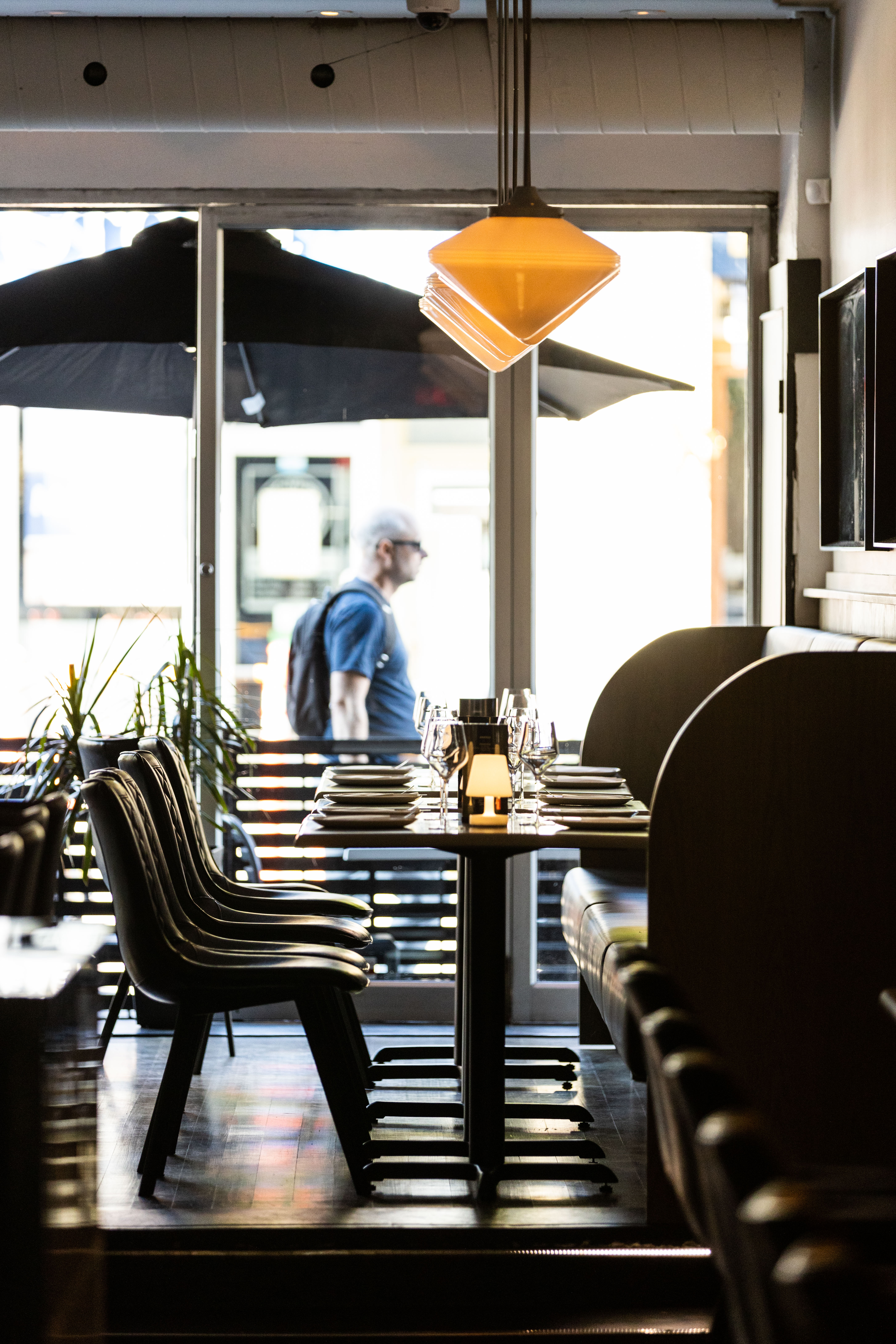 With Mimran's fabulous eye for design and fashion and Longo's experience in hospitality, they have been able to create a modern atmosphere that feels elevated and cozy, without all the fuss. The space is welcoming for people of all walks of life, whether on an intimate date, out with the family, or celebrating a birthday, Quadro boasts a vibe perfect for any occasion.
The back patio offers seating for up to 40 and is covered with plants, palm trees, greenery, heat lamps, exposed brick and even has a large screen TV, perfect for sports broadcasting in the summer, and the fireplace channel during the cooler months.
"When you're sitting on our patio, you are transported to an oasis that will make you feel like you're dining out in Miami," says Longo.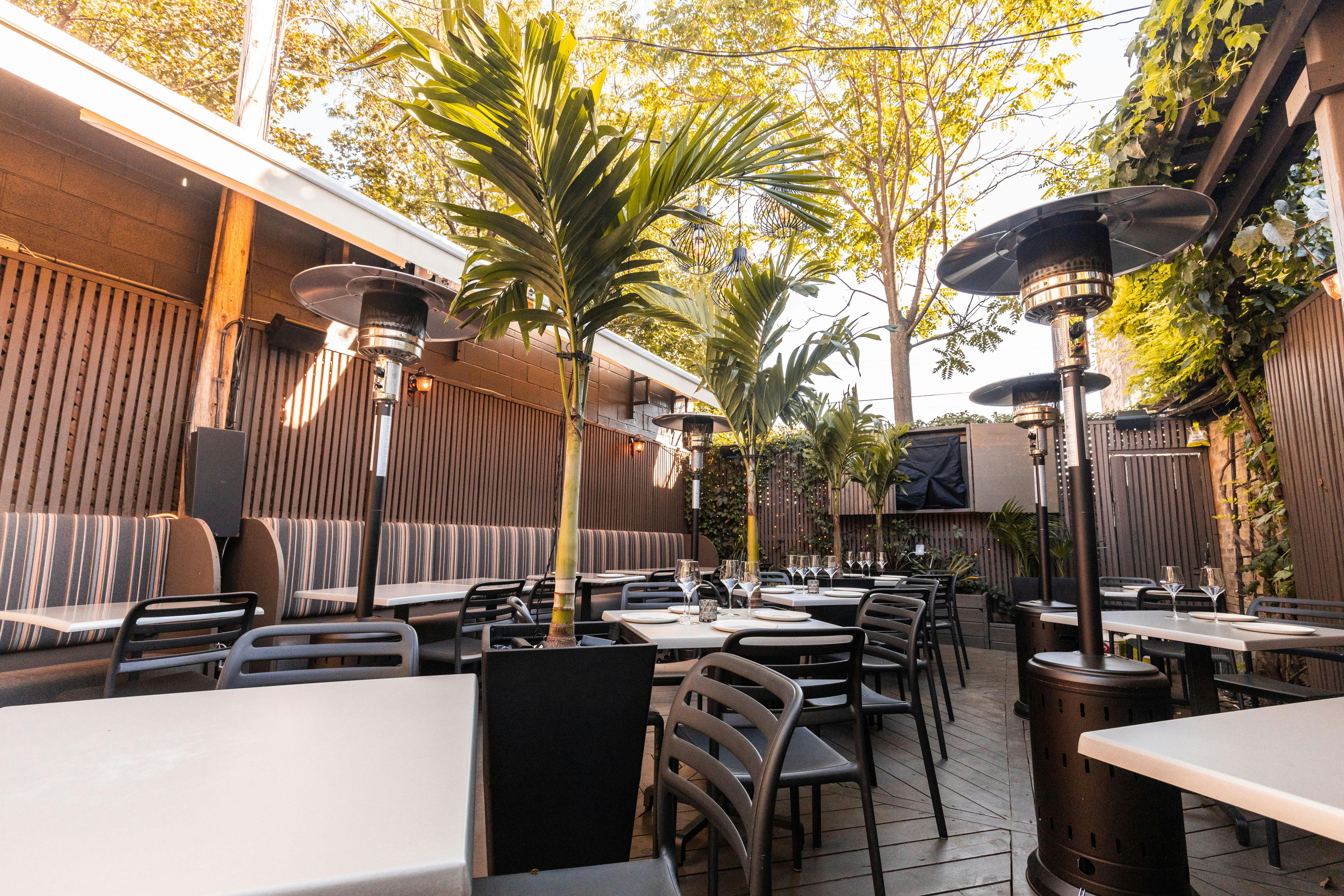 With an elaborate outdoor setup, they have decided to keep the indoor setting nice and simple, as to not distract from the incredible food. The walls are lined with sleek black booths and black seating, which beautifully contrast against the white marble from the bar.
The kitchen is semi-open concept, with a focus on the wood burning oven. The logs are meticulously placed nearby, so you can watch the pizzaiolos fuel the fire, as they whip up your delicious pie. There is also a private event space upstairs with room for 60, perfect for private parties, gatherings and events.
"The best part about dining indoors with us, is you can smell the burning fruit woods and the aroma of the pizzas and pastas being cooked fresh to order," says Longo.
The Quadro menu was derived by consulting chef Christine Mast (Sofia, Canoe, Colborne Lane) and focuses on wood-fired Neapolitan-style pizzas and fresh pastas using certified D.O.P. products, imported directly from Italy.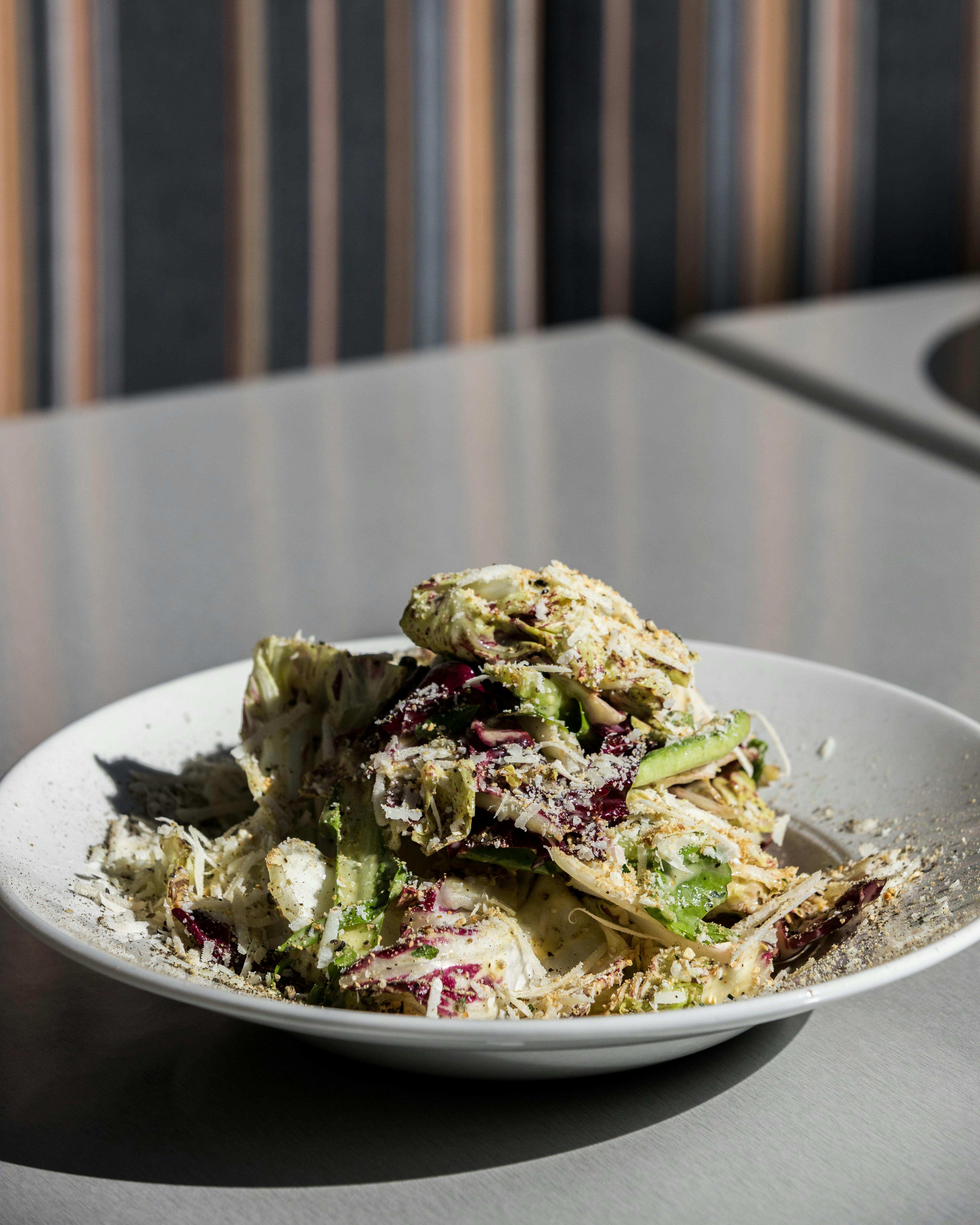 It was important to Longo that the Antipasti and Insalata be kept light and simple so guests can have room for the hearty mains. The Insalata Radicchio, for example, is their take on a Caesar salad, with castelfranco, dandelion flowers, anchovy dressing, Parmesan, guanciale and bread crumbs. The creaminess of the dressing balances the bitterness of the radicchio so well it will keep your mouth salivating right up until the last bite.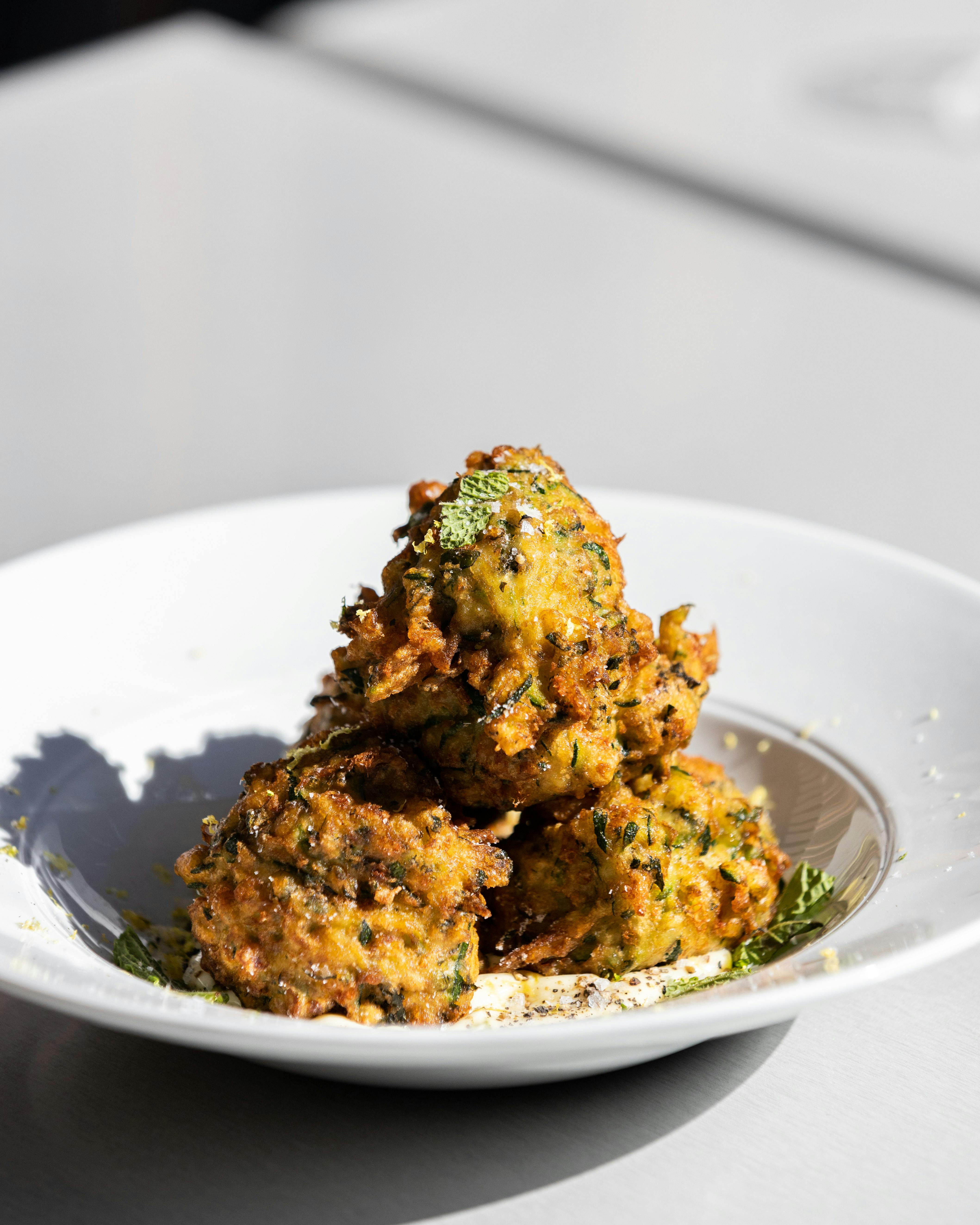 The Zucchini Fritti are an absolute home run. The zucchini and ricotta are fried to perfection and sit on a bed of lemon aioli for a bright and light-citrusy flavour.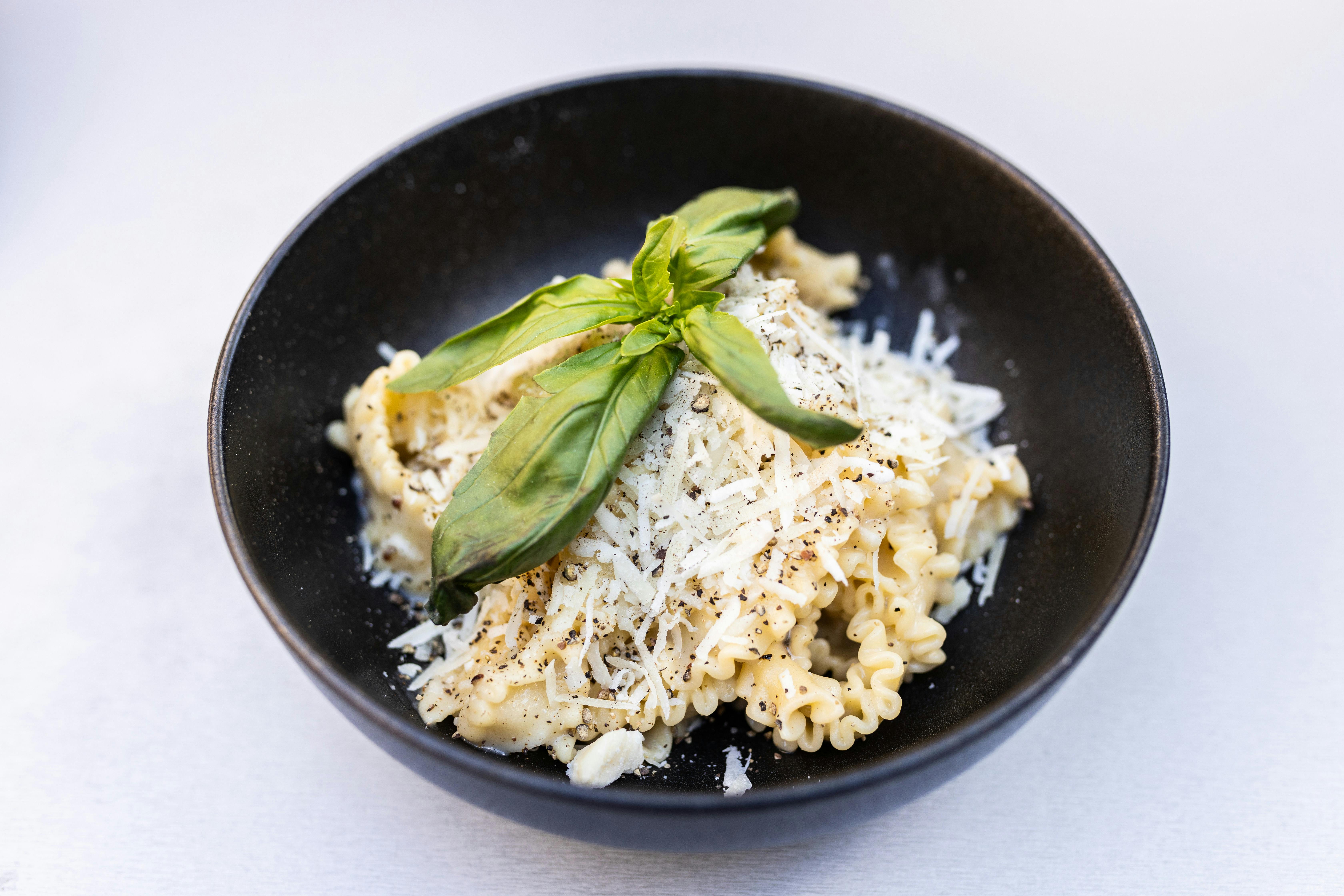 You've never had Cacio e Pepe like this before. The mafaldine noodles excellently keep the creaminess of the Pecorino cheese and butter, clinging onto the noodles and its wavy edges, so every bite is a decadent explosion of savoury goodness, with a hint of spice from the toasted black pepper.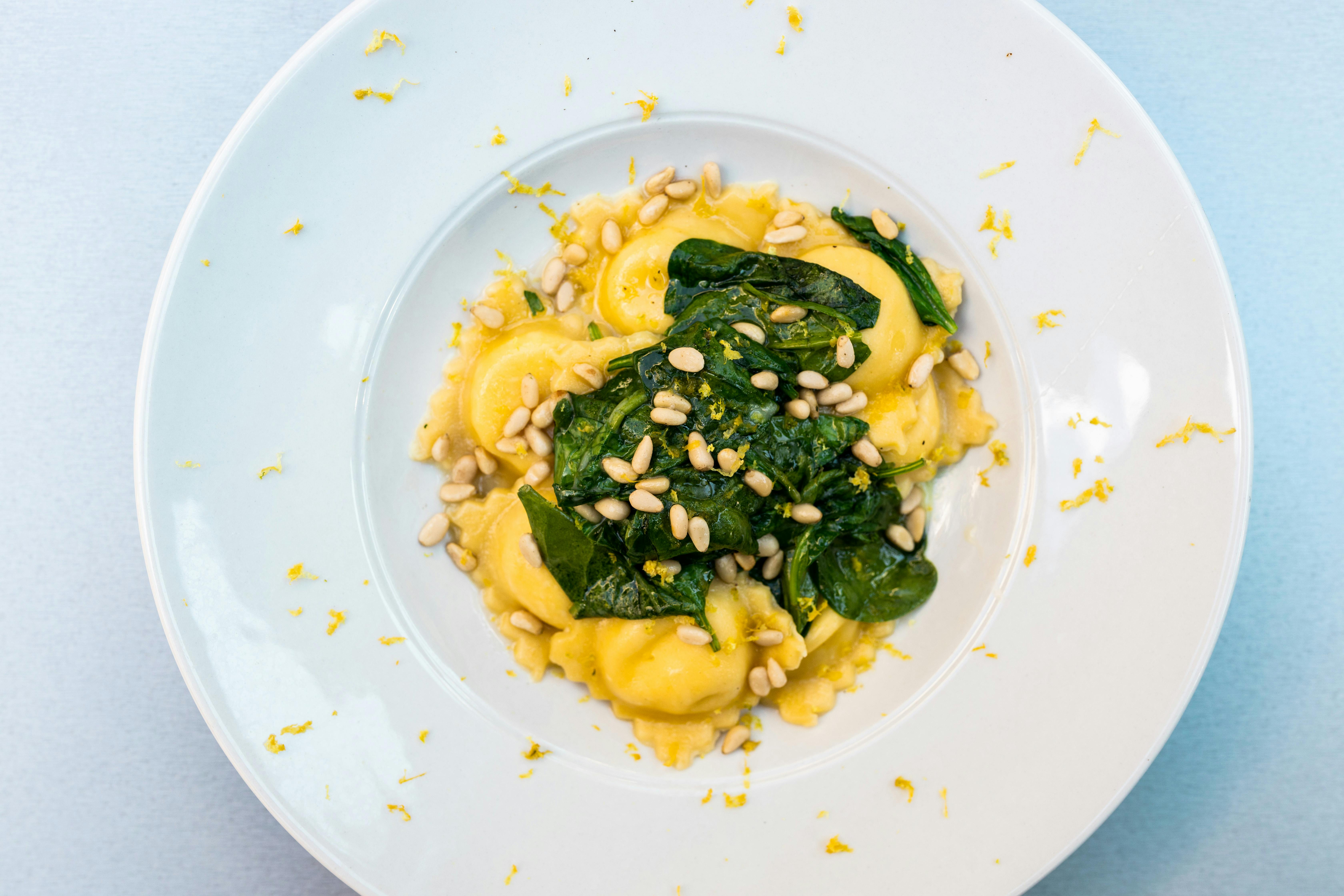 The Ravioli Mascarpone is filling without making you feel stuffed after the first few bites. The ravioli is tossed in a lemon butter sauce, and topped with spinach, honey and pine nuts, for a delectable crunchy finish.
The pizzas are an absolute masterpiece, with a dough unlike any other in the city. With over 15 pizza dough tastings, Head Chef Nick Delia was able to work with the kitchen team to perfect a recipe that would be light, stretchy and airy, with the beautiful charring and leapording of the crust commonly found on Neapolitan pizzas. The menu consists of seven pizza offerings, with a rotating daily feature option as well.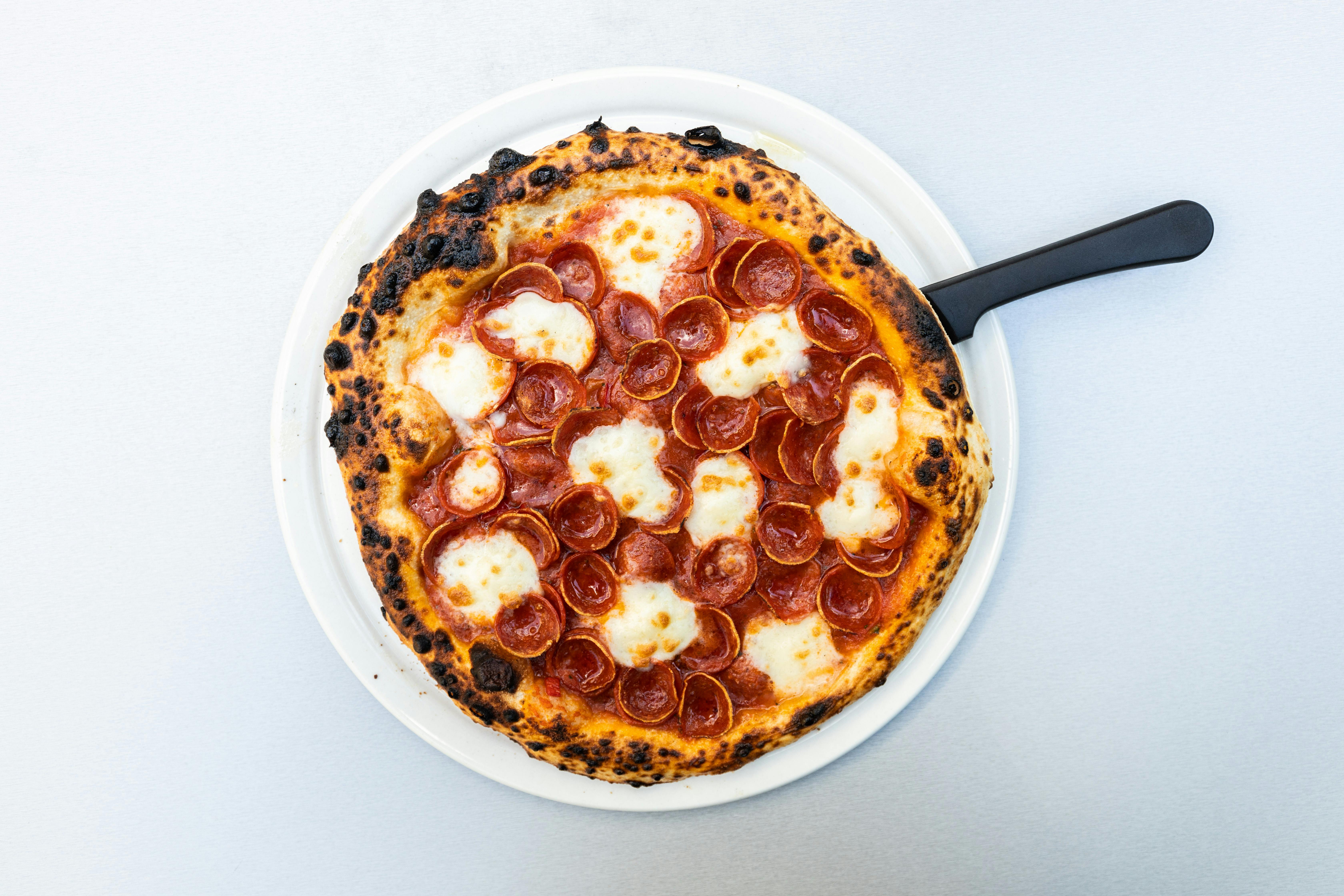 Using naturally-leavened sourdough, enjoying a full pizza won't make you feel like you can't eat again for a few days. Though classics like the Margherita and the Hot Honey Pepperoni are an excellent choice, Longo highly recommends ordering the Quadro Bianca––a white pie topped with fresh figs, gorgonzola, caramelized onion, 20-year aged balsamic and hot honey.
Though a number of the aforementioned menu items will remain static on the menu, they look forward to adding seasonal additions as the weather changes, according to Longo.
"The idea is to expand the menu as we grow. We will offer a steak special, with a beautifully cut meat finished in the wood-fired pizza oven with garlic, butter and thyme, that comes out sizzling hot. We'll also do the same with a fish, that will come with a side of gnocchi boar bolognese for example, so you can still enjoy some pasta along with your protein."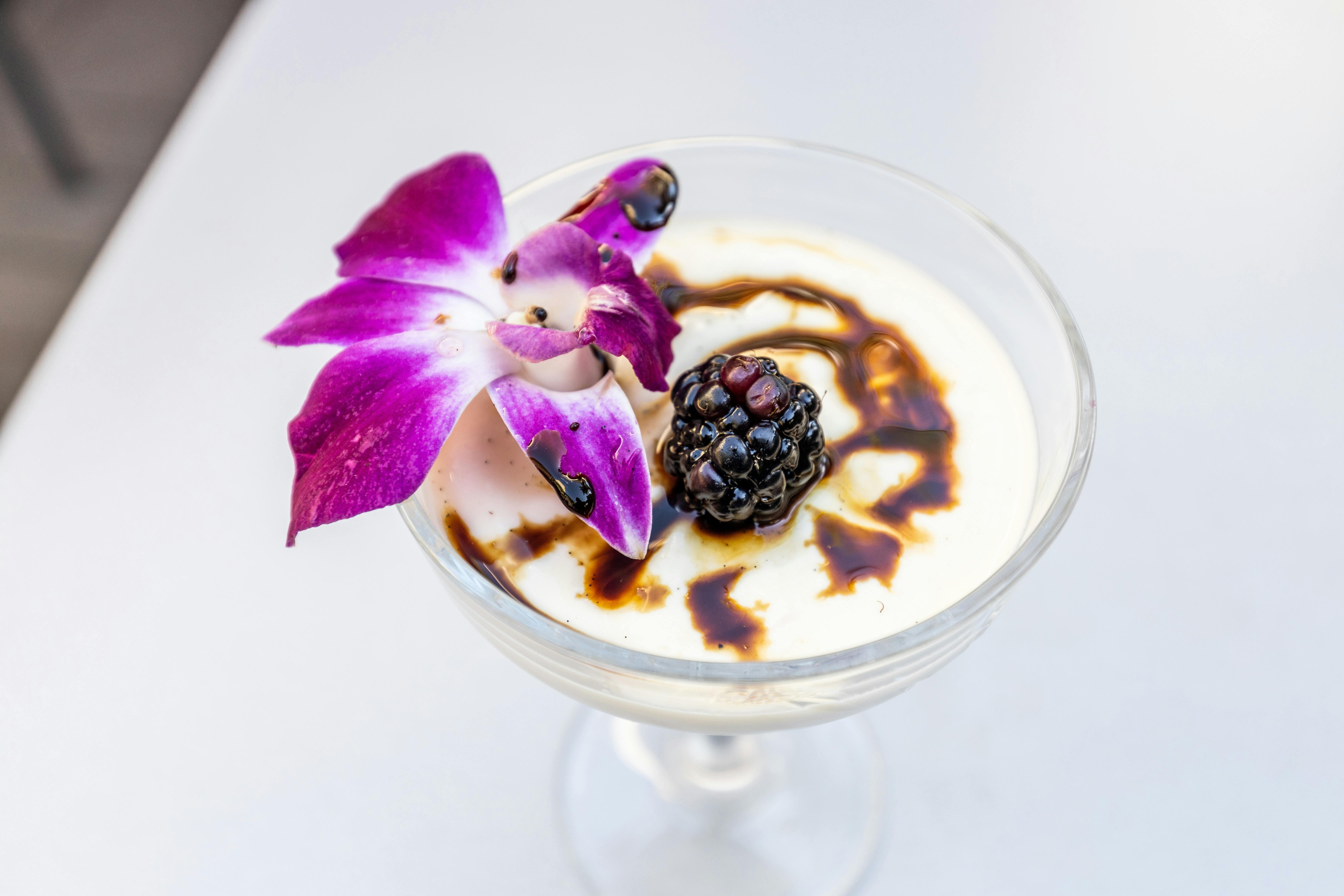 For dessert, they are offering a simple Vanilla Panna Cotta served in a martini coupe, with macerated strawberries and 20-year aged balsamic, for a euphony of sweet and savoury to finish your meal. If chocolate is more your speed, there is also a light and fluffy Tiramisu available, as well as a Flourless Chocolate Cake, with dark chocolate and whipped mascarpone.
Longo is thrilled to be able to use his longtime connections in the industry to curate a stunning wine menu, with old time vintages, at a reasonable price point. Though experienced in Californian and French winemaking, Longo has ensured that most of the wines and bubbles offered are Italian, with an option for everyone, depending on what you're looking for.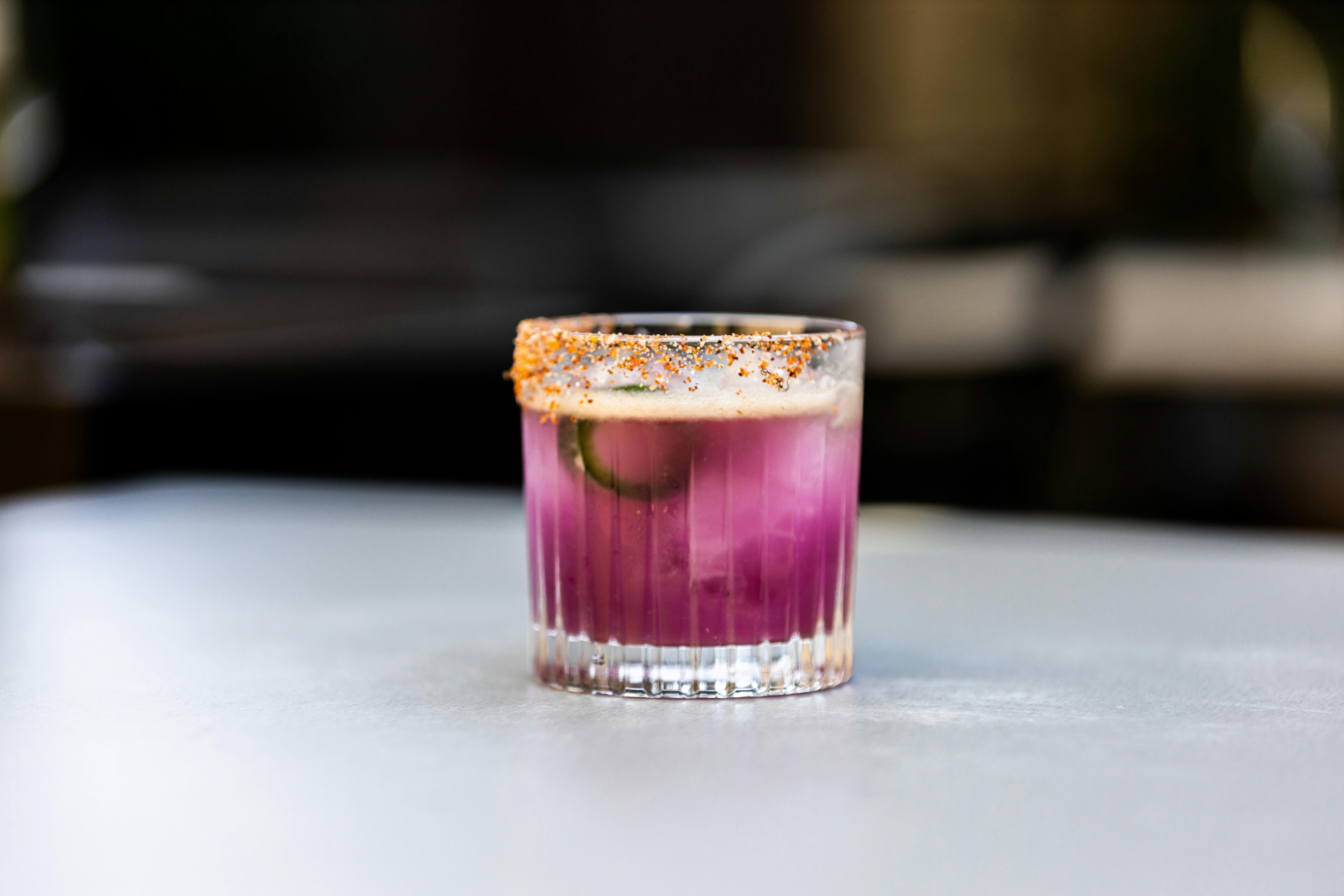 The cocktail menu is filled with a variety of crushable, classical drinks, that may not re-invent the wheel, but are far more than noteworthy. Each beverage has an Italian spirit centric focus, like the Spicy Italian Margarita with Amaro Nonino, purple powder derived from flower petals to colour the drink, and garnished with jalapeño for an extra kick on the finish.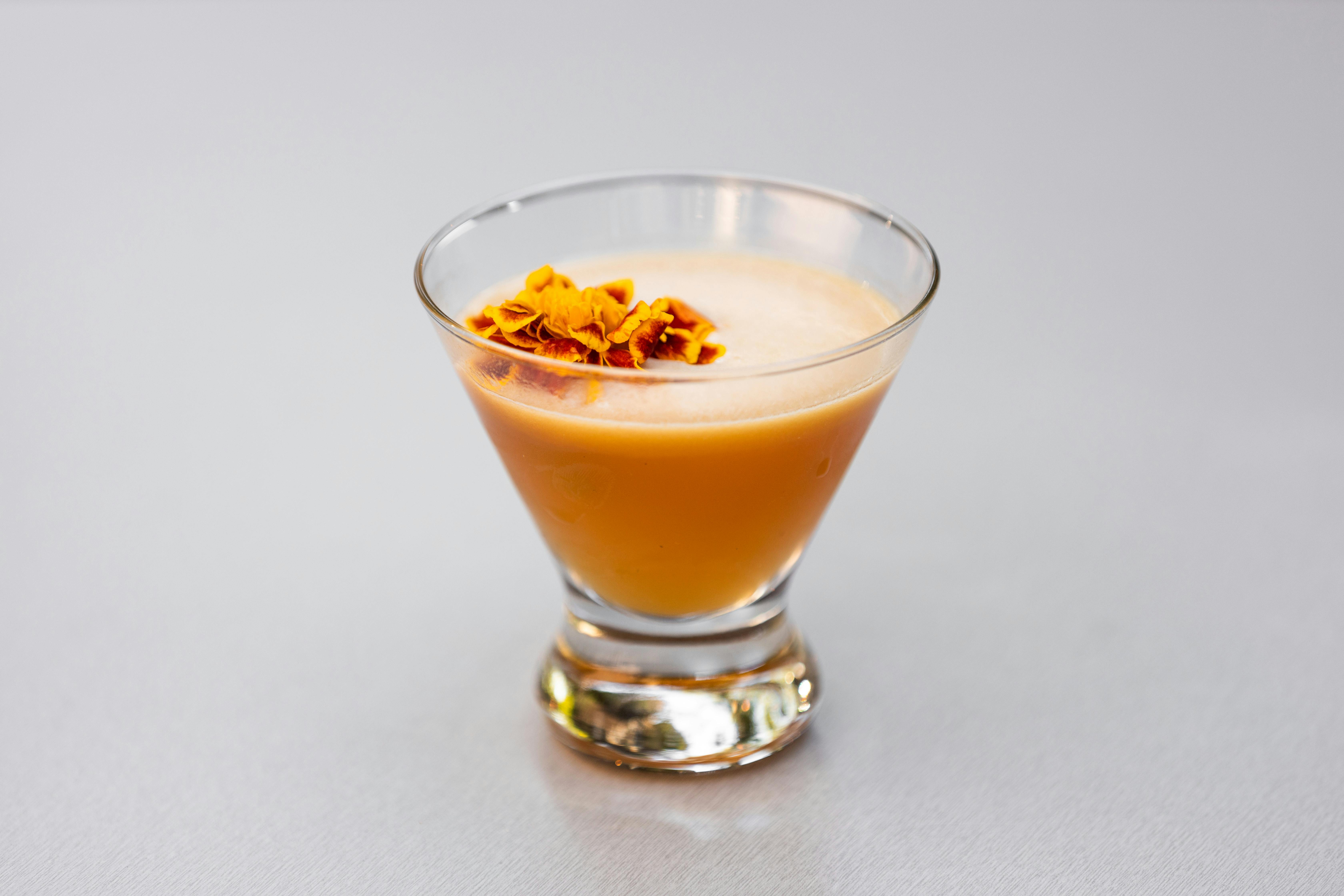 The Limoncello Martini is another unique option, that is reminiscent of your classic martini, but with a fun citrusy punch, that will brilliantly pair with the citrus also found on the Fried Calamari and Artichoke Antipasto.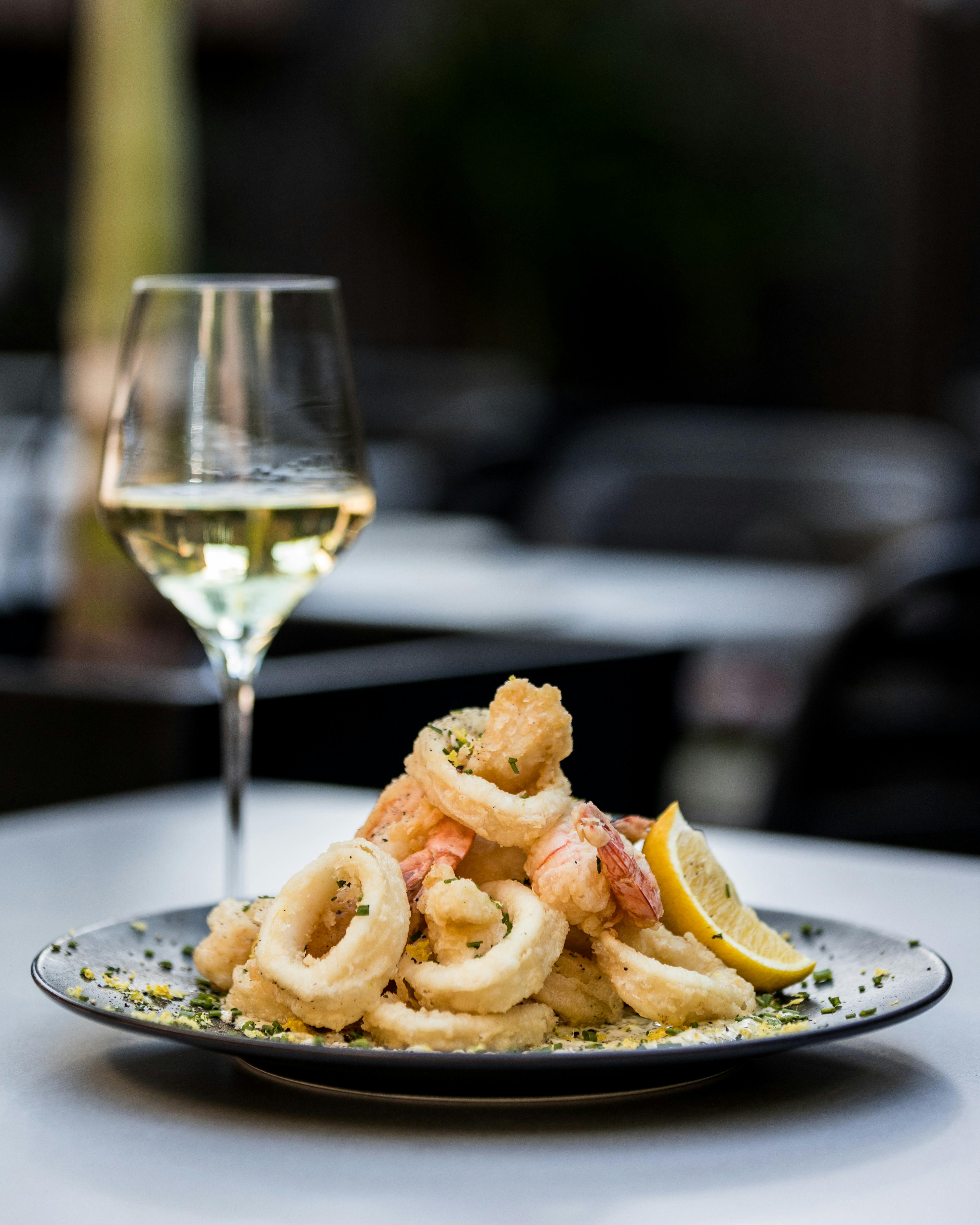 This is the first of five locations which Longo and Mimran plan to open over the next couple of years, before moving into a retail component with pre-packaged pizzas and sauces for sale, along with a commissary kitchen.
Quadro is located at 577 College Street, and is open 5 p.m. to 10:30 p.m. Tuesday to Saturday. To make a reservation for indoor or outdoor dining, as well as private events in the upstairs space, feel free to contact them by e-mail or phone, or check out their website where you can book your spot directly.