Photographs by Amanda Biffis
More than a bakery or café -- though it fulfills each of those roles outstandingly -- Dear Grain's new Ossington home is a love letter to sourdough composed by some of its most ardent admirers. Brought to life by local design firm Future Studio, the bright and inviting new space exudes warmth with a reverential approach to one of life's simplest pleasures.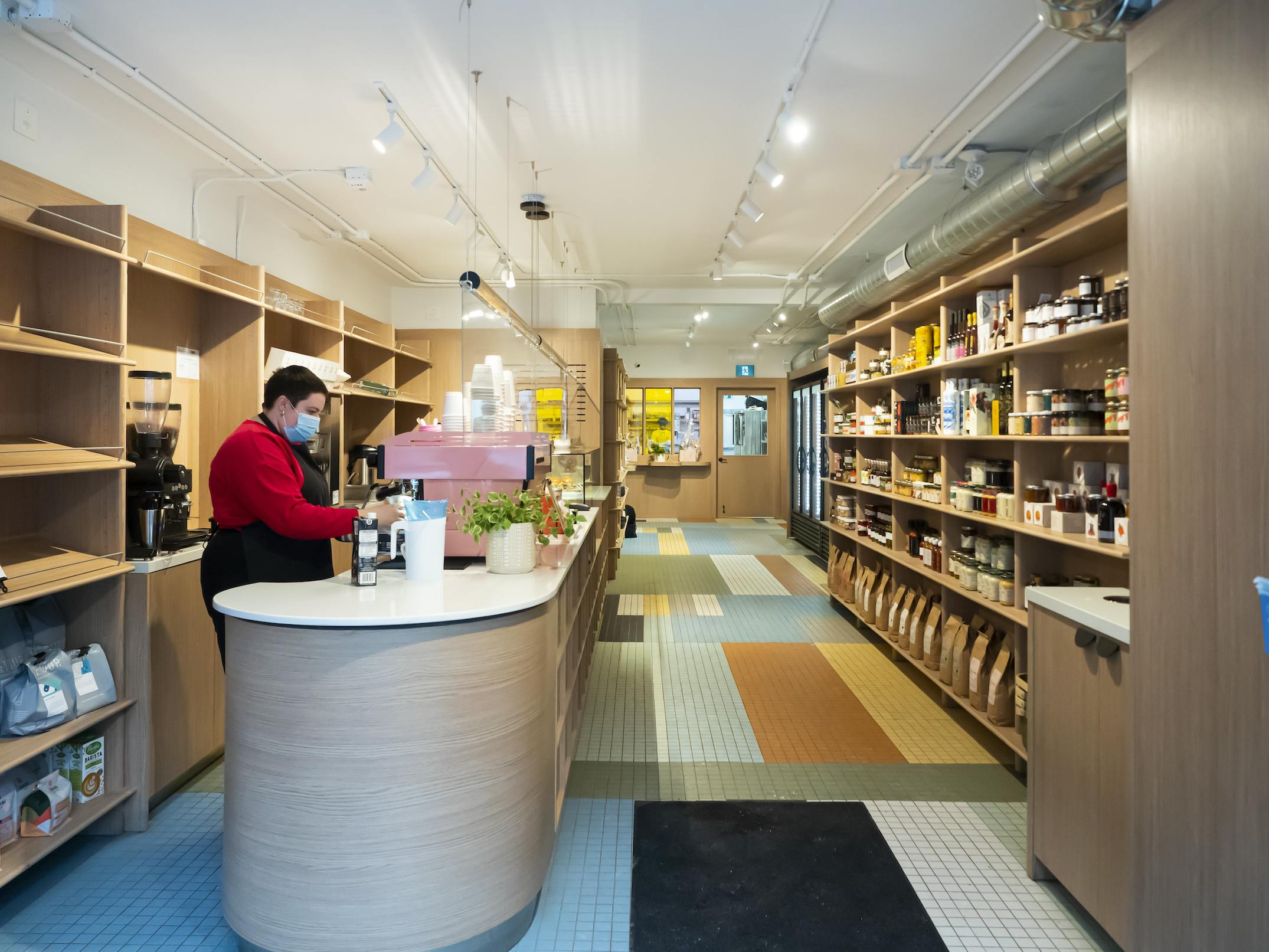 A Hamilton import, Dear Grain was founded in Dundas by head baker Adri Greenspan. Originally a vegetarian chef, Greenspan began experimenting with bread baking during his time as a private chef. "I did not discover sourdough; it found me," he says. Inspired by sourdough-guru Chad Robertson and his book Tartine Bread, Greenspan says, "I almost became obsessed with learning how to make this bread. It took me over a year to figure out how to achieve that quality." During that time, word of Greenspan's bread reached beyond the family he worked for to "the extended family...and their friends and friends of friends." After honing his skills in San Francisco, "to experience and witness where Tartine bread began," Greenspan spent time in Sofia, Bulgaria, at Bakers Brothers Bakery. "I spent a month there working nights and learning the rhythm of baking, how the place is managed and what equipment I would need. It gave me the basic knowledge to get started."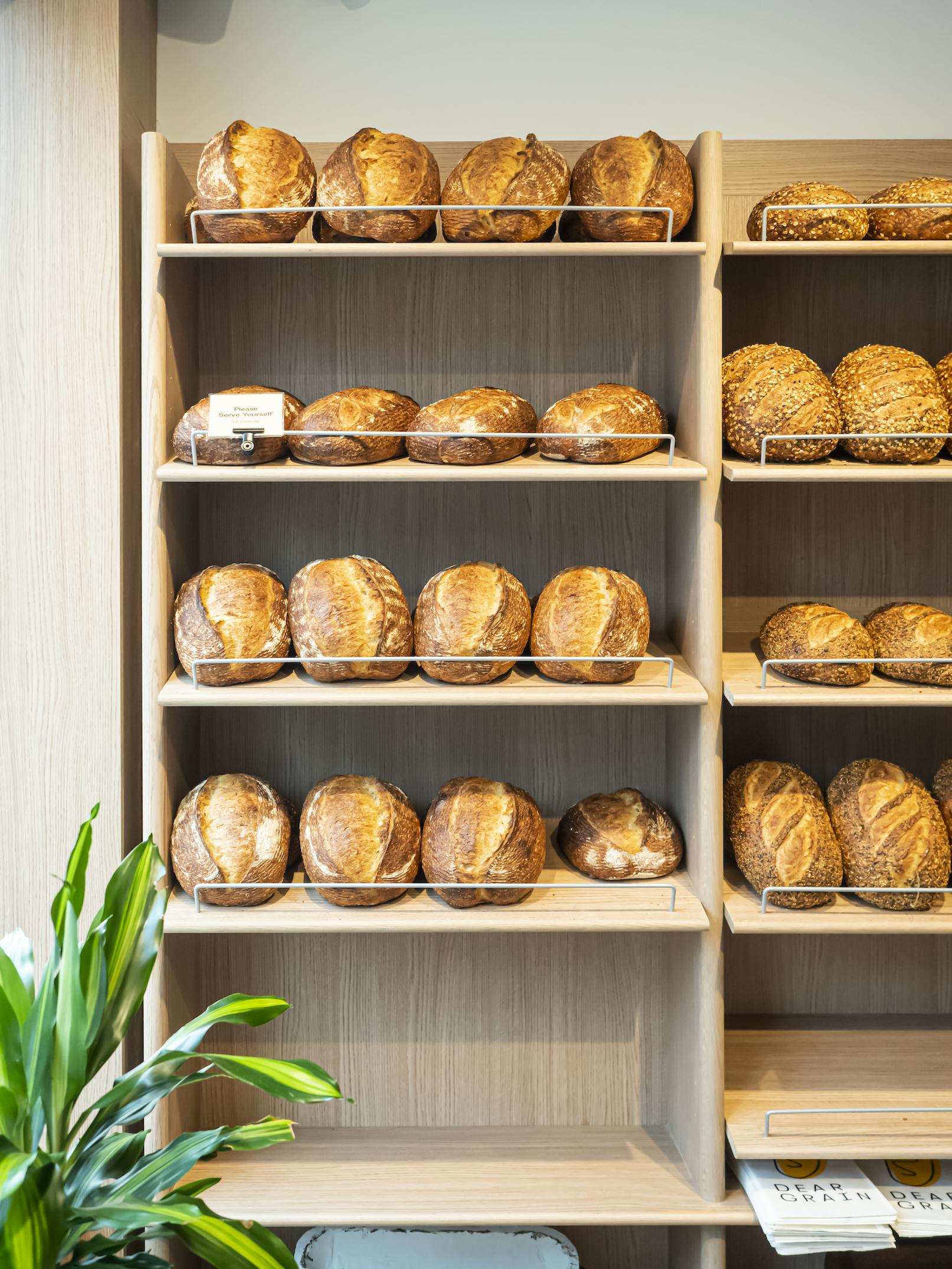 Originally run out of Hamilton's Detour Coffee Roasters, Greenspan's popular bakery eventually moved into a 7000-square foot production space. The team then launched an online sourdough store which served to increase the fervour around the company's sourdough stars. Made from a sourdough starter, cheekily named "Donatello," or "the giver," each loaf of bread and pastry that comes out of Dear Grain's ovens features increased moisture and a better shelf life than regular loaves. What sourdough also does, is make the products easier to digest and gives them deeper flavour.
Still, a storefront where the public, led by the yeasty aroma in the air, could wander in, explore the products and delve into topics such as the merits of strong bakers bread flour versus all-purpose was always part of the plan.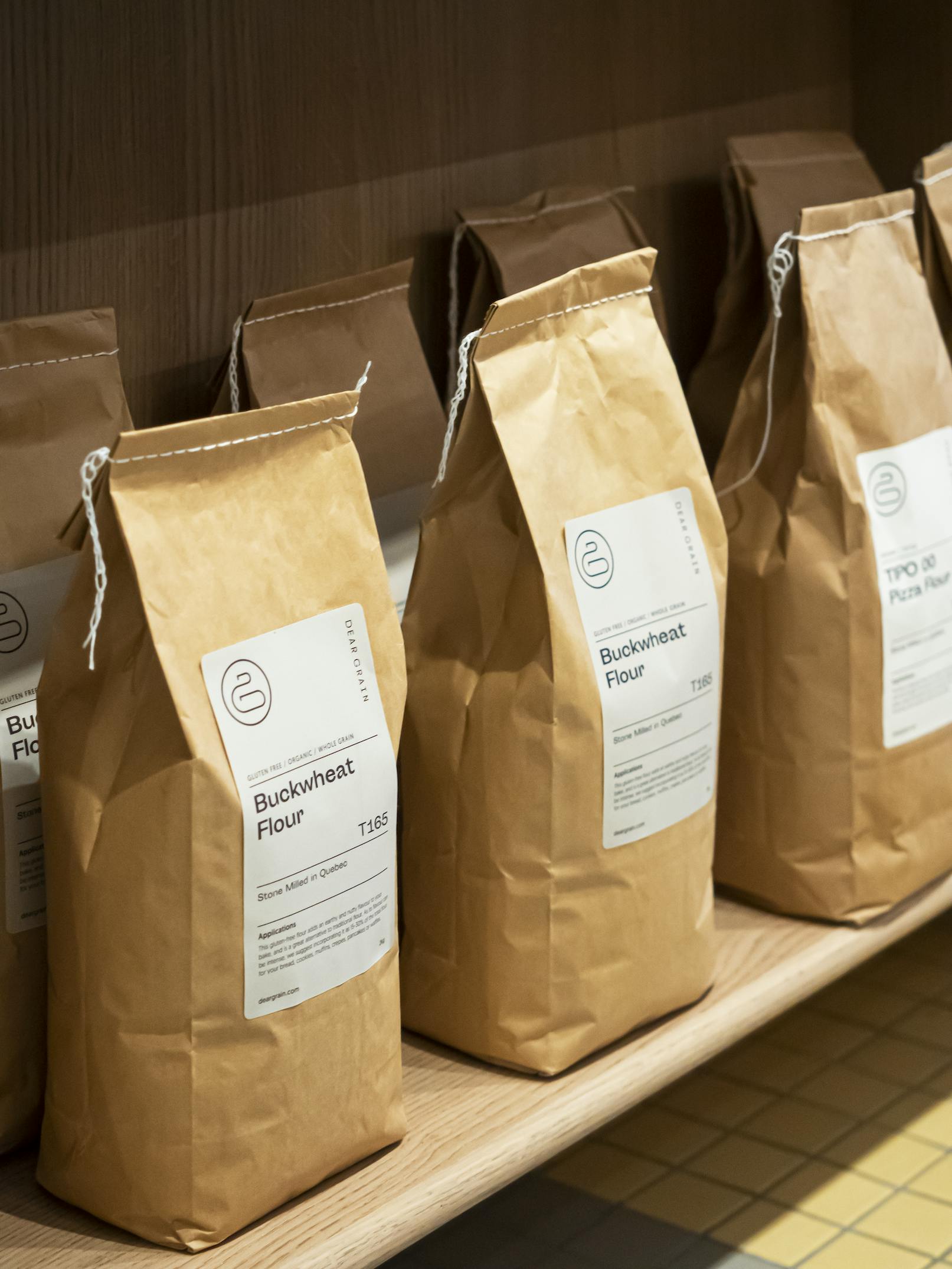 "We don't want to be intimidating," says general manager Christina D'Angela. "We want to bring back the conviviality of bread." With a team that exudes passion for their cause, no sourdough-centric topic is off the table. Curious to know how Multigrain Porridge Pan bread stacks up next to a Silhouette Pan loaf? The Dear Grain team is there to help. Need advice on a baking project? D'Angela will share her expertise on best practices virtually guaranteed to ensure your success. A chef-turned-manager who recently spent almost four years at Forno Cultura, D'Angela brings a wealth of bread-based and overall food knowledge to the Ossington store.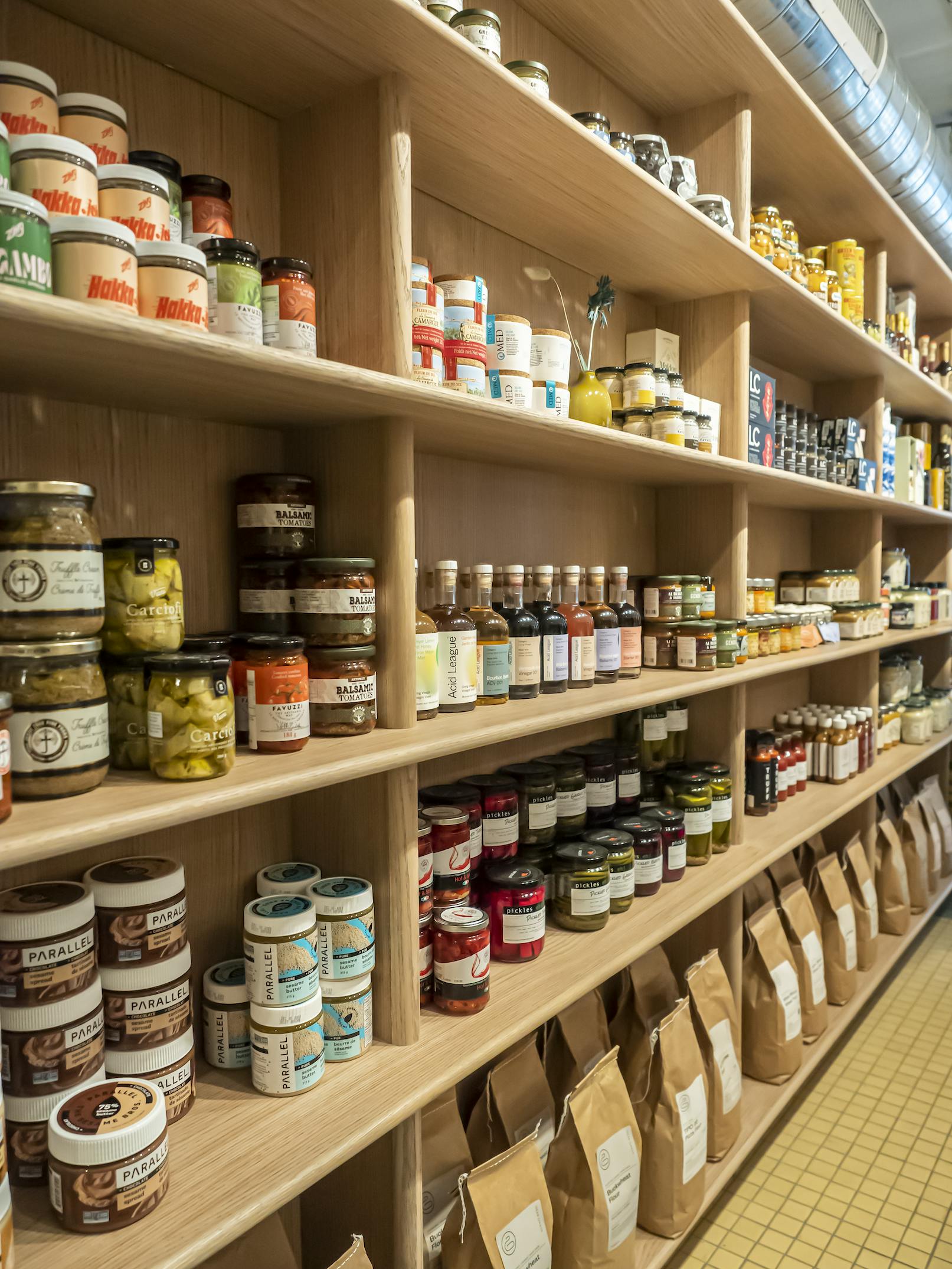 A first glance at the colourful space -- where an abundance of bread garnishes double as décor -- leaves one feeling excited at what's to come. Follow pastel-hued floor tiles to gawk at the team's sizeable, perfectly-crusted, golden loaves. From there, take in the wall of rare and riveting jams, honeys, mustards, nut butters, tahini spreads and more lining the north wall. From delightful, clip-lid jars of mustard from Cartwright & Butler to condiments from Saus, Mumgry and dozens more, there's enough here to accompany years of carb-forward purchases. A gasp-inducing assortment of artfully-packaged tinned seafood is a danger only to those who value their bank account balance. Imported from places such as Portugal, Denmark, Spain and Canada's west coast, these upscale offerings, ranging from spiced sardine pâté to Faroe Islands salmon, are superior in every way to your average, water-logged tinned tuna.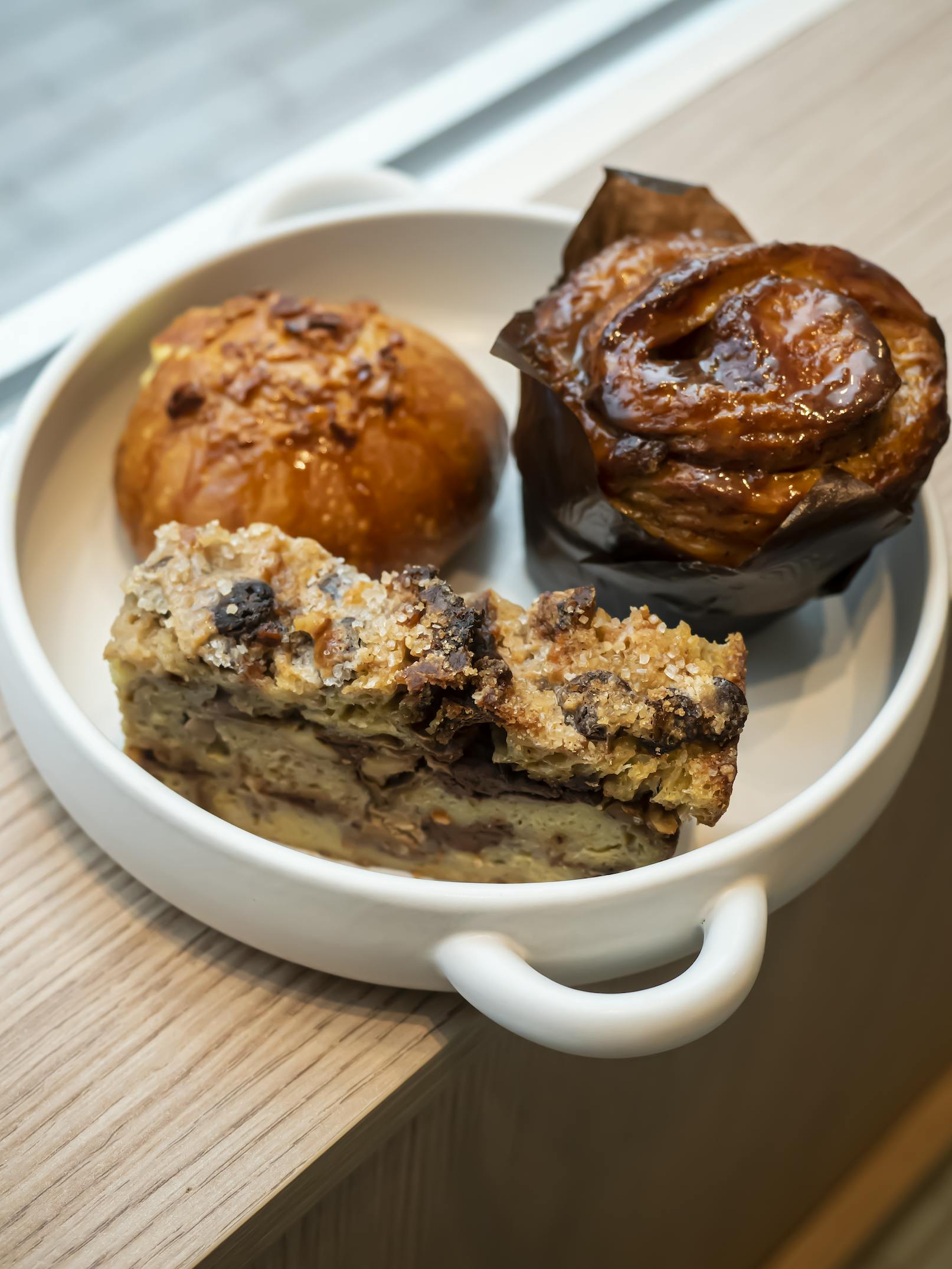 In addition to whole loaves, Dear Grain sells a number of sourdough-based pastries along with light sandwiches. There are habit-forming Sourdough Chocolate Chip Cookies. Gluten-free Cocoa Sesame Loaf neighbours Lemon Ginger Scones, only to be overshadowed by bountiful Morning Buns shining beneath their sugary glaze. Baked on-site, each pastry proves the kitchen team's expertise in transforming sourdough into unexpected goodies.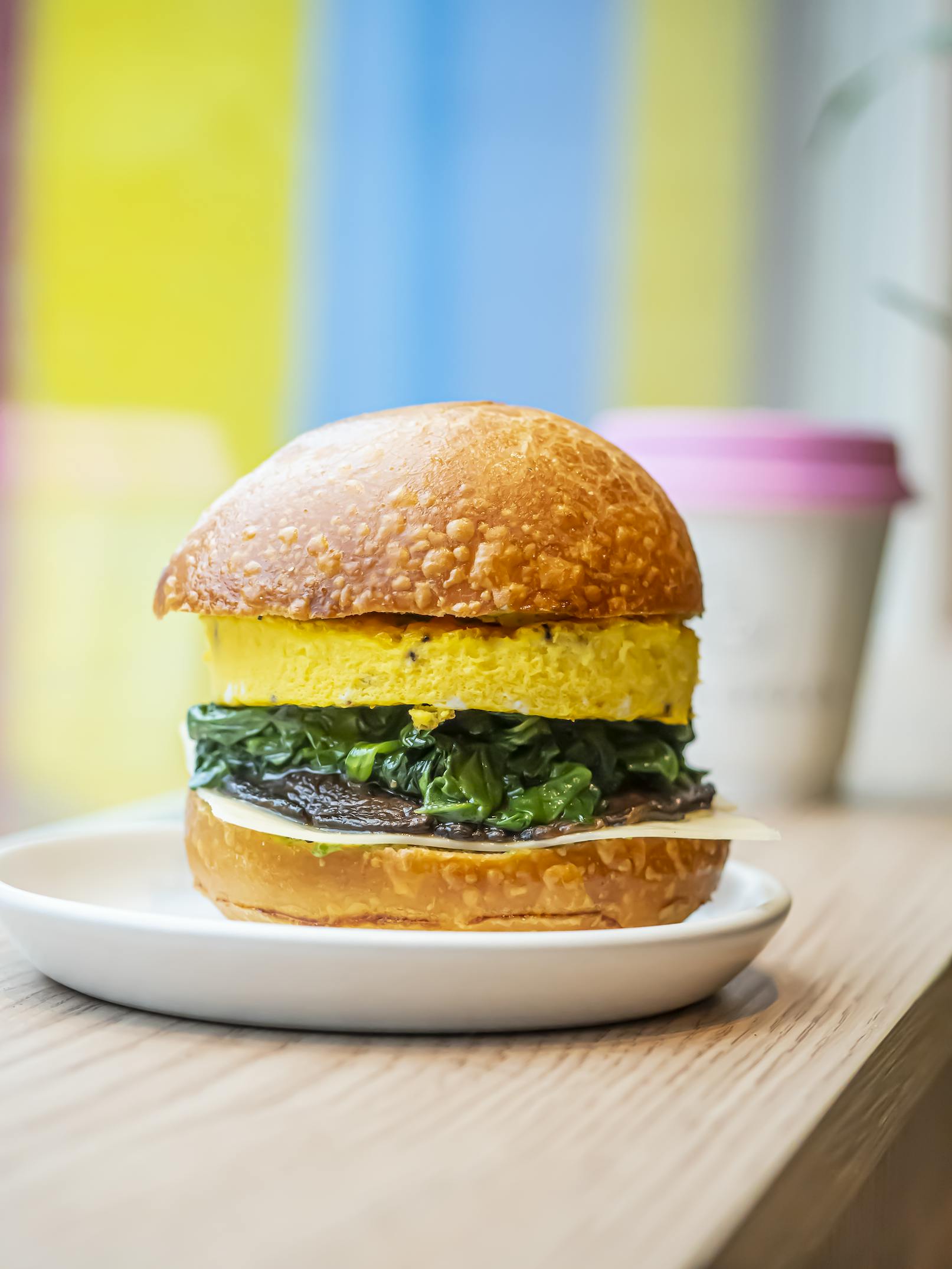 Early risers will want Dear Grain's popular Breakfast Sammy to help them greet the day. Constructed on sourdough brioche, it's a cute, compact meal piled high with a Conestoga egg frittata, wilted spinach, portobellini mushrooms, white Cheddar and arugula aioli.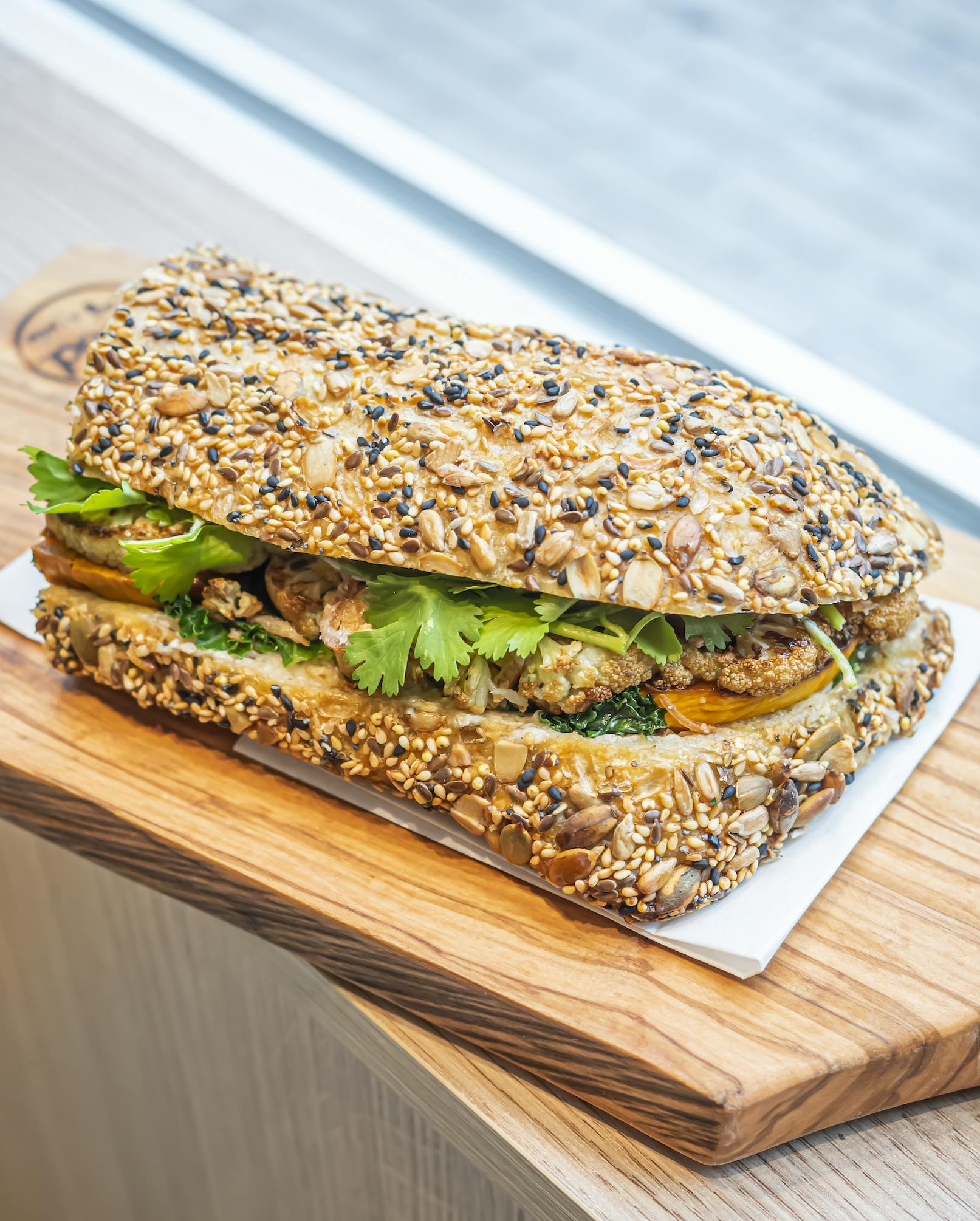 Though flavours rotate frequently, the staff favourite Roasted Veggie Sandwich, a vegan offering, often makes an appearance. With a recipe that combines roasted cauliflower and sweet potato, kale, crispy shallots, tahini dressing, pomegranate molasses and a flurry of fresh cilantro leaves, this sandwich's unique combination of textures and flavours is a can't-miss way to jolt jaded tastebuds.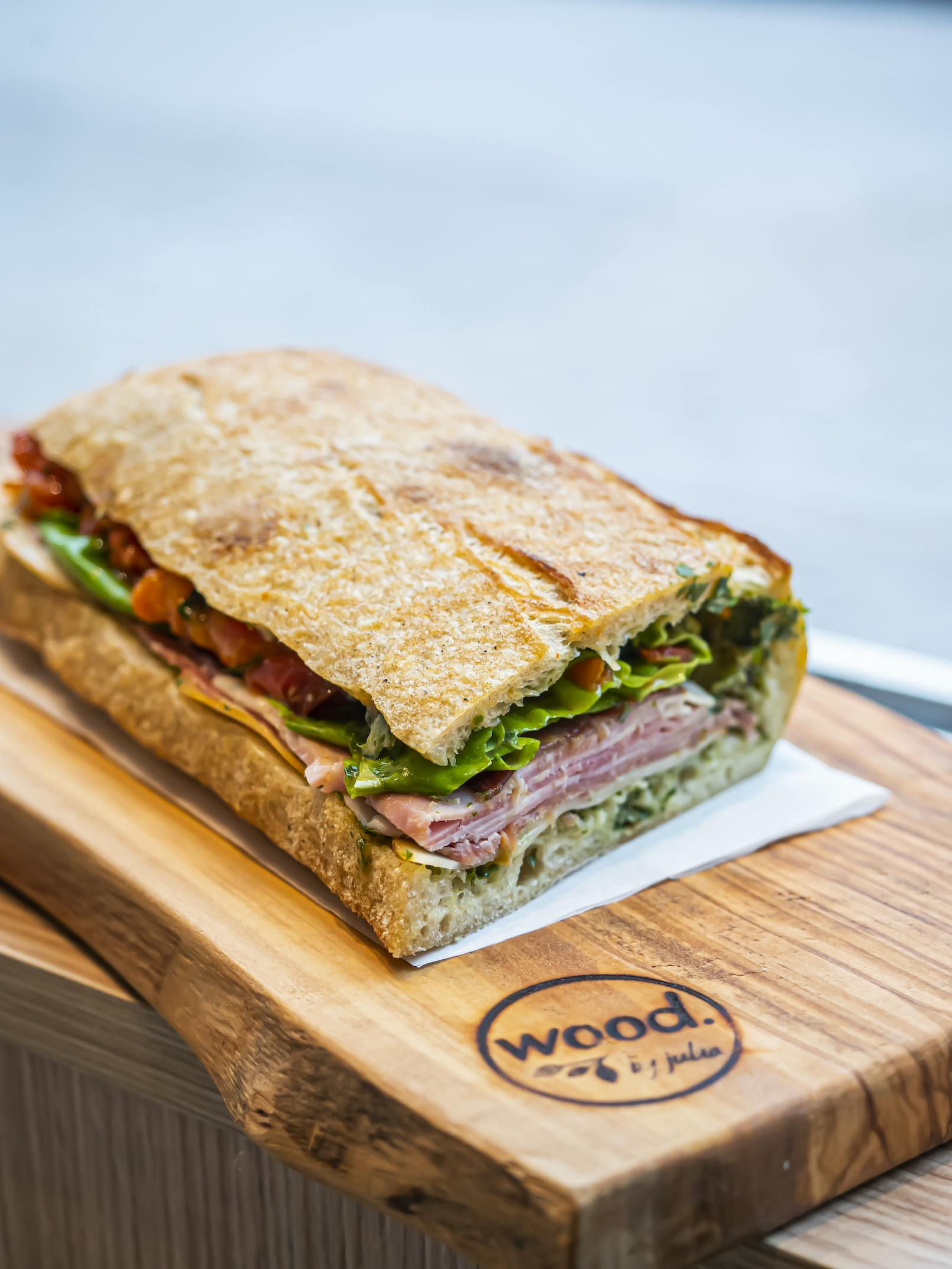 Those with meat-focussed tastes will lean toward the Deli Sandwich featuring an abundance of slices sourced from Jesse Tree Fine Foods. Here, prosciutto cotto, salami, speck, roasted peppers and basil pesto aioli snuggle on house-made ciabatta, for a sandwich that hits all the notes a properly-packed sandwich should.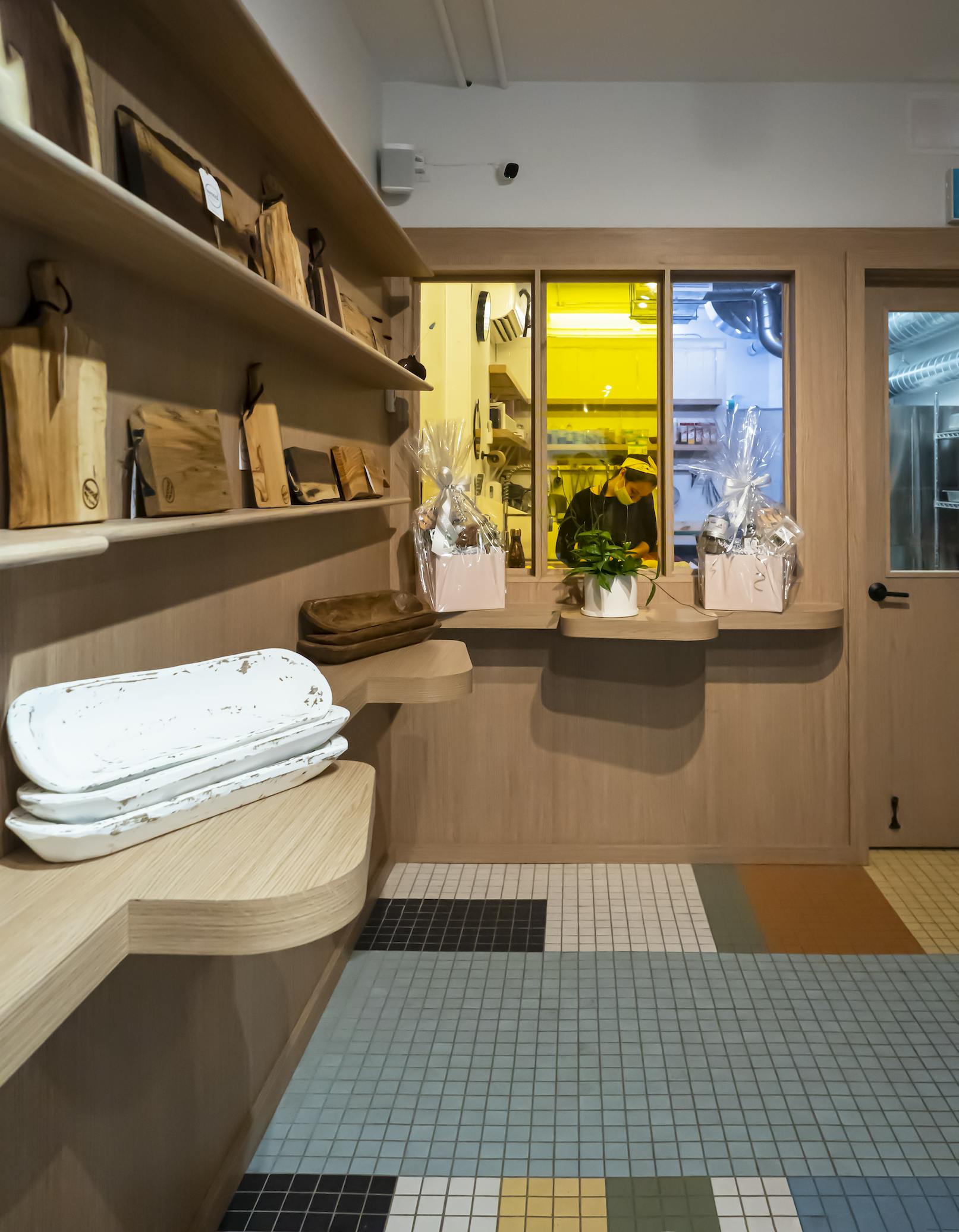 Found beside the store's in-house back kitchen, is a small counter, soon to be home to seating for those wanting to immediately dive into their purchases. Once a liquor license is secured, sommelier Deanna Zunde (founder and co-owner of Dark Horse Espresso Bar) will stock fridges with a combination of locally-sourced and imported beer and wine. For now, there are cold drinks, including City Seltzer waters and Kefirkult Probiotic Fermented Sodas, as well as espresso-based drinks made with beans from Detour Roasters, hot chocolate and an assortment of teas from local favourite Genuine Tea.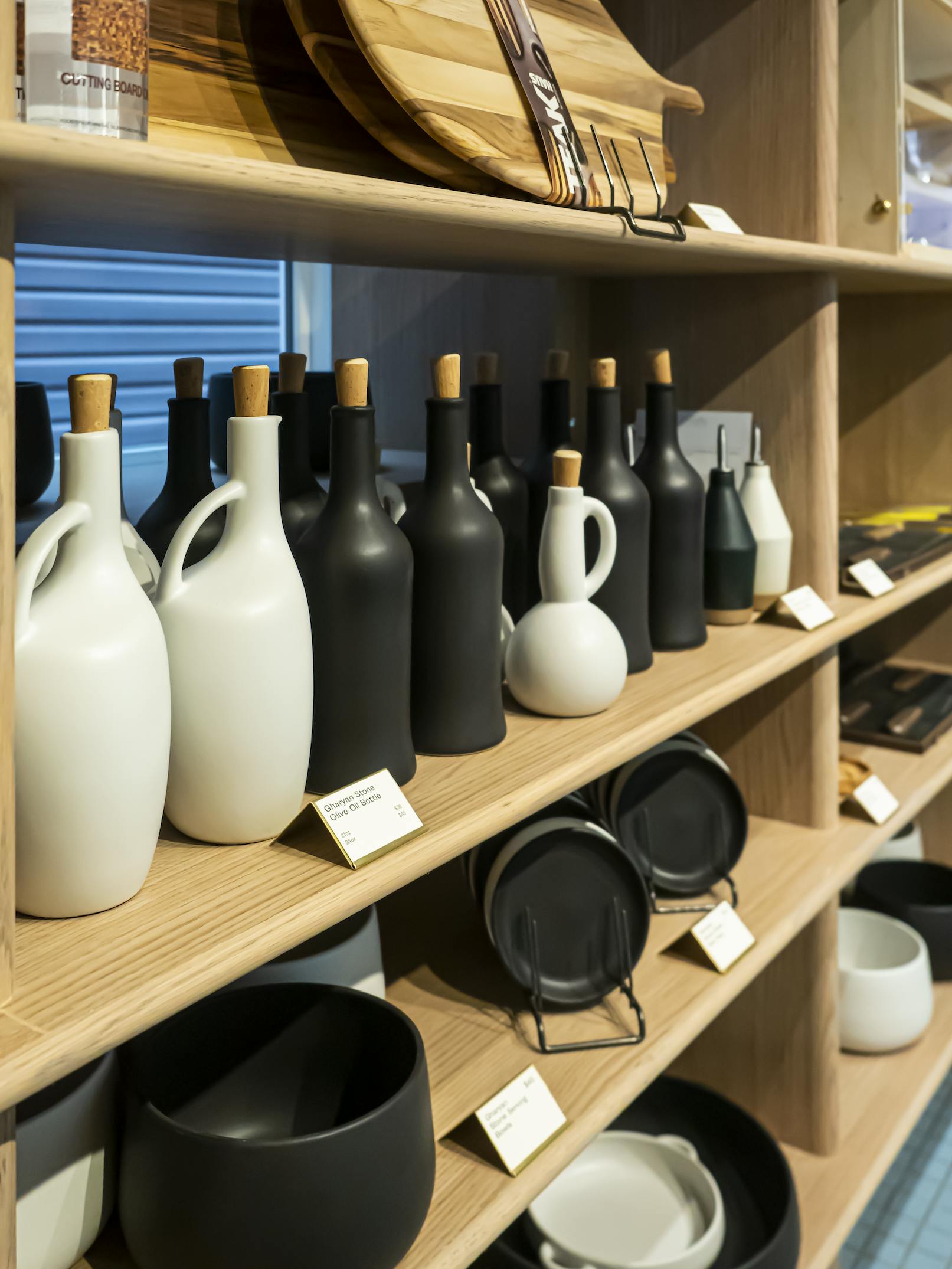 Devoted to the culture of bread, from making it to enjoying it in every possible way, Dear Grain is also the only place on Ossington to find the tools necessary for home bread-baking-projects. Professional-grade toys, include lame scoring tools, proofing baskets and Lekko linen bread bags, essential for protecting your experiments, are on offer. A handful of bread-focused cookbooks, fresh-milled flours and locally-made breadboards from mother/daughter duo wood. by Julia hold home baker's hands every step of the way.
With plans for a warm-weather patio accompanied by aperitivo hours featuring wine, cheese, charcuterie and, of course, the requisite sourdough accompaniments, there's plenty to look forward to from Dear Grain as the month's progress.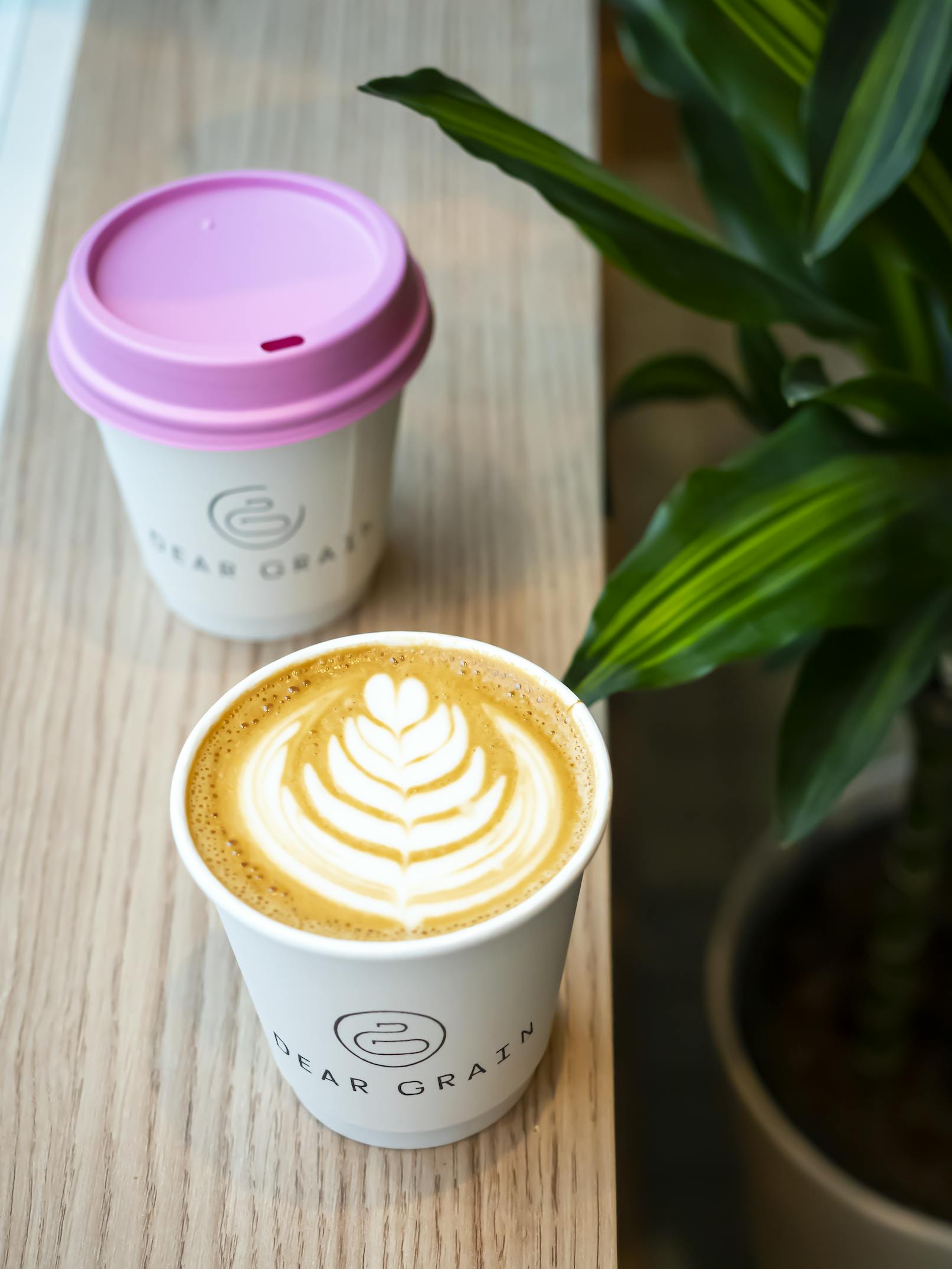 Explore everything it has to offer and a visit to Dear Grain becomes a baptism into the cult of sourdough. Beyond its world-class loaves, Dear Grain's purpose is to deliver what head baker Adri Greenspan calls, "the more than just bread effect." It's this "sort of intangible feeling of wholeness and deep satisfaction as if your body was given what it needs and your mind was nourished by the pleasure of that experience," he says. "This is the intention the bread is made with. That is all I care about. That is who I am. ... If people feel that, we did our job and there is nothing needed to be said." One visit to Dear Grain and your response may simply be, "amen."