District Pizza specializes in creative pizzas with an eclectic approach to toppings while retaining the features of a traditional pizza.
This new addition to the historic Distillery District is the latest venture by the neighbourhood's very own Distillery Restaurants Corp. Unlike the hospitality group's other restaurants, including El Catrin, Madrina Bar y Tapas, Cluny and Pure Spirits Oyster House and Grill, this pizza joint is designed primarily for takeout and delivery rather than dine-in service.
The Space: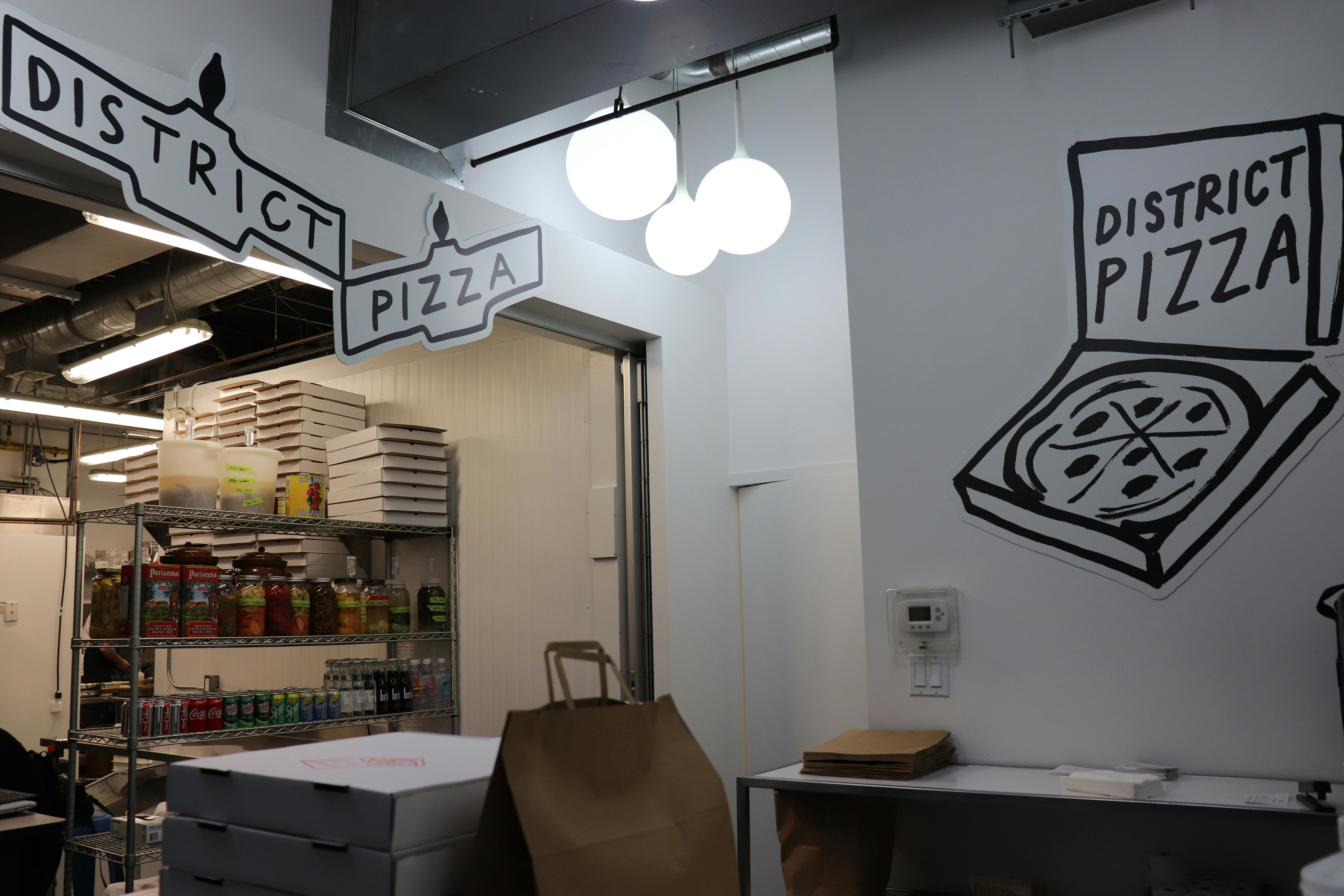 Most of the space is taken up by their kitchen, where everything is prepared and made. A counter is the first thing that greets customers as soon as they walk in to order or pick up their pizzas.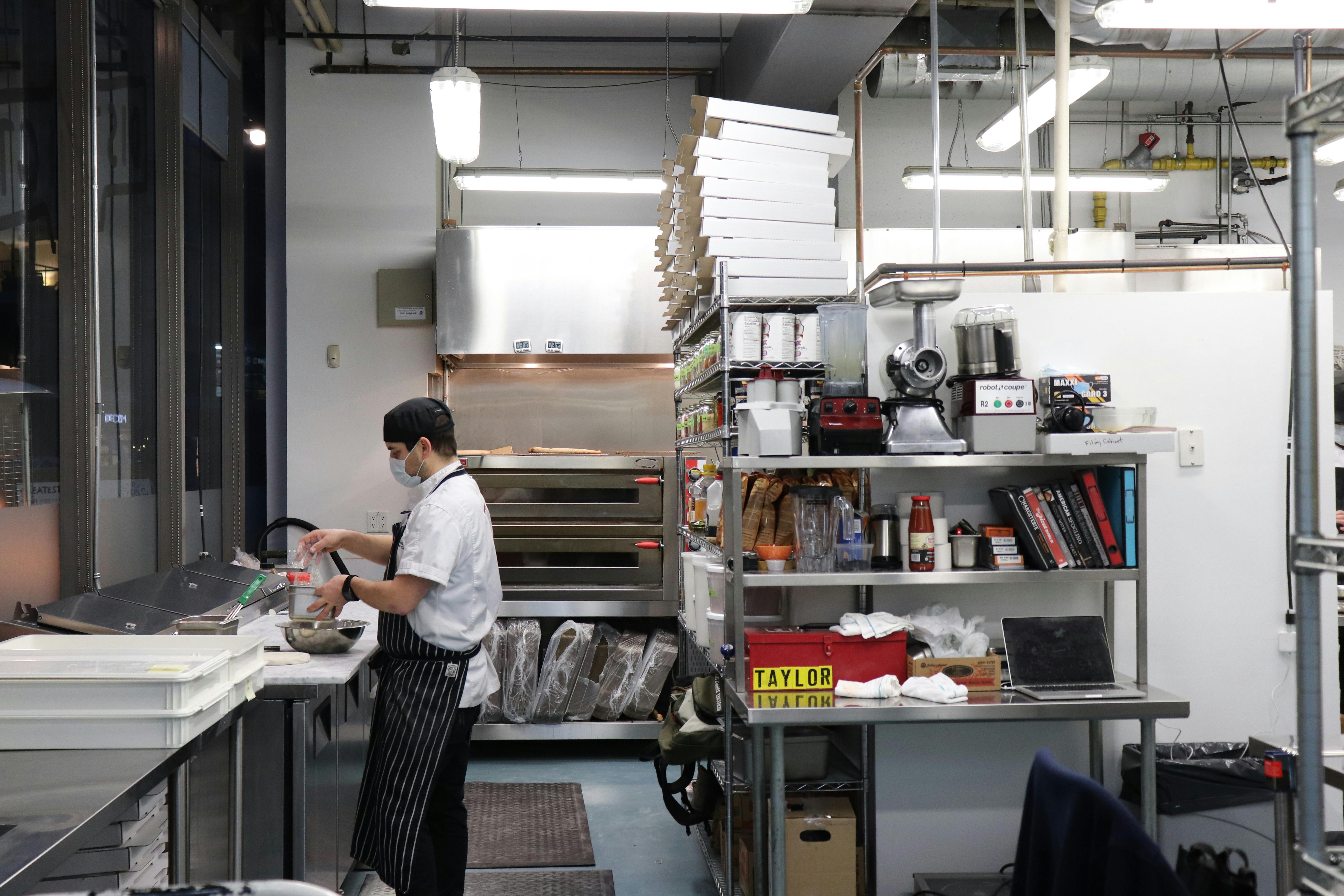 There's also a rack full of ingredients that they use and drinks including cans of pop, Mood Water and Brio sodas that are difficult to get in Canada.
The Food:
The menu features six static pizzas and four special releases that change every week for a total of ten pies, as well as fall off the bone wings. Menu items are given creative names with backstories to them thanks to Executive Sous Chef Michael.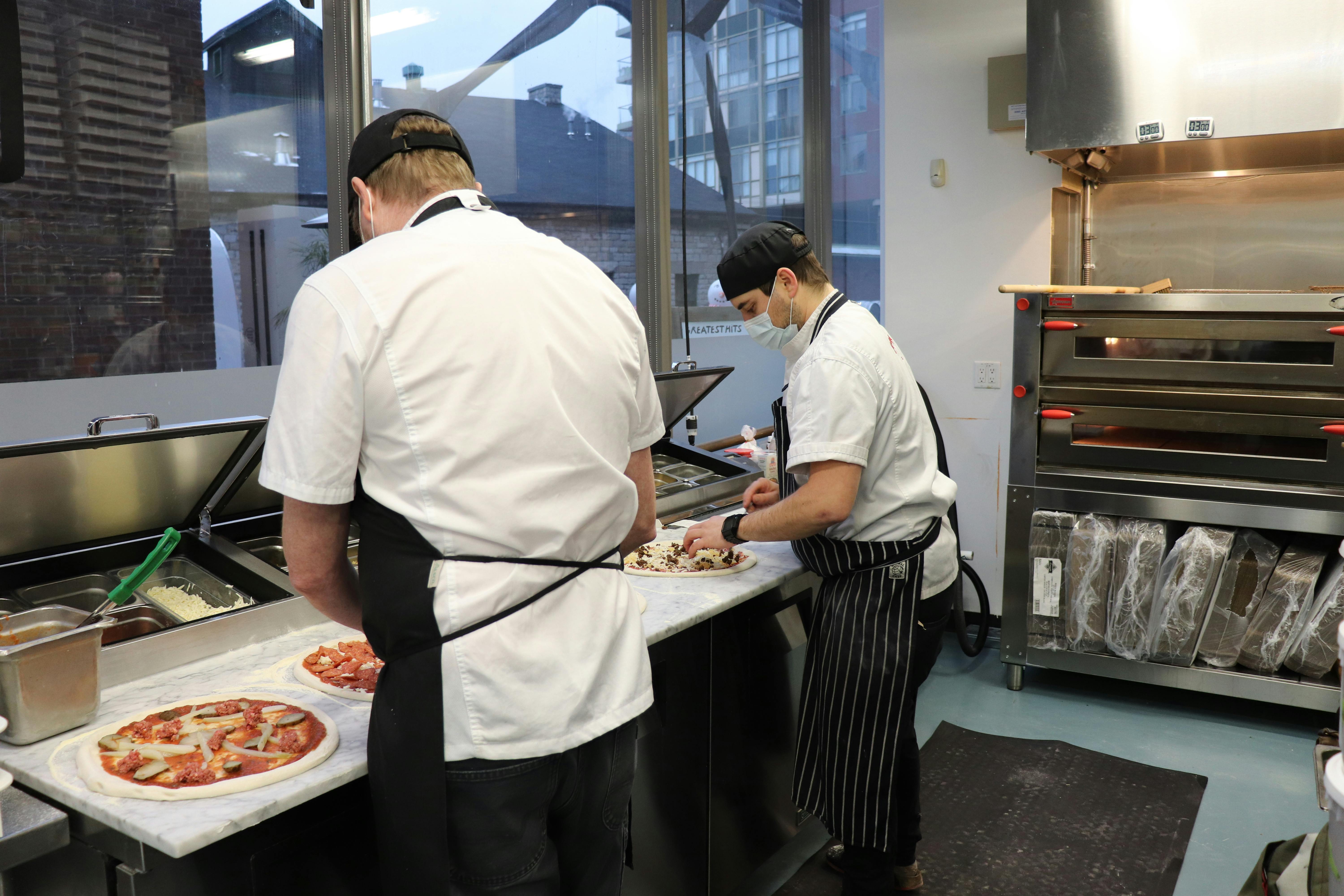 Using his training in Italian cookery and culture, chef Michael was able to develop the menu and test out recipes alongside chefs and front of house staff from the corporation's other restaurants.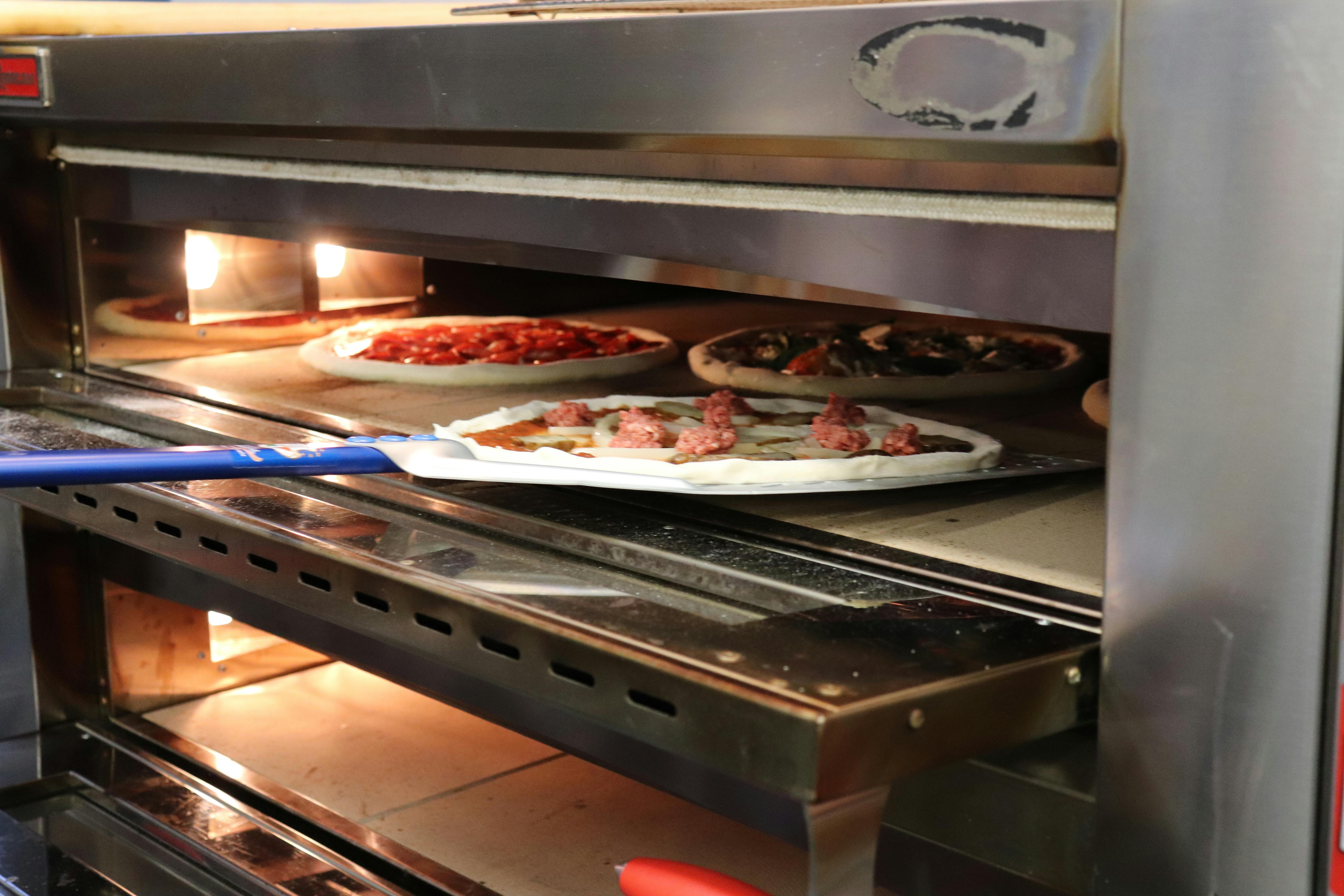 Pizzas come in two sizes (13- or 16-inch) and are baked in an electric oven for around three minutes.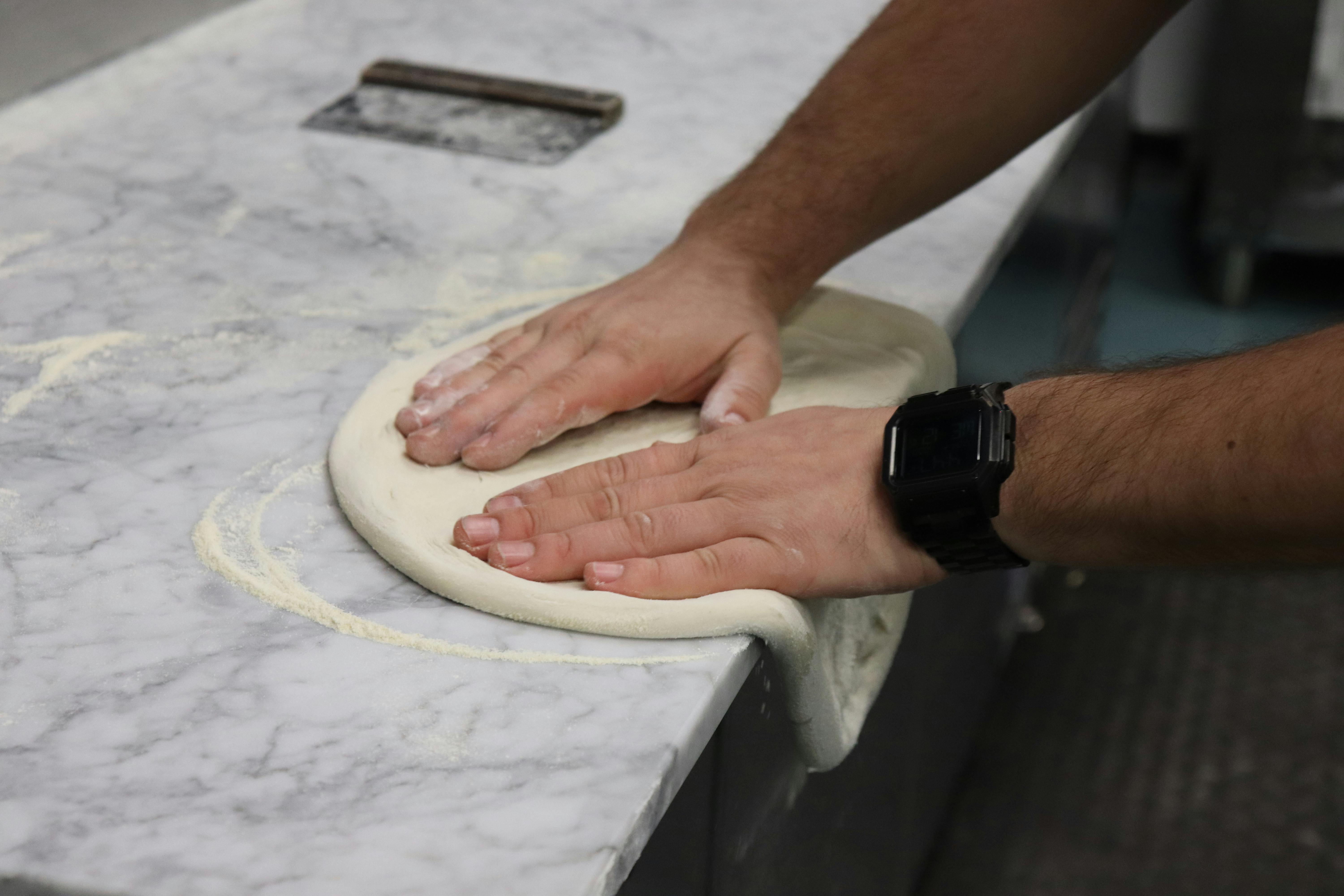 The dough, made with unbleached 00 Ardent flour milled in Denver, is fermented for two days and is higher in hydration. The result is a crust that's blistered and chewy without having to use a traditional wood-fired oven. A gluten-free dough can also be made for 13-inch pies only.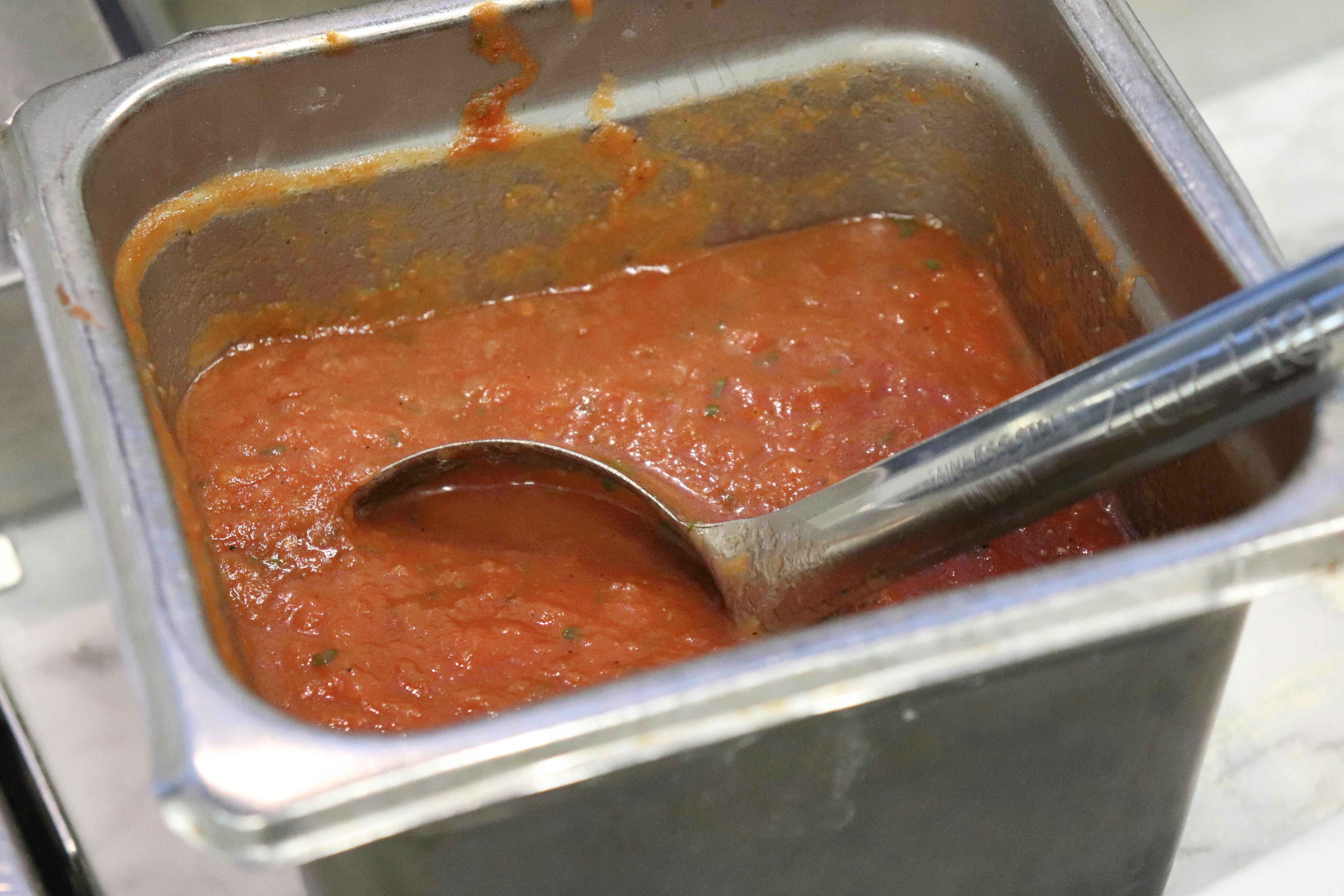 Their sauce uses organic Bianco DiNapoli tomatoes that are slow cooked into a tomato paste with tamari soy instead of salt for an umami taste. Slow-roasted garlic and onions are also included in the sauce before getting pureed, including a generous amount of oregano and basil.
The cheese that they use is sourced directly from Cheese Boutique, while meats such as their chorizo are made in-house except for the pepperoni.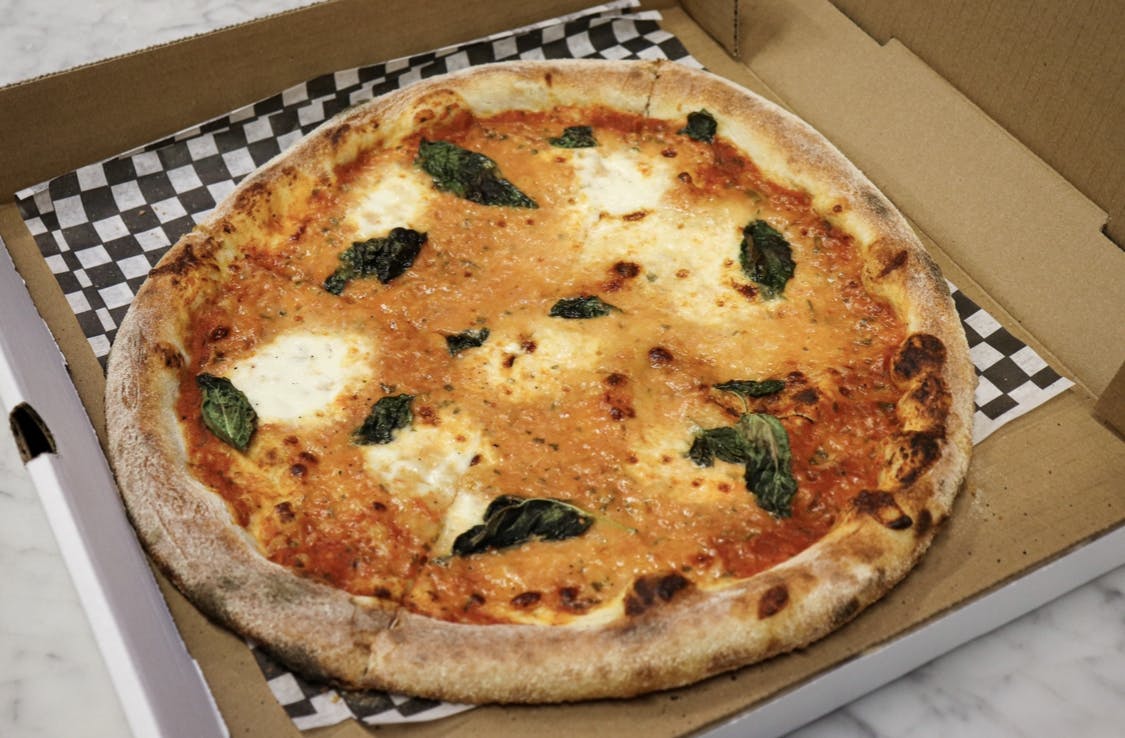 The Yawn ($16 for 13-inch and $28 for 16-inch) is their take on a classic margherita pizza and consists of fior di latte, basil and organic tomatoes.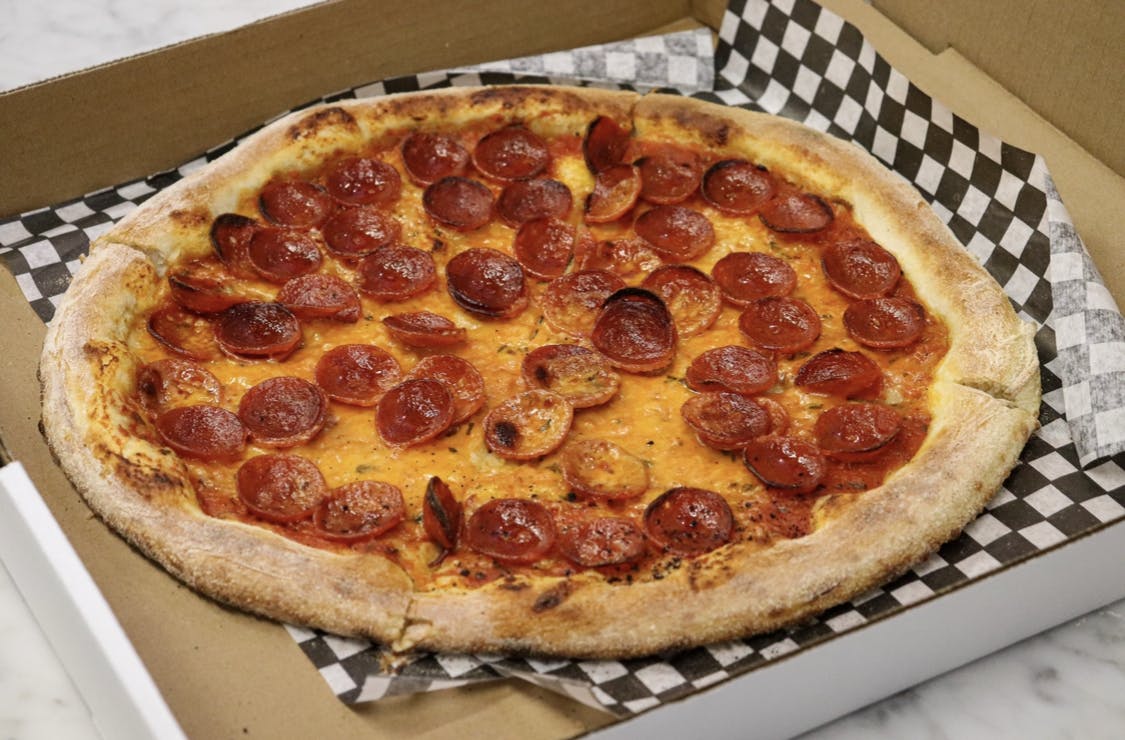 Another classic is the You Get What You Get ($18 or $30) that's loaded with ezzo pepperoni and virgin mozzarella.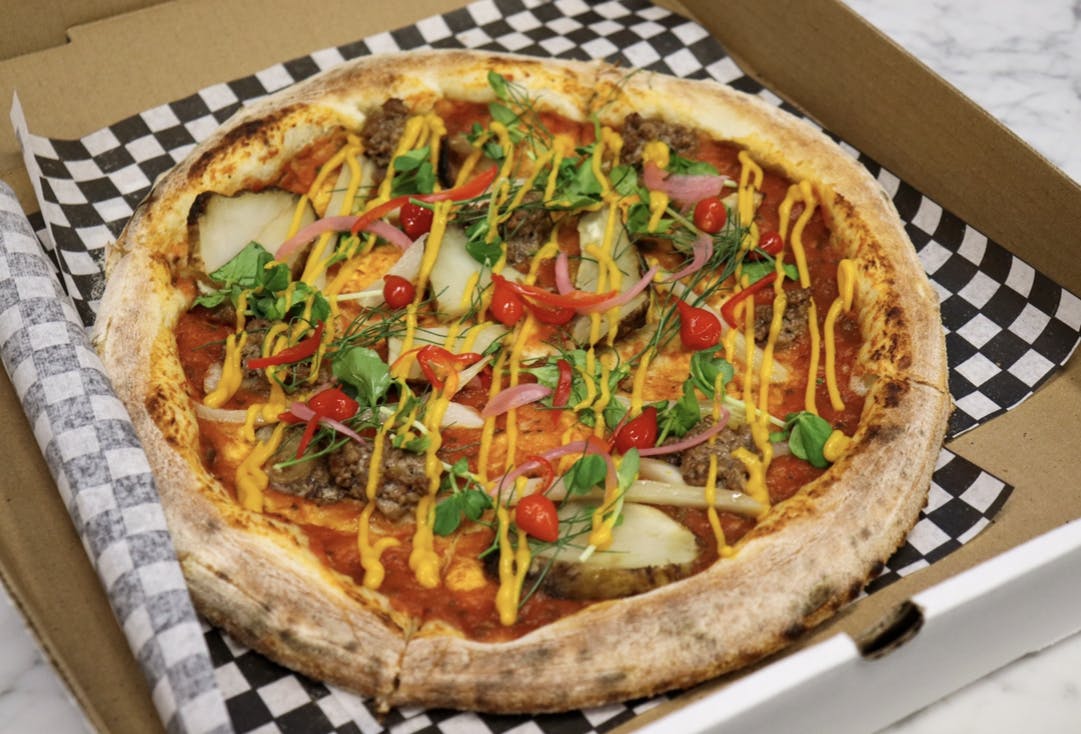 One of their specials of the week included a vegan, dairy-free, nut-free and gluten-free pizza. Dear Karen, A Love Story ($21 or $33) is topped with impossible meat, roasted sunchokes and garlicky fennel, smoked carrots and pickles.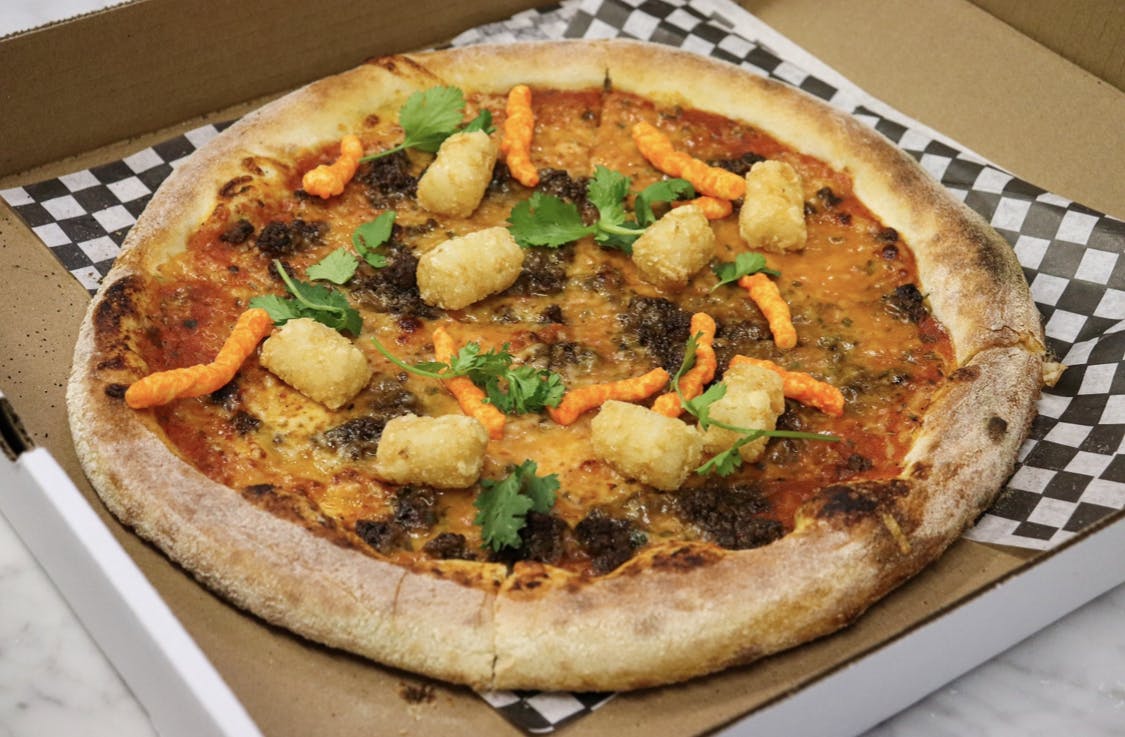 Their Dave's Not Here Man ($21 or $33) includes toppings you wouldn't normally find on a pizza but surprisingly go well together including Jamaican patty filling, tater tots, Cheetos and pickled habaneros.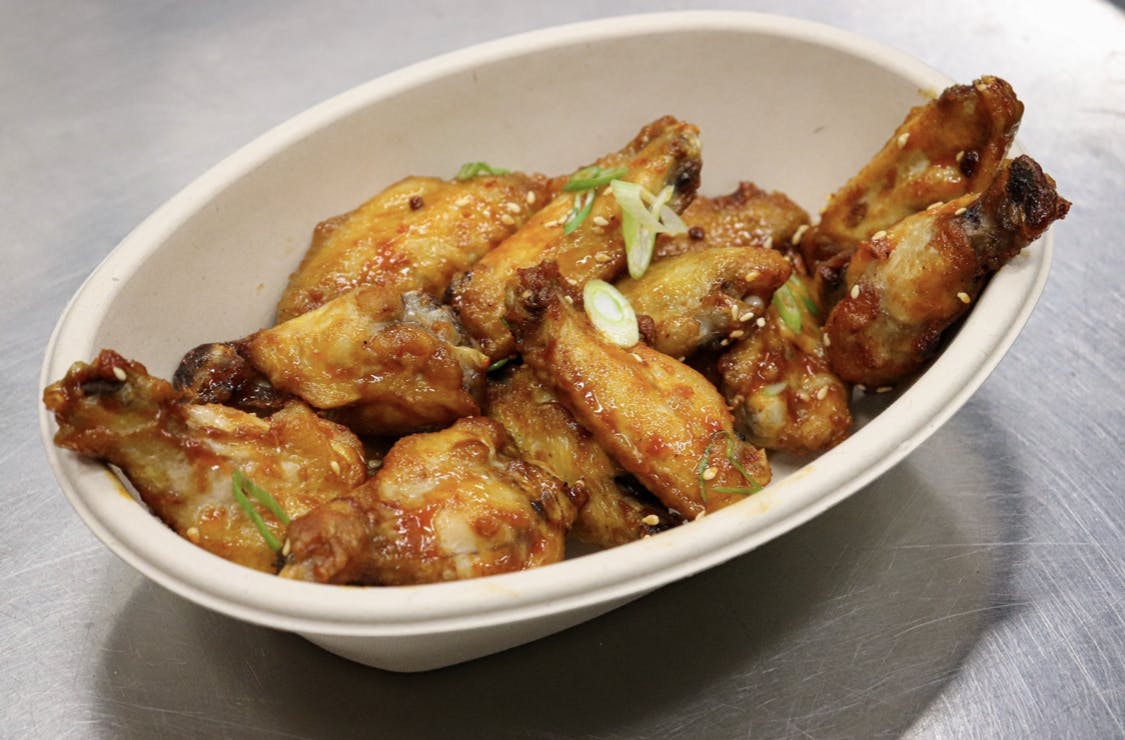 Although wings are considered an afterthought at most pizza places, the ones here shouldn't be missed.
Their antibiotic and hormone-free chicken wings are brined in salt and sugar for four hours and dried overnight before they're cooked sous vide in an immersion circulator.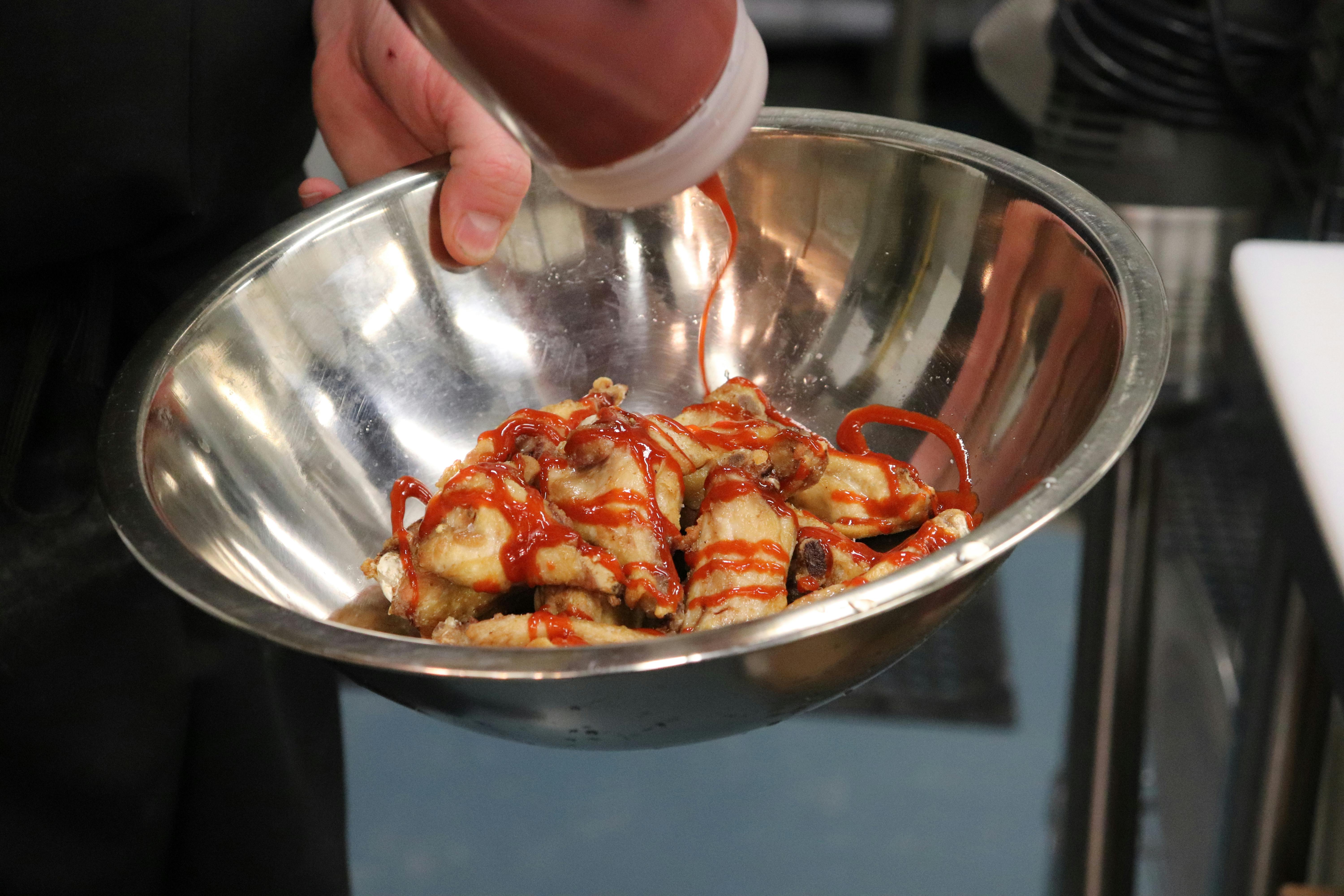 They're then fried in canola oil, tossed in one of their sauces or dry rubs and heated once more in the oven resulting in delicious fall off the bone wings.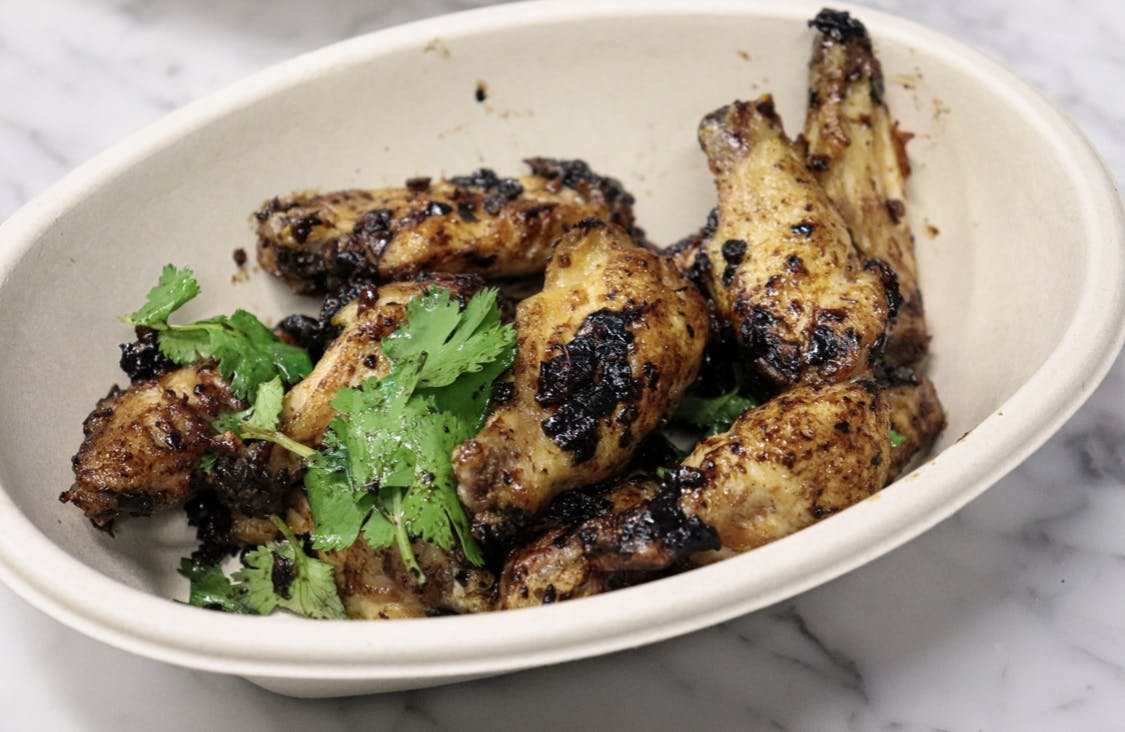 Wings can be tossed in homemade sauces like Spicy Korean BBQ and Chinese Black Bean.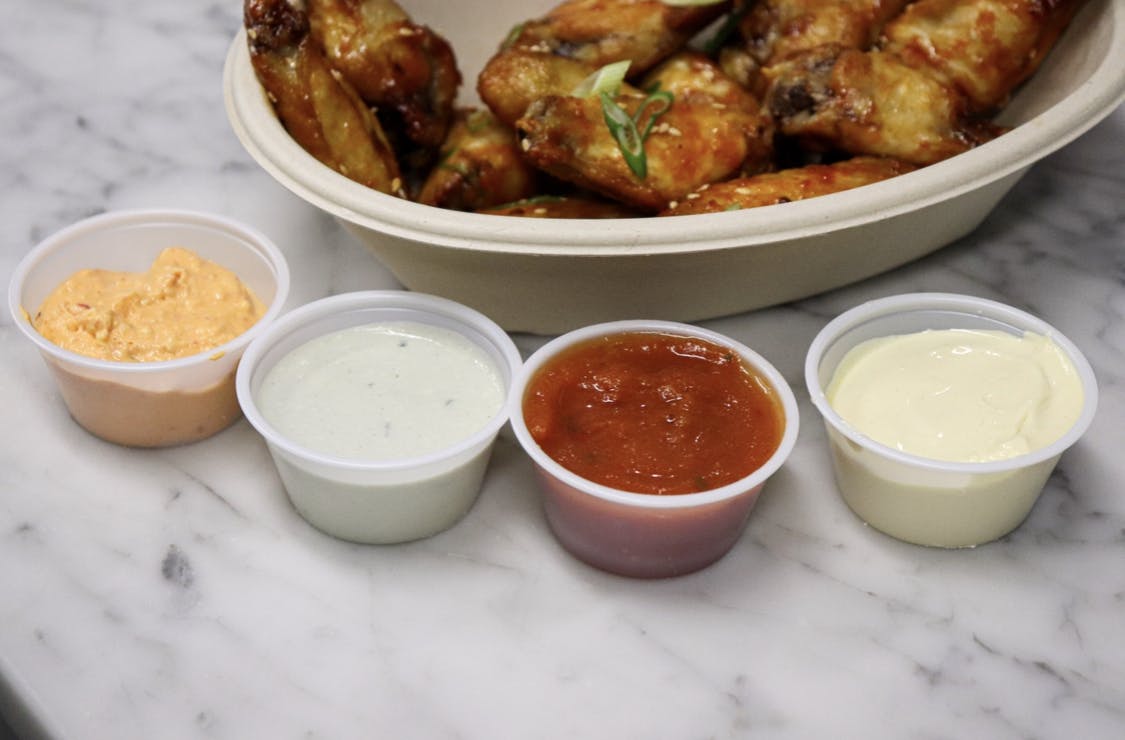 Enjoy their wings and pizza with any four of their house-made dips ($3) including Marinara, Gorgonzola Ranch, Pimento Cheese and a dijonnaise, crème fraîche Sizzler Sauce.
District Pizza is open for takeout and delivery.