Within the context of Toronto's ever-changing dining scene, Dotty's offers delicious proof that clouds do indeed have silver linings.
Located in the Junction Triangle, Dotty's is a serendipitous new restaurant-bar, owned and operated by Jay Carter and Susan Beckett. The duo's previous venture was the much-beloved Dandylion, which opened in 2014, and promptly shot to the top of Canada's culinary firmament before meeting an untimely demise in 2021, a victim of the pandemic.
In the aftermath, an undaunted Carter and Beckett were approached by a couple of Dandylion regulars who, over time, had become close friends. The pair had purchased a building on Dupont Street that they believed would be perfect for a restaurant. Carter and Beckett signed on, but the project quickly ran into a small storm of issues that created delays.
While their plans were stalled, a building across the street, at the corner of Franklin Avenue, became available. On a whim, Carter and Beckett decided to pounce. After four months of renovations, with the other project still pending, Dotty's unexpectedly opened its doors in August of 2022.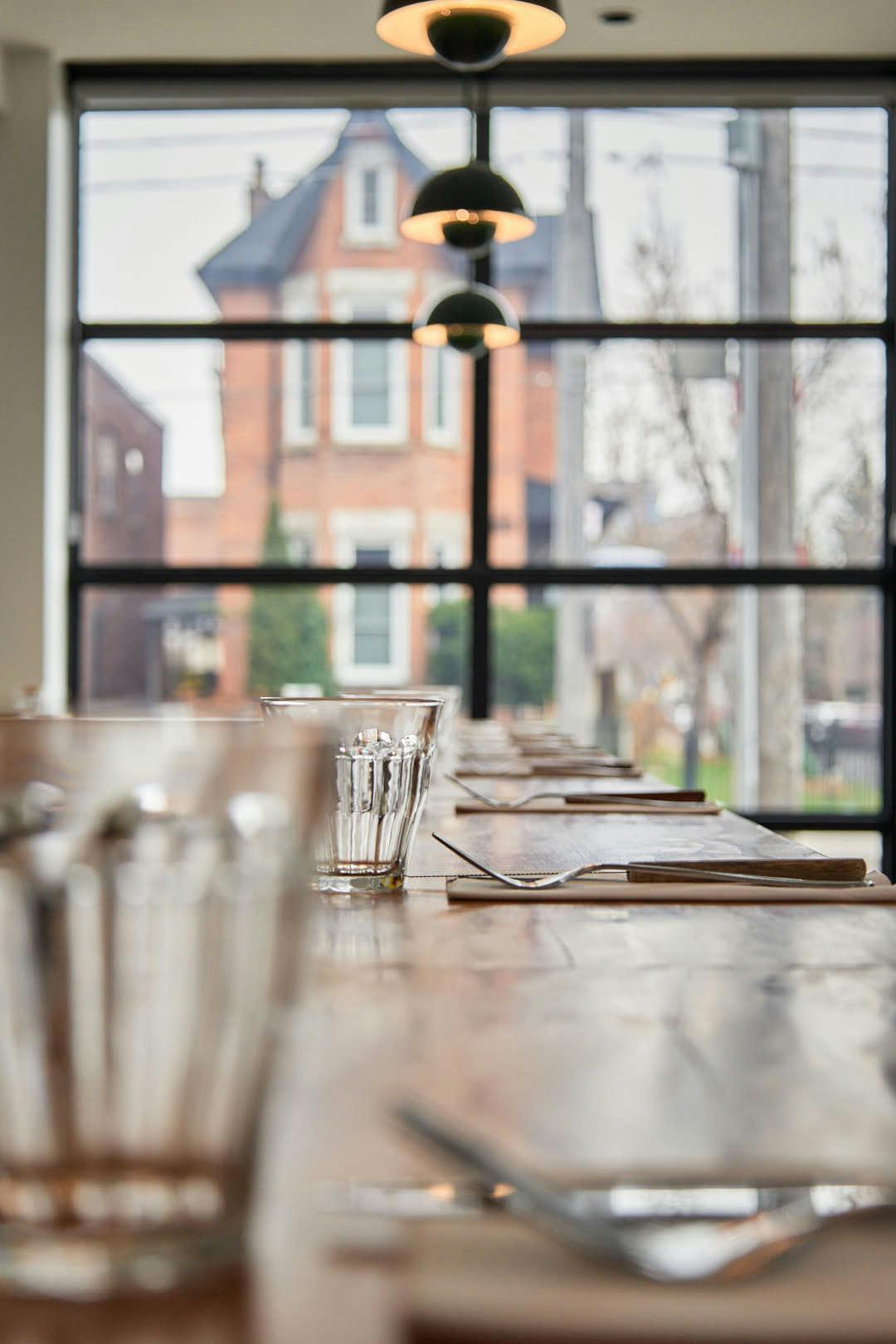 "It was accidental," says Beckett regarding the birth of Dotty's, while emphasizing that the restaurant's name – in homage to her mother – was anything but. A self-described "restaurant kid," Beckett grew up helping out at her parents' all-day, family-style eatery in Mission B.C. "My mom and dad were good bosses – good to their staff and guests alike," she recalls with pride.
This basic yet fundamental ethos permeates every aspect of Dotty's.
It explains the opening hours – 4:30-9:30 p.m. from Tuesday through Saturday – which afford the staff some work-life balance while allowing the neighbourhood's many young families to drop by with the kids for early dinner.
It explains the No Reservations policy, which allows guests to casually roll in when the mood suits them, taking a seat at tables flanked by multi-coloured vintage school chairs or perching upon the vintage soda stools that line the bar.
It also explains the décor. The warm wooden fixtures and pop of green plants. The clean, white tiles and unadorned walls, whose sole piece of art is a compelling monochromatic mural over the bar. Created by Beckett's artist partner, Christophe Jivraj, it consists of nine negative images, depicting Canadian landscapes from New Brunswick to Tofino, that have been amplified, stitched together and transferred onto textured vinyl. It's understated, yet remarkable.
Just like the food.
"After closing Dandylion, we wanted to get back to the basics and not have things be too chefy," confesses Carter. "We had always envisioned [Dotty's] being a very neighbourhood-oriented place where the menu had a few staples that didn't change. We wanted it to be affordable. We wanted it to be accessible for everyone. And we wanted to do the simple things very well."
For Carter, "chefy" food is anything that "doesn't make sense, silly food. People who cook for themselves and not for their patrons, I find that 'chefy'."
Streamlined and deliberately unfussy, Dotty's menu is gloriously un-chefy, with a tight selection of instantly recognizable Snacks, Plates, and Sides.
Carter defines the Snacks as "small things that we can make and bring quickly" so that when guests arrive, take a seat, and order a drink, they immediately engage and feel they're being taken care of, albeit in a seemingly effortless manner.
Indeed, there's nothing more seemingly effortless than Cheese & Crackers, served in a simple white bowl. The "cheese" is an elevated take on Cheez Whiz and arrives in the form of a thick and cheerily piquant paste made with cheddar, sour cream and pimento. The crackers are necessarily Ritz – (Triscuits were the runner-up) – not only because taste tests proved them to be the most buttery, crispy, flaky and consistent, but also due to their built-in nostalgia factor.
"I think the older we get, the more we want to just eat the things we crave," observes Carter. "The things we eat at home. The things we eat for lunch or late at night. If you go in that direction, things fall into place."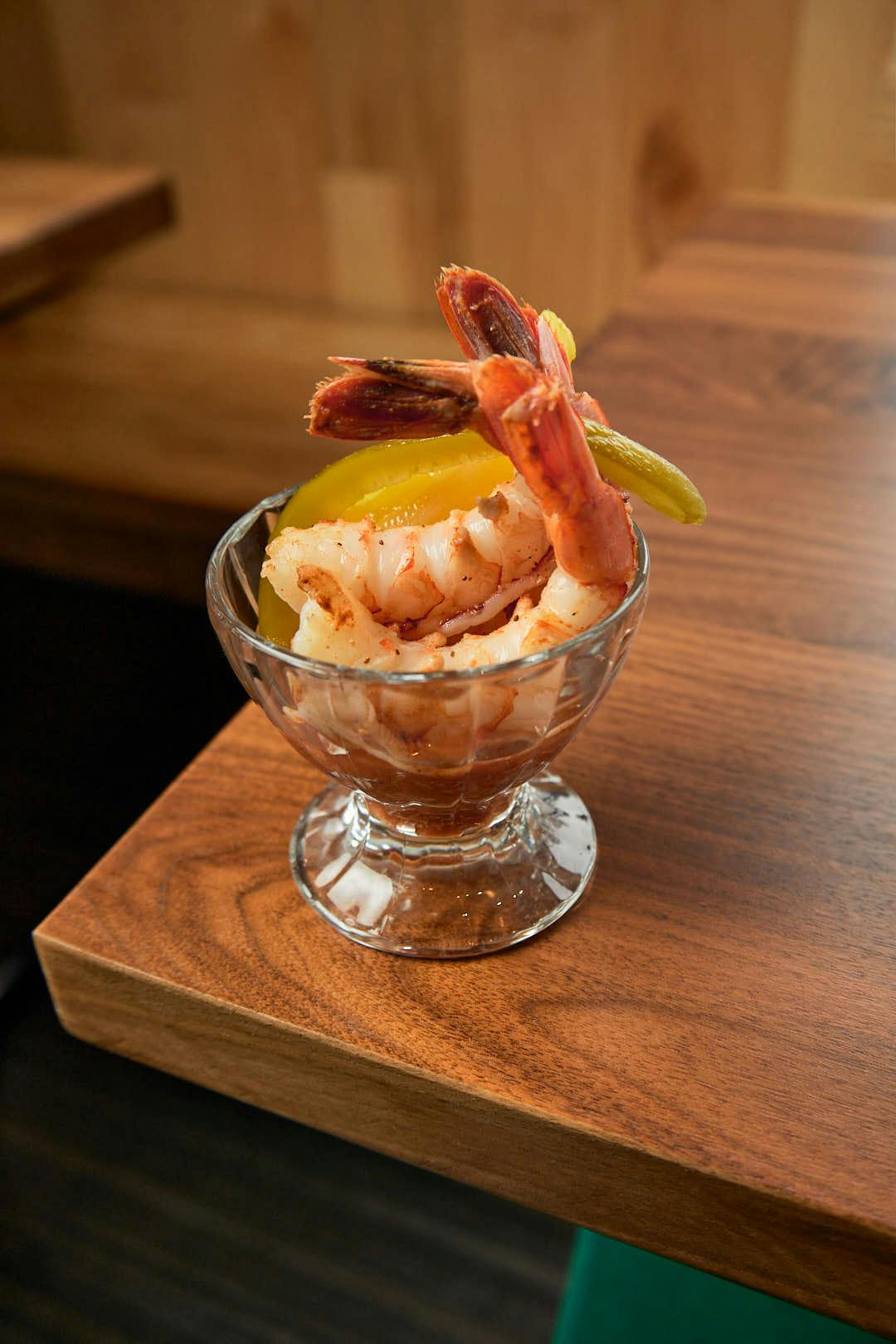 Another "snack" that falls into place quite tastily is the Shrimp Cocktail. Served in a chunky retro glass that conjures up the appetizer's 1970s heyday, the burstingly succulent shrimp explodes in your mouth, aided and abetted by a spray of lemon and a dunk in a zesty red sauce with tang and bite to spare.
Carter and long-term kitchen colleagues, Max Marangone and Adam Bryant, see their mission as bringing the maximum taste possible to familiar standards such as House Salad and Mushrooms On Toast. In this pursuit, they're constantly searching for one or two elements – such as ingredients or techniques – that they can "tweak" just enough to amplify the key components of the original dishes.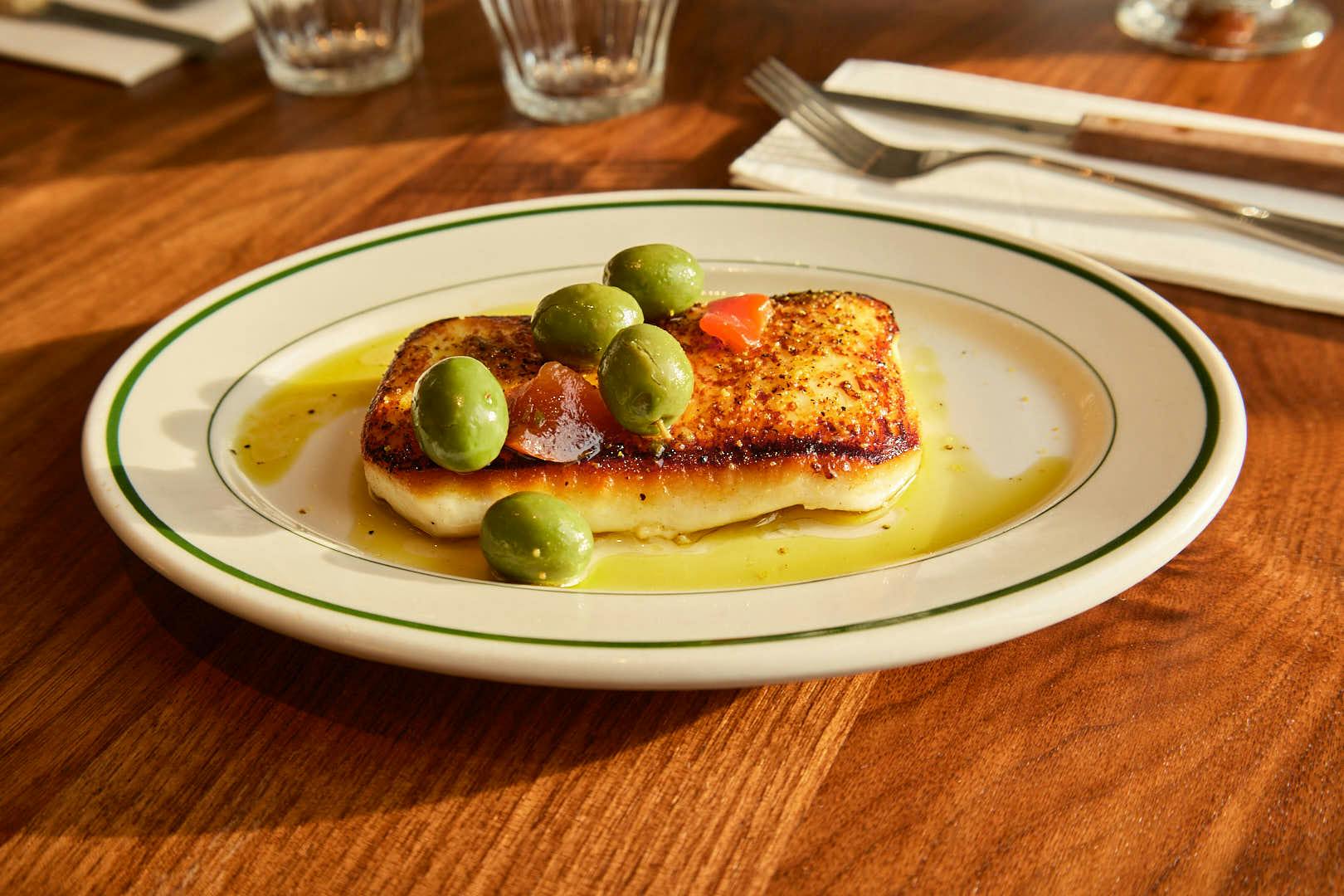 Lemon Pepper Squid is an inspired example of just such a tweak. A riff on classic calamari, the Humboldt squid comes in the form of a thick, yet achingly tender steak that has been treated to a perfectly calibrated searing on a Japanese bincho grill. Topped with green olives and sprayed with lemon pepper seasoning, it sits, modestly yet entirely sure of itself, in a glistening pool of olive oil.
Although Carter pays great attention to sourcing quality ingredients and careful preparation, he's also conscious that the success of a dish depends on how it is explained to customers. In keeping words and descriptions simple and familiar, a menu draws people in. "Their reaction will be, "I know what this is. I'm not going to feel silly ordering it or mispronouncing it."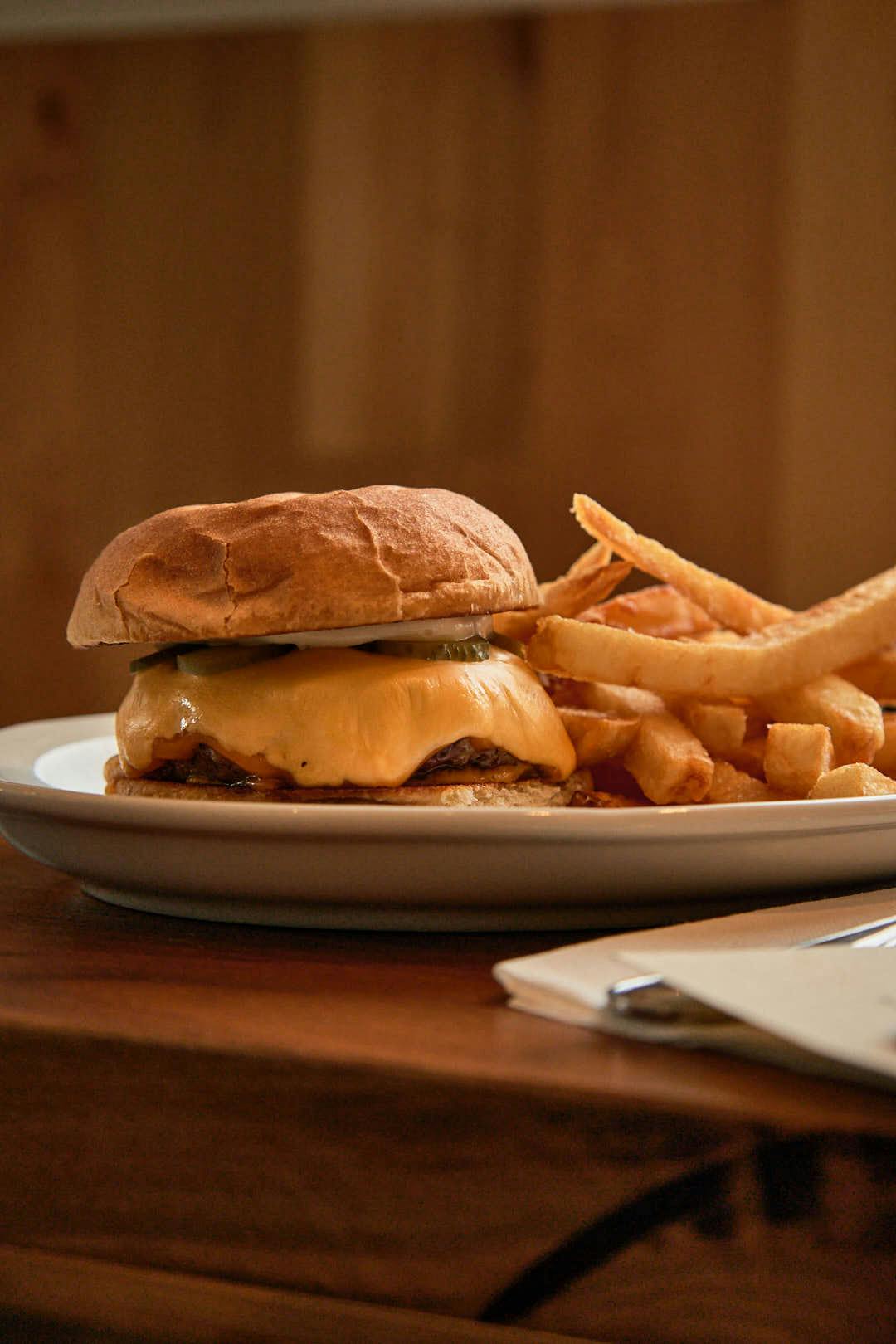 There's no risk of feeling silly when ordering any of the dishes on Dotty's menu. In every case, what you read is what you get. The "Cheeseburger," for instance, is impressively basic. Even so, its creation generated a lot of kitchen conversation. It started with talk about the bun – and the eventual realization that Carter and his crew were never going to improve on a good old-fashioned Wonder bun.
Any questions regarding the burger itself were easily resolved once Carter tracked down a superior grind of chuck from an Ontario farm. Honing in on the ideal condiments proved trickier. Onions, pickle and mayo made the final cut because they were considered to have universal appeal. As for the all-important cheese, Carter discovered that slices of both cheddar and American – when melted together – provided the ideal double whammy of cheesy flavour and gooey texture.
As Carter confesses, "The things that we're making, we don't expect them to change your life."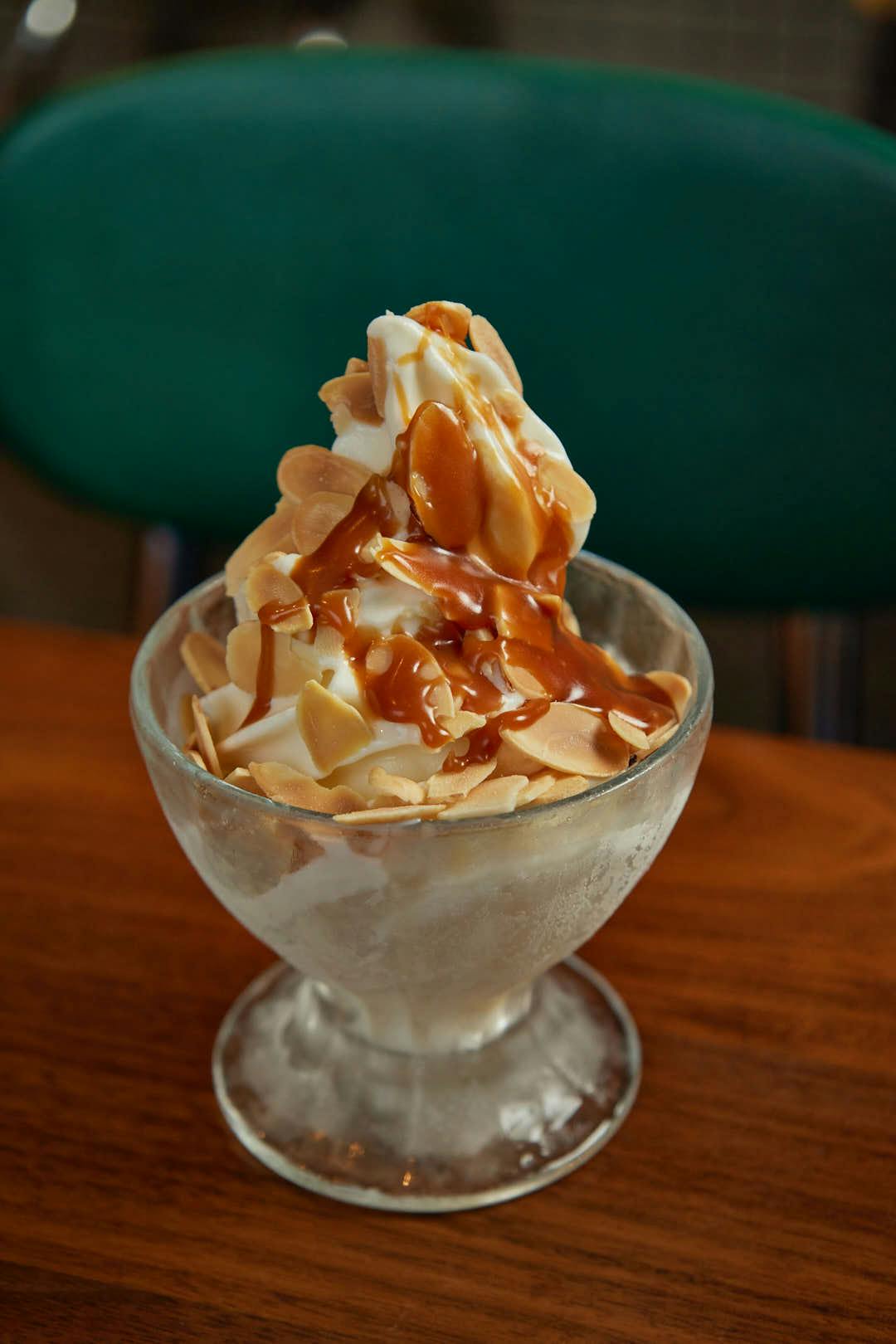 Admittedly, a Brownie and Vanilla Soft-Serve, the two desserts on the menu, aren't life-altering. That said, they'll definitely alter your mood – to much happier. The ice cream in particular is about as simple (and, well… downright vanilla) as you can get. It arrives all swirled up in a big sundae glass with a small avalanche of dulce de leche and toasted almond slivers pouring down the sides. If not for the public-ness of the wide-open dining room and its vast see-through windows, you'd be hard-pressed not to lick the bowl clean.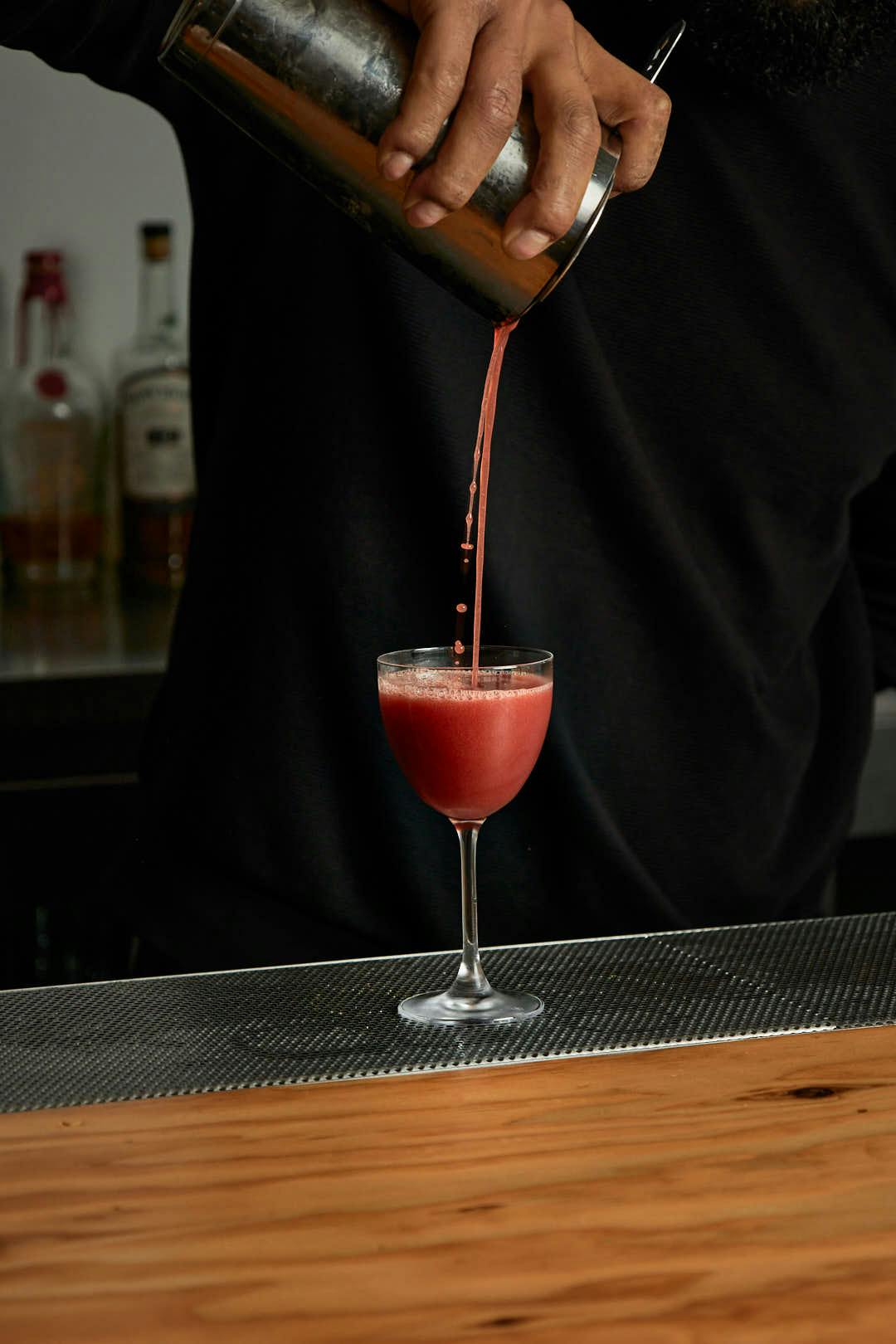 Echoing the food menu, the drinks menu is short and disarmingly simple. The list of five cocktails – which shifts with the seasons – focuses on familiar blends emboldened with dashes, and splashes, of daring. A striking case in point is Agua Hidalgo, a voluptuous pink sunset of a drink that combines tequila and mezcal with grapefruit, pink peppercorns, agave, lime and salt.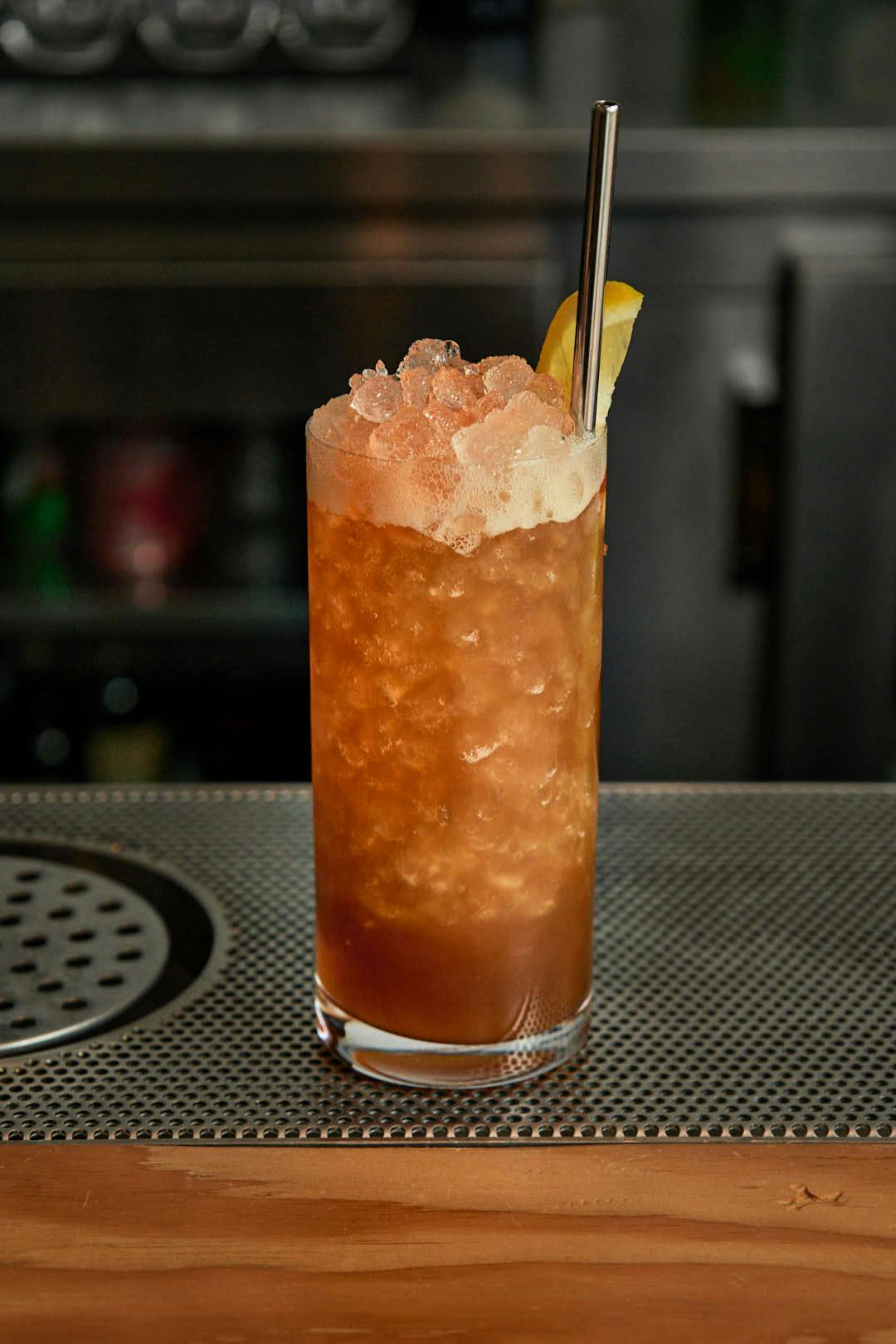 Equally popular is Sloppy Rummers, a cleverly casual riff on a classic Rum Punch. The tall, dark and citrusy drink features a double wallop of rum combined with averna, pineapple gomme, grapefruit, lemon and bitters.
As Dotty's sommelier, Beckett works hard to balance fun and good value with high quality, focusing on sustainably farmed, organic and biodynamic wines that "can still be something someone's never had before." In addition to a couple of sparkling, pink and orange selections, there are a handful of intriguing reds and whites. And in these days of inflationary eating, "where the bills are always nuts," Beckett is elated to offer house wines that, at $9, will allow certain guests to have one more glass than they'd usually have.
Also always on hand is cider as well as beer. On tap, there's always one local beer – "which we try to keep crisp and easy" – as well as an assortment of cans and bottles, among them "the kind of beers our dads would want to drink if they came in."
When the weather gets warm, dads and others will be able to enjoy food and drink al fresco, where a sidewalk patio effectively doubles Dotty's 30-seat capacity. By then, the new restaurant across the street might be on the verge on opening – or not. Having weathered recent storms, Beckett swears that she's unperturbed by future delays.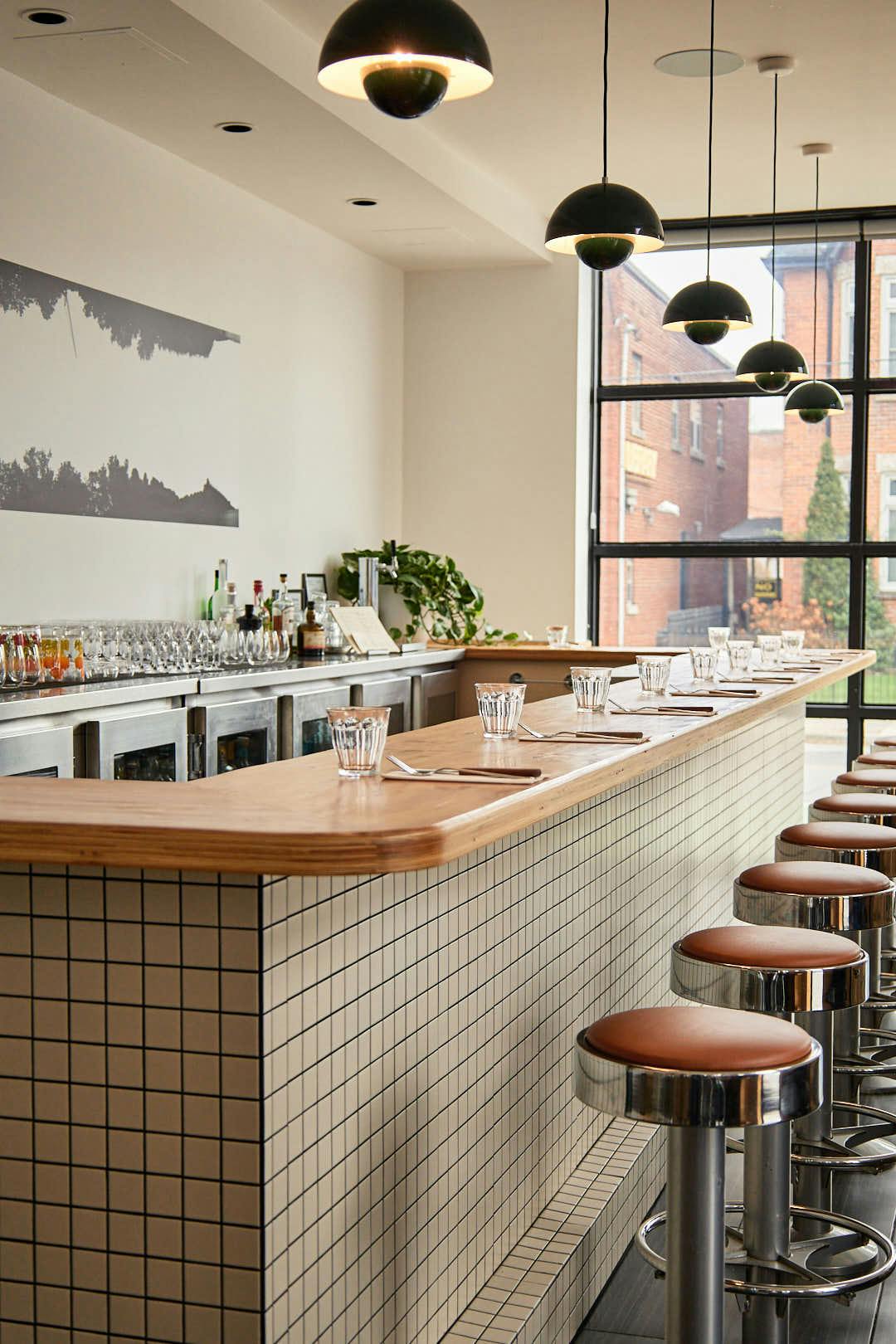 "Now it feels like Dotty's is the focus," she muses. "It's been a weird few years for everybody. For us, this is the type of place where we want to spend our time right now. If feels comfortable, like a home away from home. It feels like a place where you can have a soft landing."
Or find some silver linings.