They say that Florette is meant to be like your aunt's place.
Not just any old, run-of-the-mill aunt. Your "cool" aunt, they stress.
The one who lives on West Queen West, between The Drake and the Gladstone.
The one whose house is tricked out with slouchy sofas, whose chairs are upholstered in (cool) floral motifs, whose walls are lined with colourful jars of pickled everything, whose arched ceiling is blooming with a mural of Impressionist blossoms.
The one who, instead of boring tea and biscuits, serves you mind-bending cocktails and feisty corn pakoras.
"They" are Jerry Zhang, Mann Bijlani and Matt Allinson, respectively Florette's owner, chef, and general manager/bartender. This young, enthusiastic and innovative trio met while while surfing food-related social media during pandemic lockdown. By the time they hooked up IRL, they not only realized that they had loads in common, but that the sum of their individual talents and experiences would add up to a great restaurant. On Queen West. Called Florette. And yes, they all swear that their respective aunts are very cool.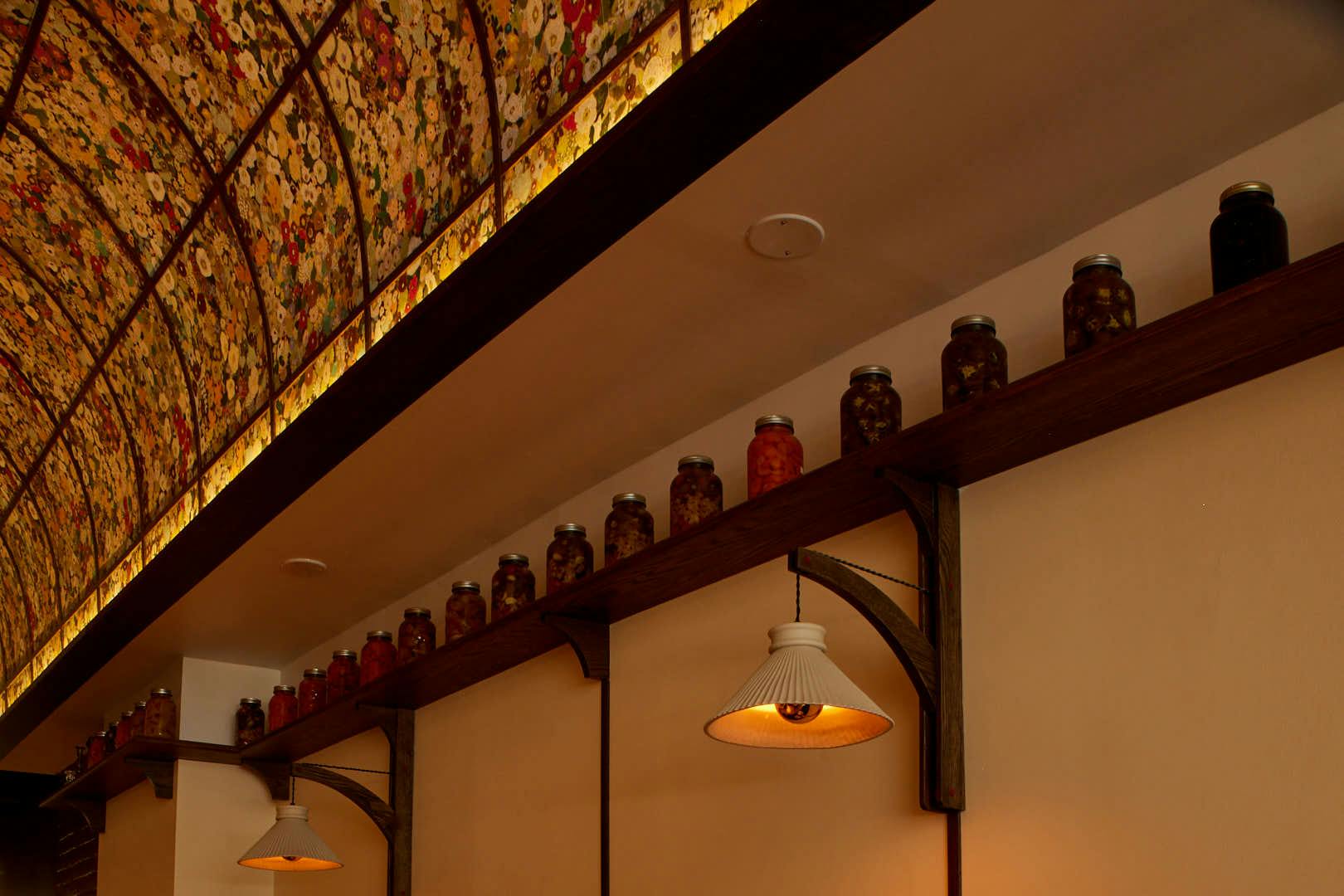 Florette's compact menu describes its food as "funky," which, of course, is kind of in keeping with what a cool aunt would rustle up if you dropped by. When asked to break down the funk, Zhang, Bijlani and Allinson have pretty clear notions of what Florette's food is and isn't.
"It's funky in the sense that it's fun, but also a little different," muses Bijlani, offering the example of Florette's bone marrow. Lots of restaurants do a version, but Florette's is cooked in the oven, smothered with a spicy (bean-less) beef chili and topped with cheese, green goddess sauce and cilantro. Accompanied by a pile of golden tortilla chips, it's served like a nachos-style plate. Like many dishes on Florette's menu, guests are encouraged to engage with it, grabbing a spoon and scraping the rich, robust combo of marrow and chili right off the Flintstones-worthy bone.
"It's unpretentious and approachable, but it also pushes the boundaries slightly," sums up Bijlani.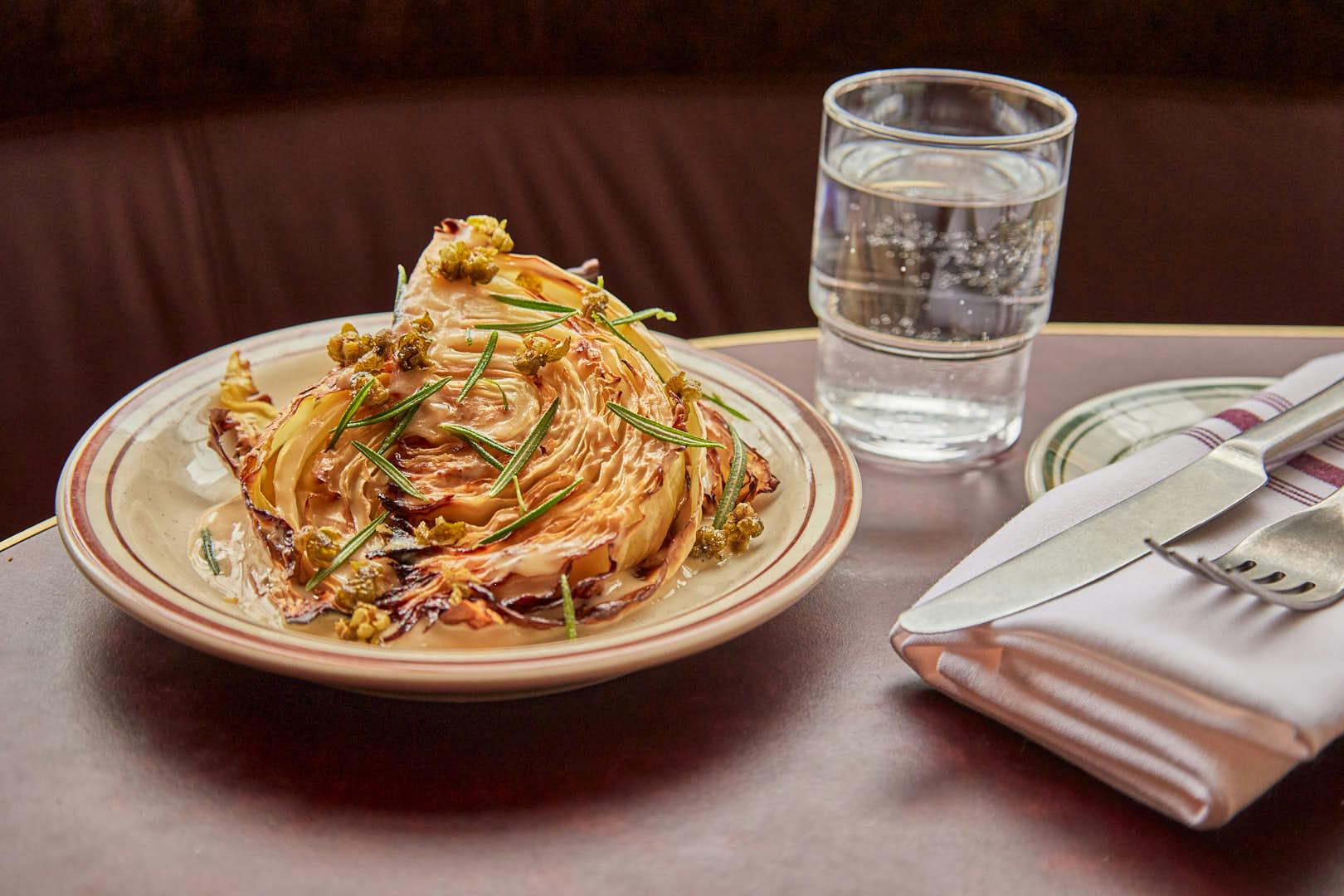 For Allinson, the funkiest thing on the menu is the cabbage with tonnato sauce. "It presents in a way that's familiar: 'Roasted cabbage, I've had that before.' Then you take a bite and realize 'No, I haven't!'."
Brushed with oil and honey, thick hunks of cabbage are roasted to perfection – the outer edges charred and caramelized, the inside tender as a steak – before being doused in a creamy tuna sauce, then garnished with fried capers and rosemary.
The dish cleverly invites comparisons with the classic vitello tonnato. Says Bijlani, "The way we cook it, you're treating it like a piece of meat, then dressing it with a sauce that's normally paired with meat. It has that umami. It's even served with a steak knife."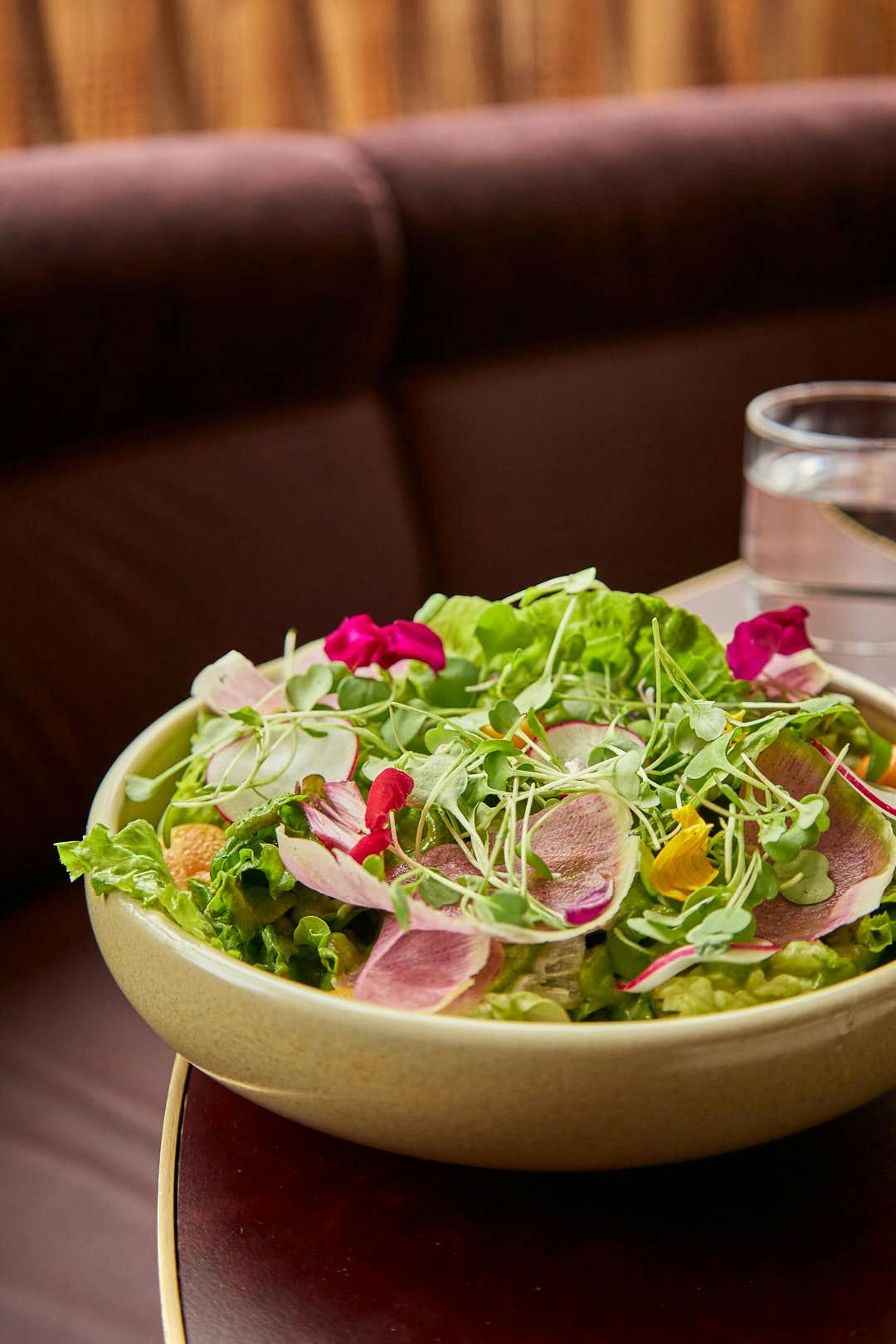 Bijlani claims to "take care of our veg as much as we do our meat" and the latter are beautifully tended to in the Mojo salad. A verdant mix of lettuces mingle with crunchy baby red and watermelon radishes and tangy cape gooseberries. Scattered with mini arugula and flower petals, the salad is bathed in not just one, but two sauces; a lemon vinaigrette and a creamy mojo verde (which, like tonnato, traditionally accompanies meat). While the sauces are a constant, the perishable salad ingredients change regularly, according to availability, locality and seasonality.
Such considerations also guide the ever-evolving menu, providing a catalyst for unlimited creativity. "We're constantly having meetings with farmers and suppliers and we like to let them tell us what we should use," confesses Allinson. "That's part of the fun of it. Especially when it's an ingredient we're not familiar with."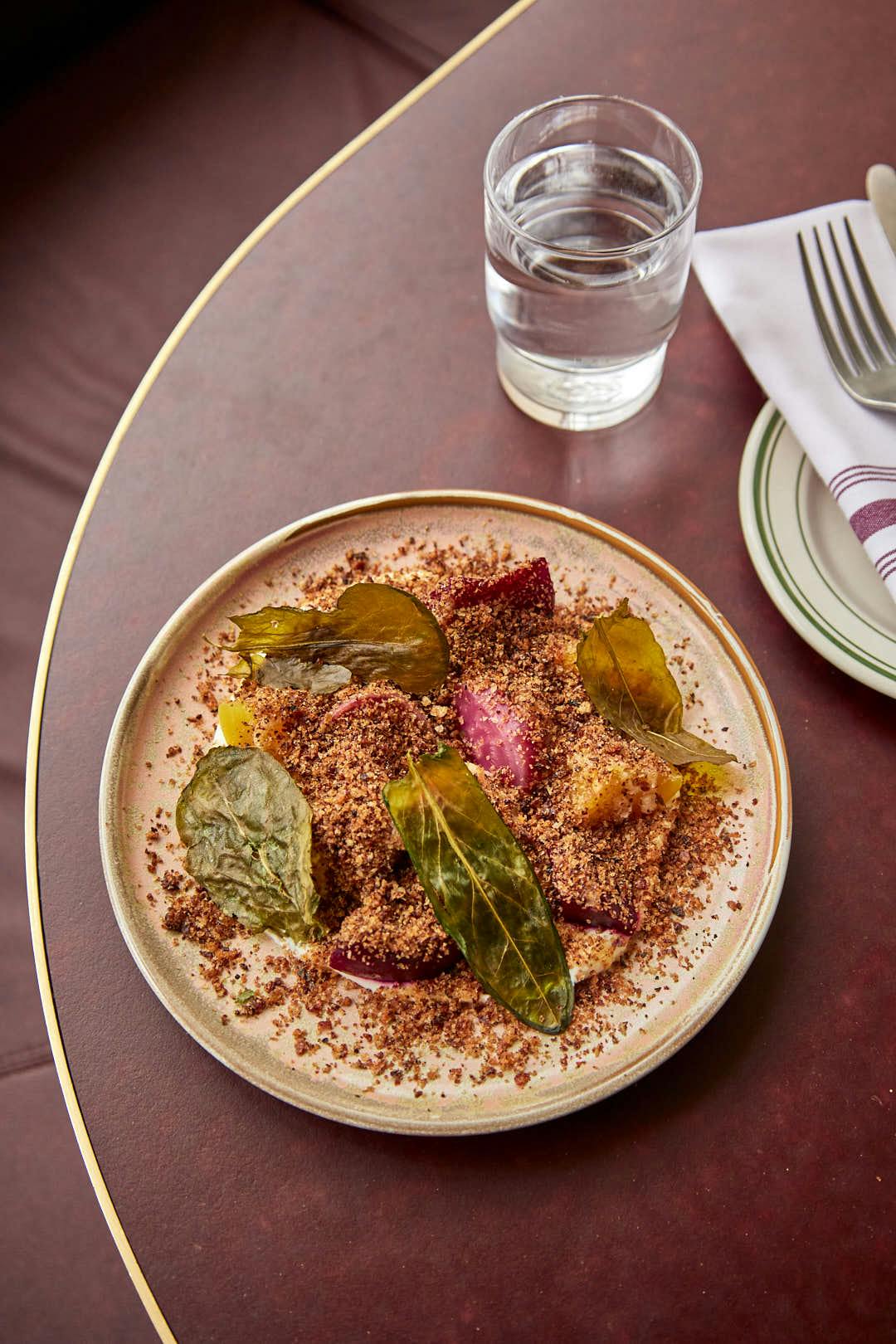 There are also the familiar ingredients that not everyone necessarily loves. At Florette, these are prime candidates for the "sneaky good" treatment. A delicious example of "sneaky good" is the dish baptized Beets in the Ground. In early days, Bijlani and Allinson were talking about putting beets on the menu, but Zhang – not a fan – was leery.
Bijlani went to town, taking a tried-and-true roast beet salad – red, golden and candy cane beets spiked with dollops of goat cheese crema – and transforming it into an edible ode to an autumn landscape. In addition to bathing the beets in a nutty brown butter vinaigrette, he covered them with a sprinkling of crunchy dehydrated sorrel representing crisp fallen leaves and a handful of "soil".
"One of our philosophies is Zero-Waste cooking," explains Bijlani. "Bread that gets left over at the end of the week becomes bread crumbs. That's the base of the soil. Then we add dehydrated olives, mushrooms, fried shallots and a few other things I won't tell you, which creates umami." Arriving at the table, the dish looks appealing, but unremarkable. But when you take a first bite, the unexpected play of flavours and textures elicit a "Wow!"
Zhang was definitely won over.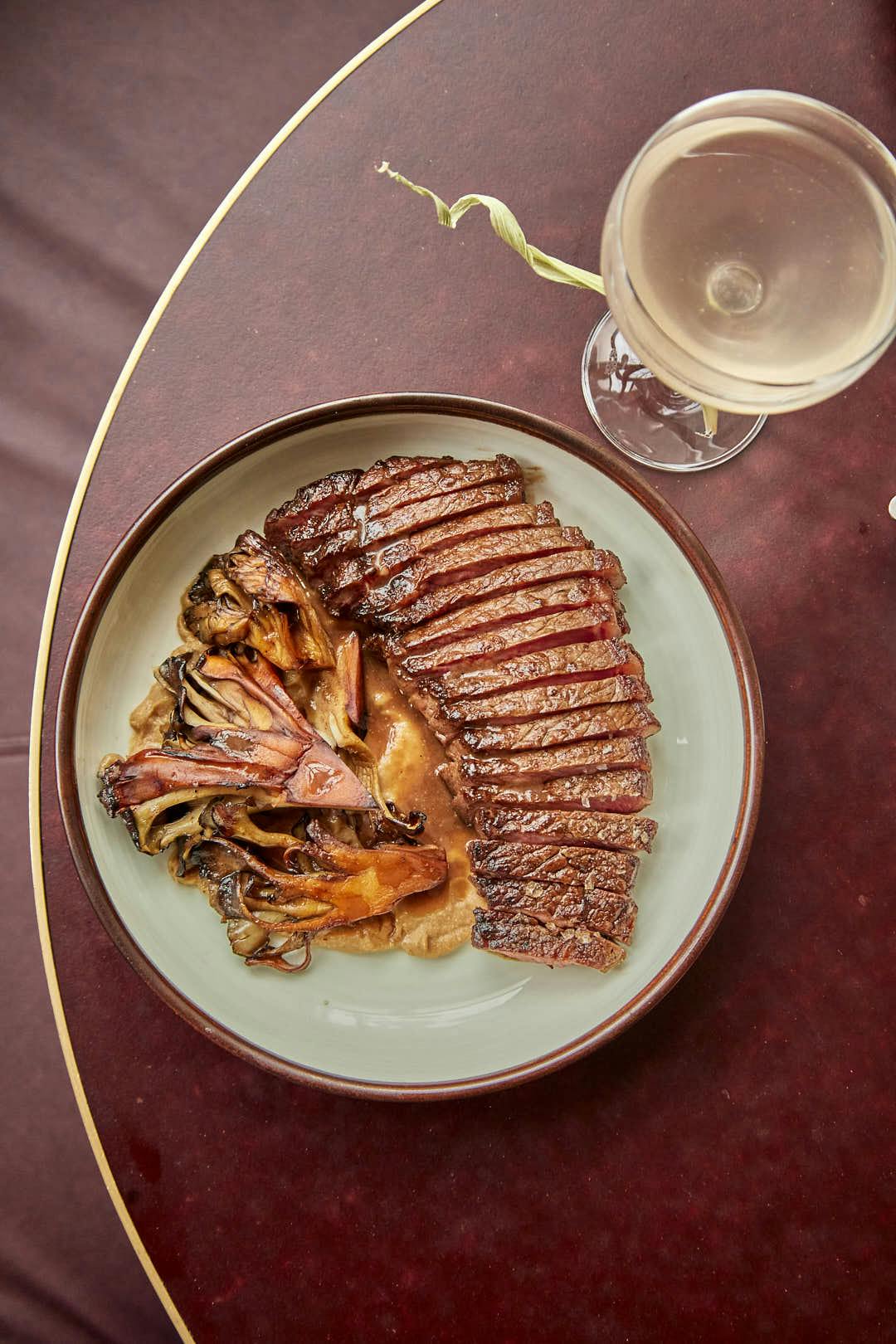 While veg get a lot of love at Florette, so do proteins. There's a gorgeously succulent strip loin, its flesh fired to a perfect pink. Accompanied by meaty maitake mushrooms, basted and cooked in rendered fat, and a porcini mushroom demi-glace, the steak slices sit next to a creamy parsnip puree, its earthy sweetness enriched by a subtle shot of espresso.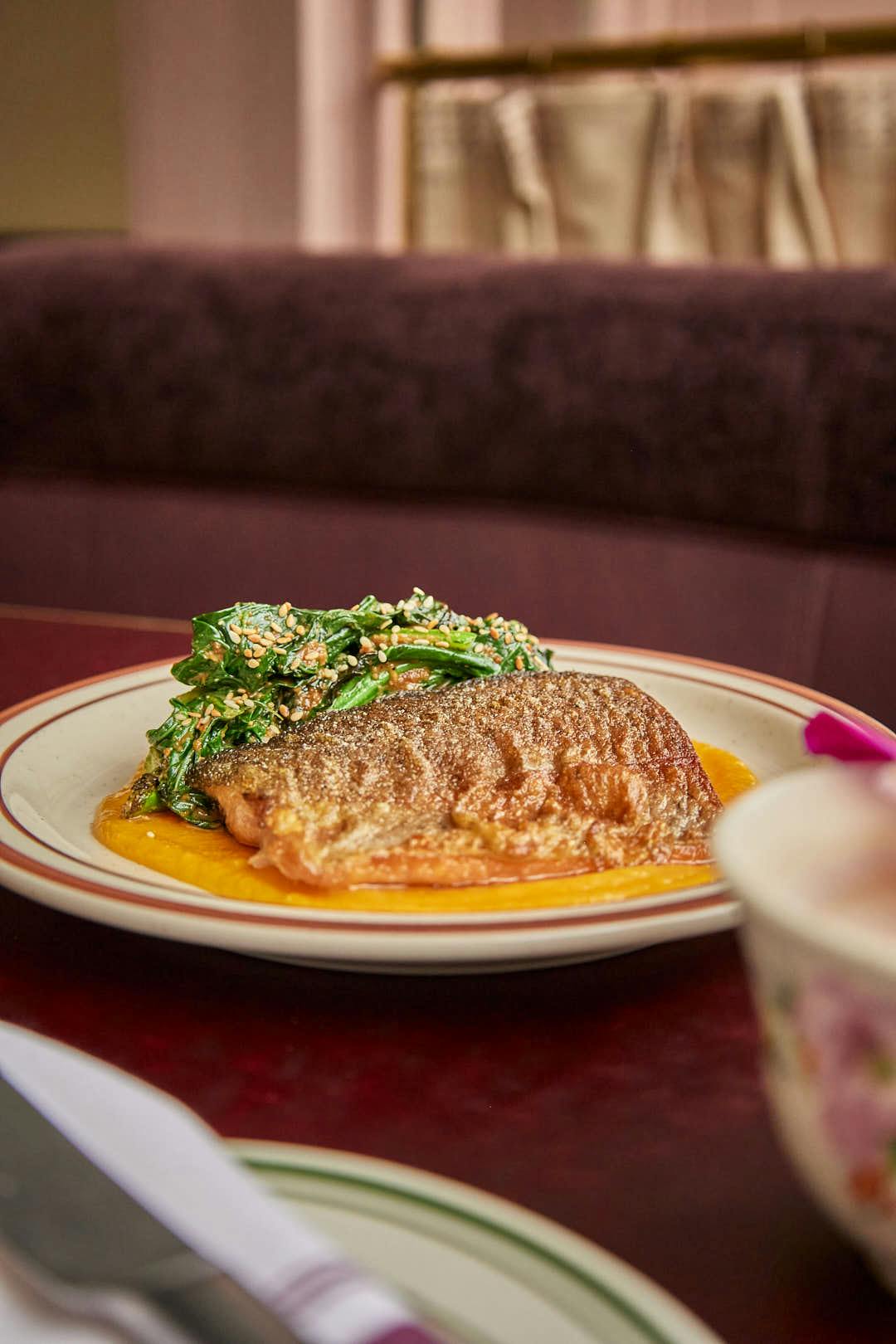 Currently sourced from B.C., the fresh rainbow trout is tender and has almost magically absorbed a good half-dozen flavours, ranging from salty to sweet. Lapped by a bright orange sea of miso squash puree, it's accompanied by bright green, blanched and sauteed gai lan, finished with a white sesame dressing and sprinkling of white sesame seeds.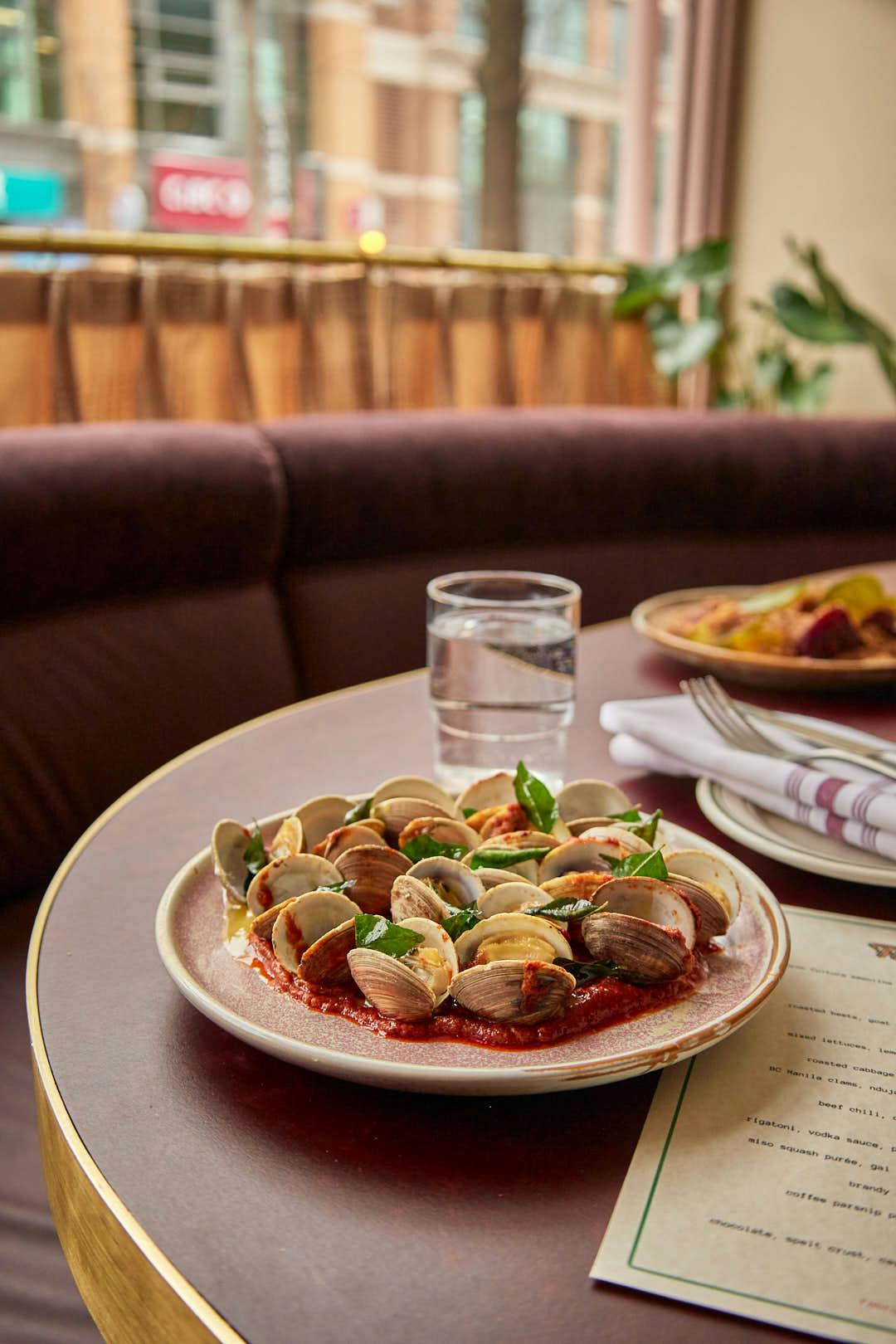 Although all of Florette's dishes have a story, the narrative source of Bijlani's own personal favourite – the Manila clams – is particularly autobiographical. The clams in question, small, succulent, harvested in B.C., are cooked in nduja butter, made from the spicy Italian sausage Bijlani came to love while working at a Michelin-starred restaurant in Italy.
Served atop a pungent crimson sauce, the bivalve's oceanic umami is suffused with a fiery sausagey burn that sends a delightful shock to the palate. For extra kick, Bijlani adds shallots and curry leaves, the latter not only an homage to his Indian roots, but also to adjacent Parkdale, in whose Indian and Tibetan stores he sources "local" ingredients.
Like much of Florette's menu, the dish is also a vibrant expression of how Florette's founders perceive Toronto's culinary culture. "Toronto is arguably the most multicultural city in the world. We've seen so many incredible restaurants and chefs bring together flavours from different cultures in interesting and unique ways that might feel subtle and not immediately present themselves," observes Zhang.
Florette taps into this multiculturalism with its drinks as well as its food. It carries a couple of local brews and makes its own sodas in-house. It also has an intriguing wine list, with a focus on natural, organic and biodynamic bottles, a third of which are unsung gems from Niagara and Prince Edward County. However, front-and-centre are the truly "funky" cocktails dreamed up by Allinson, created in unison – and meant to be paired with – Bijlani's food.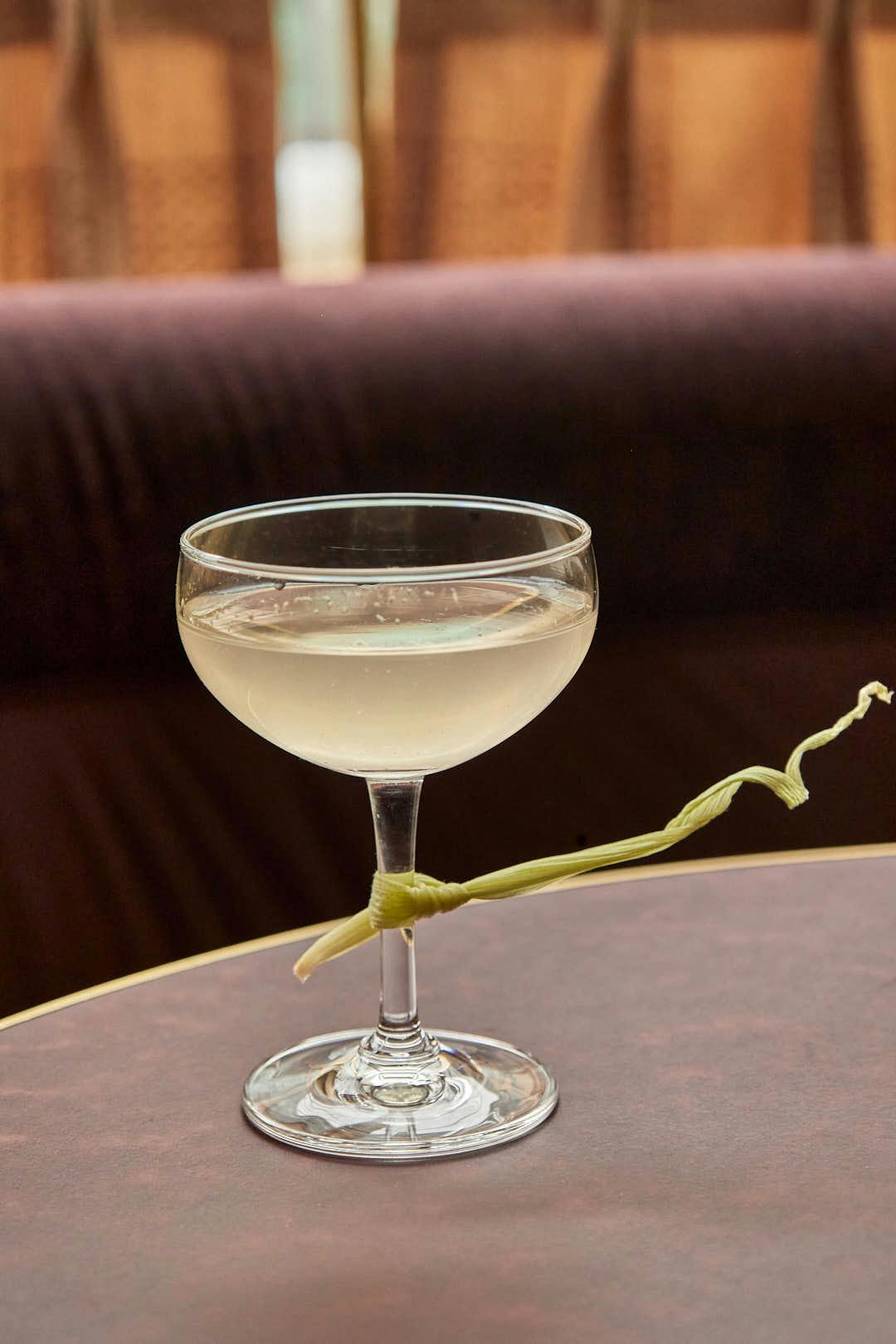 An extremely imbibable example is the Butter Corn Martini. The unusual drink came into being when Allinson saw Bijlani playing around with an idea for corn pakoras and was hit by a nostalgic wave for the cornfields and cookouts of his rural Ontarian youth. The literal distillation of those memories is made with an in-house cookout tincture of BBQ spices and herbs, mixed with hickory corn-smoked vermouth and brown butter-washed gin. The resulting libation tastes uncannily (and awesomely!) like sipping barbecued corn on the cob (there's even a ribbon-like husk tied around the glass as sustainable garnish).
Allinson refers to Florette's cocktails as "gastronomic". Like the food, the drinks – which change seasonally – emphasize locality, simplicity and unpredictability. Ideas and ingredients swapped between kitchen and bar create a marked synergy that favours pairing. Just as a wine's subtle notes draw out the flavours of a dish, Allinson designs his cocktails to compliment and enhance Bijlani's creations, "albeit in a more smack-you-in-the-face kind of way."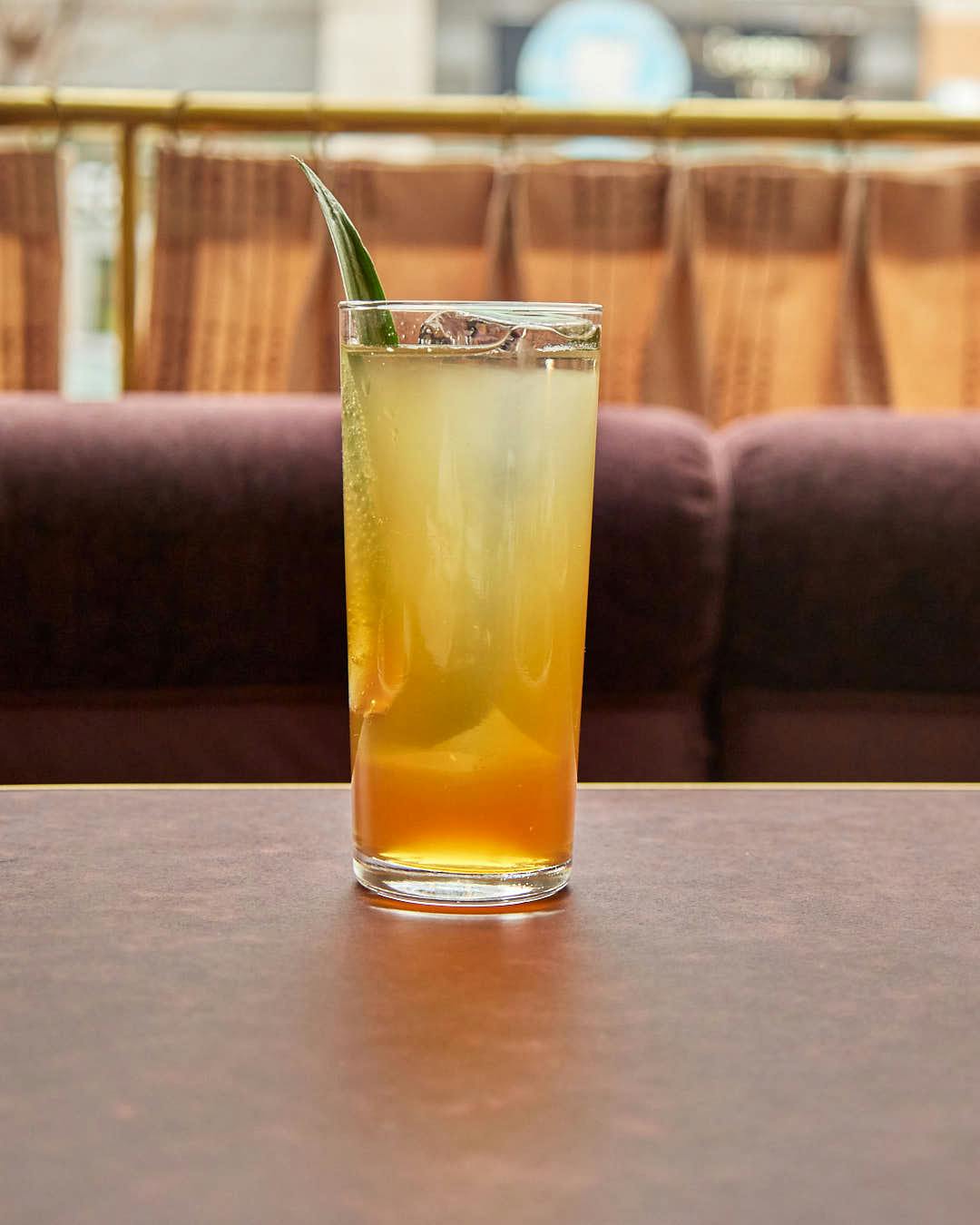 The Tepache Colada offers a particularly pleasing smack. An impossibly smooth fusion of coconut-washed rum, coconut demerara syrup and a house-made tepache made from fermented pineapple, it's a perfect slightly sweet and fruity sidekick to the Mojo salad or Manila clams.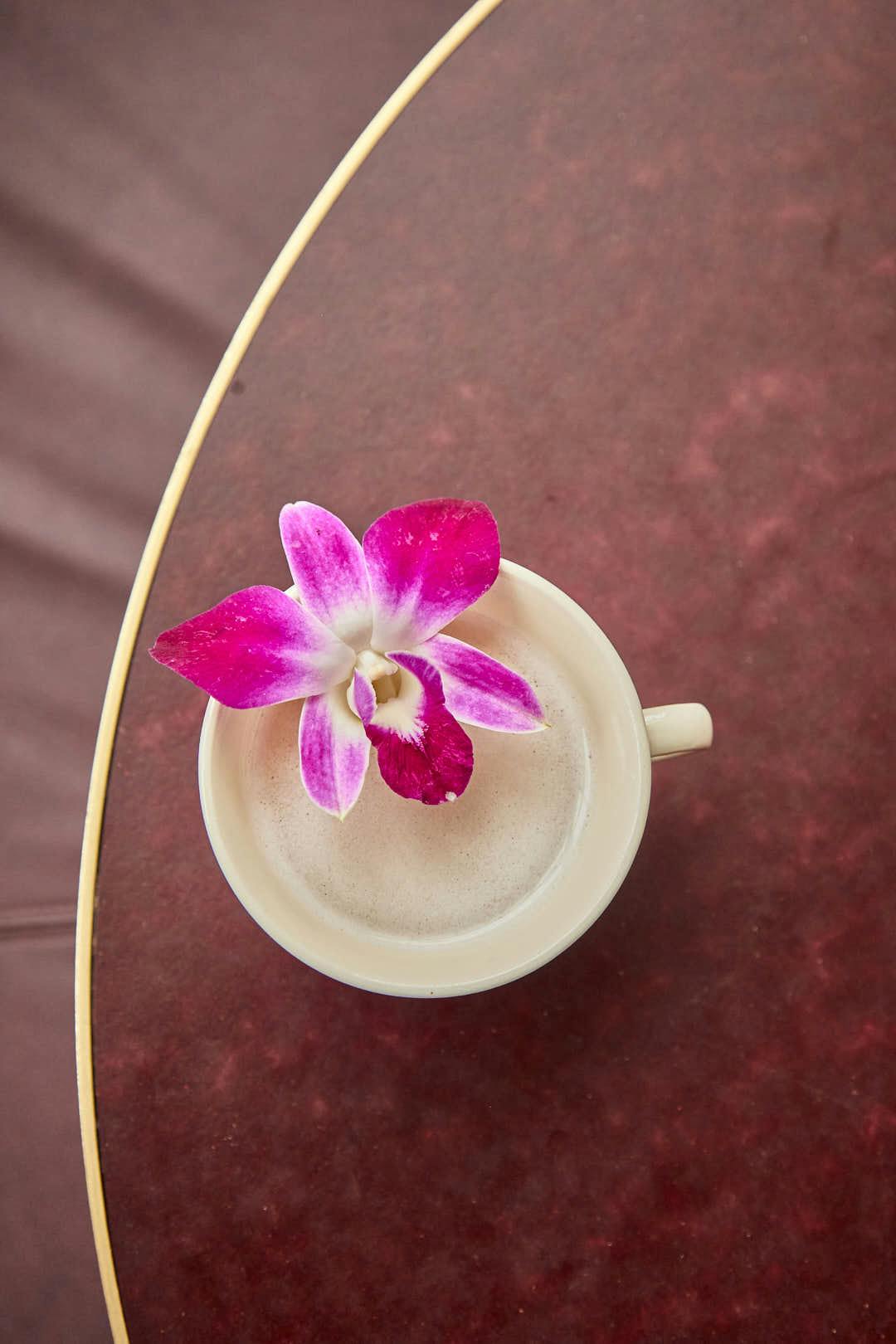 Steeped in Japanese influences, the Open Sesame brings together in-house green tea-infused vodka, sake, roasted sesame syrup and shots of both pineapple and lemon juice. Shaken and poured into a prim teacup, it's garnished with a lush orchid. Echoing the food, Florette's cocktails are presented without a lot of fuss so that, as Allinson notes, "the flavours speak for themselves."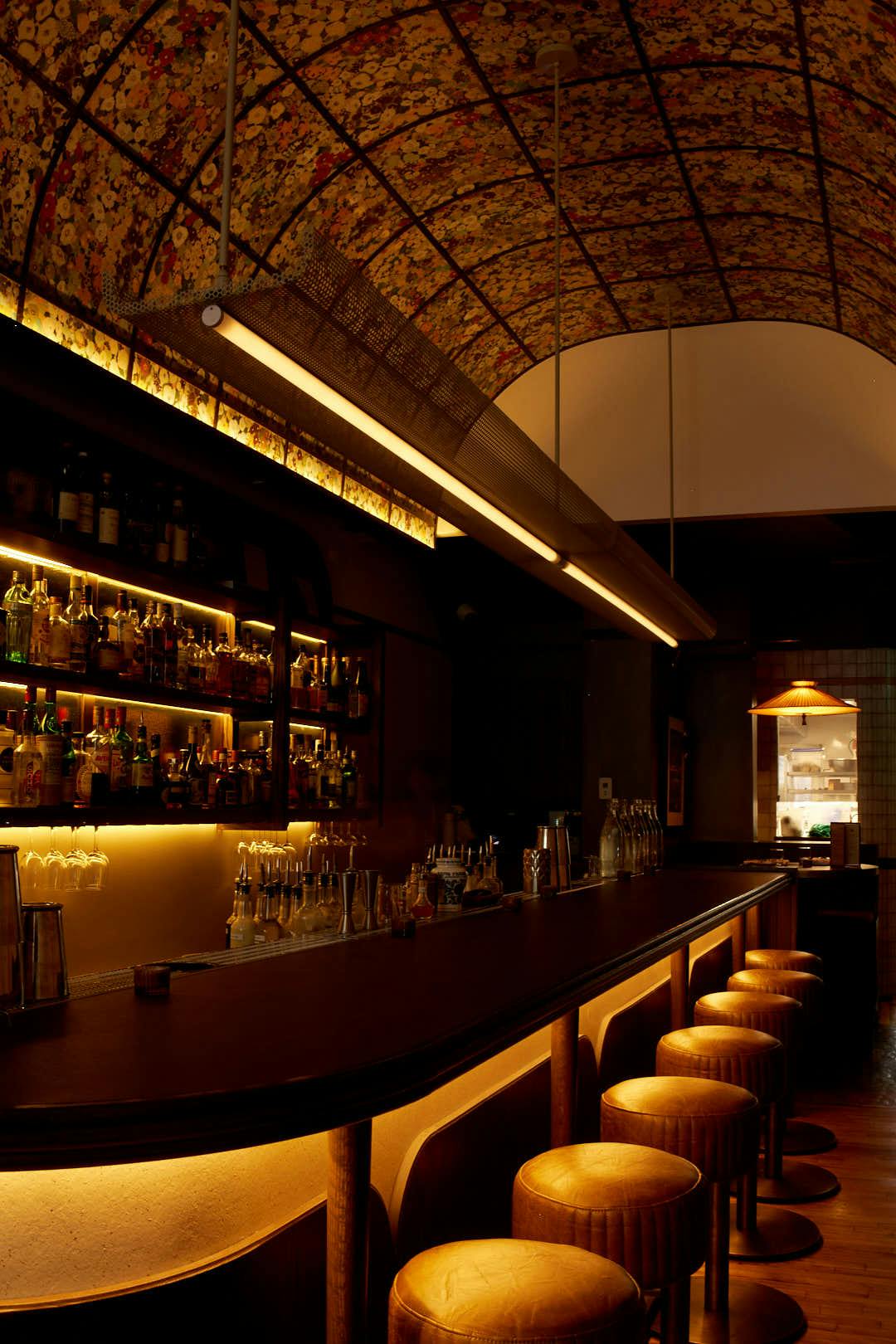 Meanwhile, as winter segues into spring, Zhang, Bijlani and Allinson are busy planting seeds that will see Florette blossom in new directions. First on the agenda is to extend the restaurant's hours and ramp up its late night offerings. The idea is that folks strolling by after midnight will smell something delicious and come in off the street for a bite and a drink. Already, Allinson is toying with a version of Sex on the Beach featuring a grenadine syrup that incorporates early-spring radishes. Bijlani is ruminating on patties and truffle fries, snacks that are "super-crushable, but not necessarily obvious."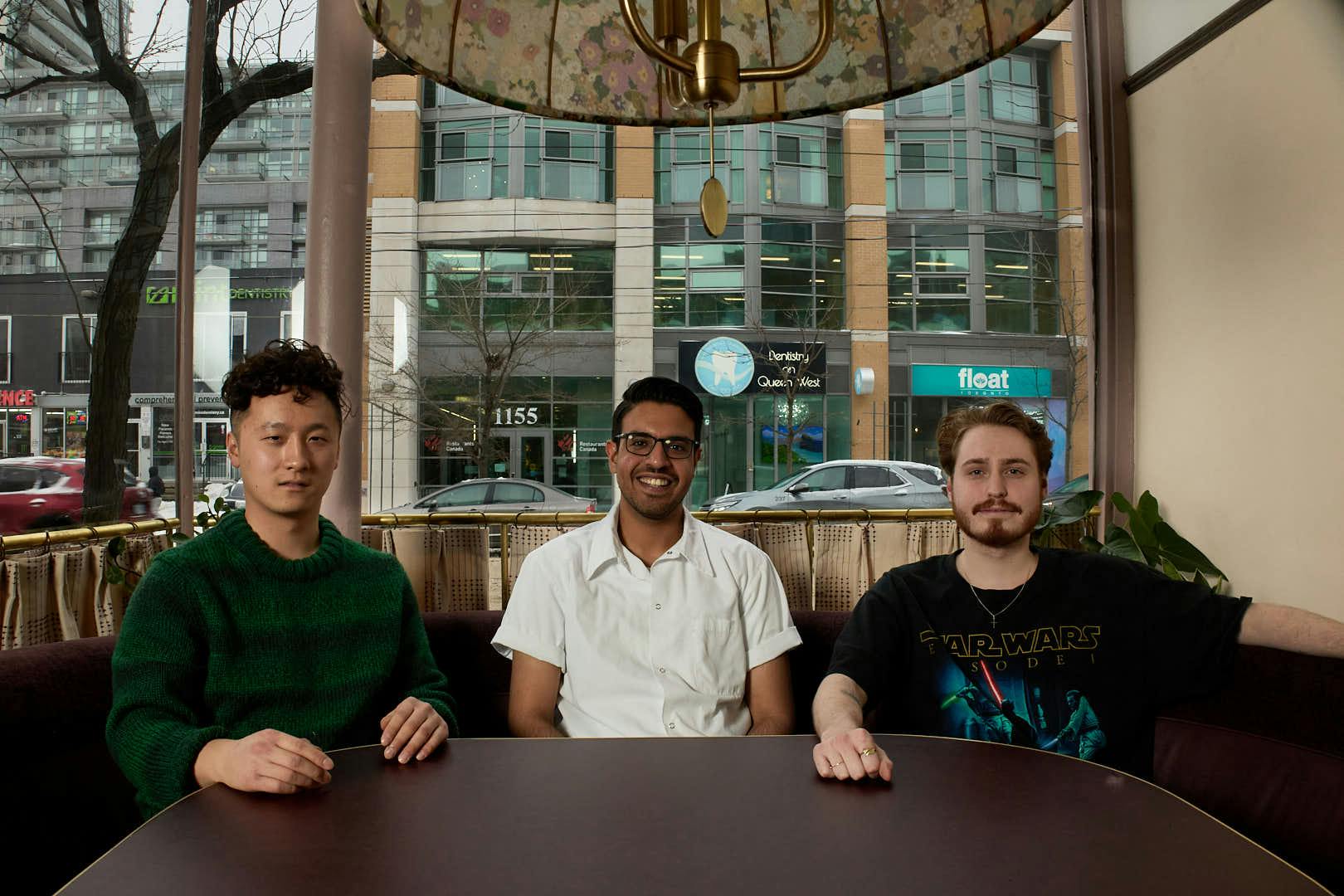 Further down the line – perhaps once the sidewalk and backyard patios open up – there are also plans for brunch. Bijlani admits that his favourite snack in the world is the McGriddle, the McDonald's' breakfast sandwich featuring eggs, bacon, and cheese stuffed between a pair of pancakes. "The pancakes are made with maple crystals in them. To me it's the most technical thing McDonalds does," says Bijlani with reverence, confessing he'd love to do his own take on a McGriddle.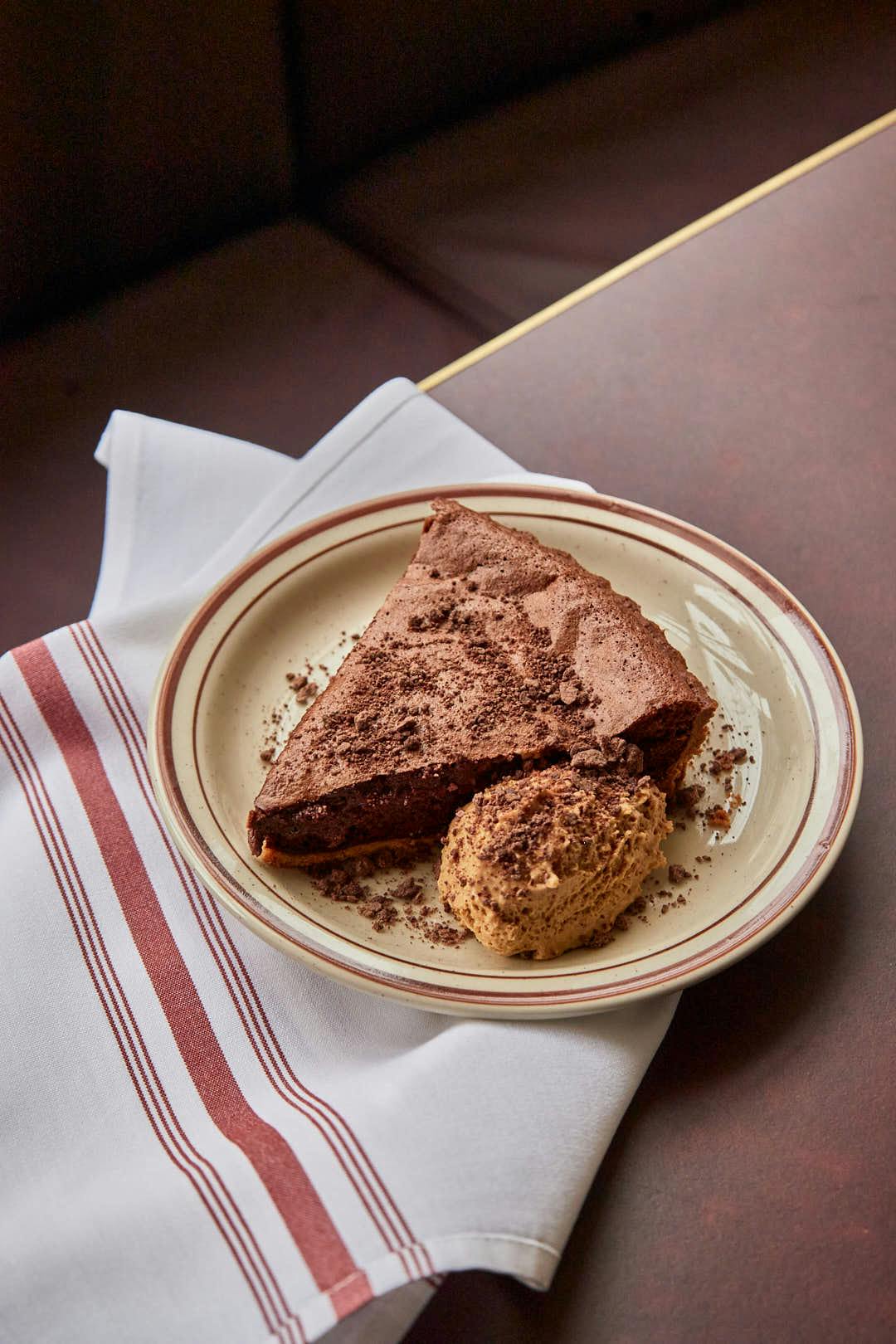 Speaking of sweet things, in addition to its shareable snacks, small and large plates, Florette also offers (for now) – a single – dessert. Recognizing that if you're only serving one dessert, it better be "the dessert to end all desserts," Bijlani designed Florette's singular option based on an aerated chocolate tart he'd savoured at L'Ambroisie, a Michelin-starred restaurant in Paris.
After reproducing the frothy and intensely chocolatey base of the original, he added a biscuity spelt crust and a satisfyingly crunchy topping of chocolate crumble. Rounding out the play of textures is a cloud of caramelized white chocolate mousse. Despite the high-end techniques and work involved, the final creation is deceptively simple – and outrageously addictive.
My own aunt – who, like most cool aunts, is a big chocolate freak – would love it.