Photographs by Amanda Biffis
What do you get when you combine a reverential approach to ingredients, with culinary expertise and a healthy dose of curiosity? In the case of Joni, Park Hyatt Toronto's notable new restaurant, you get a menu of seemingly simple dishes that are anything but. Made from an exhilarating collection of house-made ingredients, each brought together through intricate prep and an abundance of technique, these offerings are as remarkable as they come. A place that, as executive chef Antonio Soriano says, "captures the spirit of the '60s, where creativity and creation are what drive you every day," Joni isn't a typical "hotel restaurant." It's a fascinating, fantastic addition to Toronto's culinary scene that just so happens to be located inside a hotel.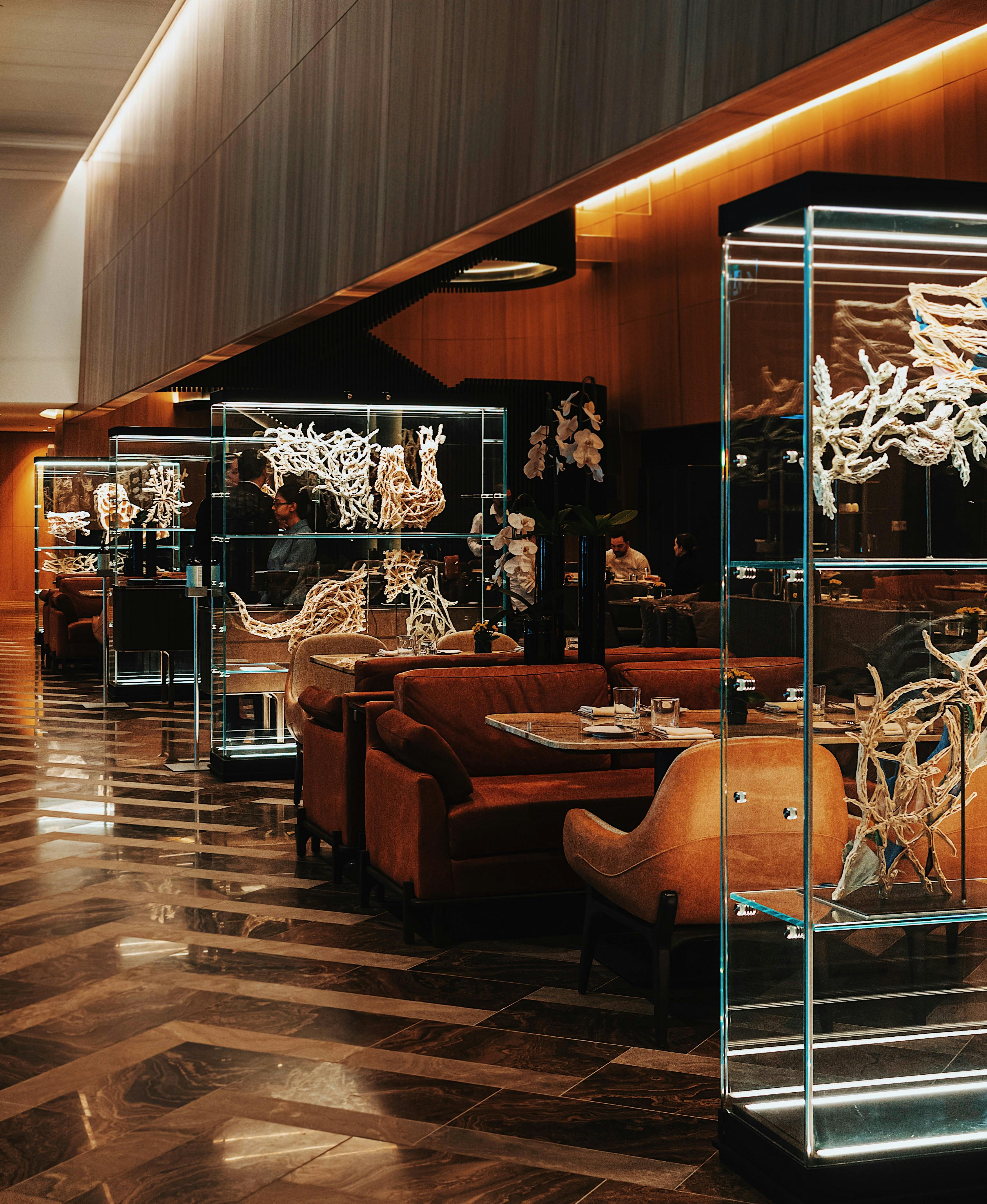 A renowned Toronto address for nearly one hundred years, Park Hyatt Toronto recently revealed a complete redesign and renovation. Completed by local architecture and design darlings KPMB Architects and Studio Munge, the reimagined hotel is sleek, sophisticated and imbued with the type of understated elegance befitting its storied past.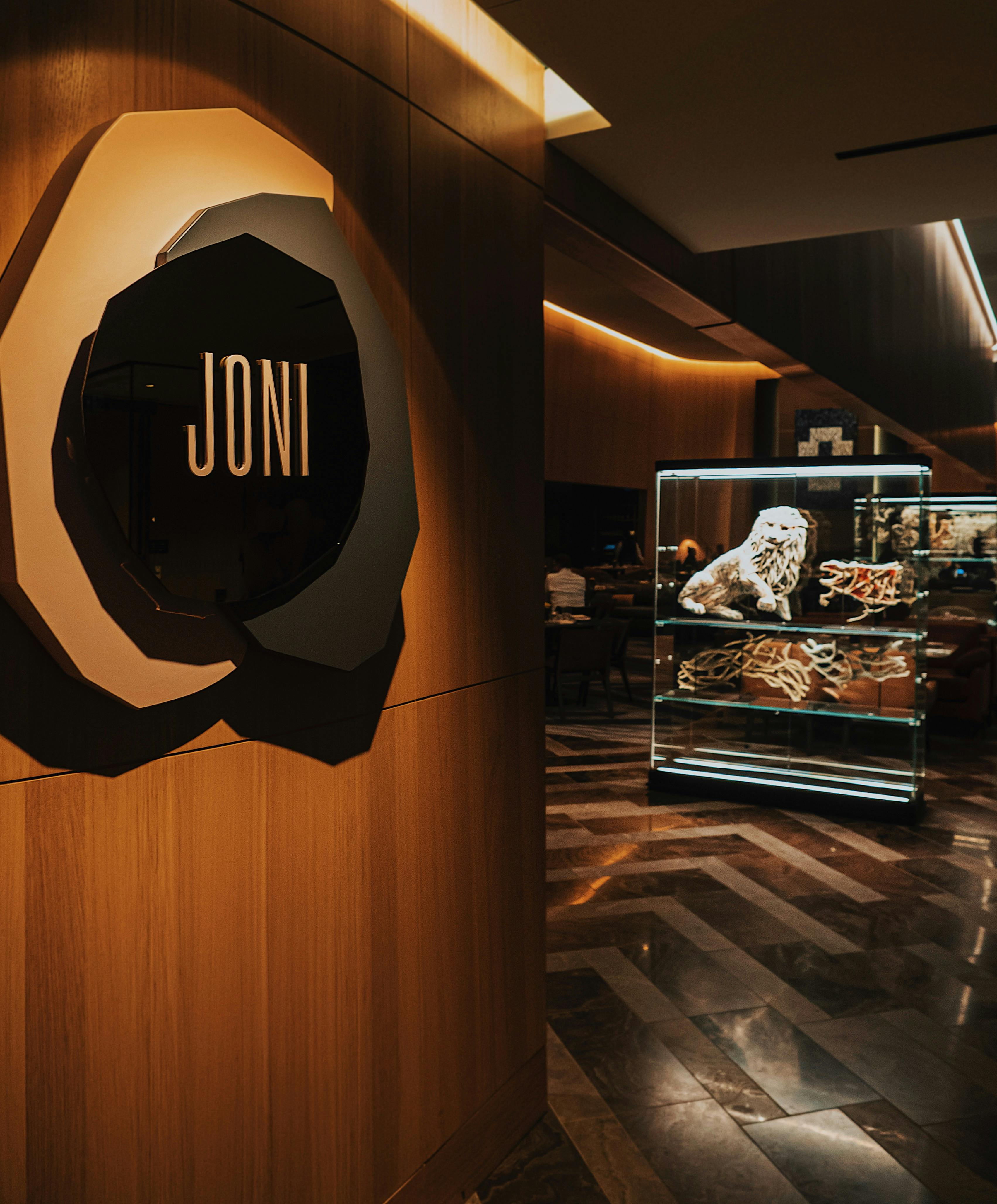 Upon reopening in September 2021, the hotel revealed its new look along with its much-anticipated, high-end new eatery. A place that was years in the making due to pandemic delays, Joni is executive chef Antonio Soriano's vision brought to life. "I was lucky enough to be able to pick almost everything," he says. "It was a fun experience." From the name -- inspired by family as well as Yorkville's artistic past --- to the cutlery, concept, team, and more, Soriano created a place that's comfortable yet luxurious in its offerings and level of service.
With a background that took him from Peru to Paris, then Argentina, Soriano brings a wealth of influences to his role at Park Hyatt Toronto. Trained at Paris' Le Cordon Bleu, Soriano staged at the historic, Michelin-starred Lucas Carton under famed chef Alain Senderens, before moving on to roles at Hôtel de Crillon and Hotel Georges V. He then moved back to Buenos Aires, Argentina, where he oversaw the Algodon Mansion Relais & Chateaux before opening his own bistro, in 2013. Three years later, he was poached by Park Hyatt to take on the role of executive chef at its celebrated Palacio Duhau location. Given the option, in 2019, to travel with the brand wherever he wanted, Soriano chose Toronto and its modernized Bloor Street site. There, he oversees all food and beverage operations, including all-day dining at Joni and its lounge, bar bites at Writer's Room, in-room dining, and banquet menus.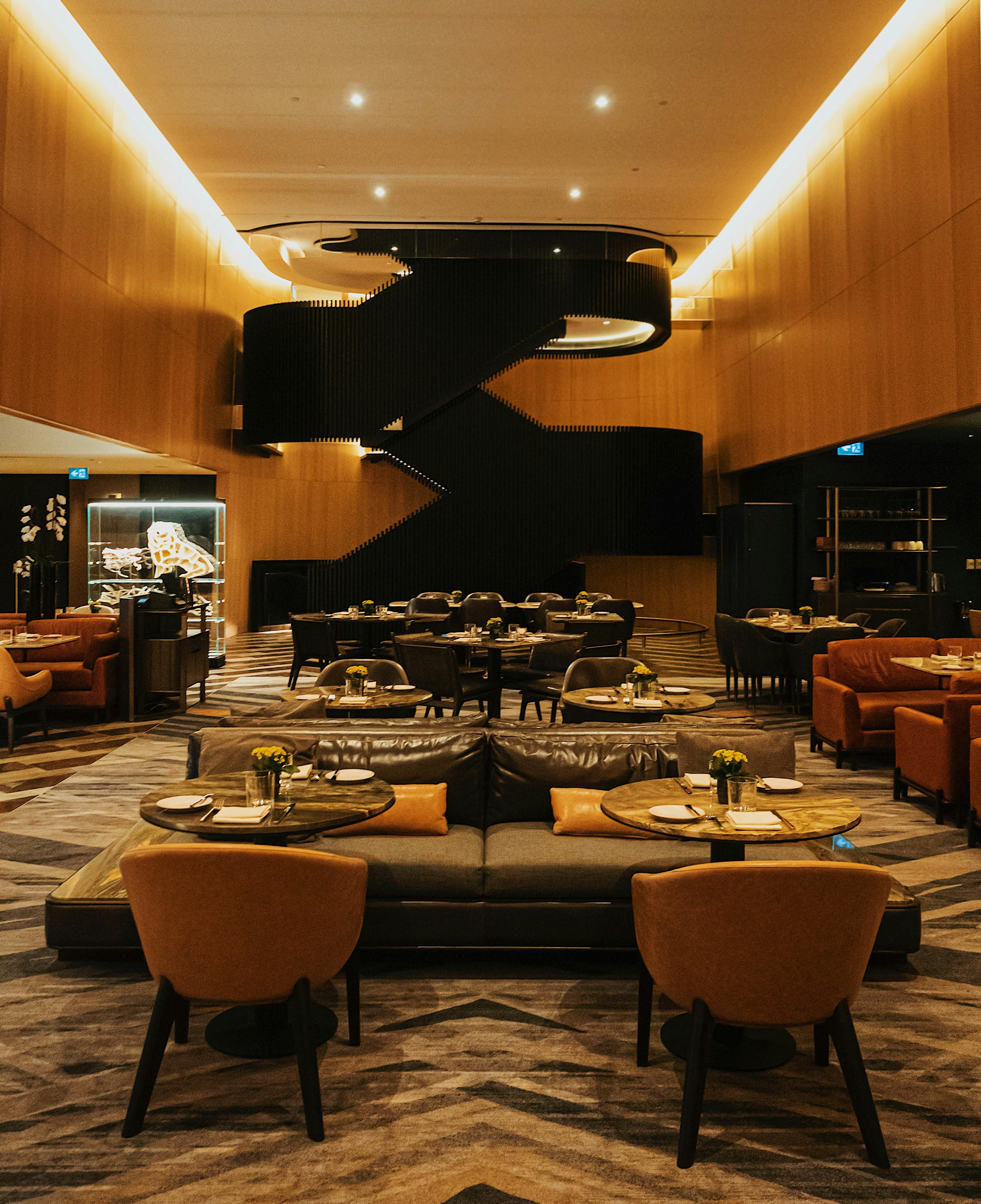 Polished and exact, Joni Restaurant occupies a large, open room on the lobby level of Park Hyatt Toronto. Still, with its own entrance and far from the clutter of suitcases and bustle of check-ins, this space is it's own. Soaring ceilings house a room that's flanked by a striking black staircase on one end, and a toasty gas fireplace on the other. Inspired by Canada's four seasons and natural landscapes, the room features a combination of warm and cool tones, accentuated by art on loan from the nearby Gardiner Museum. Joni is a place where customers settle into comfortable leather seats for intimate repasts. Glasses clink quietly in one corner while couples toast to new adventures in others. Serene and calm, it's a place you could easily surrender to, happily losing track of time as you enjoy everything coming from the kitchen.
In that kitchen, beside walk-ins piled high with produce from 100KM Foods and Mark's Mushrooms, meat from Tamarack Farms, herbs from Mighty Harvest and more, lives a legion of culinary experiments. From bubbling kombucha brews and fermenting marinades to oils infused with citrus or coffee grinds, vinegars, preserves, and dry-aged proteins, the kitchen is a bustling hub of activity. Carefully tracked on spreadsheets and lovingly tended to by a team that's as dedicated as they come, these creations form the backbone of a menu that's as seasonal and no-waste as possible. Each ingredient is born of the desire to make delicious food that's anything but pedestrian. It's also, says Soriano, unique to Toronto. "You go to any Park Hyatt in the world and you will find something that's very, very local. … In Toronto, you can be whoever you want to be and the way you want to be. That's the spirit of the restaurant, too."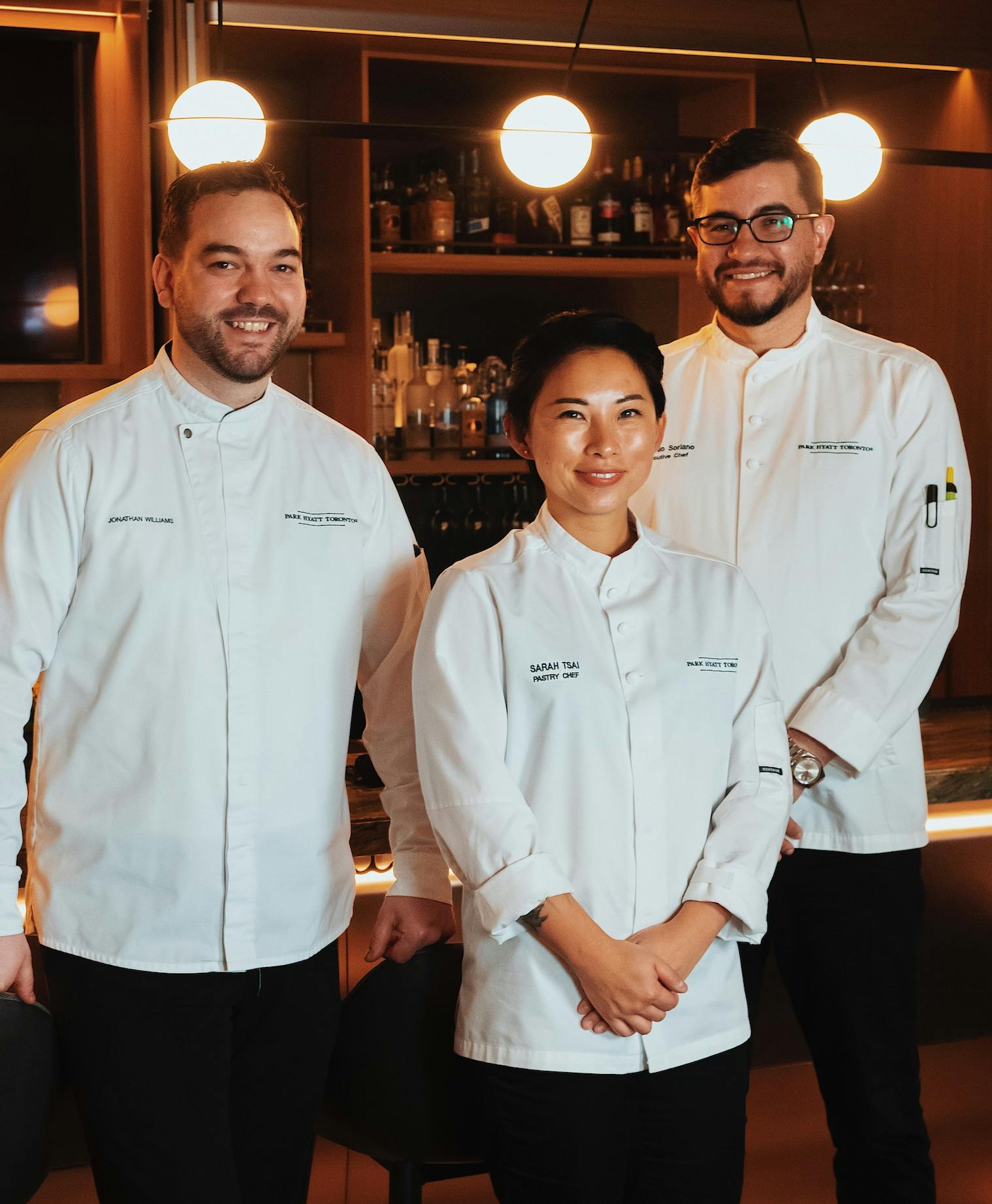 For his "dream team," chef Soriano gathered professionals devoted to a similar food philosophy as his own. These are people who want to create fabulous food that surprises and excites. Each dish is infused with techniques from around the world and crafted from the best farmed and foraged local ingredients.
In chef de cuisine Jon Williams, Soriano found someone who was "talking the same language. We had the same goal with this place." For Williams, it was the ethos, along with unparalleled access to high-quality ingredients, that first caught his attention. Trained at Niagara College before honing his style at noted spots such as London's Hedone and Dinner by Heston Blumenthal, then Toronto's Richmond Station, Williams wasn't initially sold on the idea of working at a hotel. Still, he was soon won over by Soriano's expertise and refreshing approach to high-end dining. "Once we have the best ingredients," says Soriano, the team decides "what technique can apply the best without having limitations on the concept. The beauty and freedom of this concept is that there are no limitations."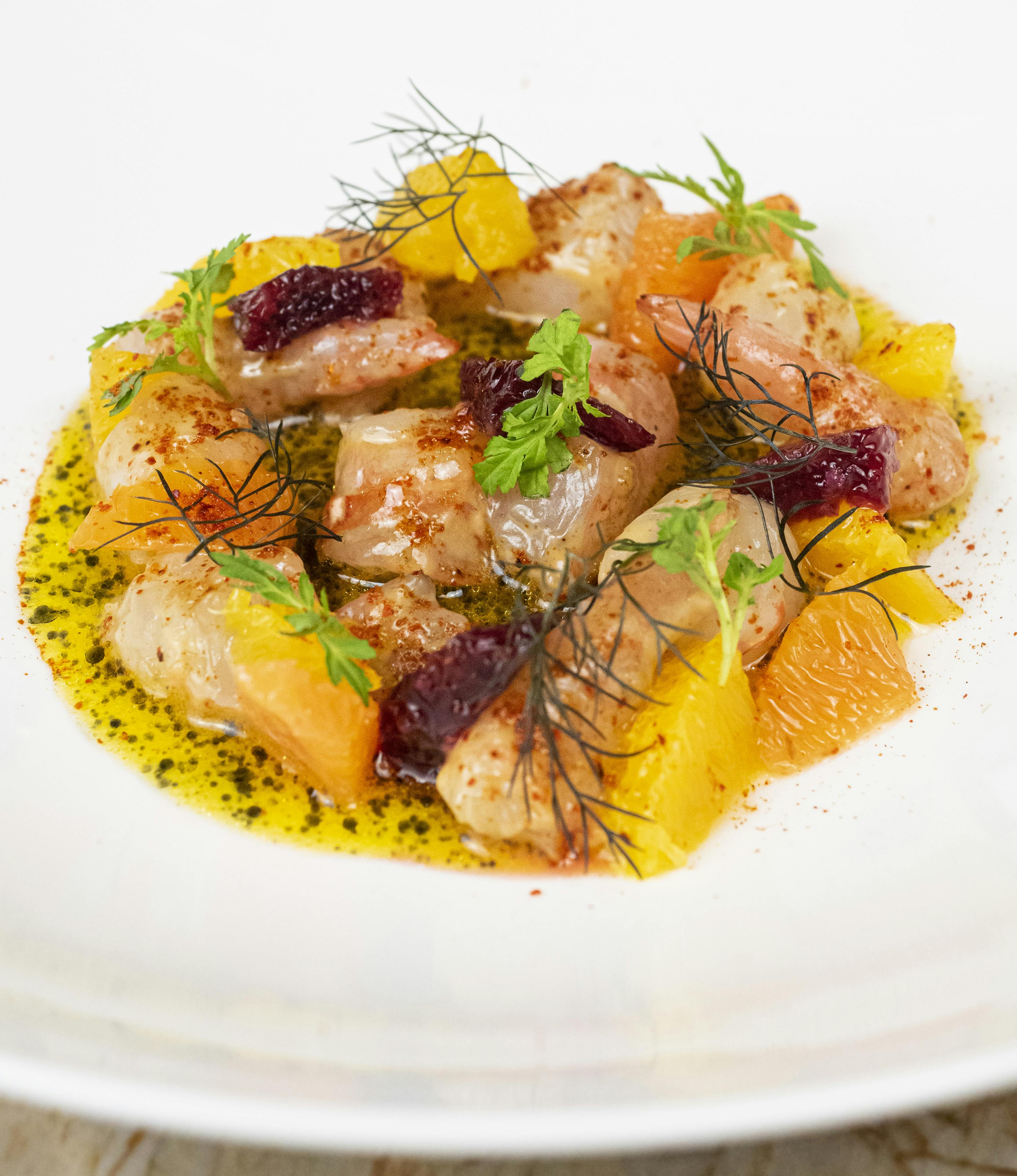 At Joni, straightforward menu descriptions leave out the juicy details but every dish has a story to tell. On paper, B.C. Spot Prawn Crudo is a simple starter. In reality, it's a complex plate that finds spot prawns buoyed by a citrus kick from Cara Cara oranges, Minneolas and clementines. With tangerine vin, black lime oil, made from fermented limes, and house-made espelette miso, the dish is punchy, layered, and beckons, bite after bite.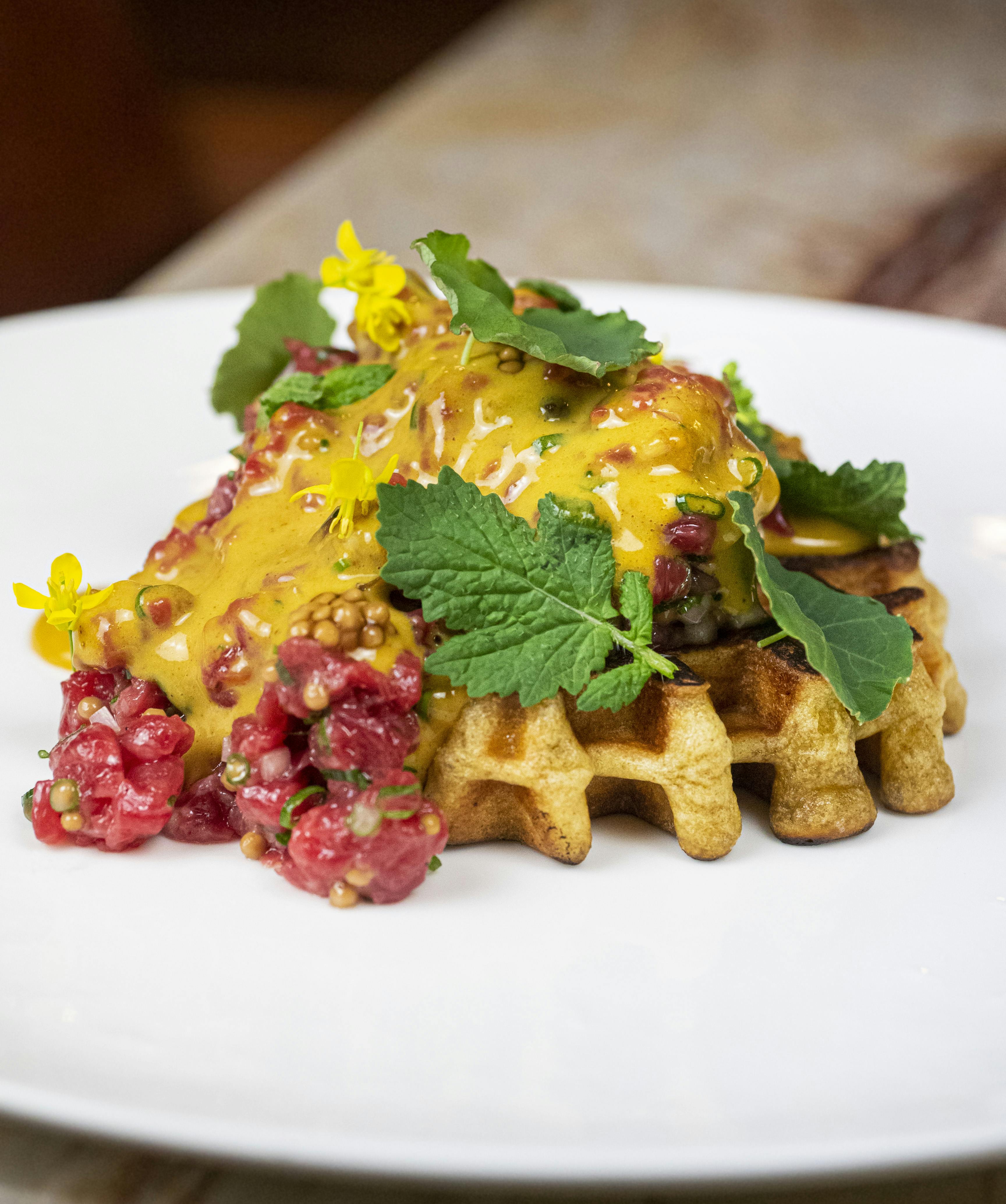 "Everybody does a classic beef tartare and they're all kind of the exact same," says Williams, adding that the goal here was to surprise. Described as "crazy good" by Soriano, this Beef Tartare leads guests into thrilling new territory inspired, unexpectedly, by breakfast. Here, hand-cut beef from Penokean Hills Farm is nestled atop a crisp einkorn waffle made with flour from Brodflour. The traditional raw egg garnish has evolved into beef garum sabayon infused with fermented beef soy, lemon and yolks. With elderberry capers and edible flowers for garnish, the dish is striking, bright, eats "like a cheeseburger," according to Soriano, and satisfies on every level.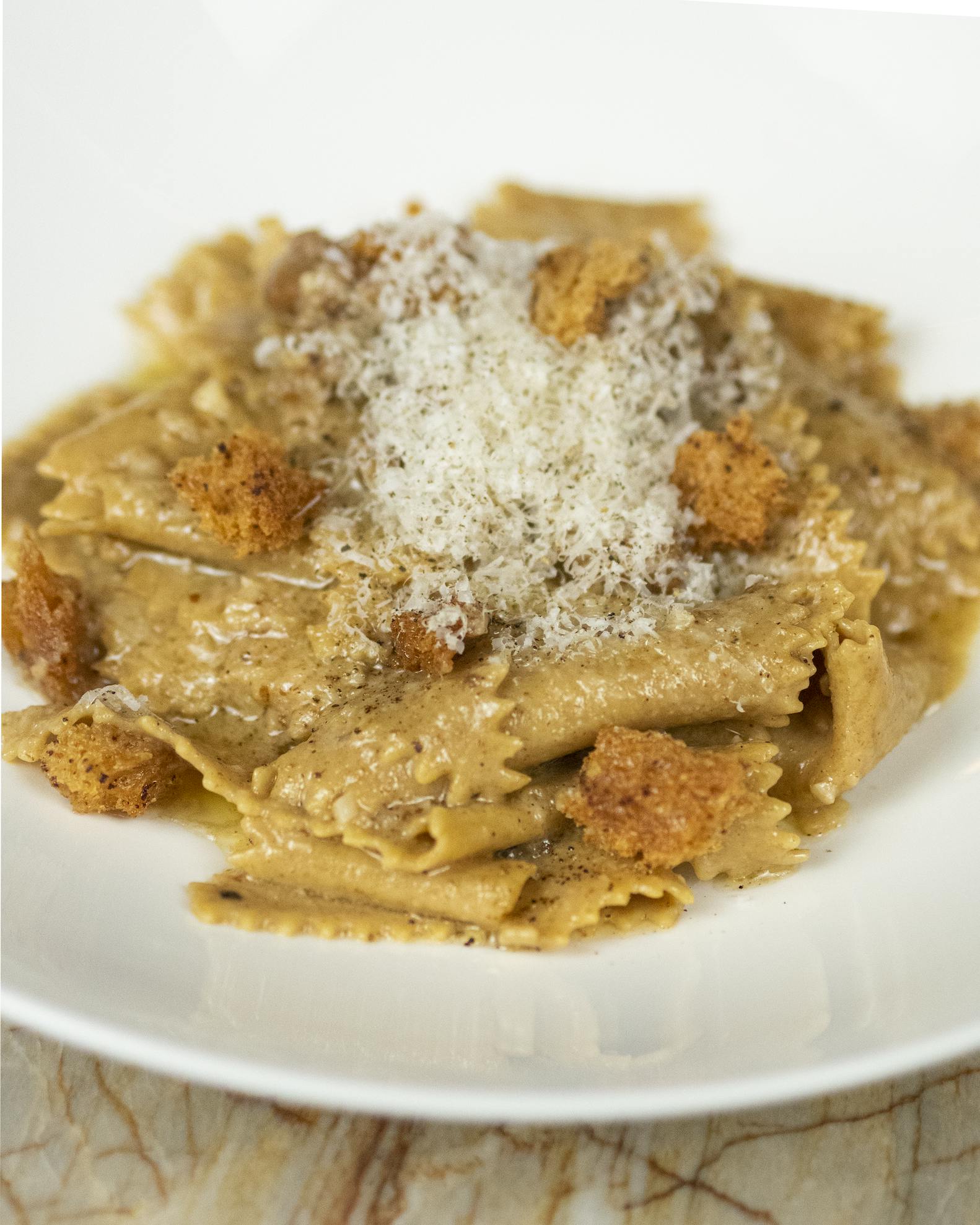 A calling card to those who adore carbs, the spartanly labelled Bread & Butter Pasta combines "two of our favourite things, bread and pasta," says Williams. Still, in this team's hands you know there's more. A joyful merging of talent and unbridled ingenuity, the dish consists of noodles made from leftover sourdough starter, butter made from koji-cultured cream, and burnt-end miso. Perfectly seasoned thanks to the miso, with an al dente bite and sporting crisp croutons, the dish is the definition of comfort and a perfect example of the kitchen's closed-loop goals.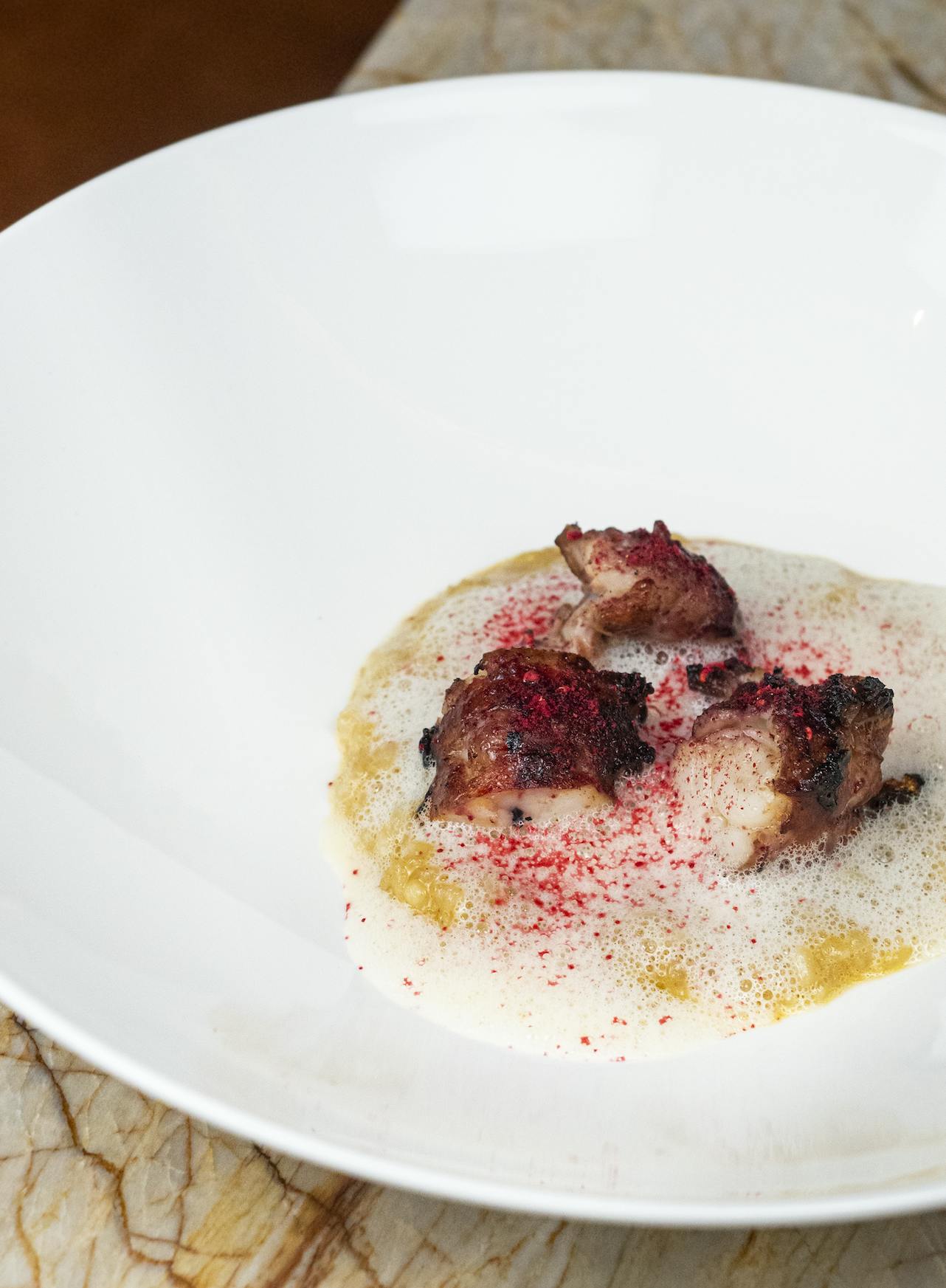 One of the team's gluten-free stunners, the Grilled Lobster Tail is served here over koshihikari rice, then elegantly seasoned with raspberry dust. The team cooks the short-grain sushi rice until it resembles risotto, then replaces the usual finishing cream with buttermilk foam. It's a light dish with pops of sweetness that appeals across the board.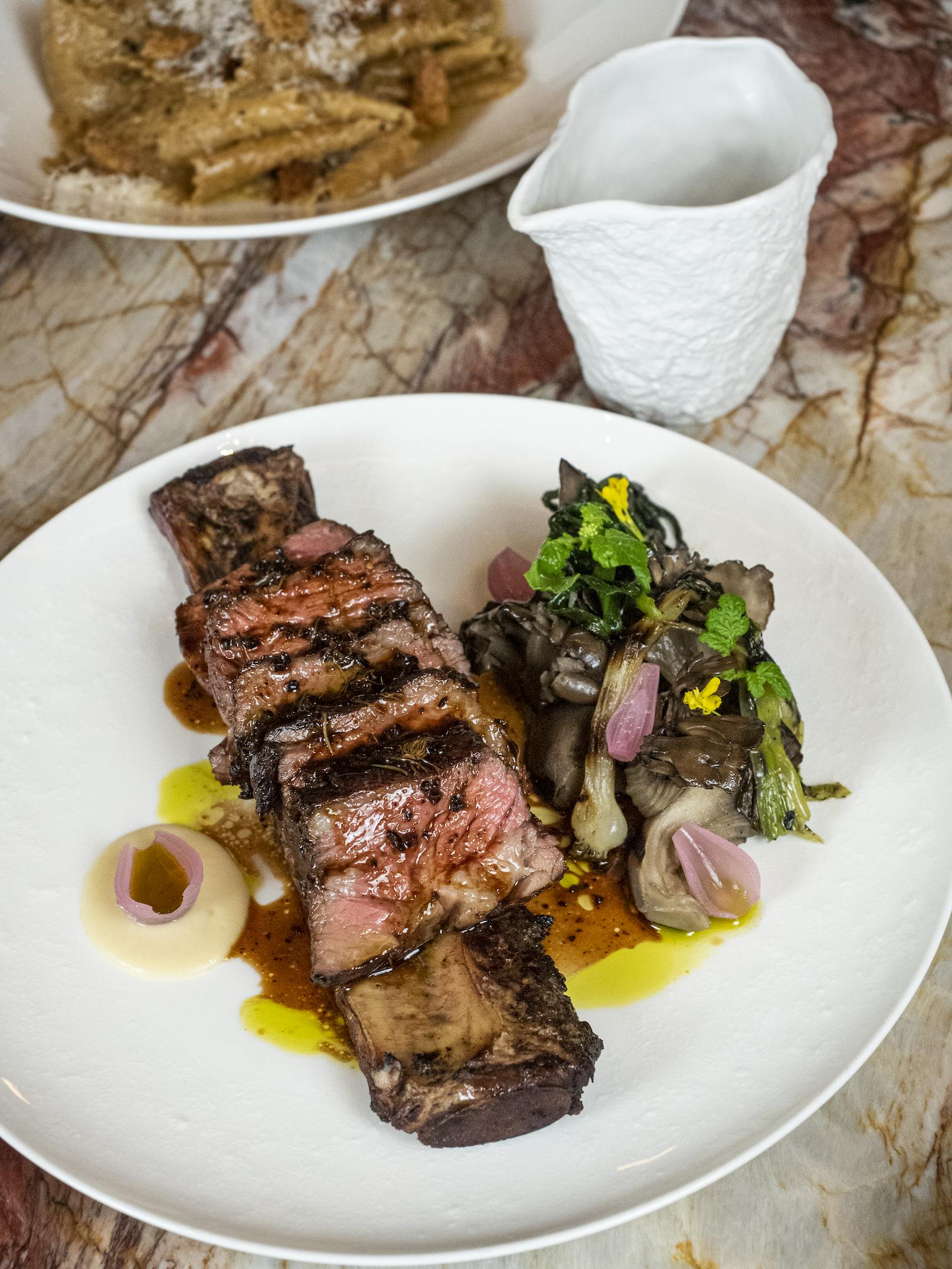 A main of 48-hour Beef Short Rib is also, unsurprisingly, vastly more complex than its name implies. Tender from time spent marinating in coffee shio koji, made from used grounds; the beef is served with grilled maitake mushrooms and spring onions. It's then finished with beef jus laced with cocoa (from beans sourced from Soul Chocolate) and spruce miso oil. It's a deeply savoury, earthy, fall-off-the-bone situation that any carnivore would be happy to encounter.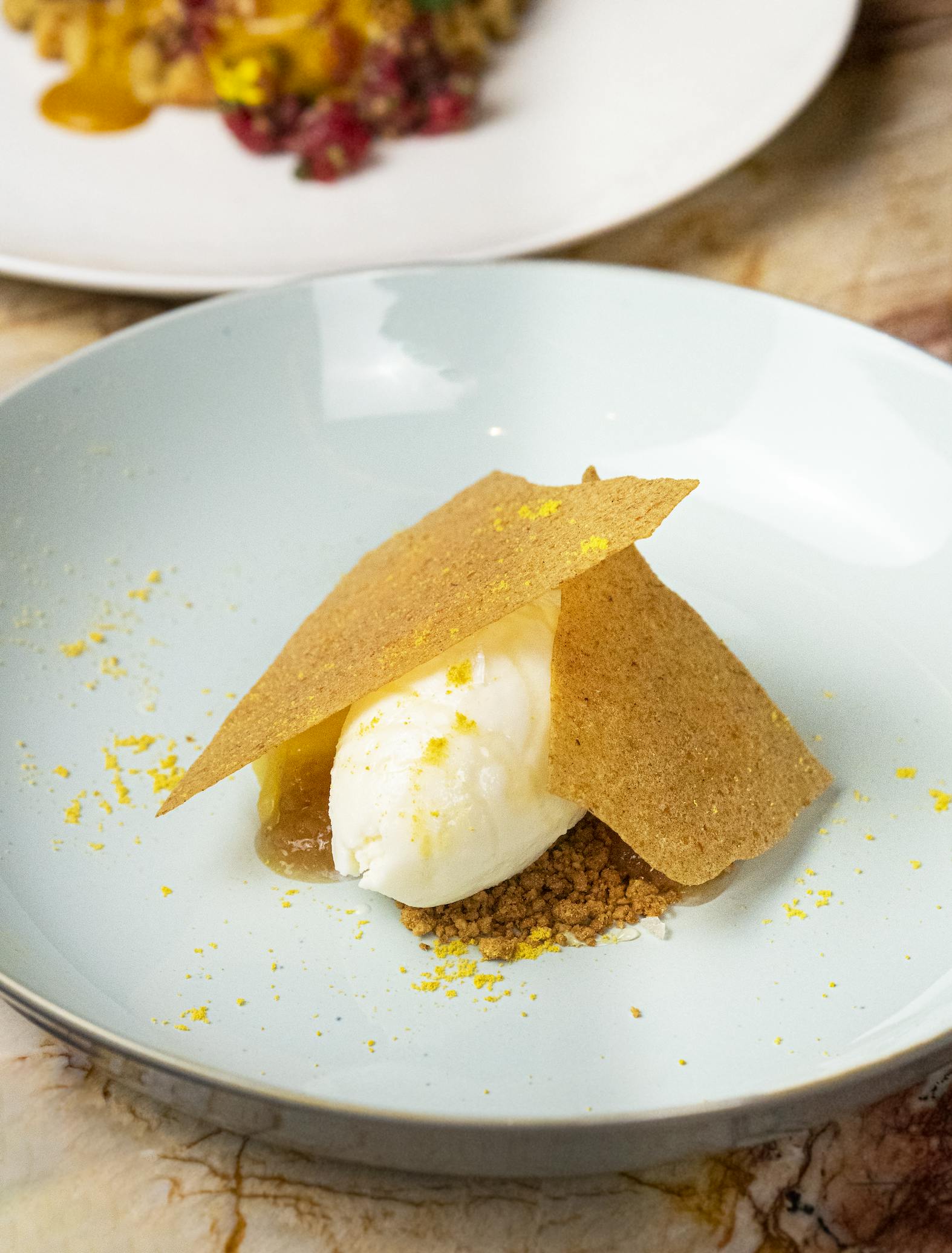 Originally from Taiwan, pastry chef Sarah Tsai brings her own Michelin-star experience to the kitchen. Tsai worked as head pastry chef at Mume, in Taipei, for 2 years before moving to Toronto to work at Auberge du Pommier, then Park Hyatt Toronto. Impressively organized, Tsai brings whimsy and exacting precision to her dessert, afternoon tea, and banquet menus. Milk & Honey, is a perfect example. The restrained plate reveals milk sorbet, bees wax ice cream, fermented honey, whey poached apple and apple tuile. With each element in perfect harmony, the dessert is gentle, surprising, and redolent of spring.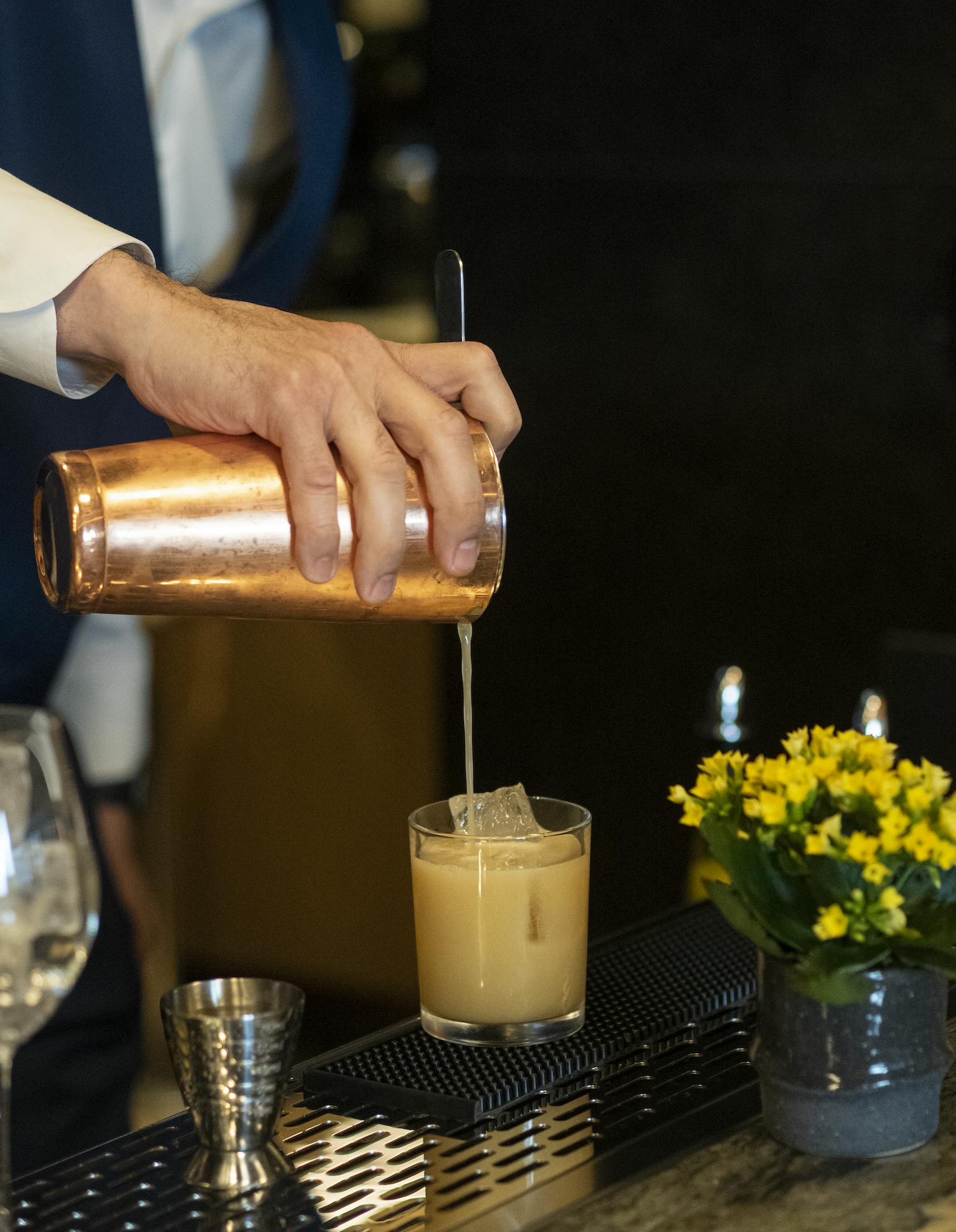 A comprehensive wine list features bottles sourced from around the world, with a handful coming from nearby Canadian wineries. The bar team's cocktail program, meanwhile, consists of elegant, fresh riffs on tradition.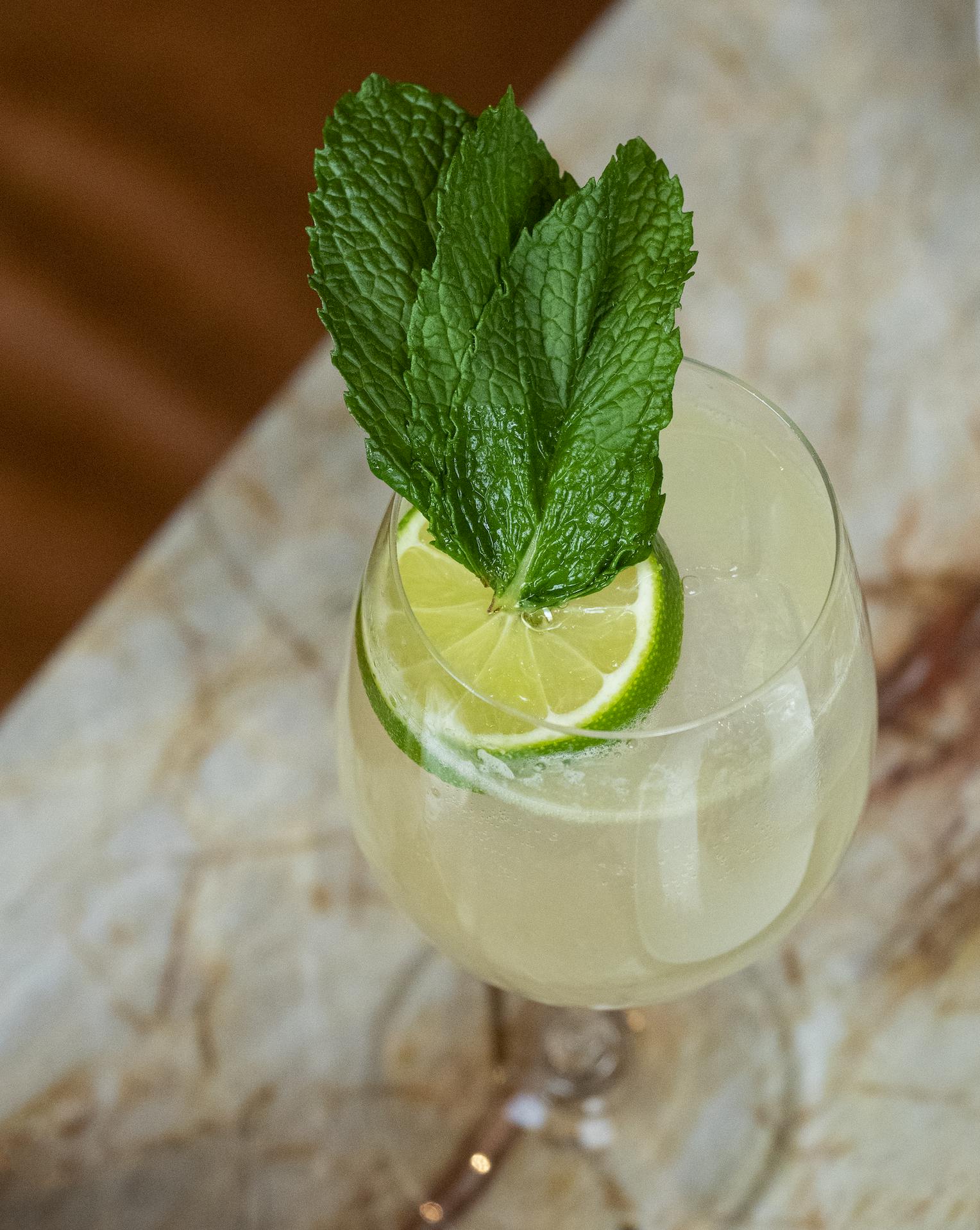 An Alpine Spritz finds gin, elderflower, Prosecco and lime combined into a thirst-quenching refresher.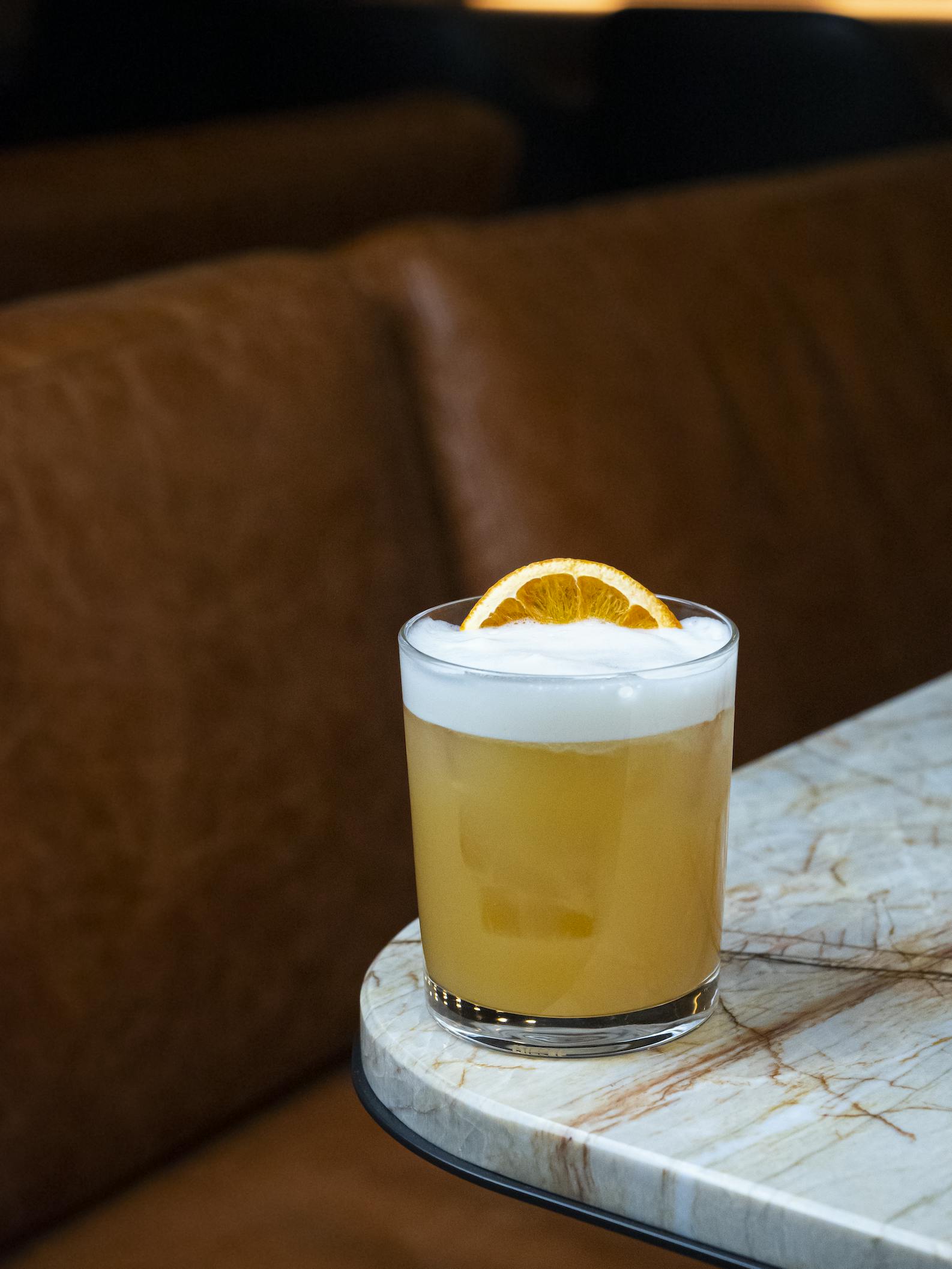 With Canadian rye, blood orange, lemon juice and egg white, the Canadian Daisy is for anyone in a Whiskey Sour frame of mind.
There's a difference between food that sates and food that sustains. Sure, both can be delicious, but food that sustains goes further. It satisfies the need for beauty, for complexity -- even, for wonder. Eating at Joni, a place where the team is as dedicated and curious as any, sparks delight on all accounts. Yes, Joni is technically a "hotel restaurant" but it's worlds away from the casual, catchall spaces that name once implied. Luxurious and comfortable, with a menu of innovative dishes made by professionals who are as humble as they are proficient, Joni joins Toronto's other celebrated hotel restaurants in completely upping the game.