Photographs by Kristen Wells
In numerology, three is a pretty potent number. Consider all the powerful things that come in threes: the birth-life-death cycle, the mind-body-soul connection, the three acts of a classic story, the three courses of a traditional restaurant meal.
You might also want to consider Kōjin, the third-floor jewel in super chef David Chang's triple crown of Momofuku Toronto restaurants, all three of which occupy James K.M. Cheng's cube-shaped glass palace at 190 University Avenue.
Poised majestically on top of the first-floor Noodle Bar and second-floor Milk Bar, Kōjin opened in 2018, to instantaneous acclaim. Naming the restaurant for a Japanese fire god seemed wildly appropriate for a concept that was all about inventive dishes, made from locally-sourced ingredients, each of which is invariably charred, seared, roasted, toasted, parched, scorched, smoked, blistered, blackened and/or barbecued over an open wood-fired grill.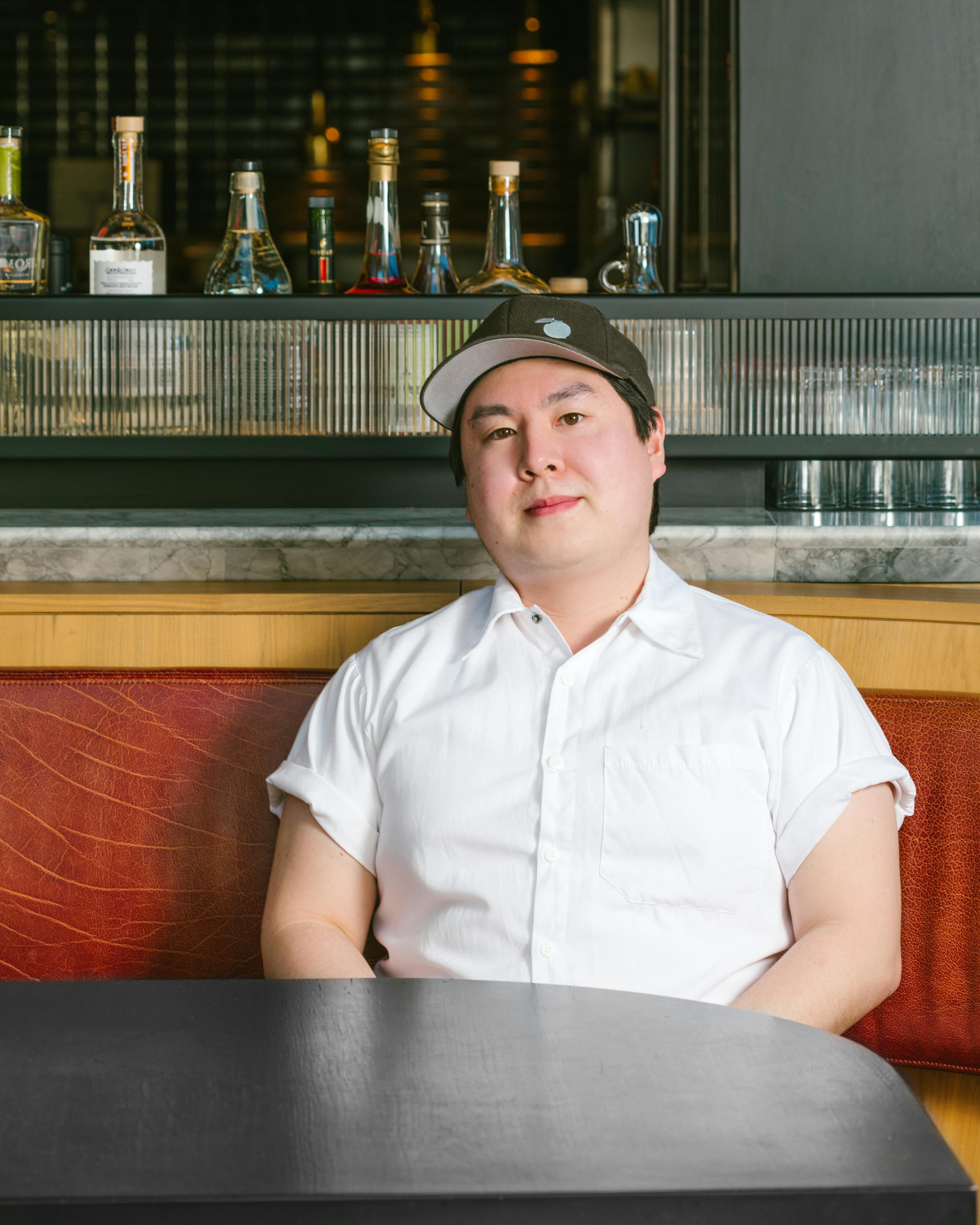 Over the last four years, and multiple Covid waves, Kōjin's home fires were tended, in succession, by chefs Paula Navarrete and Eva Chin. After its most recent pandemic-inspired closure, the restaurant reopened in March 2022 with Eric Seto selected to write Act 3 of Kōjin's story.
Seto's own story makes him the perfect protagonist to take on the role of Kōjin's third head chef. Like his predecessors, he brings a wealth of international experience, not to mention textures and flavours, to his new gig. Born in São Paulo, Brazil, Seto is descended from Japanese immigrants who arrived in Brazil in the 1930s and, soon after, found their commercial footing as pioneering producers of pastéis, deep-fried turnovers stuffed with every kind of filling imaginable. By the time Eric was born, pastéis had become São Paulo's de facto street snack, and the family business, Yoka, had blossomed into a pastel empire.
As an adolescent, Eric spent so much time in Yoka's kitchen that it ruined him -- at least, for a future that didn't revolve around food. Three years into an engineering degree, he dropped out and went to culinary school. Upon graduation, he landed a coveted internship at D.O.M., helmed by internationally renowned Brazilian chef, Alex Atala and then worked in other notable restaurants before having an epiphany at age 26. "I realized I was getting old," he recalls, with laughter. "I needed to get out of Brazil and try something new."
"Something new" turned out to be Toronto, where the fact that Seto knew nobody and nobody knew him was a major source of inspiration. His first job was at Rio 40 Degrees, a Brazilian restaurant on St. Clair West, but neither the food nor the Portuguese-speaking kitchen struck him as very new. Since one of his biggest culinary idols was David Chang, Seto decided to go big or go home -- by applying for a job at Chang's Momofuku. He was so thrilled when he landed a job at the Noodle Bar that he stuck around for the next seven years, gradually working his way up, until suddenly, in early 2022, he was tapped to be head chef of Kōjin.
As pleased as he is for the opportunity to "walk on his own," Seto is aware that this new chapter of Kōjin's existence is very much part of an ongoing culinary narrative. Praising his predecessors, Navarrete and Chin, as "amazing," he believes that "Kōjin is not about one chef; it's about what's happened here at Momofuku in the last 10 years. It's about all the chefs that together have made this place great."
As a delicious example of this multi-generational collaboration, Seto points to the menu's much-lauded cornbread, a crazily addictive mash-up of South American arepa and English muffin. Chewy, stretchy, crunchy in all the right places, this frisbee-sized pancake was dreamed up by Navarrete, but retains an entire subheading on the restaurant's current dinner menu, where it's accompanied by spreadable, shareable, dippable, and dunkable options such as stracciatella cheese with garlic hot honey and Thai basil and spicy eggplant with Japanese curry and mint.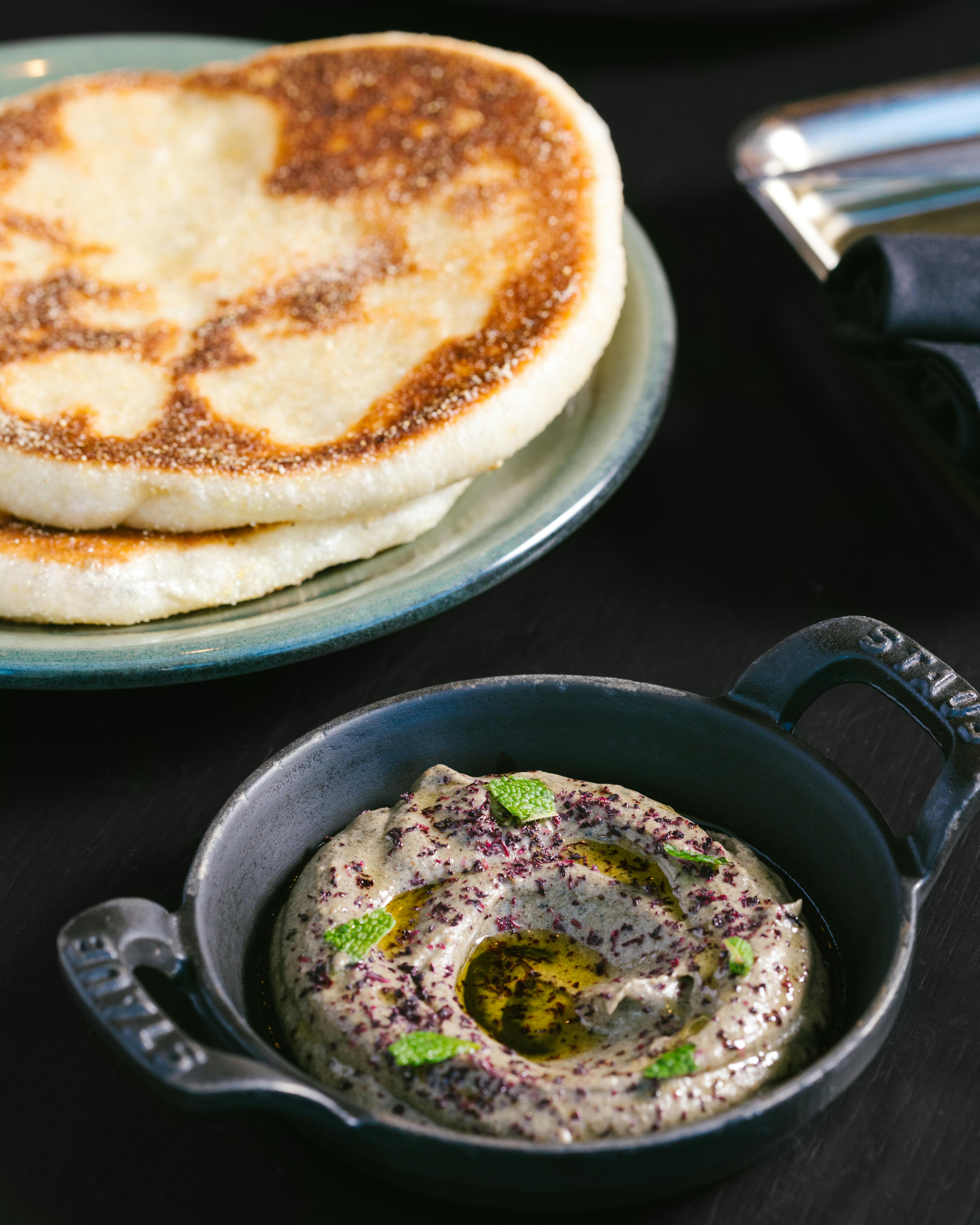 The latter provides the menu's earliest example of Seto flexing his charring muscles. The eggplant gets a sound scorching over flames, but instead of throwing all that smoky, charred skin away, Seto deftly folds it into the velvety eggplant puree, thickened with yogourt and spiked with yukari (dried red shiso leaves). The resulting spread is like baba ganoush's much more vibrant and vivacious sister, the one that (justifiably) attracts all the attention in the room.
"I love to work with charcoal," confesses Seto. "So as much as possible, I want everything on the menu to have an element of charcoal. I like to mix and play with different types because each is going to give you a different aroma and flavour profile."
Seto cut his teeth as a charcoal mixologist in Brazil, a country famed for its churrasco (barbecue). As a young teen he was already getting his grill on, firing up slabs of coveted sirloin cap known as picanha. Insanely popular in Brazil, picanha is an underrated rarity in Toronto where, as Seto observes, most chefs and diners prefer traditional, not to mention leaner cuts such as tenderloin and ribeye. But as all good Brazilians, including Seto, know, the flavour is in the fat.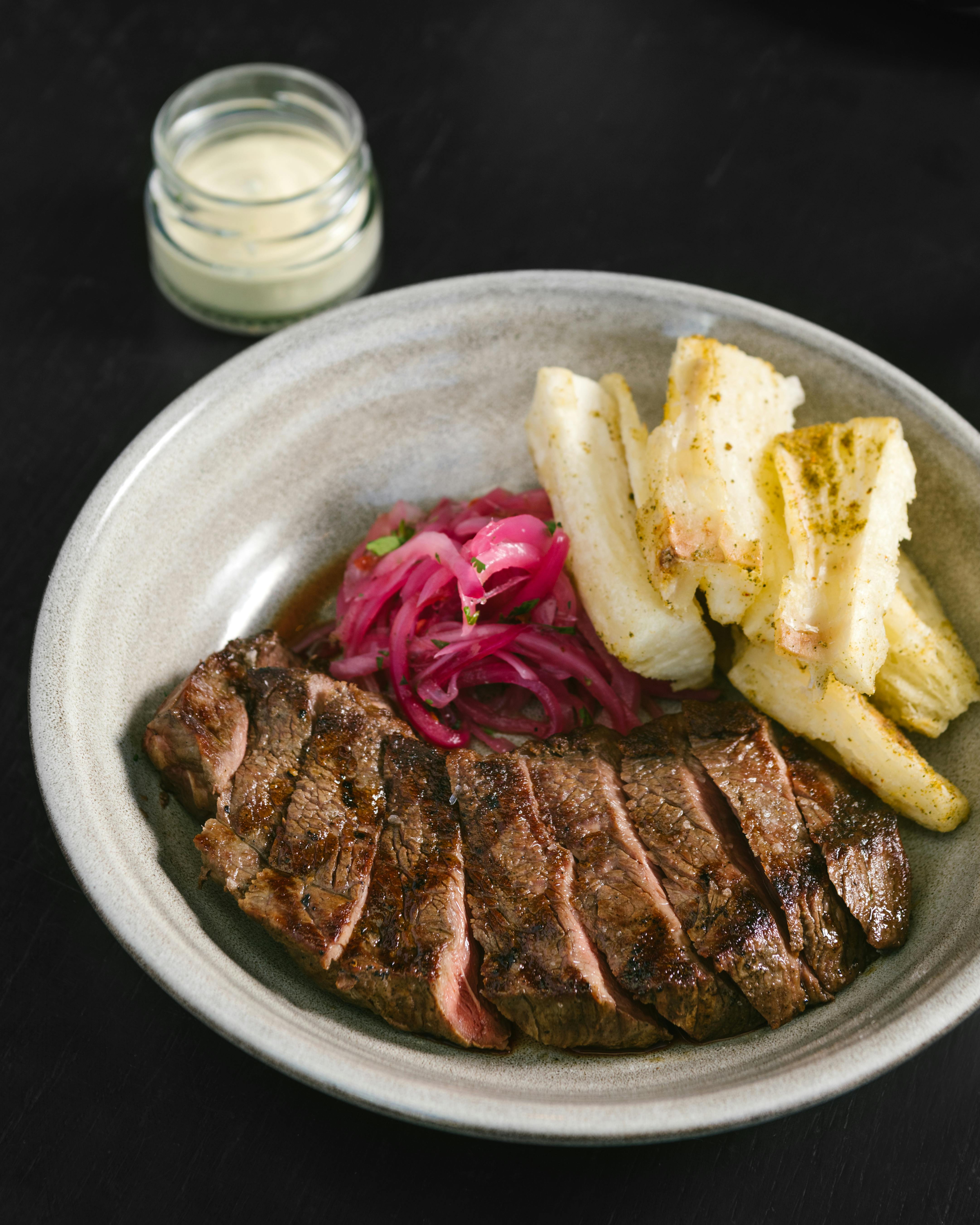 At Kōjin, the picanha goes by its French name, coulotte. Seto treats it as if it were a huge magret de canard, tossing it on its side and feeding the fat to the flames so that it renders slowly, allowing moisture, smokiness and rich meaty flavour to infuse the meat. It's served with the classic Brazilian accompaniment of cassava sticks, boiled until tender, then fried to the finest crisp and sprinkled with ramen seasoning. Purple onion relish and ginger scallion mayo add complimentary zing.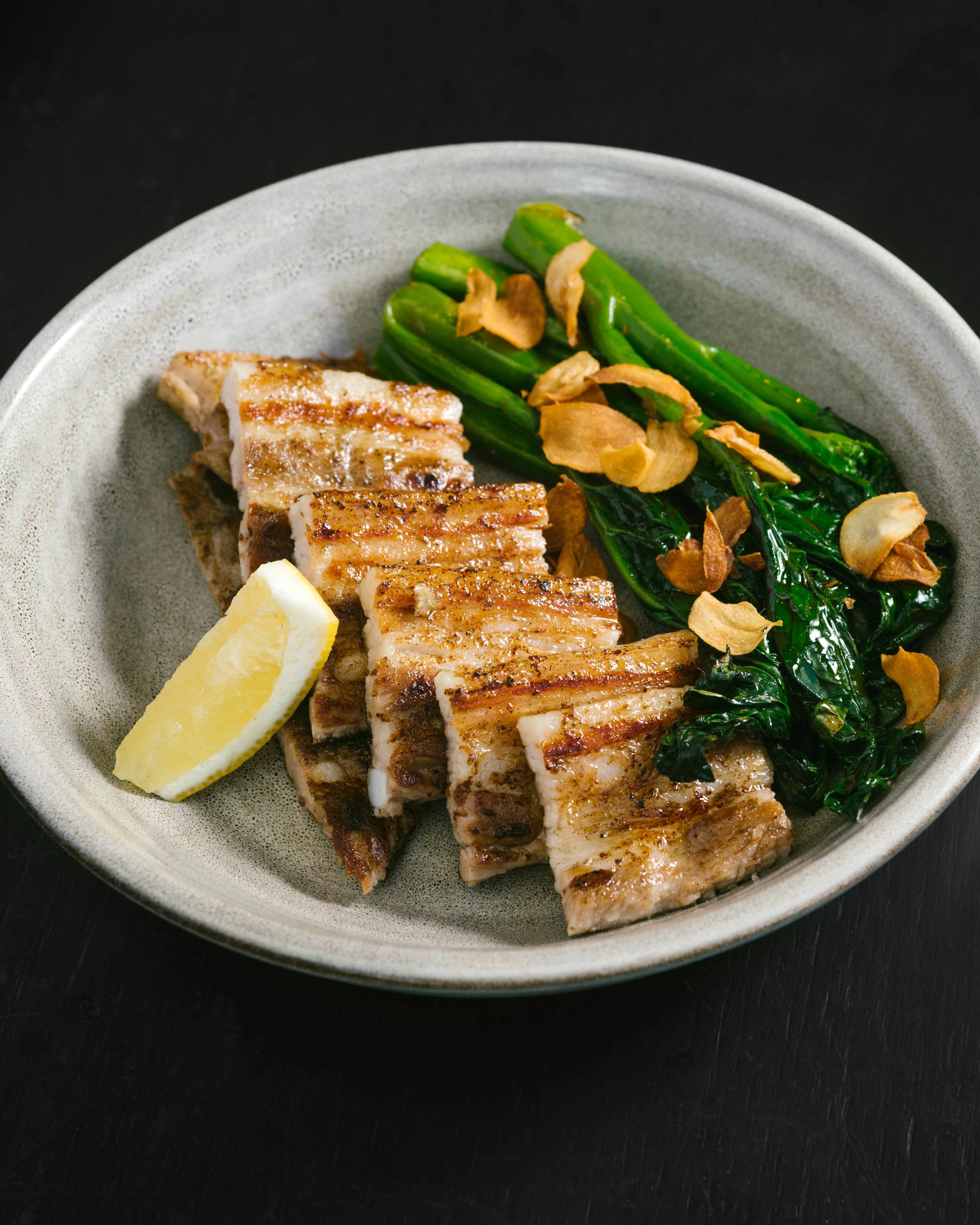 Another rarefied cut that Seto sears to new life is bone-in pork belly. Outrageously succulent, the meat's tenderness pairs disarmingly well with lush, crunchy spears of gai lan, Chinese broccoli brushed with sesame oil and strewn with garlic tips.
"In terms of Kōjin, I've tried to take a very simple approach, mixing a little bit of my South American roots with Asian touches," says Seto, who refers to his experiments as "Eric twists." Both the approach and the influences are on display in two of the menu's most surprising and satisfying twists, edible evidence that Seto's prowess with charcoal transcends mere meat.
A canny riff on classic campfire baked potatoes, Seto's ember potatoes are buried for hours in hot ashes before doing time in a blessed state of confit. The resulting potato flesh is unbearably tender, while the skins, black as night and paper thin, provide a delicate yet pronounced layer of crunch. Instead of sour cream and parsley sprigs, the spuds are served with a dollop of Mexican crema and an herbal confetti of seaweed, Japanese furikake and chives.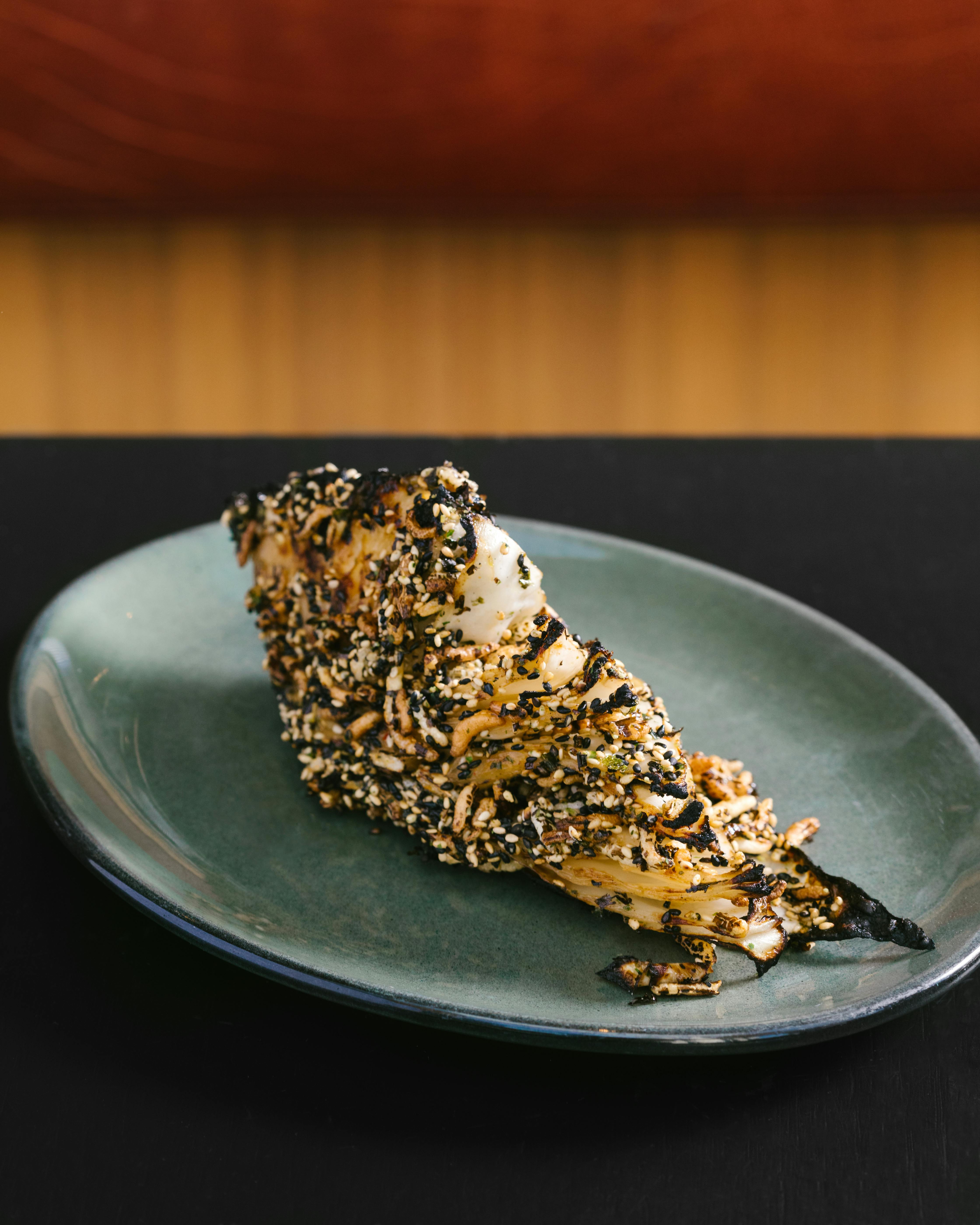 Seto pulls off a similar mean feat with a simple green cabbage. He starts by braising a generous wedge over low heat, anointing it with a sauce of beurre blanc infused with briny, umami-rich Korean doengang. After a fierce charring over hot coals, it's finished with a generous dousing of nori, furikake and puffed wild rice. The sculptural results make a serious case for cabbage art. But it's the complex play of tastes and textures – the singed exterior's smoky, lacy crispness shielding the interior's earthy sweetness -- that will inspire a following of cabbage converts.
In explaining his process, Seto underscores that his intention is not to do high-end cuisine. "I just try to make simple food that looks good and tastes good." That said, he readily admits that "there's a lot of technique involved."
Kōjin's new manager, Nik Benn -- who like Seto spent years working his way up through the Momofuku trenches -- believes that Seto's combination of down-to-earth simplicity and collaborative creativity is emblematic of Kōjin's third incarnation, which is less about fine dining and more about having fun. "We wanted to make it a bit more casual, somewhere where you can come and have a really good meal or just hang out after a show," says Benn. "A place where you can either start or end your night, but most of all, where you can relax."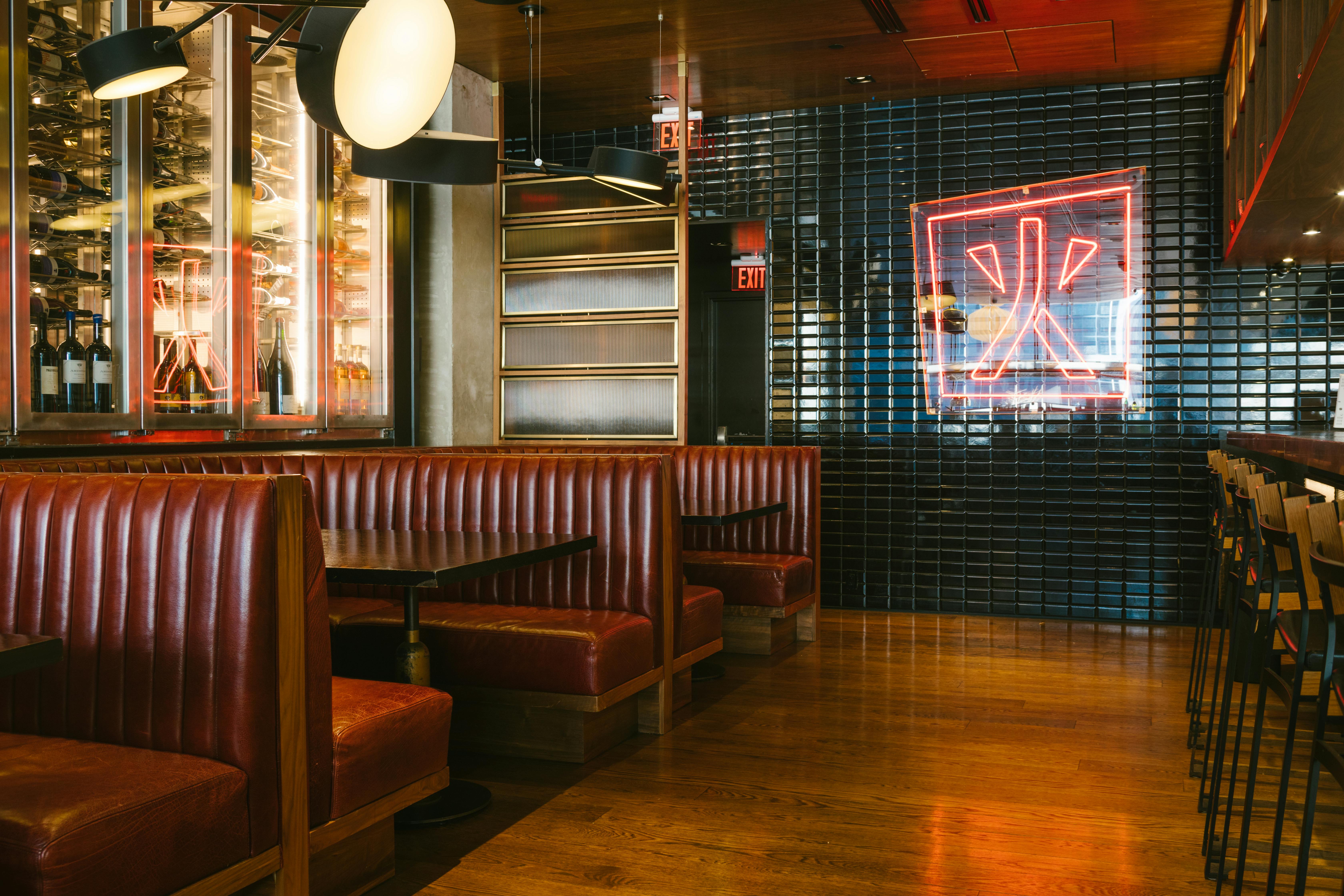 Created by DesignAgency, the space itself was already conducive to kicking back. Separated by a seductively long white marble bar, Kōjin's two dining areas flow together in harmonious contrast.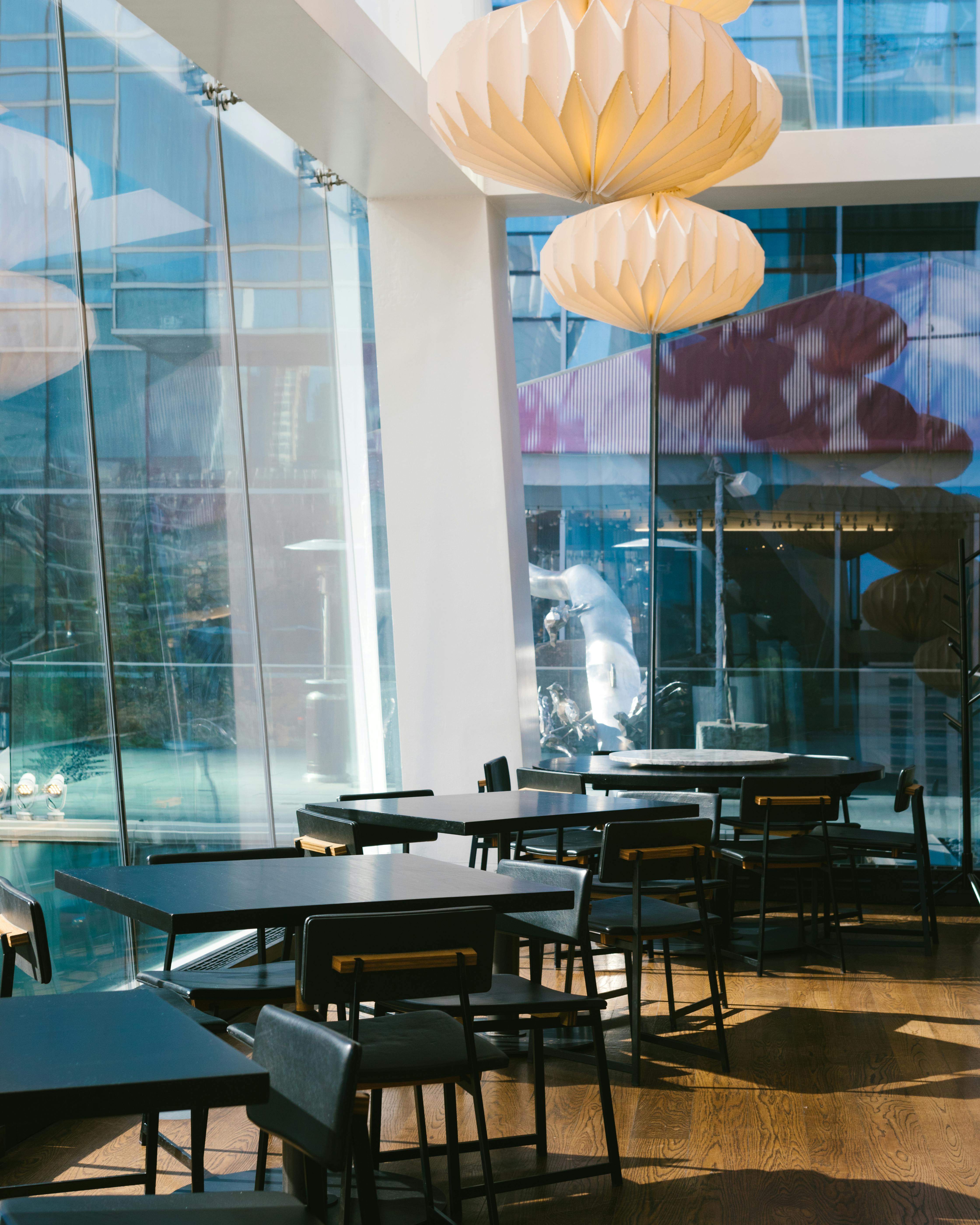 One vast room is all glass and gleam with airy cathedral ceilings from which folded Japanese-style lanterns (made of linen) tumble like shimmering planets. From a seat at any one of the generously spaced black tables, you're literally suspended over University Avenue, which has never looked -- believe it, or not -- so sexy.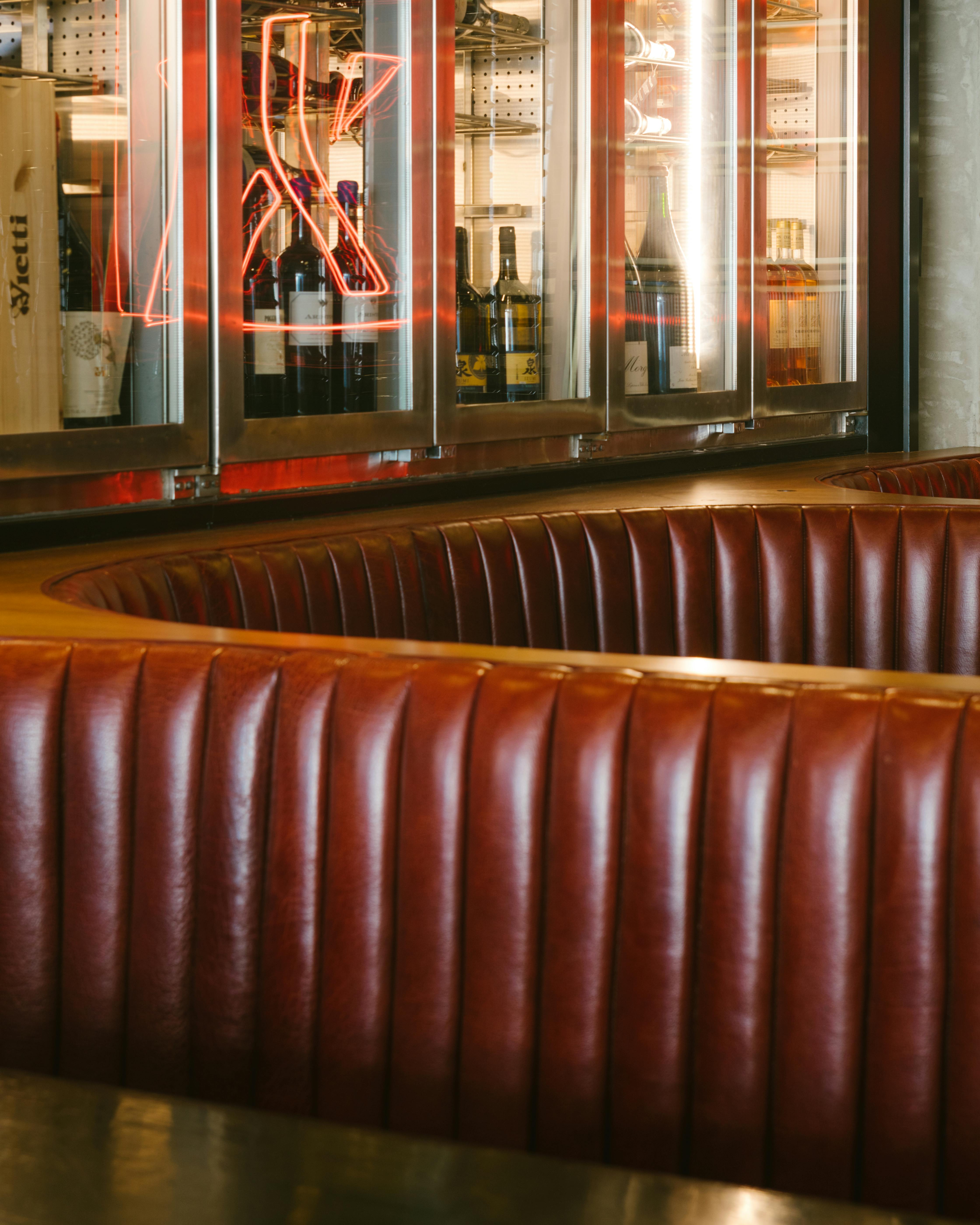 The other room is a more muted fusion of gloom and glam. Groups can huddle intimately at oxblood leather booths or sit at the L-shaped bar where a chorus line of leggy black Token stools invites interaction with Kōjin's fire gods at work over the open grill. Adding to the noir-ish palette and vibe are dark walnut paneling, blackened steel, and the red glow emanating from a giant neon Japanese symbol denoting kanji (fire).
While Kōjin's décor has remained unchanged since Day One, Seto and Benn have implemented changes meant to revisit the dining experience itself. The menu is deliberately lean, with Eric's creations cohabitating alongside Momofuku stalwarts such as steamed buns, kampuchi crudo and a red kimchi jar. Authorship aside, all dishes are intentionally shareable. "The idea is, if you come in with three friends, you can order the whole menu," says Benn. "Because that's part of the fun of going to a restaurant."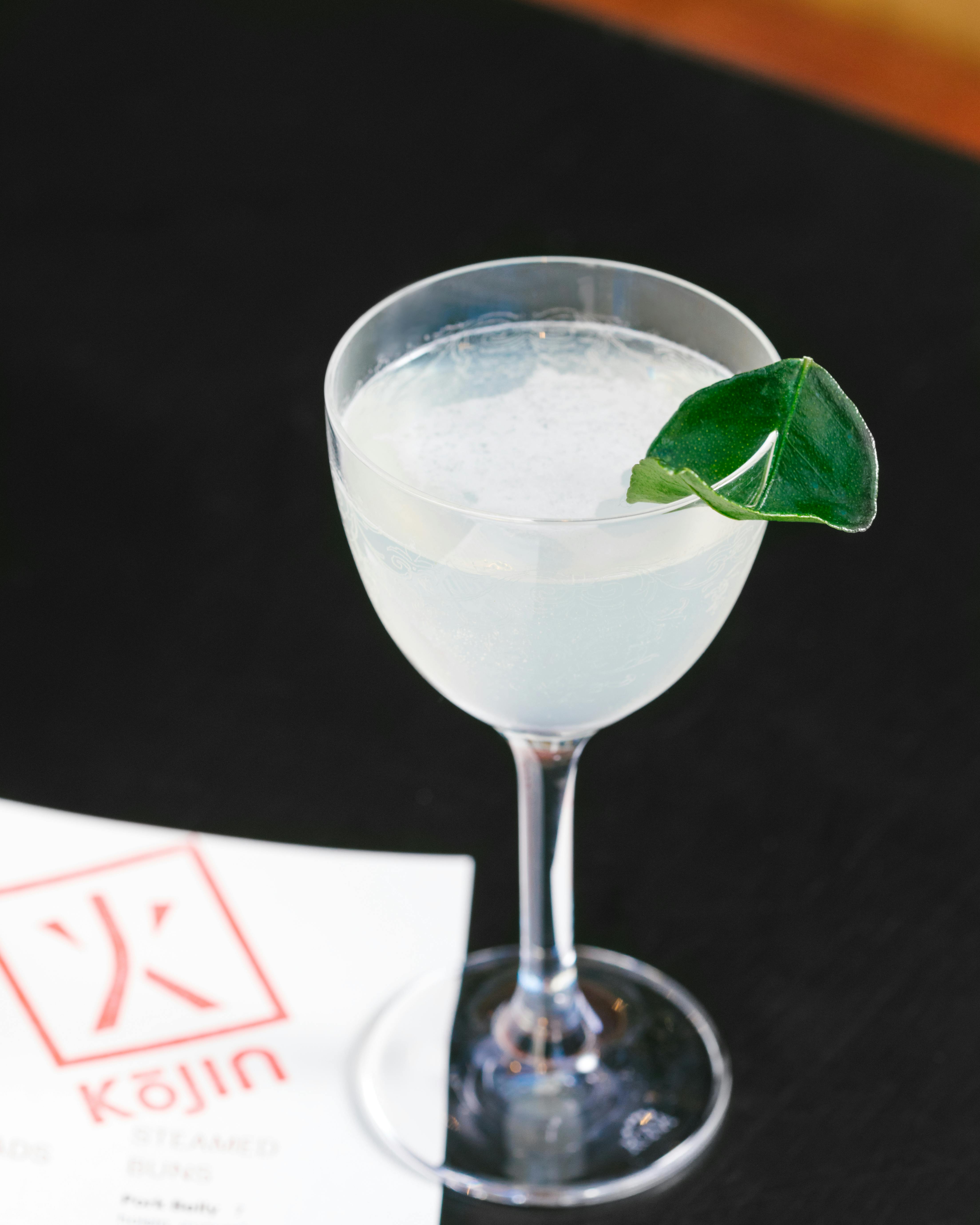 The same taste-it-all guiding principle -- "within reason" warns Benn -- applies to the minimalist cocktail menu. Devised by Benn, it focuses on a half-dozen slyly tweaked classics.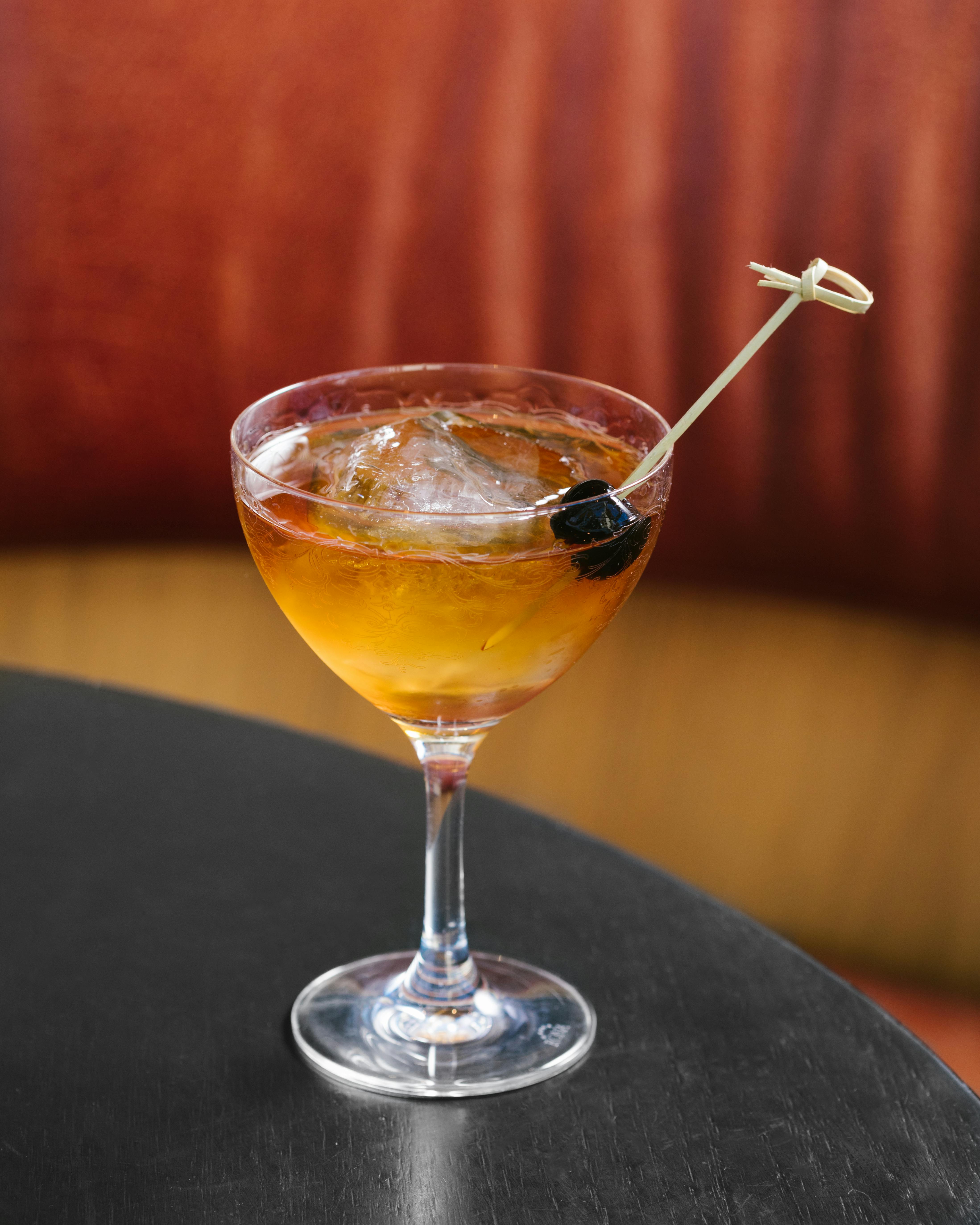 The Frying Pan, for example, is a Manhattan in which Lot 40 Canadian whiskey and sweet vermouth get a botanical kick from Amaro Montenegro and a shot of Canadiana courtesy of smoked maple tea.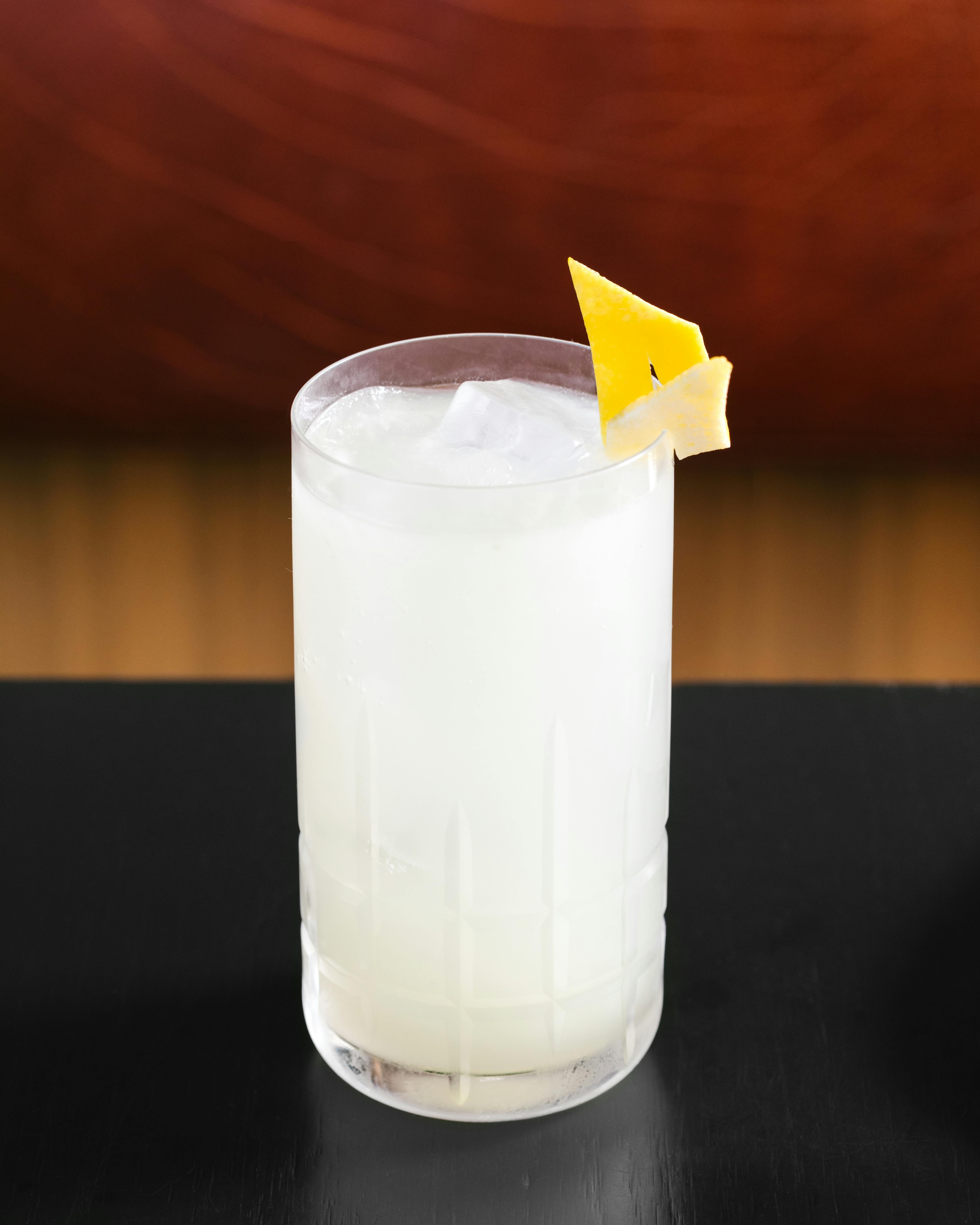 Yuzu Soda subverts an old school Gin & Tonic by swapping out the lime for its more flamboyant Asian cousin.
Beers and wines by the glass are similarly select, with attention lavished on Ontario brews and vintages. The list of bottled wines is more extensive and cosmopolitan.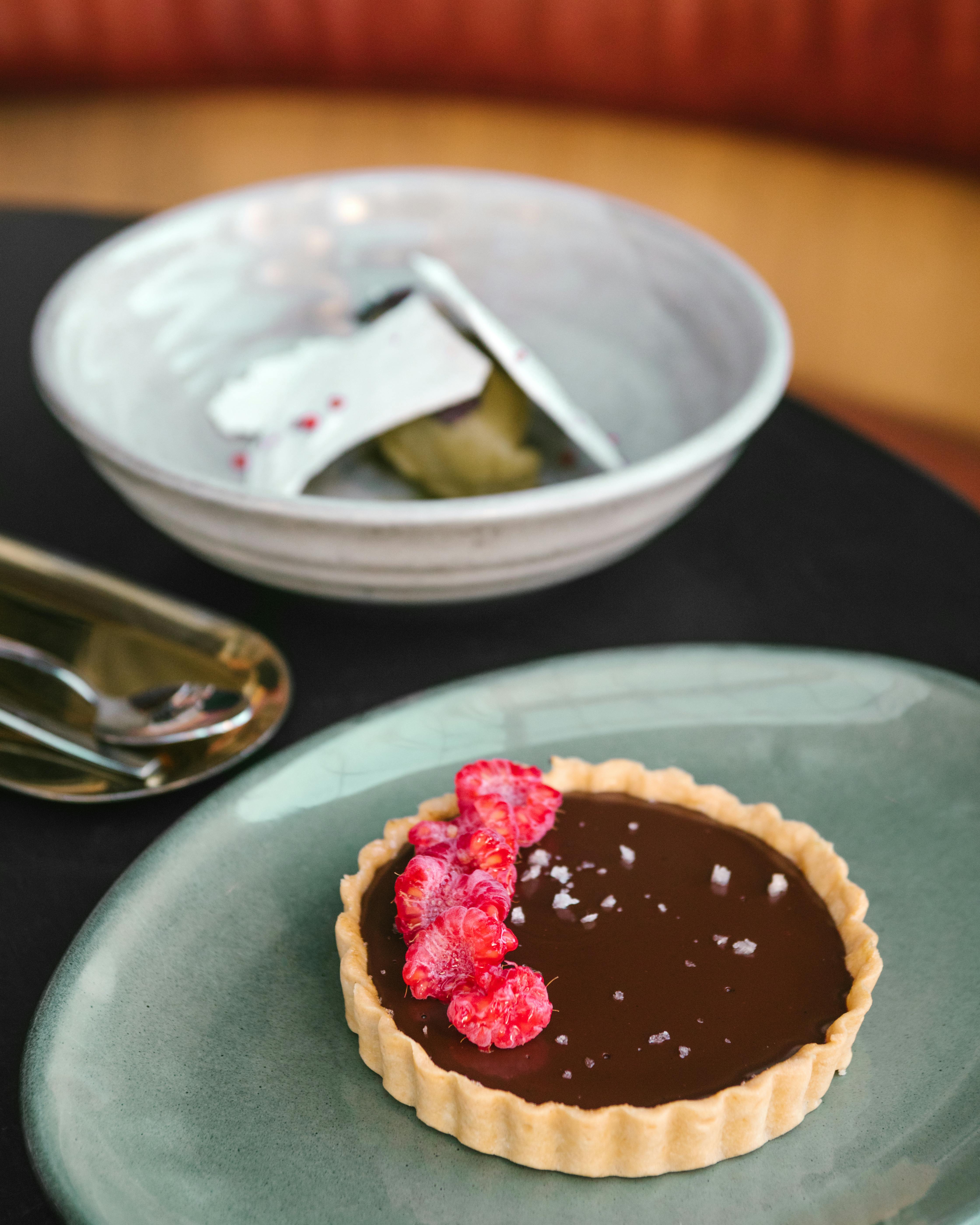 Once you've worked your way through most, if not all, of Kōjin's main menu and drink offerings, things get a little easier, not to mention sweeter -- in the form of dessert. For an immaculately cleansed palate, try the fiercely citric yuzu sorbet. Scattered with shiso leaves, the scoops of jade green ice peek out from beneath paper-thin layers of meringue encrusted with gem-like South American pink peppercorns. A little more sinful and a lot more voluptuous is the smoke salted caramel tart topped with a satiny layer of dark chocolate ganache and plump raspberries.
Since these are the only two desserts on the menu -- and each caters to a profoundly different craving on the sweet spectrum -- it's advisable to order both (even if you're only dining solo). Devout numerologists and gourmands alike might lament the fact there's not a third dessert option. But in the eternal words of Meat Loaf, "two out of three ain't bad."