The deli sandwich seems to be all the rage in Toronto, especially following the demand for convenient, comfort fare in recent months -- so there is no surprise that a new spot has emerged near Trinity Bellwoods Park.
Lambo's is doling out massive Italian-style deli subs in a takeaway-only shop, resulting in hour long wait times and plenty of anticipation over its arrival. Open since October, Lambo's has received plenty of attention in the past few weeks for its trendy sub sandwiches brimming with thinly sliced deli meats, all stuffed into a freshly baked roll.
Reminiscent of a New York-style bodega, the shop caters to no-fuss food with a simplistic but stylish concept.
The Space:
Inside the unassuming corner store locale is a narrow market painted a vibrant hue of green, lined with stocking shelves filled with various food and drink items to purchase. Though the deli counter inhabits most of the store, it's sufficient for any quick, convenient stop. There is a counter along the window for stand-in customers whenever dining-in becomes permitted again.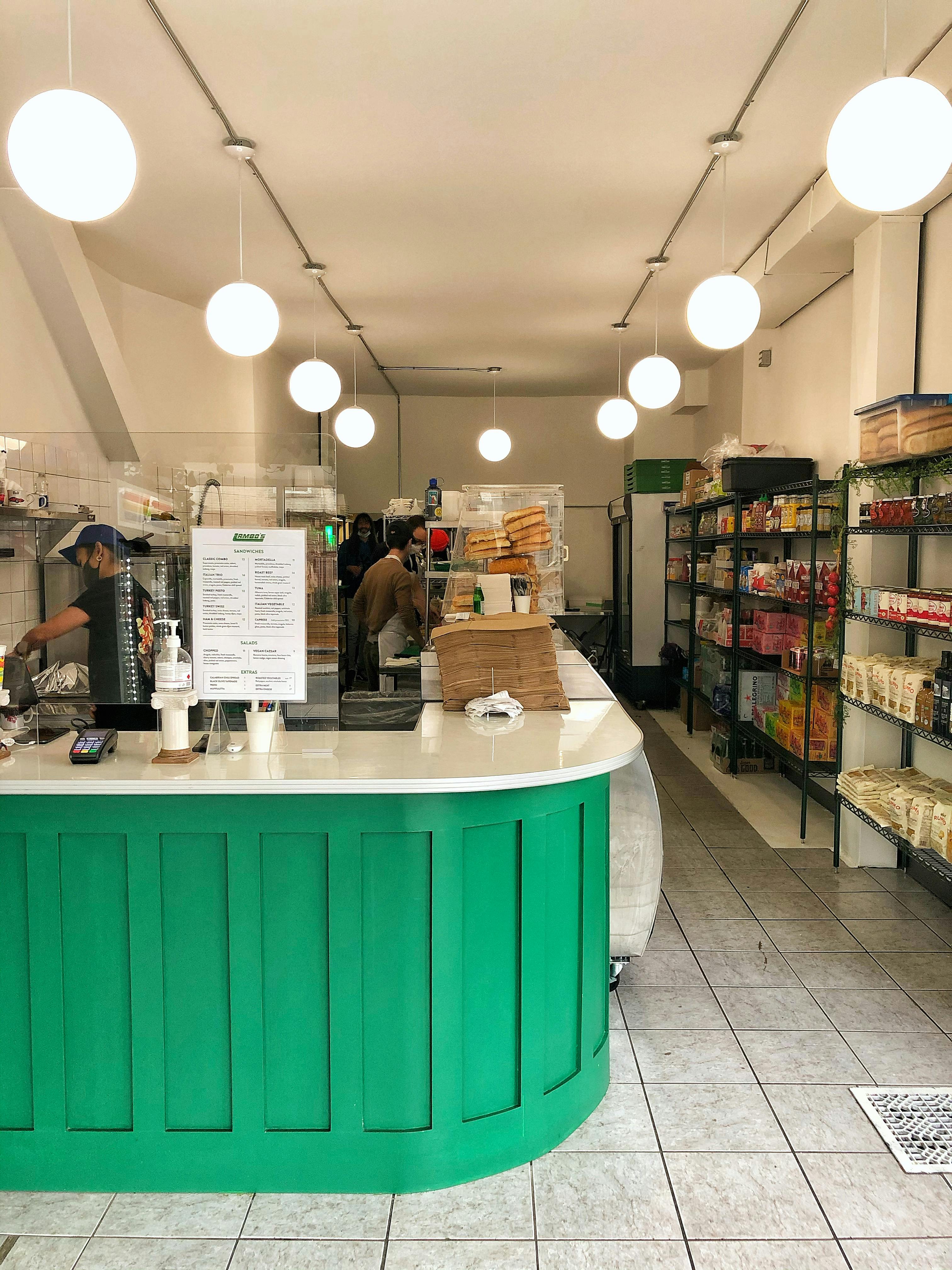 The Food: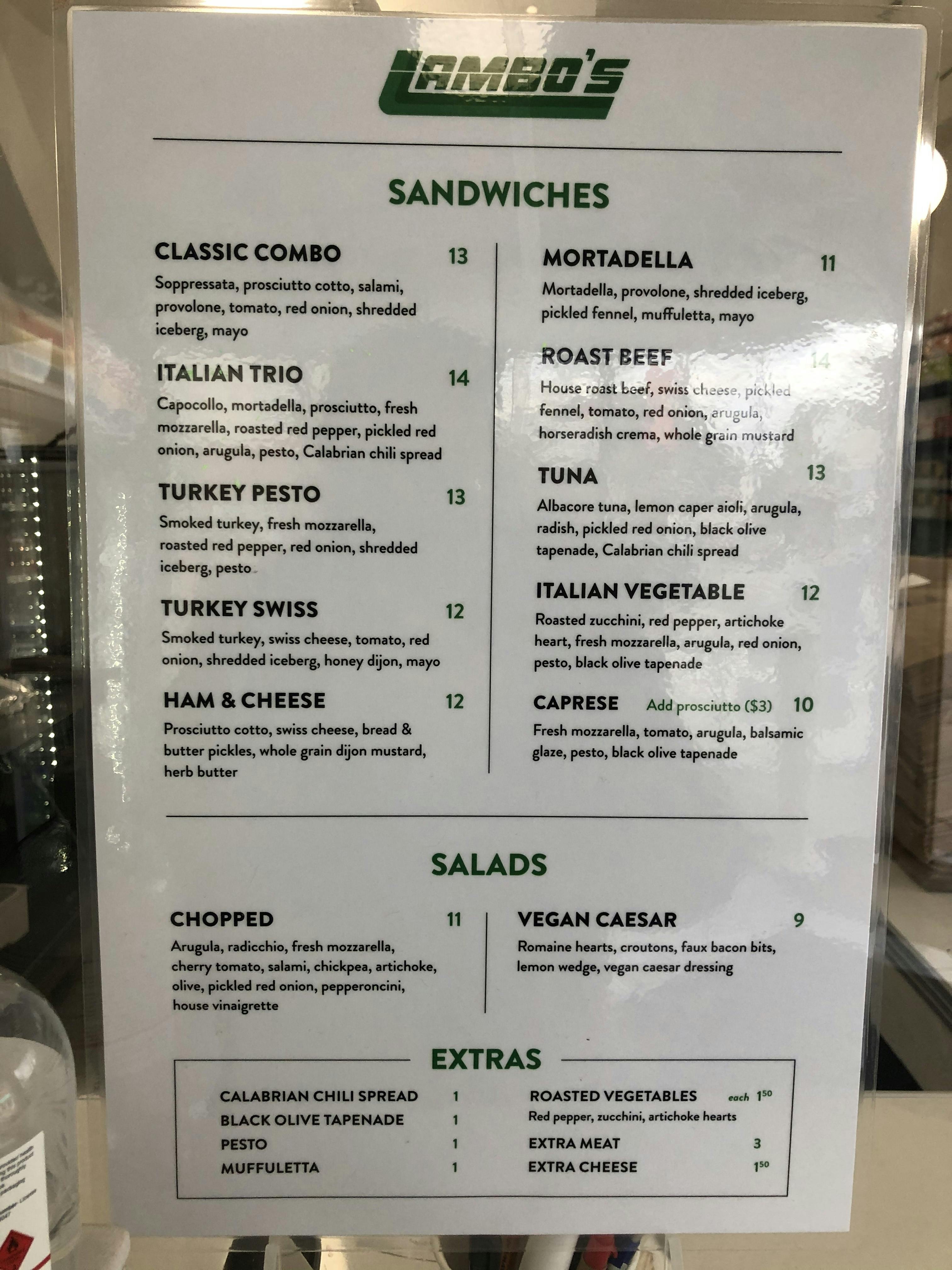 They offer a wide range of sandwiches available using local suppliers and ingredients. The bread is delivered every morning from the Drake Commissary, so you'll never get stale or day old bread used for your sandwiches.
The Italian Trio is one of their most popular sandwiches. A combination of capocollo, mortadella and prosciutto pair wonderfully with roasted red peppers, fresh mozzarella, pickled red onions, arugula, pesto, and a Calabrian chili bend. As with many of their toppings, the pesto and Calabrian chili blend are made in-house.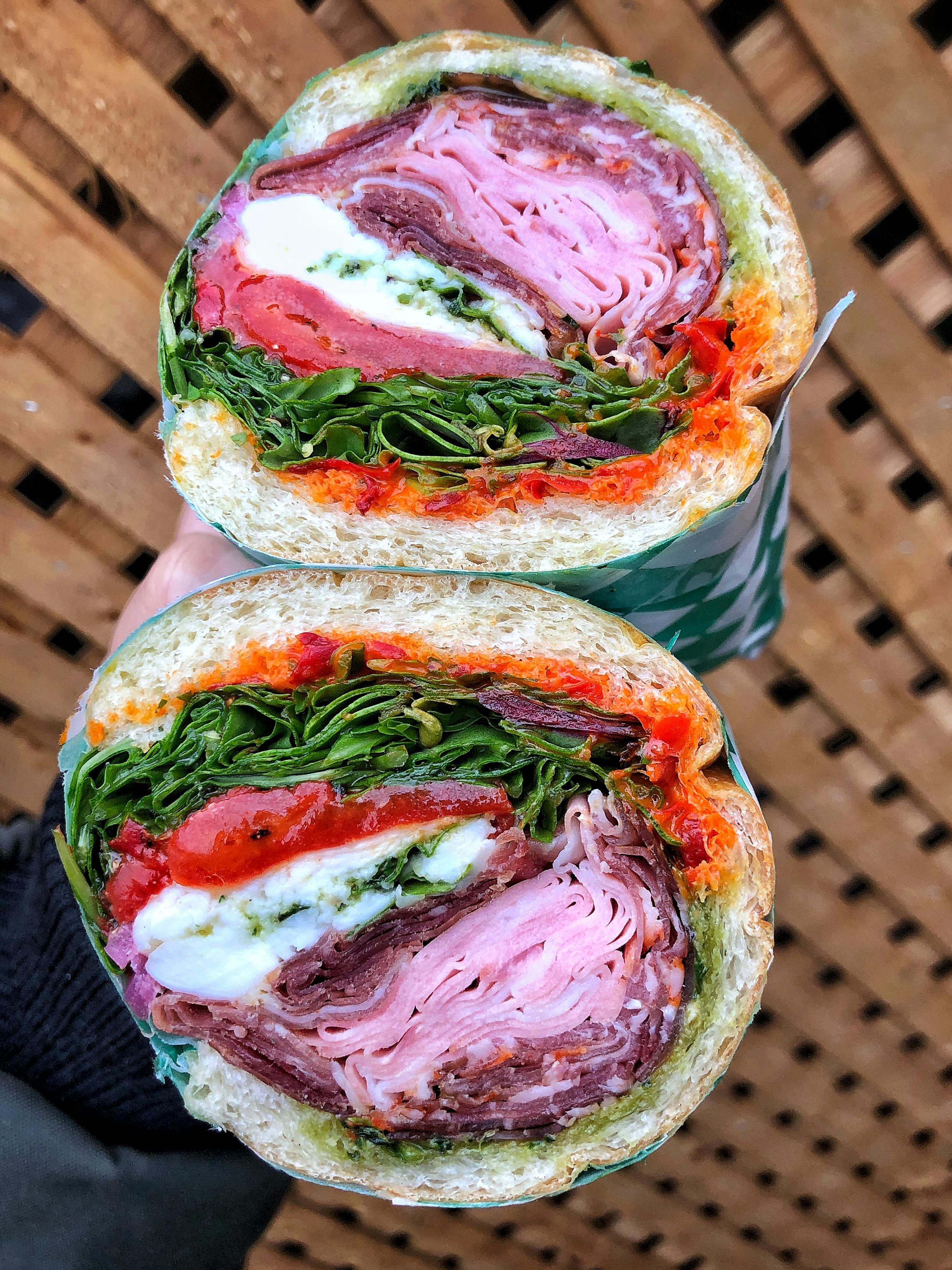 The Italian Trio with capocollo, mortadella and prosciutto.
Another popular order is their Turkey Pesto made with in-house pesto, roasted red peppers, fresh mozzarella and iceberg lettuce. The turkey is brined and smoked with Montreal spices. One interesting detail about the pesto is that it is made with sunflower seeds to accommodate nut allergies, which doesn't make it any less tasty.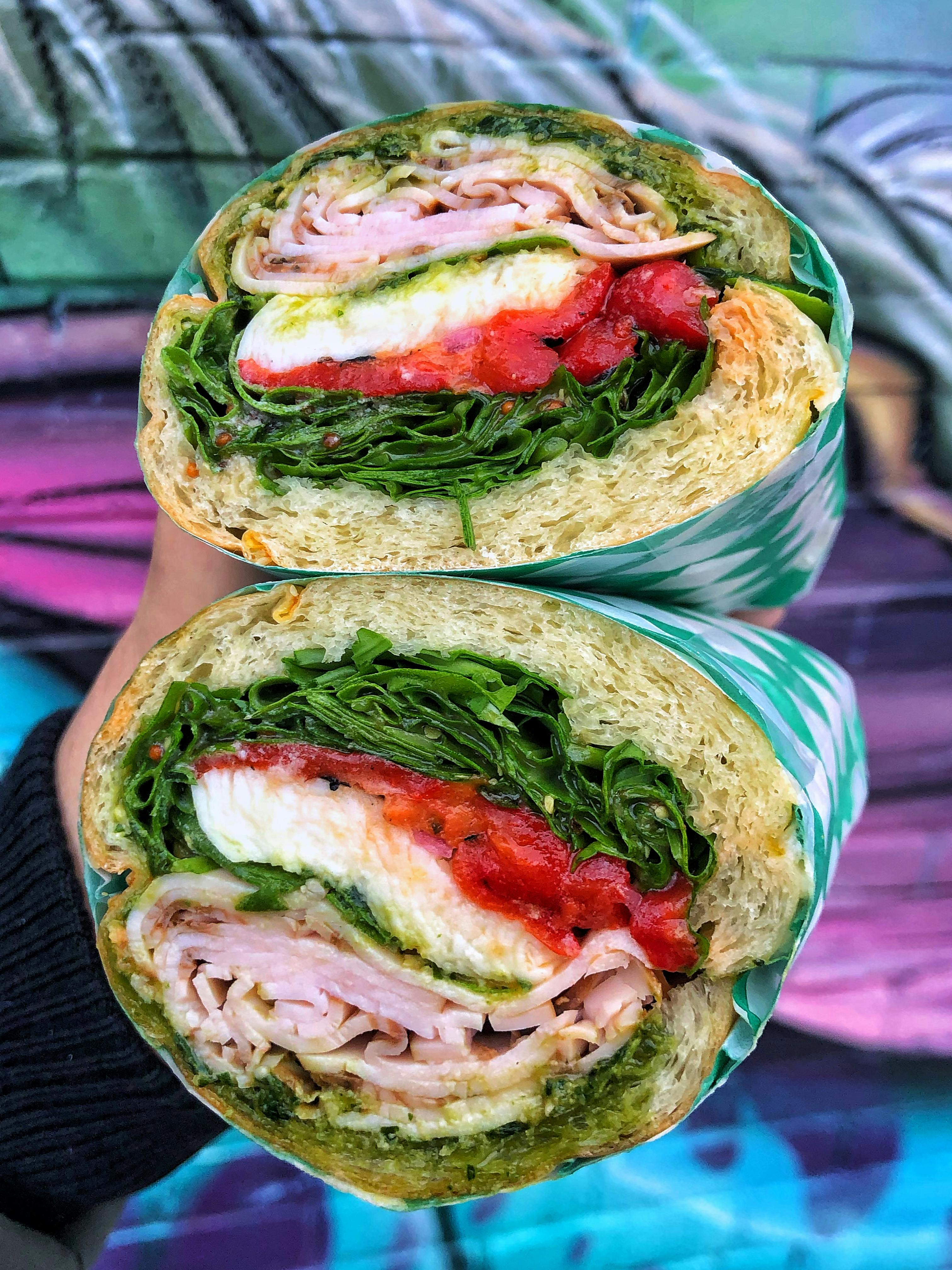 The Turkey Pesto with fresh mozzarella.
The Roast Beef with house roast beef, Swiss cheese, pickled fennel, red onion, arugula, horseradish cream and whole grain mustard. The roast beef is brined in-house and sliced to order. The combination of the sandwich's components is very well balanced, with the veg and sauces' acidity to help complement the fattiness of the meat.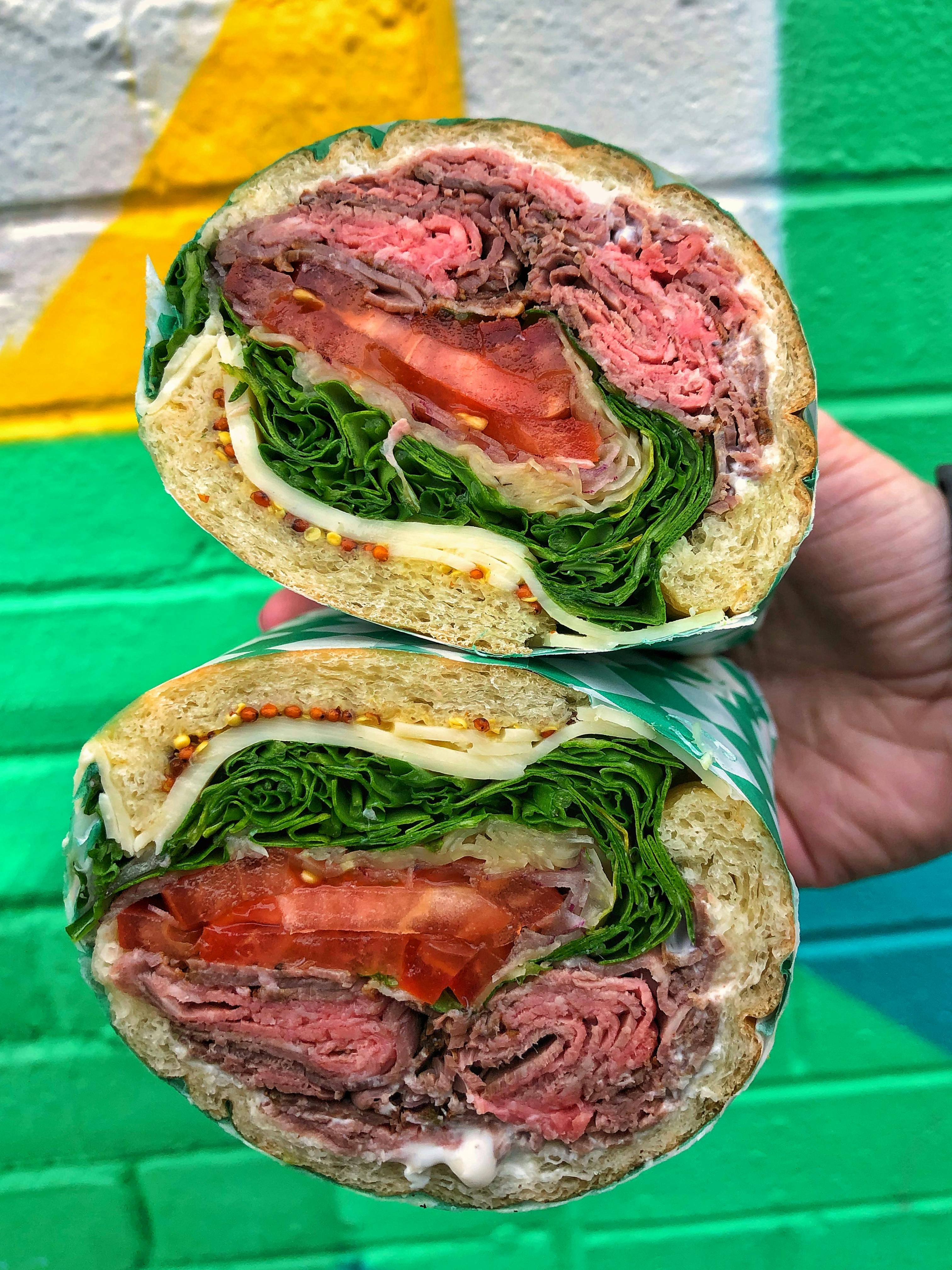 The Roast Beef sandwich with Swiss cheese and arugula.
If you want something to accompany your sandwich beside a bag of chips, they also have salads like the Vegan Caesar or their Chopped Salad, which is the perfect option for those craving a sub who want to avoid the carbs.
They're currently emphasizing online ordering due to the pandemic. Through a local app called Ambassador, you can pay online, choose a time slot and pick up from the store directly, which helps with the busy lunch rush.
If you haven't had a chance to try one of Toronto's most popular sandwich shops, check them out at 176 Bellwoods Ave.