If you're looking for a unique dining experience, then you've come to the right place. Annabelle Pasta Bar on Davenport is an intimate restaurant that feels like it's been there forever. With house-made pasta, small plates, and a daily changing menu, this spot reminds us of the simplicity of a great dining experience.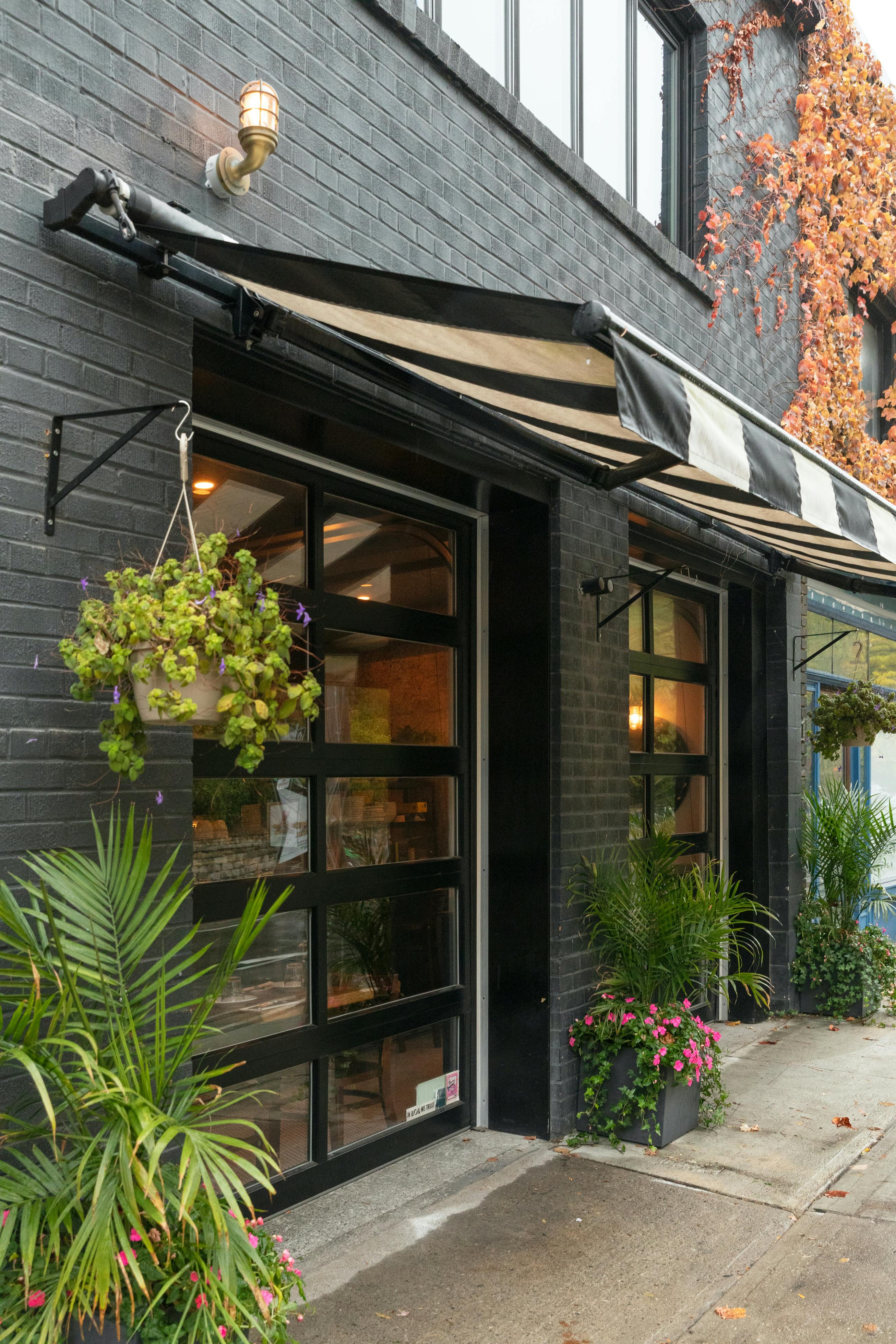 Opened in 2016 and owned by Riyaz Somani and Sabina Haque, Lil Baci Taverna in Davisville was the pair's first location. After a desire to do something different, Annabelle Pasta Bar was born.
Wood, old tiling, and wainscotting can be found all over the space. The upper level of the two-story restaurant is inviting as you walk your way passed the exposed brick wall full of mirrors. Old family photos create a nostalgic feeling as you enter the dining room. The tables are designed of wood and paired with a cool-tone banquet. The two levels, although designed the same, offer different experiences.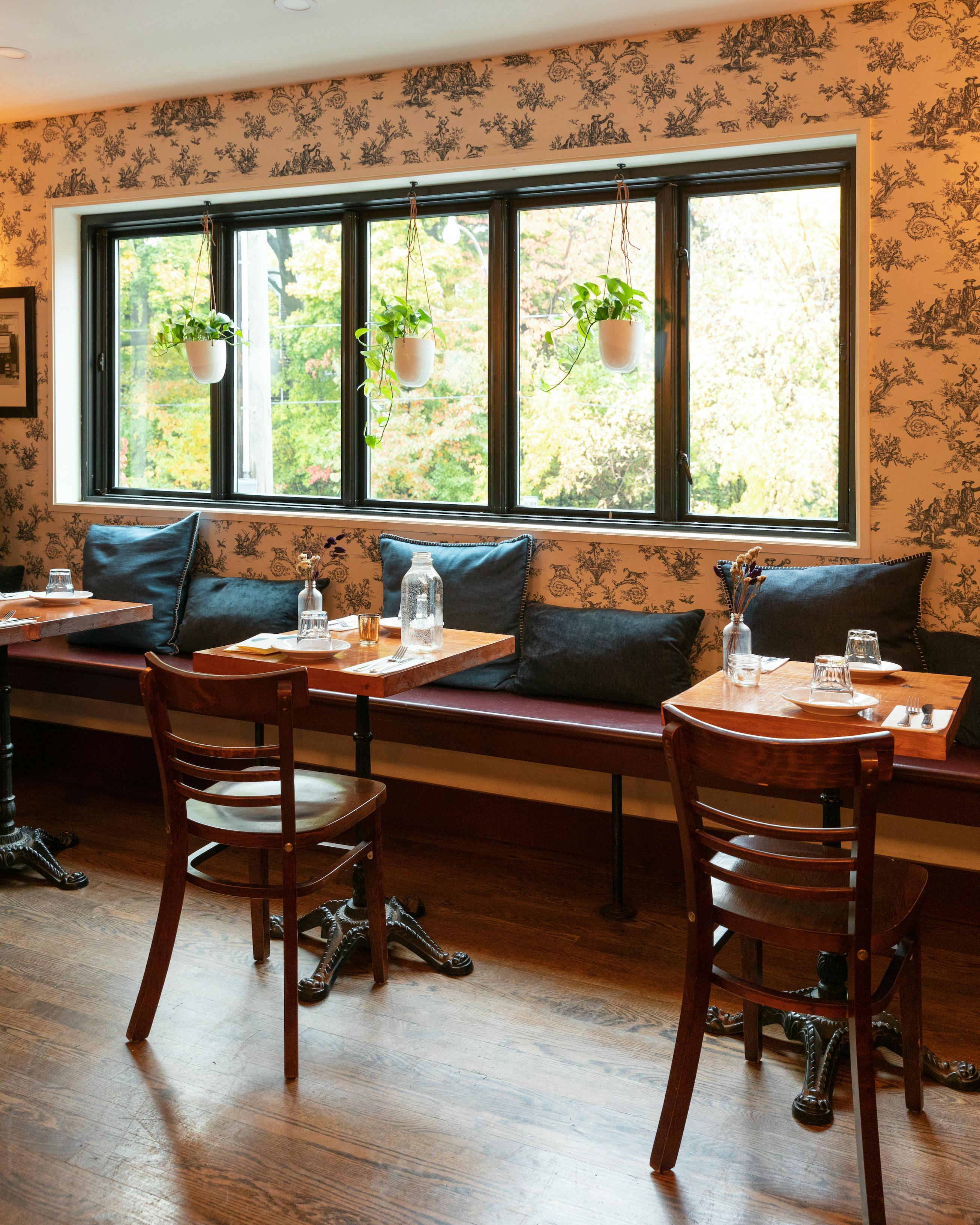 The seating area downstairs is more snug with two tables and a row of bar seats. The view stretches from the kitchen to the bar, with the dish pit in between. Right in front of you is all access to how a restaurant operates. Whether you're watching a drink get made or your pasta being plated, the space makes for laughter, observation, and great conversation. Unique to Annabelle's is this, their ability to successfully function in such a small space, and make it look easy.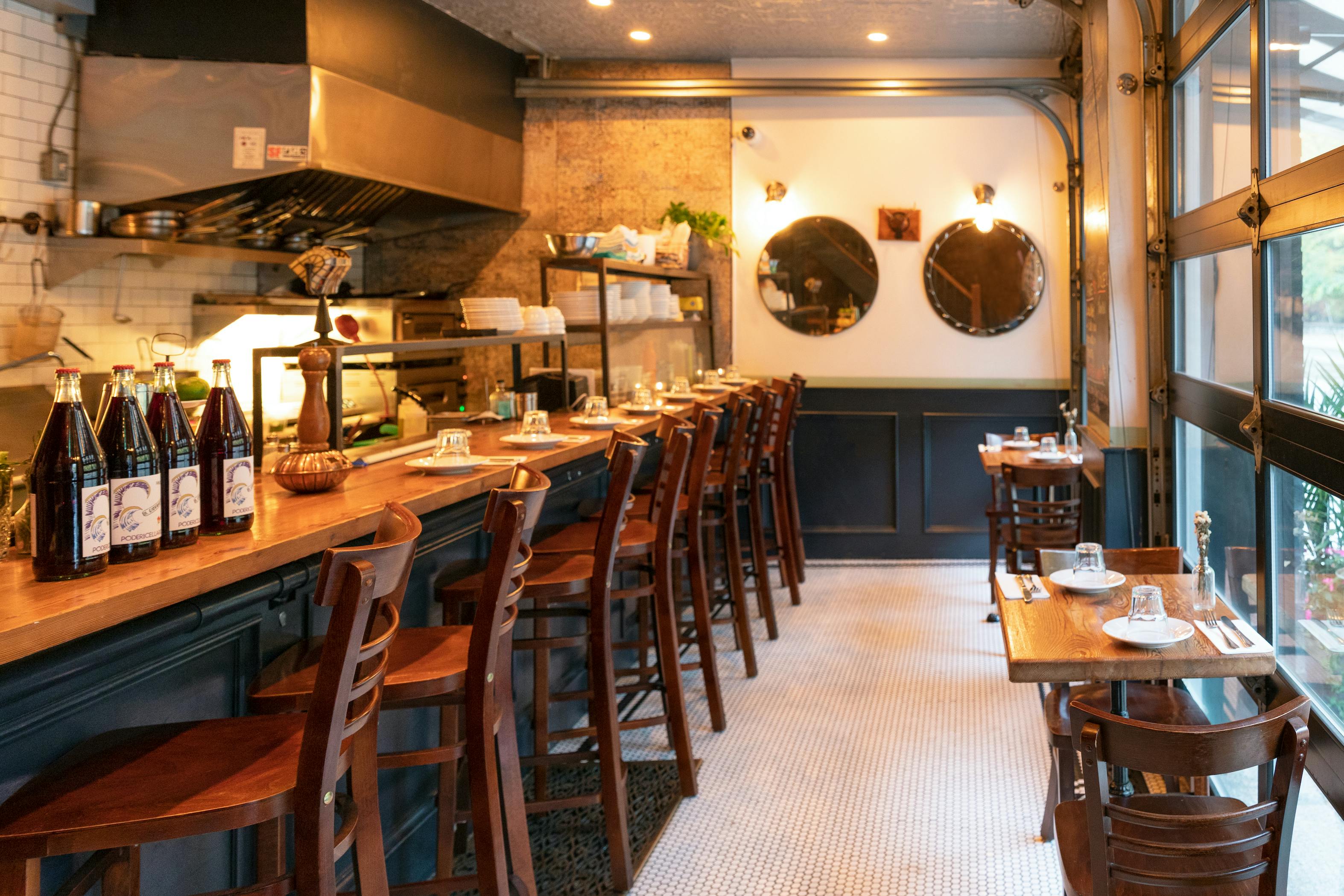 There are two transparent garage doors that create the wall on the main floor. Between them, you will find the ever-changing chalkboard menu.
The menu is written on a chalkboard both upstairs and down, large enough to be legible and pretty enough to be observed. The menu is comprised of three pasta dishes, a burrata, a vegetable, a meat and a dessert each evening. Each item on the menu changes daily, with all of the pasta freshly made in-house. The menu is inspired by the seasonality of ingredients but also by the collaboration of the team. "We have a really great farm partner up in Caledon called Mount Wolf. Every week they just send us whatever they have. So every day is a little like a black box challenge in a way, you kinda know what's going on but you don't," says Brandyn Koester, General Manager and Head Chef.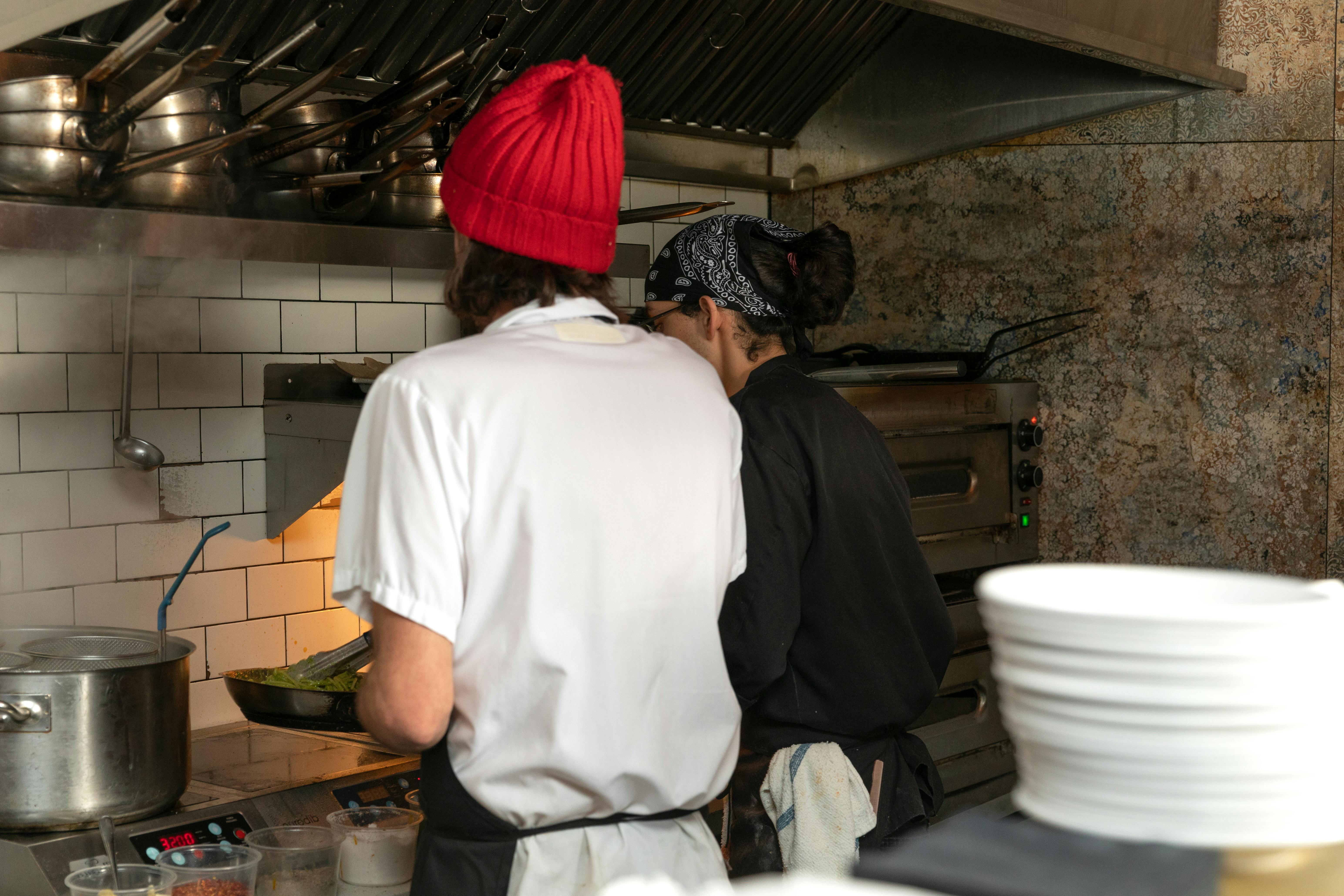 There's always a chance for an extra dish or two, depending on how the chefs are feeling. The ever-changing menu is a rare concept but also allows for the chefs to make a handful of really great dishes rather than an array of ordinary ones. "Sometimes thematically ingredients will carry through, but all of the dishes, for the most part, are completely different," says Chef Koester. "Working at a line at a restaurant, you make the same things every day and it becomes very automatic. It forces you to be creative, to be stimulated, and to think," he continues.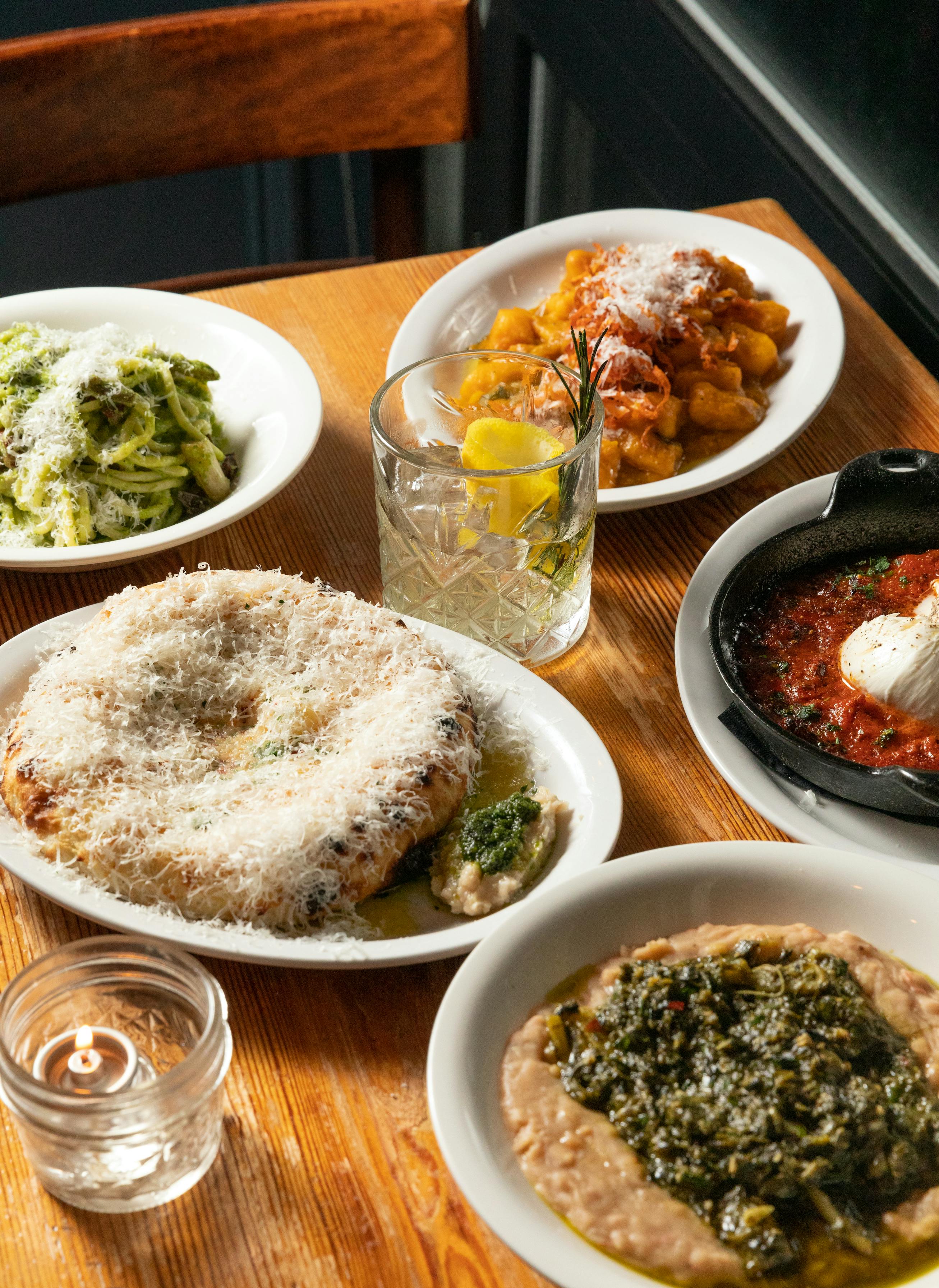 Photographed top left is the spaghetti with speck, scallion pesto, preserved scallions and Parmigiano. The speck is rendered until crispy; the marinated scallions are sautéed in lemon, pink peppercorn, oil and white wine vinegar. The dish is finished by tossing the spaghetti in the pesto (puréed scallions) and Parmigiano. An amalgamation of flavours that melt in your mouth.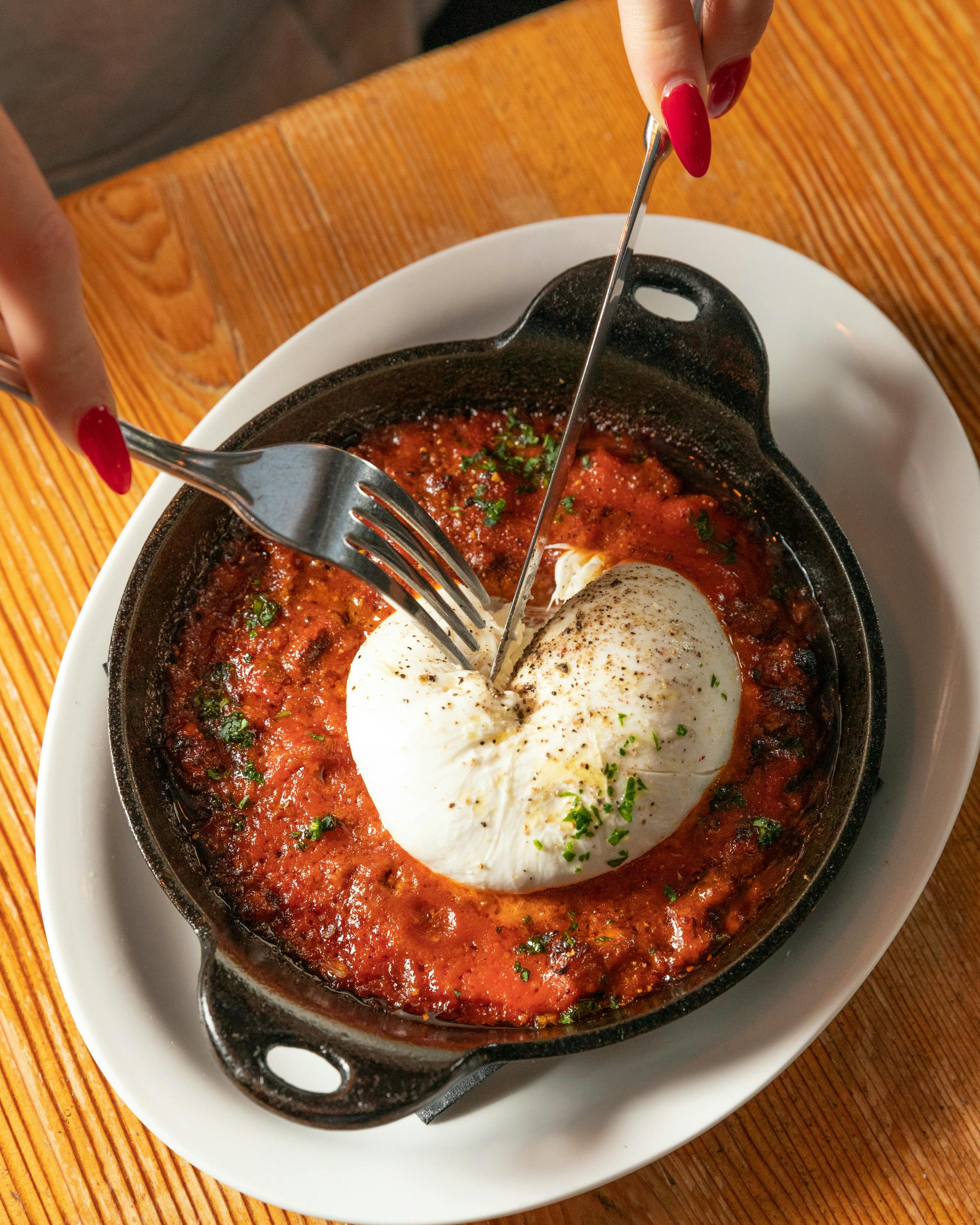 The burrata is opened on a bed of hot bolognese sauce. Made to order is the house-made bread pictured above. Each pizza dough is stretched slightly and topped with roasted garlic butter and Parmigiano. A white bean puree and arista pesto are served alongside for one's dipping delight.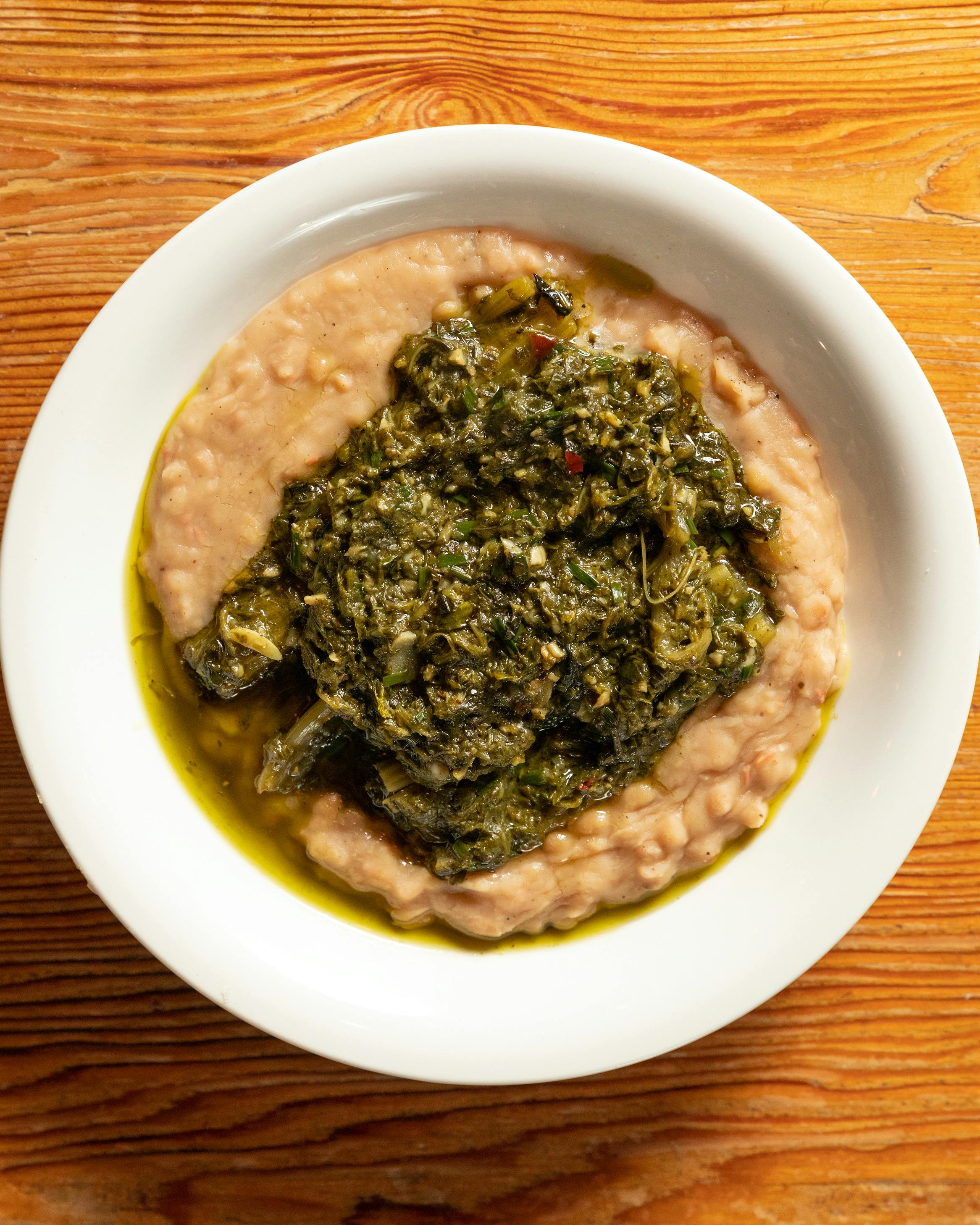 The herb braised celery is a riff on a Persian dish called khoresh karafs. Stalks of celery are braised with an abundance of parsley, mint, basil, and chives until buttery and tender. The celery is then served on top of creamy white beans and finished with olive oil and lemon juice. It is a perfect dish for fall as well as vegans. "We try to keep our veg dishes vegan to add some flexibility for our plant-forward friends," says Chef Koester.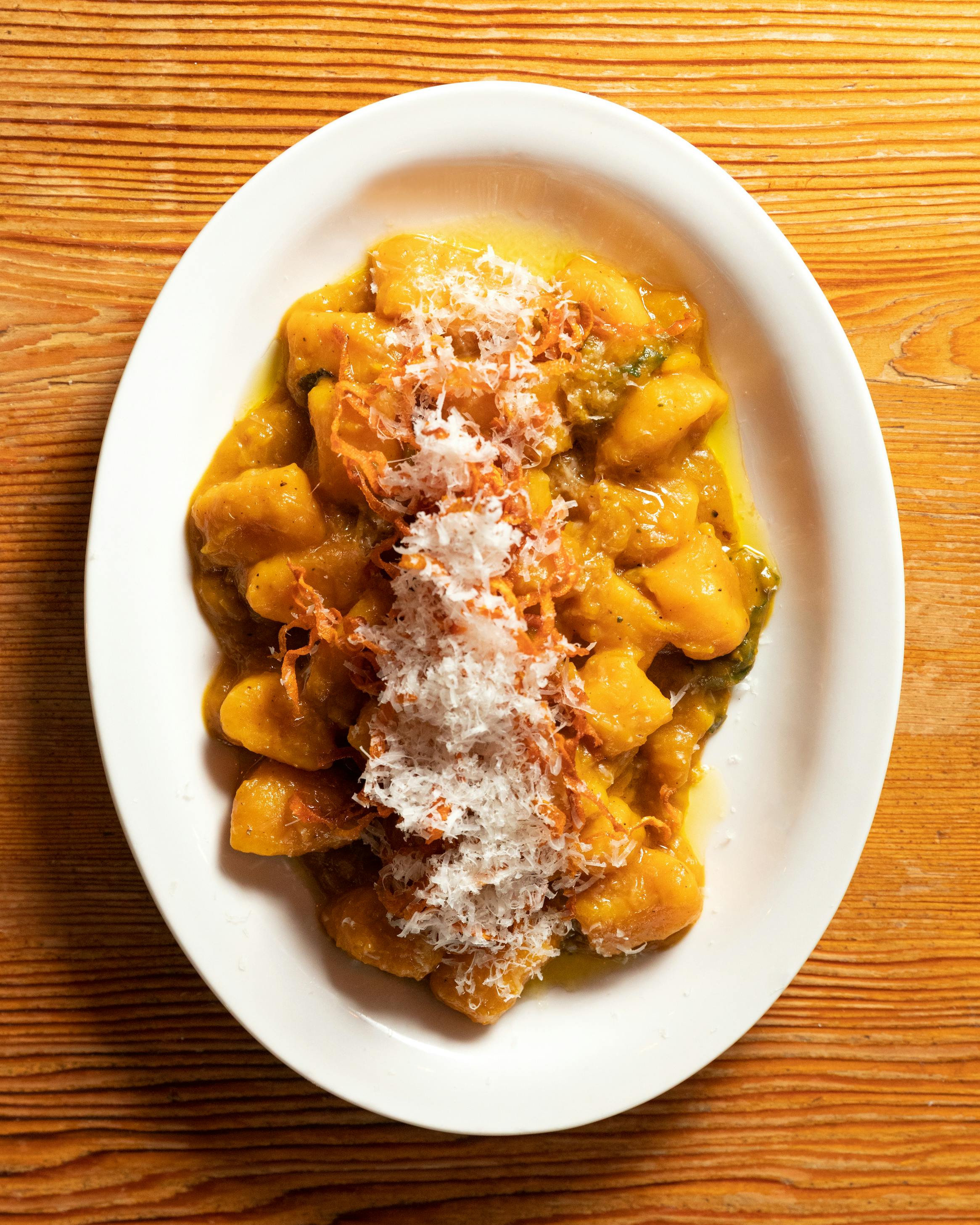 The potato squash gnocchi is done with brown butter, sage, squash puree and topped with Parmigiano and fried parsnips wisps. The softness of the pasta, as well as the flavours of the brown butter and sage, are a match made in heaven.
Annabelle originally started as a Negroni bar, with a list of Negroni variations. "Initially, we went for only Negroni's for simplicity because the bar is very small; it was like how can we pick a theme and do it well," says Akemi Allsop, Front of House Manager. "There are still a lot of Negroni-based cocktails, but the restaurant seems to be moving in a new direction, accommodating special requests and making many bespoke drinks.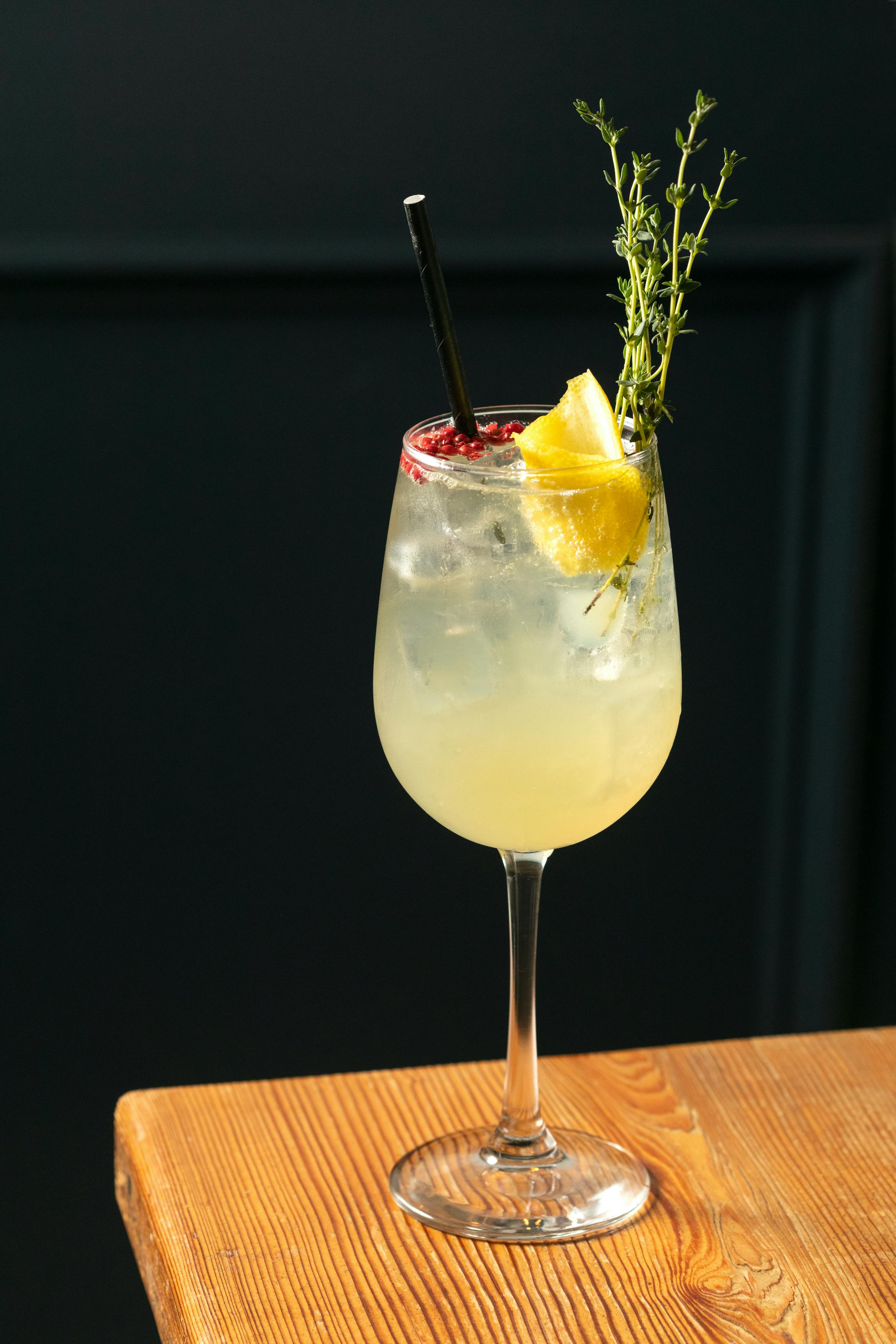 "The Annabelle Spritz is very much like an Annabelle cocktail as it has chamomile grappa which is something you don't usually see in a lot of places," says Allsop. "We try to create things that are very appealing for those who want to try something new," she continues.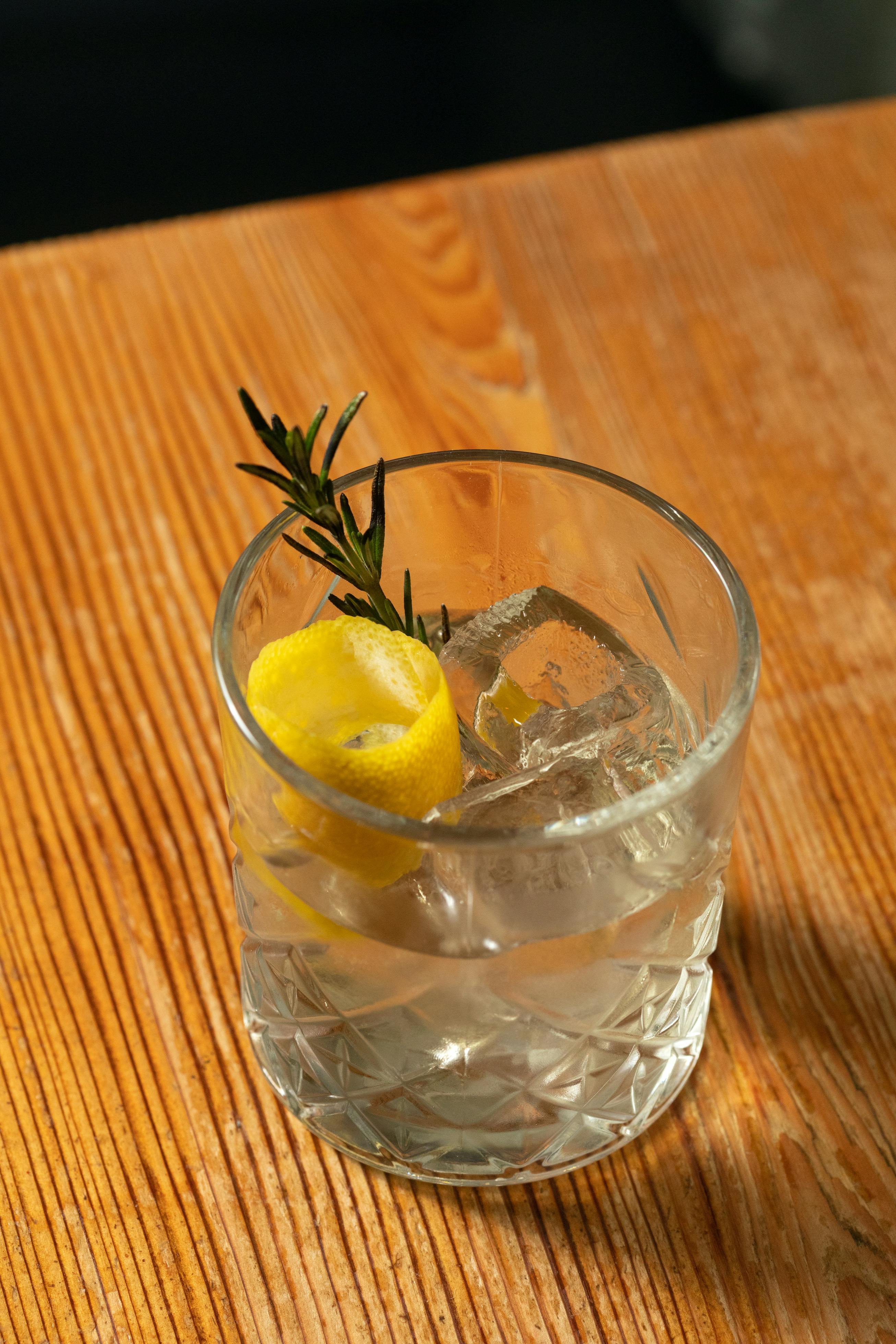 There is a cocktail feature every week, incorporating local produce kept within the season. Photographed is the Bianco, a white Negroni with Cocchi Americano and smoked rosemary. As for wine, since the food menu is always changing, the wine list offers a loose pairing, covering all basis, so there is something for everyone.
Open every day from 5 p.m. until 9 p.m. and Thursday, Friday and Saturday unti 10 p.m. Annabelle is located at 909 Davenport Rd, Toronto, ON M6G 2B7. A snug spot for exceptional food and pasta lovers alike. A daily changing menu, hand-crafted cocktails, and warm staff invite you into the two-story restaurant off the bustling street. The restaurant reminds us of the simplicity of a great dining experience and creates that feel-good feeling. Whether it's your first time visiting or your fifth, Annabelle Pasta Bar offers you a unique experience every time.