Photographs by Keessa Lynch
From the team behind the recently opened Hartly, comes Lobby, a vibrant Latin-Asian fusion-inspired restaurant and late-night bar concept located just west of the Ossington Strip. Owned by Reza Abedi, Lobby is a space where Torontonians can enjoy a night of vibrant cocktails, share plates and curated house music not heard anywhere else in the city.
After stepping foot through their double doors on the Northwest corner of Brookfield and Queen Street West, you'll be transported into an oasis that feels like you've left Toronto and entered a wonderland. It was Abedi's goal to create an environment that would feel like an upscale lobby of a tropical hotel but with an added element of escapism.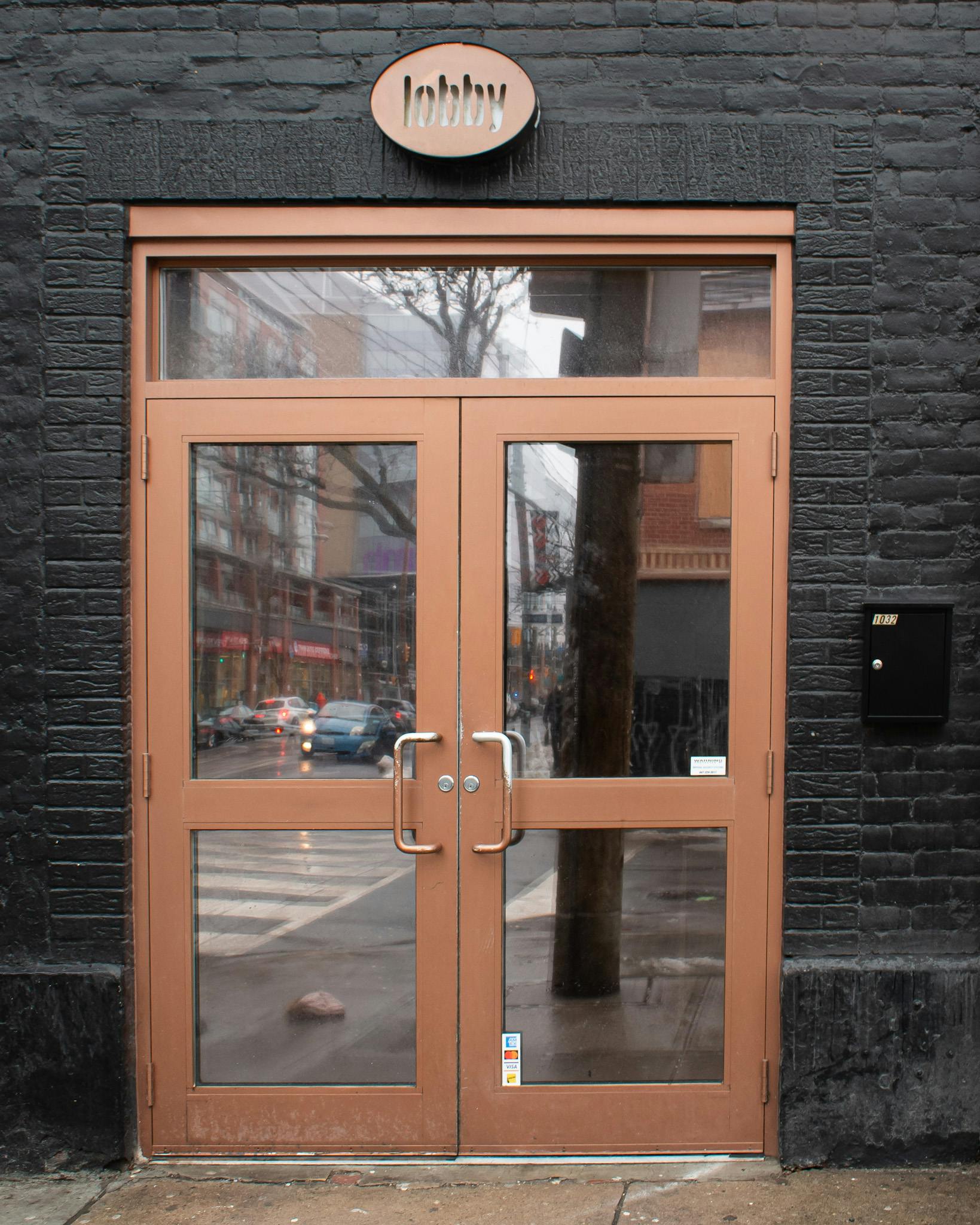 The moody interior boats plush velvet banquettes which line the side wall, covered in large panned arched windows that let in generous amounts of light. In the centre of the room lies pink velvet seating with wooden tables lit by candlelight.
On the opposite side of the main room lies the bar, an Art Deco-esque piece that anchors the space as the centrepiece. Large backlit arched mirrors line the back of the bar, with gorgeous royal blue plush velvet stools populating the front.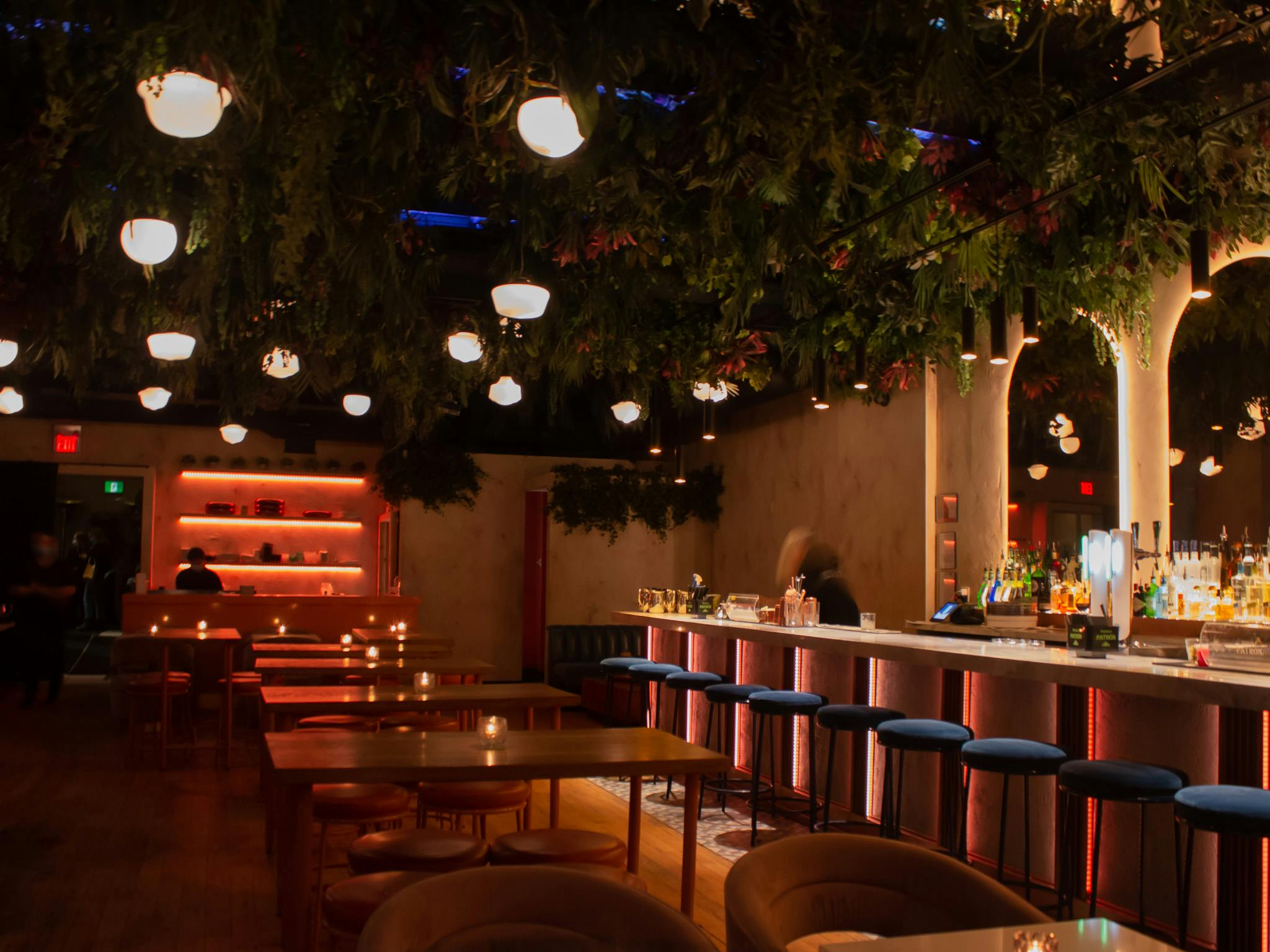 If you look up, you'll notice the ceiling has been laden with mirrors, along with a plethora of greenery, which hangs down amongst the thin, rounded light fixtures for a touch of whimsical fantasy. The space is complete with an elevated lounge space, complete with extra casual seating and a DJ booth. Speaking of music, the playlist has been meticulously curated by the Lobby team, who have built out the perfect soundtrack to accompany your global gastronomic experience.
Executive Chef Daniel Ken has spearheaded a diverse menu drawing inspiration from Latin-American and Japanese culinary traditions. Ken says, "I wanted to balance the flavours and ingredients of Latin and Japanese cuisine, while blending them with various preparation methods, to create our unique dishes."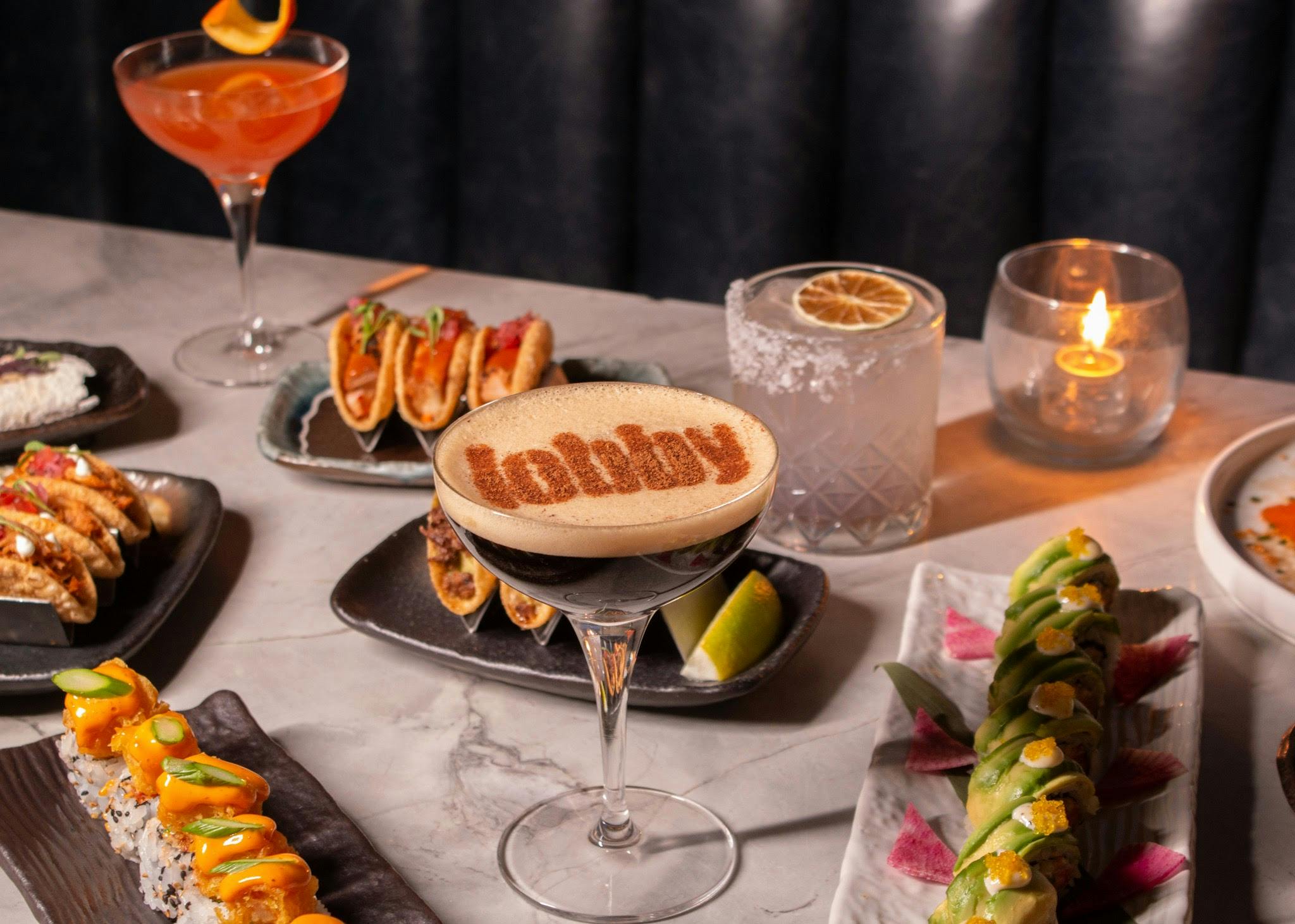 There is also a heavy presence of seafood on the menu, which warrants Lobby to have two kitchens, one for hot items and one for cold. The cold kitchen is, in fact, lit up and on display on the south end of the dining space, where a handful of the back of house team will be working hard to prepare the tuna tartare, oysters (which are buck-a-shuck on Thursdays), seafood towers and chef Ken's unique vegan sushi.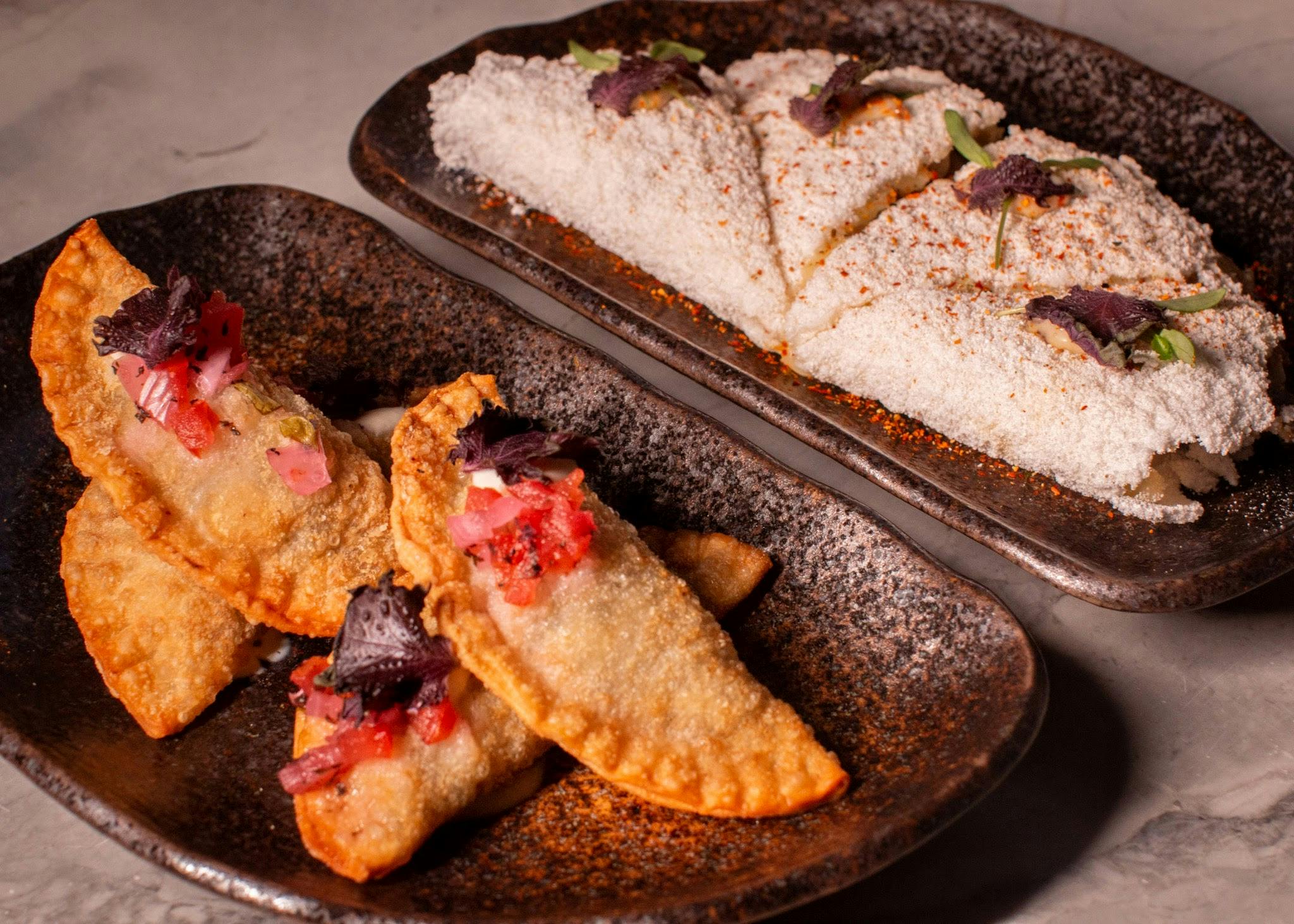 In line with the South American theme is the Wild Mushroom Empanadas, enclosed in wonton skins and stuffed to the brim with summer truffles, vegan cream, and topped with shiso salsa.
Also available are the Brazilian Quesadillas, a gluten-free option as the wrapping is made of cassava tortilla, a nutty-flavoured, starchy root vegetable. Filled with queso blanco, salsa verde, truffle tapenade and togarashi spices, this is an excellent selection for a flavourful, and gluten-free indulgence.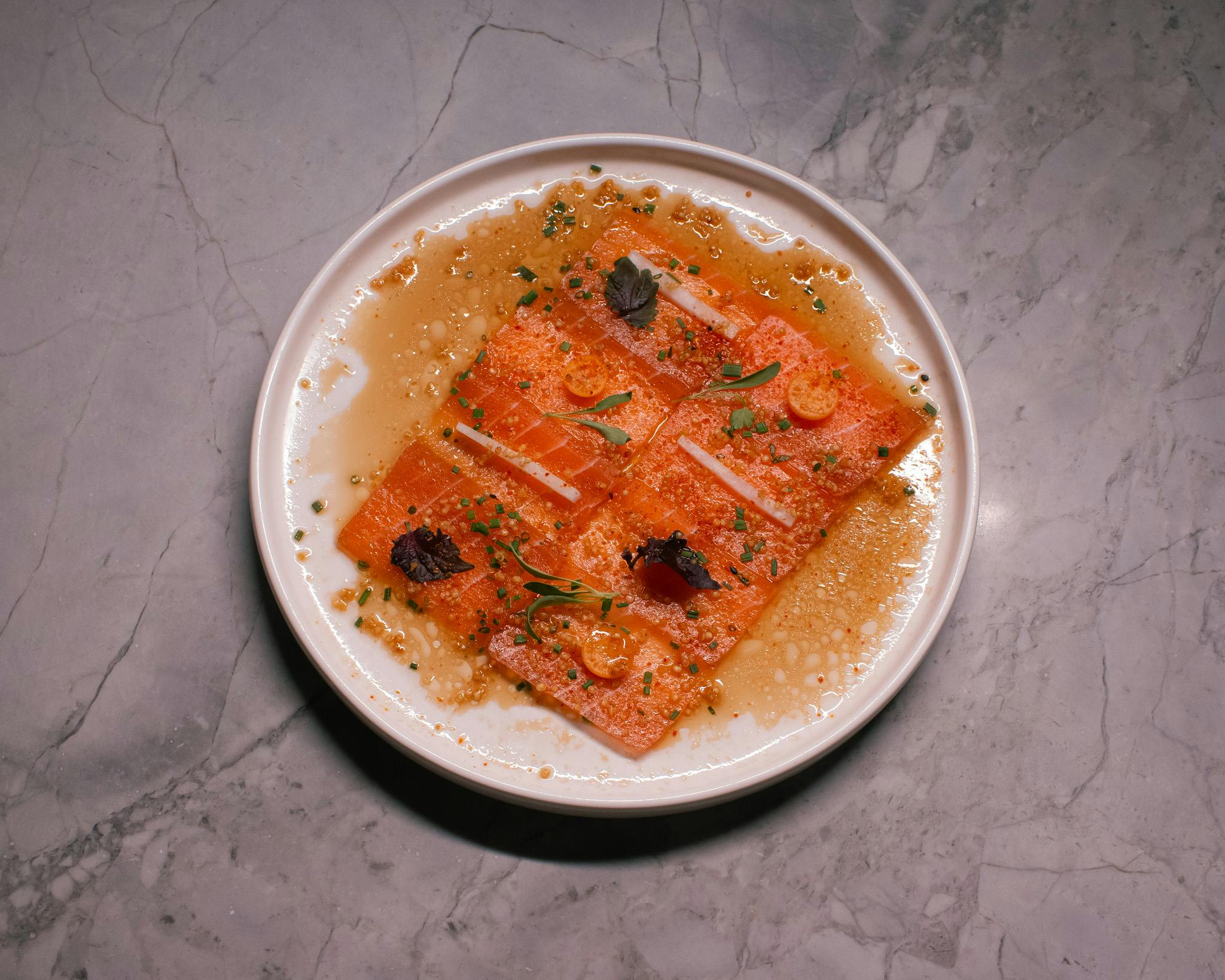 The Vegan Salmon Sashimi is one of the most unique dishes on the menu and contains the same texture as you would with fish. Served with yuzu ponzu, crispy quinoa, gooseberries and jicama, this dish is jam-packed with bright flavours and an array of diverse textures.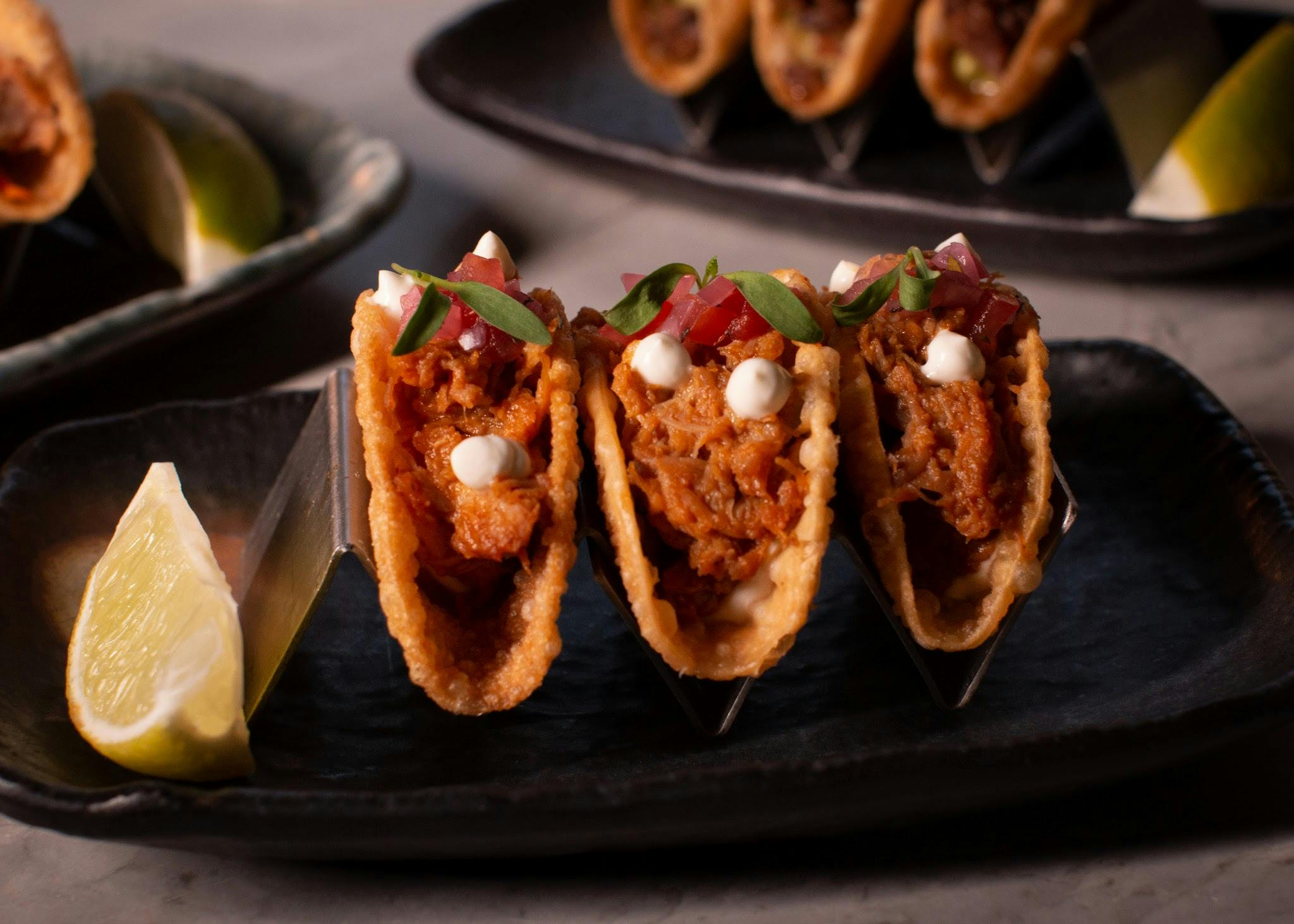 When it comes to the tacos, Lobby encases them in crunchy wonton skins and prepares them in bite-size form so that you can give them all a try. The Braised Chicken Tinga Tacos are filled with tomato-chipotle pulled chicken breast and are topped with sour cream and cotija cheese for a lovely smooth and rich finish.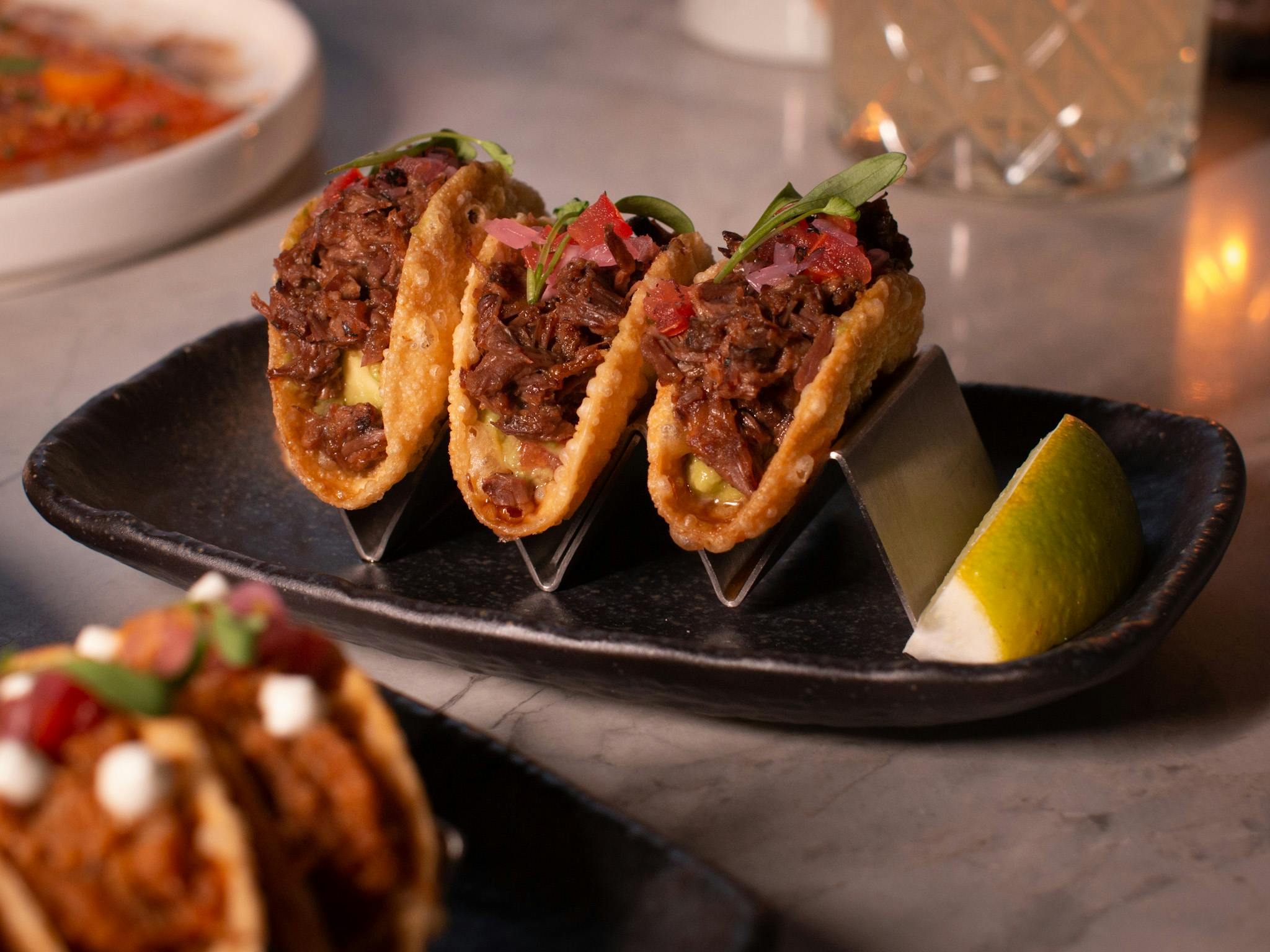 The Beef Short Rib Tacos are as mouthwatering as it gets. Loaded with house-made avocado yuzu guacamole, braised short rib, micro cilantro and pickled jicama, these tacos have a wealth of flavour and are one of the most crushable items on the menu.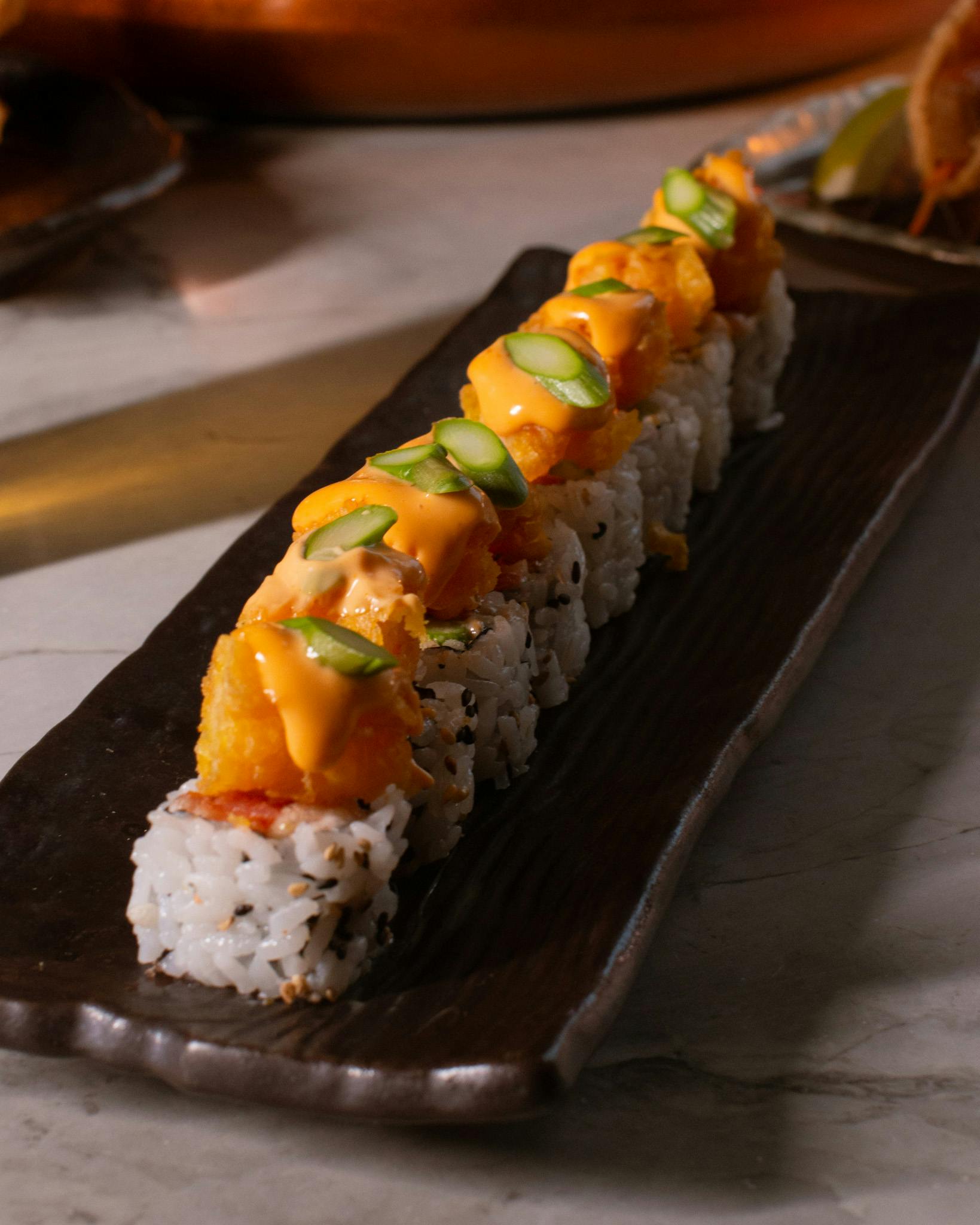 There are a variety of sushi rolls available prepared in the exposed cold kitchen, with one of the standouts being the crunchy Puff Salmon Roll. Served in eight pieces, this unique roll is made with salmon, avocado, tempura bits, creamy yuzu kosho, scallions, asparagus, crispy quinoa and sushi rice.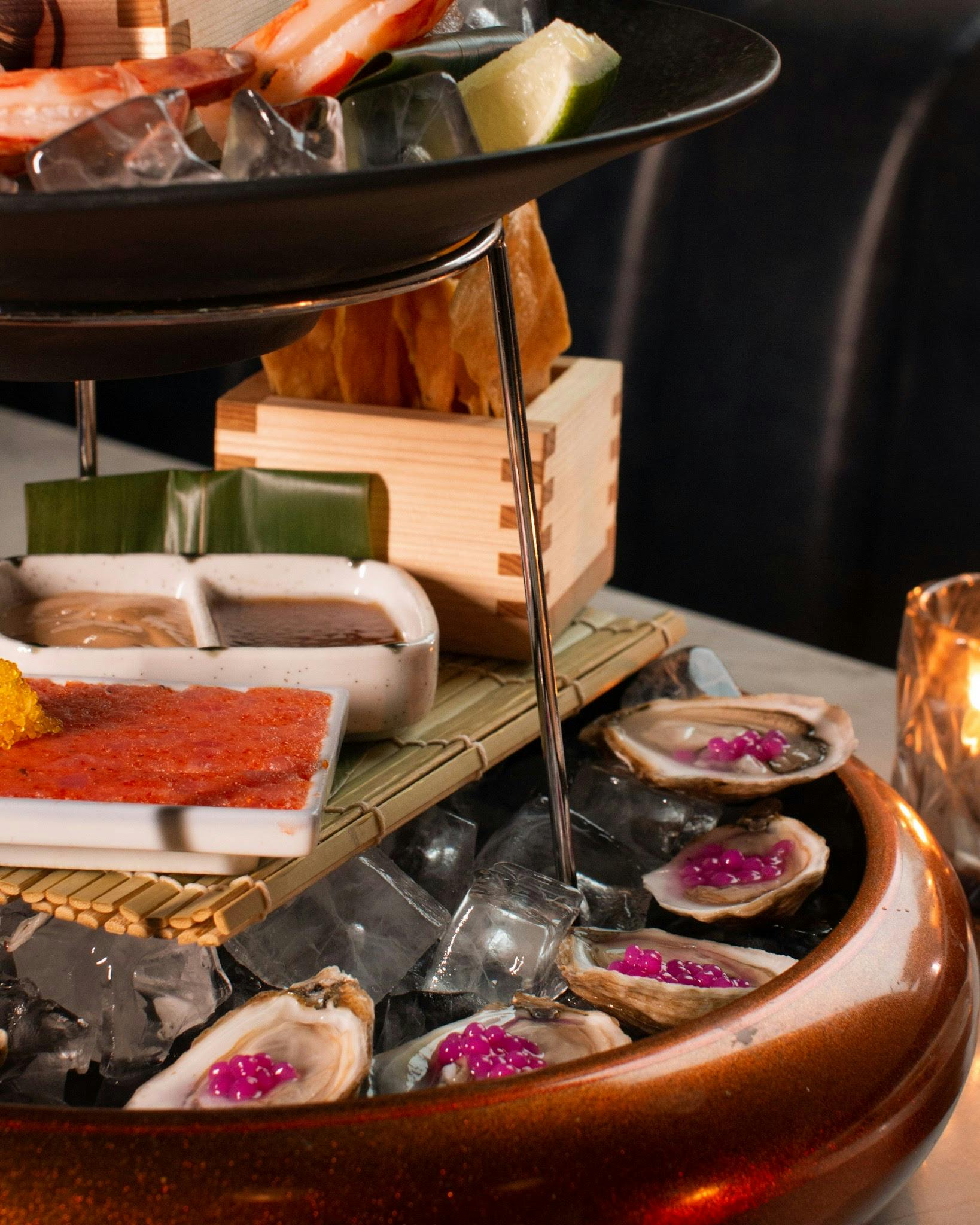 As for the piece de resistance, the seafood tower is a knockout and is perfect for sharing. This dual-level piece contains six jumbo shrimp on ice, a delectable salmon ceviche, eight PEI oysters topped with shiso pearls, chipotle mayo, mignonette and tortilla chips for dipping.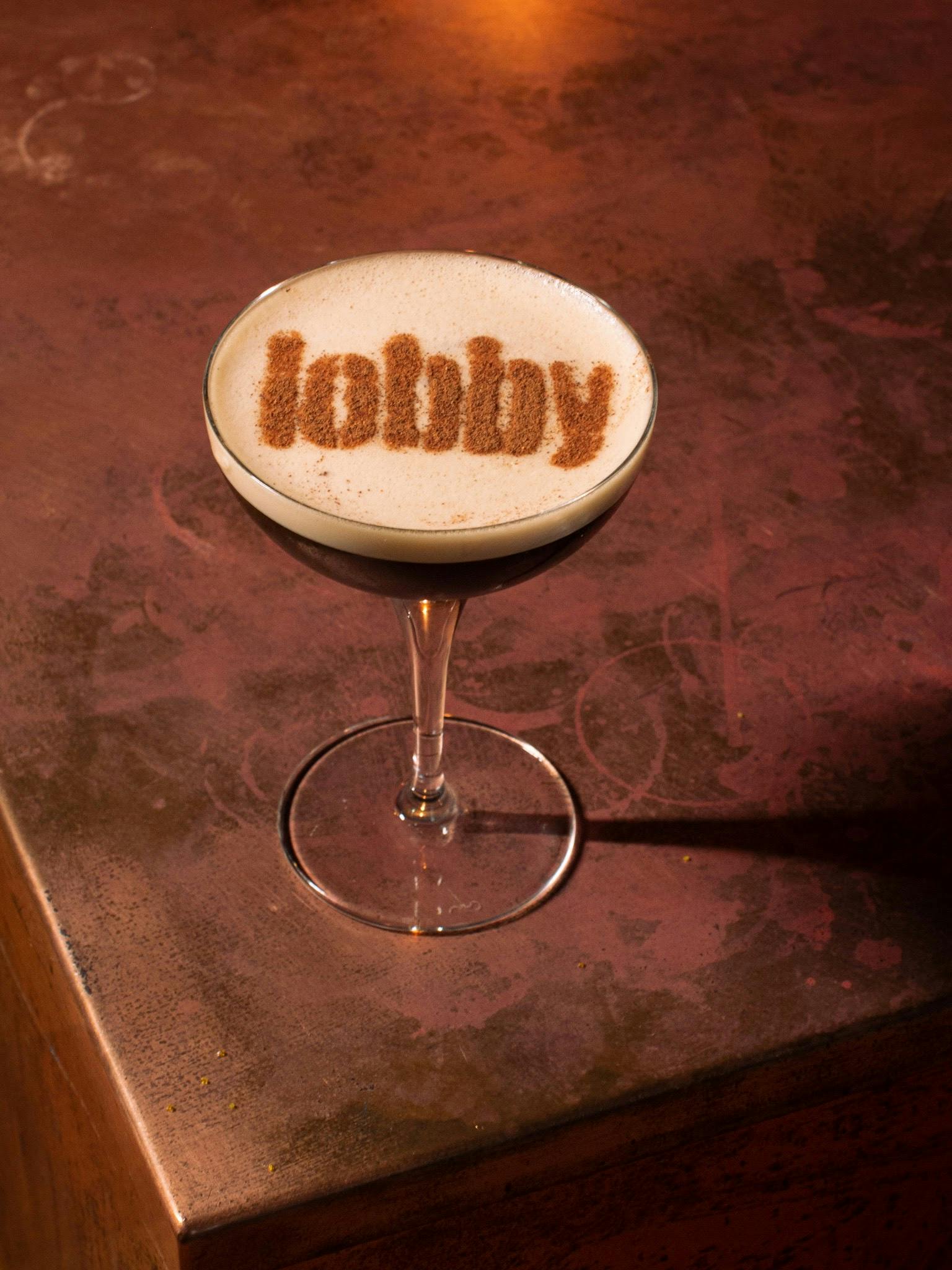 The cocktail menu is as refined as the selection of food, with a multitude of excellent options to choose from. The Lobby Espresso Martini is an absolute showstopper with the Lobby logo carefully stencilled on top with cinnamon powder. The richness from the espresso beautifully balances out the bite of the vodka, while the cinnamon adds a smooth and earthy finish.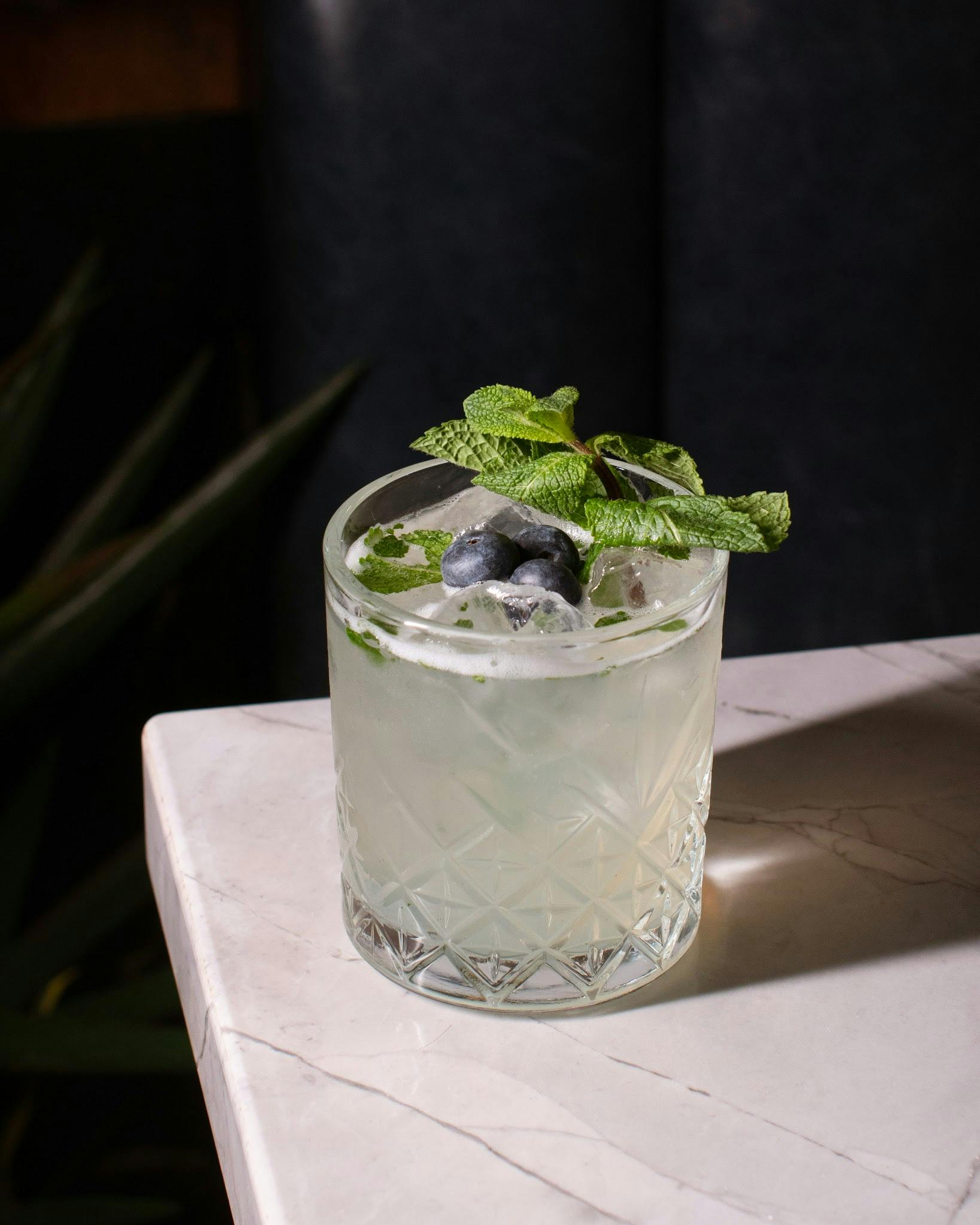 Next up is the Mr. Wonderful, a light and refreshing beverage that calls for gin, lime, mint and elderflower. The natural herbaceous notes from the gin wonderfully complement the freshness of the mint, while the lime and elderflower extract a bright, fruity and floral aromatic on the nose.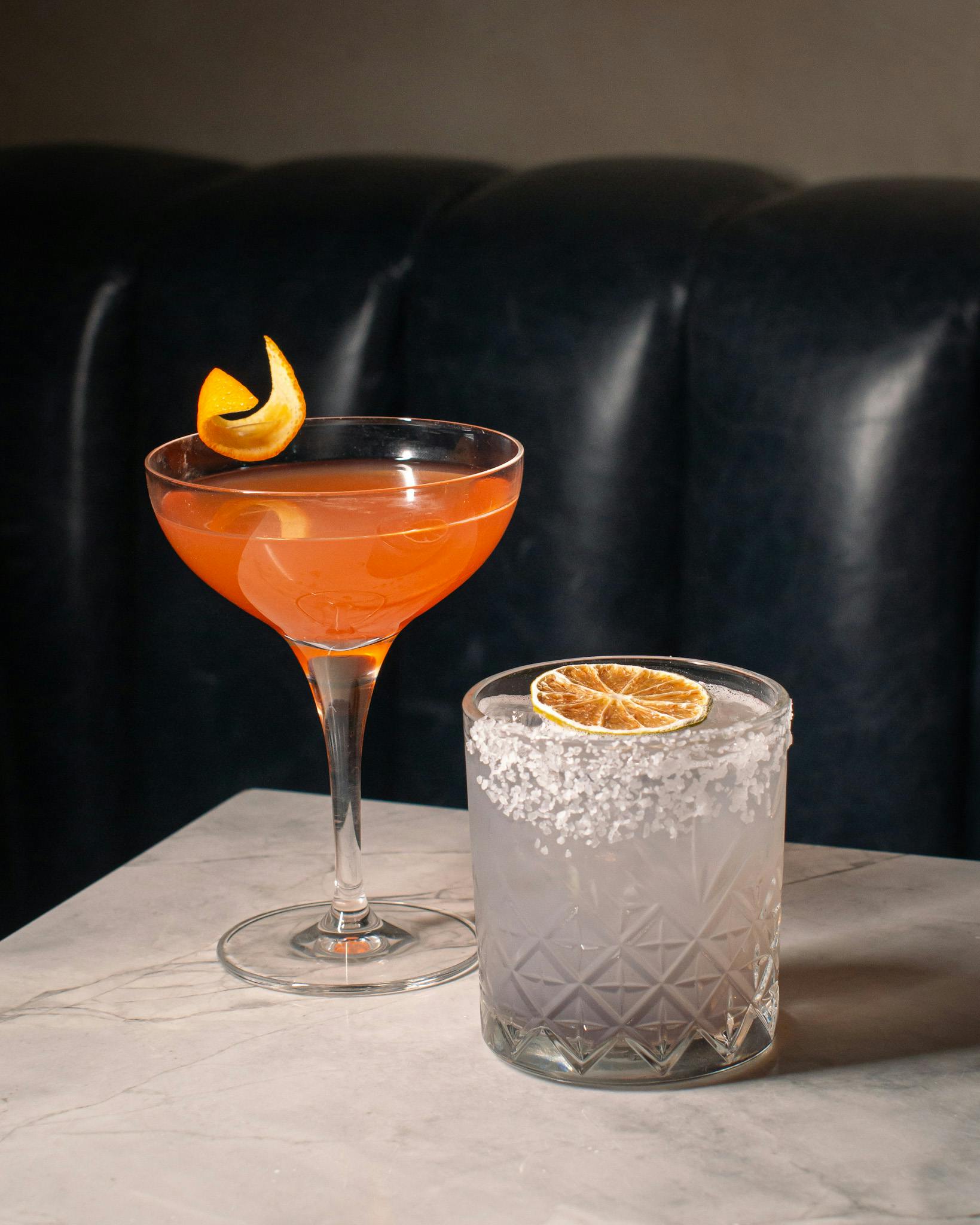 Rounding out the cocktail menu are Lobby's top-secret twists on a Paper Plane and the Purple Margarita. The Paper Plane is the ideal drink of choice for those who don't like the boozy taste of whiskey, as the fruitiness and sweetness from the Amari make it go down nice and easy.
The Margarita -- garnished with a de-hydrated orange and salted rim -- is sweet and spicy, with a hint of tartness to finish it off. If cocktails aren't your thing, Lobby also has beer on tap, a selection of cans (like Guinness, Ace Hill Mexican Lager and Negra Modelo), and a wide variety of international reds, whites, rosés and bubblys to tickle your fancy.
Lobby is located at 1032 Queen Street West and is open 6 p.m. to 11 p.m. Tuesday to Saturday, and 12 p.m. to 8 p.m. on Sundays. Reservations can be made on OpenTable, or by email. To book larger private events and special occasions, feel free to fill out the contact form on their website, and be sure to follow them on Instagram to keep up with their nightly events, and menu features.