Photographs by Keessa Lynch
In Spanish, the word manita possesses multiple meanings, all of which have a bearing, literal or lyrical, on Manita, the hybrid café-grocery-bar that occupies a coveted corner of Ossington's perennially hip strip.
Manita can refer to someone with great manual skill and dexterity, as in Manita's chefs, who deftly transform ubiquitous standbys – breakfast sandwiches, burgers, carrot cake – into love-at-first-taste originals.
Manita is also the affectionate diminutive of hermanita, "little sister," which alludes to the fact that co-owners, Colin Tooke and Ian McGrenaghan of Grand Electric fame, have already gestated several older (more rambunctious) siblings, (a couple of them, Electric Mud BBQ and Tacos Rico, no longer with us).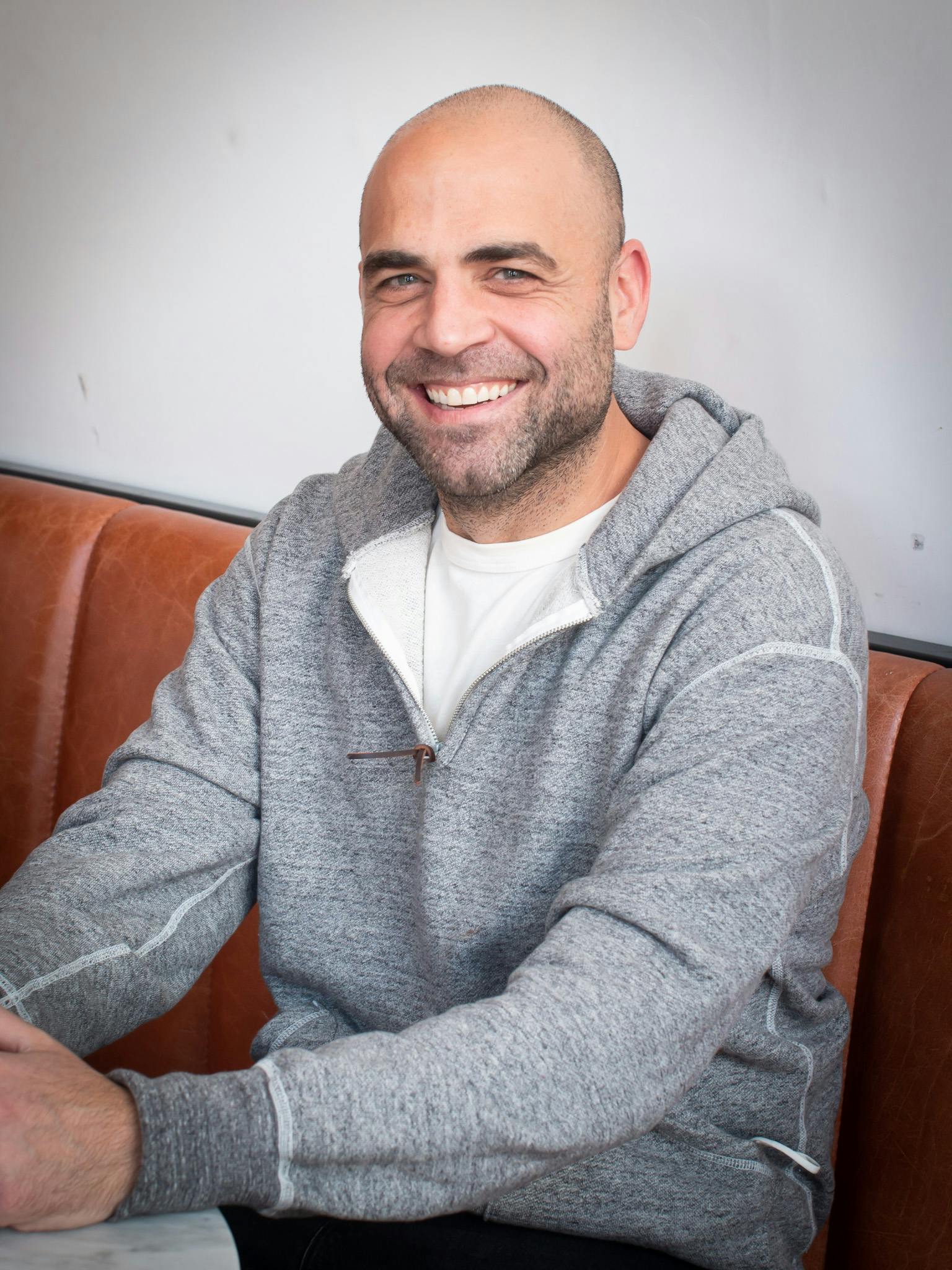 Manita co-owner Sam Lipson.
But for third co-owner, Sam Lipson, Manita is the ideal name for this restaurant – his first – for the simple reason that it sounds good. With an emphasis on "simple."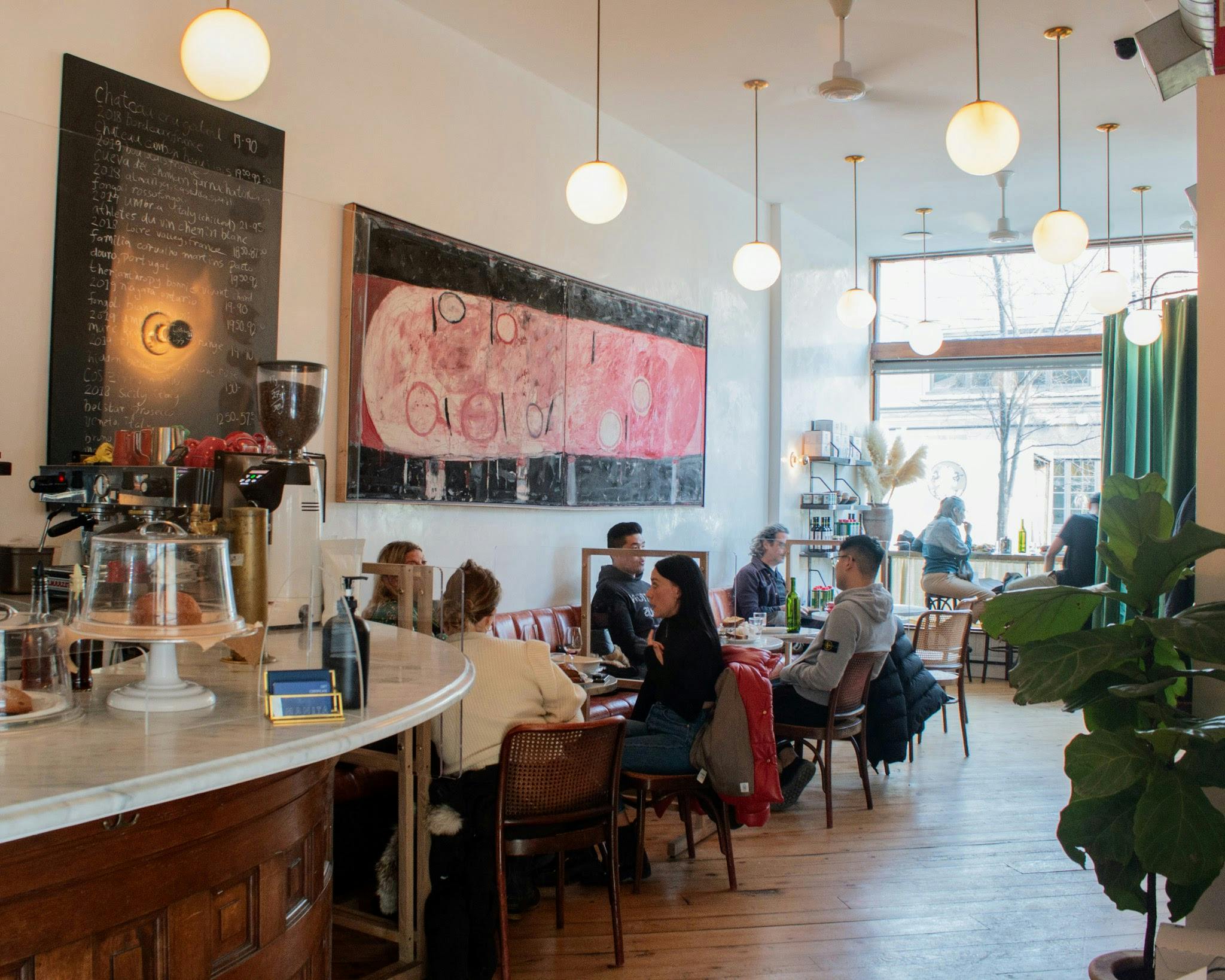 From all-day breakfast through late lunch and afternoon coffee on into happy hour, simplicity reigns at Manita – albeit with a certain European élan. It hits you, or rather embraces you, immediately upon entering the long sprawl of a dining area. Beneath your feet, the rustic, wood plank floors feel as solid as a rural Ontario barn. But the burnished cane chairs and bar stools, the gleaming round marble tables, conjure Old World café culture in all its let's-nurse-this-cappuccino-for-a-few-hours languor.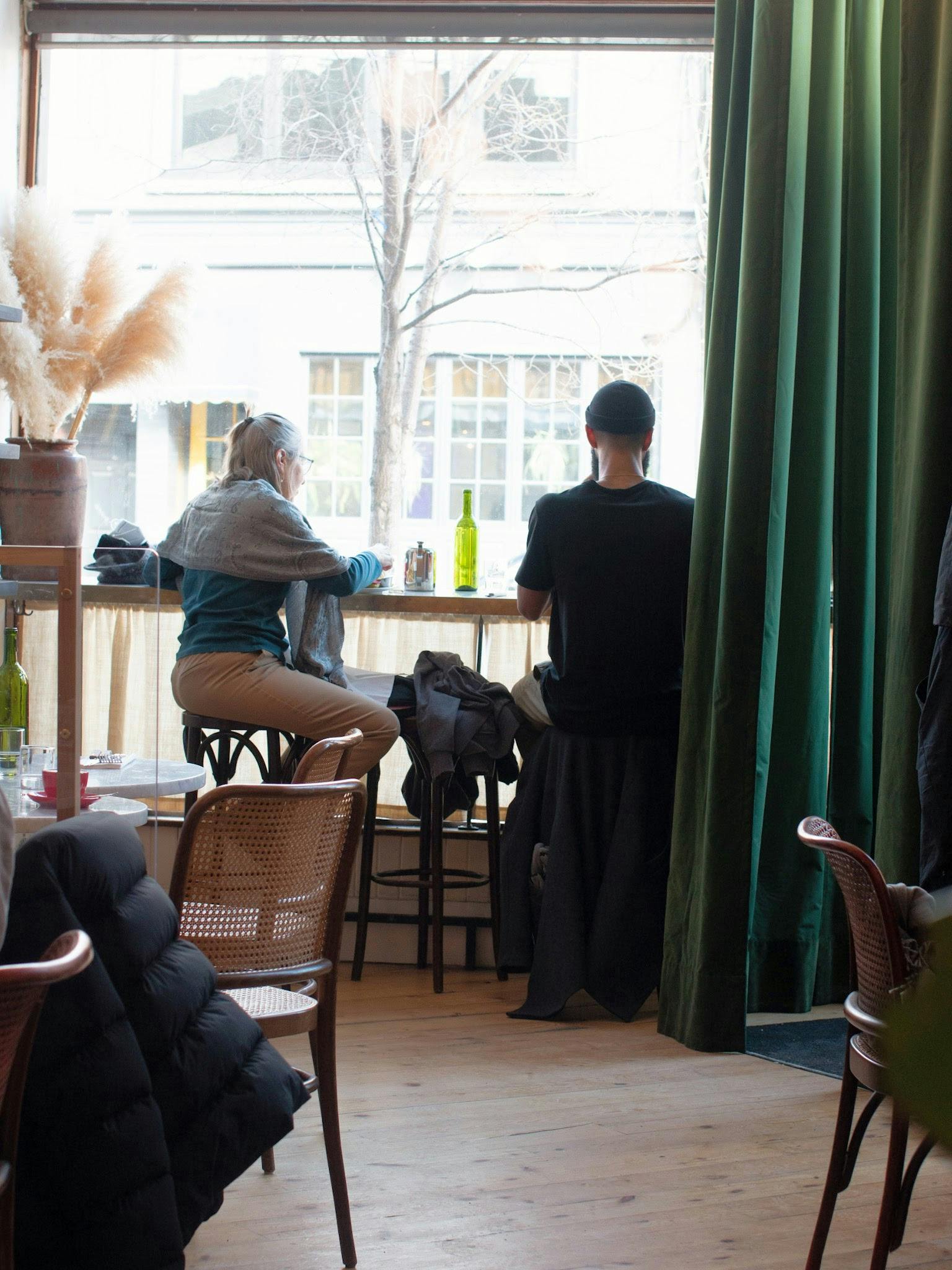 In warm weather, the cafe vibe waxes more intense at the sidewalk patio on Rolyat Street. But even on chilly days, thanks to sky-high ceilings, the soaring picture windows overlooking Ossington beckon indoor diners to enjoy the parade of passersby.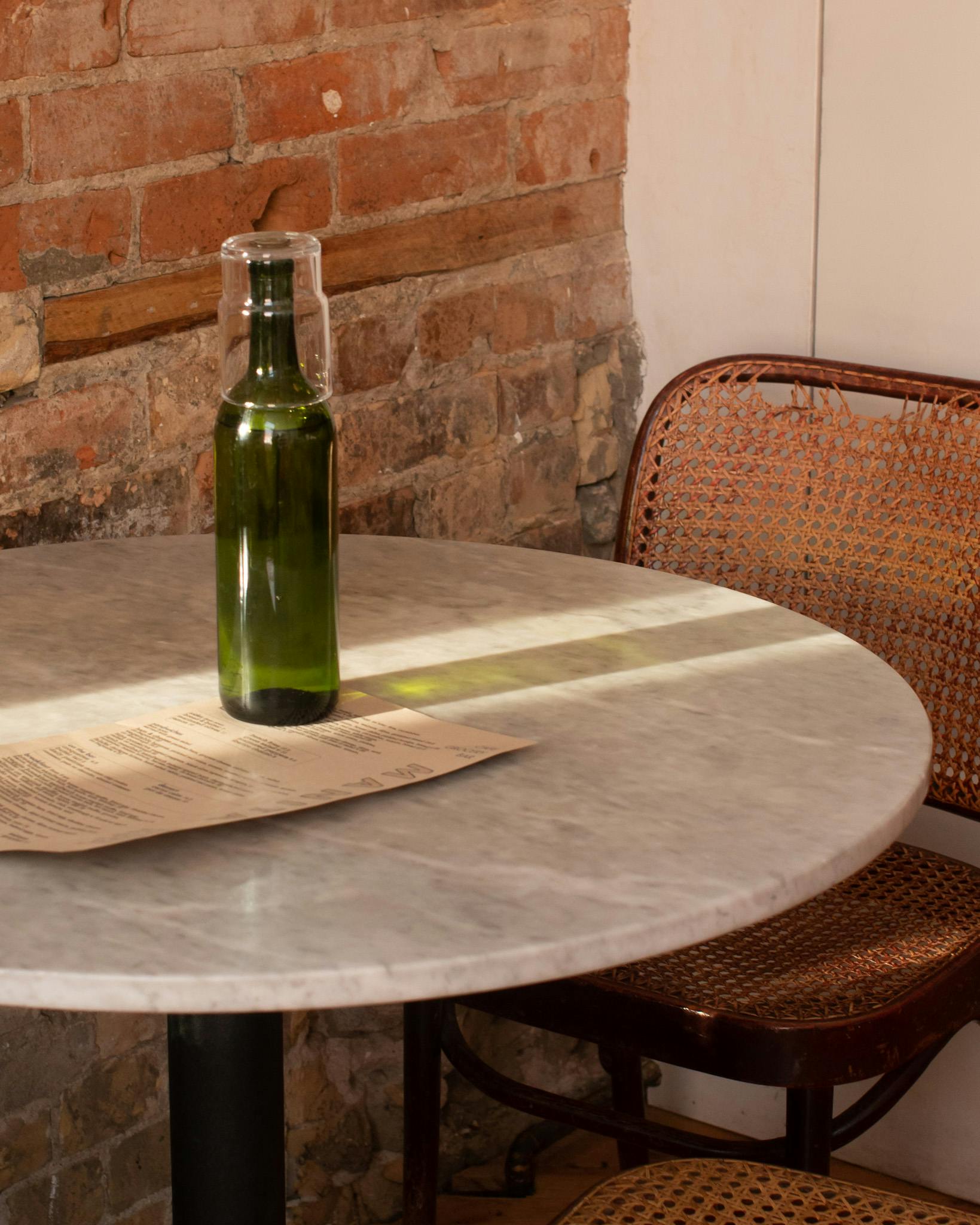 When deciding how and what they wanted Manita to be, Tooke, McGrenagh and Lipson drew on favourite feel-good places they'd haunted over the years in California and Europe. "It was important that it be a place where people could chill out, and enjoy food that isn't stuffy," recalls Lipson. "We wanted it to be a favourite neighbourhood place where you wouldn't just drop in once every few months, but maybe once a week."
Opening at outset of the pandemic put Manita's raison d'être to an early test. With restrictions on dining and travel, it was the restaurant's neighbours who kept the place alive. When they couldn't dine-in with social distancing, they adopted it as their go-to for takeout. Indeed, word of mouth was integral to the restaurant's initial growth. Says Lipson, "Our neighbours have really supported us through thick and thin."
At Manita, it's fairly common to hear friendly waitstaff greet regulars by name when they part the chartreuse curtains that frame the front door and step inside for an order of "the usual".
From a culinary perspective, "the usual" doesn't adhere to any given style, ideology or influence. Instead, the menu is freewheelingly organized according to the type, size and nature of customers' cravings. All-day breakfast items merge effortlessly with sandwiches and plates, both individual and shareable. Savoury sides and sweets desserts are meant for all-day nibbling.
As they did with the décor and ambience, when curating the menu, the partners focused on satisfyingly no-nonsense items they themselves liked to eat. Embracing a robust Spanish tortilla, a gooey croque madame, parm and caper-spiked lemon spaghetti, and crunchy tahini-drizzled falafel, Manita's eclectic menu offerings are, in the words of Lipson, best summed up as "Mediterranean-esque."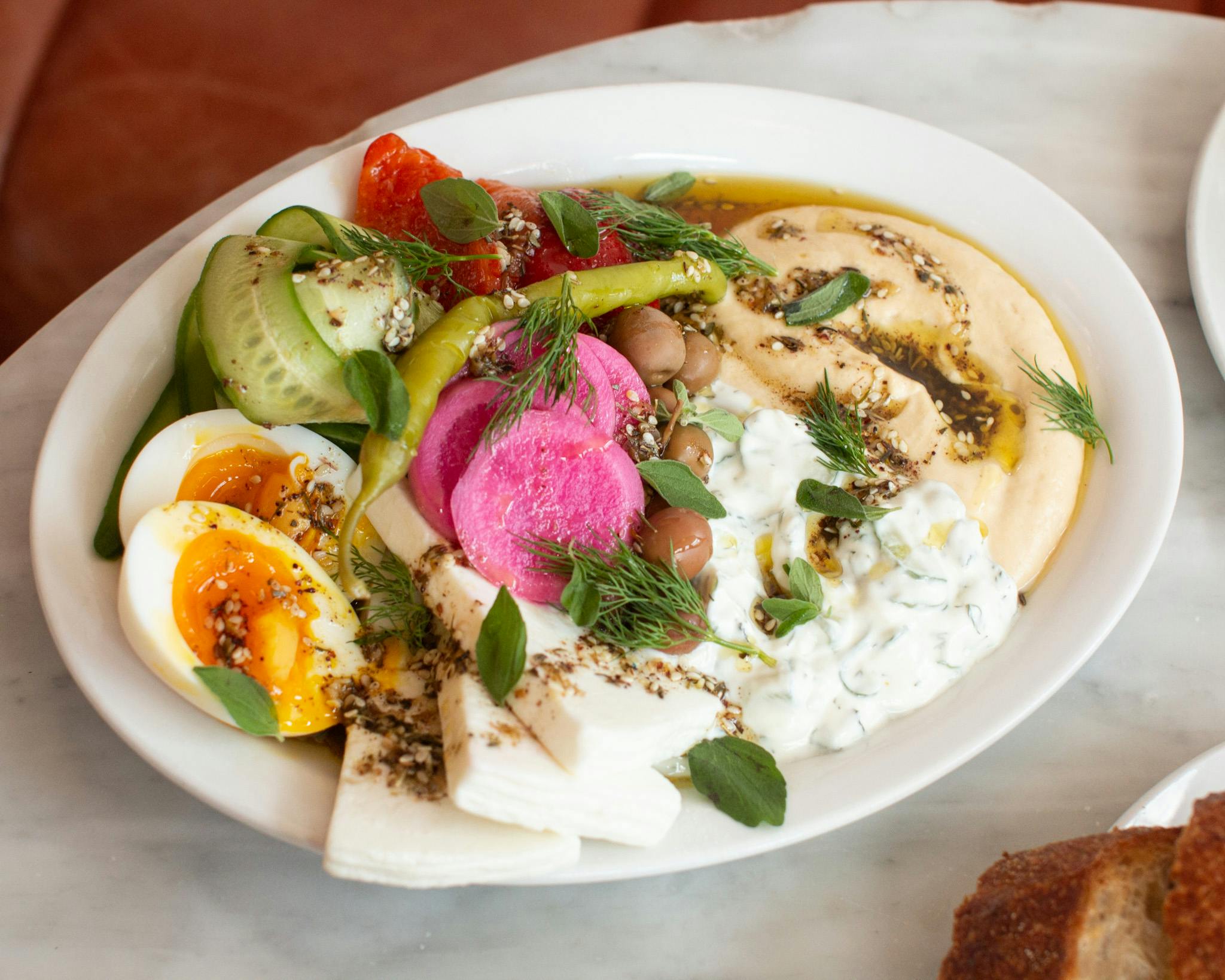 Fittingly, one of the most popular – not to mention photogenic – items the menu has going for it is the outrageously shareable Mediterranean plate. Halved boiled eggs, yolks saffron and trembling, share plate space with crisp fresh tomatoes and cucumber slices, pale pink pickled radishes, pearl-sized briny olives, roasted peppers and thick isosceles triangles of creamy goat feta sourced from local Cross Wind farm, all liberally doused in a small storm of fresh mint and za'atar. The accompanying basket of generously sliced sourdough from Blackbird Bakery – which takes care of most of Manita's bread necessities – is essential for sponging up the rich hummus and dill-spiked tzatziki. The colourful proceedings are anointed with Frankies 457 Spuntino extra virgin olive oil, green bottles of which are for sale on the shelves that discretely, yet seductively line both walls.
Other Mediterranean options abound: harissa-spiked shakshukas and ricotta cavatellis, sides of glittering Moroccan olives and tender jamon. Without causing culinary clashes, they harmoniously share menu space with North American standards. Breakfast offerings, for example, include honest basics such as eggs (fried or scrambled), bacon and granola along with more singularly complex creations in sandwich form.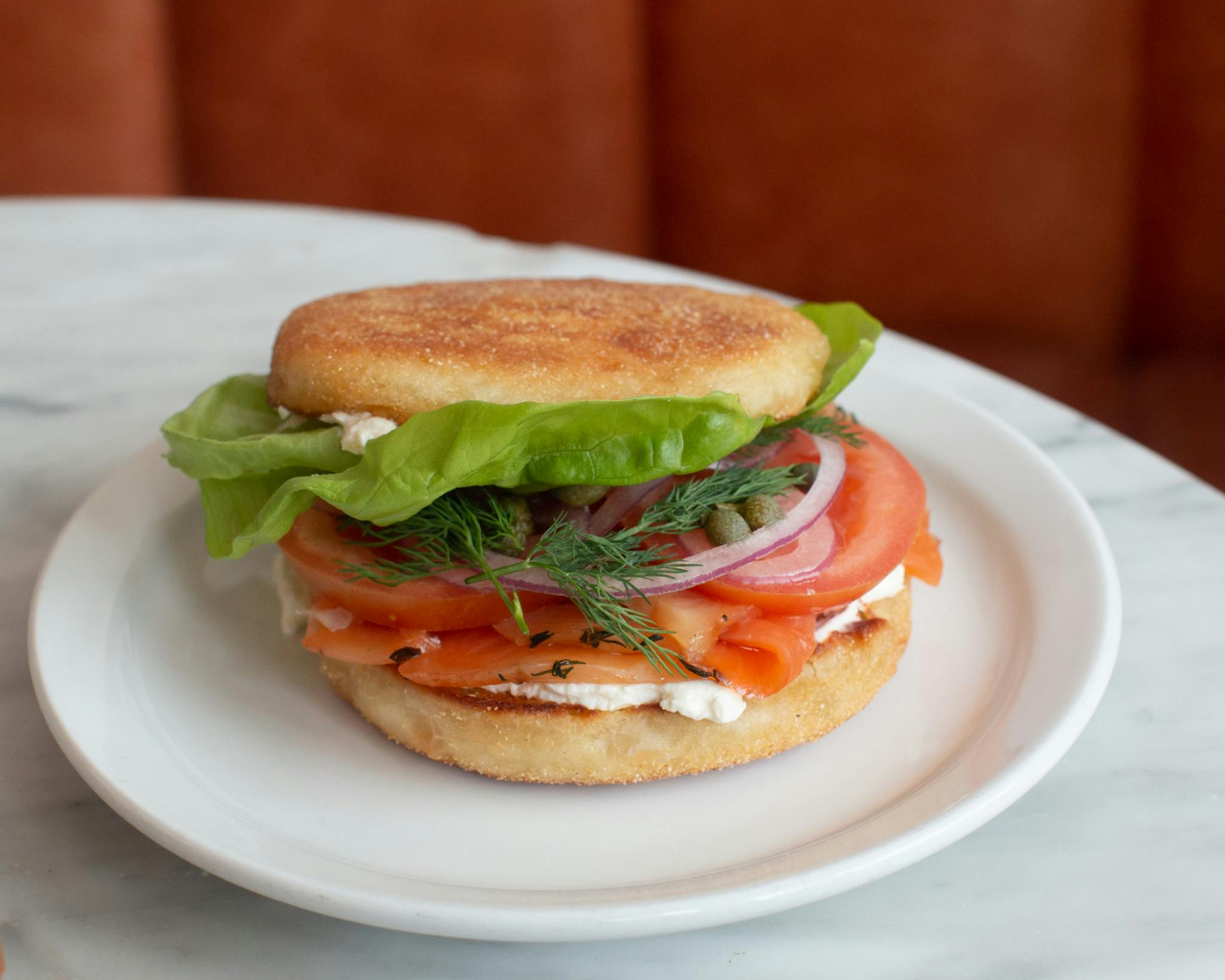 Manita's classic breakfast sandwich is a culinary balancing act in which a rich foundation of creamy cheddar, fried egg and smoky bacon is slyly undercut by a dark emerald layer of kale braised in red wine vinegar and topped with a saucy trio of aïoli, ketchup and hot sauce. Holding all these elements together is no mean feat, but the in-house English muffins, light and biscuity, are up to the task. They make an appearance in the vegetarian version of the sandwich, with avocado, as well as the lush salmon tartine, in which the marriage of smoked salmon and cream cheese is celebrated in style with a colourful confetti of fresh dill, tiny tangy capers, fragrant red onion and sliced tomato.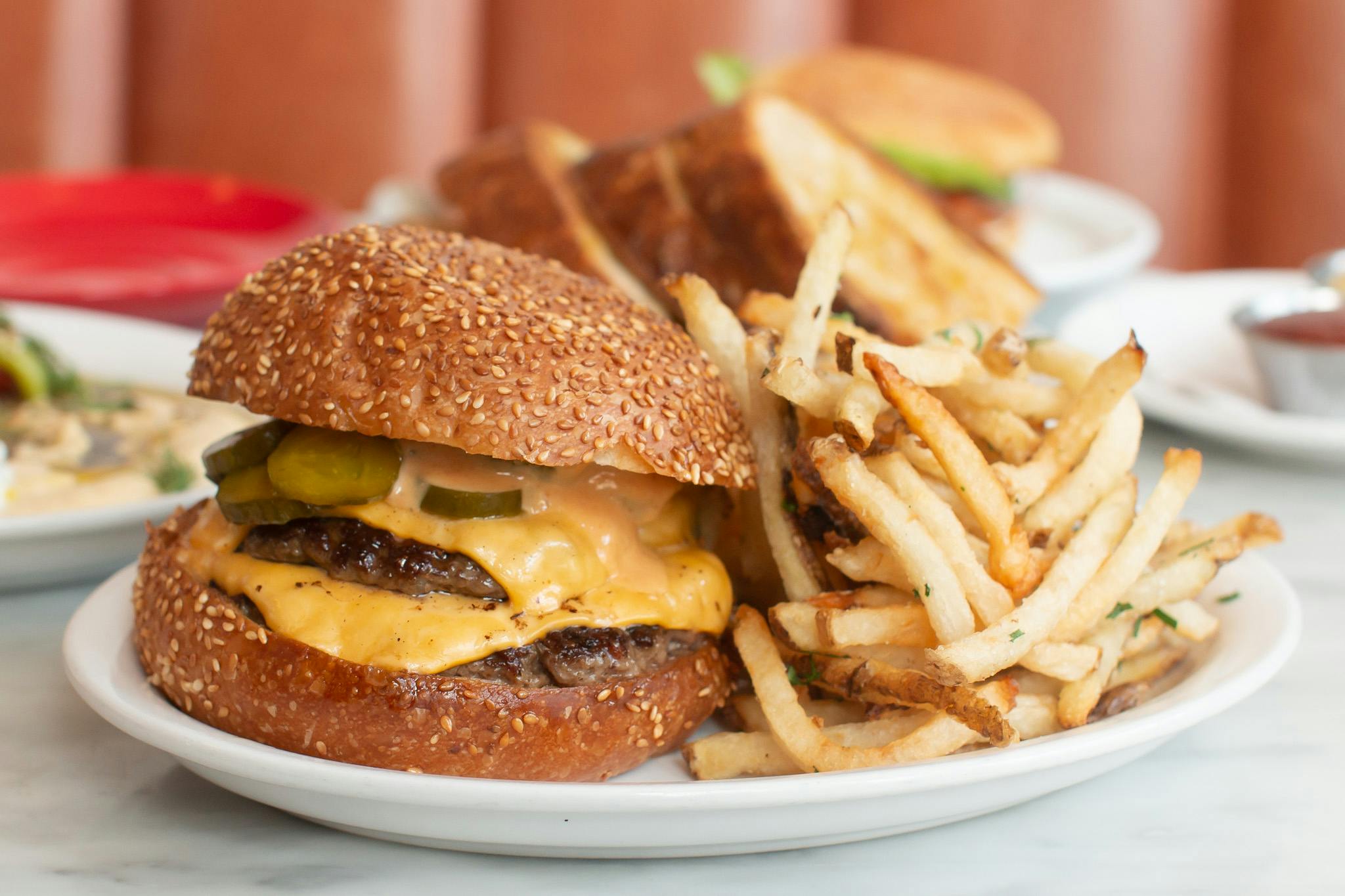 Perhaps the biggest break with all things "Mediterannean-esque" is Manita's cheeseburger, which the partners insisted upon for the simple fact that, without a burger, a neighbourhood joint is merely a joint. "In my opinion all burgers are amazing," declares Lipson. "But this one in particular is very detailed oriented, with all the classics redefined in a nice package."
With a fresh-off-the-backyard-barbecue sear, the juicy burger in question comes topped with a lava-like flow of American jack cheese, remoulade, and sweet crunchy pickles, all of which threaten to tumble out of the pillowy clutches of a toasted sesame bun. The mountain of fries on the side are impressively non-greasy and frighteningly addictive.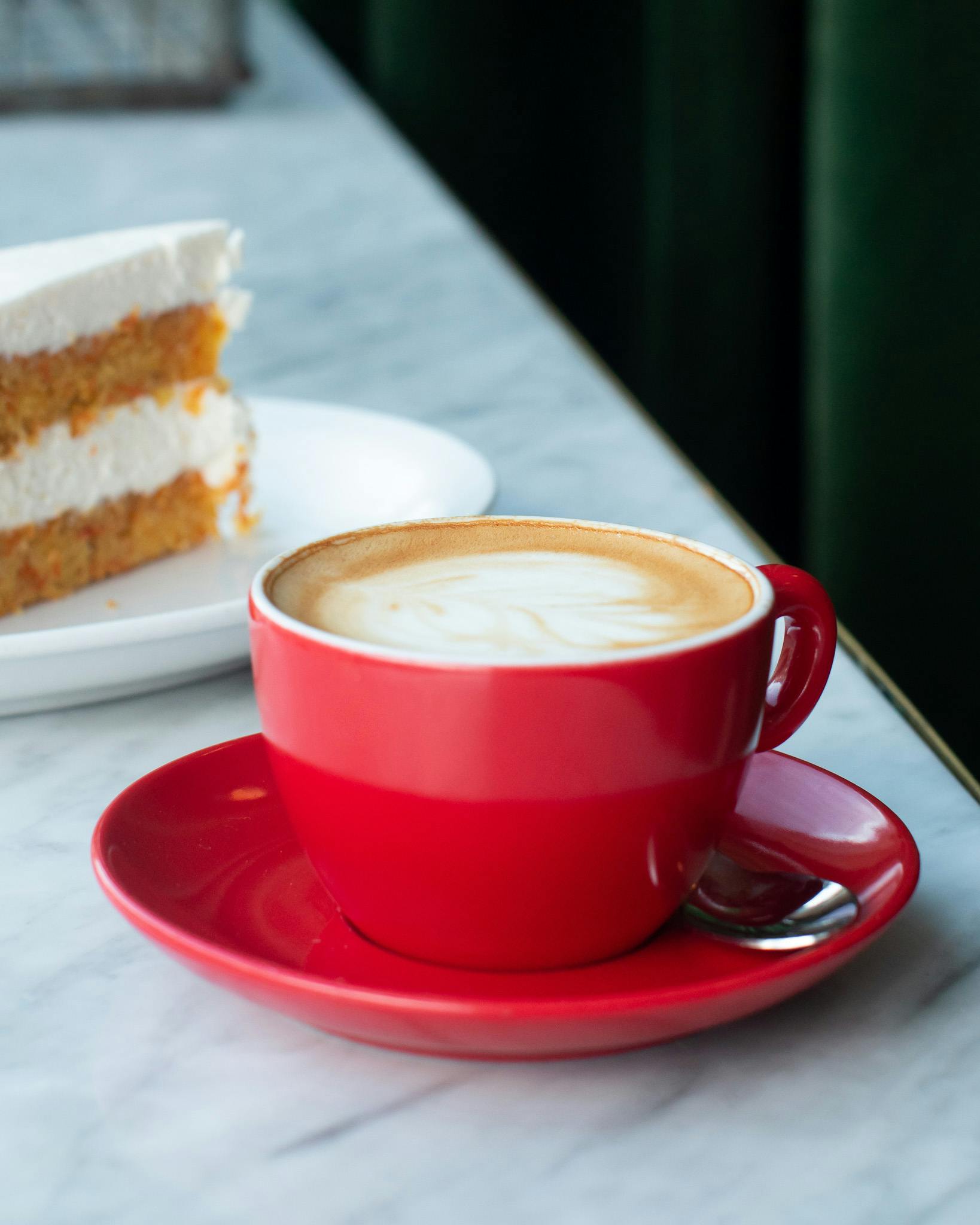 Aside from an assortment of daily pastries, including butter tarts and sea salt chocolate chip cookies, the dessert list is minimalist. It runs the textural gamut from a salted caramel pot de crème, crowned with whipped crème fraîche, to a moist, spongey carrot cake, infused with warm spices, and frosted with a mousse-like icing of cream cheese and whipped cream that's studded with chopped pecans for a nutty crunch.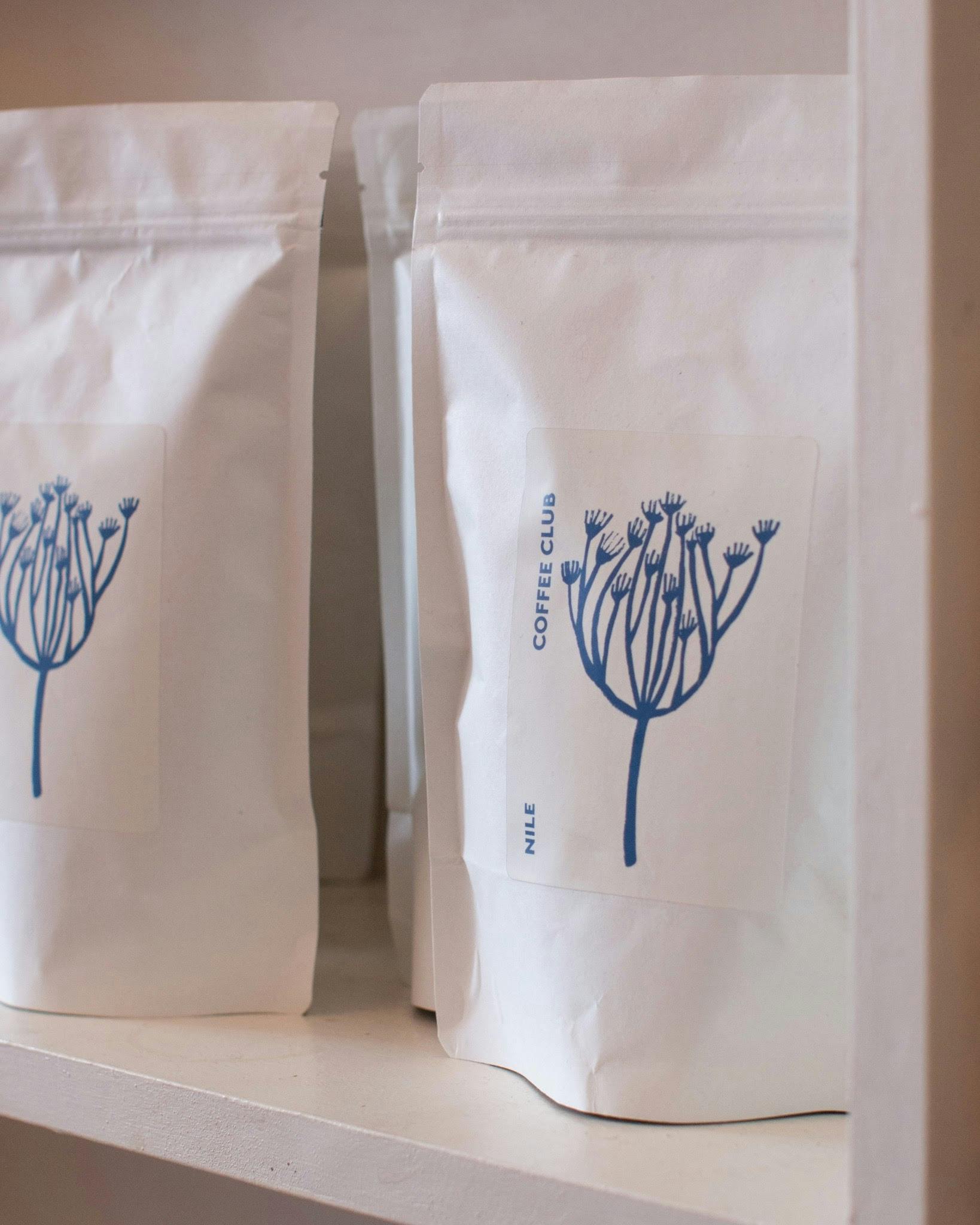 Sweet offerings such as these beg for the accompaniment of coffee. Manita has beggars well-covered with beans supplied by Nile Coffee Club, a start-up co-founded by musician and Manita barista, Jahmal Padmore, that creates aromatic blends sourced from the African diaspora. Froth-topped lattes and cappuccinos are served in cheery crockery.
Lipson emphasizes that customers are encouraged to while away as much time as they please at Manita's tables. "We have Wi-Fi and people are very welcome to bring their laptops," he says, stressing that the partners definitely aren't focused on "table turnover."
In addition to idling over coffee, customers can also dawdle over a range of bar drinks. Manita works with a local wine distributor that curates a small, constantly rotating selection of wines, with a strong emphasis on French and Italian vintages. Among them is the house Prosecco, Belstar, used to make the breakfast-friendly mimosas.
Other cocktails include a dark 'n stormy, made with 12-year-old rum, and the Manita G&T with Sipsmith artisanal gin and Fever Tree tonic. The beer list is similarly tight yet malleable. Toronto-based Burdock is a favourite and Lipson is adamant that there always be both a lager and an ale on tap.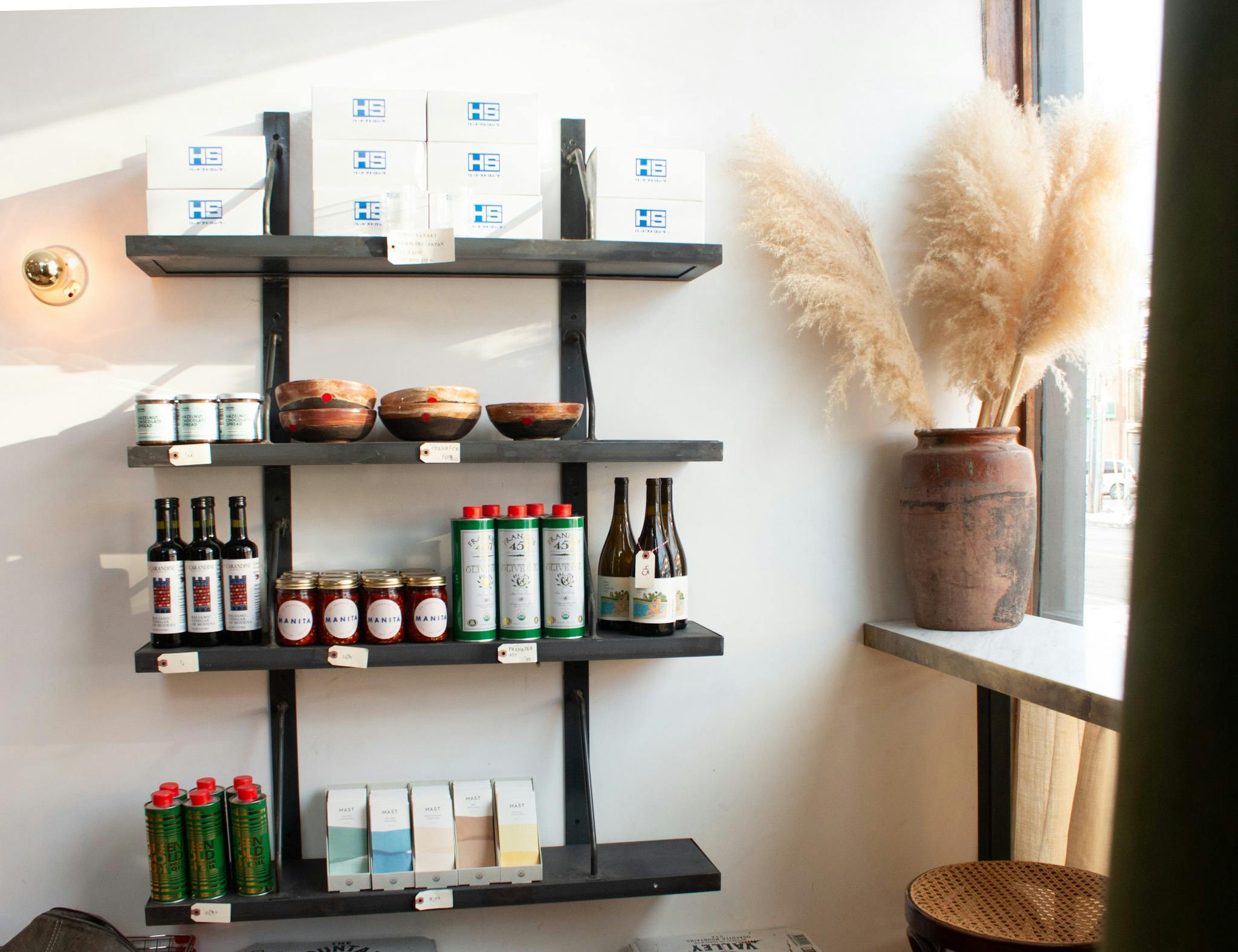 For those with less time for lingering, Manita has takeout service. There are also all the shelves plied with an eclectic and appetizing assortment of edible, drinkable, cookable and servable products. Some of these – such as the bags of granola or mason jars of roasted peppers, preserved chilies and seeded honey – are prepared in-house. Others, such as the wines, Frankies 457 extra virgin olive oil and Nile Coffee Club's Diaspora Blend, a fusion of Ethiopian and Brazilian beans, are rare treasures, difficult to come by in Toronto.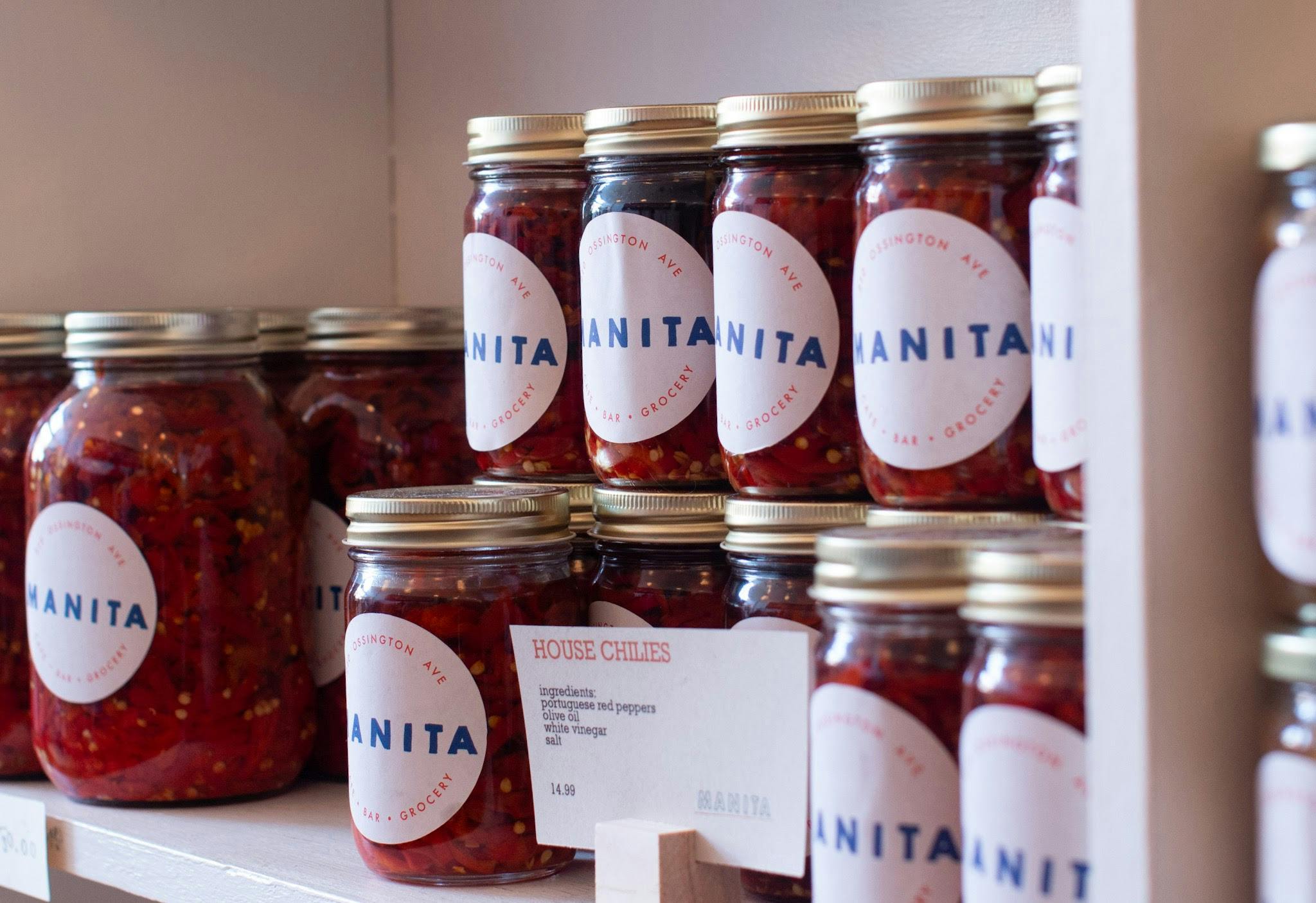 If the grocery shelves resemble a kitchen pantry, it's because the chefs use it as such due to limited storage space. This not only means that customers can see the ingredients they're eating – and eating out of, in the case of Solem ceramic bowls and Toyo-Sasaki glass tumblers – but can wrap them up and carry them home as well. At Manita, the age-old adage "You can't take it with you," happily doesn't apply.
Manita is currently open Monday-Saturday, 9 a.m.-5 p.m. No reservations. Takeout and delivery are available. Check out their Instagram feed for updates, novelties and rotating specials.