Photographs by Larry Heng
Escape busy city life and venture off to Mykonos for an evening thanks to the newest addition to the King West neighbourhood. Located just off the main strip with their entrance on Brant Street, Myth is brought to life by the same team who created The Citizen nightclub in that same pre-pandemic space.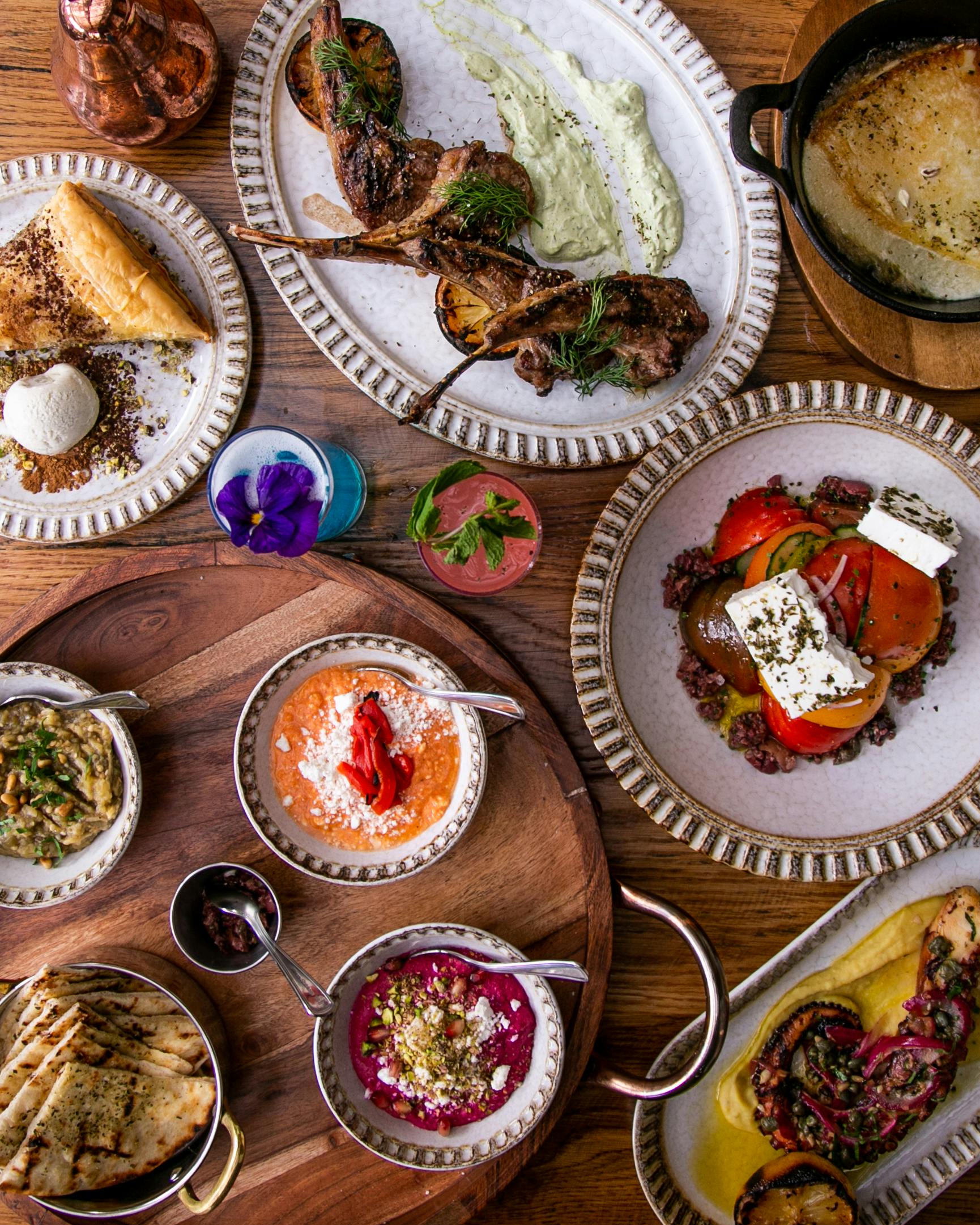 This new venture aims to transport you to being seaside in Mykonos, from food to interior design, and the name may sound familiar. Founder and CEO of UNIQ Hospitality Group, John Tsoumaris' entrance into hospitality began on the Danforth with the landmark hotspot Myth in 1994. At the time, Greek restaurants in the area were tavern-style, and he introduced a more modern take on Mediterranean cuisine, ultimately bringing the neighbourhood to life with a fusion of mezze dining, music and art. 
The creators of Myth are excited to share this new experience of Myth, now resurrected, that's deeply connected to their roots with legendary Greek hospitality.
"The vision behind Myth is to redefine the synchronicity of food, culture, ambience, and celebration, which is in true Greek fashion," says Matty Uniq, co-owner of Myth.
The Space: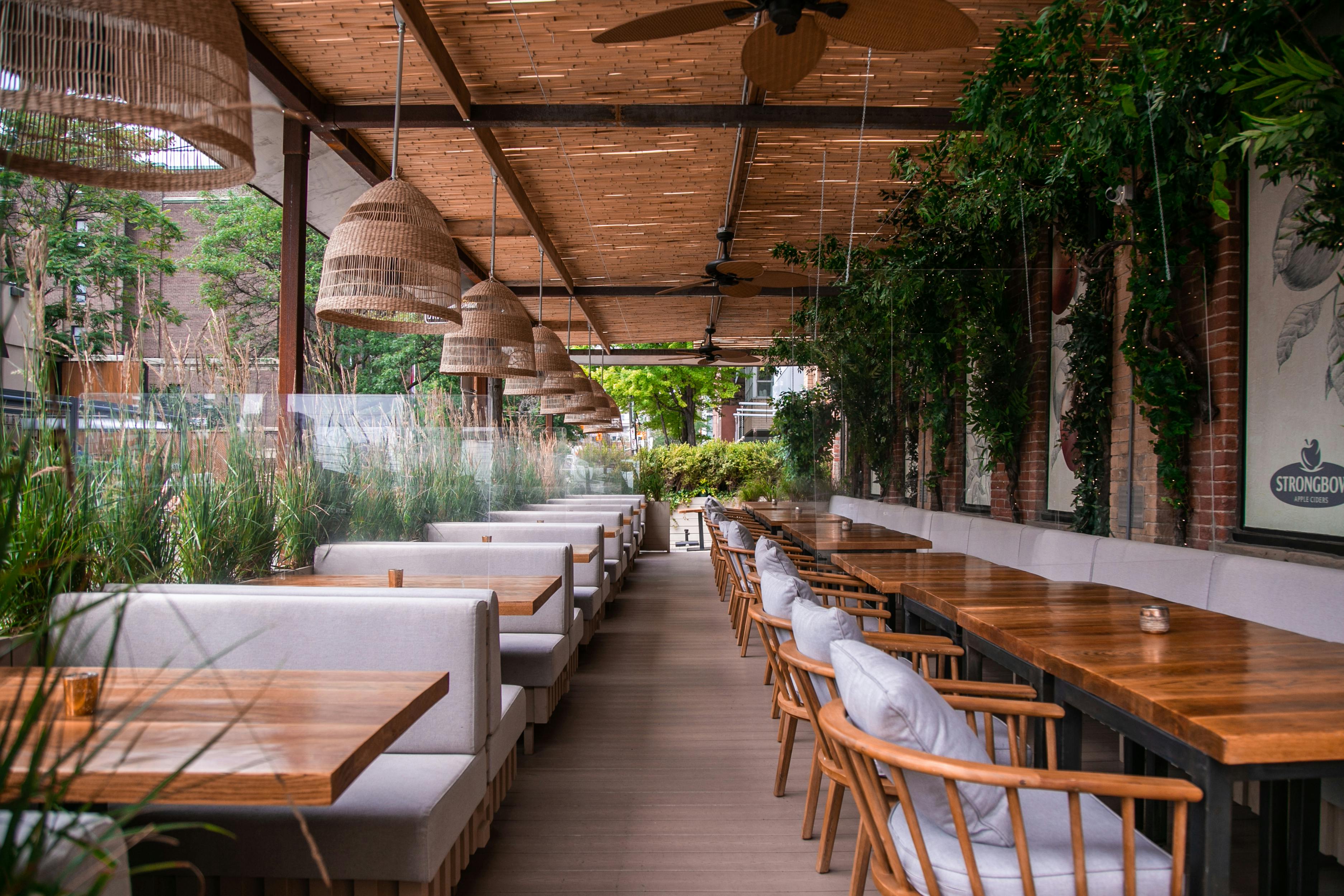 First, opening their patio to the public a couple of weeks ago, the relaxing outdoor space is filled with greenery, wooden details and handwoven lampshades made in Tulum, Mexico. Their location just off of King Street allows the space to still remain secluded, separate from the hectic nature of city life just around the corner.
Seating 35 guests, there's also an even smaller hidden back patio space that seats 21. While the restaurant's exterior makes you feel like you're on vacation by the sea, the interior is also designed to amaze, dominantly through the homage it pays to Greek history.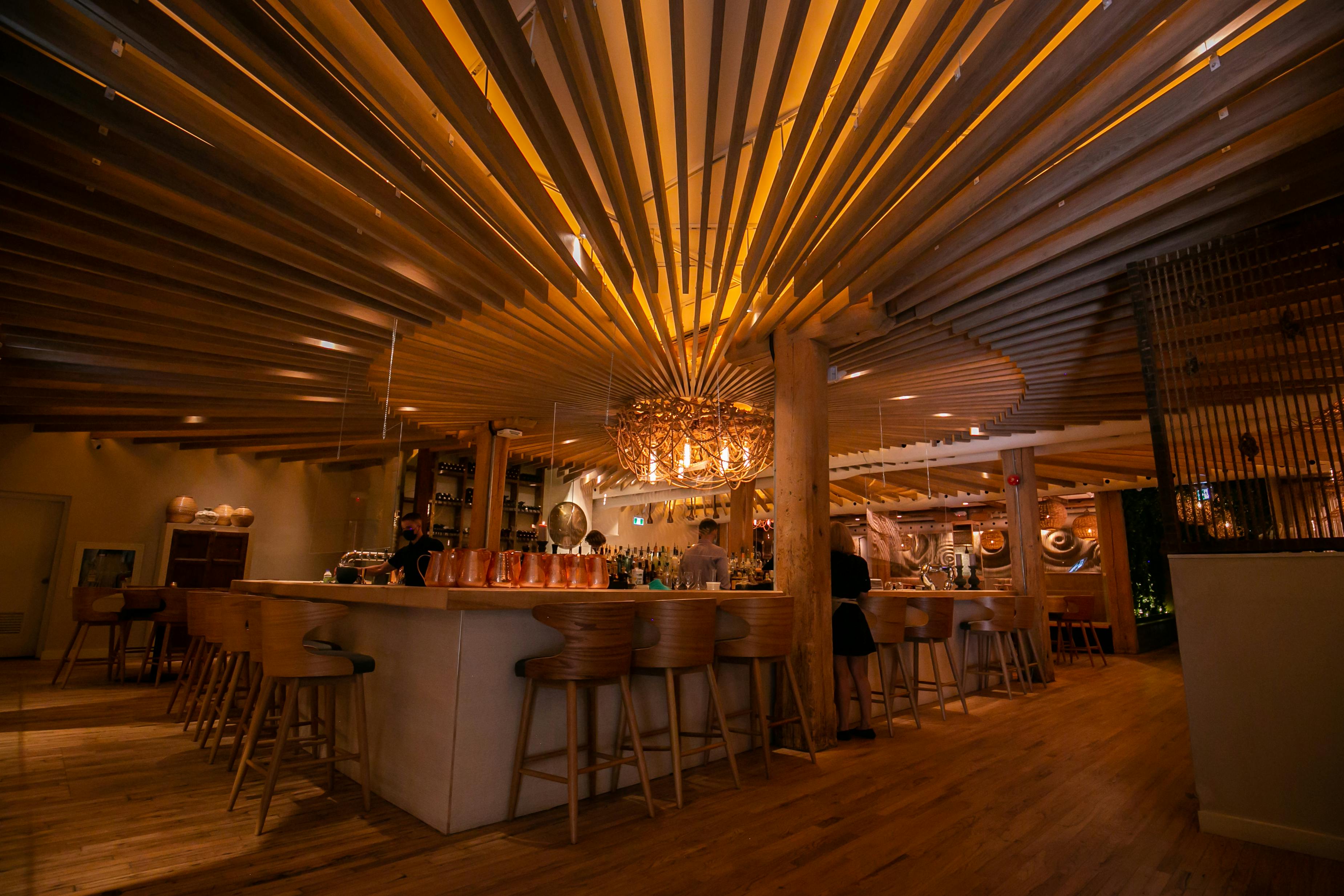 Step inside and be prepared to be mesmerized by the 5,000 square foot space that seats 150 guests -- filled with items reflecting the core of Greek culture, from the walls to the ceilings. Every inch of the building was carefully crafted for months to reference Greek history in many ways and the owner's specific ties to the region.
Upon entry, the immediate eye-catcher is the sunburst ceiling that the owners say replicates the amber sunset travellers of the Aegean love.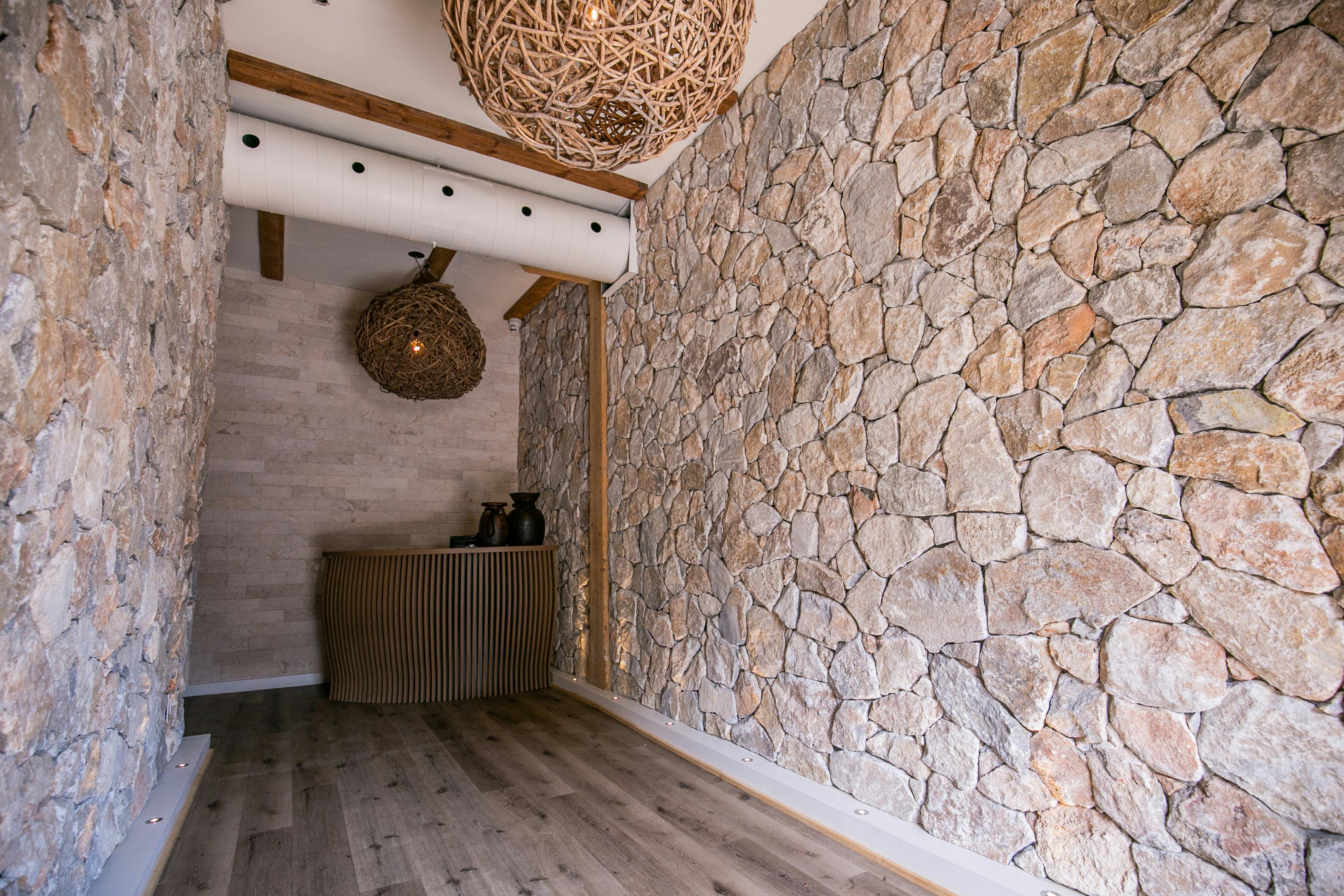 Speaking of entry, as you make your way inside the space, take note of the beautiful stone walls surrounding you, as each rock was brought in from Thessaloniki, the second-largest city in Greece.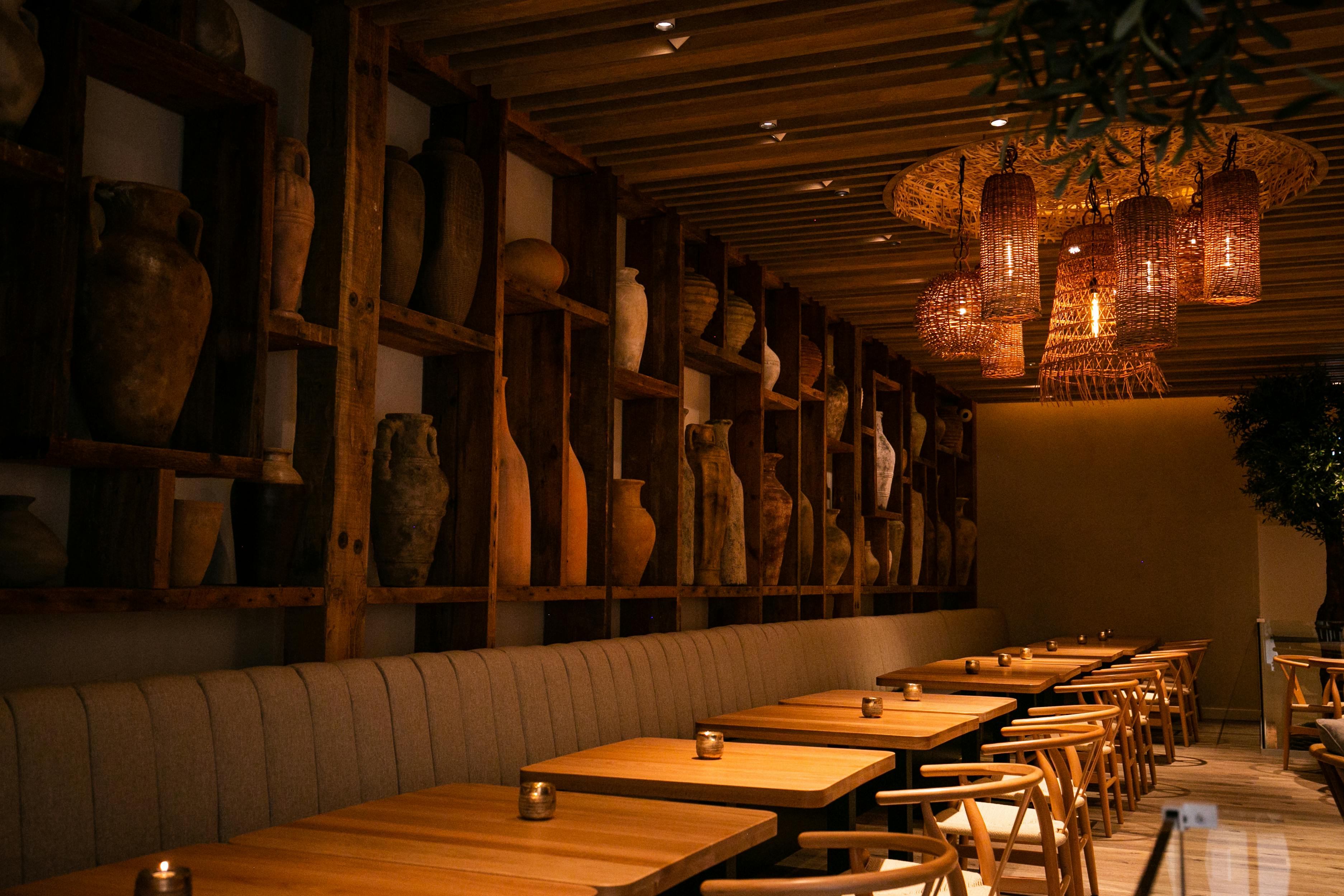 There's also a wall dedicated to housing pottery from Greece, with vases being a significant symbol in Greek history due to their frequent use as vessels for purposes such as storing and transporting goods.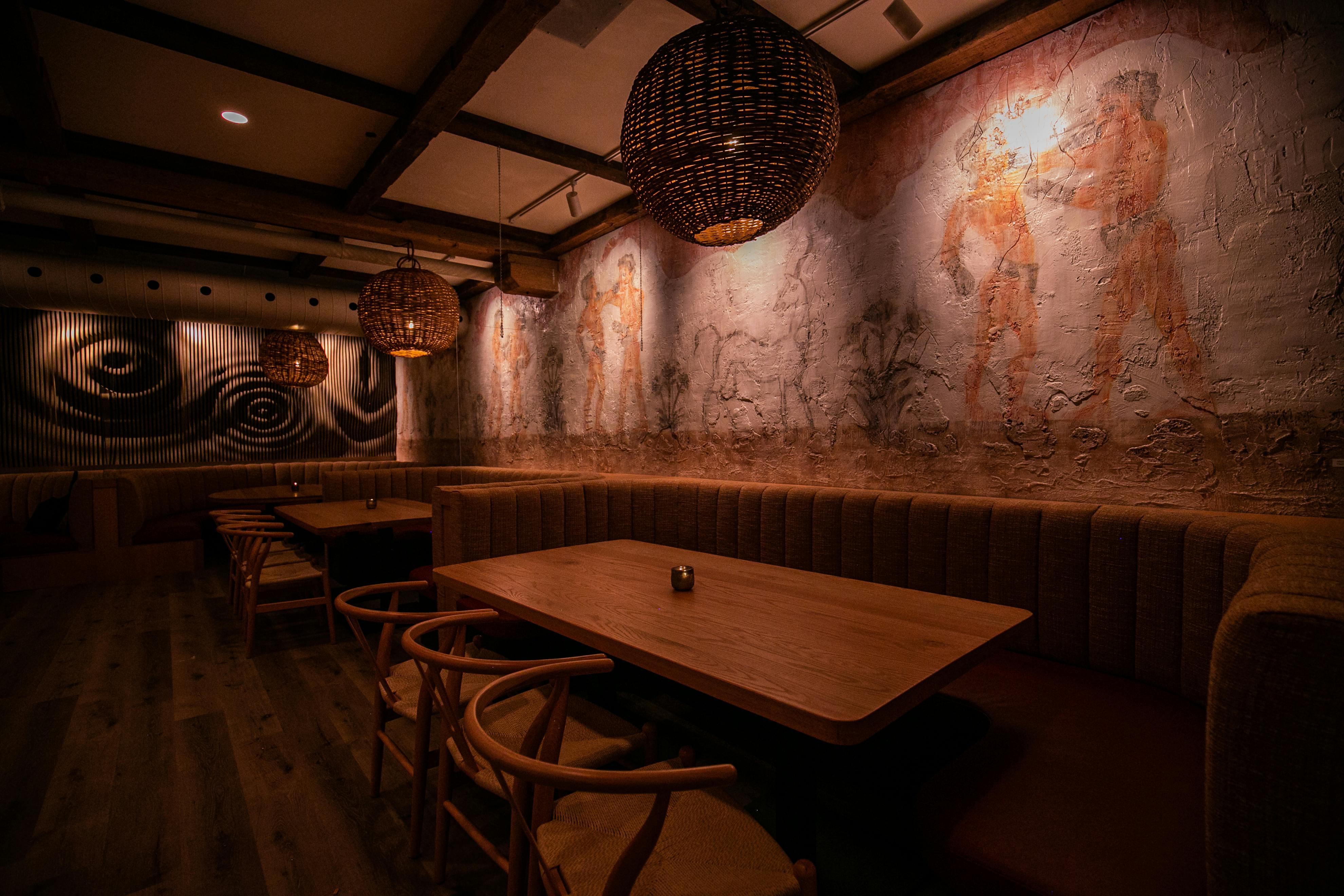 Further into the space, take time to appreciate the large mural painted across the walls of two young boys boxing. Just like elements within the rest of the dining room, this mural pays homage to Greek history as it is a replica of work found underwater in Santorini in 1967 known as, "The Akrotiri Boxer Fresco" which actually dates back to 17000 BCE.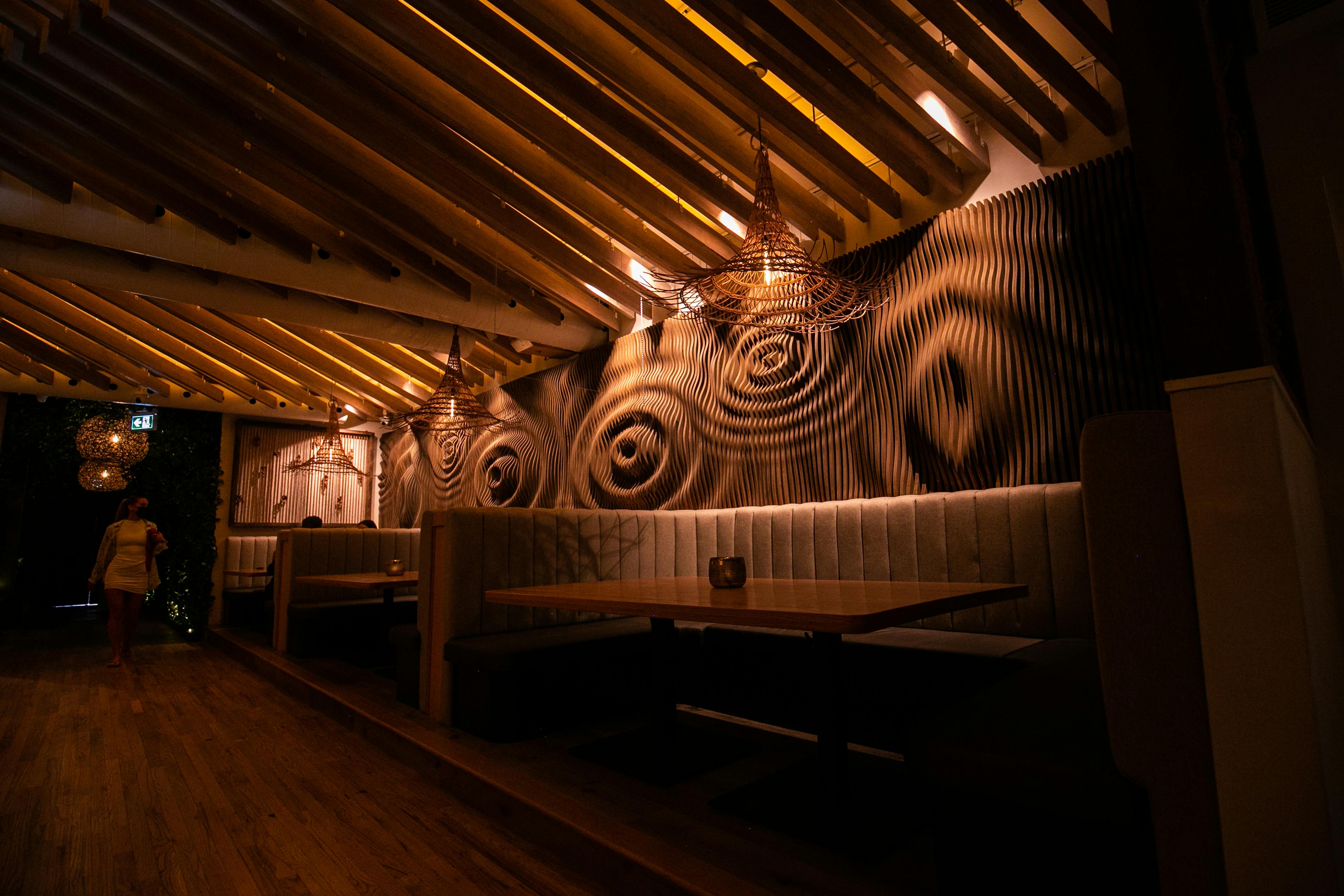 The Food:
Showcasing traditional dishes touching upon authentic Aegean flavours in a modern way, you'll find many Greek classics on the menu with ingredients like their olive oil imported right from the Mediterranean. A menu curated with co-executive chefs Sergio Abrunho formerly of Chiado and Lil Baci Taverna and Tulio Lessa, formerly of The Citizen and Mata Pestico Bar boasts a list of mezes and mains both crafted to be great dishes for sharing with everyone at the table.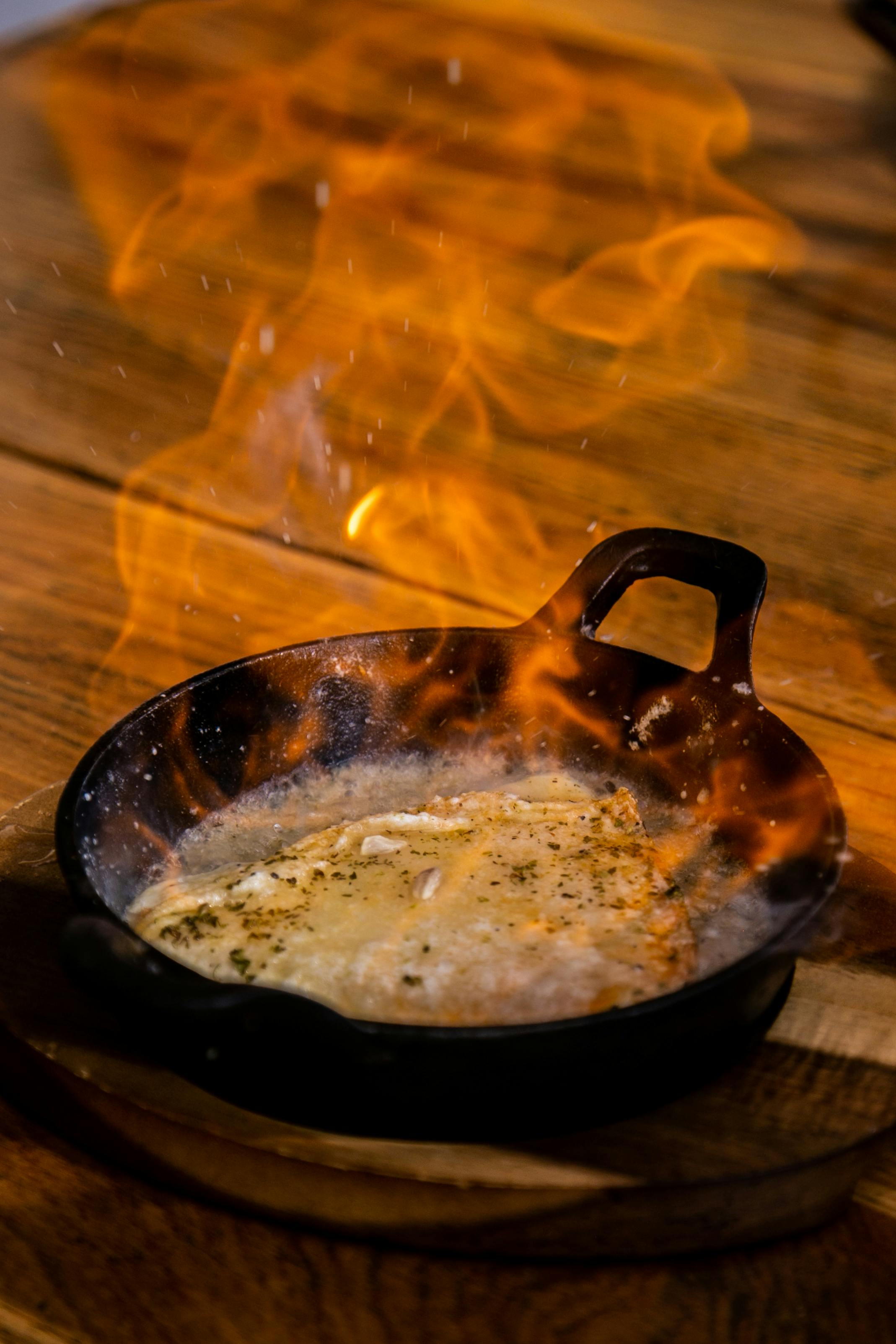 The Flaming Saganaki is a fun and classic dish, bringing on the flavour and entertainment value too as it's flambéed table-side right in front of you, after being coated in a shot of Ouzo. Once the flames die down, thanks to the help of some fresh lemon juice, you'll be able to enjoy an intense kefalograviera cheese that's crispy on the top and melted within, imported from Greece and seasoned with grilled lemon and oregano.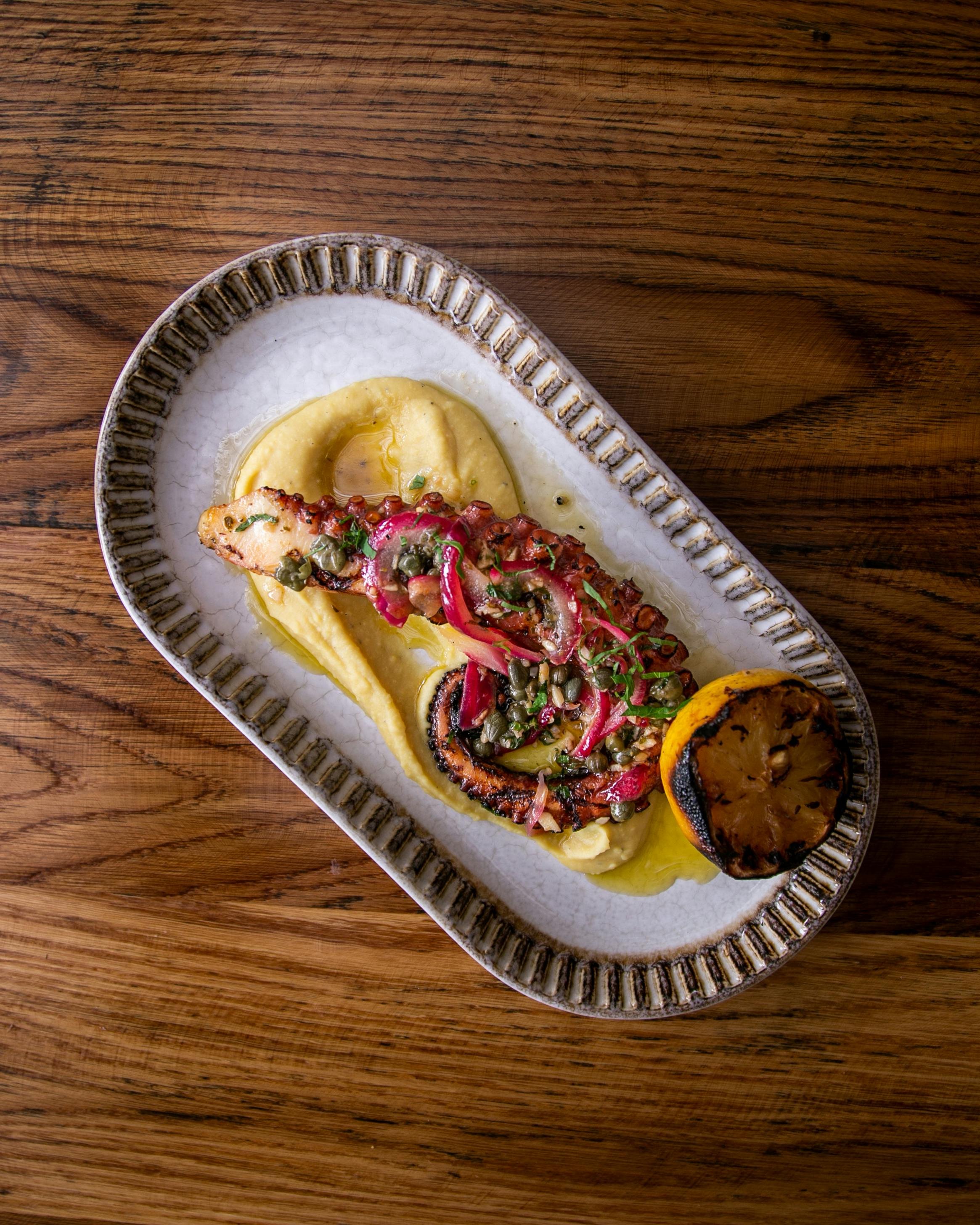 For a hearty seafood option, the Xtapodi Sti Skara is a grilled octopus tentacle on top of puréed fava beans from Santorini, complemented by capers, red onions and a grilled lemon, dressed in extra virgin olive oil.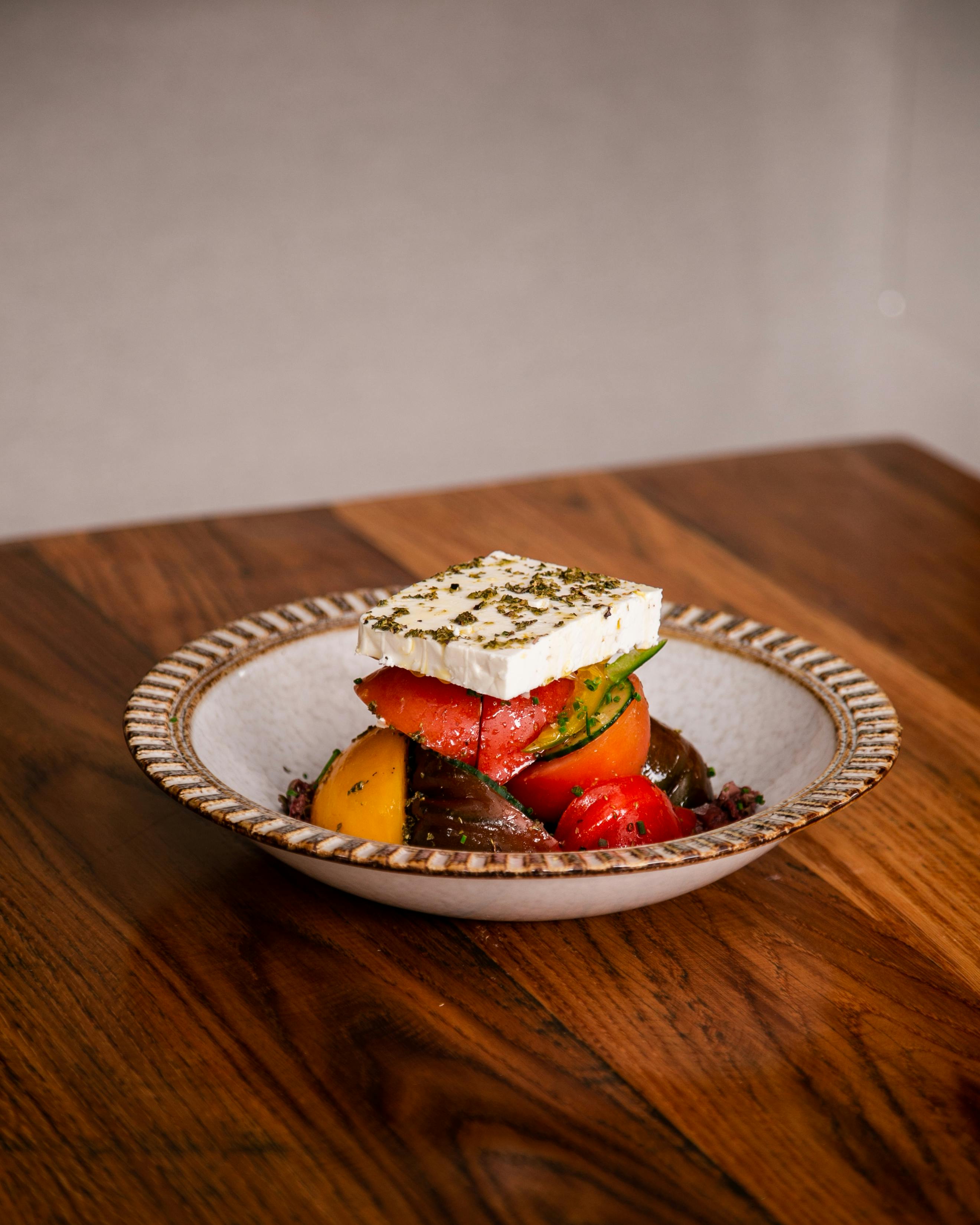 The Horiatiki Salata, otherwise known as the classic Greek Village Salad, comes with a thick block of feta cheese coated in oregano, which sits above a tower of tomatoes, cucumber, bell peppers, red onions and kalamata olives, resulting in a light and refreshing plate.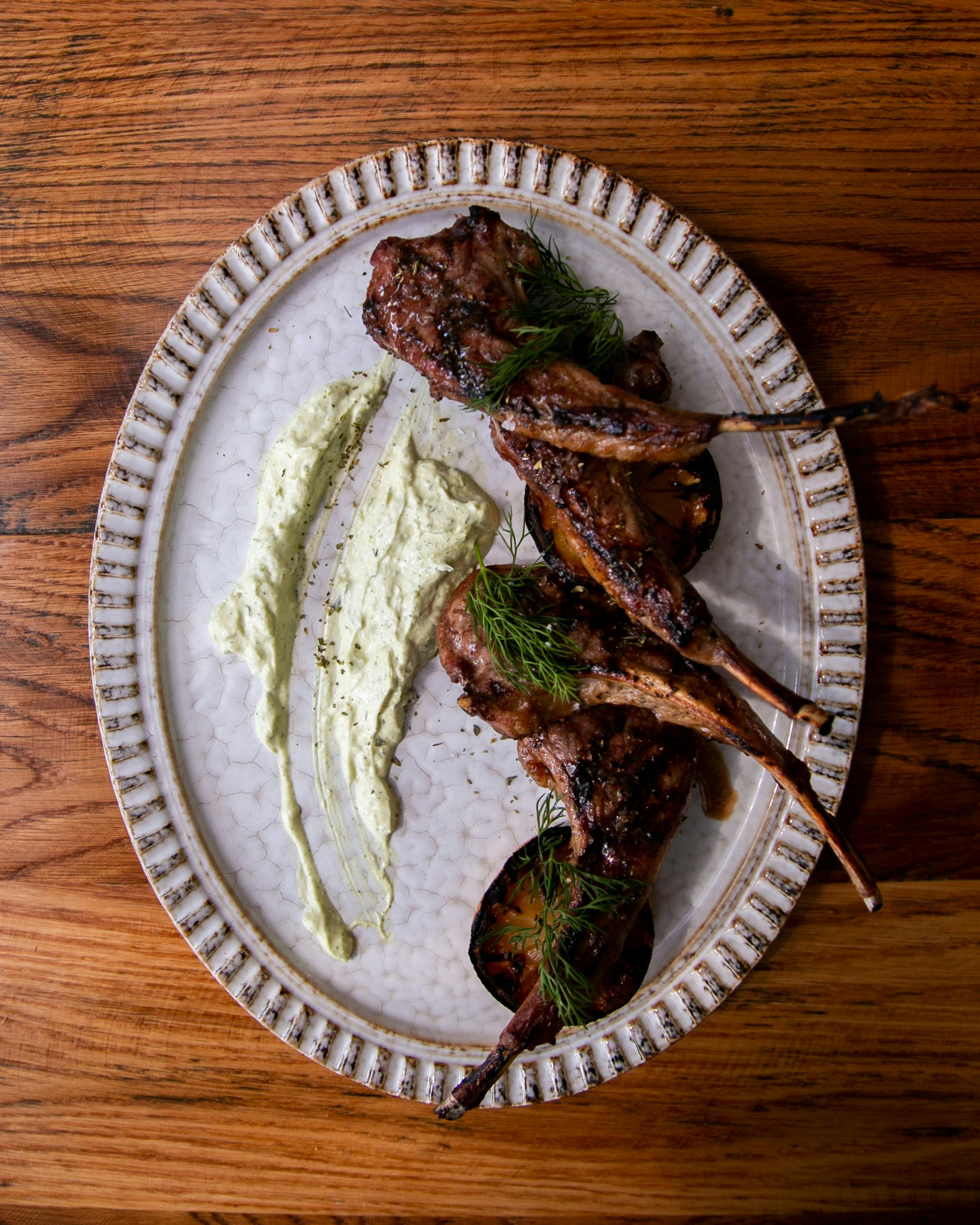 As a main meat option, look to the Paidakia, which are incredibly tender grass-fed Australian lamb chops accompanied on the plate with a creamy dollop of tzatziki.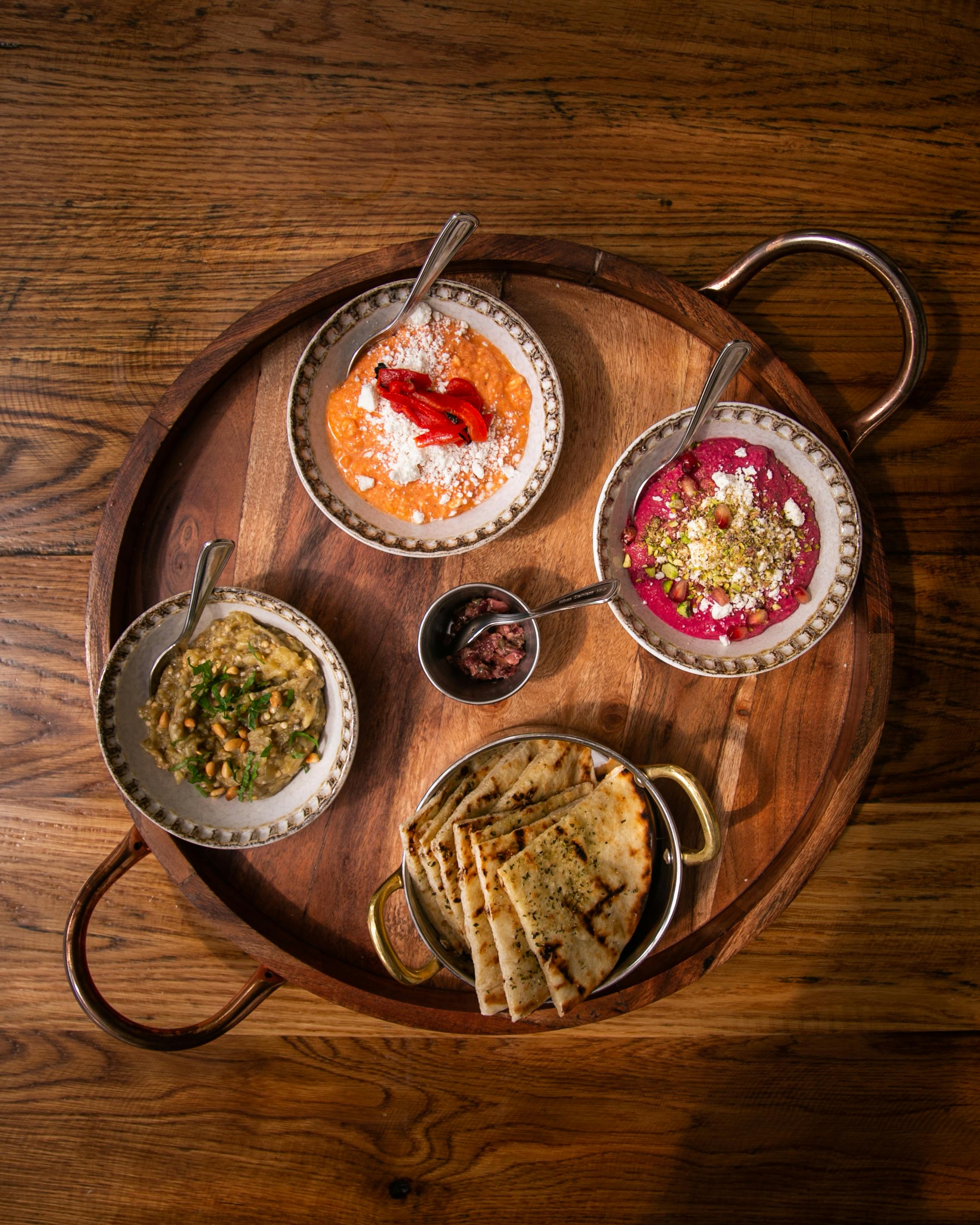 Perfect for sharing, try the Meze Platter that comes with olive tapenade in the centre and warm pita to dip. Three bowls are filled with their beet hummus, melitzanosalata which is a smoky eggplant dip and tirokafteri, a spicy feta dip with roasted peppers and paprika.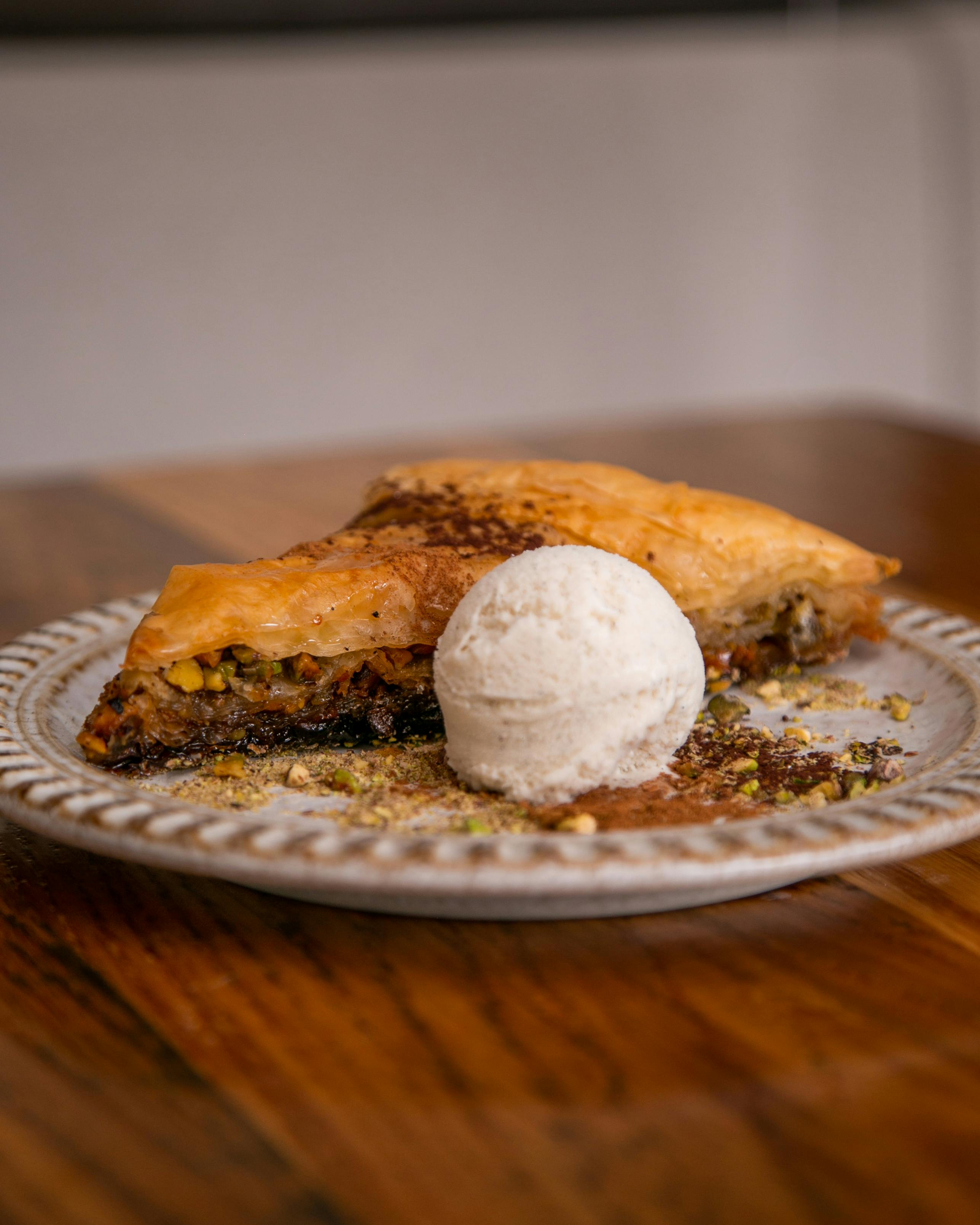 For dessert, you can't miss out on their Pistachio Baklava. Perfectly accompanied by their burnt honey gelato, this flaky and buttery phyllo pastry is stuffed with layers of pistachios sticky with honey, making it a wonderfully decadent treat that may have you wanting to order seconds.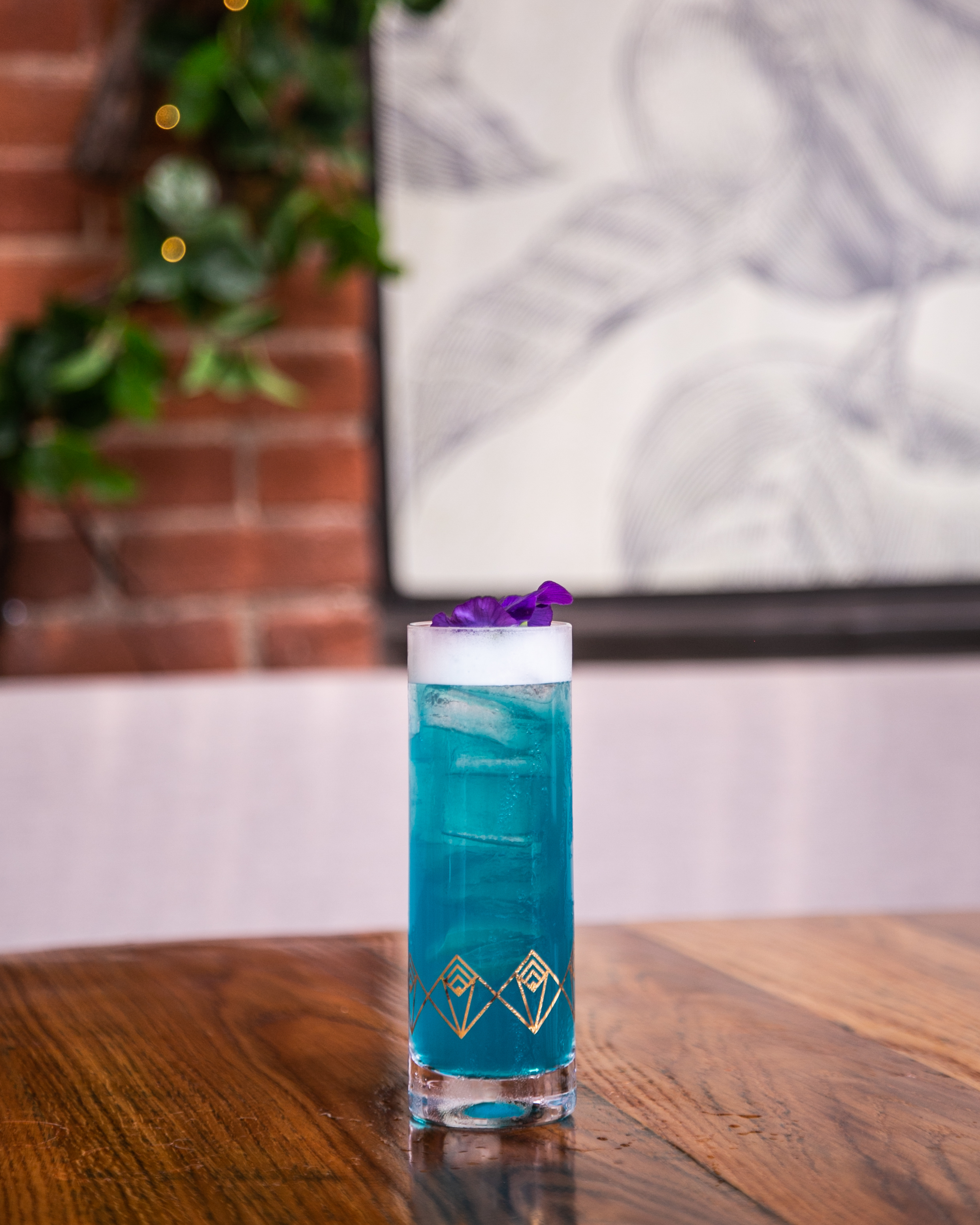 No meal is complete without at least one drink. Offering a stellar bar program backed by an extensive collection of wines sourced throughout the Mediterranean, cocktails often feature Greek liqueurs like Ouzo within.
The Mykonos Blu is a vibrant blue from Bols Blue Curacao and is also made with KOB grapefruit and rose, Monin Orgeat, lime and soda for a light, citrusy taste.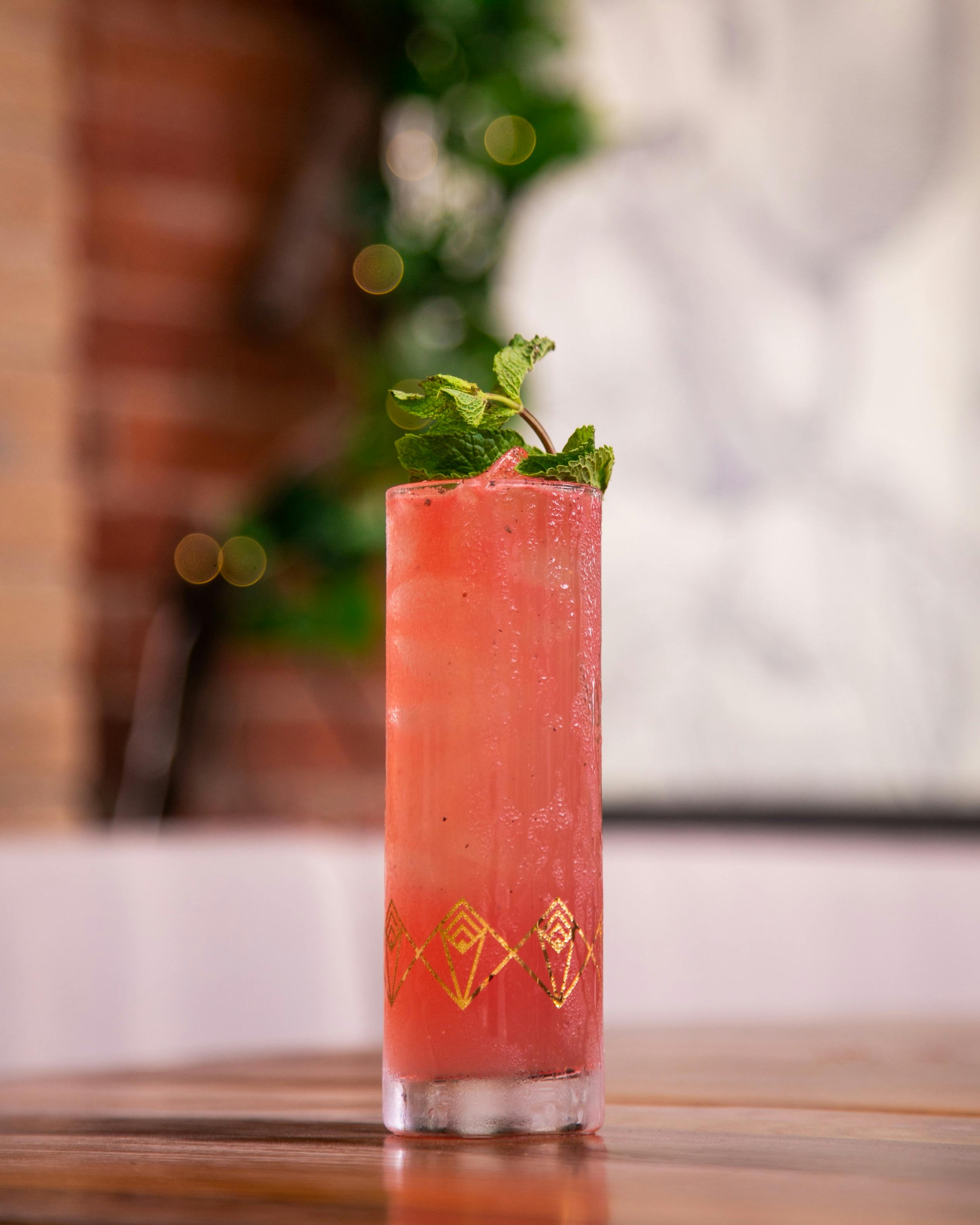 The Karpouzi, translated to watermelon, is naturally a refreshing cocktail that is made with watermelon. Complementing that is Don Julio Blanco, mint, lime, ginger beer and black pepper.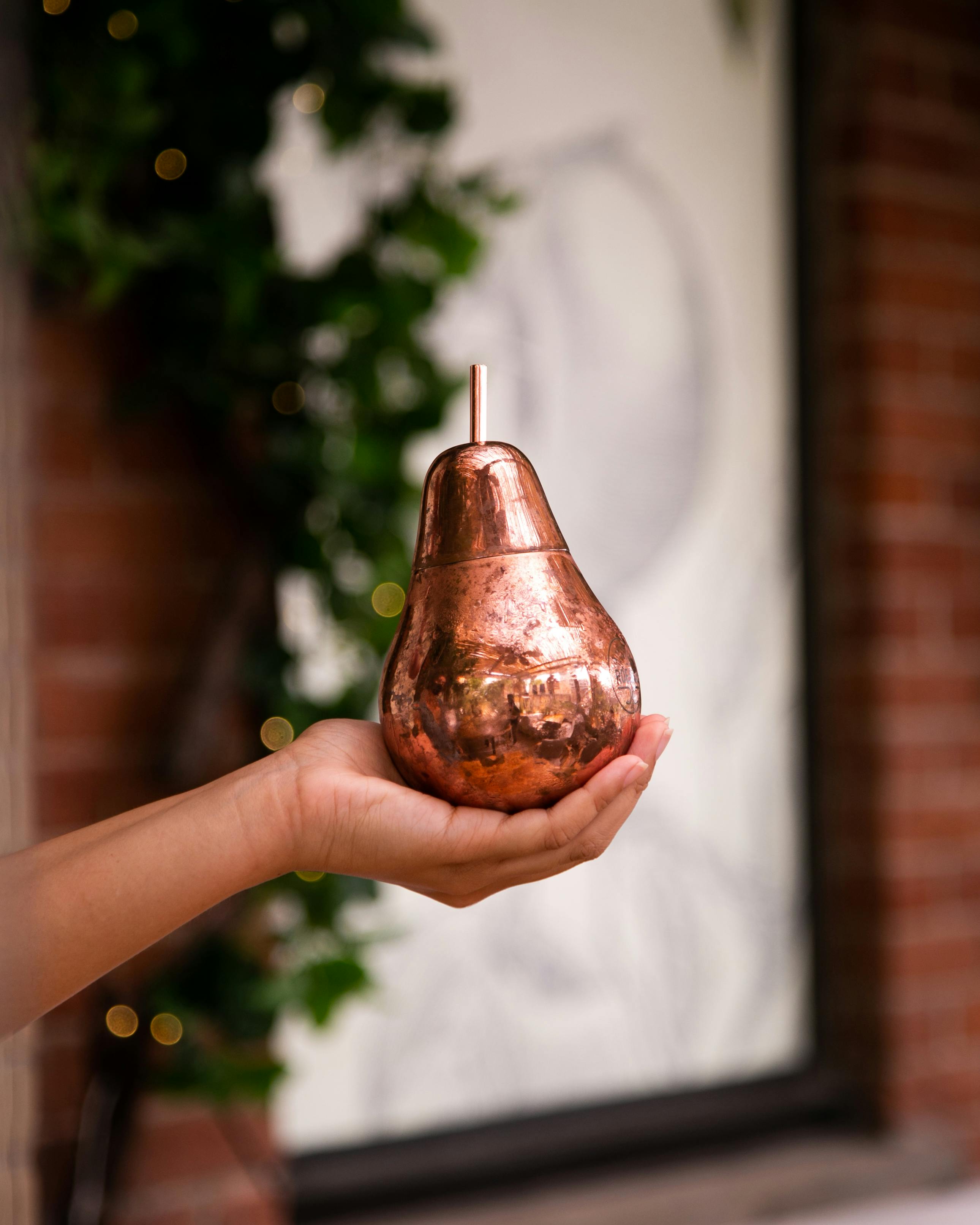 In the cutest pear-shaped vessel, find a drink called the Daphne made with Roe & Co Whiskey, quince jam, pear, lemon and soda.
Those looking to experience a magical night out in Toronto's own Mykonos should know the restaurant has been busy from the day they opened and are expected to stay that way, as reservations are nearly fully booked well into October. Therefore, reserving ahead via OpenTable is recommended, but you can try your luck for a table through walk-ins.
Myth is open Sunday to Wednesday from 4 p.m. to midnight and Thursday through Saturday from 4 p.m. until 2 a.m.