Photographs by Kristen Wells
Roger Yang is a man on a mission: to make vegan food so un-veganly delicious that the most fervent carnivores will desire it -- badly.
It was with this mission in mind that, in 2016, Yang opened Awai, in Bloor West Village. Although it began its life as a temporary pop-up, three years later, Awai had emerged as one of Toronto's most celebrated high-end vegan restaurants before migrating to a Victorian heritage house near Yonge and Bloor where it reopened in a new incarnation as Avelo.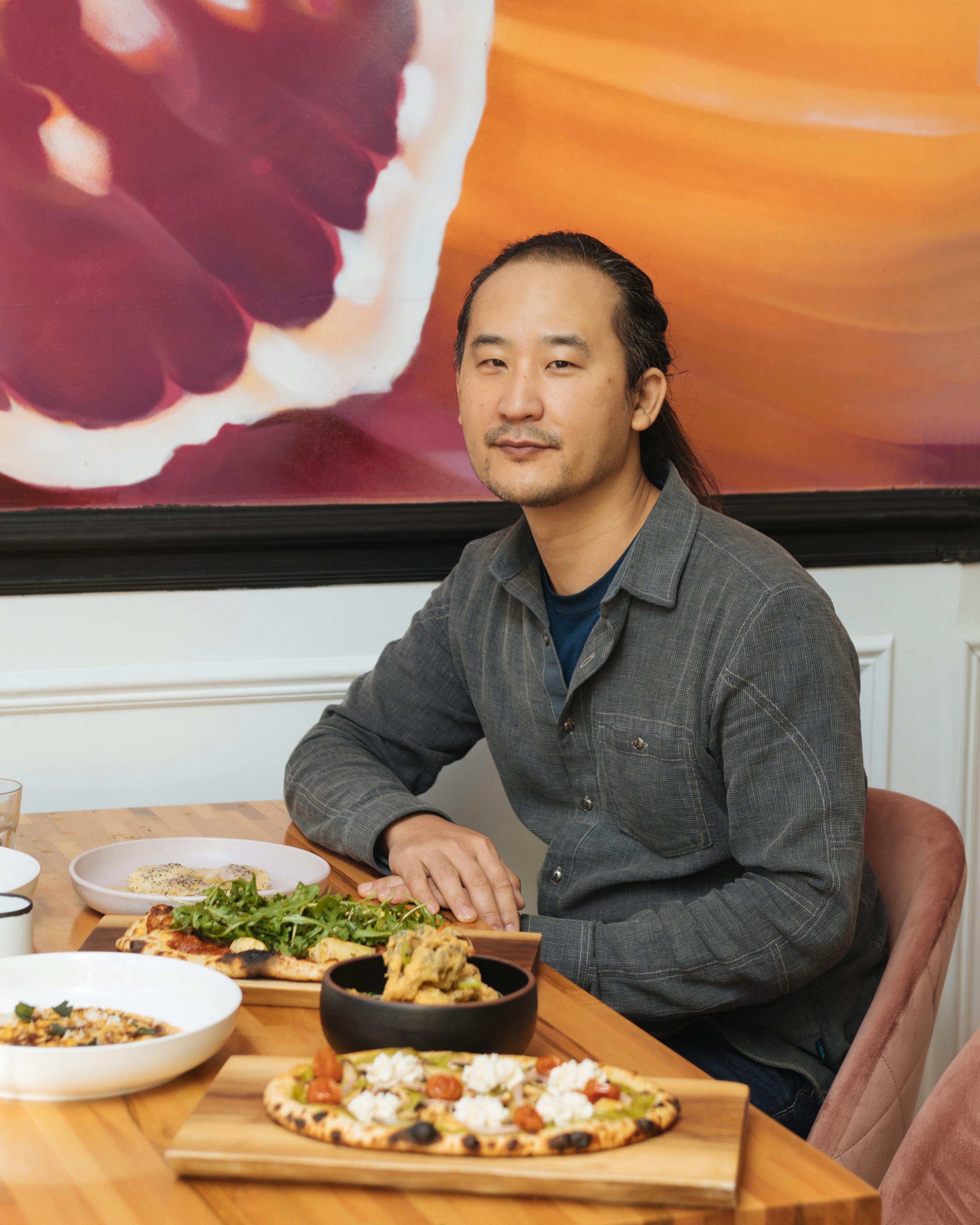 Having welcomed fine diners into the fold, Yang next went after the noshing masses when he opened Away, a more casual plant-based cafe serving lighter fare. The gourmet vegan pizza garnered so many acolytes that Yang transformed the space at 536 Queen St. West into a full-out pizzeria, christened Pizzeria Du. Most recently, in December 2021, the space underwent yet another conversion, emerging as Osteria Du, a plant-based Italian restaurant.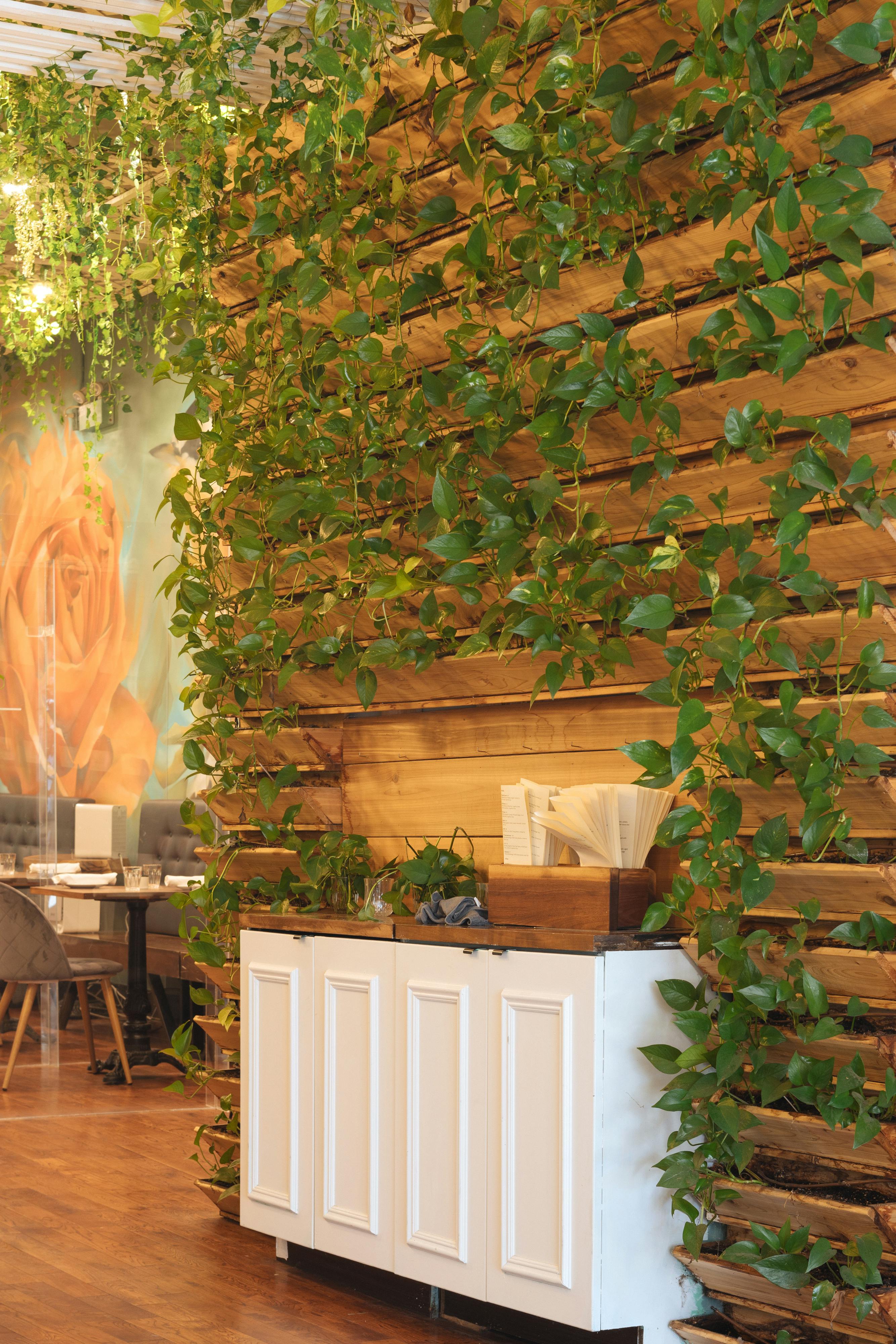 Subverting all the aforementioned missionary motifs, in person, Roger Yang is decidedly chill, a state-of-mind, and peace-of-mind, that is echoed in Osteria Du's Edenic garden-themed interior. Lush green plants (both real and surreal) dangle, Tarzan-like, from wooden ceiling lattices and cascade freely from wall planters.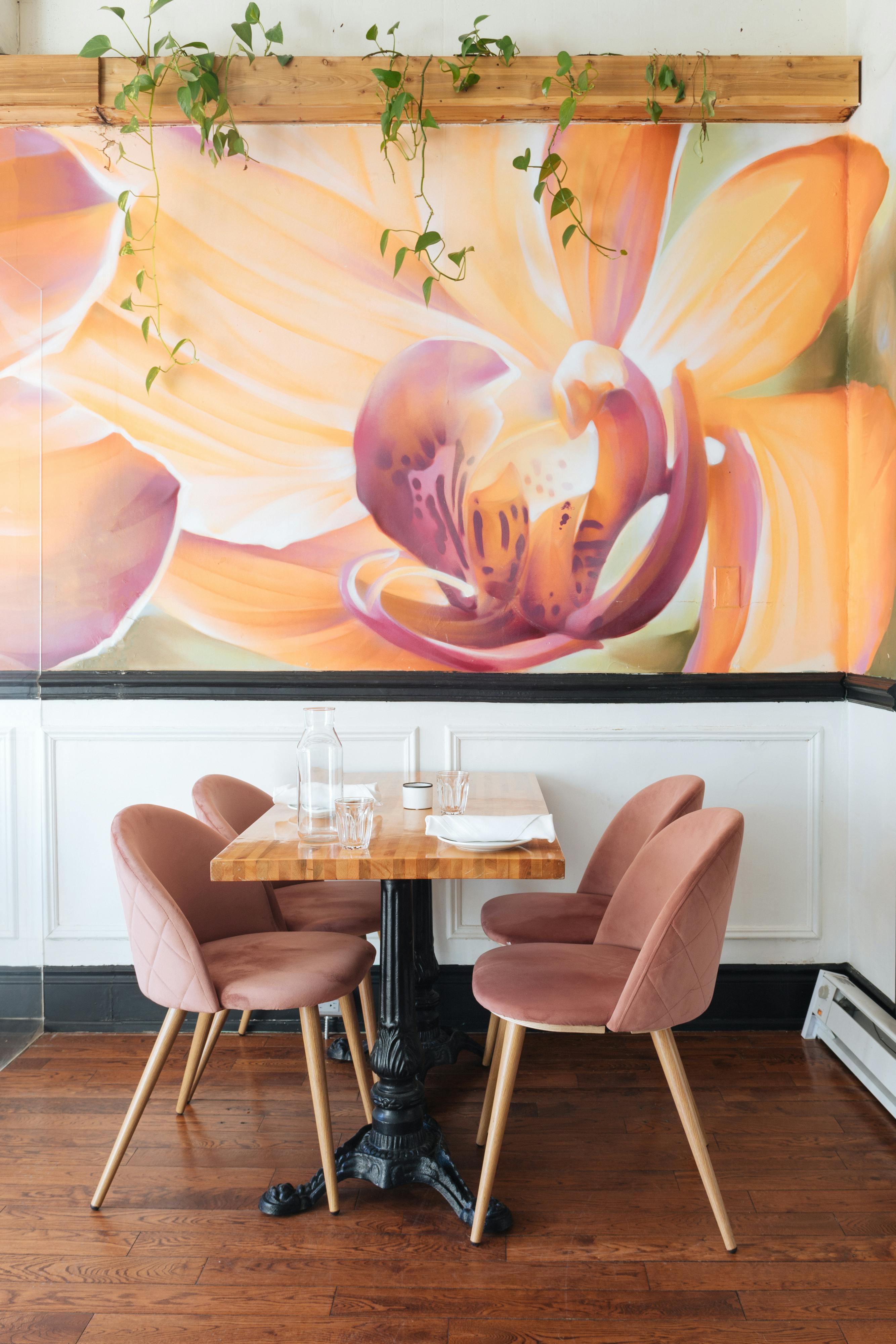 Other walls pulse vibrantly with gigantic technicolor flowers and birds, spray painted by the internationally renowned Toronto street mural artist who goes by the ironic (for a plant-based eatery) moniker of Bacon.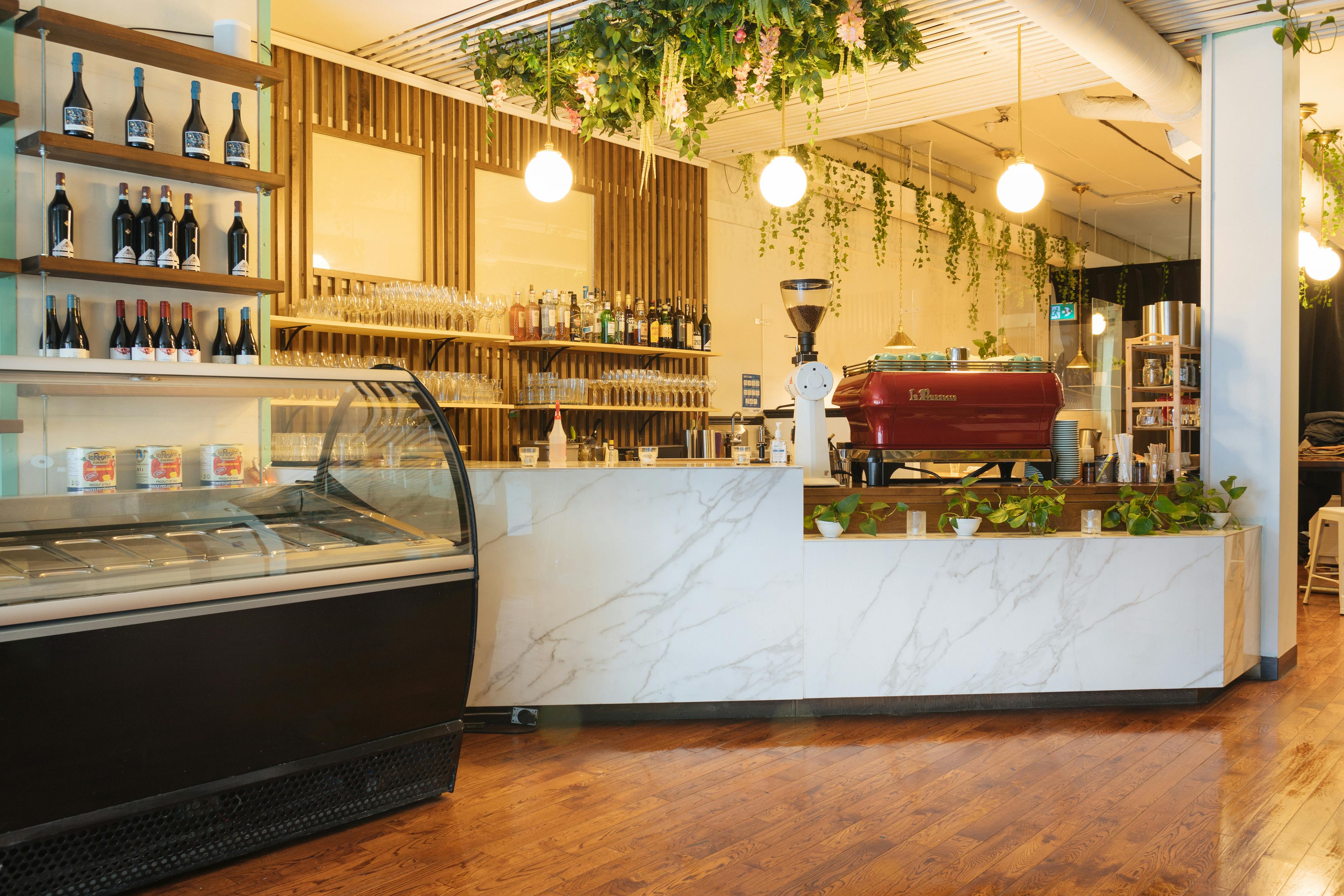 Yang clearly knows that the most efficient form of proselytizing is via the senses. Which is why, after diners have soaked up the Arcadian trappings of the décor, they're confronted with a four-course prix fixe tasting menu that attacks on all fronts.
"Until fairly recently, if you labelled something 'vegan,' most people's gut reaction would be 'Oh, that's not going to taste very good,'" says Yang. "When I first opened Awai, there wasn't much in the way of upscale vegan or vegetarian restaurants in the city. Most of what was around didn't appeal so much to the mainstream. We wanted to have food that just happened to be vegan that everybody would enjoy, and to serve it in an upscale place that would showcase what could be done with plant-based foods. The goal was not just to be one of the better vegan restaurants, but to be one of the better restaurants in Toronto."
With Avelo, Yang sought to create a gourmet dining experience for diners with an adventurous streak and thick wallets. Avelo's blind tasting menu means that on any given night customers don't know what they're going to be eating until servers arrive bearing plates and explanations. In contrast, Osteria Du caters to a broader range of tastes and a broader swathe of consumers. The tasting menu costs $50 during the week and $60 on weekends. With each of the four courses -- starters, pizza, pasta, and dolce -- diners can choose from two to three items on any given night, with offerings toggling between, and often mashing up, experimental and familiar.
High on the familiarity scale is the pizza. Indeed Osteria Du has ingeniously, and organically, folded its popular predecessor, Pizzeria Du, into its very being. In addition to making pizza an integral part of Osteria Du's tasting menu, Pizzeria Du continues to operate out of the space on a takeout and delivery basis. In both cases, as with both names, the common denominator is "Du" -- the affectionate nickname given to Dualco de Labio, Yang's friend and colleague, who was a chef at both Awai and Away, and who sadly passed away in 2020.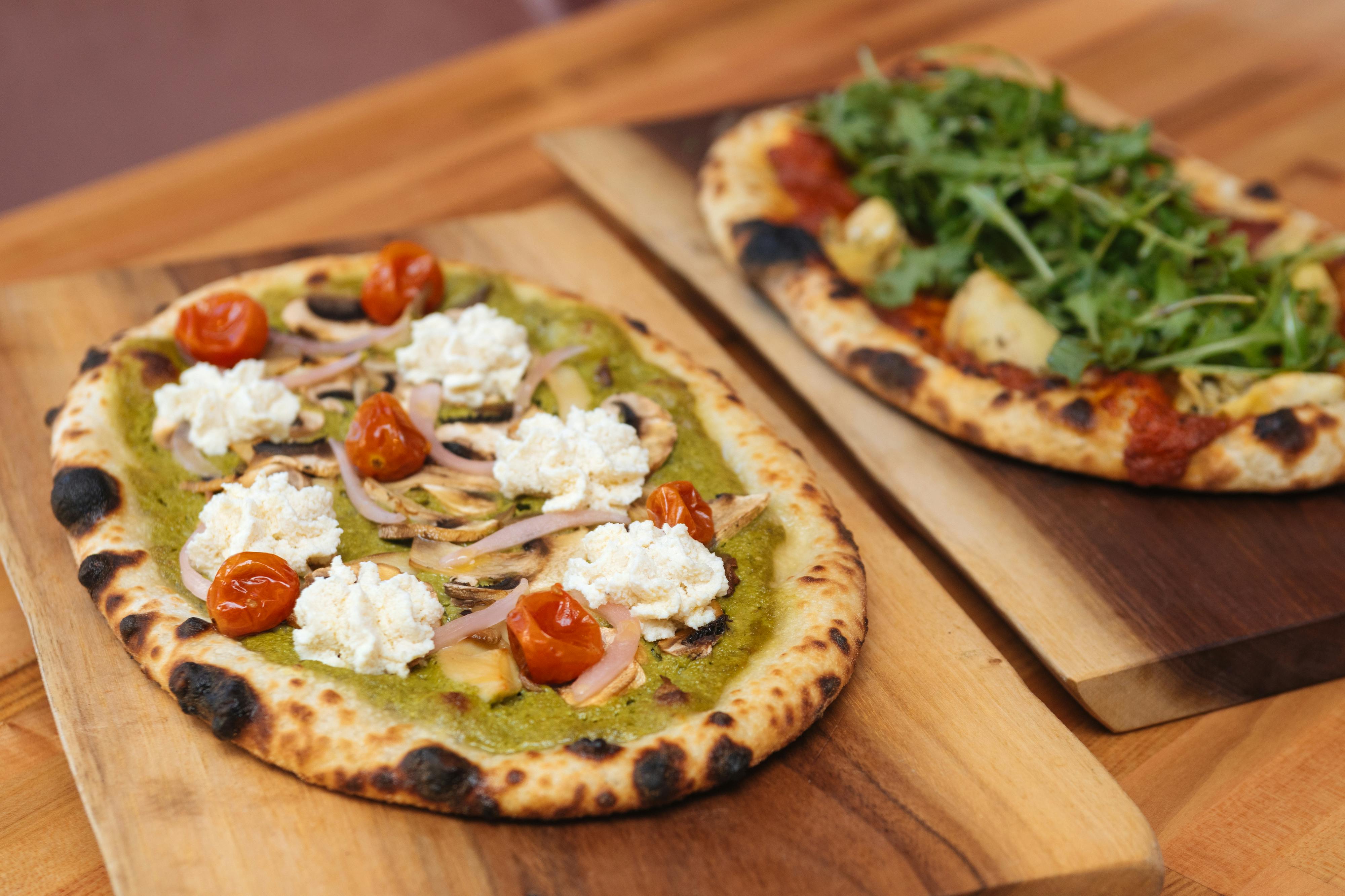 Aside from being a talented chef, Du was an inspired pizzaiolo. A Brazilian-Canadian, he grew up in São Paulo, a city with a vast Italian community where pizza is as much of a cherished culinary institution as feijoada. In Toronto, Du experimented for years in an attempt to create the perfect pizza. According to Yang, several factors set Du's pizza apart from all other pies. First, there's the crust, which incorporates a carefully guarded secret ingredient from Brazil. This mysterious ingredient adds extra flavour while producing a texture that pulls off the delicate balancing act of a crisp exterior with an airy interior that has just enough chew. Then there are the toppings; a melange of natural ingredients with unconventional flavours that, combined together, create a surprisingly complex yet harmonious bouquet of colours and tastes. And of course, the clincher is that everything is plant-based.
Yang himself -- whose original, pre-Du definition of pizza was "dough with some stuff on it" -- was initially skeptical that their pizza would satisfy non-vegan and non-vegetarian cravings. "Cheese, and dairy cheese specifically, is such a difficult ingredient to replace," he notes. "But we did it. The pizza is just amazing."
Most of Osteria Du's cheeses are crafted in-house. Mozzarella and cheddar are made from cashews, ricotta from almonds and queso fresco from soy. Both the cheddar and mozzarella are present in all their gooey glory on one of the restaurant's most popular pies, BBQ Jackfruit. Although jackfruit -- which when green is surprisingly unsweet and non-mushy -- can be found on pizzas in the fruit's, and Du's, native Brazil, it's a more rarefied presence on Canadian pies. Yang reports that among customers who have fallen sway to its exotic lure, many claim it does a mean, not to mention tasty, imitation of pulled pork.
More familiar but equally popular is the Canadian Deluxe. Osteria Du's most "classic North American" pizza features green peppers, mushrooms and onions mingling with cashew mozzarella, plant-based pepperoni and ground "meat" made from oats and soy.
On Osteria Du's tasting menu, pizzas are a shared course that follow on the heels of some intriguing starters. The Insalata Di Cachi festoons the leafy fundamentals of a mixed green salad with bright, honey-like persimmon, the tang of homemade feta and a crunchy confetti of pine nuts and pomegranate seeds drizzled in a sherry vinaigrette.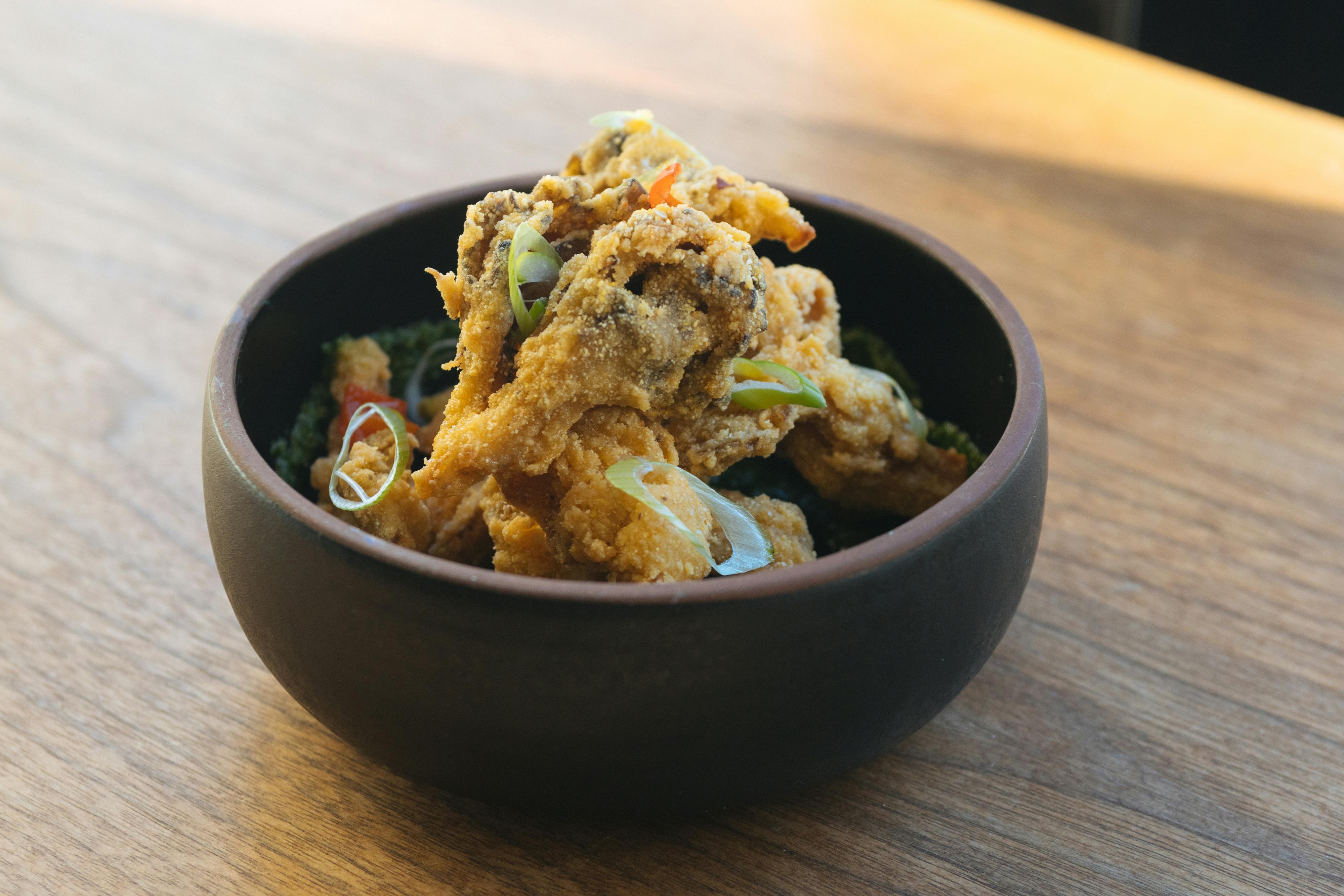 Channelling fried calamari, the Fritto Misto consists of maitake and oyster mushrooms, coated in a delicate batter and deep fried. Crisp on the outside, and surprisingly "meaty" on the inside, they cry out to be dipped in something creamy -- and thankfully can be, courtesy of the rich emerald pesto sauce served on the side.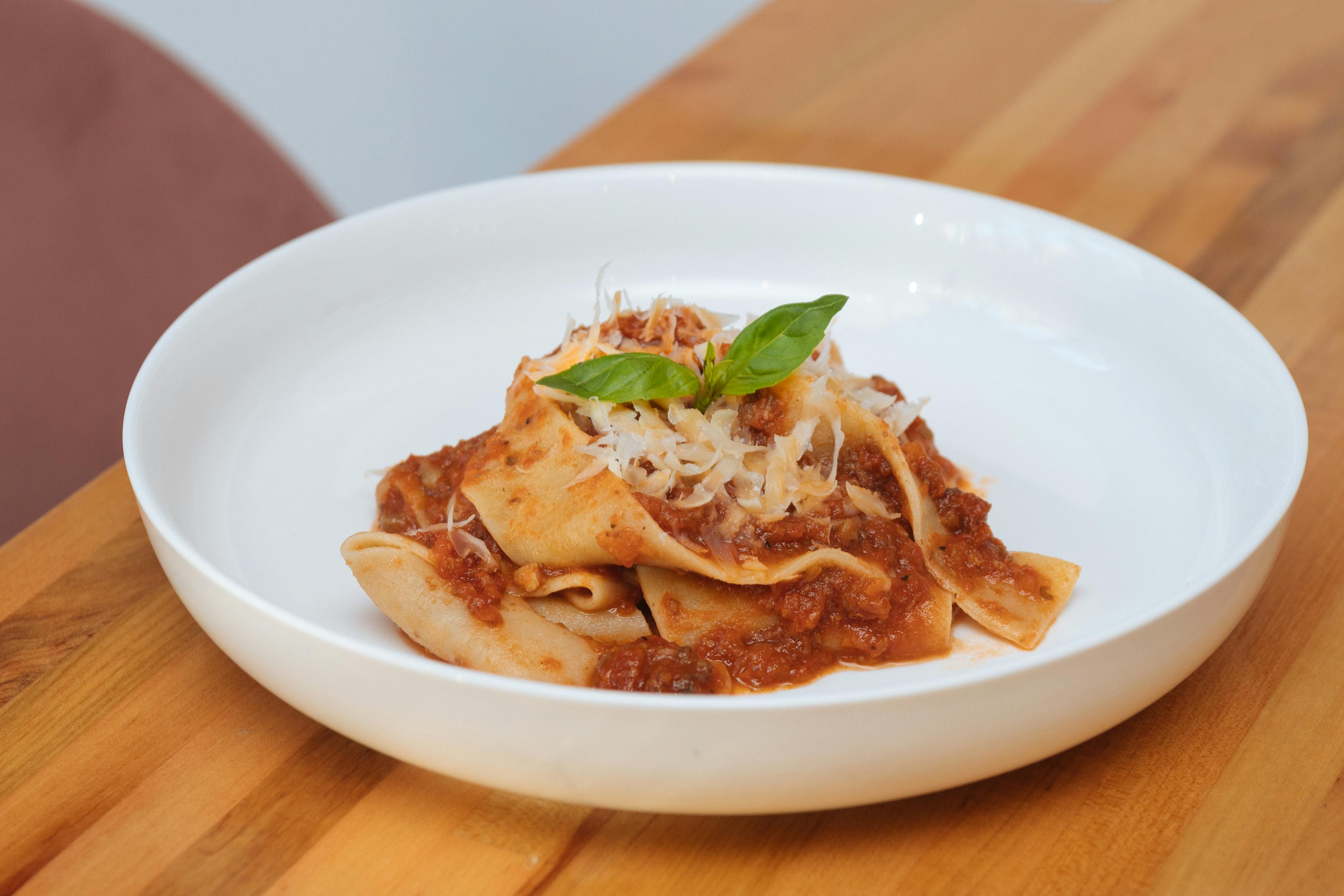 Mushrooms also appear in the bolognese sauce that accompanies serpentine bands of house-made pappardelle, one of a trio of pasta offerings that also includes the enticingly christened Mezza Luna Rossa.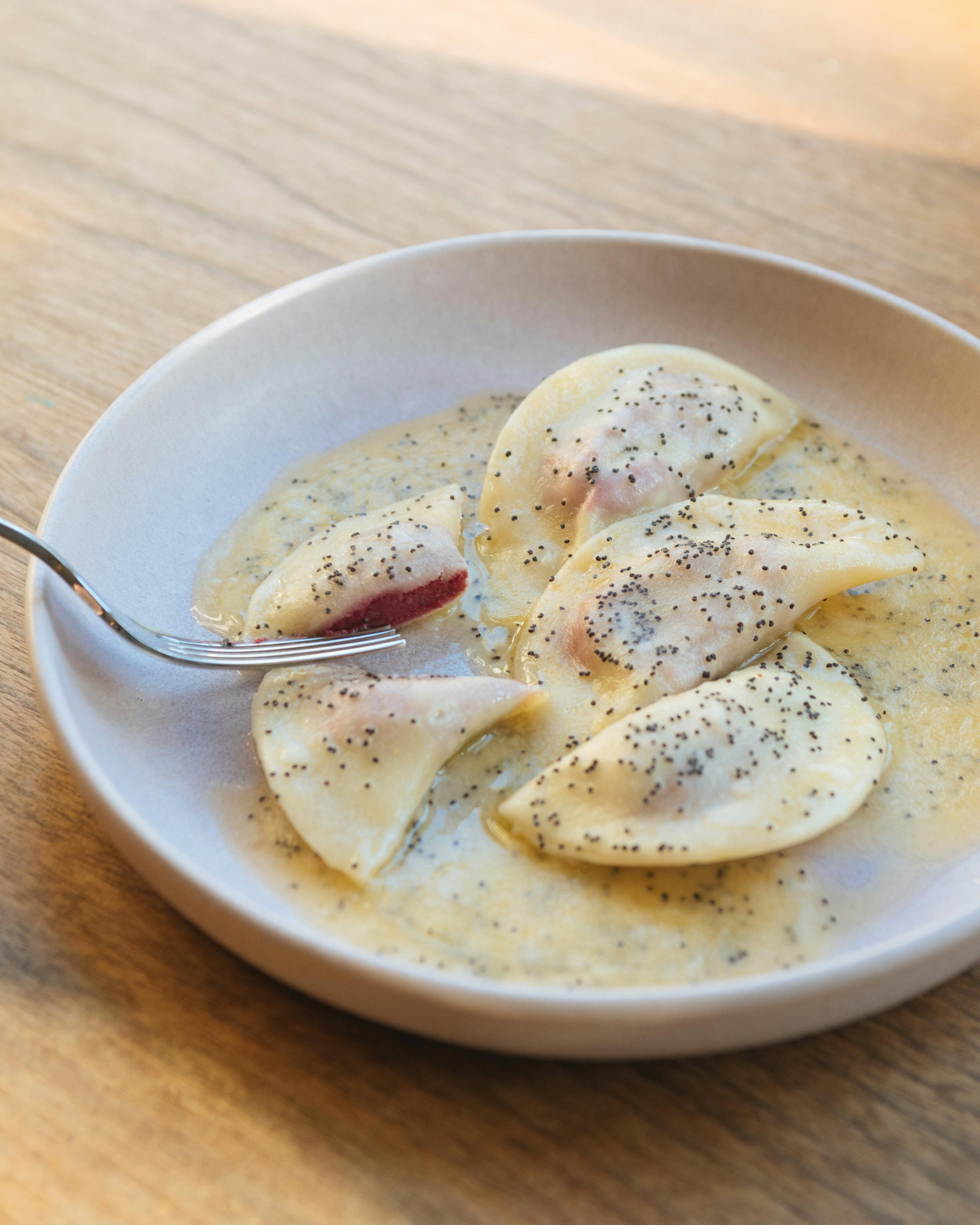 These "pink half moons" live up to their name and then some. Be prepared: when your fork edge cuts into one of these tender, pale semi-circles of pasta, there's a sudden yet splendid shock of voluptuous pink, courtesy of a filling that mingles potato, ricotta and deep red beets. The filling's earthy sweetness is complimented by a warm bath of herb-infused butter, sprinkled with dark poppy seeds.
Although not strictly a pasta, the Risotto Alla Zucca offers the same level of starch-infused satisfaction. Creamy arborio rice provides a welcoming canvas for roasted butternut squash, crispy sage and aged balsamic vinegar to mingle their subtly contrasting layers of sweetness, acidity and spice. The dish feels simultaneously comforting and unexpectedly new.
To accompany the food, Osteria Du offers an extensive yet thoughtful choice of beers, wines and spirits. Lagers, ales and ciders are all locally brewed, with Toronto's Godspeed and Niagara Oast House Brewers being particularly well-represented. Ontario wines also make a strong showing on the wine list, alongside vintages from California. However, in keeping with the food's culinary origins, the majority of choices hail from Italy.
Among the handful of signature cocktails (available with and without alcohol), Yang cites two fruity favourites. The Pineapple Express features pineapple juice to which zingy lime and apple and spicy poblano pepper and turmeric are added, along with a shot of tequila for extra expressivity. Tequila also plays a major role in the Salty Paloma, an extremely sippable ode to citrus that mingles grapefruit and grapefruit soda with a sly sprinkling of rosemary dancing around the salty rim.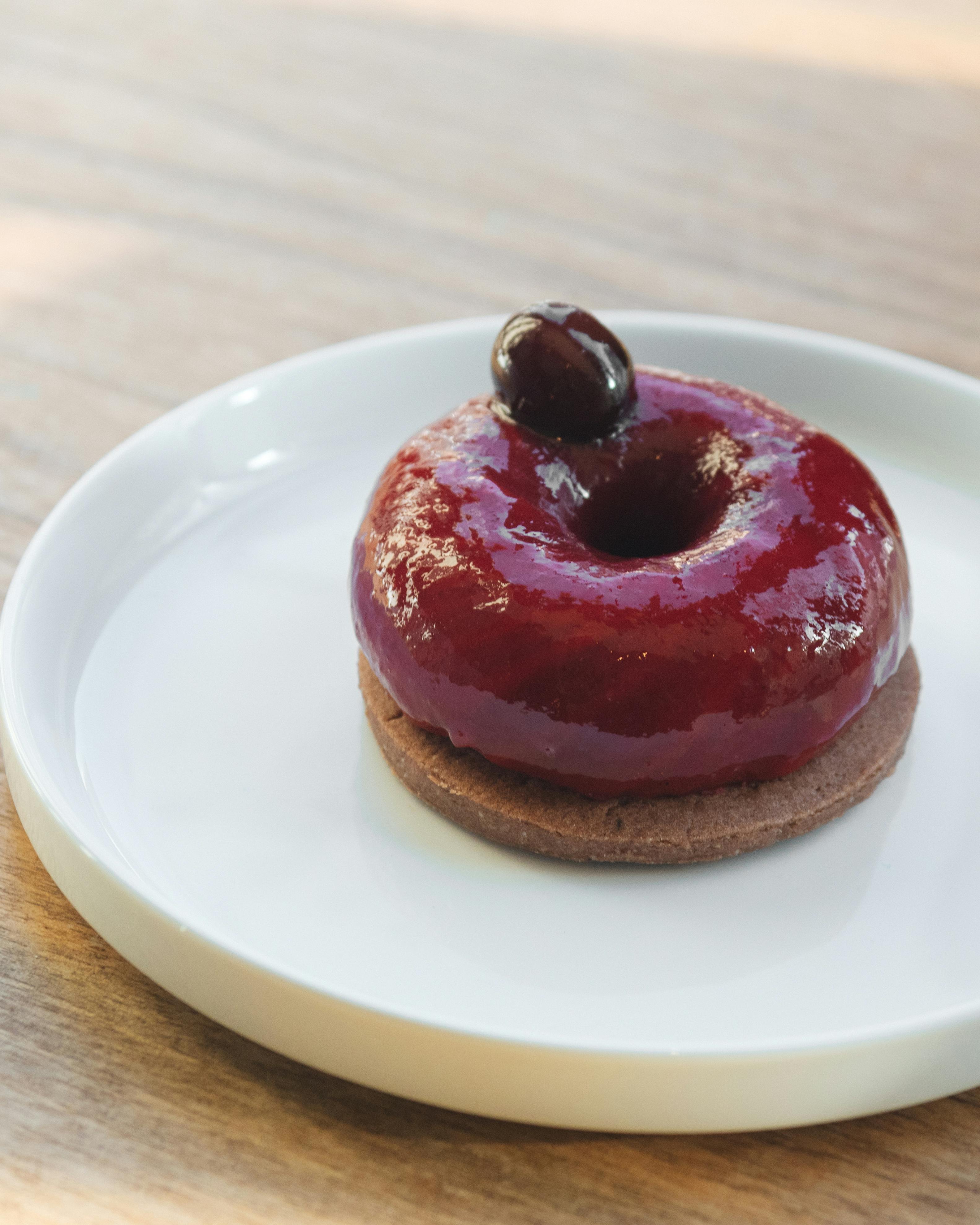 While the menu's savoury dishes are presented with visual flair, the dolce are veritable eye candy. The Mousse Di Ciliegie is a delicate orb of a cherry mousse glistening beneath the deepest, reddest, cherriest glaze imaginable. It trembles seductively upon a crunchy chocolate sable base, and in case you don't get the message, the ensemble is jauntily punctuated with an amareno cherry.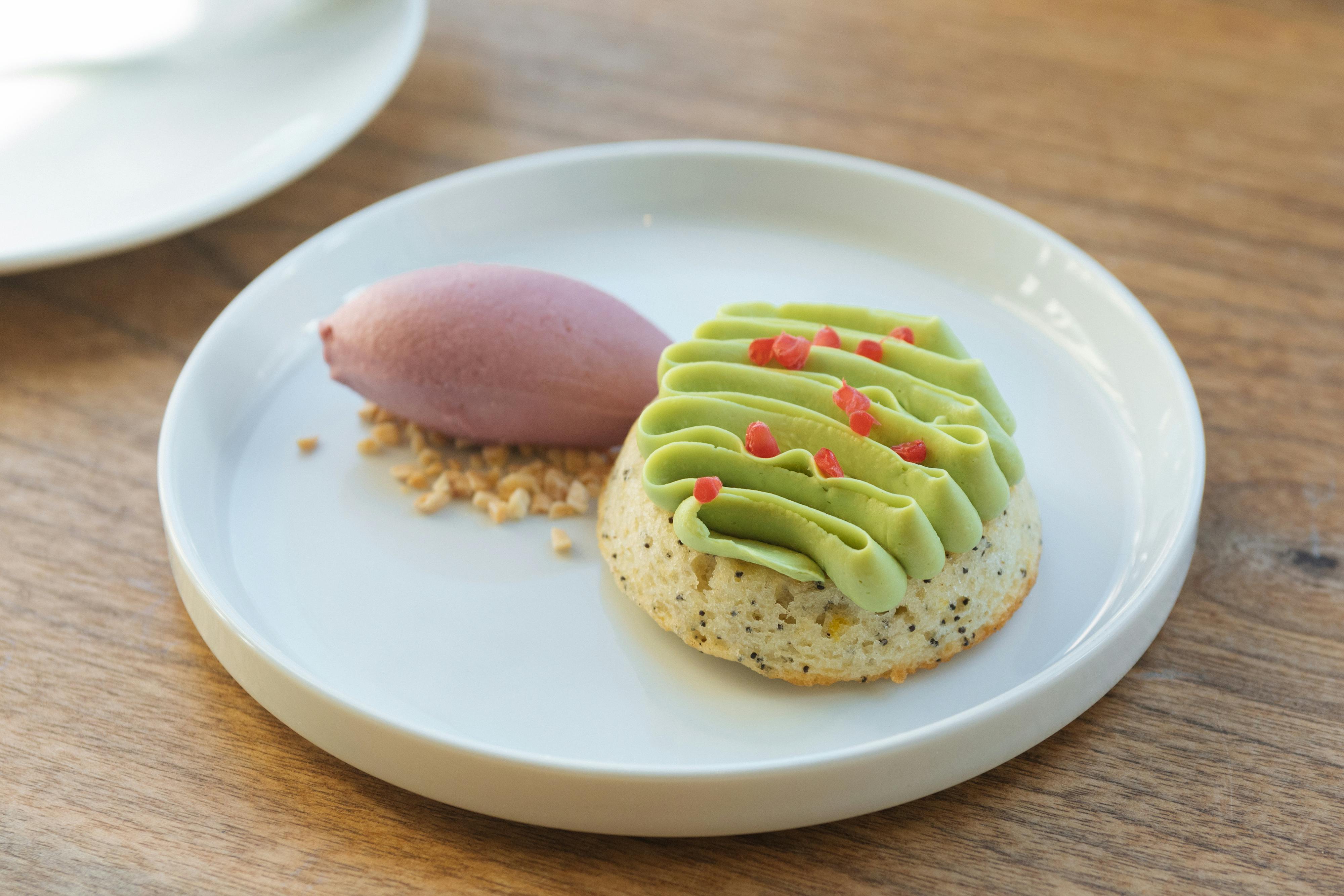 Equally striking is the Torta Al Pistacchio with its lovely green ribbons of pistachio mousse on top of a wickedly spongey poppyseed cake. A perfect oval of raspberry gelato provides desirable tartness and pinkness.
All gelatos and sorbettos are made in-house, part of a recently launched M!LK line of gelatos that substitute oats and coconut for dairy and feature all natural ingredients. At Osteria Du, chefs creatively work them into the tasting menu, but since the beginning of the pandemic, the sorbets have also joined the pizza as a popular takeout item. The front of the restaurant, looking out onto Queen Street, boasts a glassed-in patio that opens up in summer, beckoning passersby who get a sudden craving for a cone.
Other pandemic legacies include the eight-foot-high acrylic barriers installed between the restaurant's generously distanced tables. Yang admits that, despite their discrete transparency, the barriers make an impression on most diners, but that most appreciate the security they offer. "You feel separated, but not too much. You're still aware of being in a restaurant."
Each table is also equipped with its own personal air purifier (in addition to larger filtering systems). The goal is to minimize the amount of exhaled air that travels between tables. Using a fog machine, Yang conducted empirical experiments to see how many particles were getting from one table to another. He was assured by results indicating that the measures in place prevented the migration of 95 percent of particles. "I'm surprised there hasn't been much public discussion about ventilation," admits Yang. "It's obvious now that we need to talk about it."
Yang has also been proactive with respect to another necessary discussion facing restaurateurs: how to create a more positive working environment for employees. At Osteria Du, all staff receive a fair living wage. Meanwhile tipping has been replaced by a standard service charge, added to each table's bill and divided equitably among the staff.
"It makes for a tighter team, with front and back of house working much more closely together," says Yang, adding that the policy also impacts customer satisfaction. "If you read the reviews for Avelo and Osteria Du, the quality of the service is mentioned in almost every one."
With the same aim in mind, instead of a single, head chef presiding over line cooks, Osteria Du posesses a team of cooks that collaborate together. The fact that some are hard-core vegans while others are die-hard carnivores means that flavours and textures are subject to rigorous, yet constructive debate. The result is food that's good not just because it's vegan, but because it's good. Which means that Roger Yang can declare "Mission Accomplished."