Toronto is a city filled with mainstream sports teams. From the Blue Jays to the Maple Leafs and Toronto FC, it's got something for every kind of sports lover to enjoy. Continuing with the natural progression of things, more sports teams means more supporters; and basic supply and demand rules suggest that more sports fans means a horde of sports bars peppered throughout the city to appease the supporters.
One such bar existing in Toronto's sports microcosm is Peaches. In a world dominated by testosterone-filled spaces, Peaches is a queer-friendly sports bar trying to fight back against societal norms — and doing it successfully. 
Founded by Veronica Sayes and Anthony Fushell, the bar is the end product of the hard work put in by two friends who've wanted to own a sports bar for as long as they've known each other. 
Named after a female sports team from the queer cult-classic film, "A League of Their Own," Peaches is first and foremost a queer-friendly space because the owners noticed the lack of such spaces in the West End. As is the case predominantly with sports bars, they are spaces that tend to be fueled by testosterone. To combat that, Sayes wanted to create an environment where everyone felt welcome. 
"We always say we're a safe space first and a sports bar second," she said.
Just curating the space for queer people is not where the process stopped for the owners. During the process of opening, there was some serious education imparted to the staff about things like understanding pronouns, creating safe spaces and even serious Naloxone training. With most of the staff being queer identifying as well, Sayes believes that her establishment has "evened the playing field a little bit."
Growing up, Sayes said that she was always surrounded by sports. Not only did she play baseball, volleyball and basketball, but her father also did the play-by-play call for the BC Lions for 20 years. It's safe to say that sports are deeply ingrained into her life in more ways than one. 
Having lived in the Parkdale neighbourhood for about 15 years, Sayes felt there weren't many places to watch sports with a proper atmosphere. And she took it upon herself to change that. 
"We just felt like there was a need for a place that had good food and lots of TVs,"  she said.
Sayes' tryst with the building that houses Peaches goes much further than being the owner of the new establishment. When the building housed Tennessee Tavern, she was actually a manager there and has also worked at other places under the same umbrella company, so it's safe to say that she is familiar with not only the brand but the building at 1554 Queen St. W., specifically. 
So when the time came to start seriously looking for a home for their new project, Sayes and Fushell knew that they needed enough space to garner a proper vibe, because no one wants to spend money to sit in a little room — something they could do at home. 
Given her history with the space, Sayes reached out to the owners, and while it took a decent amount of time, it worked out perfectly in the end, providing the new sports bar owners with precisely the kind of space they were looking for. 
They ended up with a large space fit for a proper sports bar, with the ability to seat 144 people inside and an additional 60 on the patio. 
At first glance, Peaches seems like your run-of-the-mill sports bar. There are a lot of seating choices, TVs line all walls possible — there should "never be a bad seat in the house," as Sayes said — and, of course, there's plenty of beer to go around and classic sports fares like hotdogs and nachos too. 
But in many subtle ways, Peaches is different from your average watering hole. Sayes and Fushell have found ways to elevate the entire experience while sticking true to the core tenets. 
The bar exudes a very vintage vibe — a conscious choice made by the owners. A non-negotiable that Sayes had was a pool table. The idea behind that was that there weren't any places to shoot some pool in the neighbourhood and she wanted to fill that gap. Sure, there exist a few spots that have a table, but in her eyes, they weren't really a "destination" for pool. 
The inclusion of the table has paid off handsomely. It has been a major draw since the opening, with people coming specifically to shoot some pool.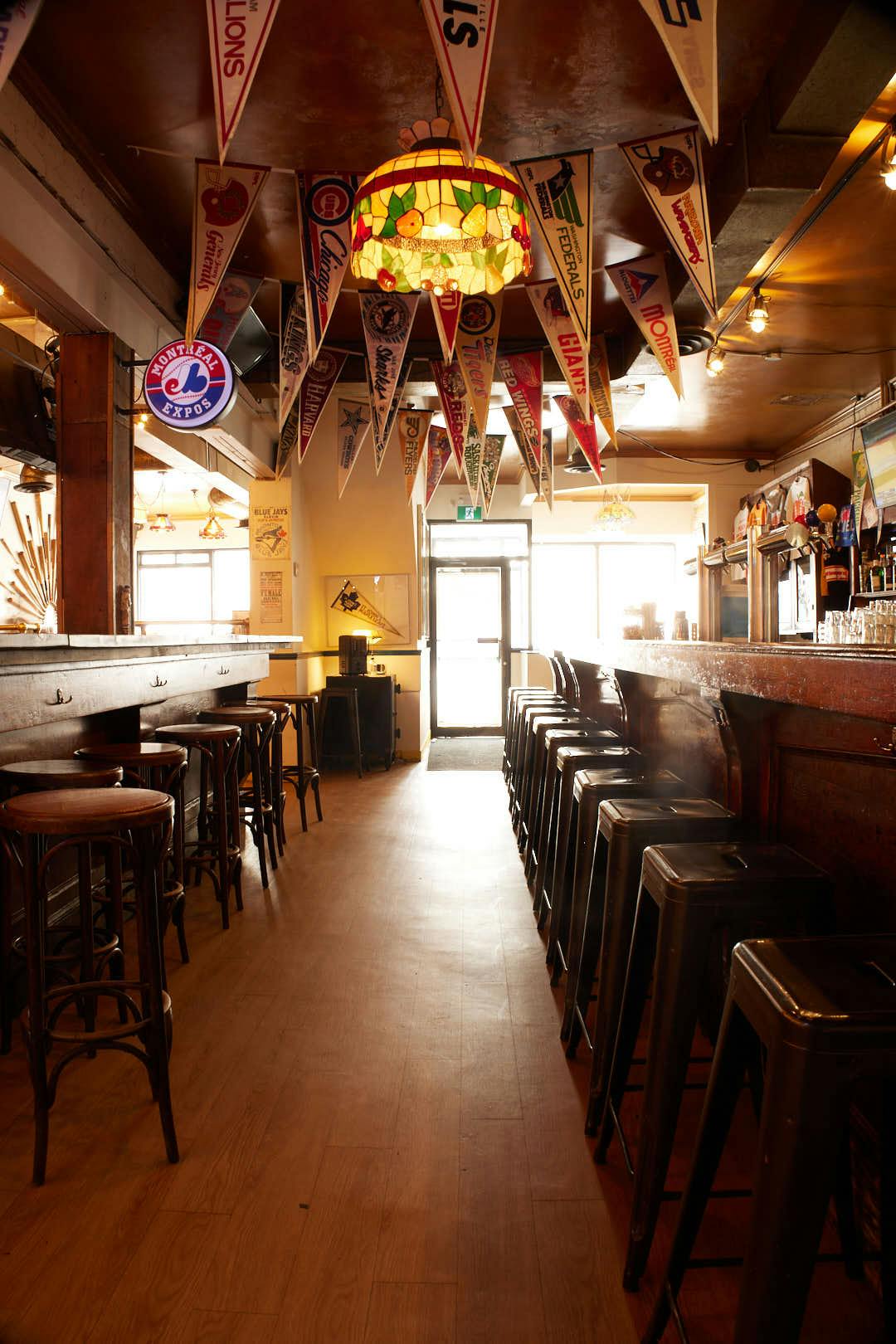 The building that houses the bar has existed since the '50s, so it already has that old-timey feel to it with a patina-esque sheen gracing the interiors, built over decades. Building upon that foundation and adding a sports flair to the interiors, the team behind Peaches has a LOT of sports memorabilia adorning the walls and even the ceiling.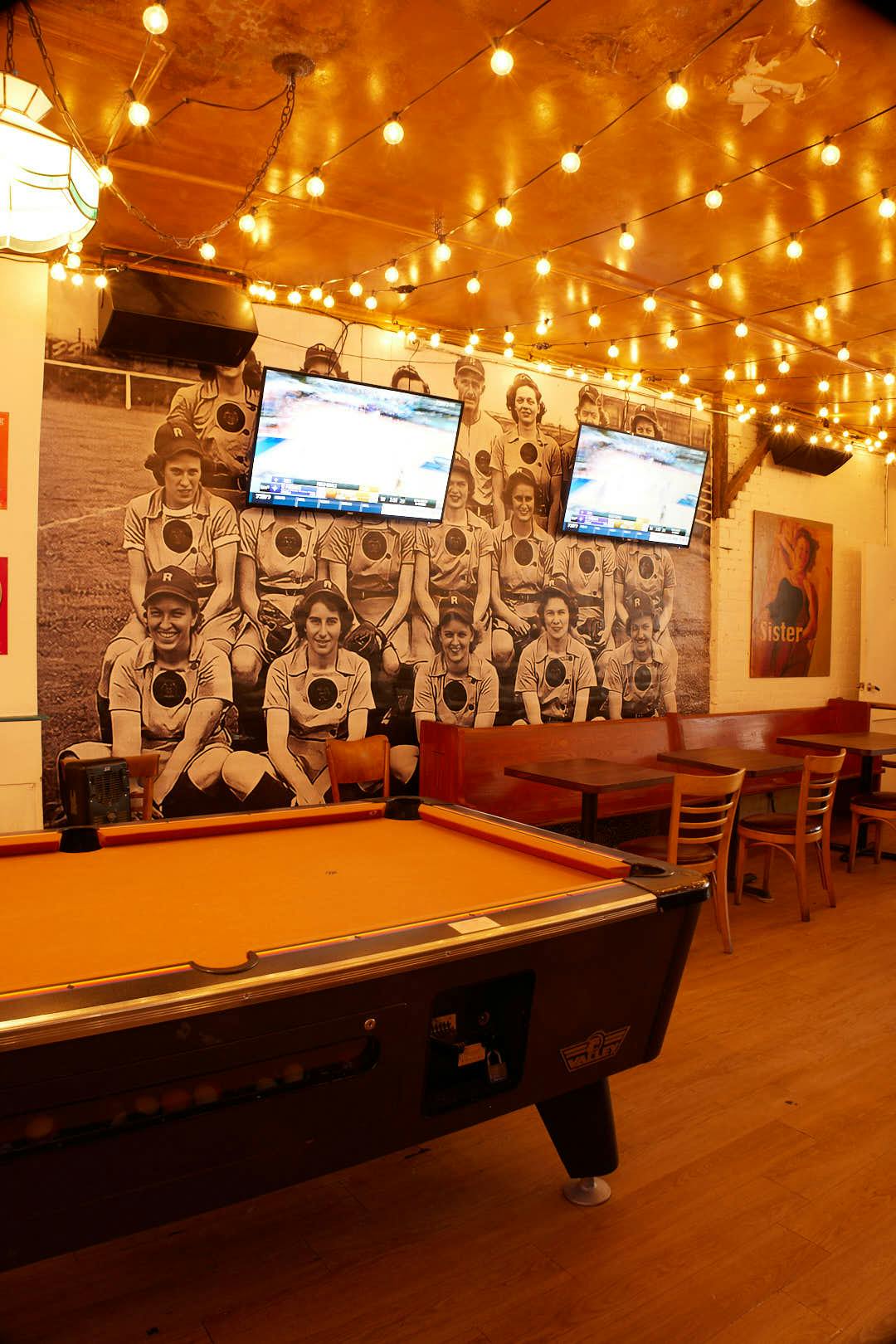 Pennants hang from the ceiling with stained glass light fixtures that enhance the old-school vibe. There are a lot of sports-related vintage posters, but the center of attraction is a poster of the eponymous Rockford Peaches, the woman's professional baseball team that inspired the movie that inspired the bar. There is also a wall dedicated to game-worn baseball gloves, with some dating back to the early '30s and '40s.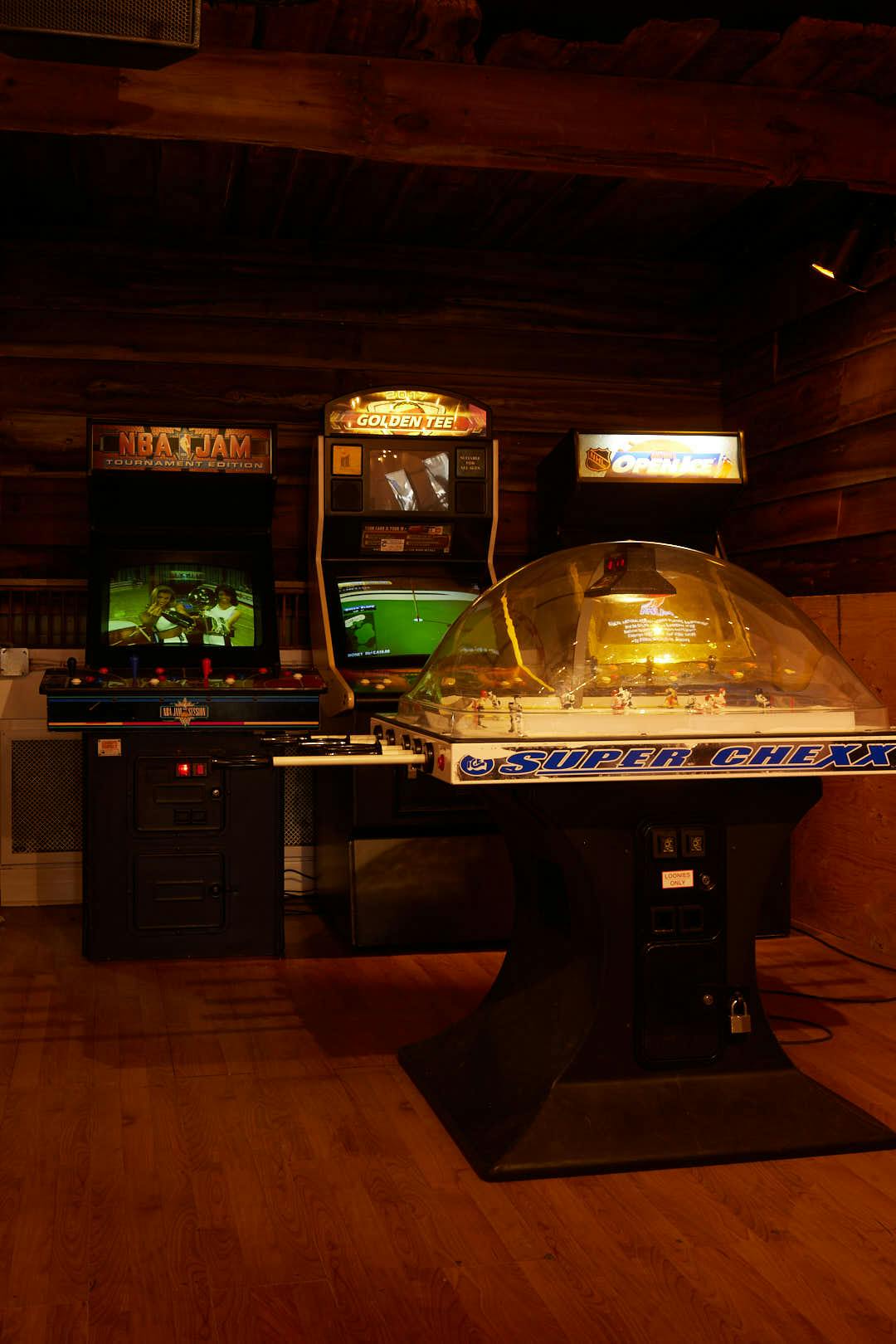 Rounding off the vintage vibe are retro gaming machines in the back, where people can happily spend hours on end reliving their childhoods. 
String lights run across the ceiling, giving off an outdoor beer garden-esque vibe, which ties in perfectly with the social aspect of being in a sports bar. The overall layout of Peaches festers movement and chatter. It wants lively moments, conversations and new friendships in the safe space that it provides. 
With Fushell having bartended at Bar Poet and Fayes having a significant background in cocktail competitions, it's no surprise that the drinks program flourishes under their leadership.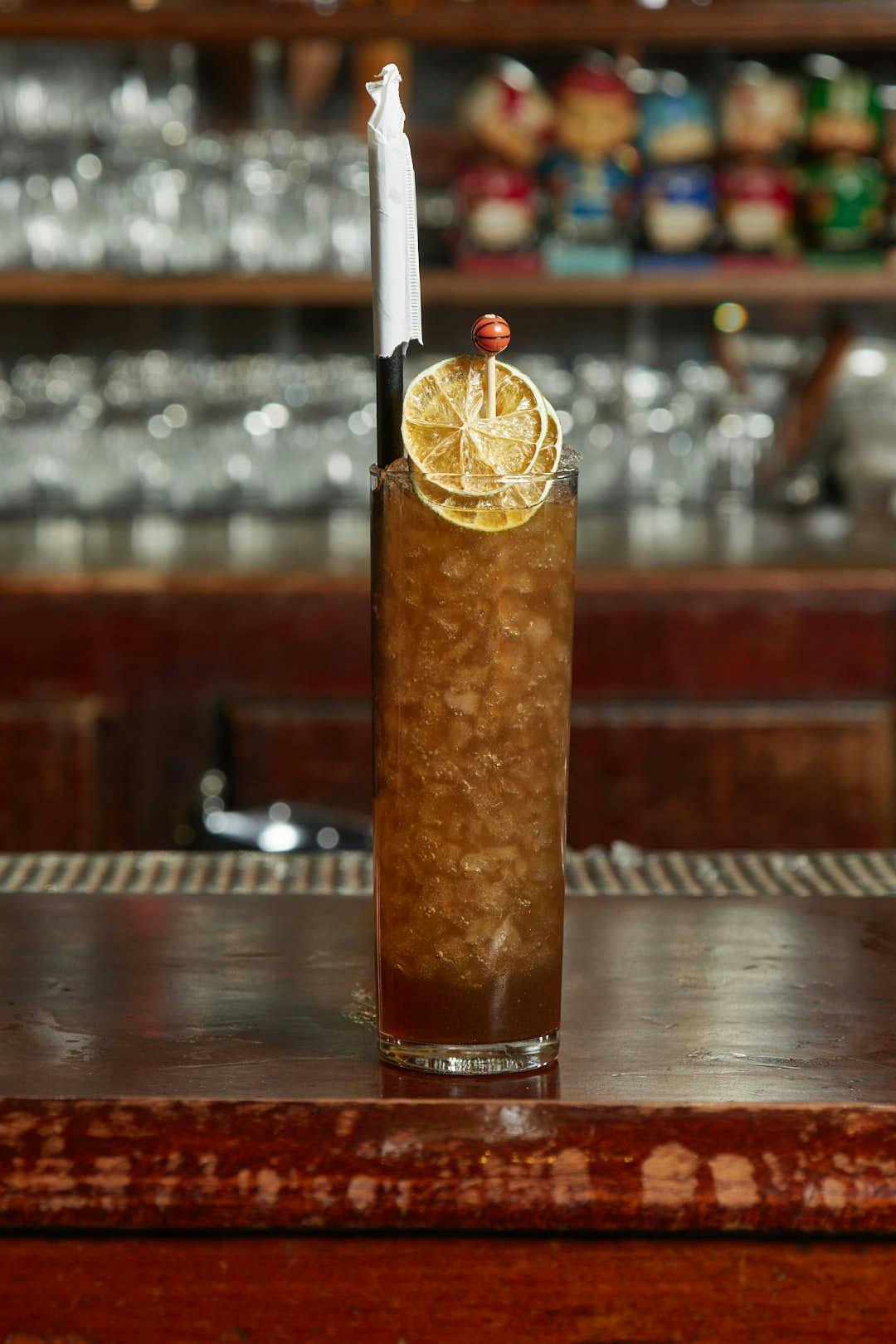 In its nascent stage, the cocktail program wanted to focus on just the classics to test the waters and see what works for its clientele and matches its identity as a sports bar.
"We thought that doing classics and doing them well first was going to be our best bet," Sayes said.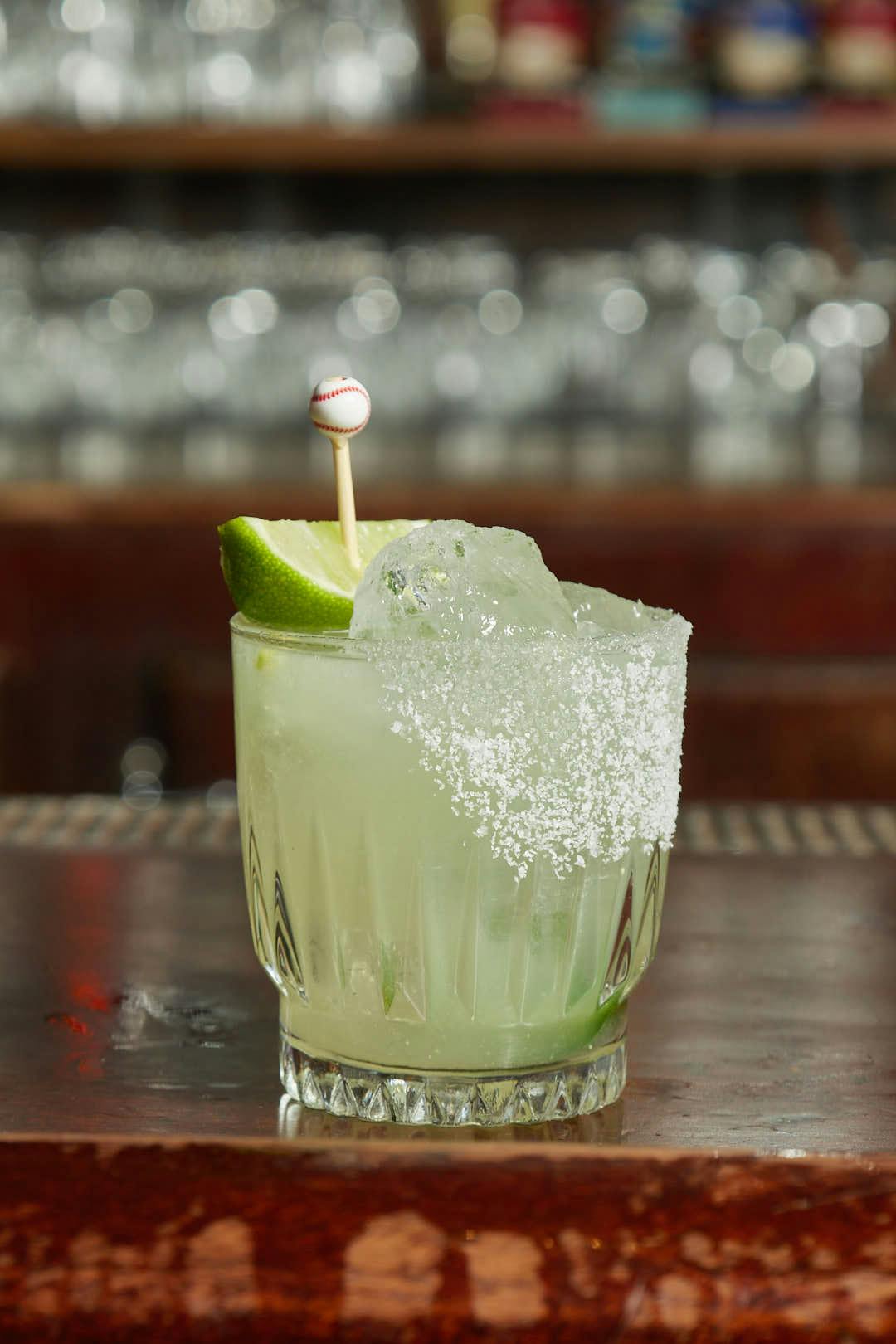 The classics also helped inculcate a culture within the stuff, of whom not everyone would've known how to properly mix drinks. This allowed people to strengthen their foundation so that when they do eventually pivot to more modern drinks, it wouldn't come as a jarring shock.
Beer, as we're all aware, goes hand in glove with sports bars. The taps are flowing, and pitchers are foaming all night long. Due to the long-standing tradition, establishments might take the list for granted and treat it as an oversight — but not Peaches.
Sayes said that something she found frustrating at a few places was that it was either all Molson products, all Labatt products or all craft beer. While that is respectable and works well, she wanted to have a sizeable variety of offerings on tap and in bottles and cans. 
With 12 taps on deck, the draught beer selection at Peaches casts a wide net. From big-name breweries to local craft stuff, the menu spans the whole gamut.
"There's never going to be somebody who comes here who wants to drink a beer that isn't going to find something that they liked," Sayes said. 
The food at Peaches goes toe-to-toe with the drinks menu, be it the variety, quality or taste. While a majority of it is pub grub at its core, Sayes defines her food as "knowingly-casual refined food."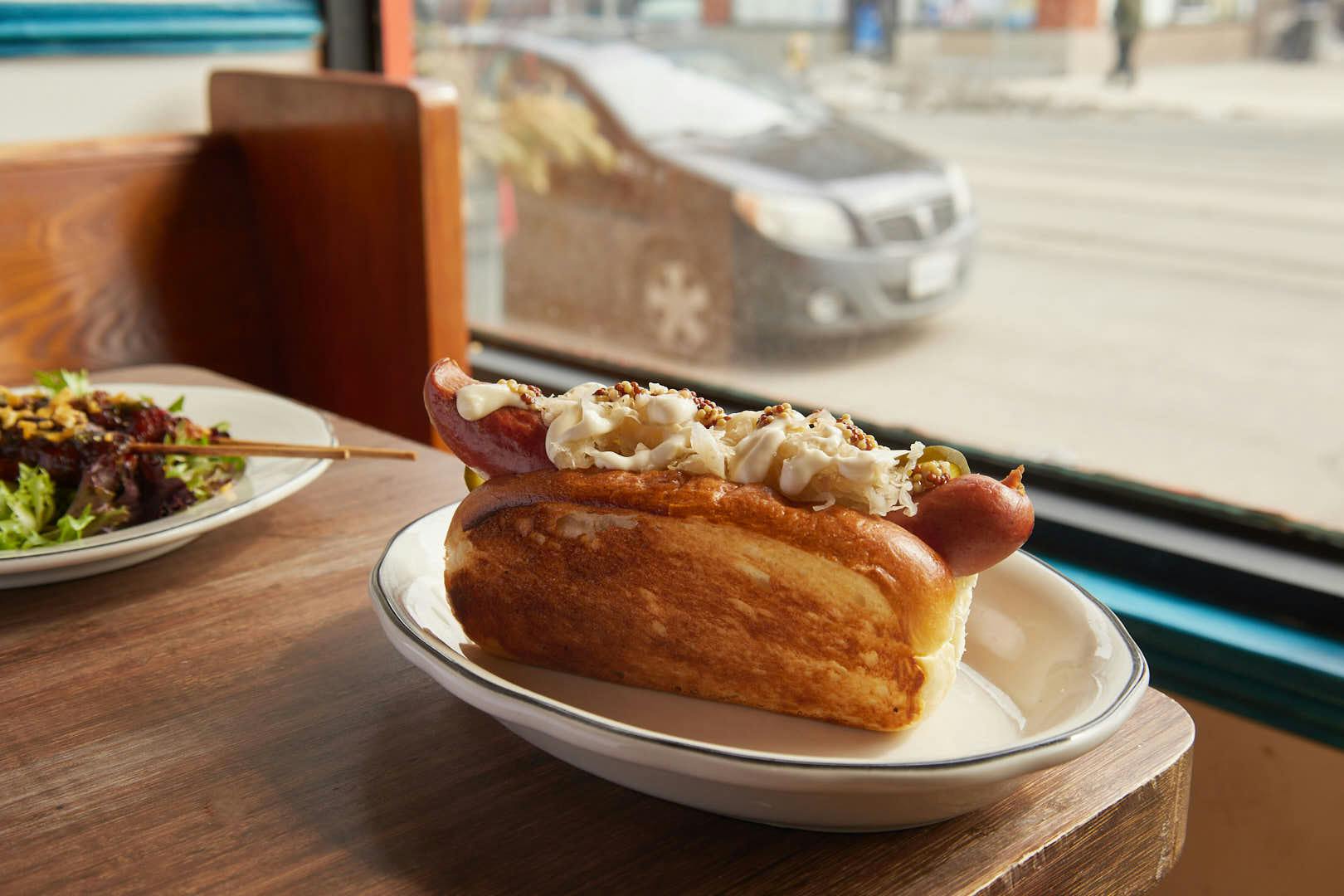 From classics like hotdogs, which they serve a variety of, to chicken wings, nachos, burgers and even steak, Peaches aims to serve simple food but elevate it through little twists along the way, courtesy of head chef Bennett Jacobs. 
When the concept of the place was first discussed, the team forayed into the world of Cajun cuisine for its food offerings — before ultimately scrapping that plan. 
If it's not obvious to you yet, baseball is a big theme at Peaches — from the memorabilia, posters, game-worn gloves and down to even the name. So when figuring out the dishes, a ballpark theme was kept in mind to help steer the thought process — what could you eat out at a ballpark? 
The immediate answer was the same one you just got in your head — hotdogs. 
Beyond the franks, other bites you can get at a sporting event include nachos, wings and chicken strips — or, in Peaches' case, chicken-fried mushroom. 
The hotdogs are made by a local company called Woofdawg. For the wings, which are probably the bestsellers, all the sauces are made in-house, too, assuring the quality of the product. Also alluding to the level of detail is the choice to procure the freshest ingredients possible and work with local suppliers, something Jacobs believes places them above commercial sports bars. 
"We don't want to lose our respect for the food that we use," he said. So I work closely with local providers, local farms, and things like that. We source our meat organically. So that's another big point that we want to focus on."
We already spoke about the space that Peaches has created inside its boundaries. With plenty of movement and chatter occurring throughout the night, Jacobs wanted to incorporate that vibe into his menu. Something easy to carry as you move from one location to the other — or share with the new friends you make throughout the night.  
"We really wanted to create a dining experience where people are snacking around," Jacobs said. "I don't want to say tapas, but like everything is shareable with some exceptions."
The exceptions were a brief interlude when the team ventured into large-scale dishes like barbecue chicken, which includes a whole leg, and even the steak. Since then, the plan has changed to move away from the larger format and focus more on the shareables. More snacks, bites, finger foods — things that don't bog you down and limit your movement. 
"The atmosphere is pretty casual. So we want the food to reflect that as well," Jacobs said. 
Peaches, in its identity and menu, is constantly evolving, looking to its patrons for feedback on what's working and what's not. The guests somewhat lead the charge on the bar's evolution by showcasing enthusiasm for certain things while not caring for others. 
And while the menu is bound to change regularly, the dishes will still have the classic sports bar-grub feel at their core.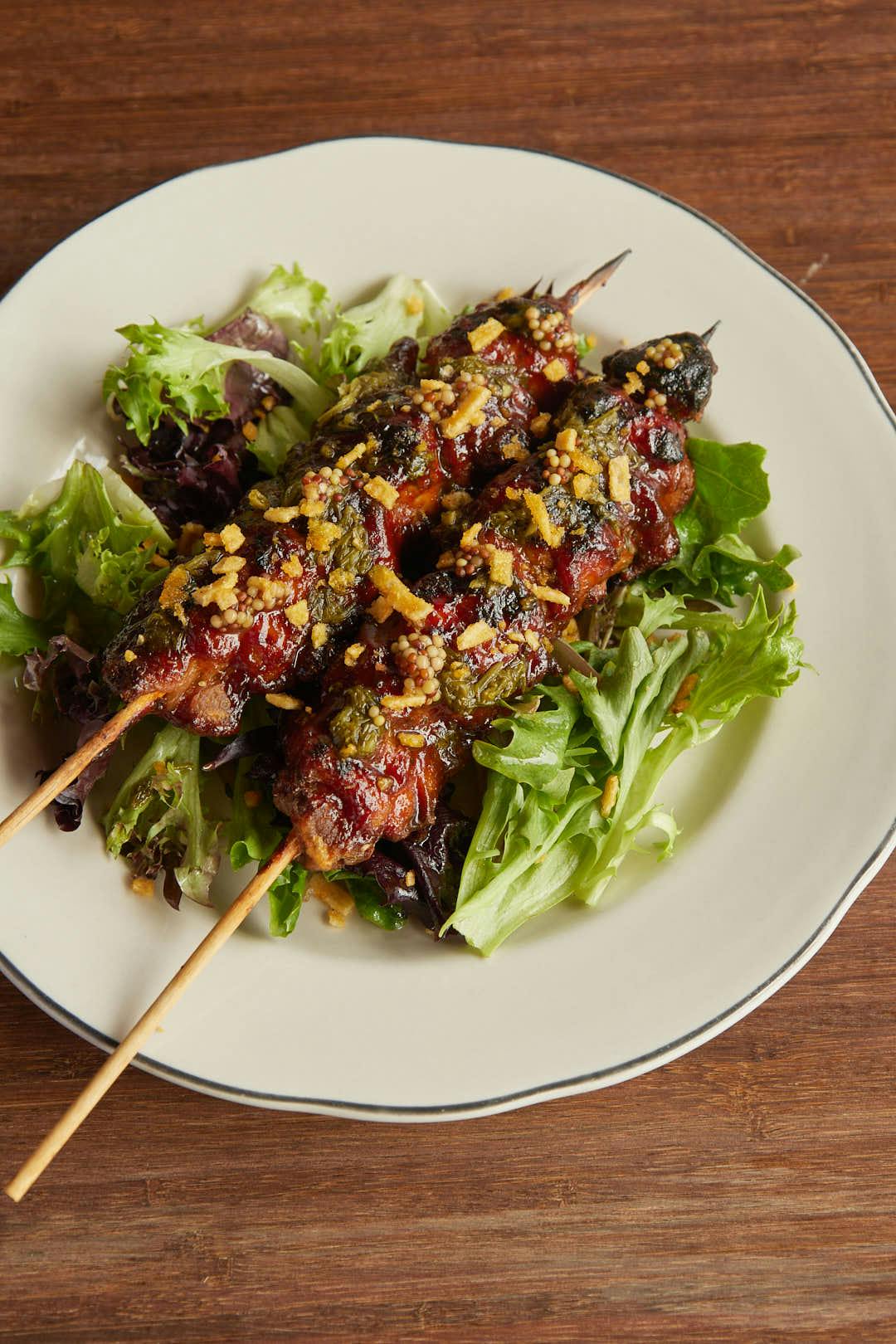 The Barbecue Chicken, which initially existed as a whole leg served with roasted potatoes, was pared down to its core ingredients and turned into an easily-shareable snack. The chicken leg was replaced with skewers, so one could easily pick it up and chomp down. 
The dish works really well as a skewer, giving the proper feel of a barbecued piece of meat. The sweet and sticky chili marinade complements the barbecue glaze wonderfully, and the char from the grill adds a wonderful smokey aspect that we all have come to expect from barbecued ingredients. 
The herby and fresh chimichurri cuts through the richness of the glaze well, leaving your palate refreshed instead of tired. On top are hickory sticks, which have been subbed in for the roasted potatoes, providing a pop of texture which livens up the entire dish and keeps you coming back for more bites.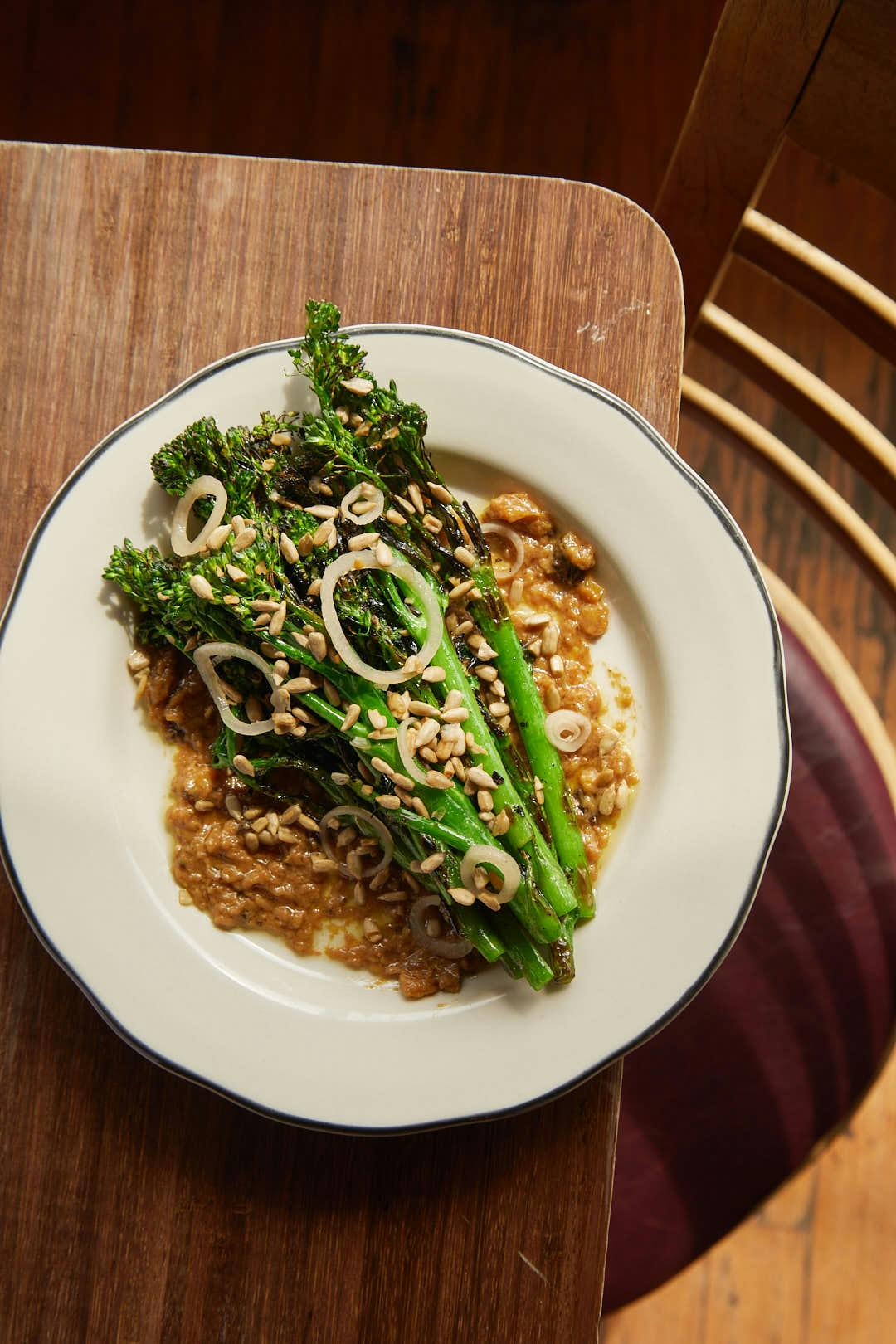 Another dish that feels elevated when placed in a sports bar setting is the Grilled Broccolini. It's served with a vegan Bagna Cauda, which is a sauce that is complexly flavoured yet well-balanced. To make it vegan, miso is used instead of anchovies to retain the umami flavour of the fish. The other ingredients completing the sauce are black garlic for some sweetness, raw white garlic and lemon juice. 
The broccolini is dressed in honey dijon mustard and thrown on the grill. The slight bitterness you get from the vegetable is balanced out by the sweetness of the glaze. The sunflower seeds on top add a crunchy texture and some necessary salt, while the pickled shallots round off the dish with a kick of acidity and freshness.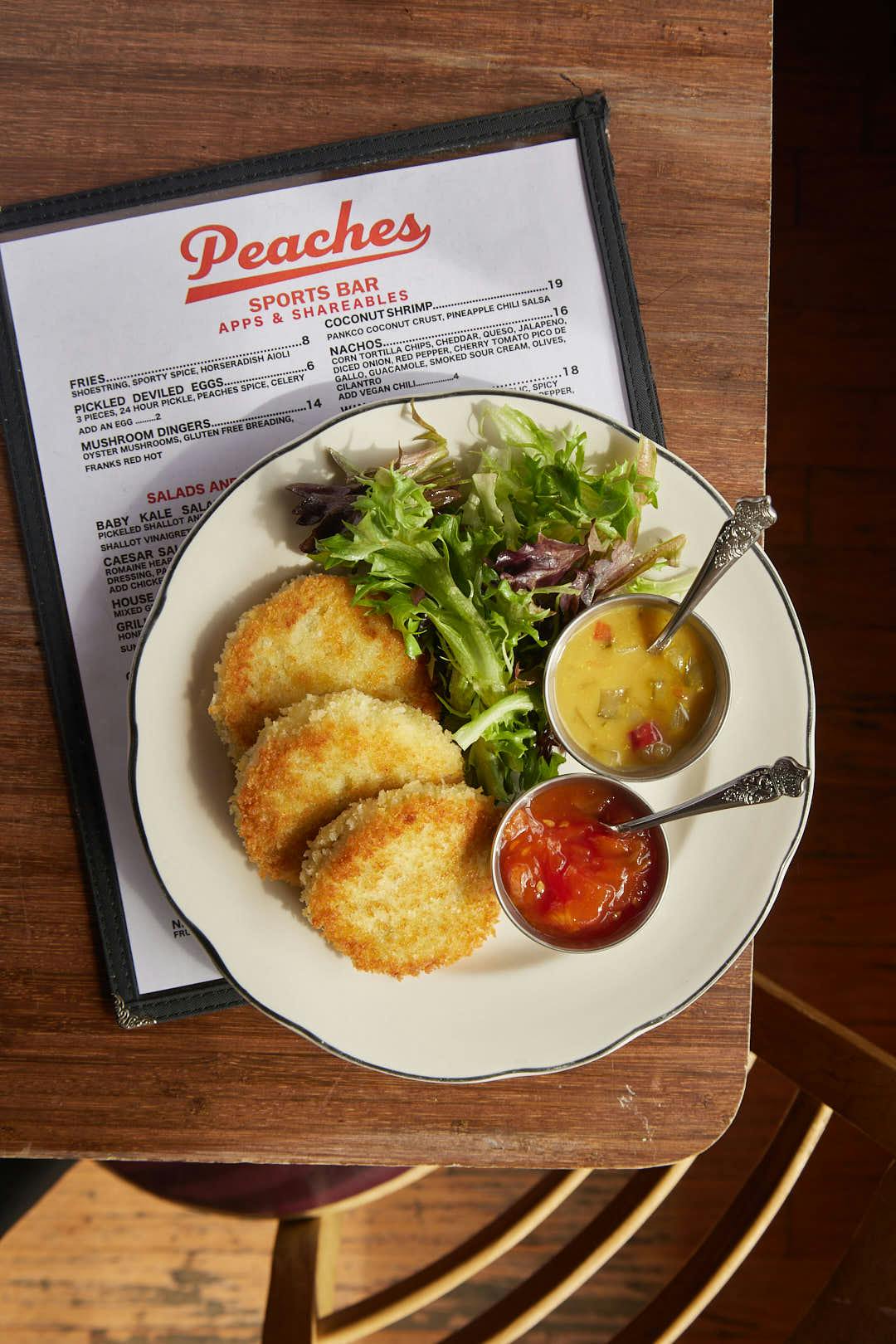 One of the latest additions to the Peaches menu is the Cod Cakes. Made with Newfoundland cod, the dish is accompanied by tomato jam and mustard pickles. The cakes themselves have a rather subtle fish flavour but are absolutely delicious. Even if you're not a big seafood person, these cod cakes might just convert you. 
The tomato jam is tangy and sweet, and the mustardy pickled vegetables add a welcomed freshness to each bite along with a depth of flavour and some body. 
One of the many crowning glories of Peaches is its Sauer Dog. As the name suggests, it's got sauerkraut, dijon mustard, an all-beef dog courtesy of Woofdawg, horseradish aioli and housemade lacto-fermented pickles on top of a housemade buttery bun. 
Not much to say about it except that it embodies everything Peaches is about in a single bite — a classic ballpark and sports bar menu item that has been tweaked to take it a step above your run-of-the-mill hotdog with sauerkraut. 
It's a beautiful hotdog that is well-balanced in both flavour and texture. The freshness of the pickles cuts right through the meat and reinvigorates your palate after every bite. But the true ingenuity comes through Jacobs' masterfully pickled mustard seeds — sitting atop the dog masquerading as crown jewels — which add an extra pop of brightness and level up the texture game even further.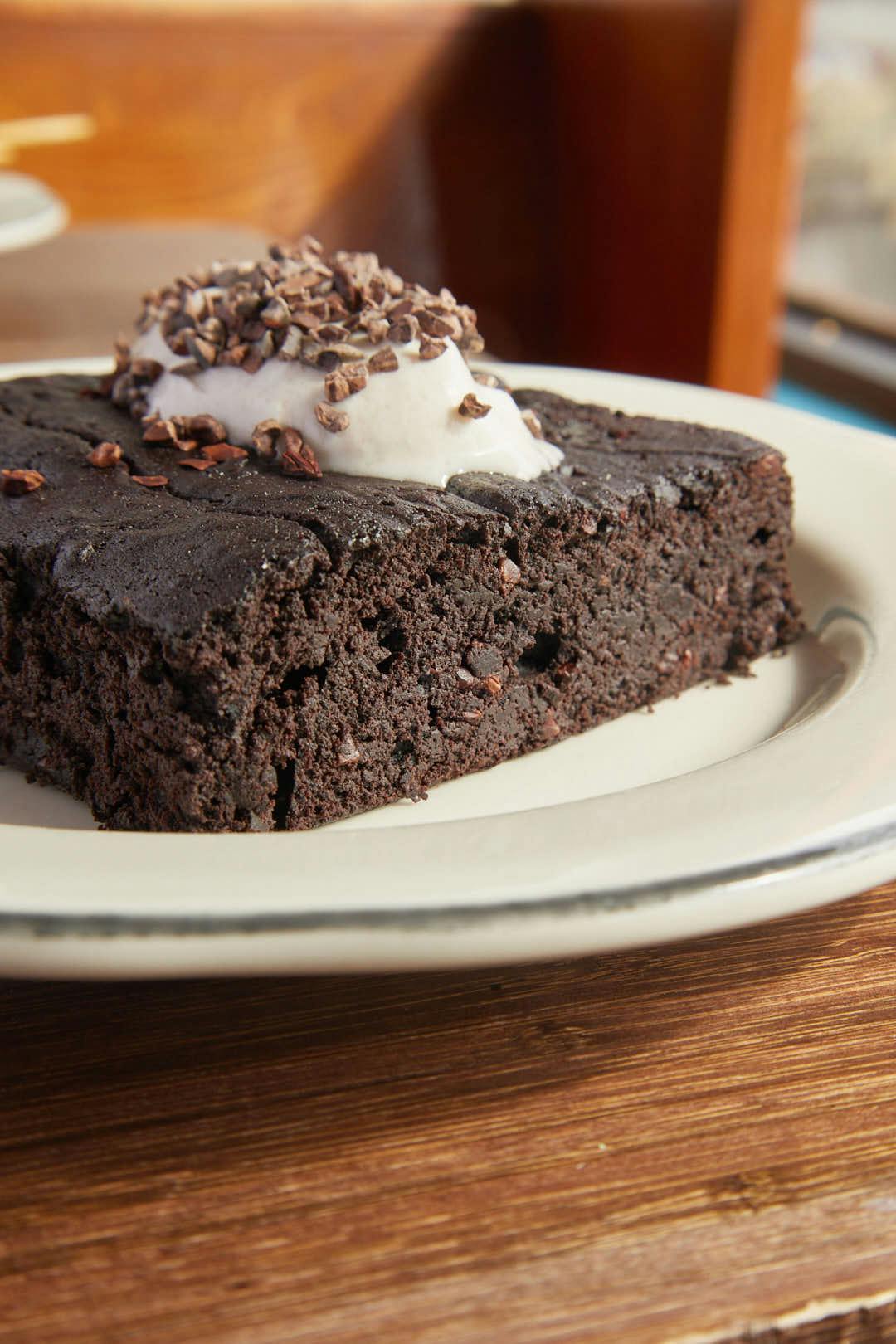 Rounding out the meal is the Vegan Brownie. Pretty standard as brownies go, this dish also furthers Peaches' inclusivity ideals by incorporating desserts everyone can enjoy. Served with whipped coconut cream and cacao nibs, it has an interesting flavour thanks to the cream and the nibs help bolster the profile with some texture. 
When it comes to establishments in the food and beverage industry, sports bars are up there as one of the most prominent fixtures. Naturally, that kind of territory might come with its own set of rivalries and animosities — but not when Peaches is involved. 
Sayes said she doesn't really think about other establishments as her rival. The joint's location in Parkdale has a big part to play in that, in the sense that it is kind of a lone-standing sports bar in the neighbourhood, far enough away to not step on anyone's toes. With where it's situated, it has kind of already become the neighbourhood spot.
Speaking of Parkdale, Sayes wants her bar to be a direct reflection of not just Toronto but the neighbourhood specifically — to champion the diversity of the area she has set up shop in. 
"The biggest thing that I want people to take away is that this is a neighbourhood space and a reflection of the neighbourhood," she said. "And I think that what is so cool about Toronto is you don't have to live in a neighbourhood to want to be a part of that experience."
Being inclusive and supportive does not just end at queer-identifying people for Sayes. While they are at the forefront, she feels thankful to be in the industry where she can support other local businesses around her and help the neighbourhood grow as one.
"I think one of the more gratifying things about being a business owner in this kind of an industry is the fact that we're all able to support each other that way," Sayes said. "This neighbourhood is growing, and it's growing West. And I feel blessed to be a part of that attraction to this part of the neighbourhood."
With the end of most sports programming for the summer, Peaches has shifted its focus to evolving as a brand — with a newer cocktail program, switching up the food menu a bit and planning plenty of inclusive events and parties. With extended weekend hours and plenty of queer programming to fill the gaps, Peaches will be the haven that Sayes always wanted on the West End. 
At the time of the interview, Peaches had been operational for less than six months but had already garnered a diverse clientele — people of all ages, identities and even whole families. As someone who's been in the area for about 15 years, Sayes is happy with how things have evolved in Parkdale gradually. 
"It's very cool to just see how it's changed and that many of the business owners in the area, especially, are young folks, queer folks, people of colour," she said. "It's diversified, like entirely. And it feels really good to be a part of that growth."
With so much change happening around the city and the world in general, safe spaces like Peaches are very important. And with June being Pride Month, it's important to highlight such spaces where queer-identifying people can simply exist without fear. 
So to relax in a queer safe haven, and indulge in elevated pub grub and well-crafted cocktails, hit up Peaches Sports Bar at 1554 Queen St. W. — you won't regret it.