Photographs by Paolina Loseto
If you're on the hunt for a hot new spot to indulge in all the seafood of your dreams, look no further because Pink Sky on King St. West will surprise and delight you with their unique and innovative menu.
Located in the former Weslodge space (which will soon be moving to a new location), Pink Sky is owned and operated by Hanif Harji and Charles Khabouth, two hospitality vets who are thrilled to be embarking on this new adventure.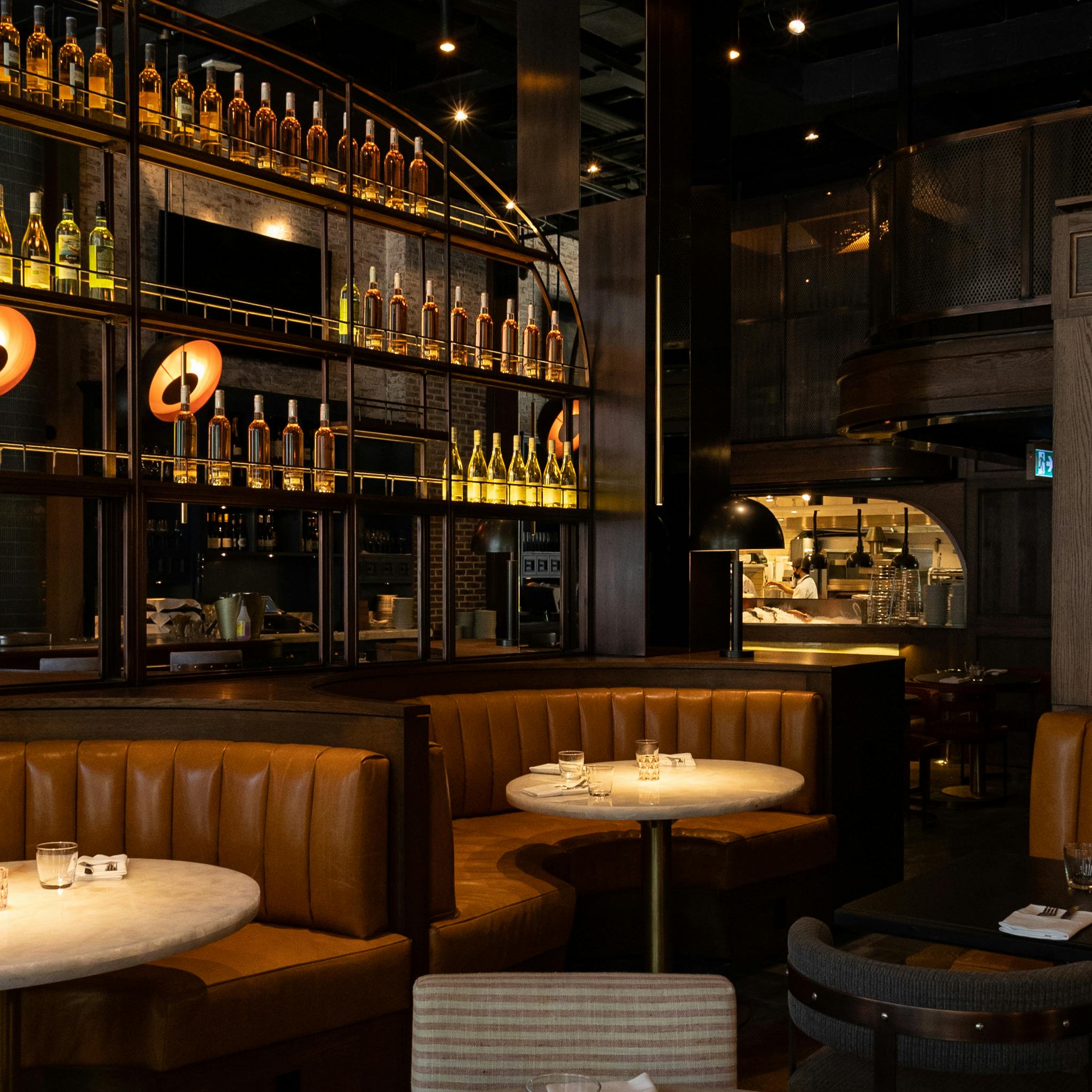 Harij says, "For us, Pink Sky was an opportunity to follow our passion. We love fresh and inventive seafood, so when we were able to re-invent the location, we wanted to do something that was really fun, with good music, and a relaxed crowd, but with a menu that is hyper-focused on seafood and freshness."
At the heart of it all, Harji wants Pink Sky to be a fun restaurant destination, where guests can feel comfortable while enjoying their wide range of inventive dishes.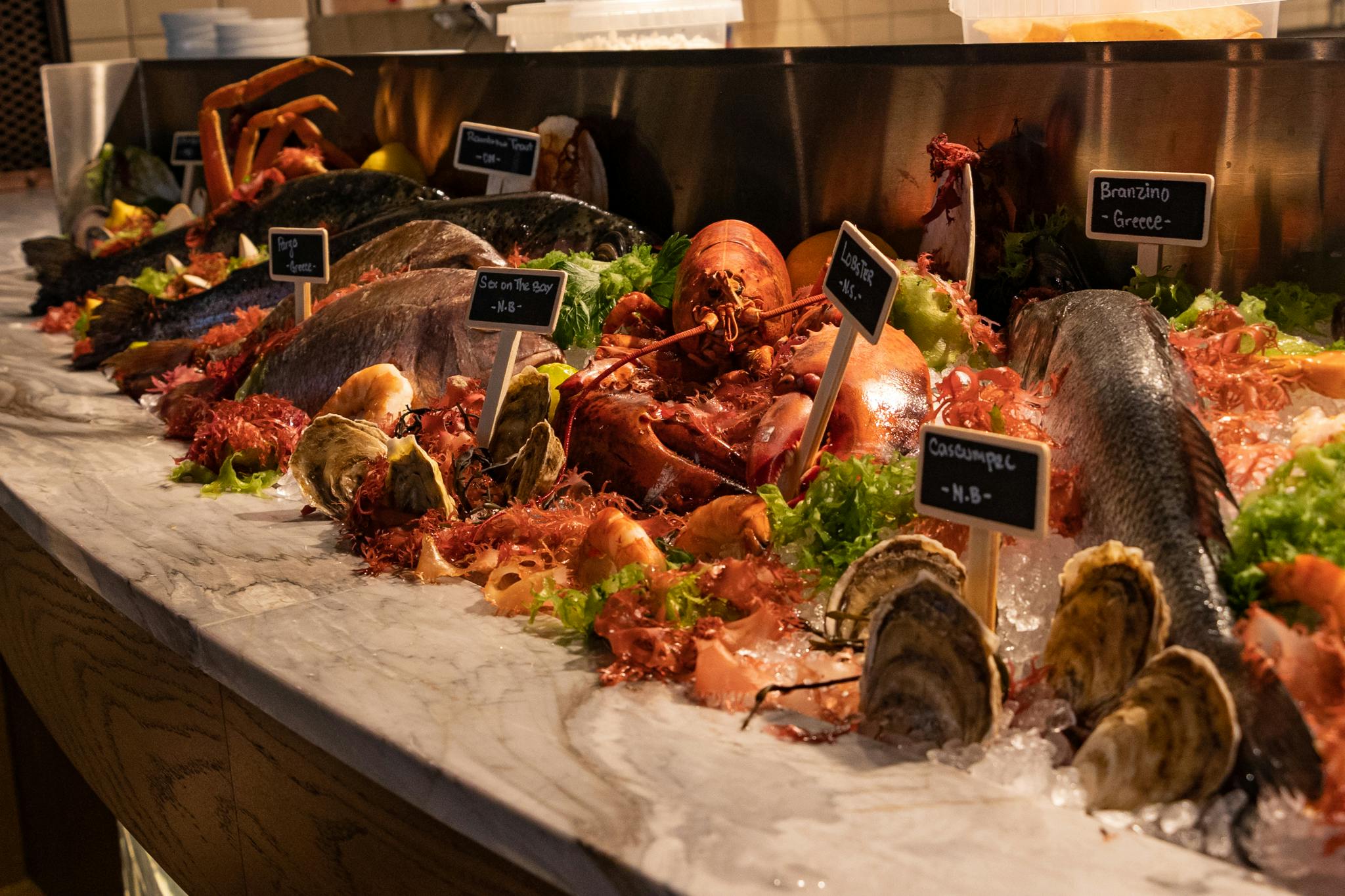 With large screens, wooden accent walls, custom light fixtures, hand-made tiles, a bar at the centre of the restaurant and an exposed seafood display, the space feels exciting without being too formal.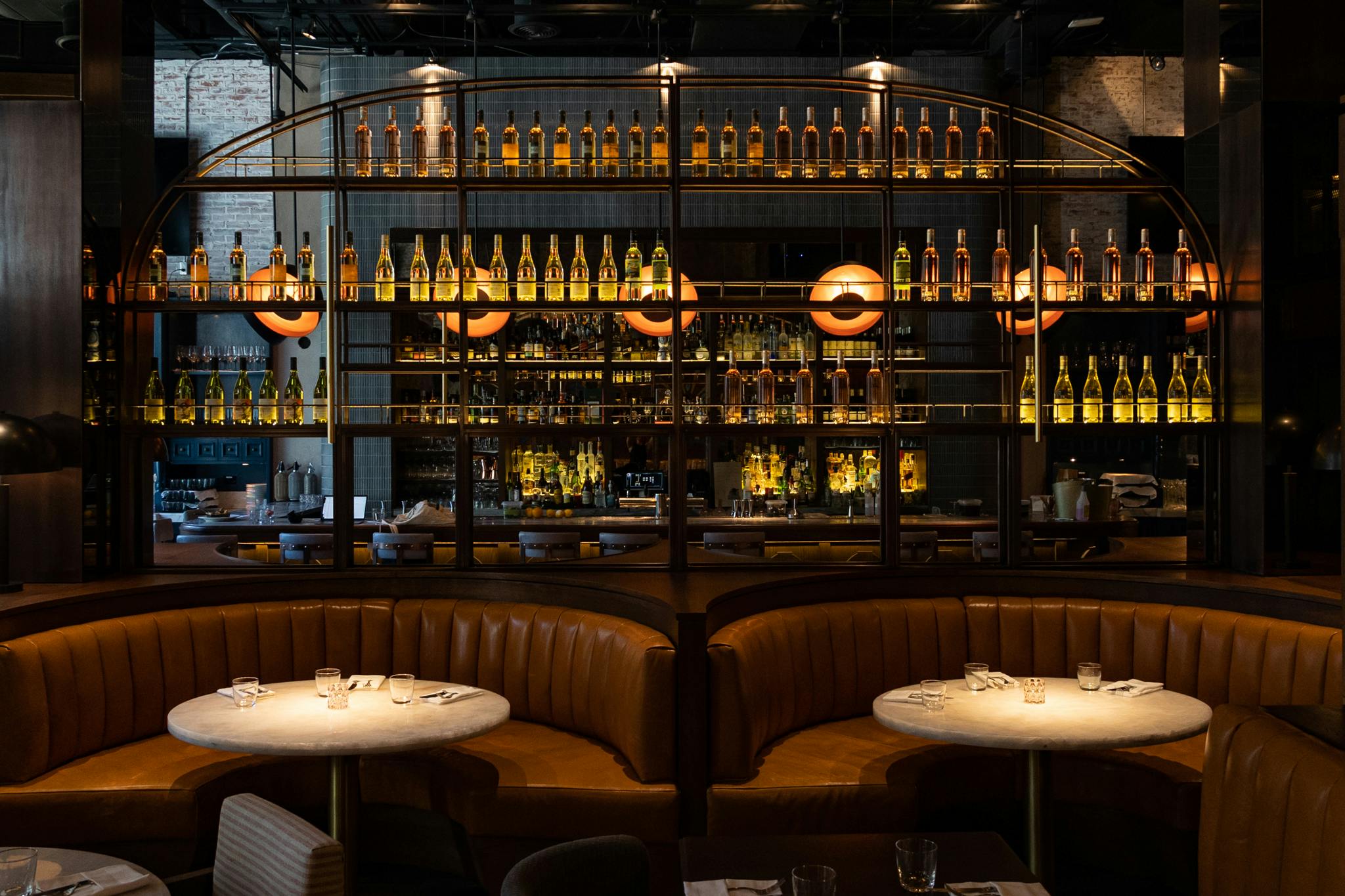 The curved booths with marble tables are perfect for an intimate dinner with a loved one or even for families looking for a night out with the kids. The exposed shelving units display their expansive range of wines and beautifully break up the room.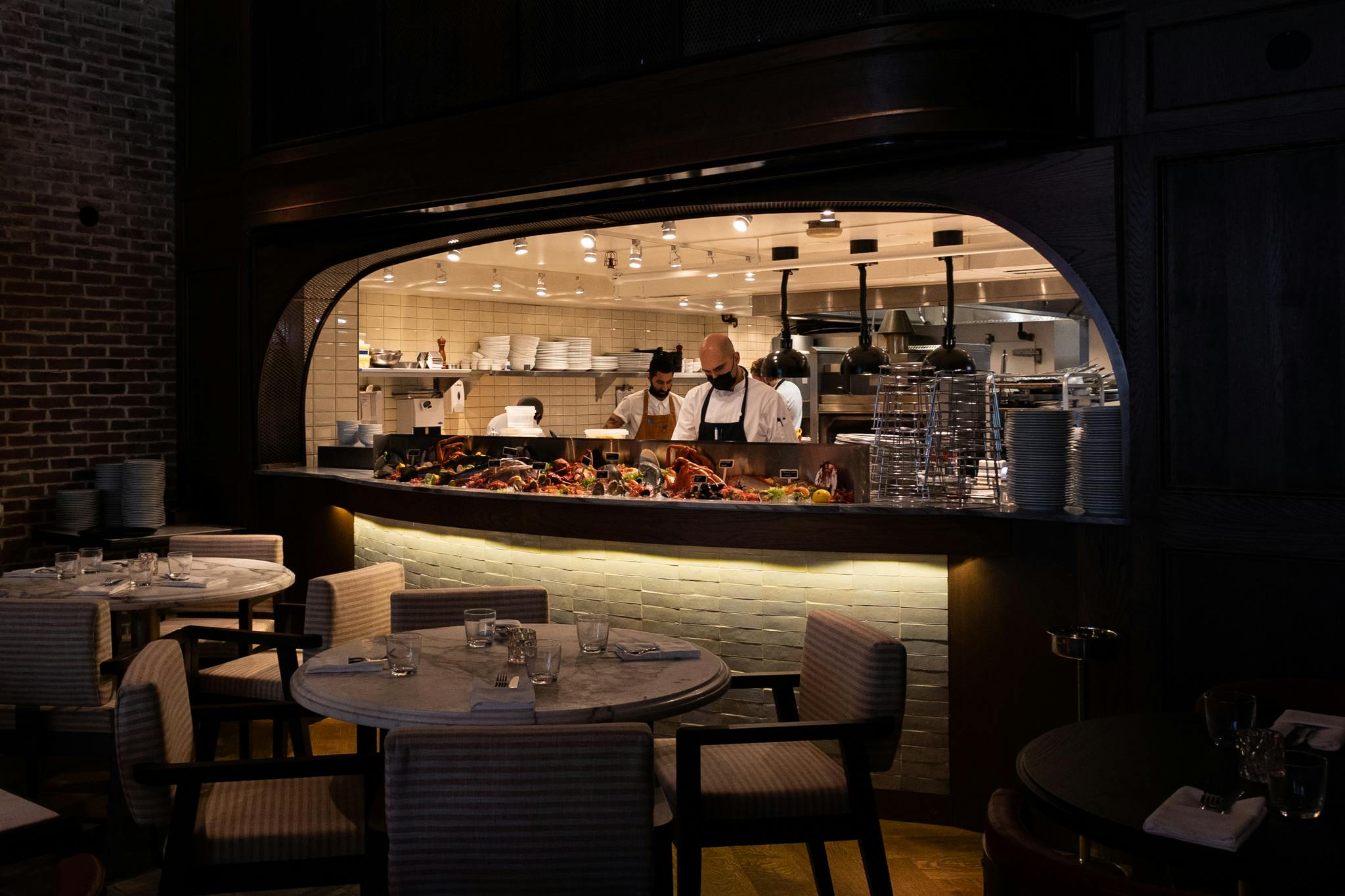 The interior is almost reminiscent of a port warehouse on the Eastern Seaboard's shores, balanced with subtle luxuries and fine-tuned details to create a space that feels edgy, while still being up-scale.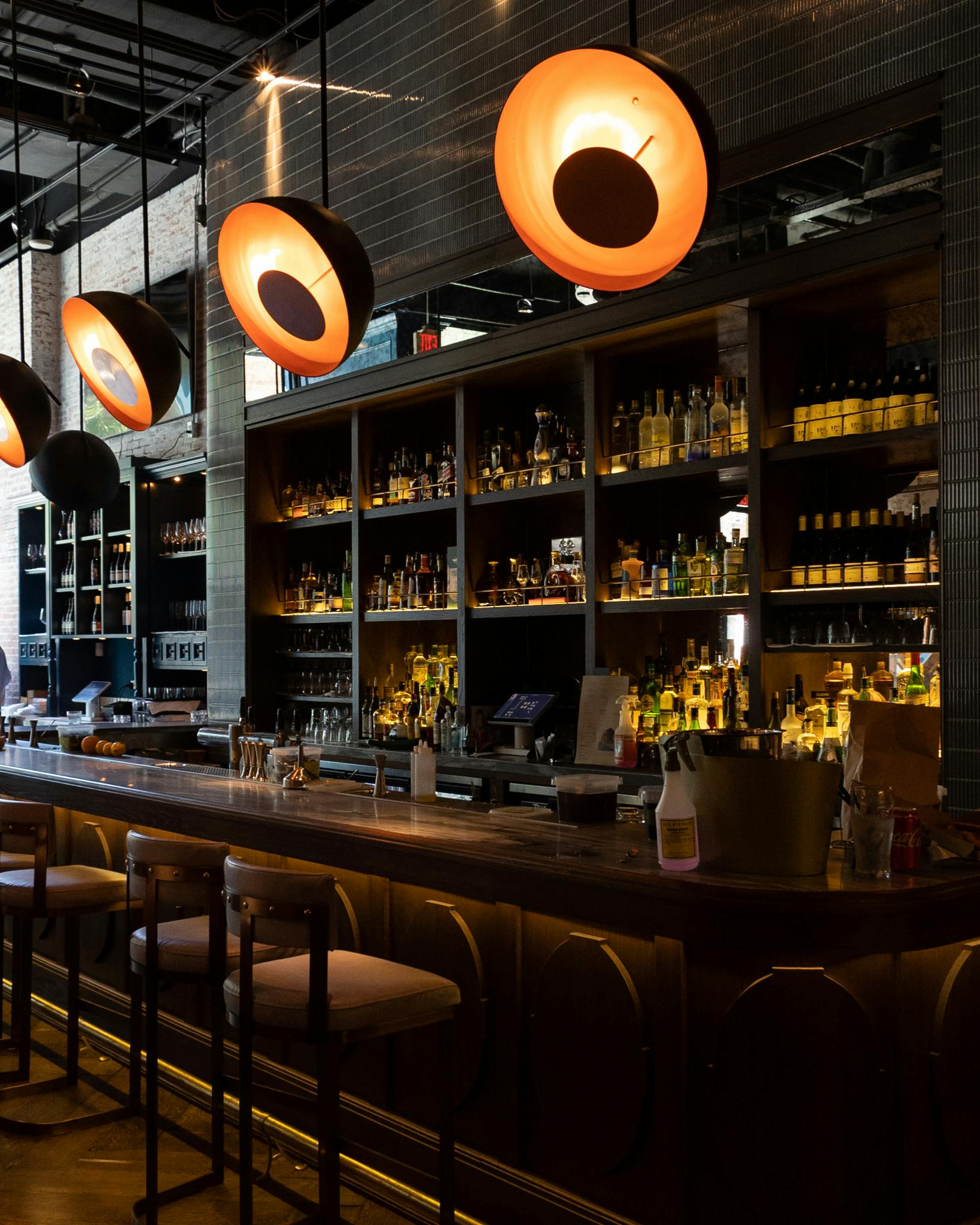 The mezzanine boasts a private dining space that seats up to 16 guests, so if you are looking for a swanky venue to host your next special event, the second level at Pink Sky will certainly deliver.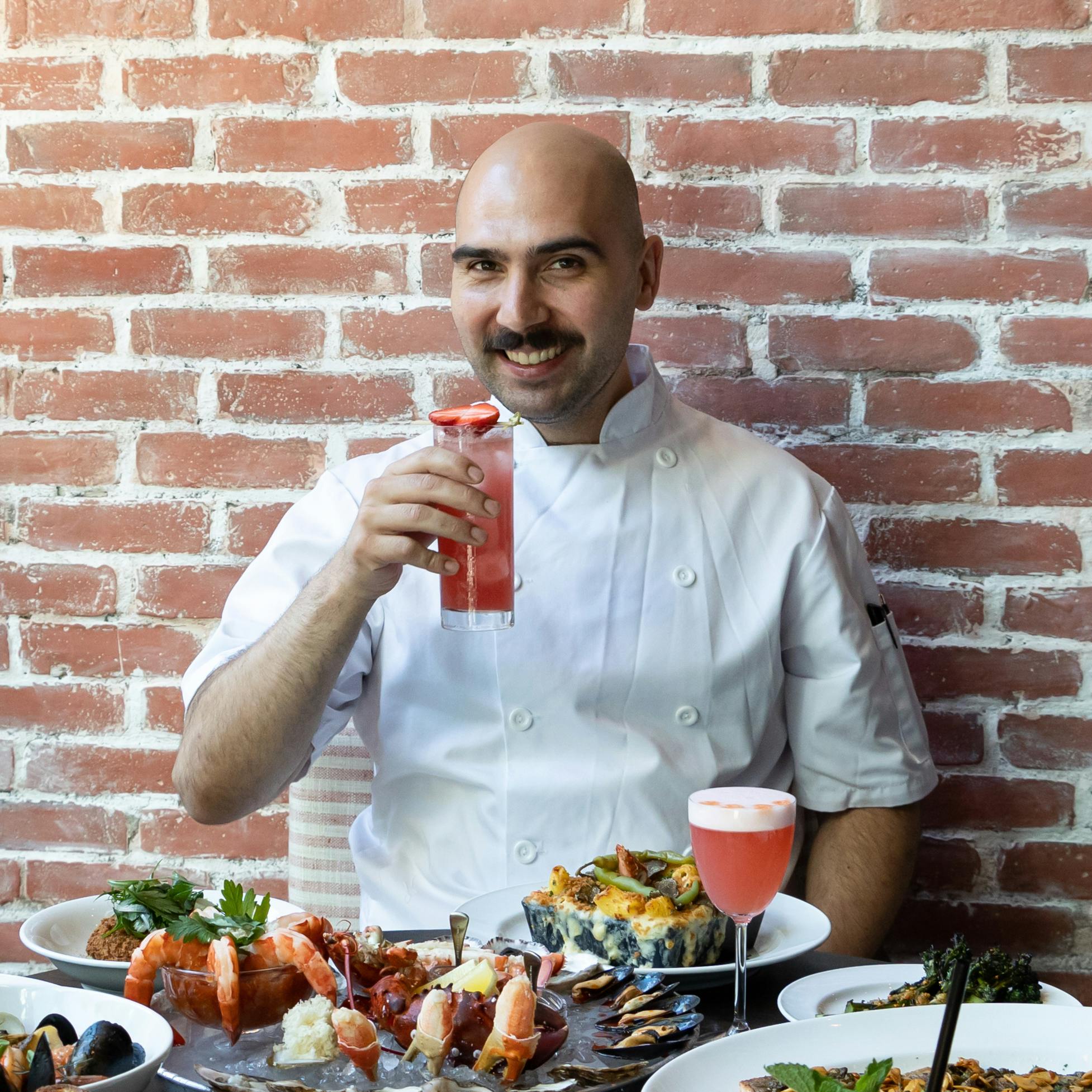 The menu is curated by Corporate Head Chef Zach Albertsen (Weslodge, Drake Hotel, Shook Kitchen) and Restaurant Head Chef Michali Eleftheroglou (Bar Raval, Boehmer), who share in Harij's and Khabouth's passion for revolutionizing the way we prepare seafood.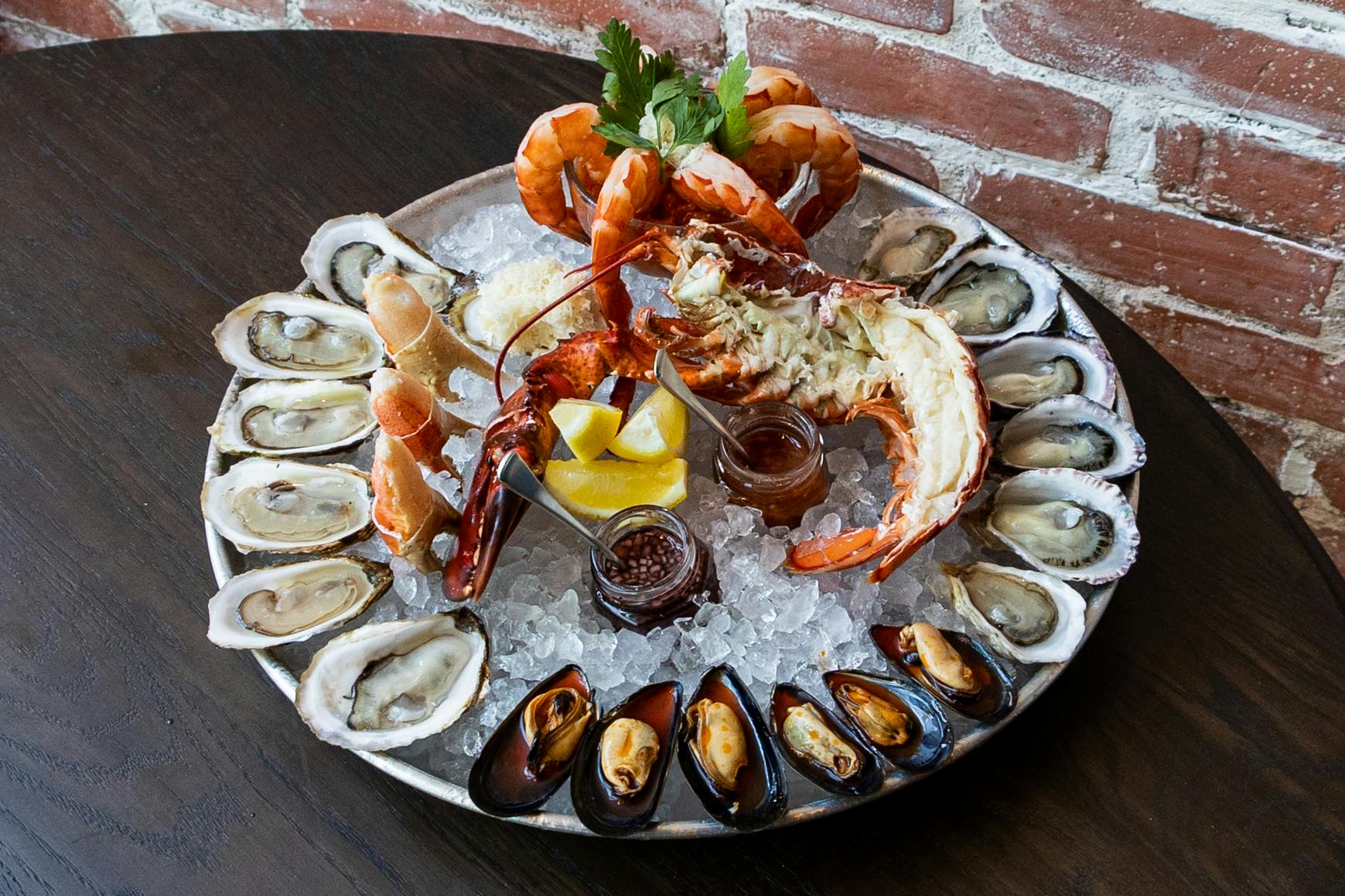 A portion of the menu will rotate daily depending on the fresh produce they receive, however the seafood towers, and platters will remain a constant staple. All of the fresh fish is cooked over charcoal, and you can choose between three or four different house-made sauces, like a zesty chimichurri or sherry butter, that gives the fish an extra bit of fullness.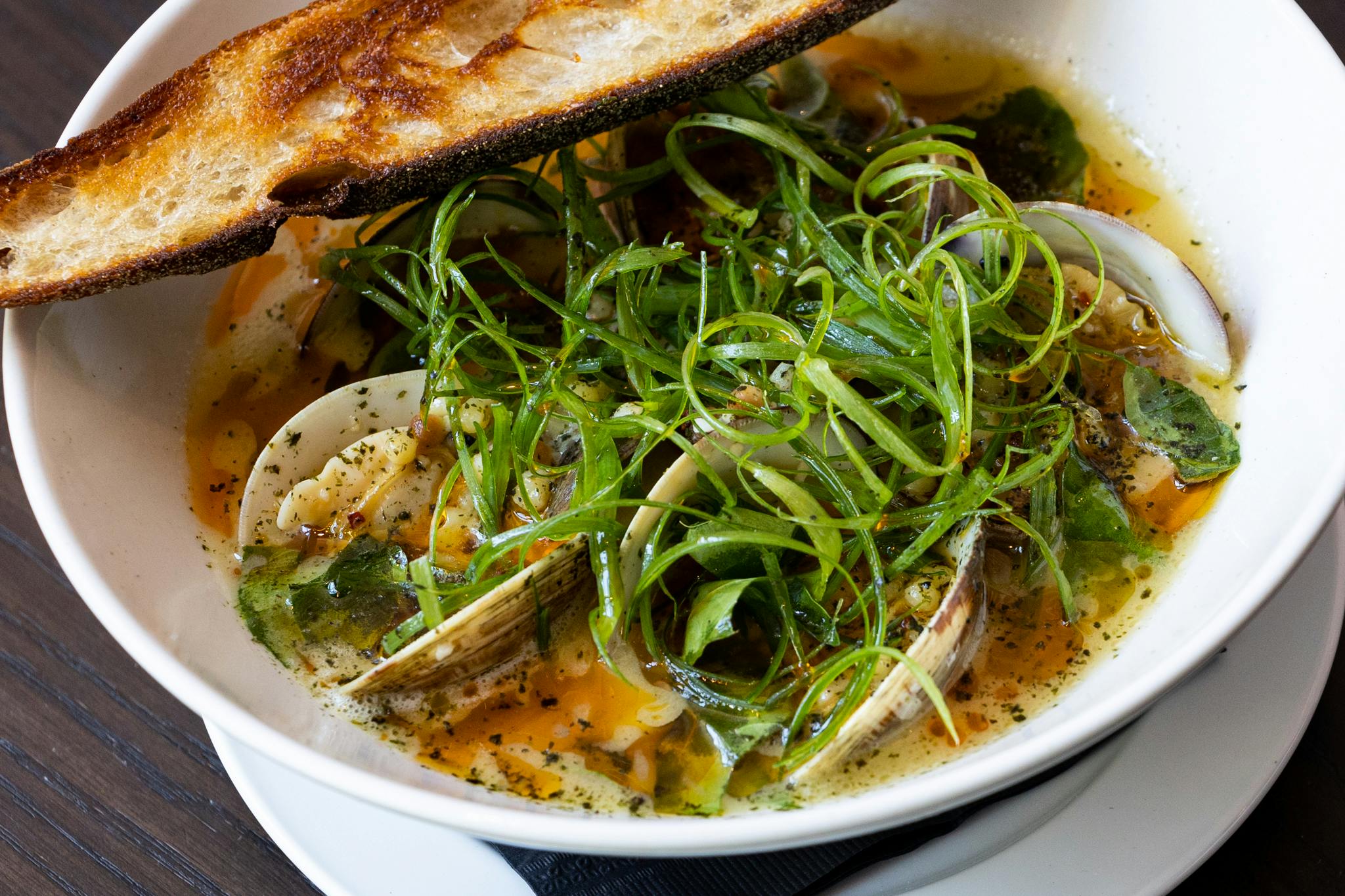 One of Harij's favourtie dishes on the menu are the Grilled Littleneck Clams, with chili oil, parsley, lemon, butter, fregola, sorrel, broth and grilled bread.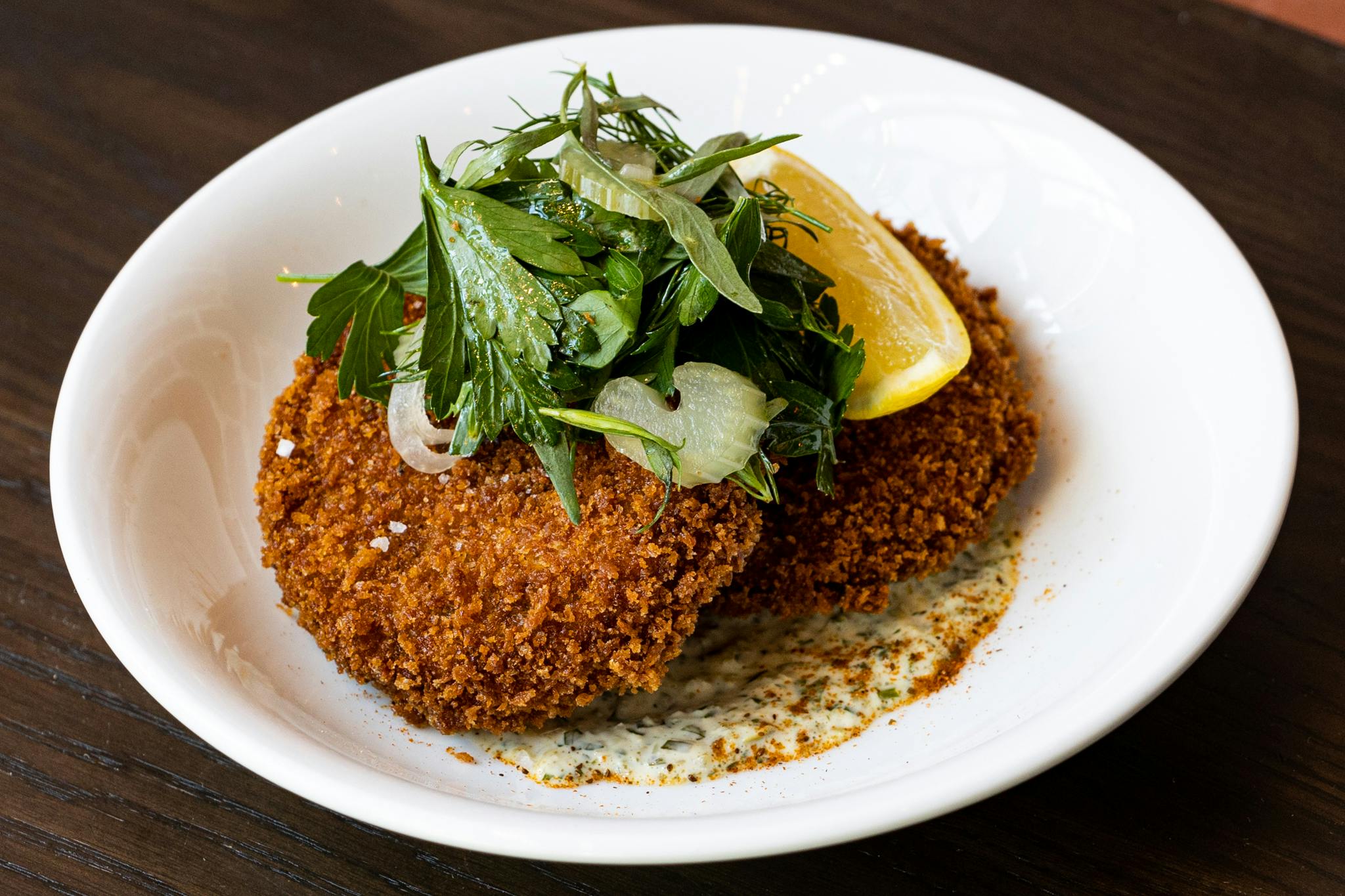 He also highly recommends the Jumbo Lump Crab Cakes; they are moist in the middle and are prepared with an effervescent dill-infused tartar sauce, pickled celery and fine herb salad.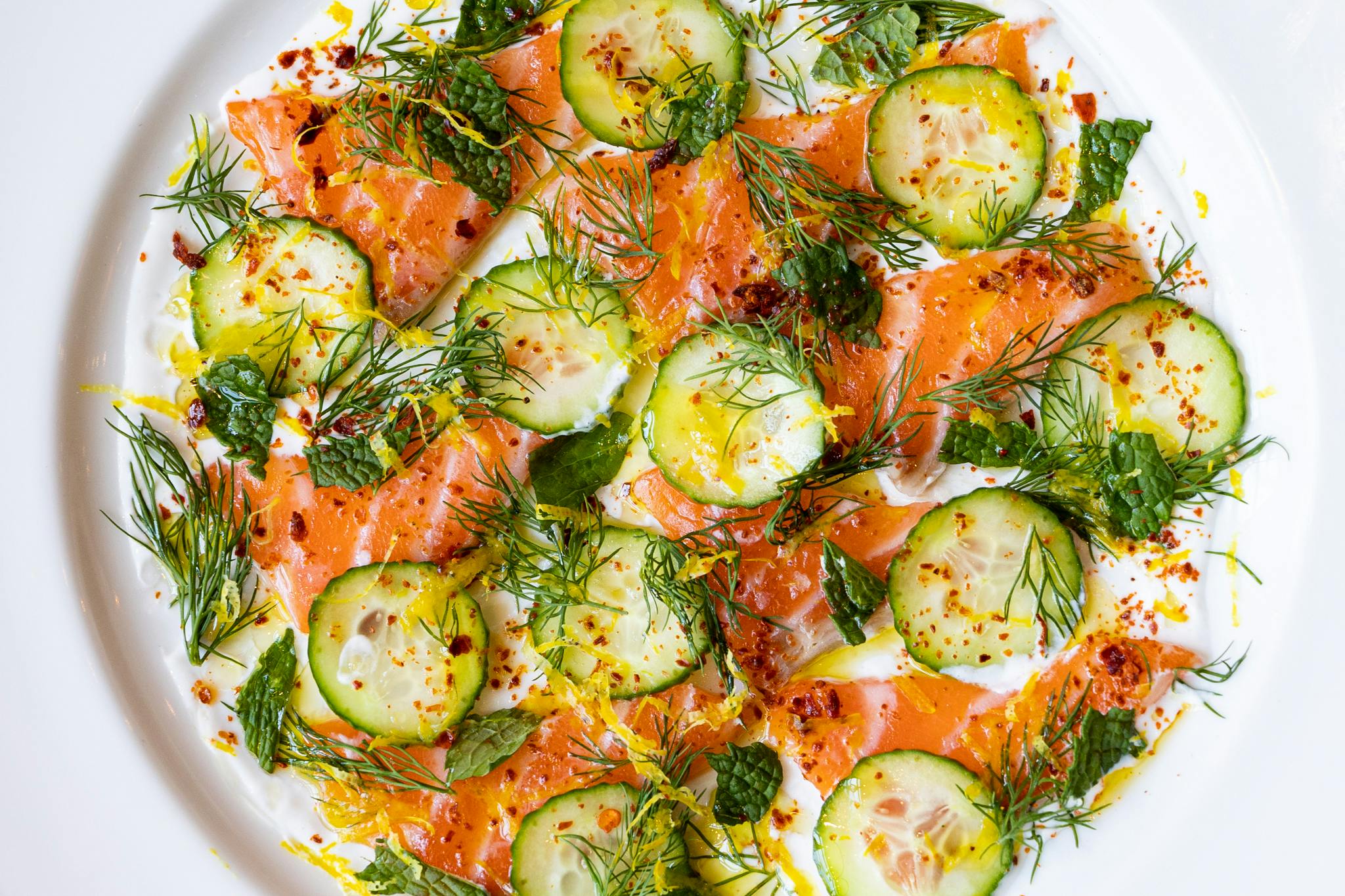 The Salmon Crudo is jam-packed with an abundance of flavour. The yogurt brings out a certain creaminess, and the olive oil, dill, cucumber, Aleppo chili, mint and pickled shallot, brings it all together in a way that will keep your mouth salivating and ready for the next course.
The Fish & Chips are unlike any you have had before. They are crispy, airy, the fish inside is cooked to perfection and the pub sized chips on the side are a salty and satisfying pairing.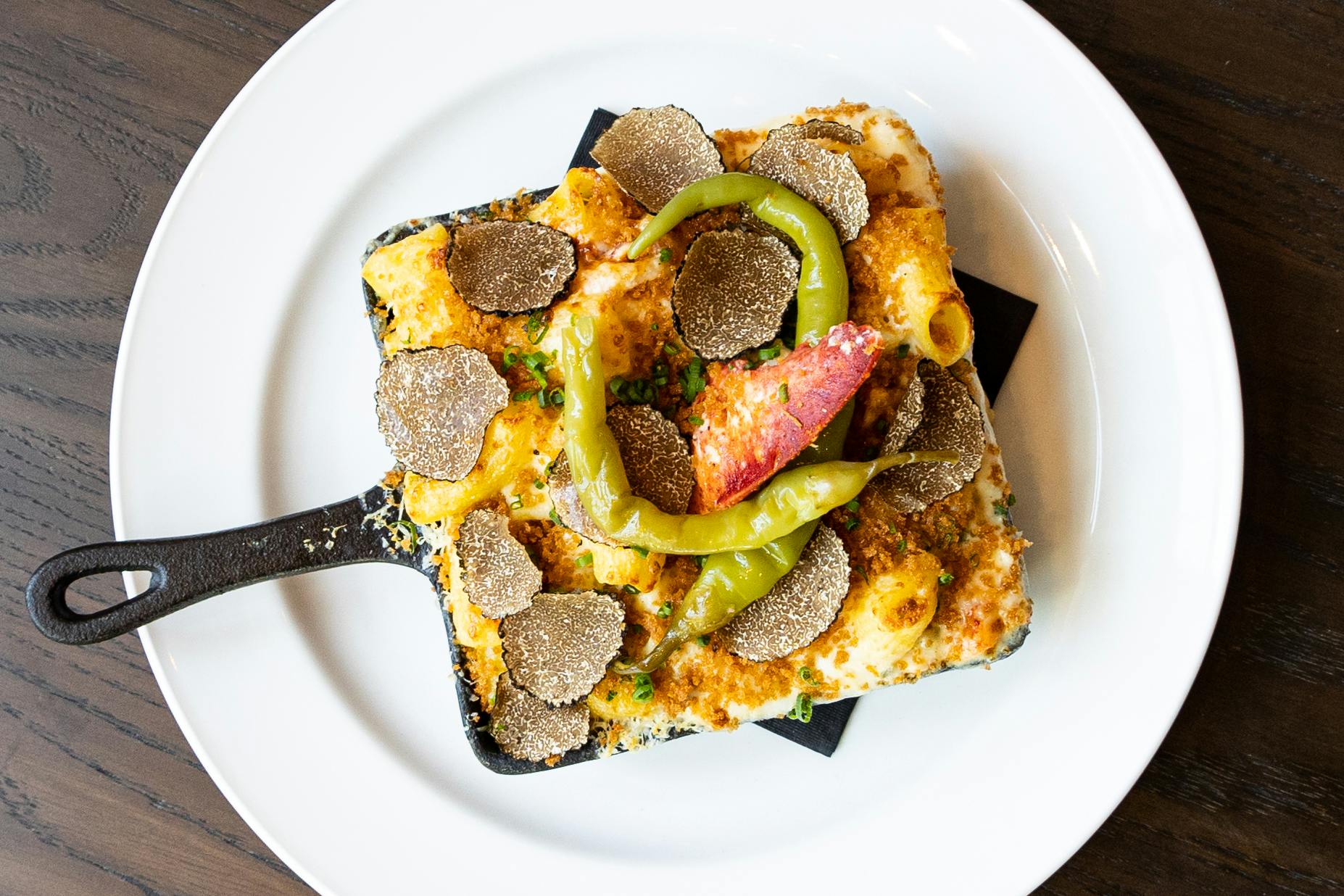 If you're feeling indulgent, you'll love their number one selling item, the Truffle Lobster Mac and Cheese. The mac noodles are made daily in-house and are mixed with a four-cheese blend, nearly a pound of lobster meat and freshly shaved truffles for one of the most decadent and memorable items on the menu.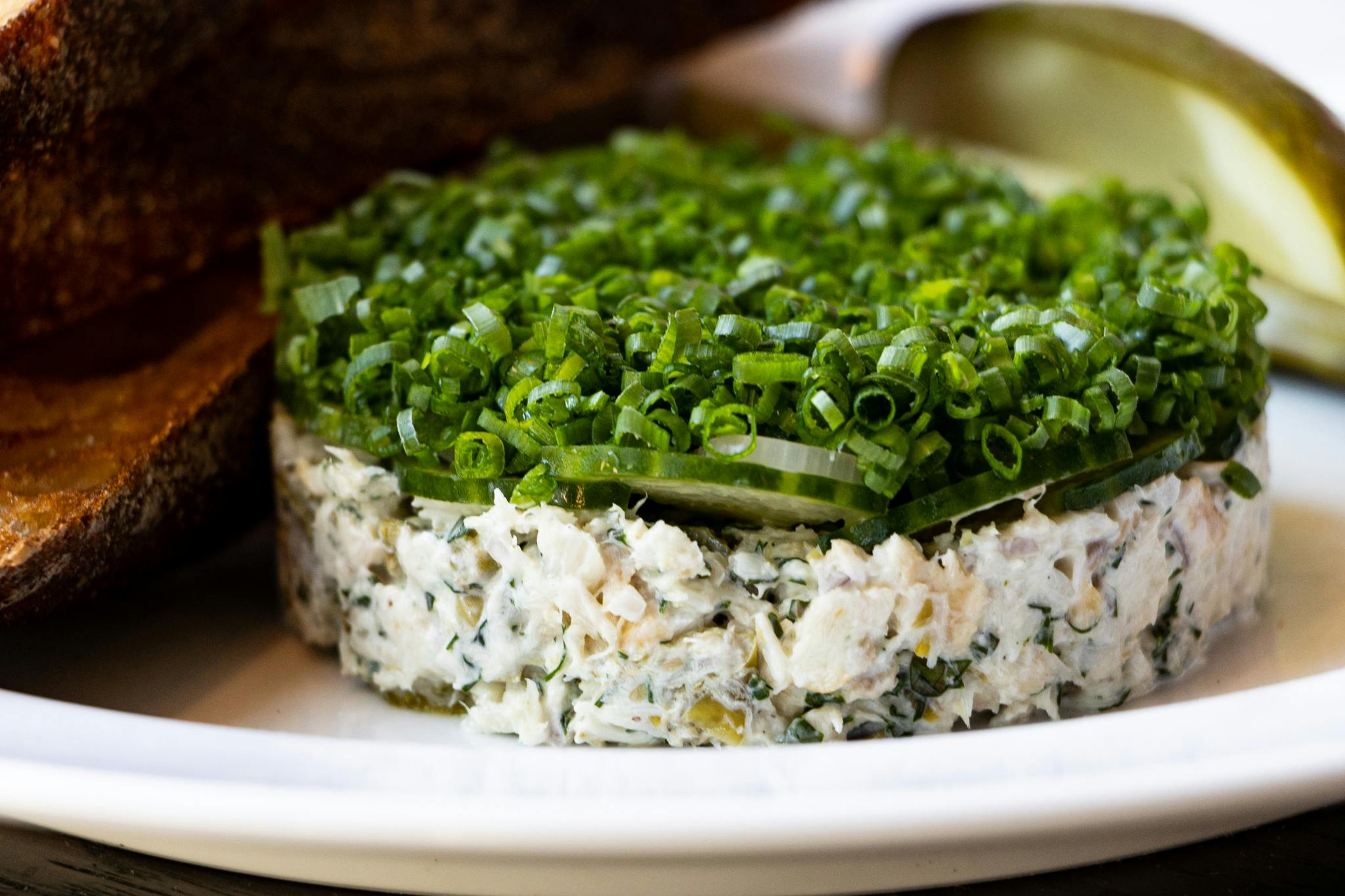 The Smoked Ontario White Fish with chive, sour cream, lemon, cucumber, capers and dill pickle, is quite incredible. The combination of the herbs on top, mixed with the garlic butter, creates an exquisite burst of umami flavour when it's spread on their house-made grilled bread.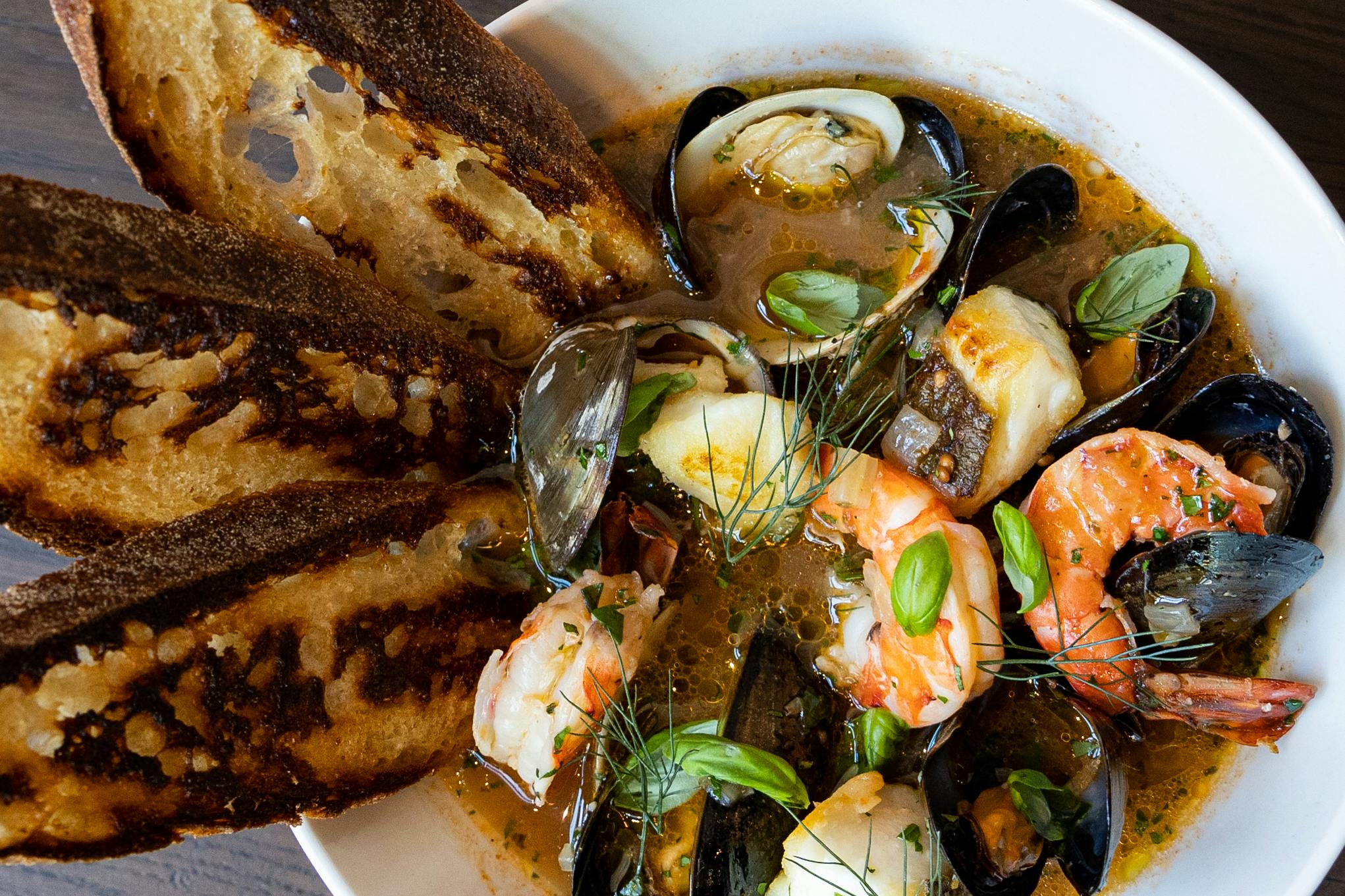 For those who want to dabble in a little bit of everything, the Cioppino with mussels, clams, shrimp, white fish, fennel, onion, tomato broth and toasted sourdough is perfect for sharing and is like an entire seafood buffet all in one dish!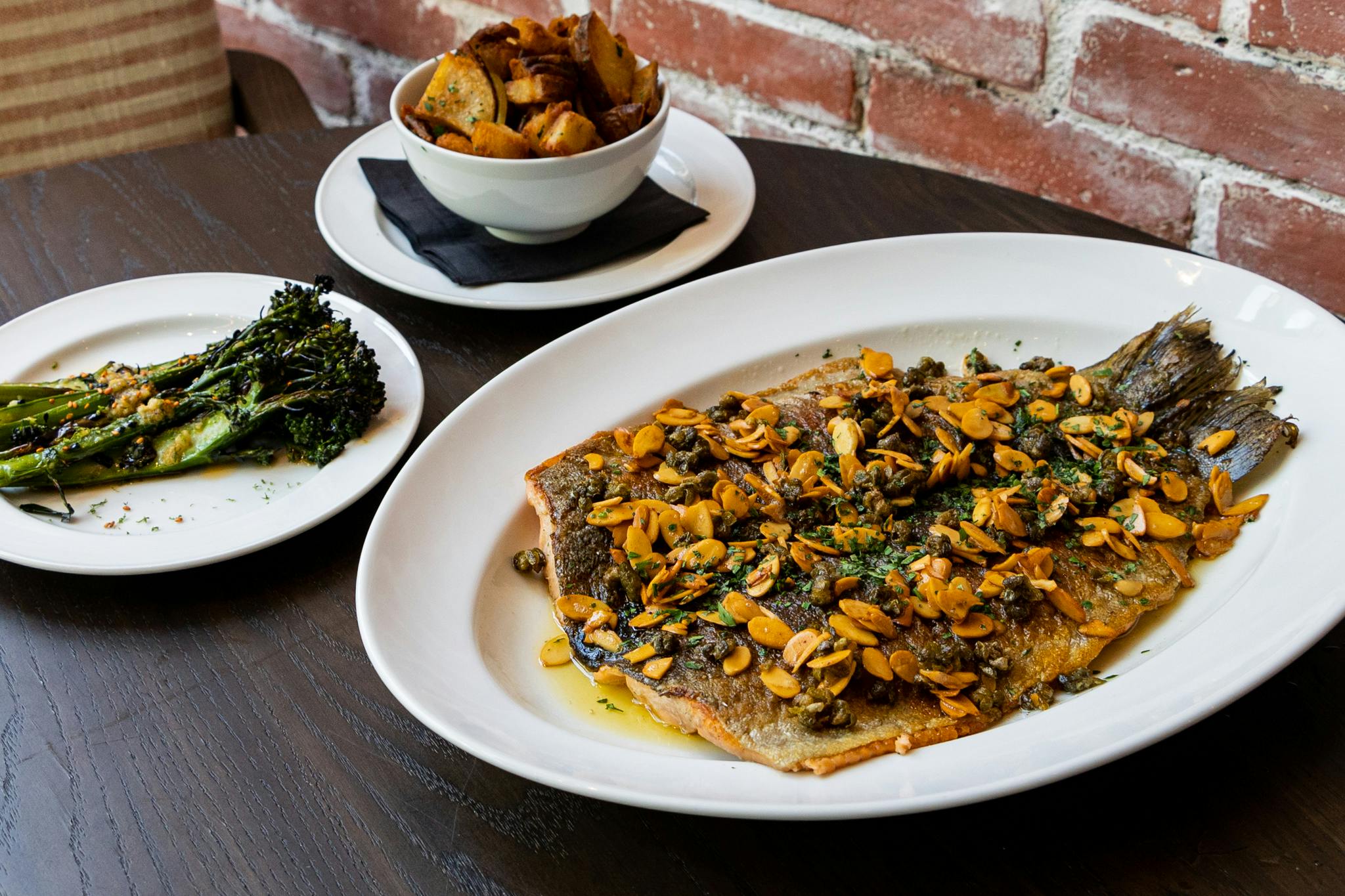 Lastly, the Whole Ontario Trout for two is an excellent main course option, with sauce almondine (for a little crunch), parsley and capers. The fish comes served with a side of their exquisite lemon fried potatoes and charred broccolini.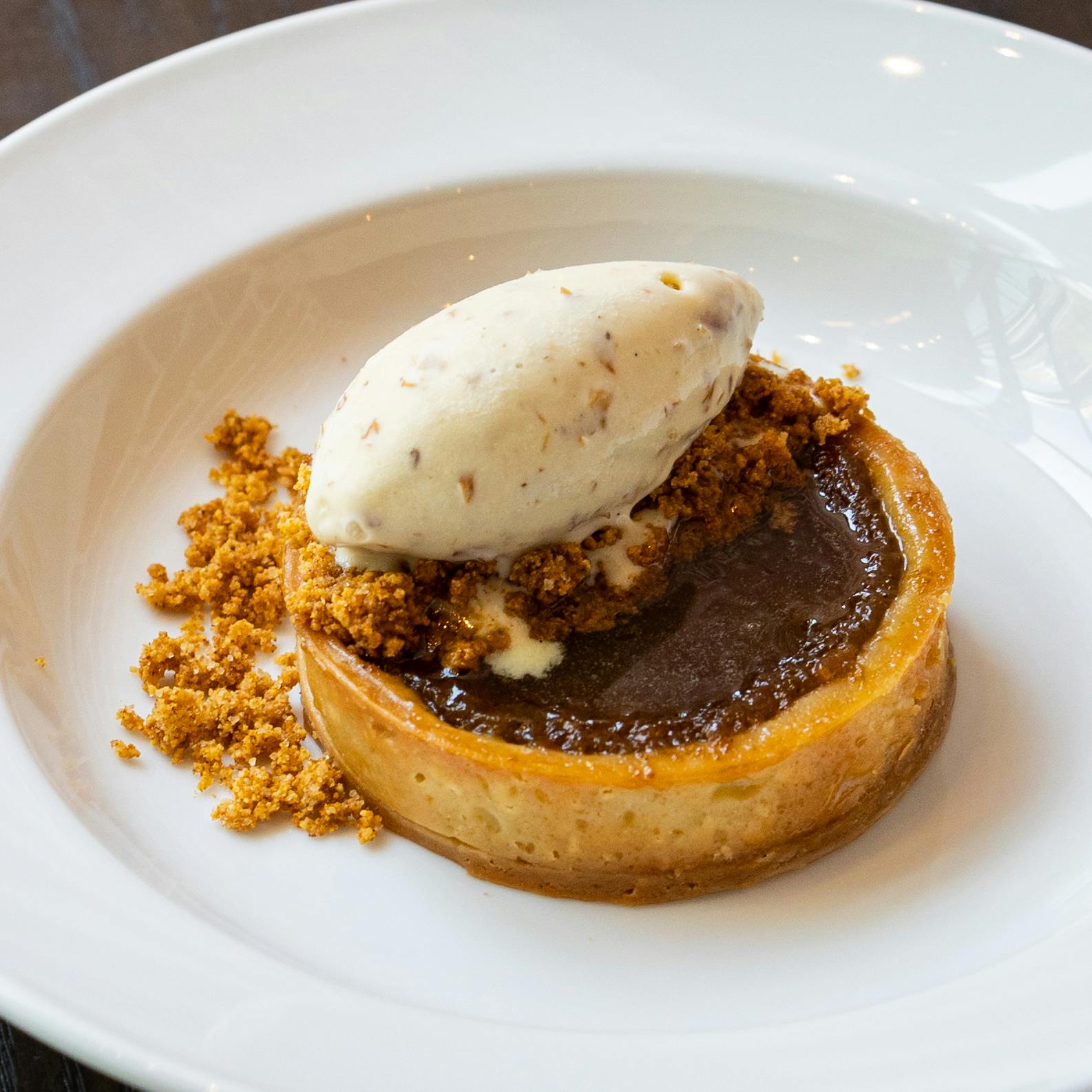 Their pastry chef has concocted several delicious sweet options to enjoy for dessert, like the warm Maple Tart, a nod to our Canadiana and take on the butter tart, with Ontario maple, brown butter and house-made rum raisin ice cream.
When deciding on a concept for a restaurant, Harij and Khabouth like to pick a couple of words that best define it and expand from there. 'Fun' and 'delicious' are the two they settled on, and the cocktail program is undoubtedly a representation of that vibe. Harij says, "We didn't want to make things complicated with too many ingredients. We want people to have drinks that are light, fresh and easy to drink."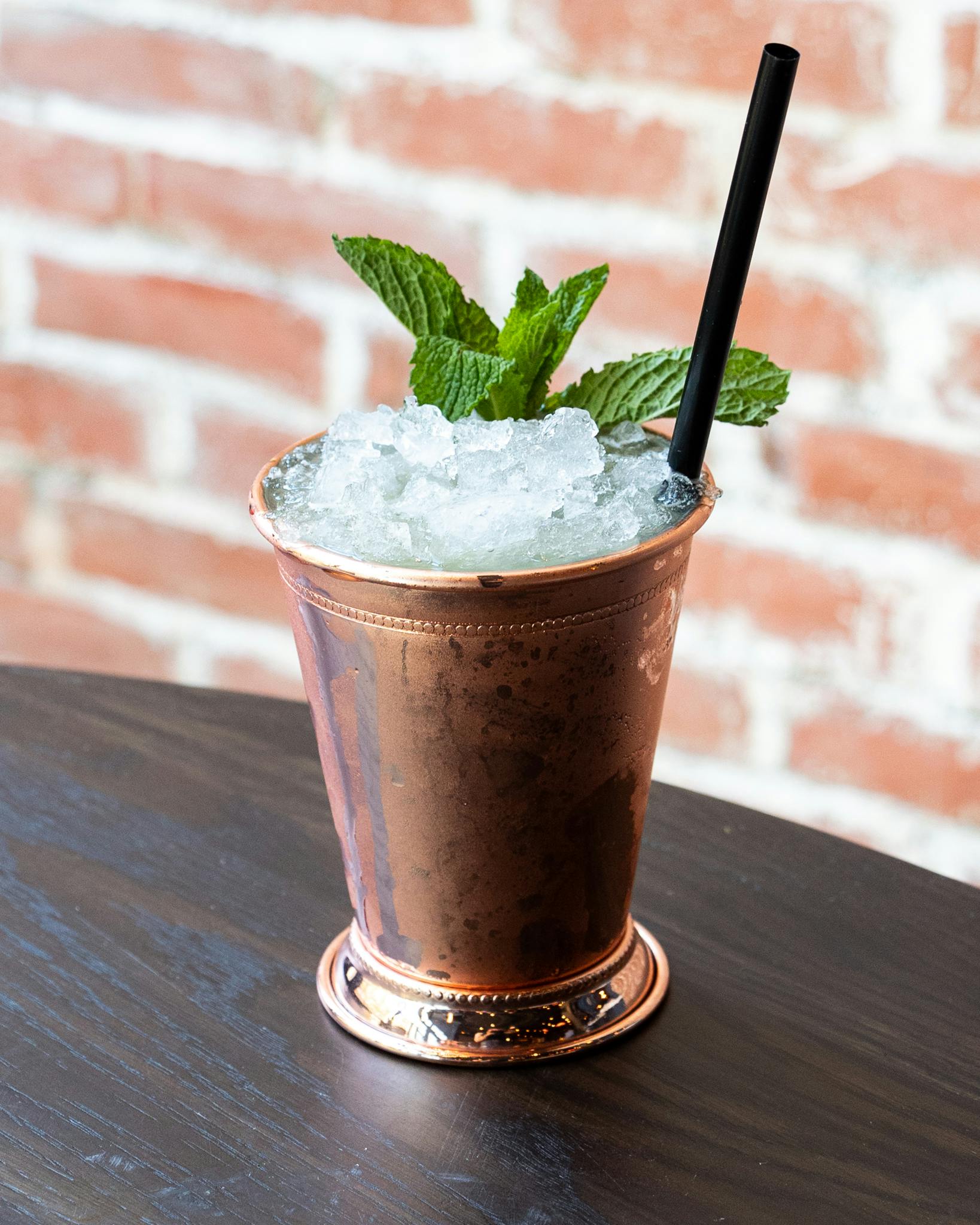 The Apricot Julep is made with Bulleit Bourbon, apricot liqueur, lemon, simple syrup and is one of the most distinctive tasting cocktails on the menu.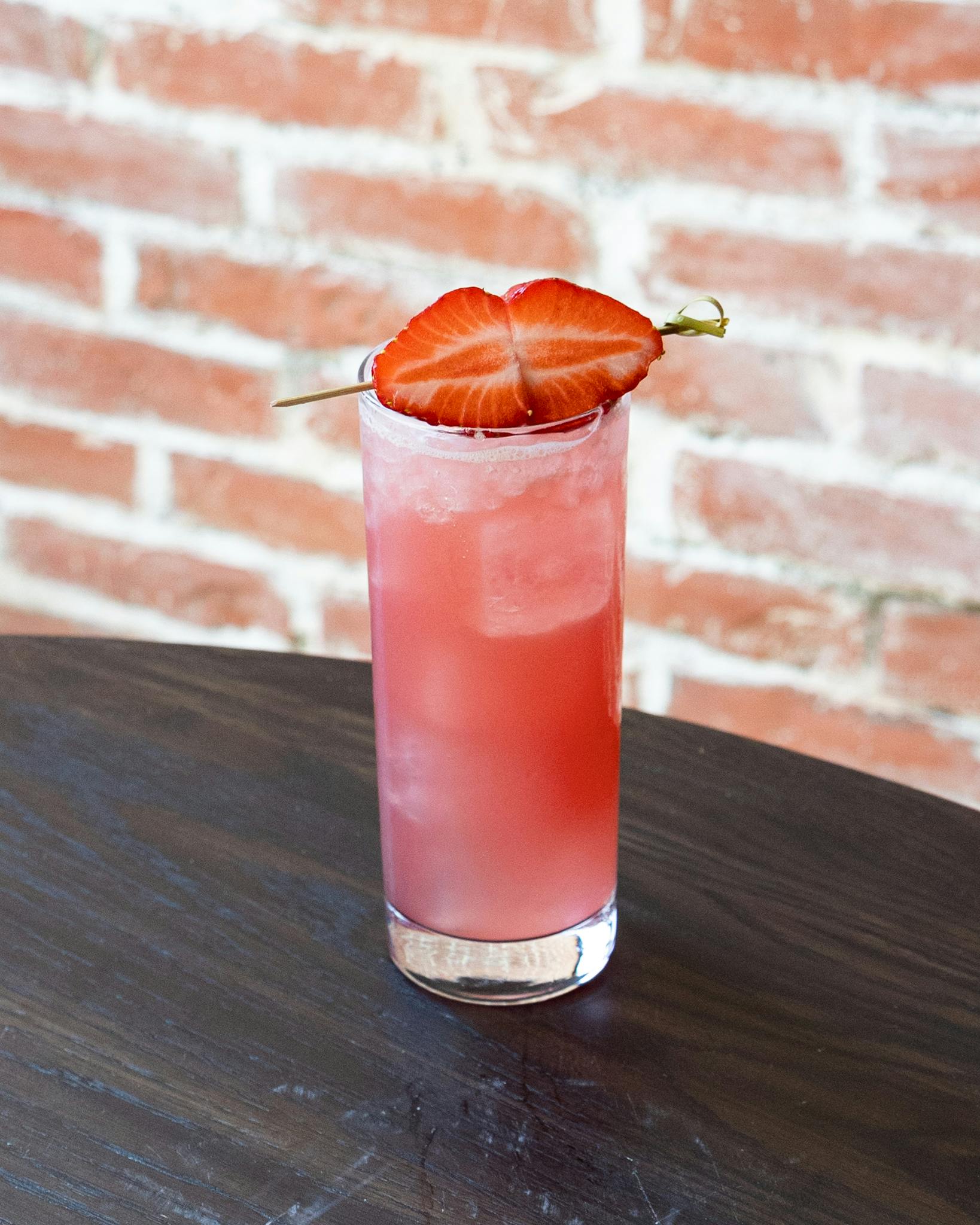 The Pacific Breeze with Tanqueray, Cointreau, watermelon juice, cranberry and lime is like Summer in a glass and won't overpower any seafood you may order. This was key in curating the cocktail menu; the team wanted to ensure each beverage would accompany the flavours of the food without washing them away as you sip and eat.
There are two sommeliers on the Pink Sky team who have catered the wine program to be paired with seafood. A selection of Pinot Noirs and other lighter reds are available, but the selection of International whites are outstanding.
If you're looking for some bubbles, the finely assorted list of champagnes will dazzle you -- because the only thing that could make a seafood tower more special, is a delicious bottle of sparkling to go with it.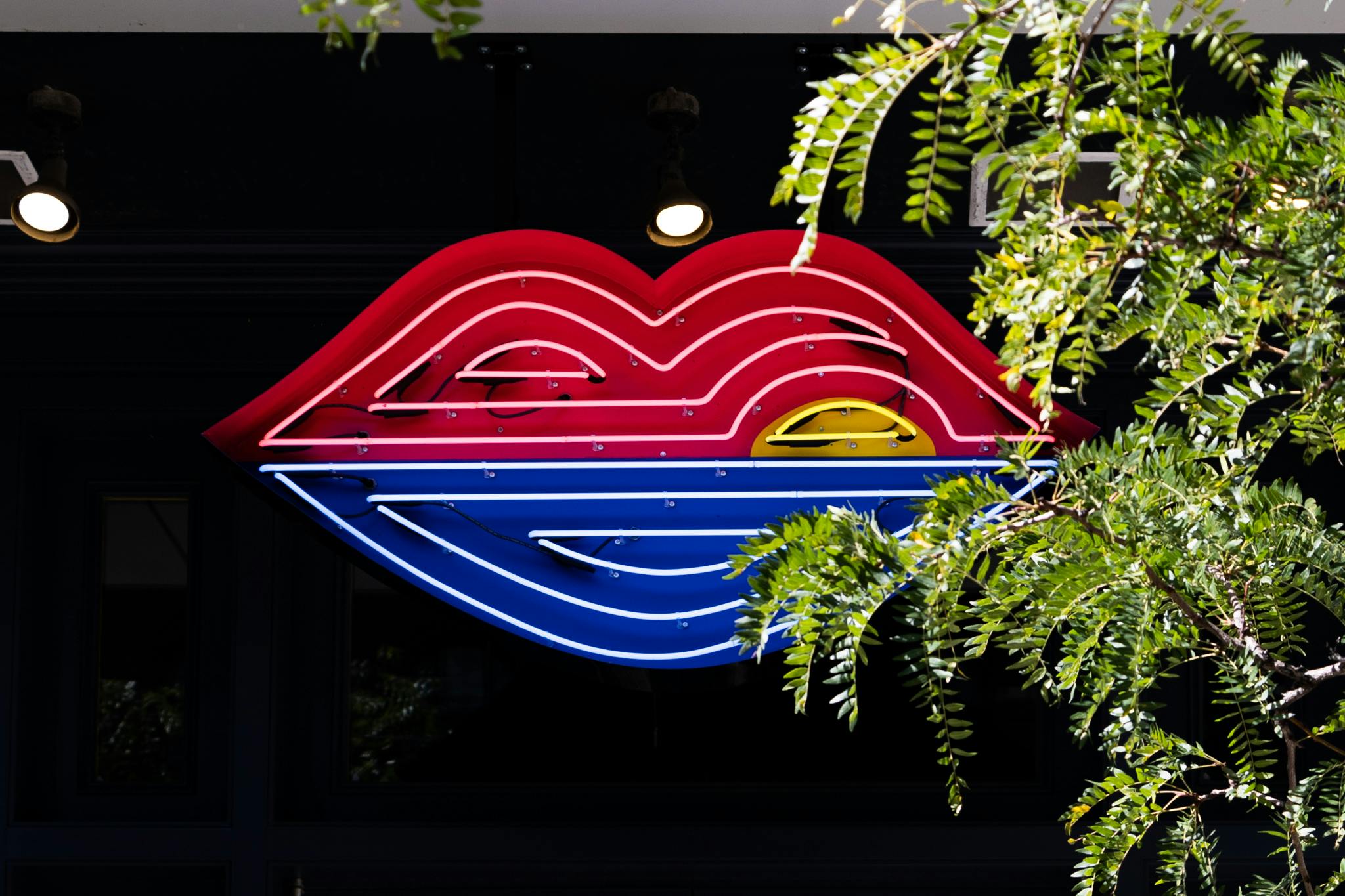 Pink Sky is located at 480 King Street West and is open from 4 p.m. to 2 a.m. seven days a week. Come early October, they will be open for brunch with a couple of additional items being added to the menu, like a smoked salmon lox benny and a lobster hash.
Be sure to check out their full menu online, where you can also make a reservation or inquire about hosting your next event with them.