When thinking about the world's most notable and distinguished foods, a greasy but not-so-greasy slice of pizza from one of New York City's hundreds of pizza stops is among the most well-known and sworn-by dishes. It seems as though every New Yorker has their go-to spot for a slice of a simple, no-frills tomato pie and now, Toronto has got one too.
Pizzeria Badiali is a new pizza shop tucked away off the bustling strip of West Queen West along Dovercourt Road, seemingly hidden from tourists and casuals walking along one of Toronto's most exciting areas, but a neighbourhood gem to its residents. The shop is the child of restaurant industry pros Nick Halligan, Owen Walker and Ryan Baddeley, the latter of whom fronts the team with his pie-slinging abilities.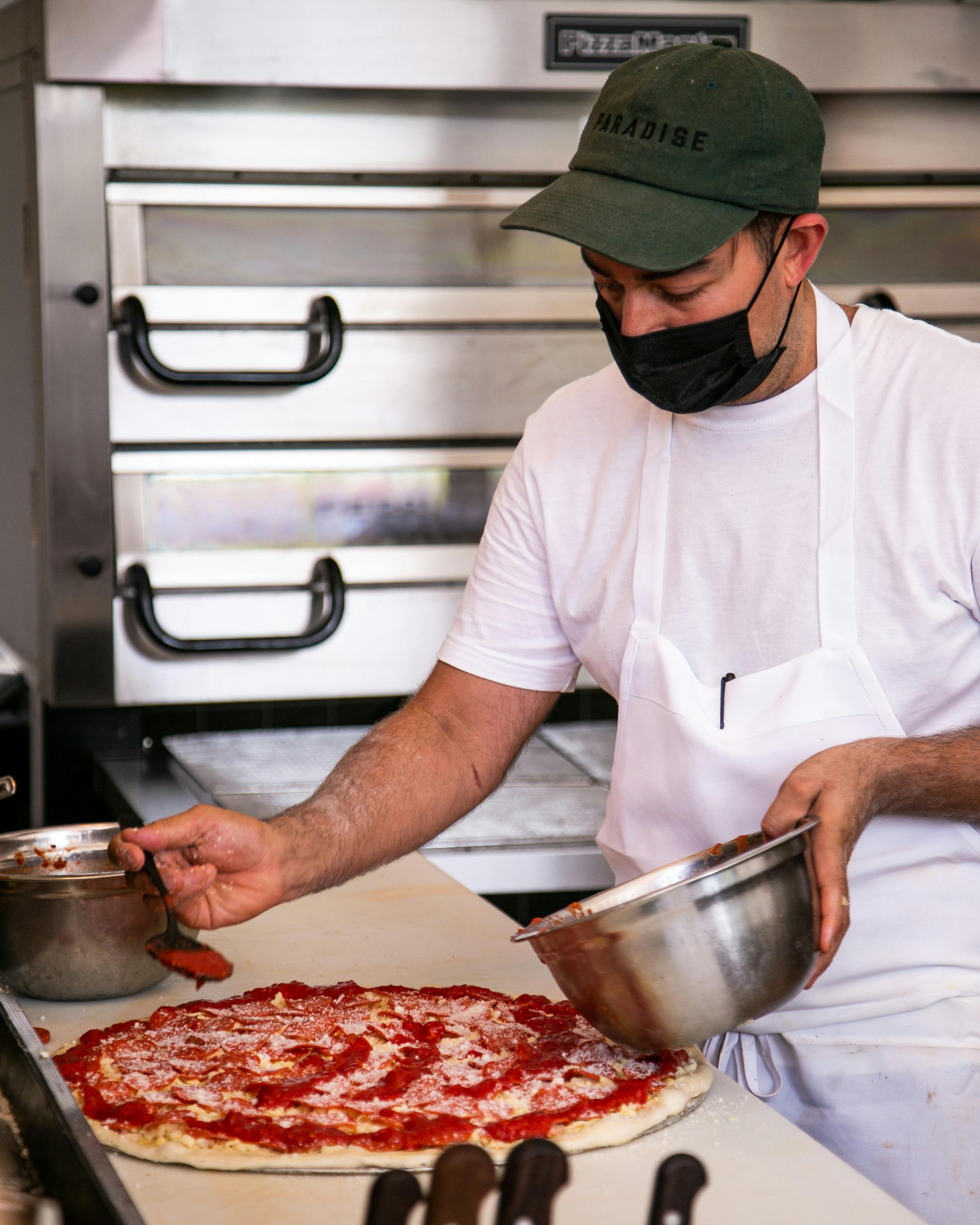 Baddeley's background is primarily in fine dining, with stints at Nota Bene, Bar Isabel and Bar Raval, and most recently, Osteria Rialto. Although, after a few trips to New York and Montreal, Baddeley says his love and passion for pizza had grown exponentially.
"Seeing the neighbourhood spots all hold such a great place within their communities was so inspiring to me," Baddeley said in an interview in May, when the shop was gearing up to open. "If you have a really good location and a really good neighbourhood, like this one, we could bring that same kind of culture to Toronto."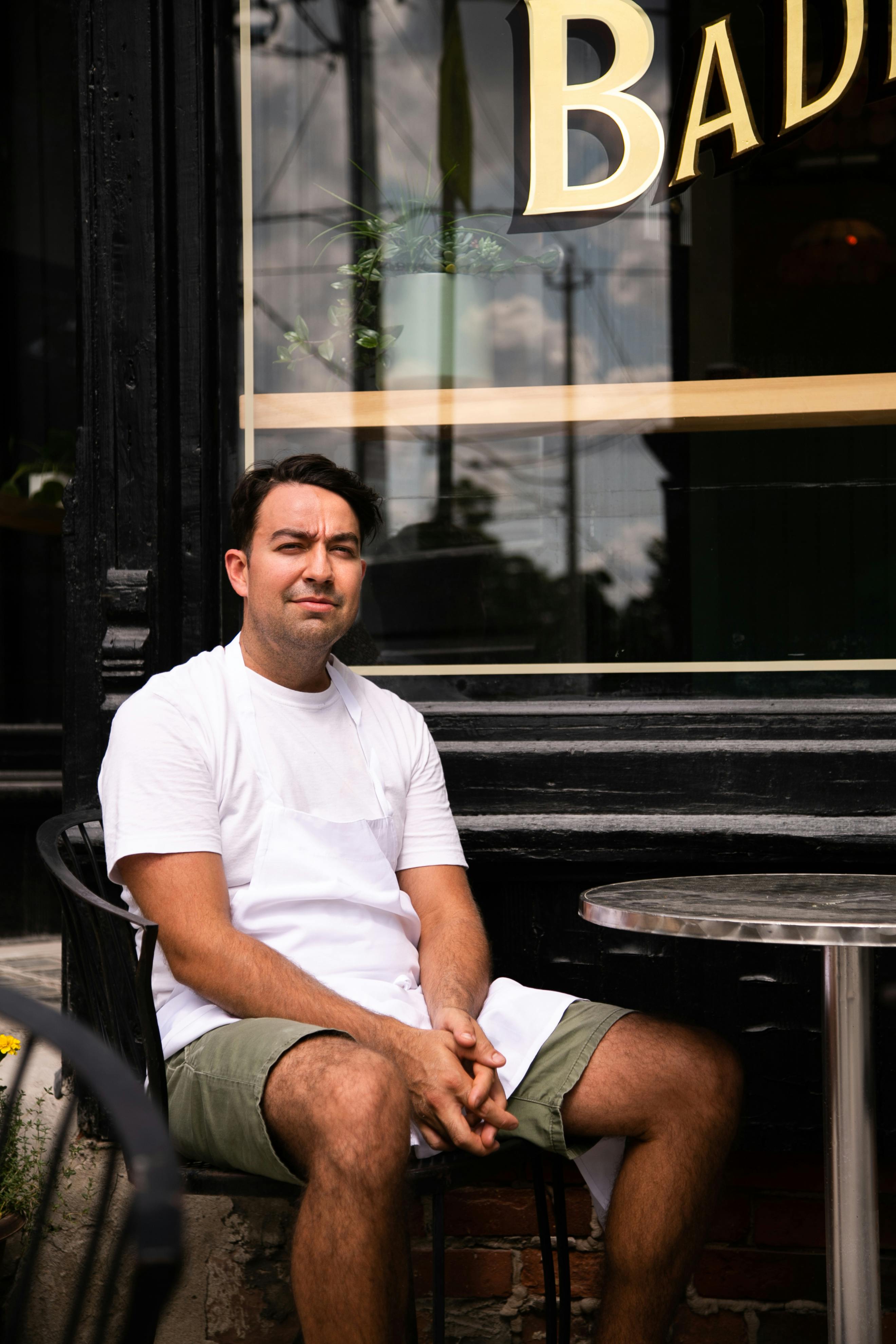 Ryan Baddeley sits outside Pizzeria Badiali on Dovercourt Road just off of the main West Queen West strip.
Tucked away just off the strip of West Queen West and just westward of the bustling Ossington strip is the humble and quaint Pizzeria Badiali. The shop takes over the space previously housing the Good Neighbour Espresso Bar, which closed the location after Toronto's second wave lockdown.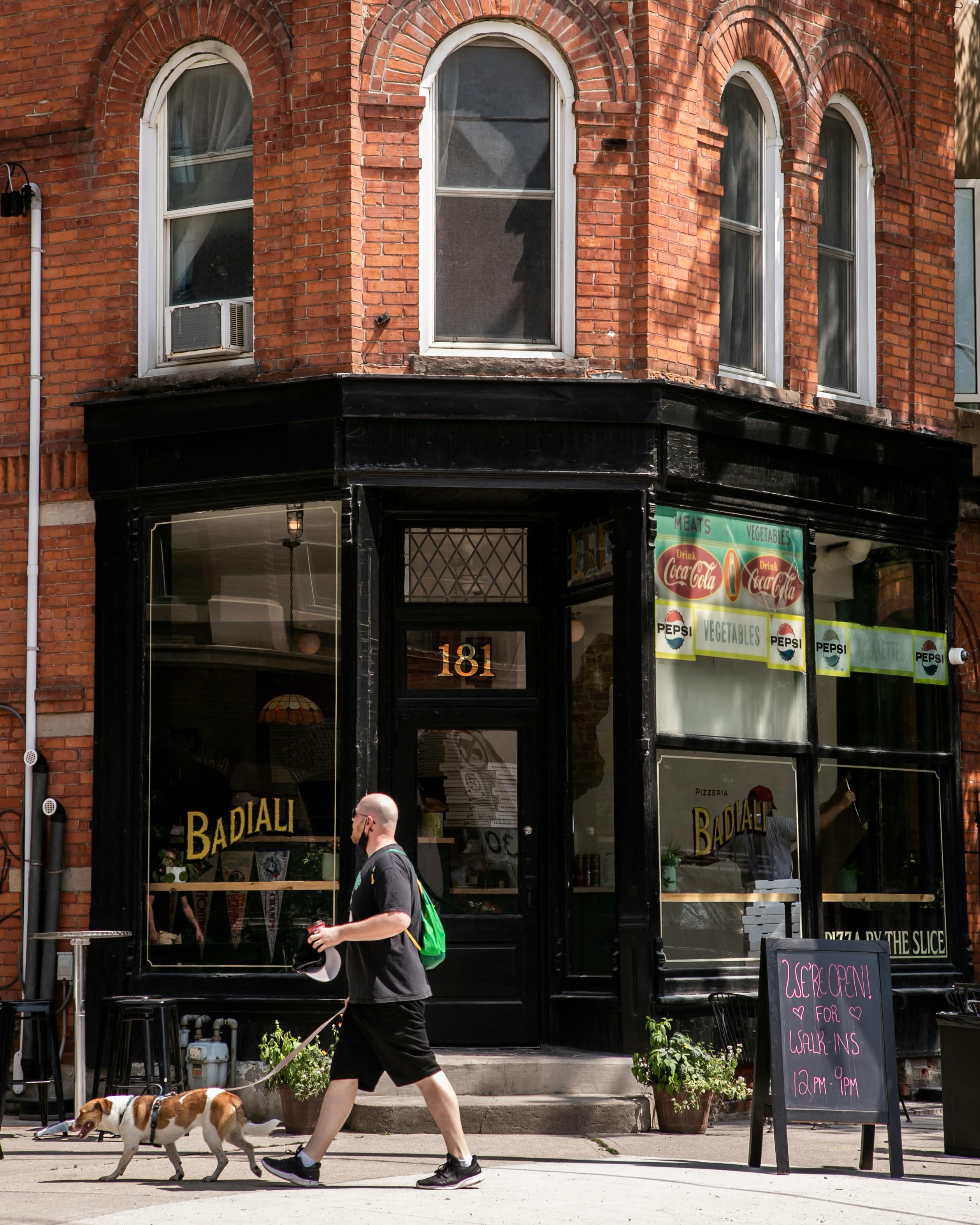 The exterior views as the quintessential corner-shop storefront on the quiet corner of Dovercourt Road and Argyle Street and boasts a gated patio area as well. While it doesn't get the amount of foot traffic as it would if it were perched right on Queen West or Ossington, the shop feels local, welcoming and the perfect addition to the surrounding neighbourhood.
Inside you'll find what's expected: an open kitchen where you can see everything happening behind the counter, which speaks highly to Badiali's excellence––this is simple, no-fuss pizza done exceptionally well and by the slice. There's nothing to hide, because it's done right.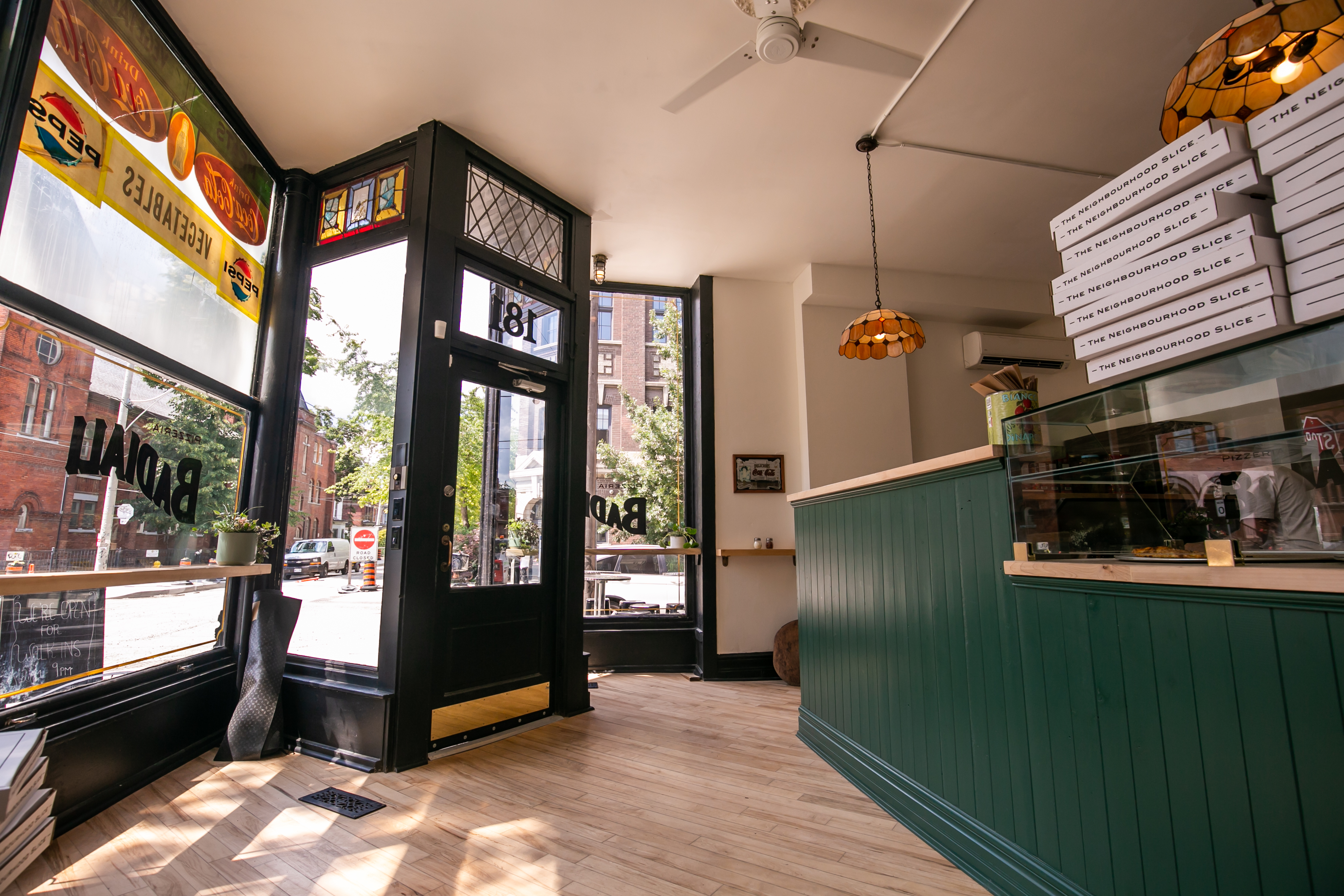 The interior is updated but still holds onto the building's small century home touches, like some exposed bricks bleeding through the walls and stained glasswork in the top windows. A narrow wooden counter runs along the entire front end of the restaurant, where you'll soon be able to feast on a slice of pie with a loved one.
The Food:
As mentioned, Pizzeria Badiali does pizza, and really good pizza at that. Inspired by New York City's obsession around a slice of pizza, Baddeley hopes to bring that same kind of culture to Toronto. Instead of online ordering and picking up a pizza to take home, Pizzeria Badiali looks to foster a community and be the local spot for a good ol' slice of tomato pie.
"Most pizzerias, you think of them more as being app-based and ordering through your phone. You don't really think of them as a place you walk up to grab a slice," said Baddeley. "For us, it's all about the experience and the connection to the building."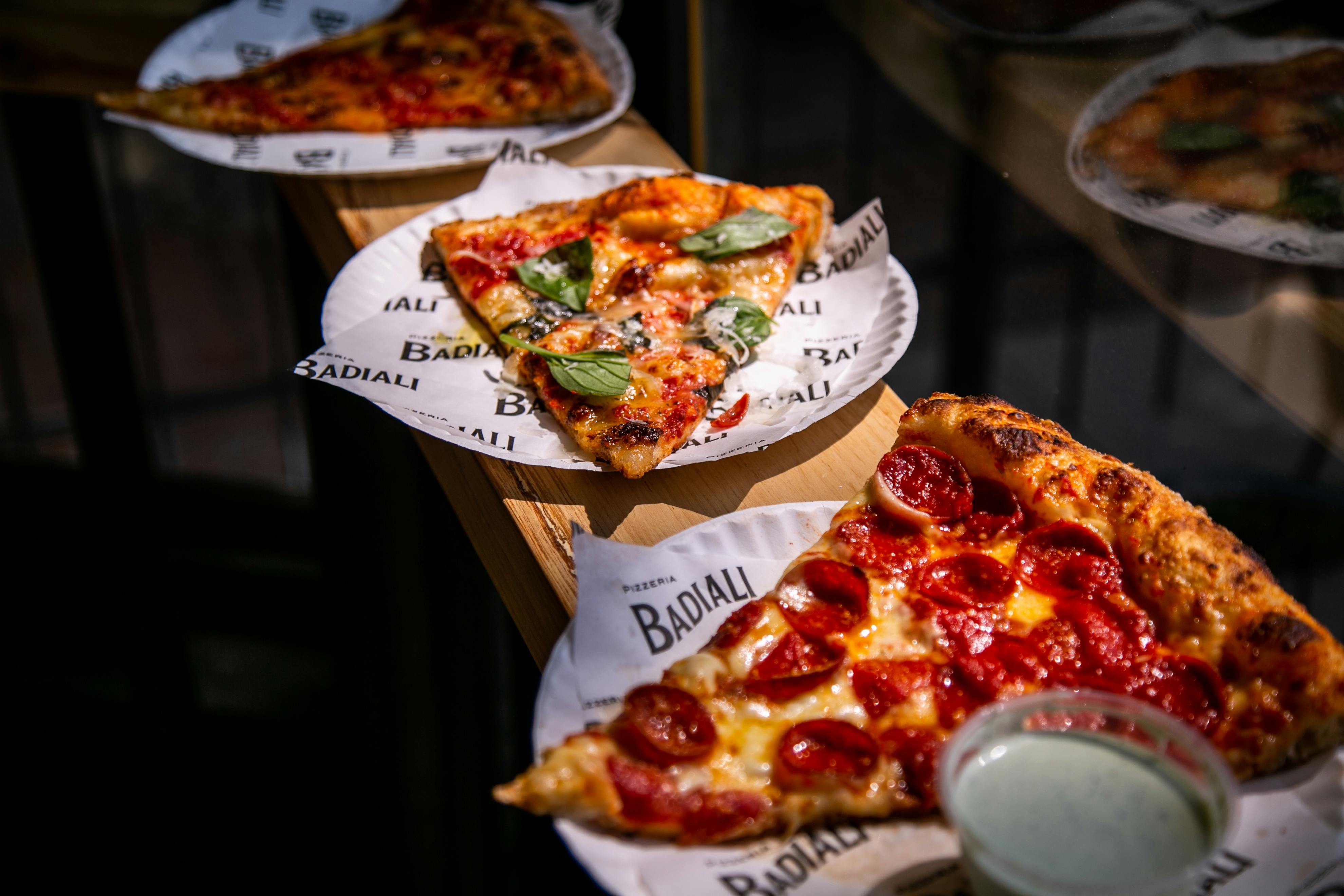 On the menu are a series of pizzas, beginning with simple and classic pies like the quintessential cheese or pepperoni slice and the oh-so simple Marinara pie or Margherita. All of their classic pies use a blend of Pecorino and Grana Padano to achieve that crispy cheese blanket––with the cheese and pepperoni also featuring whole milk mozzarella and the Margherita with a fresh fior di latte.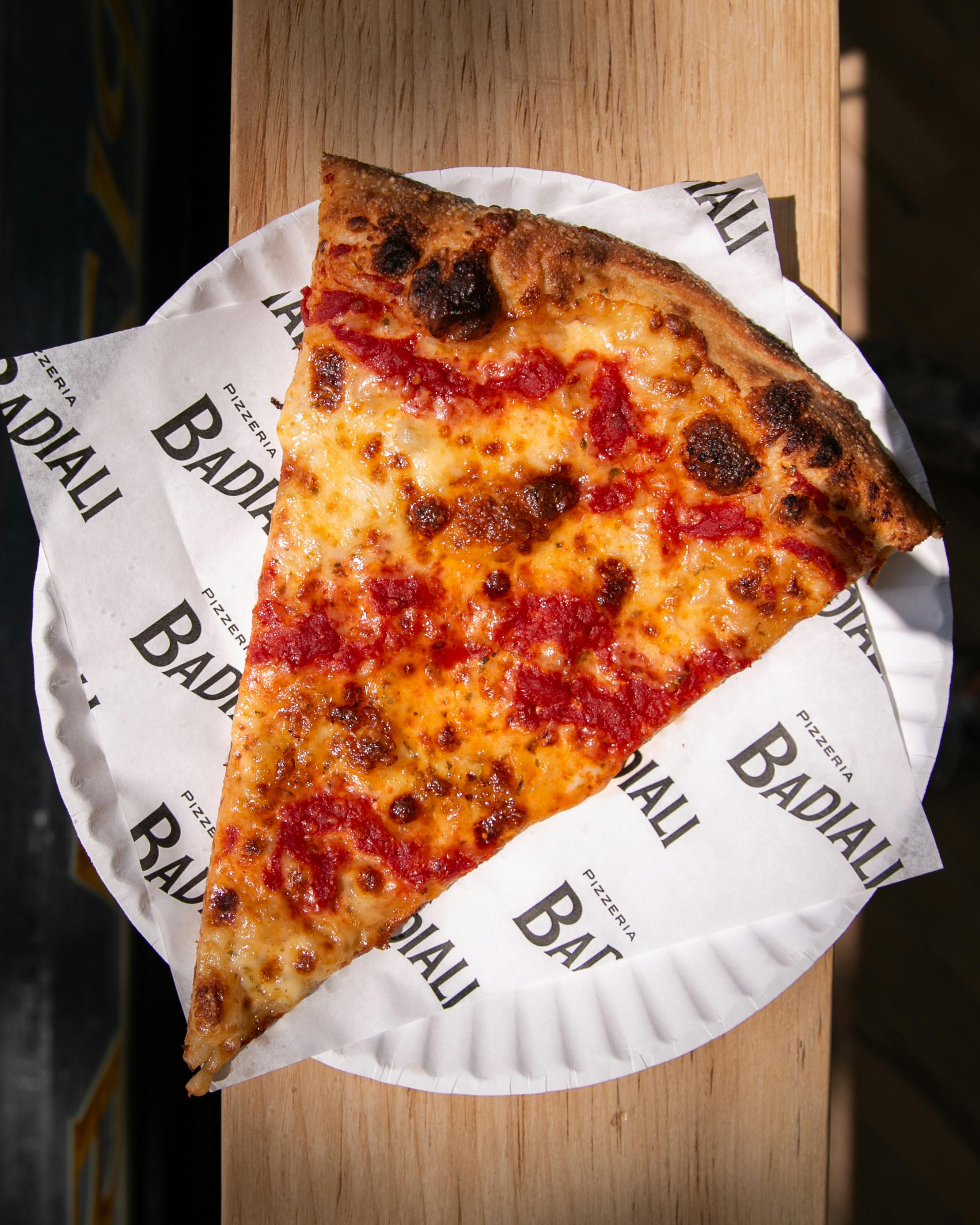 A slice of Pizzeria Badiali's Original Cheese, with crushed whole tomato, whole milk mozzarella, Pecorino and Grana Padano.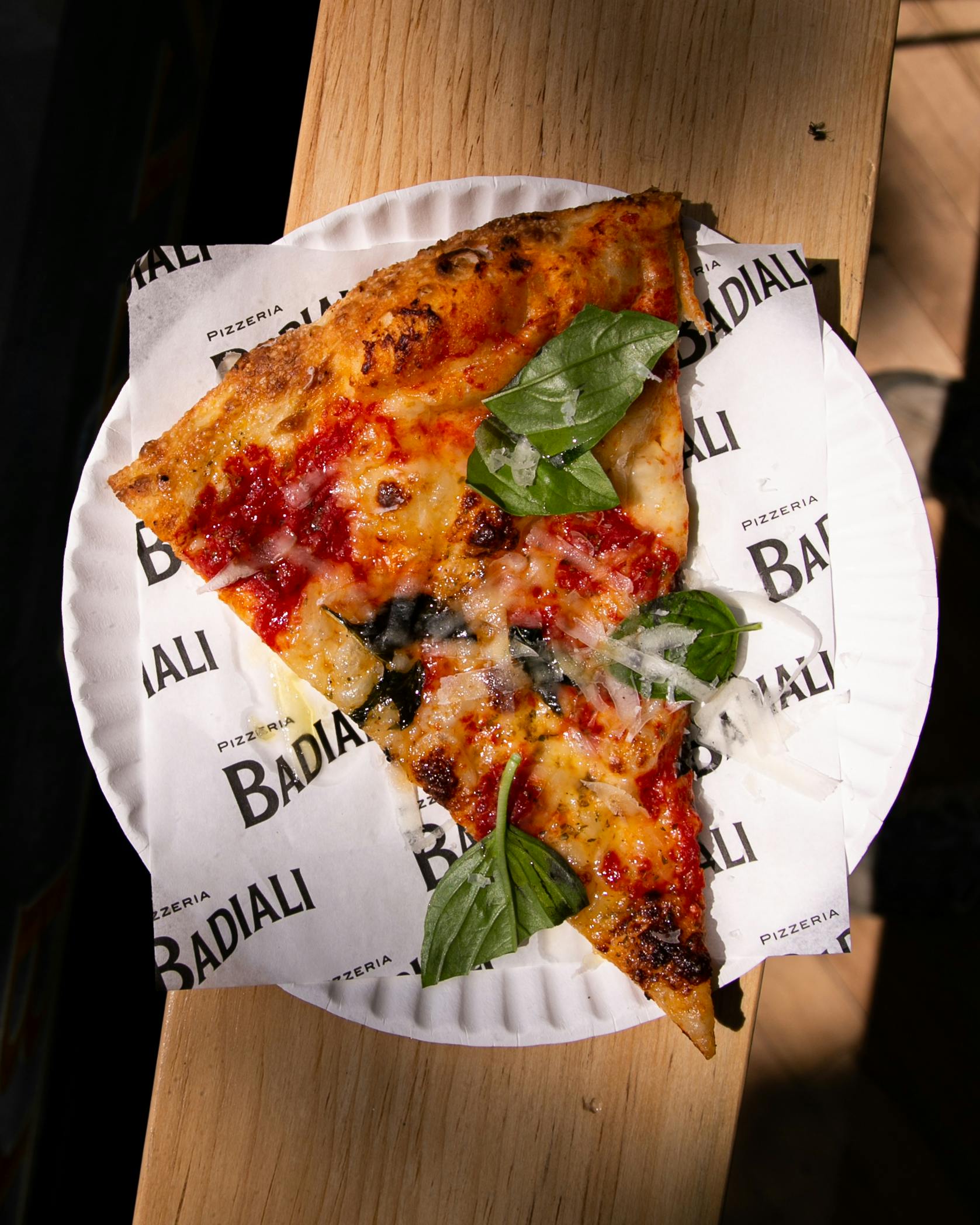 A slice of Pizzeria Badiali's Marinara pizza, with Pecorino, Grana Padano and fresh basil.
The pizza shop also features a handful of pies with more gourmet toppings that you can get by the slice. For the vegetarians, check out the Mushroom Bianco made with caramelized onions, ricotta and portobello mushrooms, or the Burrata Marinara––a simple marinara pie topped with a fresh, creamy burrata. A must-try Badiali pie, meat-eater or not, has got to be the Vodka Pie, made with a creamy and spicy vodka rosé sauce.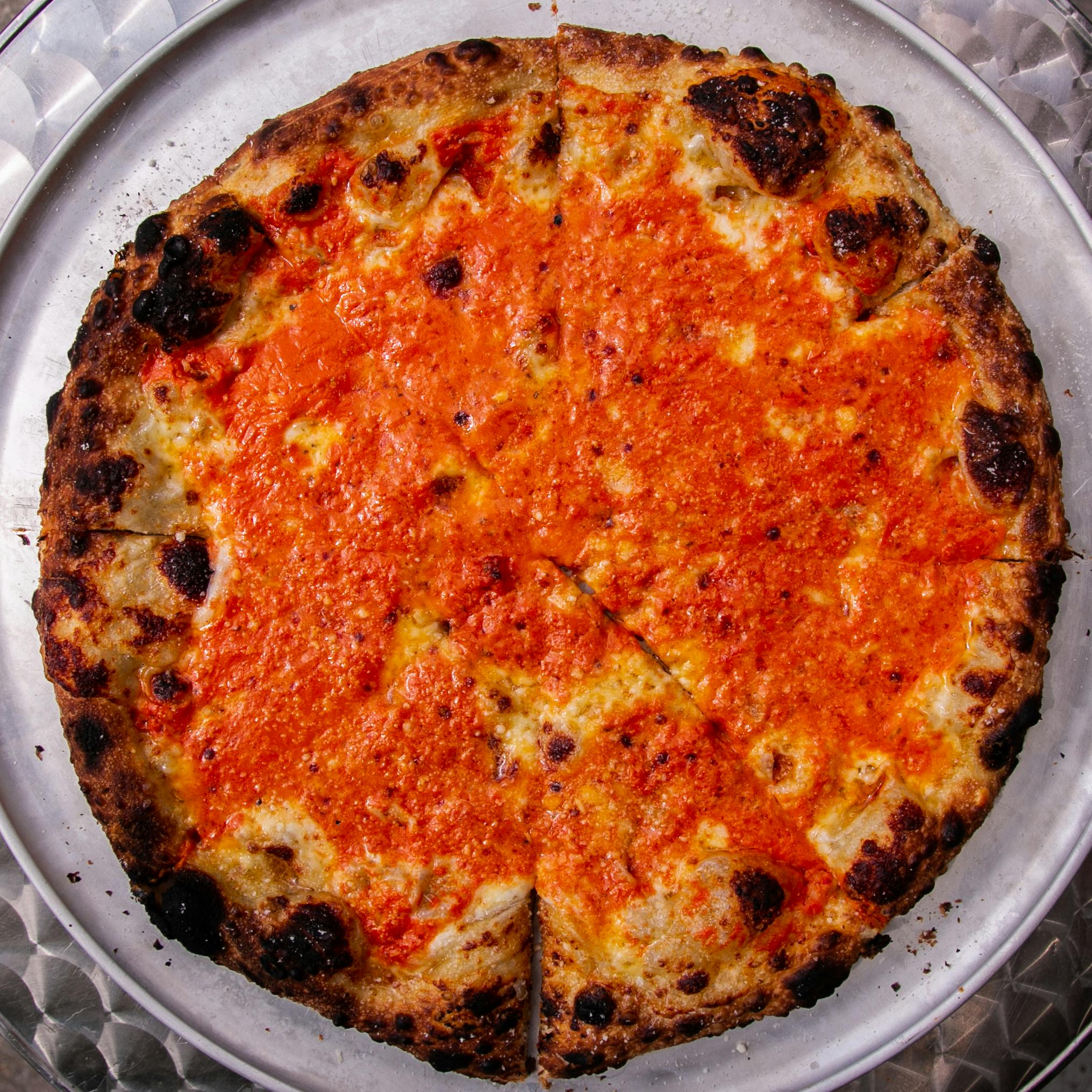 Pizzeria Badiali's whole Vodka Pie, made with a spicy vodka rosé sauce.
The menu also features other meaty favourites, like the Capicola and Pineapple (depending on your position re: pineapple on pizza) and the classic Italian combination of Sausage, Peppers and Onions.
Additionally, you'll find two salads on the menu as well, to pair with your pizza or have on its own. The Caesar Supreme is your typical Caesar salad replacement, using carefully sourced or made-in-house ingredients, with fresh romaine, focaccia croutons and a dressing made with white anchovies.
The Chopped Salad is the perfect assortment of fresh vegetables grouped together for a refreshing and vinegary crunch alongside your hearty pizza, made with arugula, radicchio and romaine, Genoa salami, pepperoncini and artichoke hearts.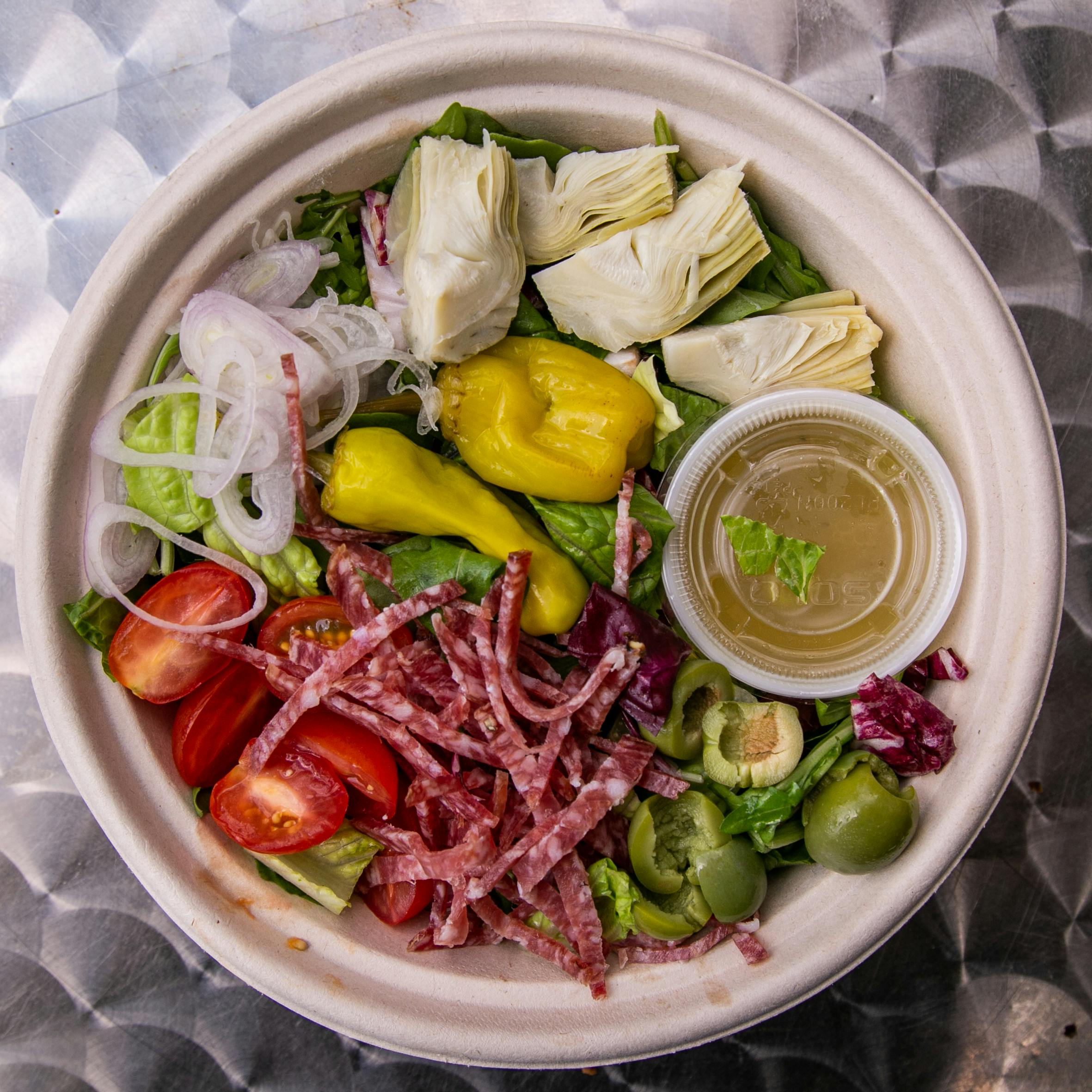 A fresh, on-the-go Chopped Salad, with an arugula, radicchio and romaine mix, Genoa salami, pepperoncini and artichoke hearts.
While you can order whole pies through their online ordering system on their website, walk-ins are encouraged for on-the-go slices of incredible pizza, simply served on a paper plate.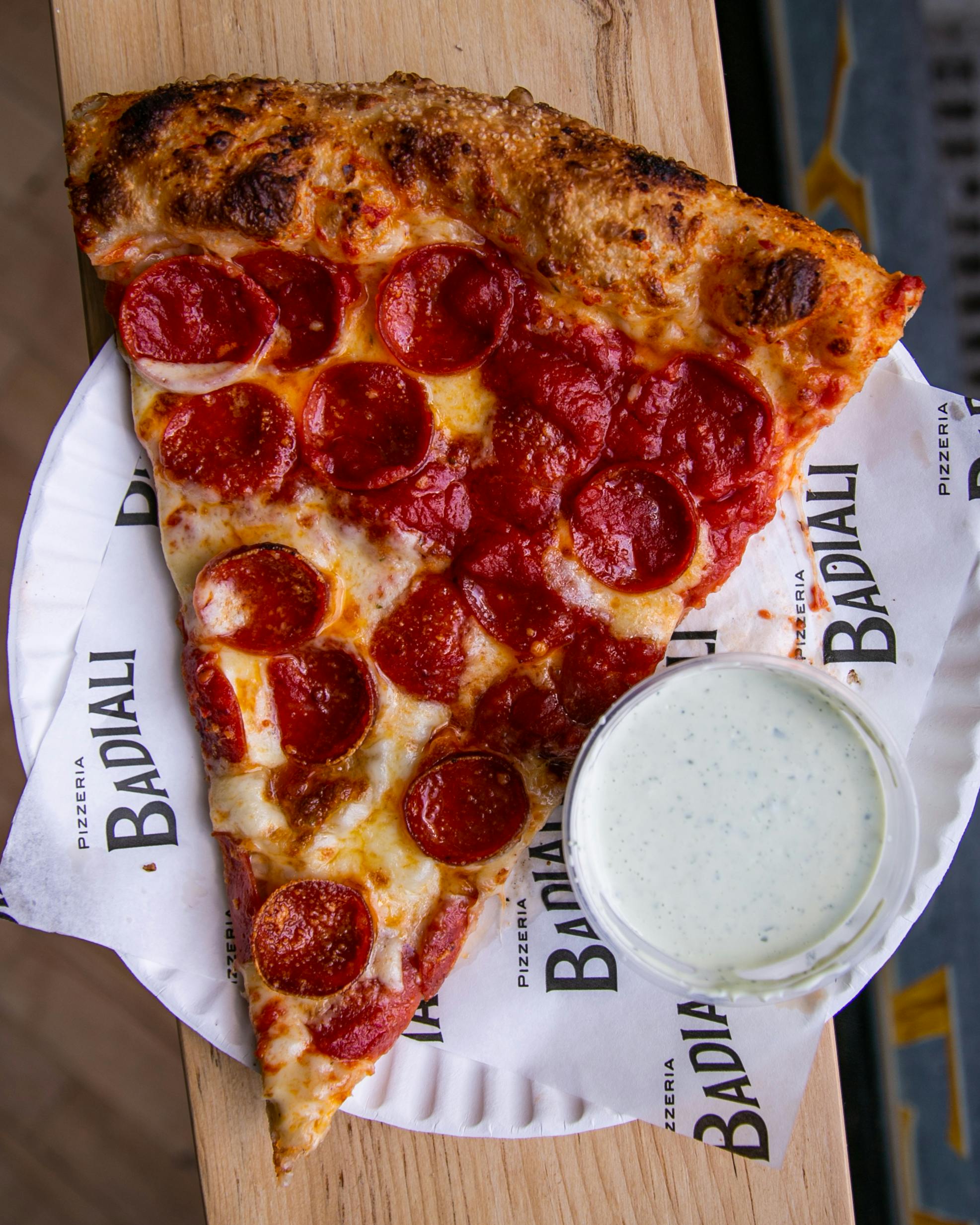 A slice of Pepperoni with Pizzeria Badiali's house-made green garlic dip.
Pizzeria Badiali is open Wednesday through to Sunday from 12 p.m. to 9 p.m. with a one-hour service break between 3 p.m. and 4 p.m. They are located at 181 Dovercourt Road at the corner of Argyle Street.