Photographs by Amanda Biffis
Recette means "recipe" in French, but as the name of Chef Milo Beaubien-Wright's new restaurant, it's almost counterintuitive. The word implies tradition and familiarity, and his menu is anything but.
Ostensibly, Recette serves "modern French cuisine," but it feels like an oversimplification. Luckily, it's more straightforward than that.
"It's a reflection of what's actually happening in Paris," Chef Milo explains.
Here, you won't find steak frites, gruyère onion soup, foie gras, or any of those rich, classic French dishes. Instead, what Recette hopes to showcase is real modern French cuisine—the descendant of traditional French cooking that aspires to be more approachable and fitting for contemporary lifestyles.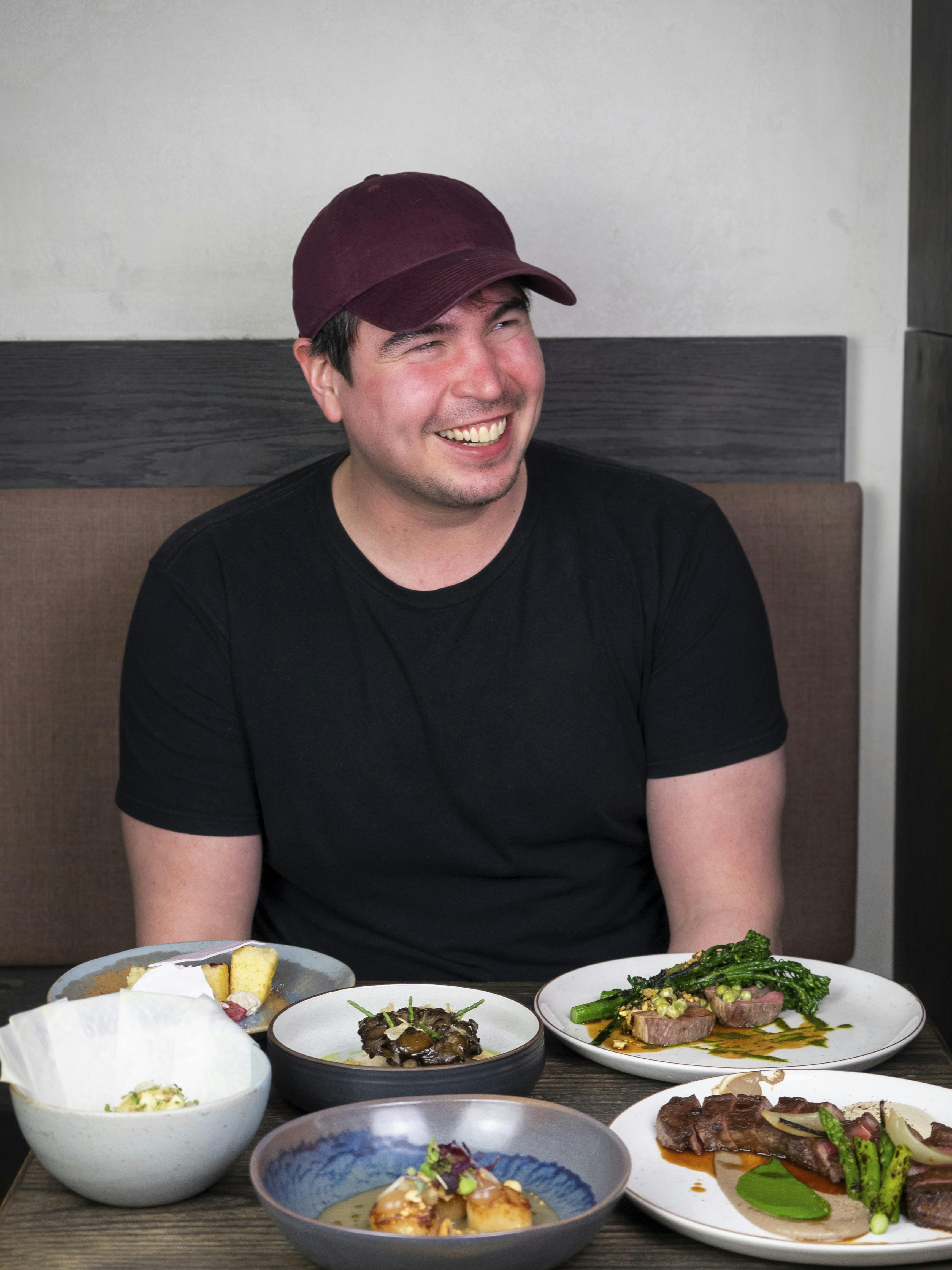 After some fruitful years at Actinolite, Chef Milo cooked in Paris for two years and absorbed everything he could. Since moving back to Toronto, he's worked alongside the Le Phénix team as well as acclaimed French-Canadian chef, Romain Avril.
Now, he's taking everything he's learned and laying it all on the dining tables at Recette. Owner Nav Chakravarti (Neon Tiger, Oddseoul), a long-time resident of Queen West, thinks he's one of the best chefs in Toronto. Even Chef Wesley Hains of Neon Tiger wants to share his two cents. 
"When someone like Milo says they're ready for their own restaurant, you don't wait," he tells me.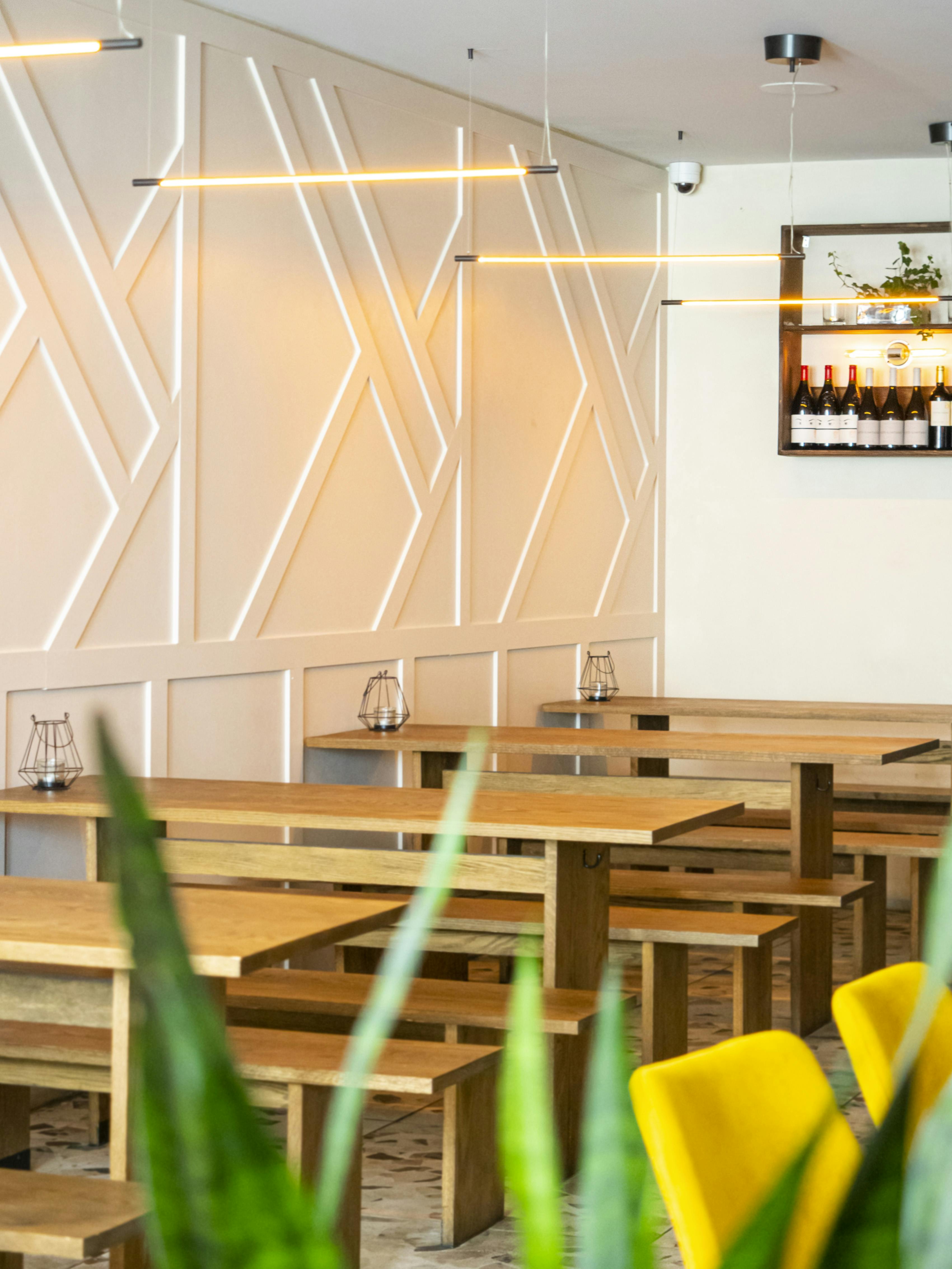 Modern French cuisine emphasizes simplicity to bring out the innate flavours of bare ingredients, and for this chef, recreating it in Toronto couldn't be simpler. On his debut menu at Recette, he wanted to show all that Ontario's foraging season has to offer—it's his idea of "coming out swinging."
Reflecting the goals of modern French cuisine, Recette's dishes are less frighteningly extravagant than they look. Although every dish here has the perfect sauce smears and garnish sprinkles that say "fancy," there's also a simple vibrancy that screams "local-fresh." Pair that with the fact that you'll rarely find anything over $30, and you've got the ideal pick-me-up dinner.
"We wanted to create a menu that had thoughtful ingredient choices, where everything can be done well but still at an approachable price point," says Chef Milo. "We're not really 'tweezer people,' either. The food here is organic and not too forced."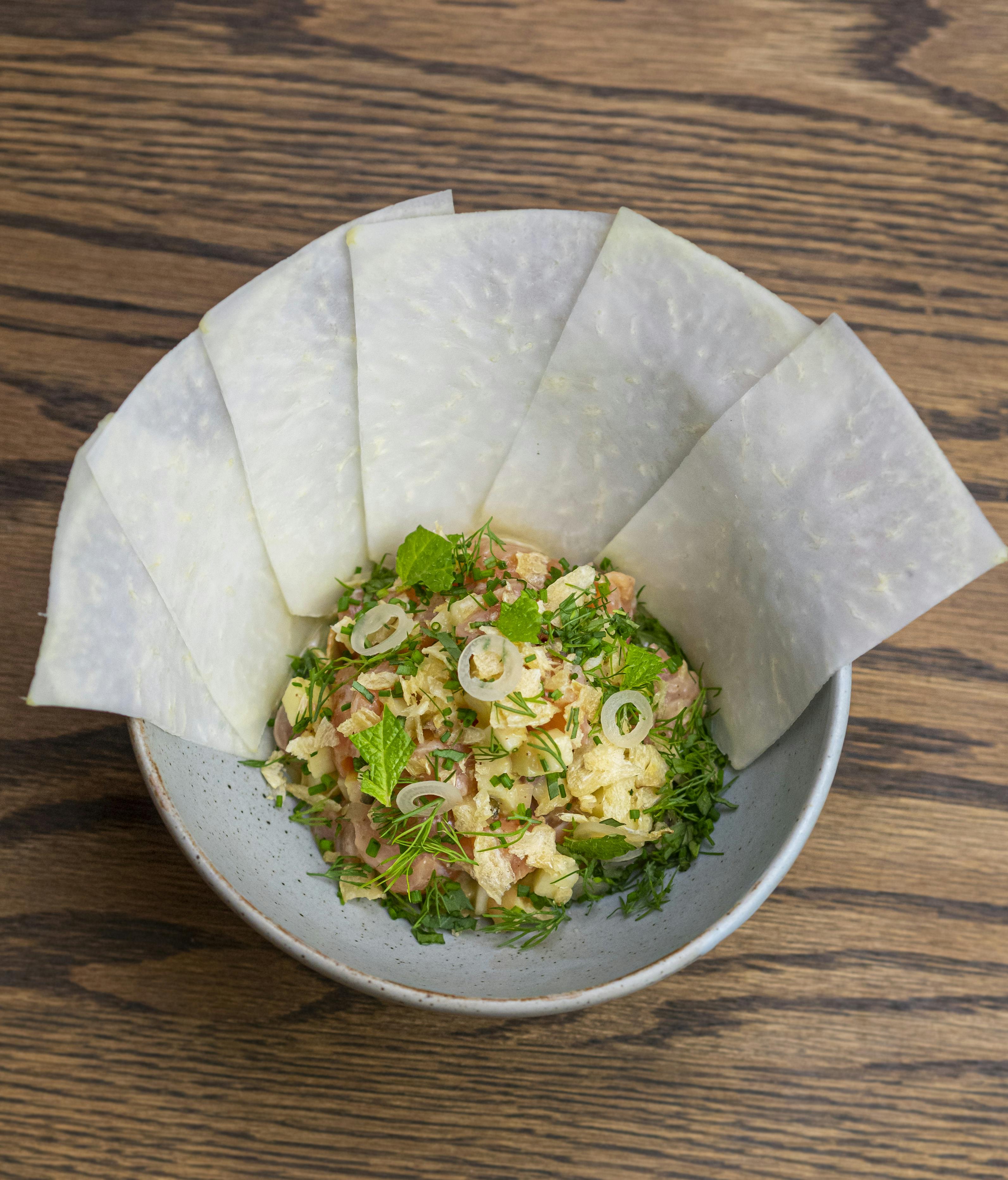 To start: a zen bowl of Salmon Tartare with green apples and fresh herbs, surrounded by a fan of thin-sliced kohlrabi, a fresher alternative to crostini that's just as crunchy.
While on paper, Recette isn't a vegetable-forward concept, almost every dish incorporates vegetables in ways you'd have to ask about.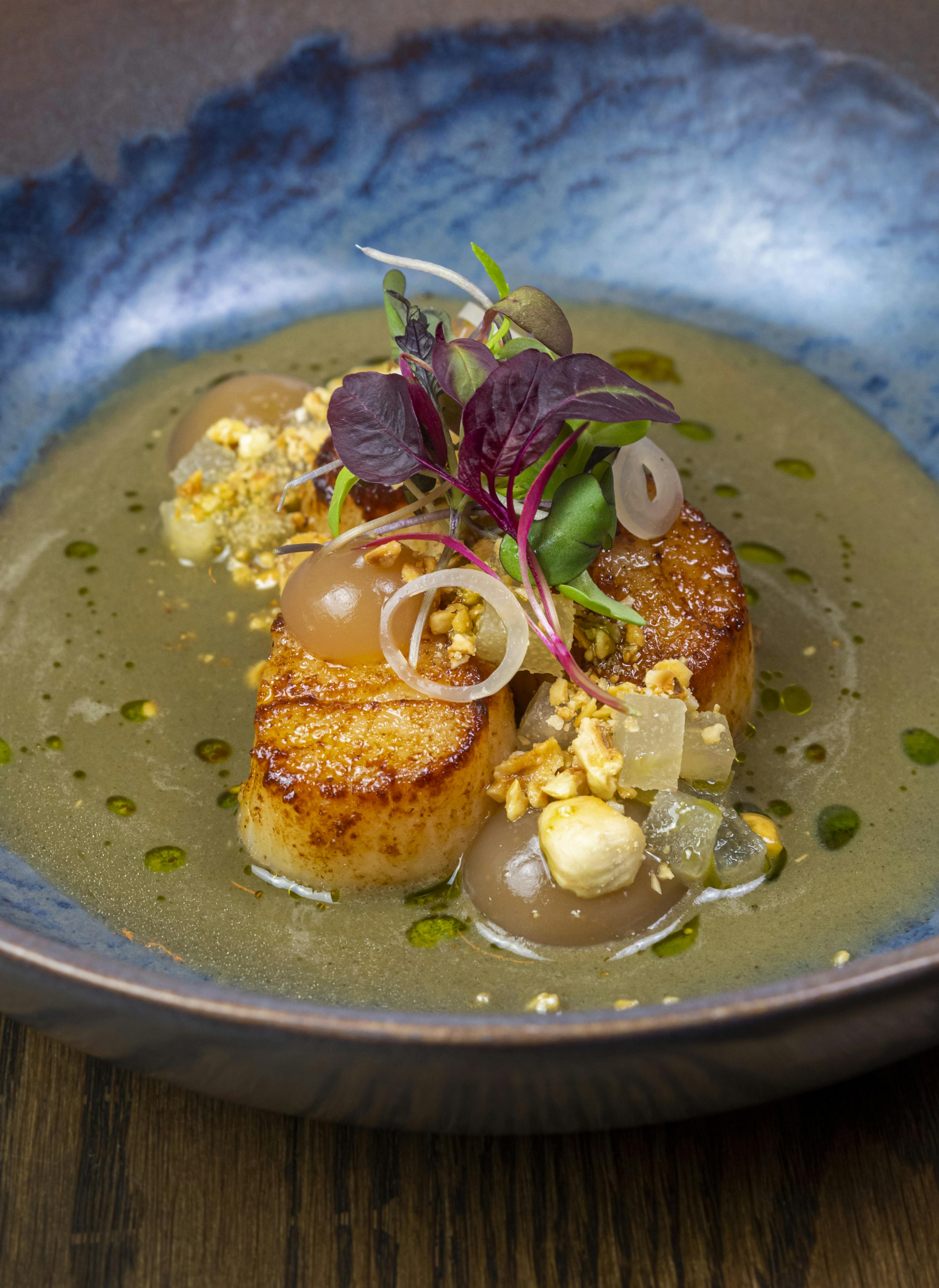 The Scallops, for instance, sit in a layer of grilled lettuce sauce and are paired with pickled ramps from last year's harvest, a nod to Chef Milo's interest in preservation and fermentation.
"It's silly not to use as much as you can," he comments. "The city's got so much to offer."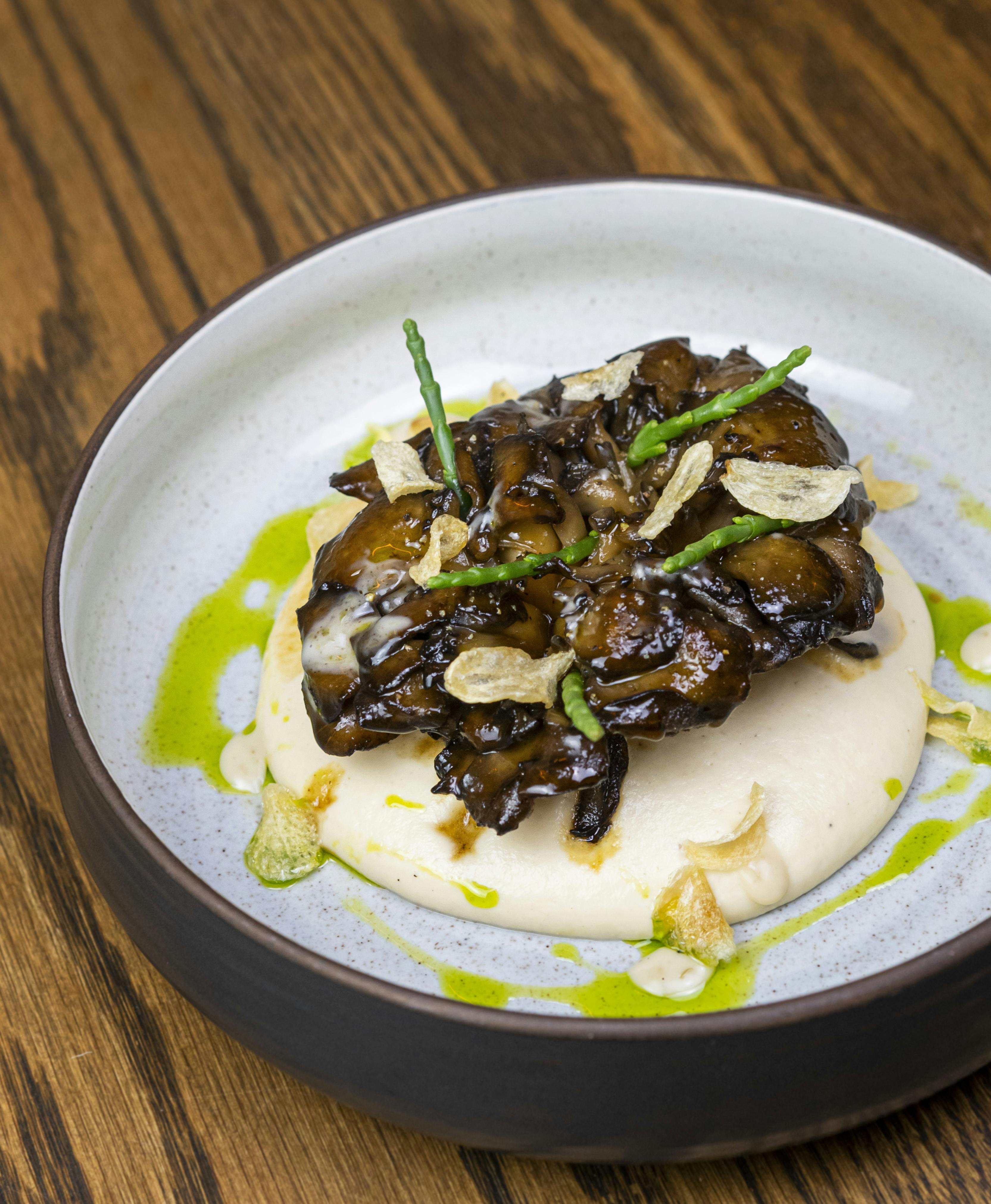 The Maitake, meanwhile, is placed on a bed of cloud-like celery root that's been aerated and puréed, giving the dramatic mushroom a refreshing, bright lightness.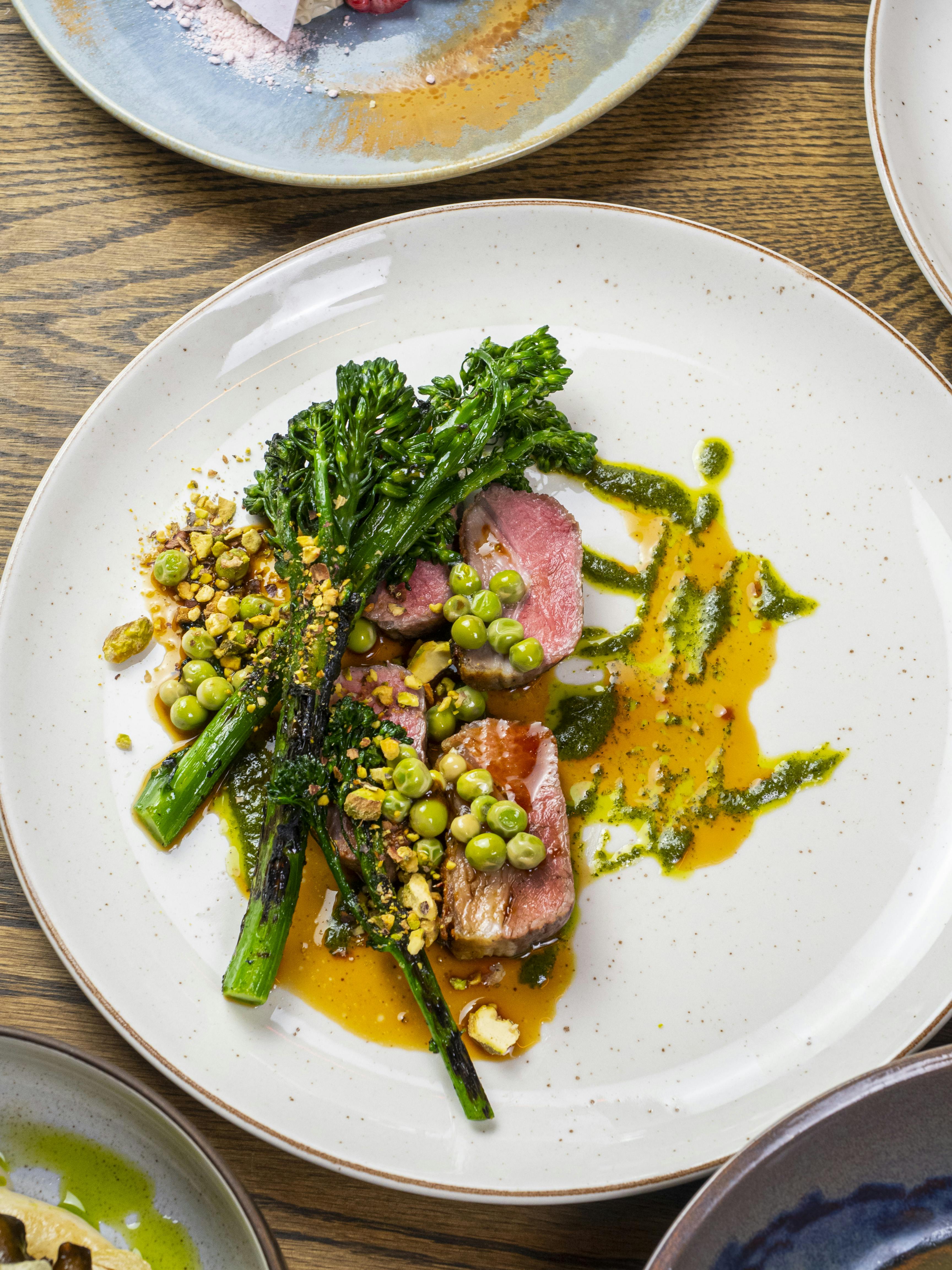 The Lamb is similarly balanced with its fresh mint sauce, spring peas, crunched pistachios, and grilled broccolini. Continuing his experiments in fermentation, the vegetables that accompany Chef Milo's dishes are all glazed with a fermented goldenberry juice, replacing the acid component of the usual butter-lemon glaze and creating something he calls the "what is that?" factor.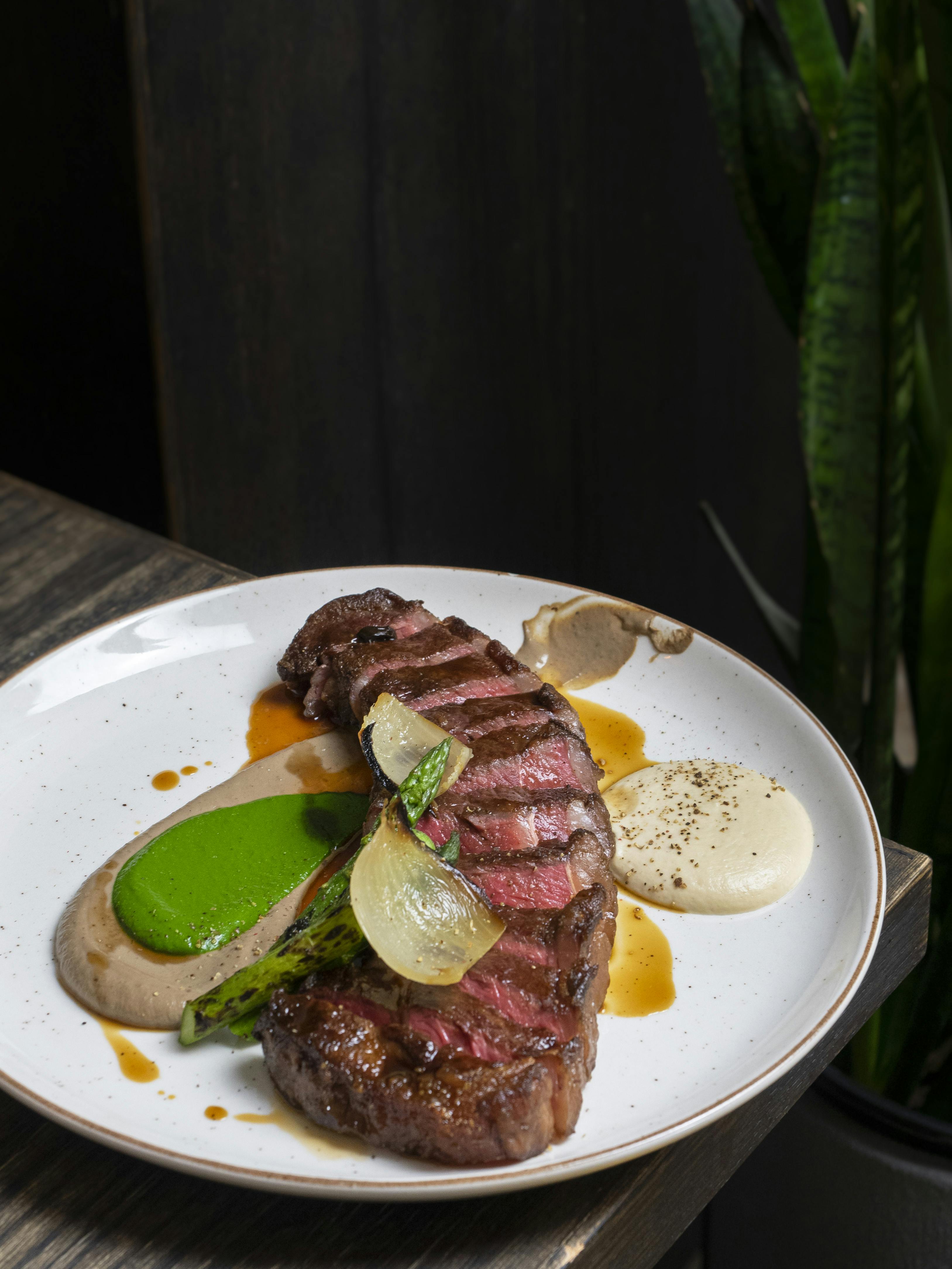 You'll find the same type of interesting complexity coating the seasonal vegetables that go with the 10-oz. Striploin, which is served with black garlic jus and a mix of sauces that could vary from visit to visit. In fact, the sauces accompanying any of the entrées here are meant to be interchangeable. Depending on what you order, Chef Milo switches up the sauces so visitors can have a taste of all the different combinations.
"It's me having the most fun in the world," he admits.
Also on his opening menu are Cornish Hen and a konro-grilled Monkfish—a meaty, textured fish less seldom found anywhere else in the city, but it's one of Chef Milo's favourites.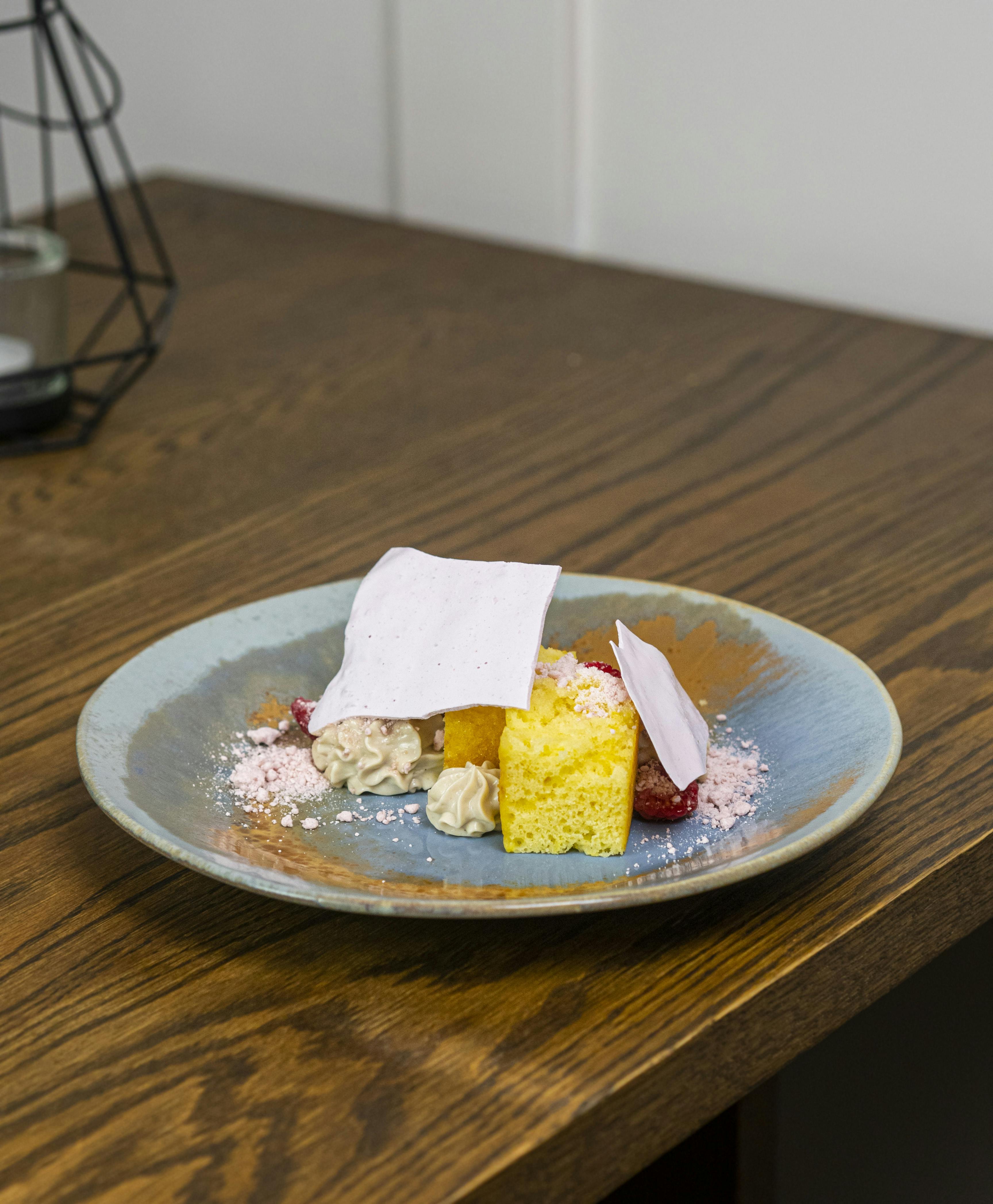 Finally, for dessert, you won't have trouble choosing—there's only one on the menu, and it's the perfect way to end the meal. The Lemon Cake: a light and uplifting finish with earl grey mousse and pastel shades of raspberries in different forms: dehydrated, powdered, and flattened into sheets.
Though it's not the main concept of Recette, it's difficult to ignore the amount of colours you see in this restaurant. "Cooking with colours"—the idea that ingredients with the same colours can taste good together—is something Chef Milo picked up in Paris.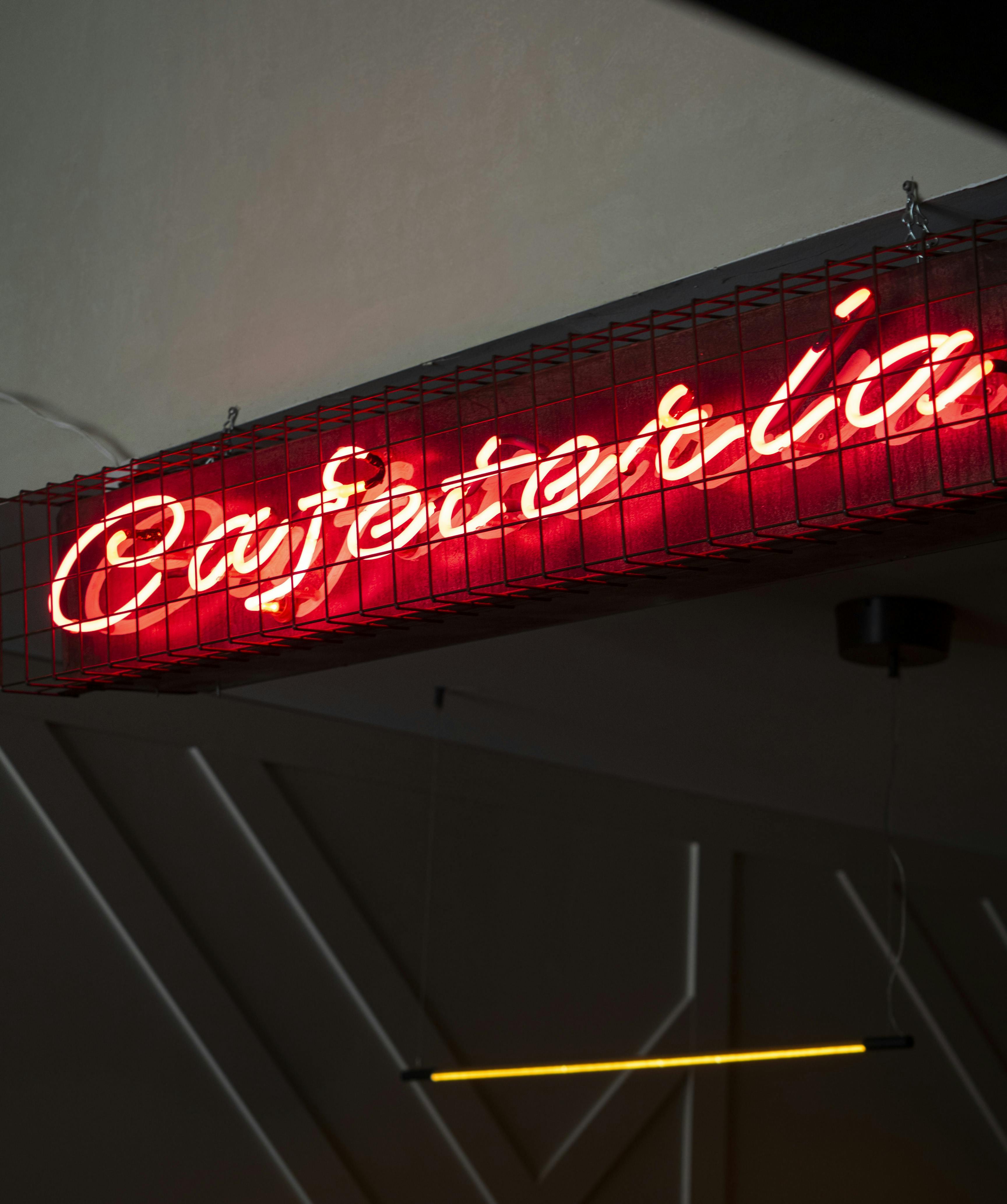 What's even more interesting is how the food's colourful energy bleeds into other corners of the restaurant, like the whimsically pink "Cafeteria" neon sign that hangs over the restaurant—for no other reason other than the fact that the high ceilings in this space reminded the team of a university cafeteria.
"We're having fun with the space," he says. "It doesn't have to be so serious. It's just food."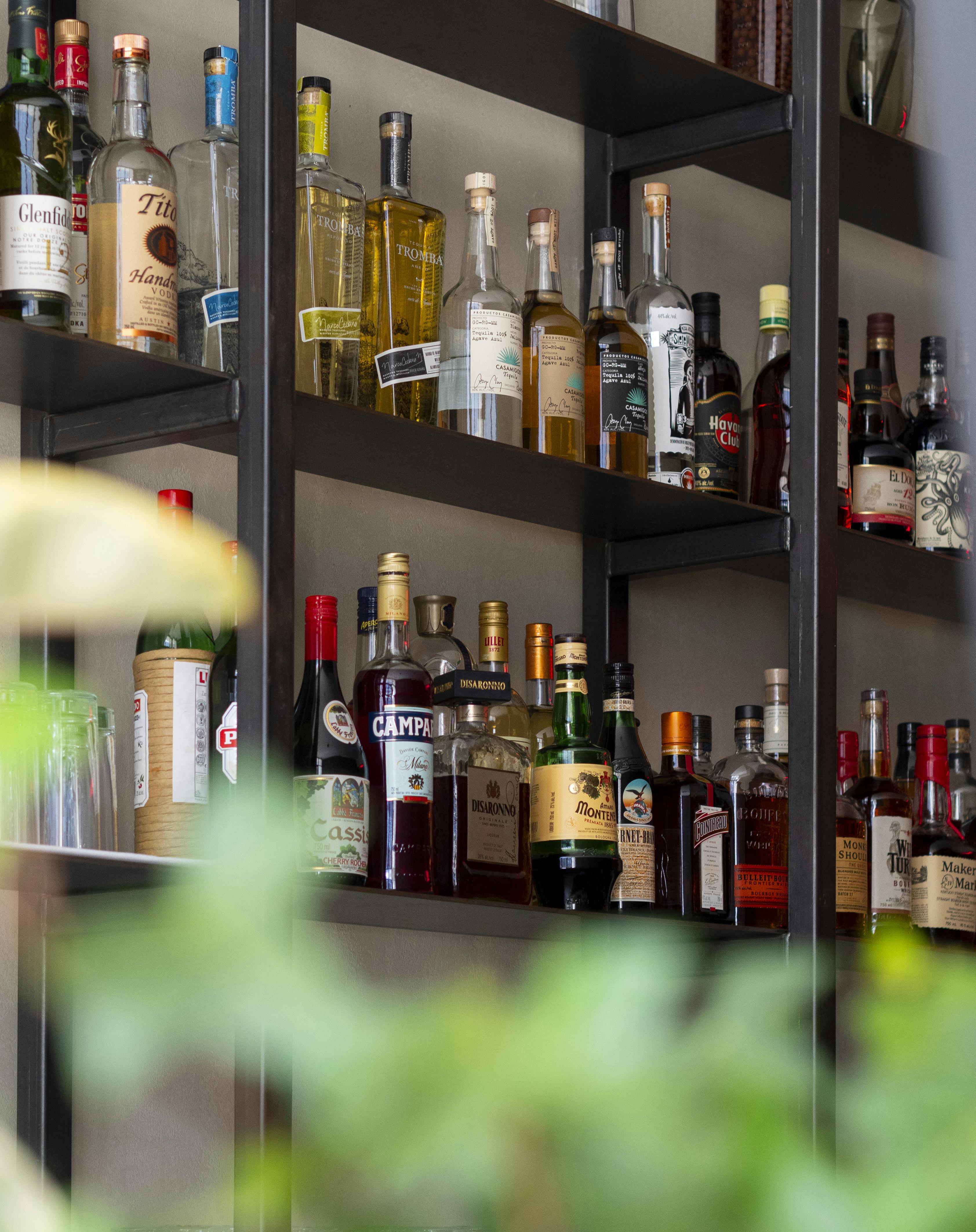 The drinks here also have that mix of downplayed, "just food" philosophy with a touch of fun originality. Created by Zac, Recette's Bar Manager, every cocktail here feels simple and nostalgic, but just interesting enough to offer something different. With names like the East of Dufferin Sunflower Old Fashioned, Long Story Long, and the Forgive & Forget—it's enough to draw you in. There's also a spicy strawberry margarita called the Wishlist, and it's definitely on mine.
A new French-inspired brunch menu will be launched at Recette in the next few weeks. As summer draws closer, we especially look forward to a new menu from Chef Milo, which he hopes can capitalize on Ontario's summer produce and bring that farmer-chef relationship to his new restaurant.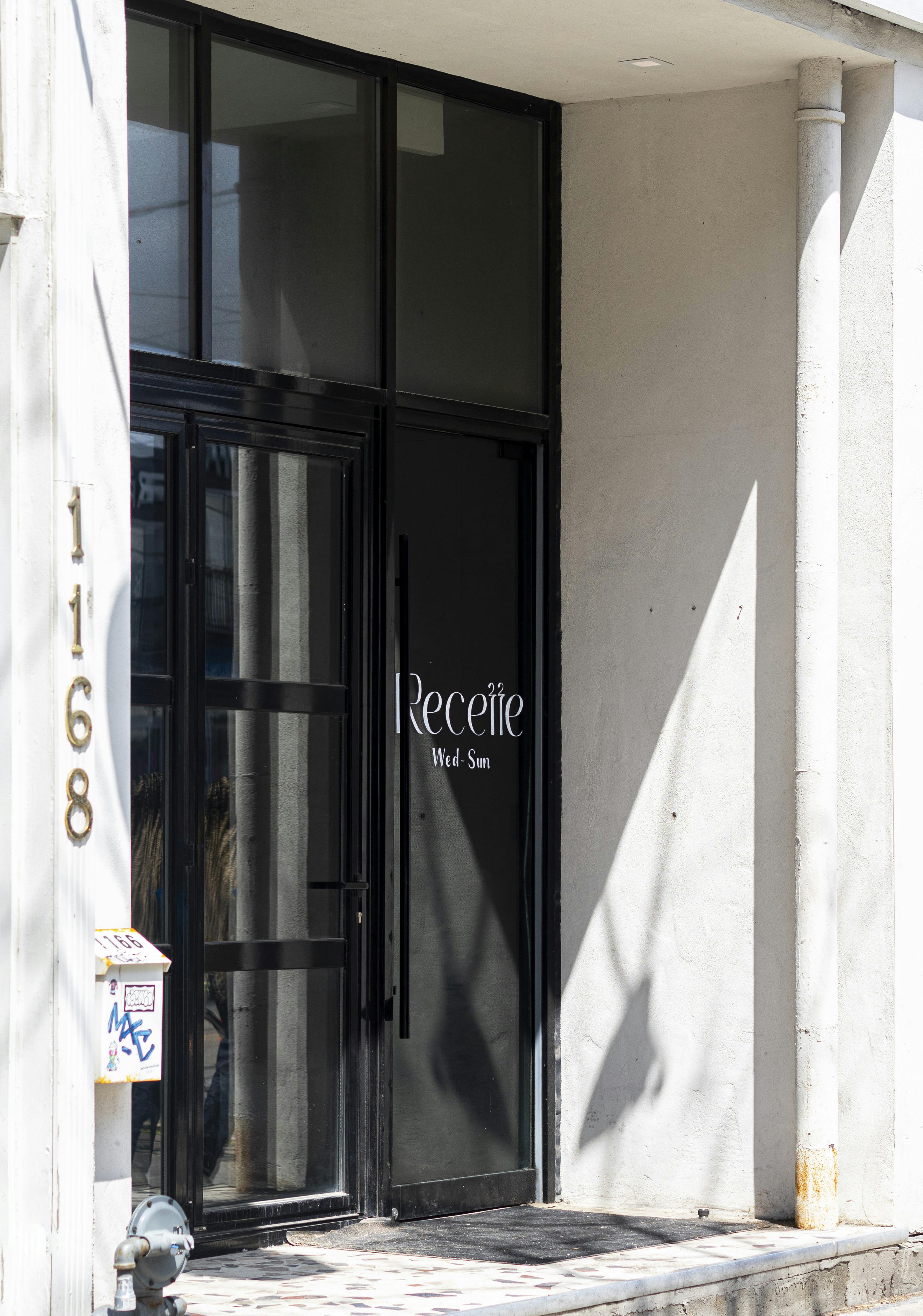 Until then, you can catch Recette's springtime menu at 1166 Queen St. W. and reserve your spot on OpenTable. They're open Wednesdays to Sundays from 6 p.m. to 11 p.m.