Too often, restaurants serve up stellar food or memorable spectacle. Rarely, is it both. Located on King Street West, a strip where experiences can overshadow what's on the plate, Ristorante Sociale effortlessly combines top-notch, traditional Italian fare with a flair for the dramatic. When superlative Italian cuisine snatches your attention away from leggy, lampshade-capped dancers, you know you've hit the dinner-and-a-show jackpot.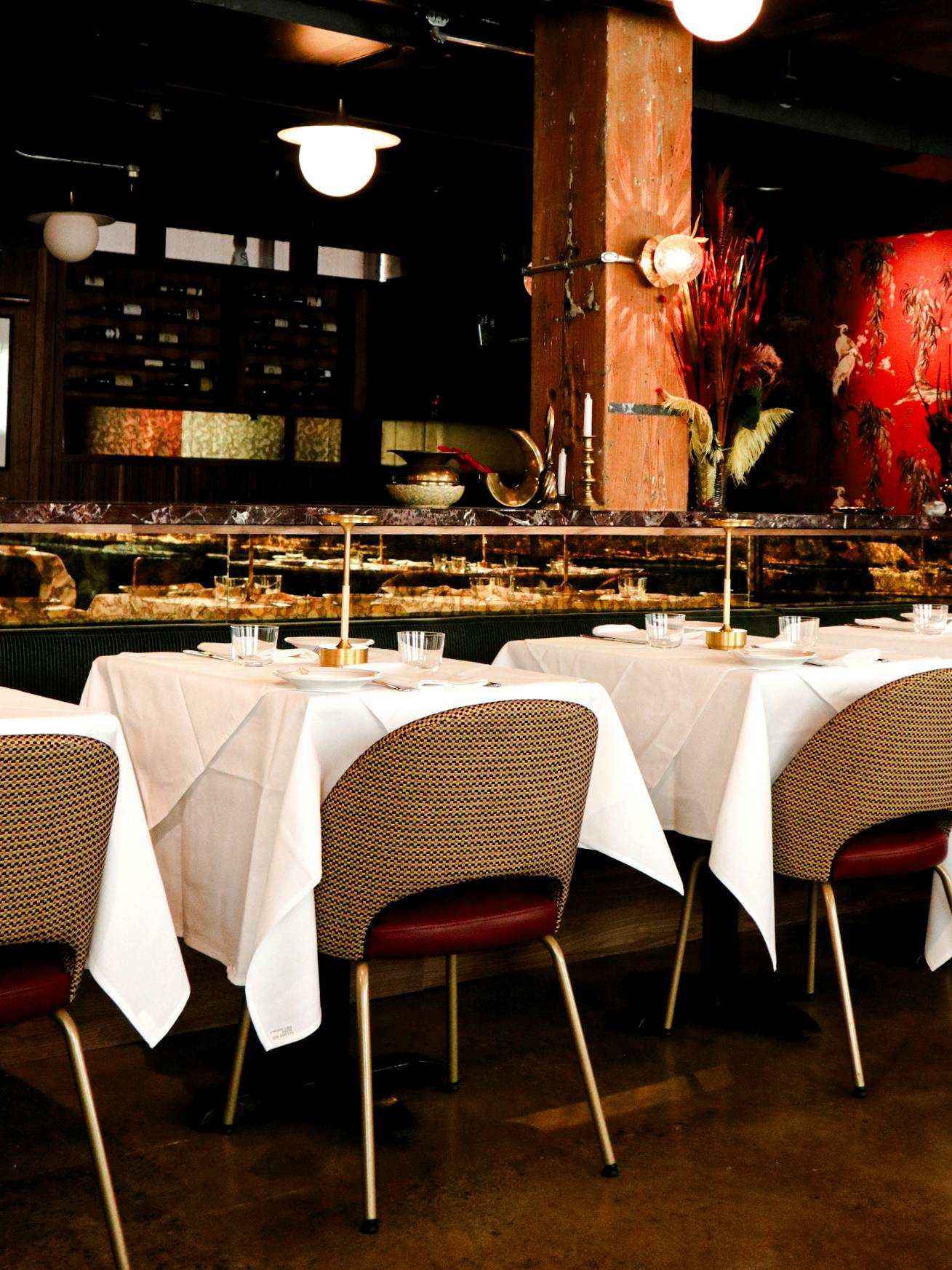 At its core, says Kyle Rindinella, co-owner and co-executive chef of Ristorante Sociale, "this place is a neighbourhood restaurant." Much like at its sister spot, Michelin Bib Gourmand recipient Enoteca Sociale, an ethos of hospitality is rooted in every move at Ristorante Sociale. Located "in a very, very different neighbourhood that demands a little bit more," the team's efforts now simply include the polished welcome afforded to guests as they settle in, the Amaro cart, the white tablecloths, the dreamy plates of hand-made pasta, and yes, even the dazzling dancers. "It's formal dinner lightened up with entertainment and music. It's not pretentious, it's very inviting," adds co-owner Deni Di Tullio. "We continue to do what we do," assures Rindinella. 
What the team does, and has done for the past 13 years at Enoteca, is make exceptional plates of charming Italian food. Exceptional enough for the folks who compile the Michelin Guide to take note. These are dishes gussied up by know-how and quality, not pyrotechnics or tricks. From the can't-take-it-off-the-menu cacio e pepe to the textbook risottos and succulent steaks, this is the food that generations of Italian families have perfected, and we're lucky enough to now find nearby. 
Whereas Enoteca's menu reflects the food of Rome, at Ristorante Sociale "we've branched out," explains Rindinella. "It's Roman with Tuscan influences. The steaks are Tuscan. We're able to do linguine vongole. We're able to do rigatoni Bolognese because we're branching away from being strictly Roman." The menu includes, "five or six dishes that are classics that I don't think we could open a Sociale restaurant and not have," says Rindinella. These are the team's chicken liver mousse, arancini, focaccia, cacio e pepe, and dry-aged ribeye. "For the rest of the menu" he adds, "we kind of took inspiration from what we would want to eat if we went to an Italian steakhouse."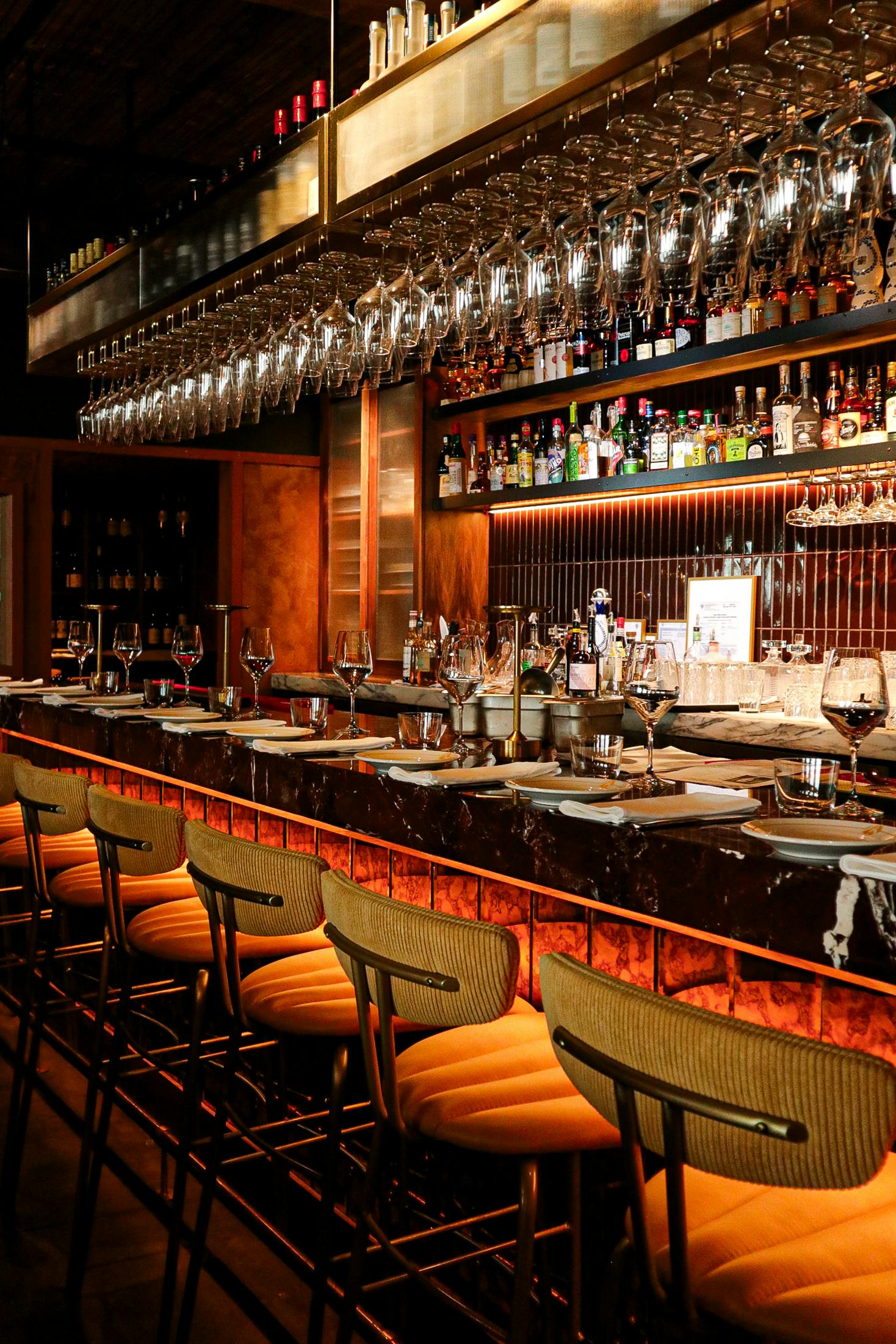 Set down a short flight of stairs, just south of King West's commotion, Ristorante Sociale feels secluded and unique. At 95 seats, it's also an intimate size compared to the sprawling dens of decadence lining the street. Designed by Westgrove, the space combines different elevations, with mirrors, for depth, forest green banquettes, whimsical wallpaper, gold accents and polished concrete floors to create a contemporary take on the more traditional steakhouse mood. Comfortable and modern, it's a place where everyone has a front-row seat to the food, fun and entertainers passing through. 
From a bar menu that includes beer from Paris Brewing Company, a selection of wines from Nicholas Pearce  and Wine Lover's Agency, and a distinctive selection of original cocktails, find what you love then wait for "The Move." When a plate of Castelvetrano olives, taralli and hunks of Piave cheese arrives at your table unannounced, you'll know you've been hit. "It's that fun little moment," says Di Tullio. "It's on us to go with your first drink while you decide on your dinner." It's a simple gesture but it's just one of the many ways the team welcomes guests to the Ristorante Sociale space. 
Created by bar manager Daniel Schlombs and the team, cocktails are classics with a twist. "Like with the food, with the beverage list we try to use local producers and highlight what they're doing," explains Rindinella. "We use them as our rail vodka and gin."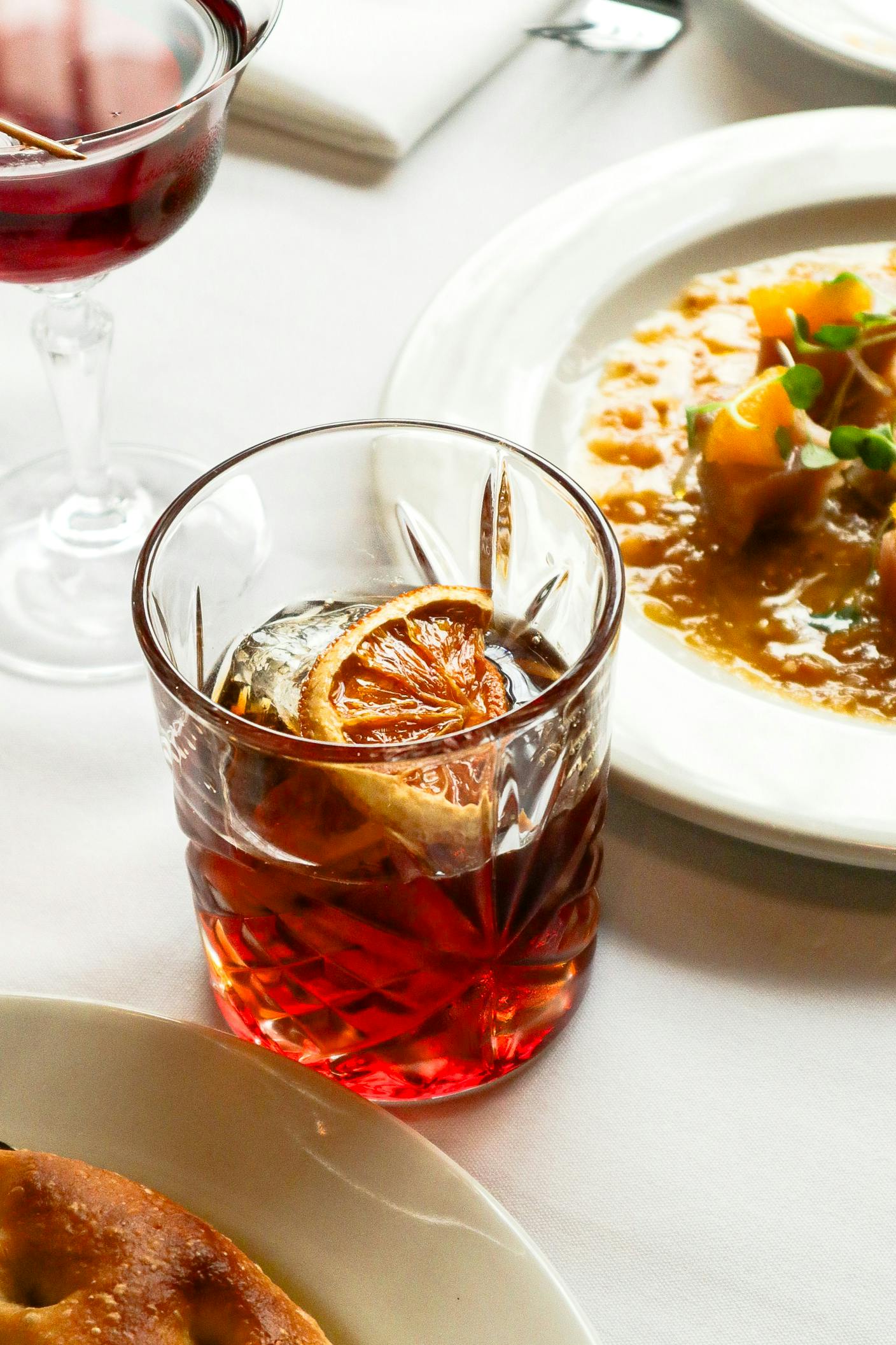 Highly photogenic, the Smoked Termoli finds Cynar, Antica Formula Vermouth and Valley of Mother of God Maplewood Smoked Juniper Gin blended into a hazy take on a Negroni. "We smoke the cocktail to order, then pour it tableside," says Rindinella.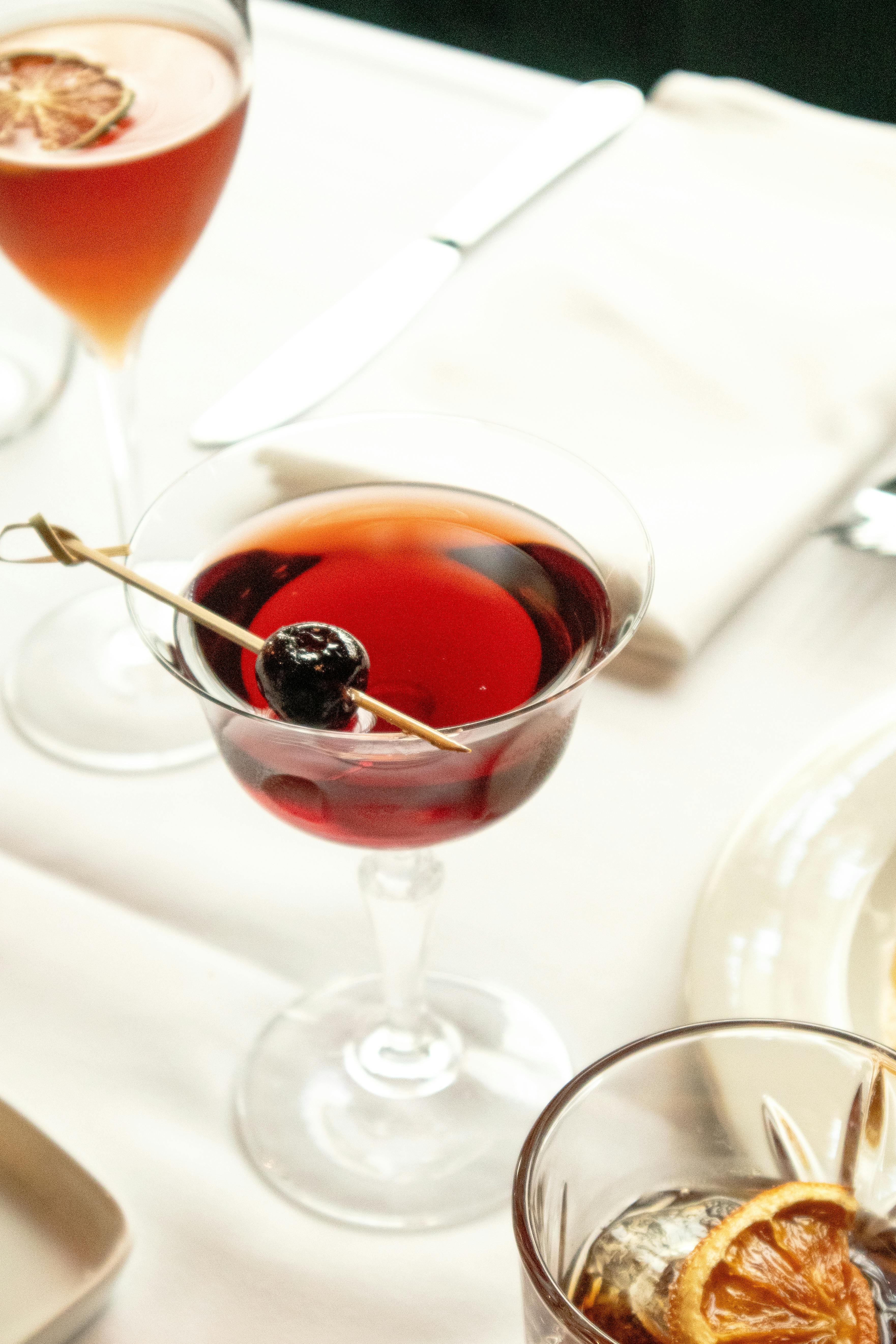 The Milano, a take on a Cosmo, is made with Dillon's Distillery Cherry Gin, Aperol, cherry juice and orange.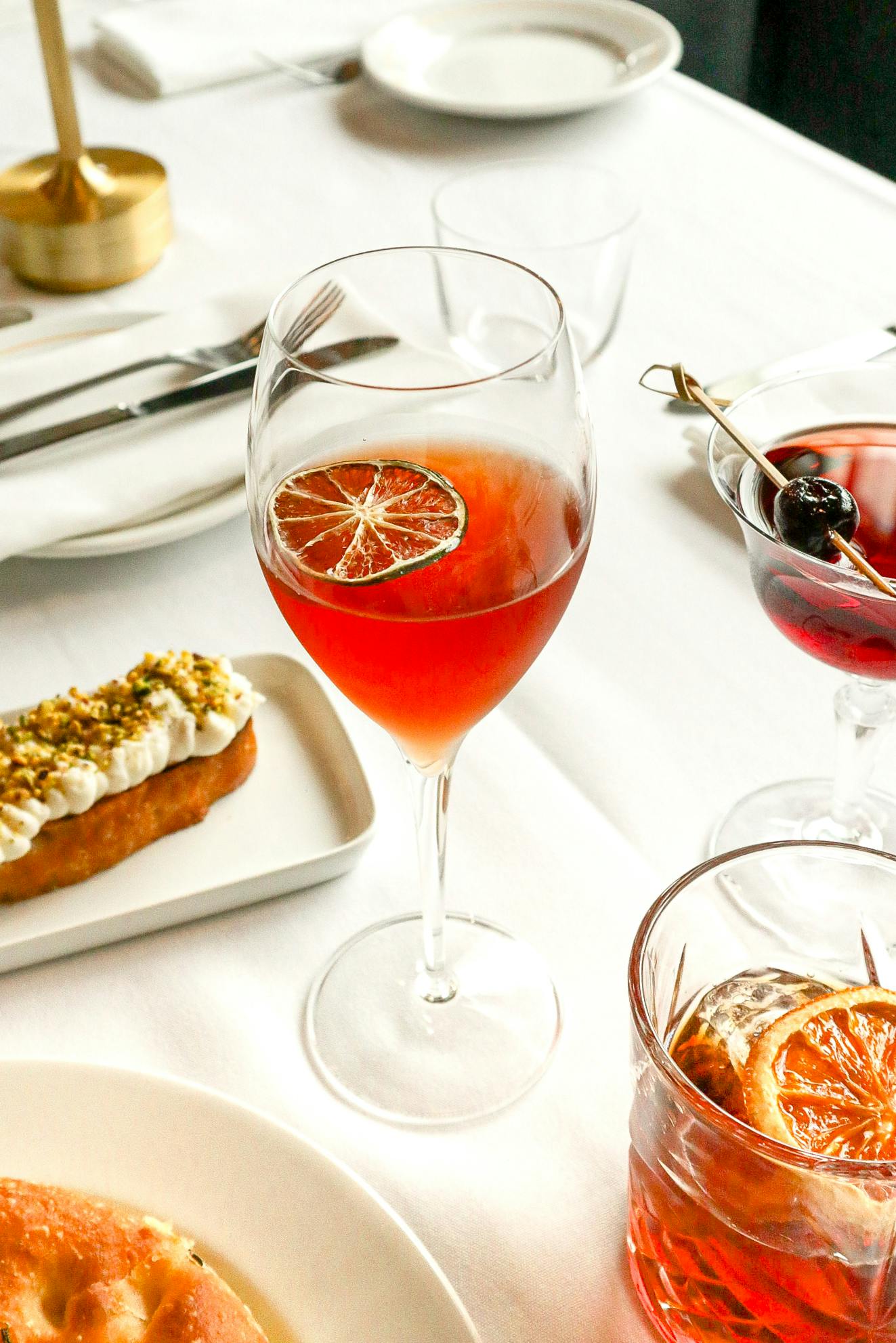 Ideal for the area's abundance of tequila afficionados, the Cagliari is a tequila-forward sipper with a spicy side, thanks to jalapeño syrup, and Thai red chili. "It's a choose-your-own-adventure of spice," muses Rindinella. "You can throw the chili away, drop it in the cocktail, rim the glass with it and really get your lips going or just nibble on it."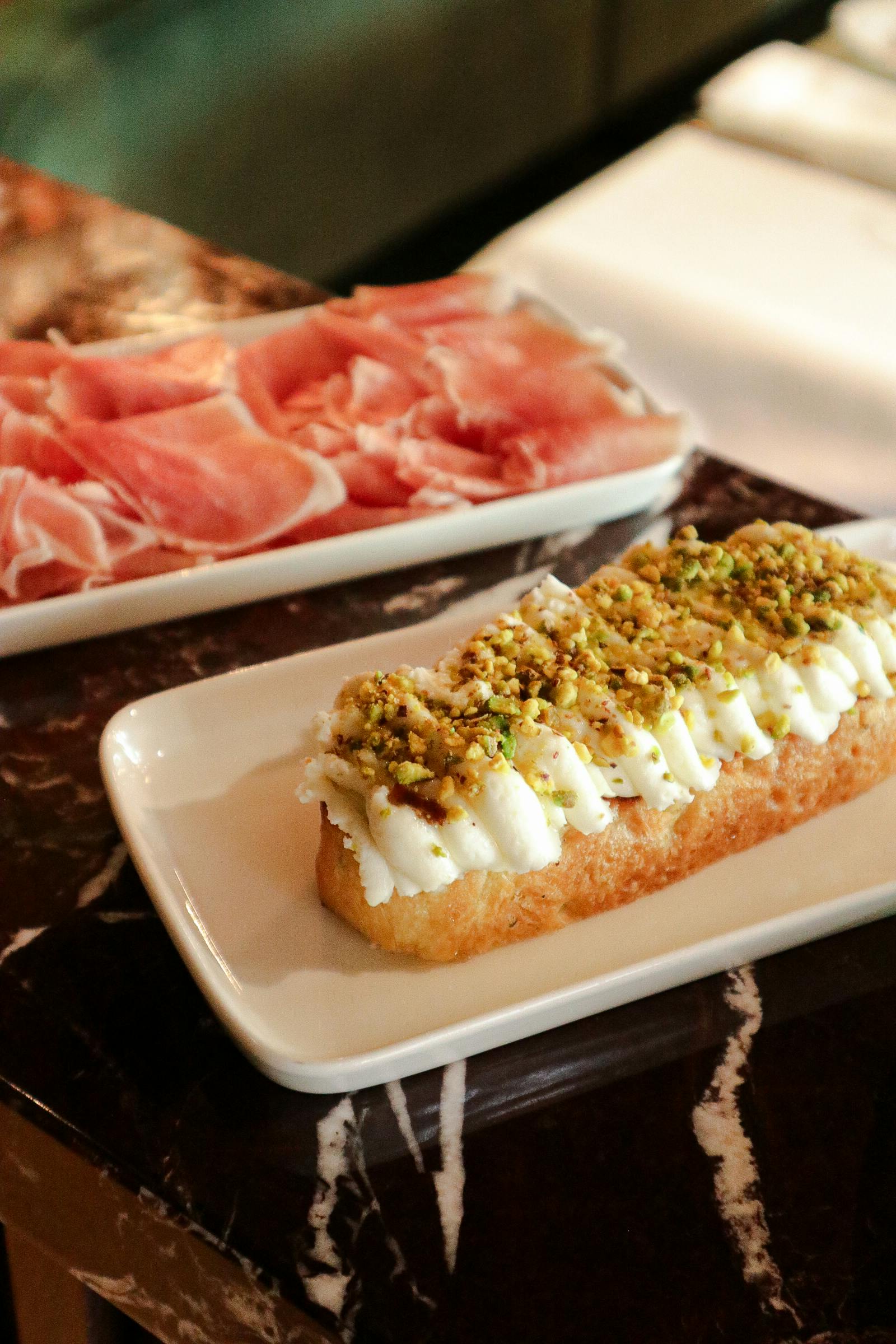 On a menu that jumps from Antipasti to Insalate, Paste and Bistecche, dishes at Ristorante Sociale were designed to be enjoyed with, or without, friends. Faced with this level of excellence, we're fairly certain nobody would fault you for being greedy. Baked daily, the team's famed rosemary focaccia needs little to no adornment, save for the cold-pressed Sicilian olive oil that accompanies it to the table. Still — since this is King West — if you want to be extra, you'll want to enjoy it with a yielding orb of buttery burrata, eggplant caponata, or one of the kitchen's salumi offerings, ranging from speck and house-cured guanciale, to nduja and mascarpone.
From there, there are myriad ways to fill the table. Begin with rich, crackly arancini; shrimp cocktail livened up with pungent puttanesca; and radicchio Caesar that's, according to Rindinella, "heavy on the anchovy and the lemon." Alternatively, you might prefer zippy green salad gilded with lashings of Pecorino Romano; chicken liver mousse balanced by frutta cotta, chives and toast; or ricotta crostone, a hulking slice of focaccia topped with a debaucherous dollop of whipped ricotta, truffled honey and a crunchy sprinkling of pistachios.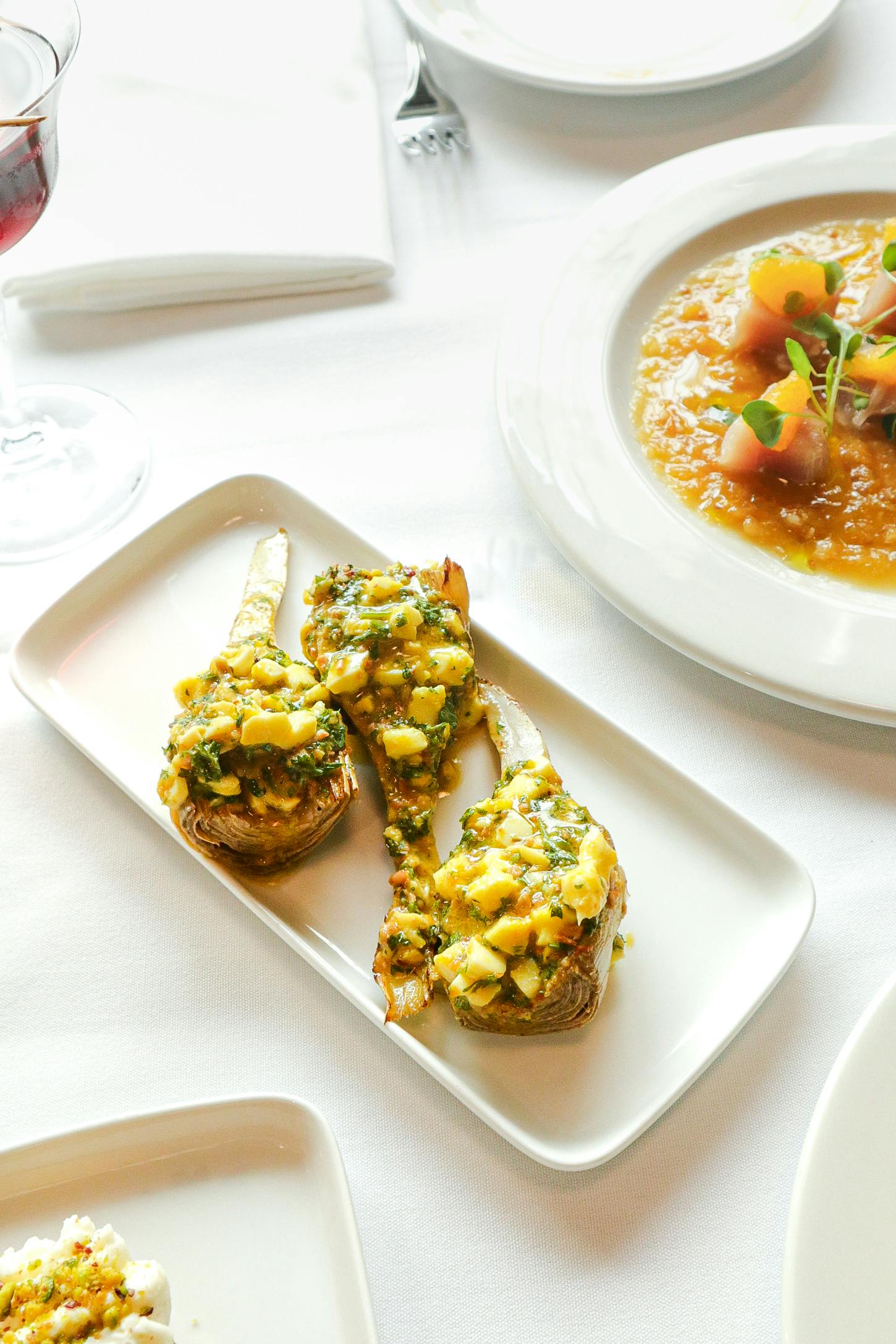 From the Verdure selection, grilled artichokes, or carciofi, are commendable as a summery appetizer or side. Entirely edible, from root to tip, each half choke is daubed in Cavour sauce, a savoury blend of anchovies, pine nuts, hard-boiled egg and parsley grandly named for one of Italy's founding fathers.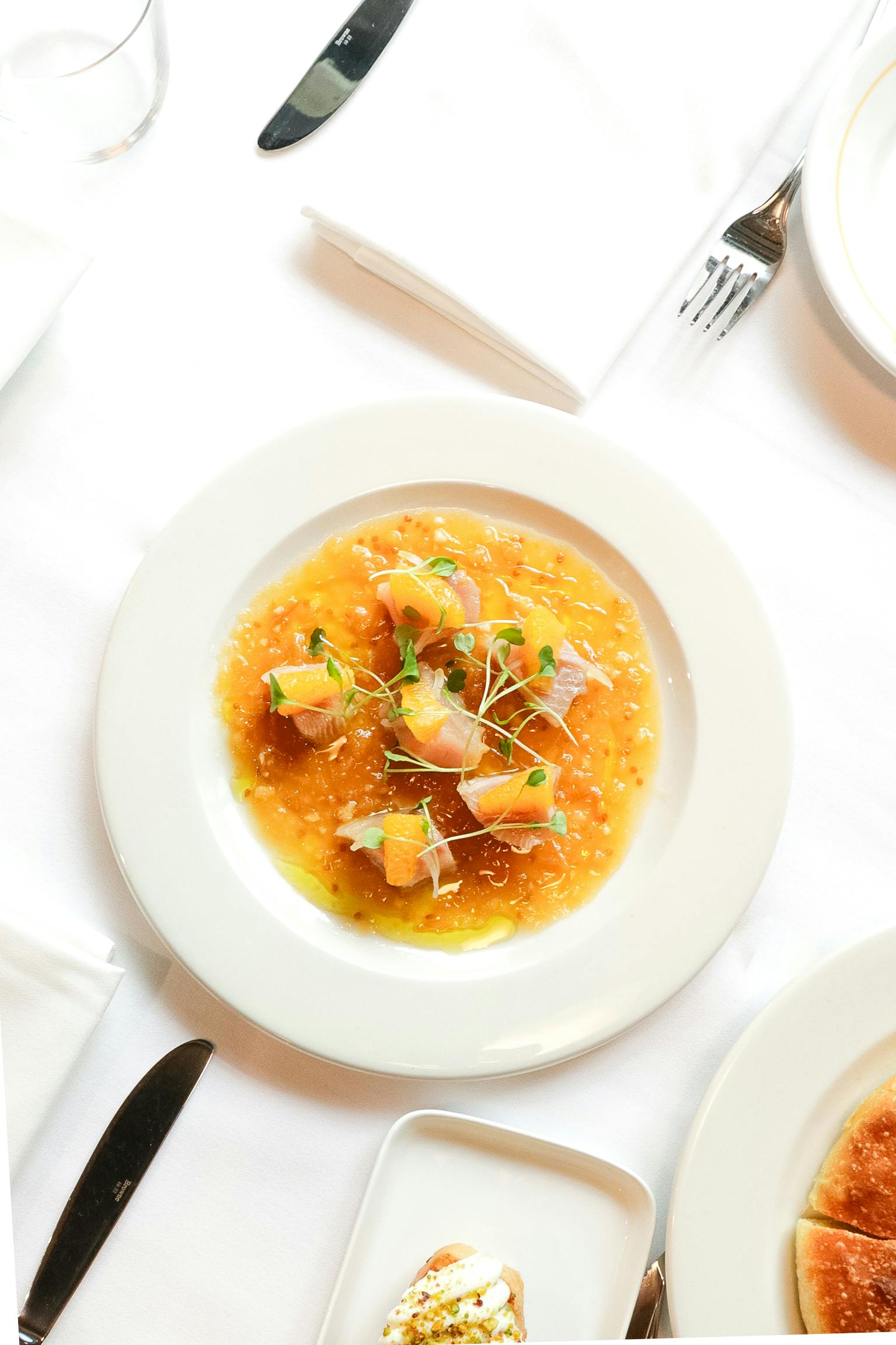 Sourced from Diana's Seafood, the restaurant's modest selection of fish, crustaceans and molluscs is as fresh as it would be if you found yourself sitting in a sundrenched corner of the Amalfi coast. Made from albacore tuna that's been treated to a light sous-vide bath, tuna crudo is as invigorating as the sight of Sicily in the sunlight. With yellow tomato purée, navel orange and nascent mint leaves, each saucy bite is a citrusy burst of seasonal bliss. 
Barring medical reasons, there's no excuse to visit a Sociale restaurant and not order a pasta. It's behaviour that ranks as bizarre bordering on barbaric. Pasta is at the core of the Sociale brand. It's as integral to its success and longevity as it was, allegedly, to Sophia Loren's. Made daily from whole Conestoga eggs, each cream-coloured noodle is a toothsome vehicle for the kitchen's superb sauces.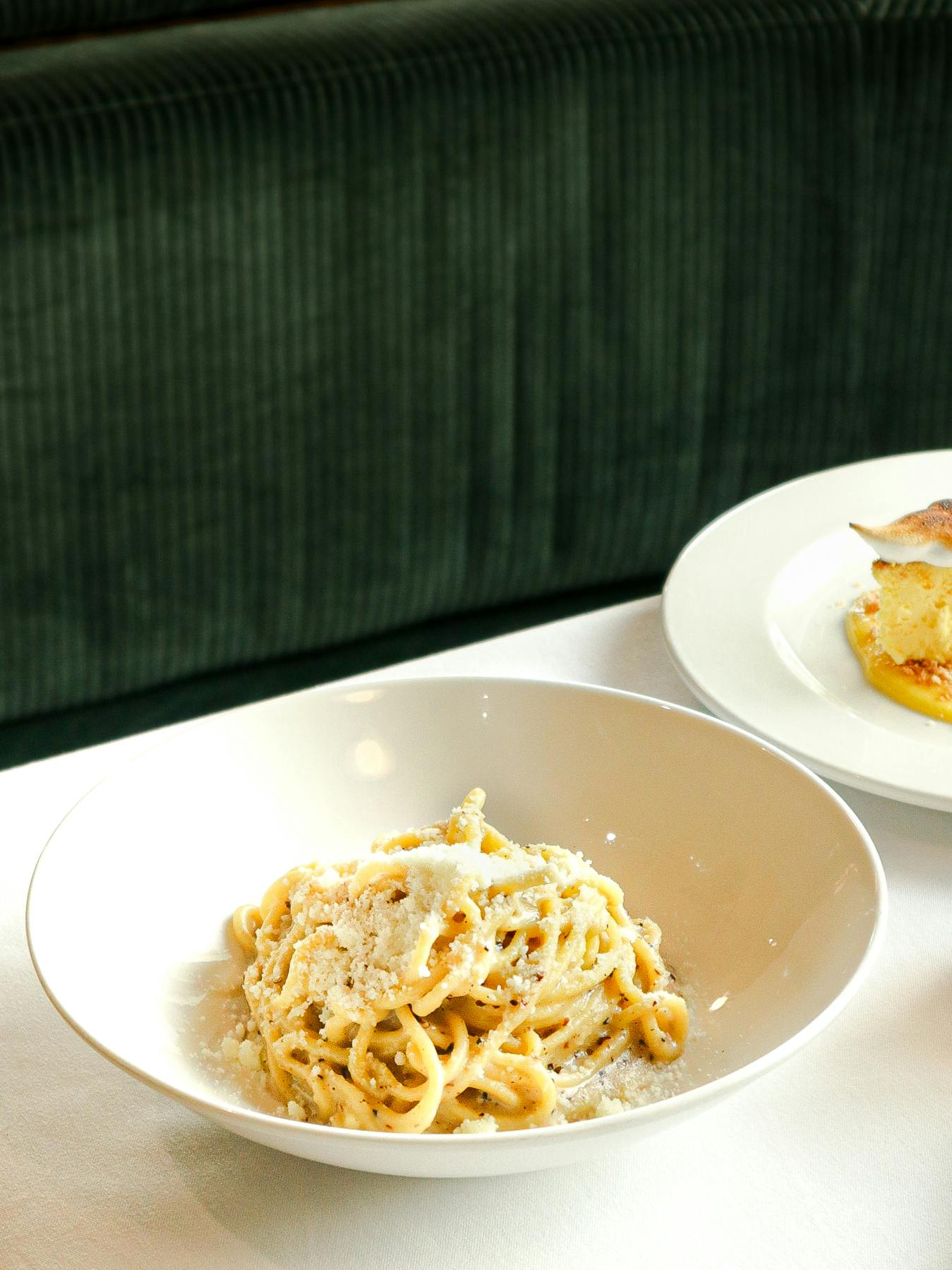 Simplicity boiled down to the funk of Pecorino Romano cheese and mounting bite of black pepper, cacio e pepe is the dish that put sister restaurant Enoteca Sociale on the map.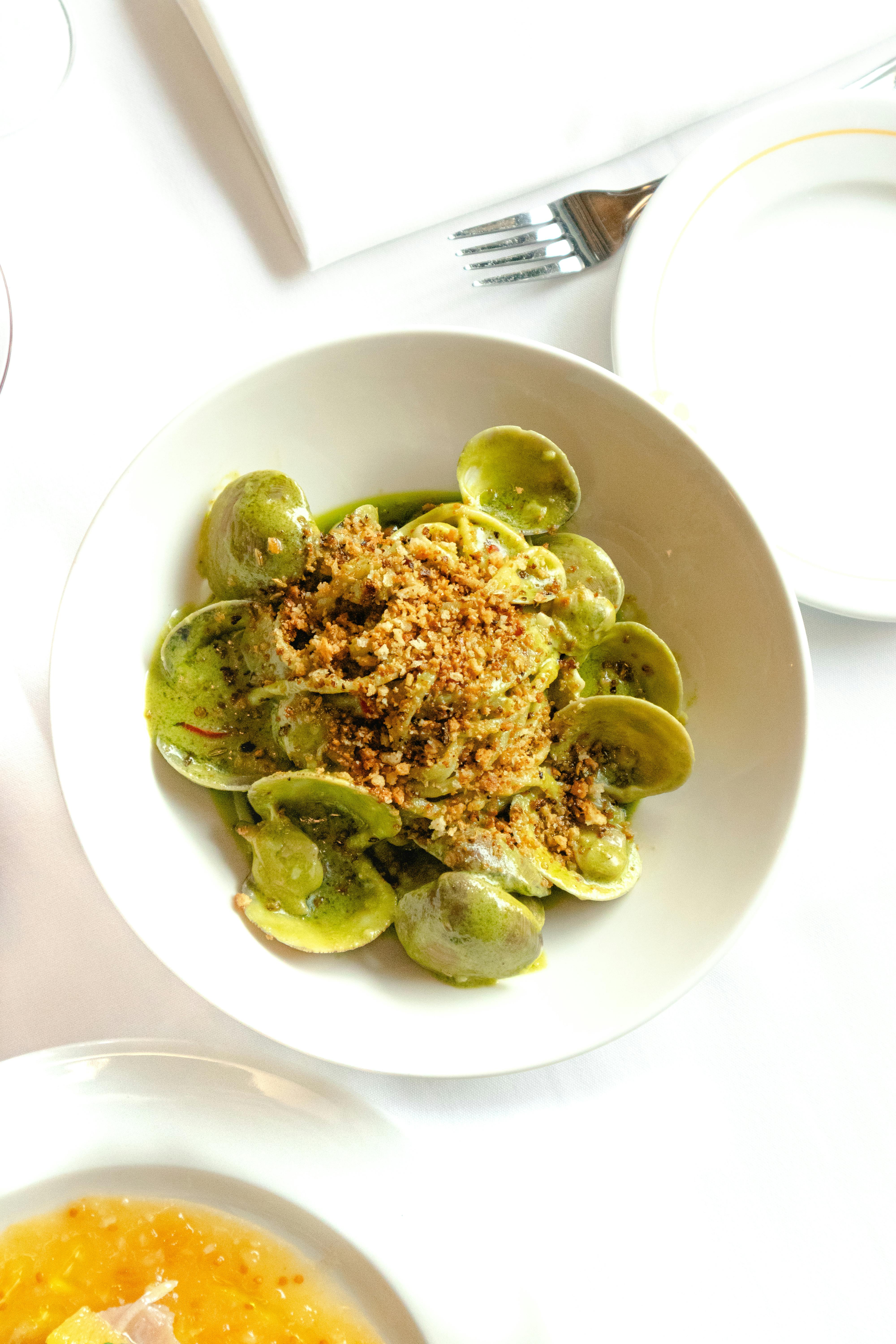 From Naples, linguine vongole is a grassy-hued heap of pasta, clams, parsley, and anchovy dusted with toasted breadcrumbs and chili flakes. Though you won't see it listed, carbonara is a secret menu item the team will whip up for those in the know.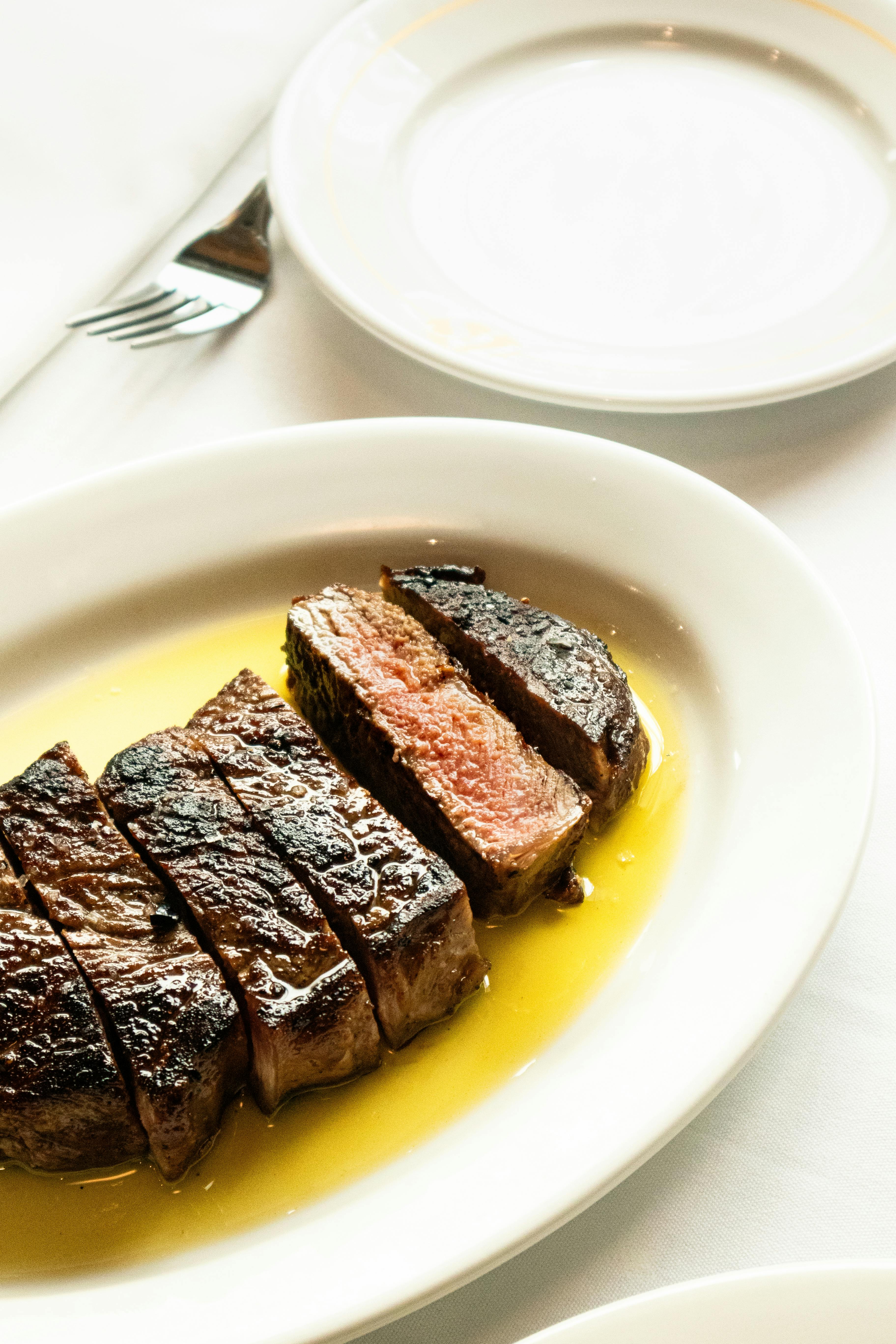 For larger groups, the kitchen's steaks make eye-catching centrepieces guaranteed to cause a stir. Dry-aged by Woodward Meats for 30 days, rib eye is cooked simply with romantically-dubbed Abandoned Grove olive oil and salt. Whether it's the aging, the first-rate cut, or that enchanting olive oil, this is a steak that can easily induce reverie with every bite. Not to be overlooked, the 1200g porterhouse is a carnivore's vision of paradise on a platter.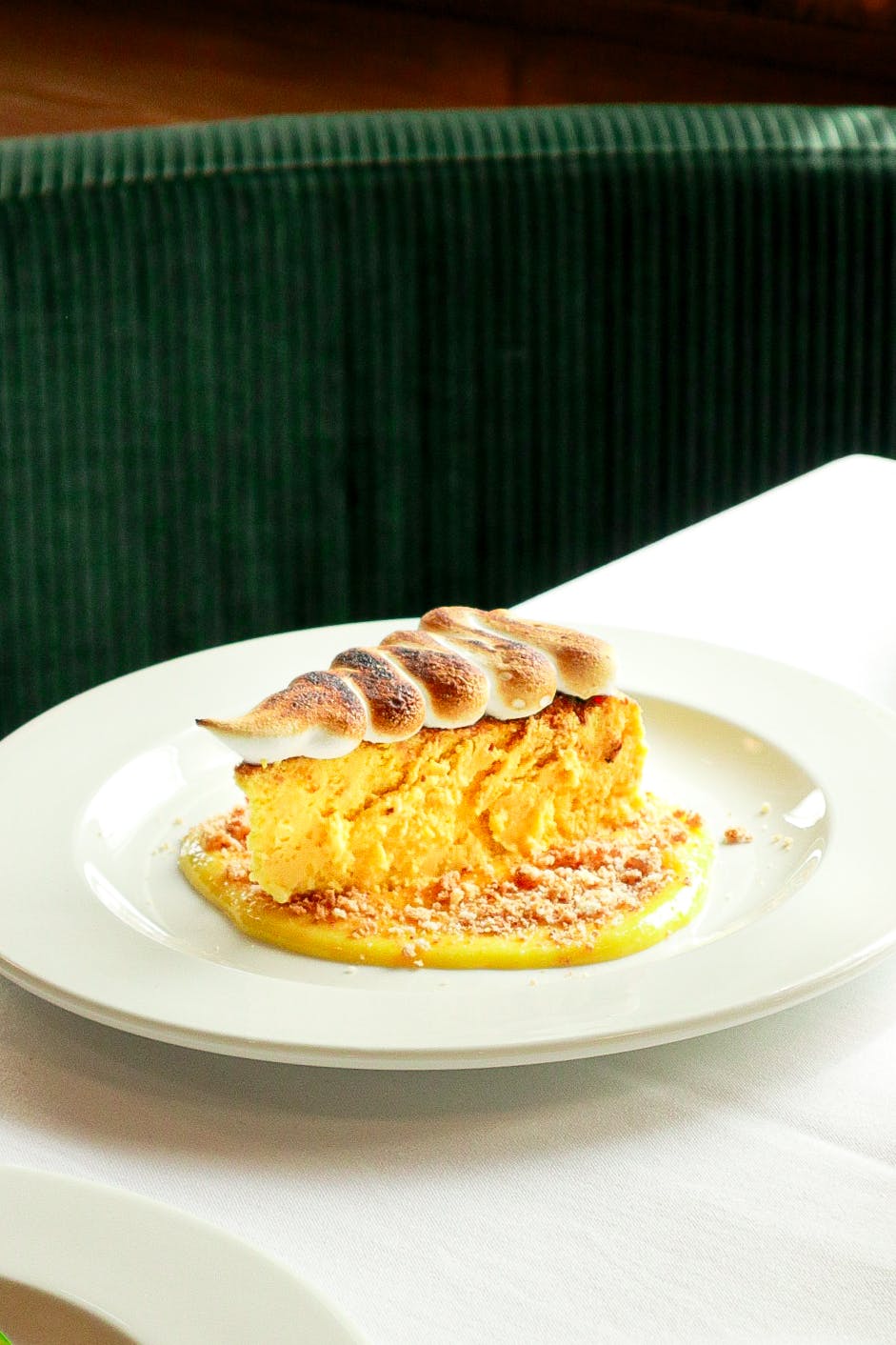 End the night with co-executive chef Rocco Agostino's inspired cheesecake, sticky toffee pudding, seasonal panna cotta or affogato. An updated version of a traditional steakhouse dessert, the ricotta and lemon cake is, "a cross between my two favourite desserts, which are lemon meringue pie and cheesecake," explains Agostino. Set atop a pool of lemon curd, the lofty slice is light and tart, while its plume of toasted meringue adds a proper pop of sweetness. Sticky toffee pudding, "is not Italian," affirms Rindinella. As Enoteca Sociale's undisputed fan favourite dessert, though, it easily earned a spot at the new location.  
"From the beginning, we've always wanted to provide a little bit more value for our guests," says Deni Di Tullio, about the group's latest venture. With dancers currently taking the floor around 8pm on Fridays and Saturdays, "there's that expectation," he adds. "Guests see them coming. They get their phones ready. Their smiles are from ear to ear." Between the notable dishes, the show, the music, and the spirited feel, "there's always something going on," at Ristorante Sociale. And that, friends, is exactly why you won't want to miss out.