Swing by the Ossington strip every weekend this summer to enjoy Souvla, a new Greek street food concept by Mamakas Food Group serving up traditional charcoal spit-roasted meats, seafood and beverages imported straight from Greece.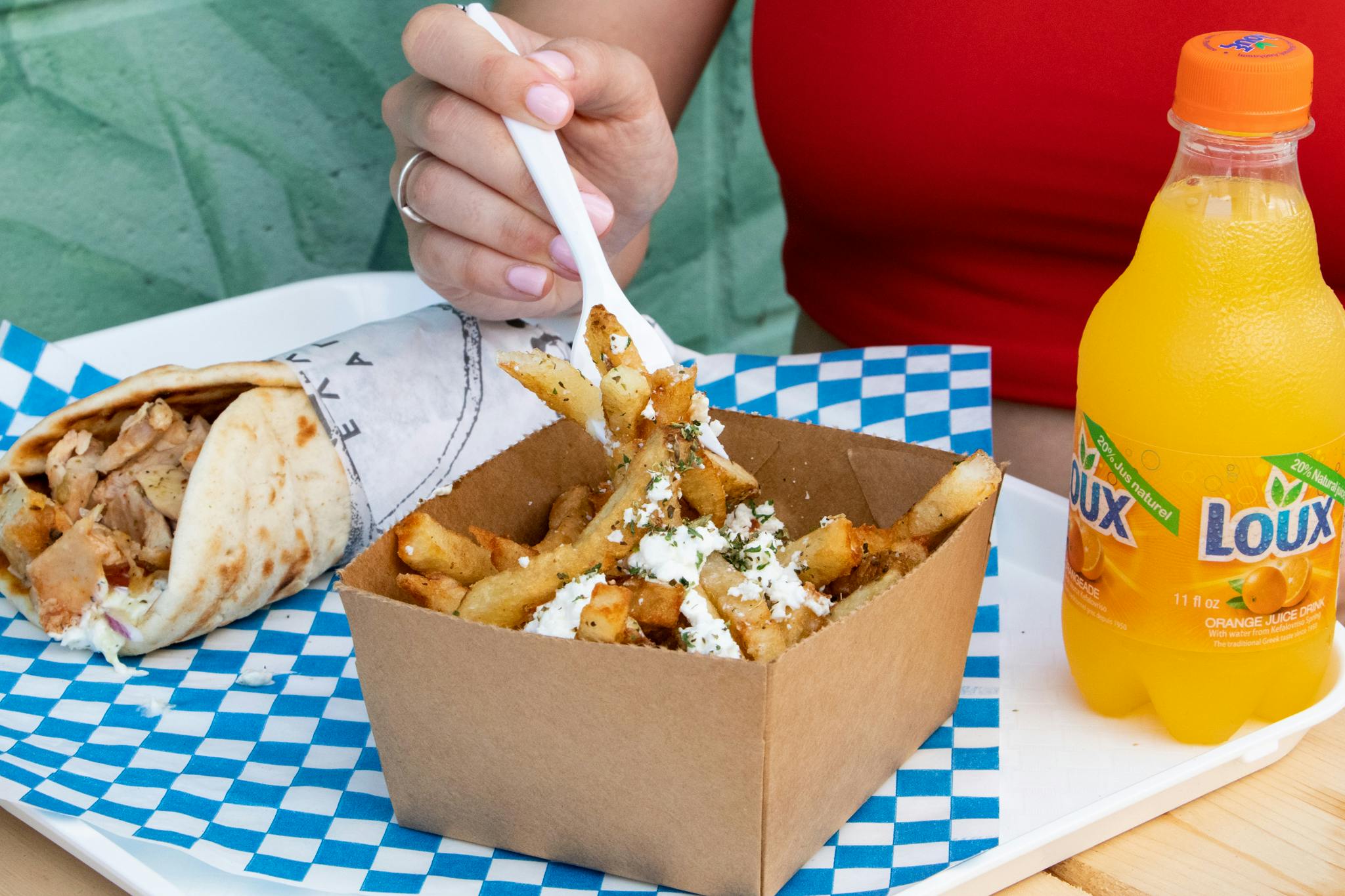 Already dominating the Trinity-Bellwoods neighbourhood, the addition of Souvla at 77 Ossington Avenue completes a trifecta of restaurants for the company along Humbert Street, as it takes over in the parking lot of House of Horvath.
Bringing this concept to life in a more permanent way took over a year in the making. A push for outdoor dining and a want to reconnect with the neighbourhood, paired with the city of Toronto's loosening guidelines for restaurants regarding patio spaces, has allowed Toronto's newest summer pop-up to activate.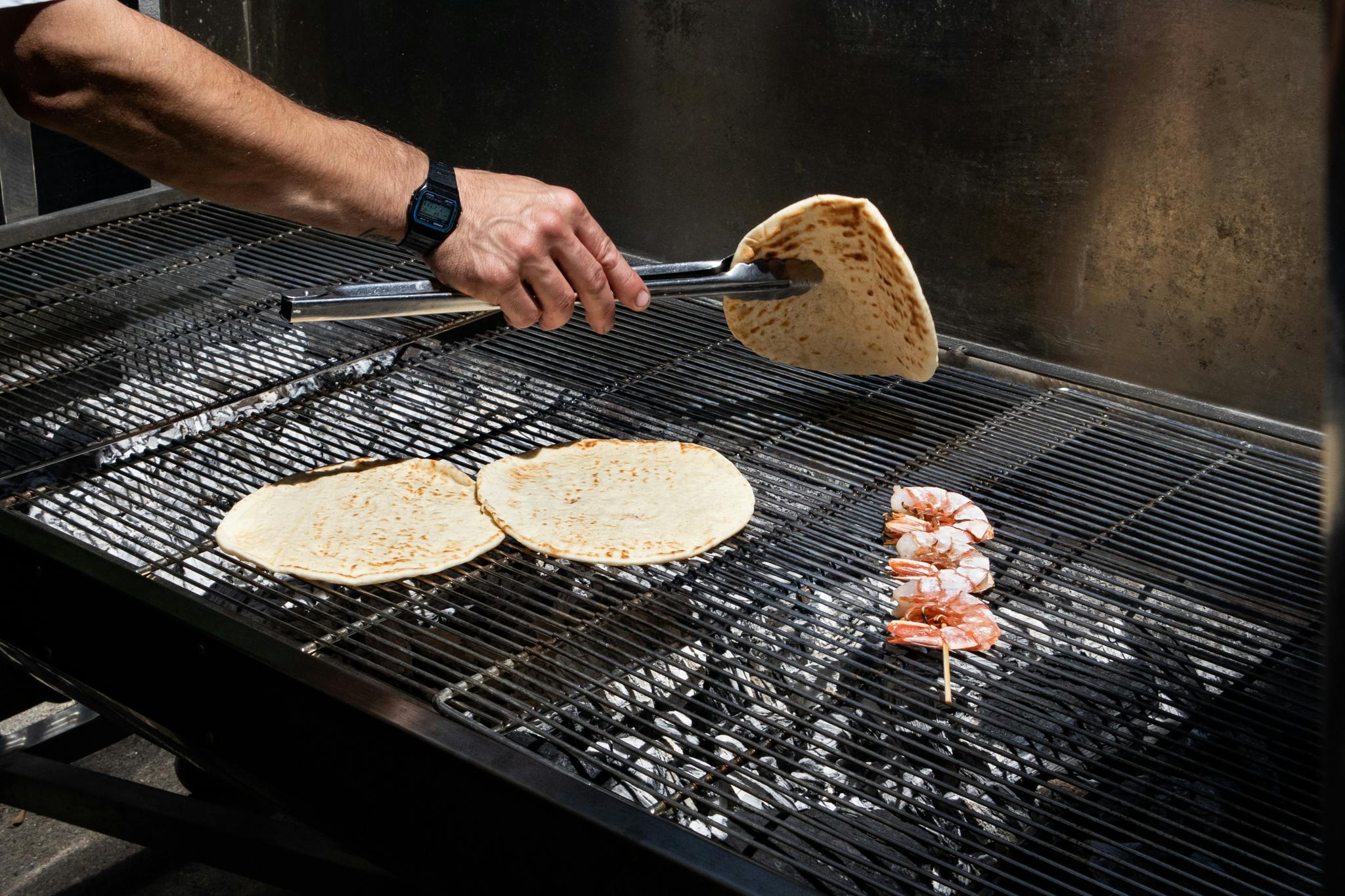 Originally inspired by their participation at OssFest, a street summer festival along Ossington where they typically dish out around 1500 souvlas in a day, owner Thanos Tripi says he loved participating in the annual street festival and was trying to figure out a way to service the community in the same way again, despite it being cancelled.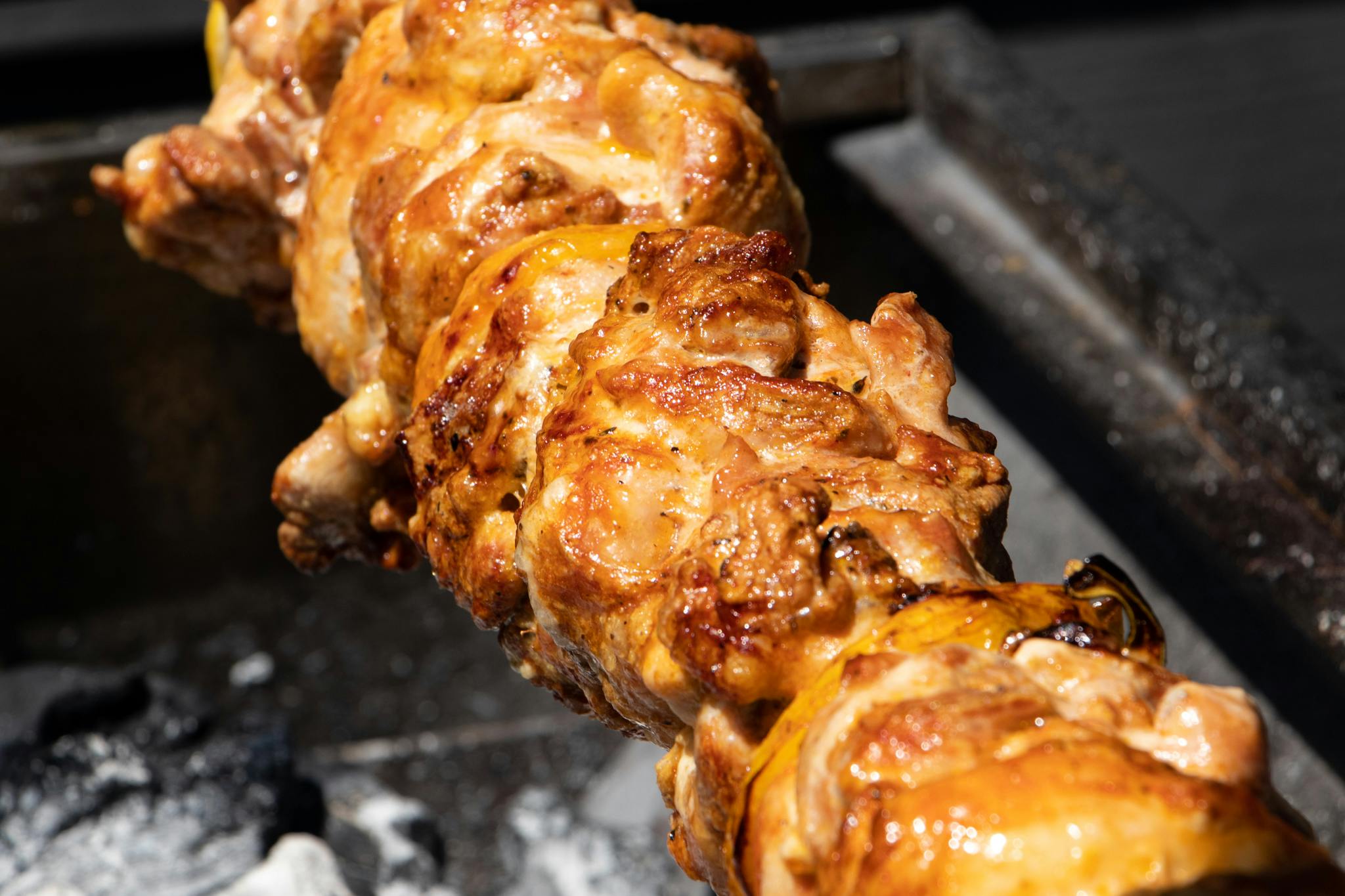 Tripi adds that the souvla has actually become one of the group's legacy items available at their market Agora down Queen Street West and while patios were still closed, the team at Mamakas brought the souvla back as street-side barbecue operating beside their restaurant. Now, as patios reopen, they're unable to serve in the same way, so moving the concept across the street ended up being the perfect solution.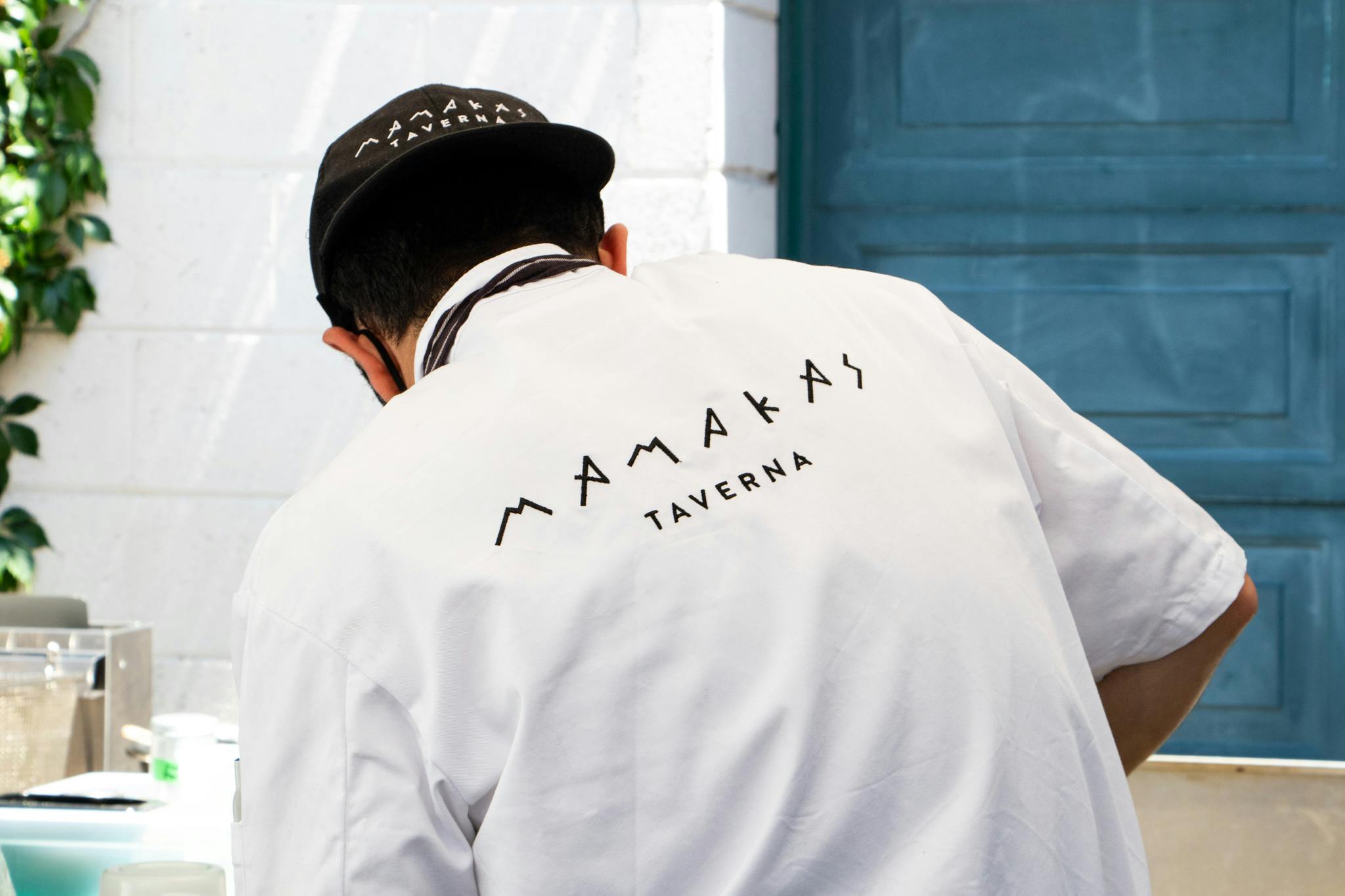 Featuring a slew of imported goods from Greece just like at their other spots, Mamakas Taverna, Bar Koukla and Agora, Souvla is the newest member of their roster that's dishing out a simple menu of Aegean-fare, with a focus on the grill.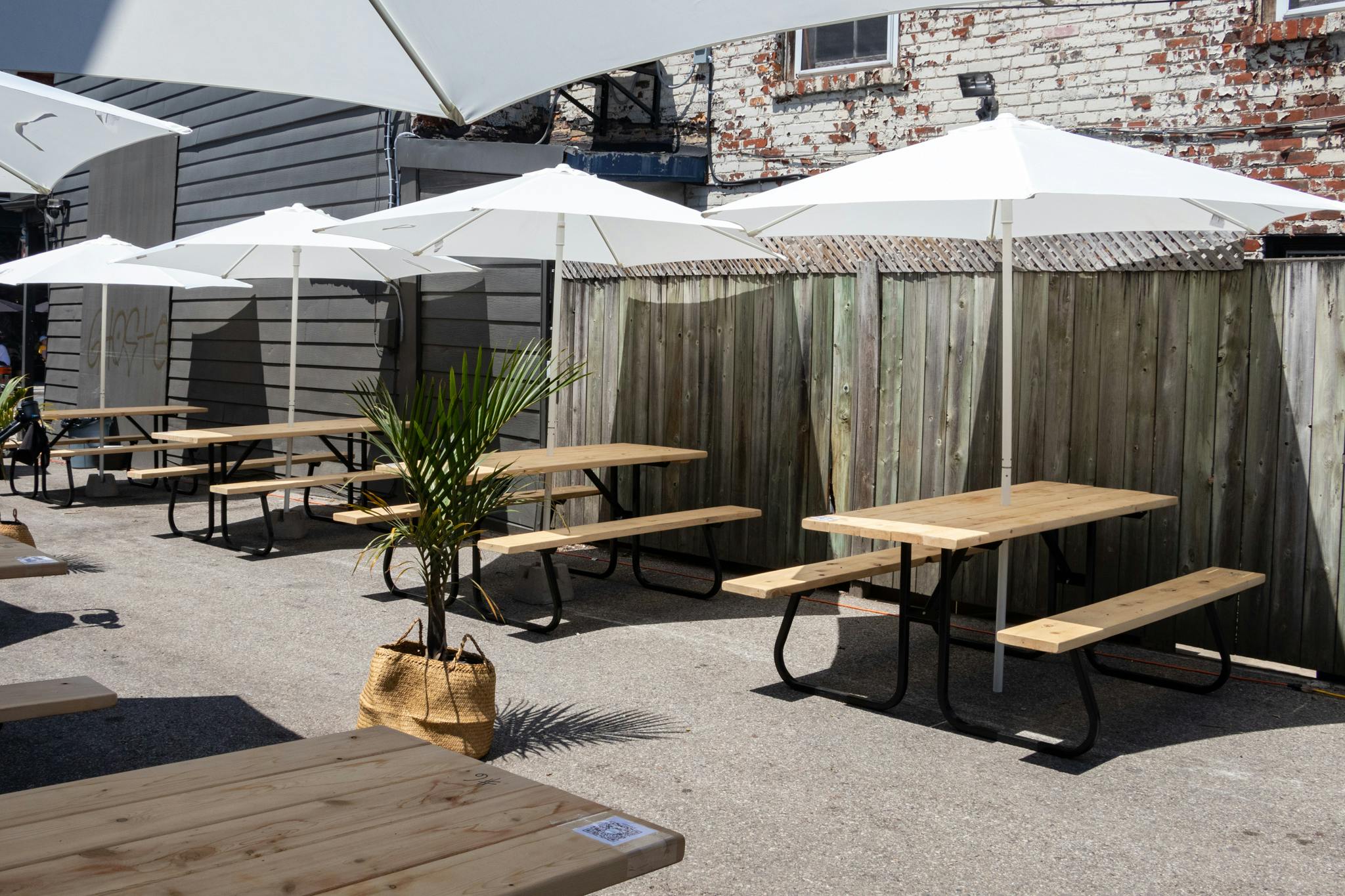 Lined with socially distanced picnic tables covered with white umbrellas and filled with greenery in and around the space, the area is licensed for 100 people but currently accommodates up to 60 for walk-ins only. Lots of work goes into filling the space, as they have to fully tear it down Sunday nights and build it back up Friday afternoons to accommodate their deal with their neighbours, who get their parking lot back during the week.
Find the cooks in a sectioned-off portion towards the back of the space, making occasional trips to the front of the pop-up to grab the souvla off the charcoal pit for you.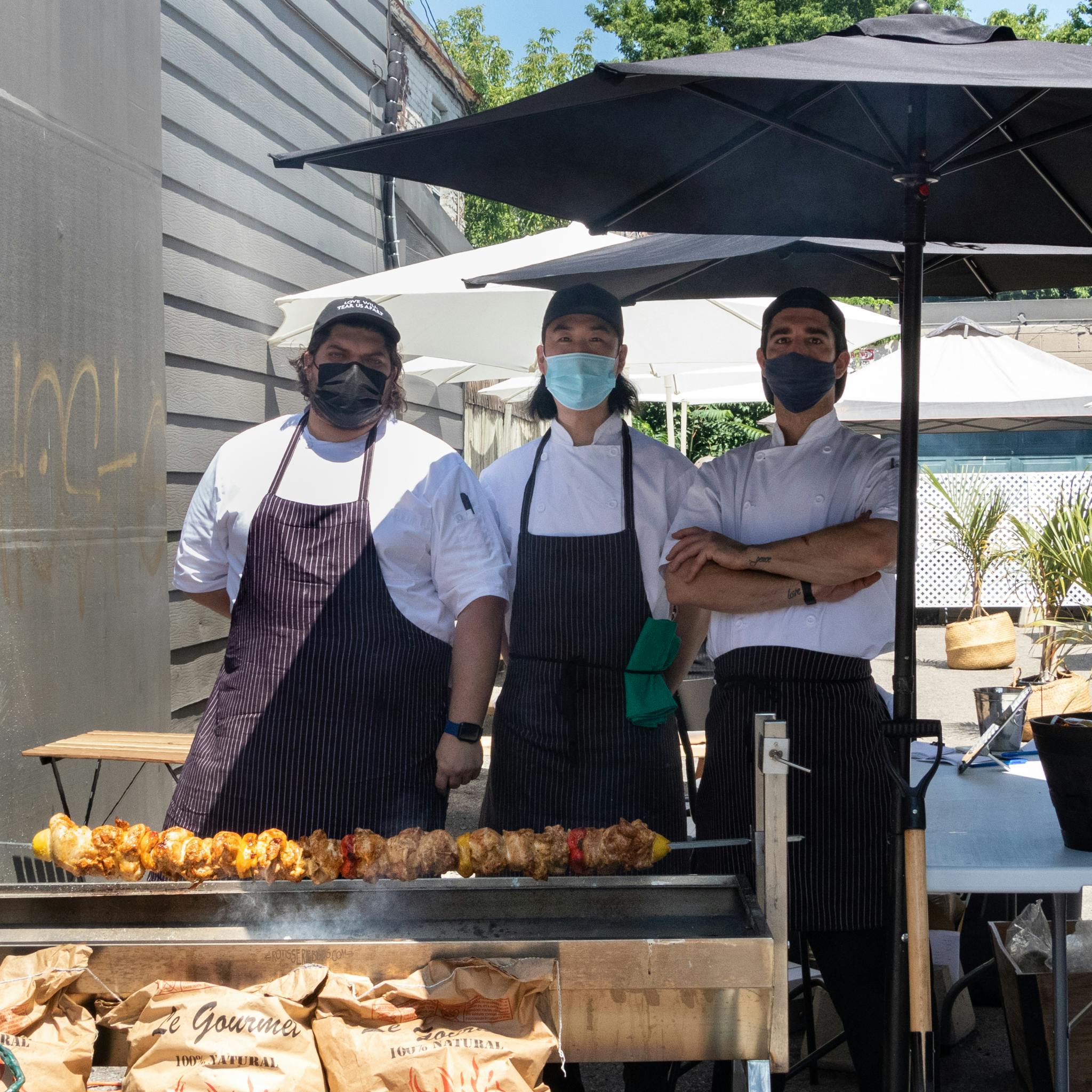 Culinary execution at Souvla is being led by Bar Isabel alumni Lucas Richarz, who jokes about how he's moved from cooking one side of the Mediterranean to the other for this project. He is joined by long-time Mamakas Taverna pit master Markos Nikolaidis, who owner Thanos Tripi says "has a touch for the barbecue."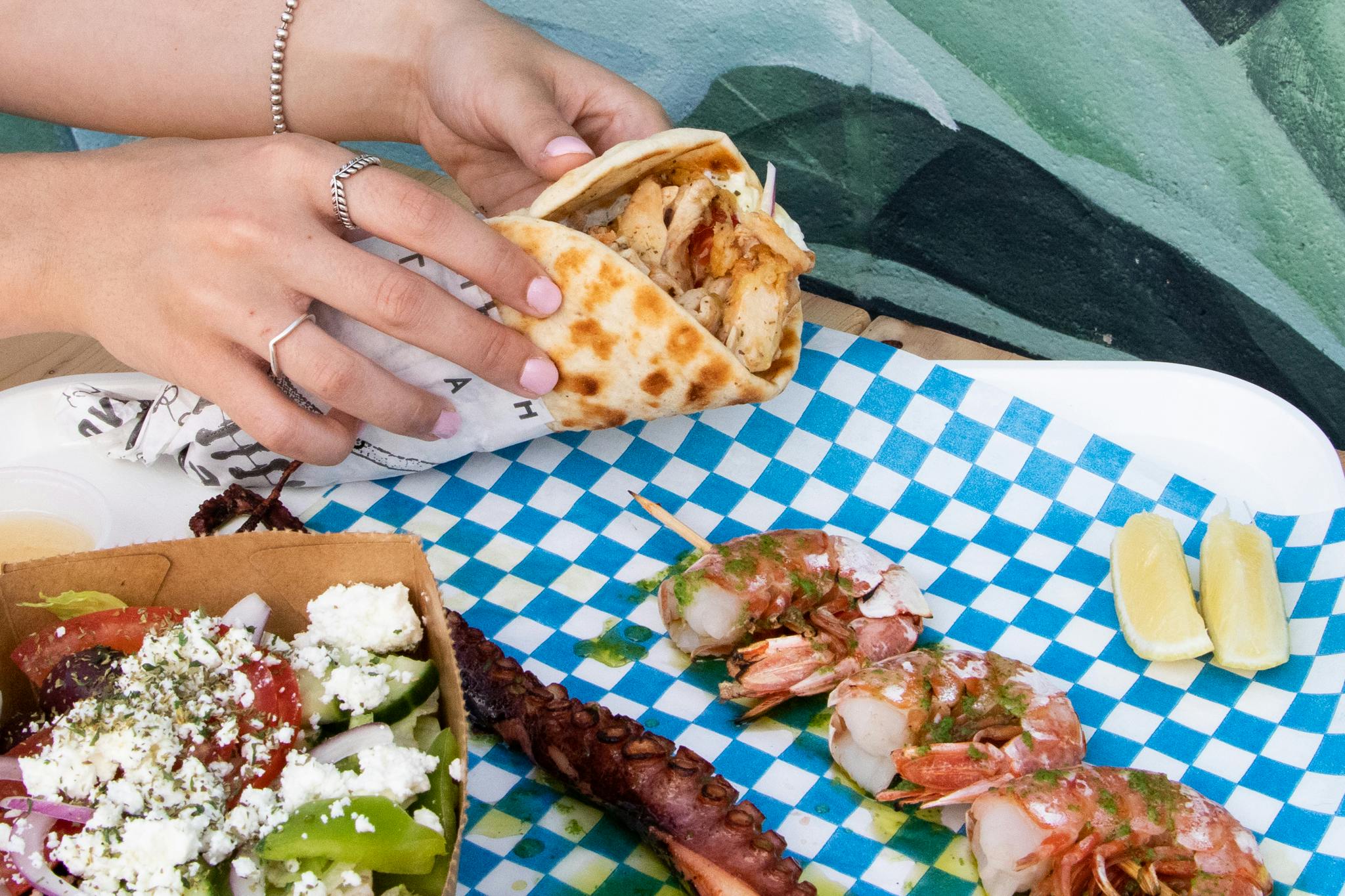 According to Tripi, the spot is bringing the best of their Greek market Agora to the pop-up. On the menu, find a selection of traditional Greek meats and seafood, feta fries, salads and sweets, not to mention a selection of bottled beverages imported from Greece.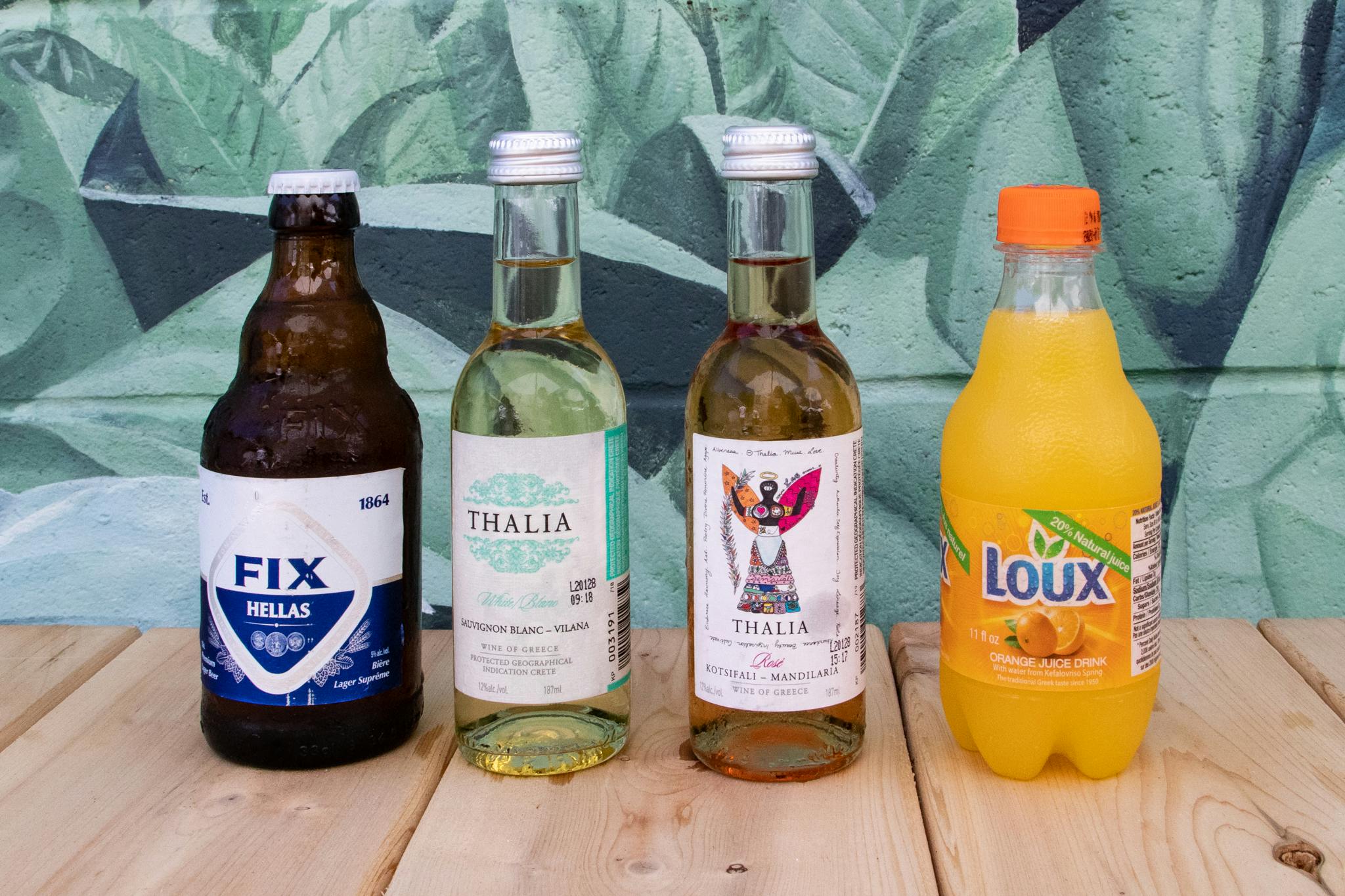 Discover a robust beverage program that includes Fix Hellas lager, Thalia wine in red and white and a variety of Loux brand soft drinks at the pop-up.
In what's described as a more approachable version of the dishes they're serving at their other spots, which focus on the more elevated side to traditional Greek cuisine, Tripi still says, "Everything that touches your lips has been brought in from Greece."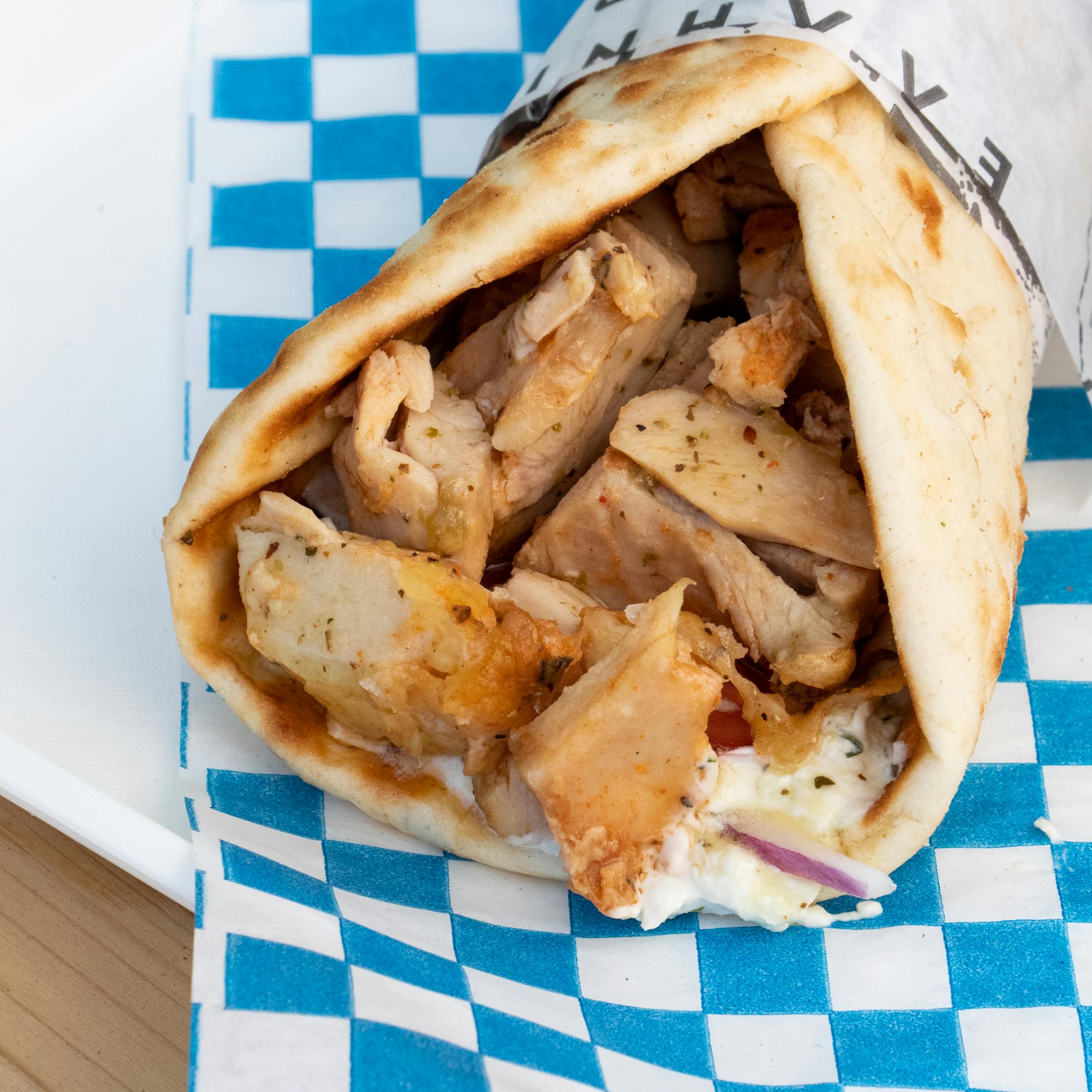 On the menu, the souvla, of course, is the main focus. Available with charcoal spit-roasted pork or chicken, a generous amount of meat is stuffed in a fluffy grilled pita, wrapped with tomatoes, red onions, a drizzle of ladolemeno, which is a Greek sauce made of olive oil and lemon and a thick spread of tzatziki.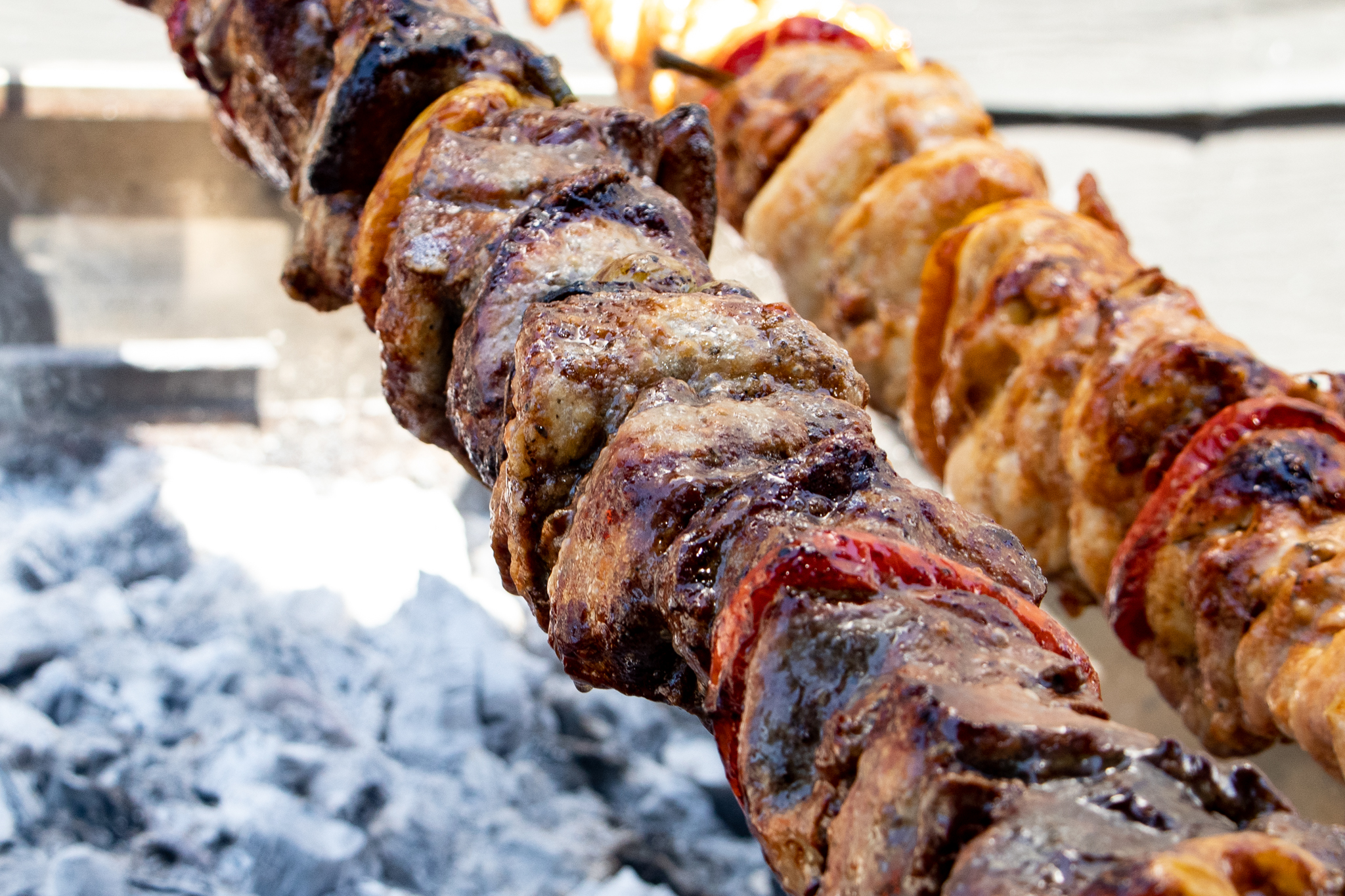 Tripi's favourite of the two is the pork souvla. He says a 48-hour marinade goes on the souvla and it's then slow-roasted over the charcoal for four hours to make it the most tender and flavourful.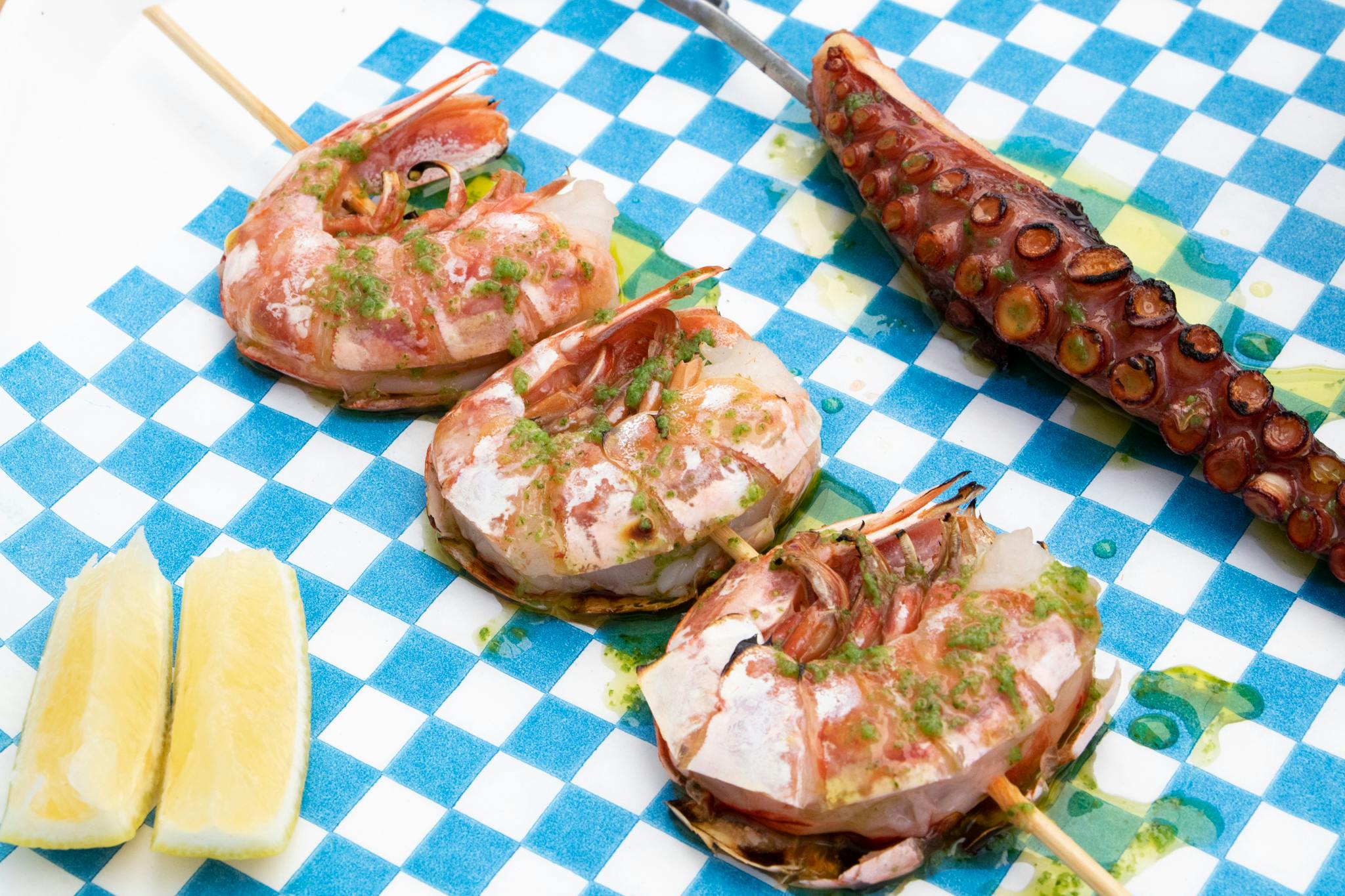 Despite the souvla being in the spotlight, you can't miss out on their seafood offerings, another special at Mamakas. Find fresh seafood skewers on the menu right now, doused in a generous amount of house made parsley garlic lemon oil.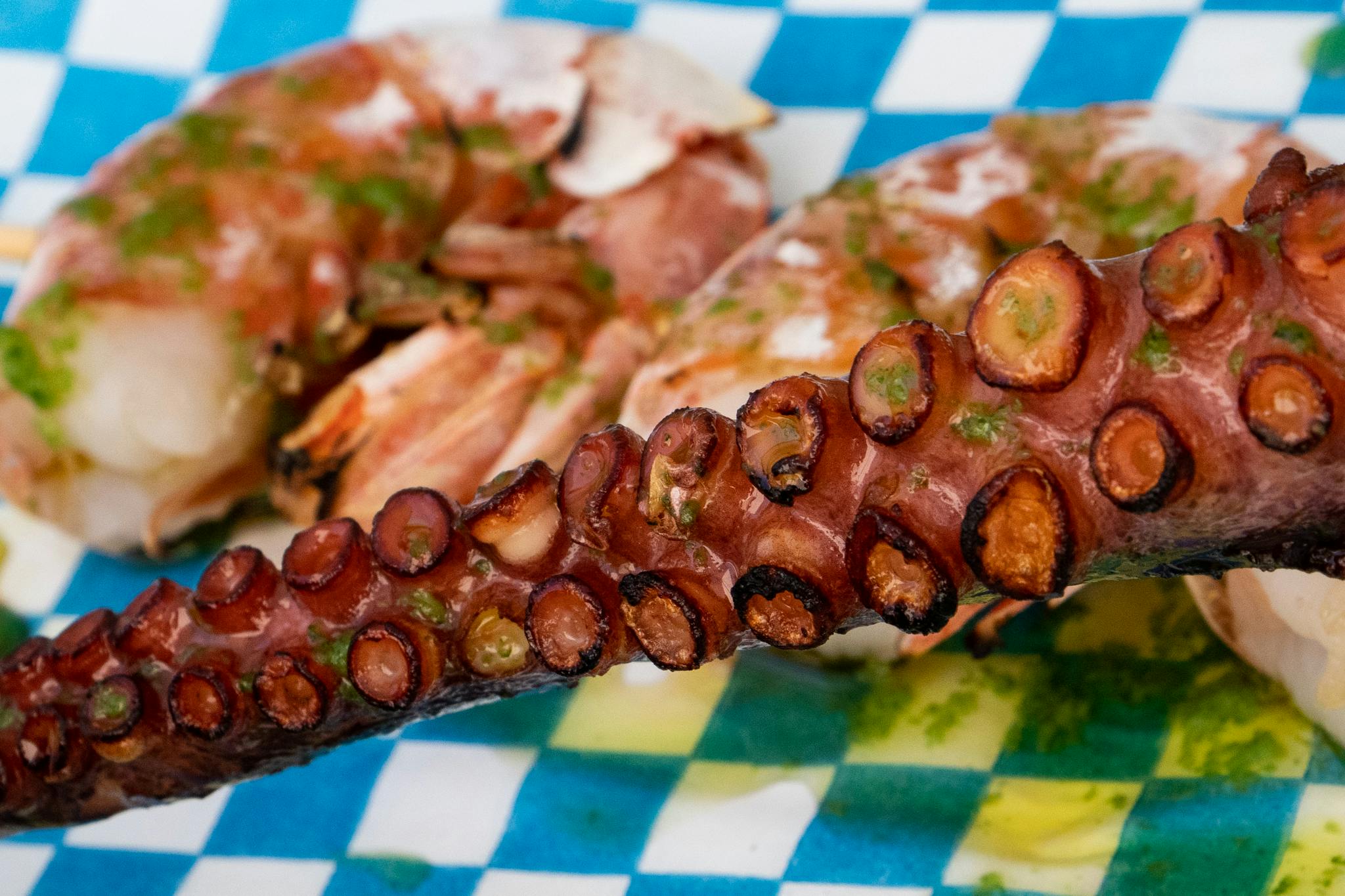 Skewers of juicy pieces of shrimp and octopus tentacles are also grilled and will soon be accompanied by other grilled items like mushrooms and corn as the season changes.
If seafood isn't your thing and you'd prefer to stick to the meats, they've also got souvlaki sticks, referred to as kalamakia, on the menu.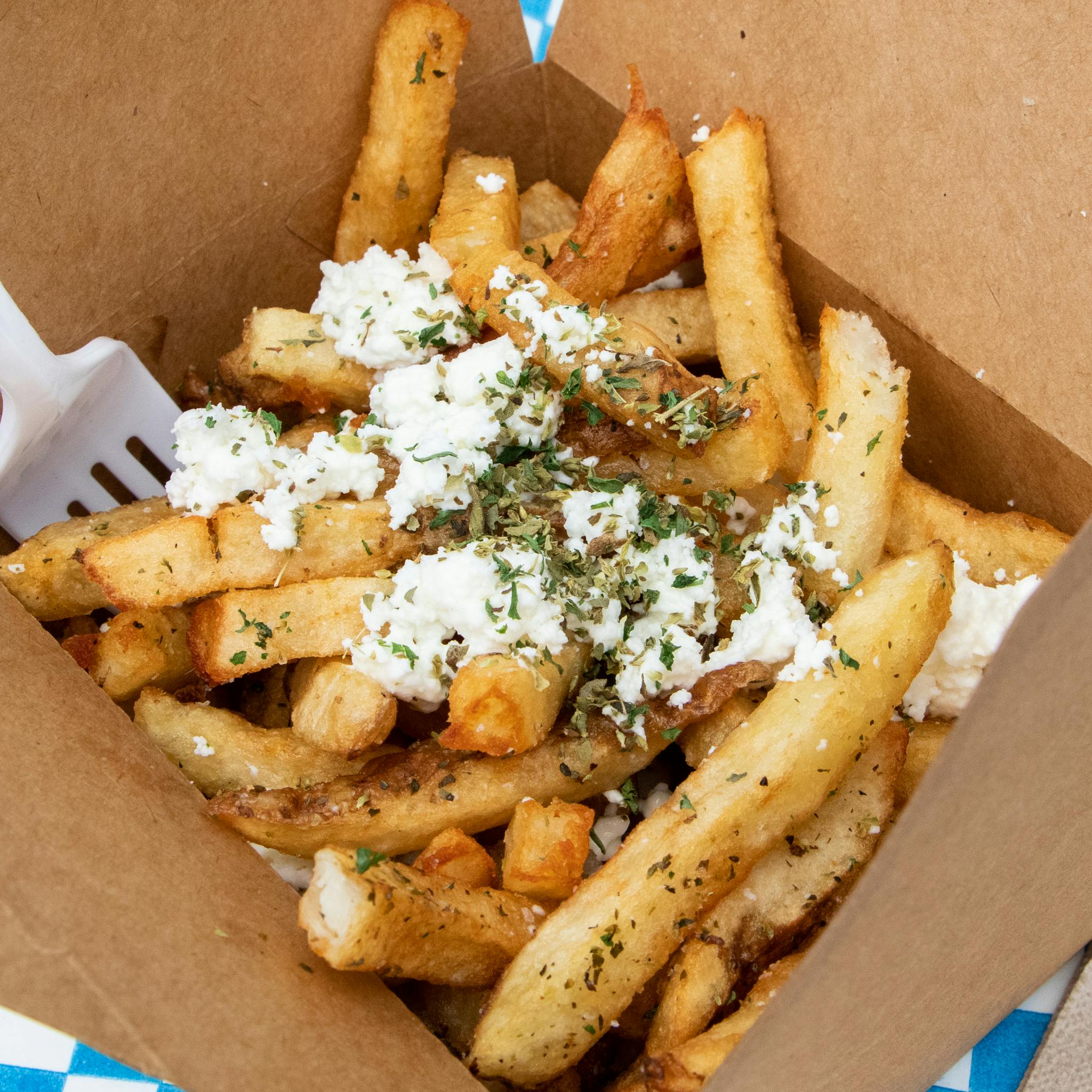 Grab a side of fries with your meal, topped with melt in your mouth Greek feta and a sprinkle of oregano. Making decisions easier on your end, there are combo options for the souvla, which come accompanied with a soft drink and a side.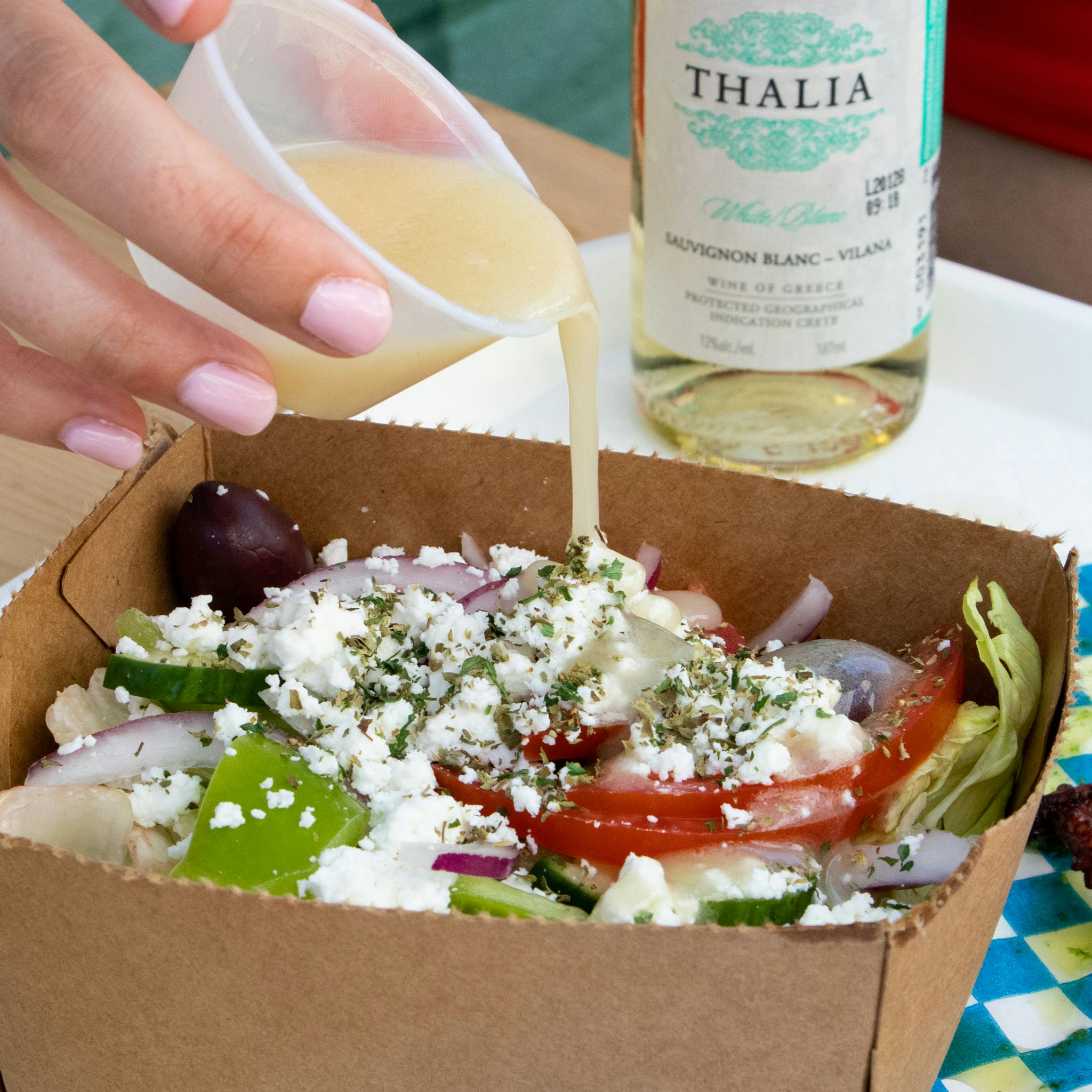 You can also pick up a Greek salad, which comes with a bed of lettuce, tomatoes, cucumber, olives, red onion and is topped with Greek feta. Get that extra protein in and get it topped with chicken or pork.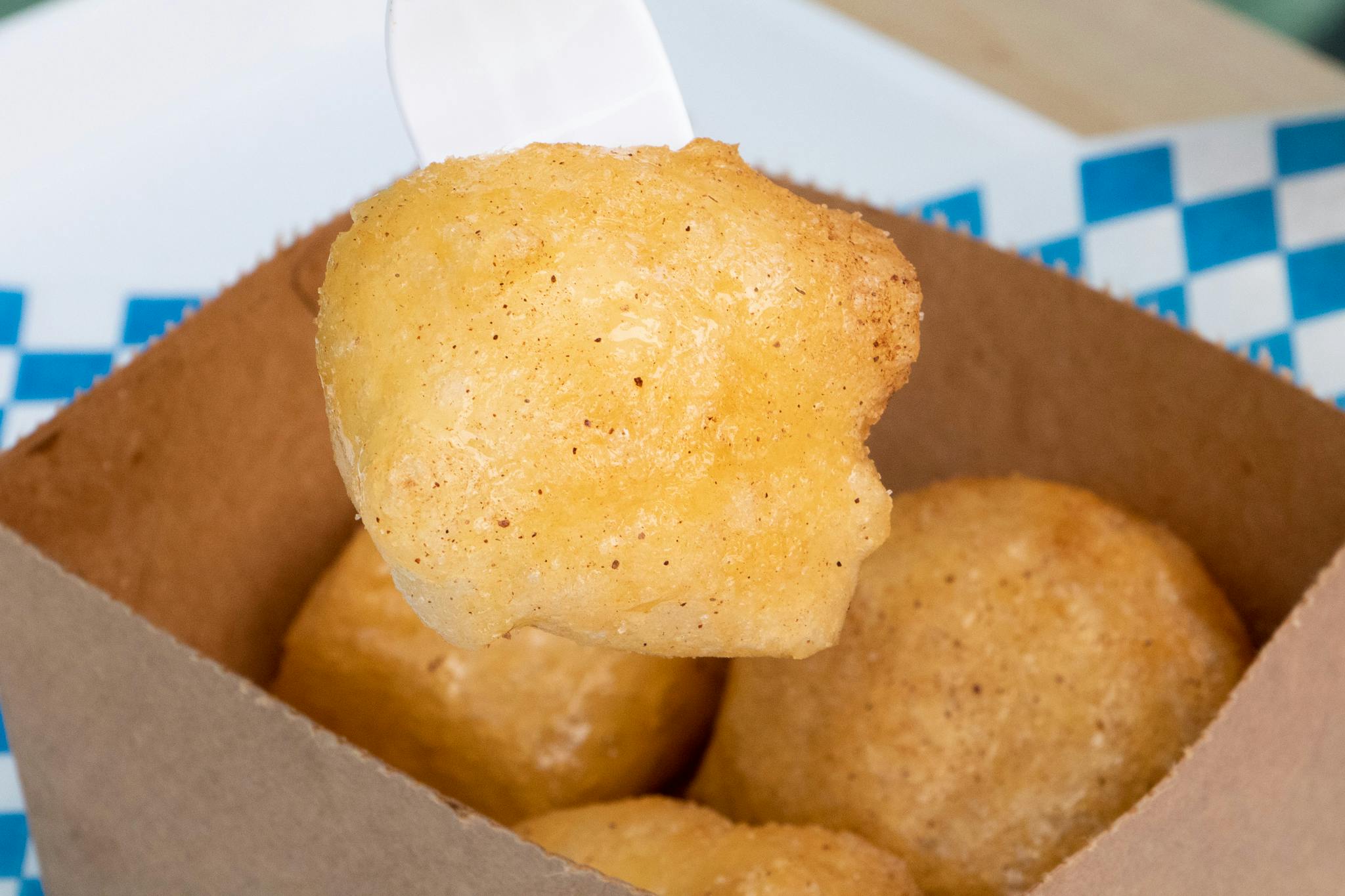 For dessert, they've got popsicles made in-house, but you can't possibly leave without an order of Loukoumades -- Greek-style balls of dough coated in honey that leave your lips sticky and sweet, ultimately wanting more. Better yet, you can even get them topped with a scoop of ice cream for a superior summer treat.
Souvla by Mamakas is easily one of the top spots to spend your summer at with all they've got going on the grill. Keep in mind that they're walk-in only, no reservations and can also be ordered for takeout via the Ambassador App, also found on their website.
Catch Souvla in action from Friday to Sunday from 1 p.m. to 10 p.m. weather dependant, with Tripi saying the pop-up will run "until the weather stops us," so be sure to enjoy some traditional Greek street food and soak up the sunshine while it lasts.